You guys! Spring time is for rompers! And just look at how adorable Emerson was today in this new romper!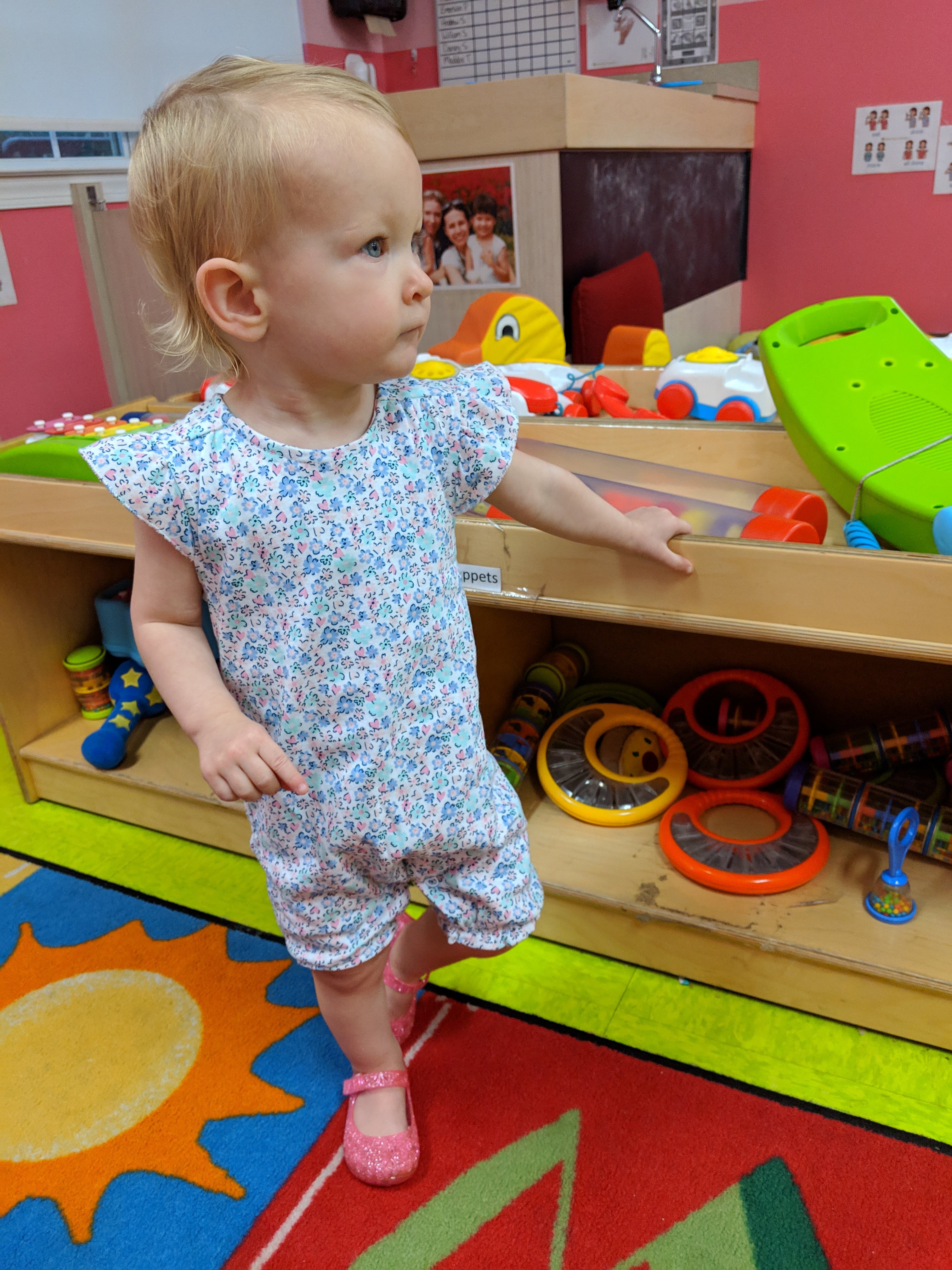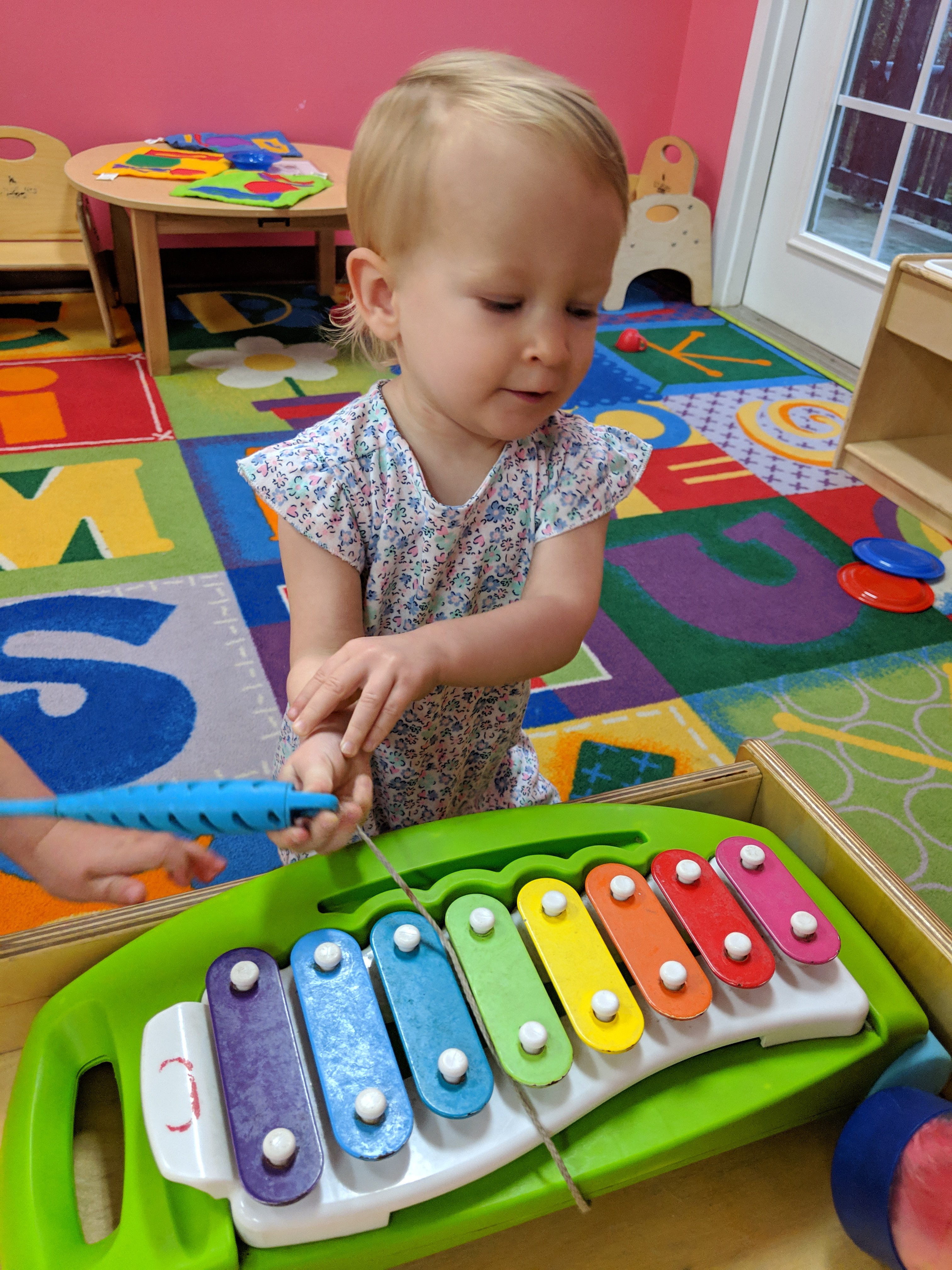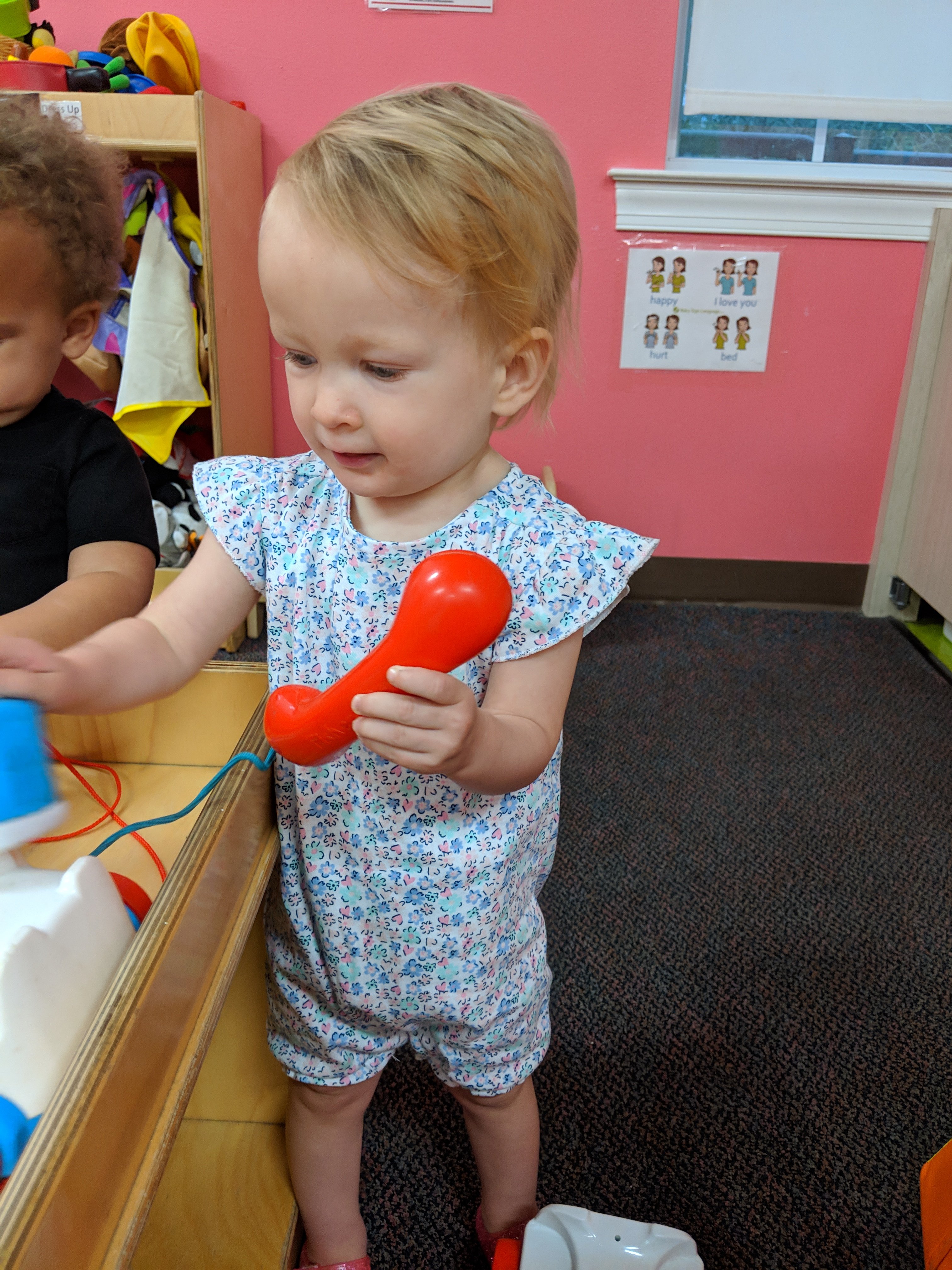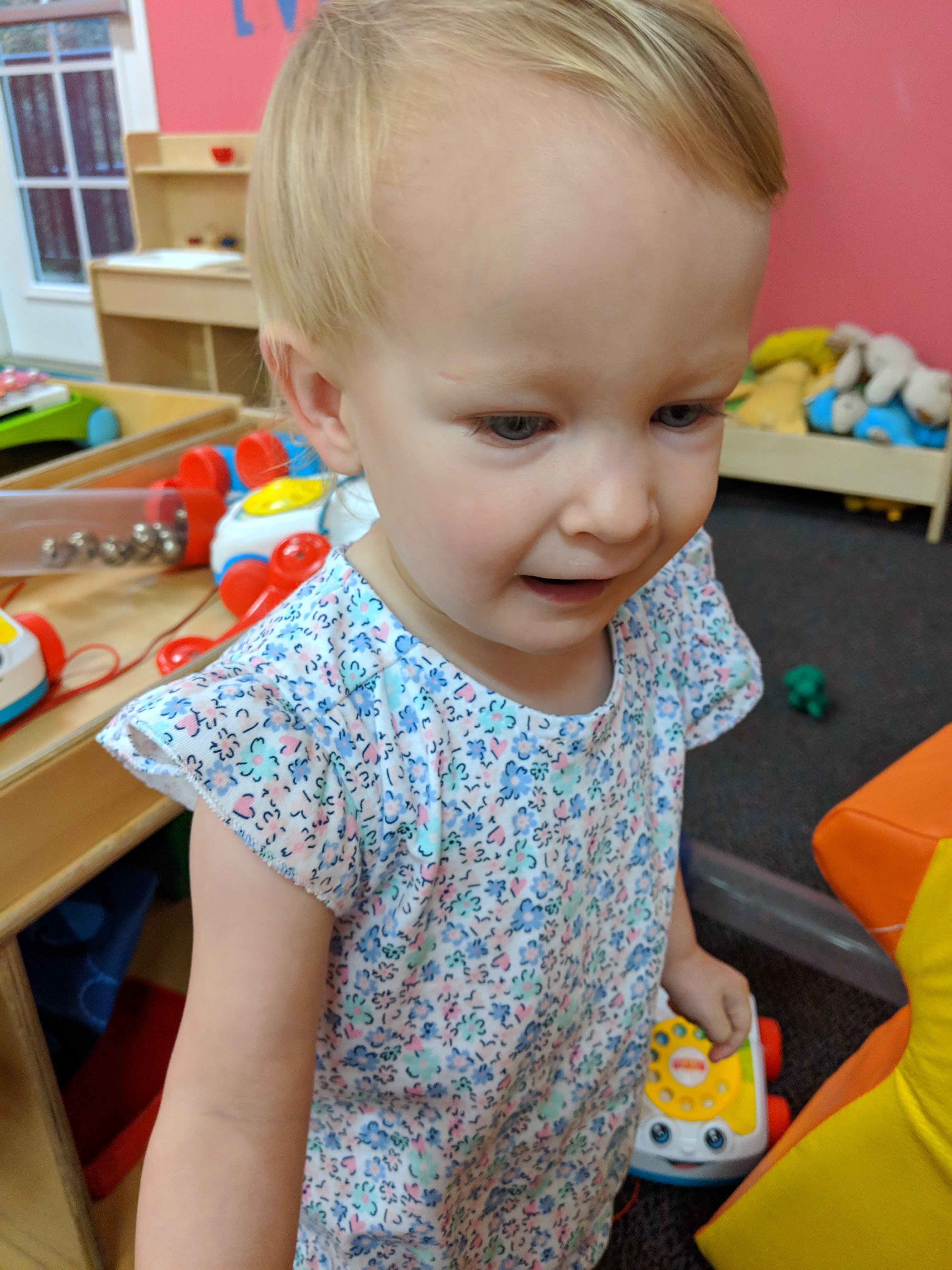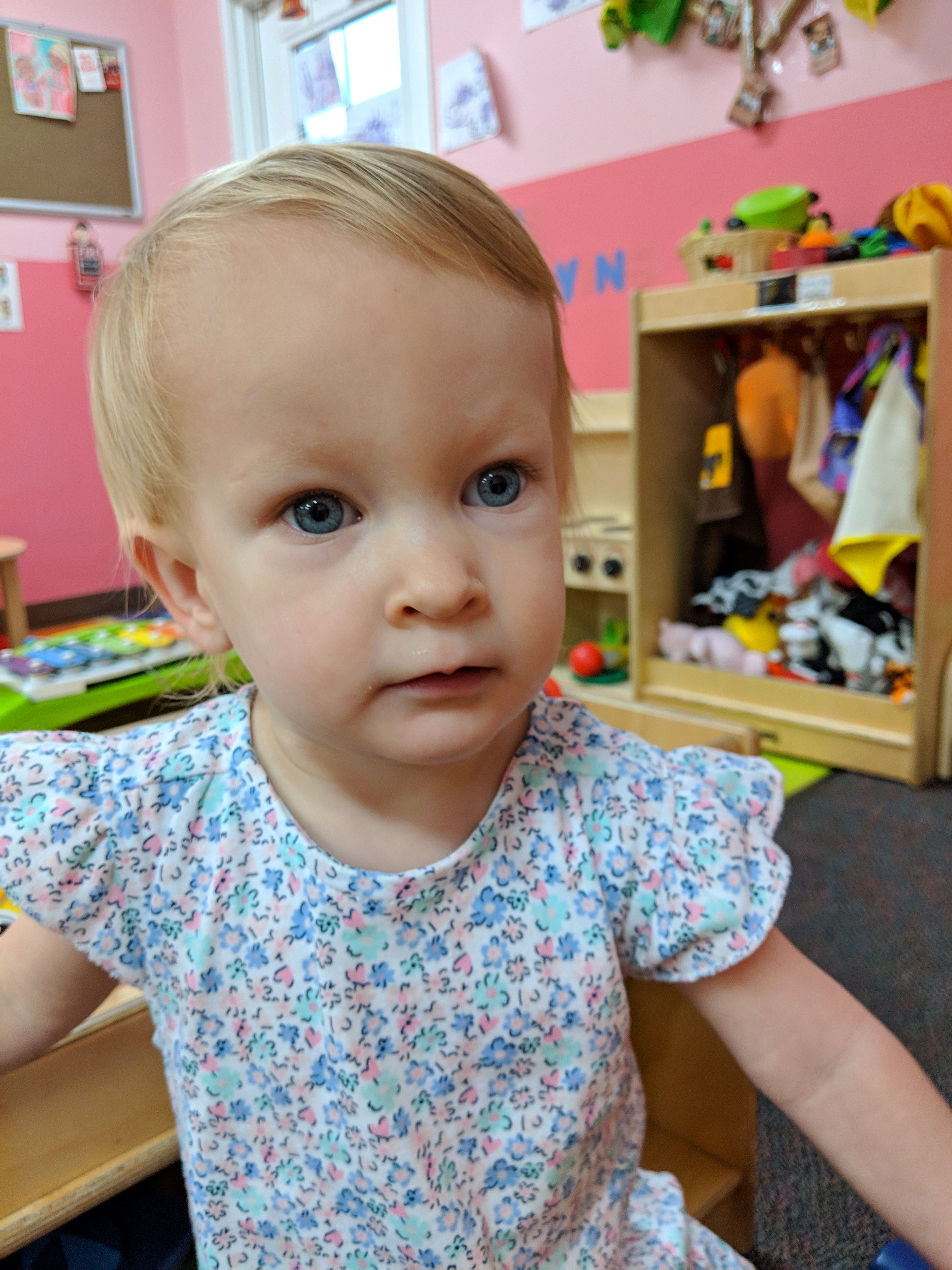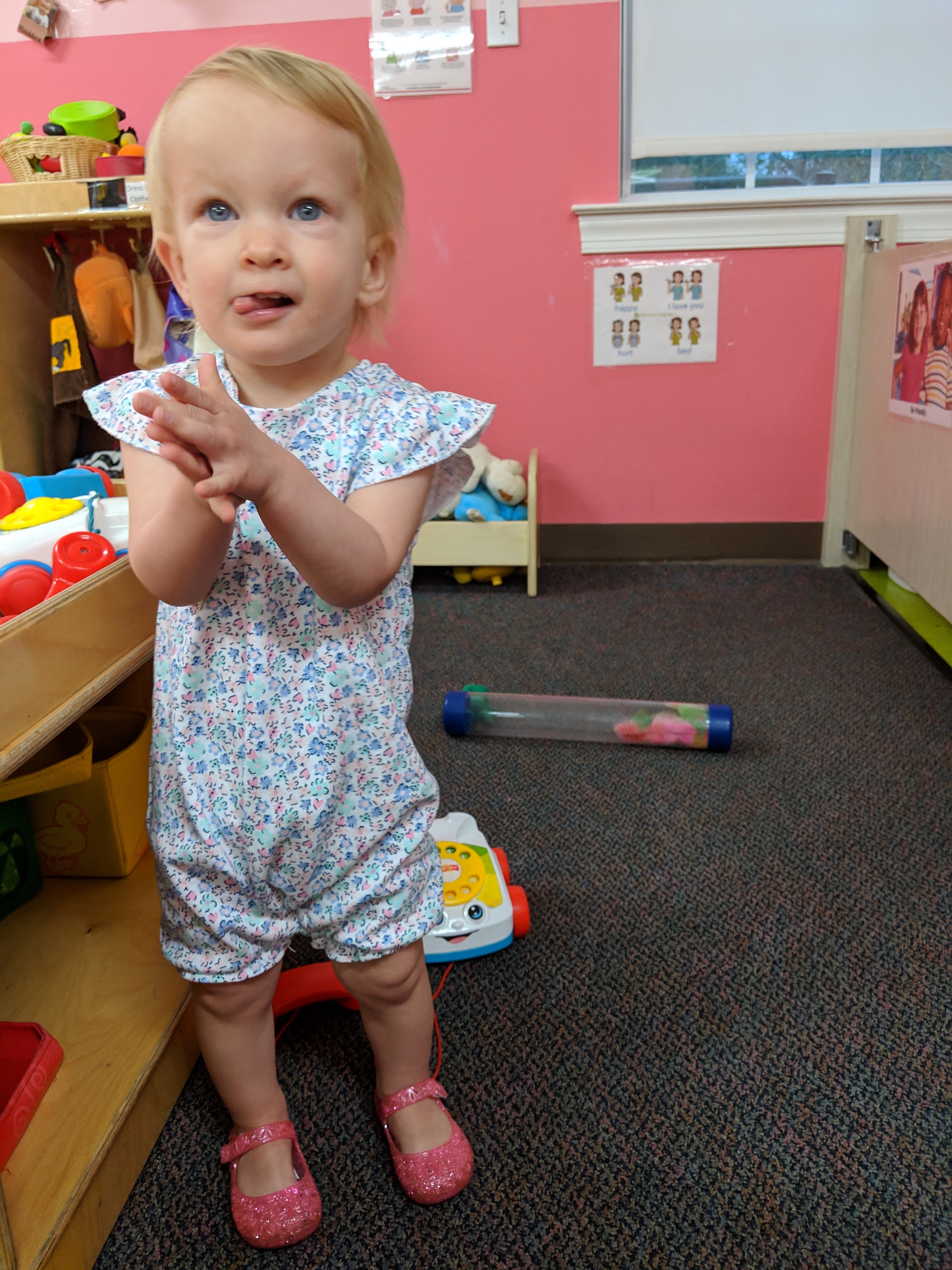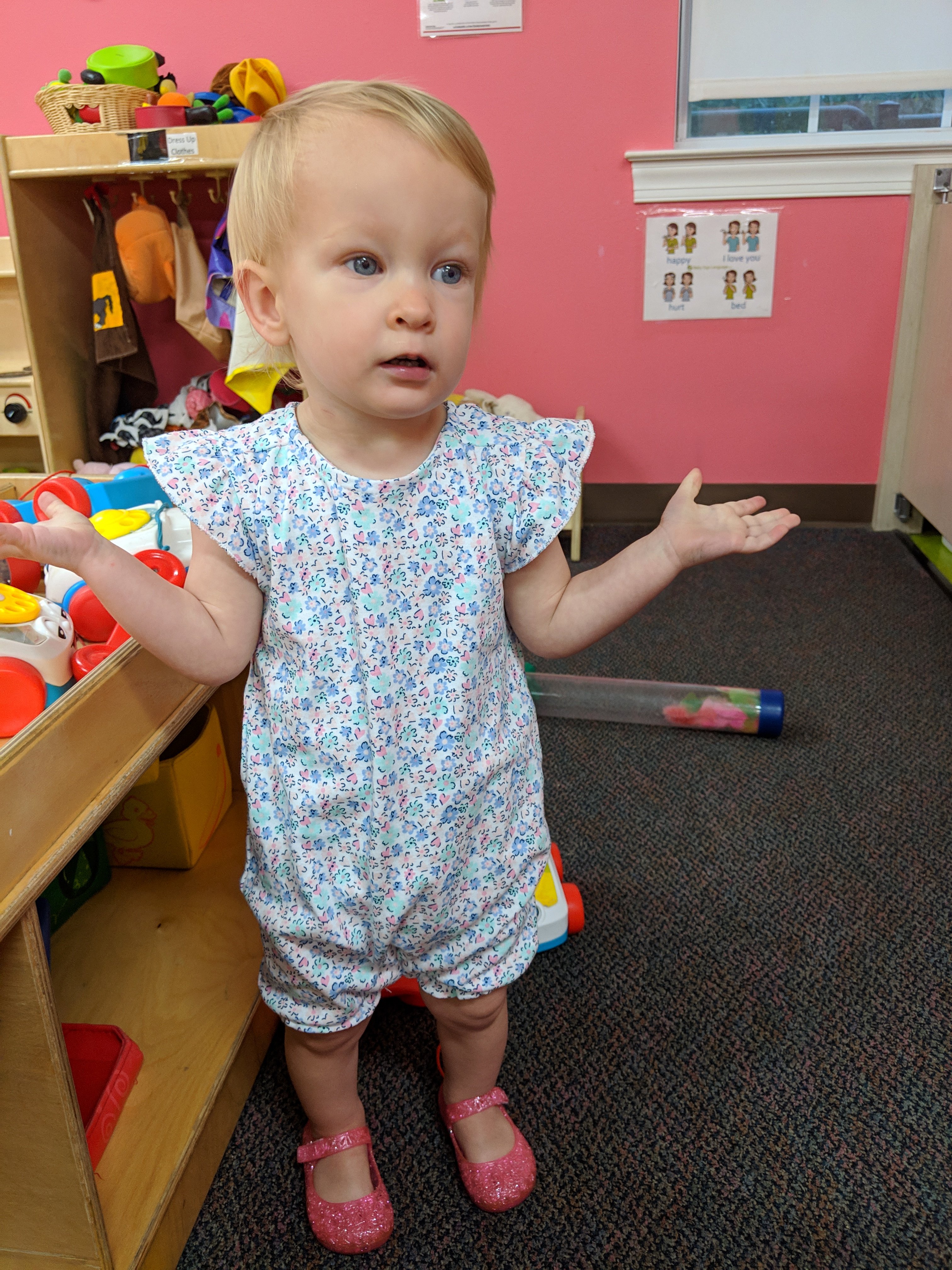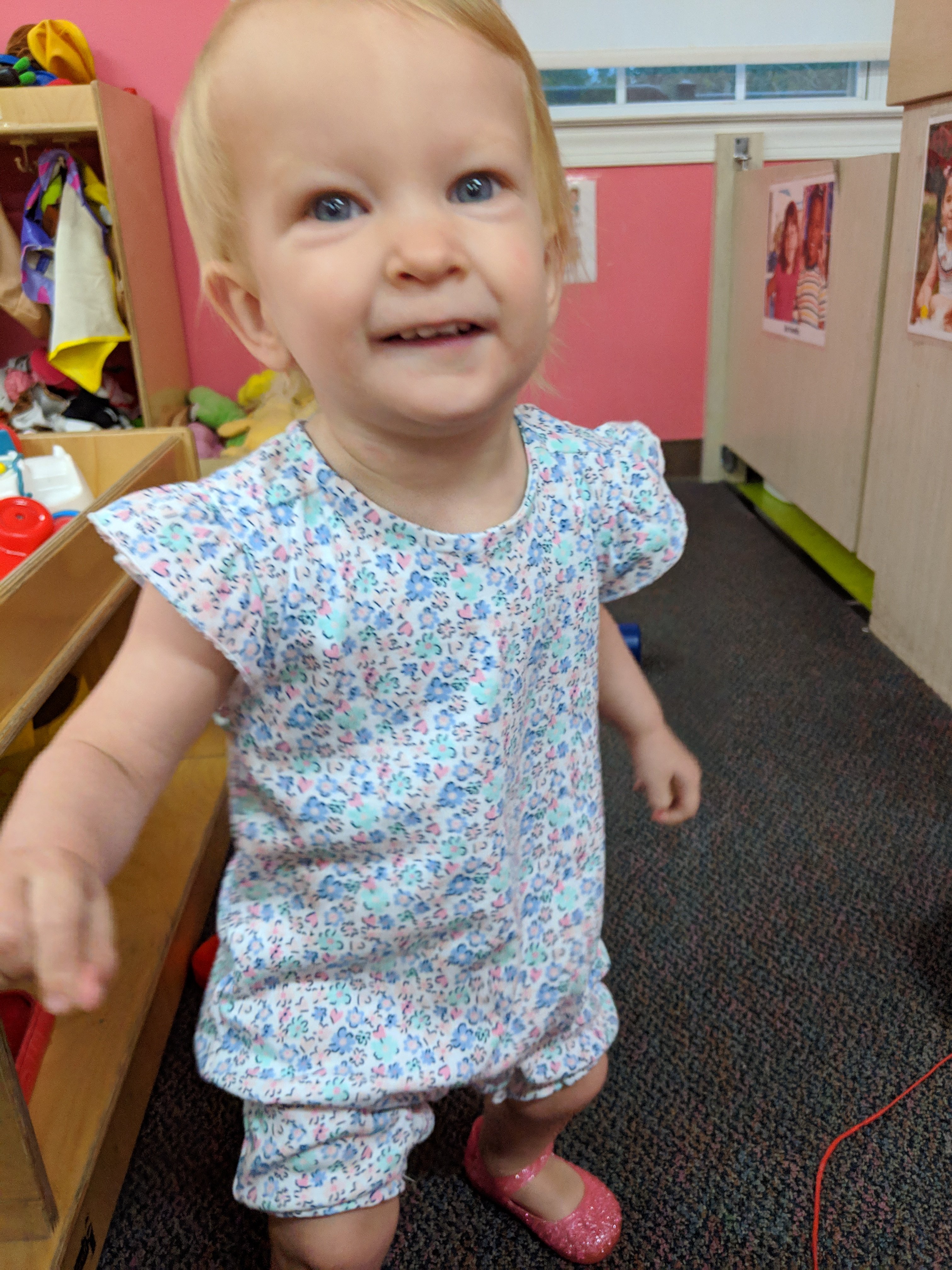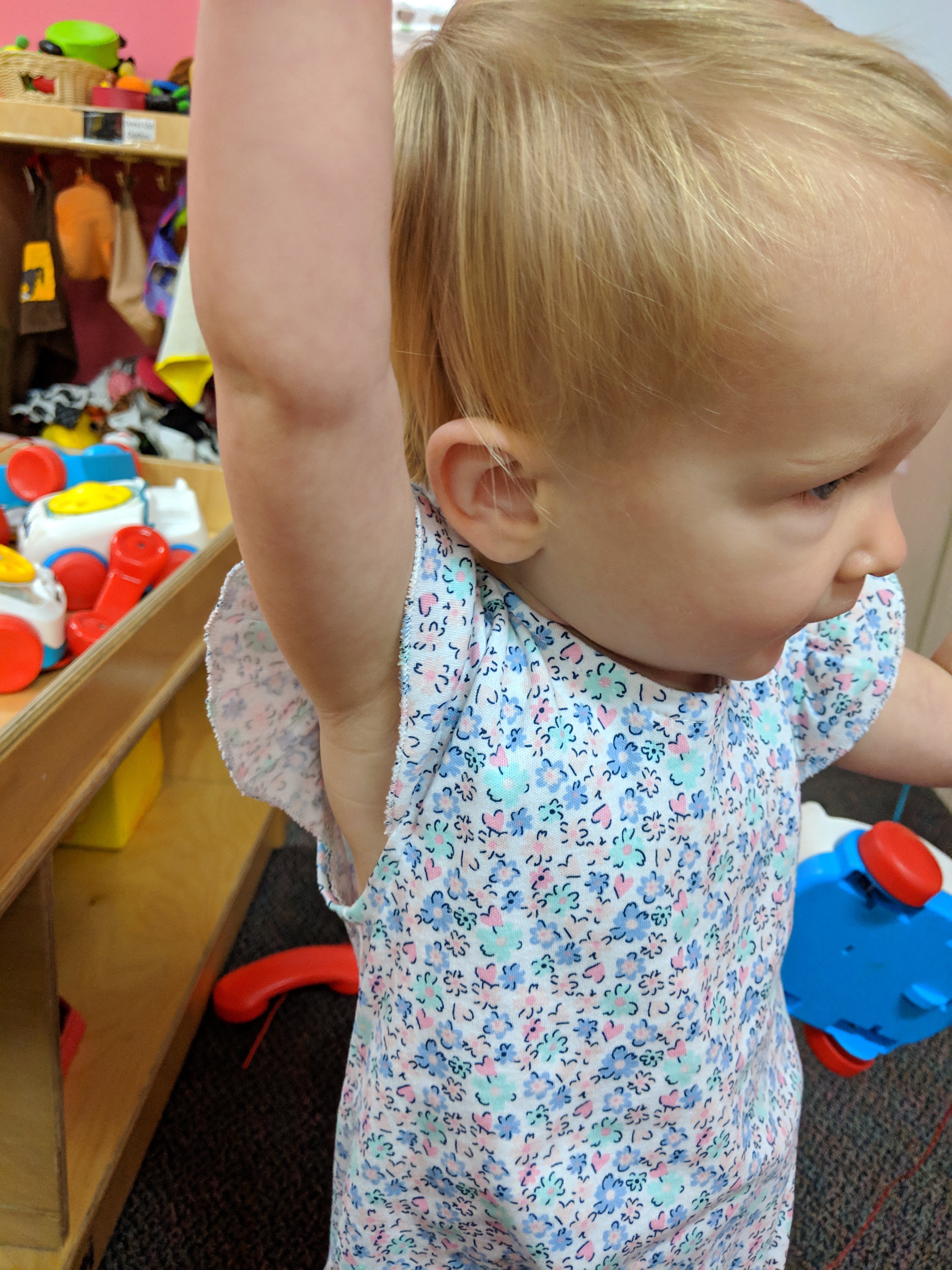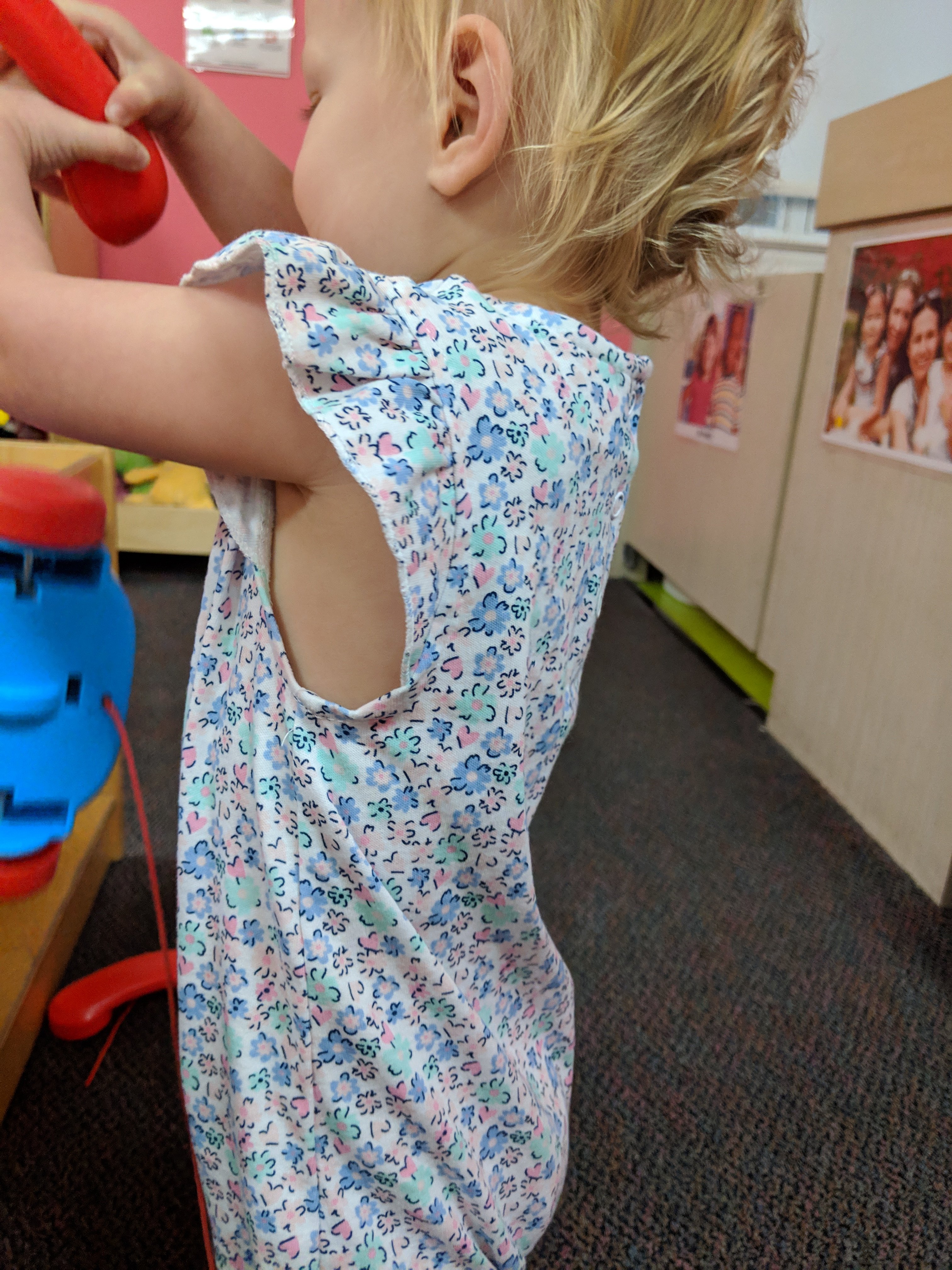 Emmie was so excited to see one of her favorites, Miss Kayla! Apparently, Emmie didn't want to share Miss Kayla either, and wouldn't let other friends sit in her lap, or let Miss Kayla help other kids either. Emmie did like sticking her finger in a tiny hole in Kayla's jacket sleeve, and kept asking her about "Mommy Daddy Bo."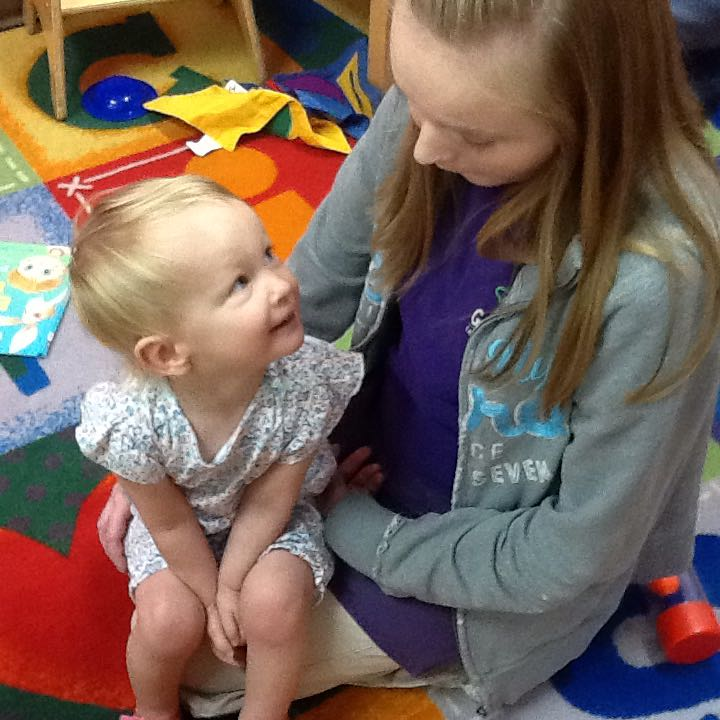 And it looks like she enjoyed the play ground again today, as usual.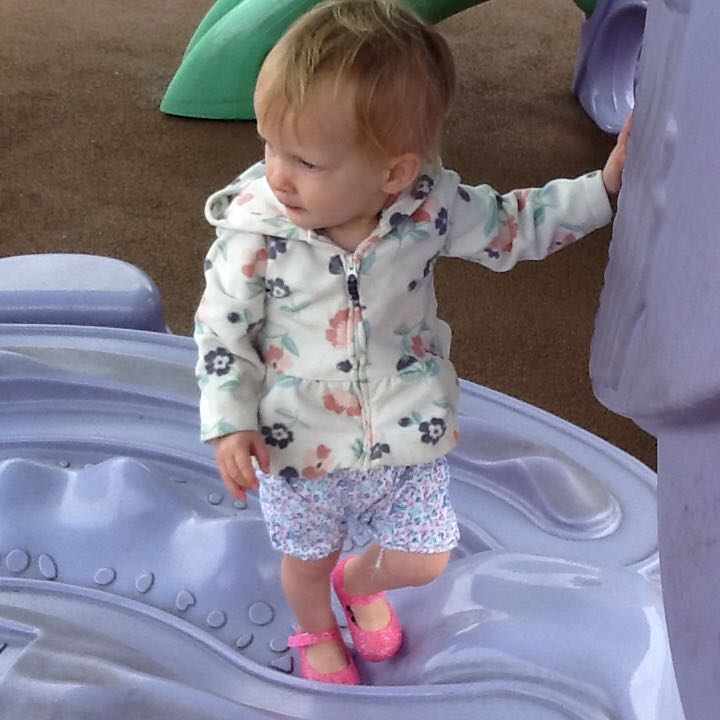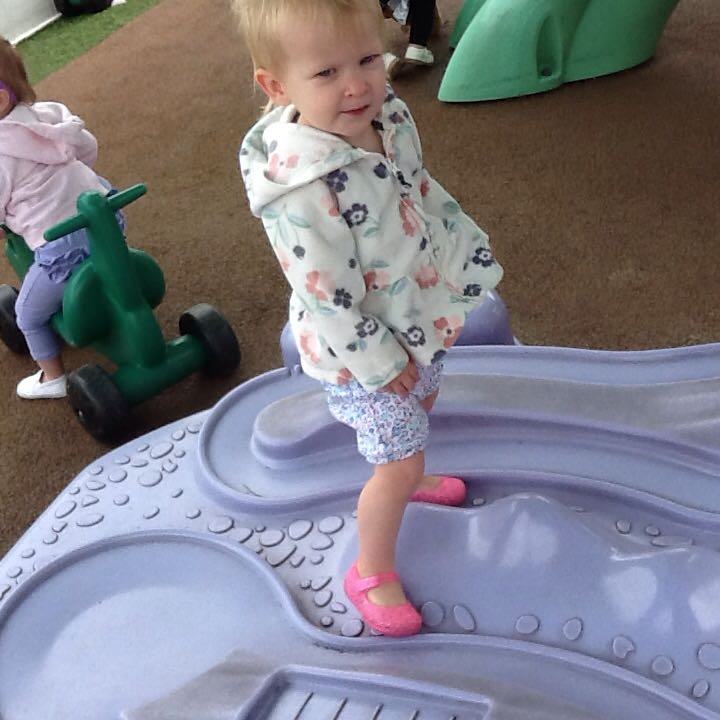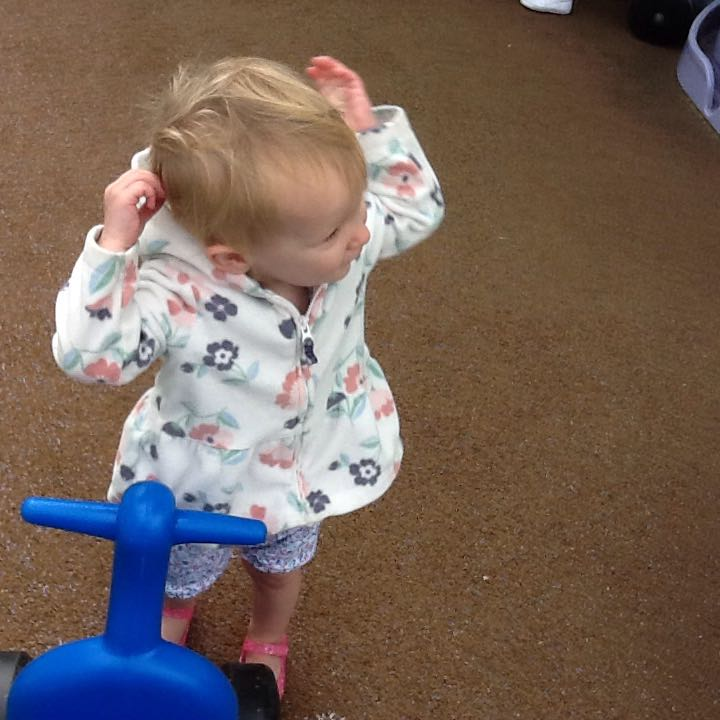 Today I did my basically bi-weekly run to the downtown library to pick up books I had on hold, and as in the past, I decided to grab Zaxby's while I was out, since it was so close. We already watched the "Bird Box" movie on Netflix, but I wanna read the book now too. And the Kate Atkinson book is one I've been on the holds list for, for a looooong time now.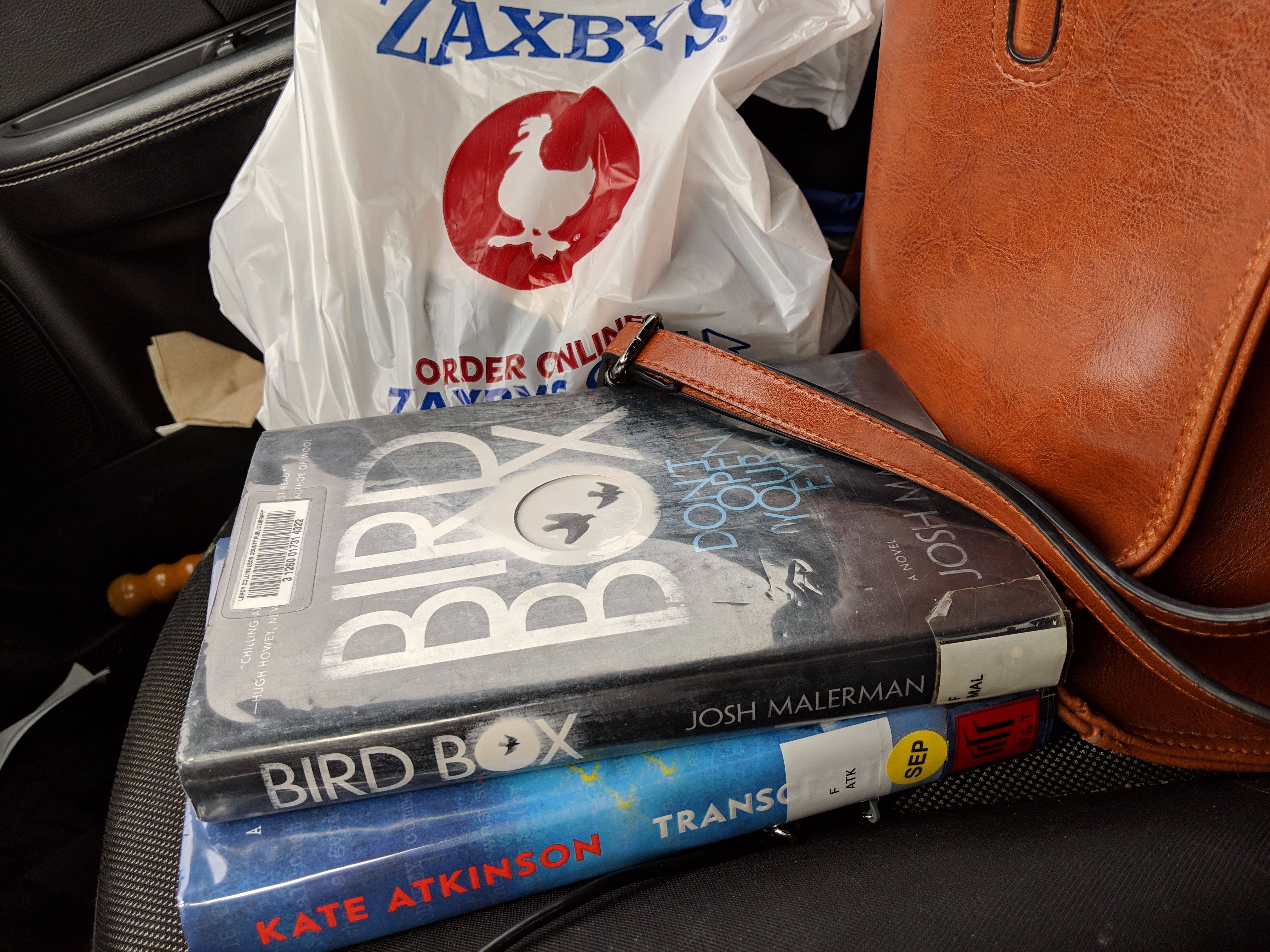 My sister was given a recliner in her hospital room, and so now she's allowed to get some recliner time too, and not be so strictly confined to the bed only. She and the girls are all doing really well still. They had another ultrasound today, and took some approximate measurements of each of the babies. Right now, they are roughly 3lbs 9oz, 3lbs 10oz, and 4lbs 2oz, which is great at this point!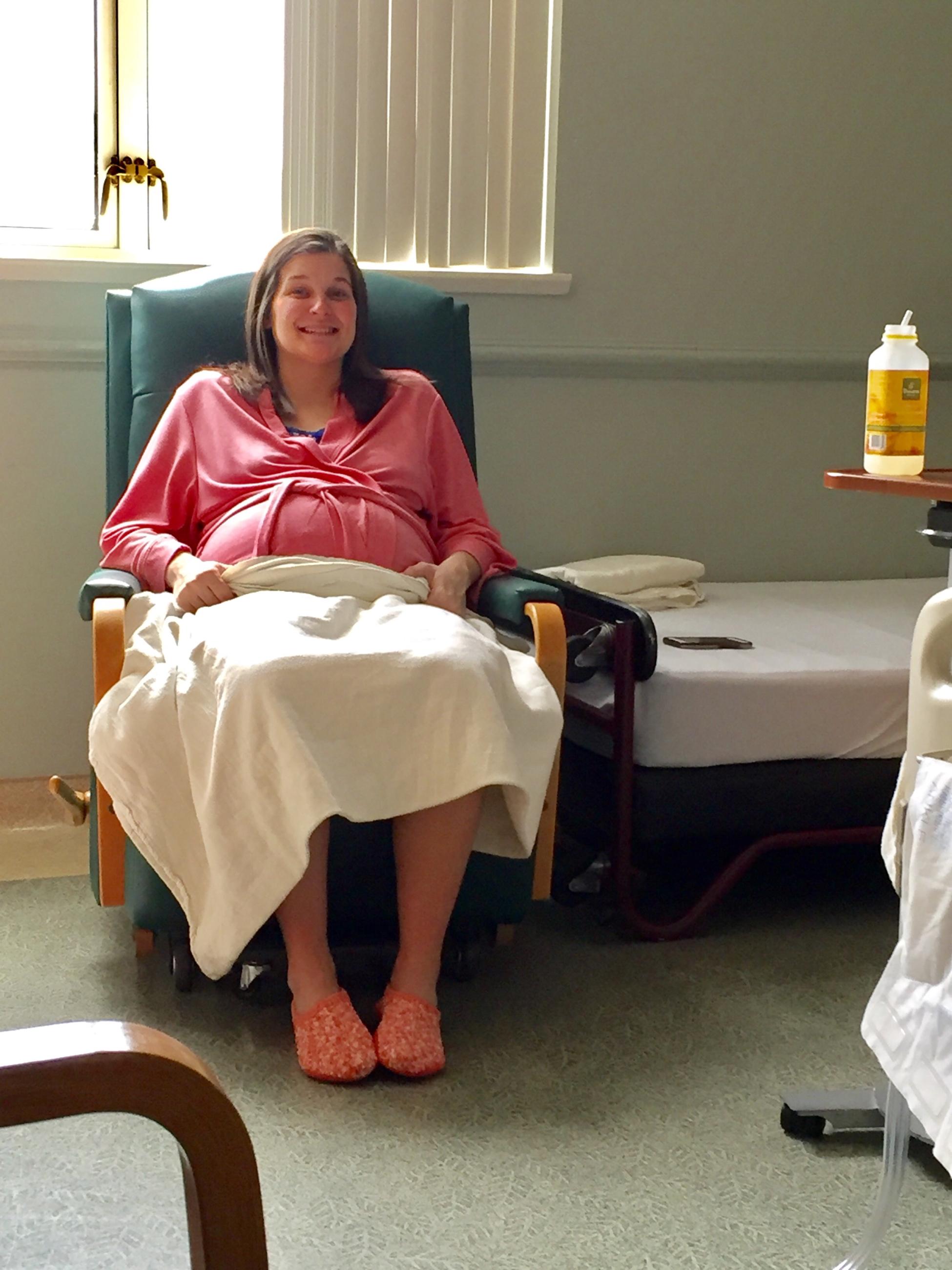 After picking up Emmie from school (where the first thing her teacher told me was that she kept talking about Bo today), her and I went to the hospital to hang out with Aunt Meggie for the night. When we got off the elevator in the women's wing, Megan, Bo and my Mama were all just sitting there at the tiny tables by the gift shop, enjoying one of Megan's twice daily wheelchair rides, and eating Blaze Pizza! So we just sat down and joined them too! Mama had gotten me a pizza, and Mac & cheese for Emmie from Newk's.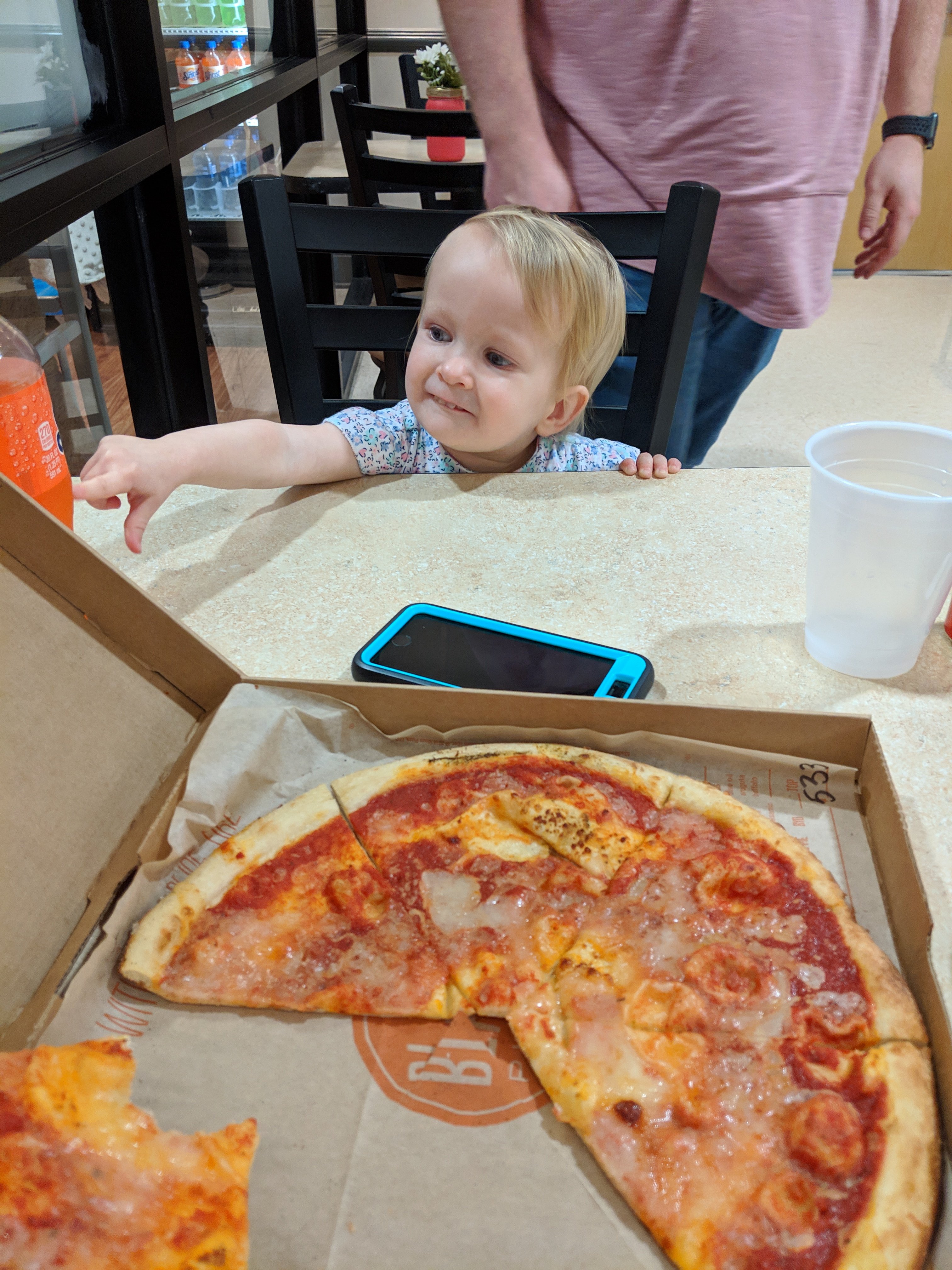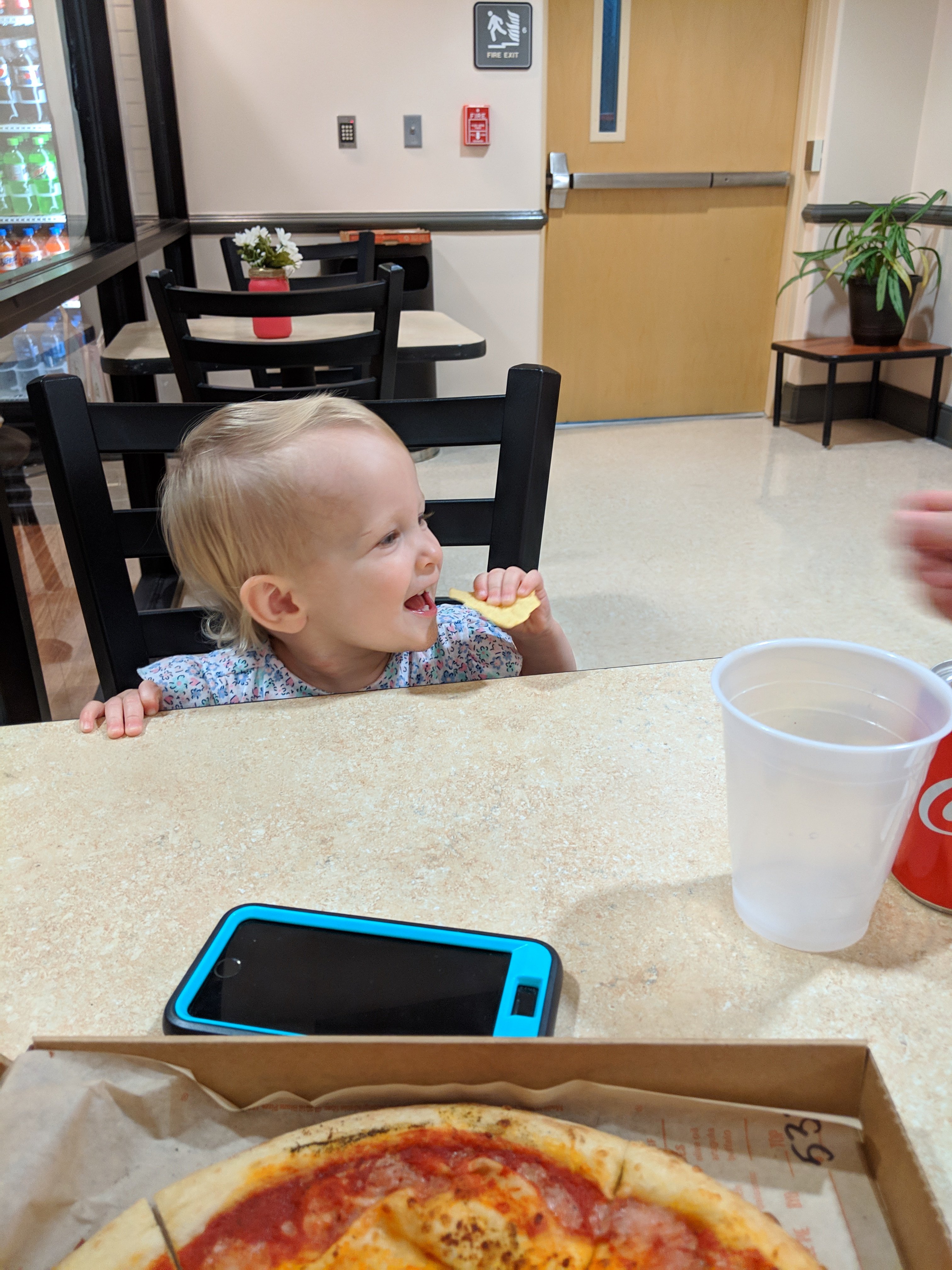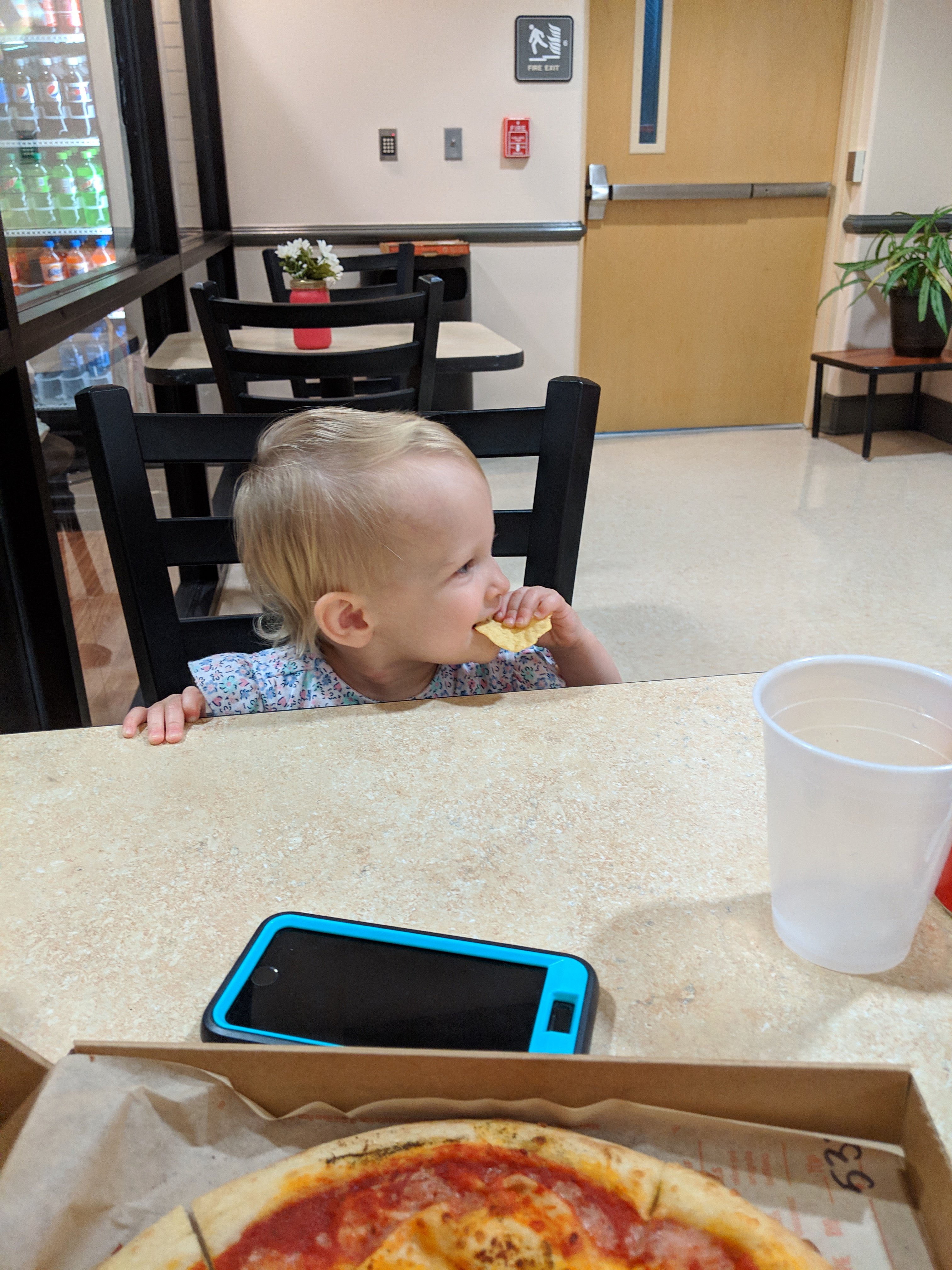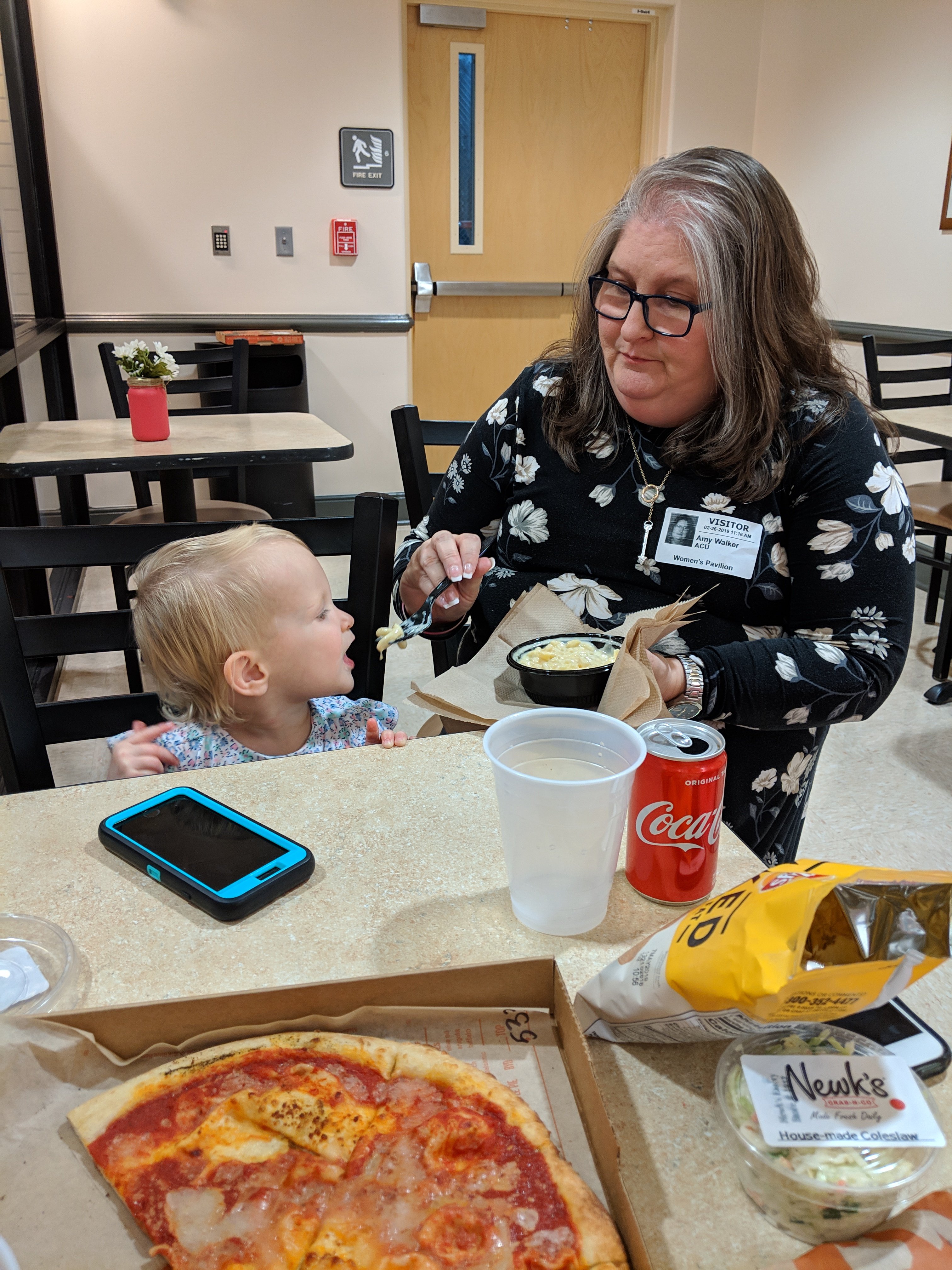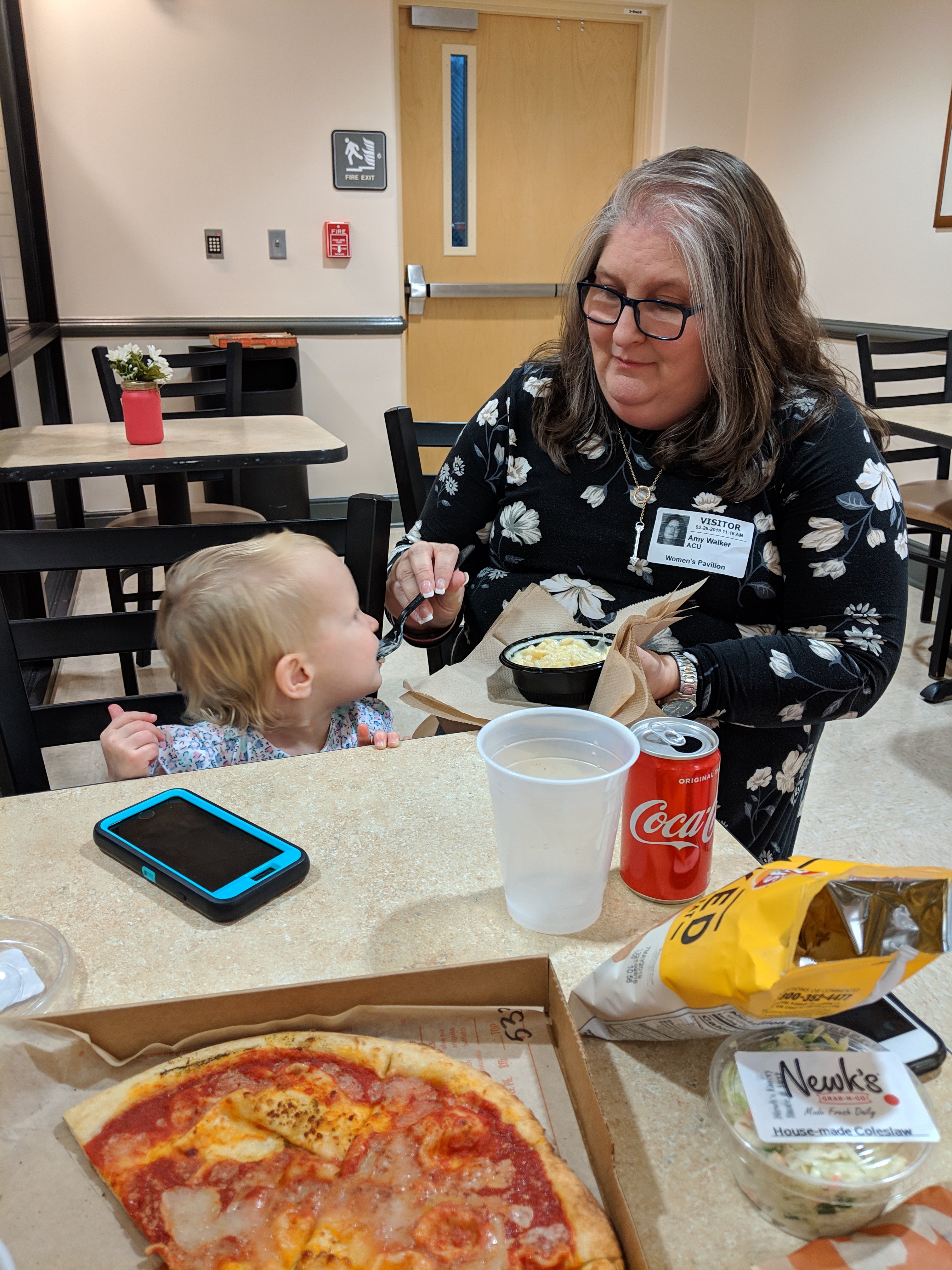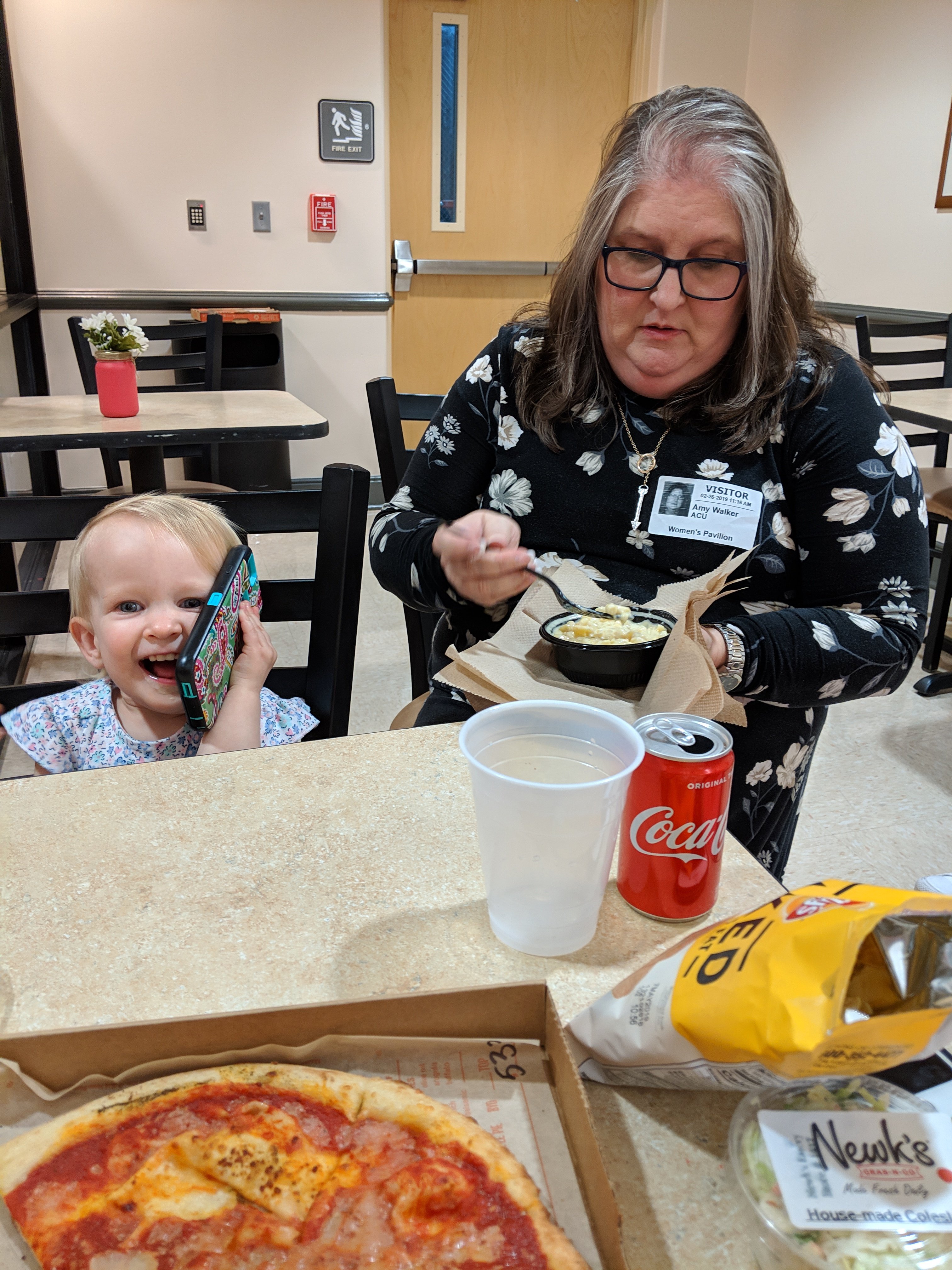 Then Emmie got a special ride on Meg's lap, on the way back to the room, and she absolutely loved it! She just sat there so still and sweet, chatting away and eaving at people as we passed.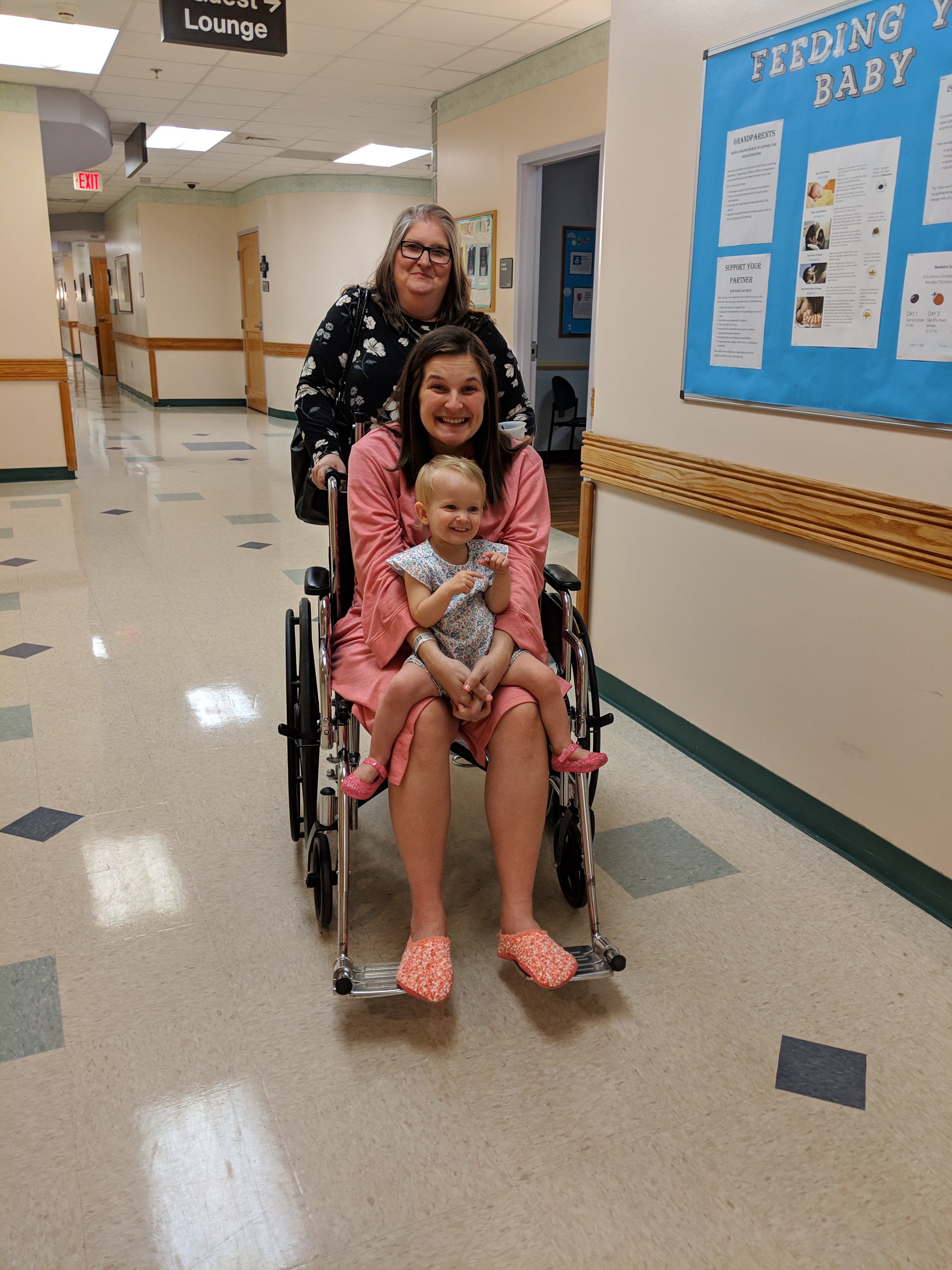 And Grammy gave Emmie her very own tube of chapstick (since she likes for us to put ours on her lips when she sees us use it), but Emmie put it allllll over her little face.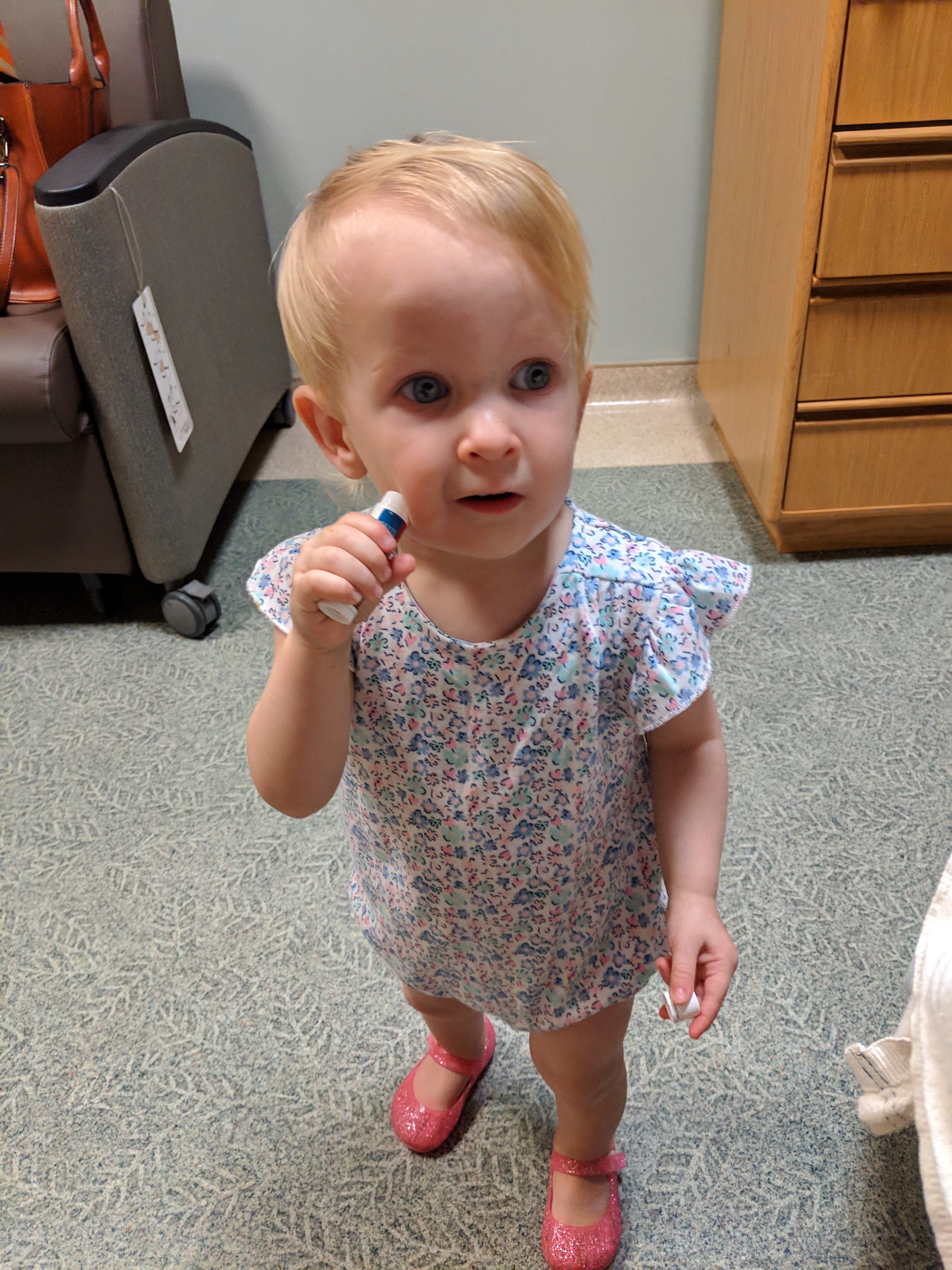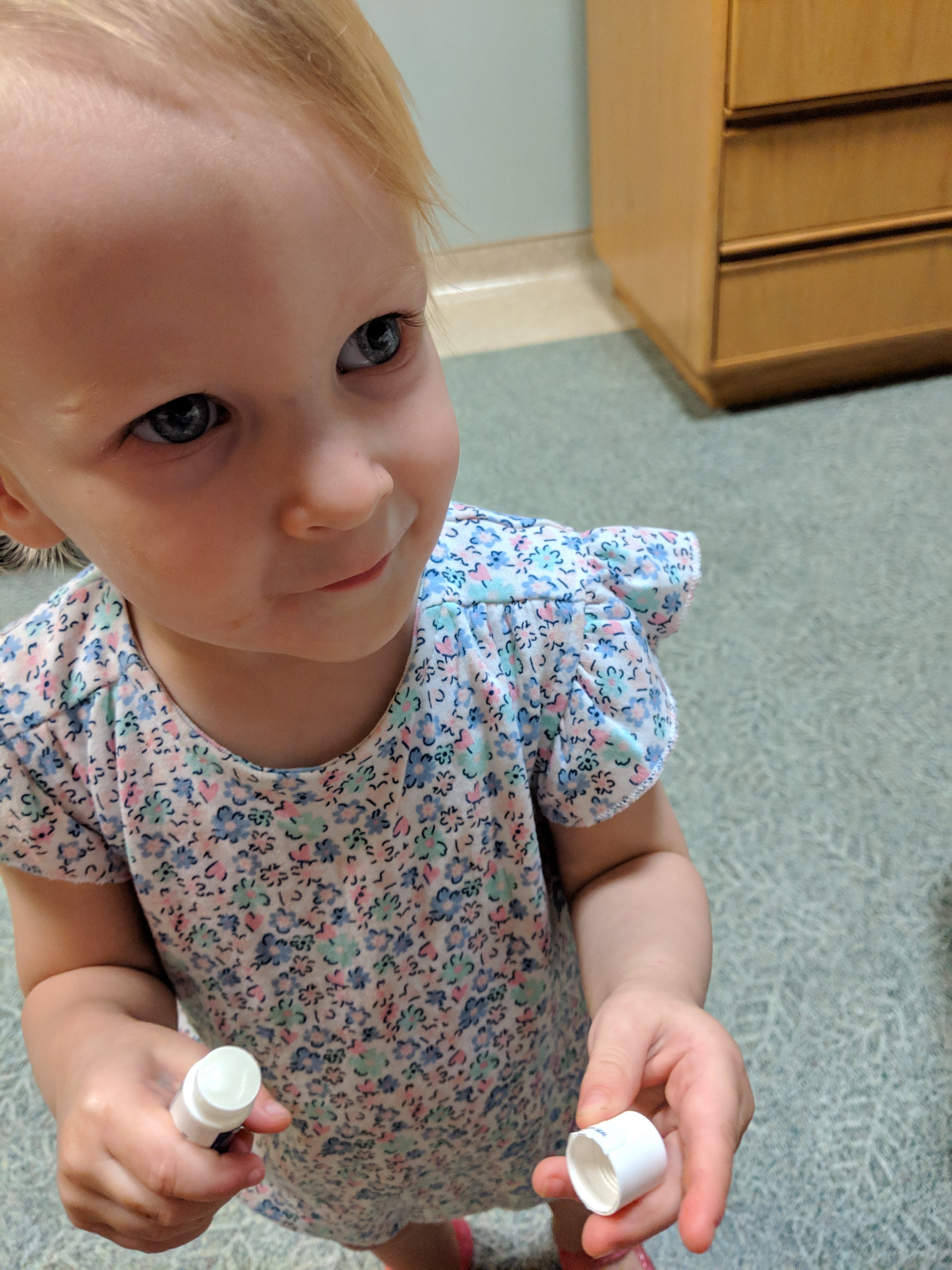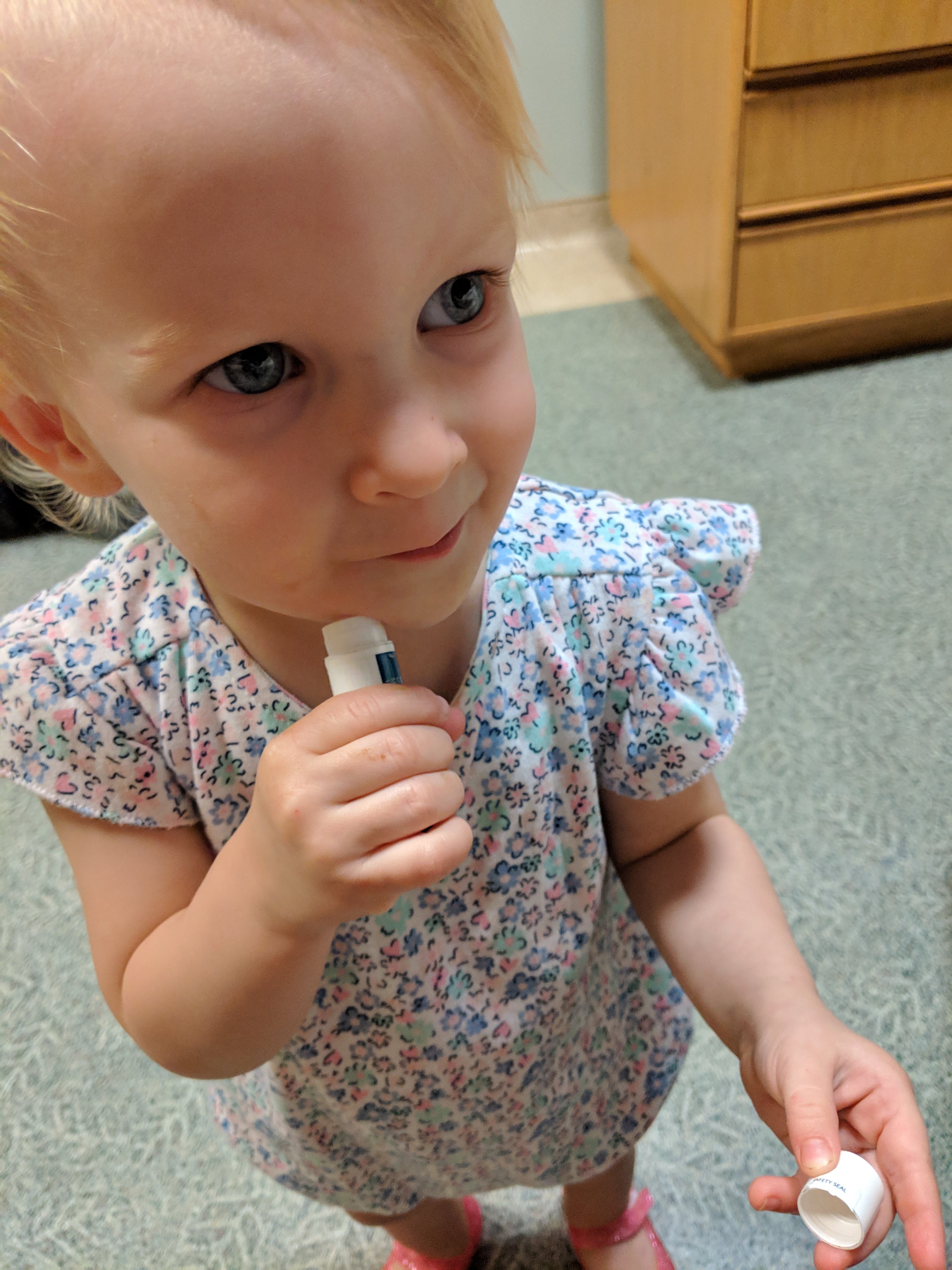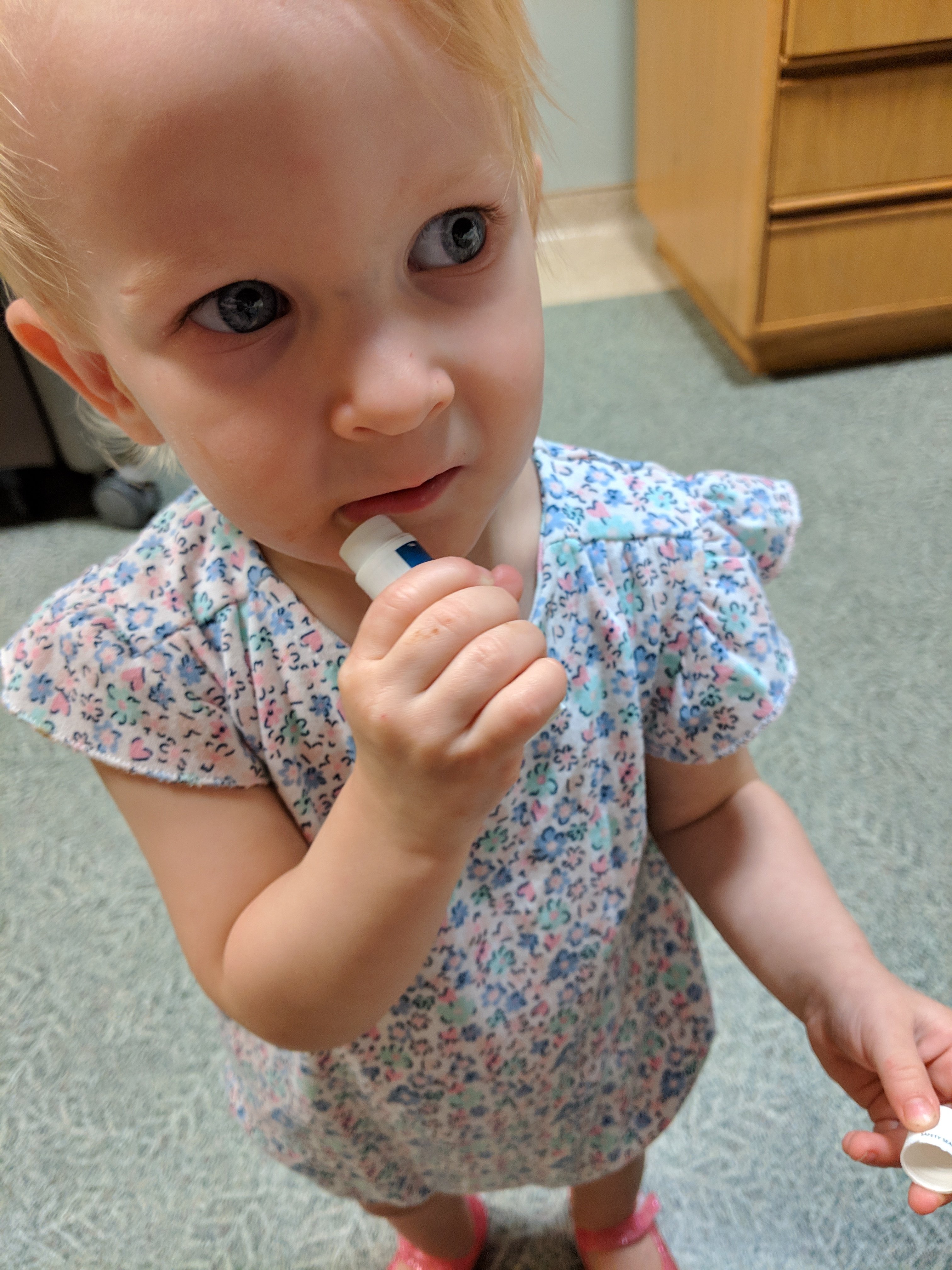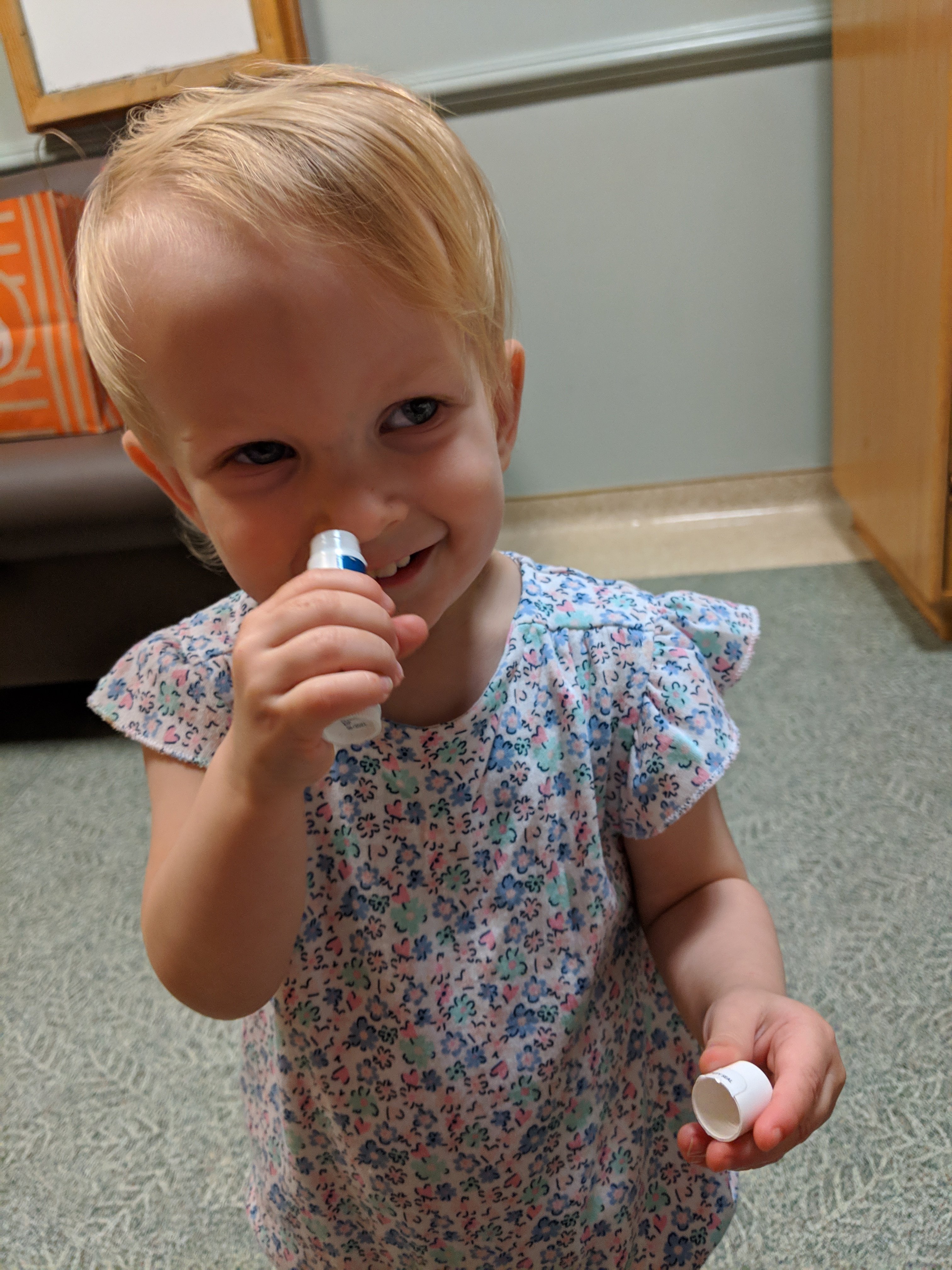 And Grammy gave Emmie a bag to carry around with her leftover dinner, and I tell ya she paraded that thing around like it was somethin' special.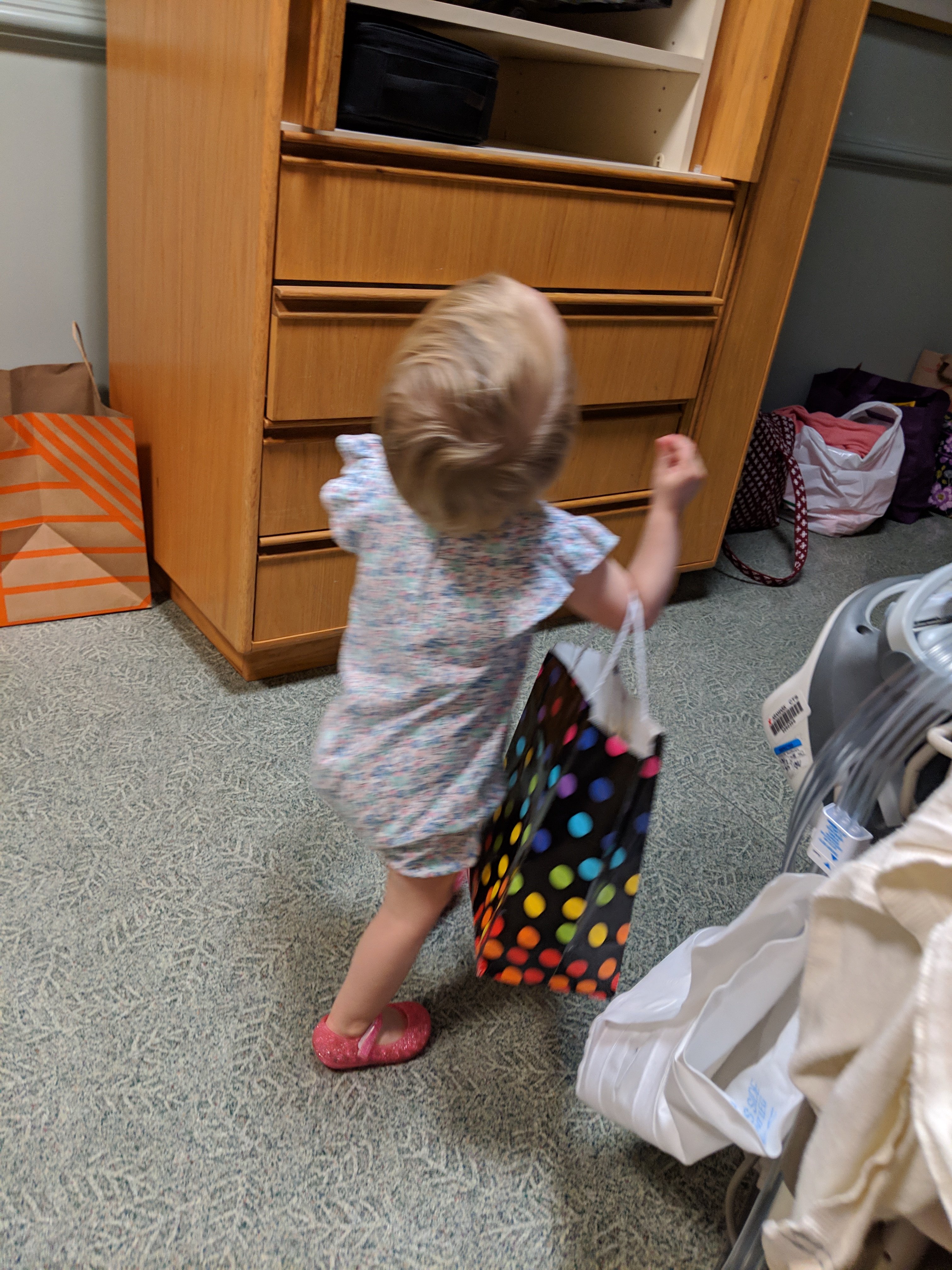 When she got up to love Aunt Meggie goodbye, she noticed this on her arm (where they drew blood earlier for a test), and Emmie was very, very concerned about it. We told her it was just a booboo, but she was still worried. But she repeated booboo, and learned a new word tonight! She even told Daddy "booboo" when we got home. (She also learned to say "off" for the first time, when we told her the in-room phone was off & that she couldn't play with it. So she repeated "off" a ton of times.)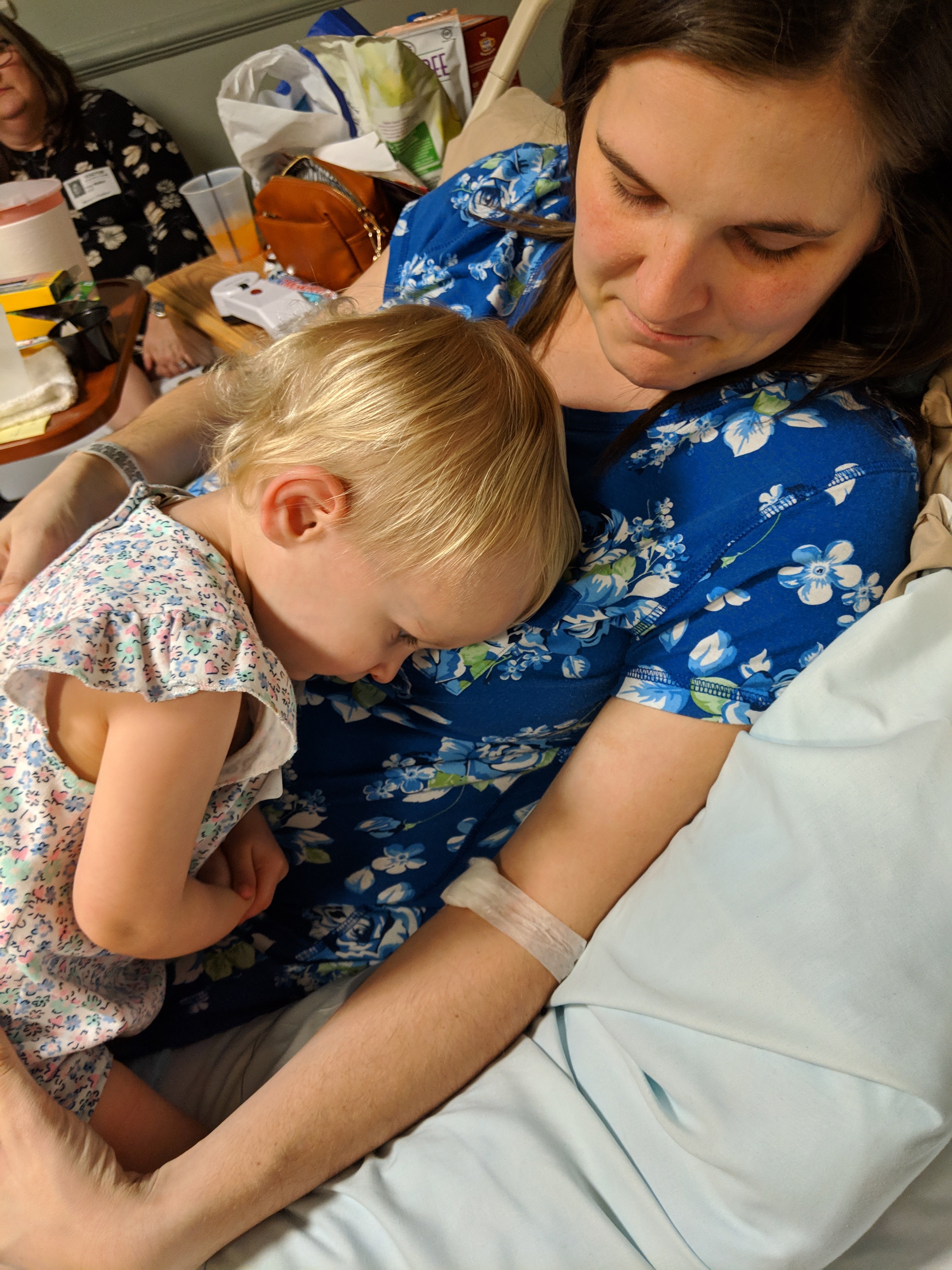 She gives the BEST, sweetest little kisses right now!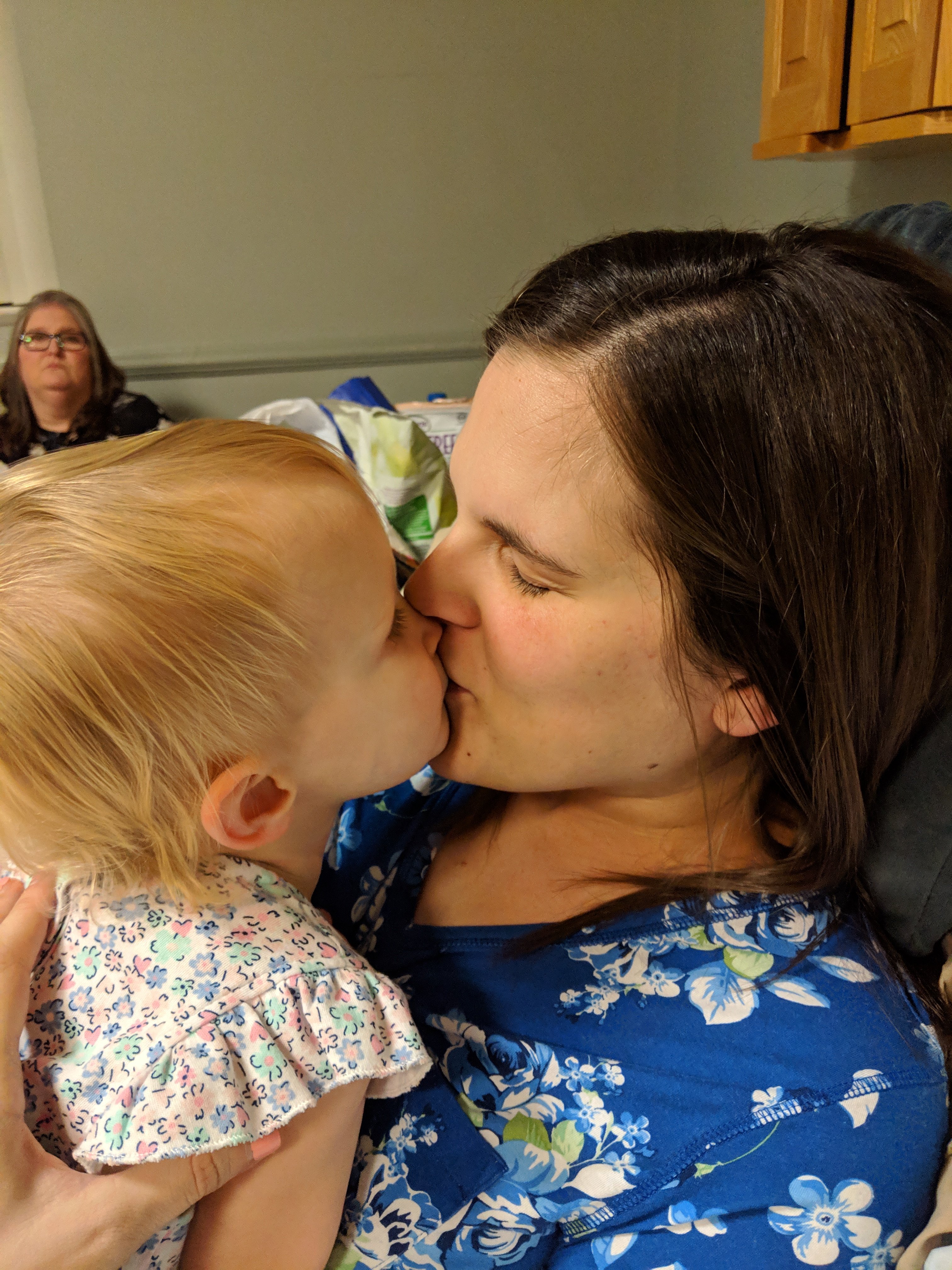 Just look at her struttin' outta there with that treat bag! (And my visitor sticker she stole!)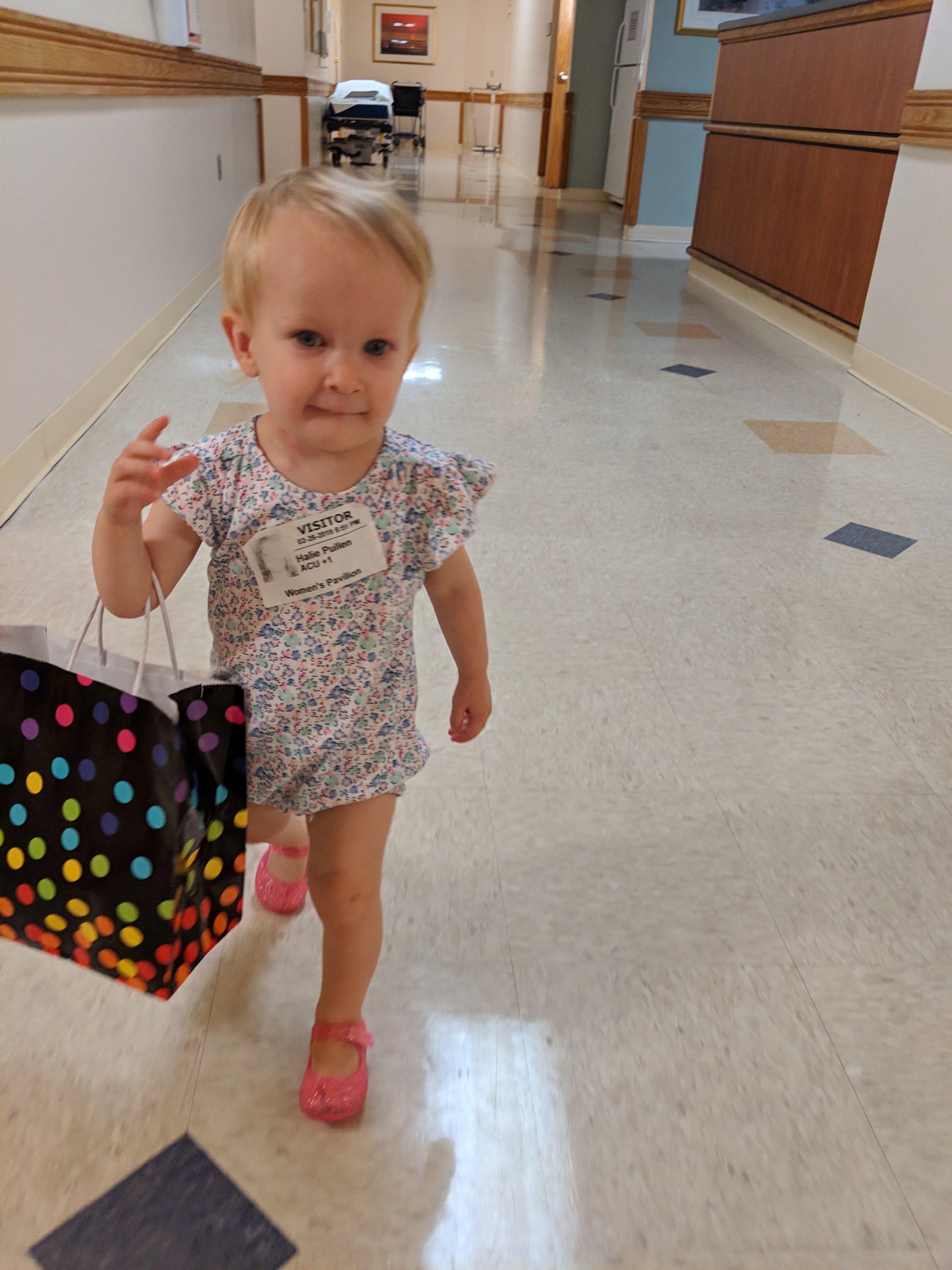 During bedtime book reading, she needed a few more chips for a bedtime snack, even though she ate practically the entire time we were at the hospital.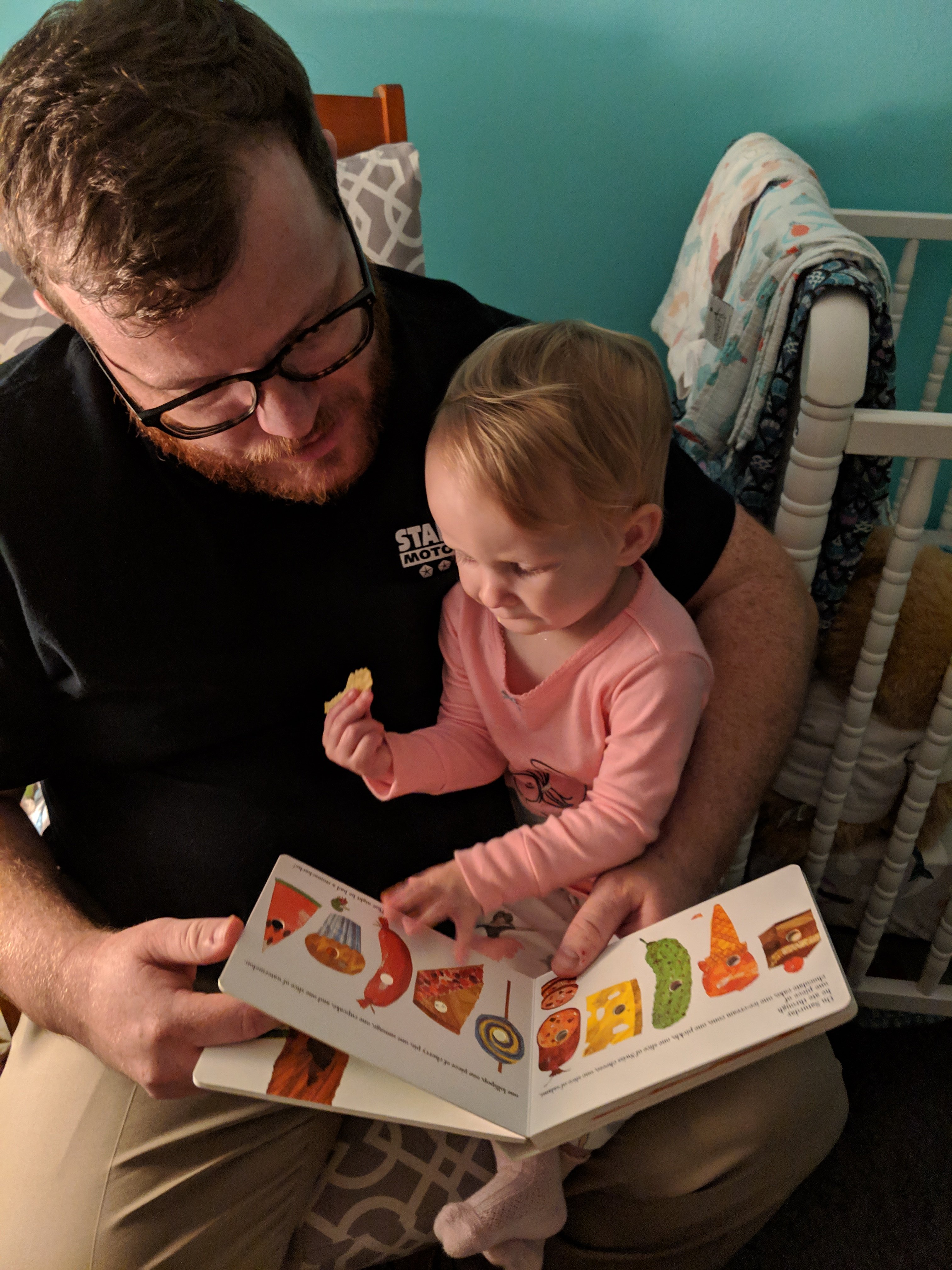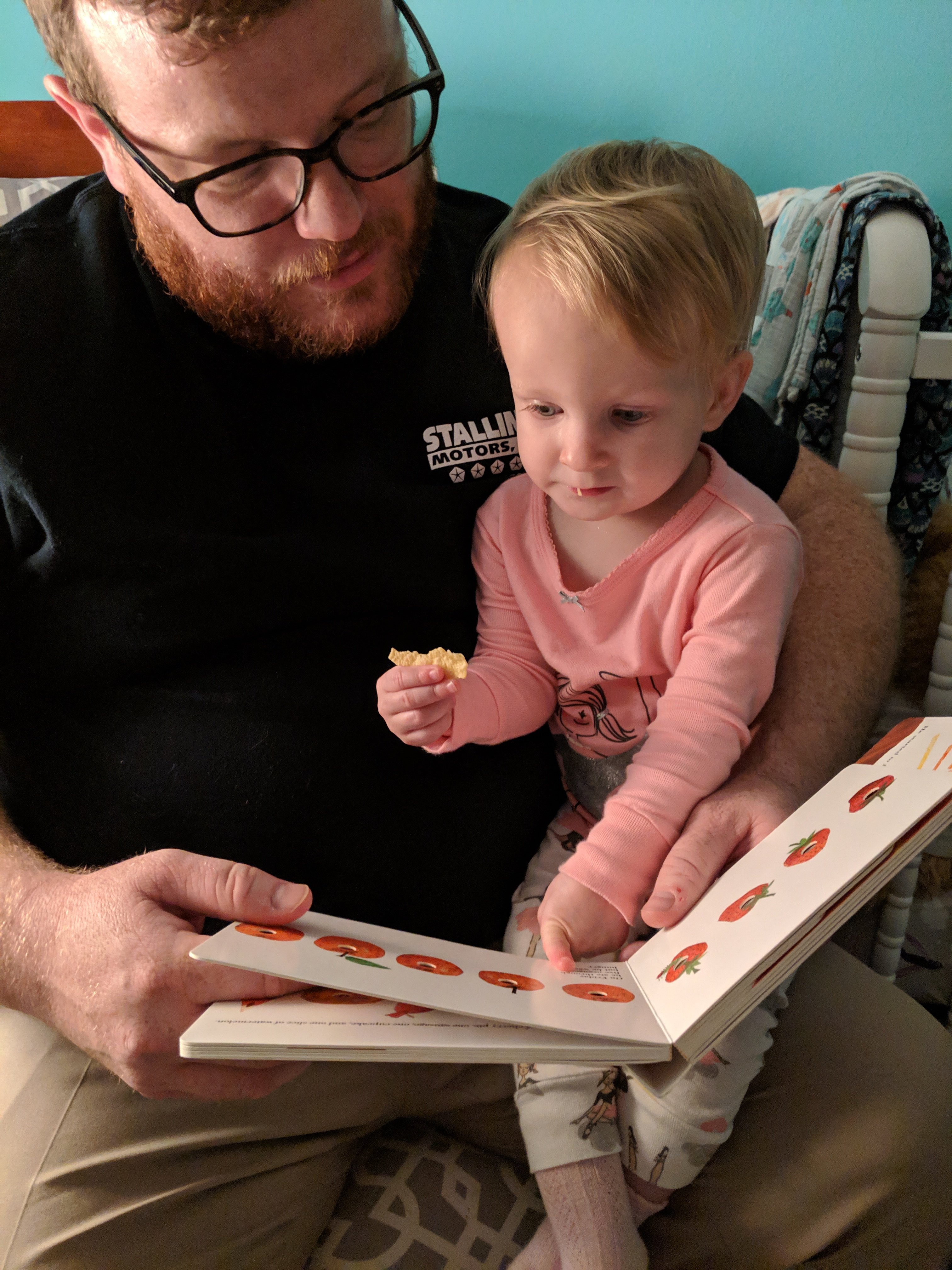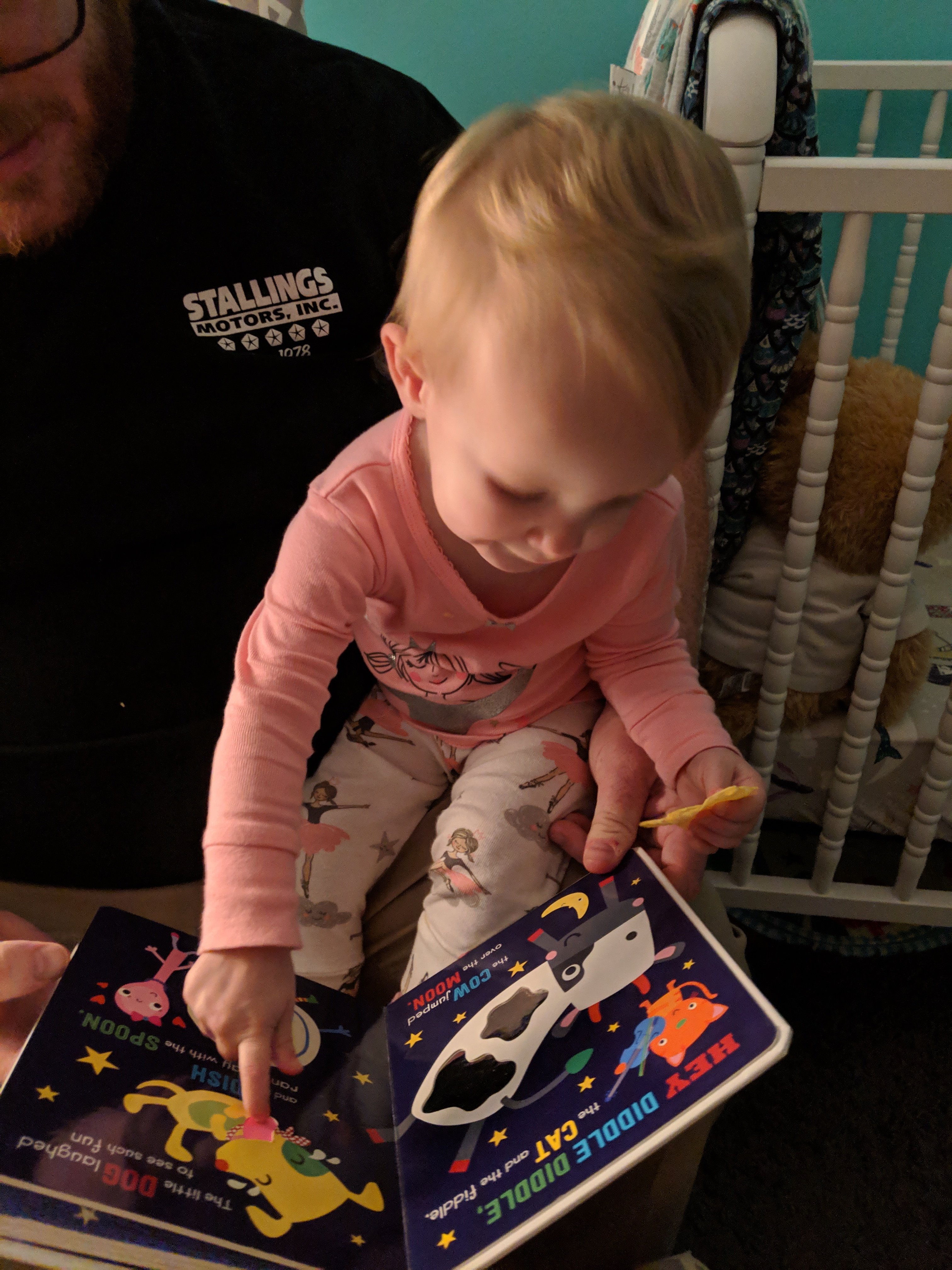 She was pretty wound up from all the activities of the evening, so it took a little longer to get her to go to sleep tonight. But she was so super sweet, I didn't mind one bit. At one point, she kept asking for Daddy & Bo, so I told her they were going night-night too. Then we got stuck in a loop of her repeating, "Bo?" And me saying, "he's going night-night too," over and over again, at least ten times. And I was laughing so much. Apparently she was just really all about Uncle Bo today!
And then she just popped her head up, kissed my left cheek, kissed my lips, kissed my right cheek, kissed my lips, kissed my left cheek, and then plopped her head back down on my shoulder. And then I was laughing again because it was so incredibly sweet & precious, and my heart just exploded with so much love for my tiny girl. ❤️