The girls (I love saying that now, "the girls," plural 🥰), were both wearing their sister shirts this morning, and Big Sister wanted some baby-holding time before school.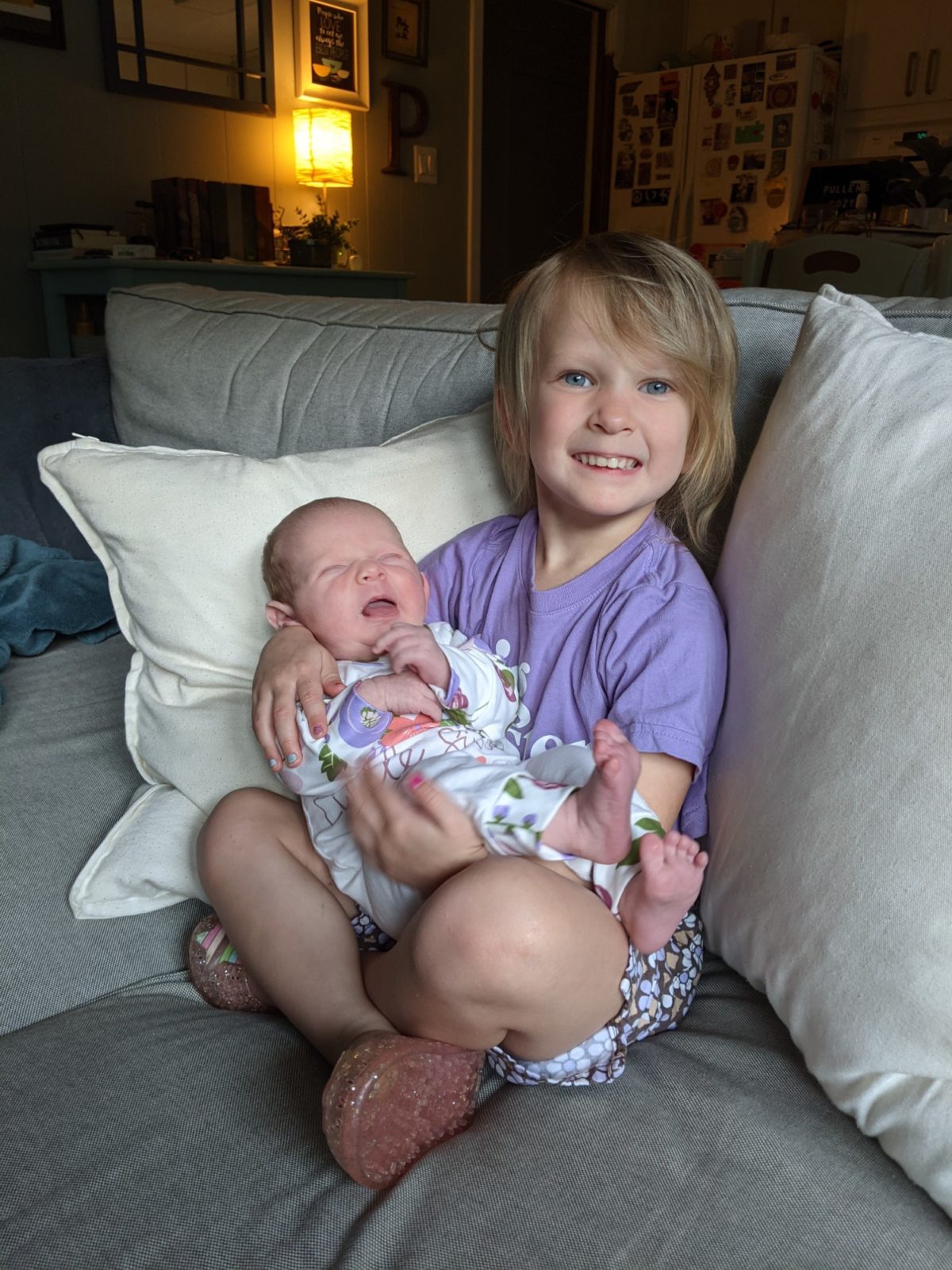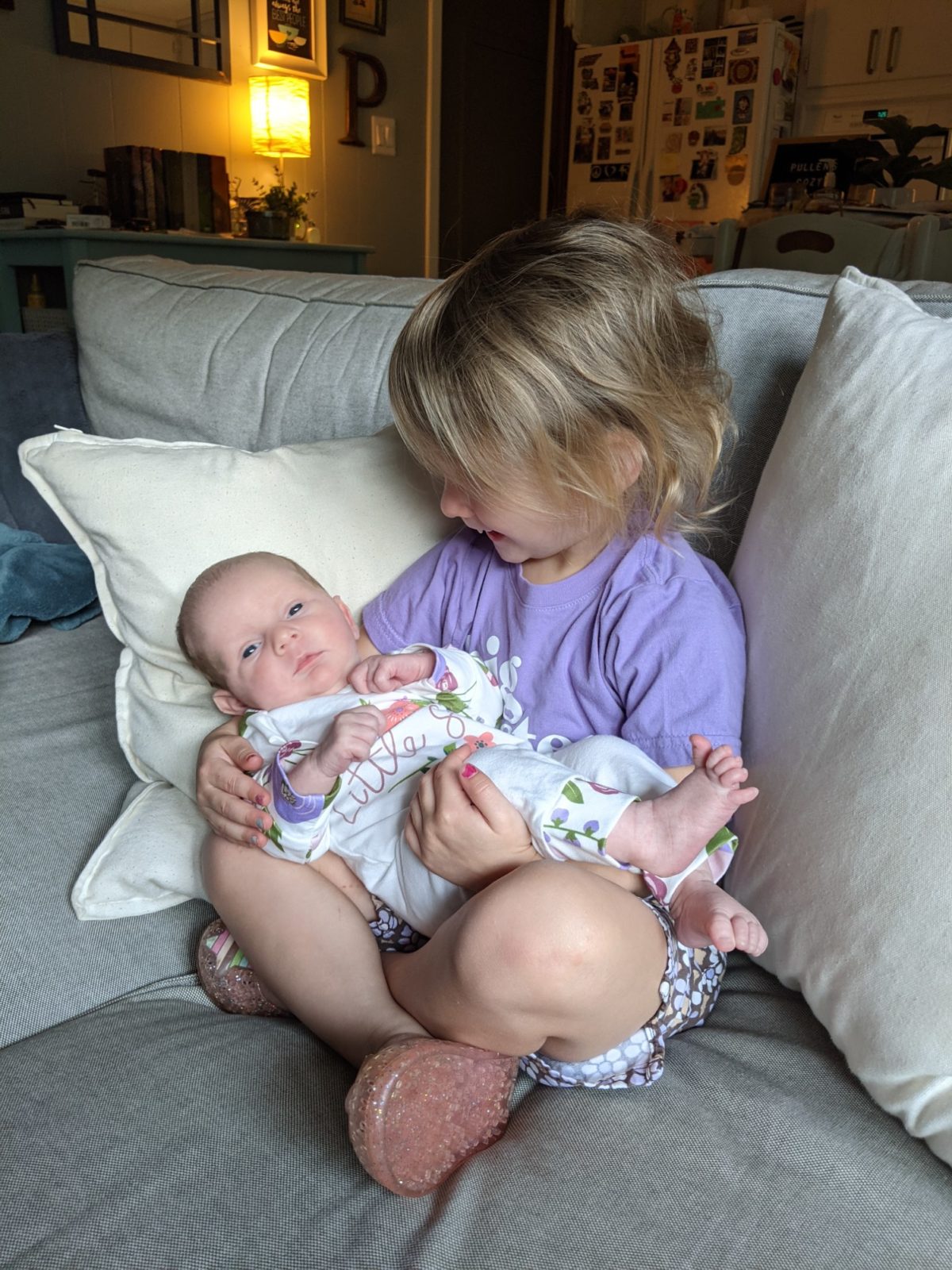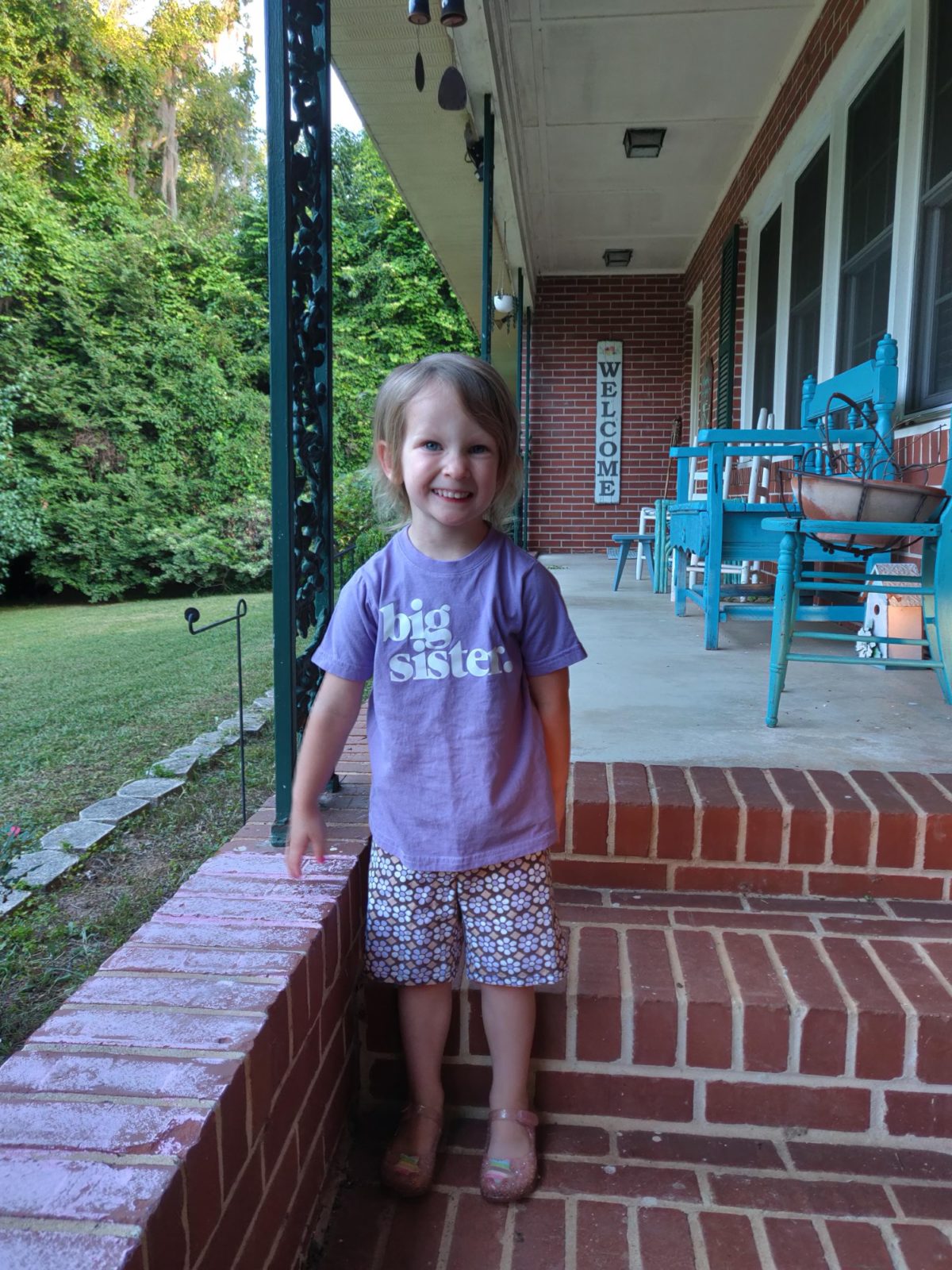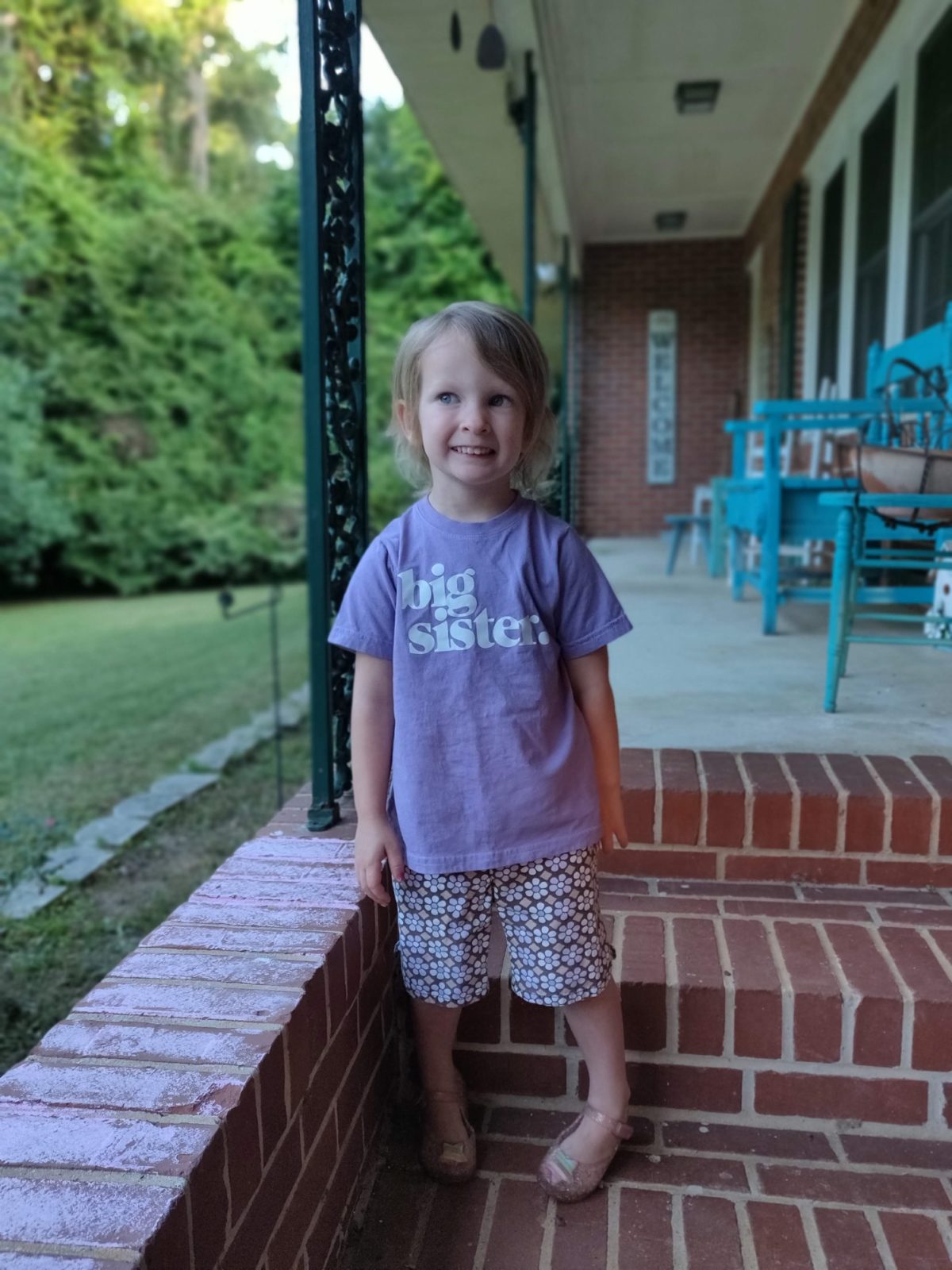 I took some cute photos of Little Sister (you can tell she fills out this outfit a lot more now than three weeks ago, when she was only 3 days old), and then I made her do some tummy time by the sunny back door.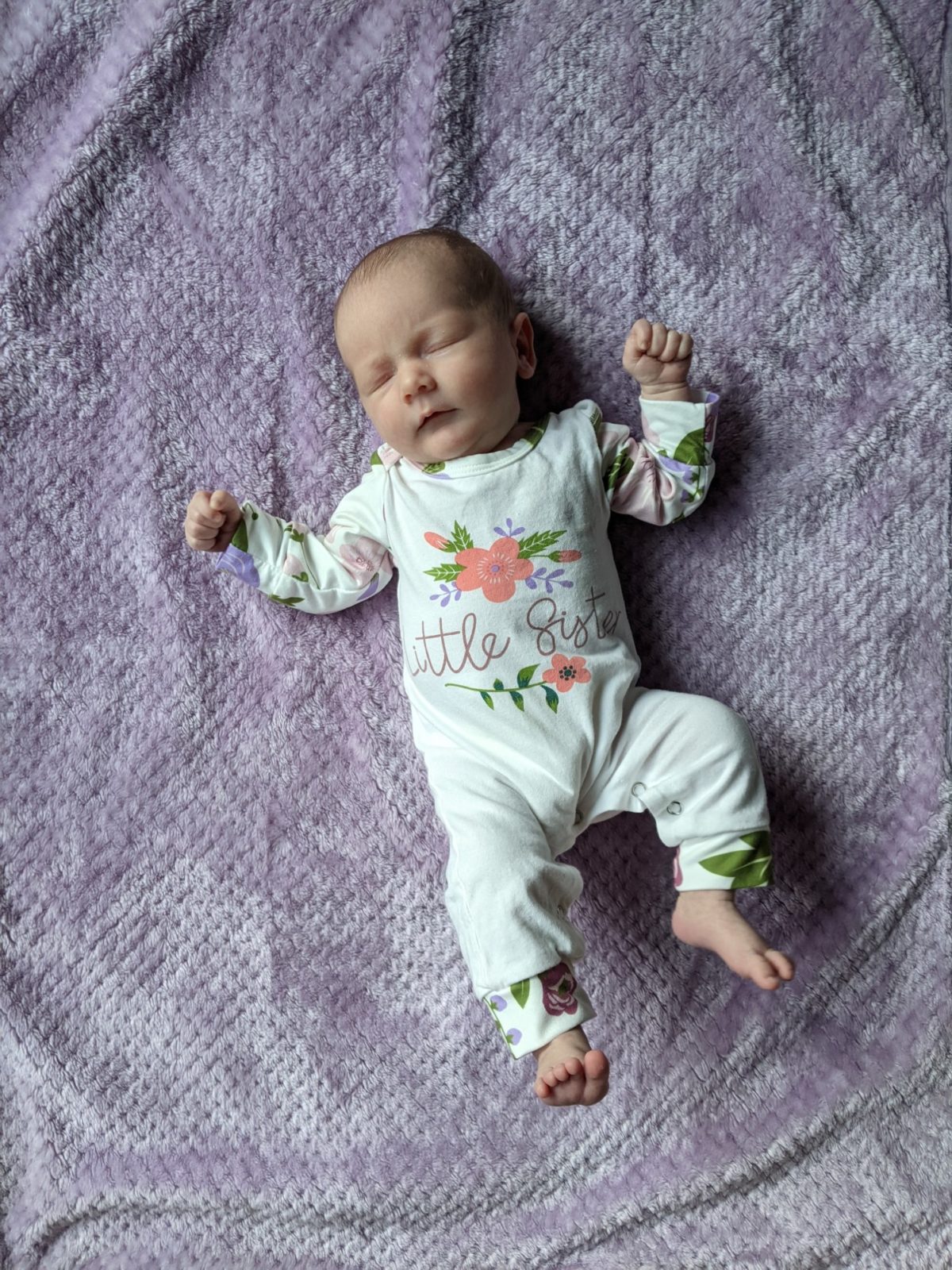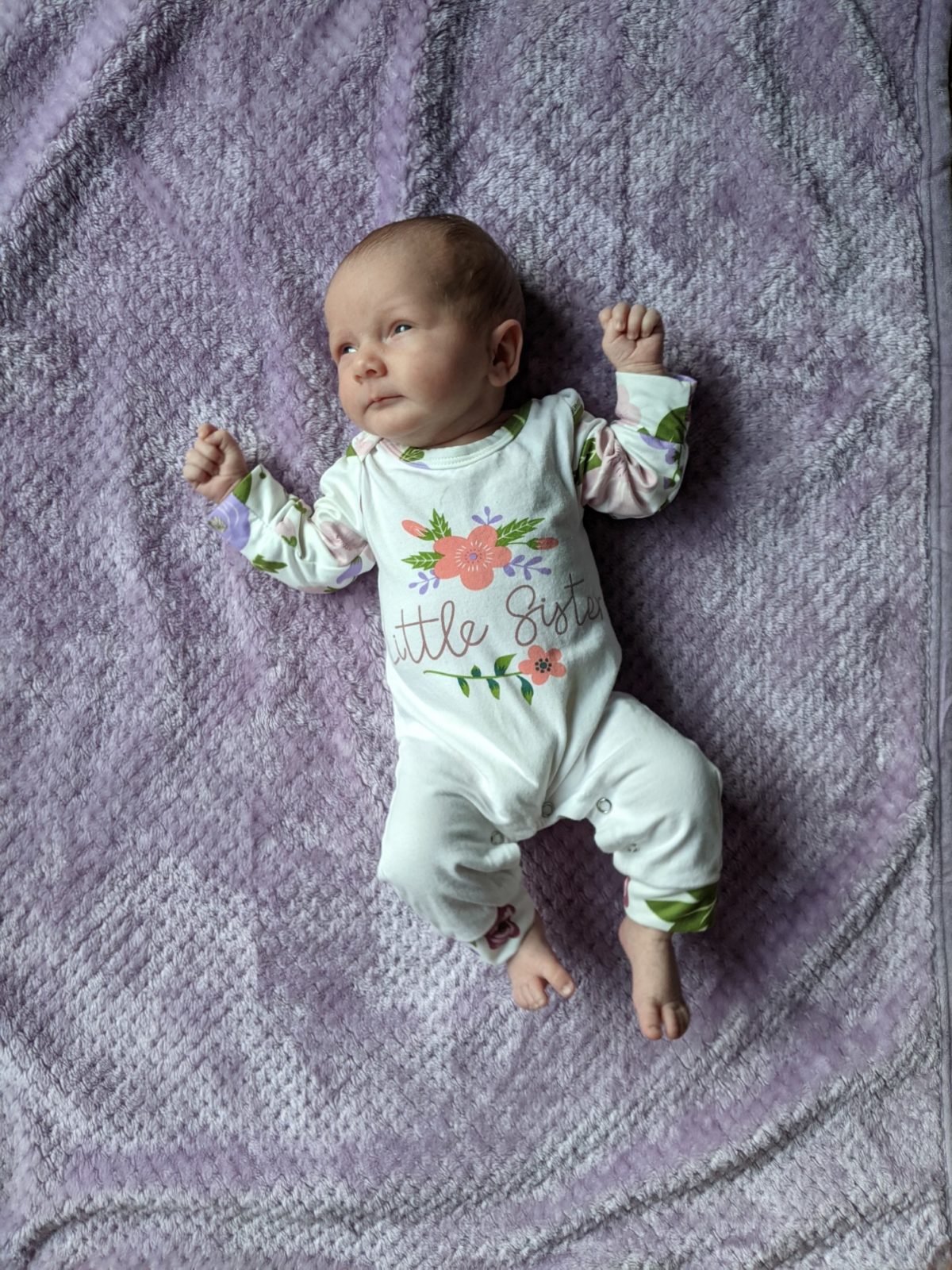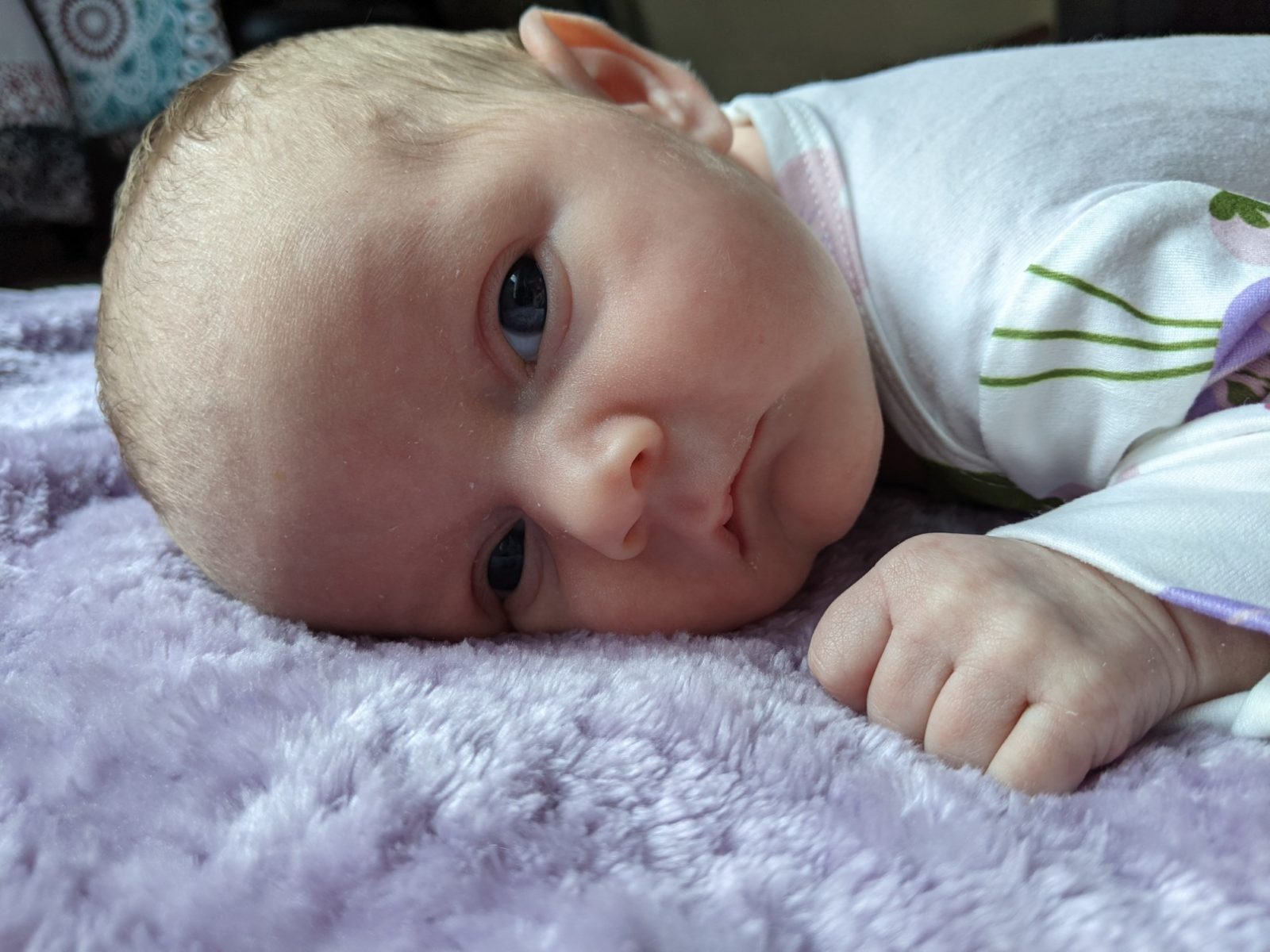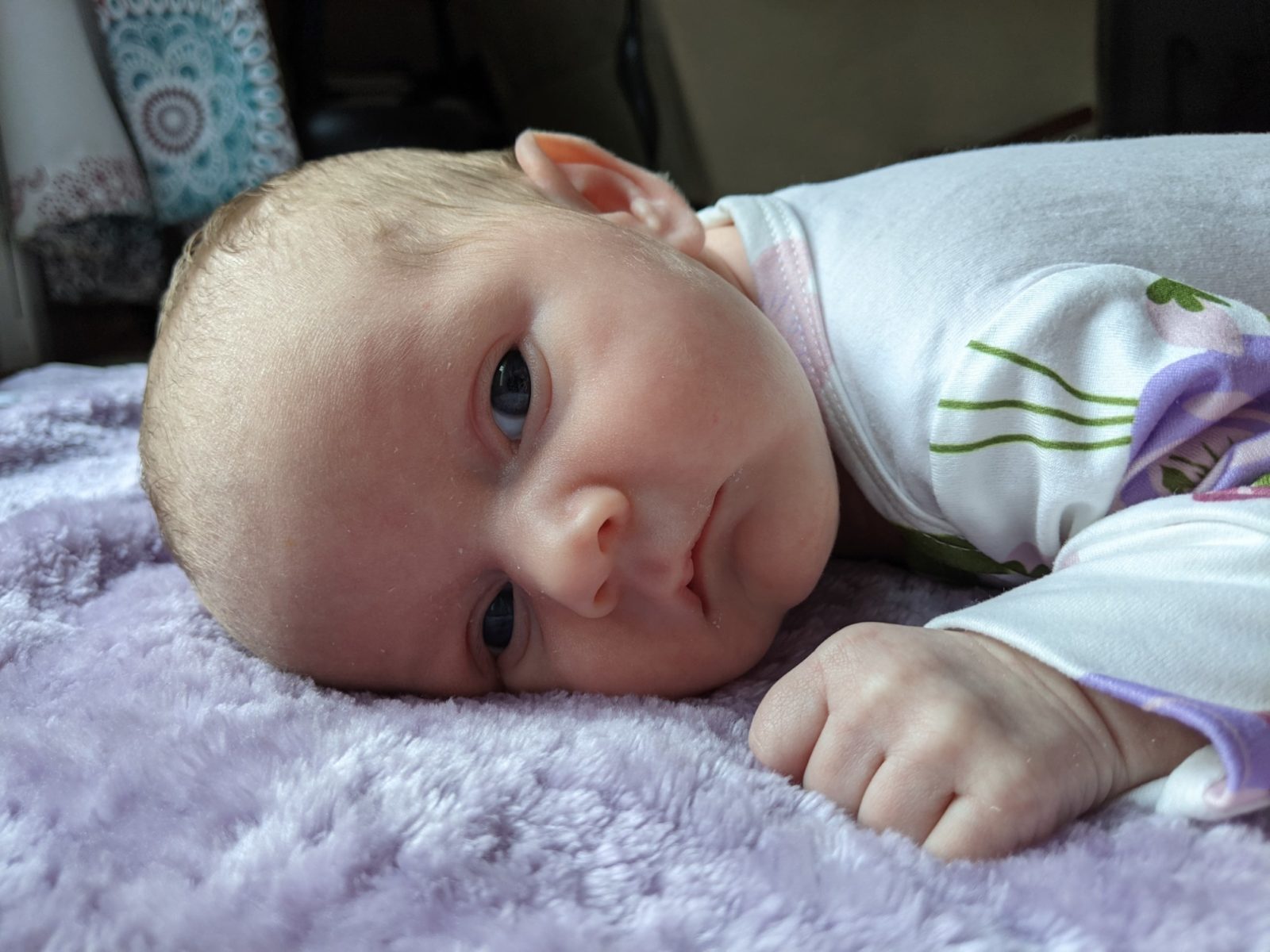 The weather was so nice today, and I've been feeling better and better physically the last few days (post-surgery), so it seemed like the perfect day to venture out on our first solo walk, with just us two. And if was so lovely!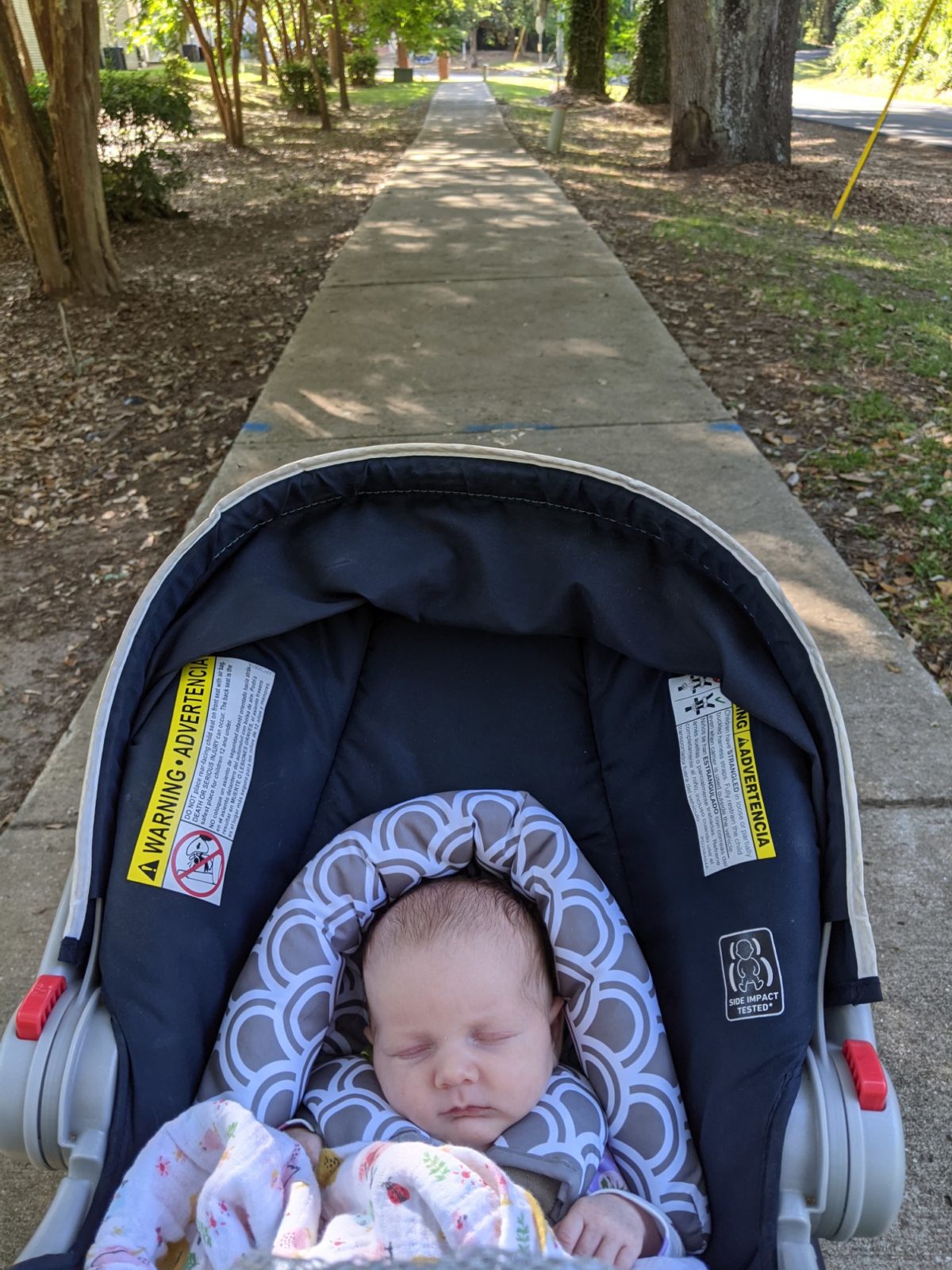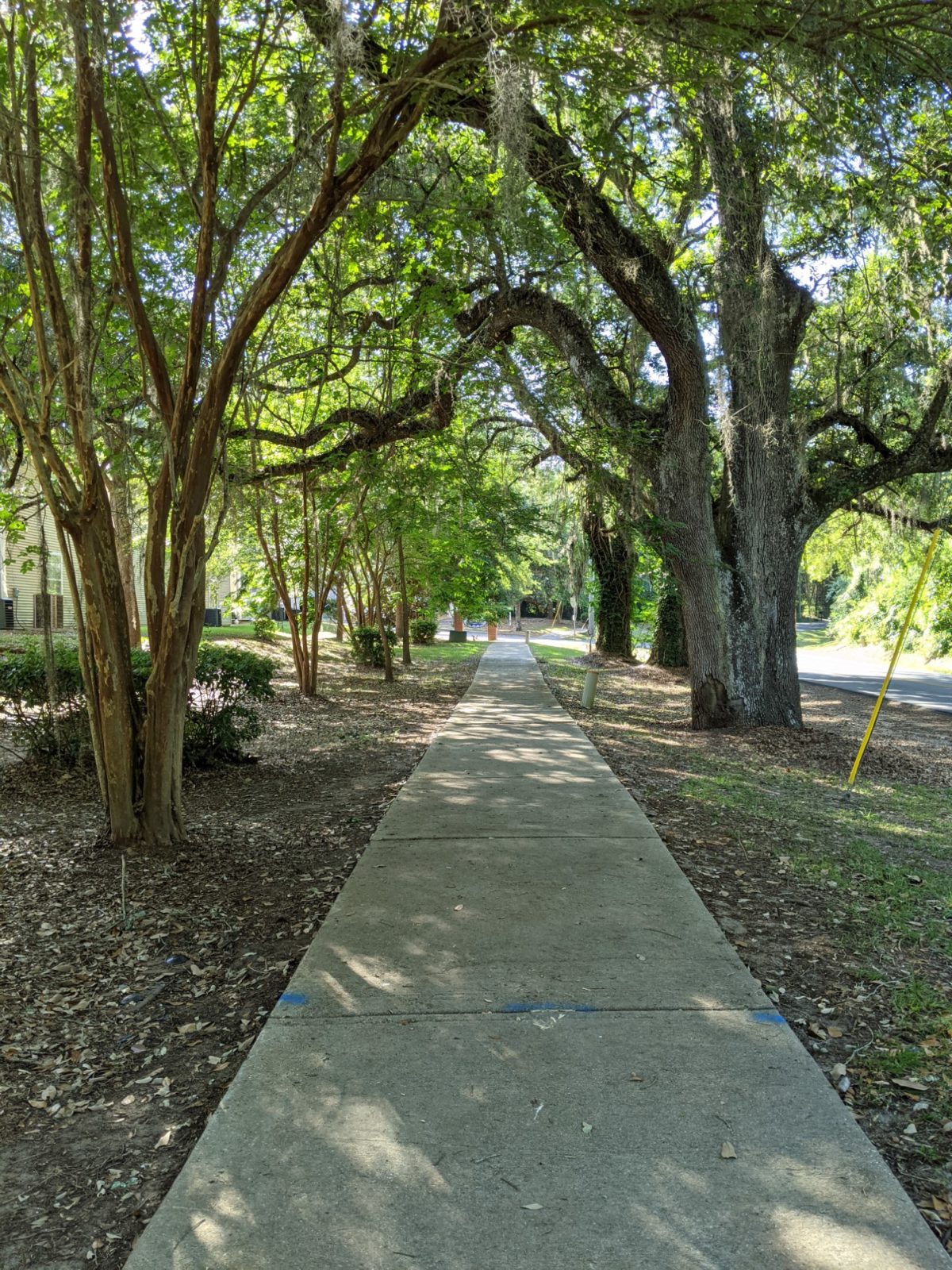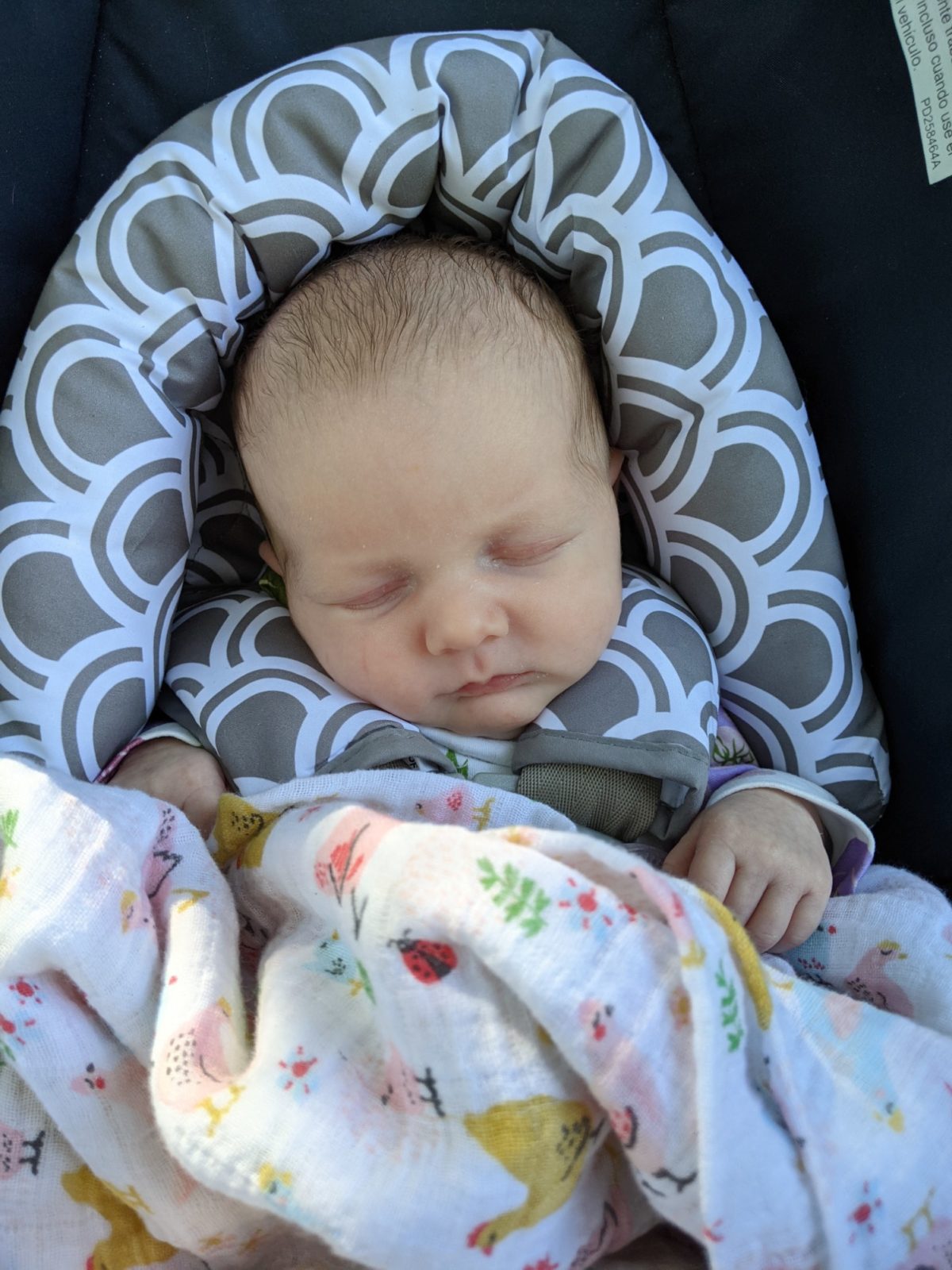 The yard was looking so, so nice after all the yard work and mowing Jeff did this weekend.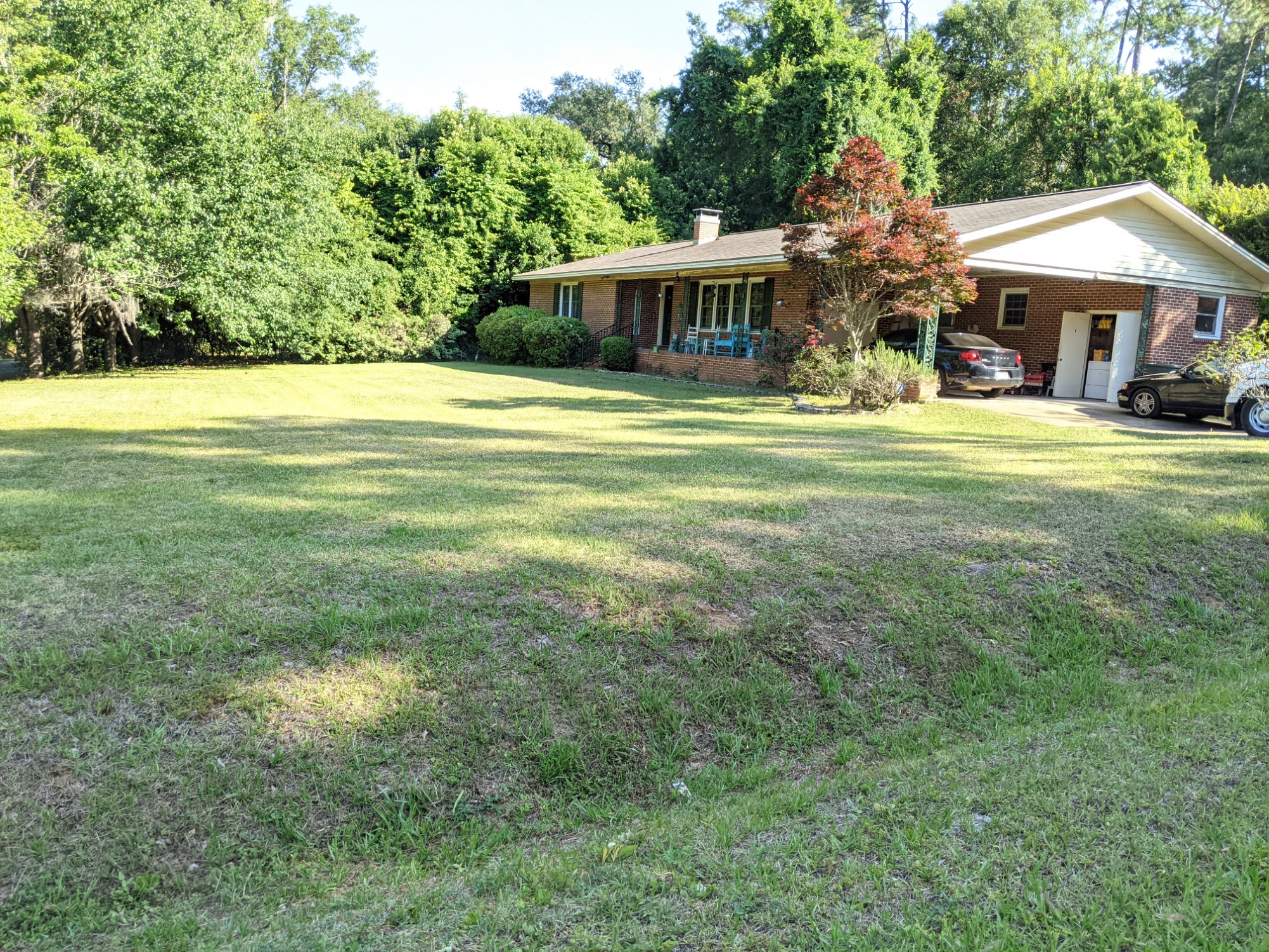 And the Paul's Pest Control guy was there when we got back from our walk. After almost 5 years of living in this house, and seeing almost zero bugs the whole time, we recently noticed termites. So now we had to do the grown-up, un-fun business of paying $400 for termite treatment (followed by $30/month for checkups and maintenance)! 😏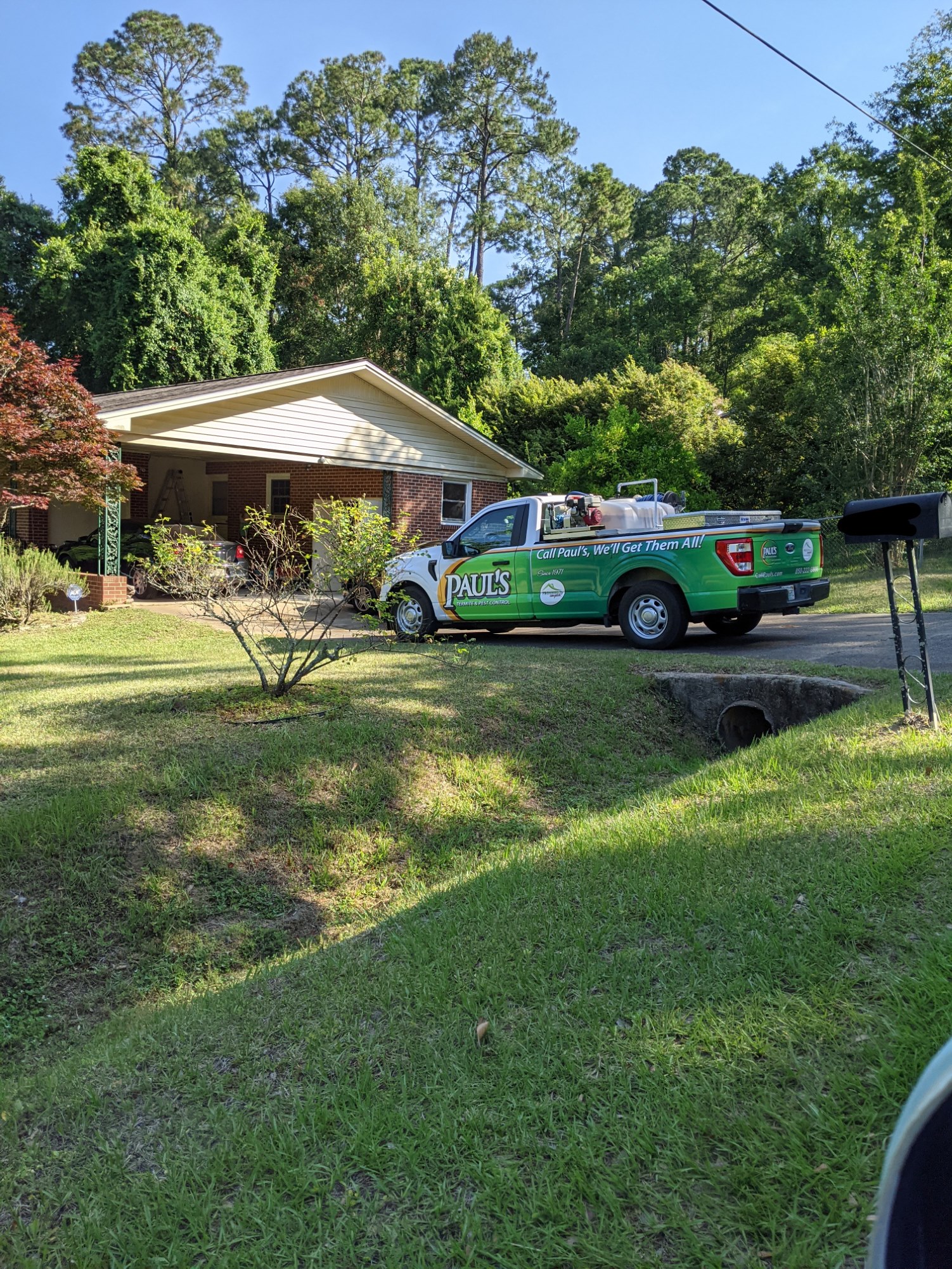 I fed Addie her bottle when we got back home, held her for a long while to get her to sleep, and then laid her down for a nice, long nap in her bassinet. I read, and did a crossword puzzle and made lunch for Jeff and I, all while she napped.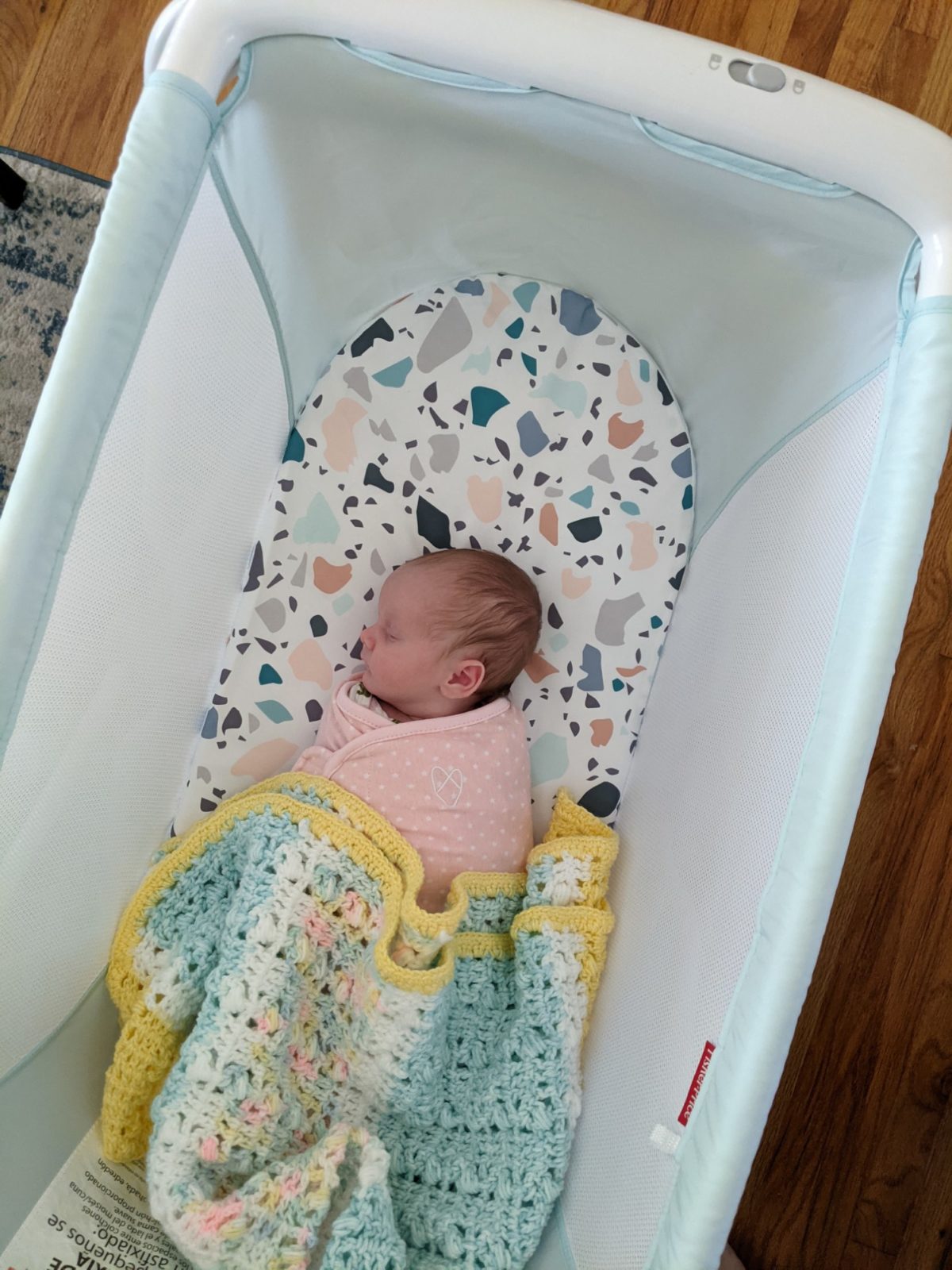 Today's lunch was virtually the same – tuna sandwich with another homemade smoothie!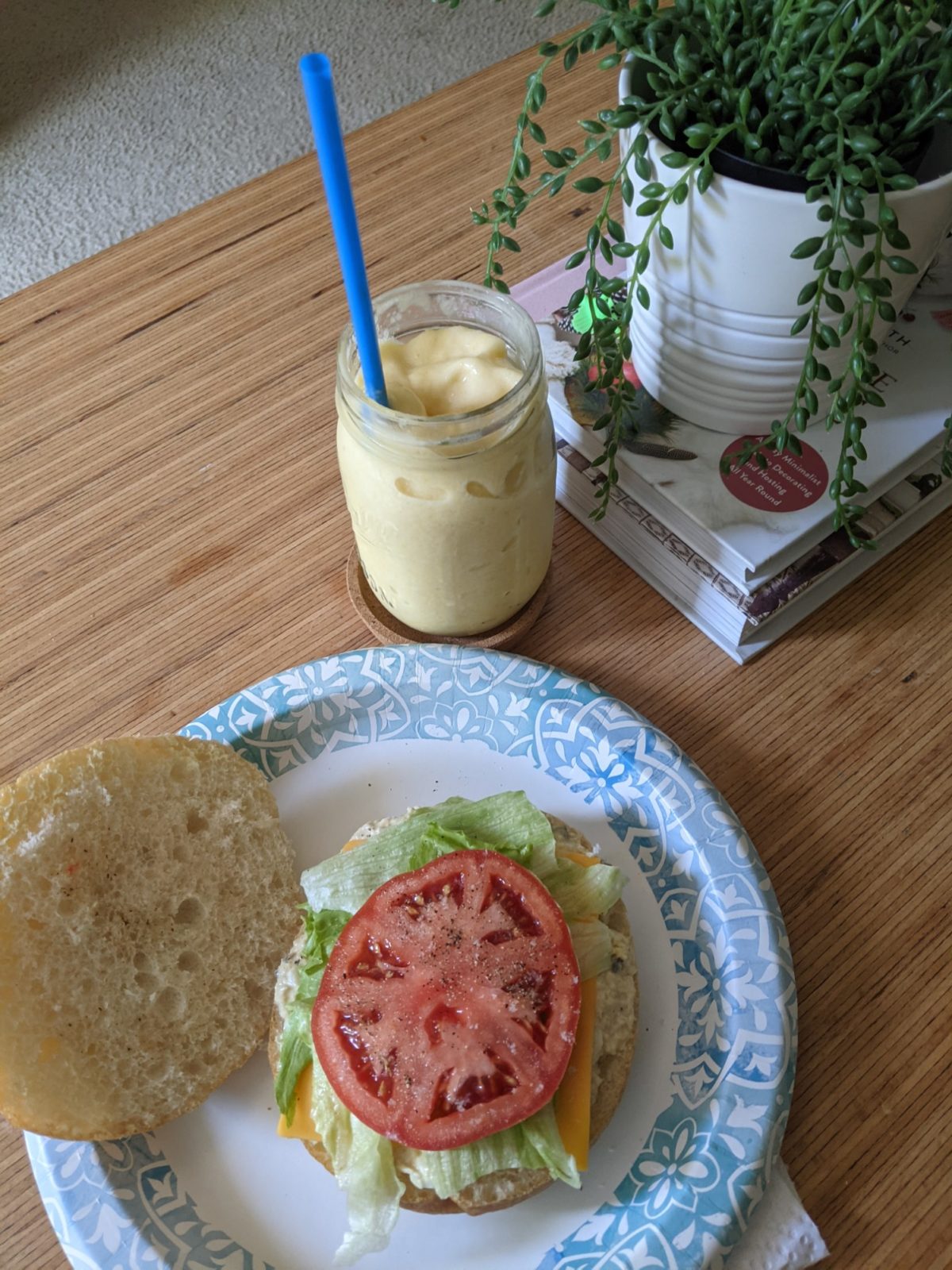 And these are the things we found at Old Navy last night – unicorn dress for Emmie (that she picked out herself), orange sweatshirt for Emmie for next winter (how cute will she be picking oranges off our tree wearing that?!), two orange t-shirts for Emmie, an orange romper for Addie, and a super soft and also reversible coat for Emmie for next year. And in keeping with the orange theme, I got myself an orange blossom scented spray. I've been seeing ads for all their orange stuff lately, and I was so excited we found it all on clearance!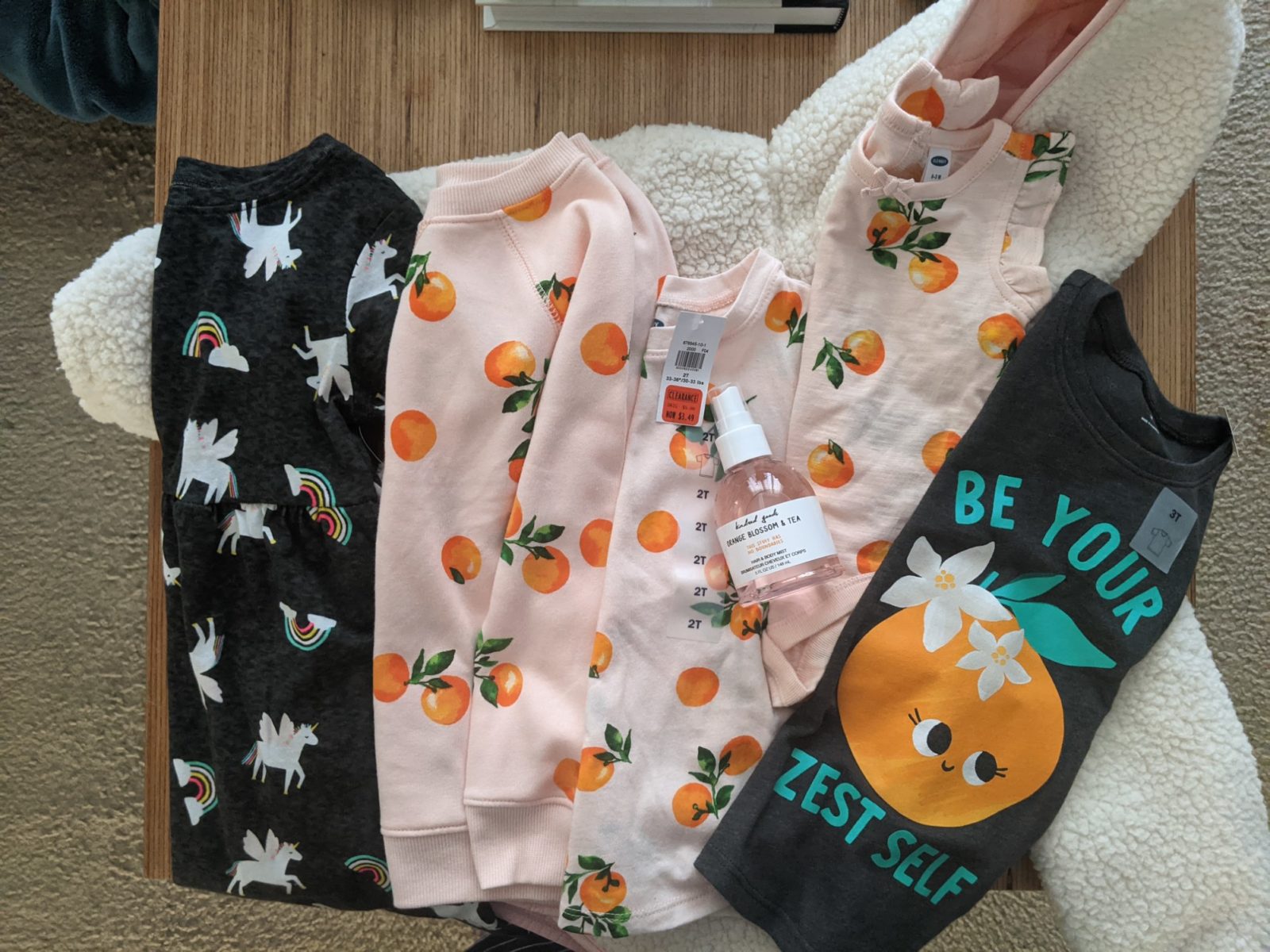 While Addie slept this afternoon, I washed dishes, and did another crossword puzzle, and tidied up a few things in the living room and kitchen. (I clearly have to do some productive things while Addie sleeps, if you haven't noticed.)
And then Jeff and Emmie got home! And Miss Brooke had done her hair again, which was supposed to be an Elsa braid, but Emmie said her hair wasn't really long enough. But it was still adorable!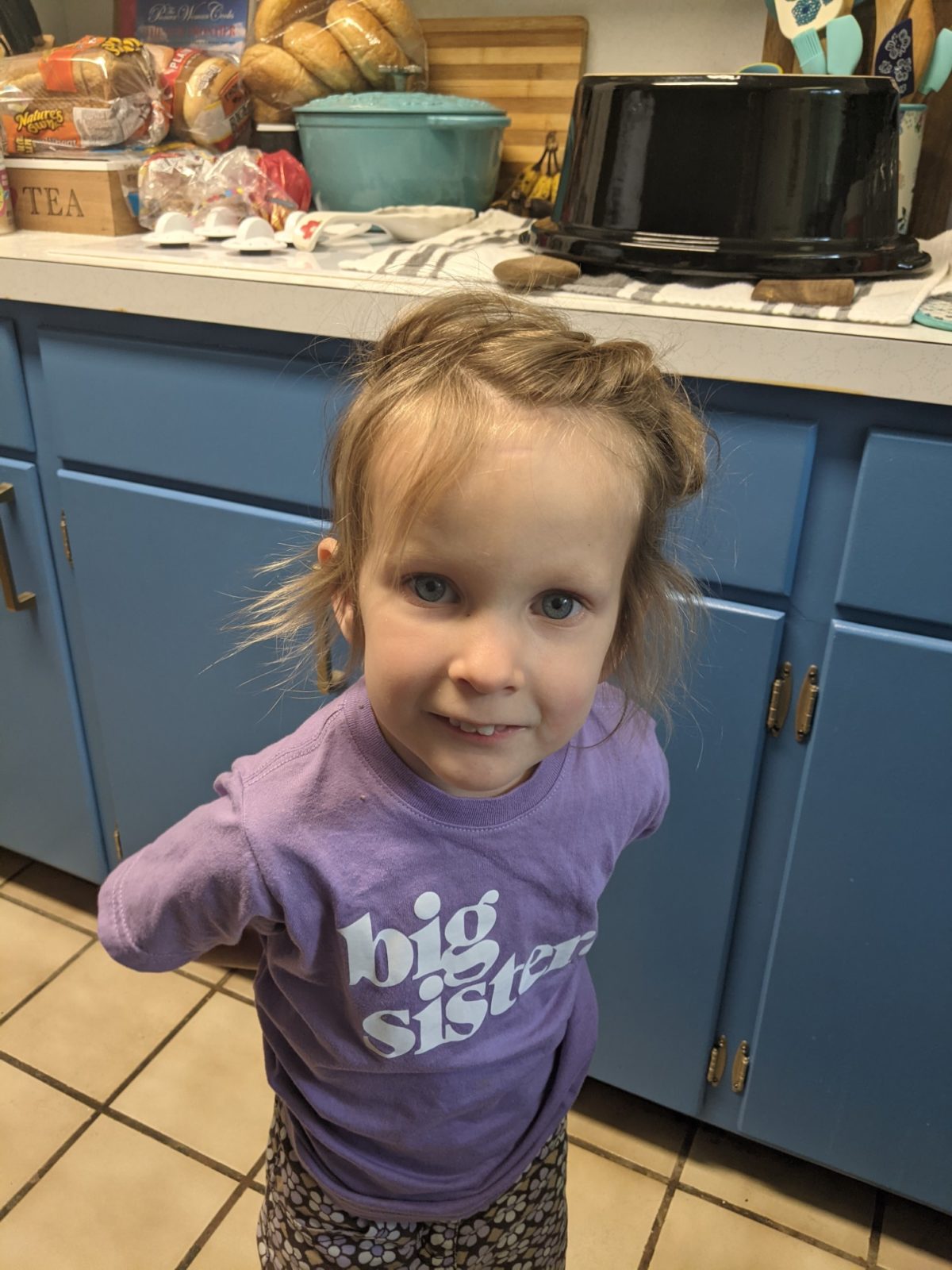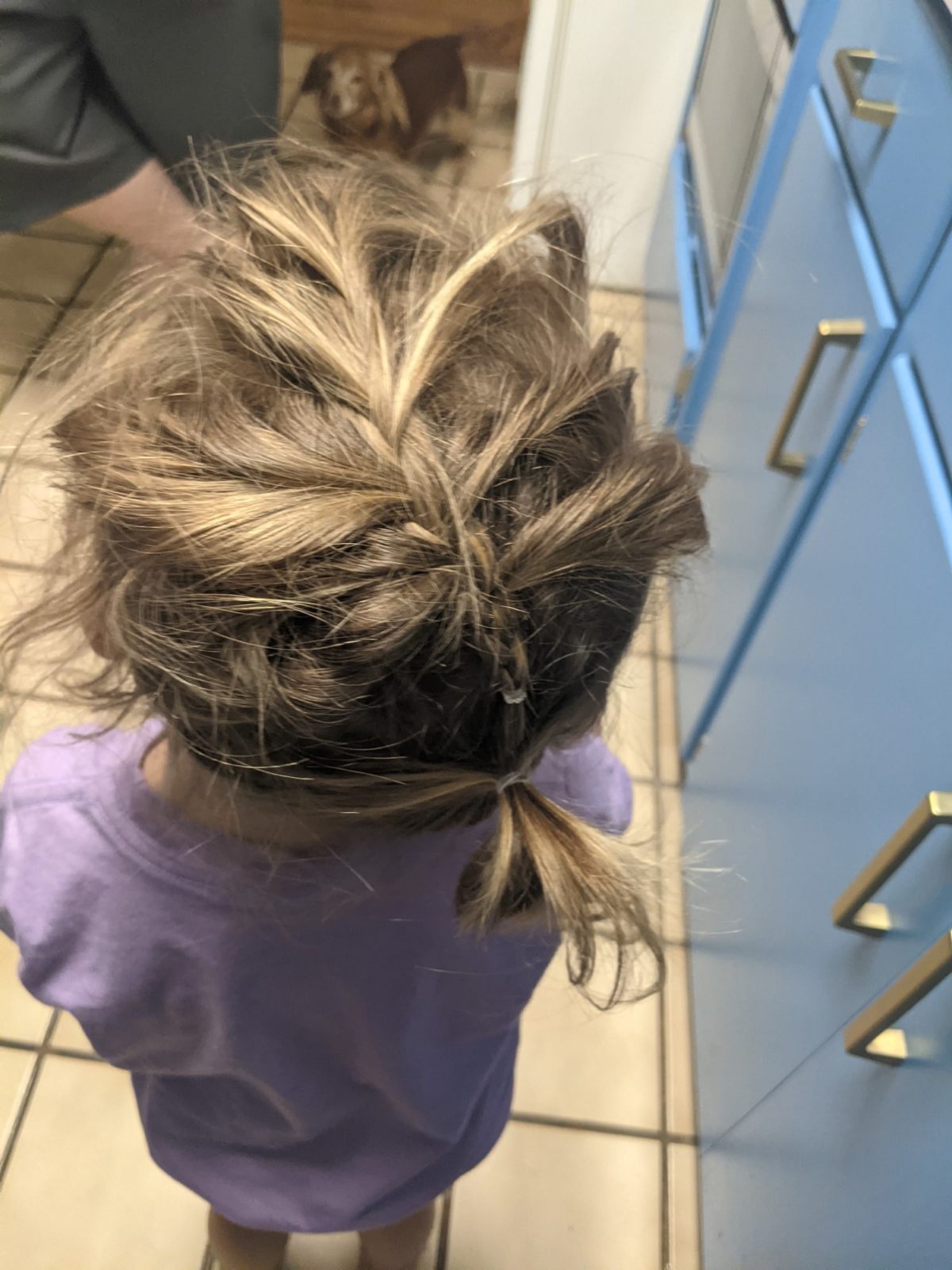 I know I said the other day I was going to start cooking dinner again this week, but I "let" Jeff and Emmie picked up Chinese take-out on the way home tonight, and it was a delicious decision. And emmie always loves Chinese food, and eats so well. And I love to see her using her little chopsticks! (Jeff fixes them up with the rubberband like they do in the restaurants for kids, and she's actually pretty good at it.)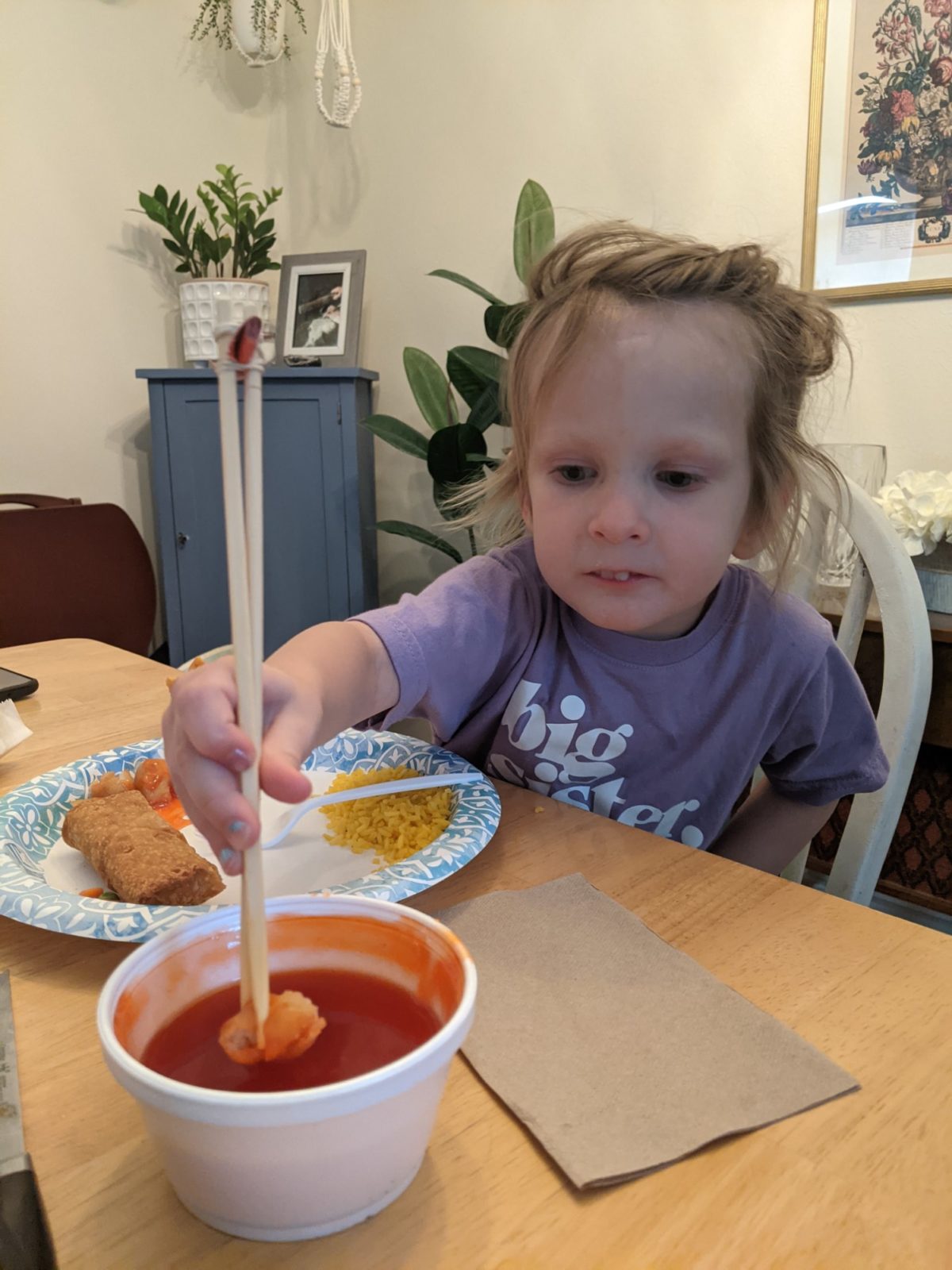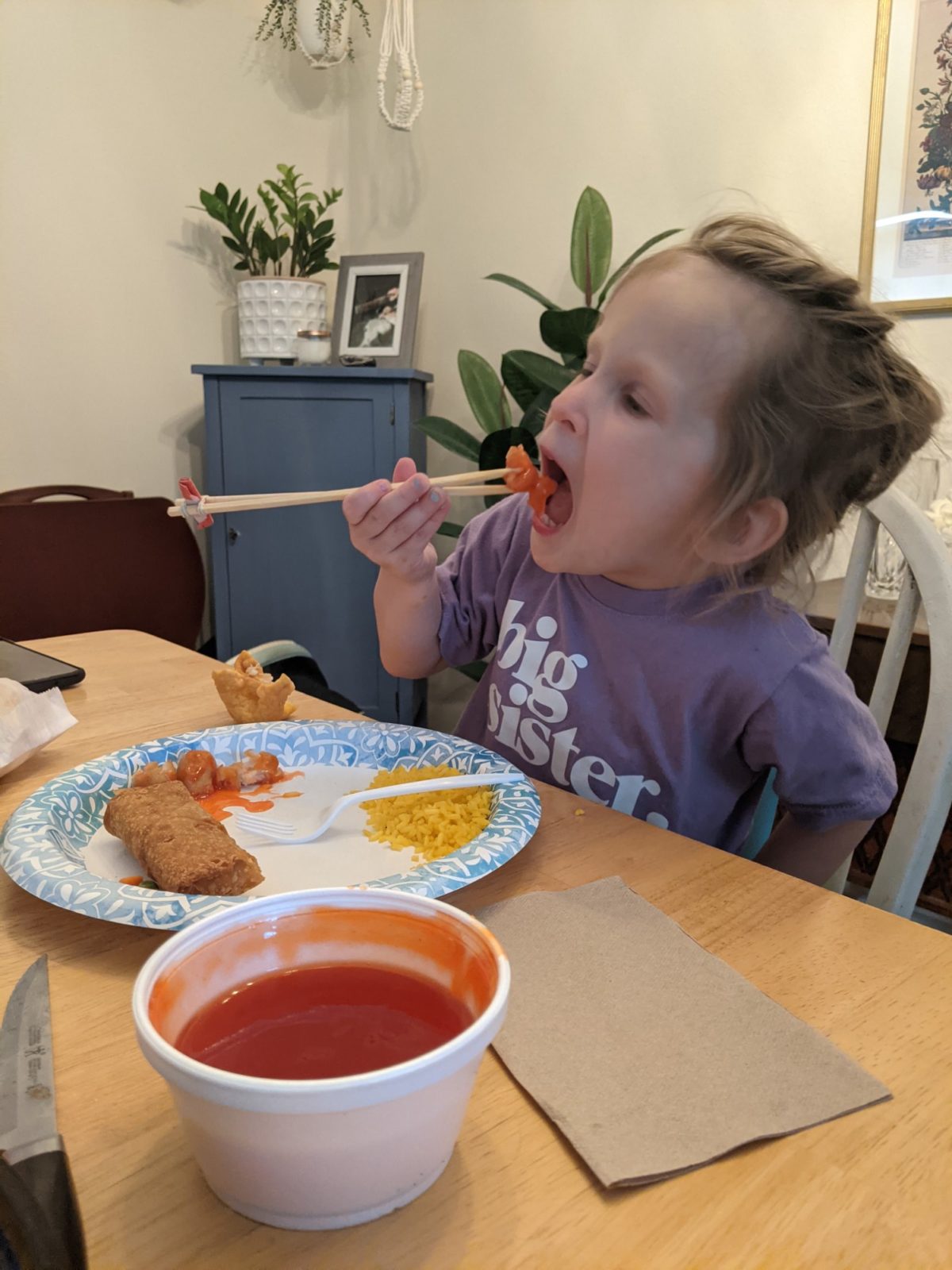 Forgive my crazy laughter, and bumpy camera work, I just couldn't help laughing so much at this cute little girl!
Tonight was bath night after dinner, and another new "Frozen"nightgown (it was a two-pack from Sam's) from Nana. She had a snack on the couch, and I read her a book, after watching a few minutes of "Incredibles 2." And then she had a really good and easy bedtime tonight.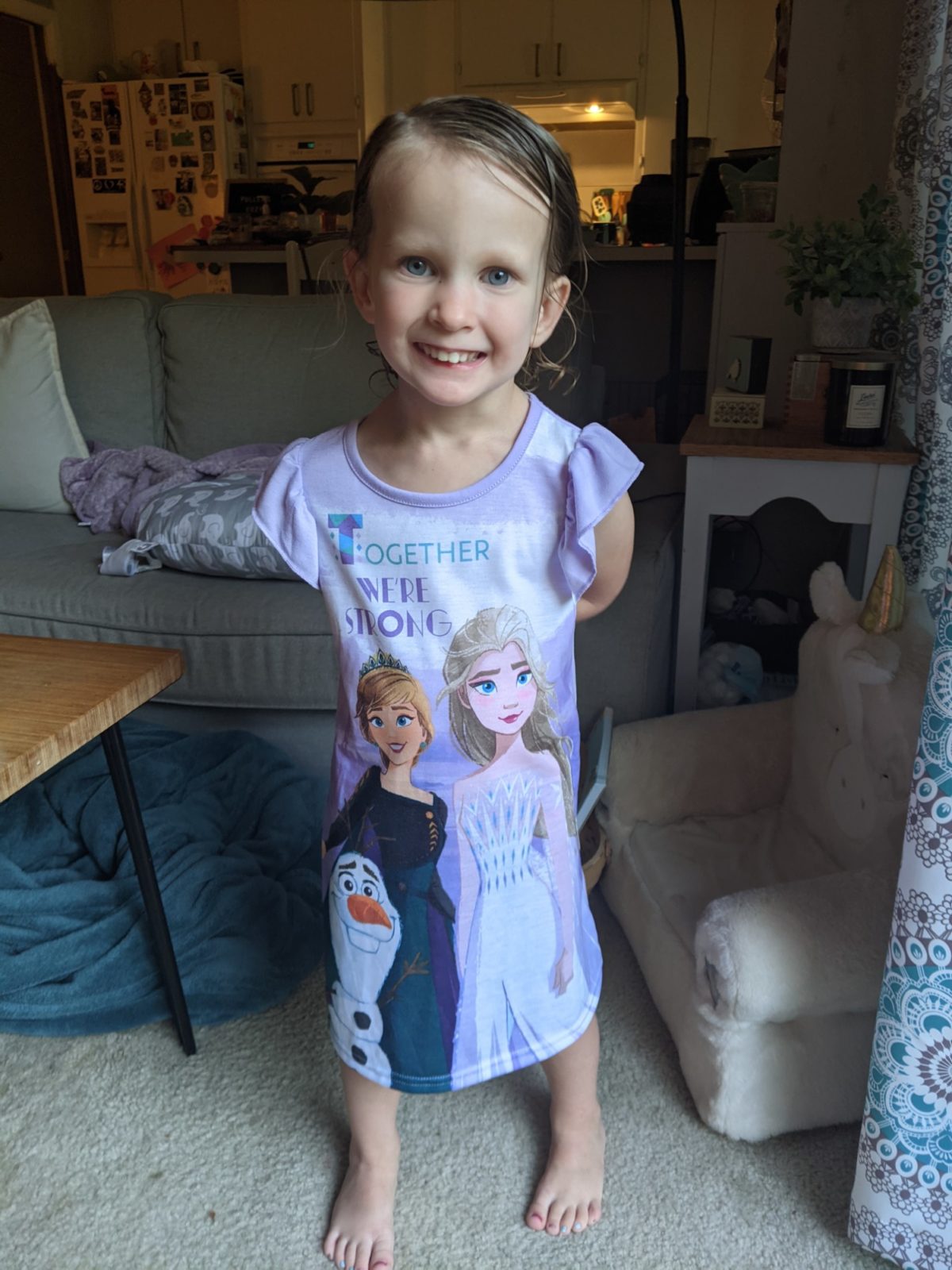 Addison ate really well while Emerson was in the bathtub, and has been sound asleep since then!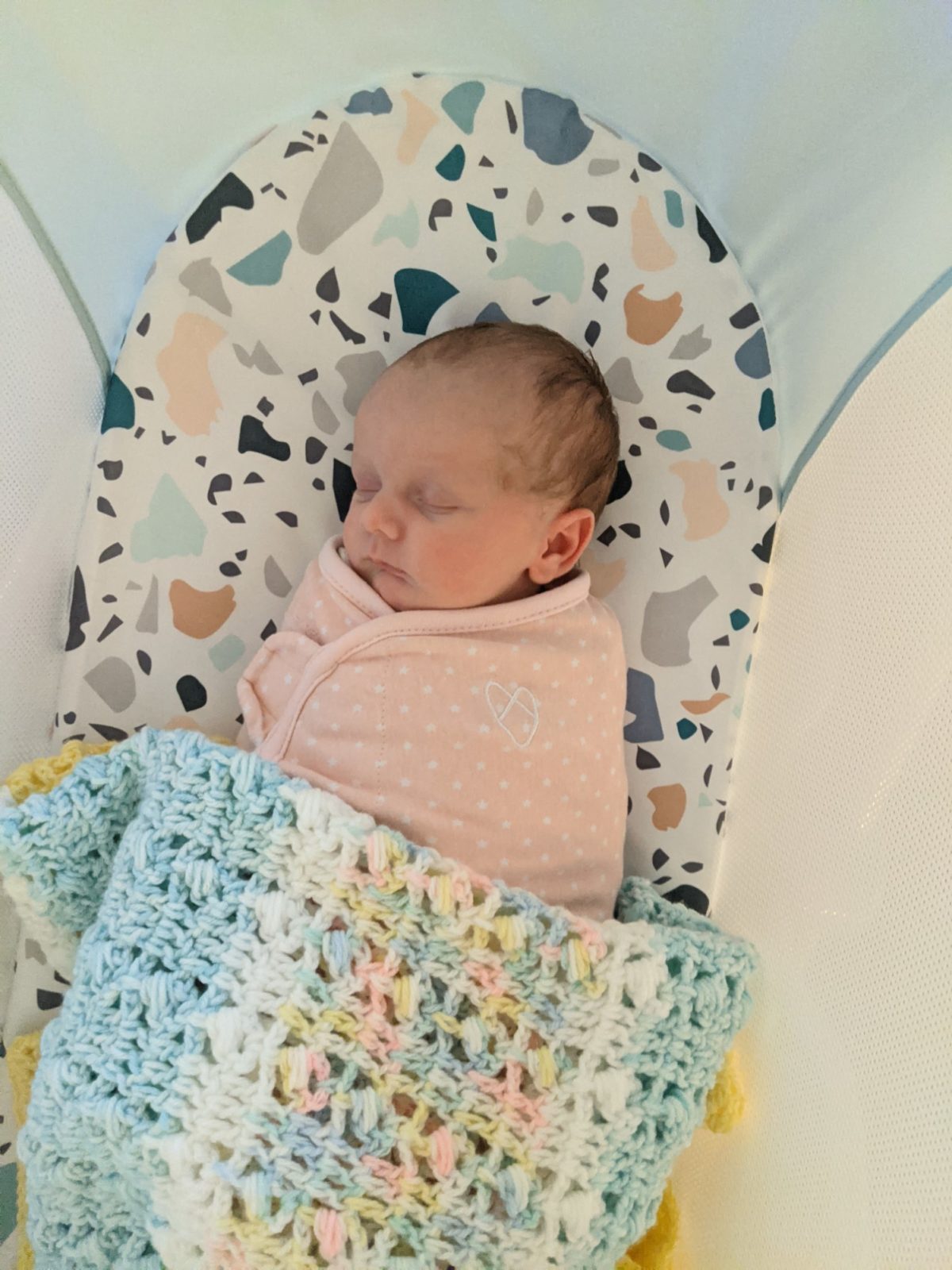 Jeff is currently taking a little nap, while I watch the most recent episode of "This Is Us"on Hulu, before Addison is due for another bottle again in about an hour, and then it'll be my turn for some sleep too.