Emmie was super happy and sweet this morning! She had a slightly rough drop-off with Daddy, but it wasn't too bad, and I think she recovered quickly and had a good day at school.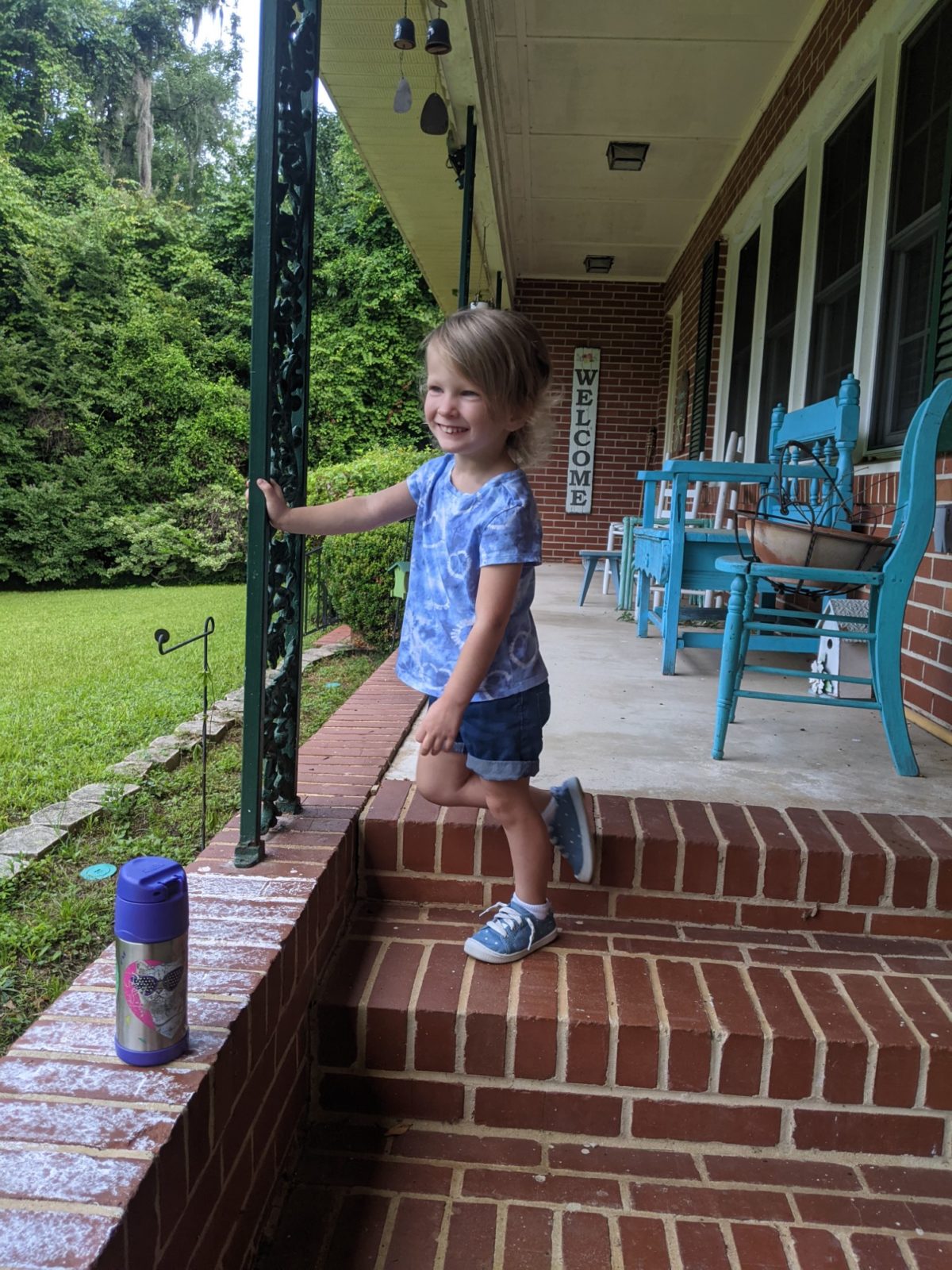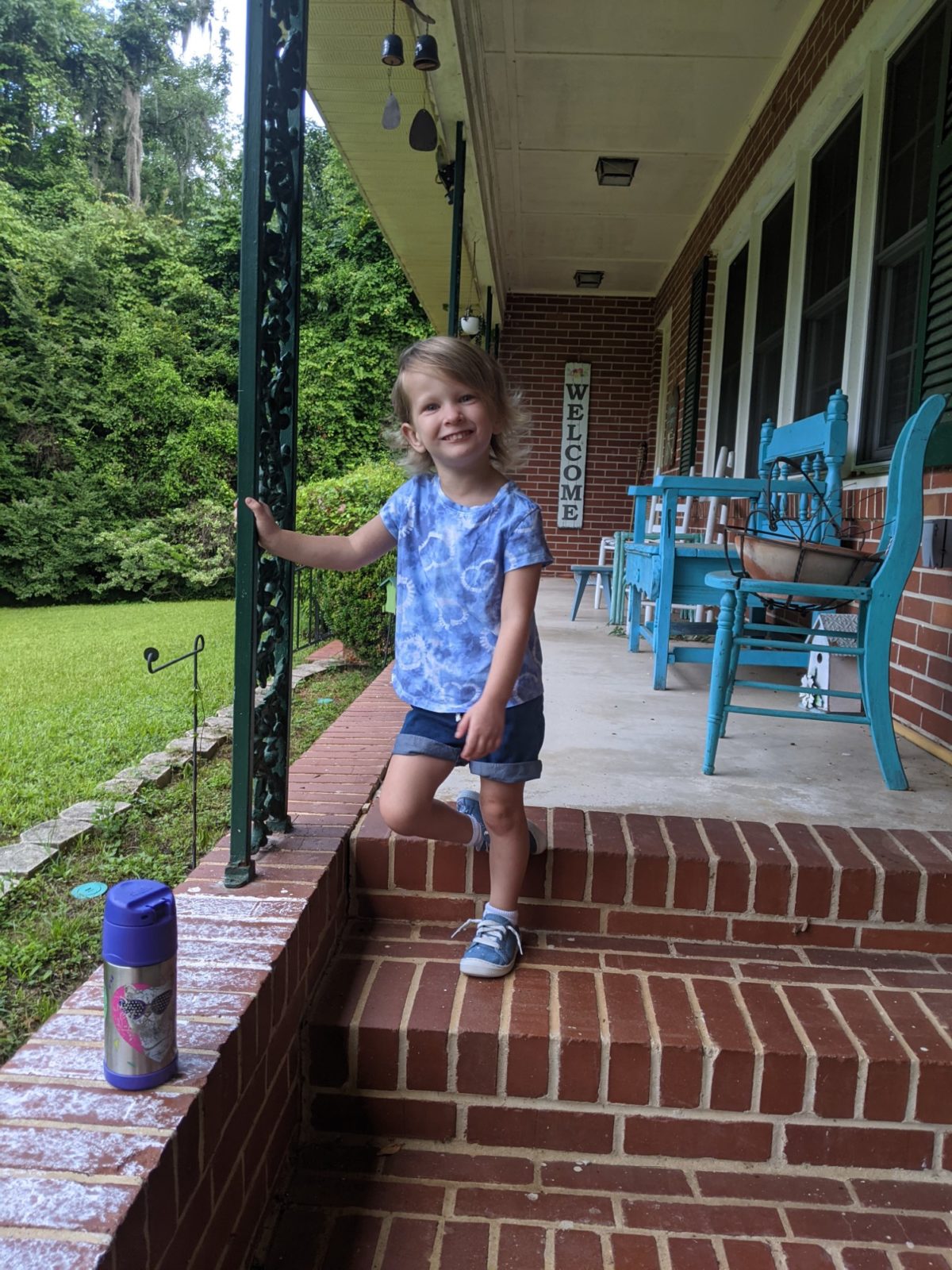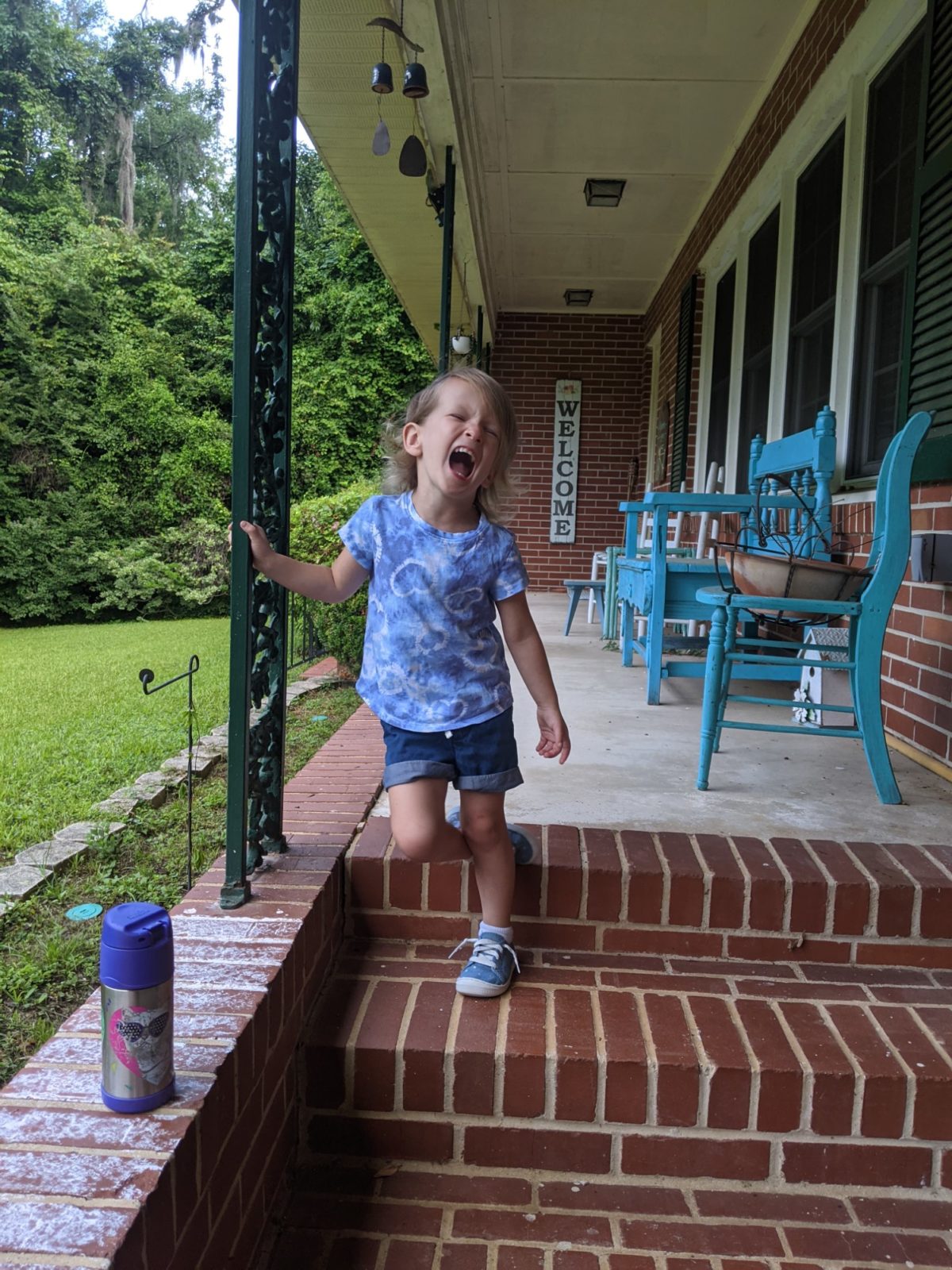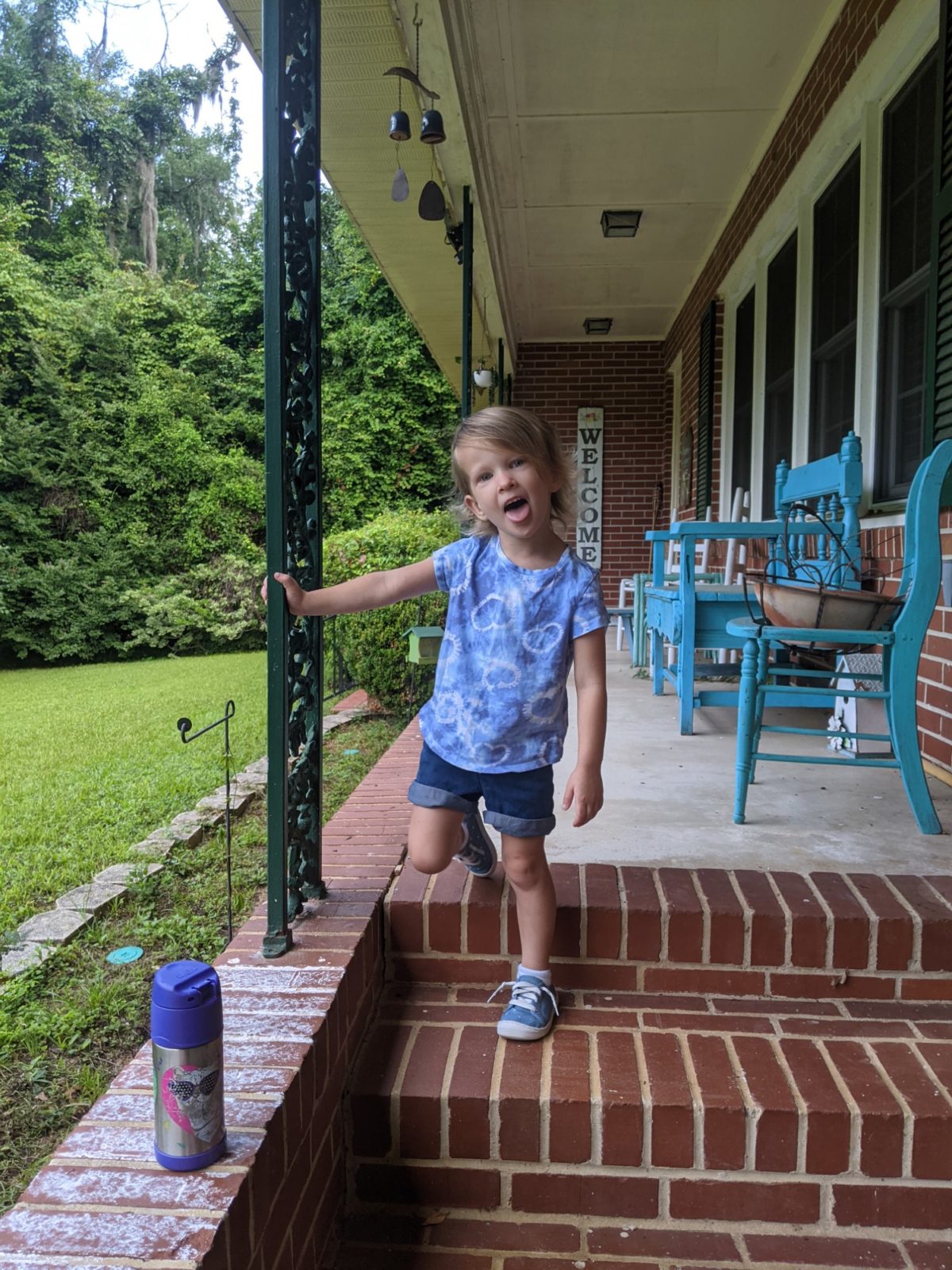 And Baby Sister and I had a good together at home. She took a nice little sleep this morning, and let me drink coffee and read my book, and even get a refill…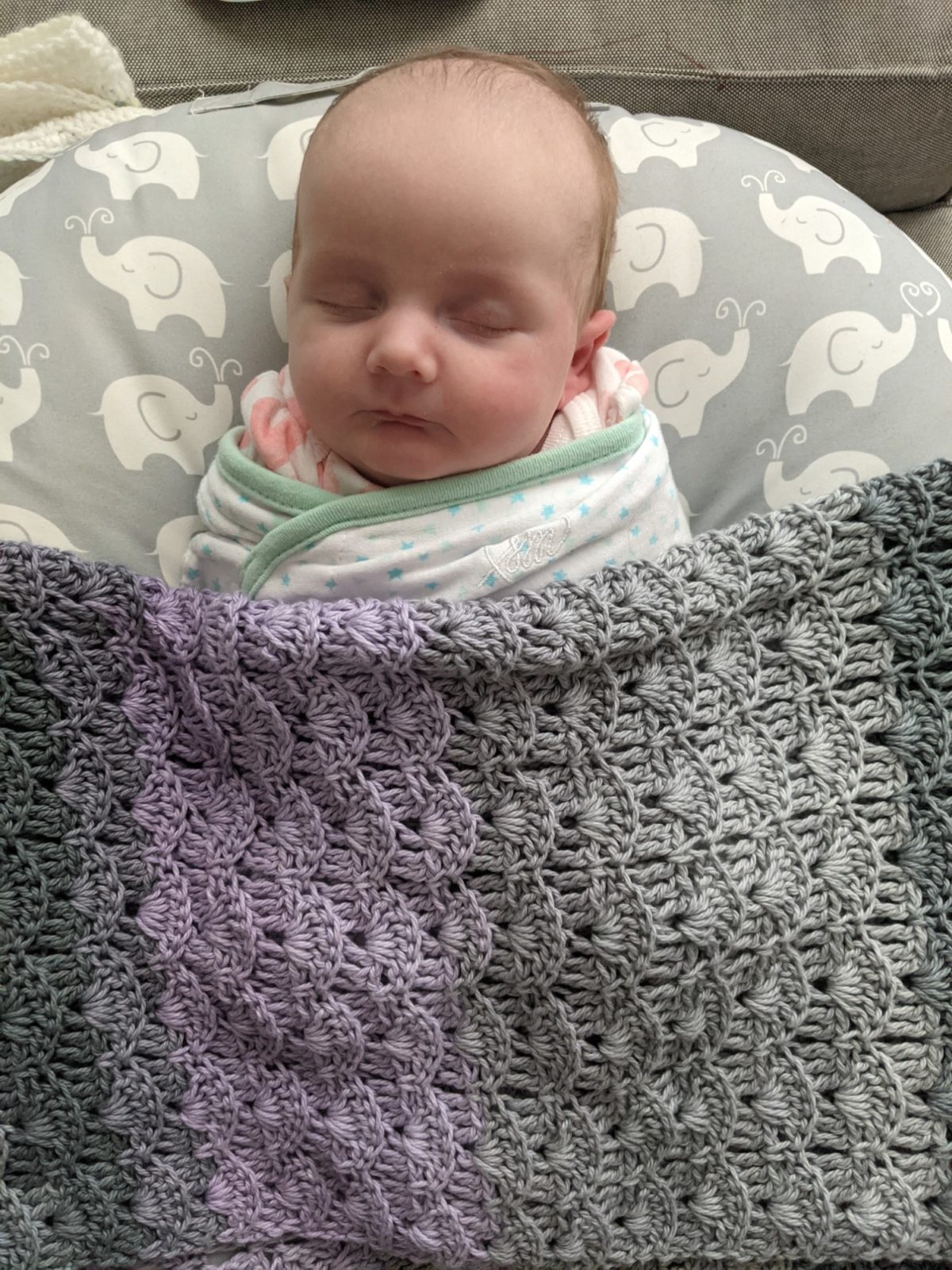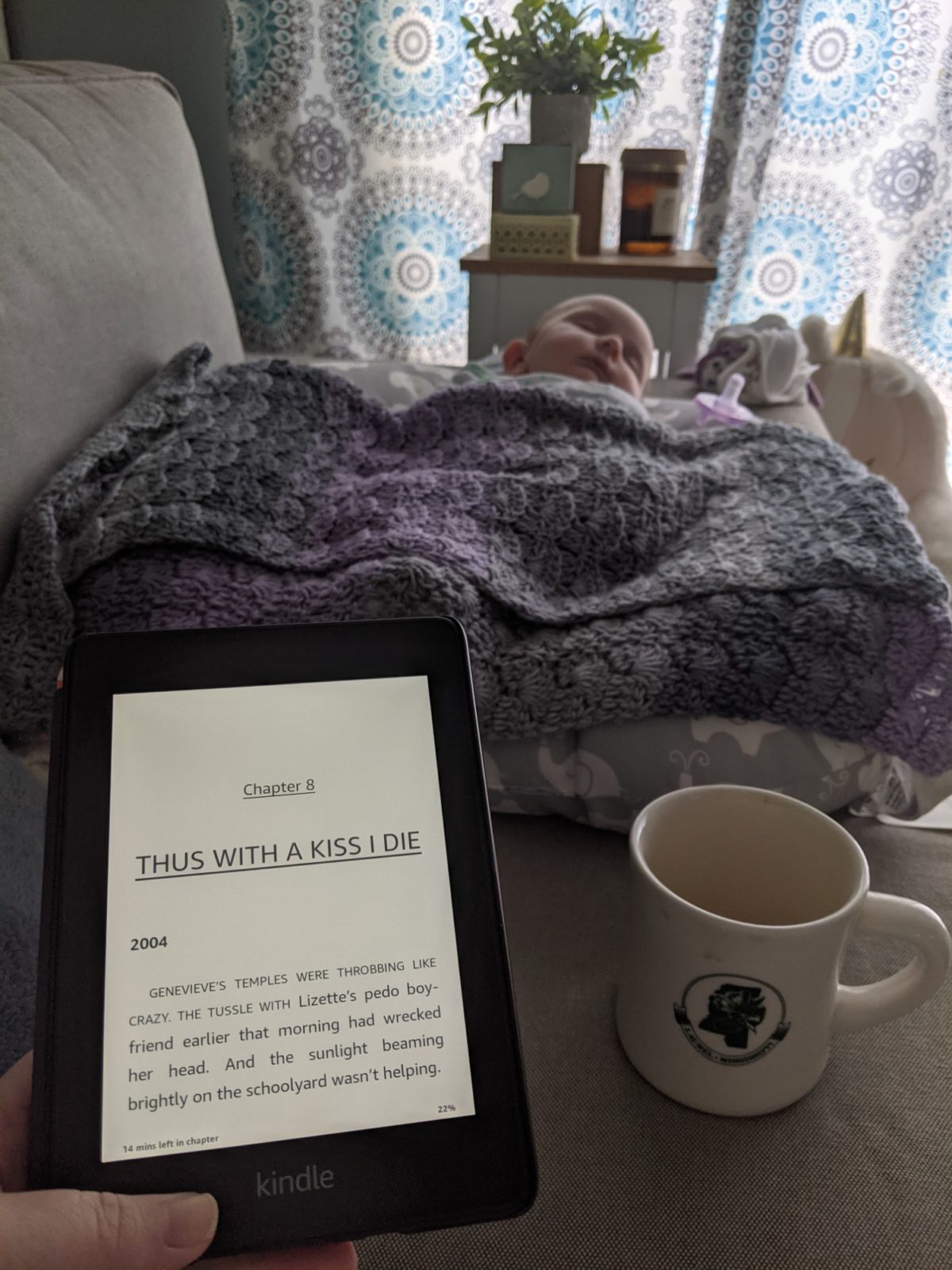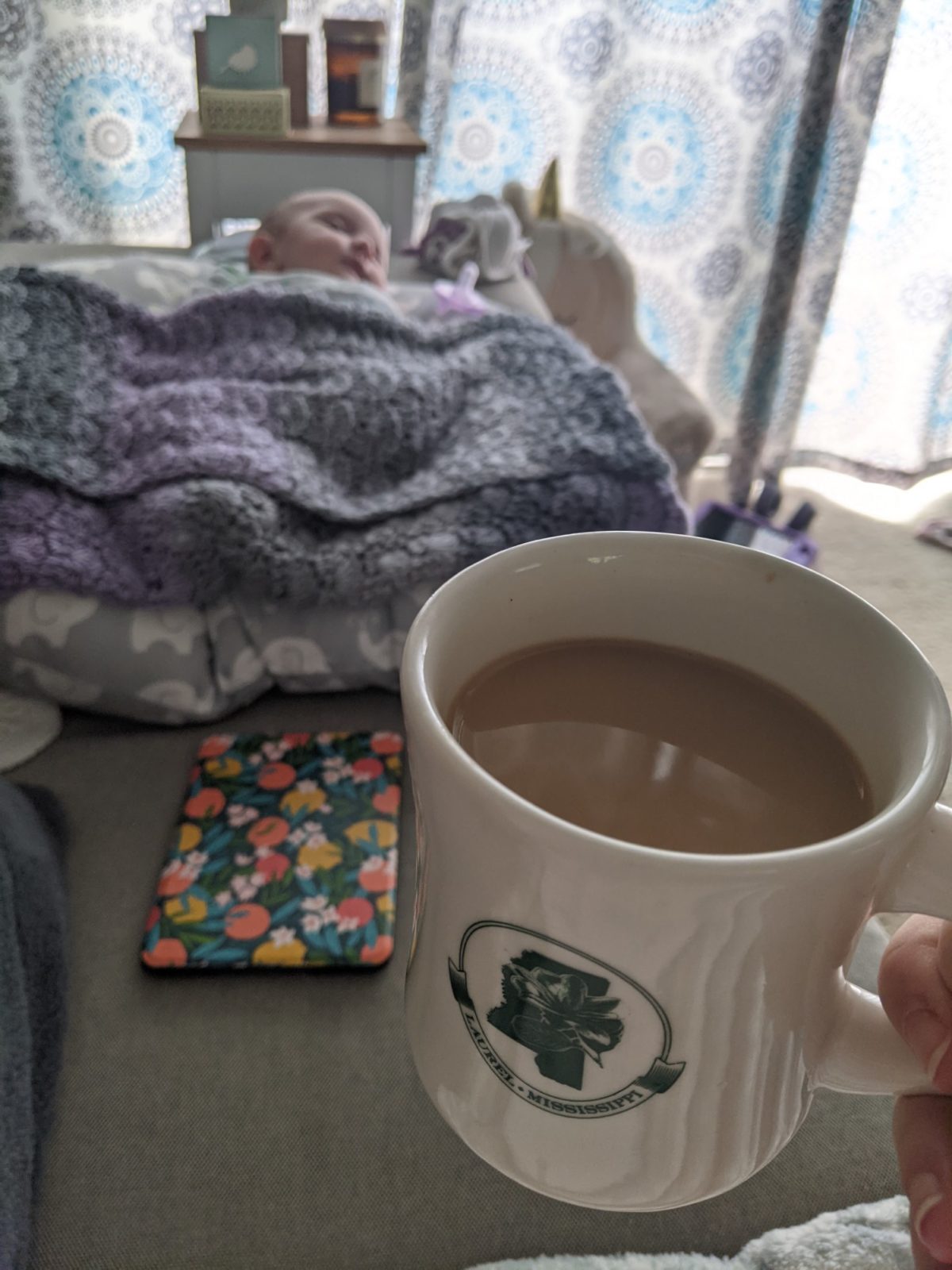 Then once she woke up (screaming because she was starving), I took her back in her room to give her her bottle, since Jeff was on a work call in the living room. I turned on my audio book and listened while I fed her, and kept listening for the 30 minutes we have to hold her upright after every bottle.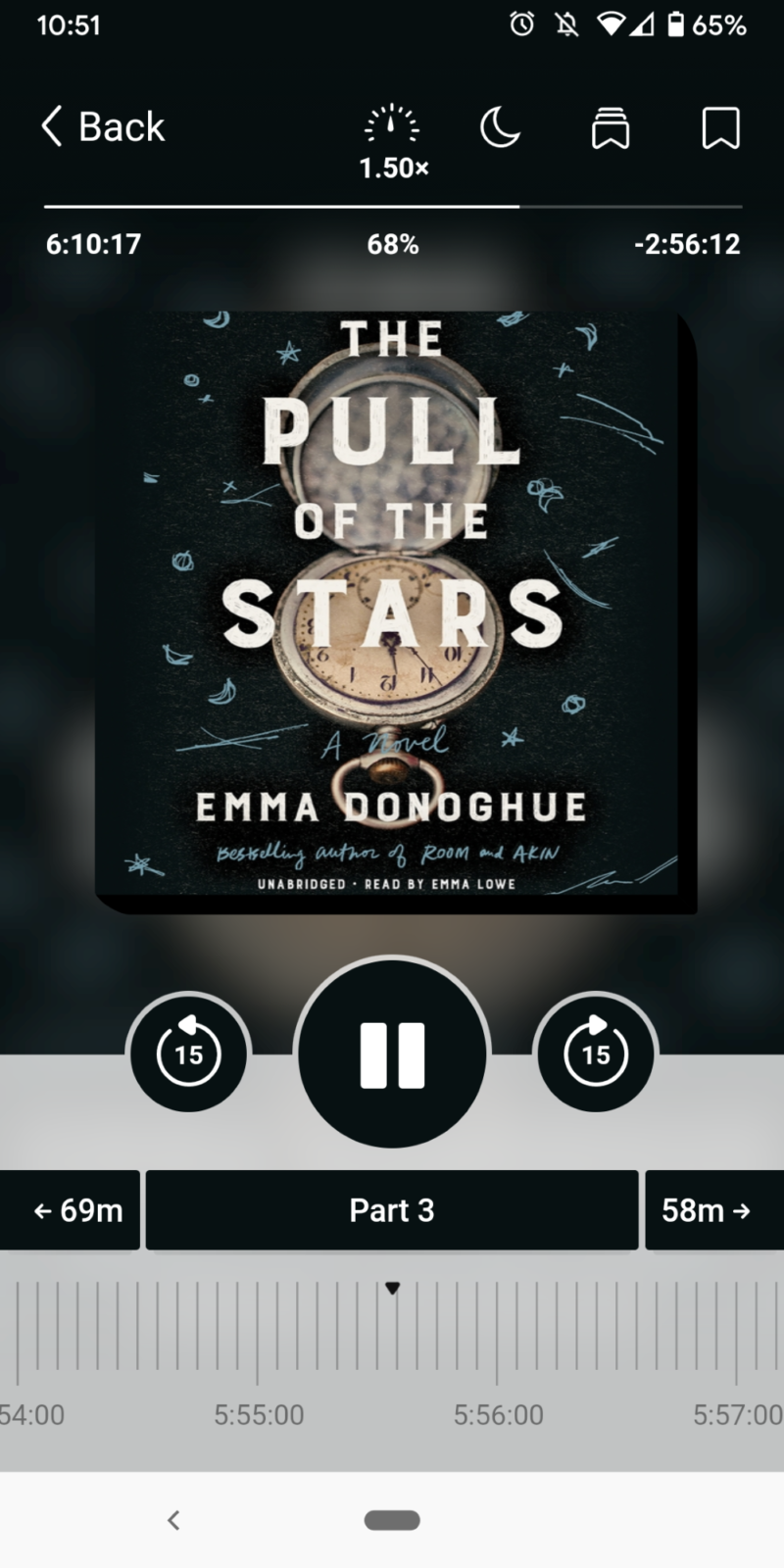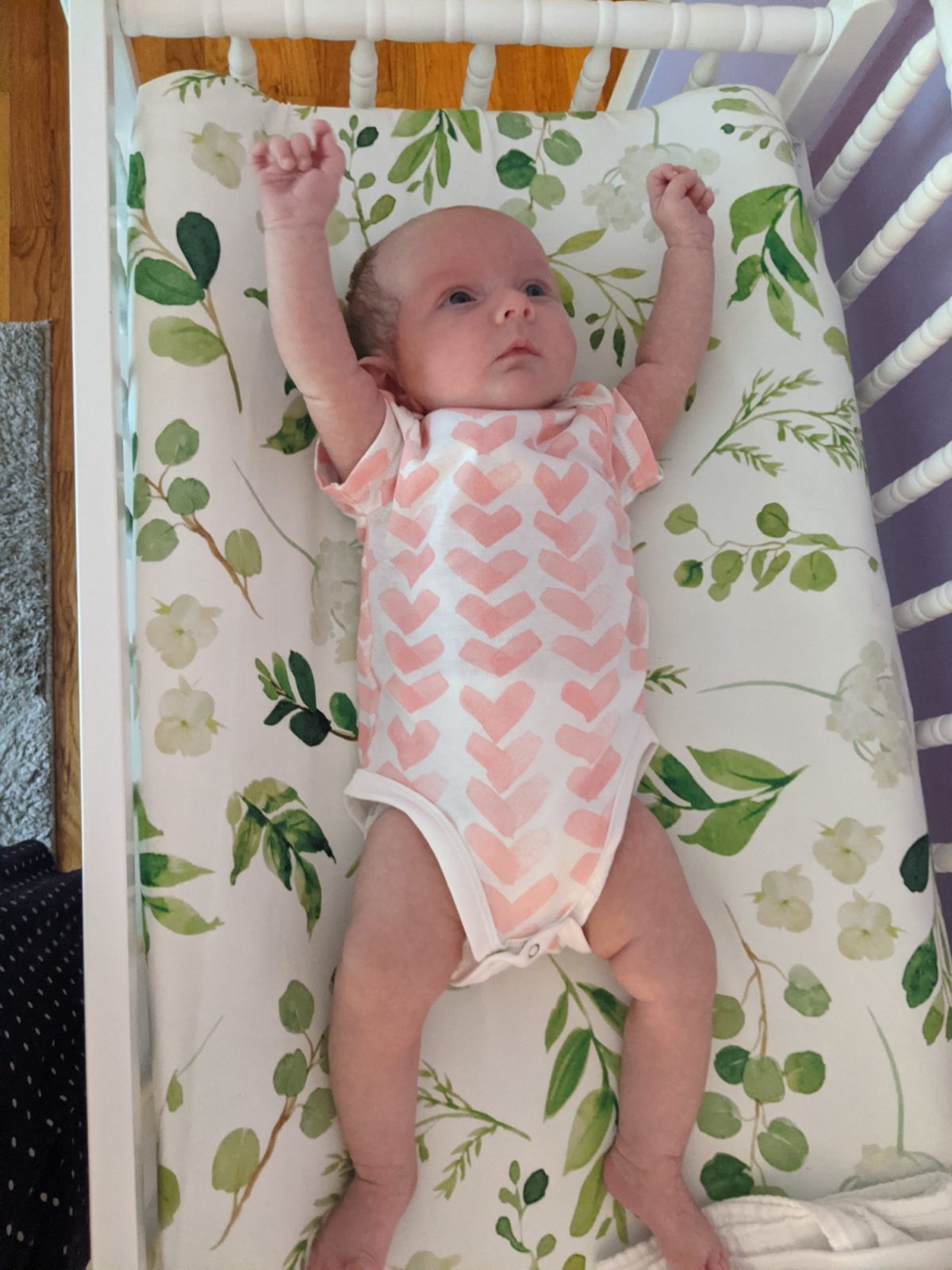 We played and cuddled and read a book or two once the 30 minutes had passed, and then I got her all swaddled up and ready to sleep again when she started acting sleepy. I got her to sleep and then laid her down in her crib, where she slept for right at two hours!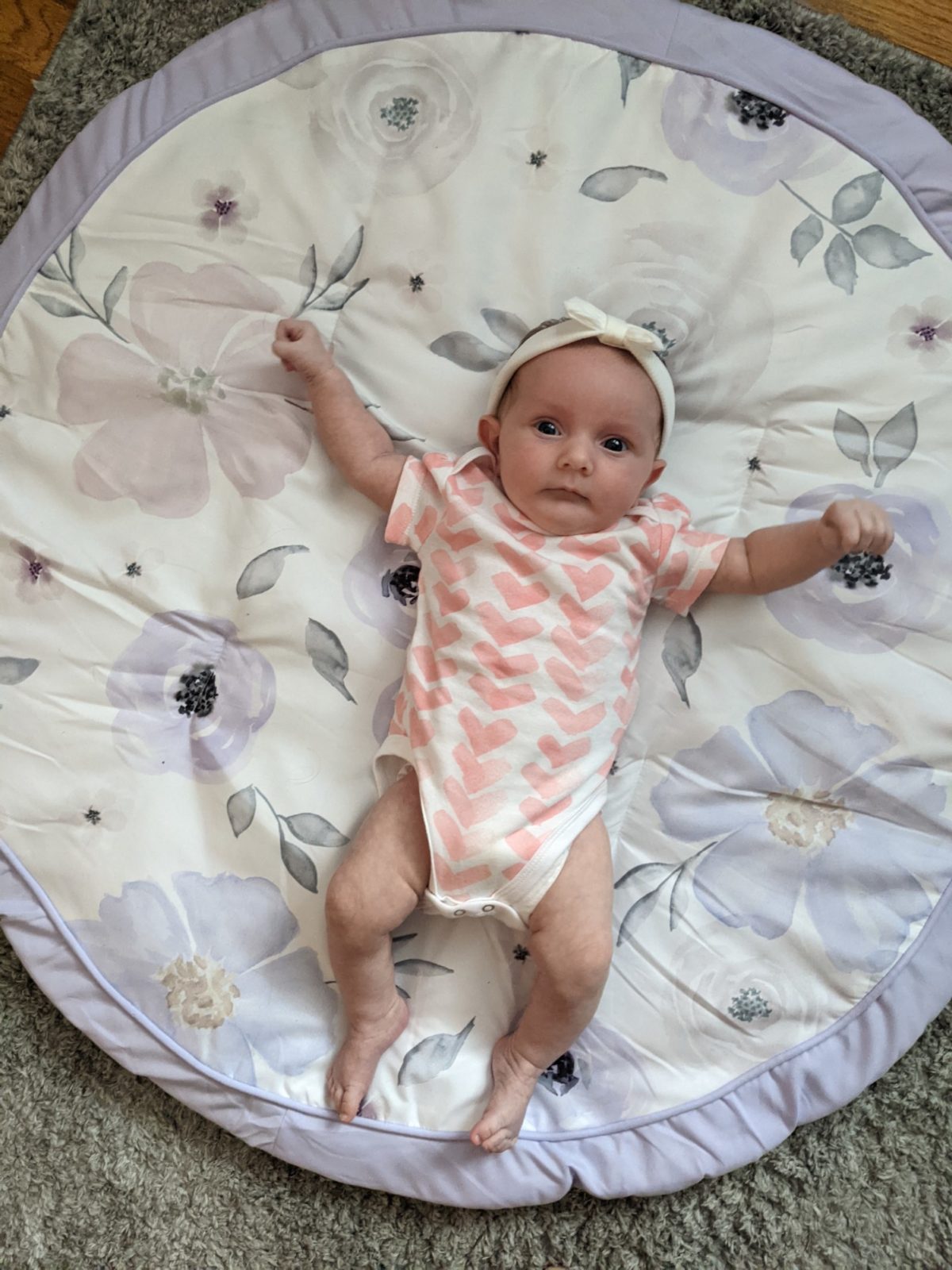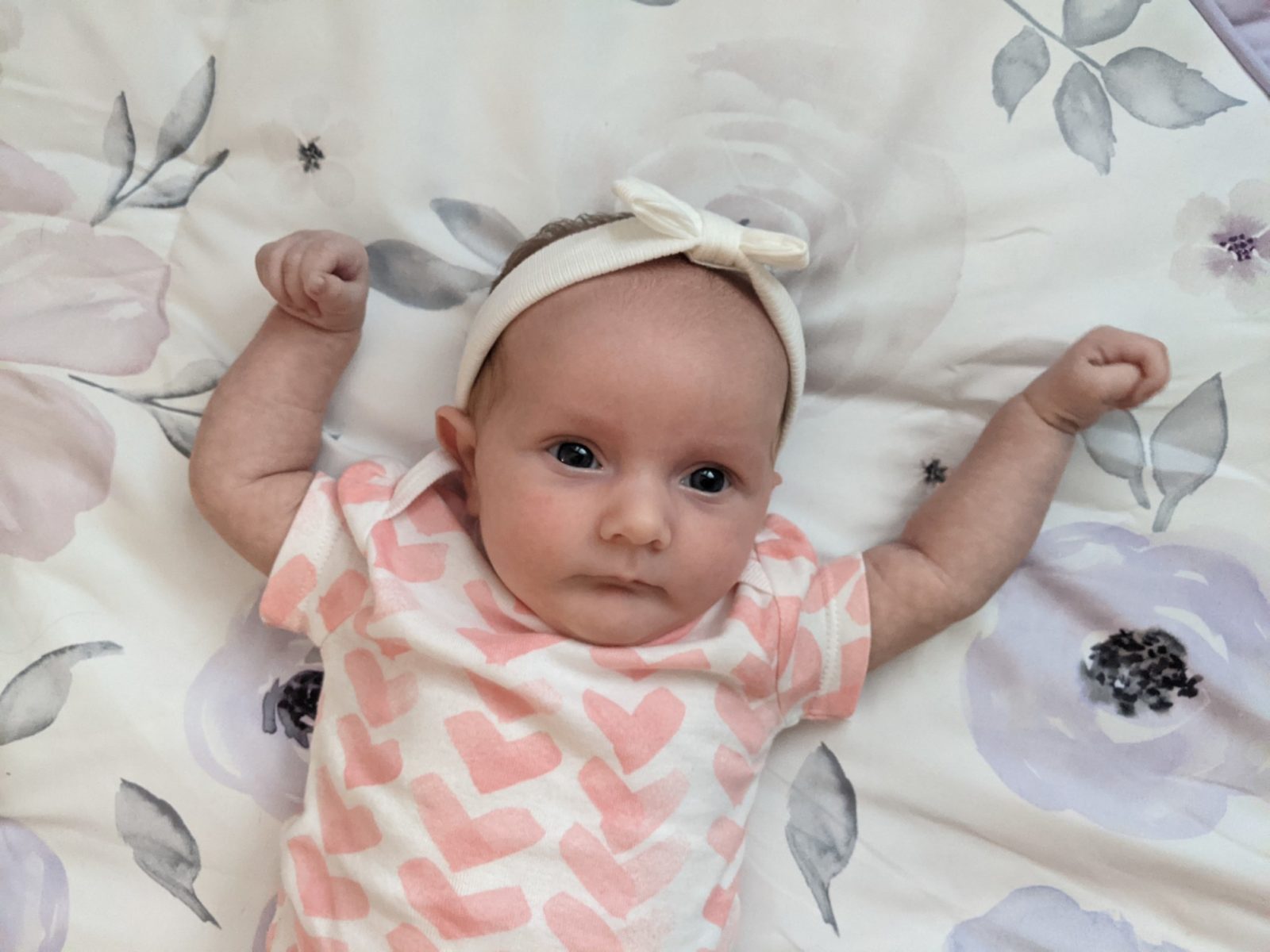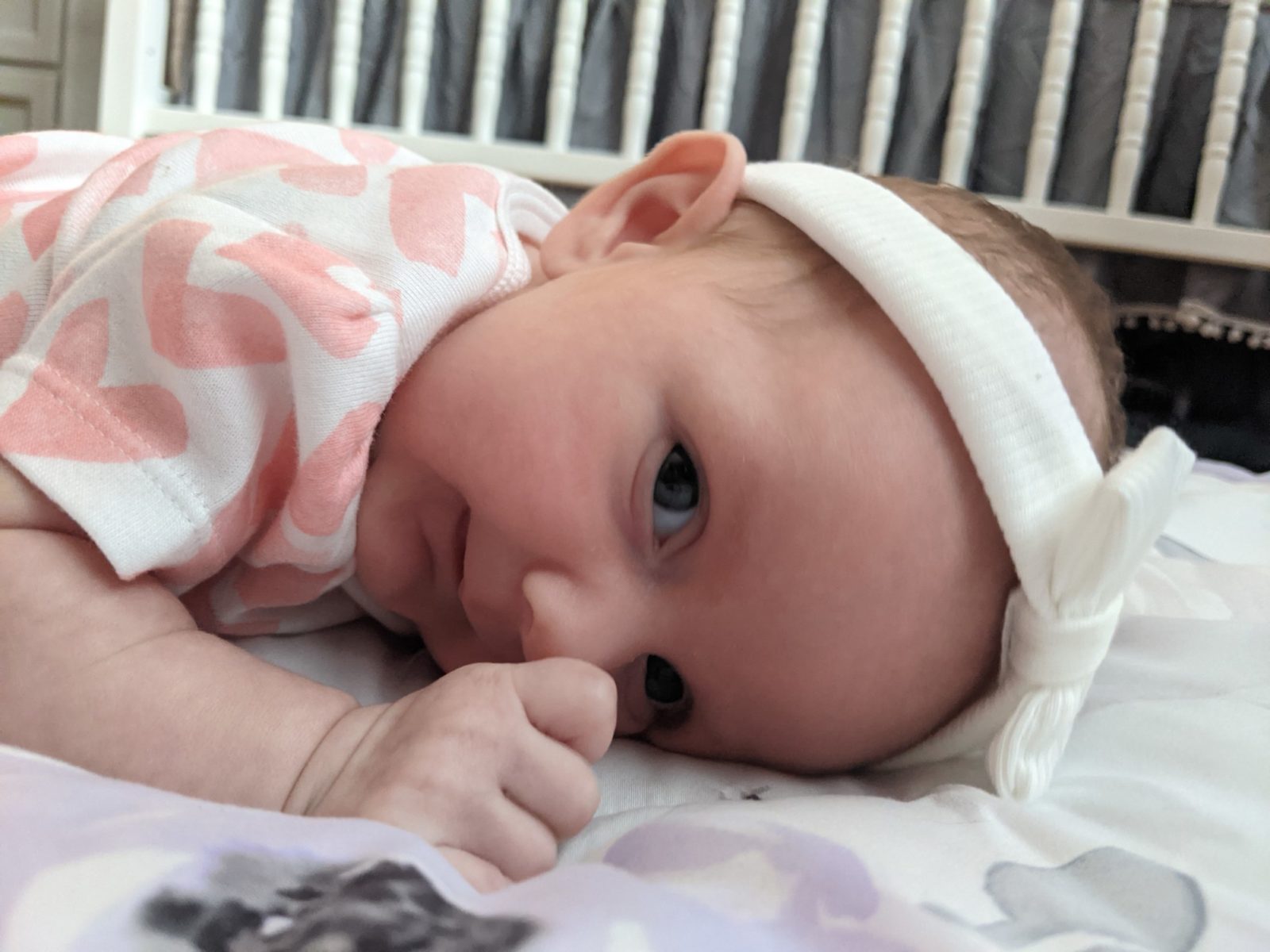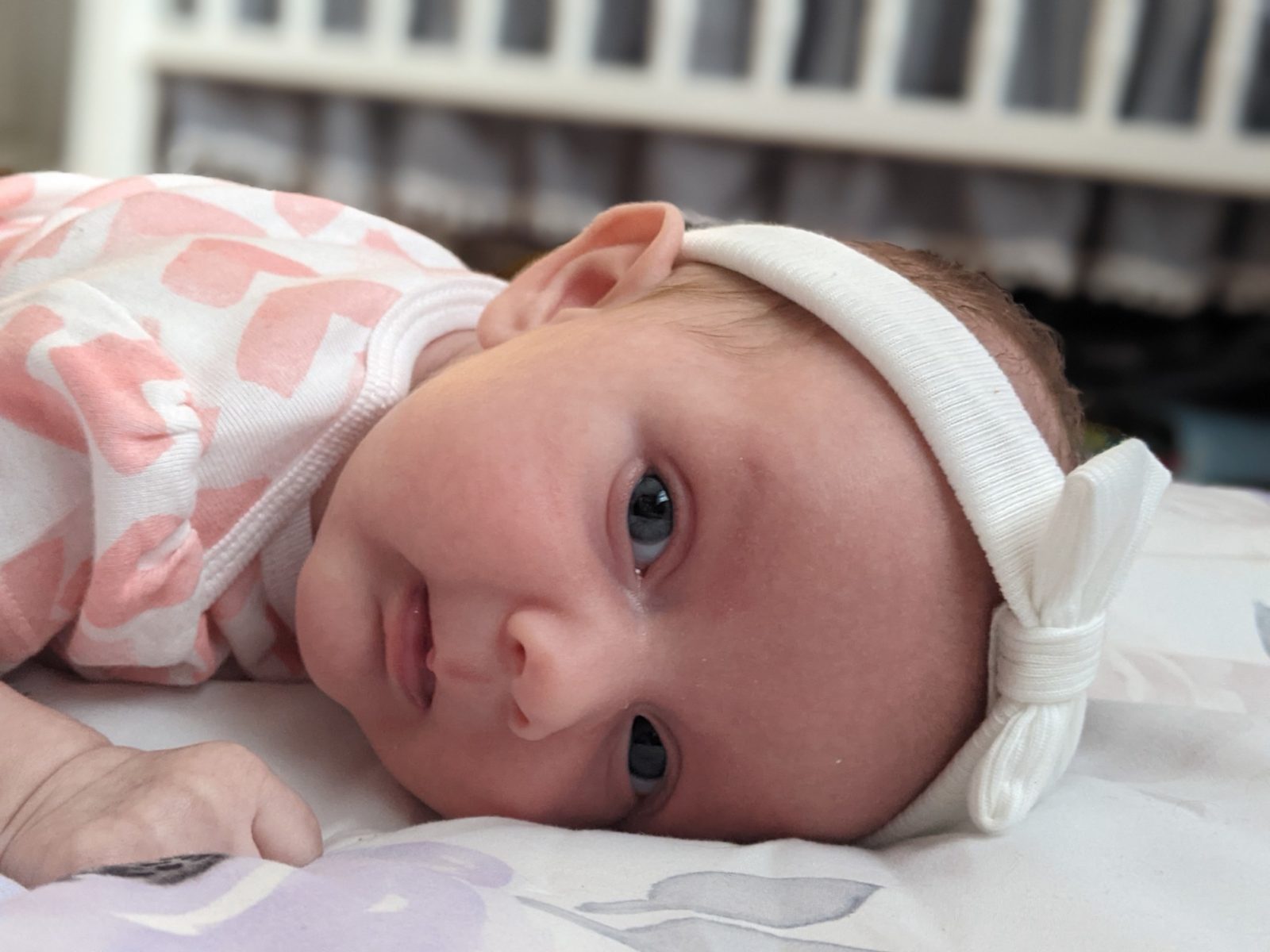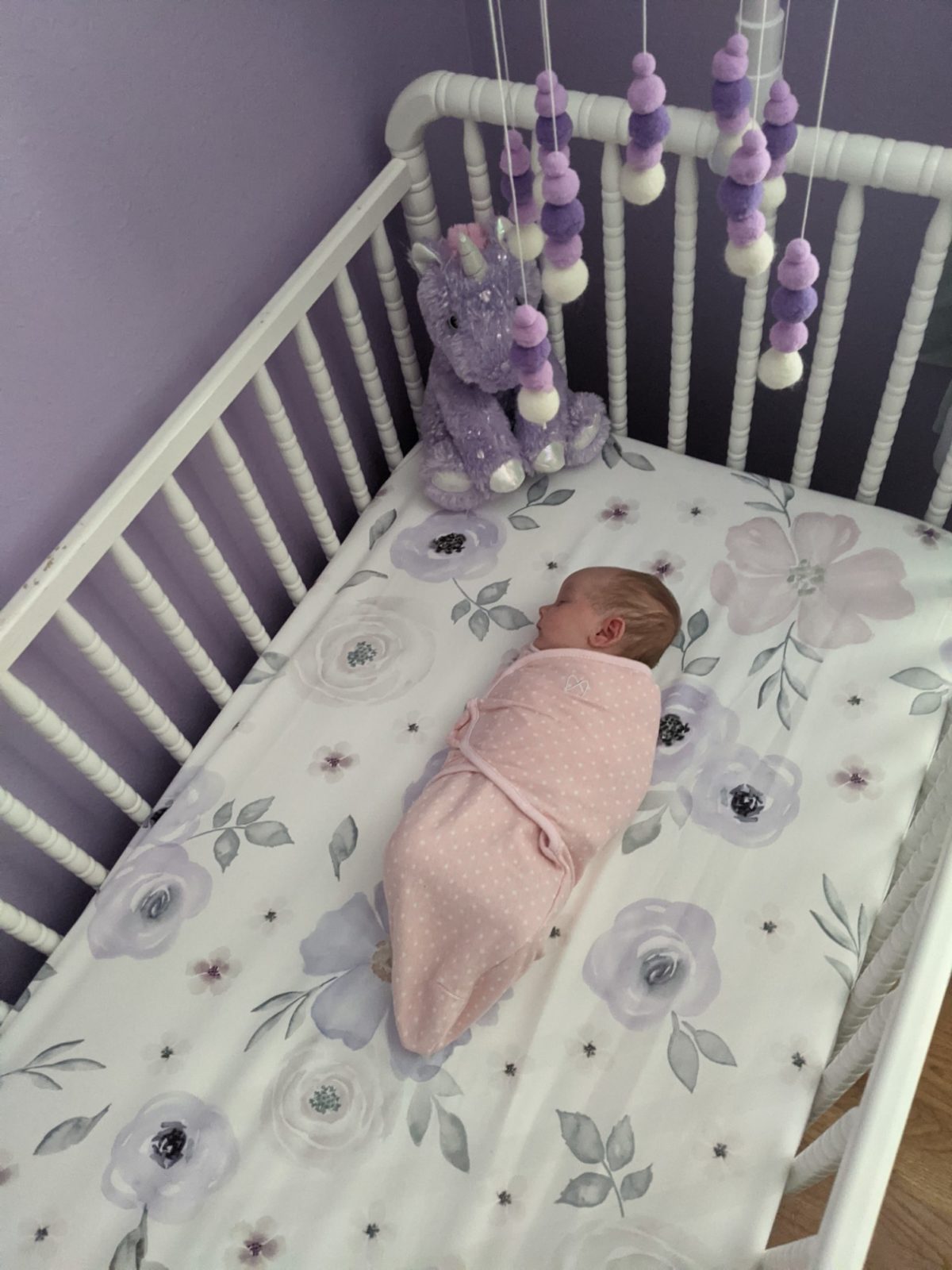 While she took her long two hour nap, I heated up shepherd's pie leftovers for Jeff and myself, and we watched an episode of Home Town Takeover while he was on his lunch break. (Jeff's Dad had picked up the boys for them to help moving some furniture around, and he got them lunch while they were out.) Addison woke up again and I gave her a bottle, and snuggled her until she fell back asleep again. And once I laid her down again, I grabbed my afternoon iced coffee, and a slice of pound cake (which is almost gone already, just a few days after making it), and watched some more Home Town Takeover.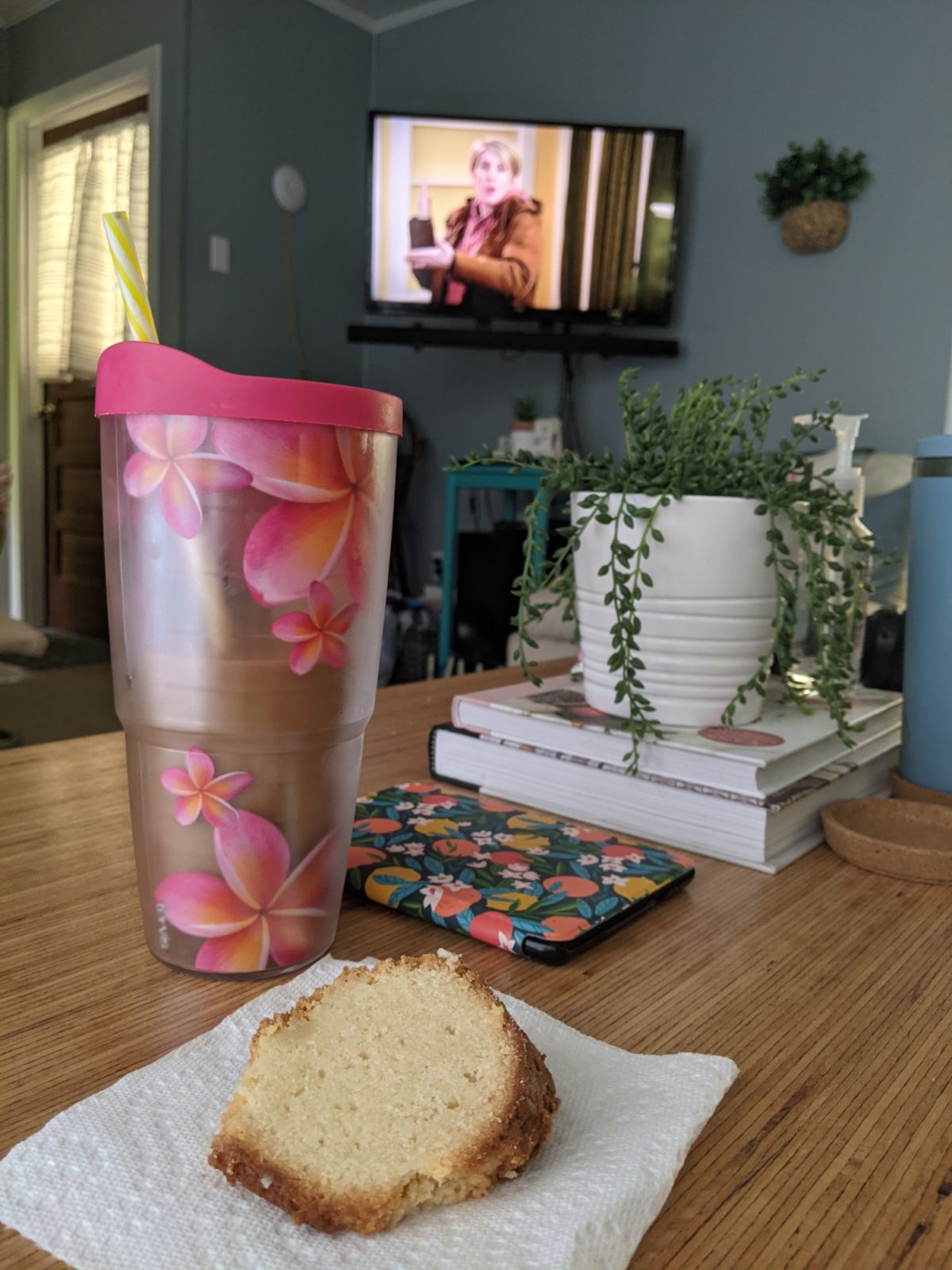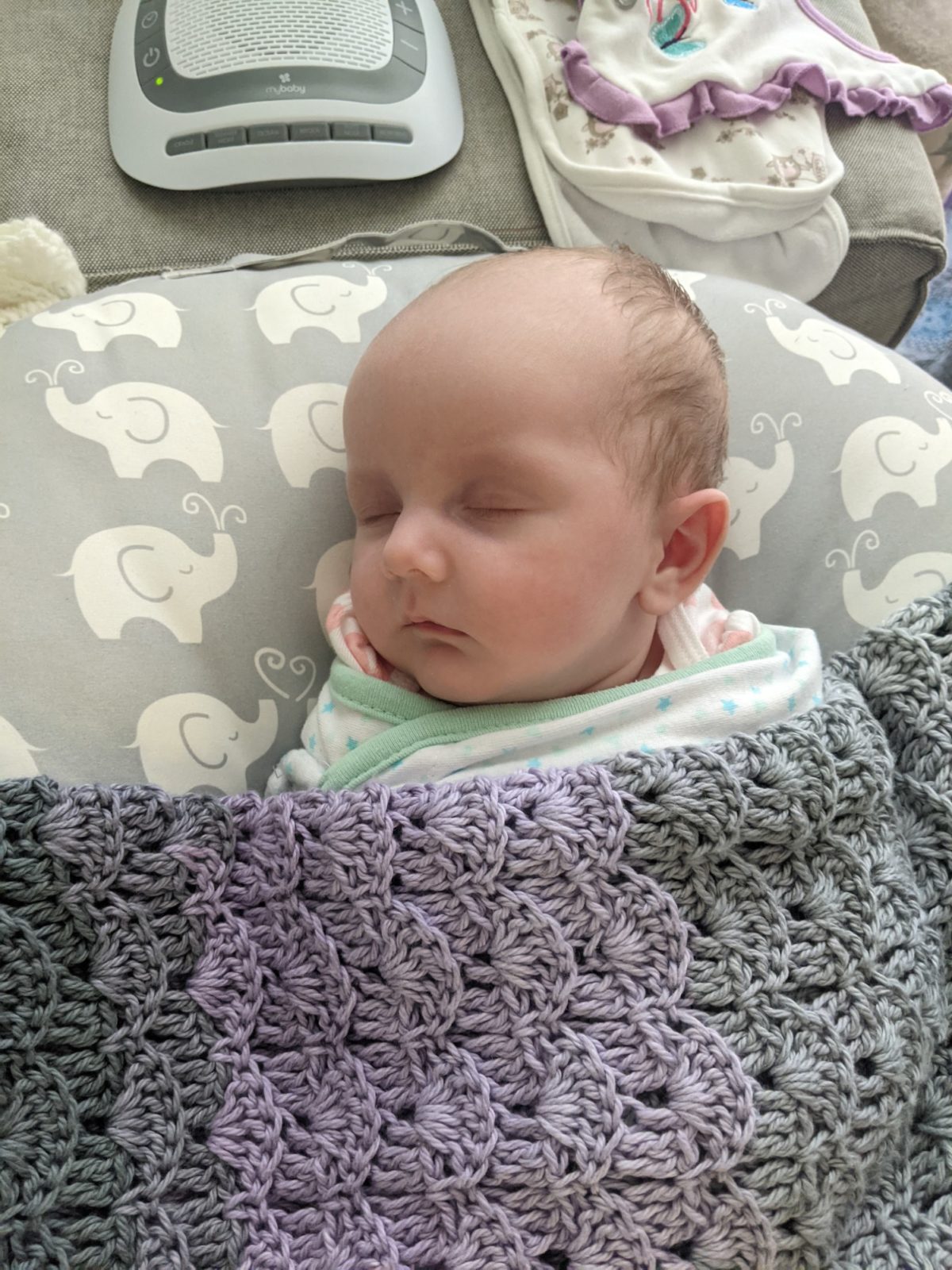 Addie ended up only sleeping in her Boppy for about 30 minutes, and then needed to be held for a long while. And then she stayed awake so long, it was time to feed her another bottle, so I did that, and Jeff went to pick up Emerson from school. But since I had to keep holding Addison upright after eating, I couldn't exactly cook dinner. So I stood in the kitchen and dictated instructions for each of the boys, and between the three of us, we made pasta, homemade "sauce," instant pot shredded chicken, Caesar salad, and garlic bread. (Only got photos of Ryan during the dinner prep, because Gabe helped in the second half of prep, which was way more chaotic and Addie was crying and I didn't even know where I had put my phone down.) It was the most chaotic dinner prep, but we did it!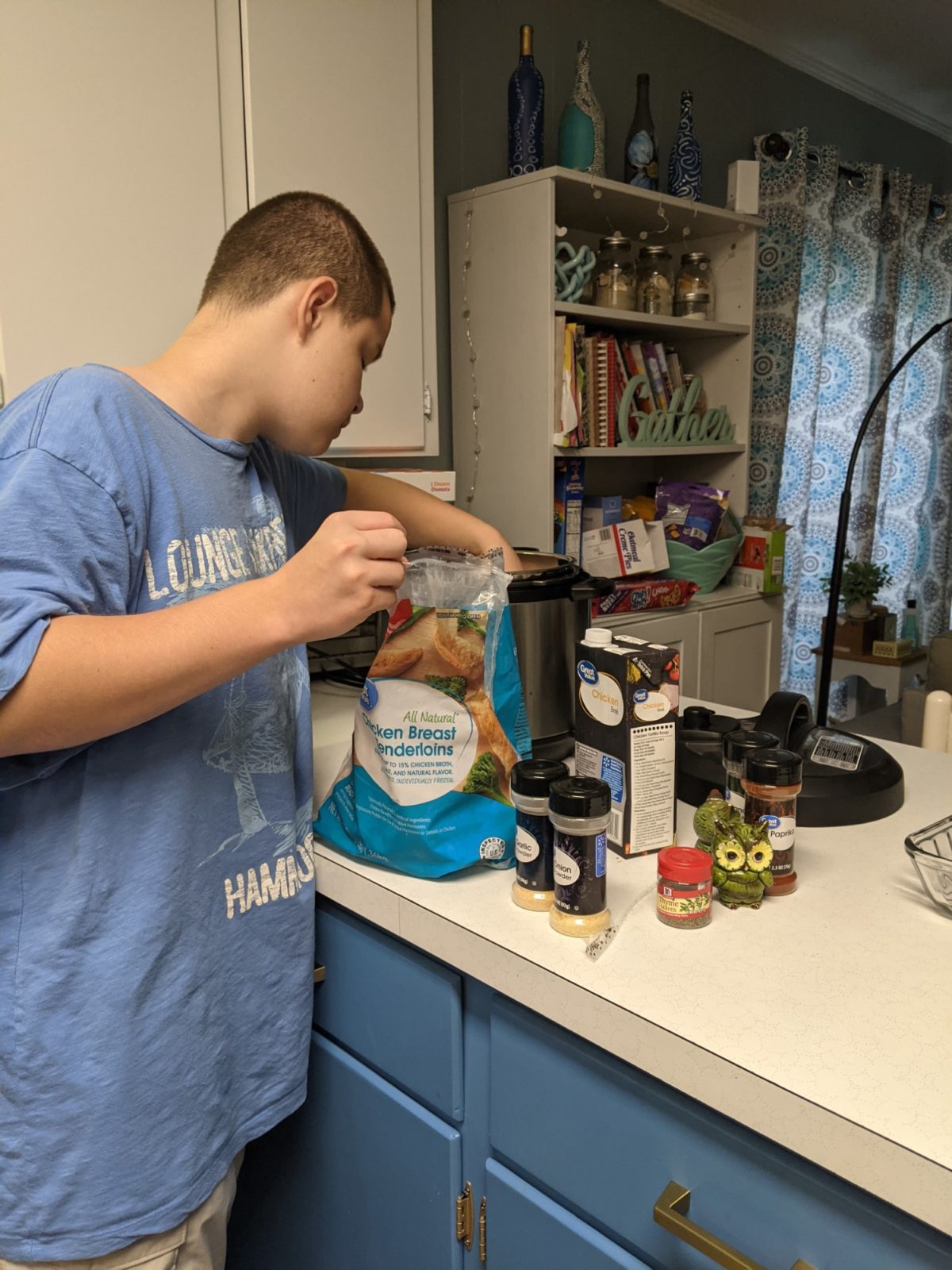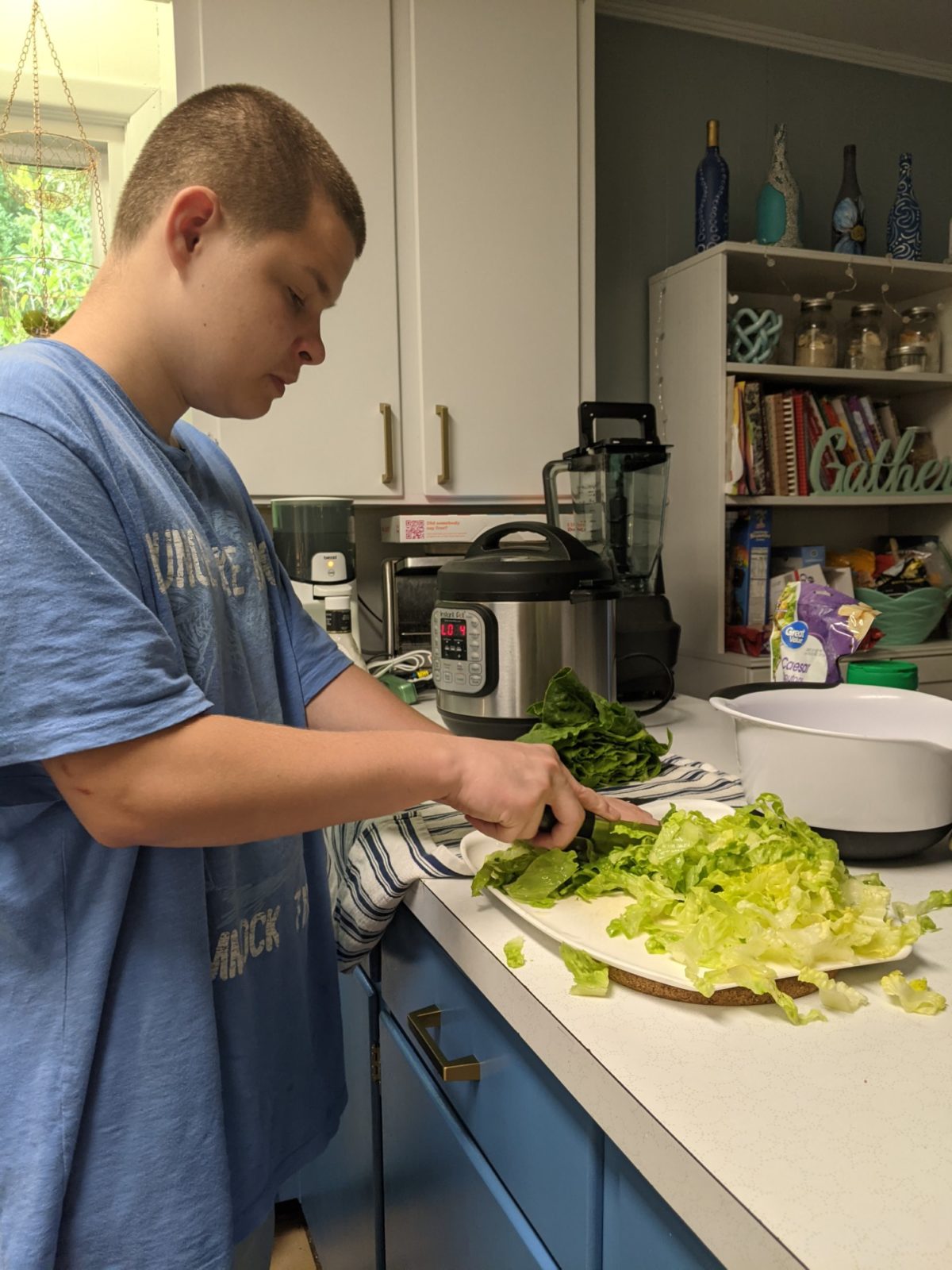 We roasted a pint of grape tomatoes in olive oil with a ton of spices, and a block of cream cheese, then smashed the tomatoes and mixed it all together, then added the shredded chicken. That was how we made the "sauce" for the noodles. It's kind of like the infamous TikTok feta pasta, but with cream cheese, because I didn't know if the boys liked feta or not. But I still really wanna try it with the feta sometime. But this was still really good tonight! And everyone cleaned their bowls!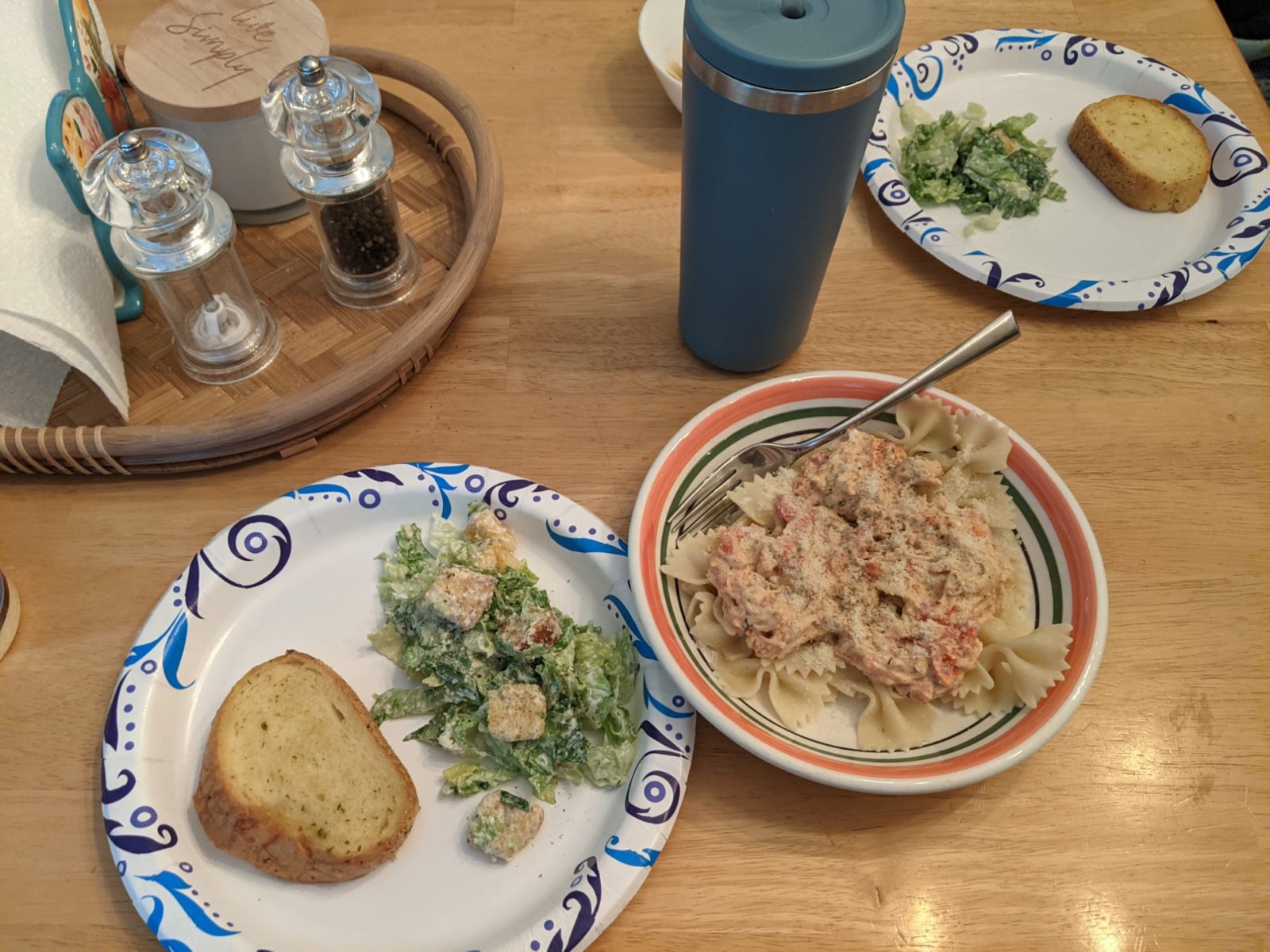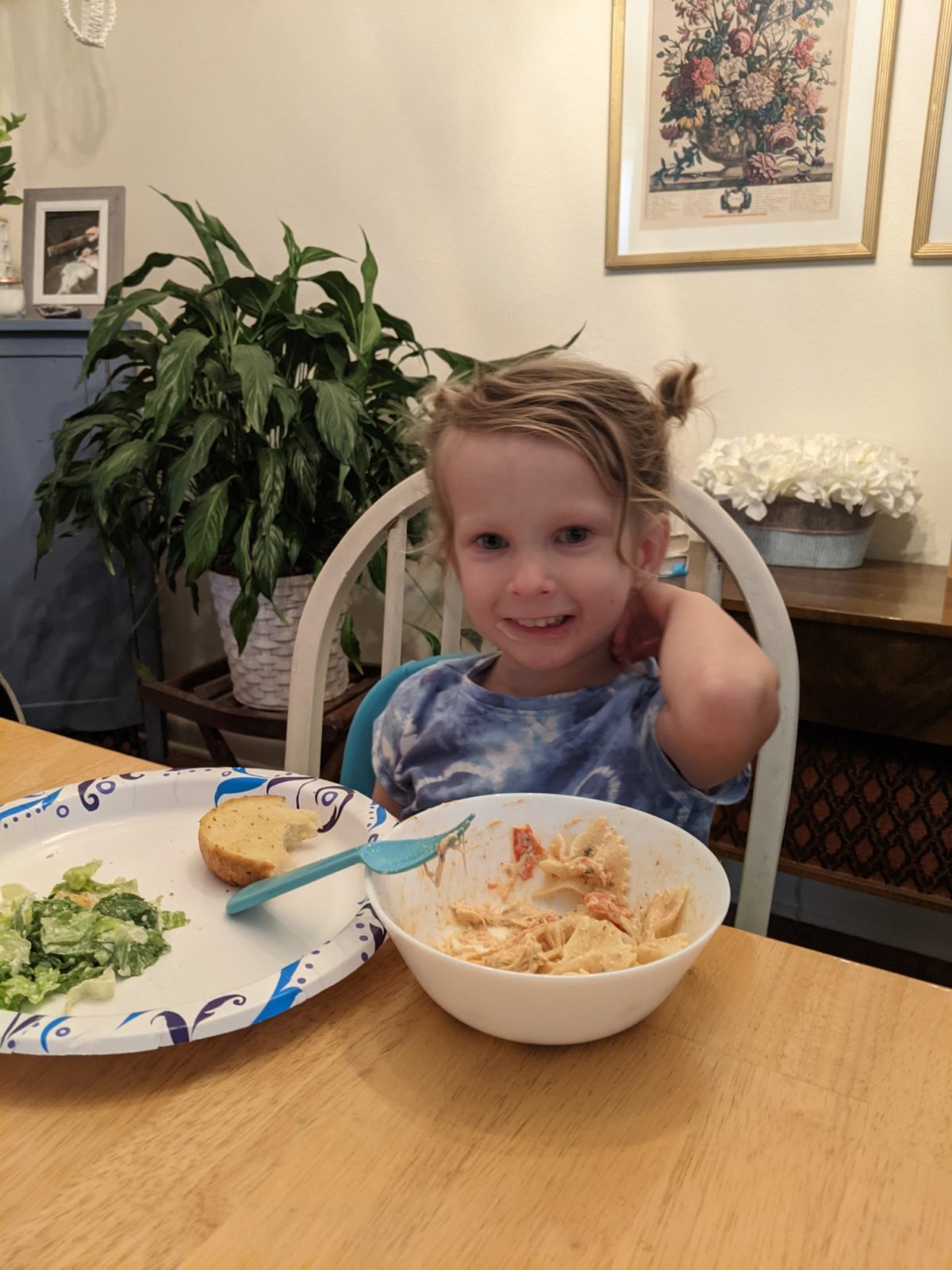 I actually ate first while Jeff held Addison, and then I took her and sat in the cozy chair in the dining room, while he ate, and Gabe hung out helping Emmie.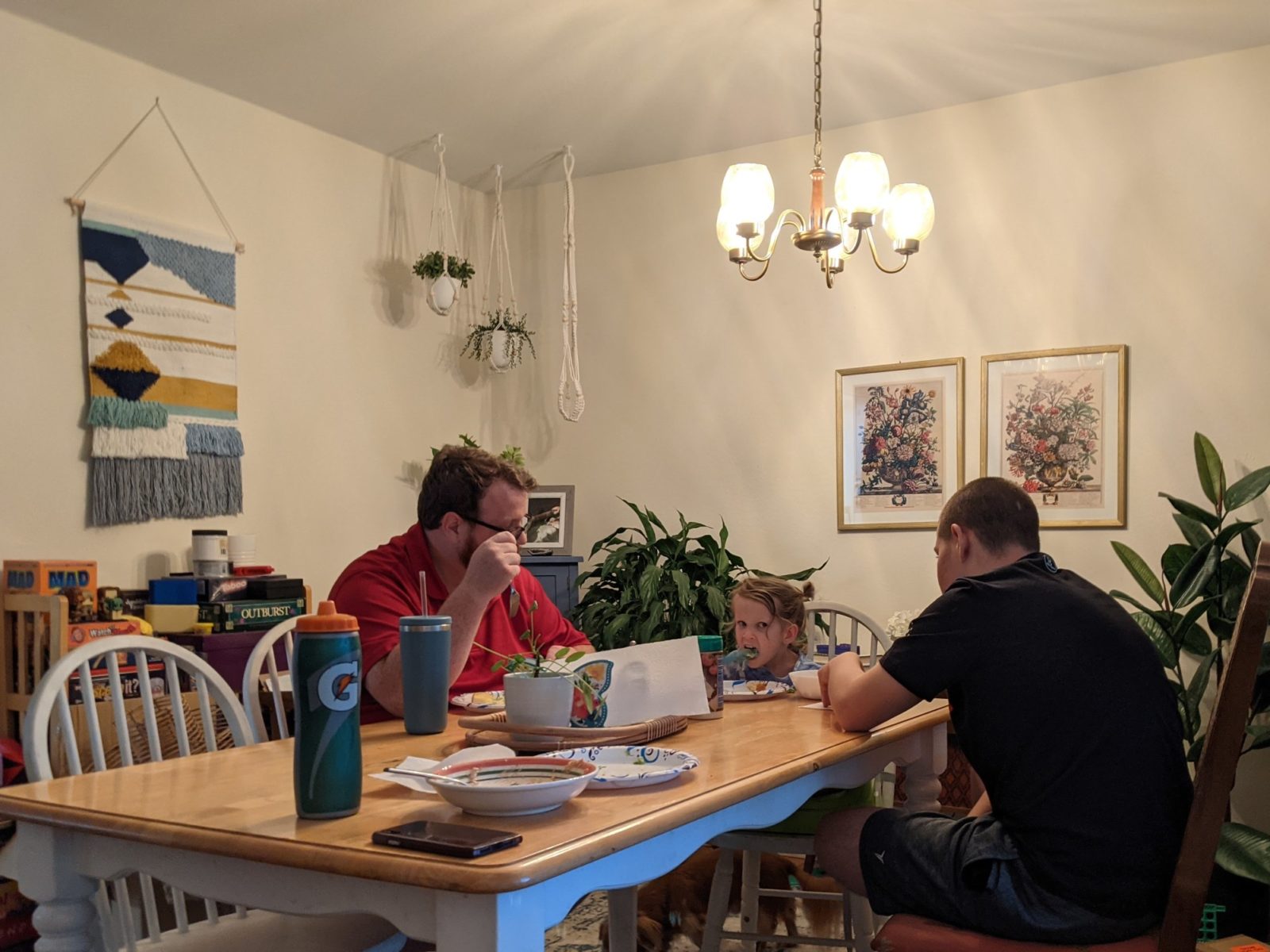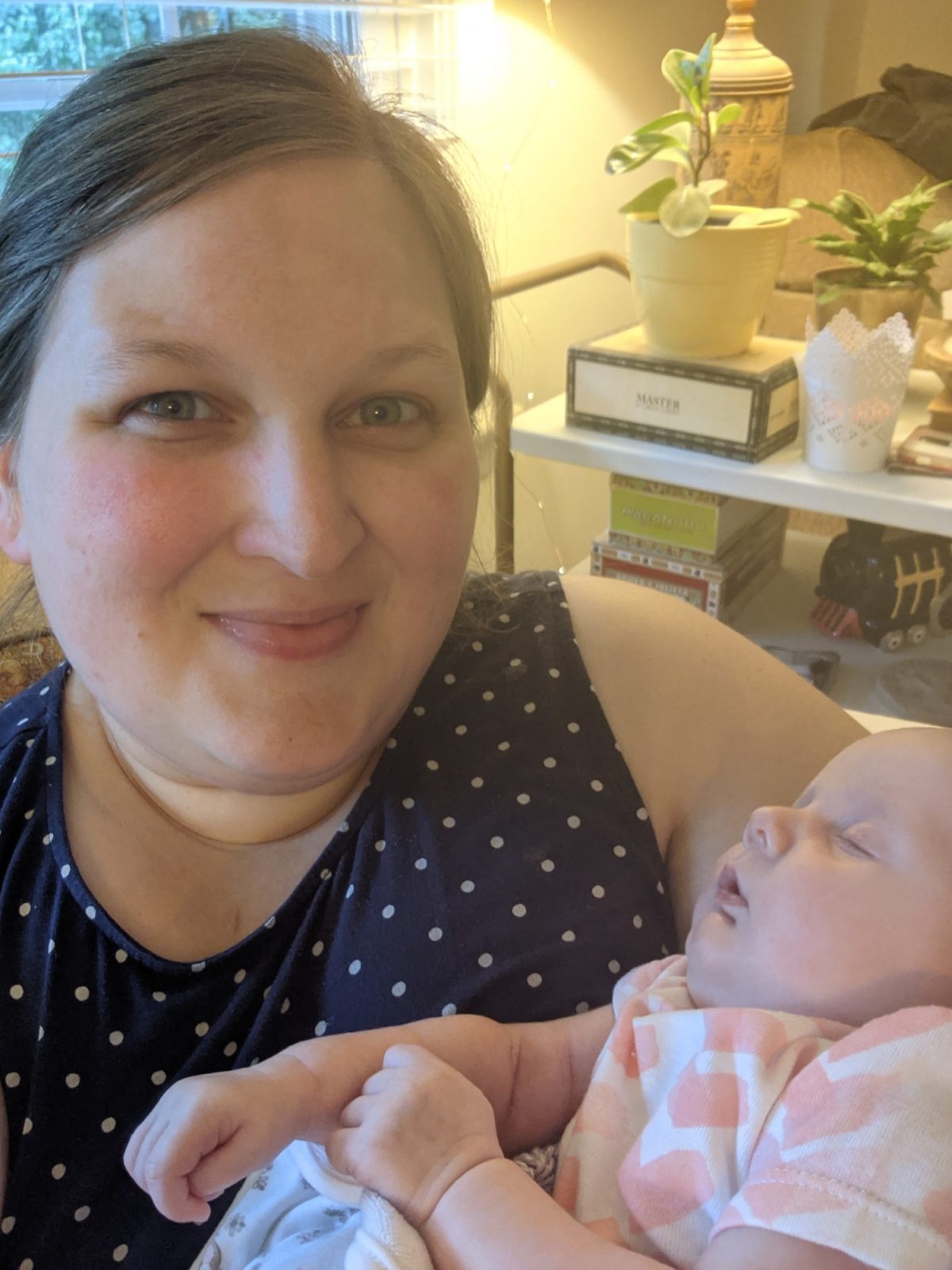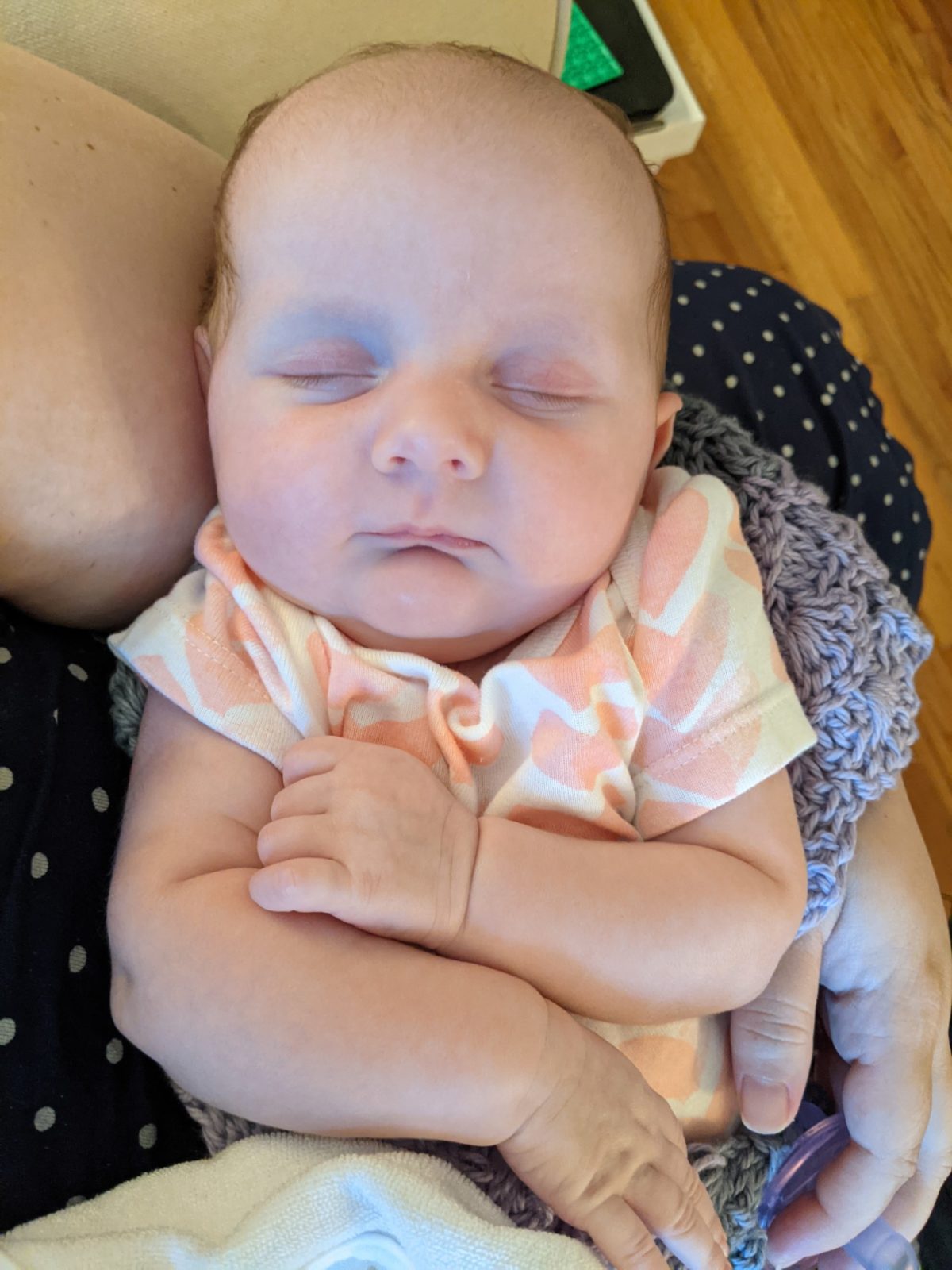 Her adorable tiny toe was stuck in one of the loops of the crocheted blanket!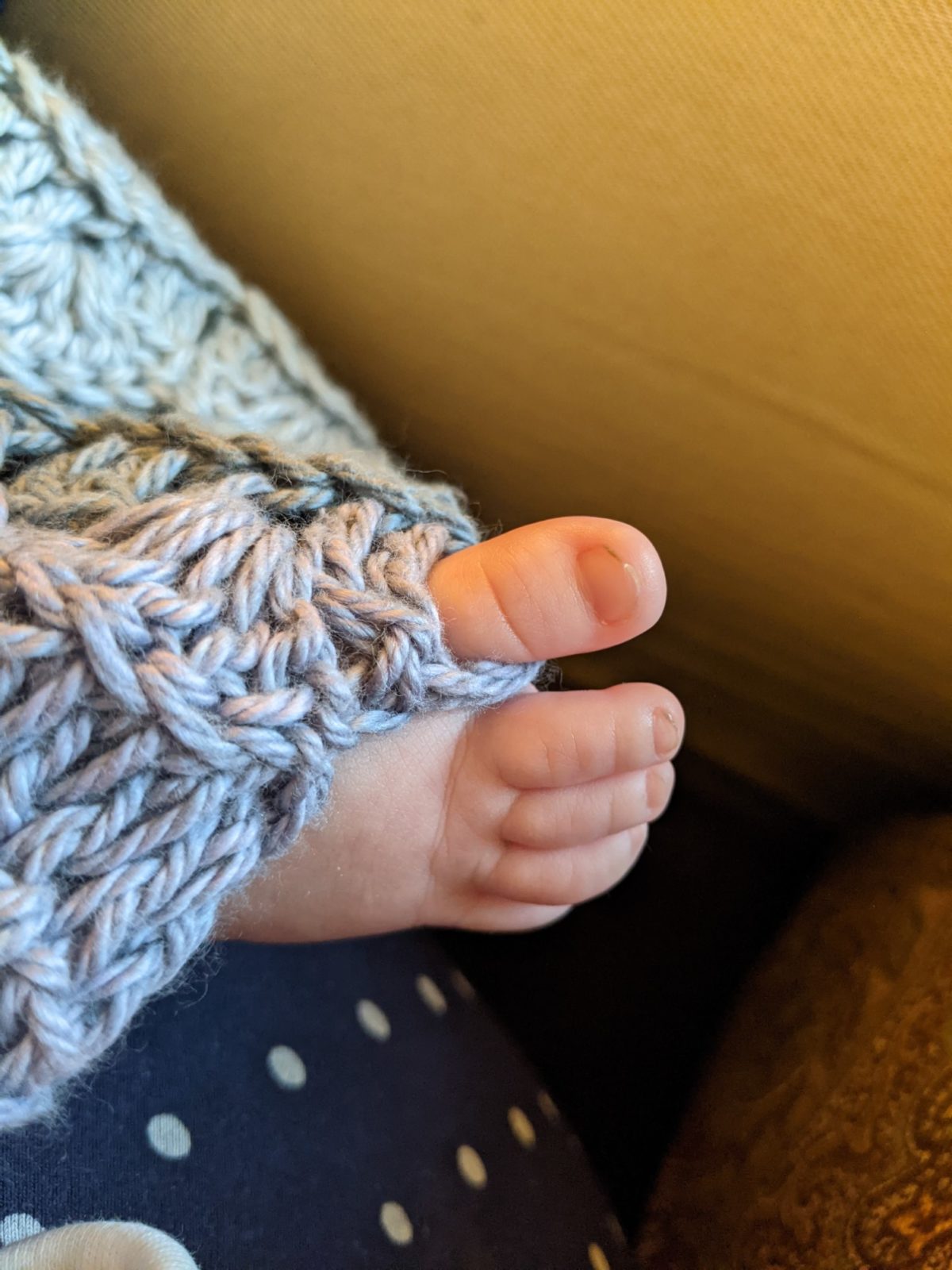 Emmie actually ate a little bit of salad tonight (she usually doesn't like it), and Jeff told her she looked like a rabbit with some of the lettuce hanging out of her mouth. So then they talked about Judy Hops from Zootopia, and so we had to watch a little bit of Zootopia after dinner, before getting her ready for bedtime.
She picked her Dora book to read tonight, and she was sweet and silly, and seemed like things were going well…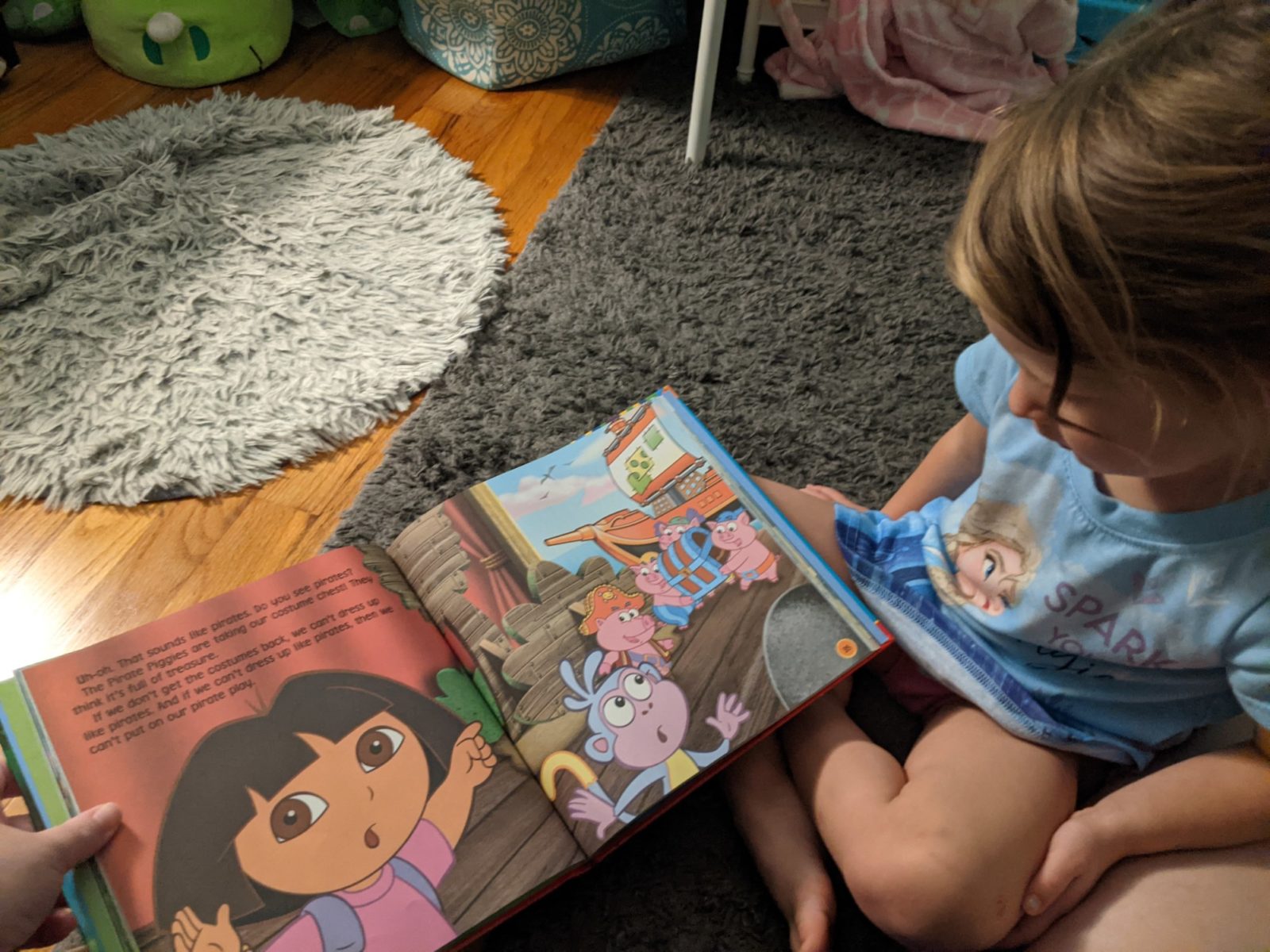 But then just a few minutes after we left her room, she started whining and freaking out and having a bit of a meltdown. It took another 30 minutes, and me returning three times in order to calm her down and get her finally ready to actually go to sleep. And all during that time, Addison was also fussing and crying, and Jeff was trying to get her to take her bottle, and both girls were just losing it! But once I got Emmie calm, Jeff had also gotten Addie calm, and I think everything might finally be okay…
Ryan did some of the dishes earlier, but he cut his finger on a chipped bowl and had to get a bandaid, and wasn't able to finish everything. So I'll probably finish those up tomorrow morning while Addie sleeps, and I can finish up my current audio book. (Which is actually about a labor and delivery nurse in Ireland during the 1918 flu pandemic, and is really interesting.)
Tonight though, I need a little bit of downtime in my quiet bedroom all by myself, and then I need to get some sleep.