Baby girl wore another one of the new outfits she got for her birthday, and I absolutely loved it! I love these tiny shorty-shorts, and her teeny little legs!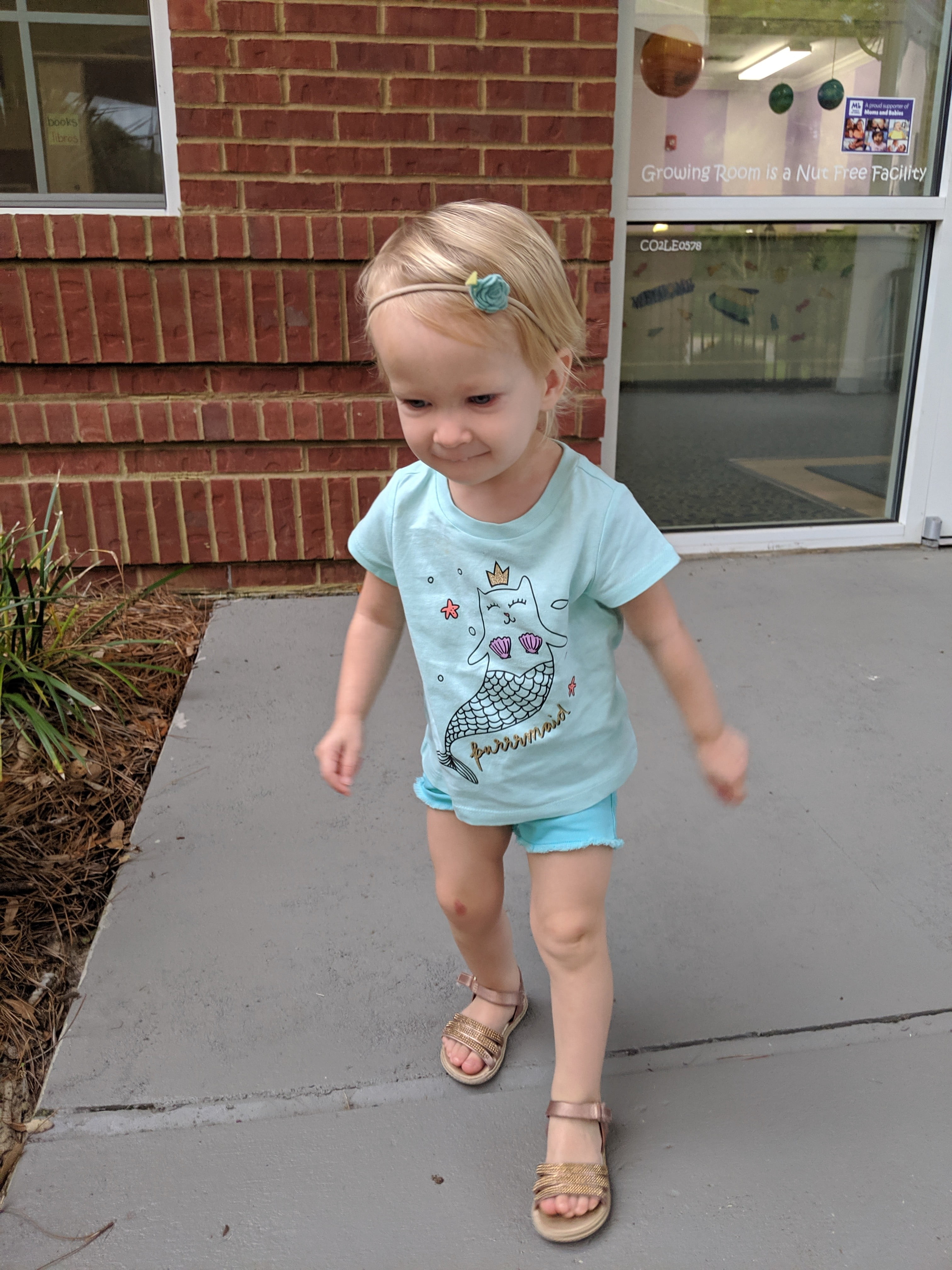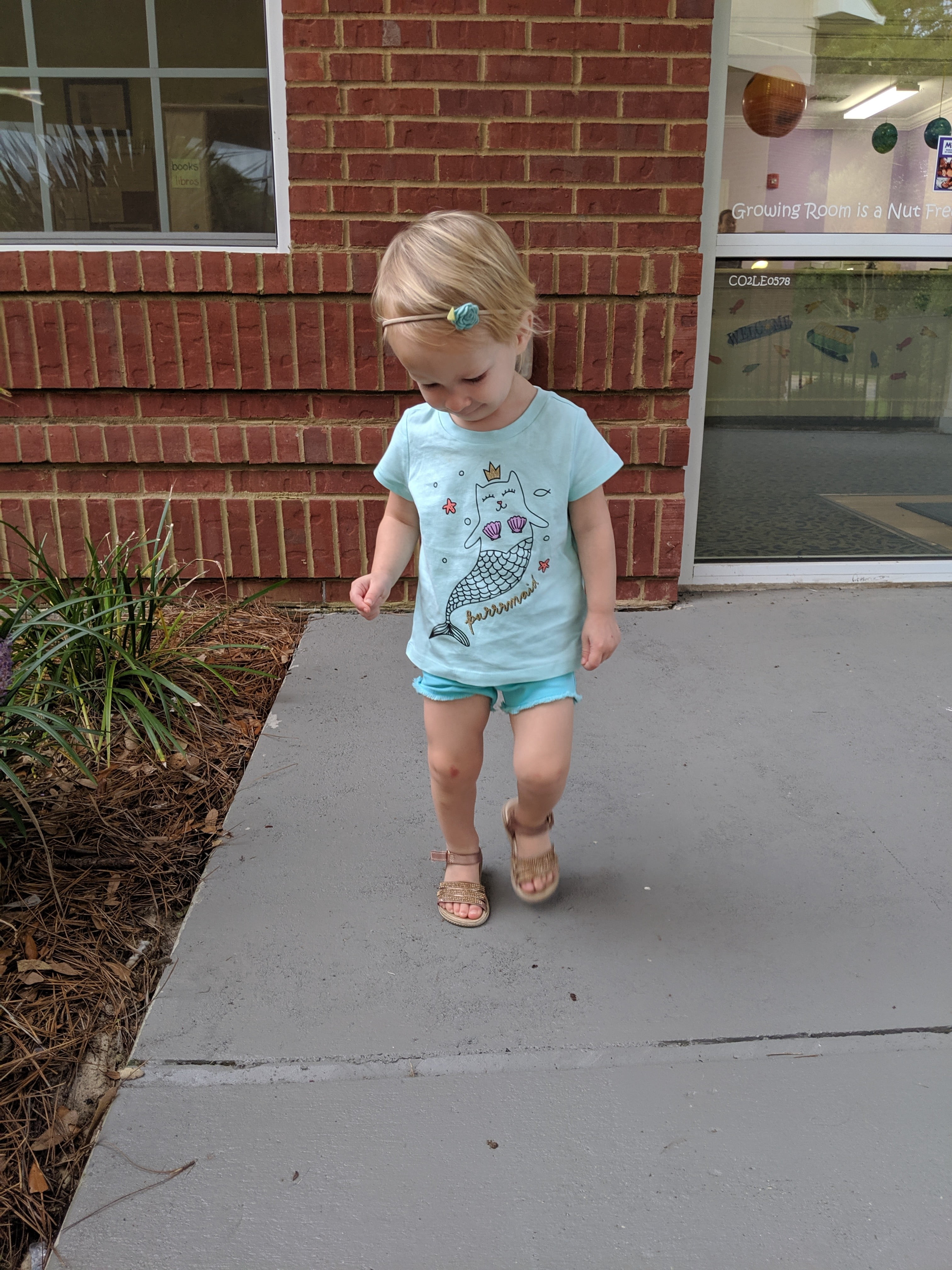 The purrrmaid was also really cute too, and I just think she looks so good in blues! (And purples and greens.)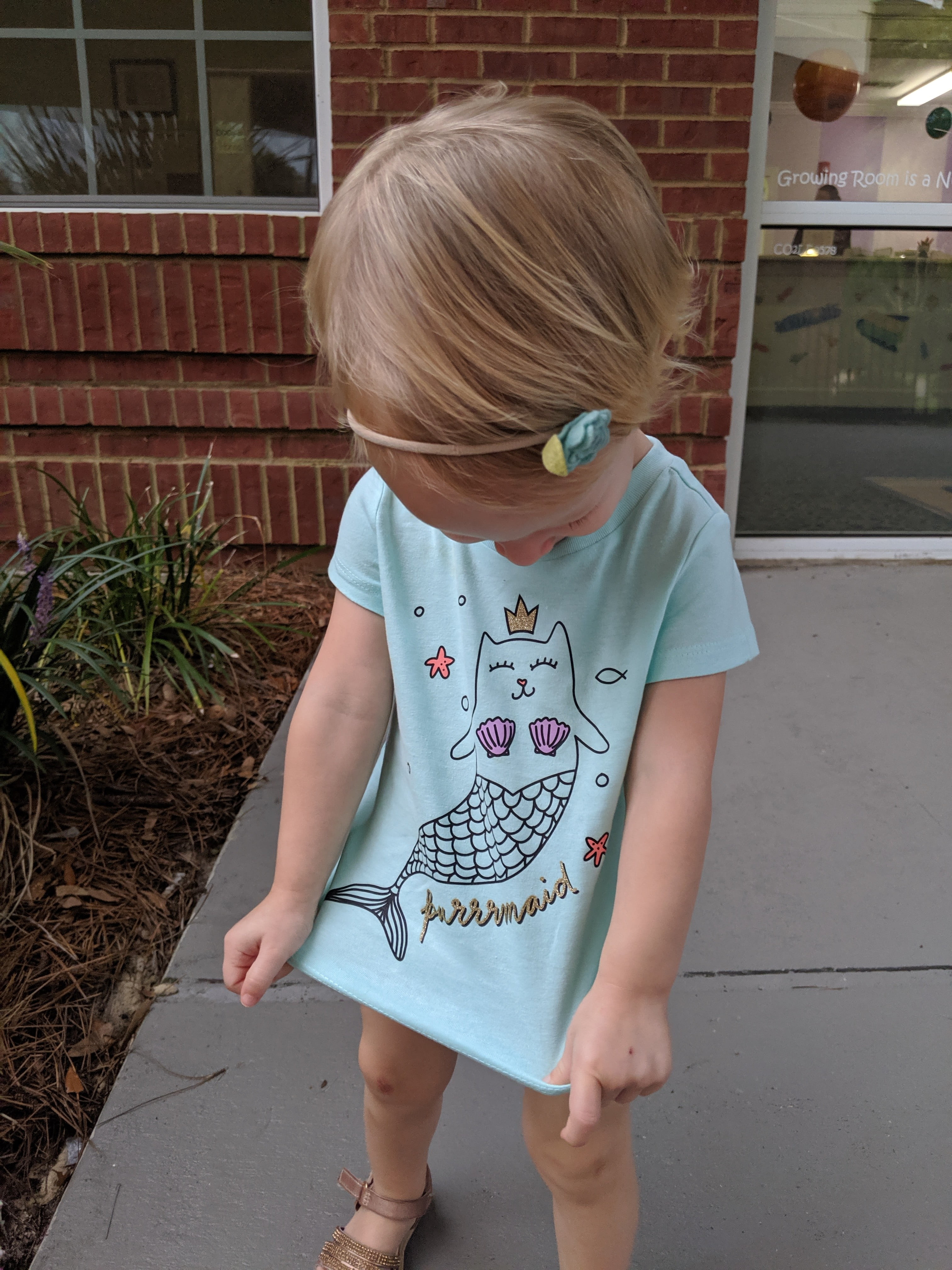 So I had my Slim-Fast shake in my lunch box to drink once I got to my desk, but lo & behold, the boss had brought Syrup City donuts from Cairo, and man those are too good to pass up. The chocolate frosted one was good, but the bit of apple fritter I tore off (that chunk below was only like 1/5 of the whole gigantic thing!) was the best. It was especially perfect with my giant cup of coffee.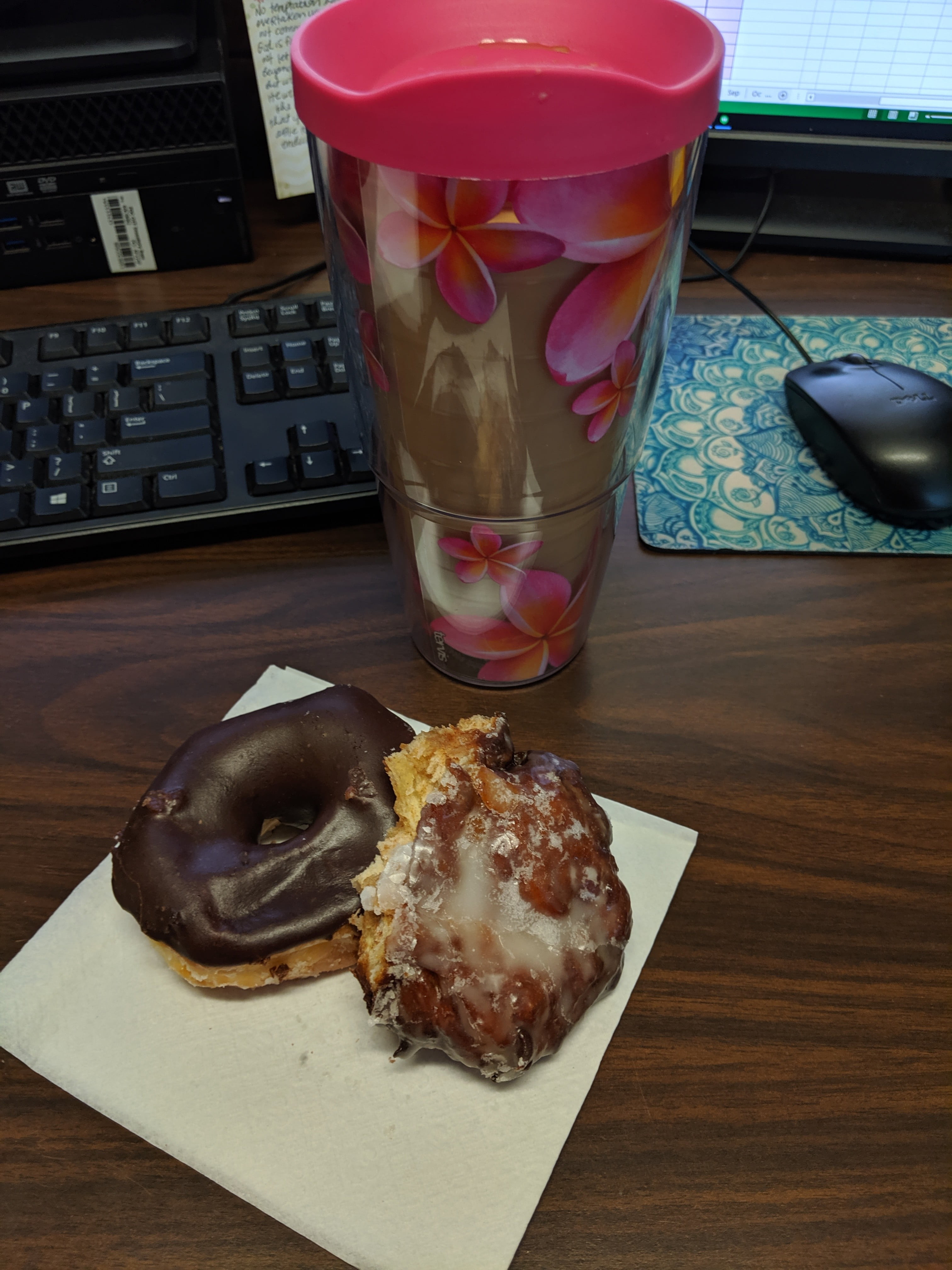 Emerson had a good day at school today, and was even picked up early by her Nana! (I actually switched cars with my MIL this morning, so she could pick up Emmie after school, since we were going to their house for dinner tonight. So that worked out well.)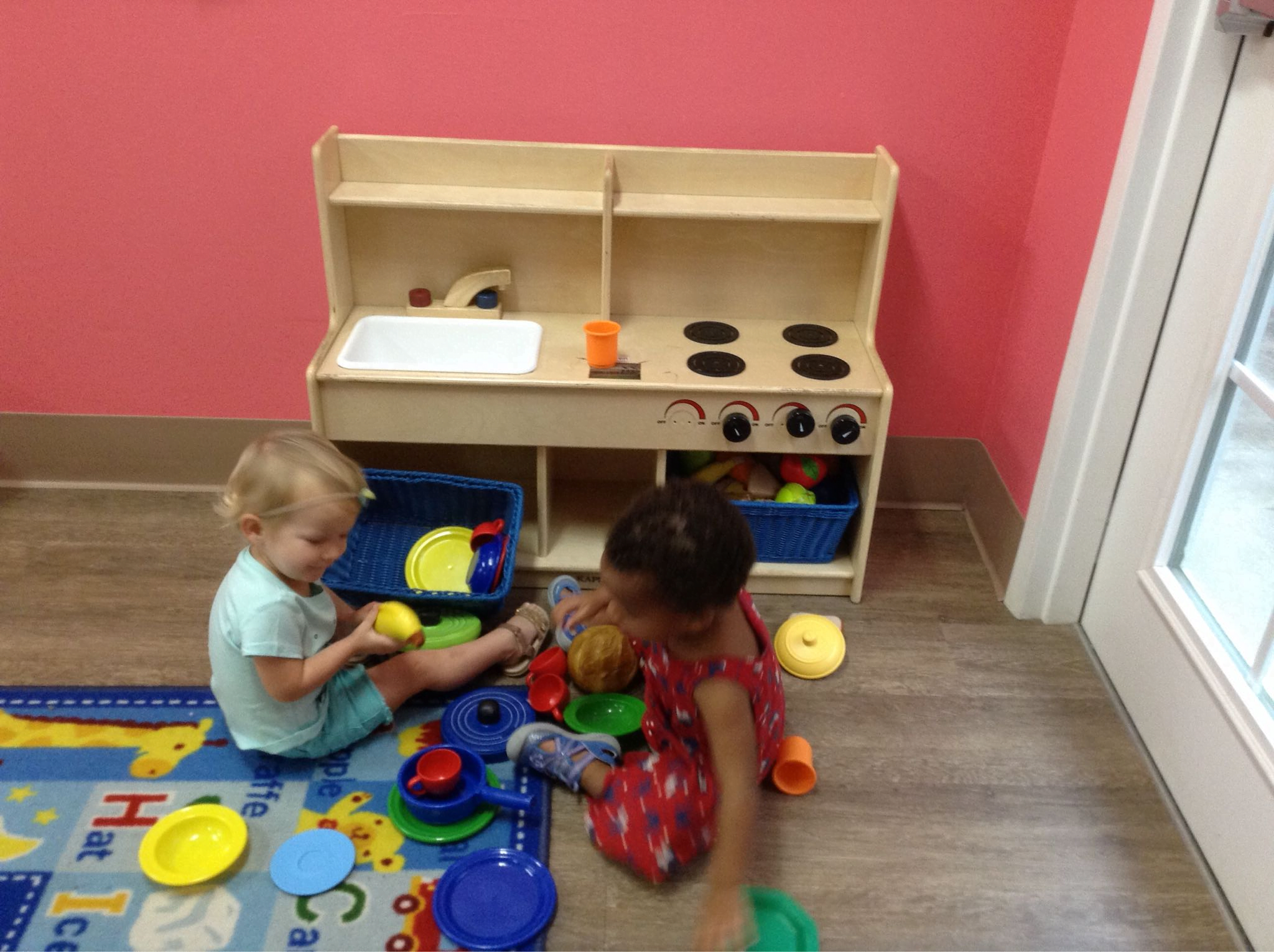 They got new cars for the playground!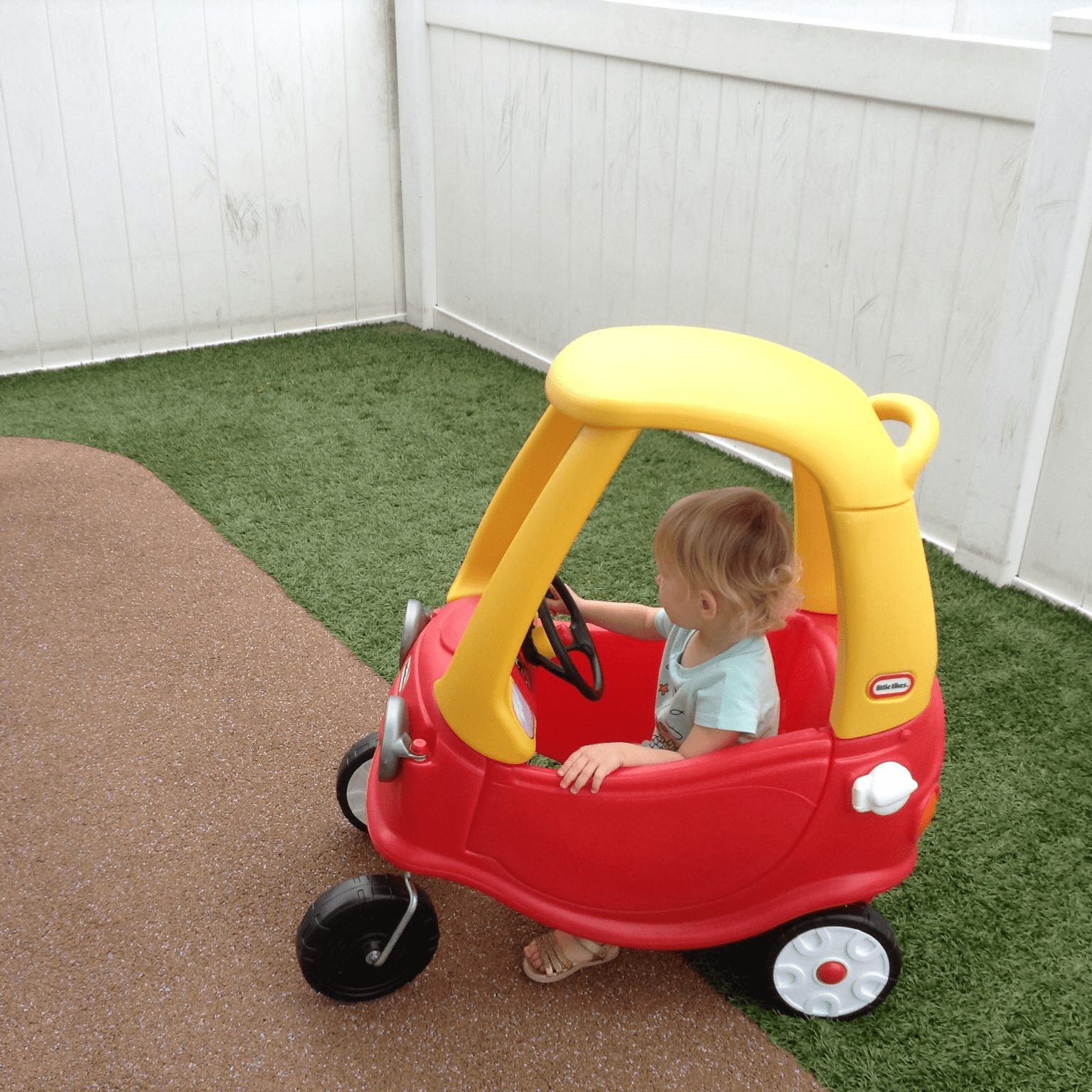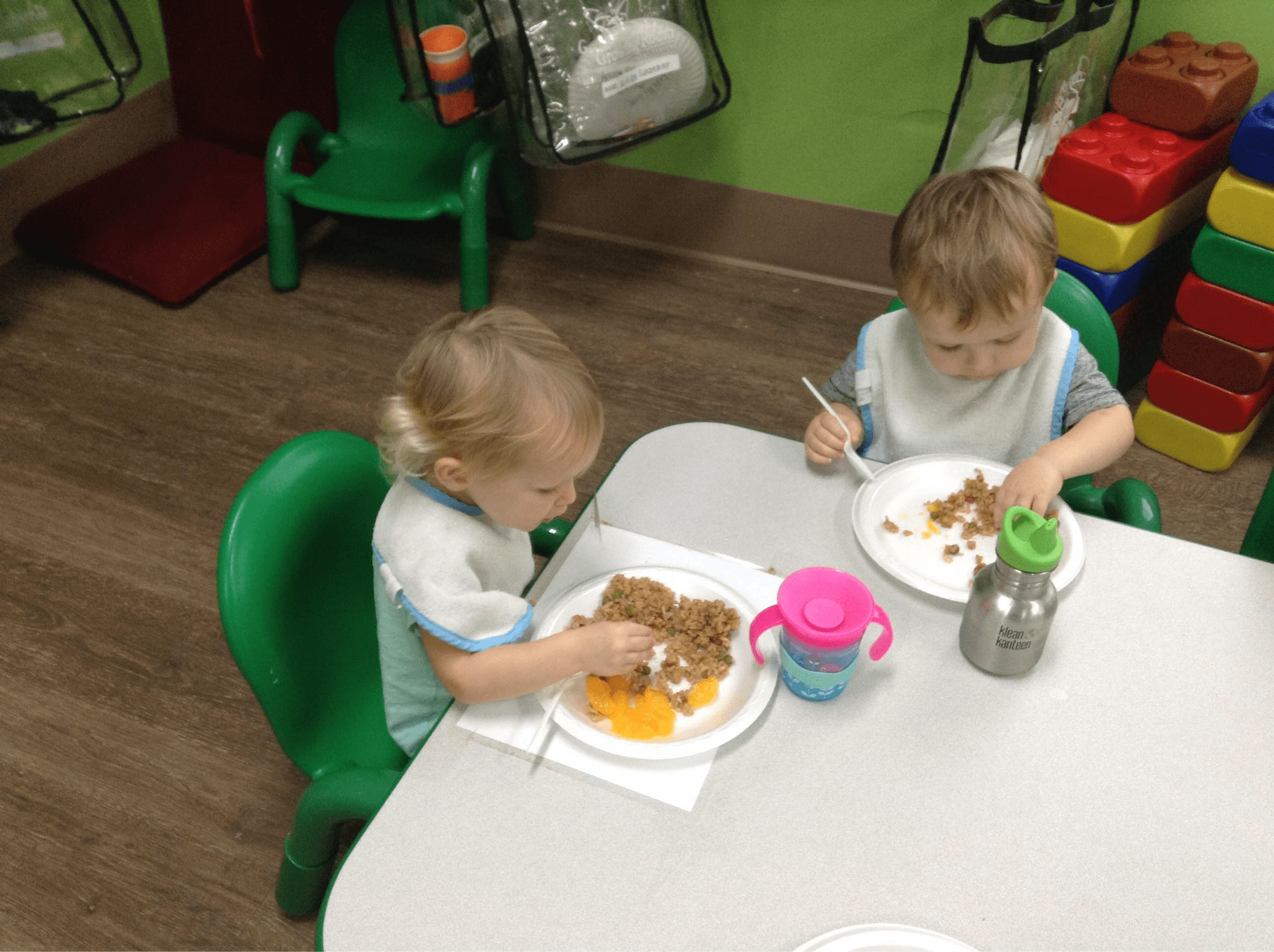 Since Emmie doesn't usually nap as long as her little friends, she is almost always the first one awake. Today, we have proof, since you can see a couple of her tiny buddies still sound asleep on their cots behind and beside her!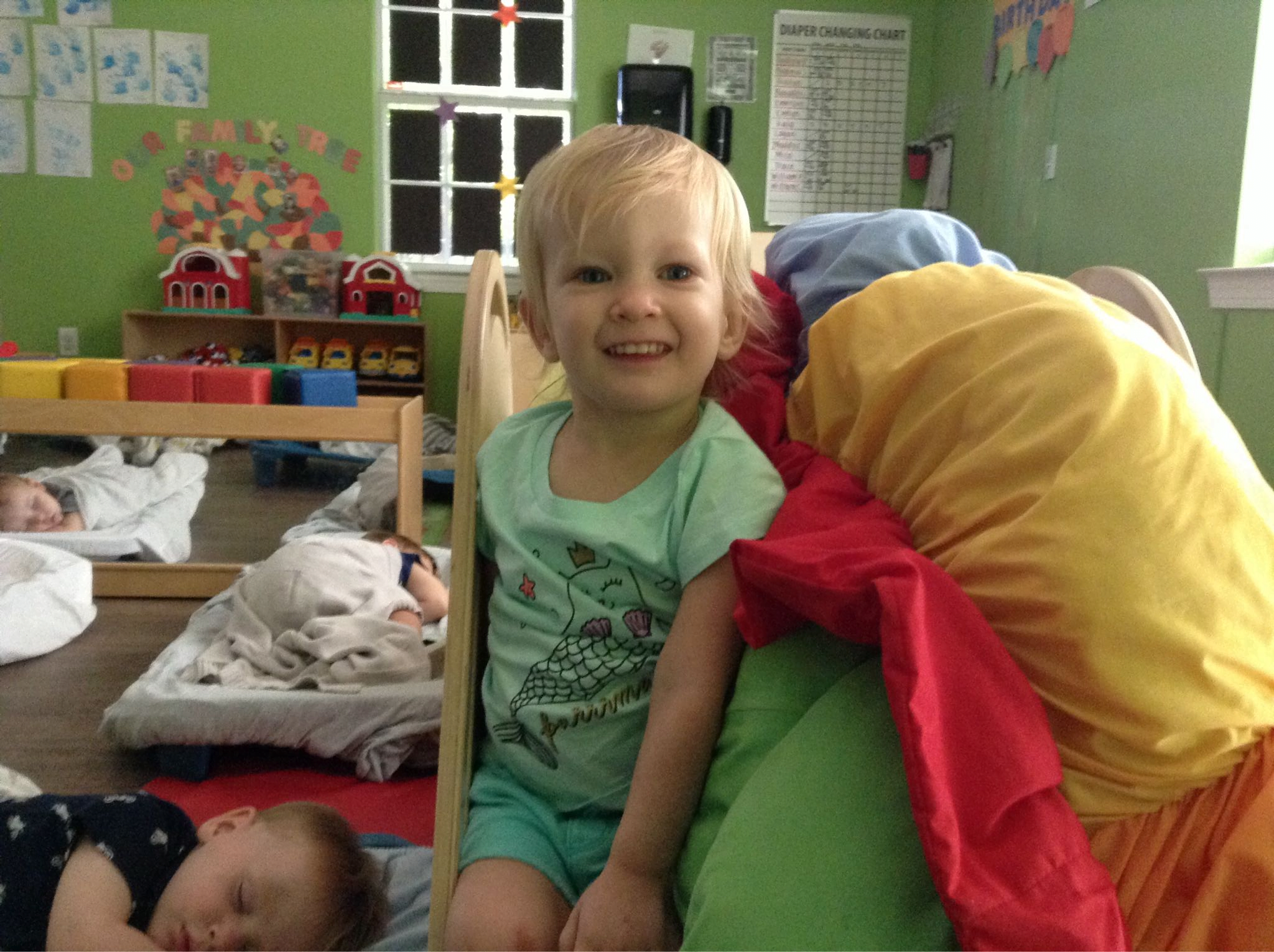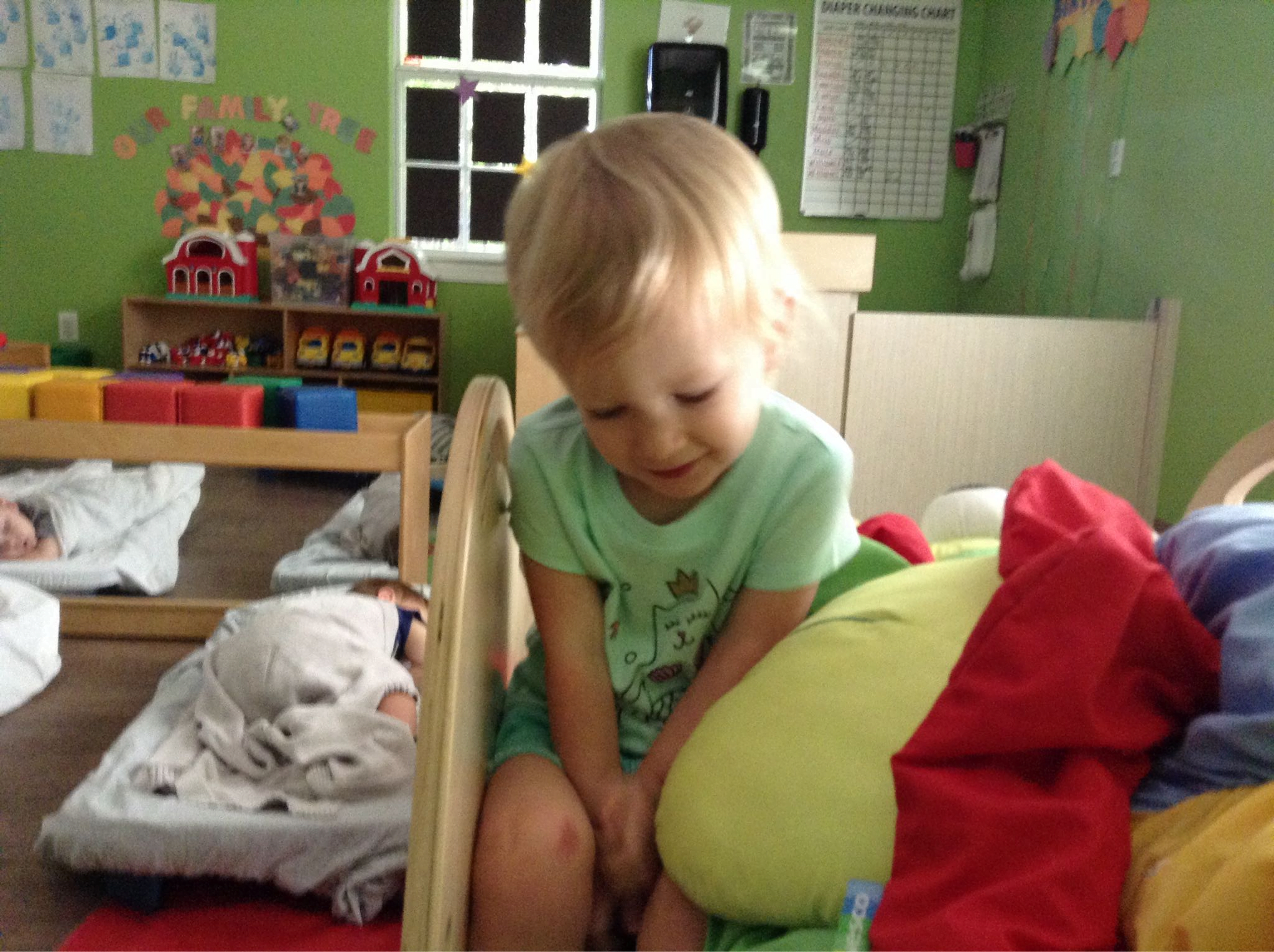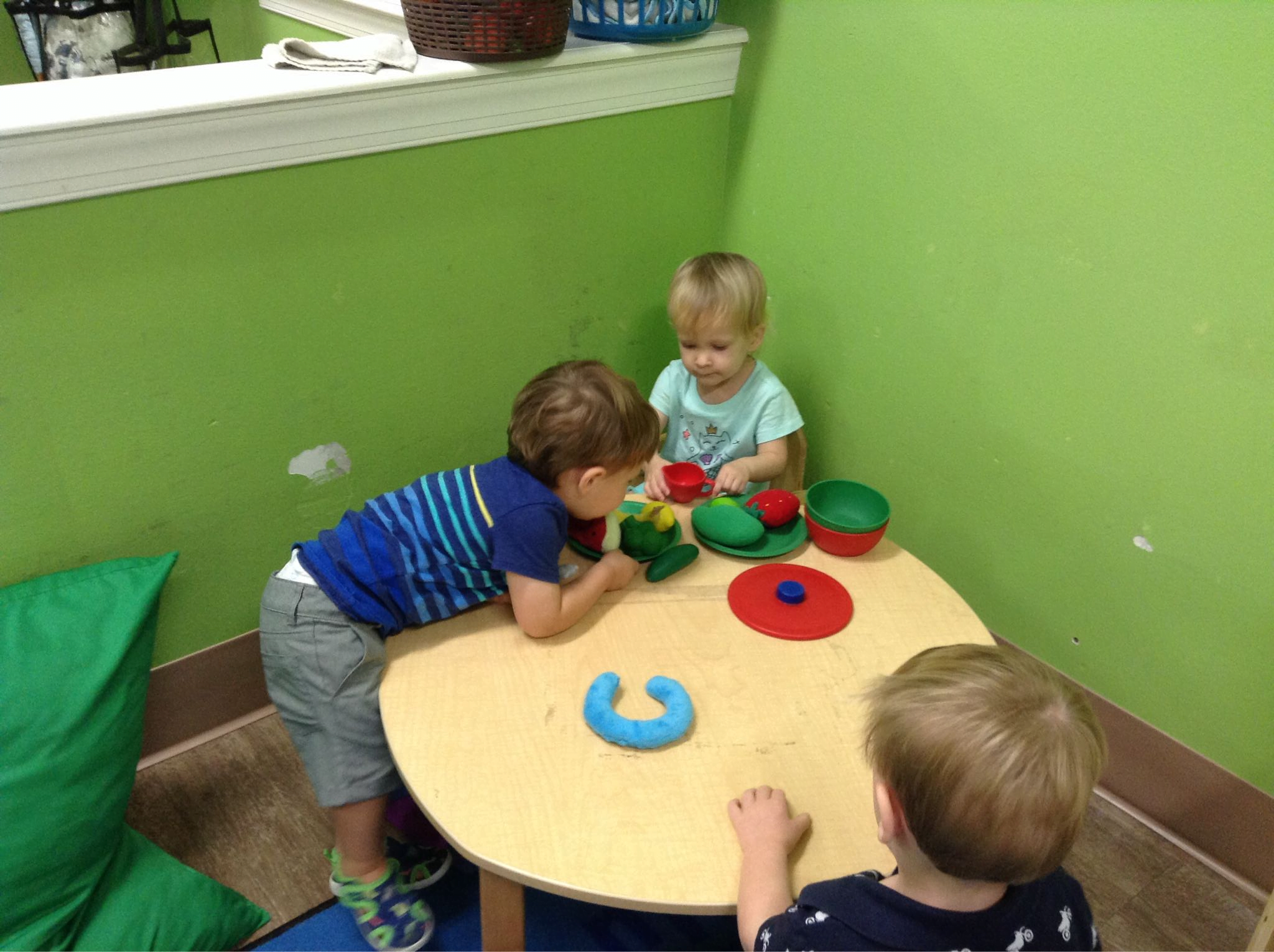 And they got new tractors for the dance room!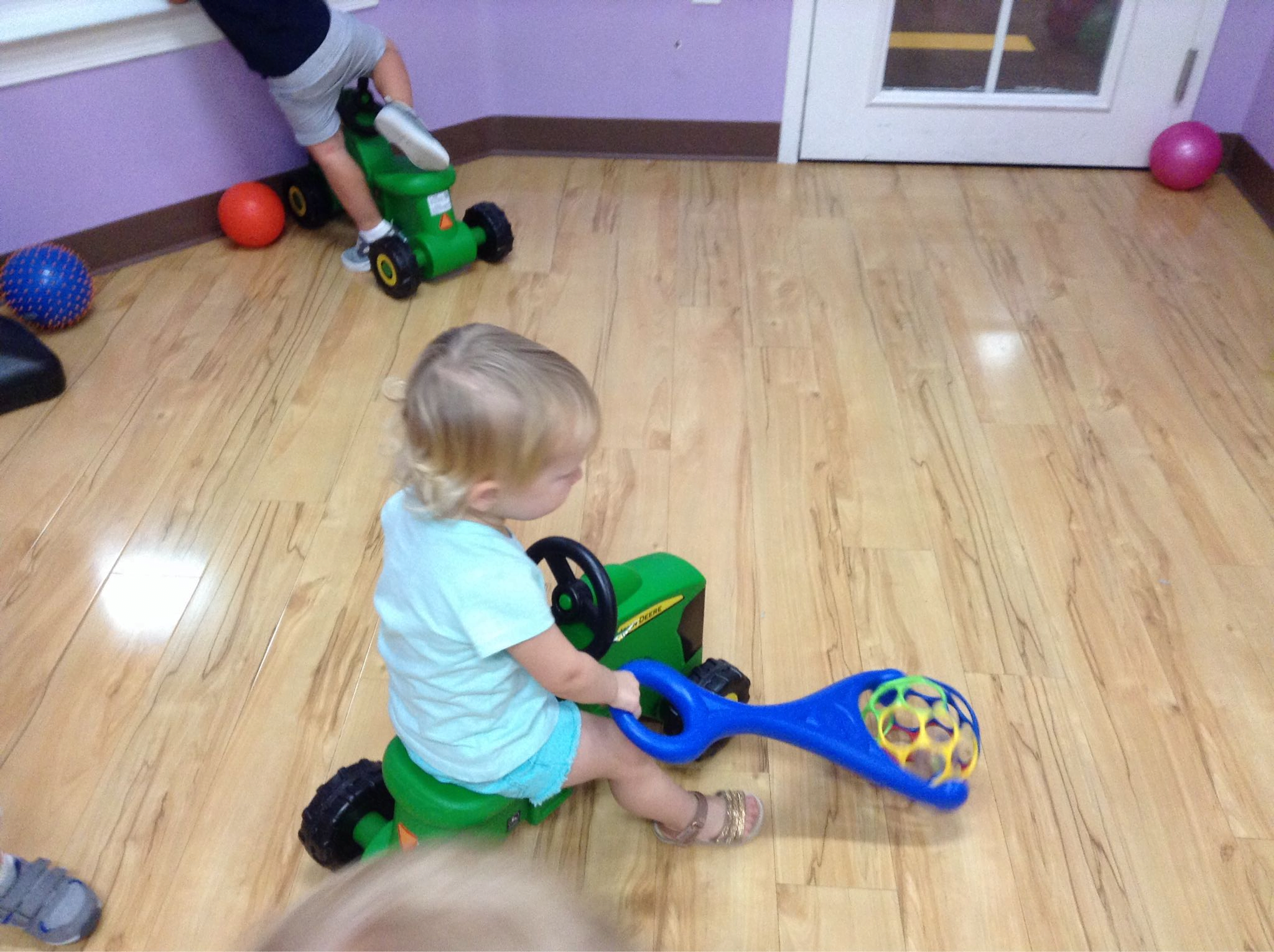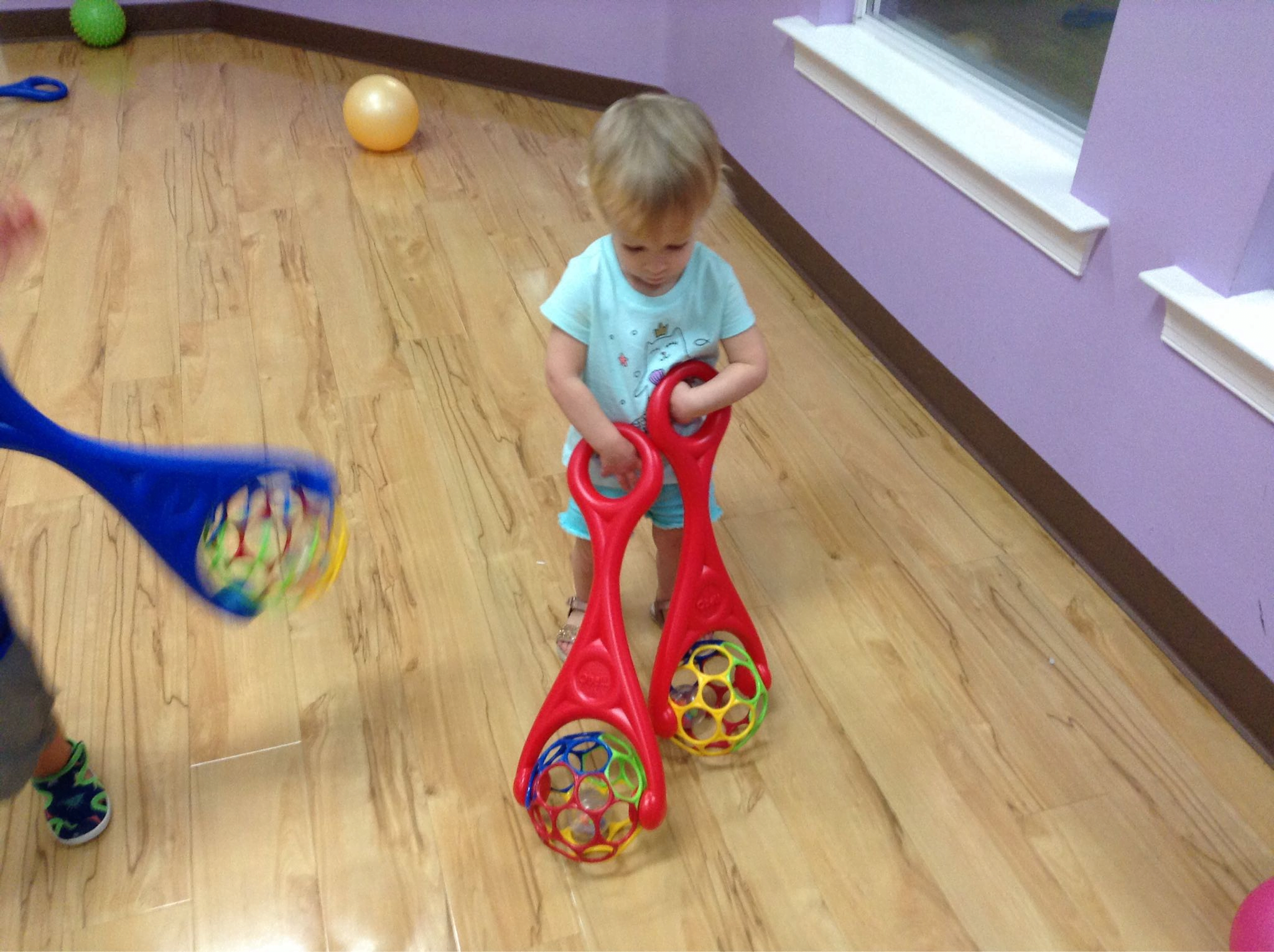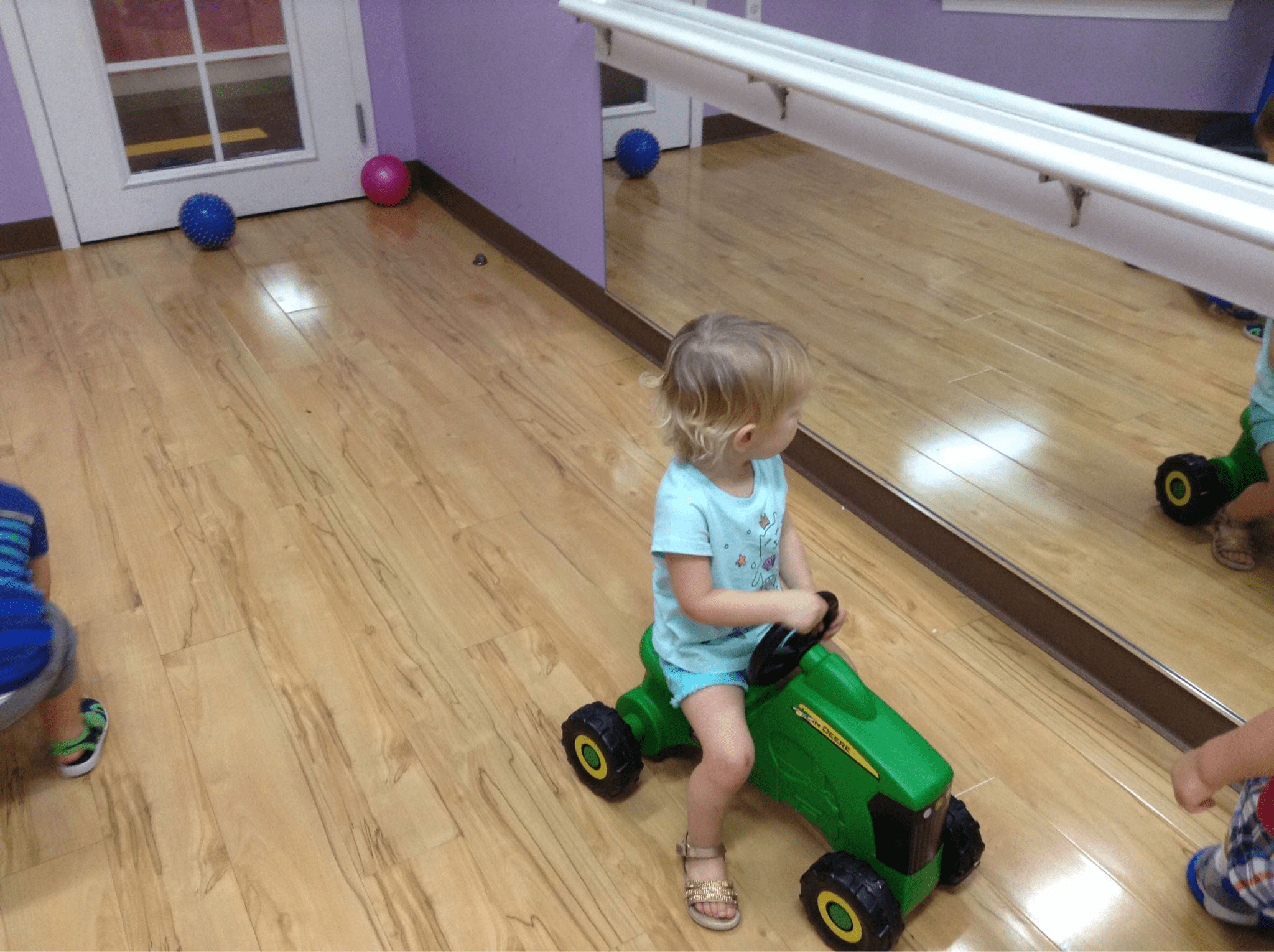 Lots of fun vehicles for the little ones to drive around now!
I returned a couple of books on my lunch break today, and then came back to eat & read at my desk. It stormed like crazy all over town mid-afternoon, but luckily it had almost completely stopped by 5pm, so we could get to our cars without getting drenched!
On a random triplet note, the girls had their 4-month check-up today, and they are still doing so great! Kensley and Riley (the twins) both weigh 15 pounds (plus some ounces), and Ellie weighs 14 (and some ounces). They've all grown 2.5 inches in the last 2 months, and can now start trying some baby foods & cereal! (Photo & info all from Meg, used with her permission. L to R: Kensley, Riley, Ellie and side note – they are almost always in this order, since it's their birth order.)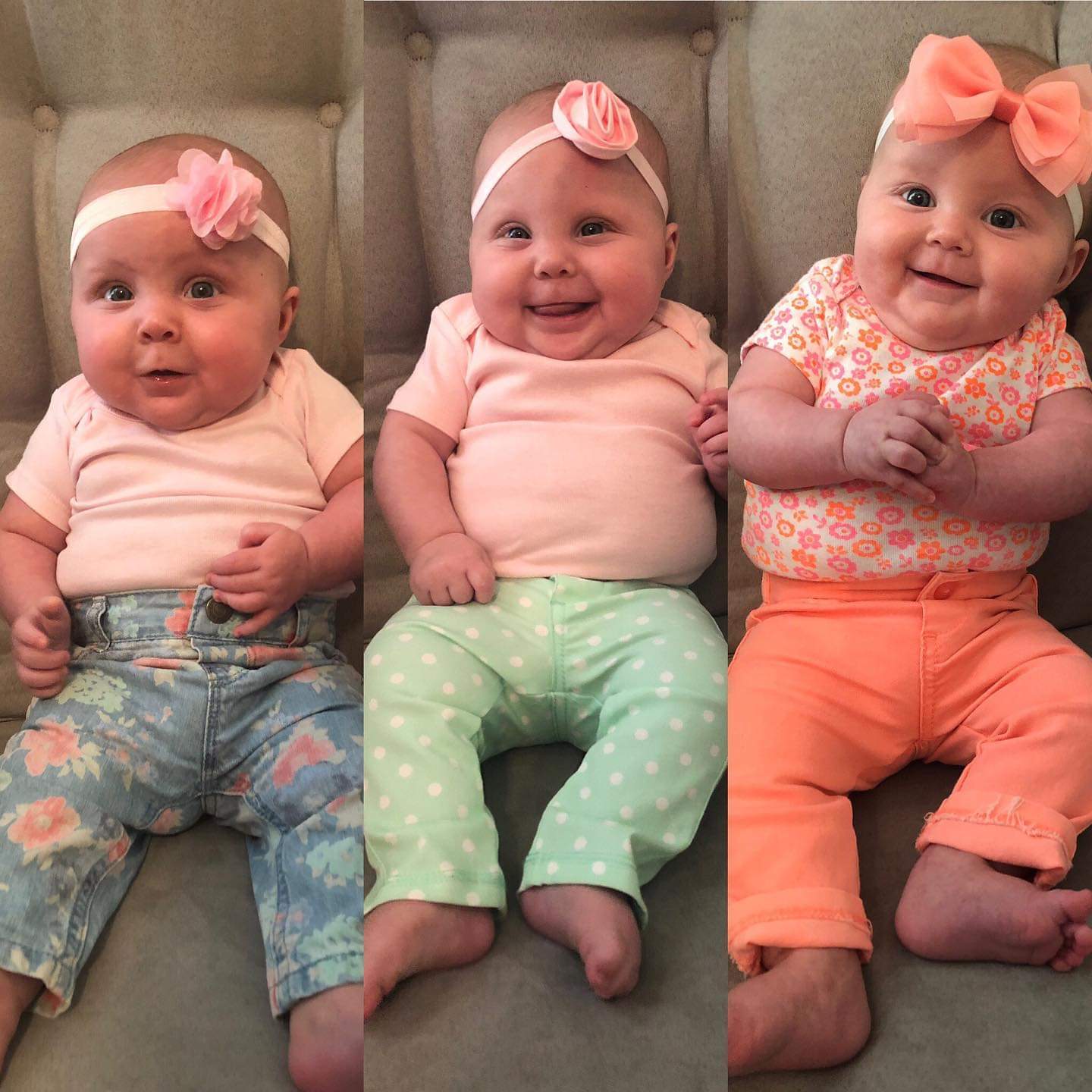 Since Nana picked up Emerson, and PopPop drove to our house to pick up the boys, Jeff and I were able to just go straight to their house when we got off work. Jeff's younger brother (who my in-laws was adopted when he was about 12) and his wife and three boys were visiting from Texas, so we went over to have dinner, as a giant family of six grown-ups and six kids!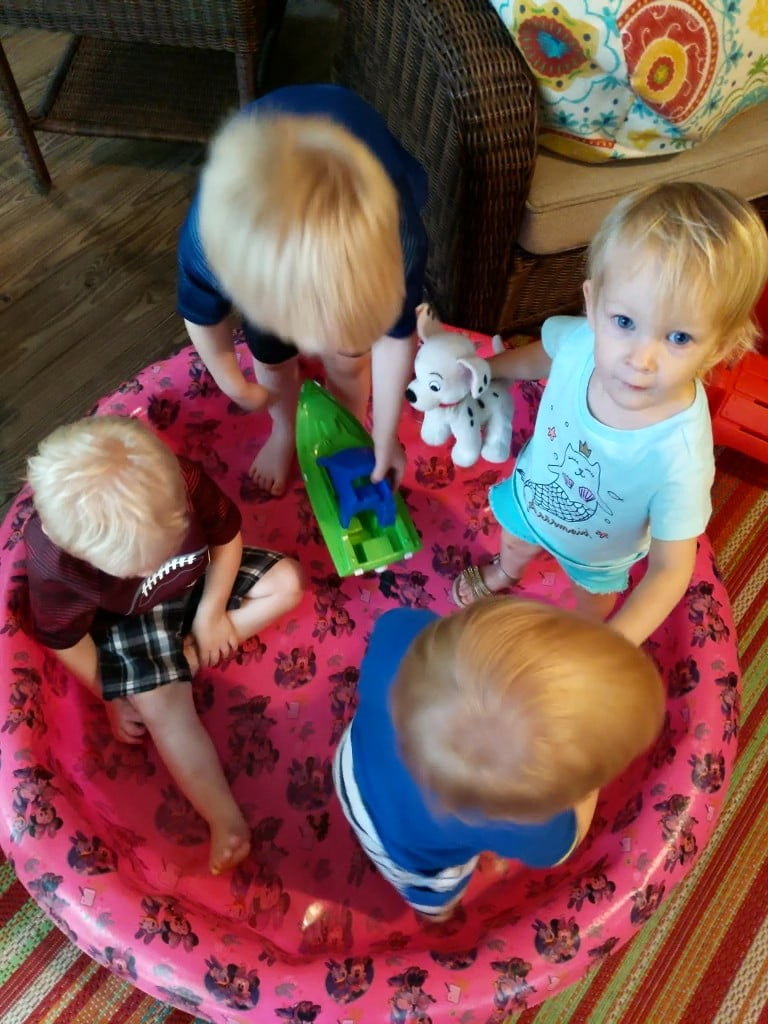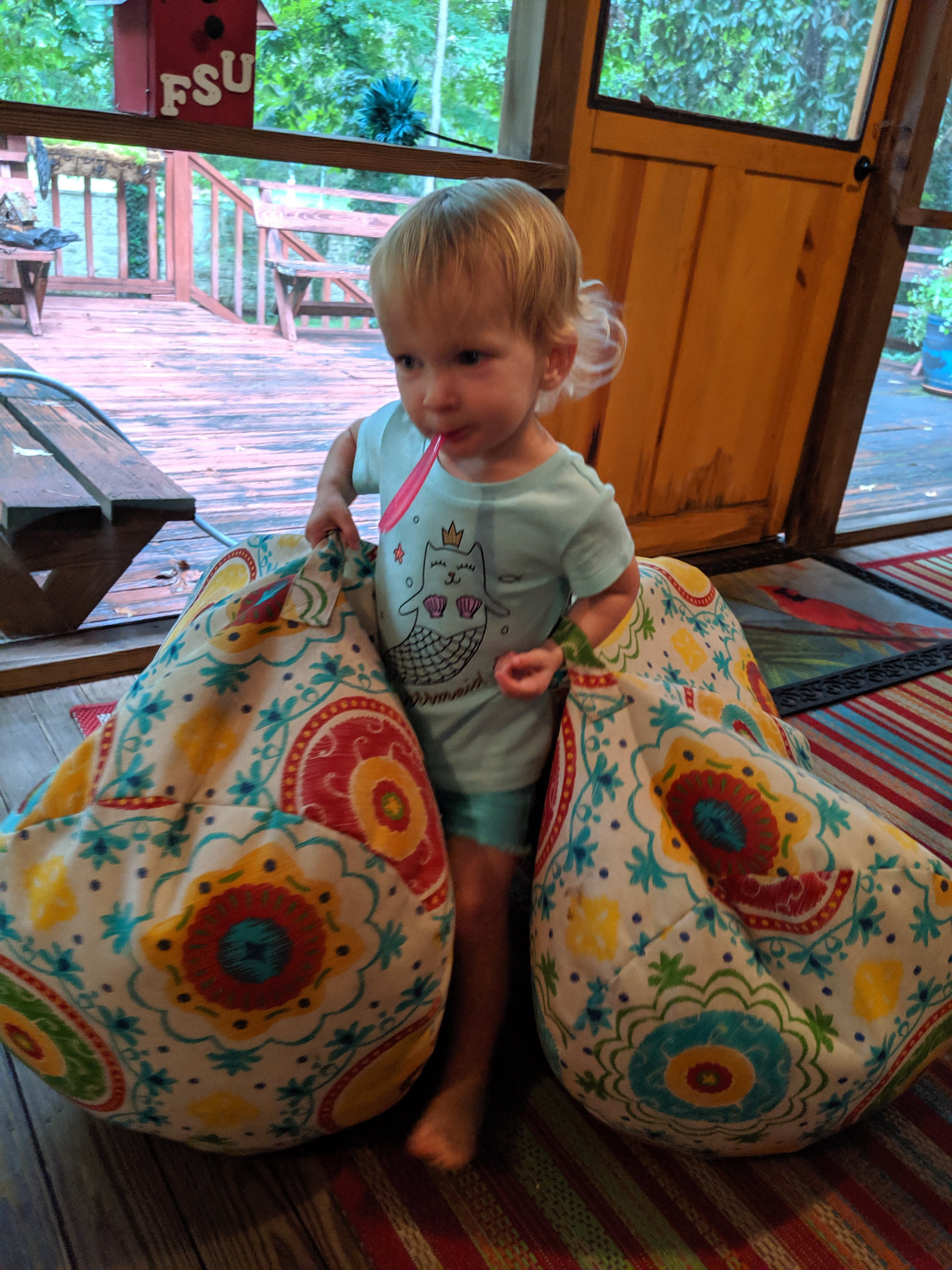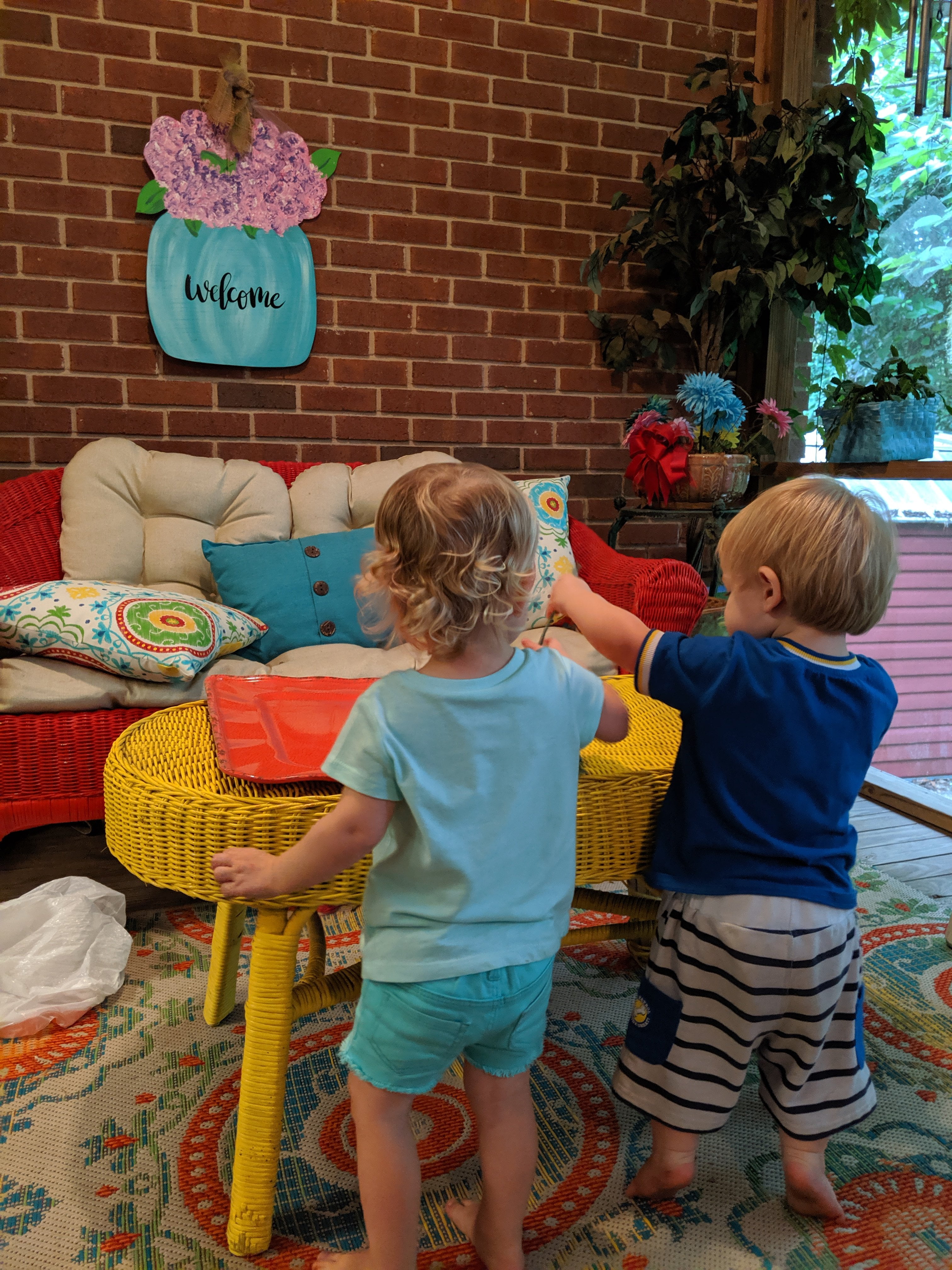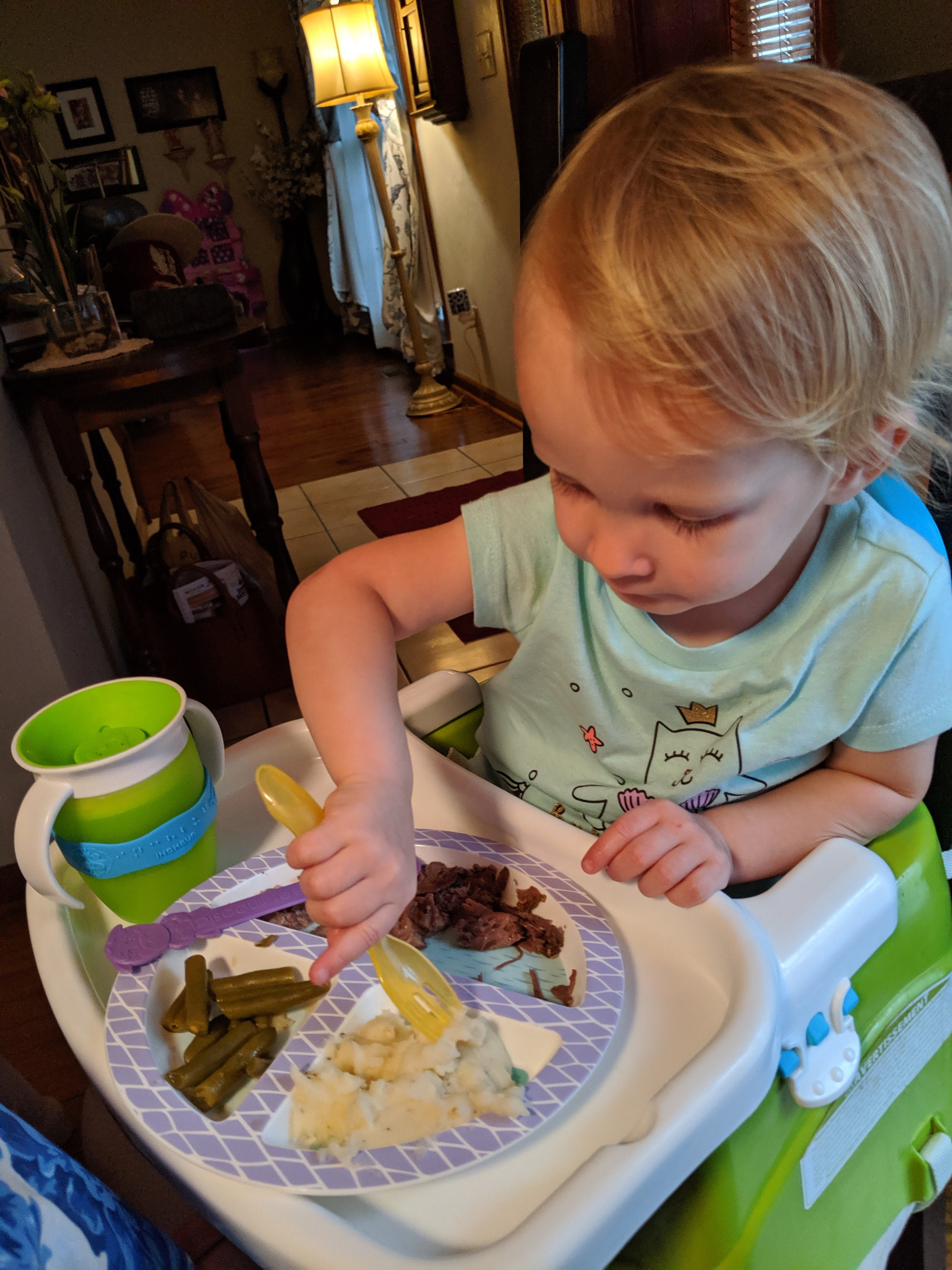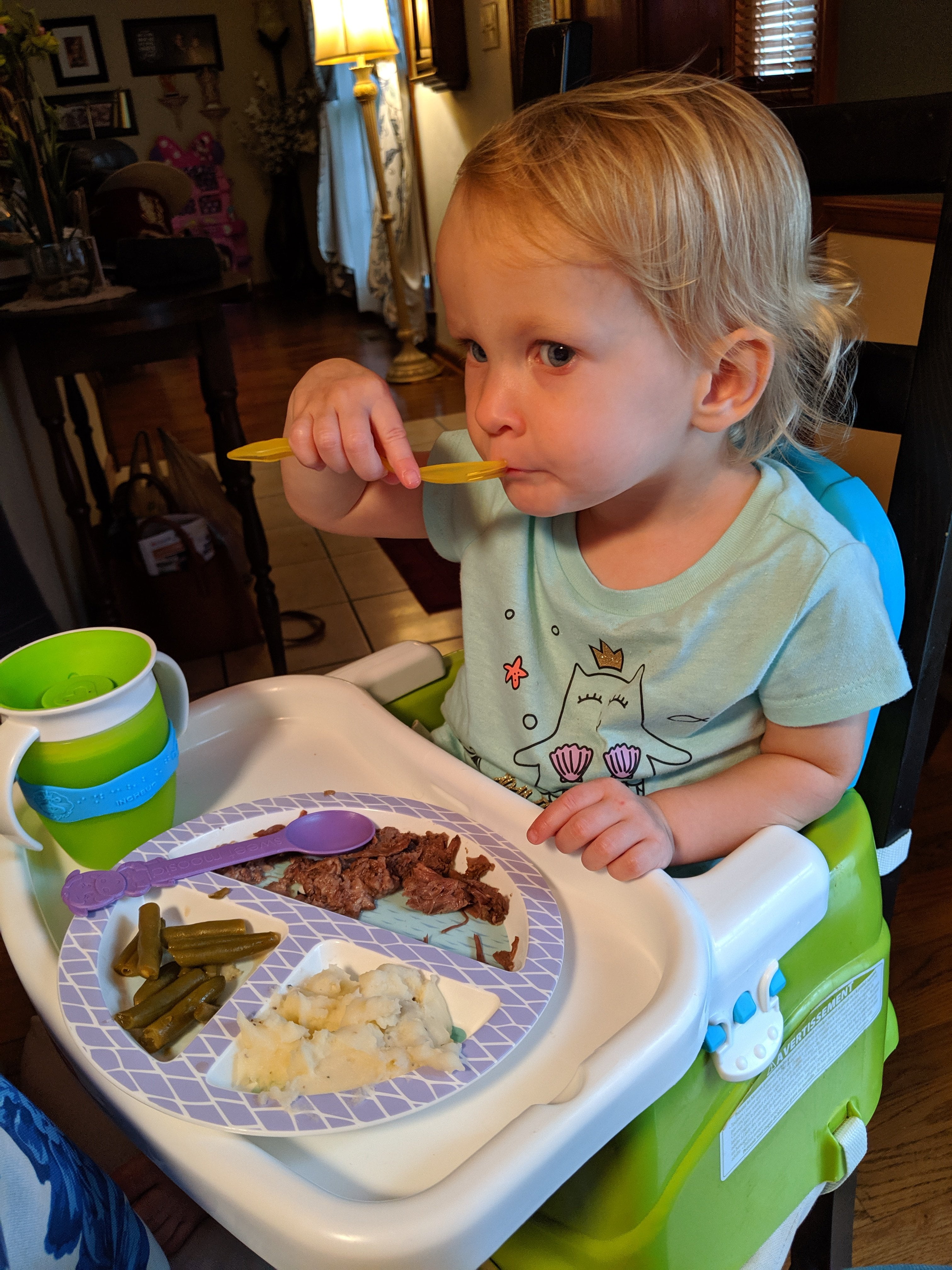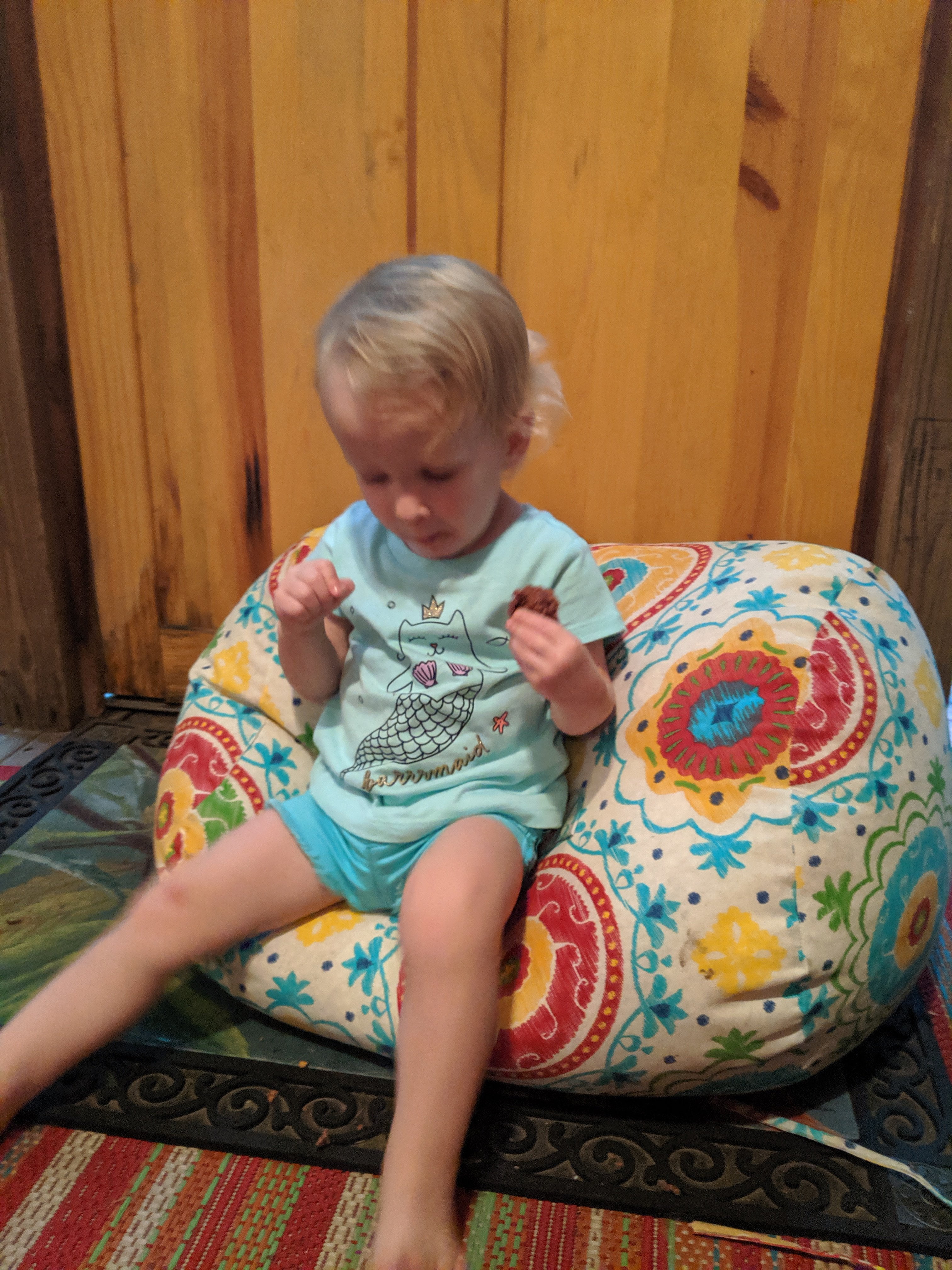 After dinner, Emerson really came out of her shell, and started playing with them really well. She especially took to their oldest son, Declan, and followed him around, copy-catting every little thing he did. He loved her too, and would say things like, "Come on Emmie, come with me!" and lead her across the porch to hang out under the table. It was really sweet!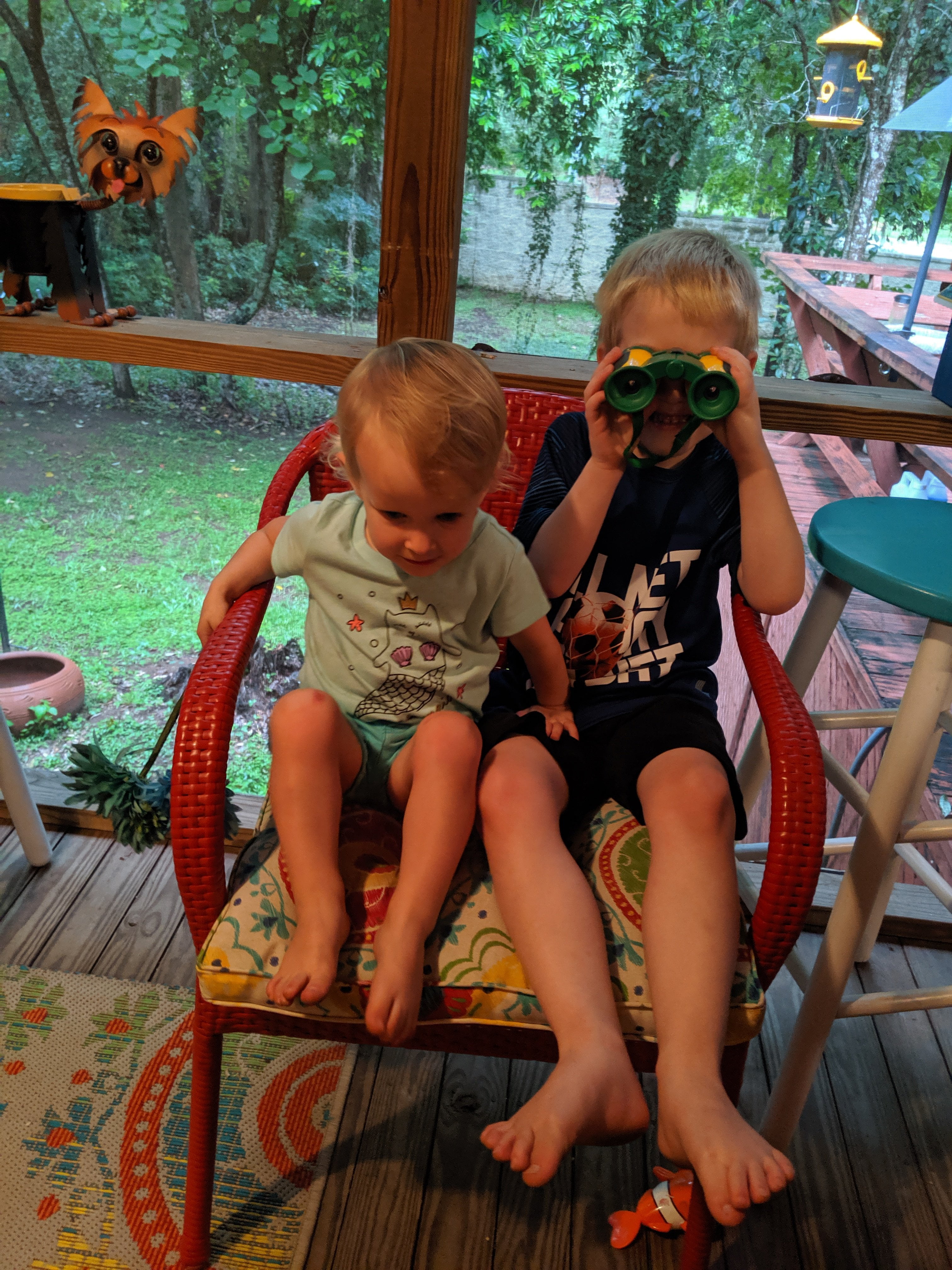 Also, self-timer family photo, with 10 of the 12 looking & smiling with open eyes, that's a pretty good ratio 😉 (From L to R: Declan, Emerson, Nana, Robert, Saxton, Gabe, Duncan, Tabitha, Ryan, me, Jeff, PopPop.)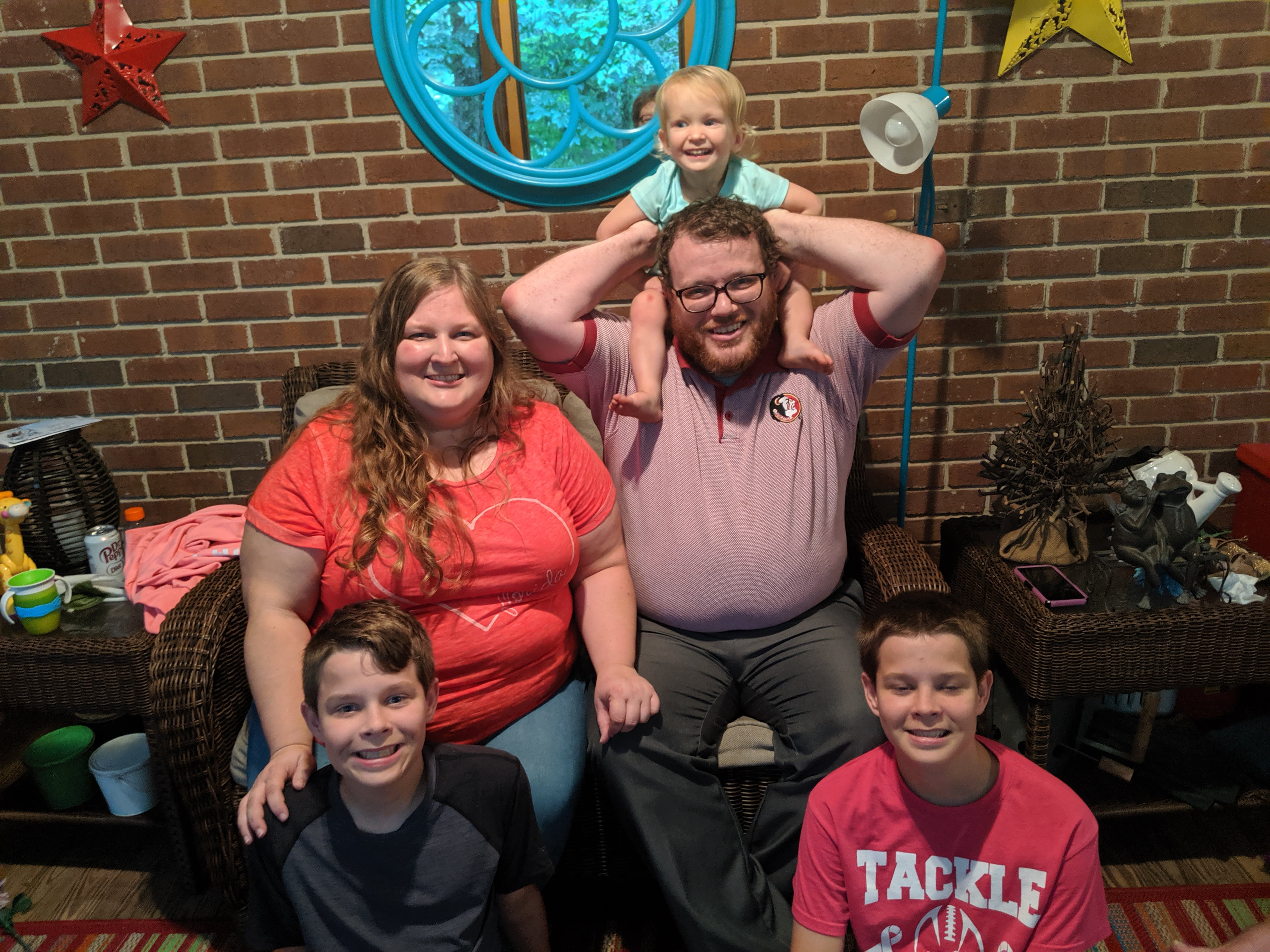 These six are only half of Nana & PopPop's grandchildren, because there are seven more between Jeff's other two brothers! (With PopPop L to R: Daxto , Declan, Duncan; behind: Gabe, Ryan, Emerson with Nana.)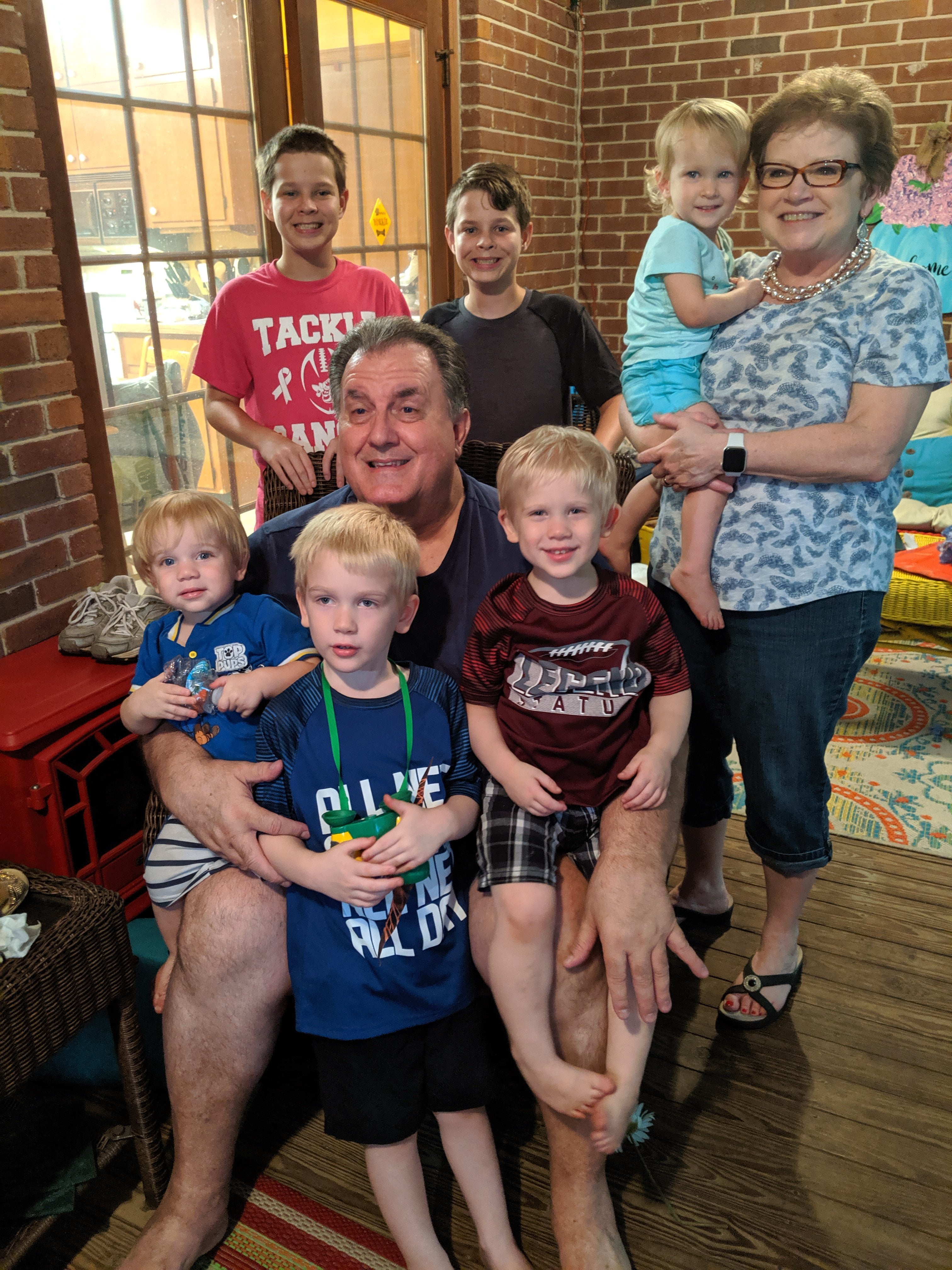 After running around like crazy on the back porch, she had to have a quick washing-up in the sink, because her legs and feet were a mess! She also snuck a cookie while getting cleaned up.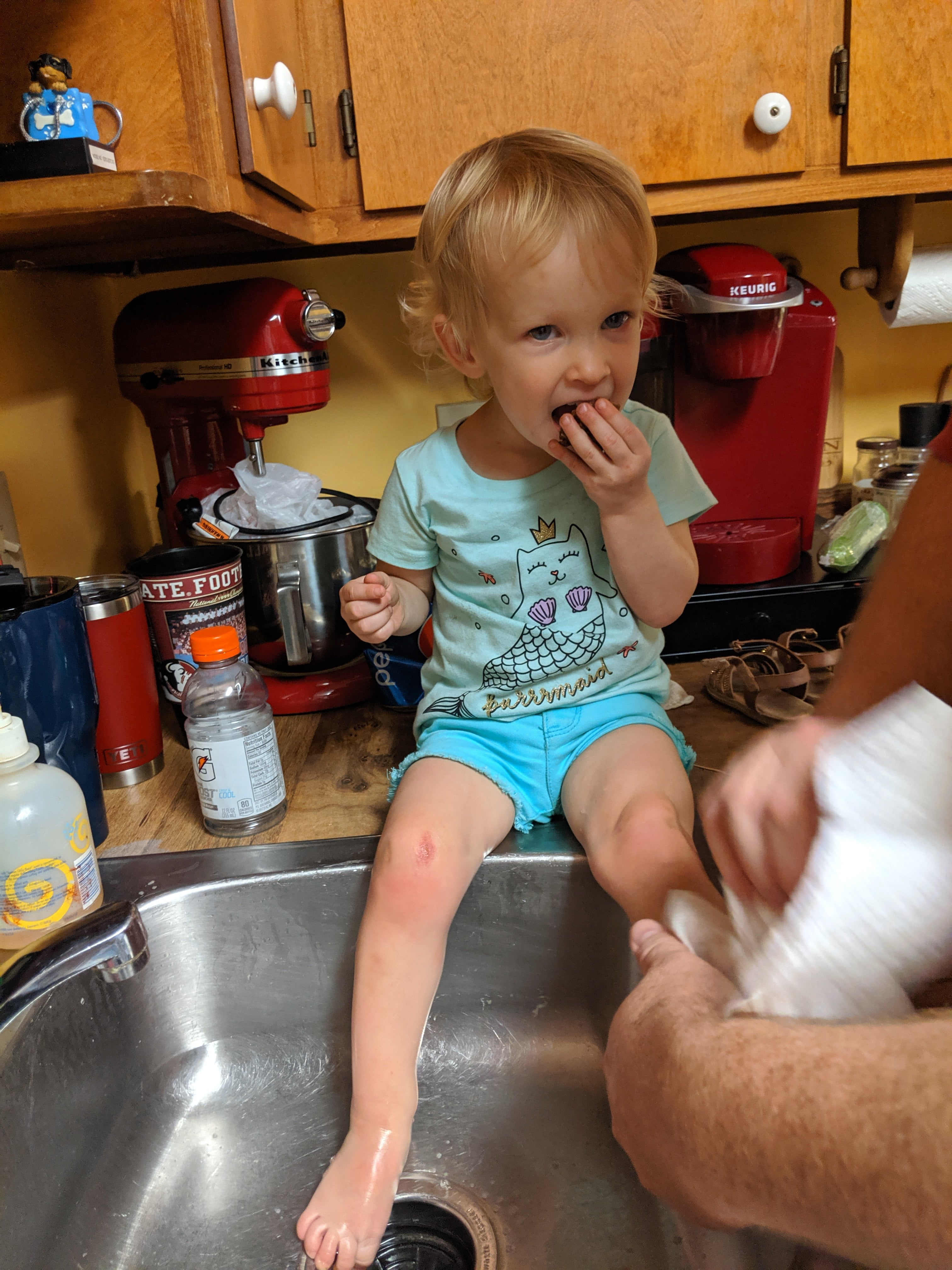 Emerson, Ryan and I left first, to try to get her in bed at a decent time. When we got home, Ryan hid from her, and she searched high and low to find him!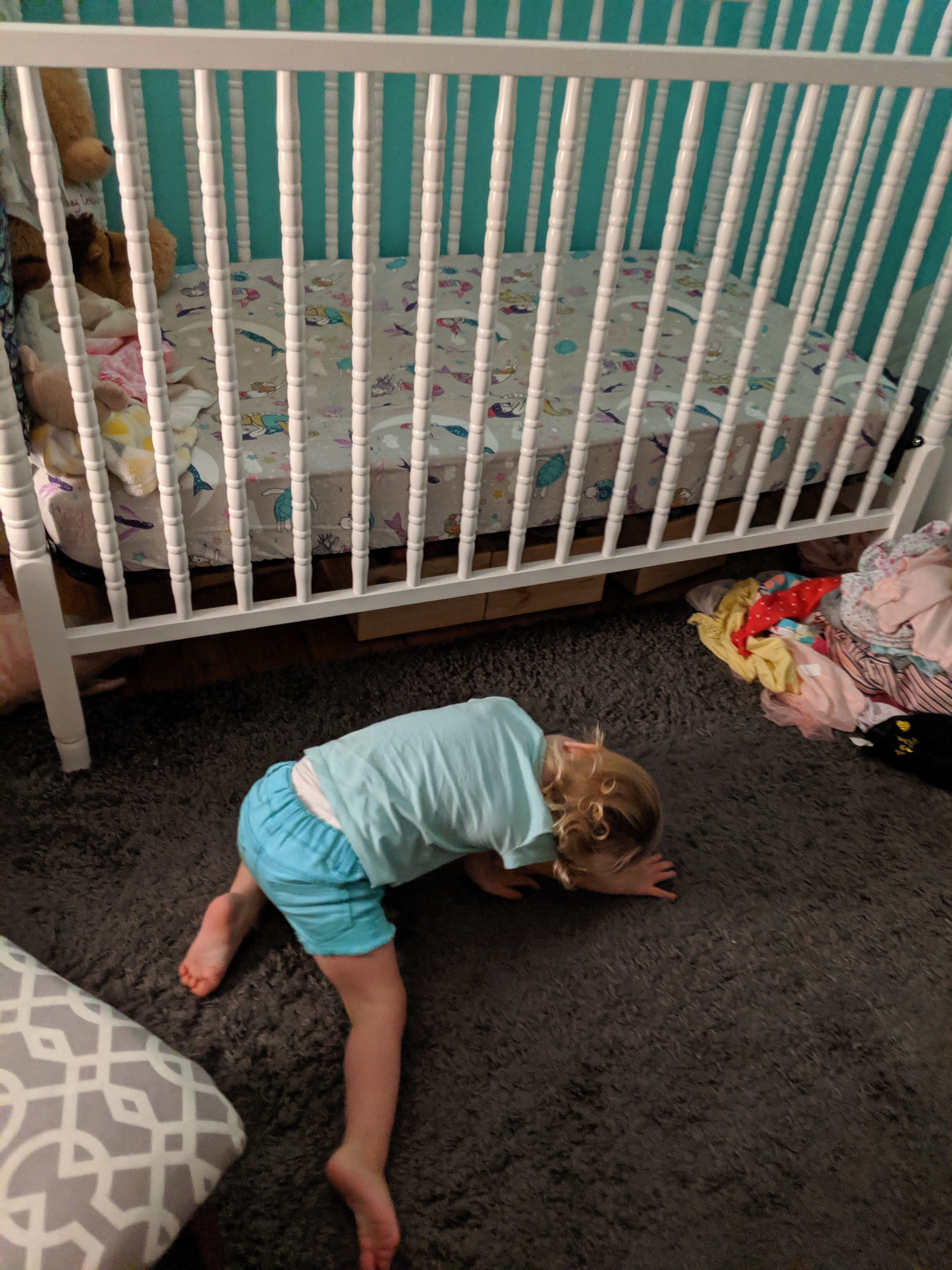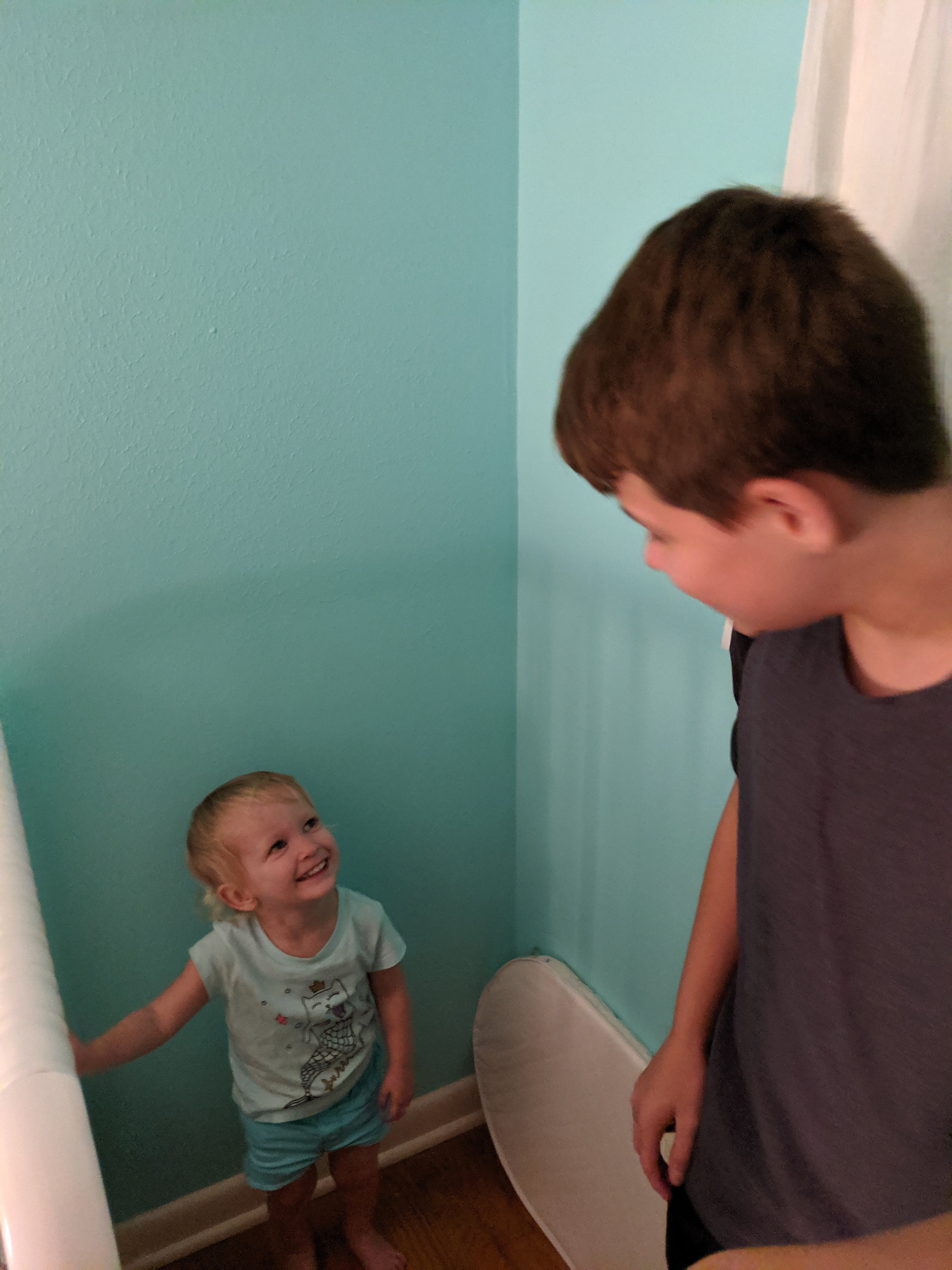 Then she had to give night-night kisses to pretty much anything she could find with a face. One of her ring-stacking toys had a monkey on top, and she even kissed that too. That girl knows how to stall bedtime!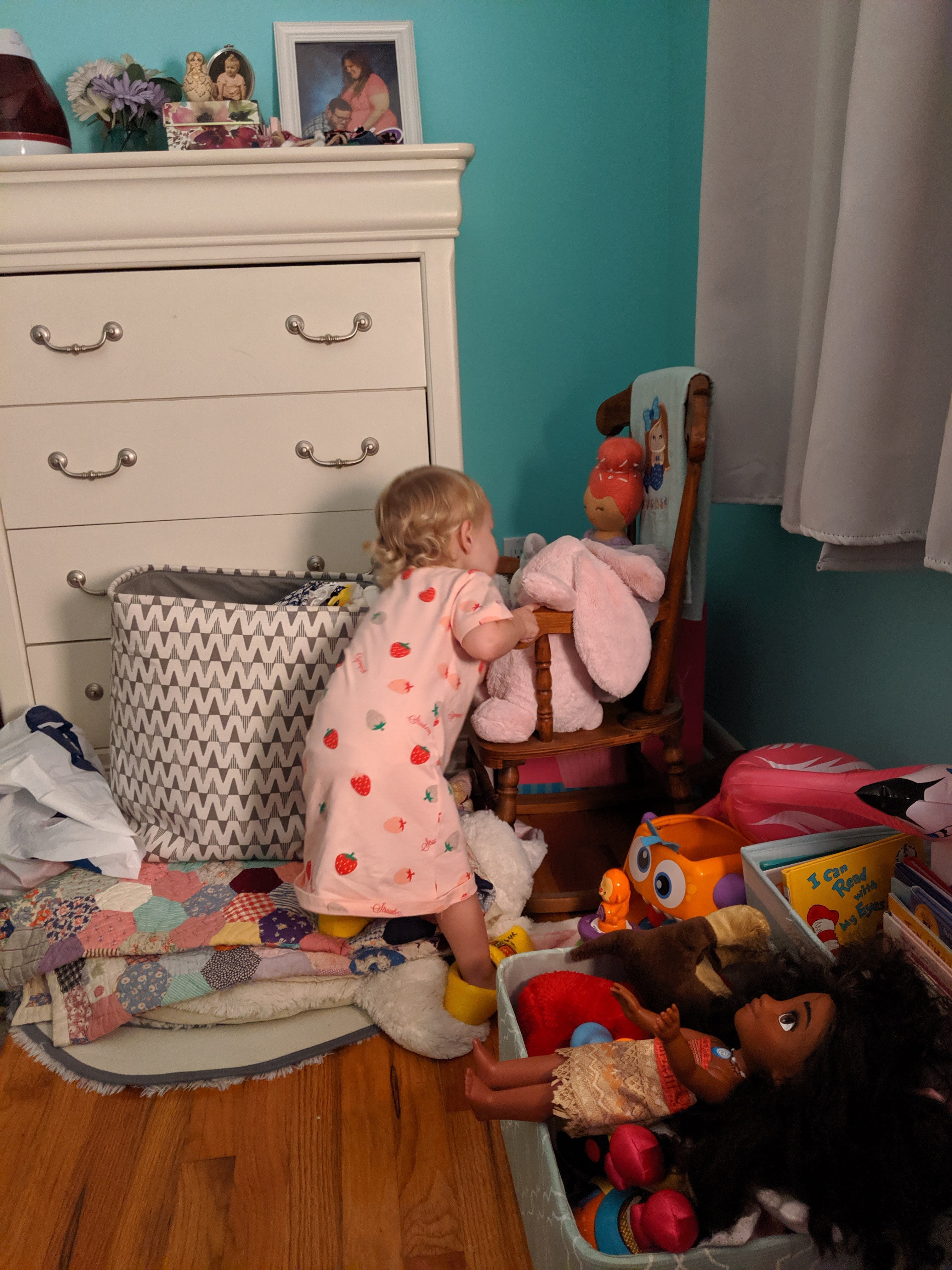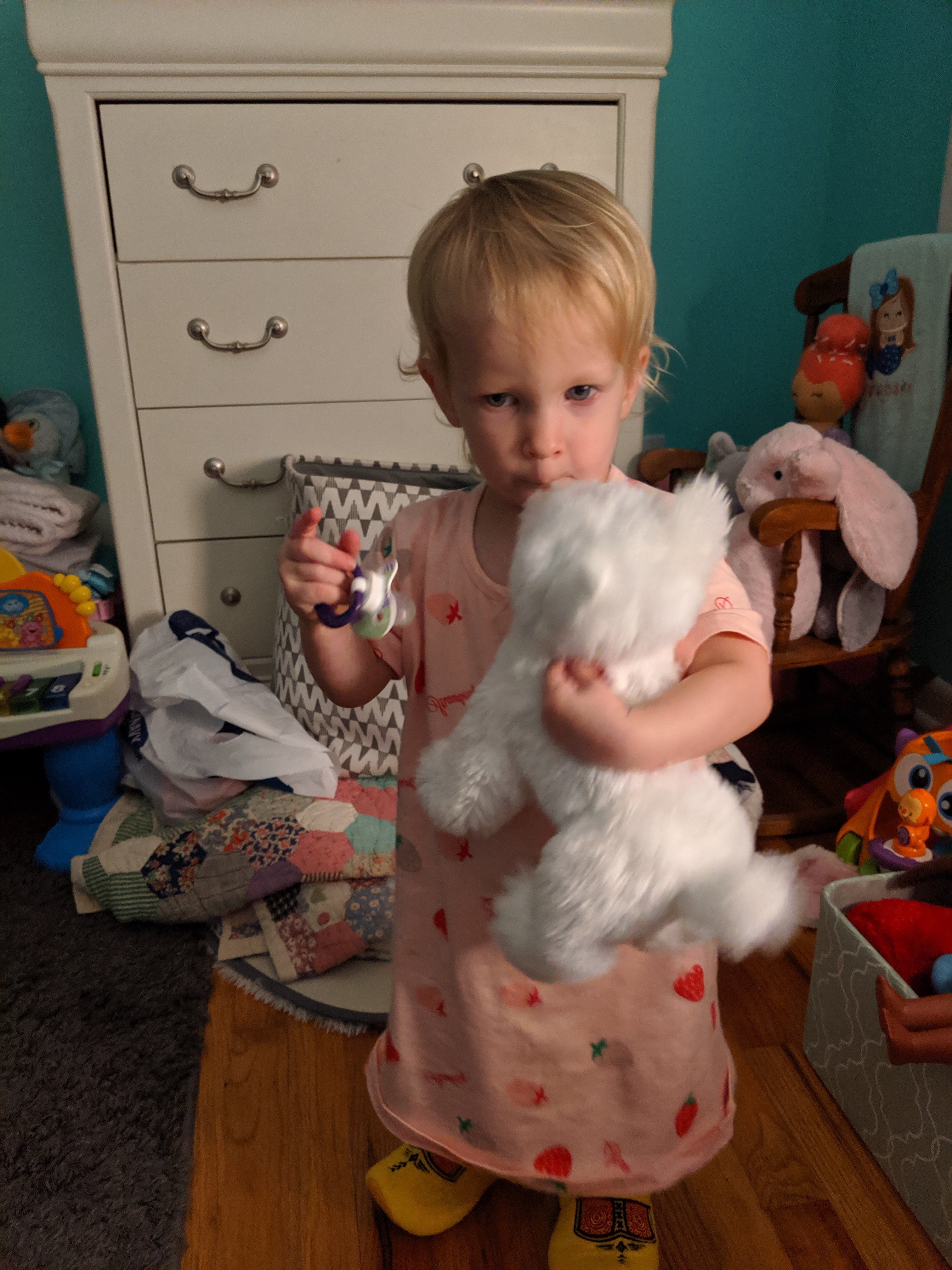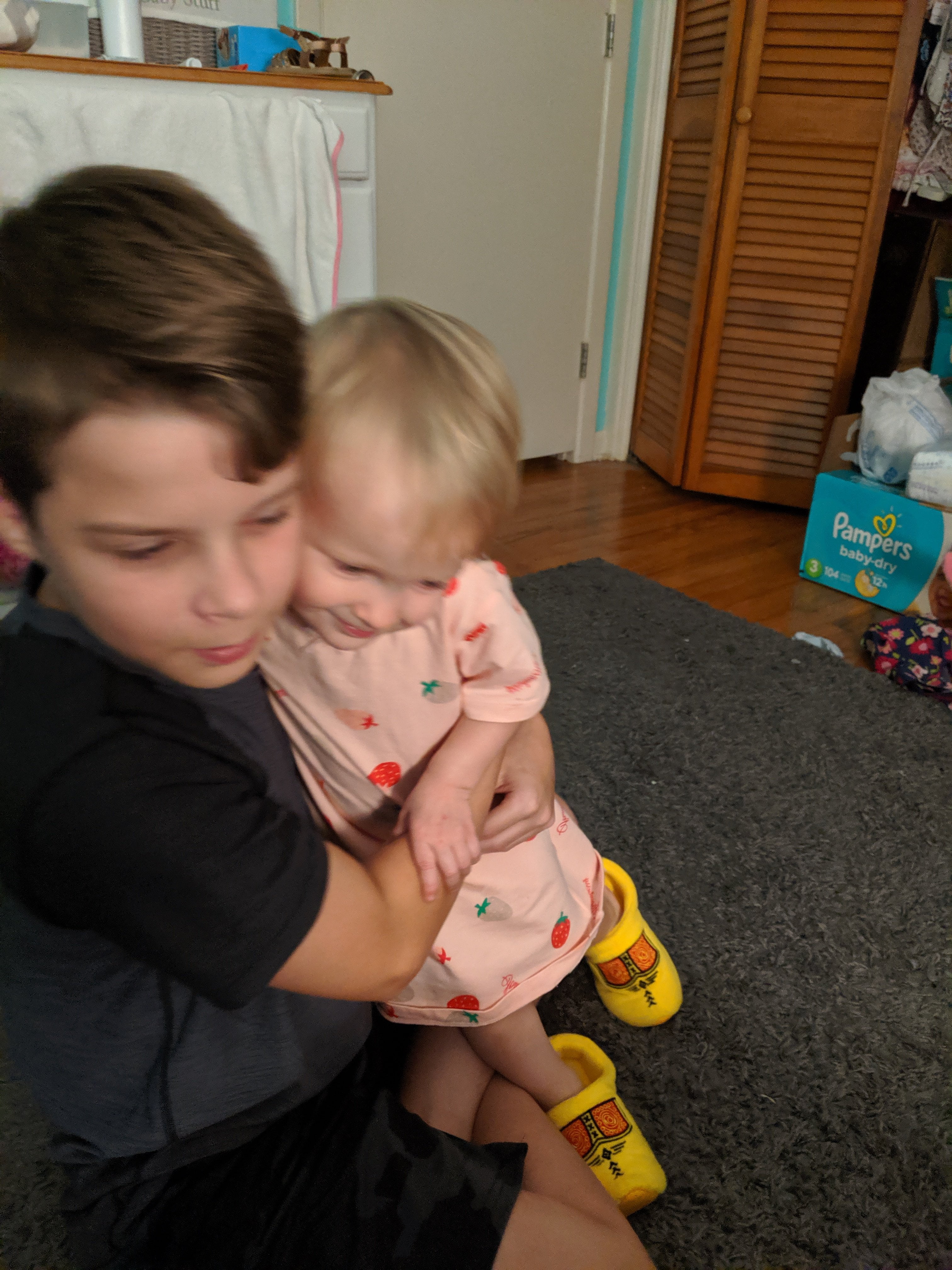 And then, she freaked out and fought me, the same way she did last night. It took a while before she would let Bubba leave the room, and even then she cried about it for a few minutes, until I was finally able to calm her down. Then she remembered she hadn't given me kisses, so she gave me about 20 snotty, slobbery kisses, and I loved every single one of them. I sang her night-night songs, then laid her down in her crib. She told me, "blankie on," so I covered her up, and she was fine! But it was 9pm on the dot by the time I got out of there, so she was definitely up too late. Realllyyyyy crossing my fingers she sleeps "late" tomorrow! Which let's be honest, I would just be good with like, 7:30am.
Time to grab some Tylenol for a headache, then relax! Happy Friday night, friends!