FRIDAY, Day 5 – Day at Sea, sailing from Cozumel back to Tampa. (If you missed it, check out Day 1, Day 2, Day 3, and Day 4.)
Well, we once again ended up sleeping about 12 hours overnight. We had planned to get up early (around 8am), and head to the main dining room for a fancy breakfast, since we hadn't made it yet. But when the alarms went off, and the wake-up call sounded, we turned them both off, and eventually settled back into the swaying of the boat, and went to sleep. We woke up again around 10am, and slowly got up and moving, and eventually left our room around 11am.
I don't remember what we did for an hour, but I know around noon we went to the main dining room for lunch! Jeff and I shared a cheese plate for the appetizer (prepared by me buffet-style at the salad bar), and ordered the tomato risotto with grilled prawns and sea scallops for my main dish. And it was delicious! Super rich and creamy, but I couldn't eat it all.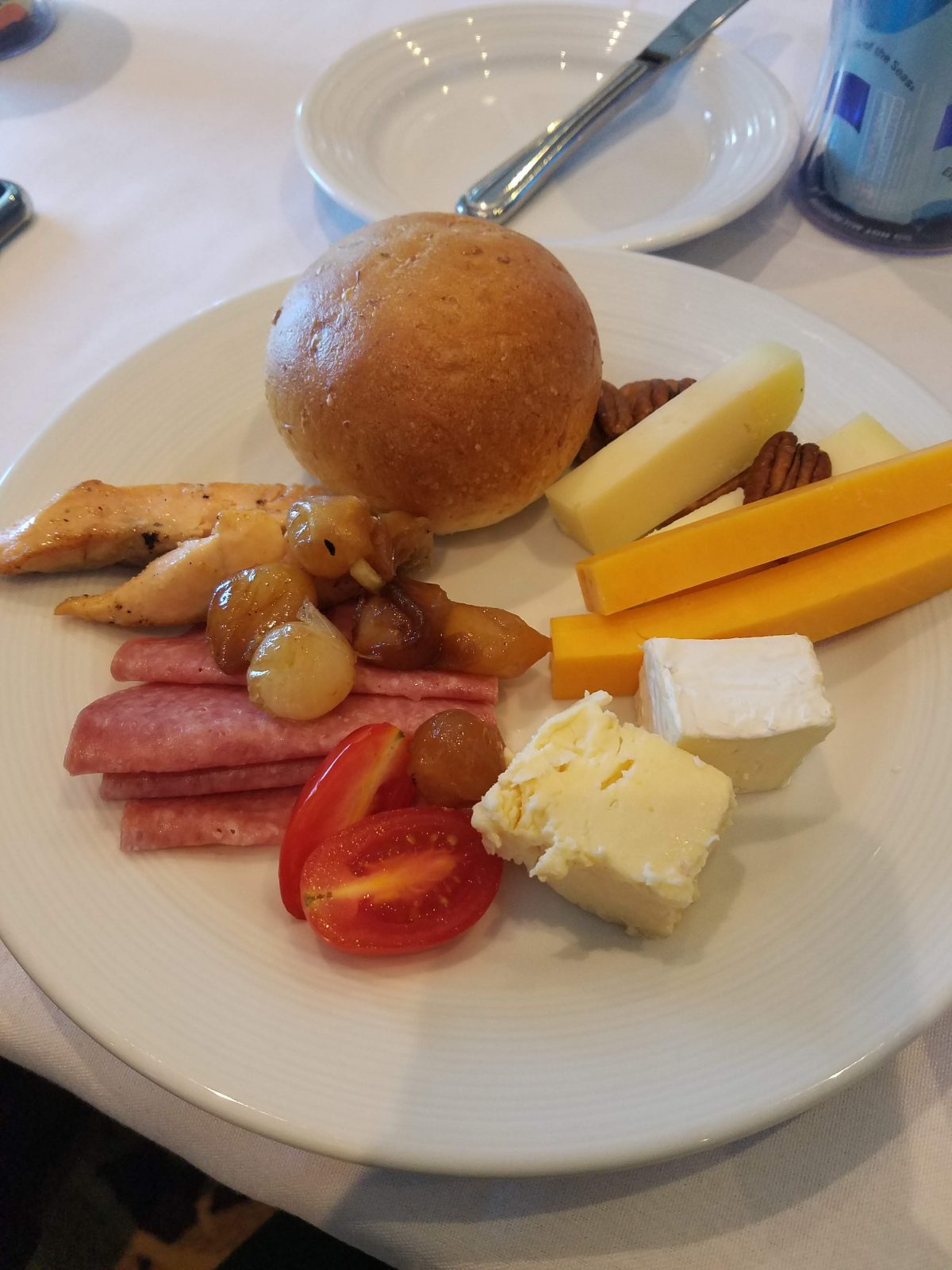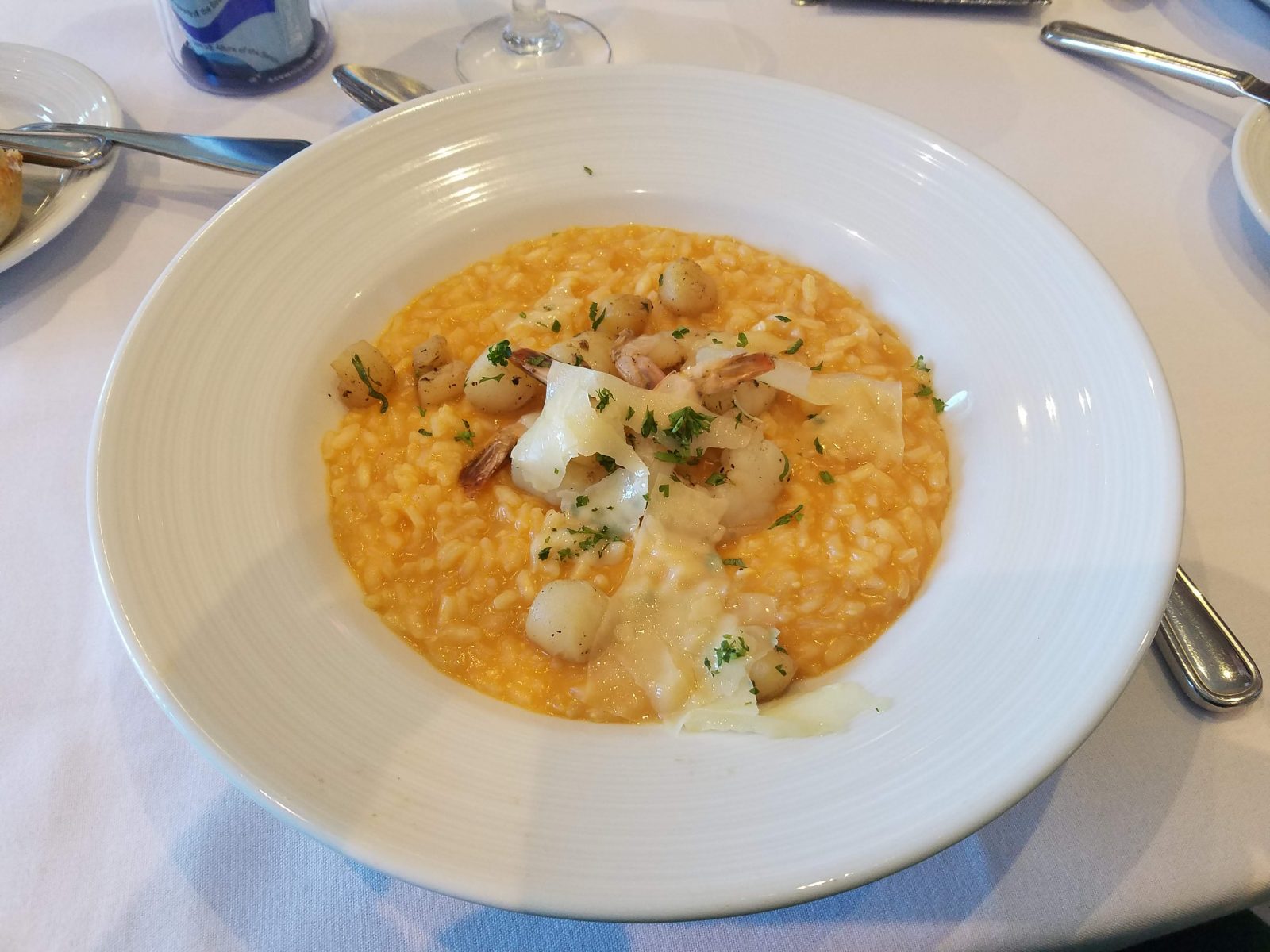 We then spent about three hours wandering the ship and swimming in the pool, just hanging out, enjoying the slow day. We also went to the the Love & Marriage game show that afternoon, and watched that hilarity.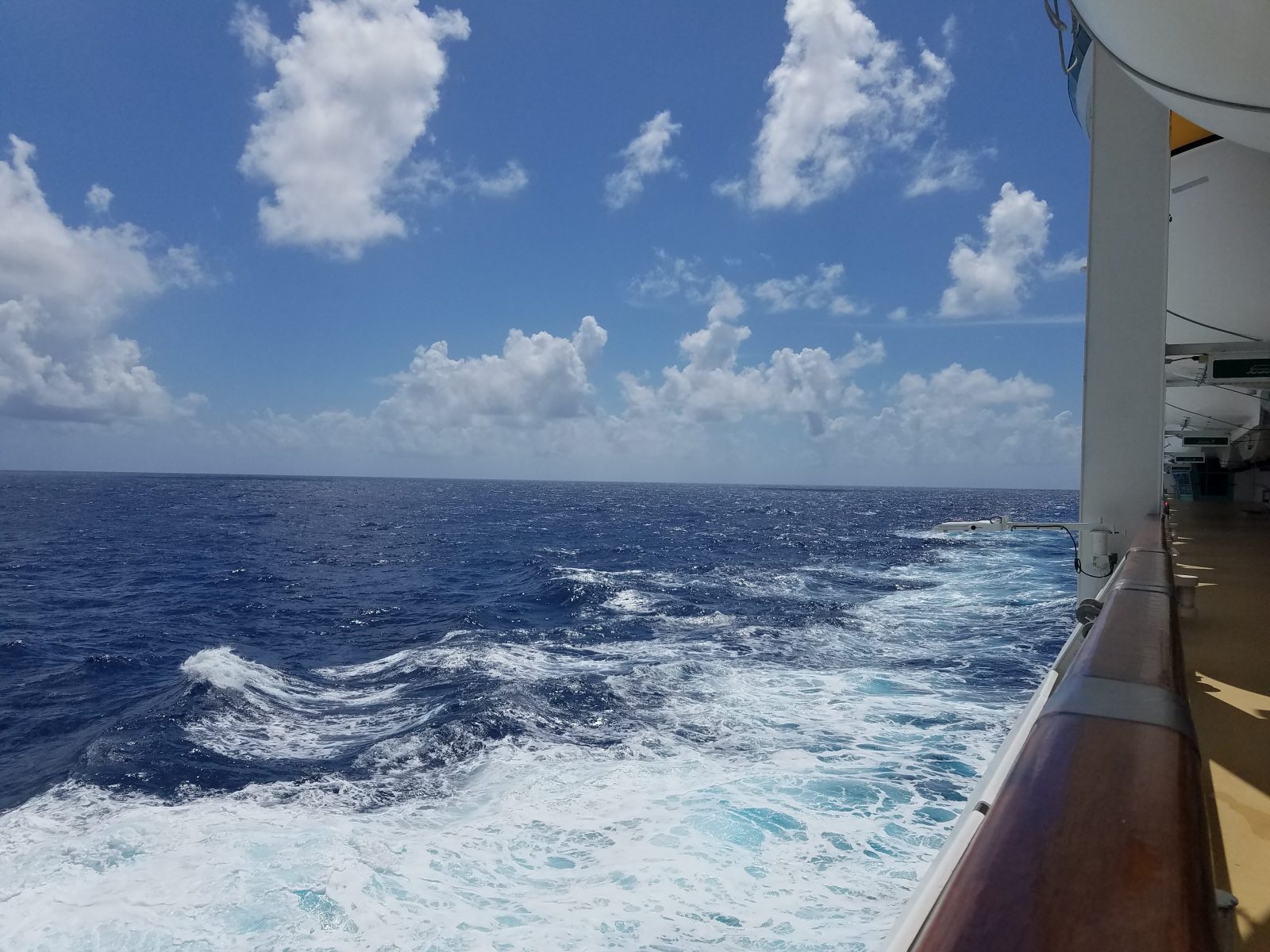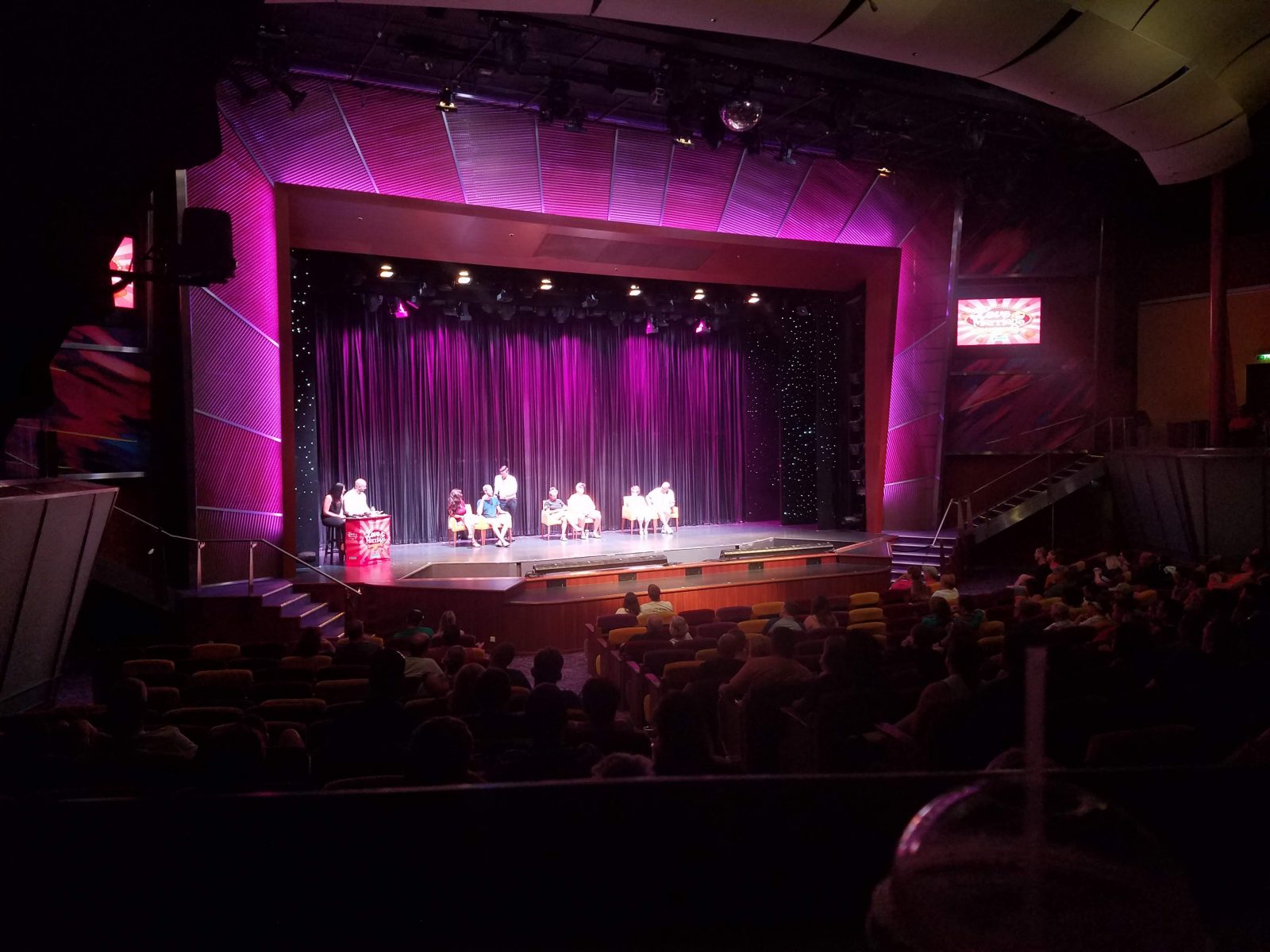 We went back to the pool for a few hours, and soaked up the last of the Caribbean sunshine. Eventually we went back to the cabin to shower and get ready for dinner. I had Asian pulled pork tacos for my appetizer (my fave app of the week), steak Dianne for my entree, and tres leches cake for dessert. Jeff told our waiter it was our anniversary, so they also brought us a piece of chocolate cake with a candle, and a few of the waiters sang to us!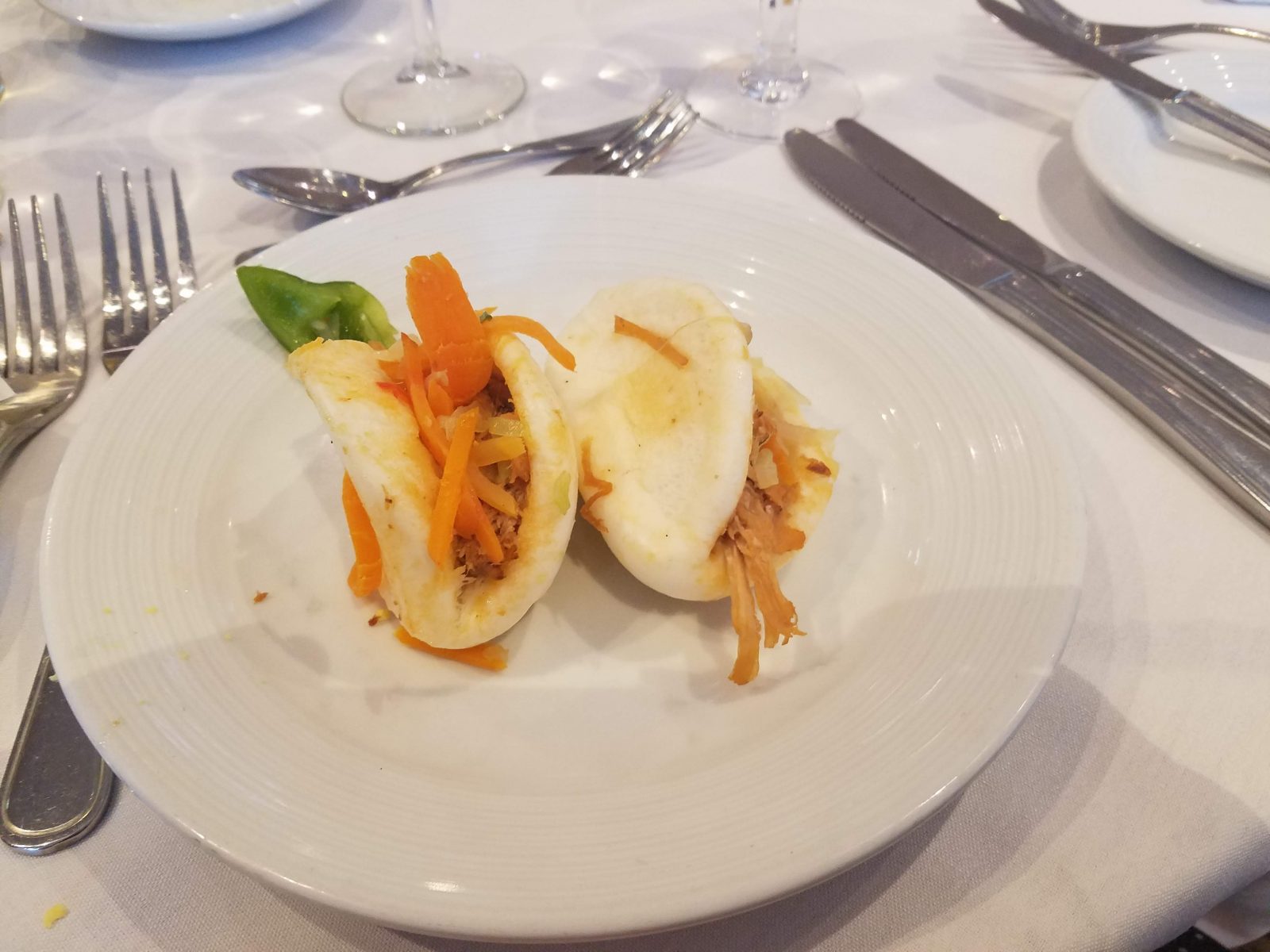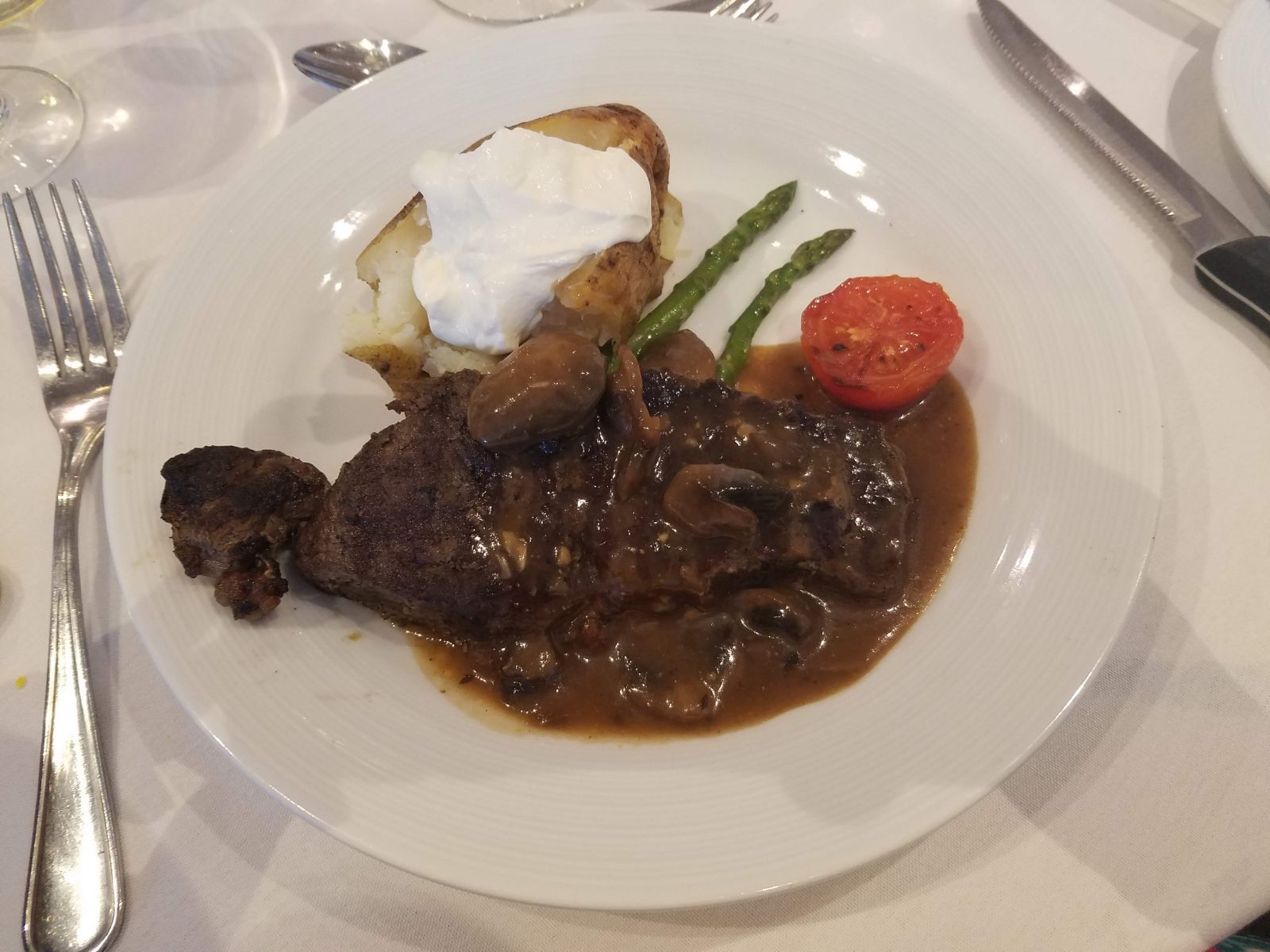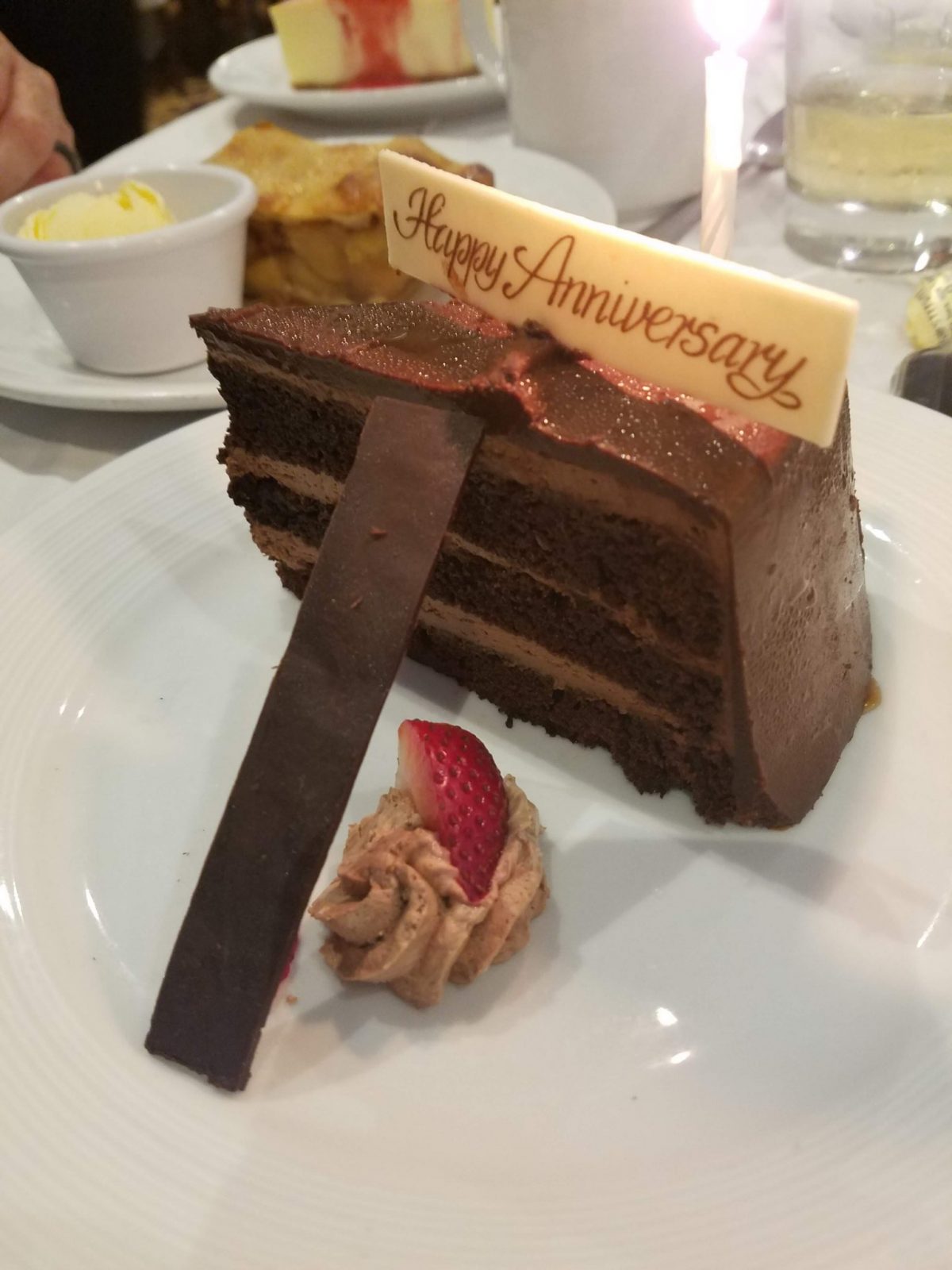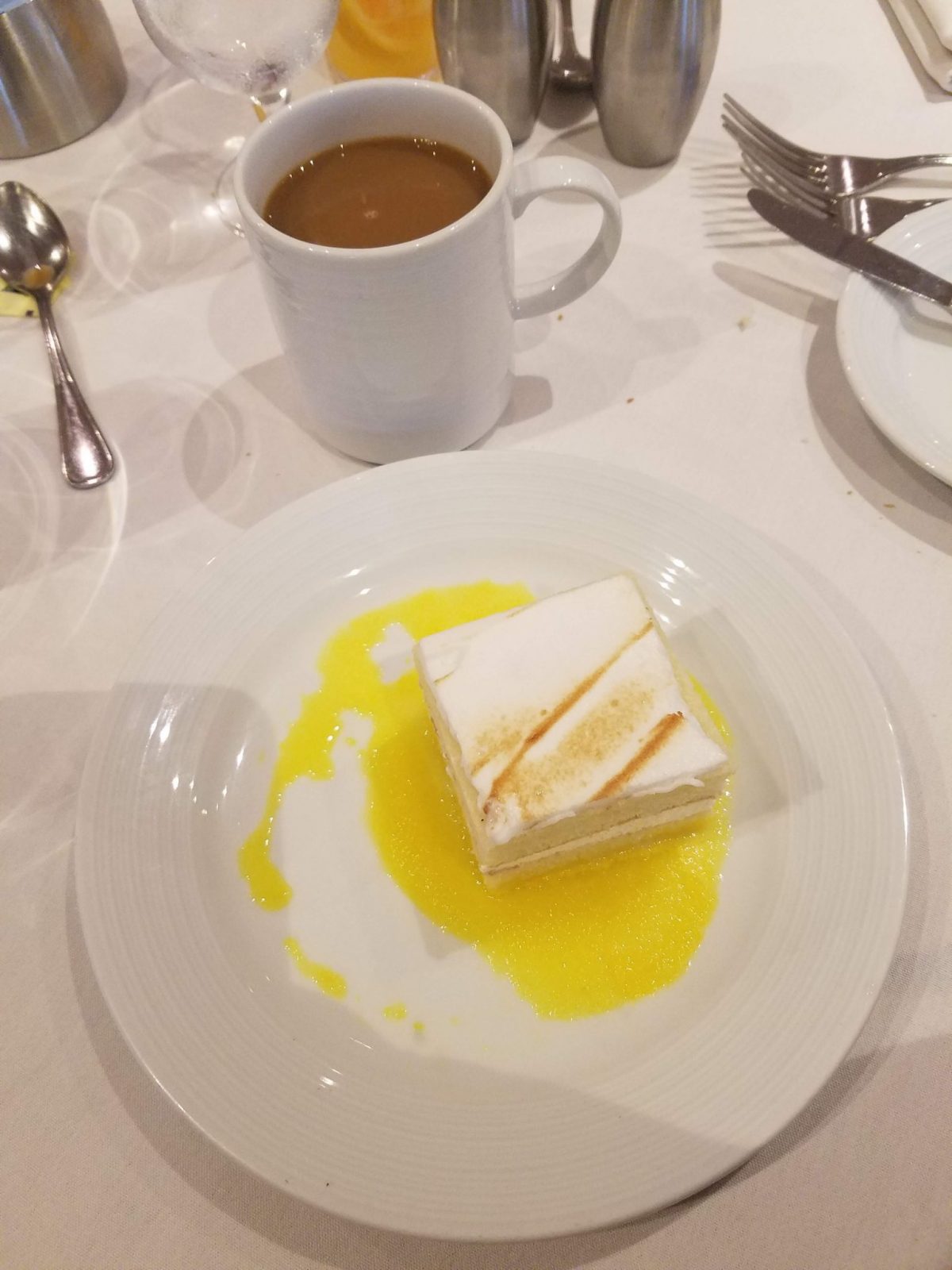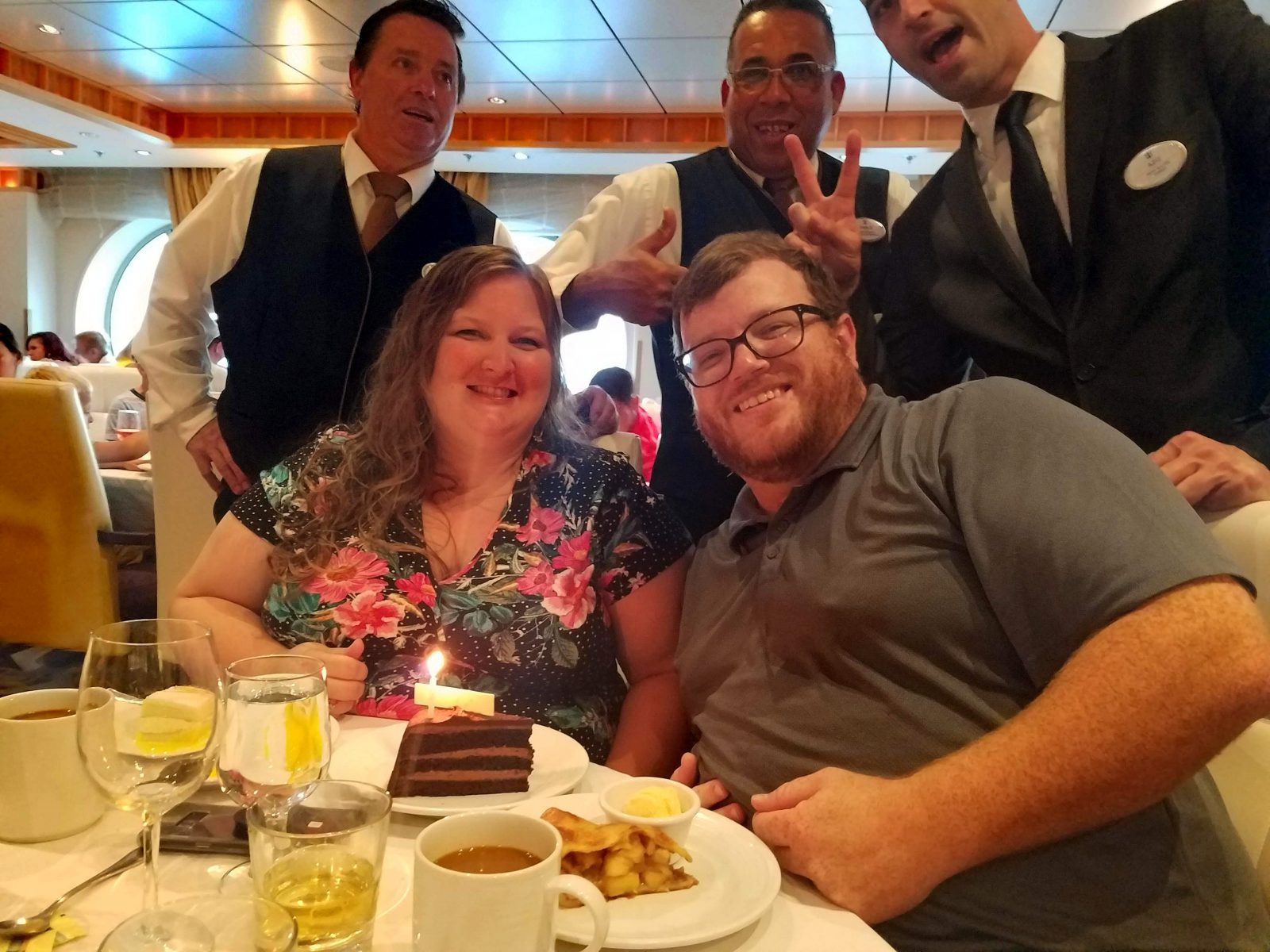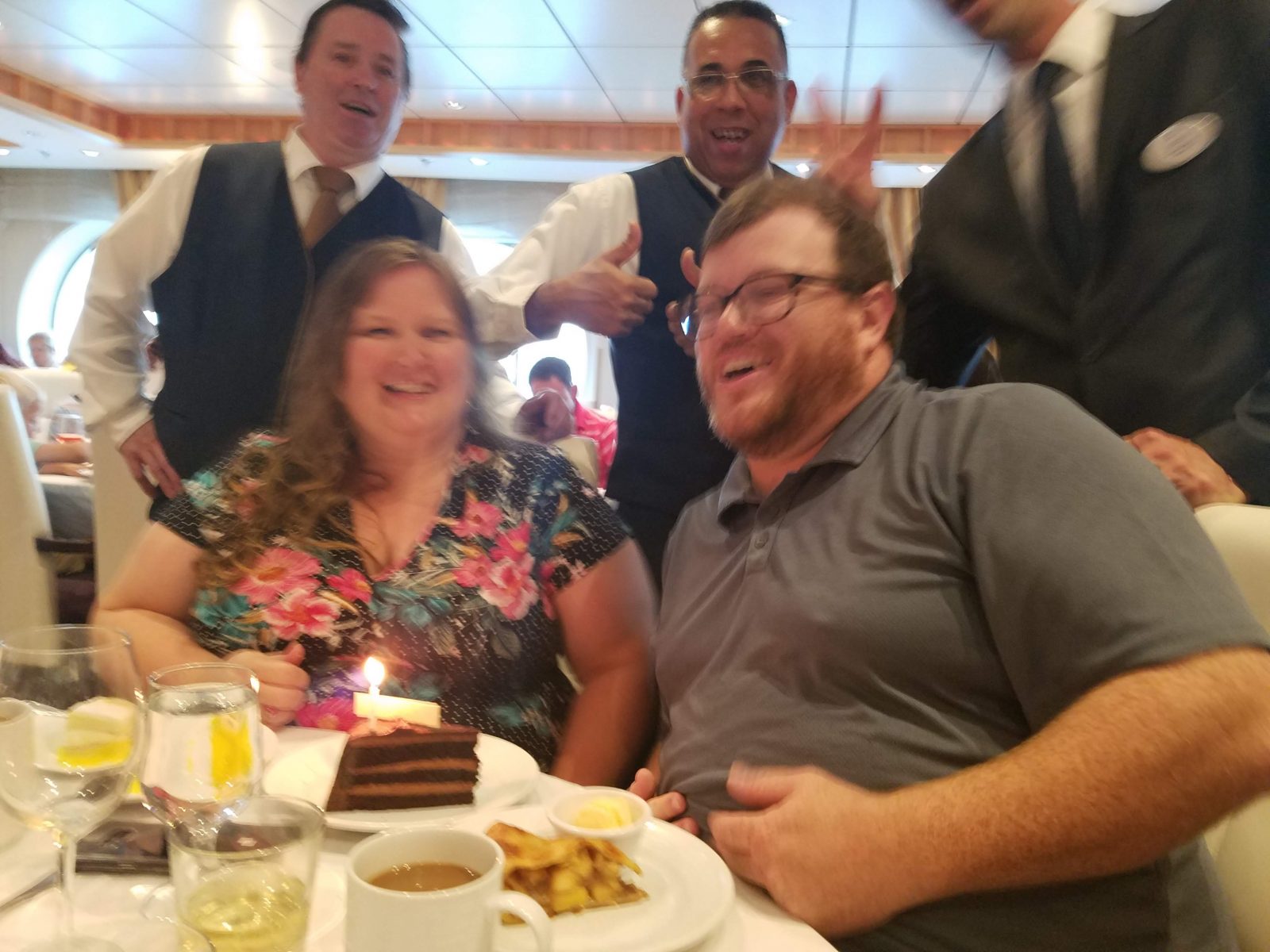 After dinner, we convinced our table-mates Alex & Jean, to go to trivia with us, where we sat with a lovely 40-something couple from Trinidad. Jeff and I got 17 out of 20 questions, and ended up in a 5-way tie with some of the other teams. So we did one last tie-breaker question (1 person from each team standing around the piano), where they asked us to name two of the cruise directors' staff members. I was the first to "tap in," and I name the cruise director himself, and the girl running the trivia, but they said the cruise director himself didn't count, so they didn't give it to me! So we didn't win, but we did have lots of fun.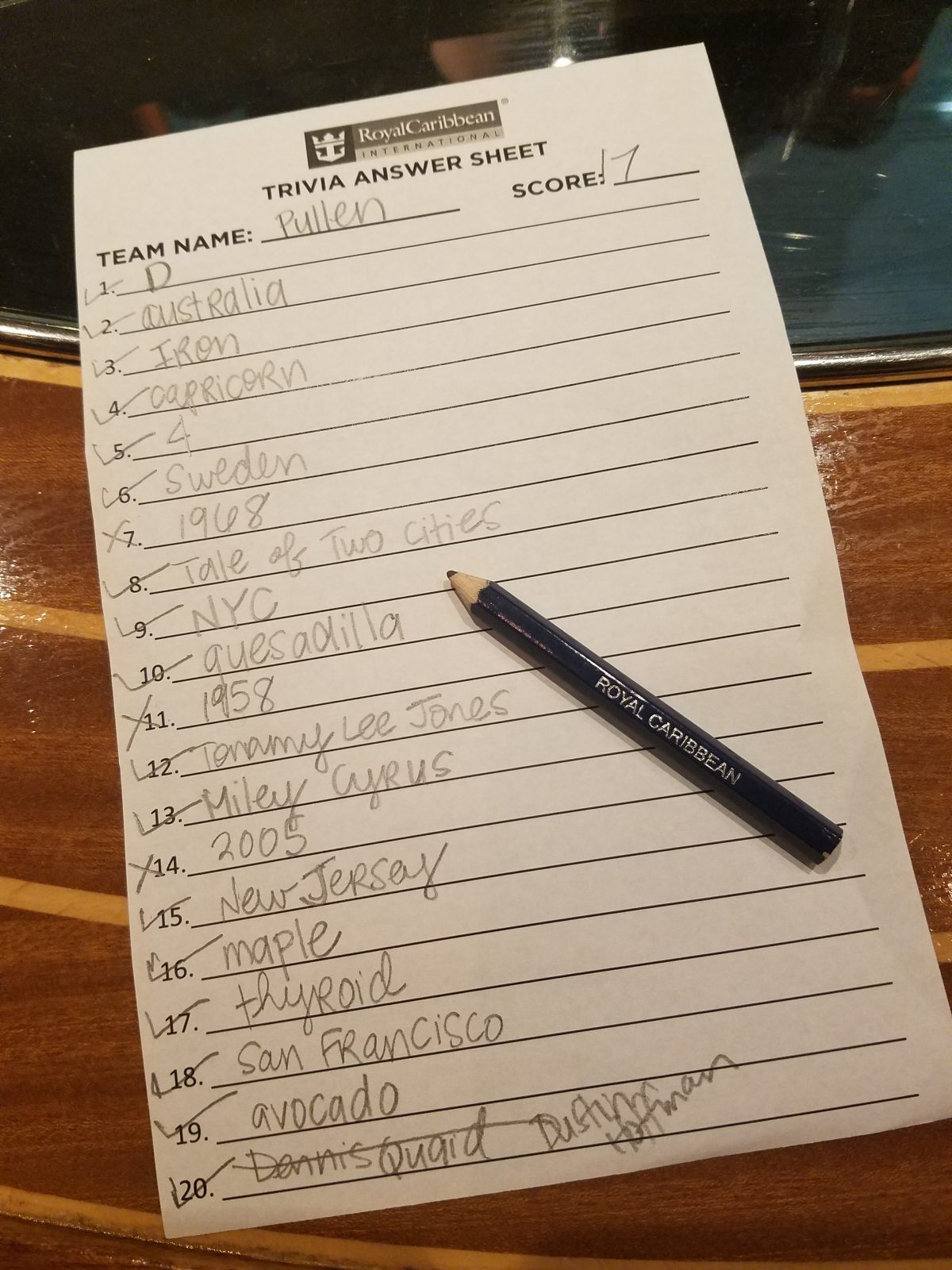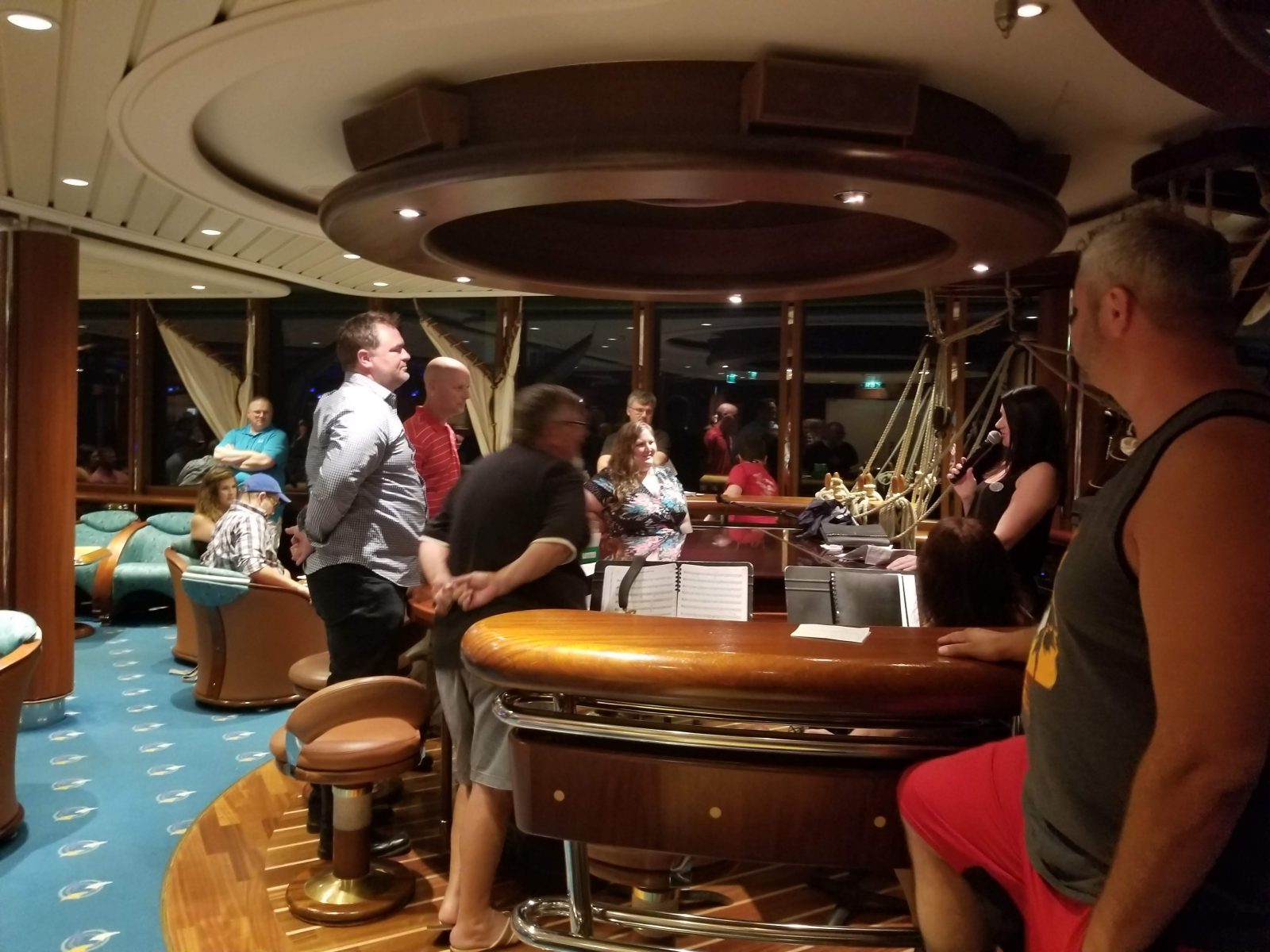 After trivia, we raced back to our room at 8pm, to furiously pack everything up. Since it was the last night, we had to have all of our stuff packed & set outside our cabin door by 10pm, in order for them to unload it to baggage claim for us. Otherwise, we would have to had schlep all the bags out ourselves. So we stuff all the dirty stuff in one bag, all the clean stuff in the other bag, and everything else (shoes, toiletries, hats, souveniers, etc), were shoved in the two smaller bags. We kept out night clothes, a change of clothes, and just the basic essentials for Saturday morning.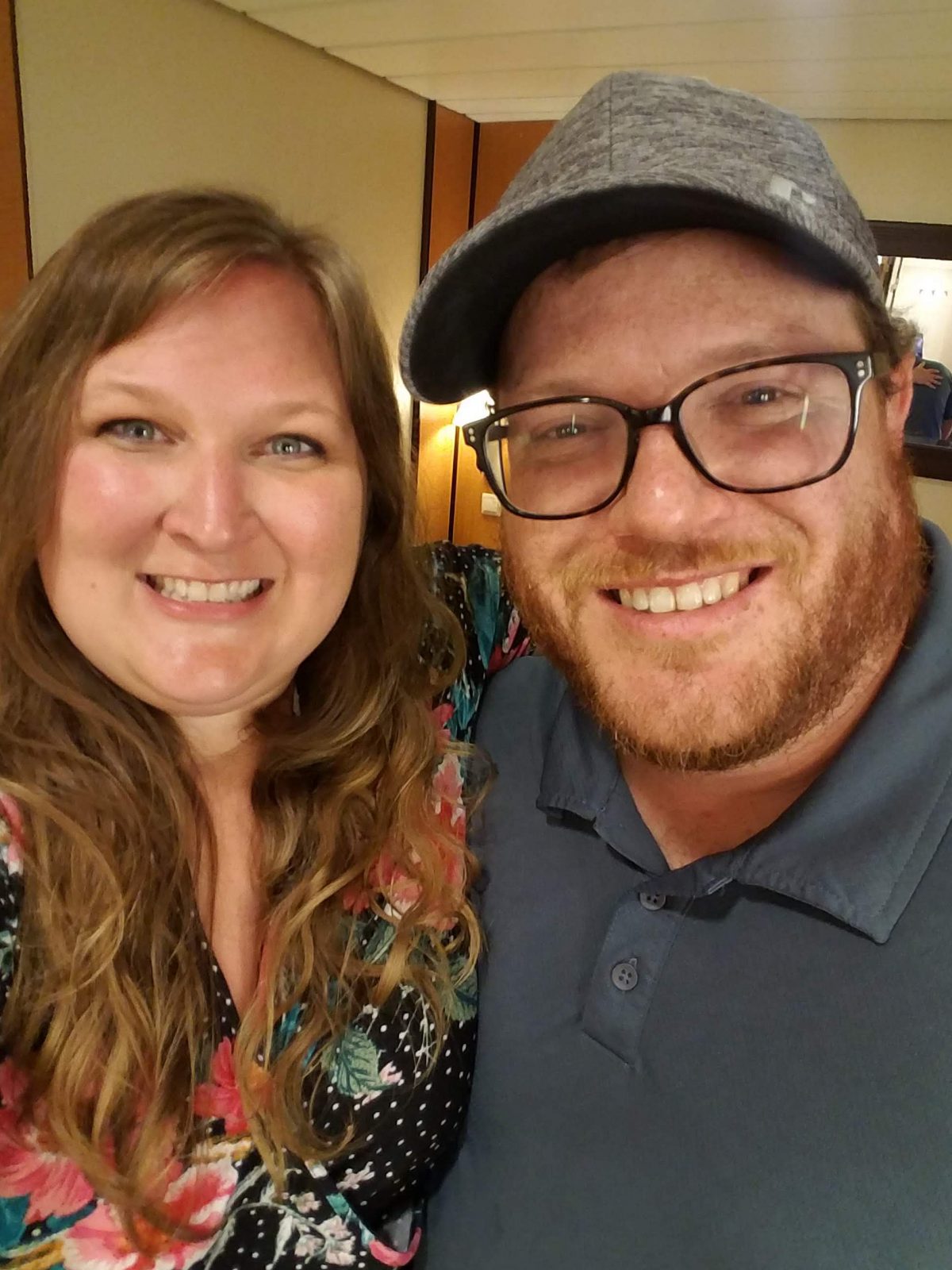 And then we raced back to the Pacifica Theatre for the last Showtime Production of the week, "Now & Forever: Broadway Favorites." And it was so good! They had amazing sets and songs and dances. And even though there were a ton of songs I didn't recognize, they ended with a huge/long Abba/Mamma Mia tribute, that I knew every word of!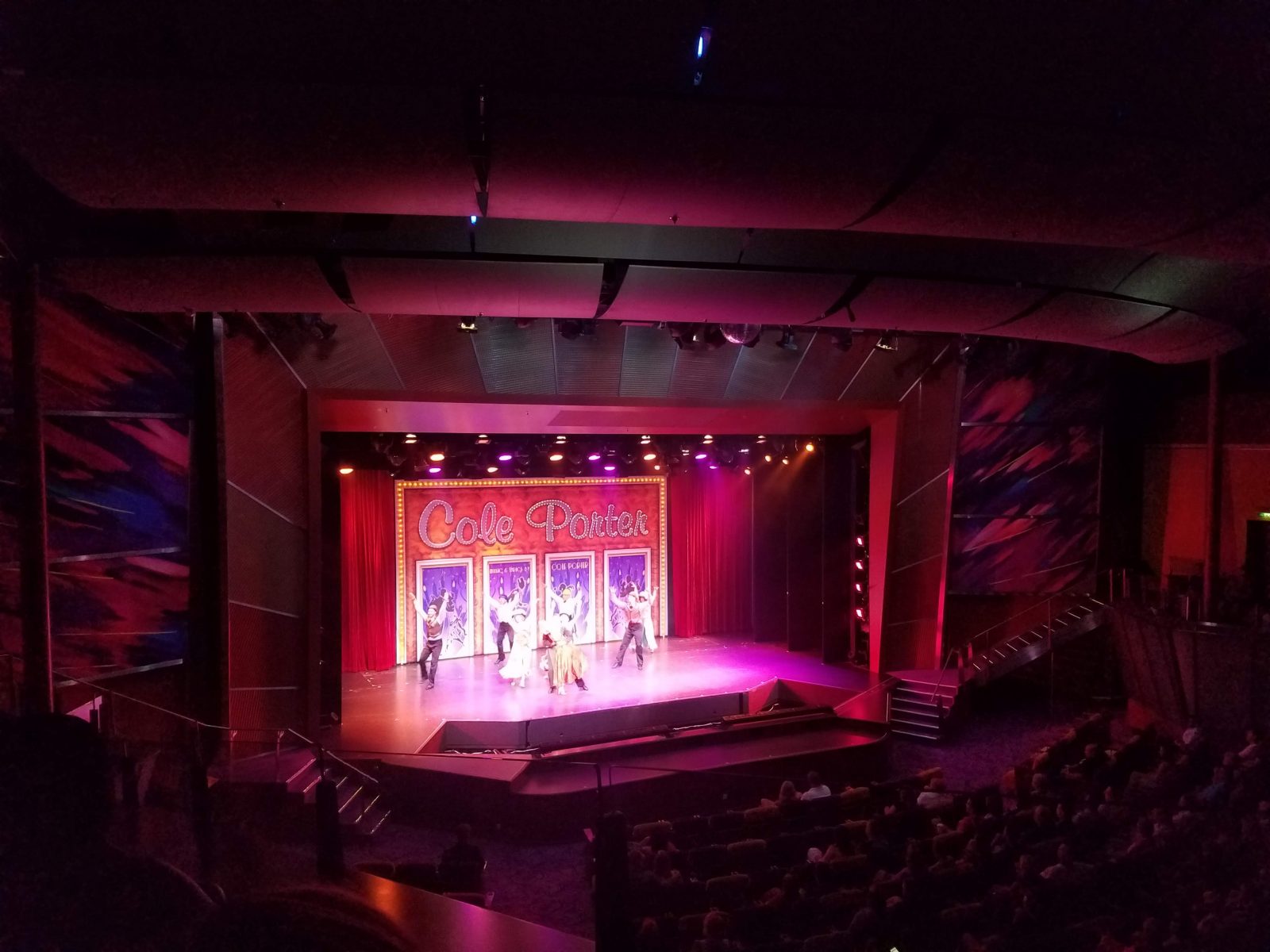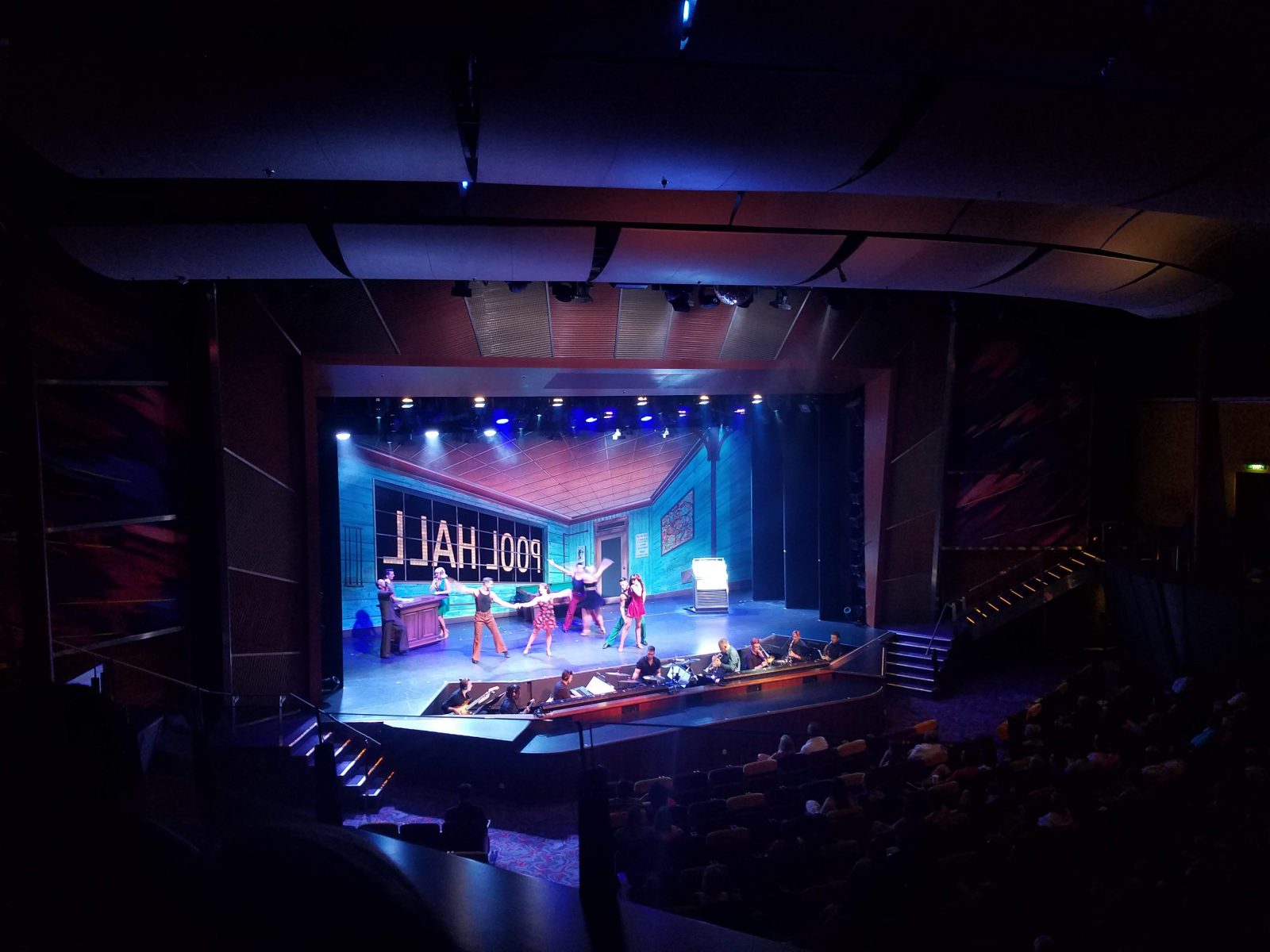 And then the very last thing was a tribute to all the crew members, and a few of the 60+ countries they represented, which was really neat!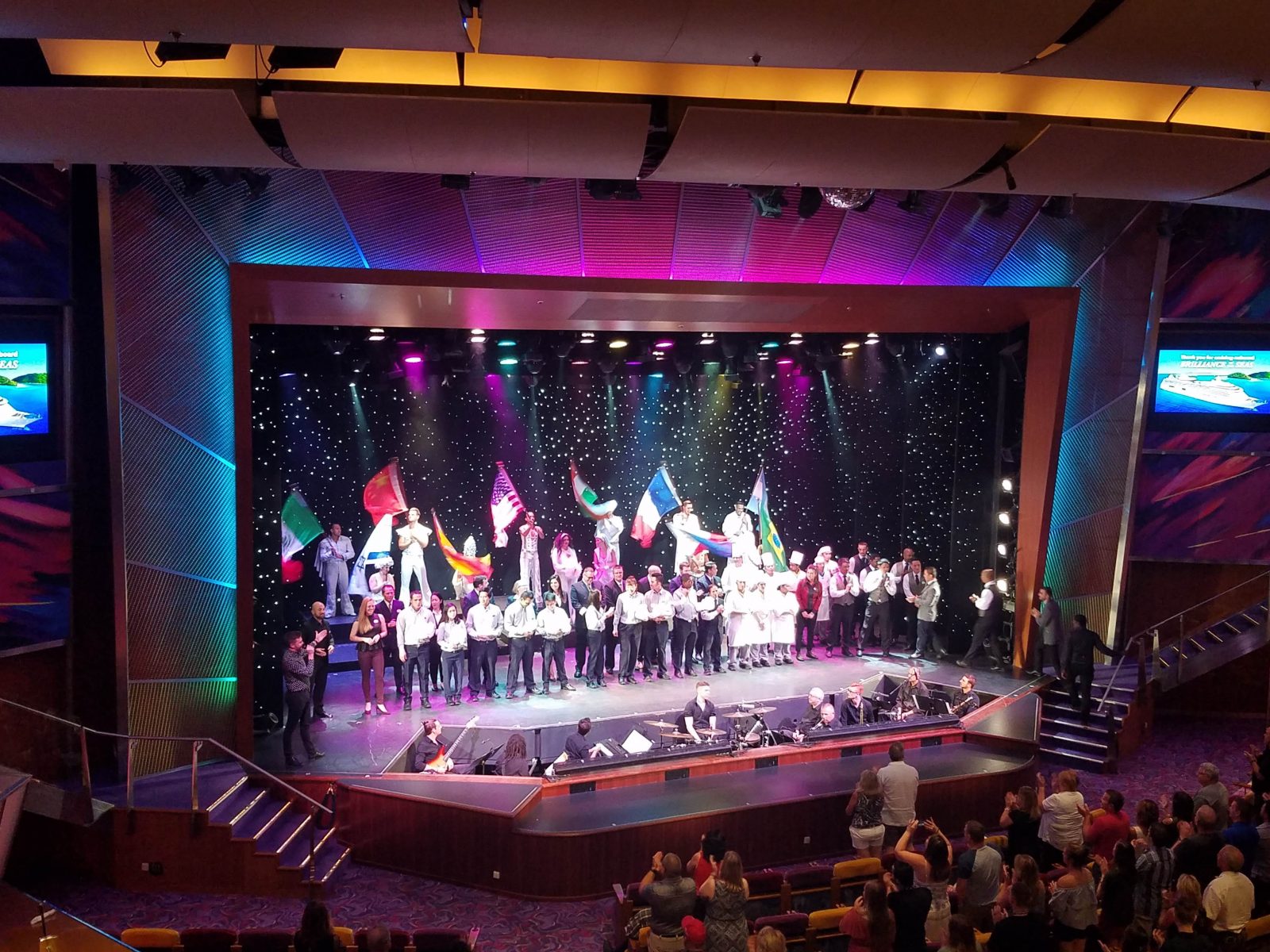 We hung out around the ship for a little while longer, and eventually moseyed back to our stateroom. I took a couple photos then, since I hadn't done that so far, and I wanted to remember what our tiny little interior cabin looked like!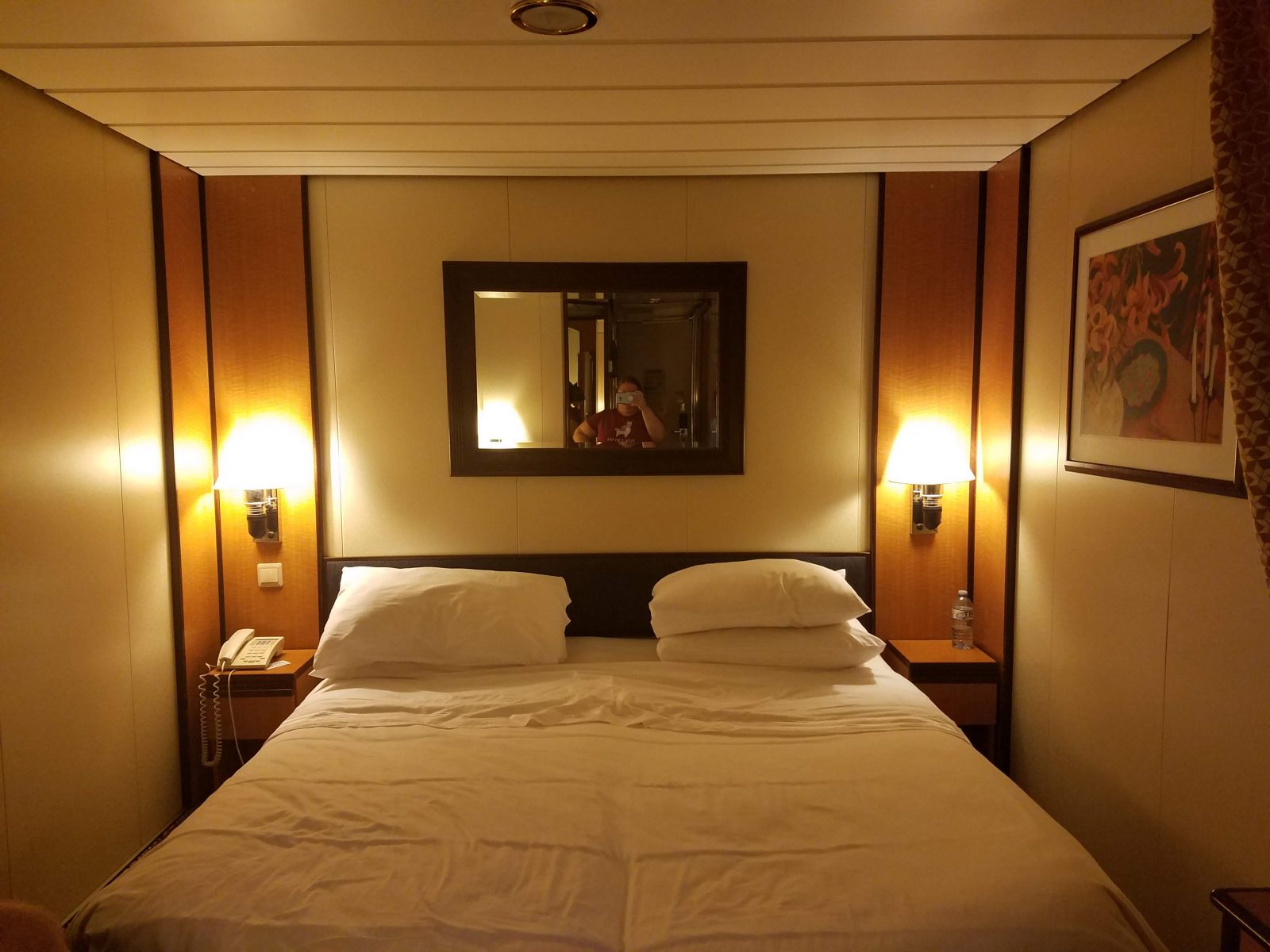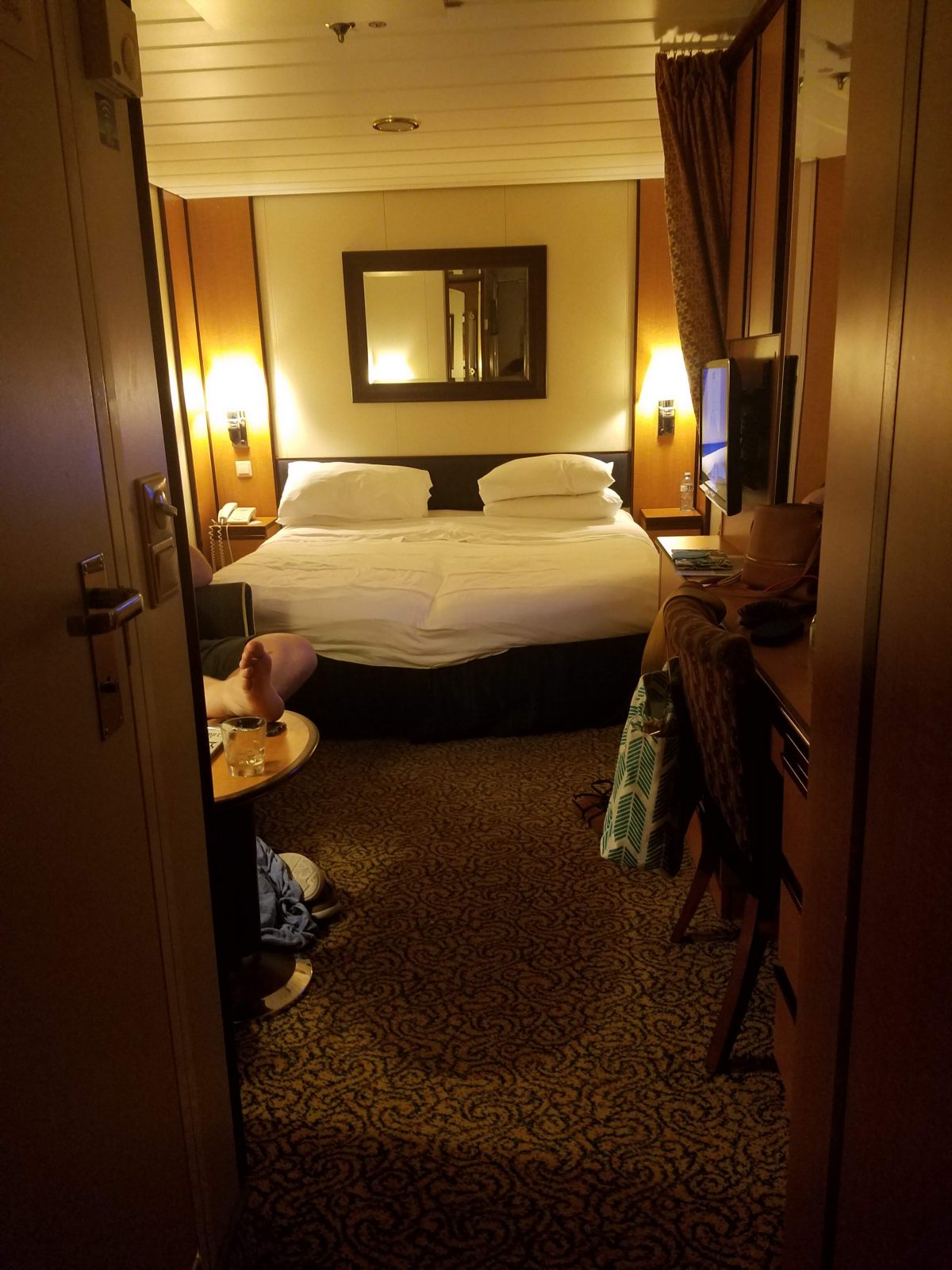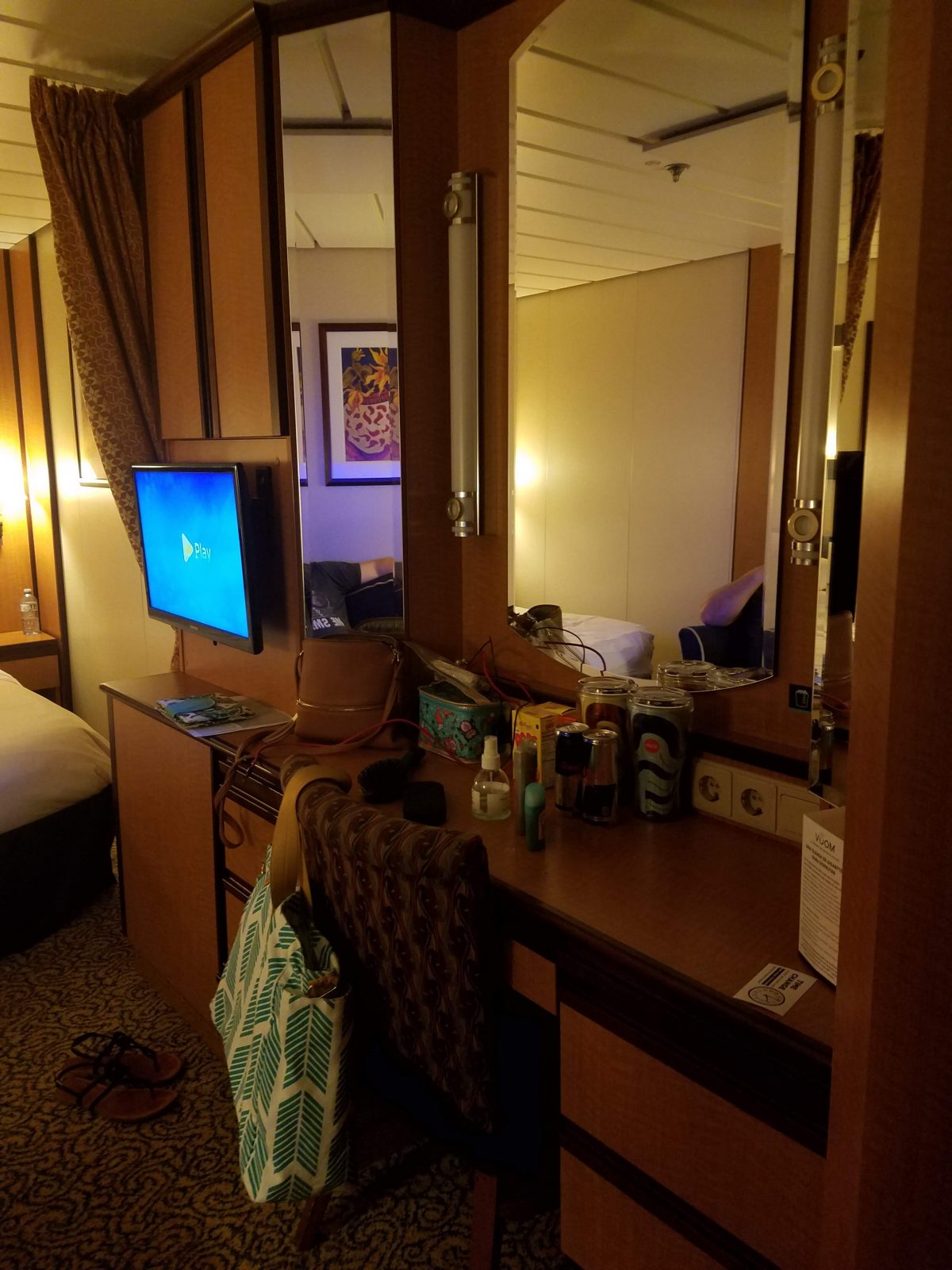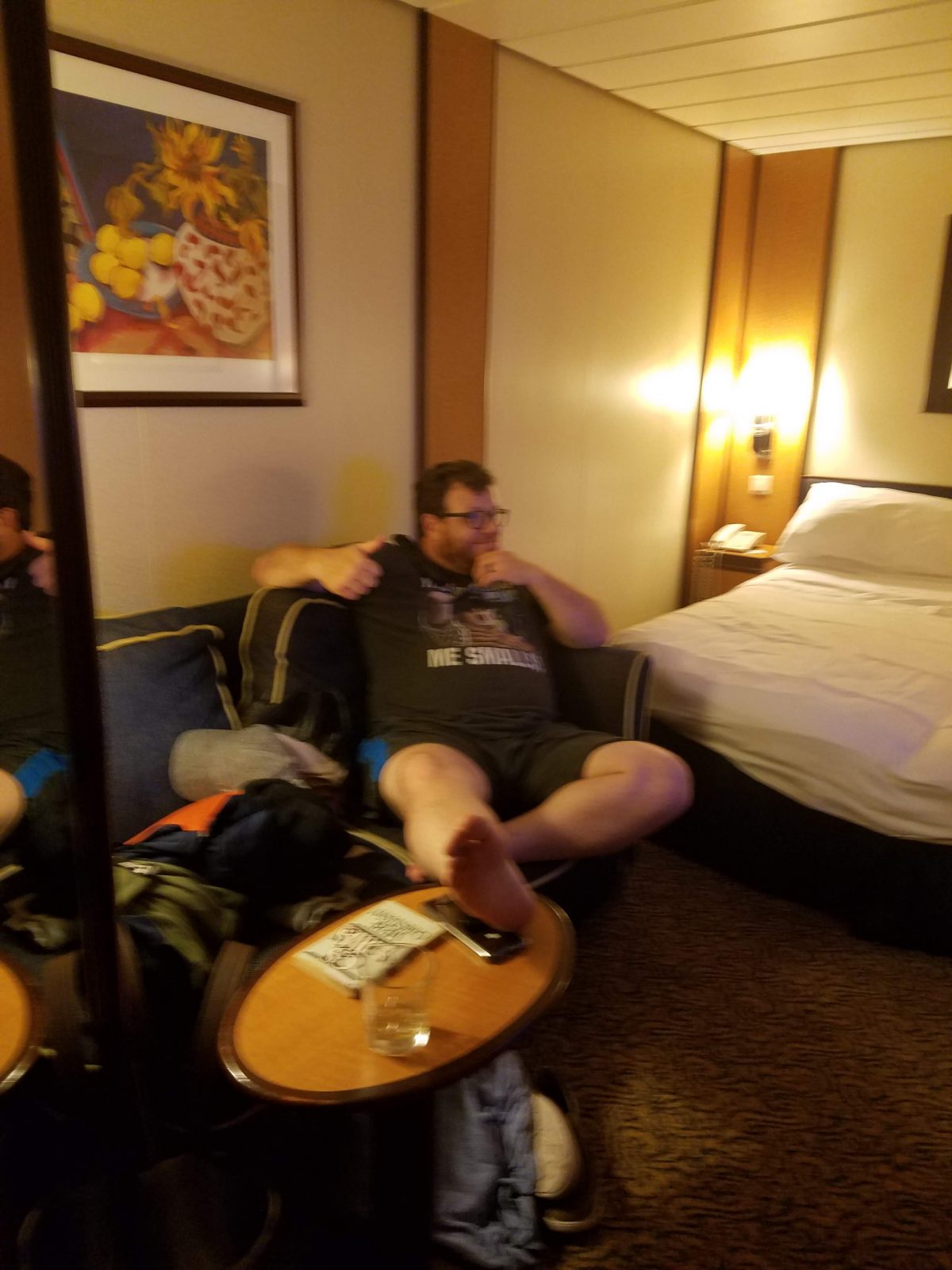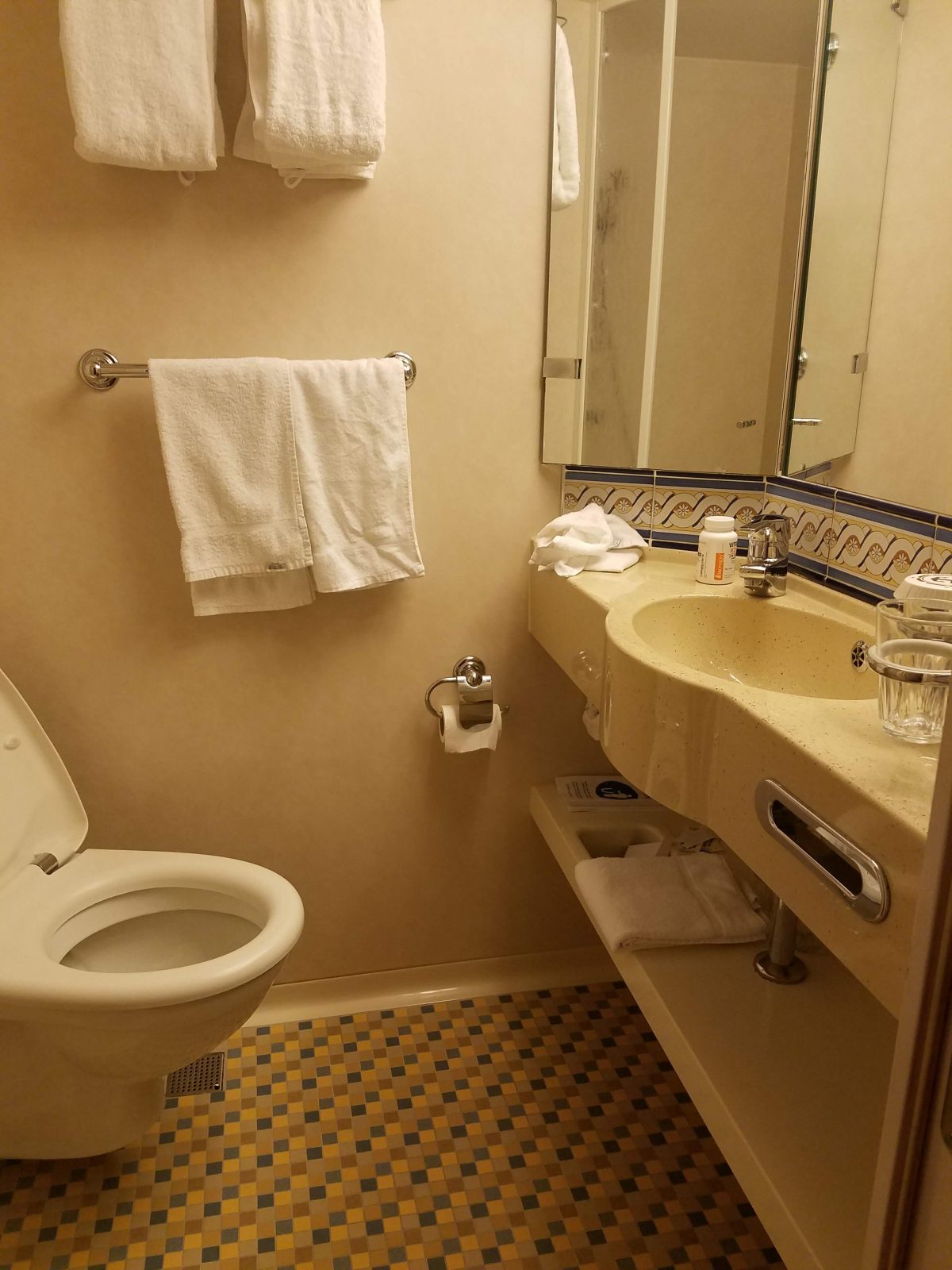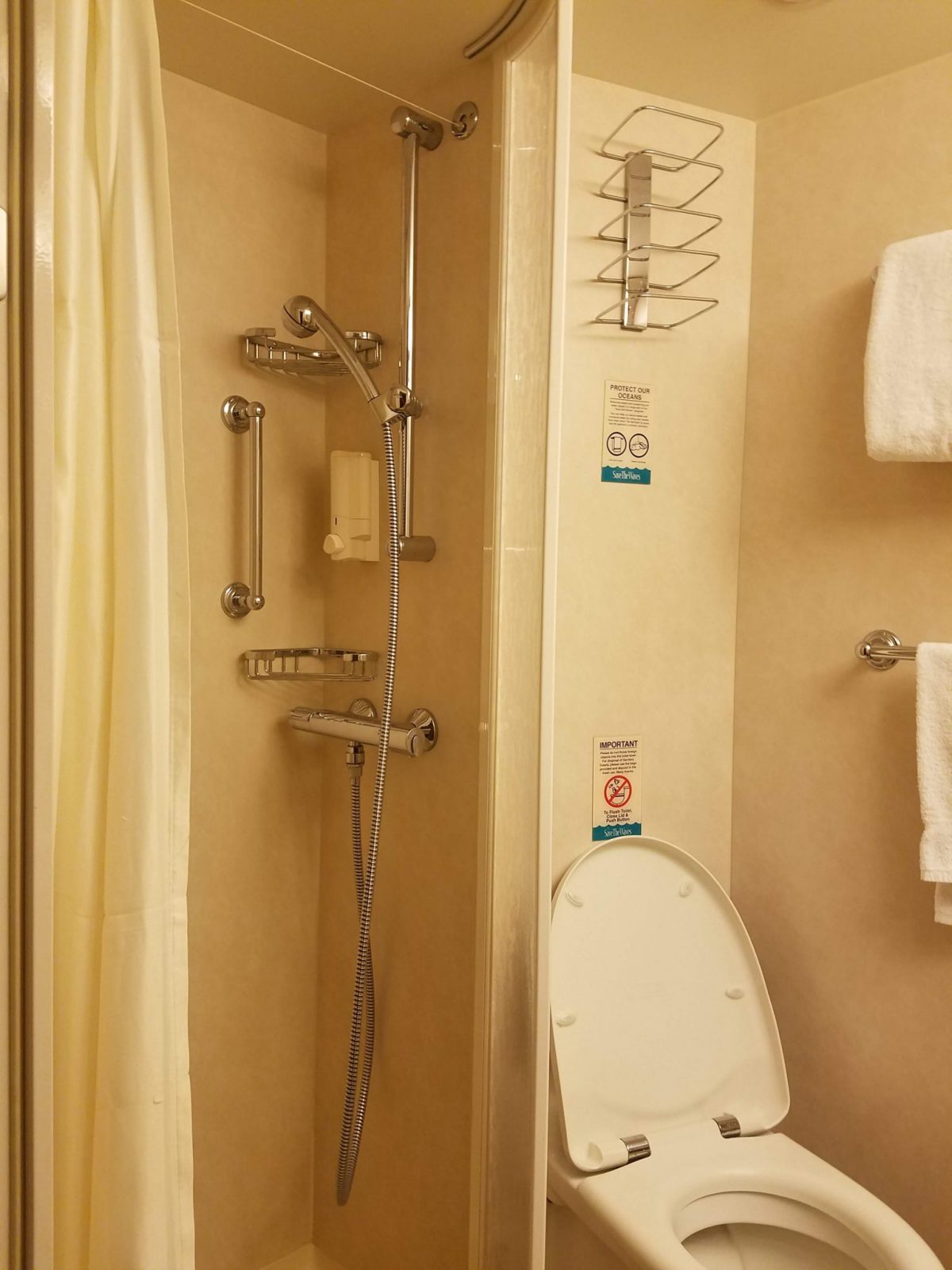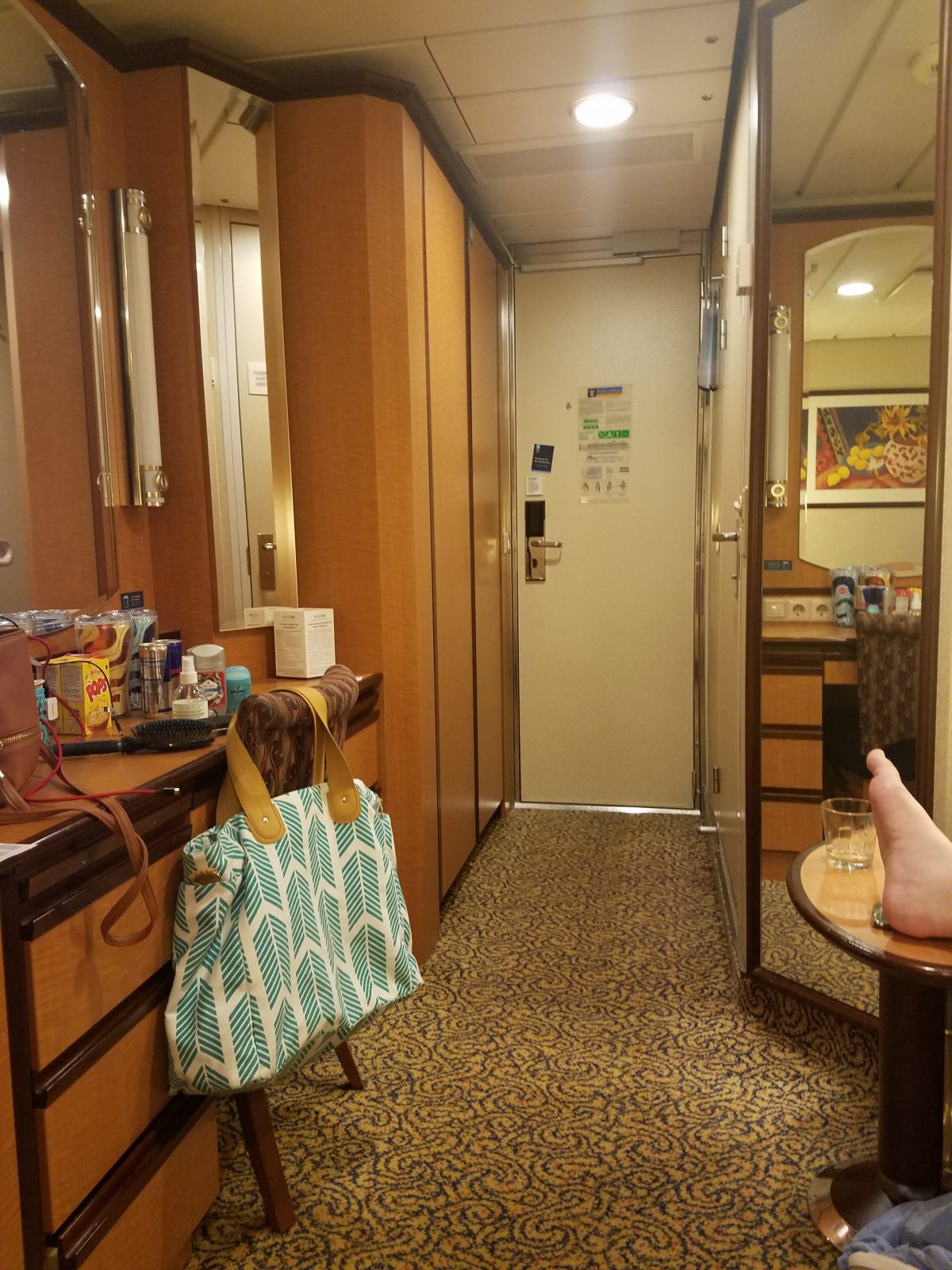 I finally laid down around 11pm to try to go to sleep. Jeff was still wide awake at that point, so he was watching the random stuff on our tv. But by 11:30, when I was also still wide awake, and super hungry (since it had been 6 hours since our early dinner at this point), we got dressed and went back out into the ship! We walked around for a bout an hour, and even got midnight pizza.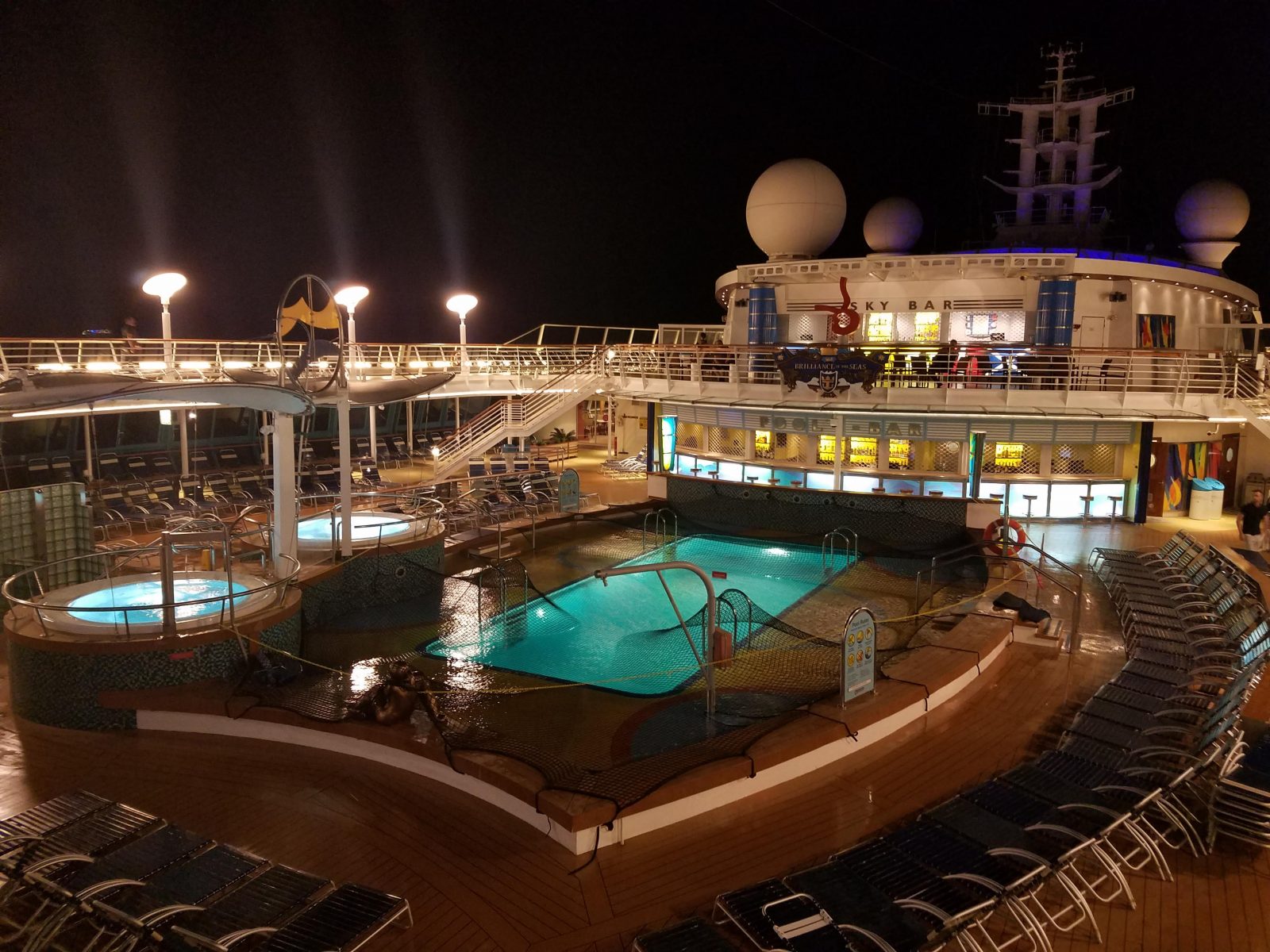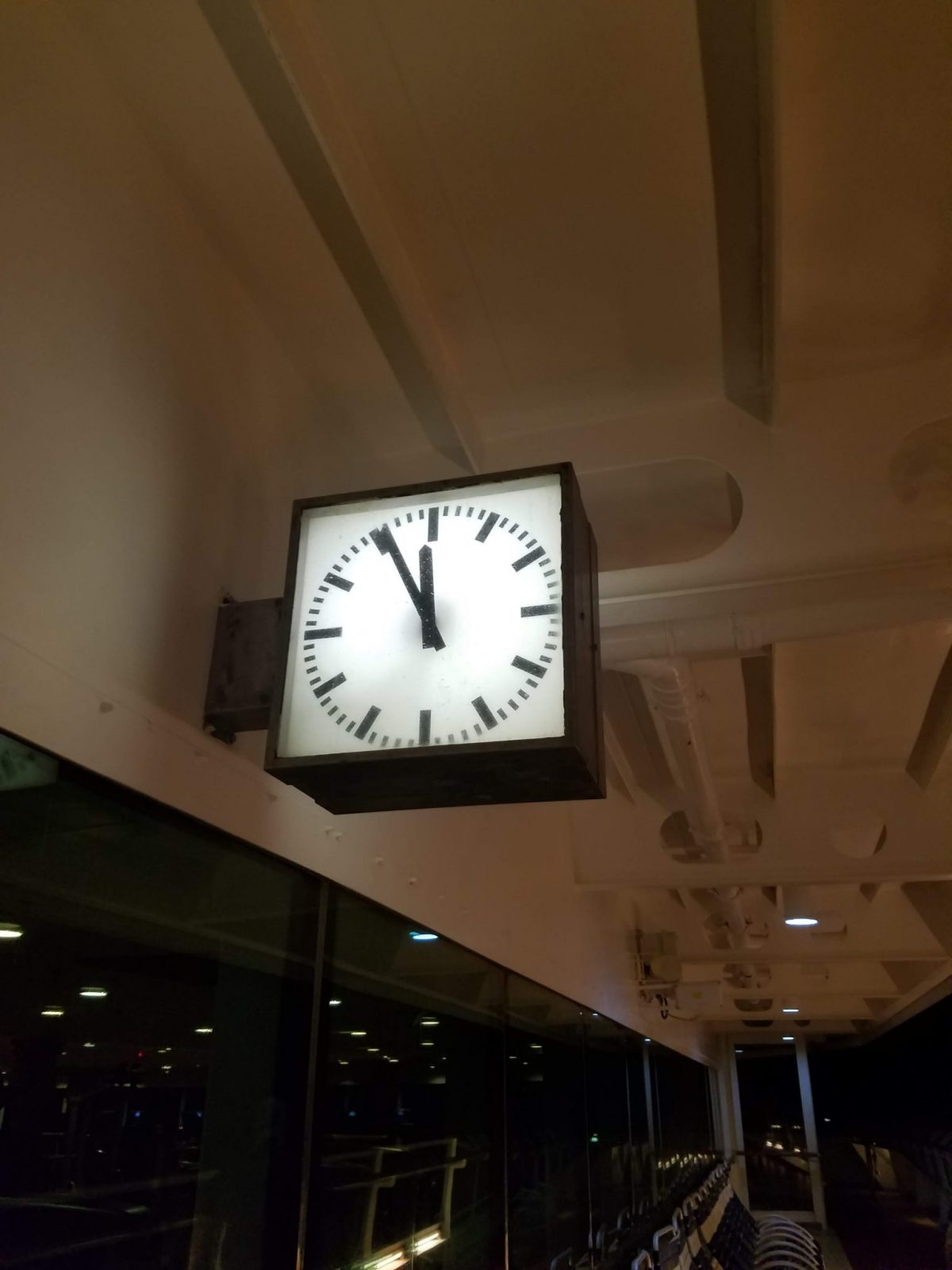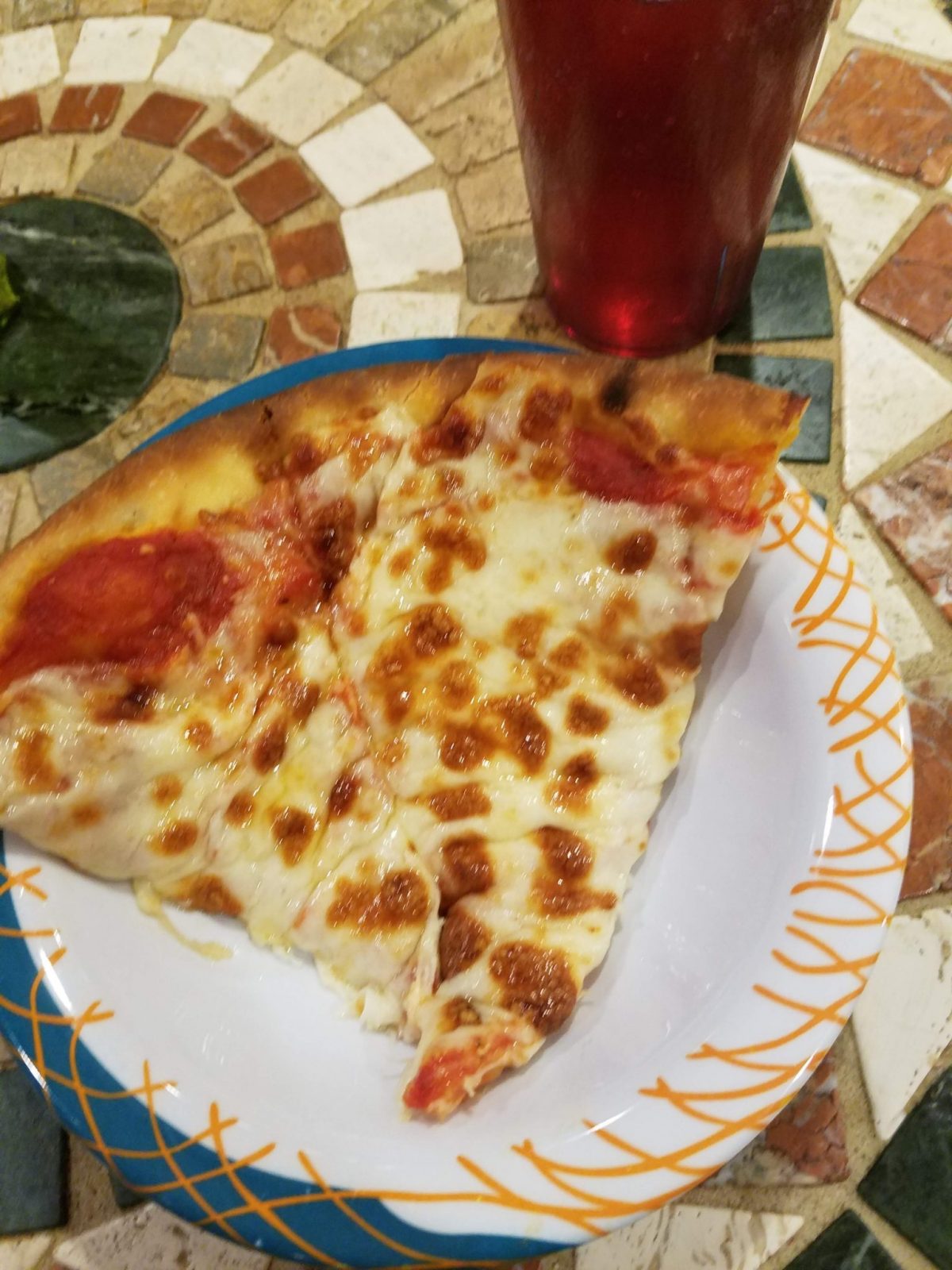 We got back to our room around 12:30 a.m., and I was finally asleep, in just a few short minutes.
And here's my HUGE SHOUT-OUT to my amazingly wonderful parents for taking care of Emerson during our vacation! You are the best Grandparents, and we're so thankful you love our girl so much, and she loves you right back!
We had such an incredible time on our week-long cruise. We missed our baby girl tremendously, but honestly, we really enjoyed having 5 straight days of just relaxing adult time together. Parents/couples need that every now and then, and it was so nice. We may or may not have both been surfing the Royal Caribbean website yesterday, just day-dreaming for the day we can go on another cruise someday! It might be another 5 years before that happens, but we'll be ready!!