We had a whirlwind mini weekend getaway in Jacksonville, for the fastest two days ever. So lemme recap a little bit… but first, my fave family selfie of the weekend, because we're so cute, and we had a great view of the blue bridge on the river, right from our hotel balcony!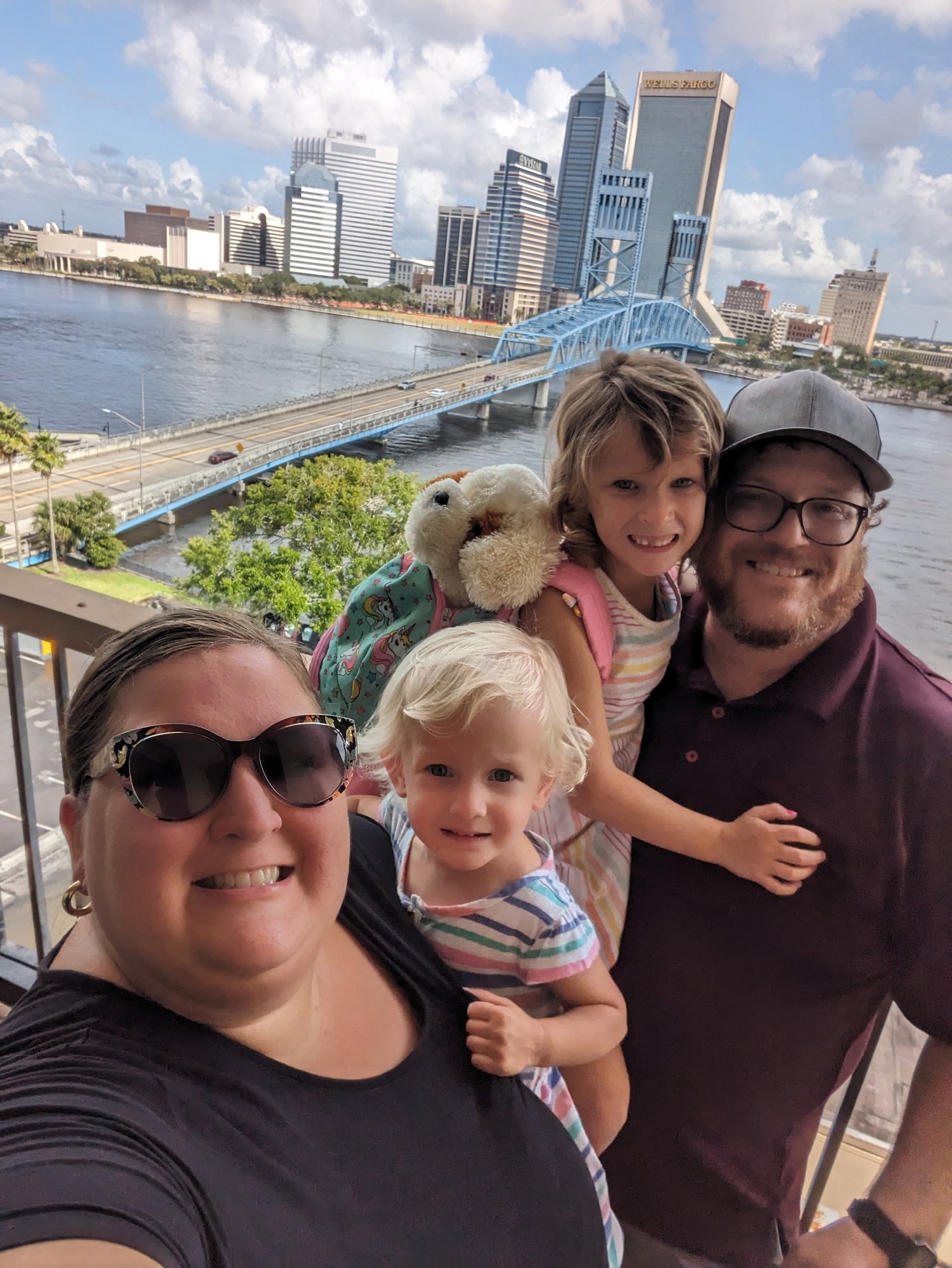 SATURDAY
We tried to get an early start, so we packed up early, and Jeff rotated Addie's seat to face forward, and we left at 8am instead of our intended 7:30am, which isn't really all that bad 🙂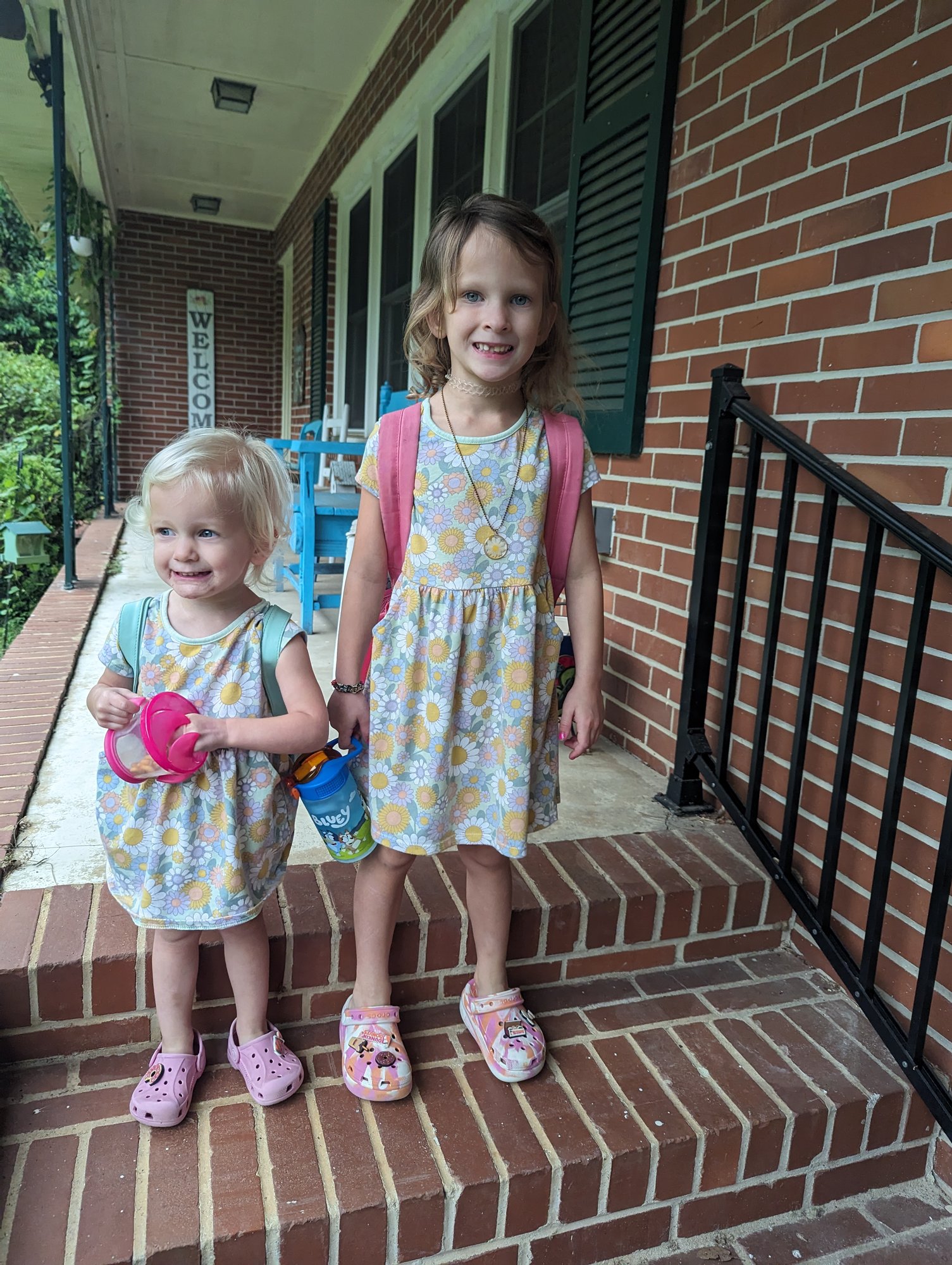 Our very first stop in Jacksonville was to the Ronald McDonald House, to drop-off our 12-gallon donation of can tabs that all of our family and friends have been helping us collect for the past couple of years. We were there exactly 3 years after Emerson's open-heart surgery to fix the ASD, VSD & damaged valve from when she was a tiny three-year-old. It was so incredible going back there to remember all of the great ways we were taken care of back then, and the amazing healing God performed through the surgeons. So grateful and thankful for all we went through, even though that was the hardest time of our lives.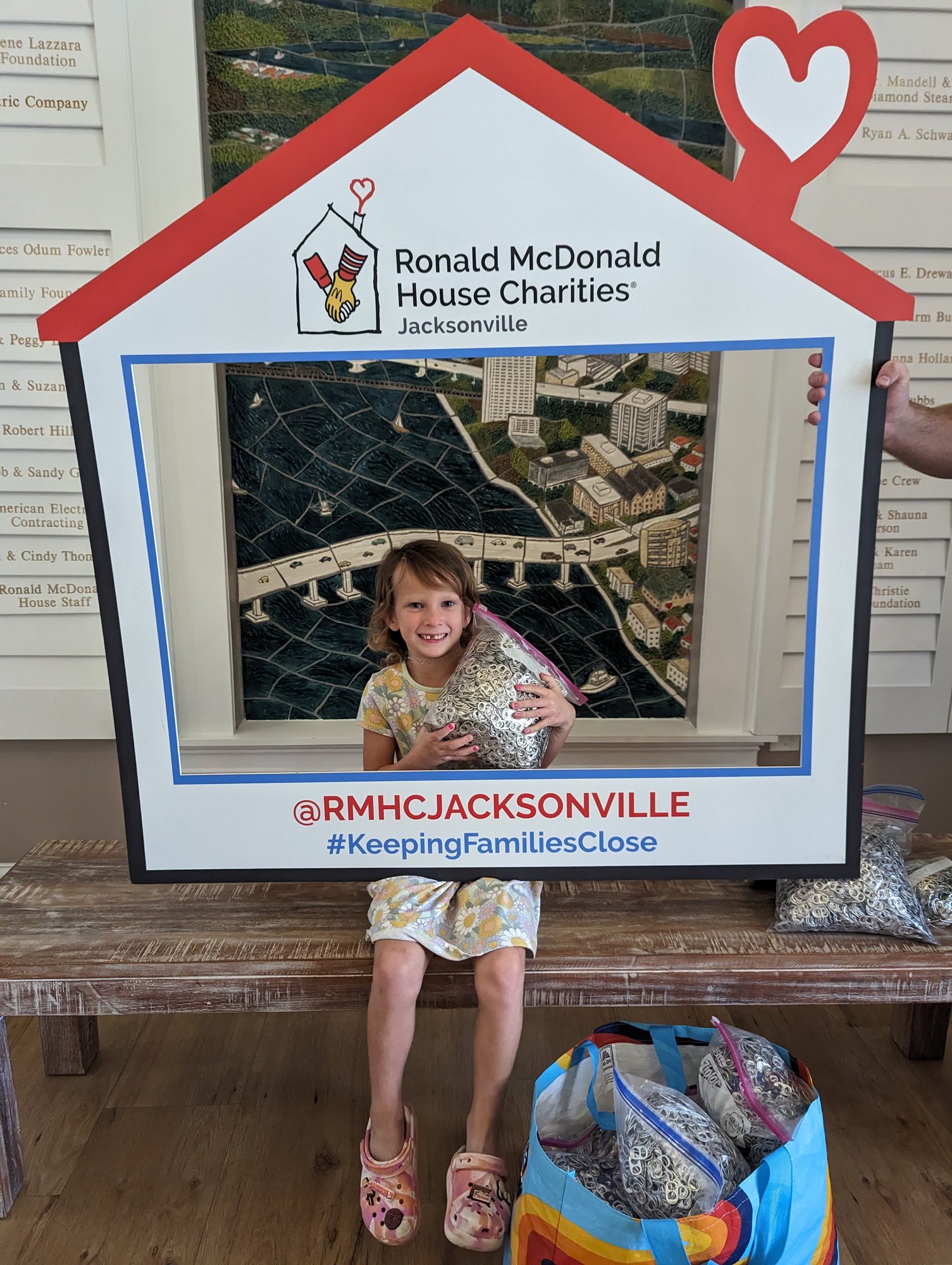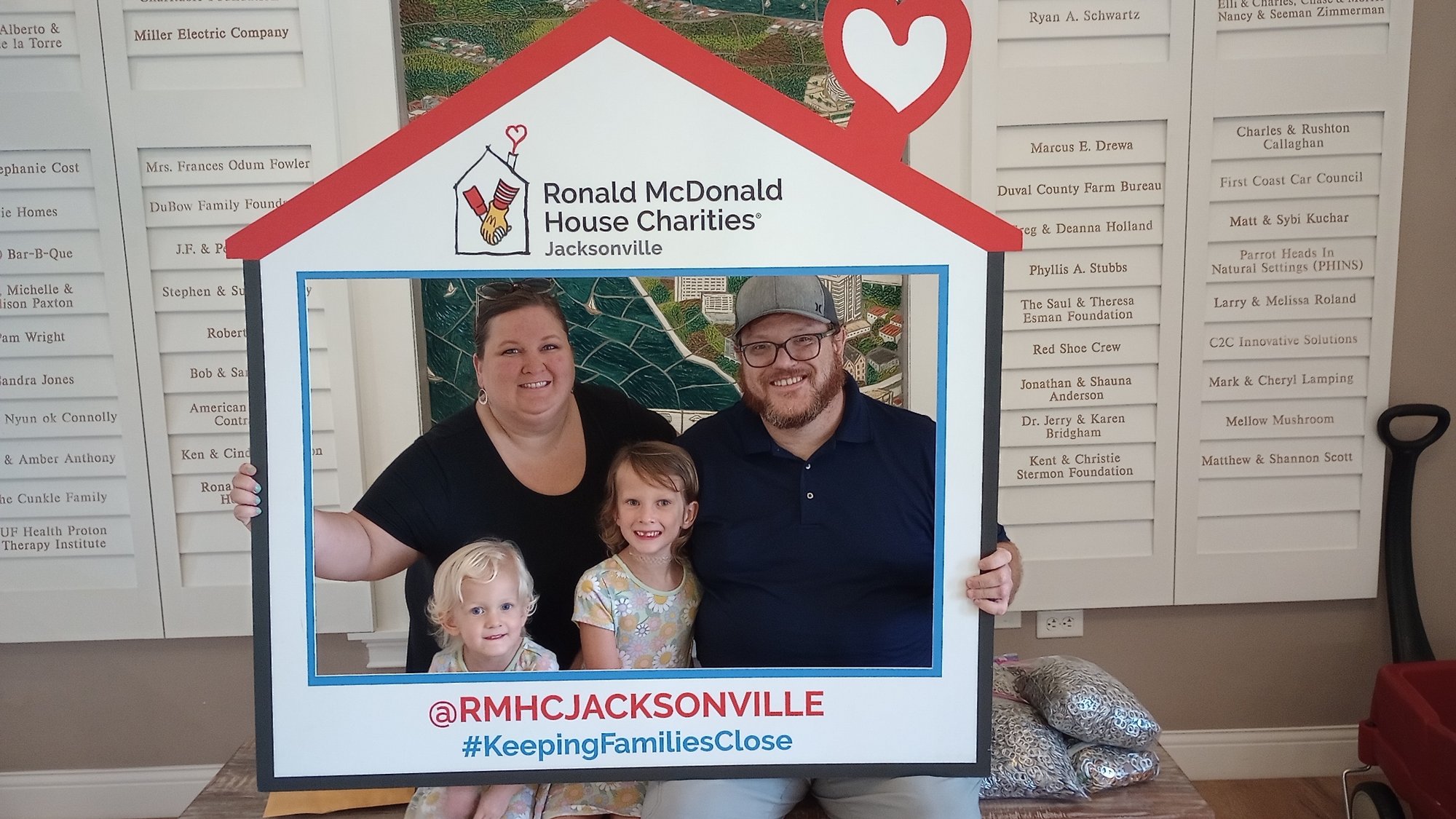 We also donated 13 gallons of tabs like this back in 2021. So if you want to start collecting with us, we'll plan to go back again in another year or two!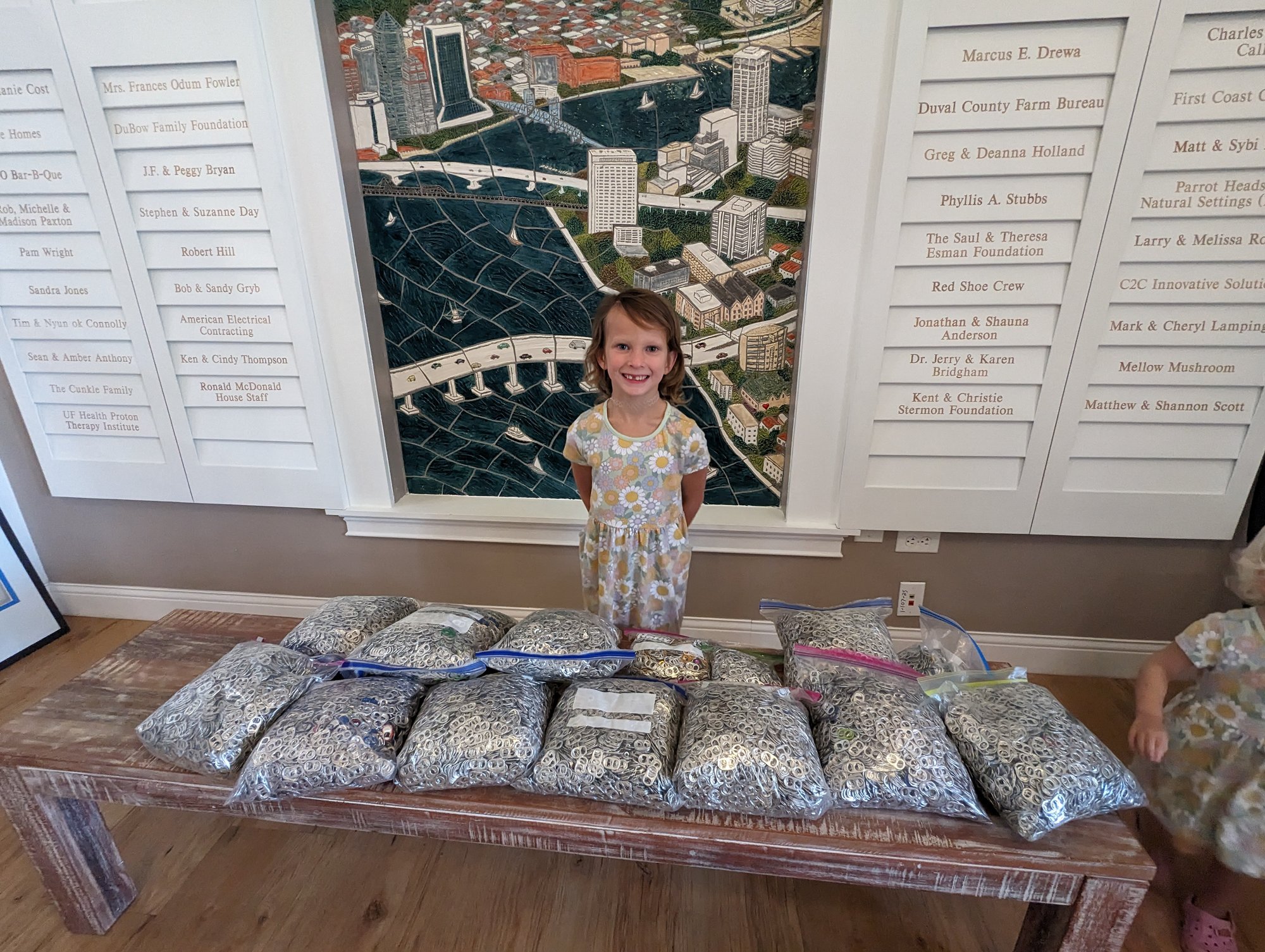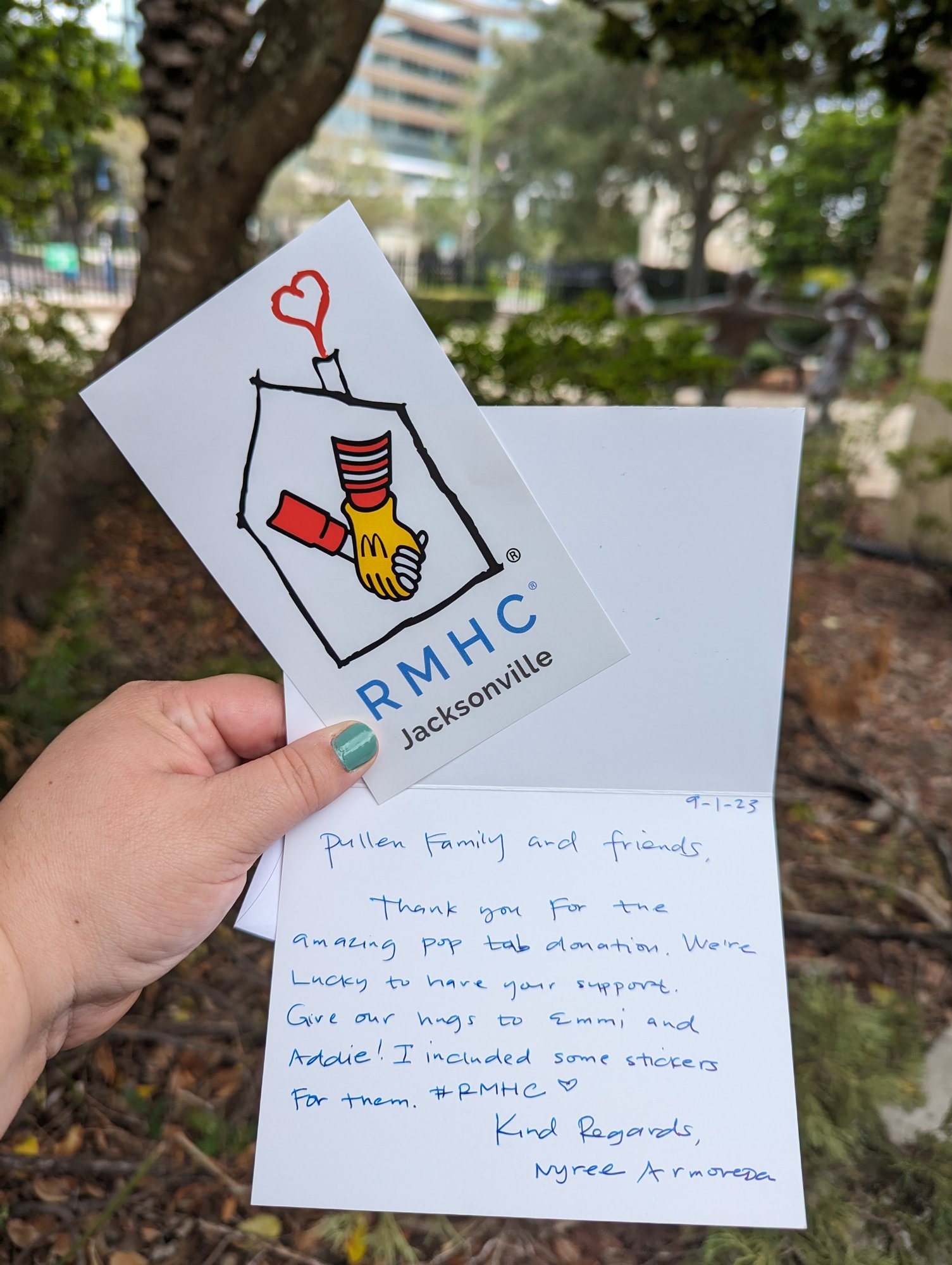 Next stop was V Pizza for a yummy lunch. I got one with roasted eggplant, roasted red peppers, and goat cheese, and wow this was so delicious.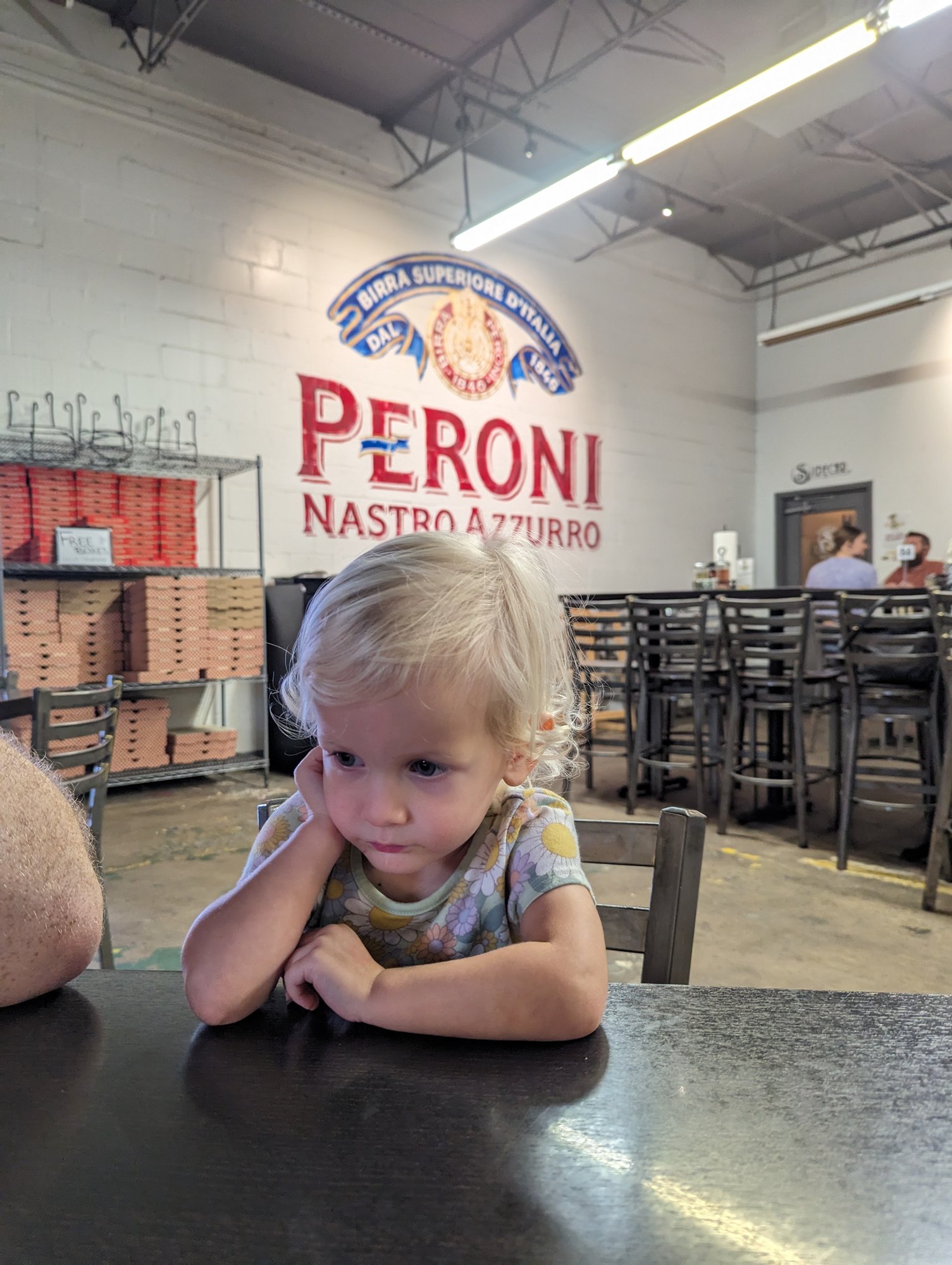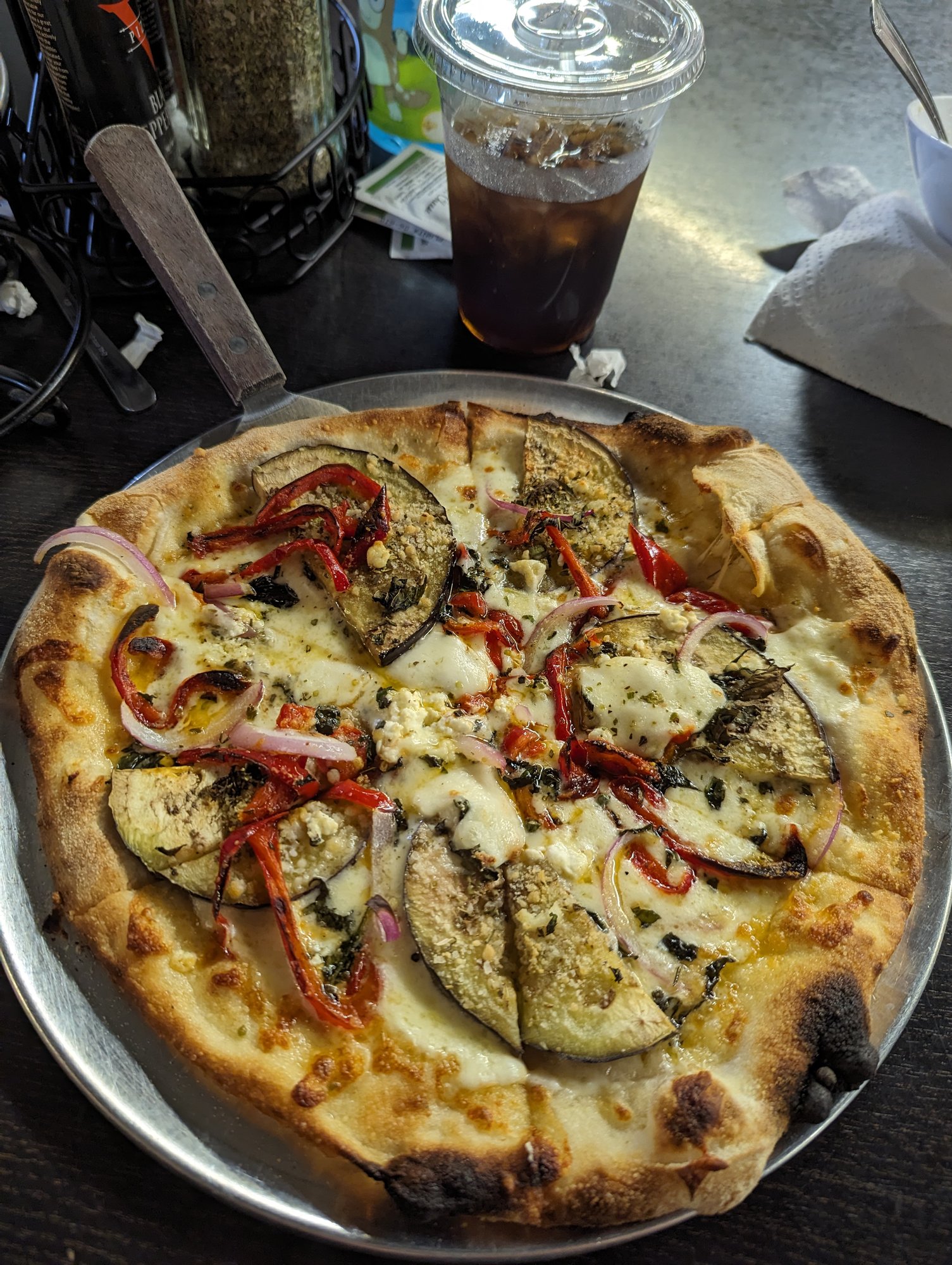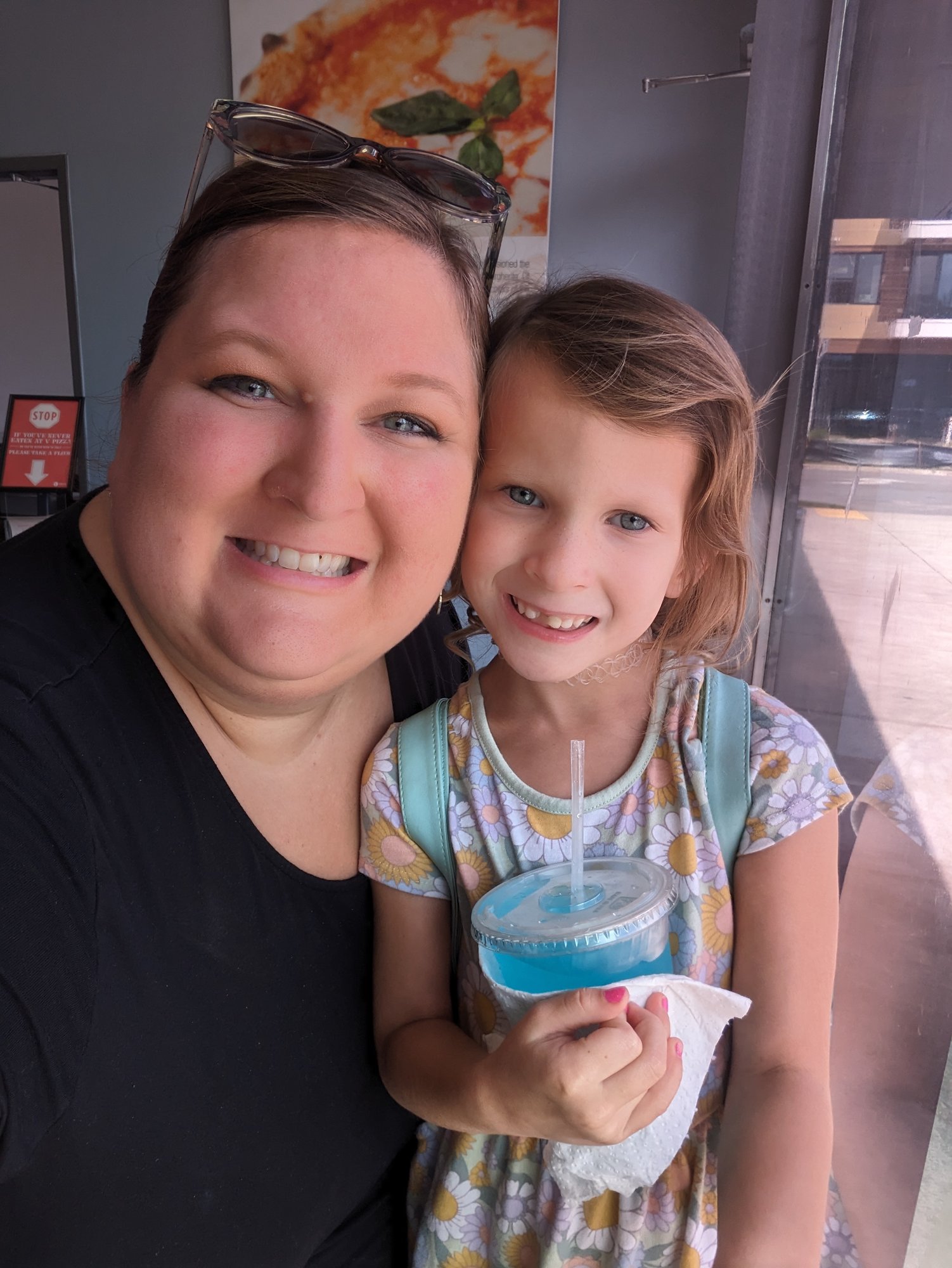 Then we stopped right next door at this cute little coffee trailer for an afternoon iced latte. The place was cute, but it didn't hold a candle to my fave here in town, Frother's Daughter.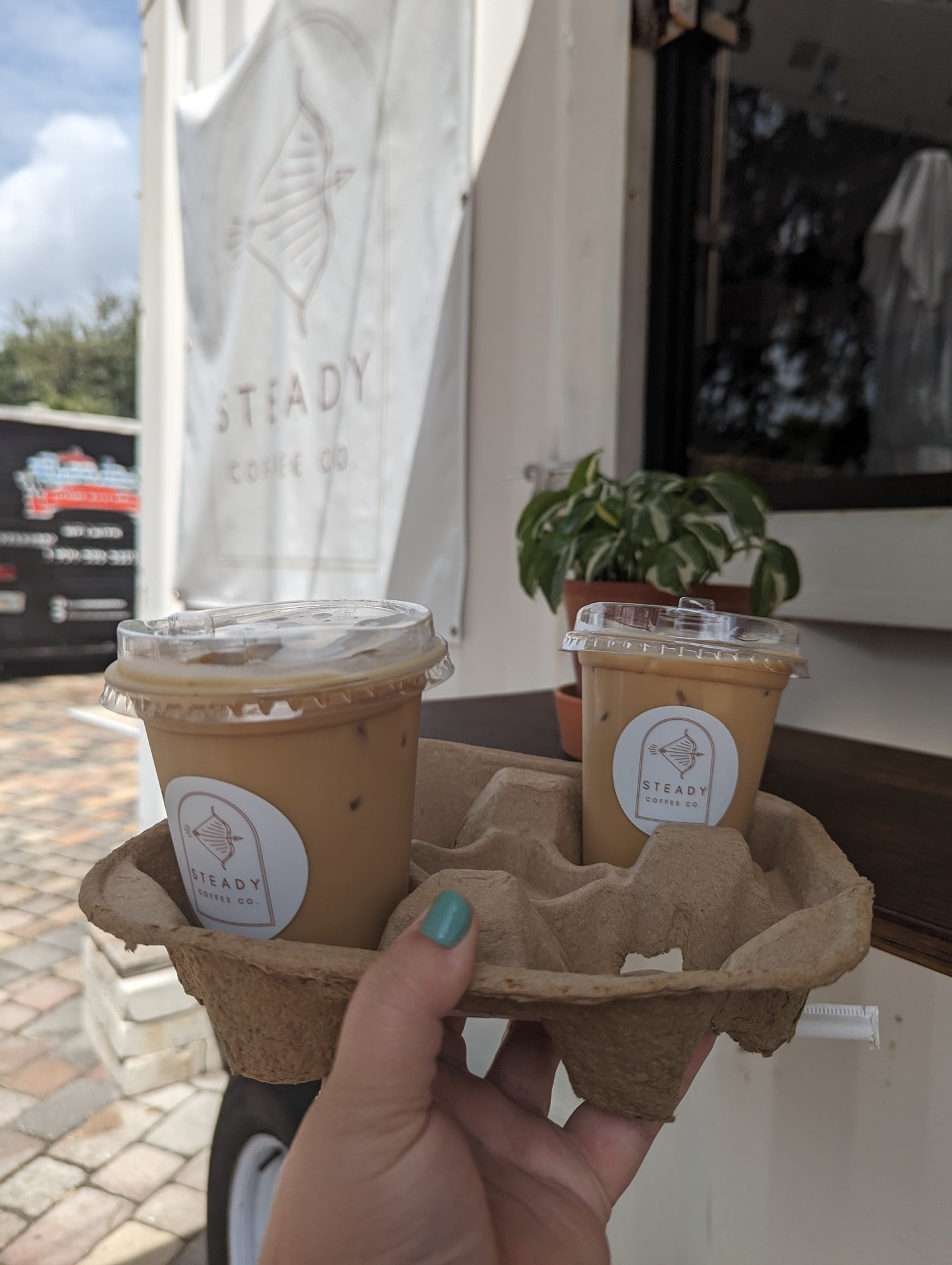 Then we stopped by the hotel to see if they'd let us check in a couple of hours early, and we lucked out! I'd been saving all of my Chase credit card rewards points, so we cashed them in for one free night at the Riverside Double Tree, in a river-view room, and it was so nice! After getting settled in, it was time to hit the pool for an hour or so.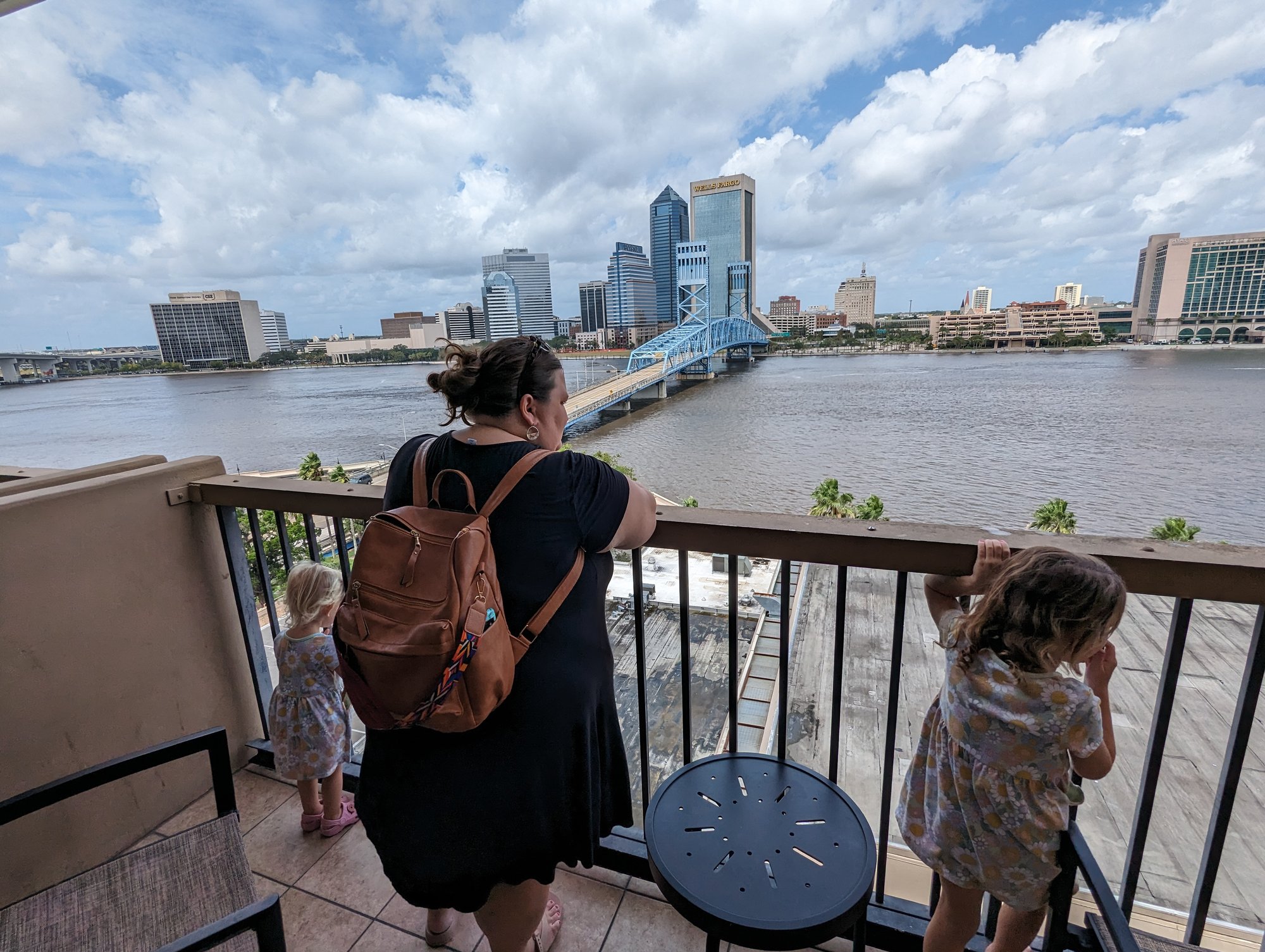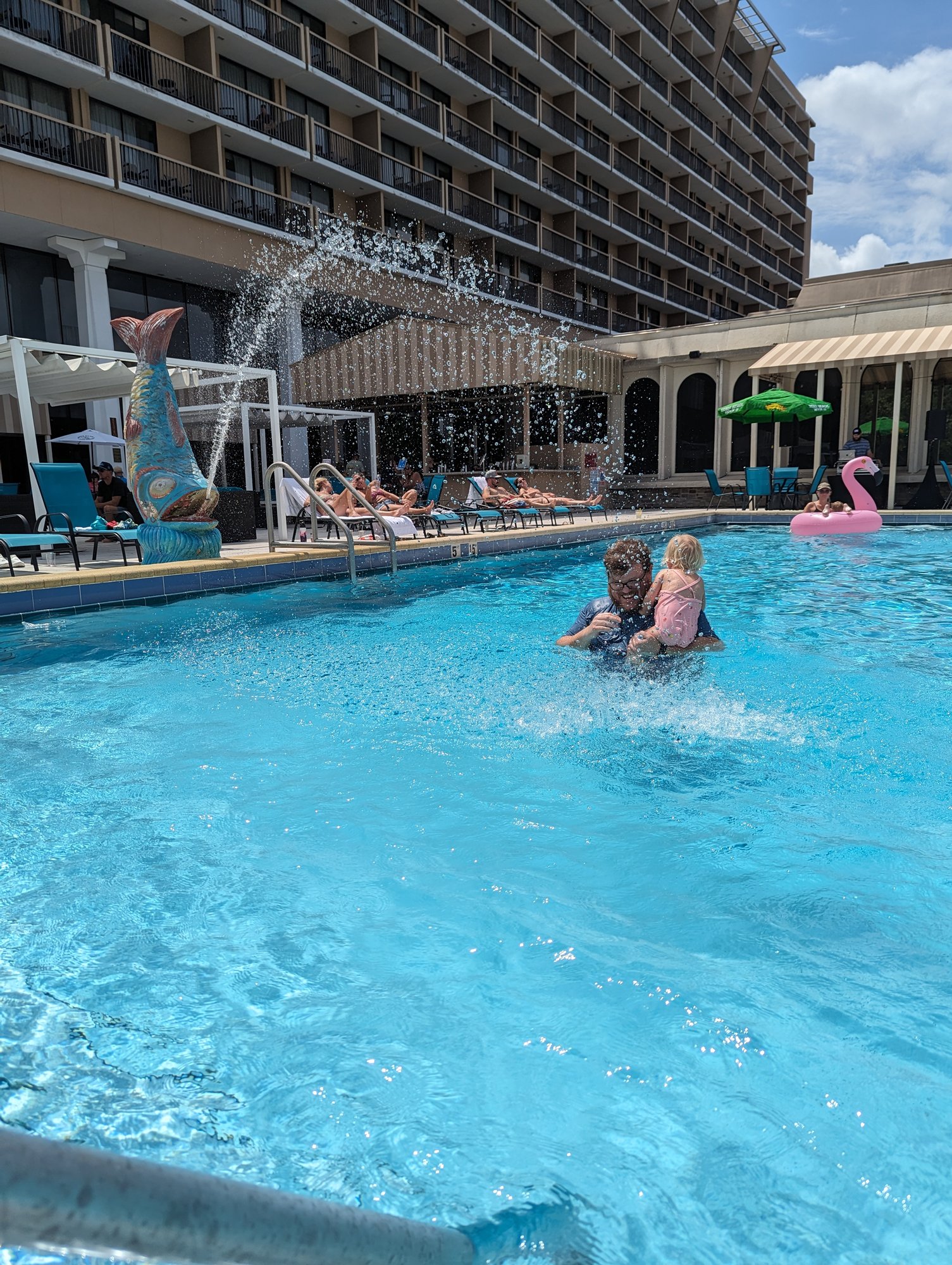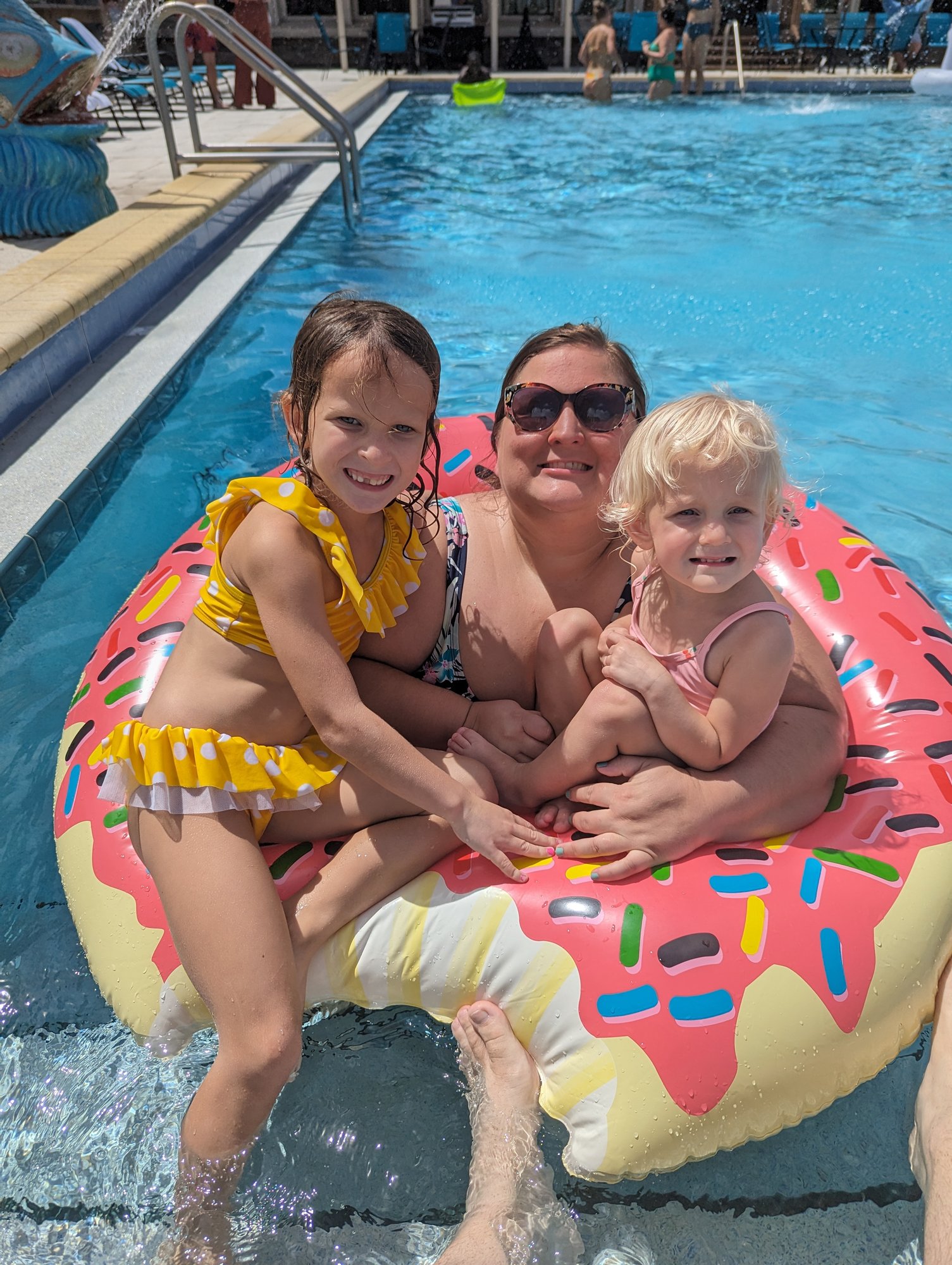 We had just a quick little 30-minutes in the dark, cool hotel room after the pool, then got dressed to head out again. And since Little Bit missed her afternoon nap, she of course fell asleep on the 20-minute ride to IKEA. We spent about an hour shopping, and about a 30 minutes eating Swedish meatballs for dinner, and then it took another 30 minutes to check out. But we always love ourselves a good IKEA trip!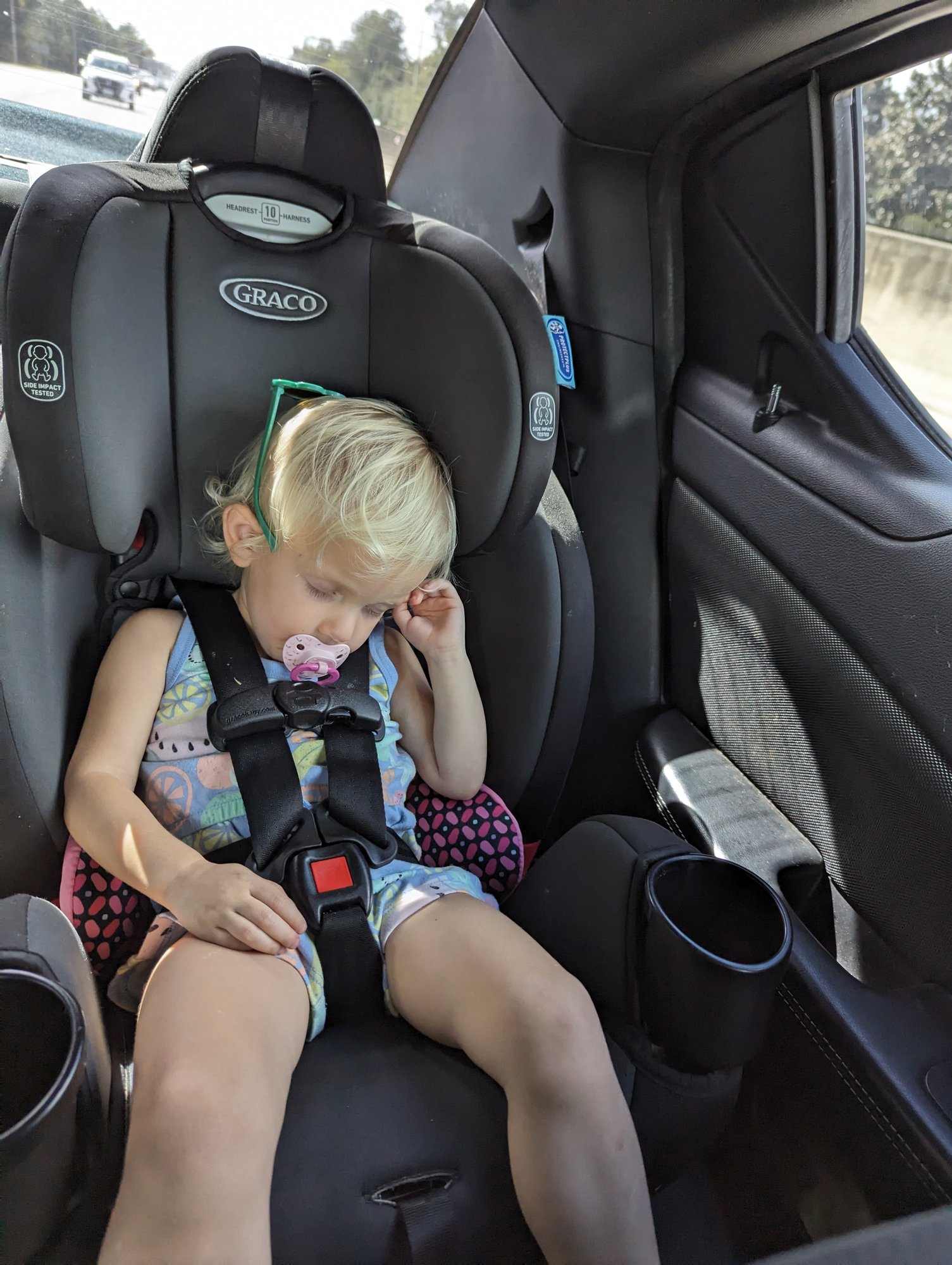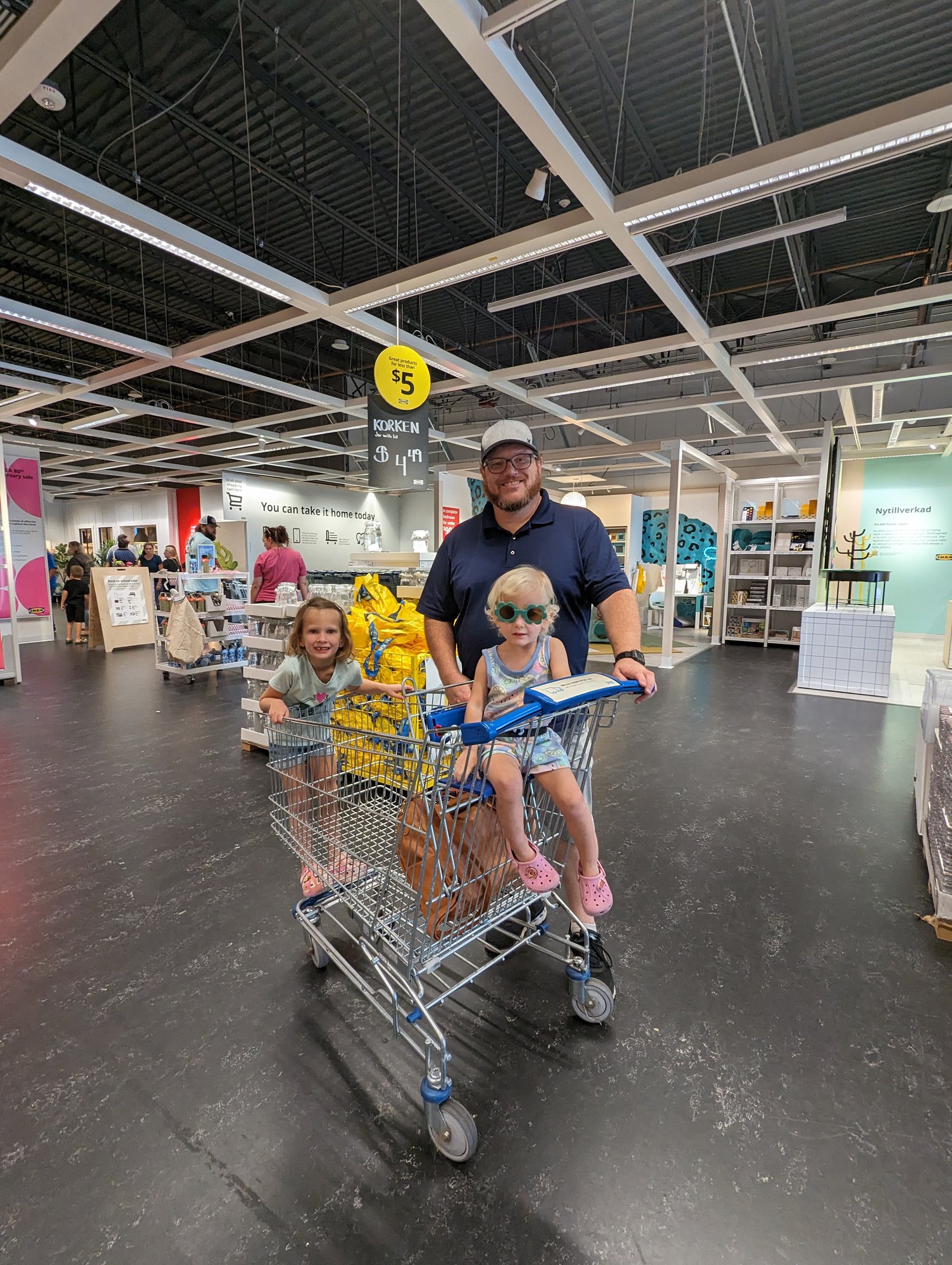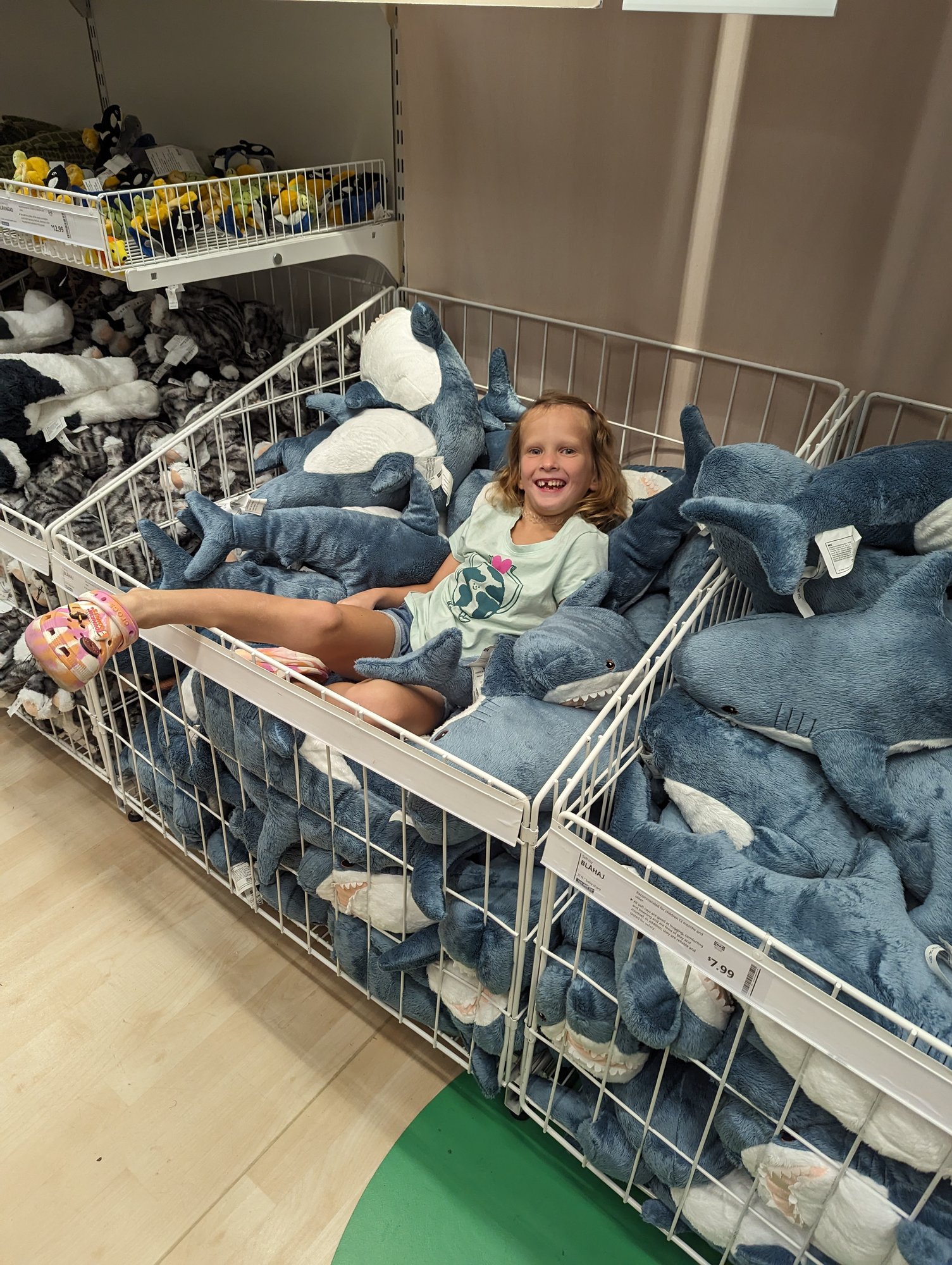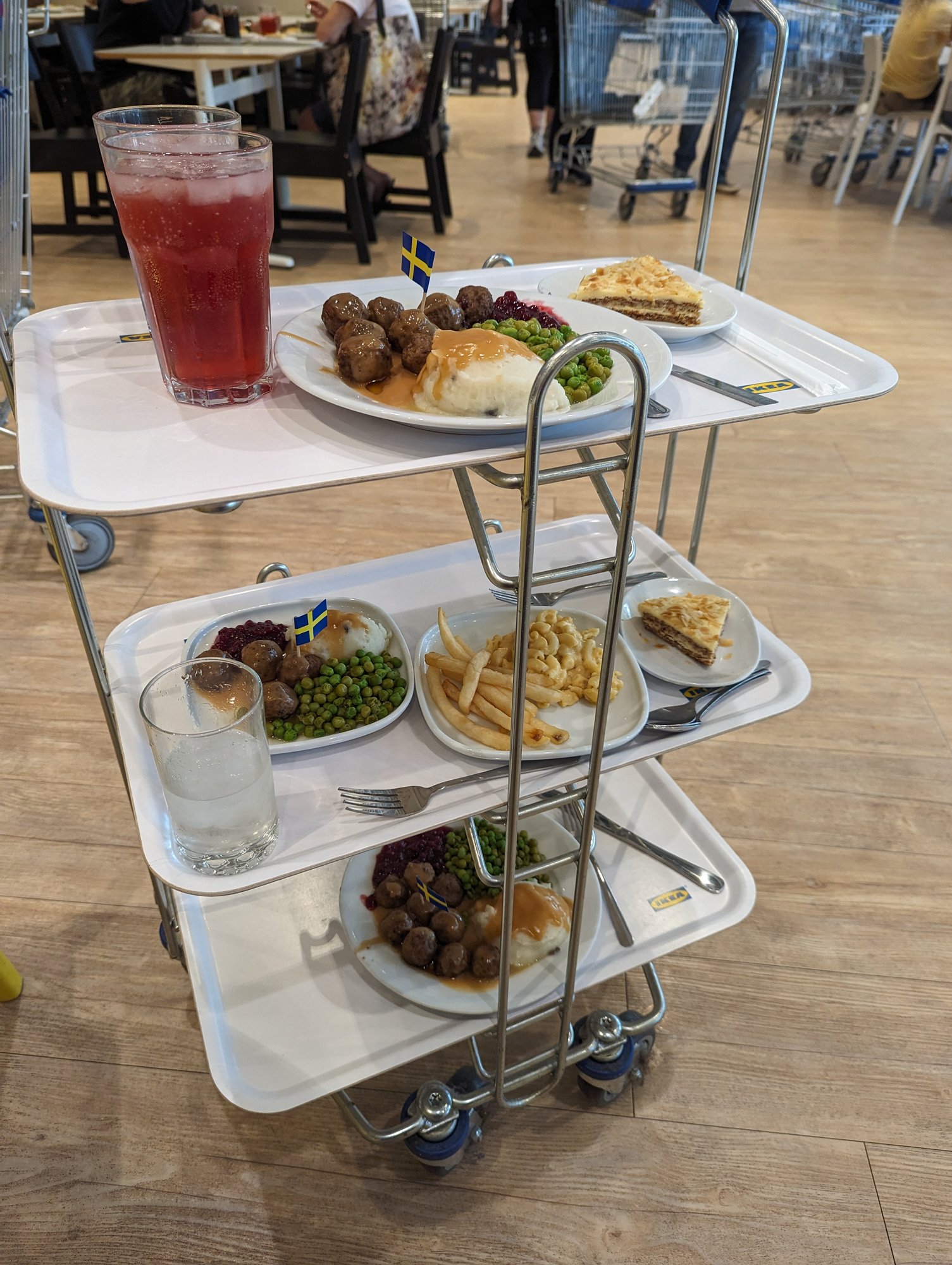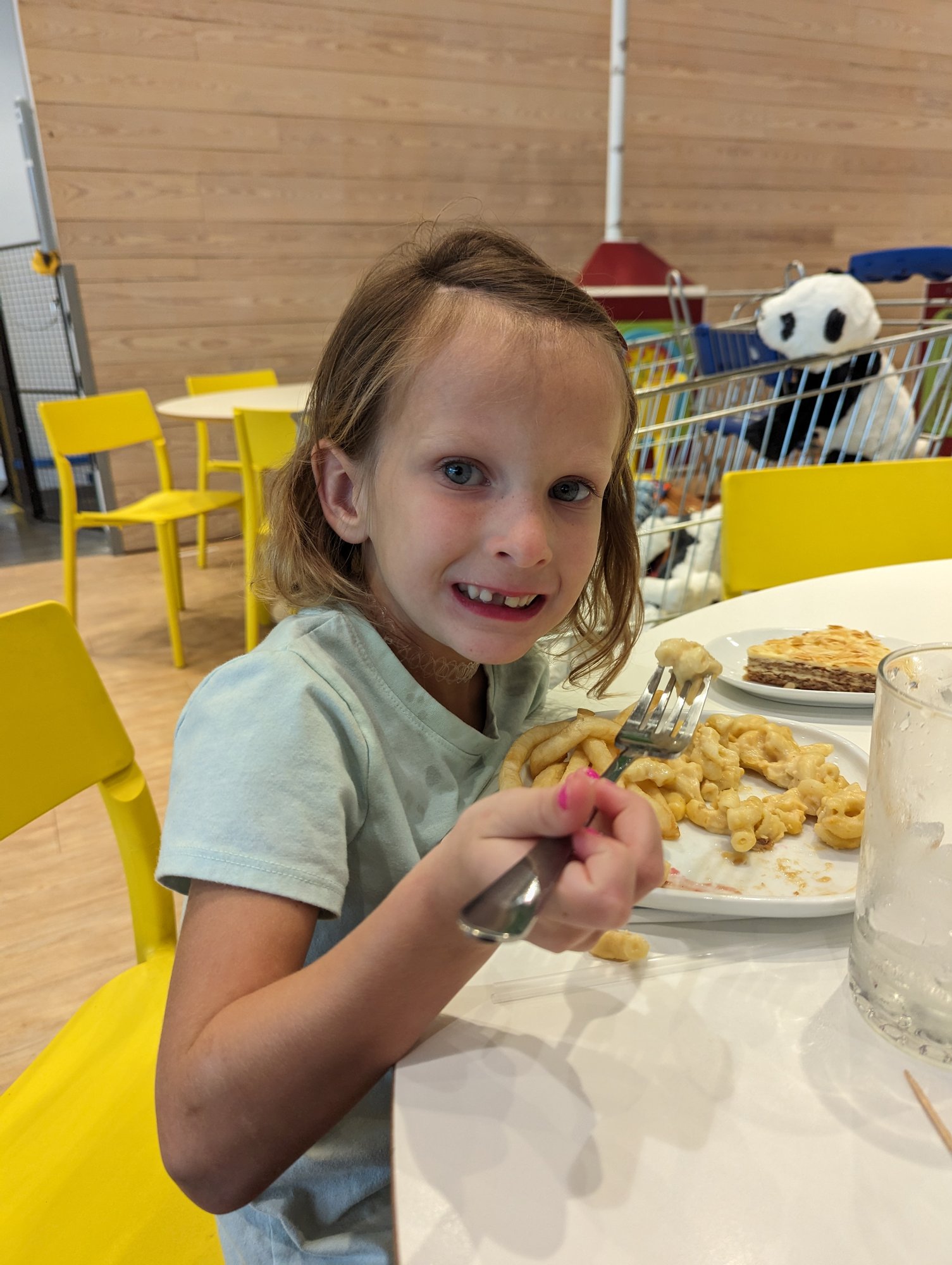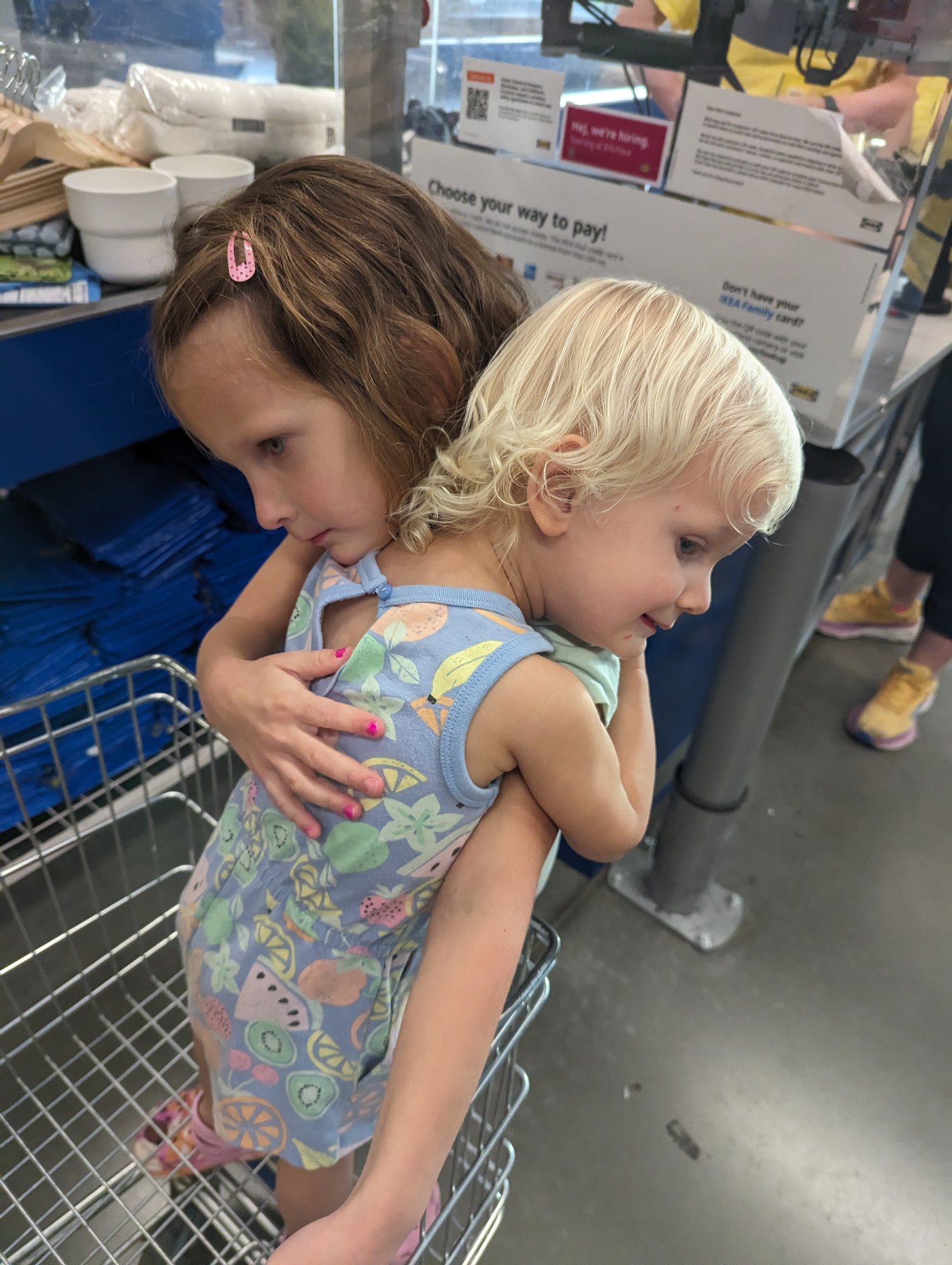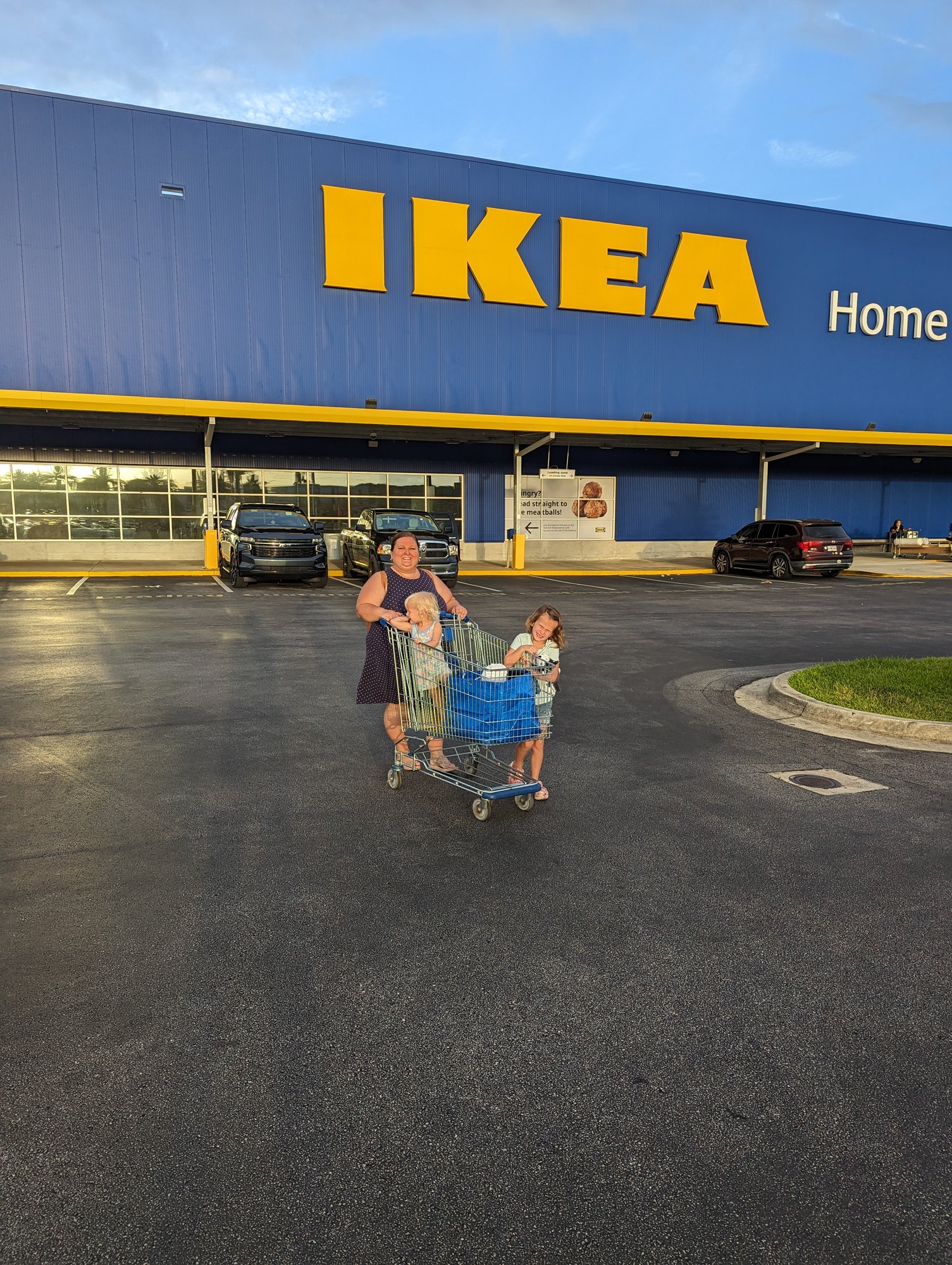 We loved our view of the river during the day (we actually watched dolphins swim around in that little corner to the right of this end of the bridge), but it was so cool to see everything all lit up at night too! After a long day, the girls were super exhausted, and although we had a bit of a meltdown, and a very late night, both girls were finally asleep by 9:30pm, looking precious and adorable.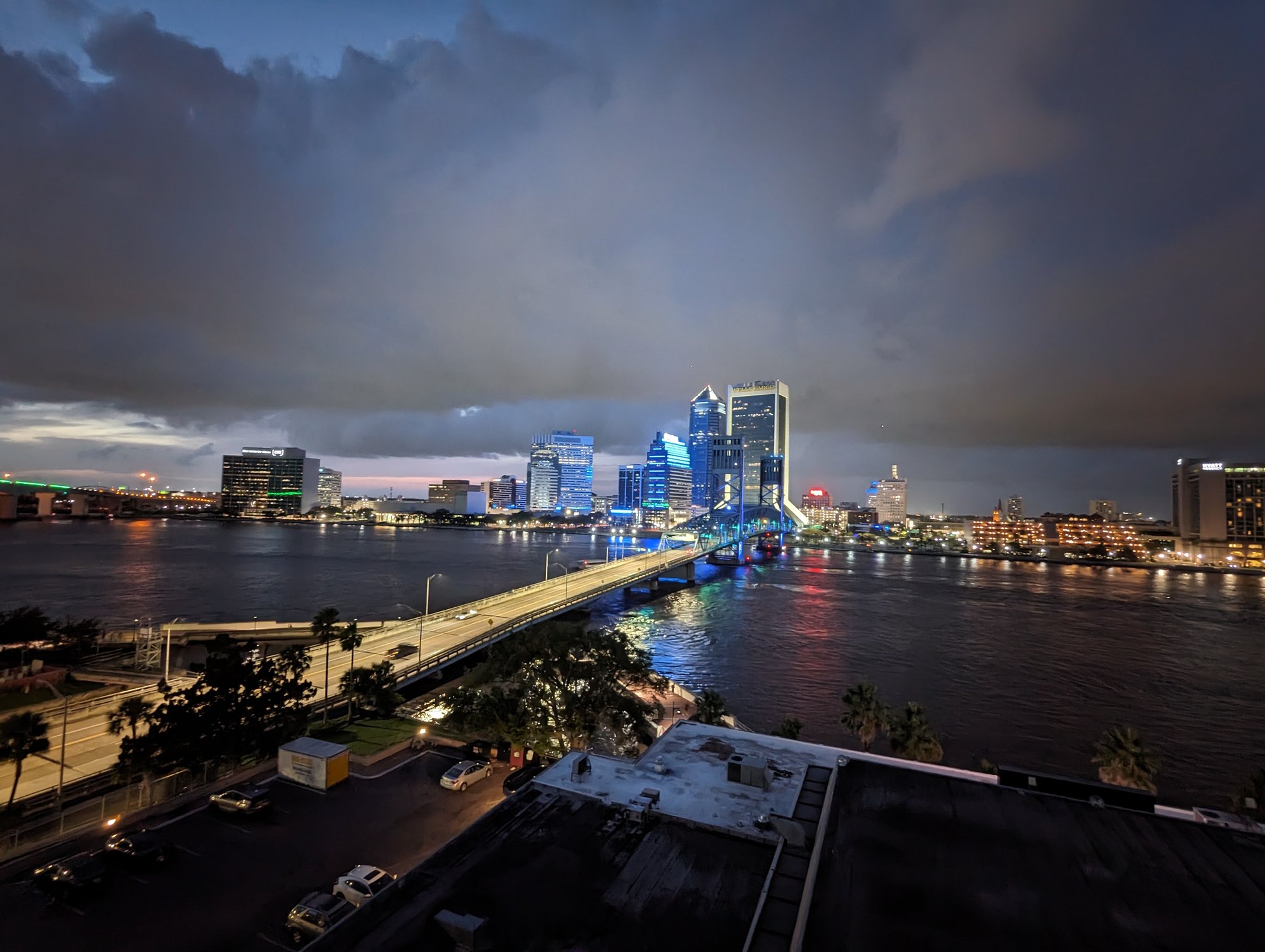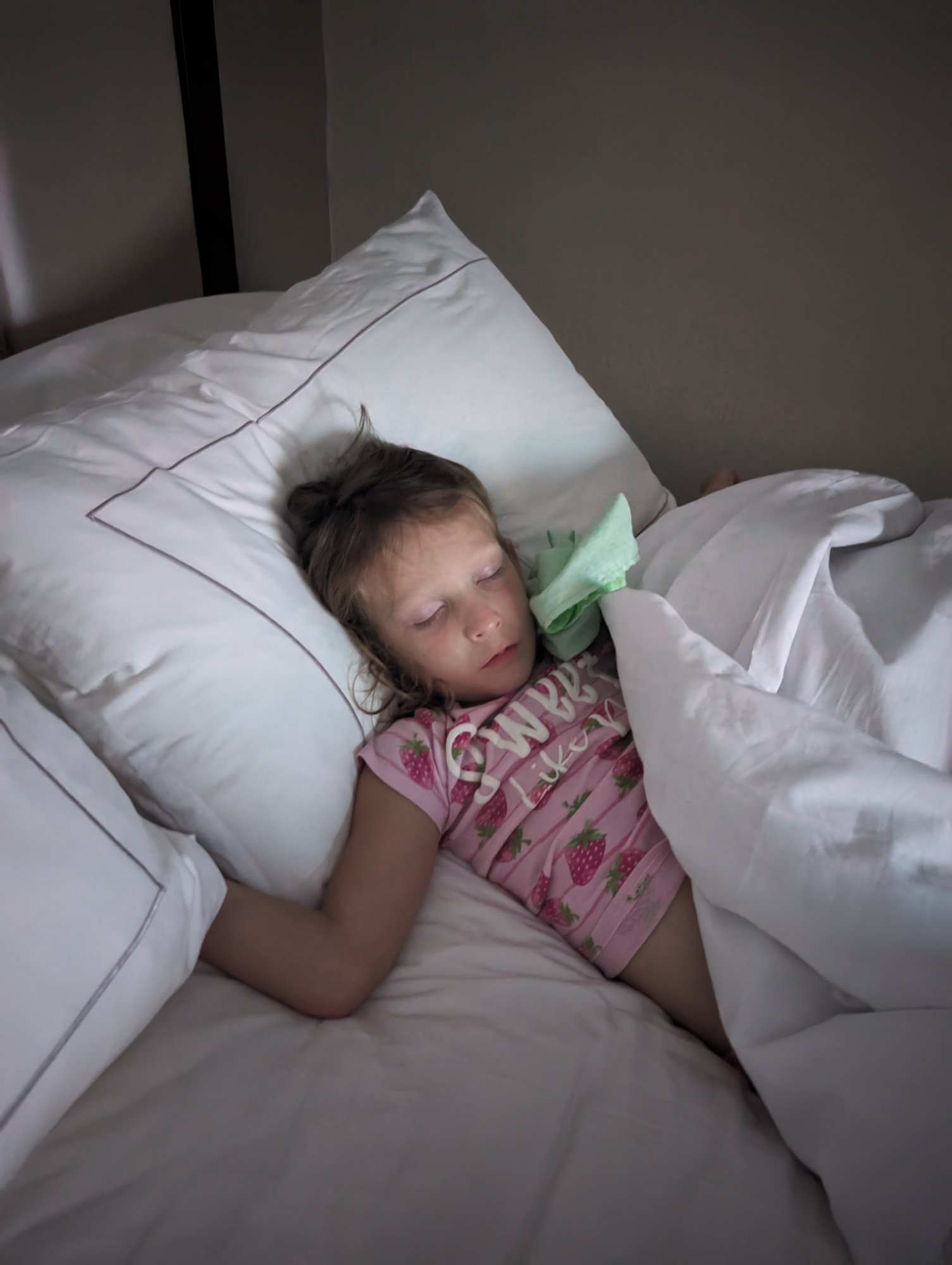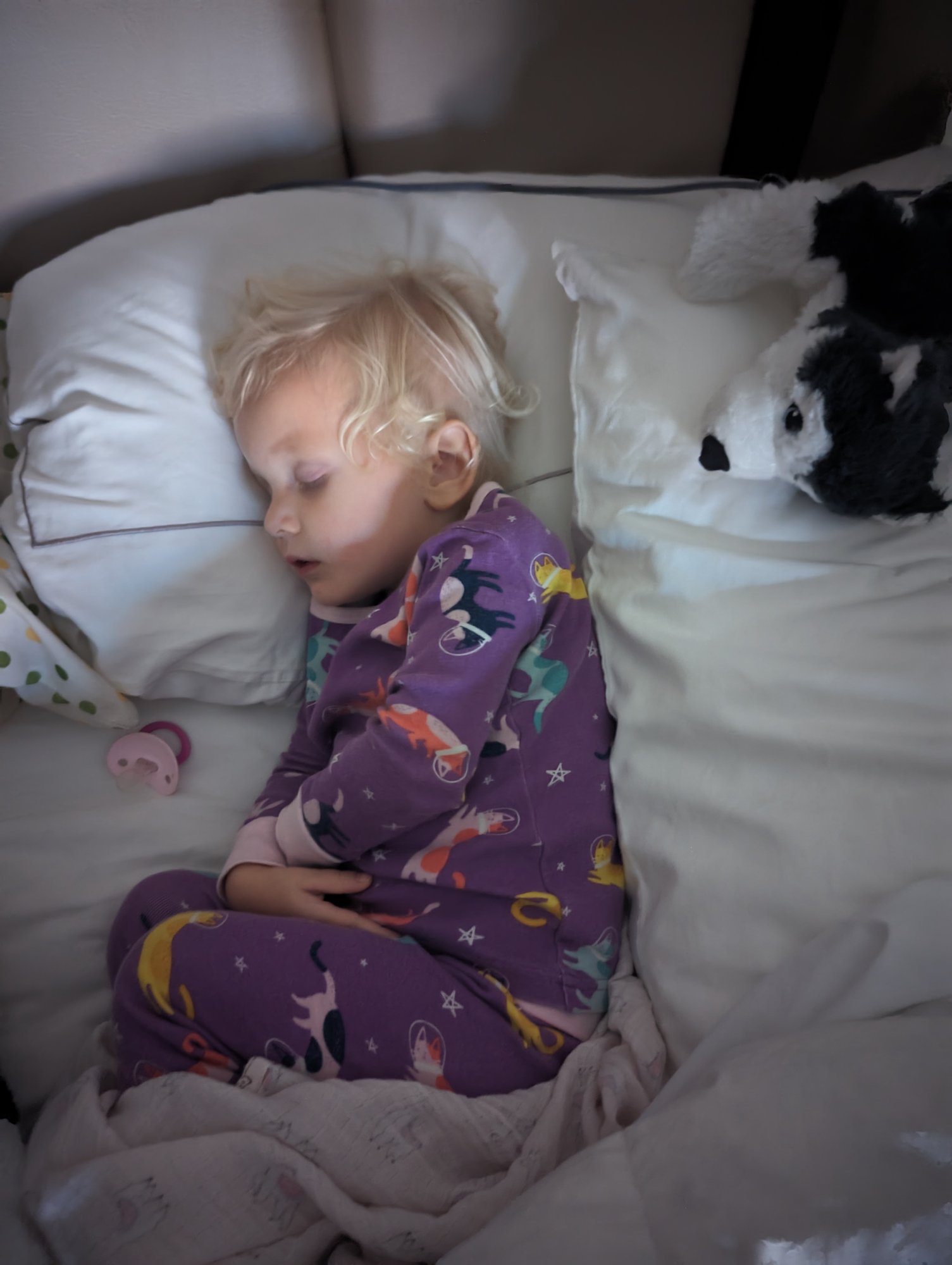 SUNDAY
Everyone slept till about 7:30am today, which was pretty decent. So we got up and got dressed to head out for some yummy breakfast and coffee. We went to Southern Grounds, and had good food, good coffee, a fun train viewing, and lots of puppy petting on their back patio.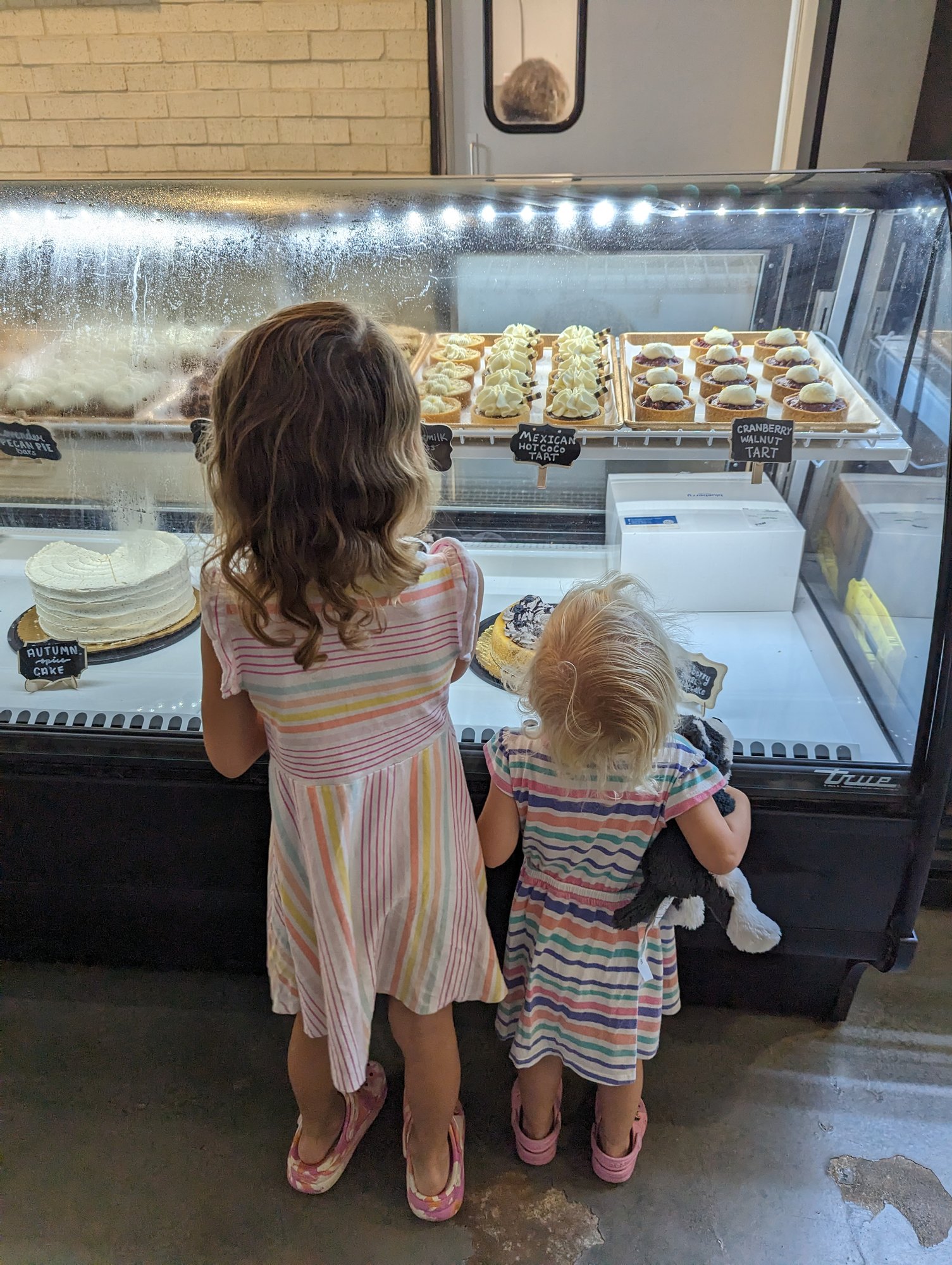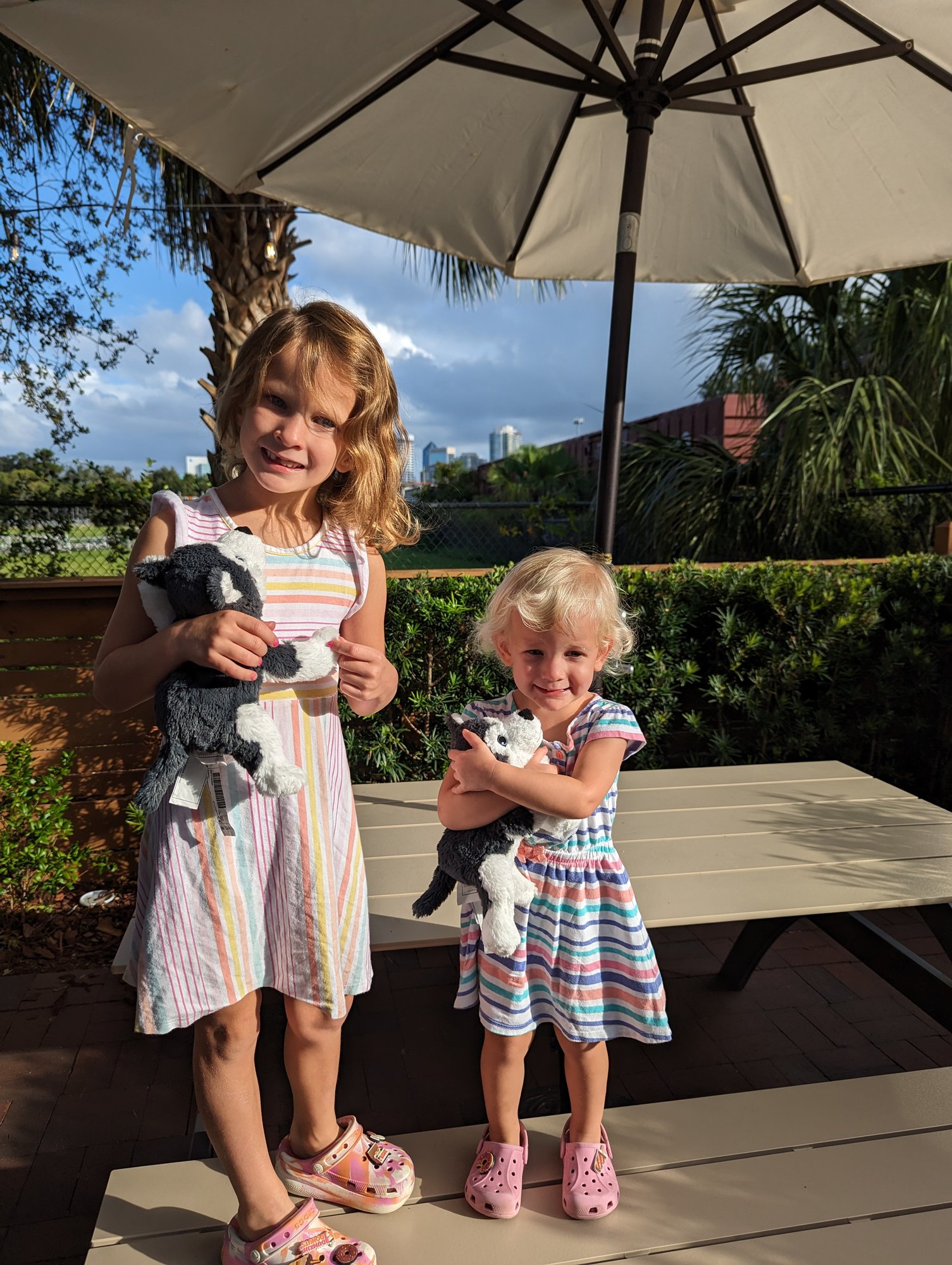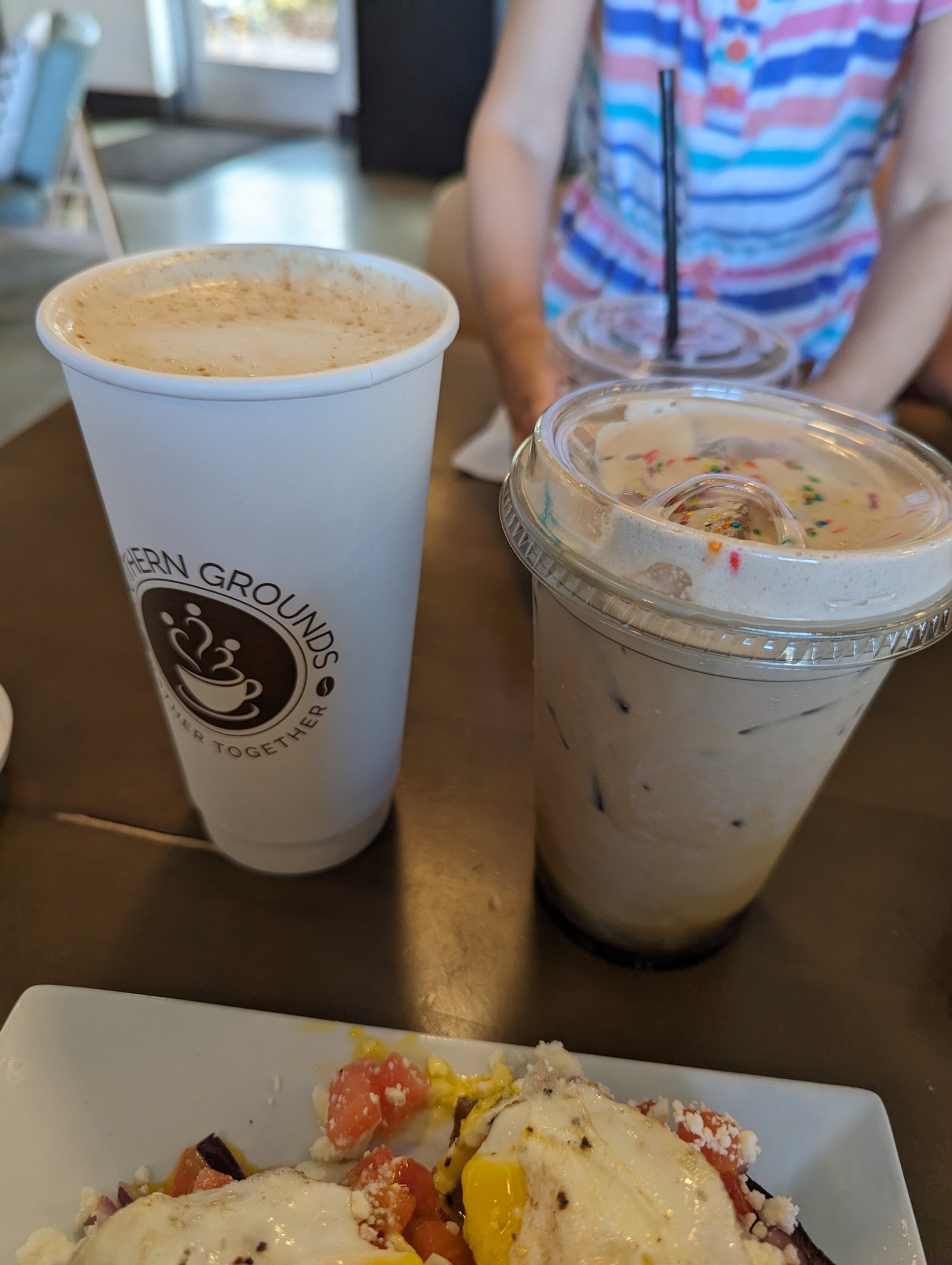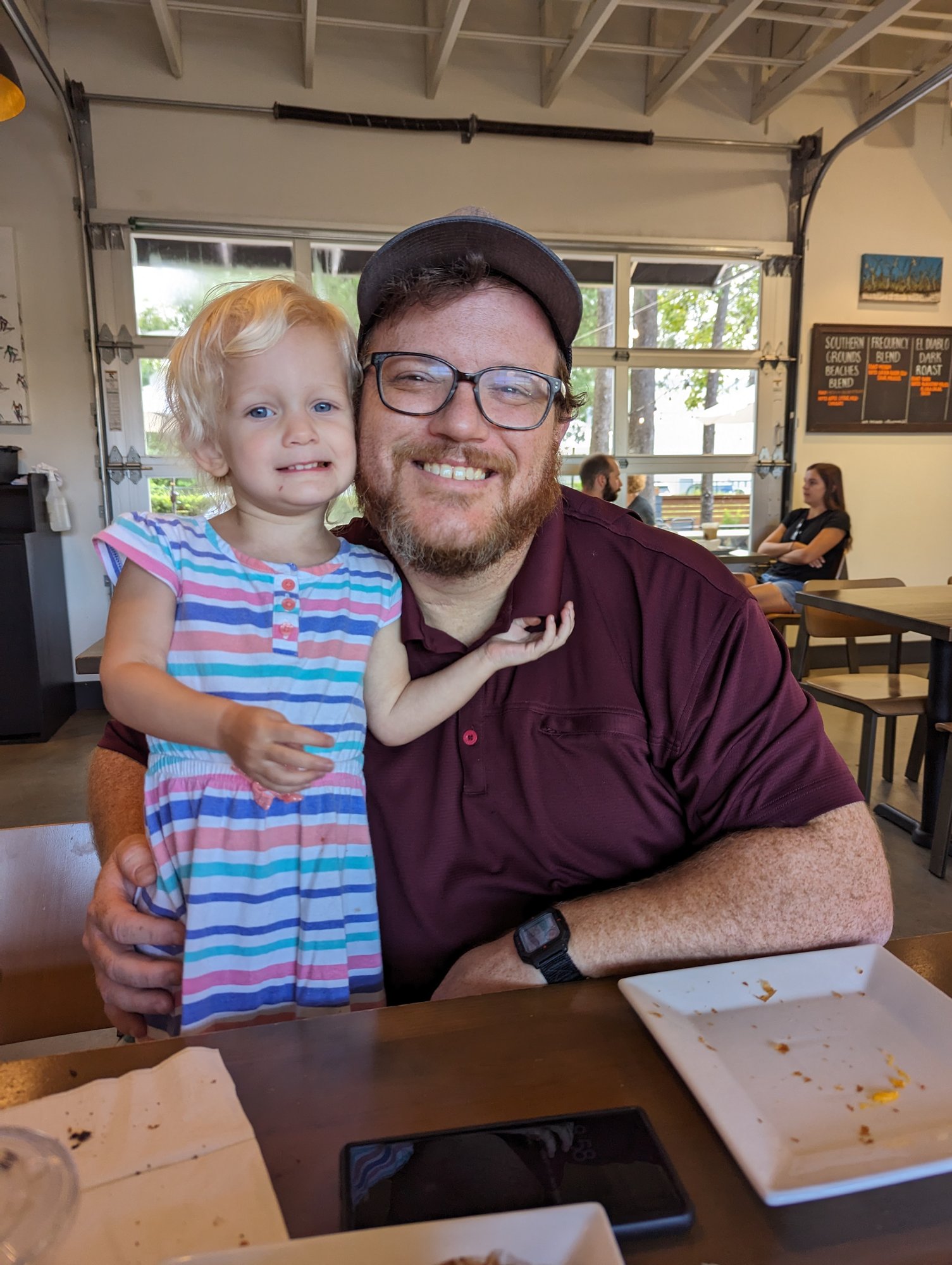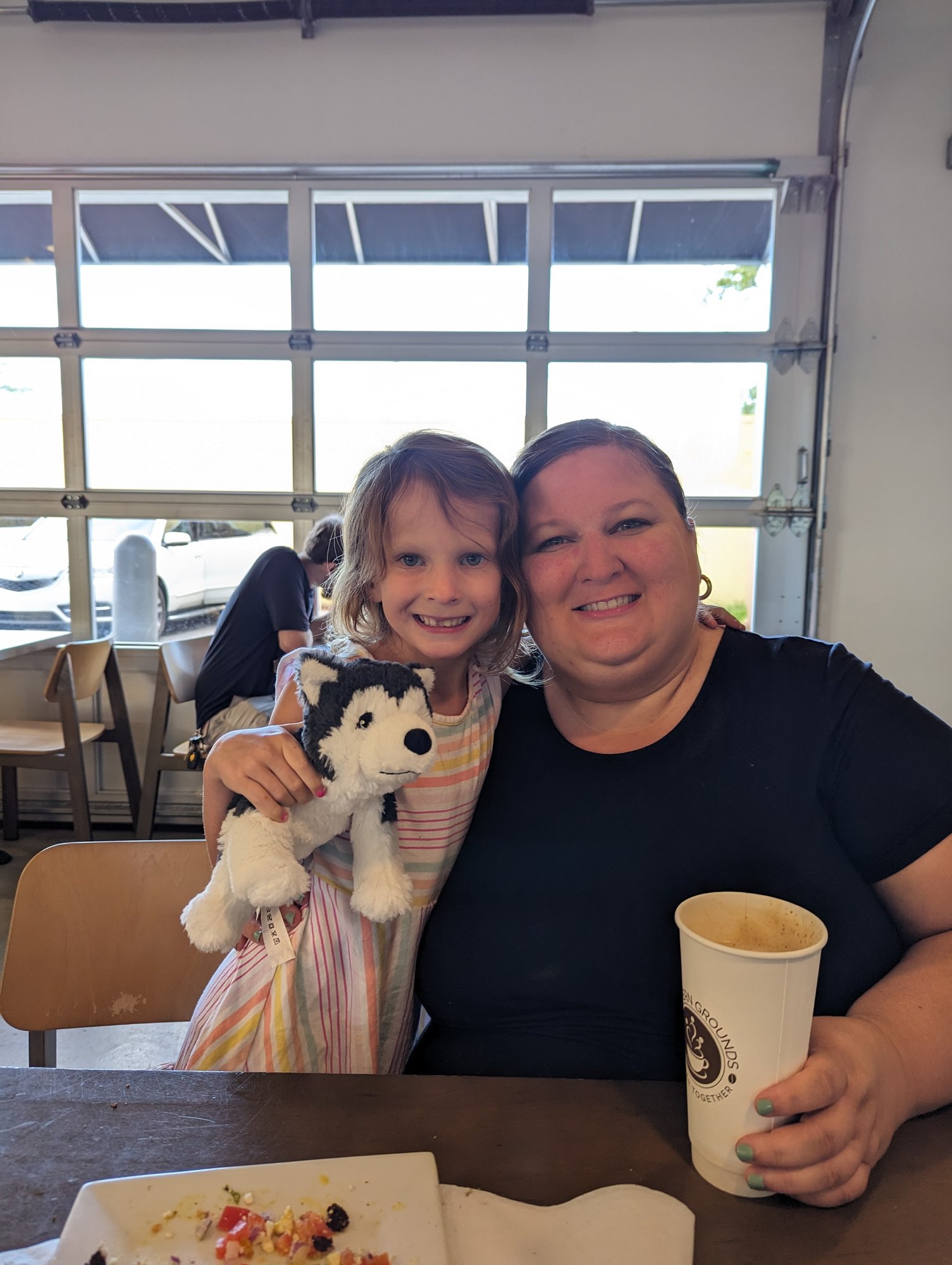 After breakfast, we had to take the girls for a drive over the blue bridge so they could see it up close. We just took a few random turns on the other side, and then drove back across to get to the hotel. We were gonna let them play on a playground for a bit, but of course the 20% chance of rain hit our part of town at exactly that time, so that didn't work out.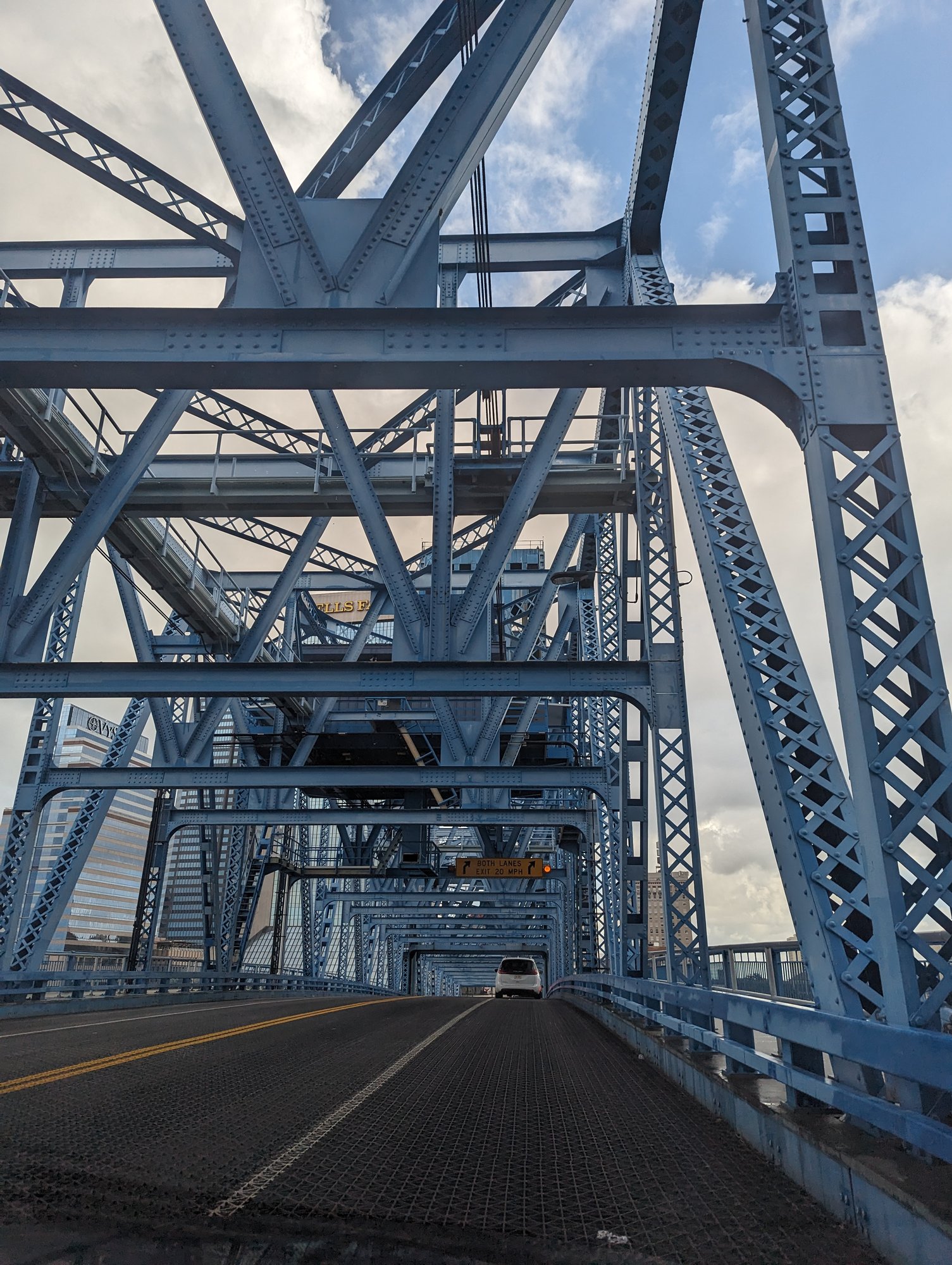 We had just a little rest time in the room after breakfast, and then got everything packed up. Had to get one of the luggage carts for all of our stuff once it was time to check out, and these little helpers just had to go with Daddy.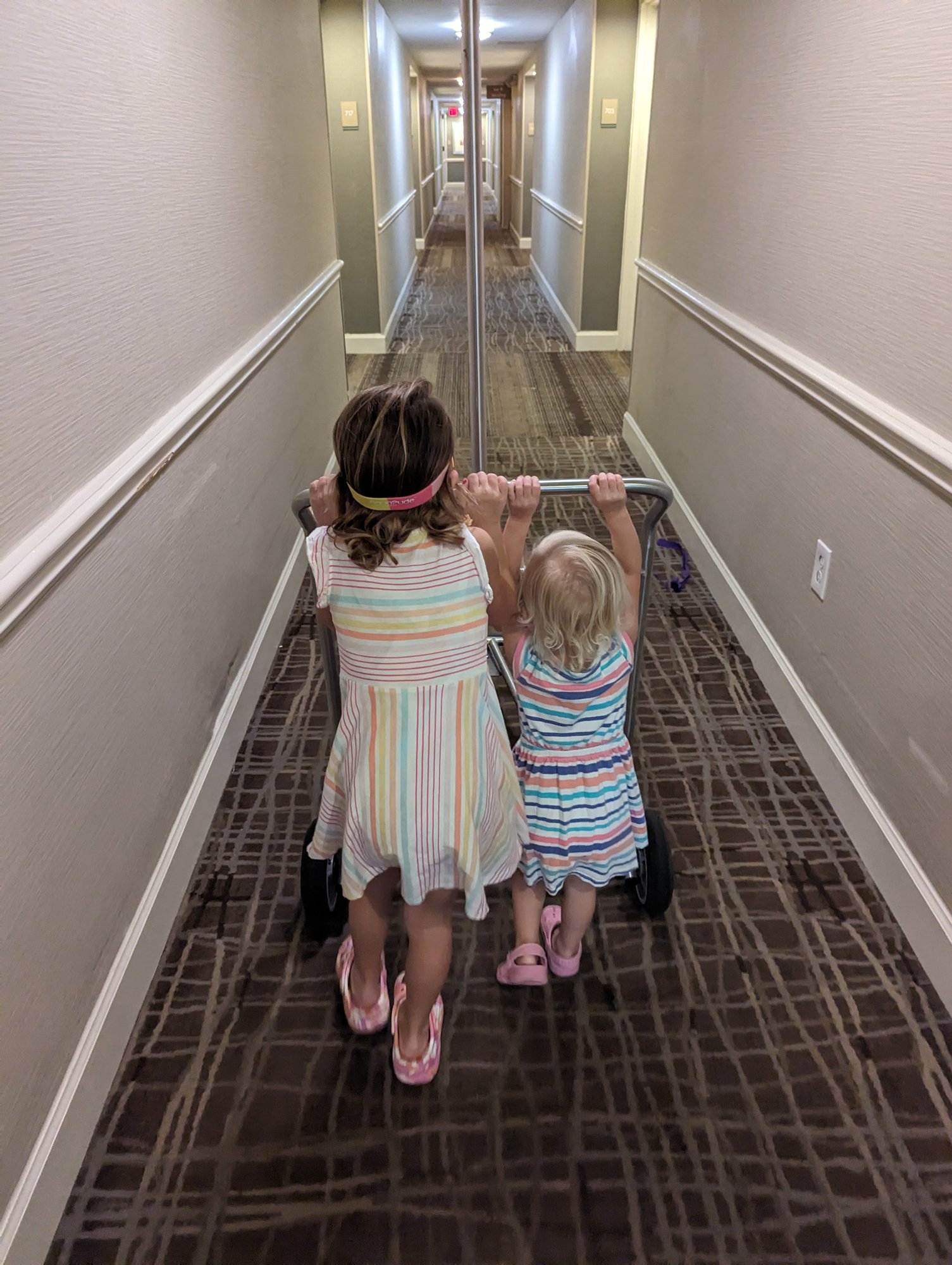 One last picture on the balcony before checkout.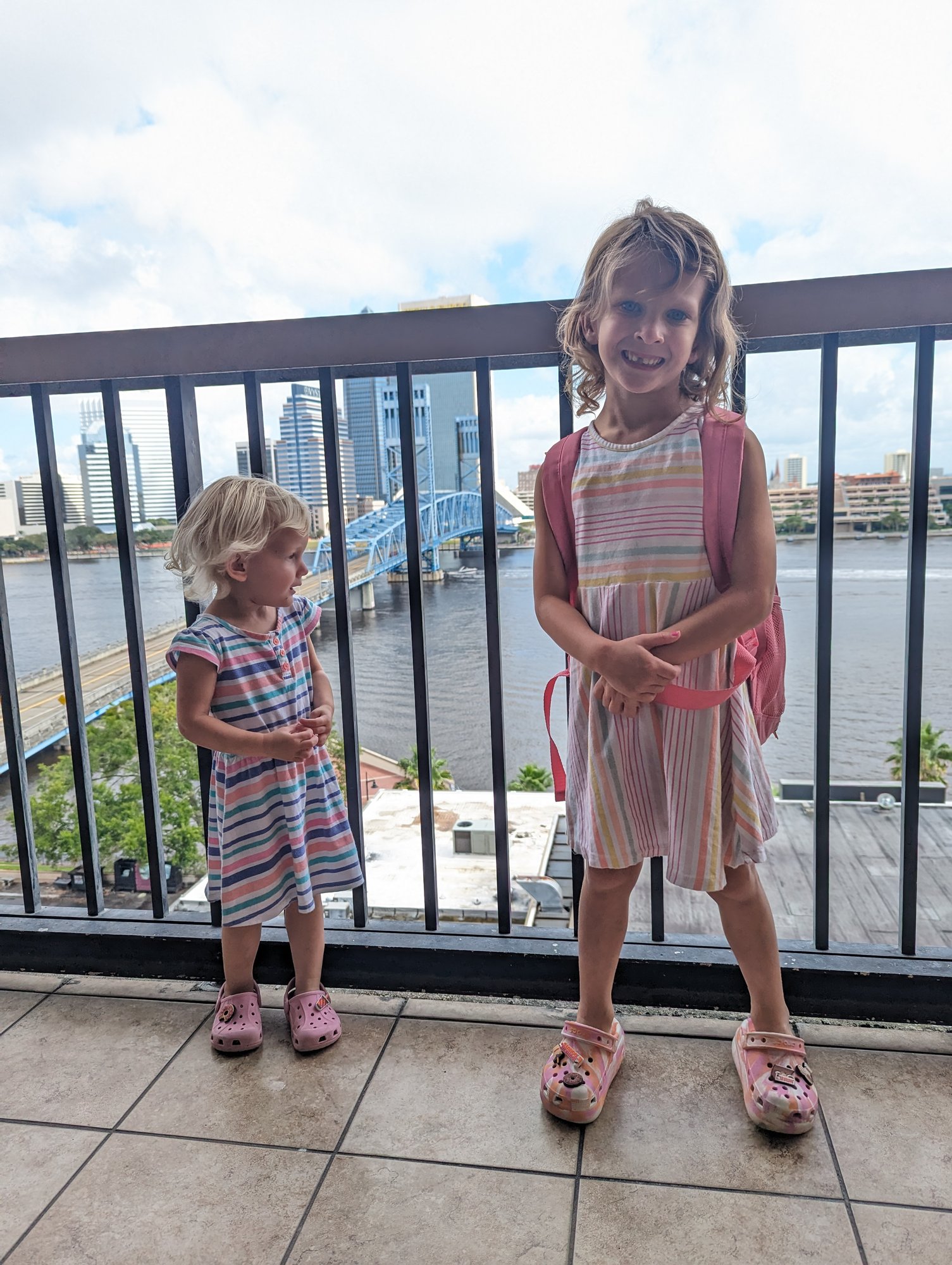 And our favorite family selfie, even though neither girl was really into the photo, so we got some slightly forced smiles. But it was good enough 😉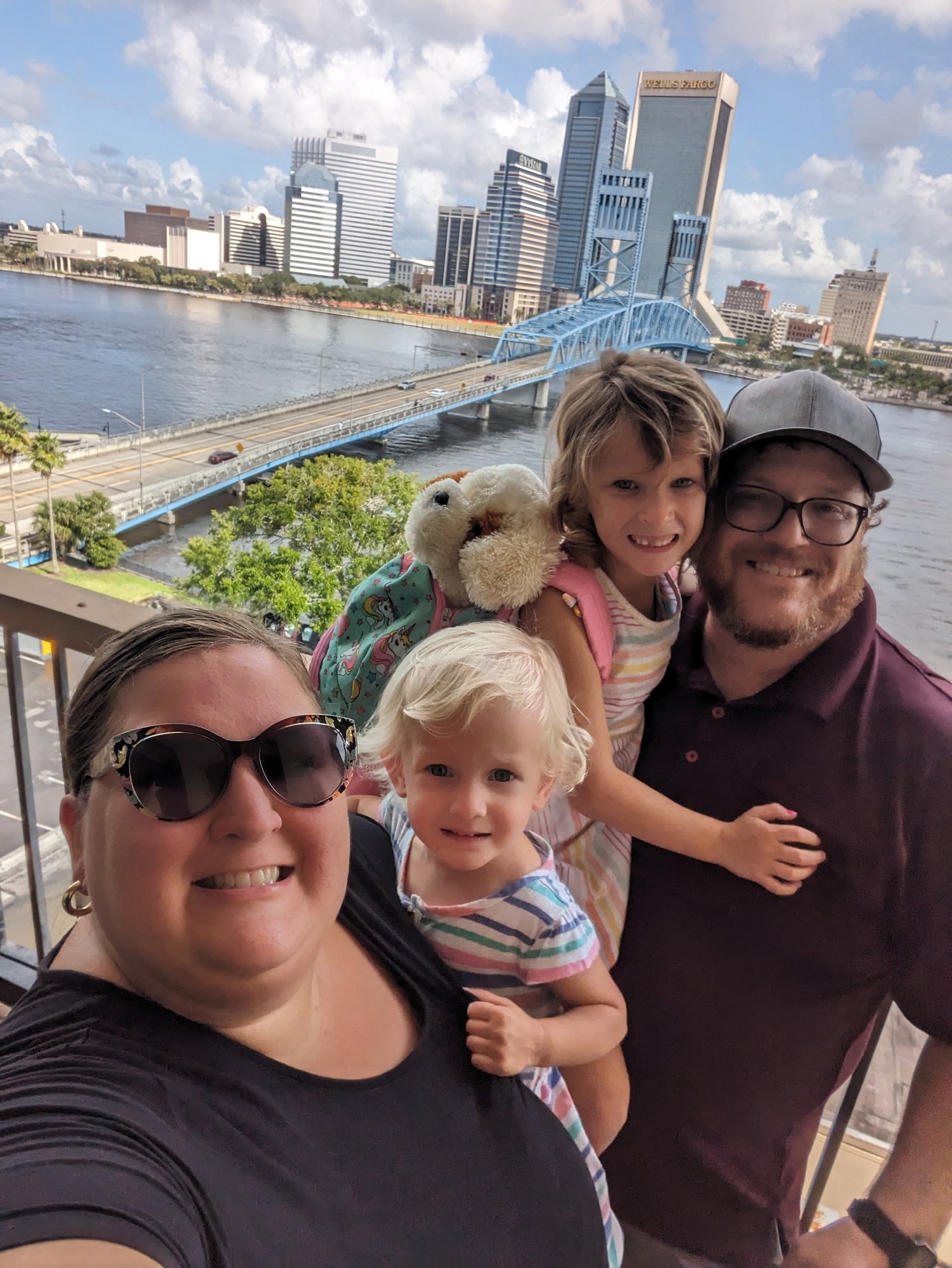 Before check-out, we put on our bathing suits, and once the car was loaded up, we drove across town to Jax Beaches. It was almost lunch time when we got there, so I did a quick Google search for "food near me," and we picked this random place named Grom, which I thought was the weirdest name, but the food was so good. I got "Peruvian Nuggets," and that Peruvian special sauce of theirs was amazing. (Random story – at lunch, a family from the church I attended during college in St. Augustine was there, and she saw me across the restaurant and came to say hi. Such a small, crazy world!)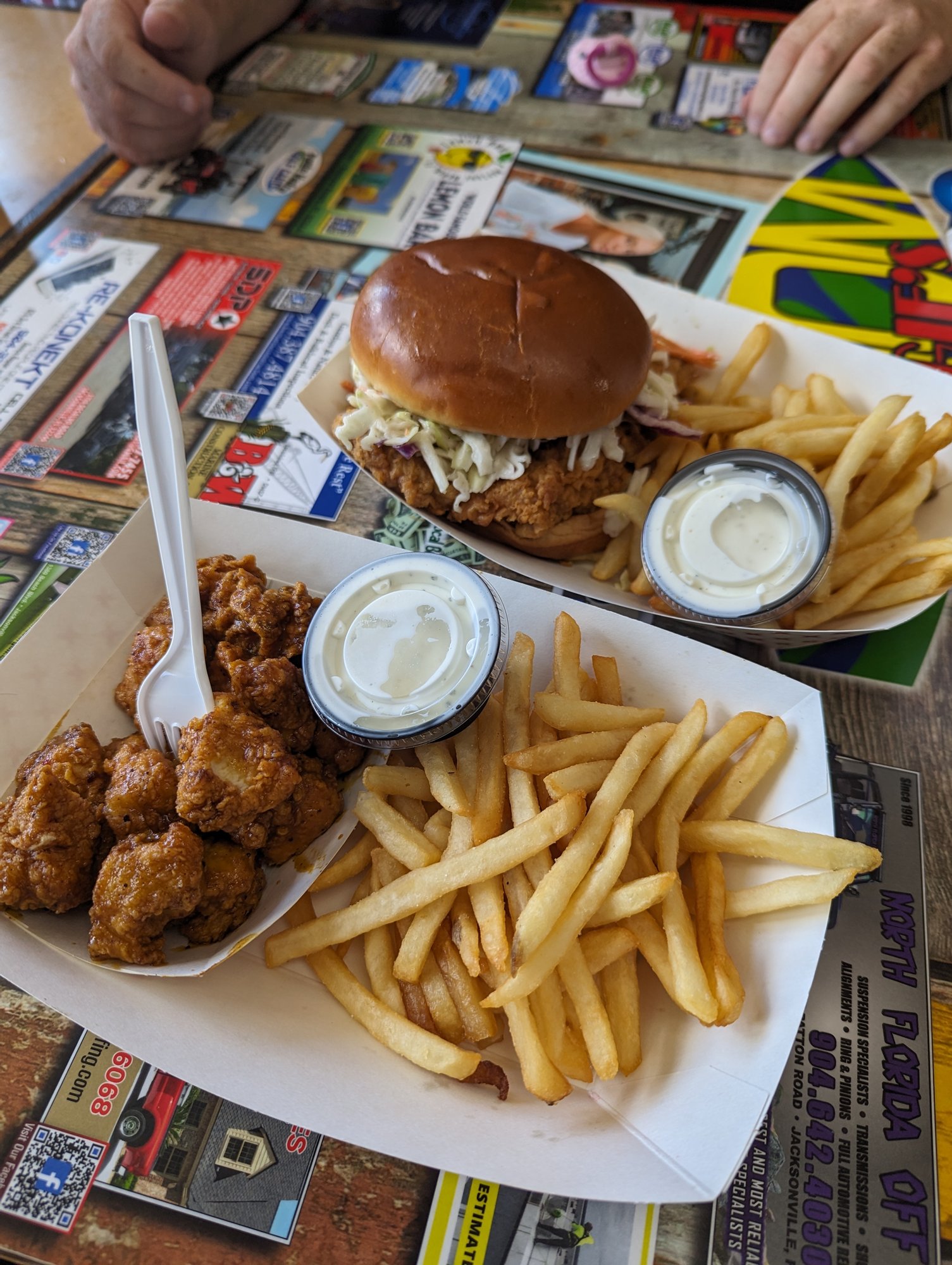 Then it was finally time to hit the beach! The rain clouds from earlier this morning had cleared up, and it was an absolutely beautiful, hot, sunny day. The waves were crazy though, and the undertow was super strong. Addison ended up being afraid of the water, but loved the sand! But Emerson loved it so much and had the best time jumping over the waves and running in and out of the surf.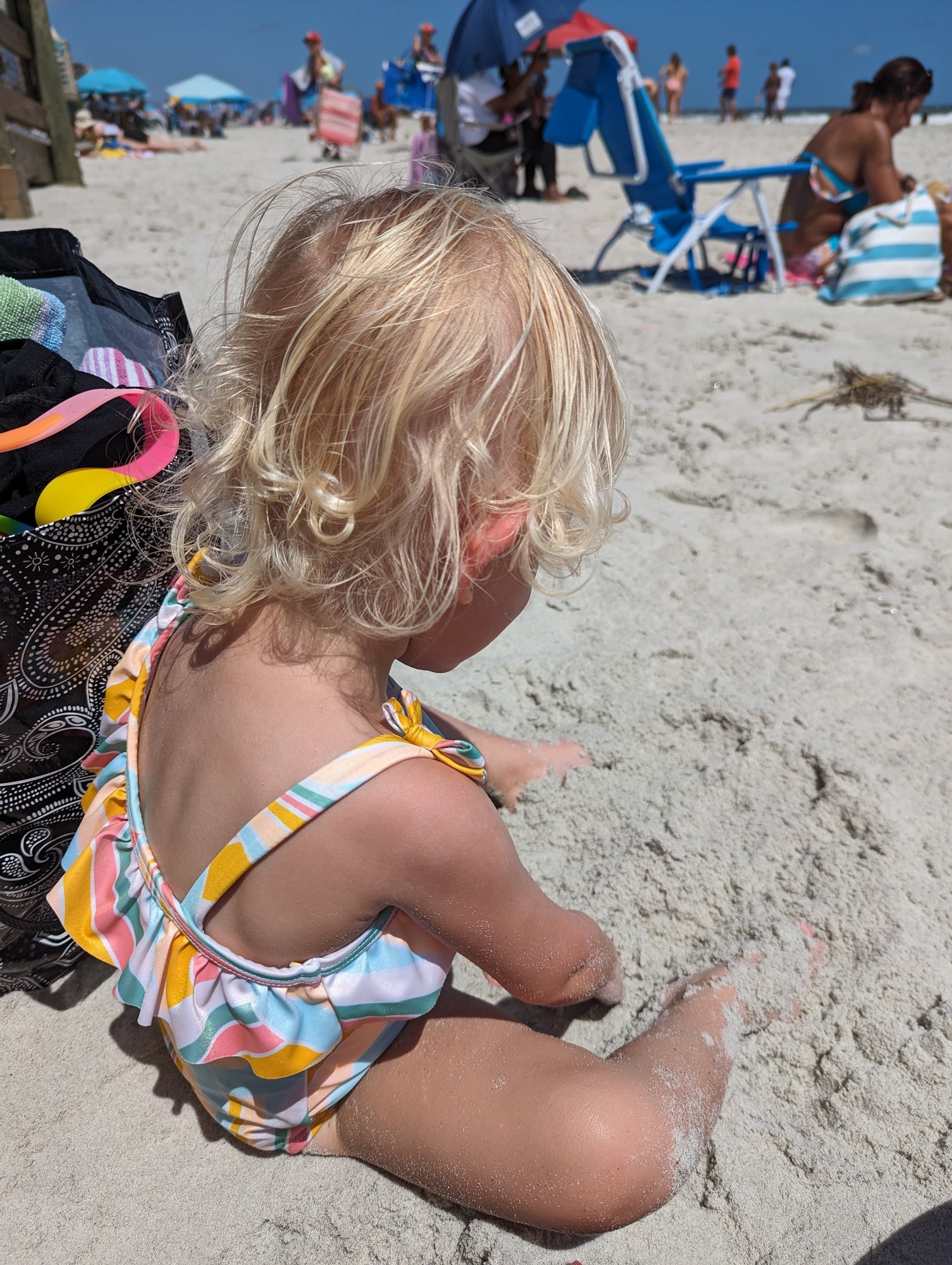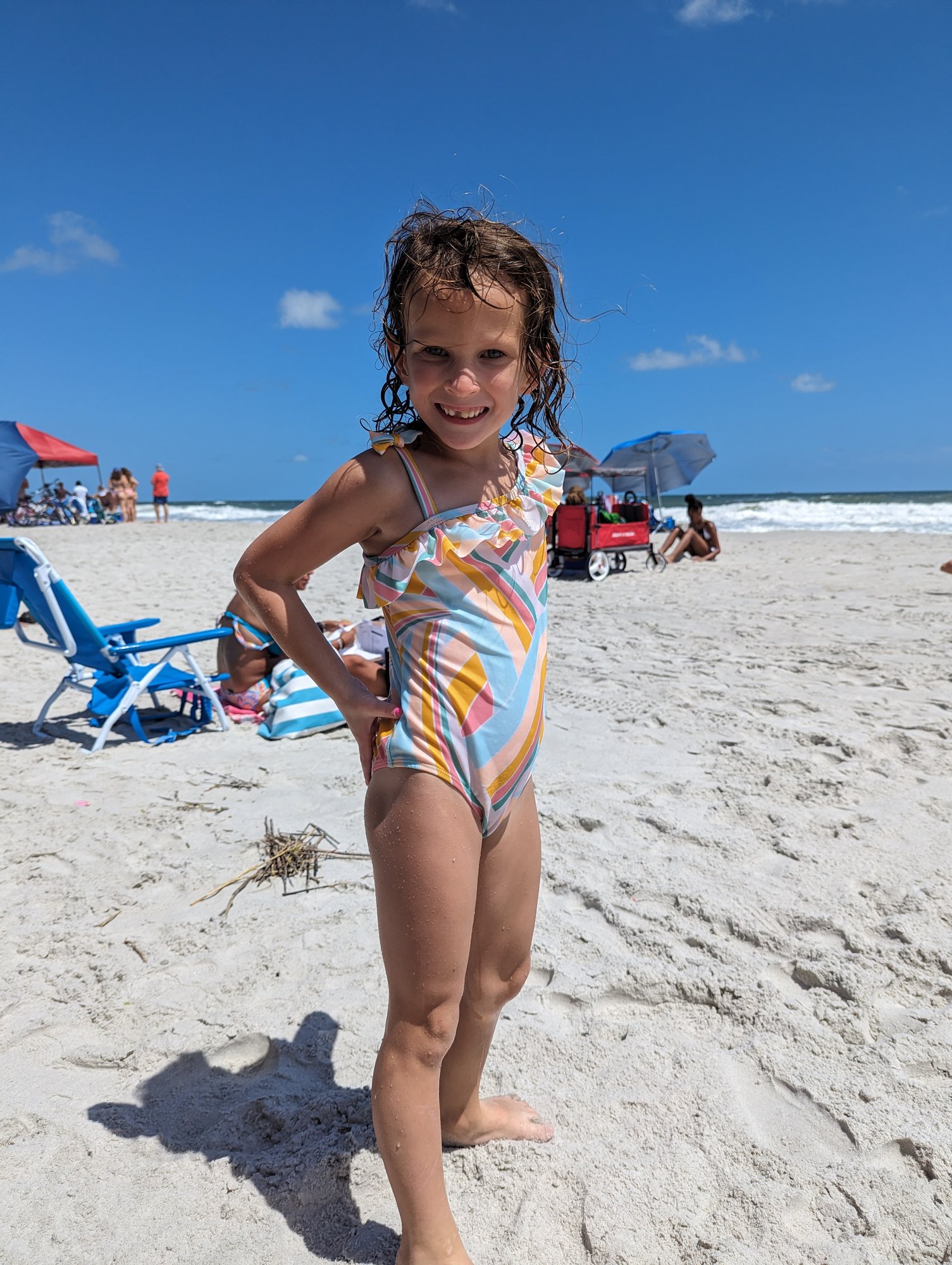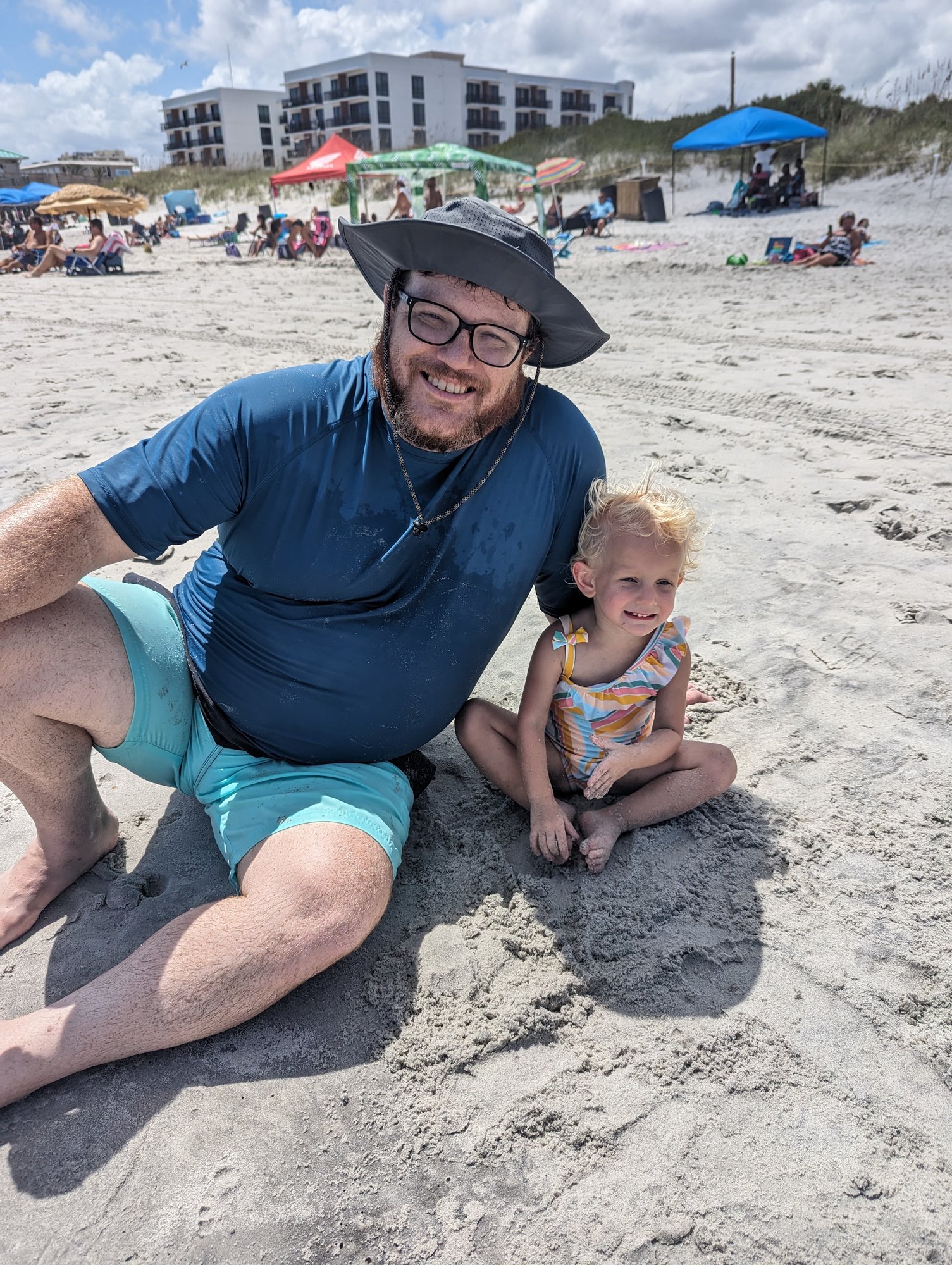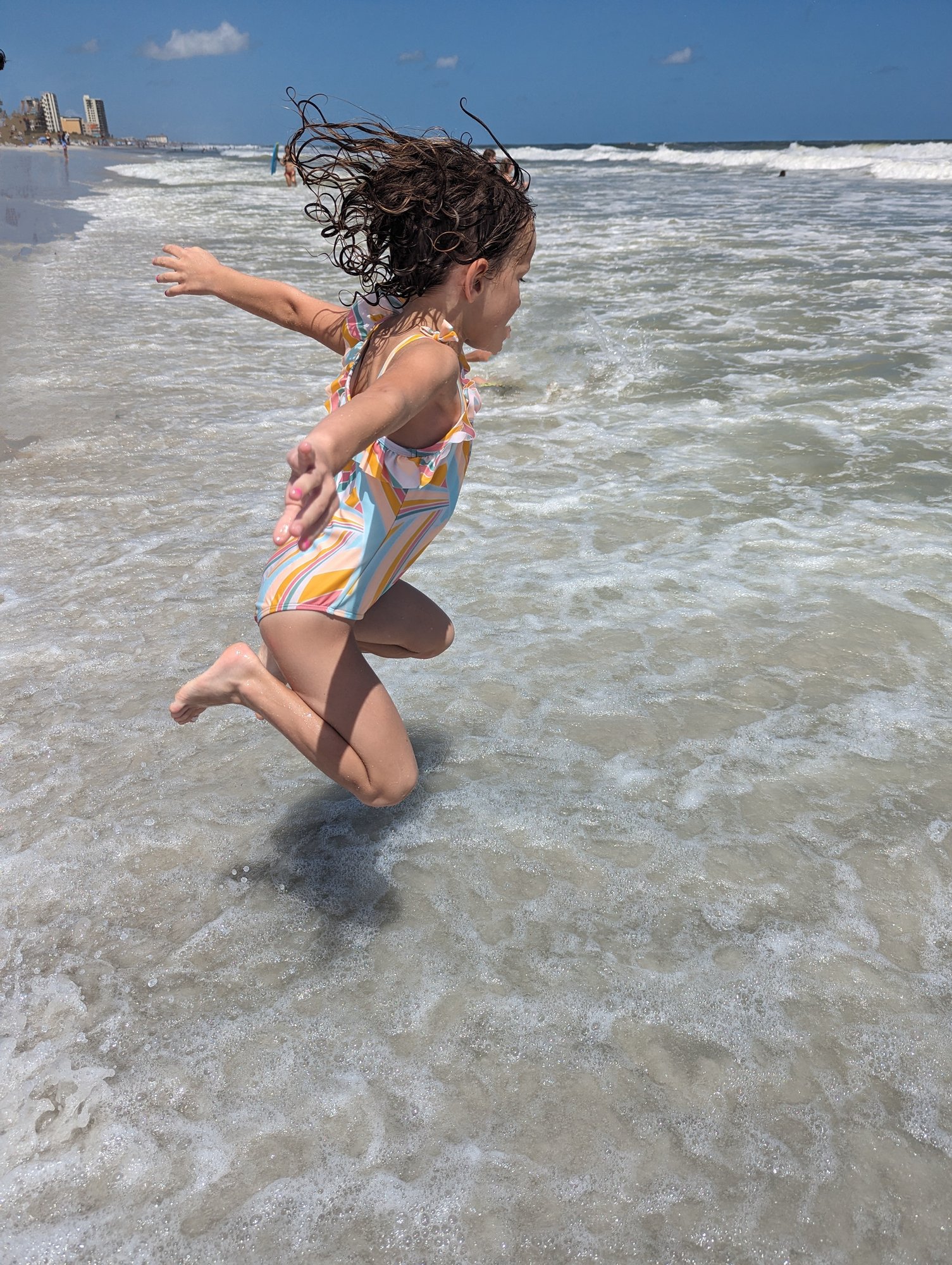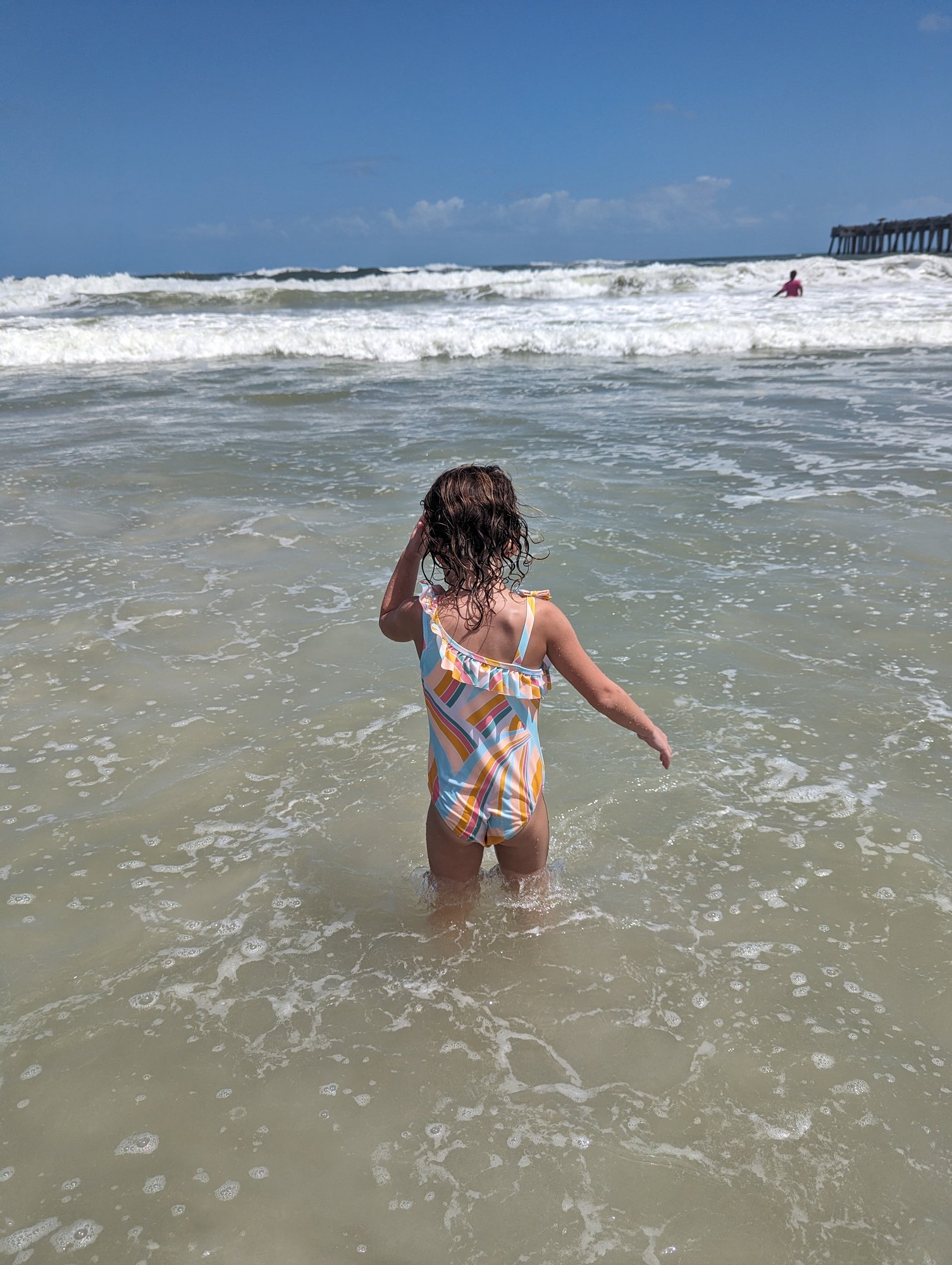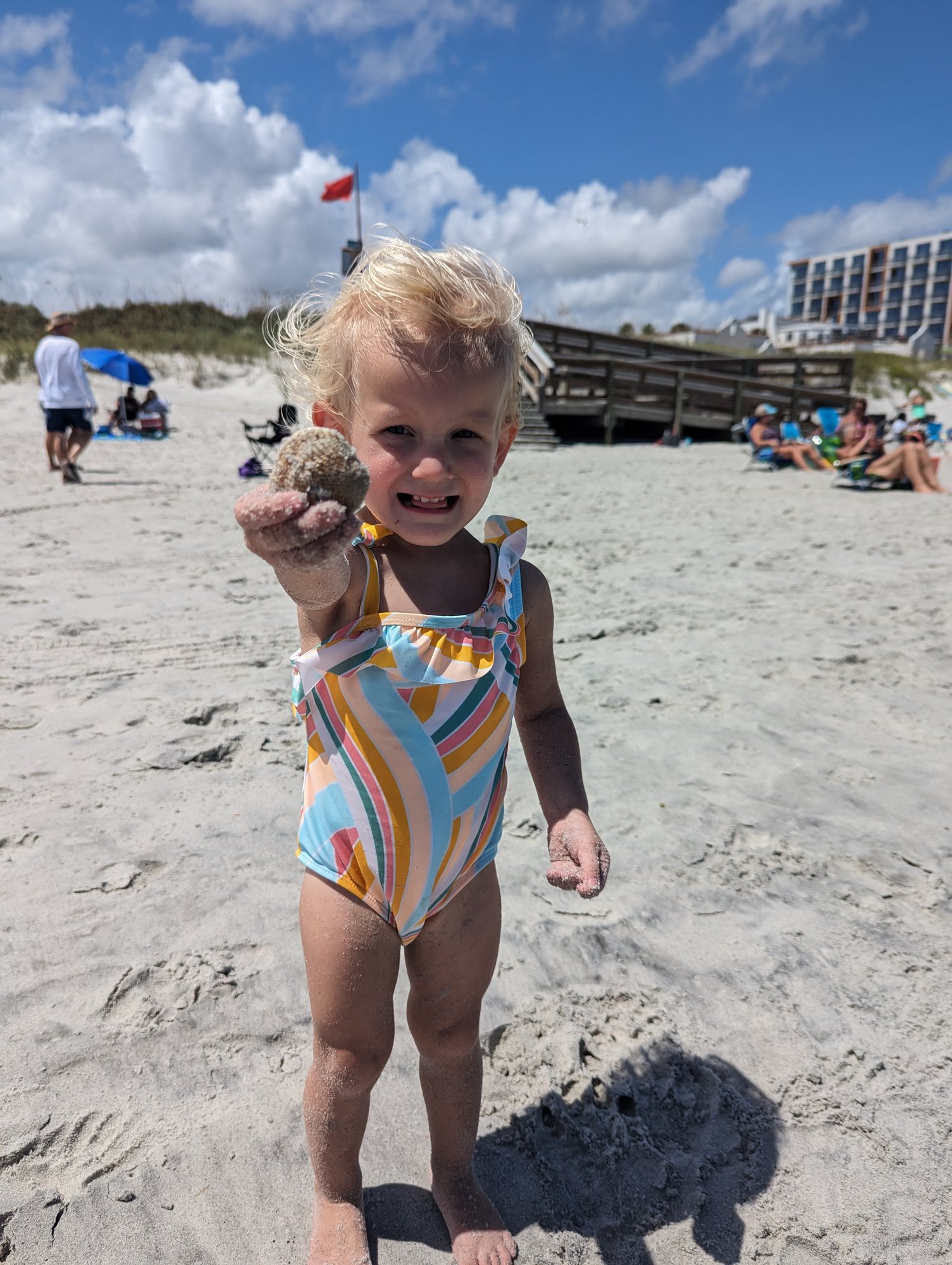 We used the little outdoor "shower" at the beach to rinse off as much sand as we could, got changed into some dry clothes, slurped down a ton of water and busted out food from our snack bag, and hit the road. We drove through downtown Jax one last time on our way out of town, and after a stop for gas, both girls fell asleep about five minutes after that. They slept for about an hour or so, until we made our obligatory stop at the Busy Bee in Live Oak.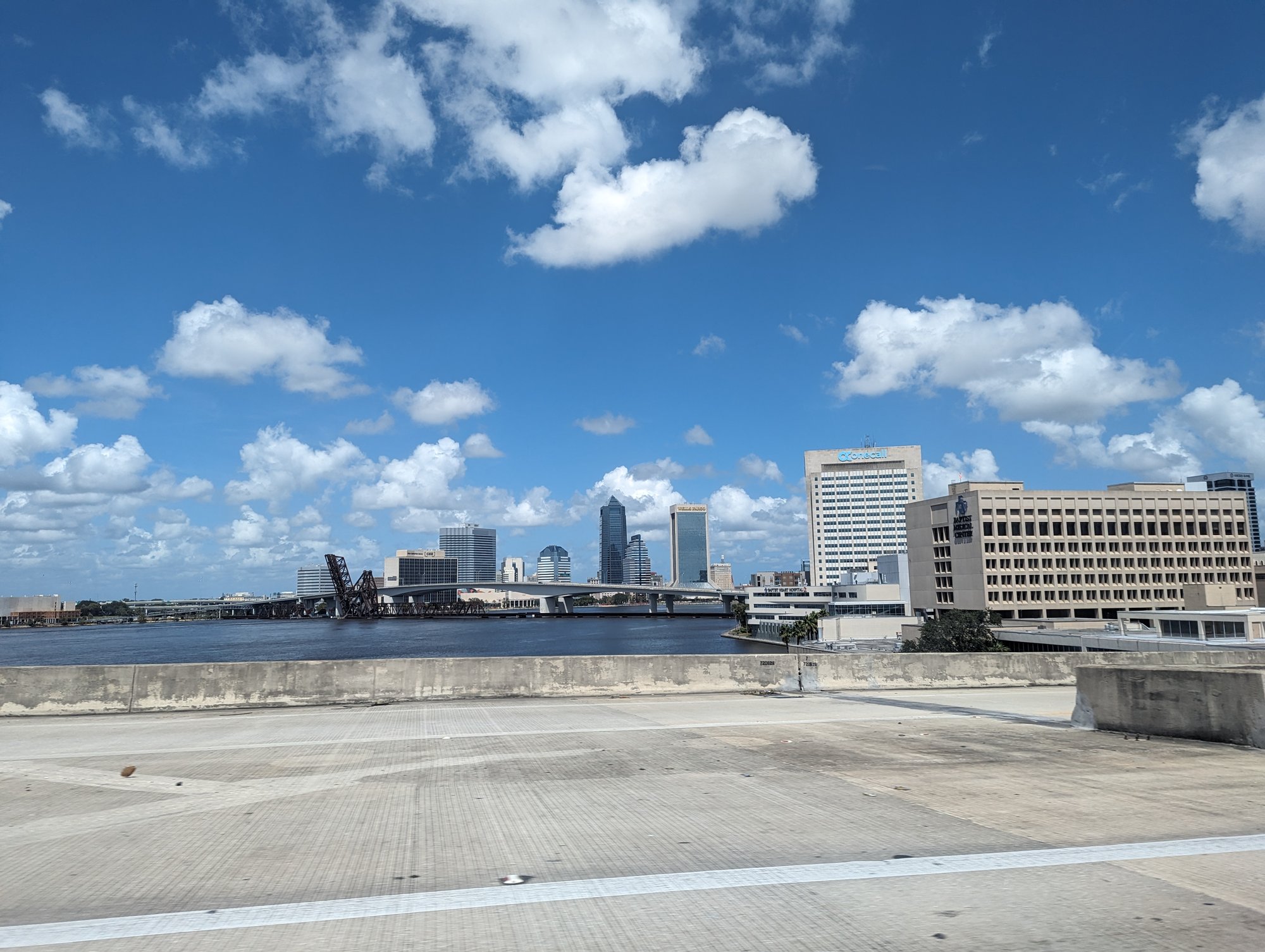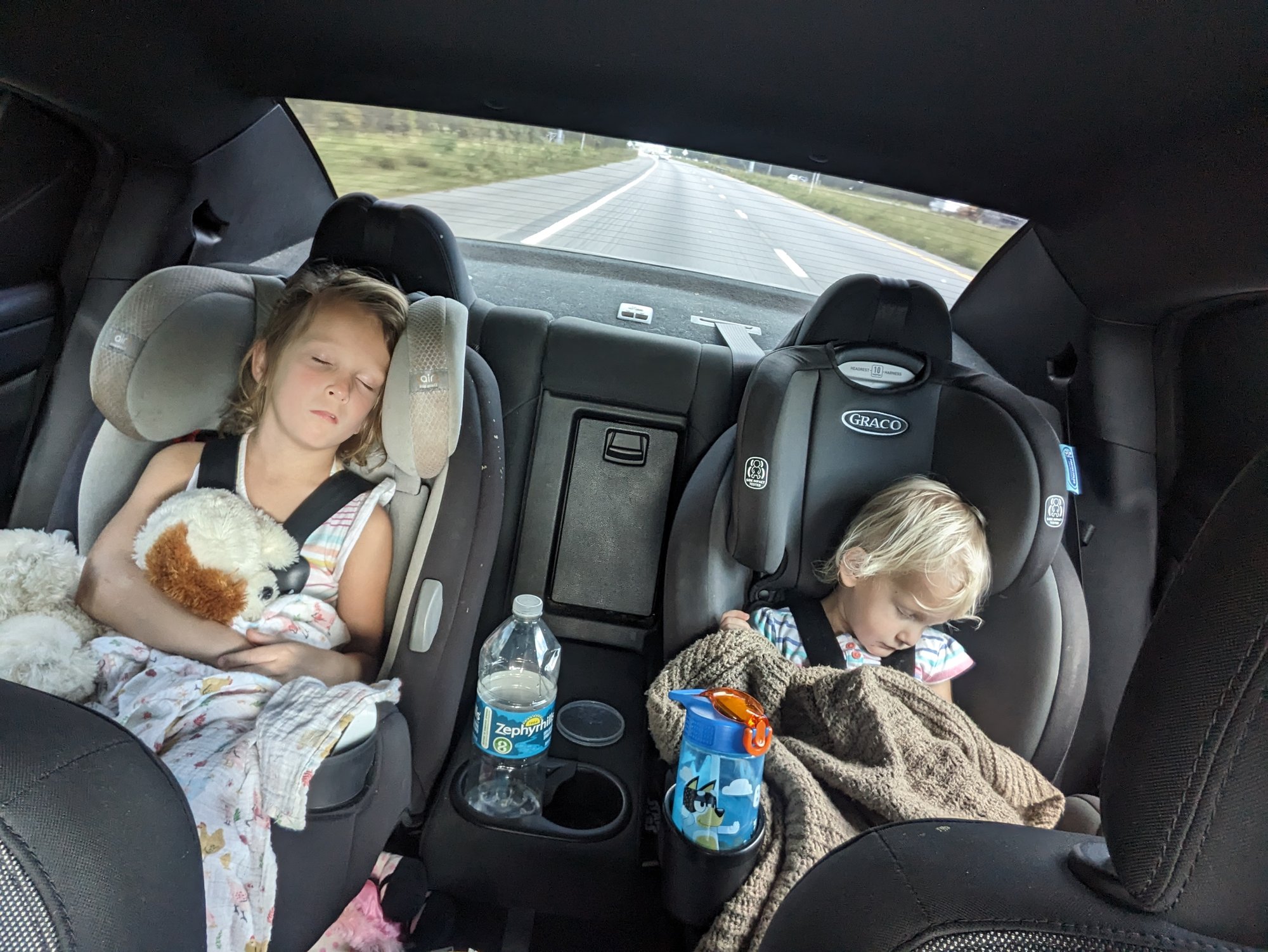 We made it home right at 5:30pm,and after getting the car unpacked quickly, the girls made us stay outside to watch them on scooters for 30 minutes, while we were dripping sweat just sitting there.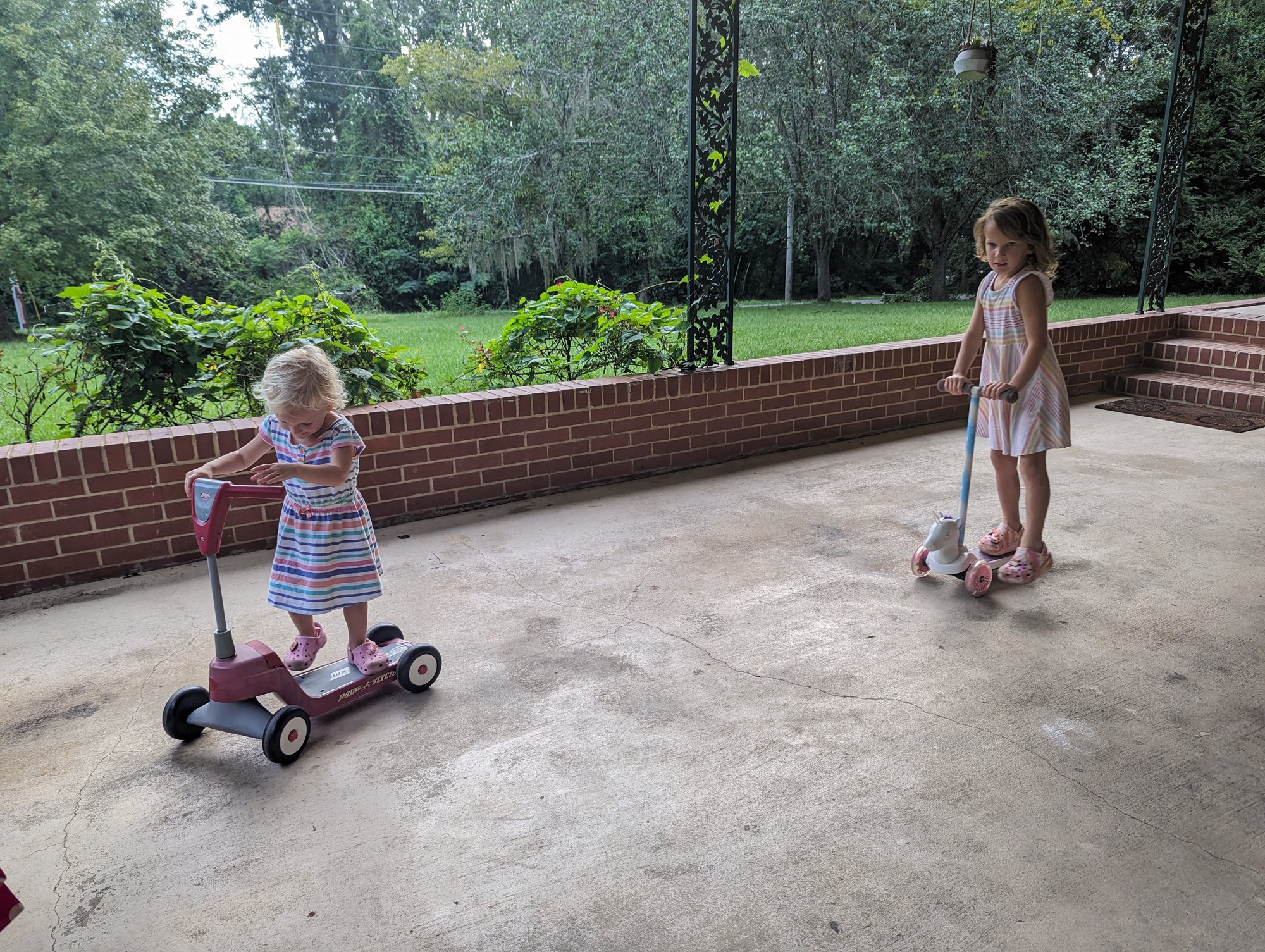 Jeff's parents stopped by really quickly to bring Pretzel back to us (Jeff took him over there the other day so he could stay with them while we were out of town), and then we got Jimmy John's for dinner. (We had some food here I could have scrounged, but I had literally no interest or energy for that.) Then we all took turns getting a bath or a shower, to wash off the sand, salt, sea, sweat and sunscreen from the beach. Everyone was tired and ready for bed, so we did some snuggling on the couch, and the girls both had a snack, and then bedtime went very easily.
It's taken me like an hour and a half to cull our 200+ photos from the weekend down to this 40-ish, download/upload, and write this post, which is definitely way longer than a normal day takes. But we had such a great mini road trip getaway, and I'm so glad we could take this tiny family vacay!