It is now late-ish Monday night, after a very full, very great weekend away with my little family. We packed in as much fun as we could in just 2.5 days, and we've got the exhaustion to prove it! I also have about 60 photos for this one blog post, so prepare yourselves!
SATURDAY
After feeding Addie her first bottle of the day, we finished packing up our bags and the car, and got on the road sometime around 8:45ish.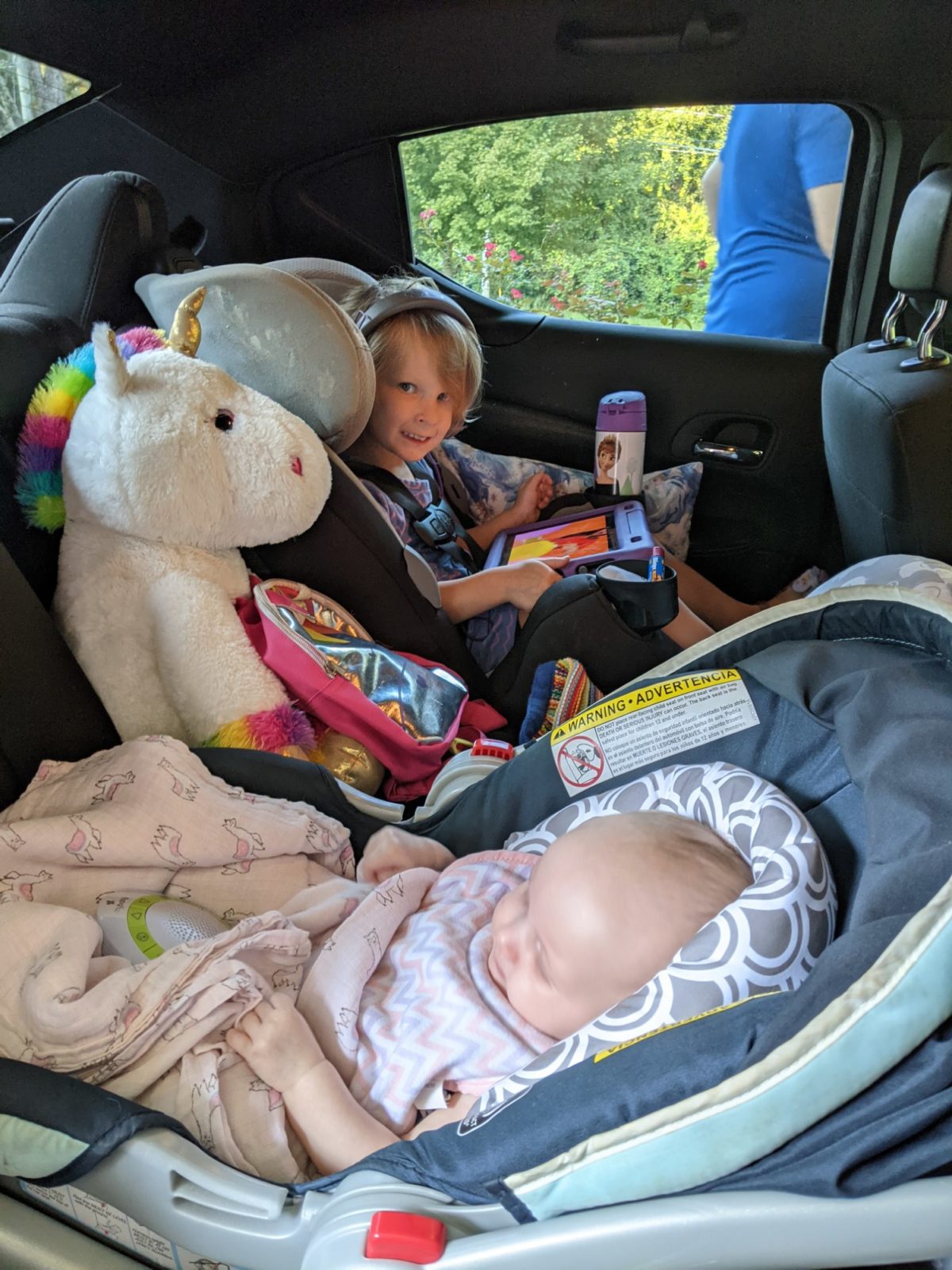 The drive went well, with one stop at the Busy Bee for a potty break, and then we made it Jacksonville just in time for lunch! I had spent some time researching and gathering recommendations of restaurants ahead of time, so we had a list of places we wanted to try. Saturday lunch was at Hawker's Asian Street Food, and it was great. Fun place with a fun vibe (Emerson loved dancing to the 90's music), and good food.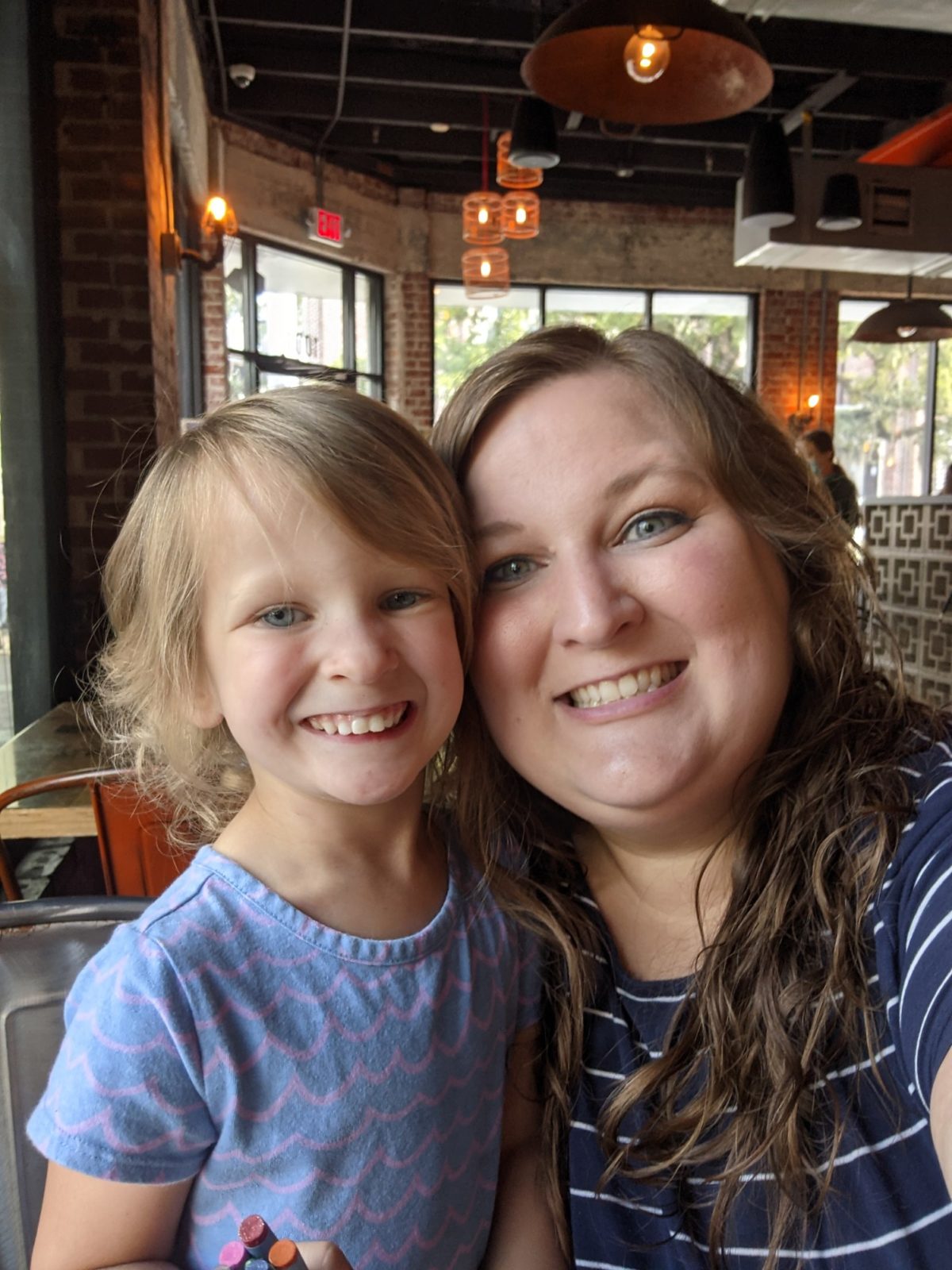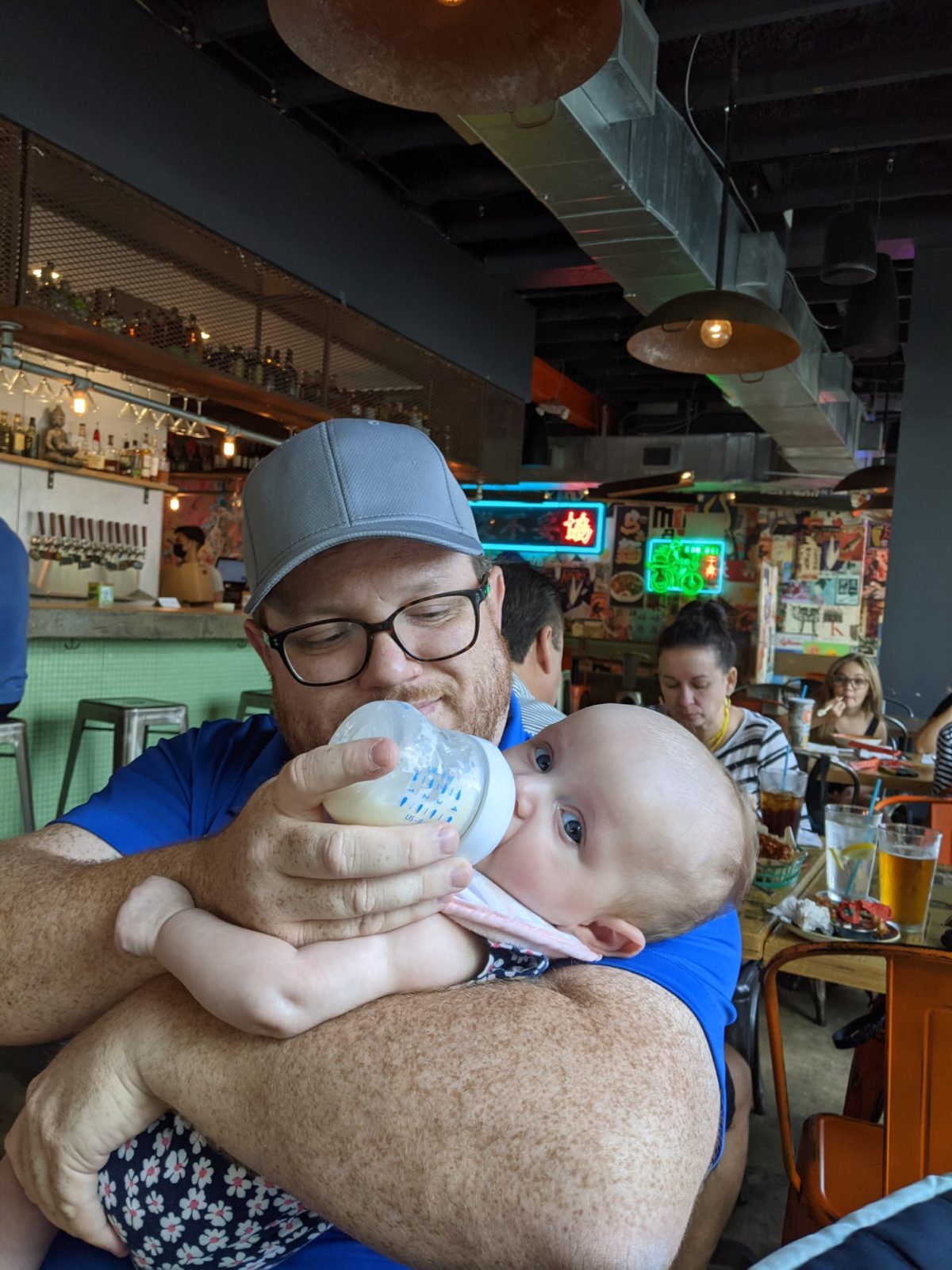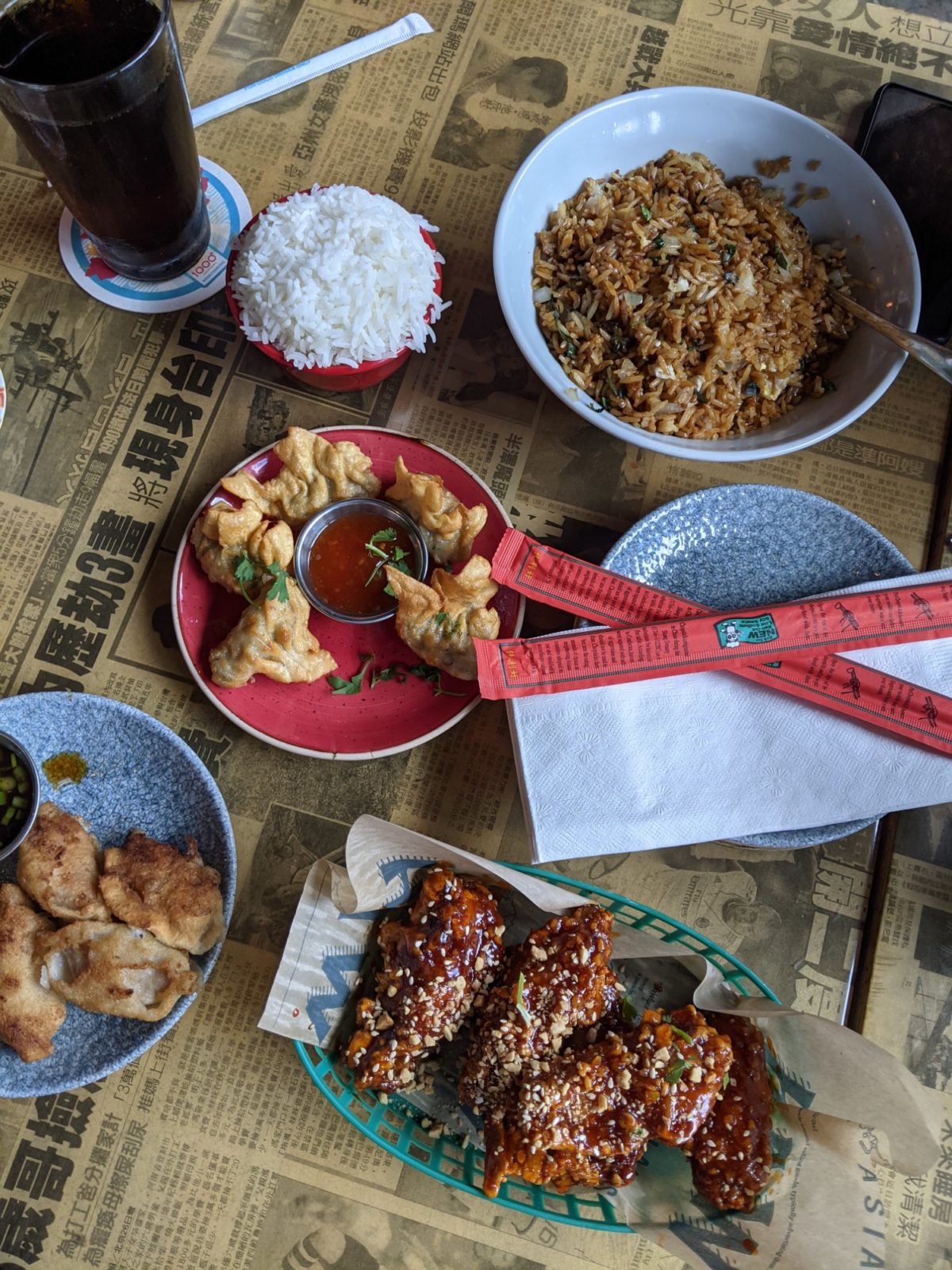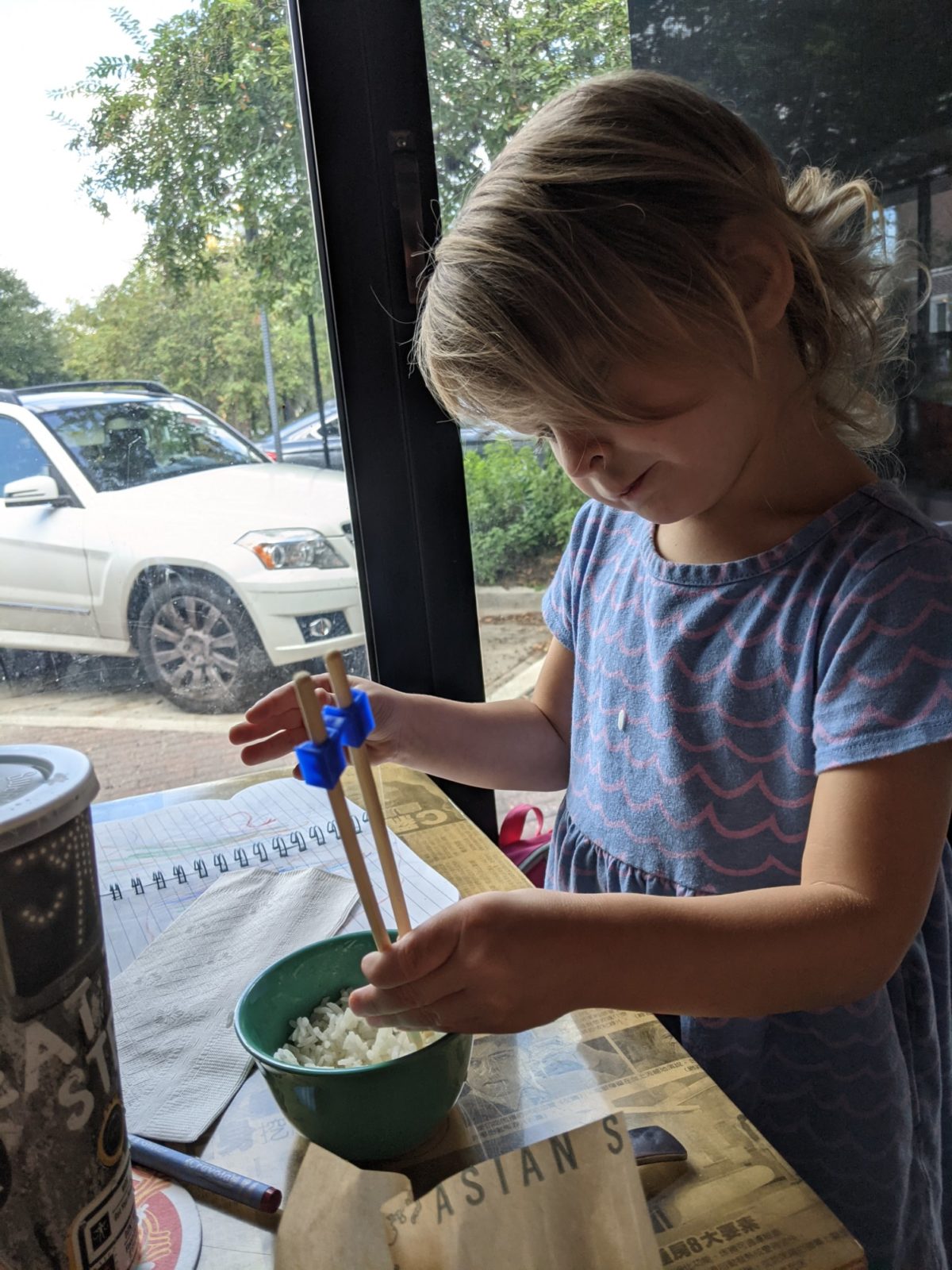 We walked across the street for Emerson to have some playground time, and then walked around Five Points just "sight-seeing" for a bit.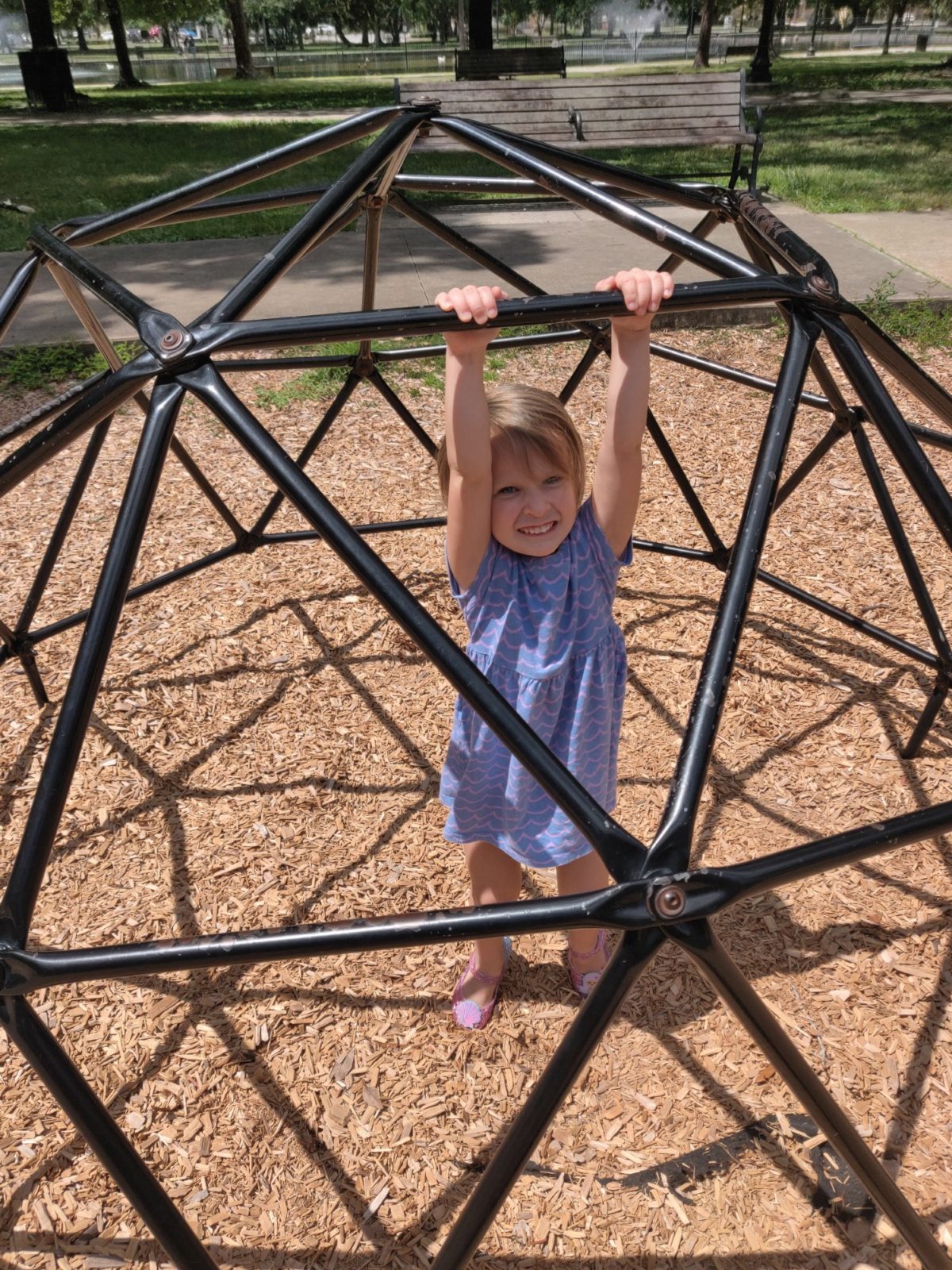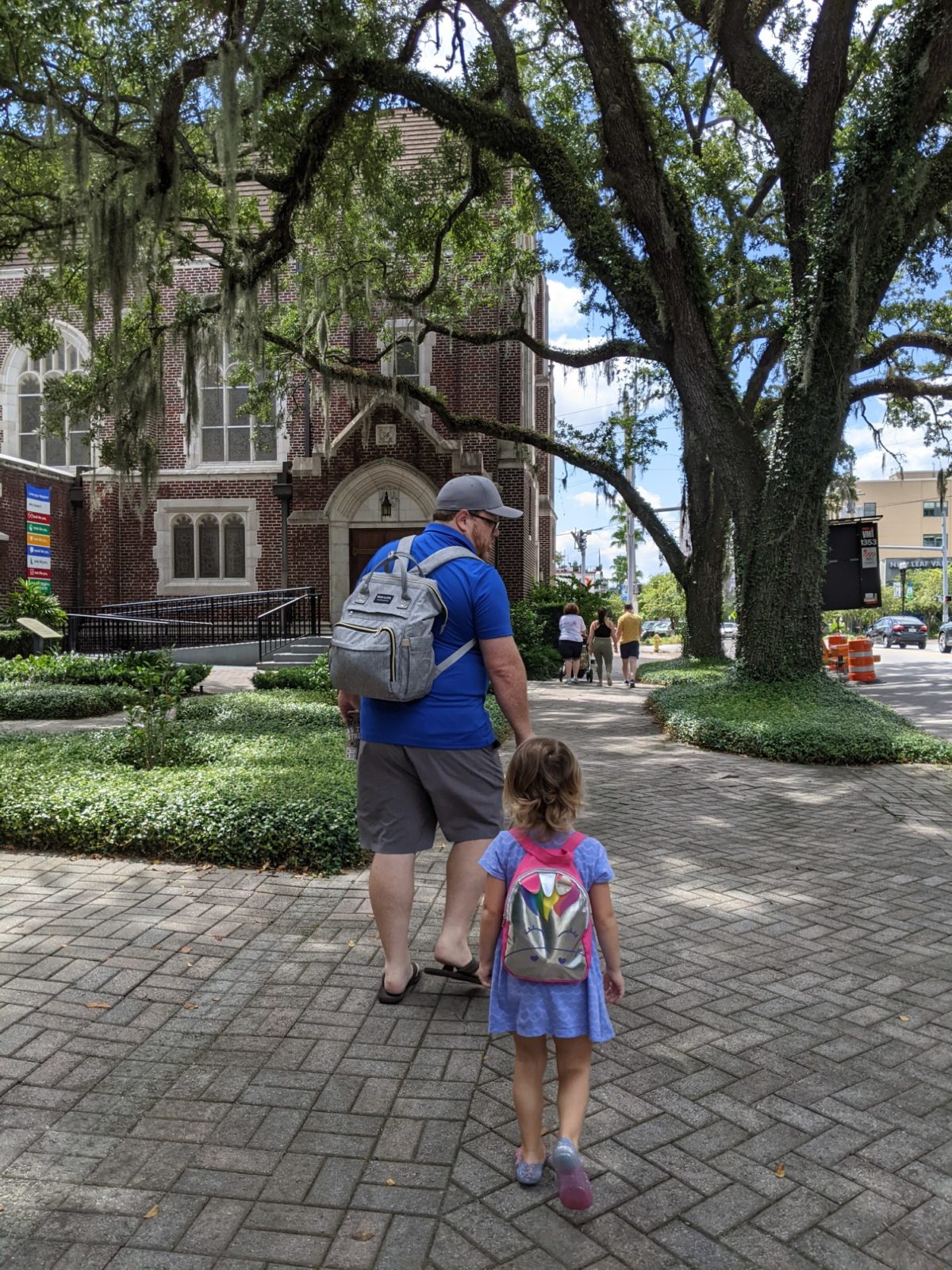 We got checked in at our hotel, took just a bit of time to rest and feed Addison again, and then we headed back out after just an hour or less.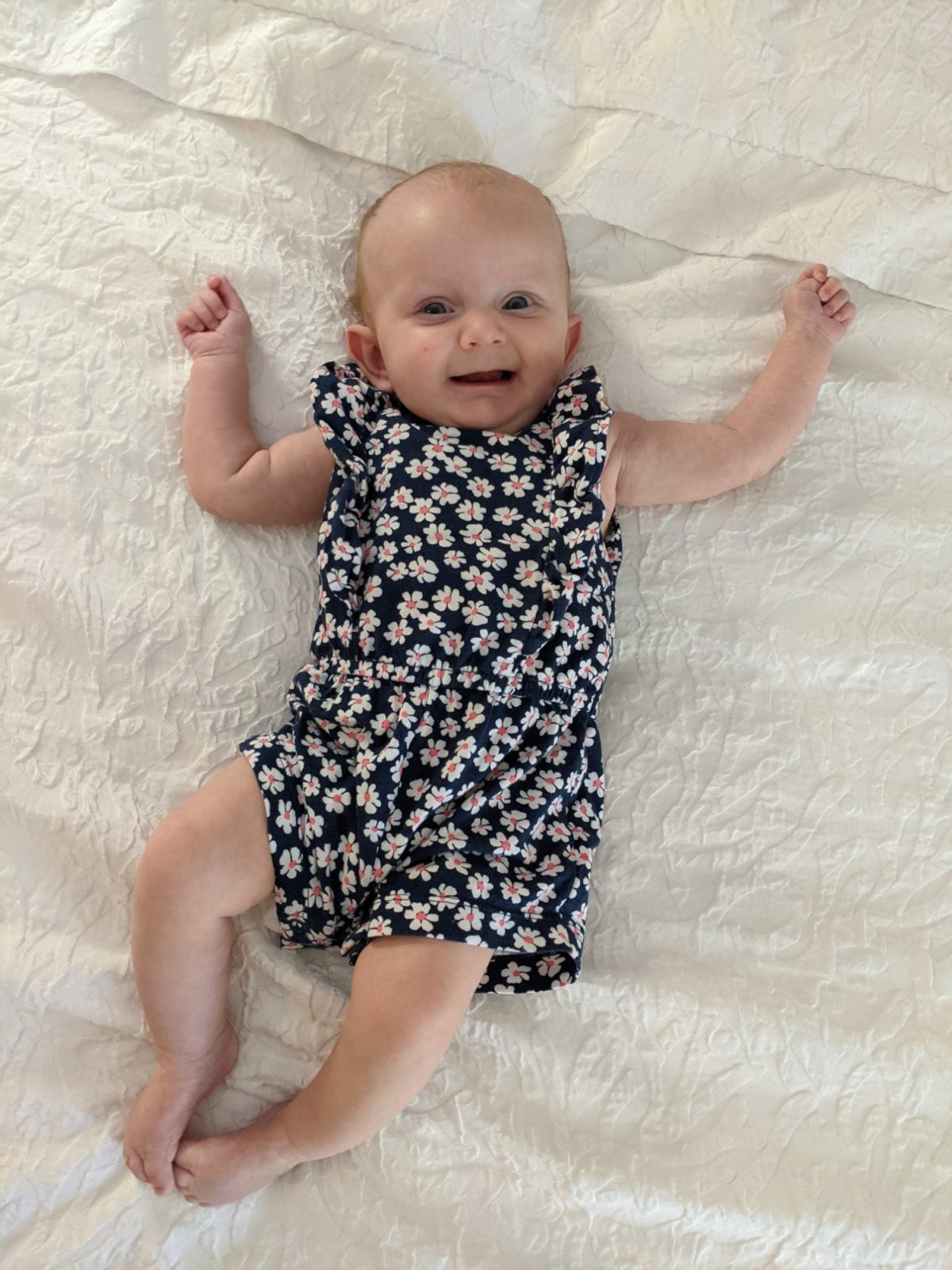 It was the first Saturday of the month, and that meant free admission at the Cummer Museum and Gardens. We stumbled upon this info by chance, and I was so glad we did! We rushed over to get there at 3, before they closed at 4, and an hour was really the perfect amount of time to just breeze through everything. I don't think I'd been to many art galleries before, but this one was incredible!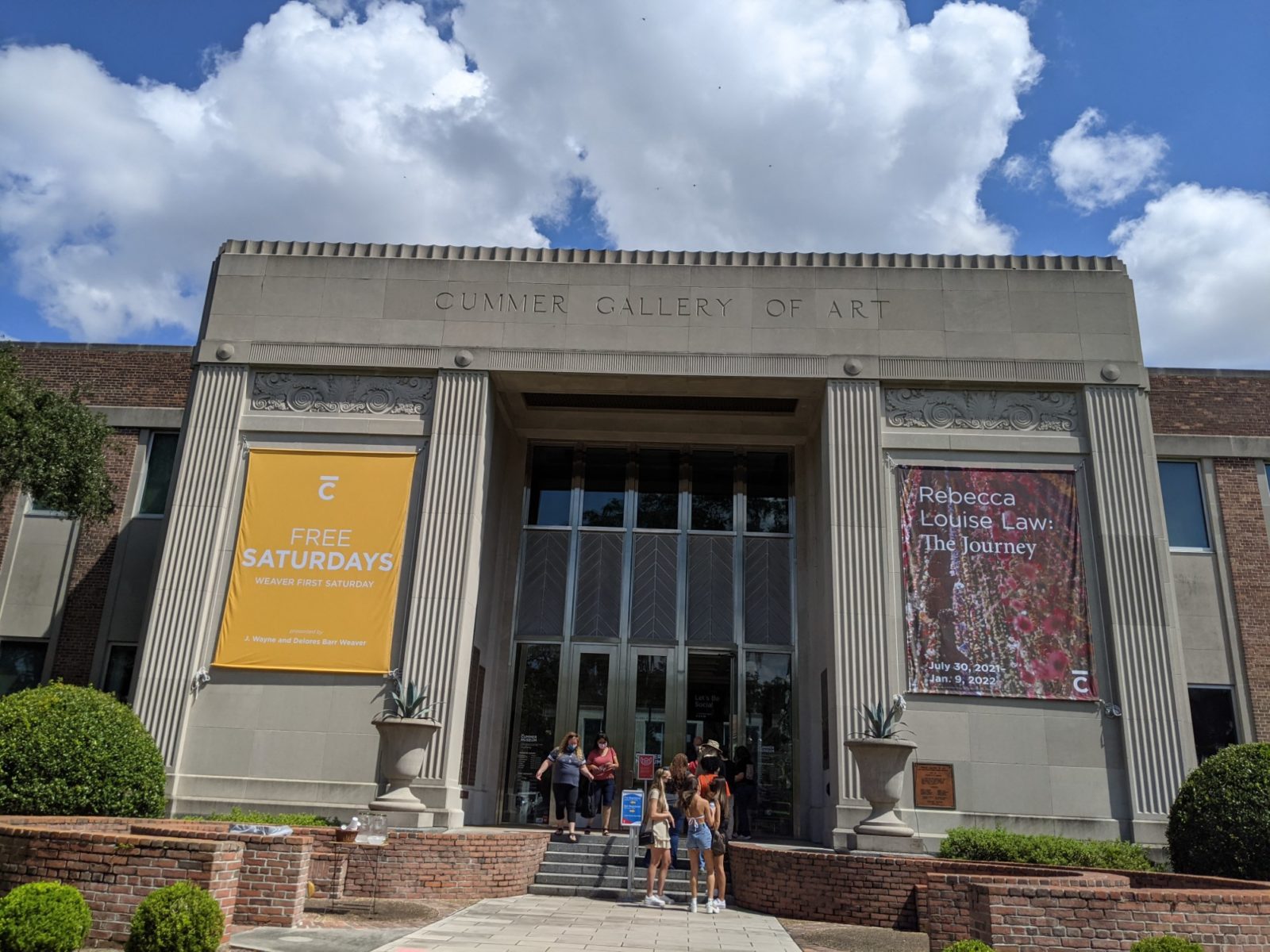 I loved this Tudor-home-style replica room…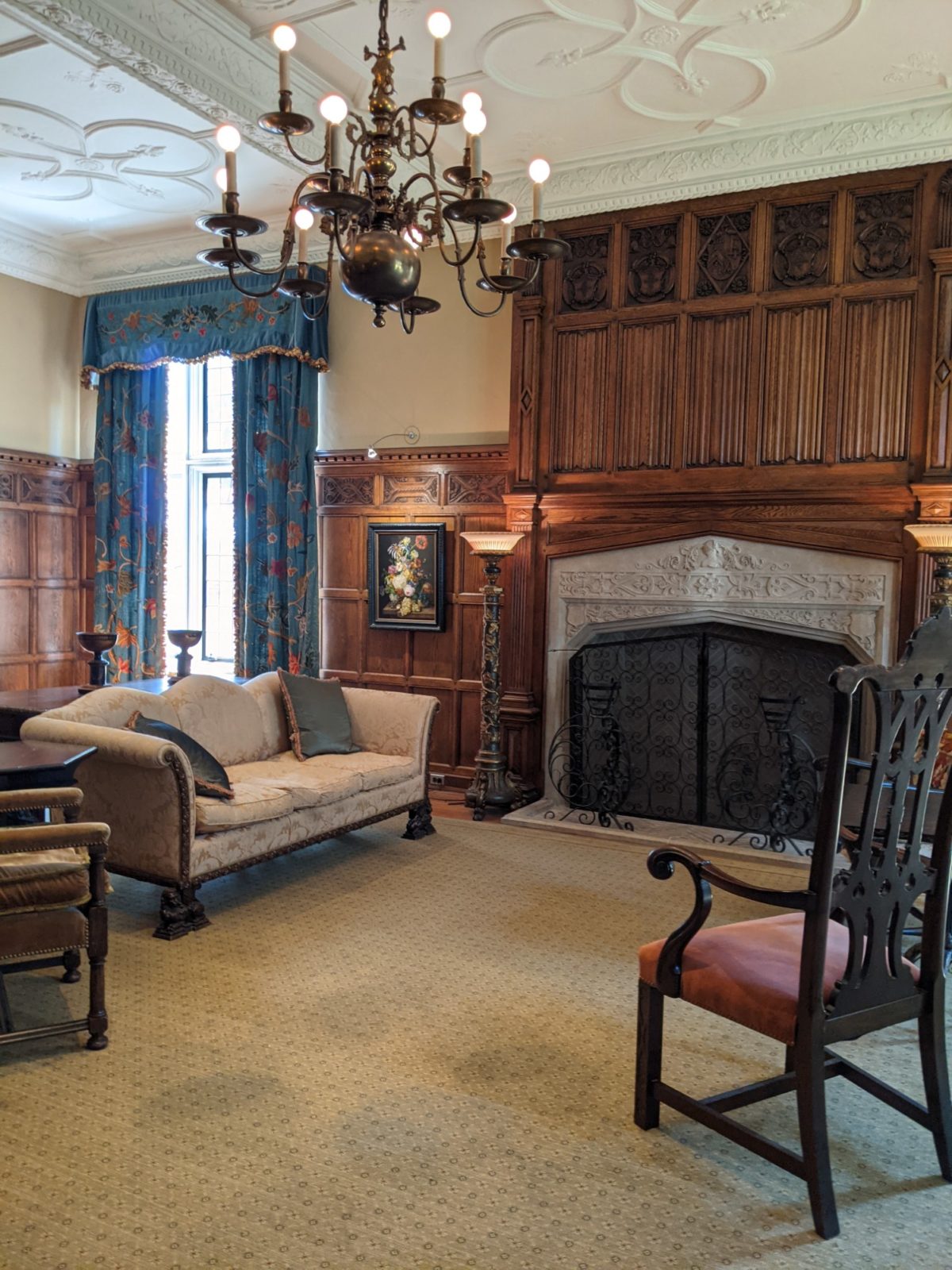 And all the old dishes and tea pots from the 1600 & 1700's, especially this adorable little turquoise tea cannister.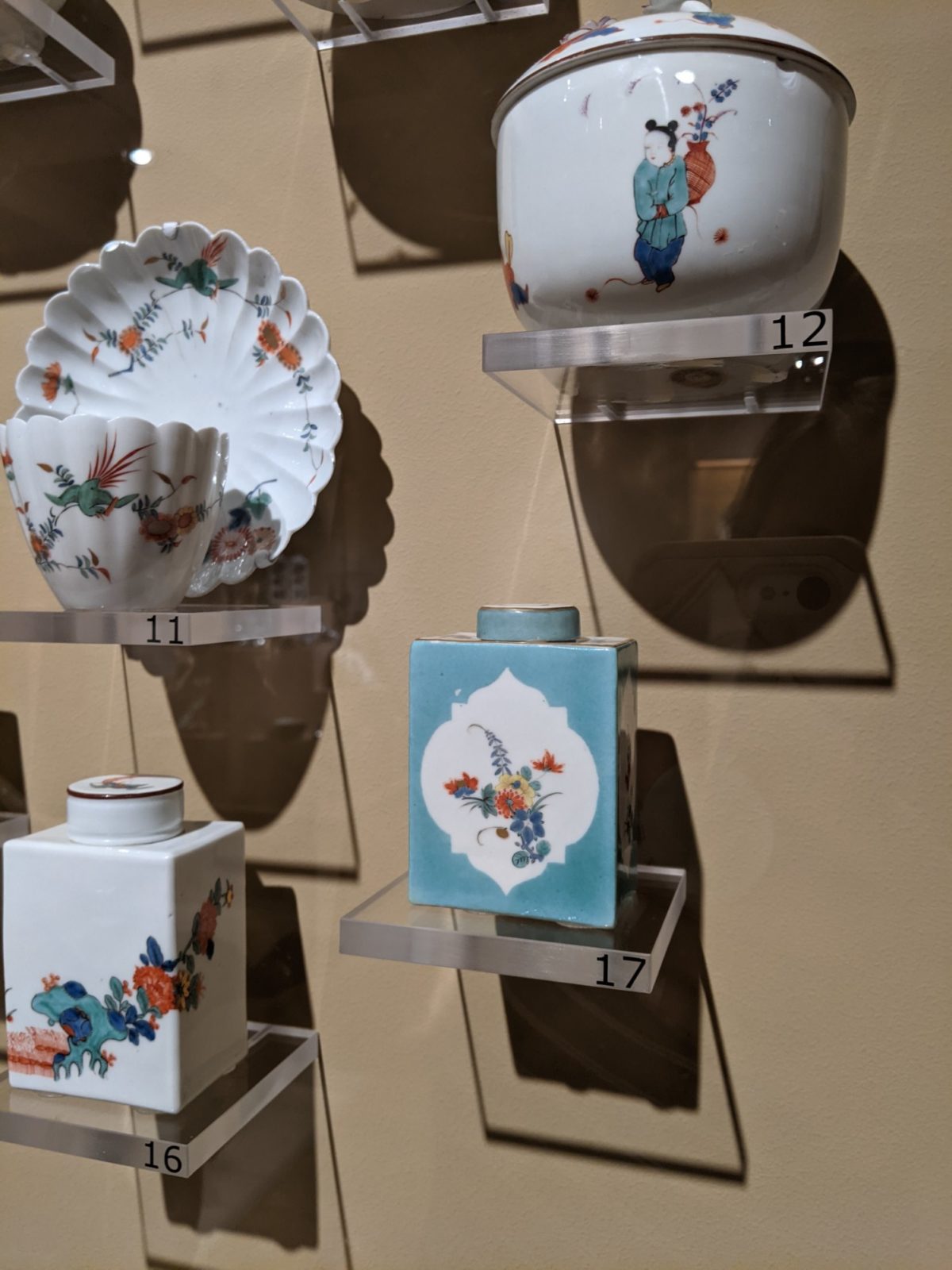 But my very favorite was this amazing dried flower display. There were two looooooong rows of these strands of very detailed, layered, dried flowers and grains and vines, and I just thought it was so beautiful. I loved it!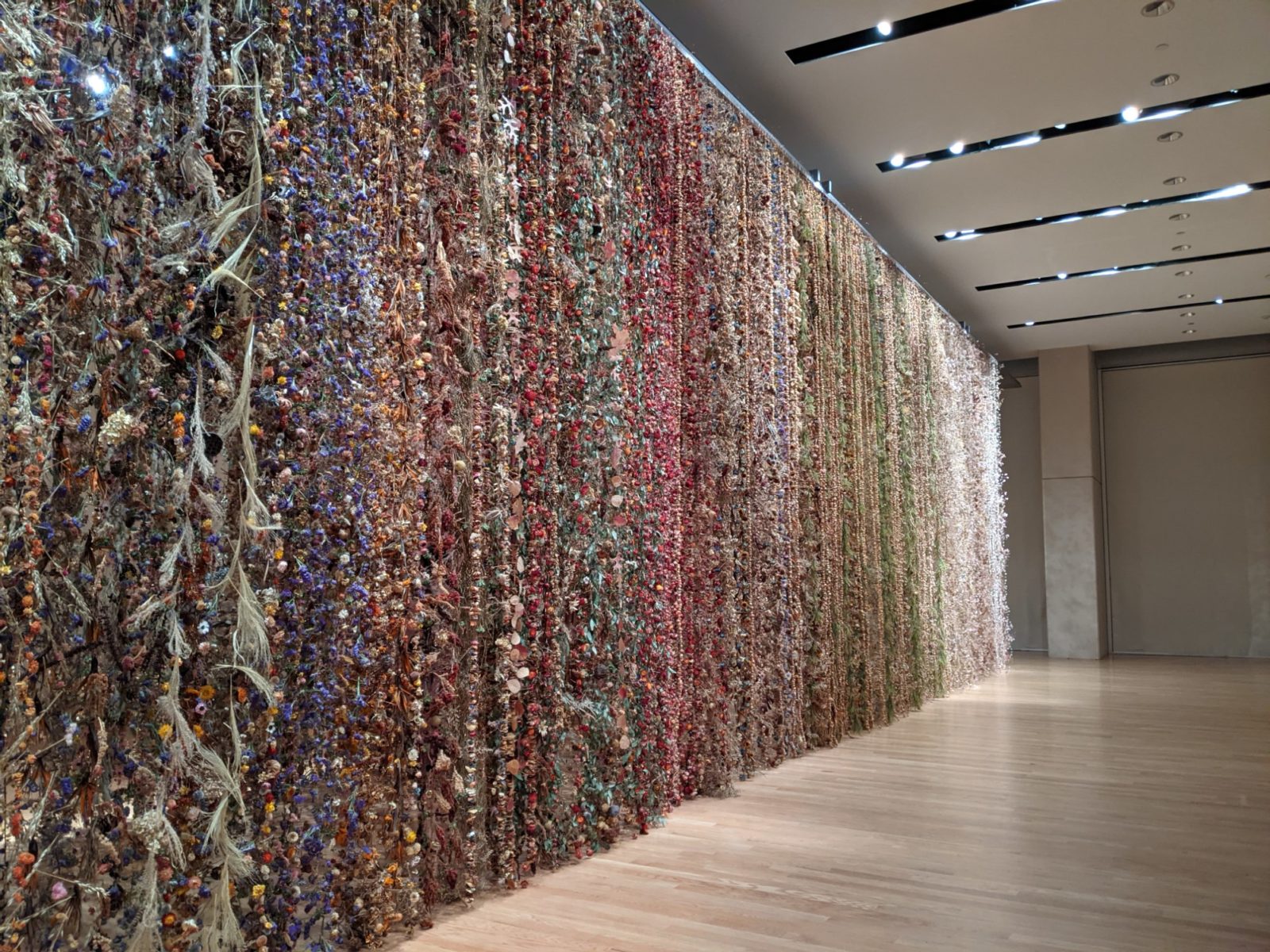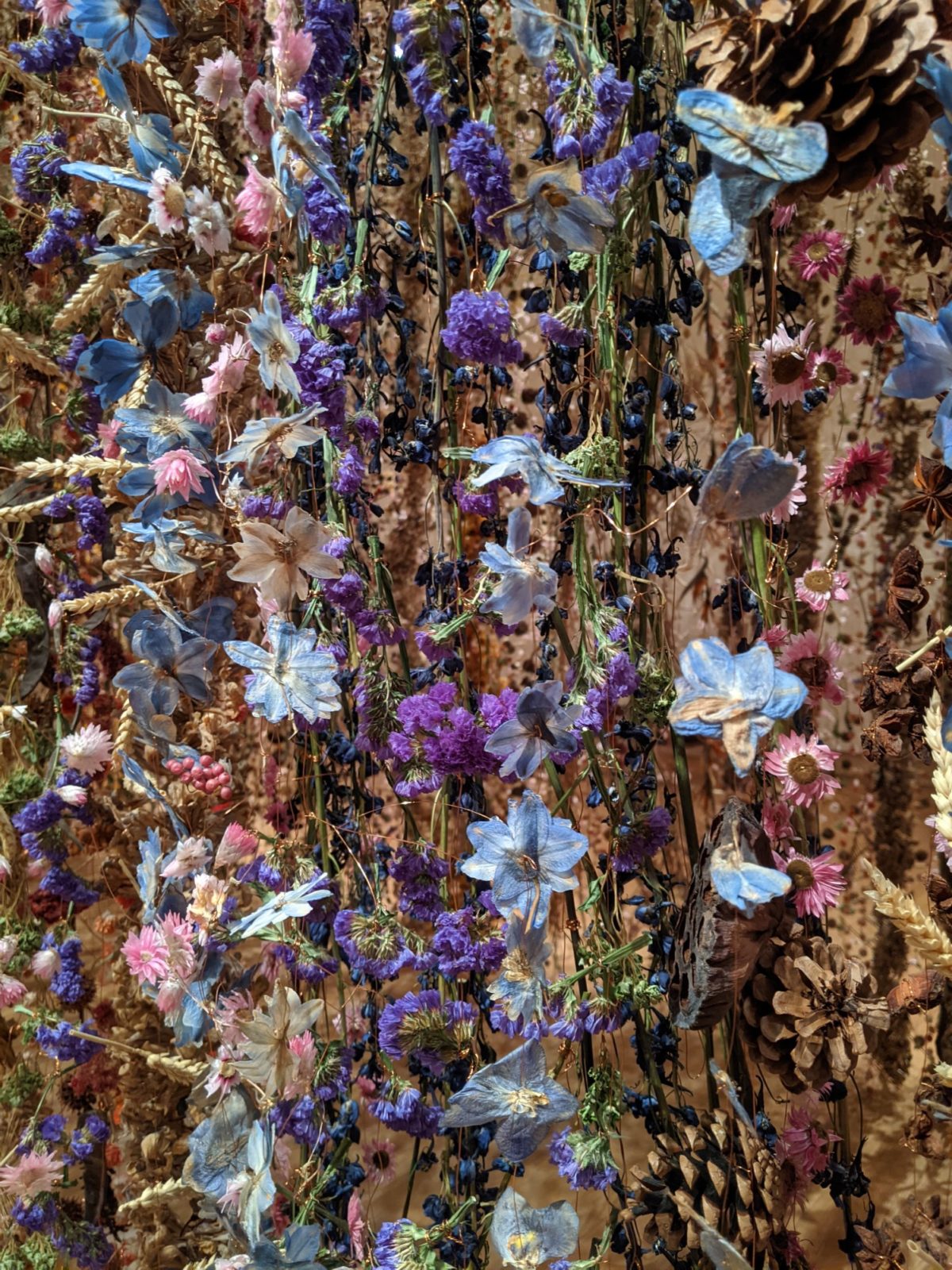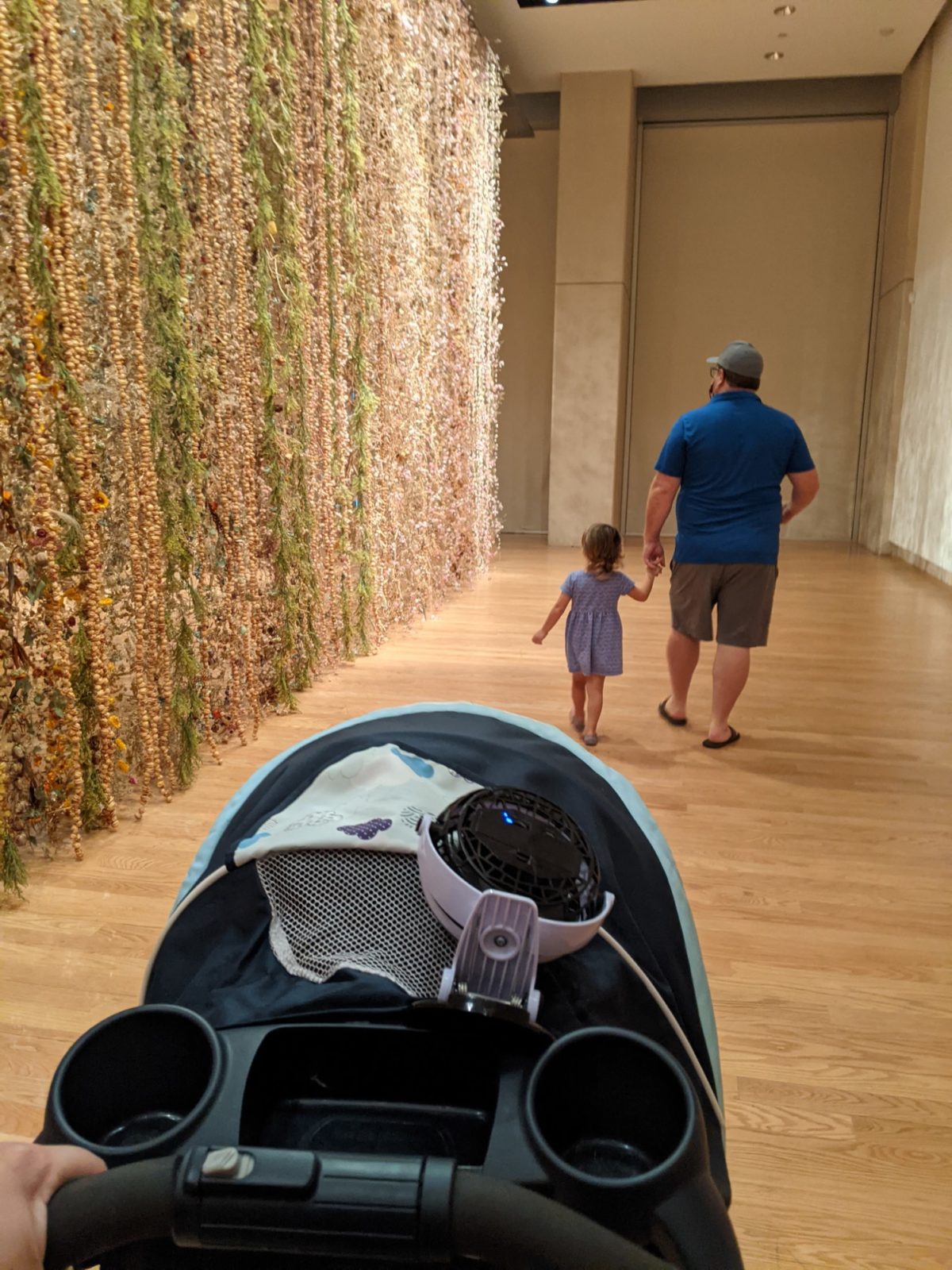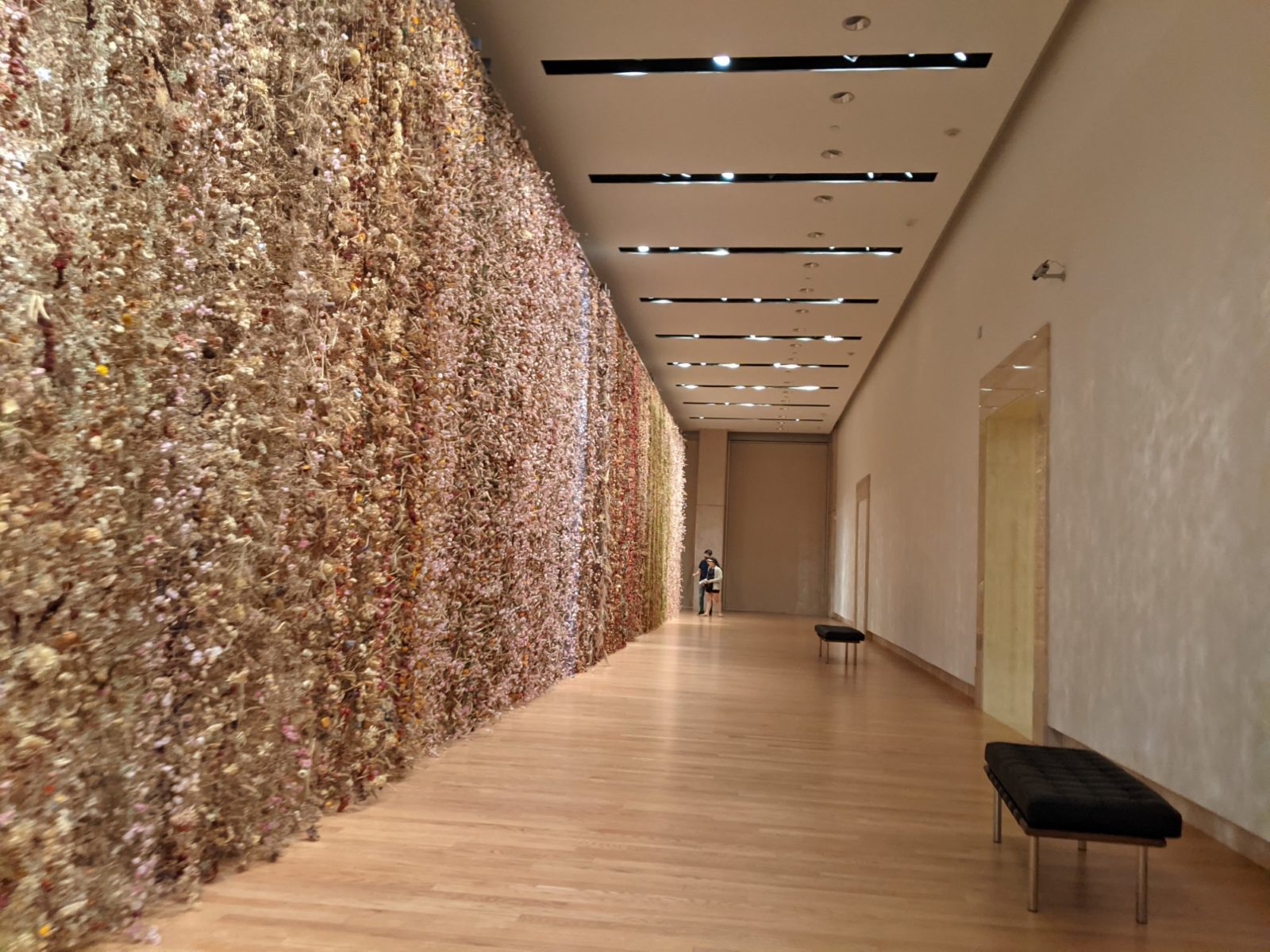 And then outside, it opened up into the most stunning gardens, right on the riverside. It was a gorgeous day. And we loved walking through the English and Italian gardens, and letting Emmie run wild in the large open area.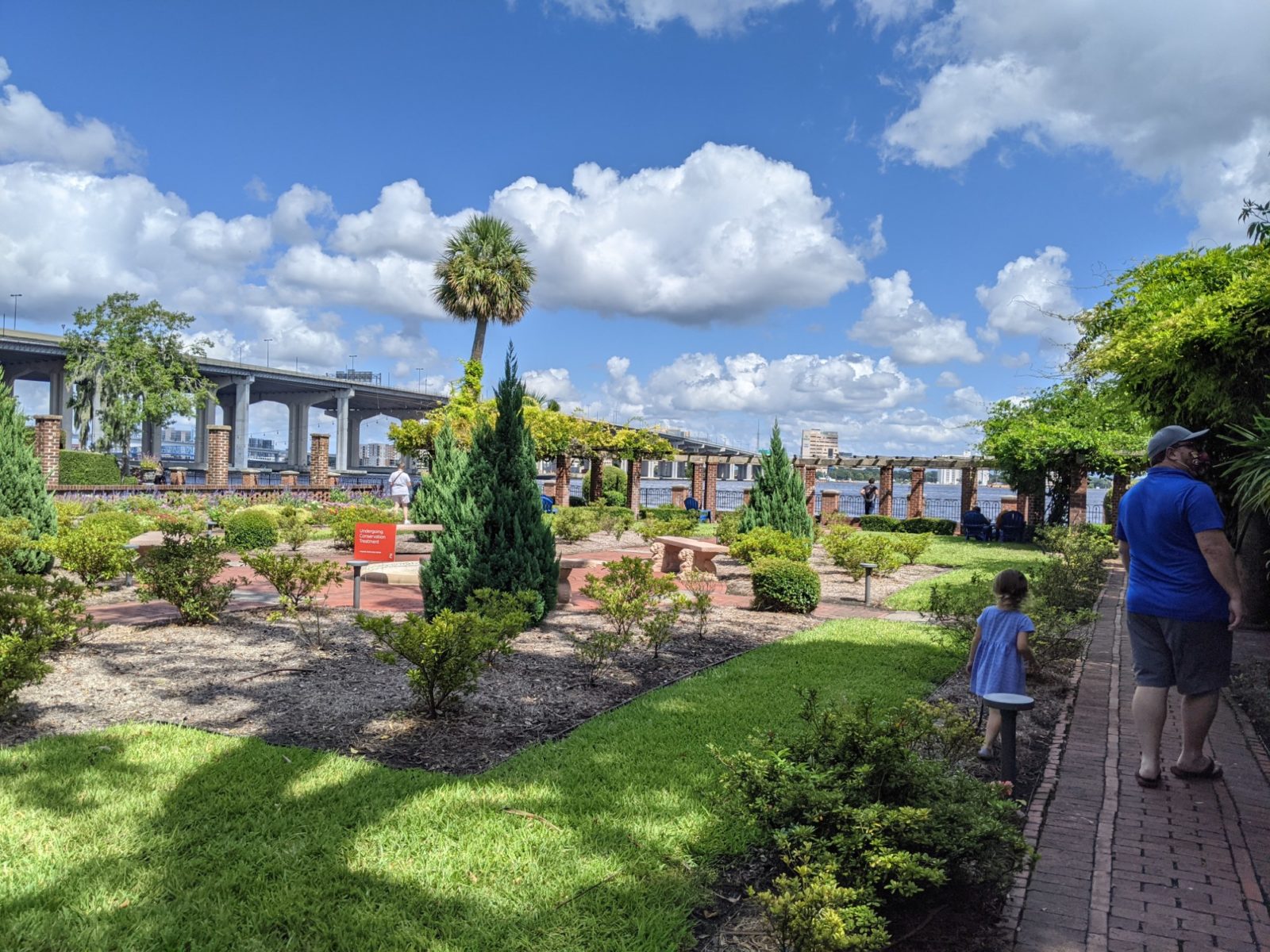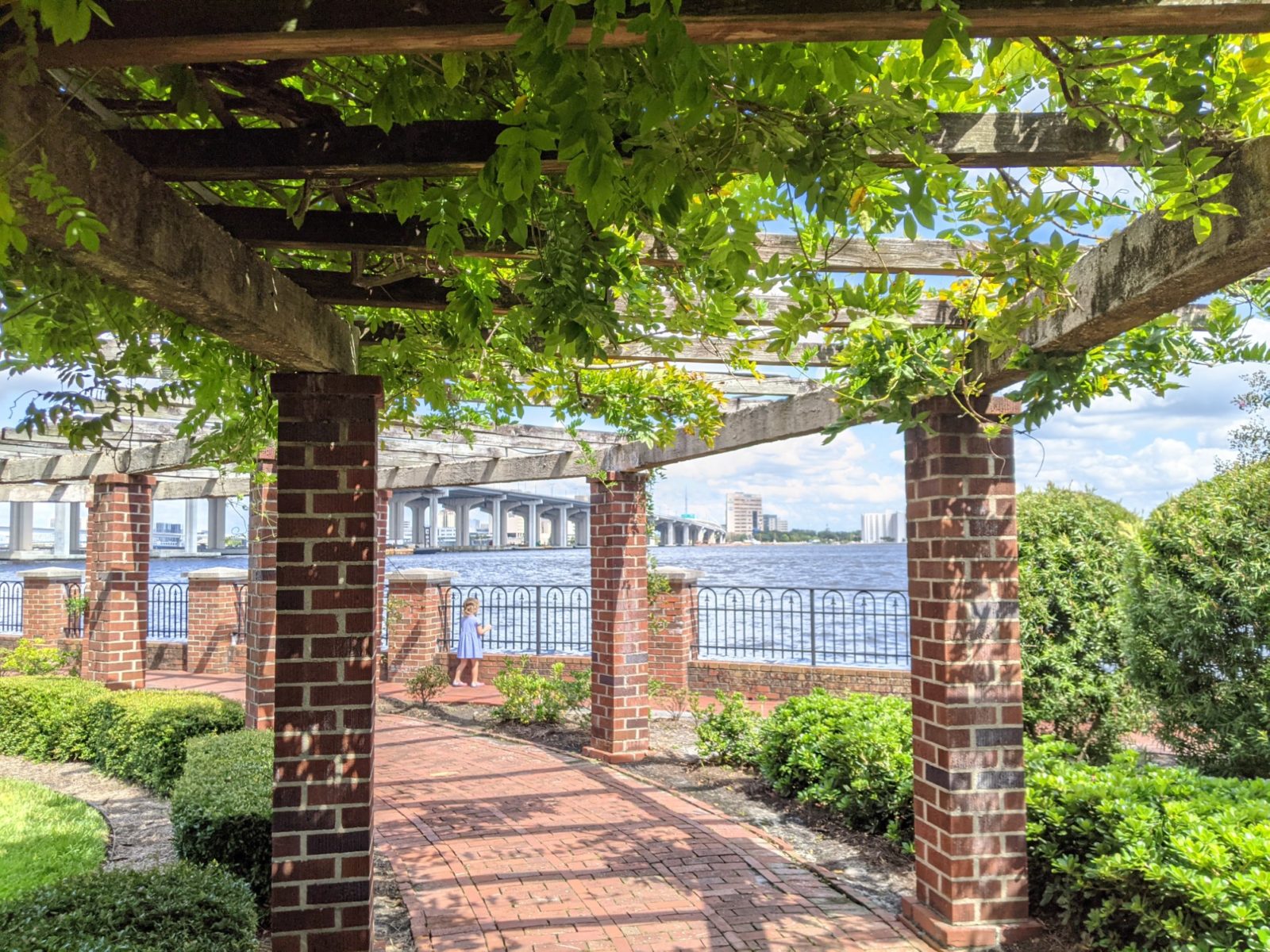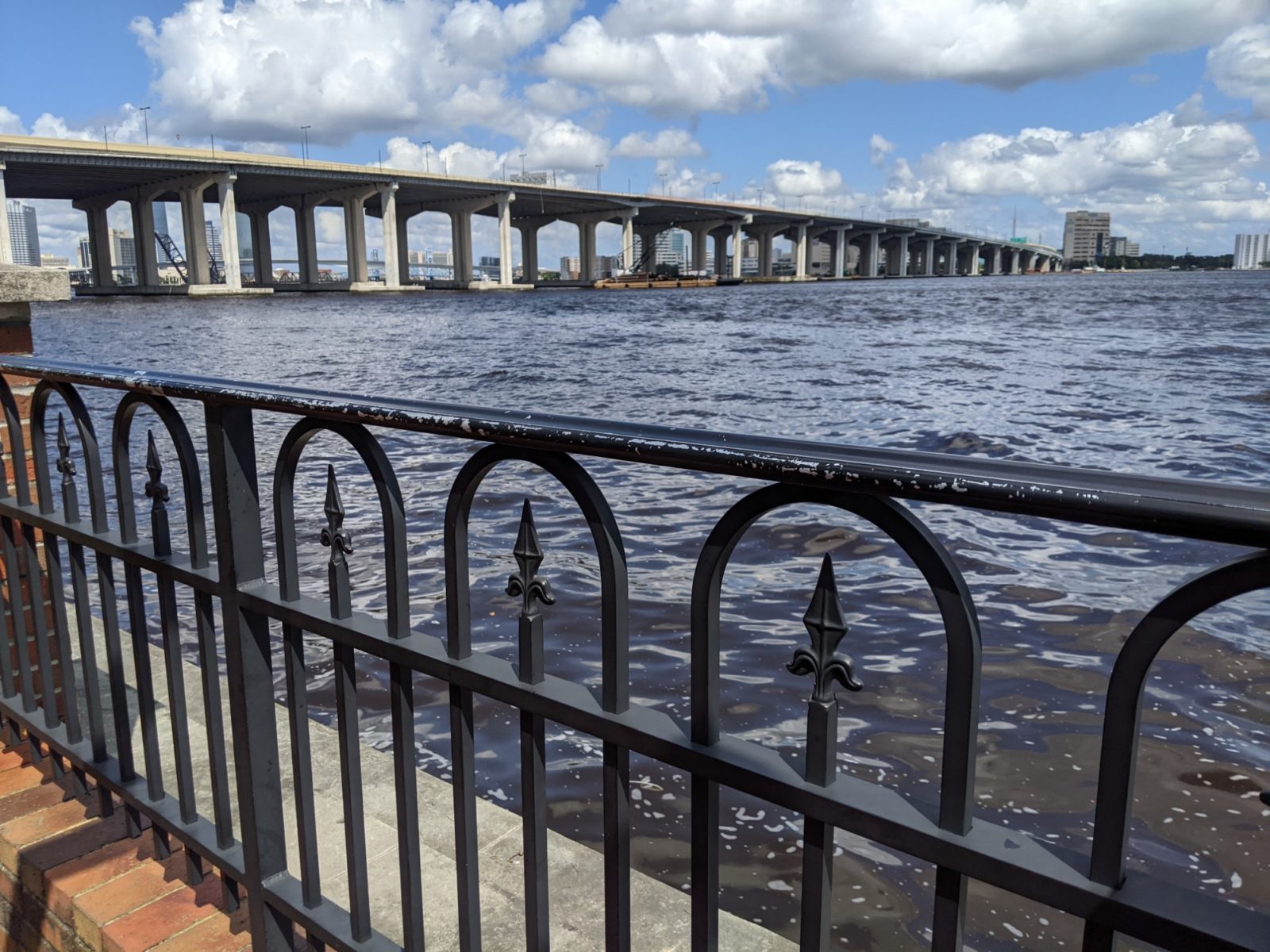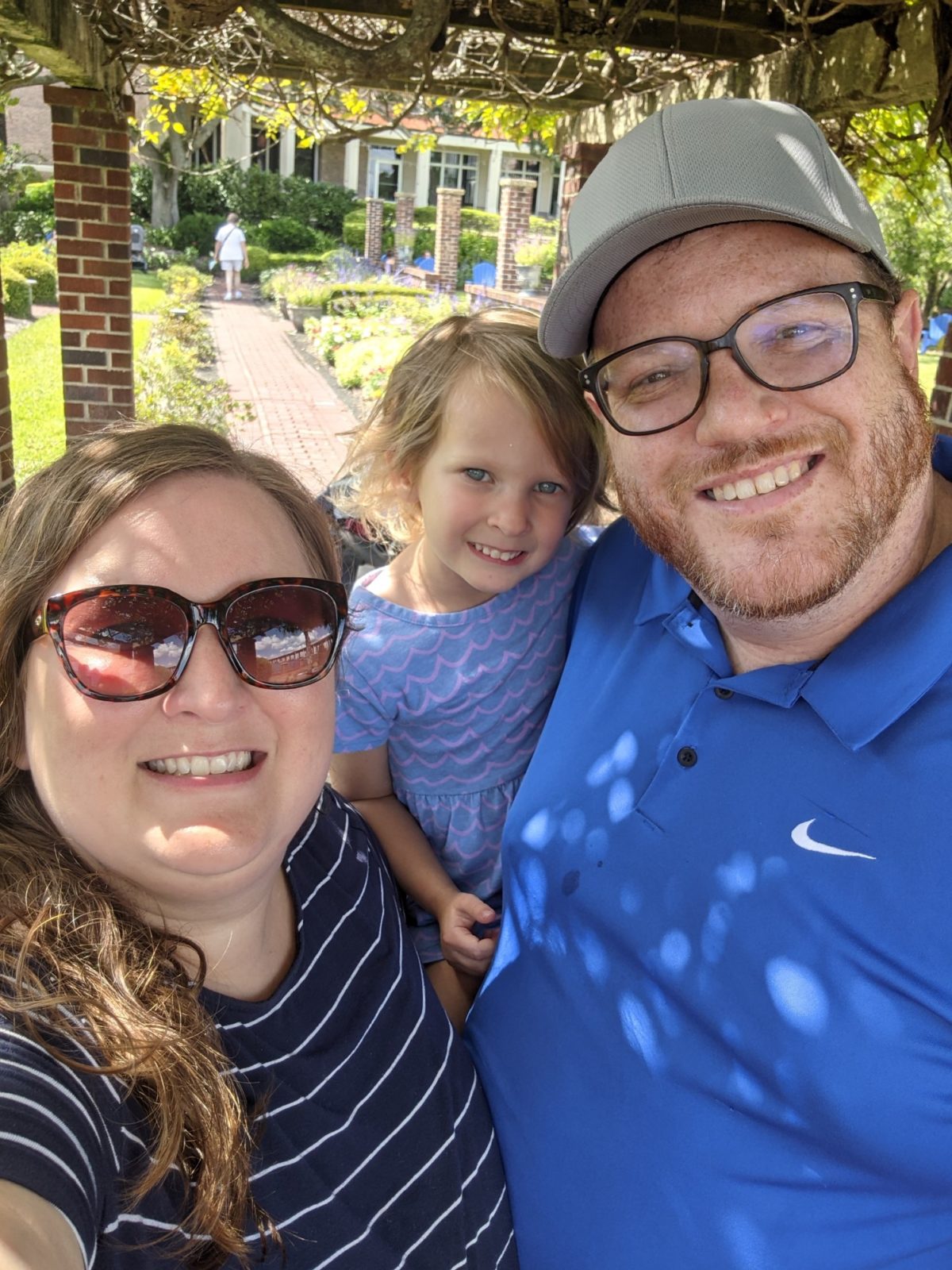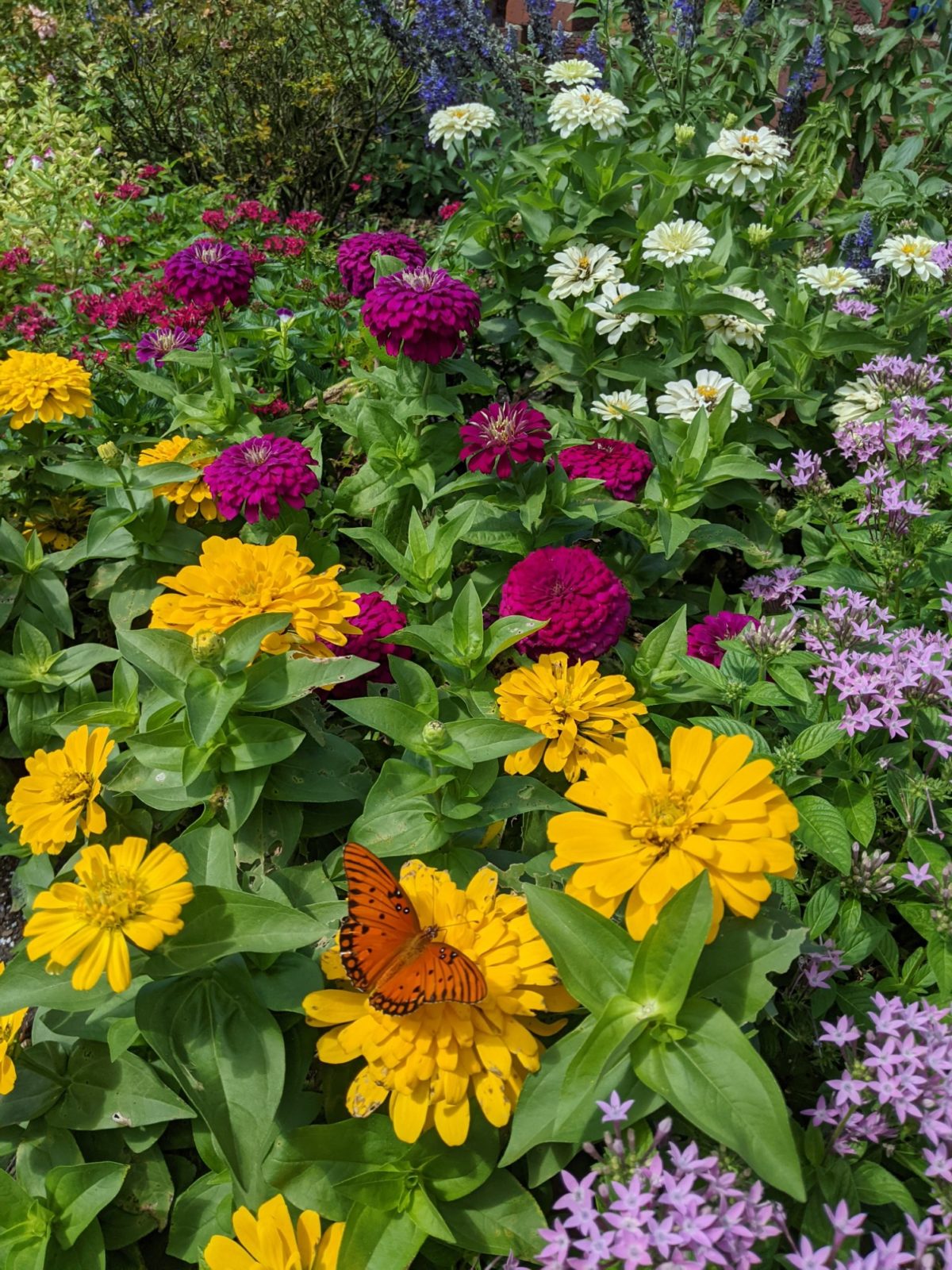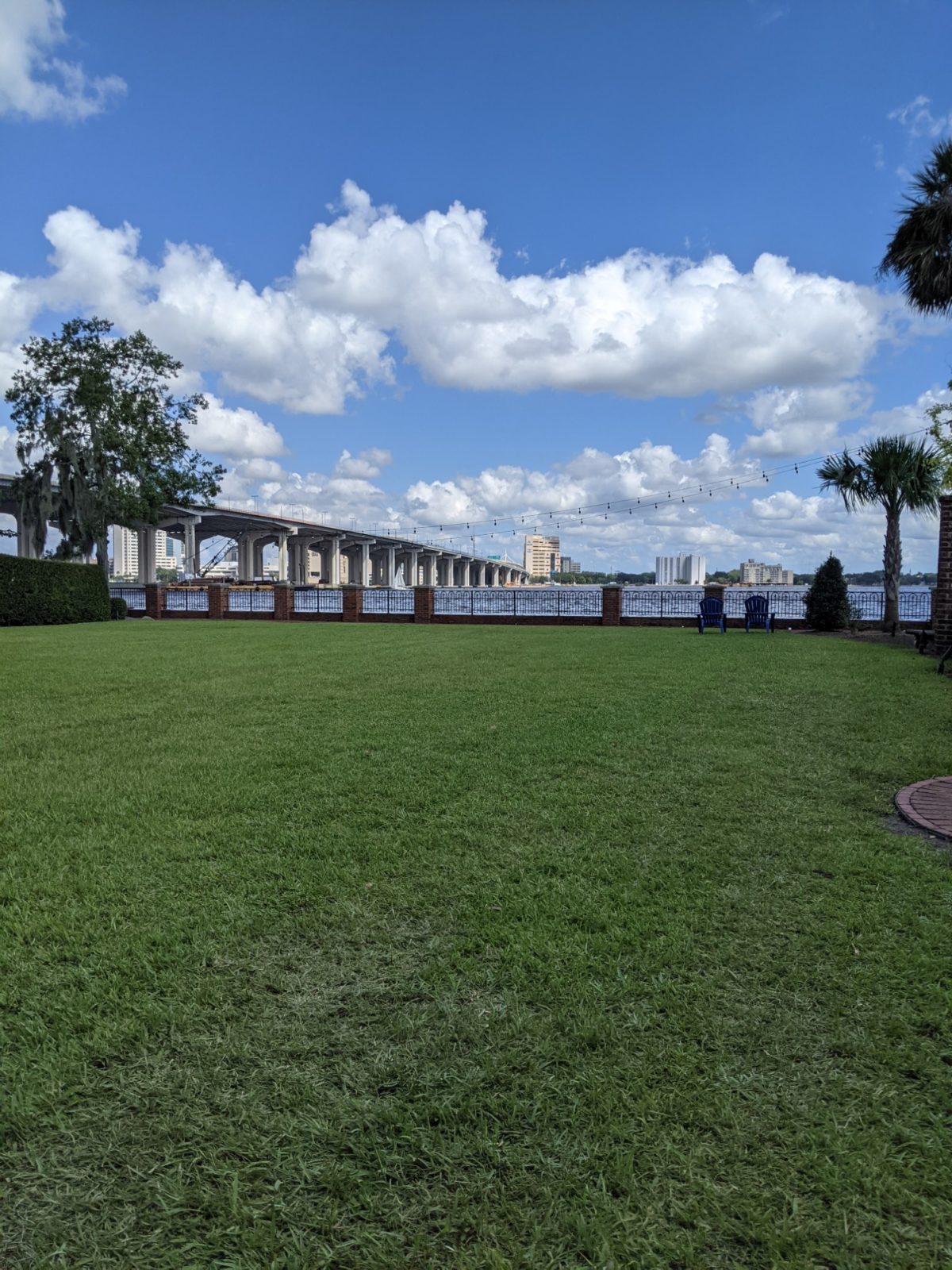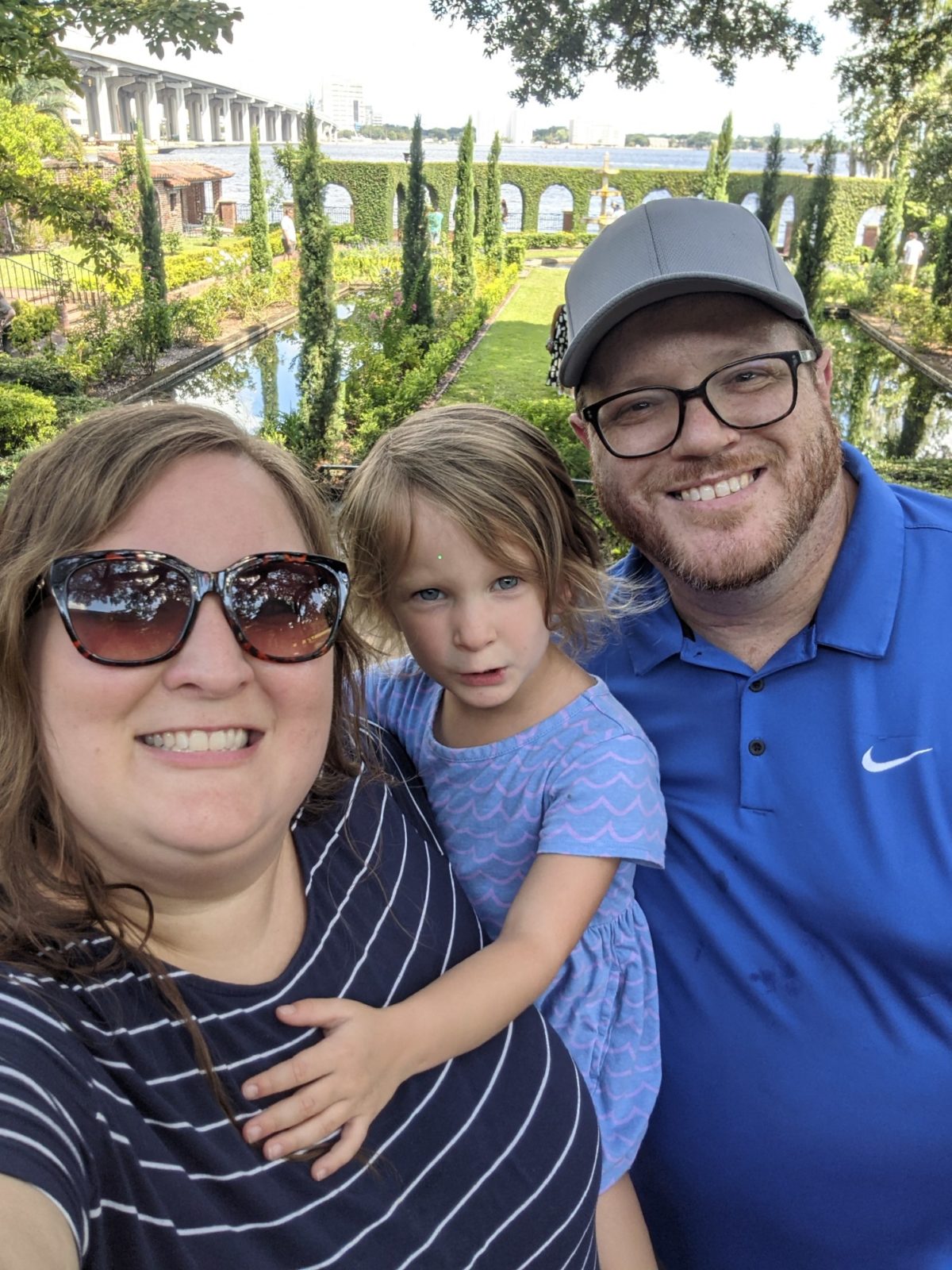 Addison slept through most of the museum and gardens, but started getting hot and hungry towards the end, so we rushed out of there and back to the hotel to get her cooled and calmed down. We also all changed into our bathing suits then, and made the 30-minute trek from downtown to the beaches, for a late afternoon beach outing. Emerson had skipped naptime, but she fell asleep for about 15 minutes in the car.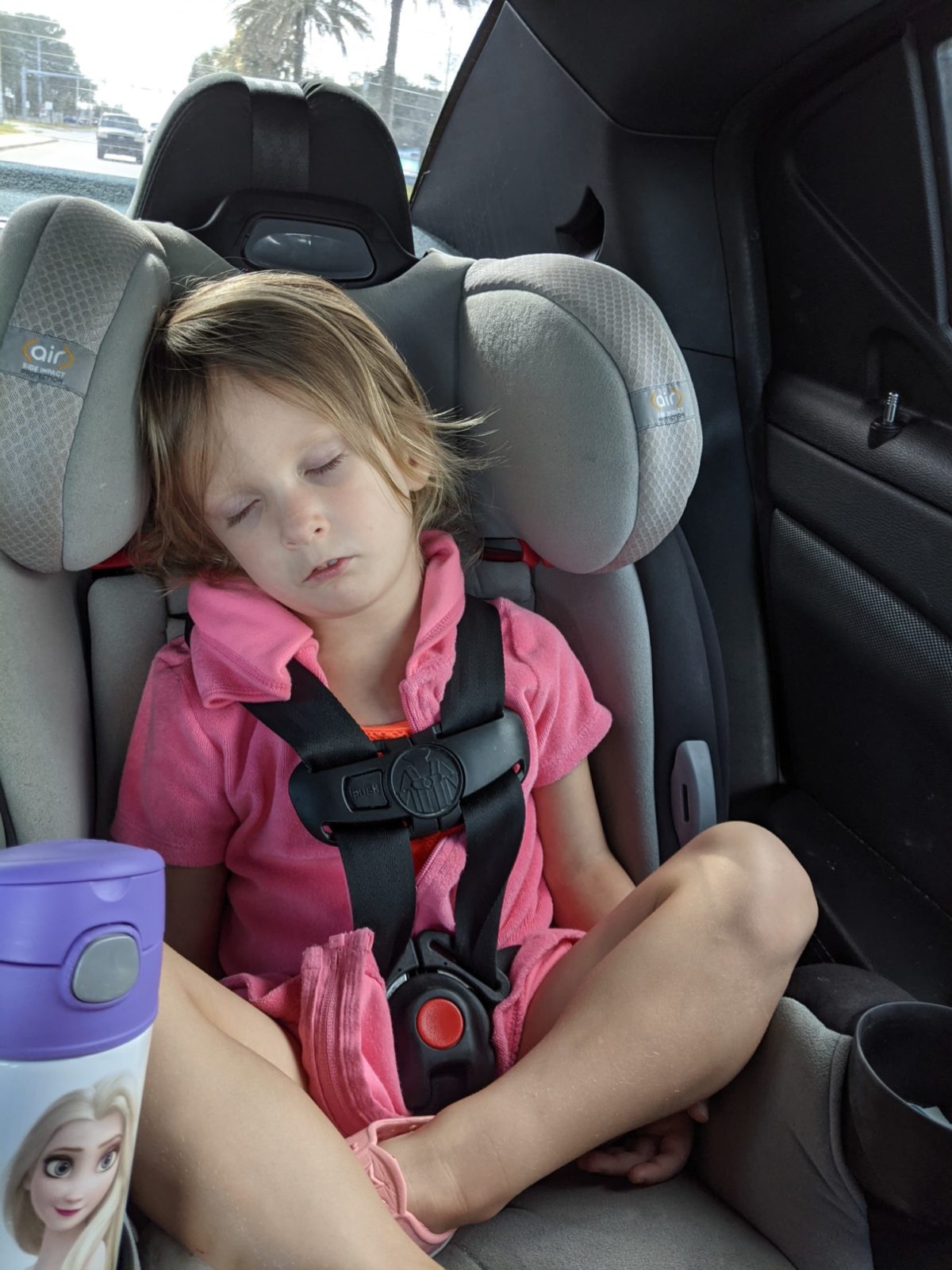 We also just stumbled upon a little coffee shop right next to where we found a free parallel parking spot at the beach. I saw the sign and was like, "COFFEE! I'm going there!" And then once we got inside, it was actually a little Christian coffee shop, Cup of Job, and it was adorable!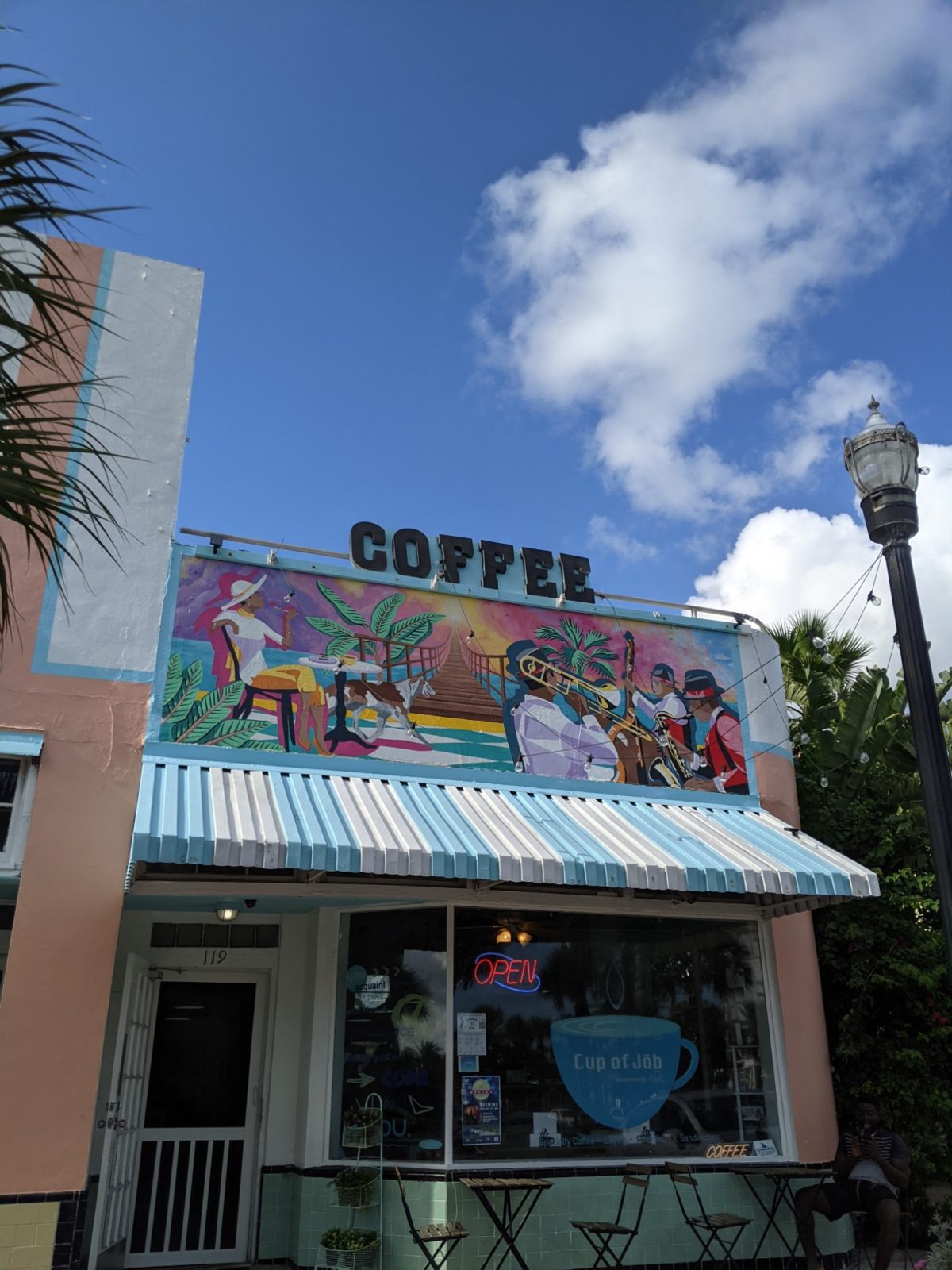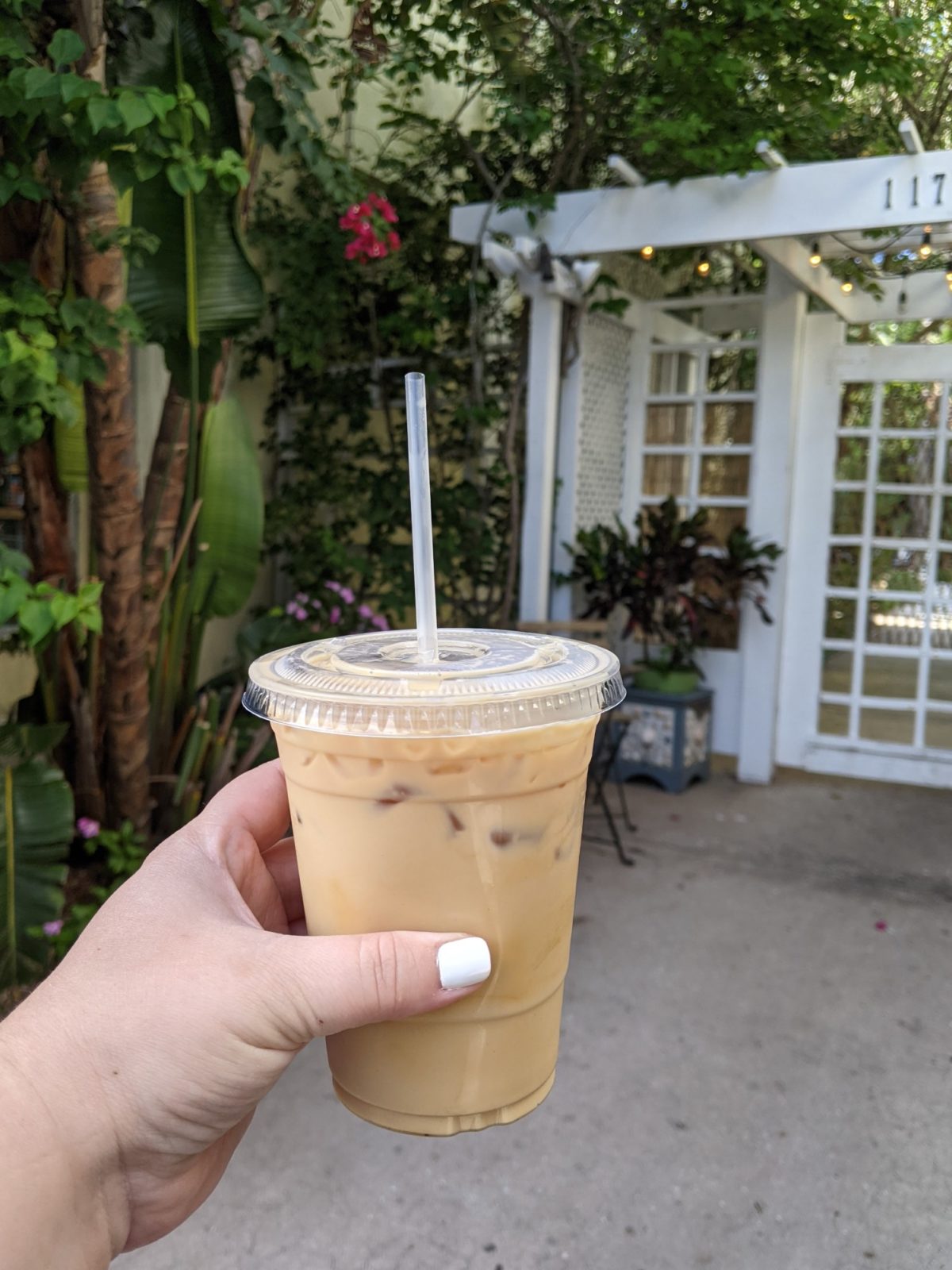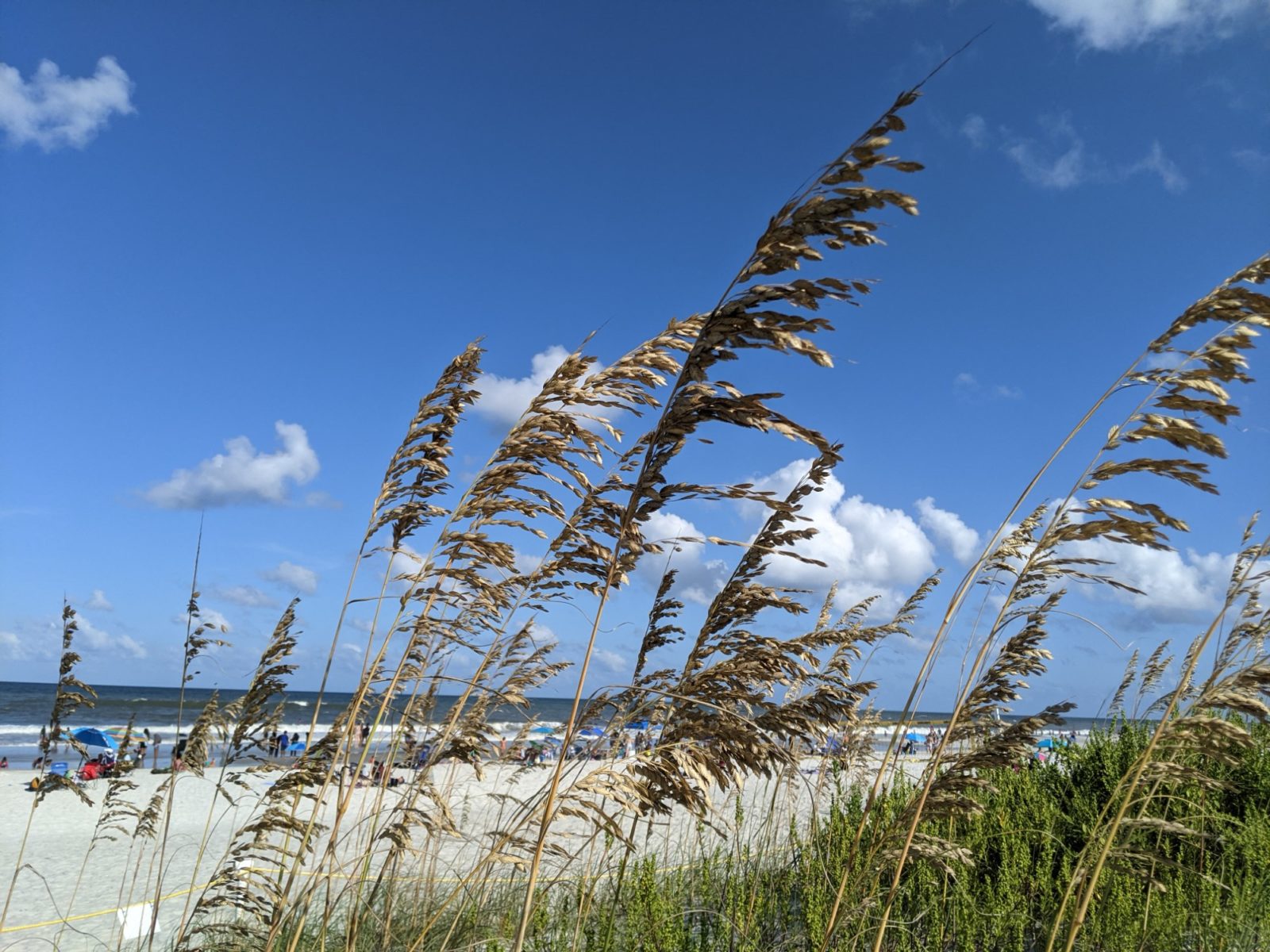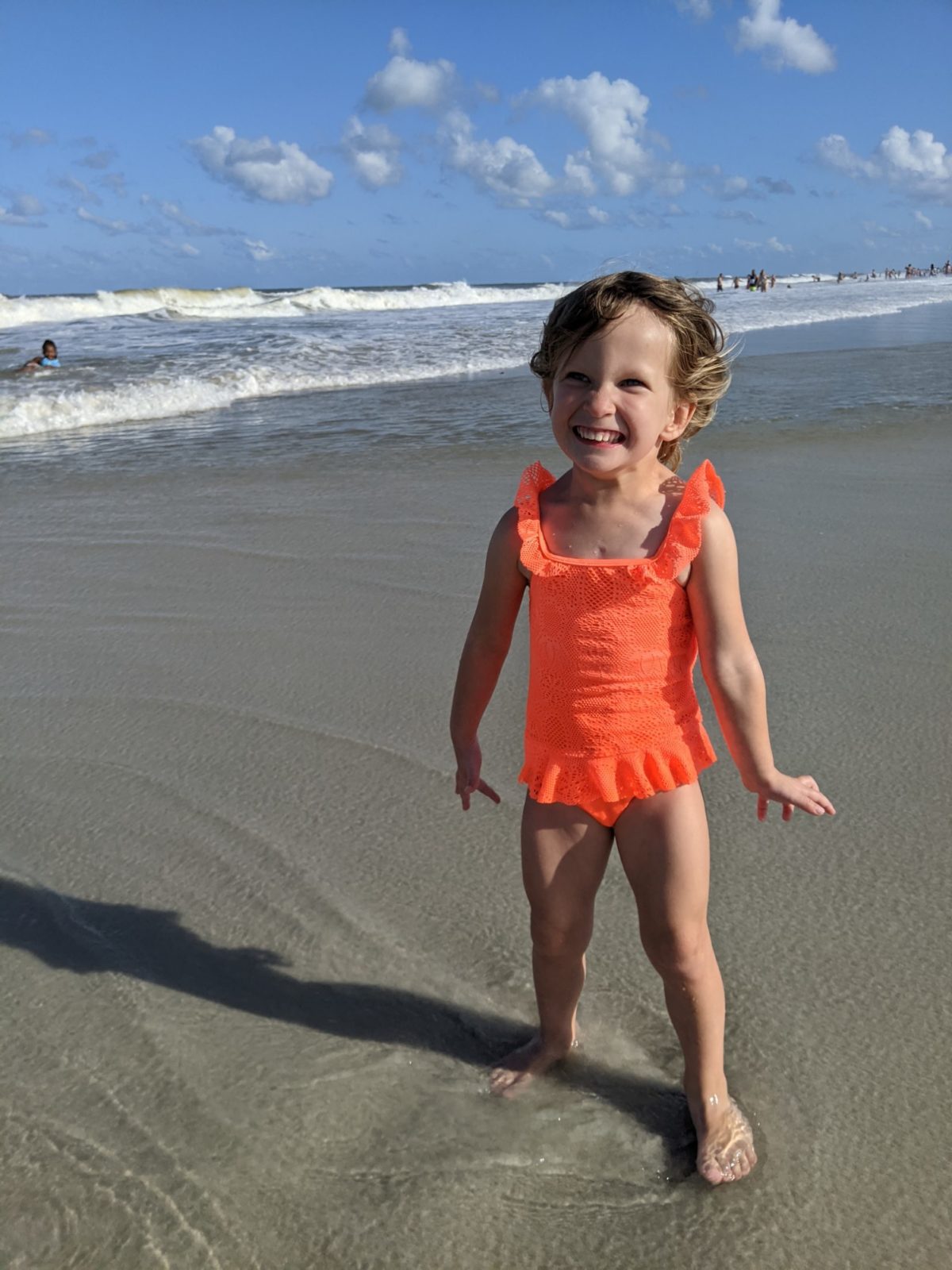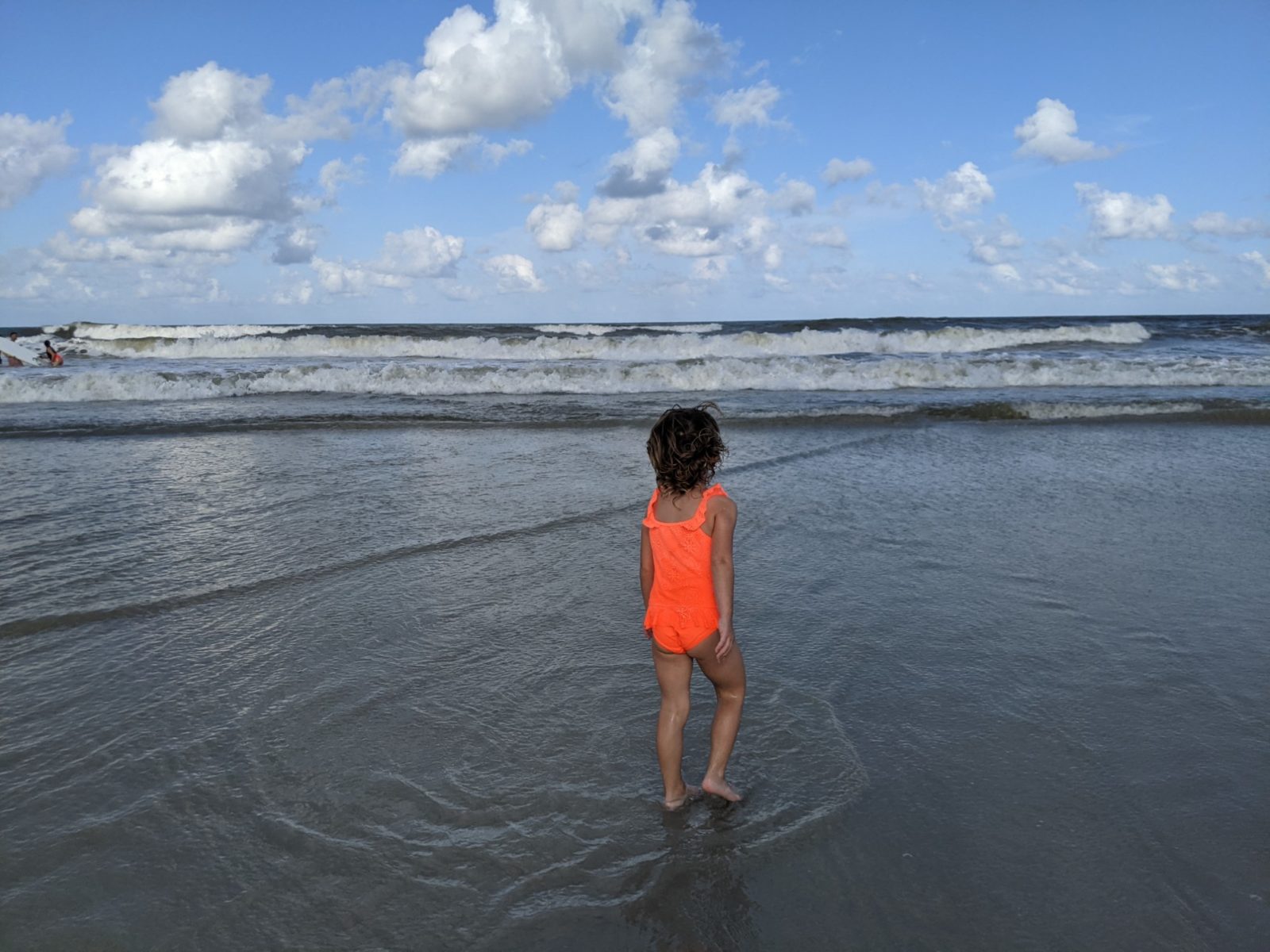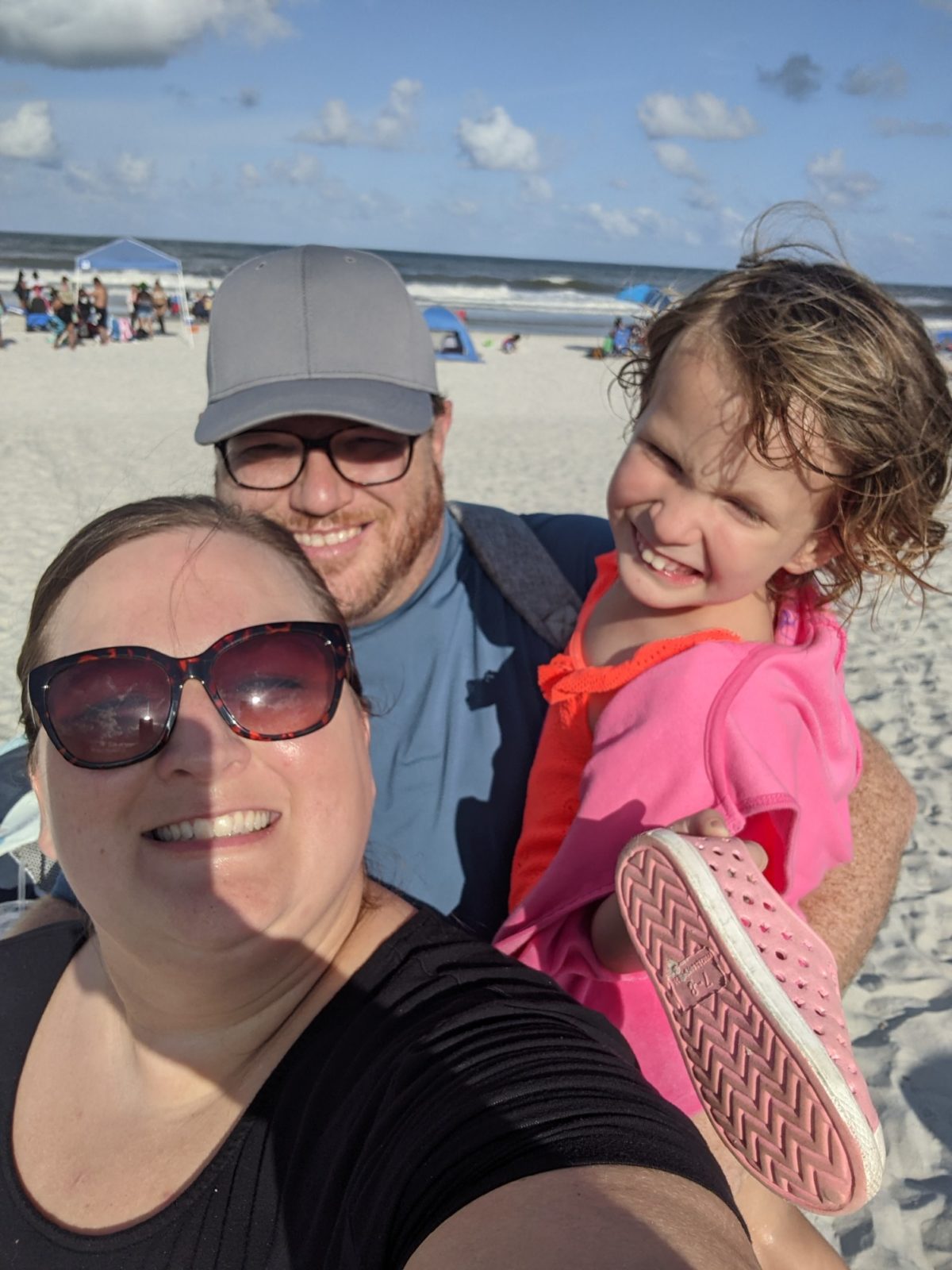 We wanted to go to Taco Lu for dinner, because not only had it been on my list of initial research, lots of people recommended it too. But when we got there right at 6pm, there was already a 30-45 minute wait for a table. And that's just not gonna work with two littles on unpredictable schedules! So we went right next door instead, to another place on my list, Angie's Subs. And these subs were super delicious!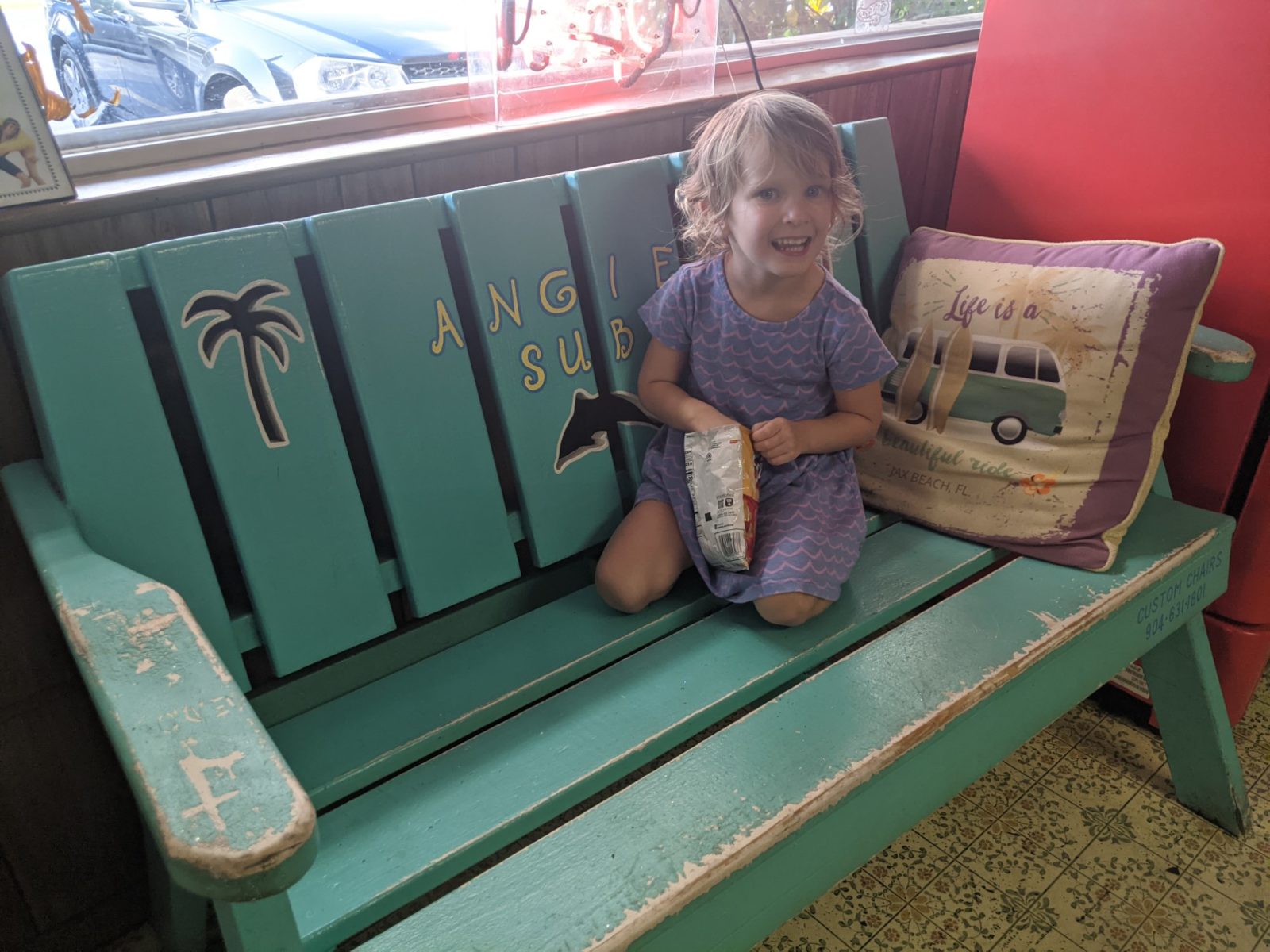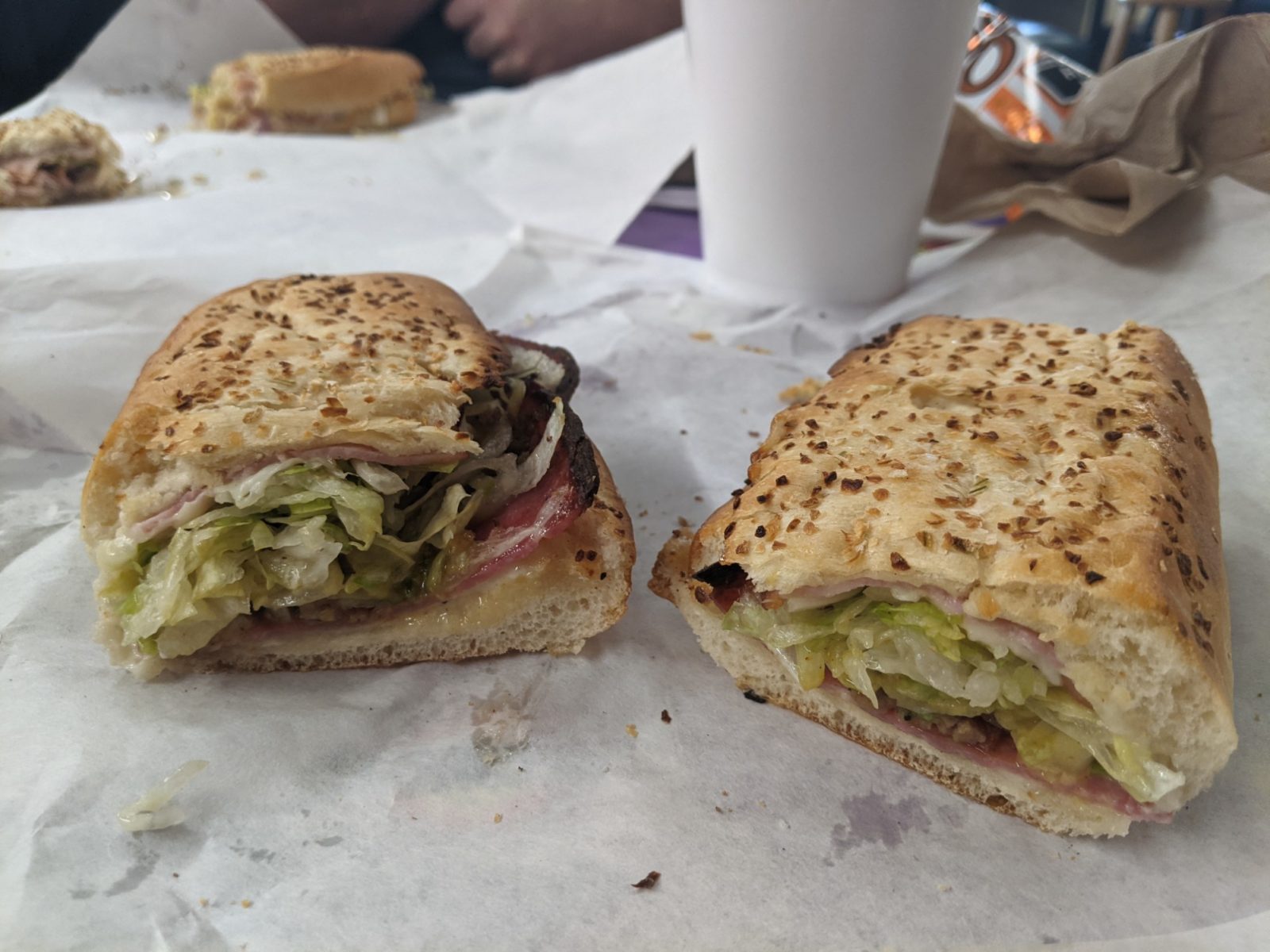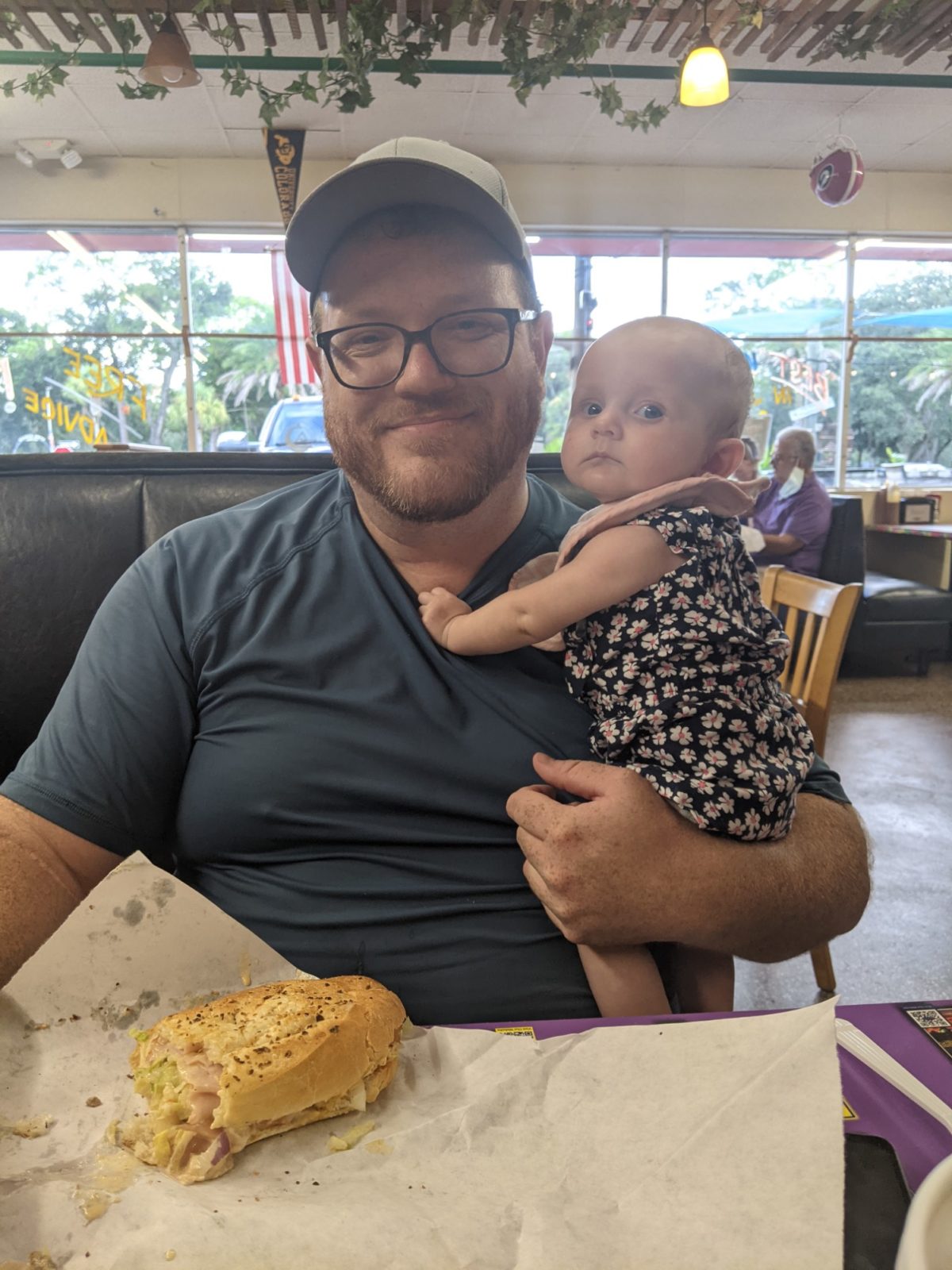 We brought Addie's little bassinet for her, but we didn't have a "little girl bed" for Emmie, so she slept in the bed with me both nights. She was actually a pretty good bed-buddy, and slept well. We all went to bed around 9:30/10pm both nights, and although the bed wasn't super comfy and I didn't sleep very well, Emerson slept like a rock both nights!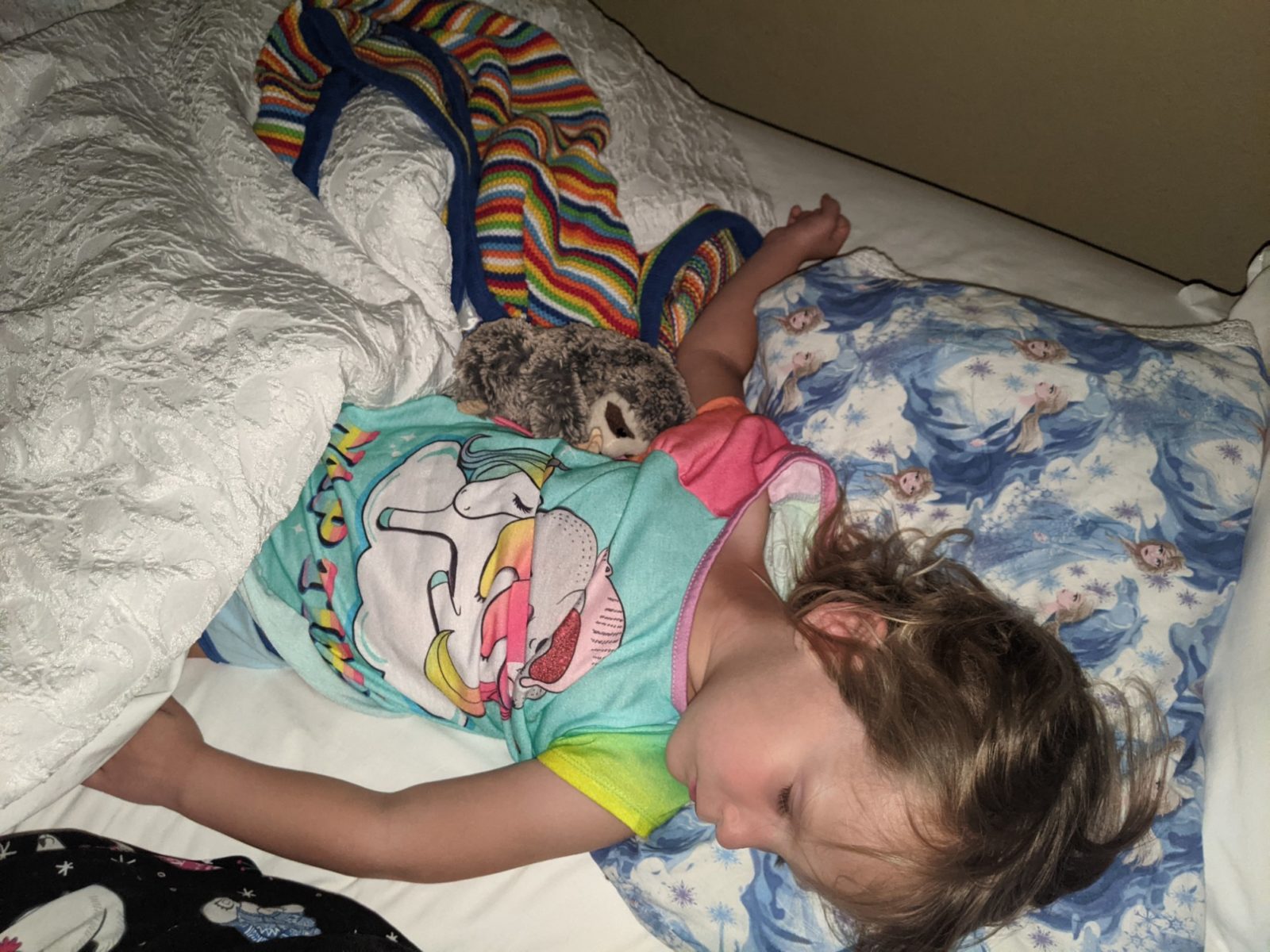 SUNDAY
Sunday morning, we went to breakfast at Metro Diner. Not only is this place always highly recommended, our family always eats here whenever we get a chance. Eggs benedict just seemed like something I needed to try, and although I liked it, I didn't love it, but I'm glad I gave it a chance, and now I know 😉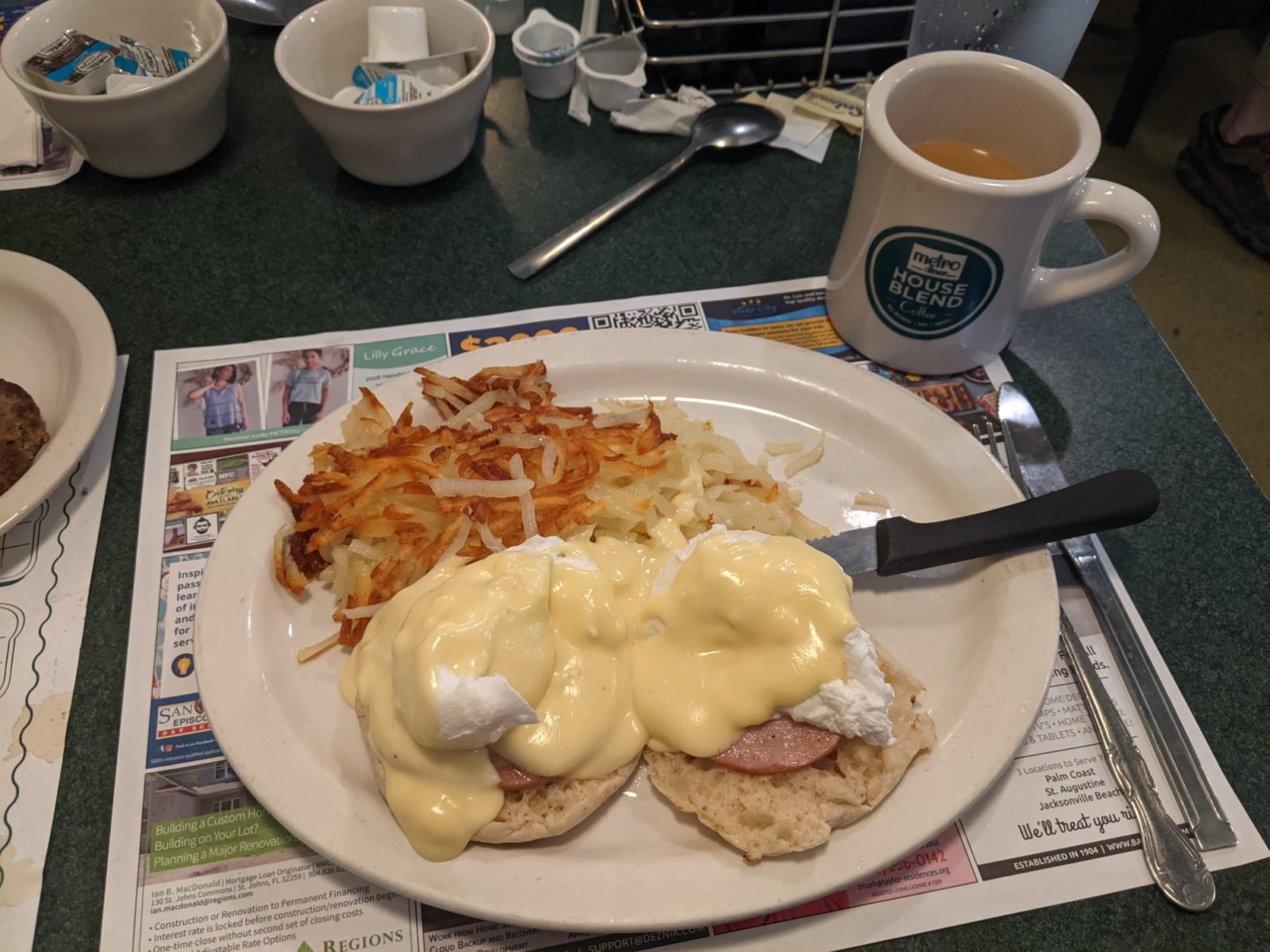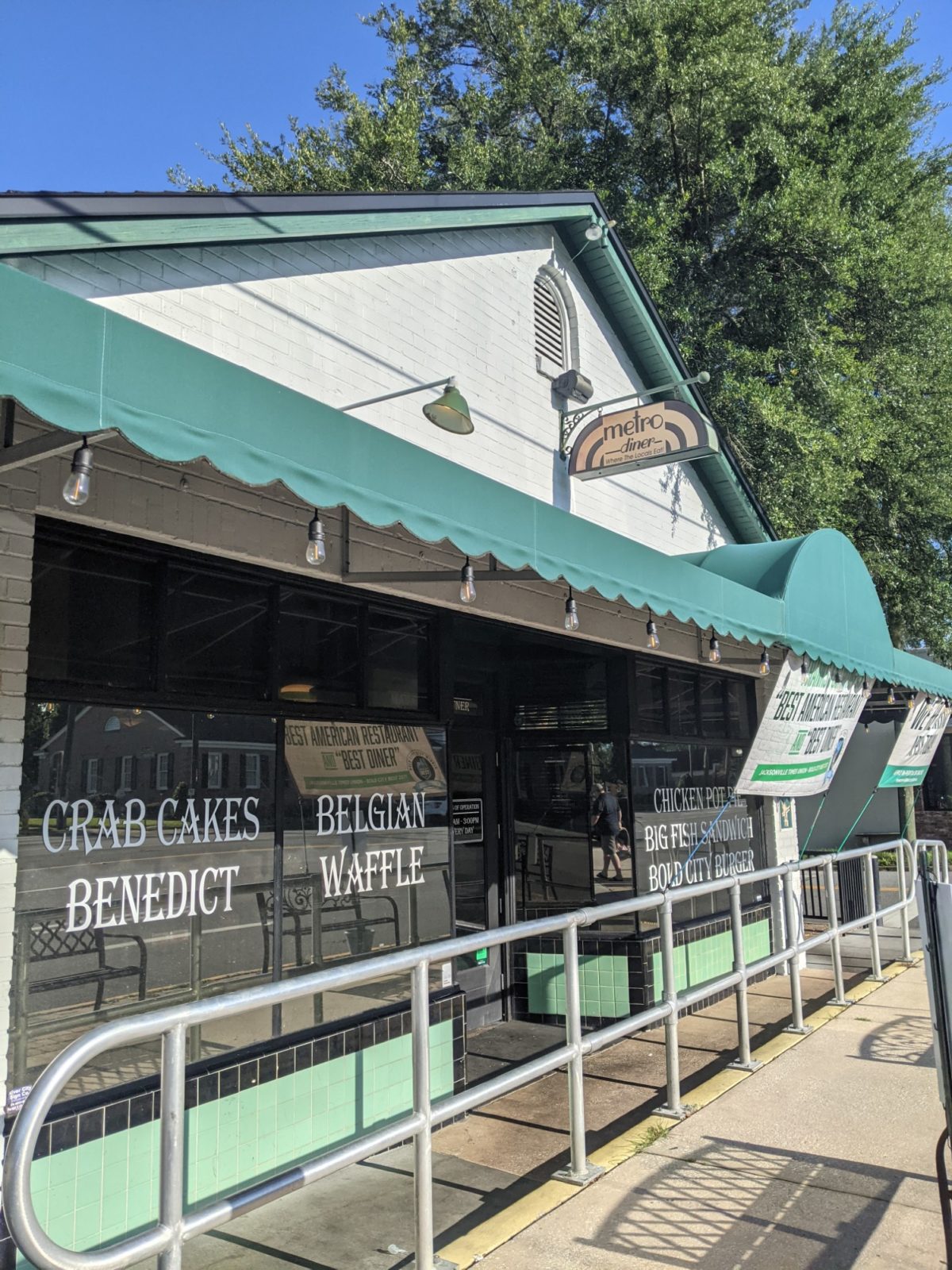 Then we went by the Ronald McDonald House, where we stayed for 10 days last year during Emerson's open-heart surgery, to drop off our incredibly HUGE donation of can tabs! We've had countless friends and family collecting these with us over the past year, and we donated approximately 12 gallons!!! It felt like 30-40ish pounds of can tabs. And according to their website, "It takes approximately 1,128 can tabs to equal one pound. We typically receive between $0.40 to $0.50 per pound of pop tabs. This program brings in an average of $6,000 each year."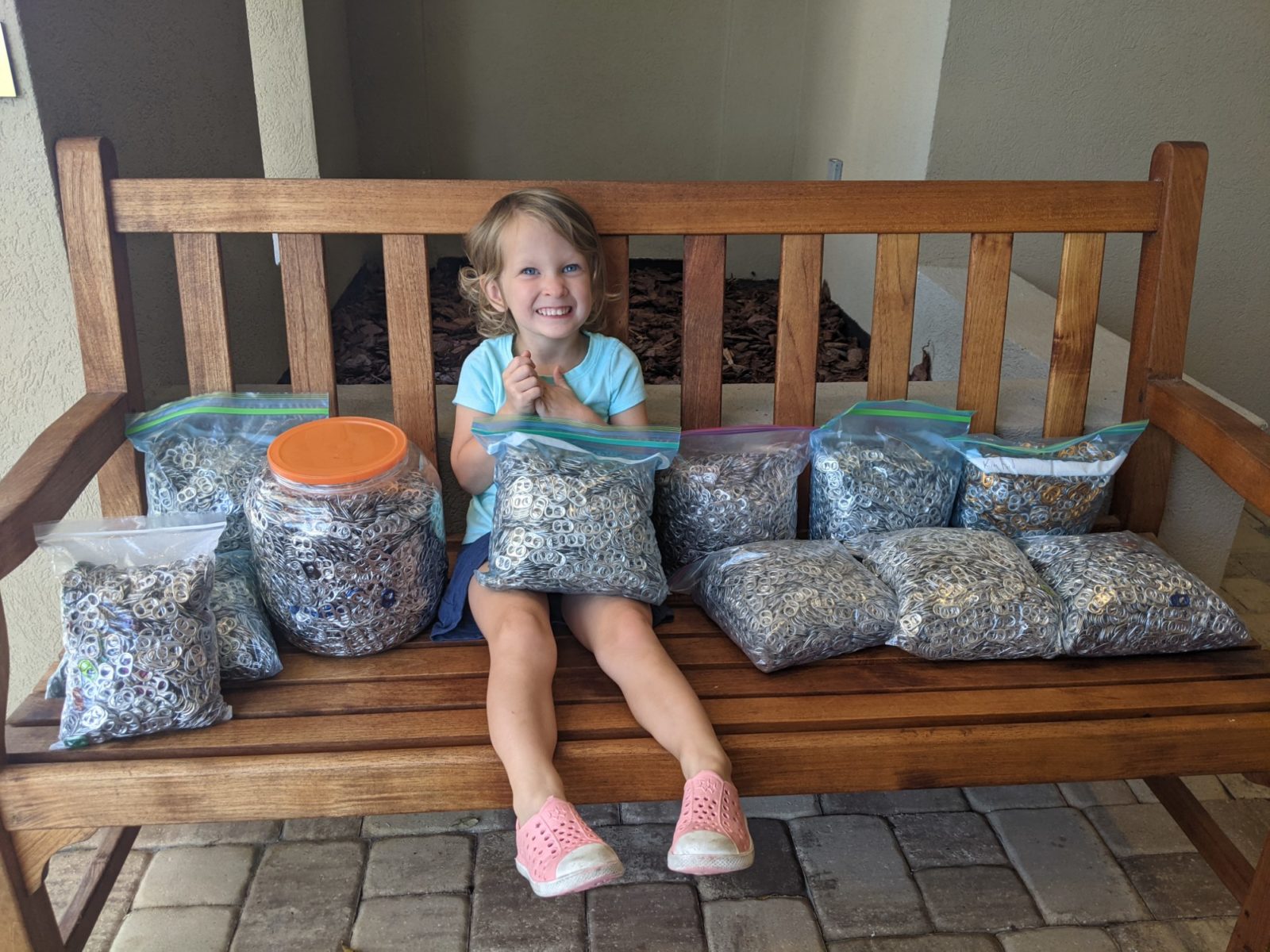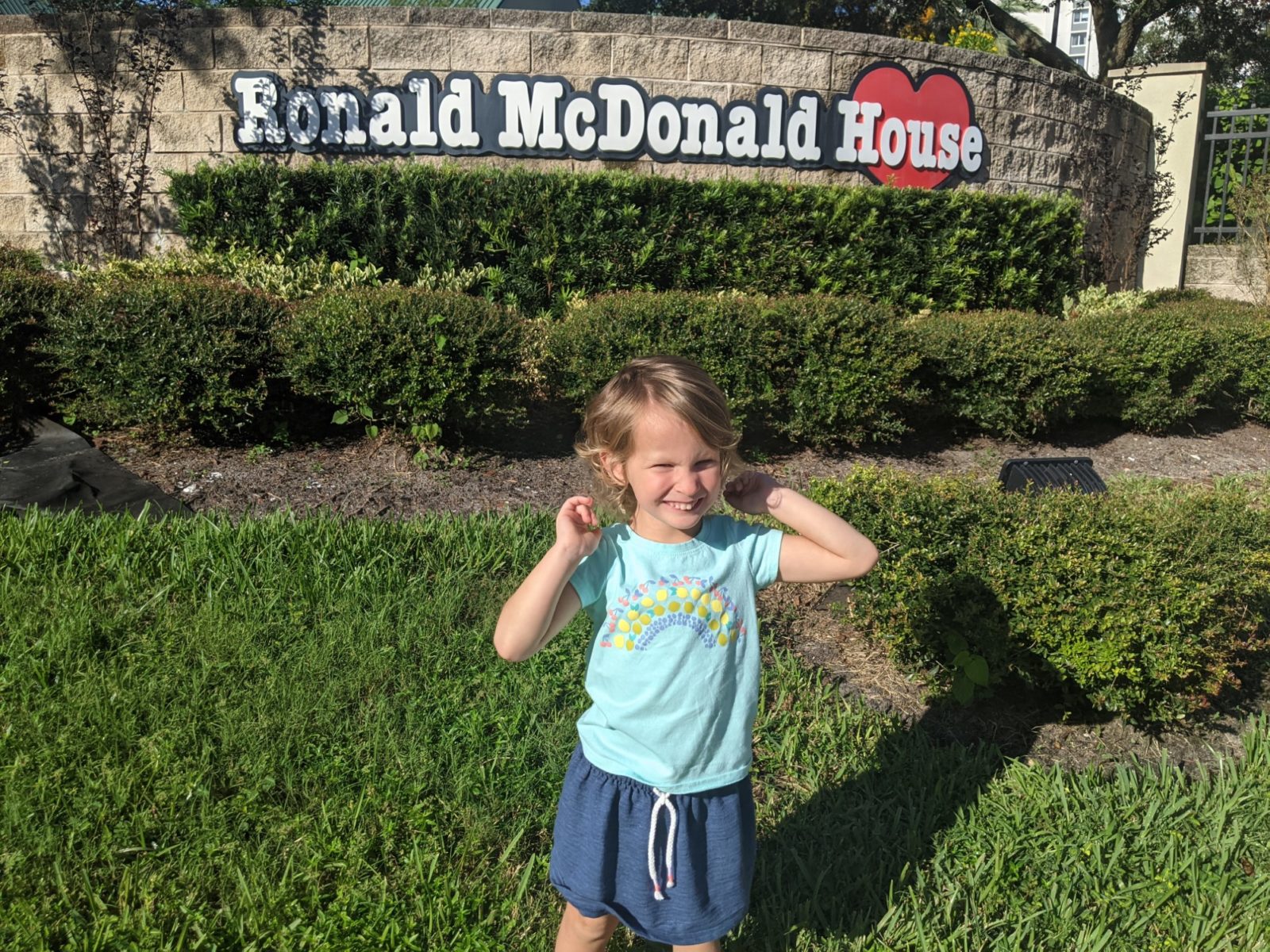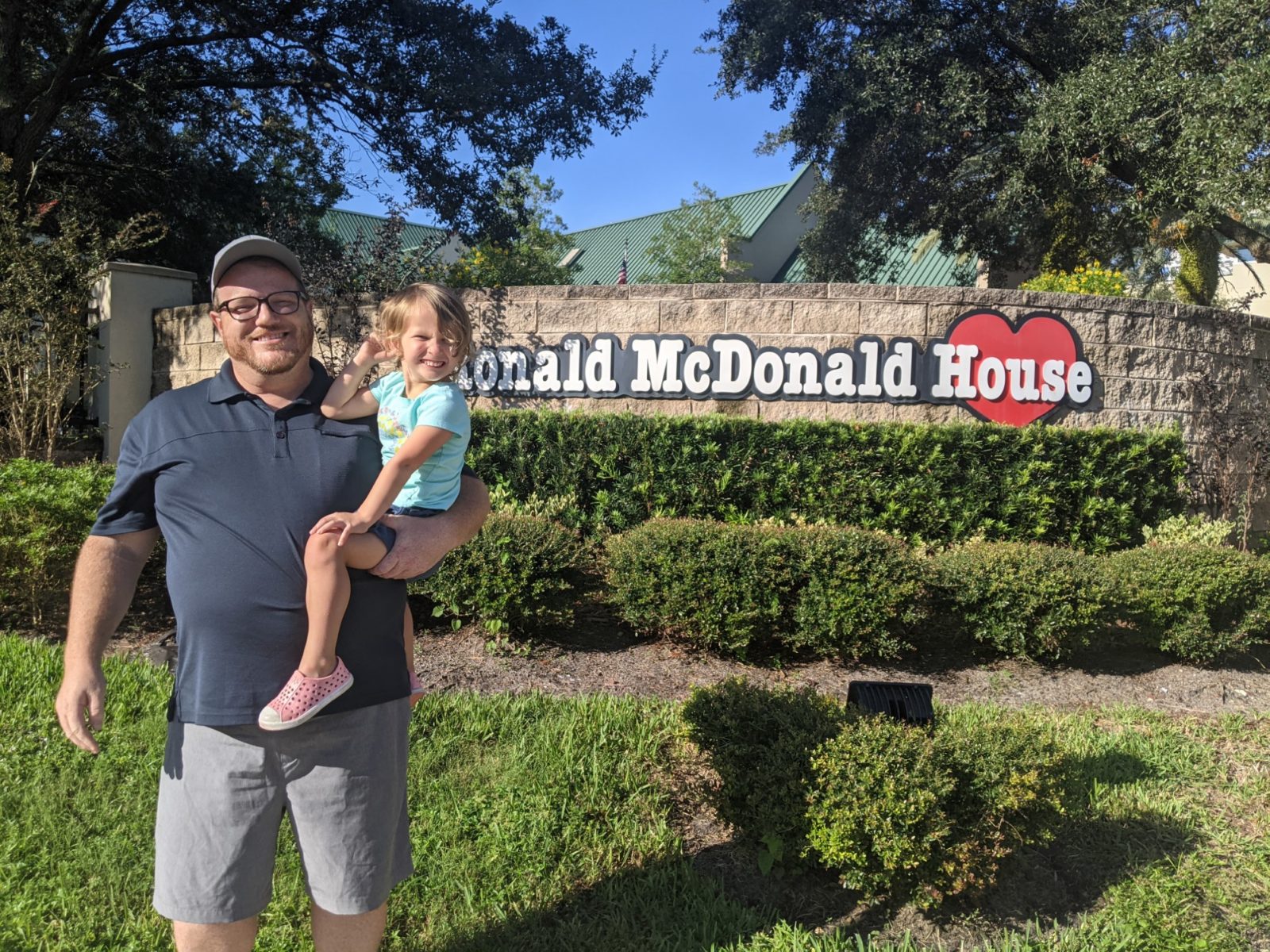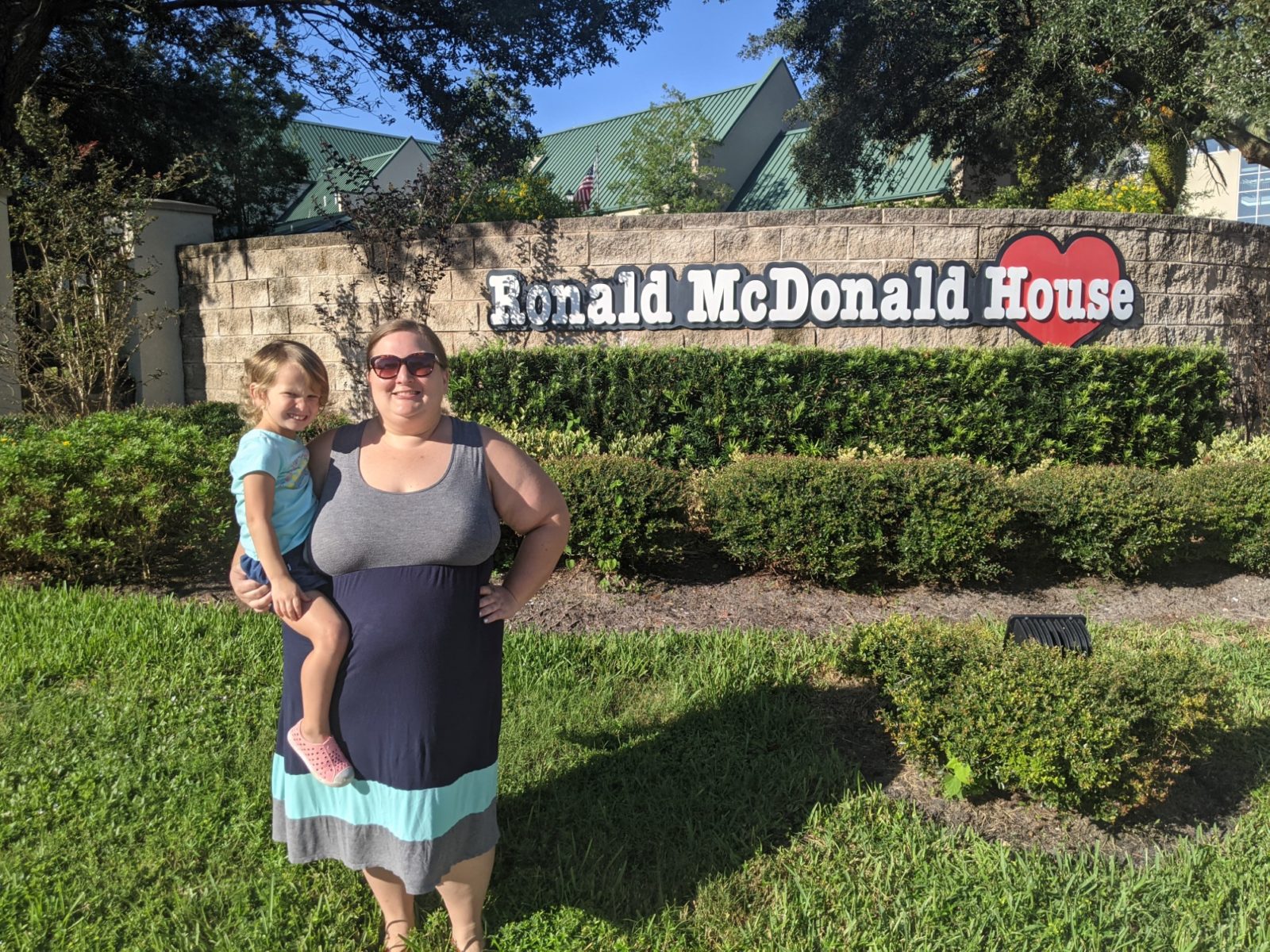 Then we drove south to spend a few very quick hours in St. Augustine! By the time we got there, we had to run straight to the public bathrooms for a potty break / diaper change for all of us, and we were instantly sweating. And Addie needed to eat. So we decided to cool down and get some gelato at Cafe Del Hidalgo at 11am, and stay there in the cafe to feed Addie.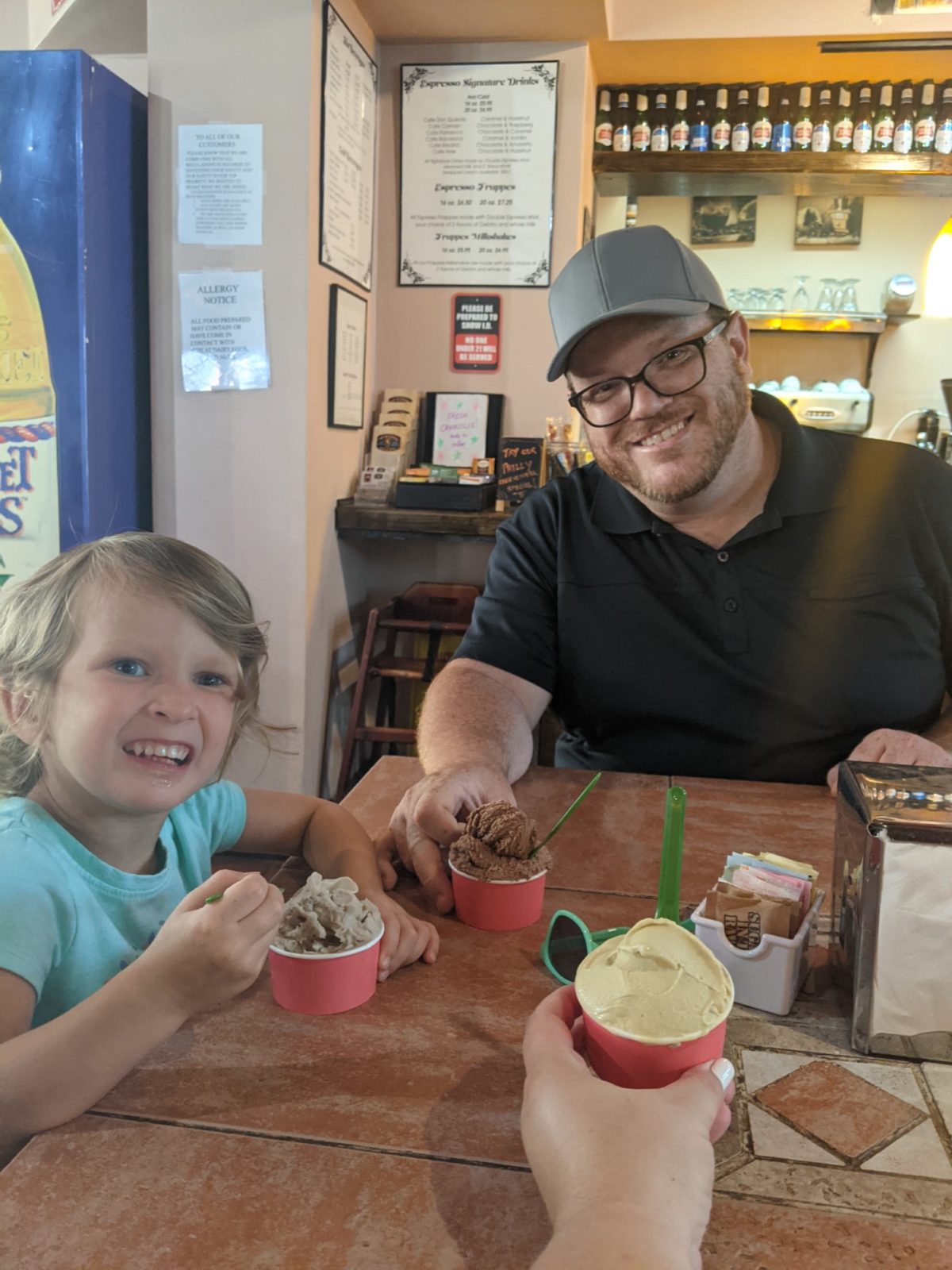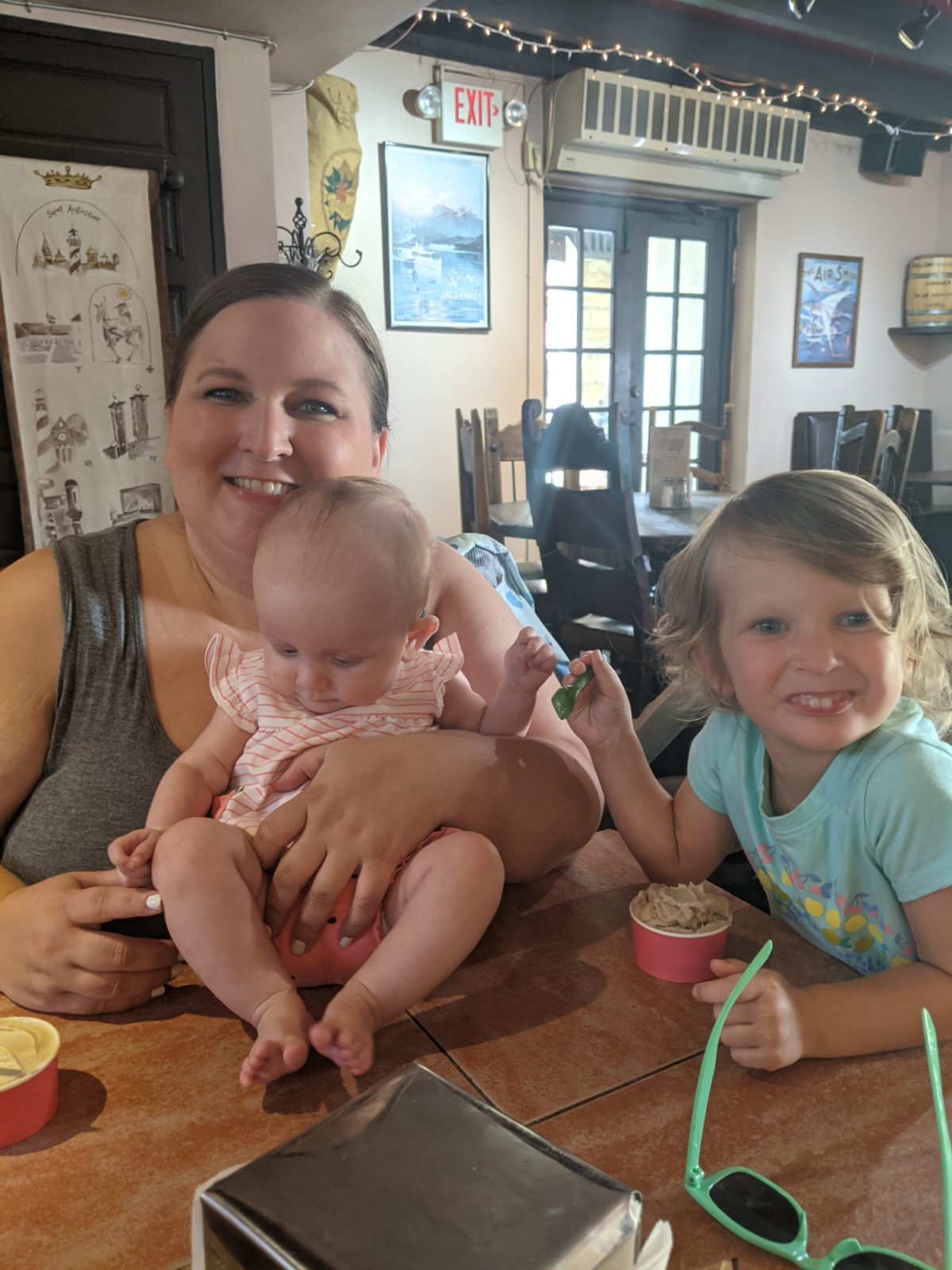 Then we spent about an hour walking up and down St. George Street, with stops in some of my old favorite stores (I went to college at Flagler in St. Augustine, by the way, if you didn't know that), including the Flagler legacy store, where we got two new magnets for our fridge collection.
Eventually we were all hungry and ready to eat, so we picked a place on St. George Street, called St. Augustine Seafood Company. Their outside area was super cute and hip, and since they had giant fans directed at the tables, it actually felt nice to eat out there. Jeff really enjoyed his fish and chips, and my shrimp po'boy was delicious. Emerson also ate all of her kids fried shrimp and loved that too.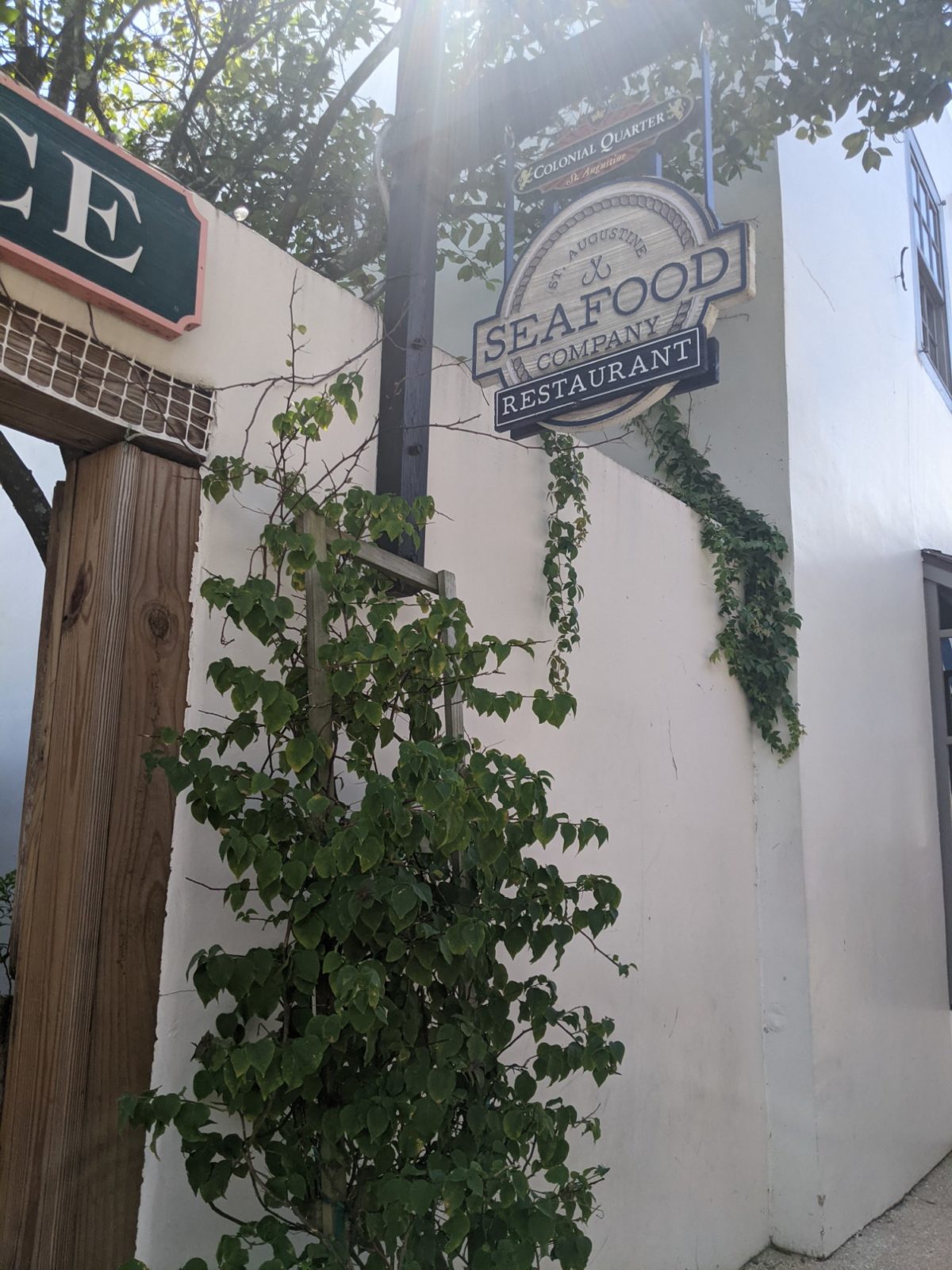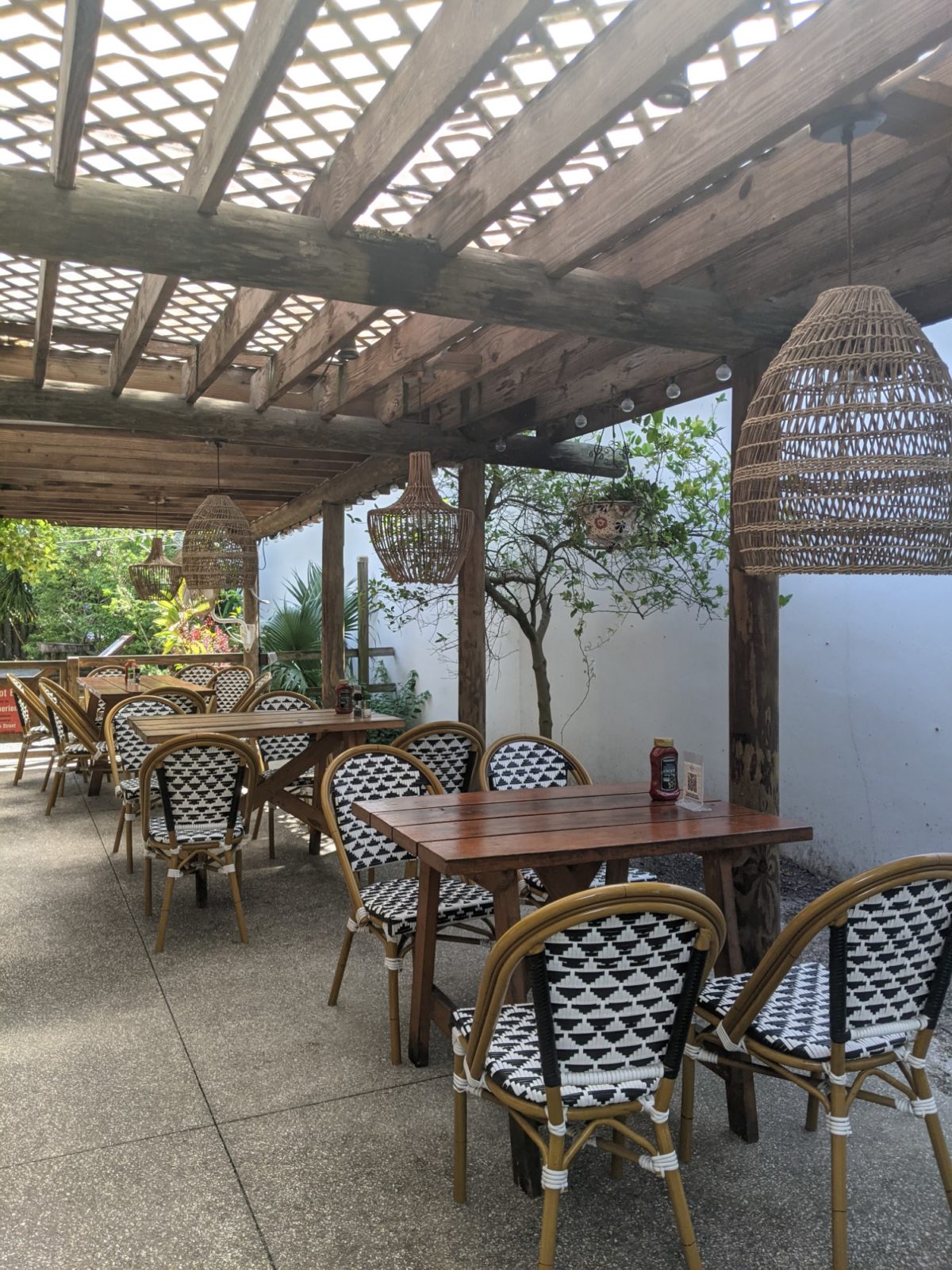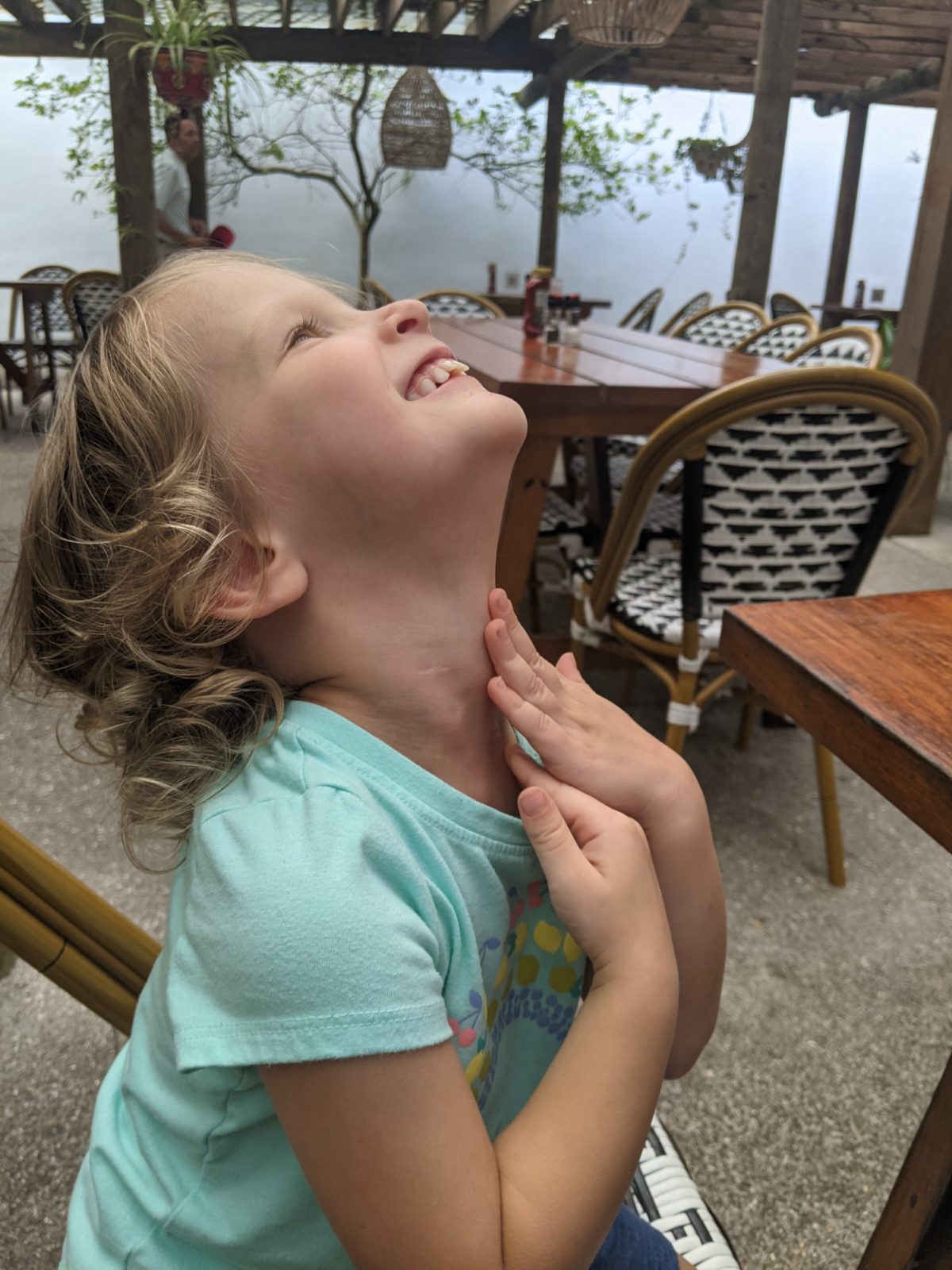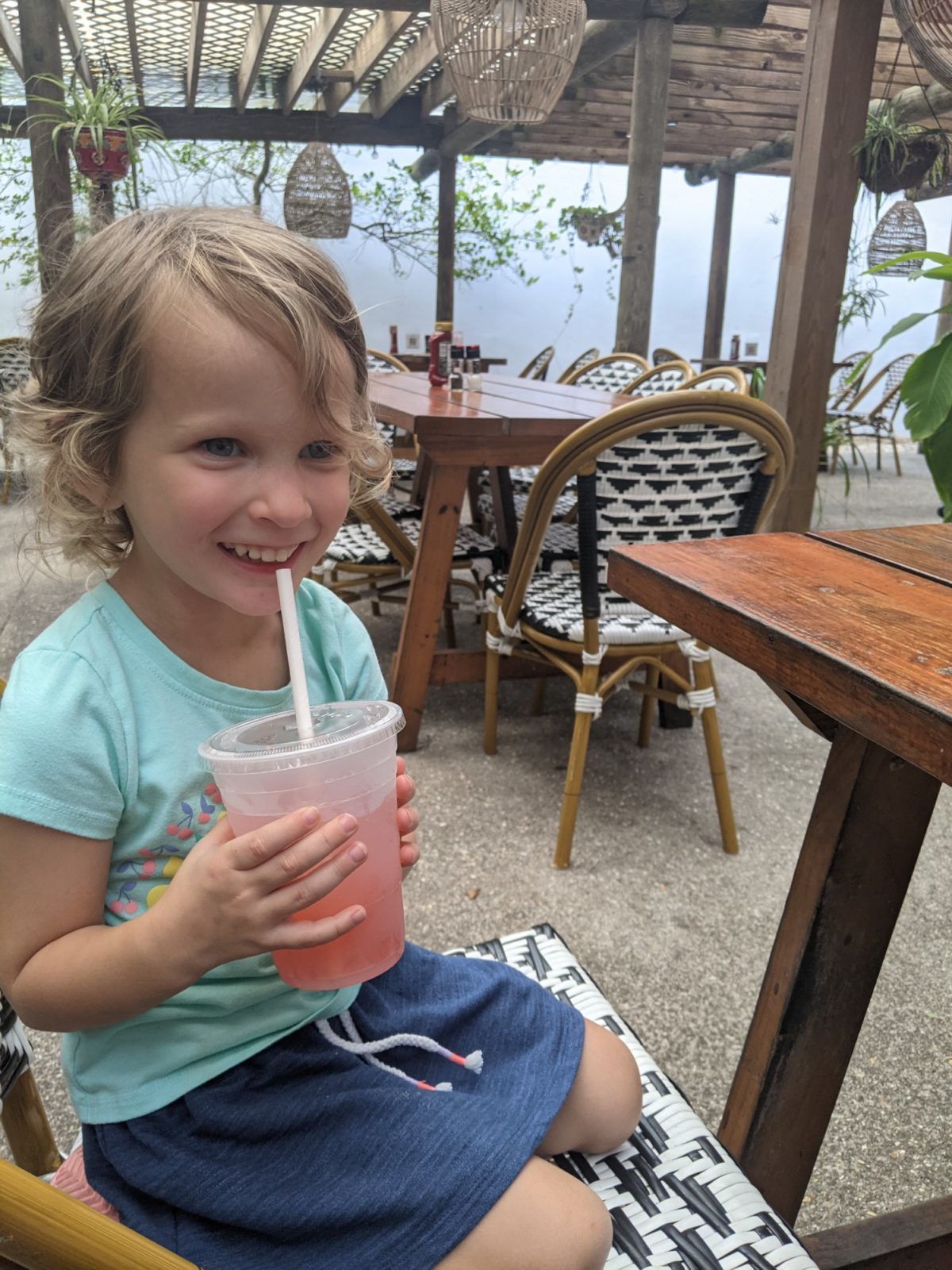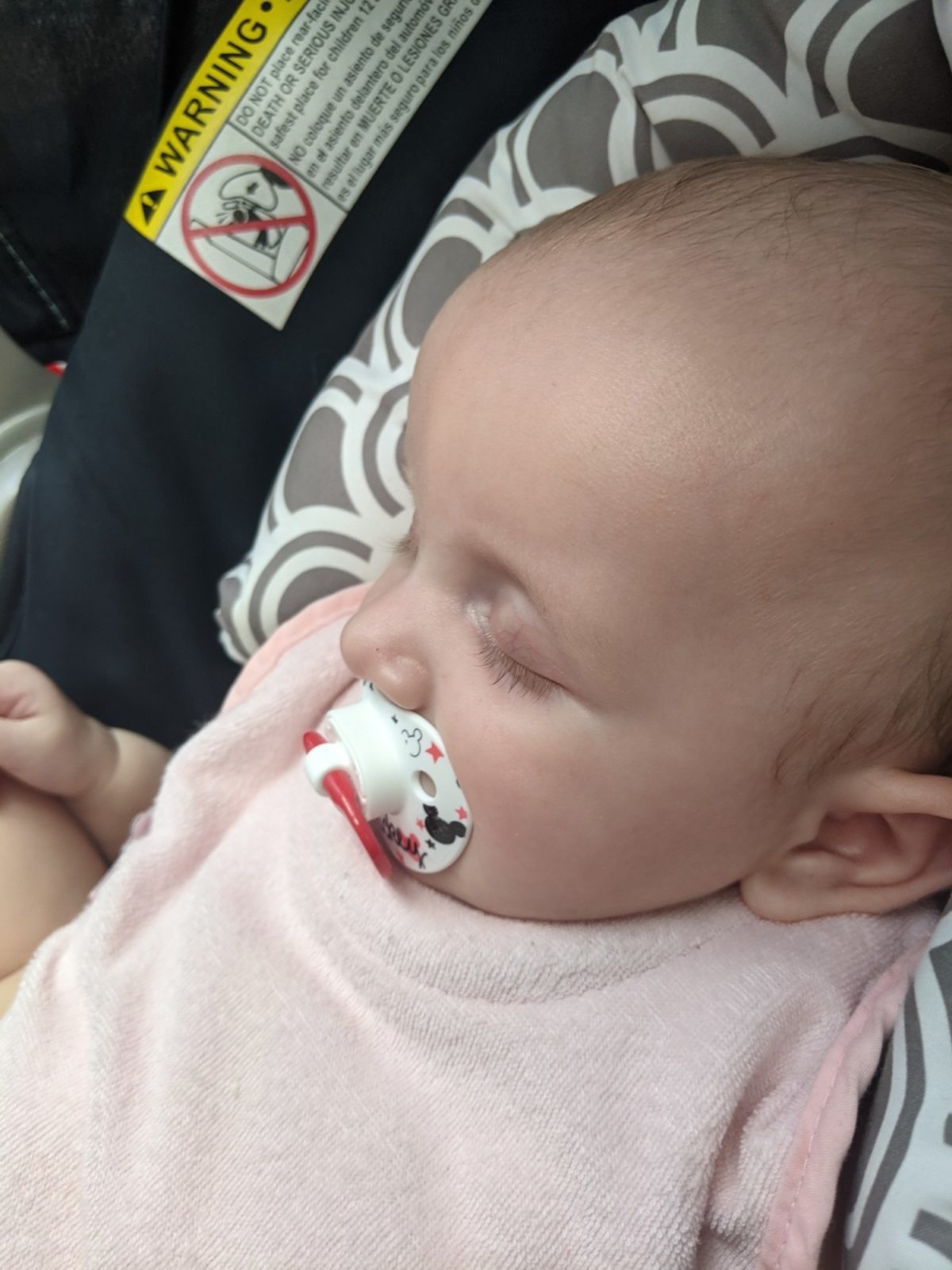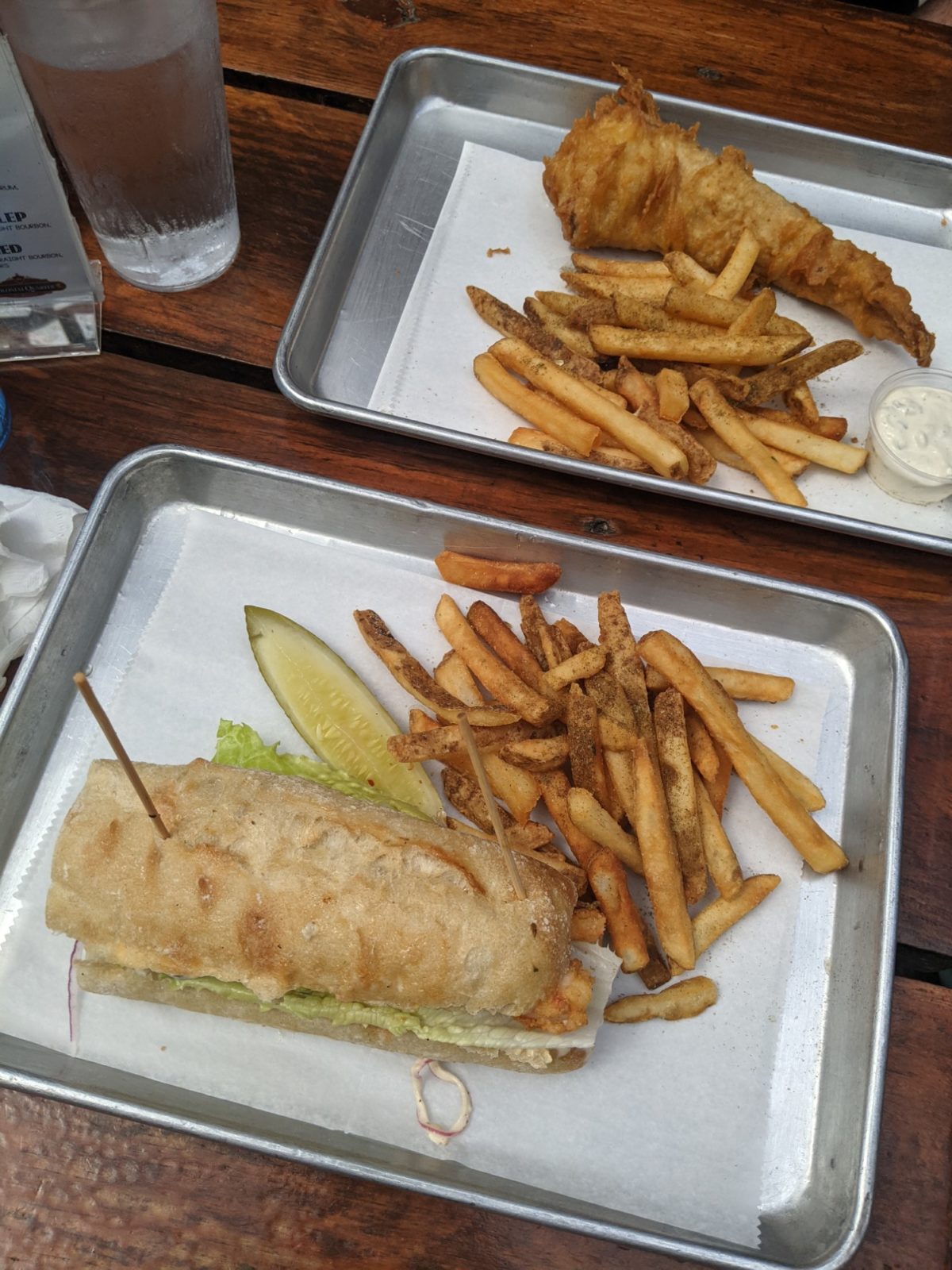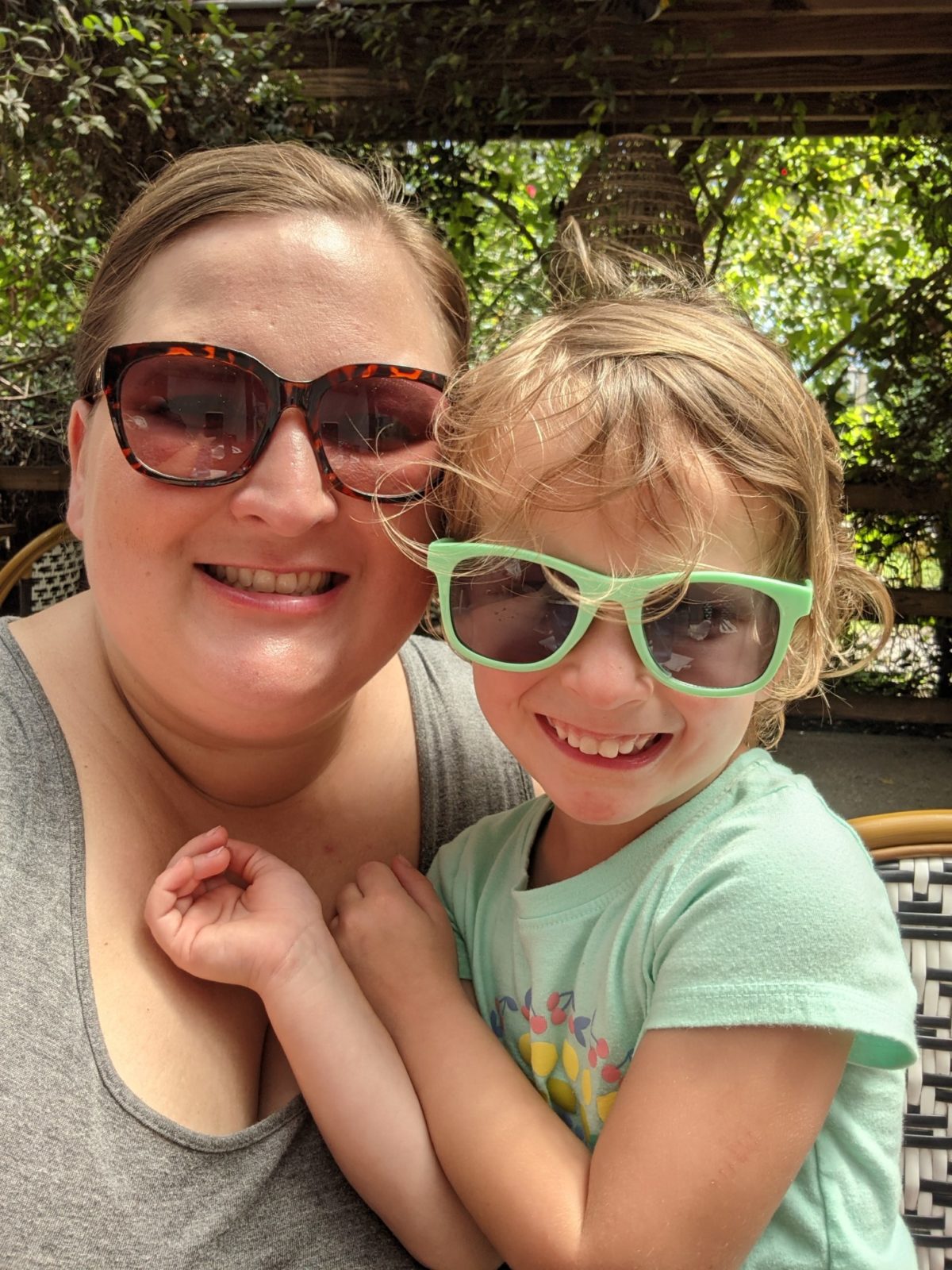 After lunch, we stopped in a couple more stores, and then walked around to King Street, to get the front view of Flagler College. A few months ago, while on maternity leave, I completed a puzzle of a bunch of St. Augustine landmarks, and of course the Flagler towers were on it. Emmie was interested in the puzzle, so I pointed some things out, and we talked about my college. Ever since then, she's been saying she "wanted to see my college," and she was so excited we finally got to! Sadly, the main lobby was closed to the public due to covid, and I hated that we couldn't go in there and see all the beautiful marble and the Tiffany stained-glass windows, but it was still so great being back there, if only on the outside, and only for a little bit!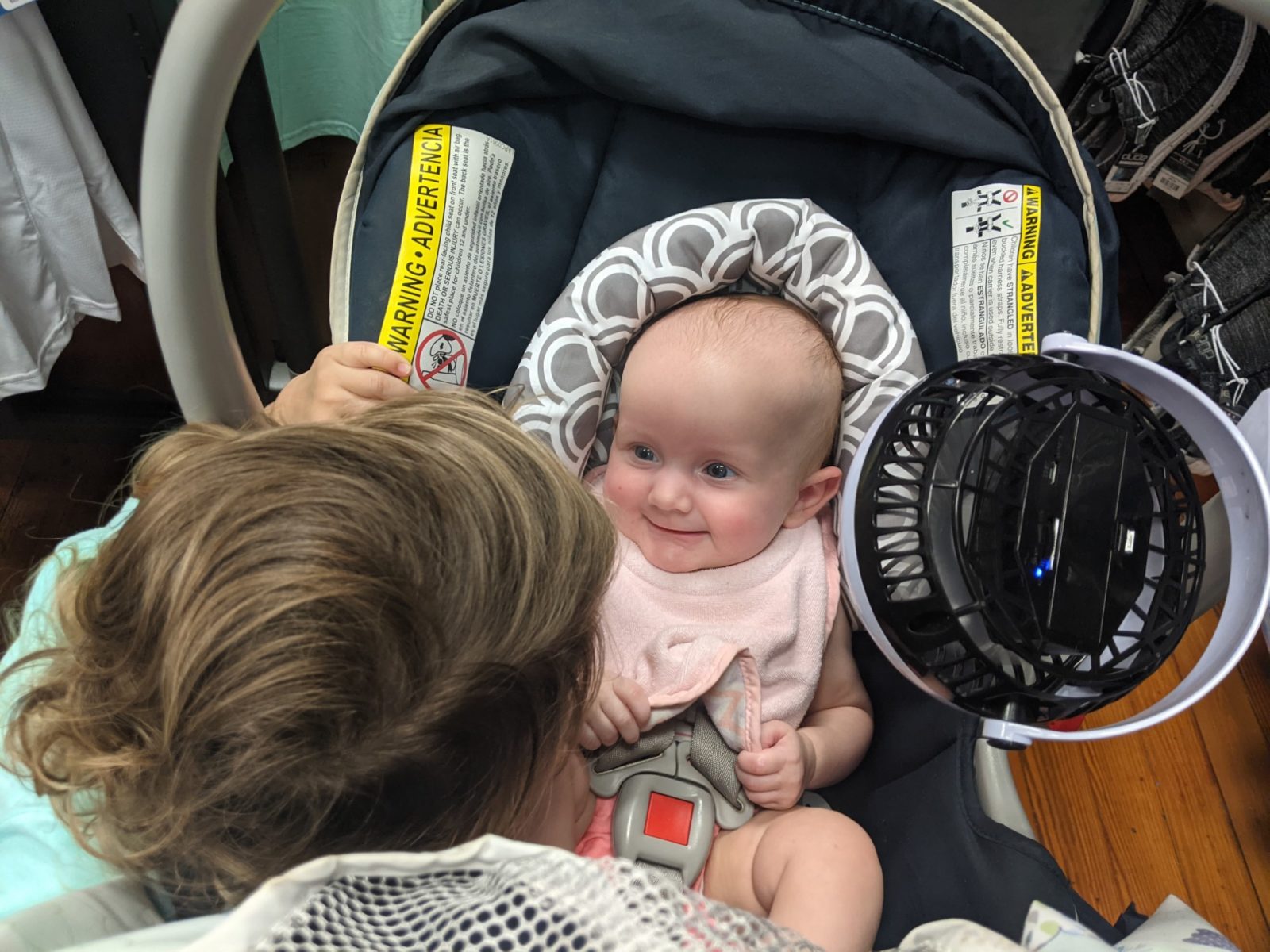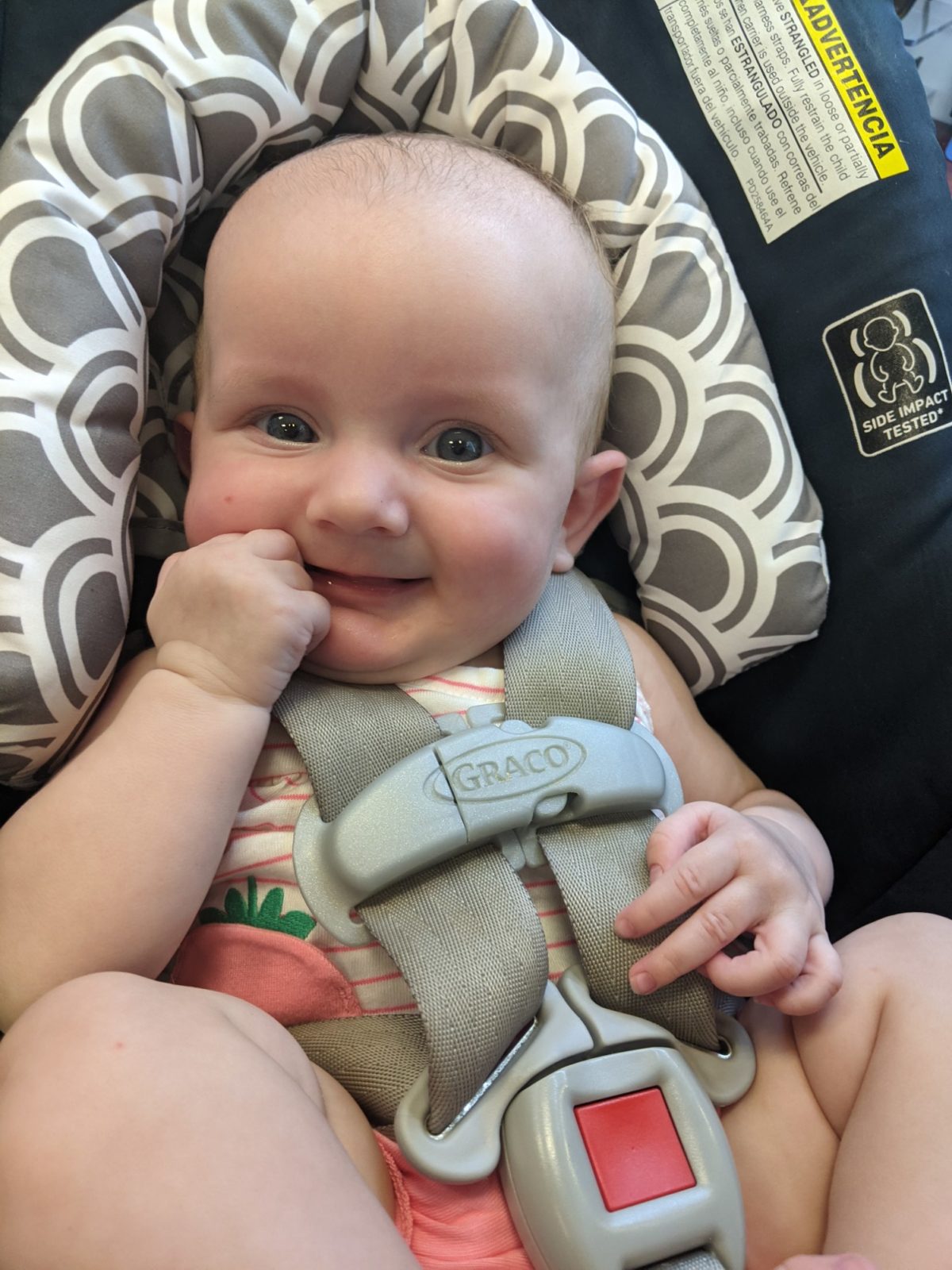 The window on the far left of the second floor was my dorm room during sophomore year, looking out at King Street and the Lightner Museum across the street!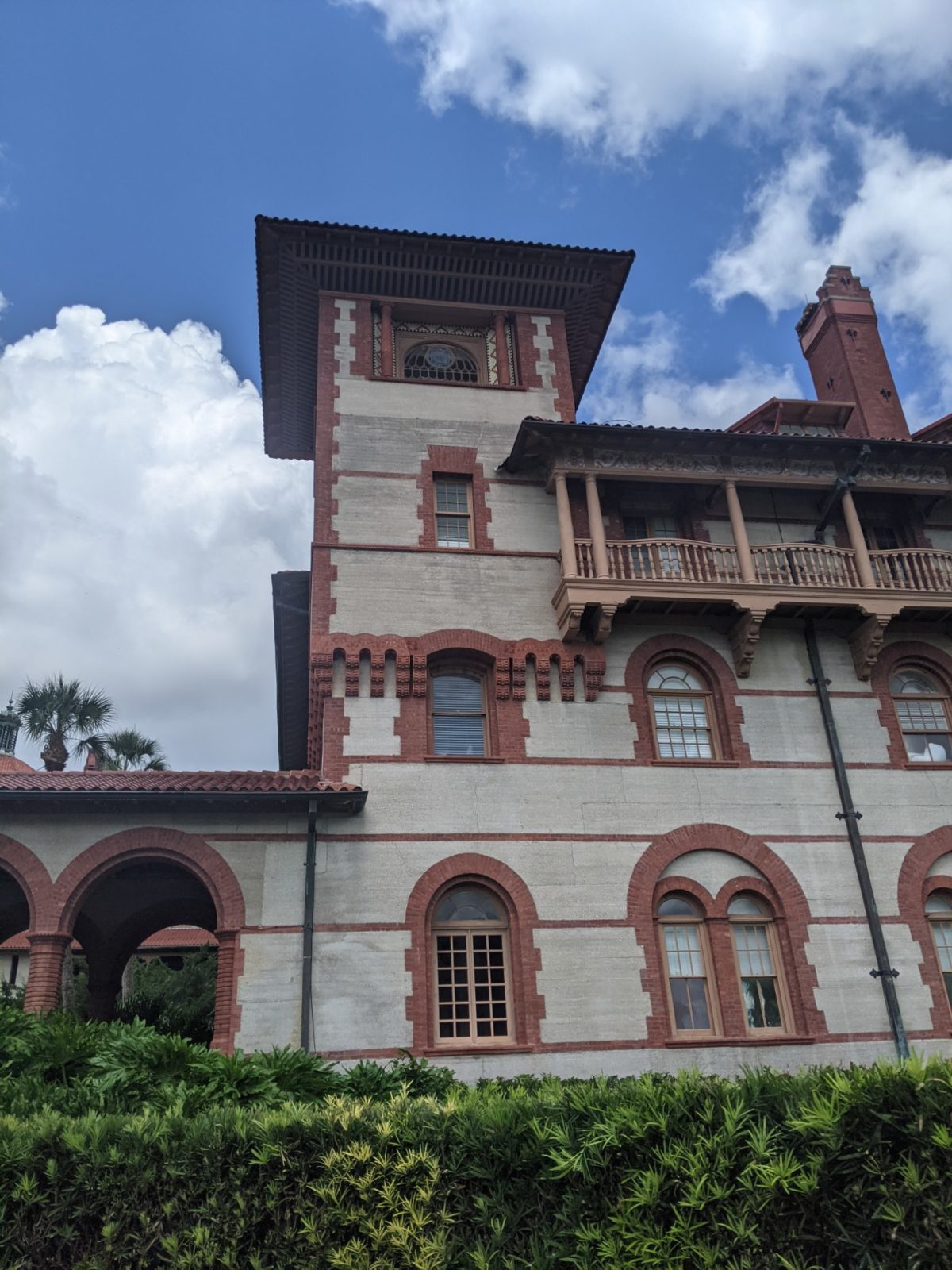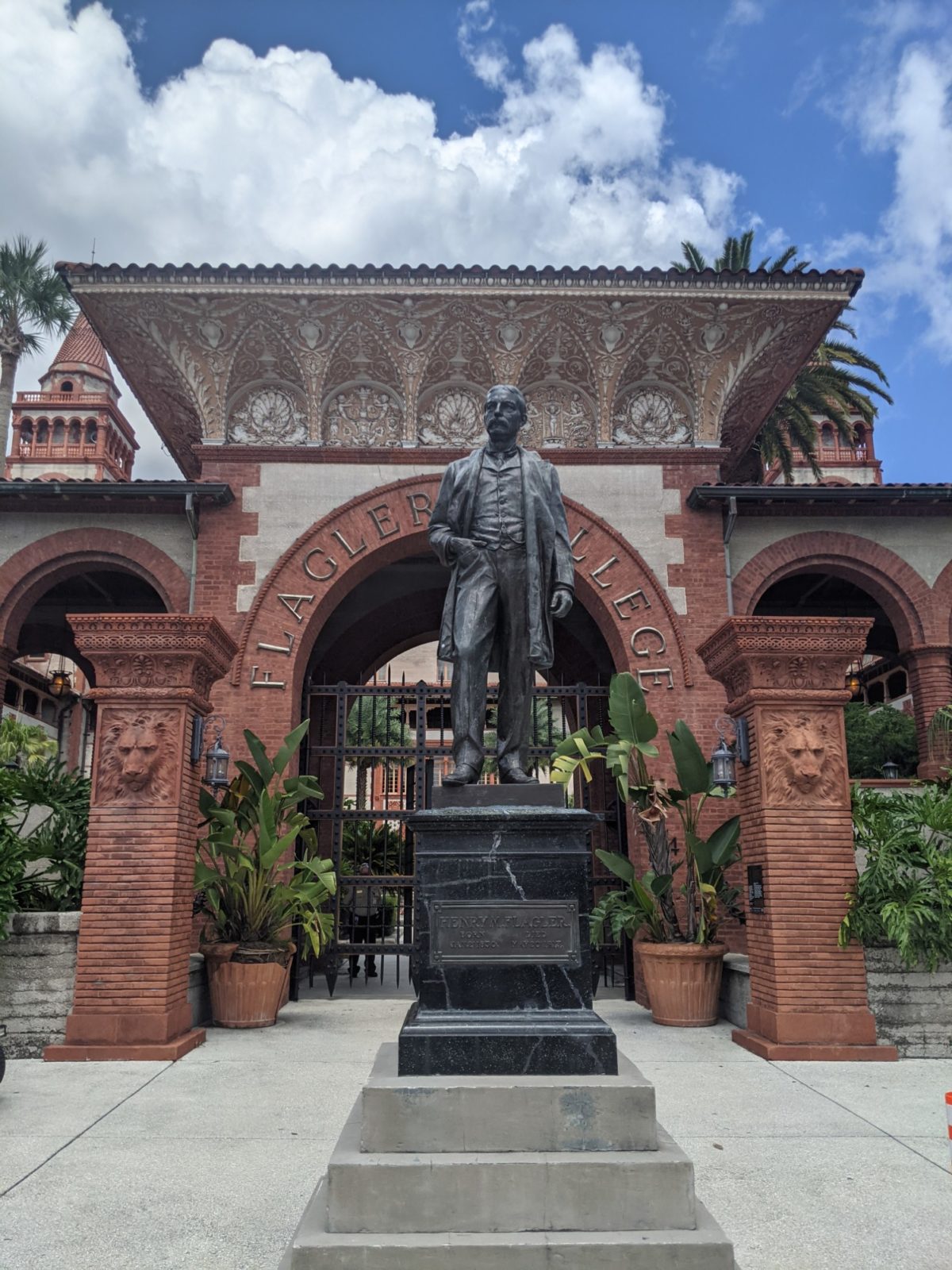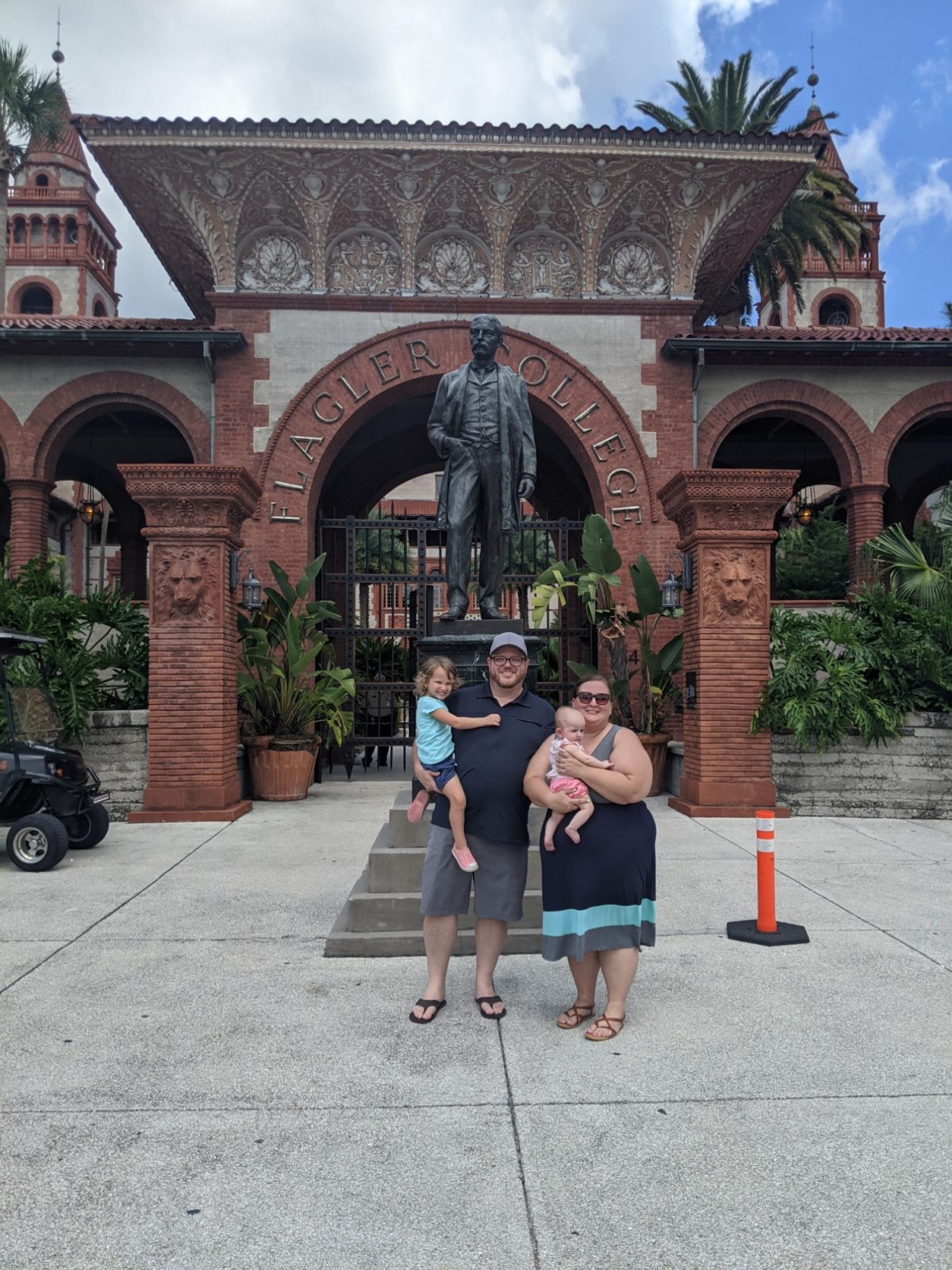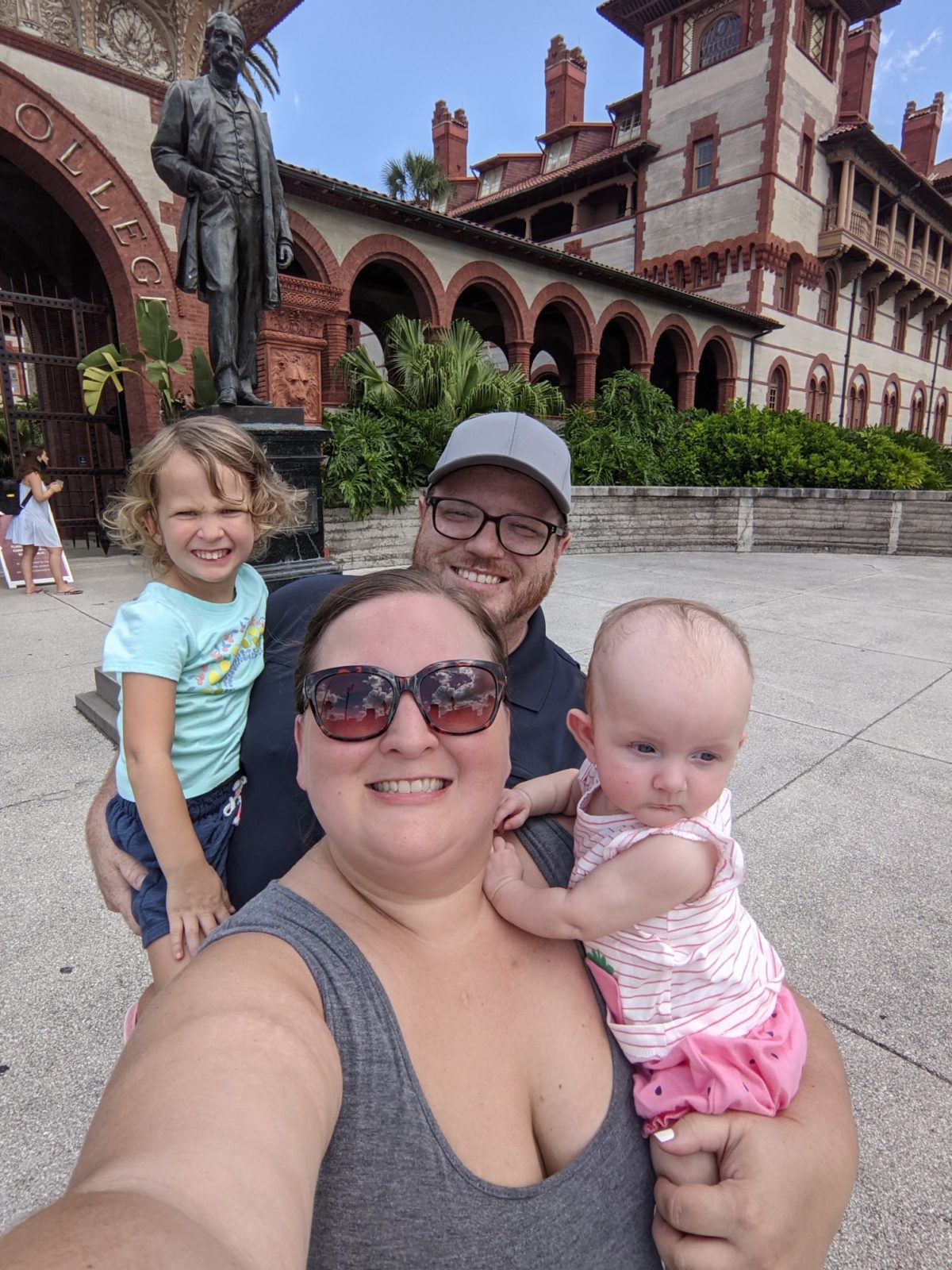 We headed back to Jacksonville after that, and made a quick stop at another local coffee shop, Bold Bean, before heading back to the hotel, so I could grab an iced chai latte, to reenergize for the rest of the afternoon/evening.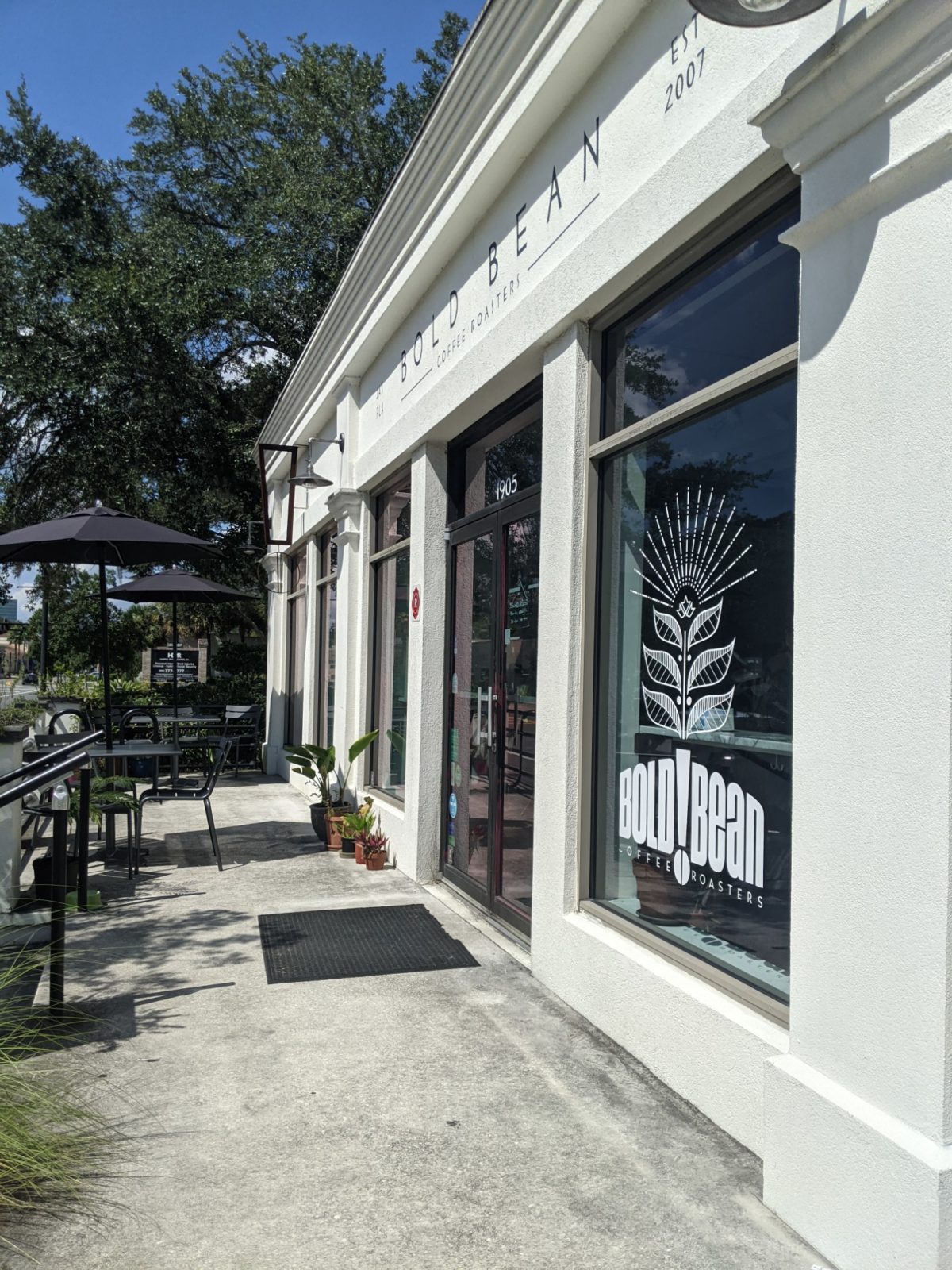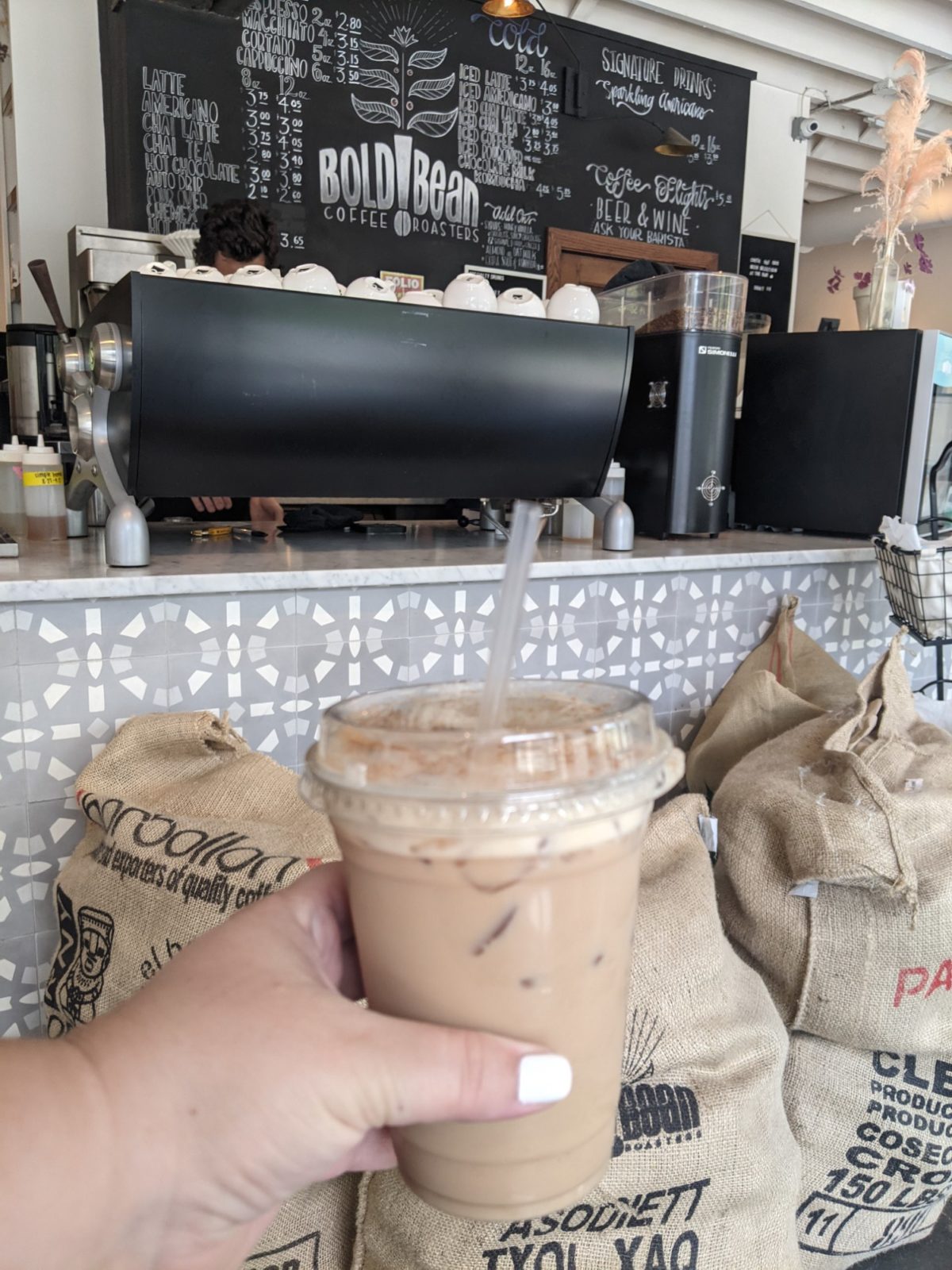 We were going to try to go for a swim in our hotel pool when we got back, but for some reason, they decided to shock the pool at 3pm on a holiday weekend in a packed hotel, so we couldn't get in it. So instead, we spent a couple of hours resting and playing and watching tv in our hotel room.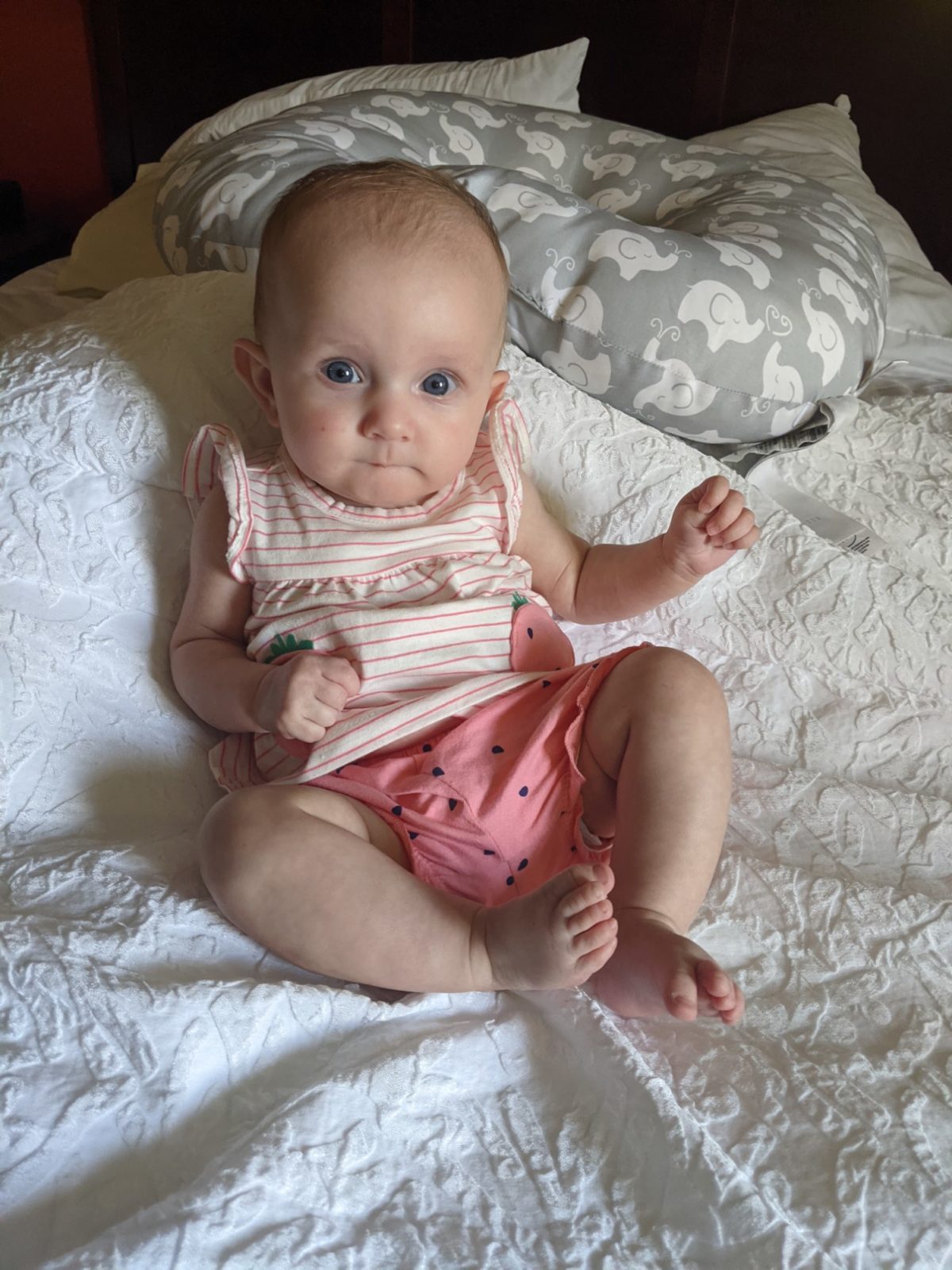 The plan after that was to go to another highly recommended restaurant, and one I wanted to try when we were in Jax last year, but just never got around to it, V Pizza. It was hard to find parking, but we did finally, so we went in to order the pizza a friend specifically suggested, but the guy told us it would an an HOUR for one pizza, because a huge family from New York had just come in and ordered $400 worth of pizzas!
So we said "peace out sir," and pulled up my Google list, and went to The Loop nearby. And their pizza was great, and we loved the little area/neighborhood, and even got some ice cream for dessert after a quick walk around the area.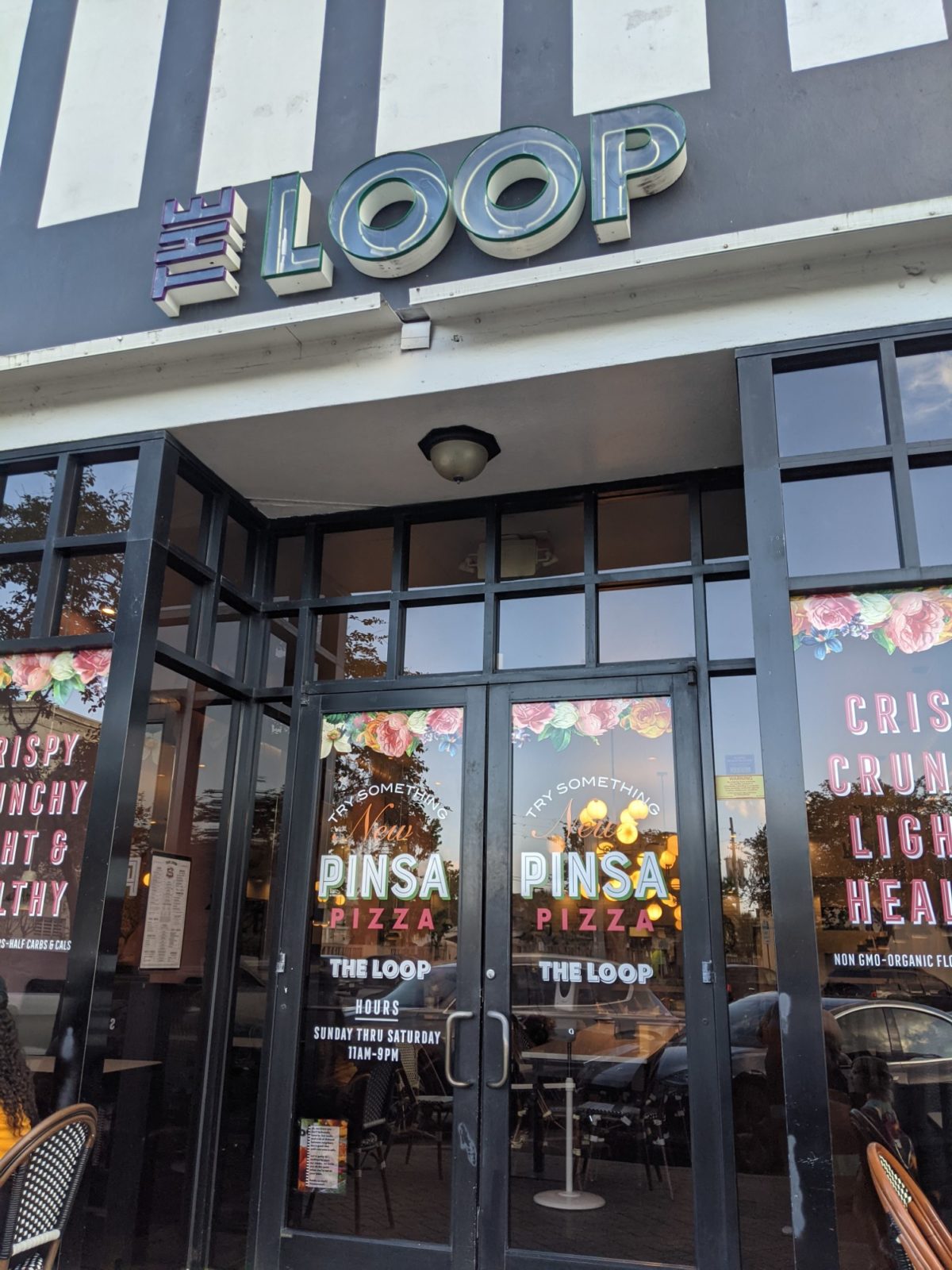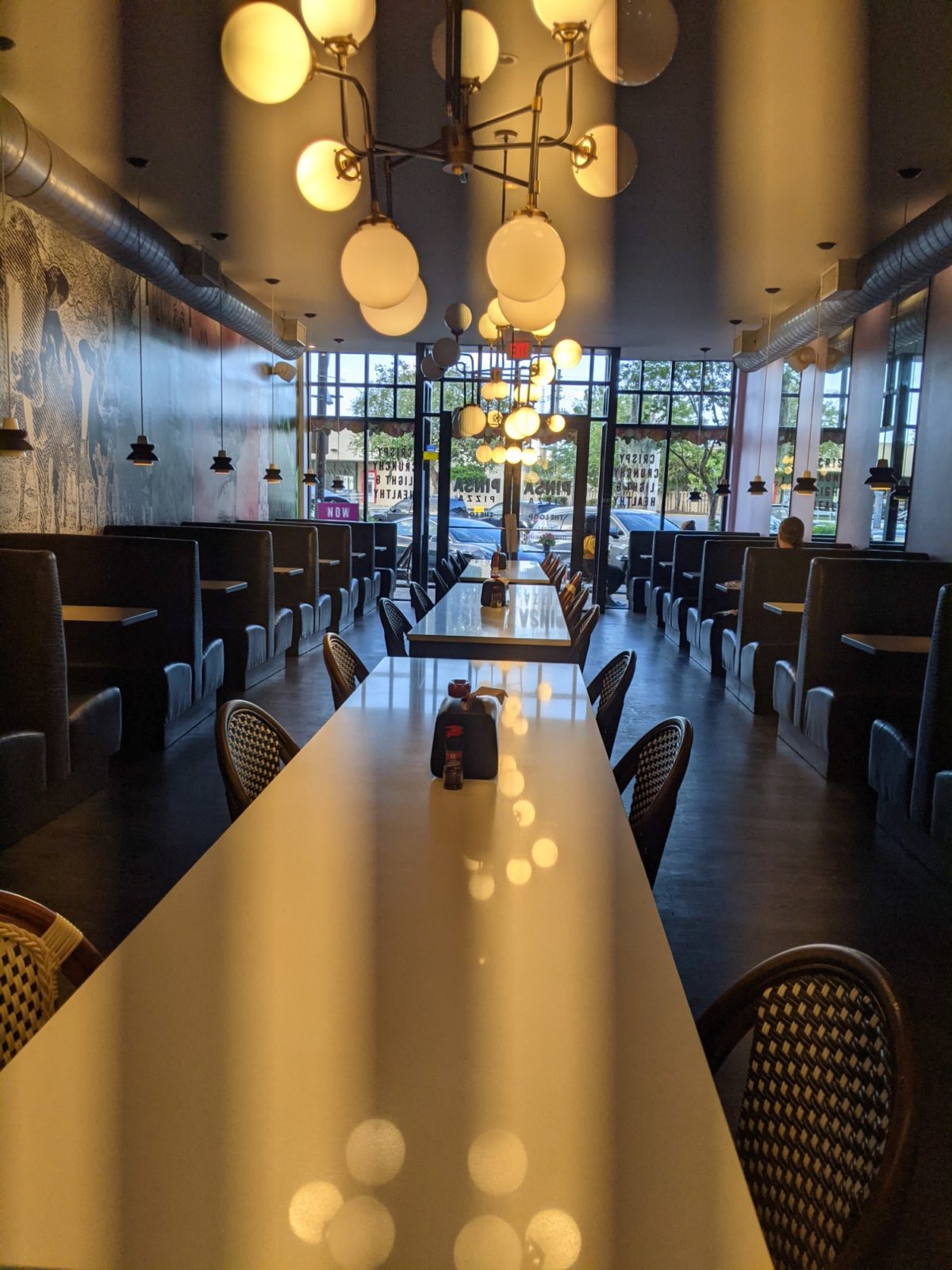 We had bleu cheese chips for an appetizer, which were super good. I got the fennel sausage and goat cheese with pesto pizza, which was an amazing blend of flavors. Jeff got the meat lovers, and loved his too. And of course Emmie liked her plain cheese pizza too.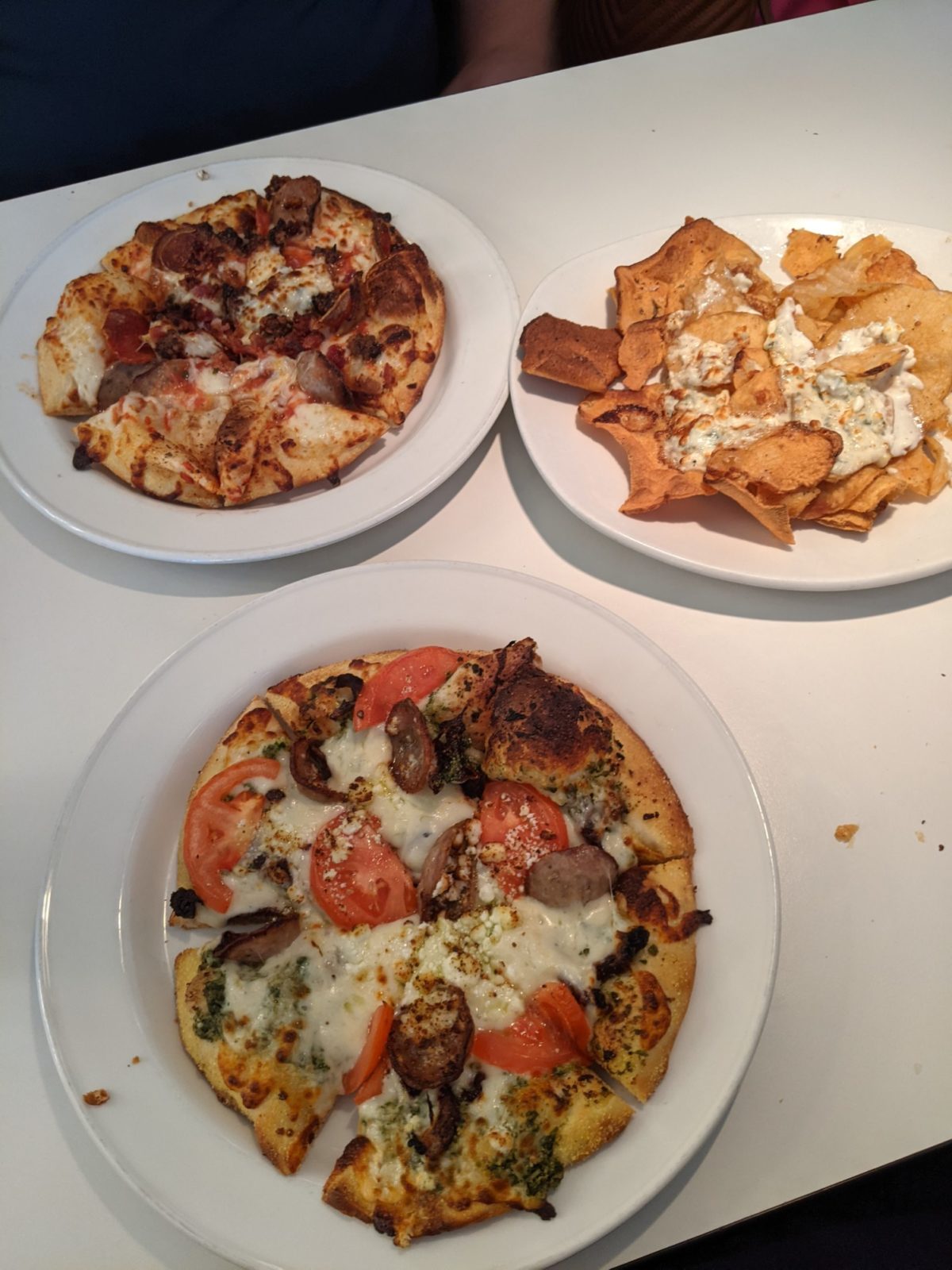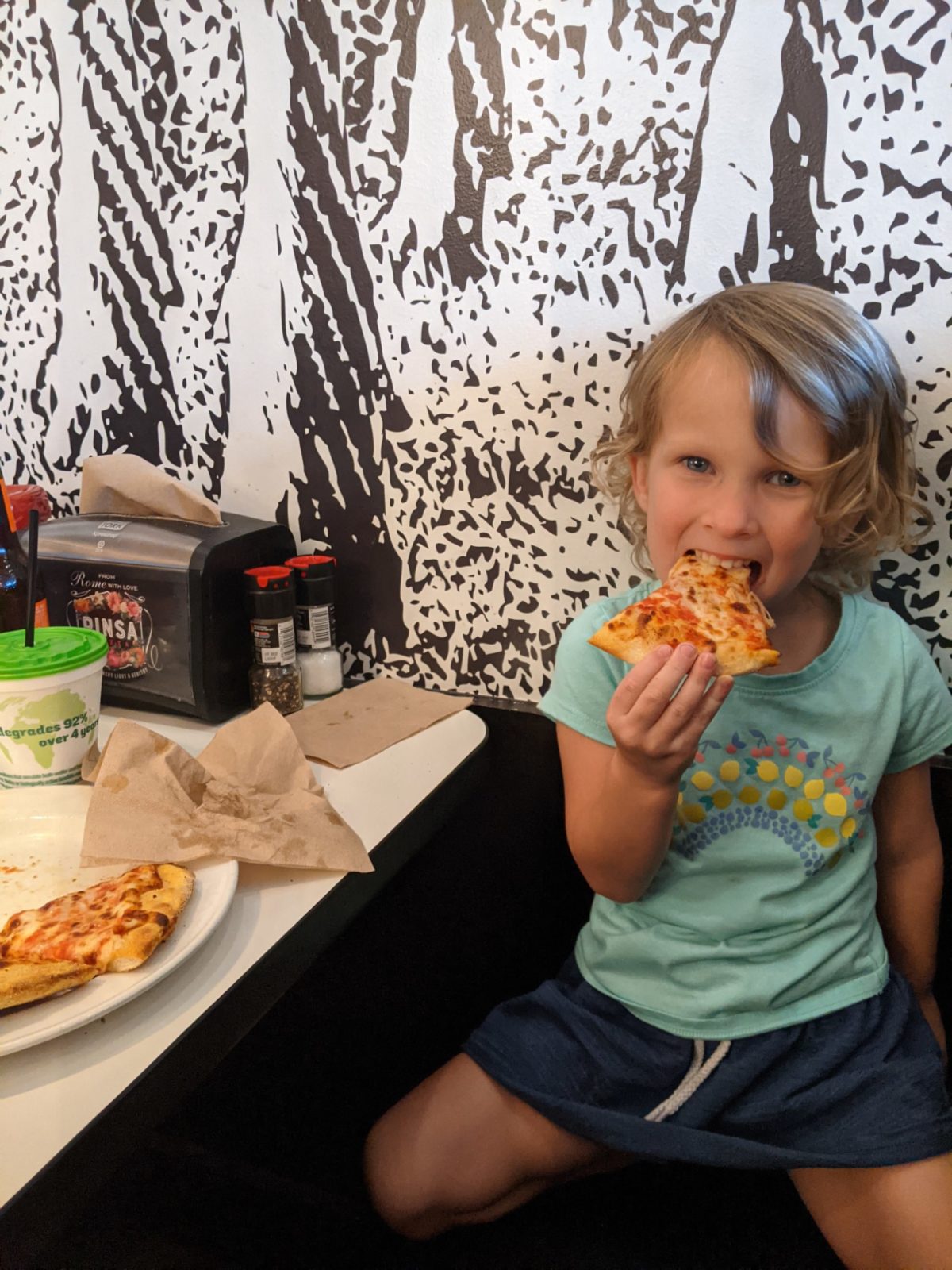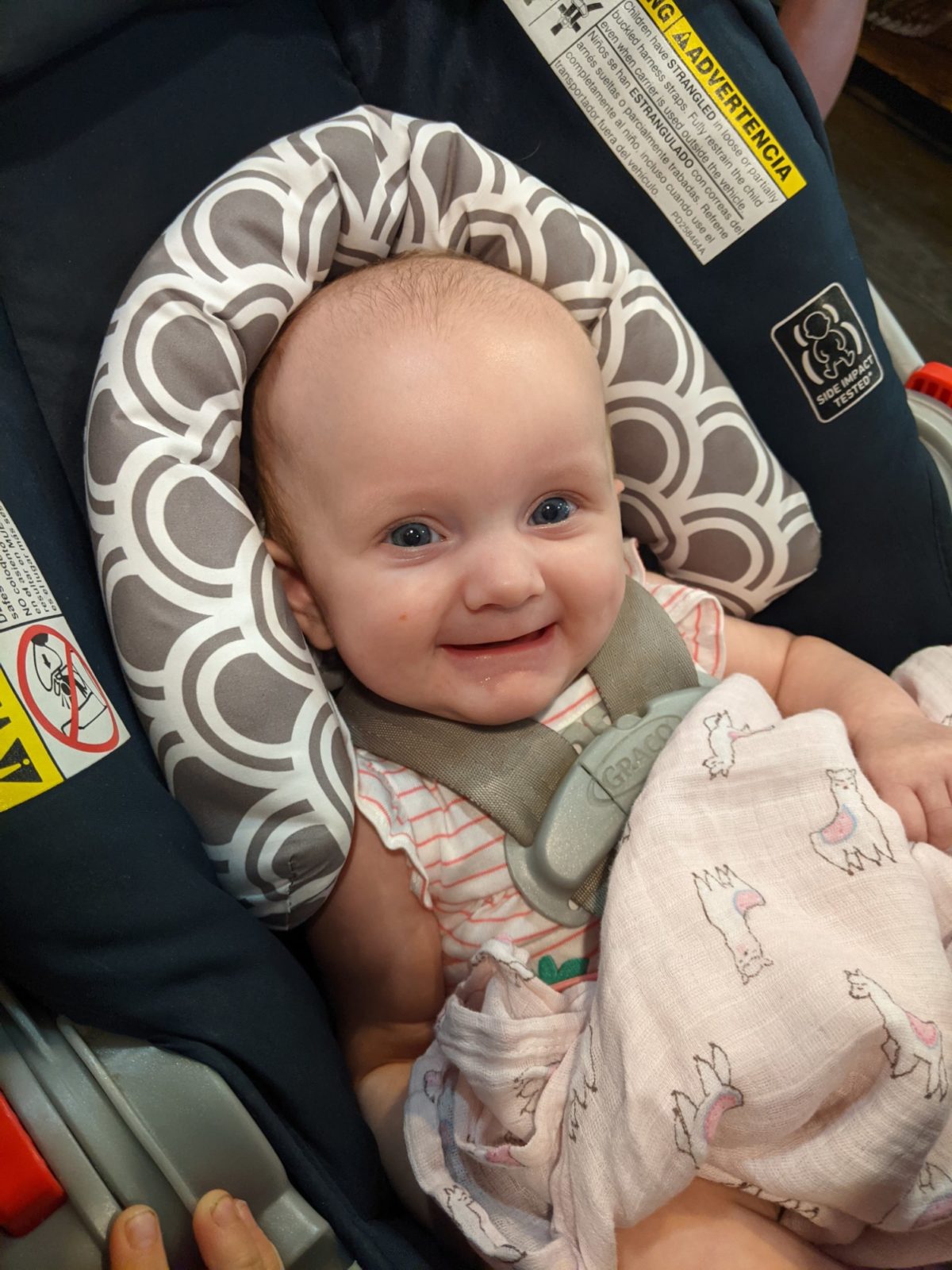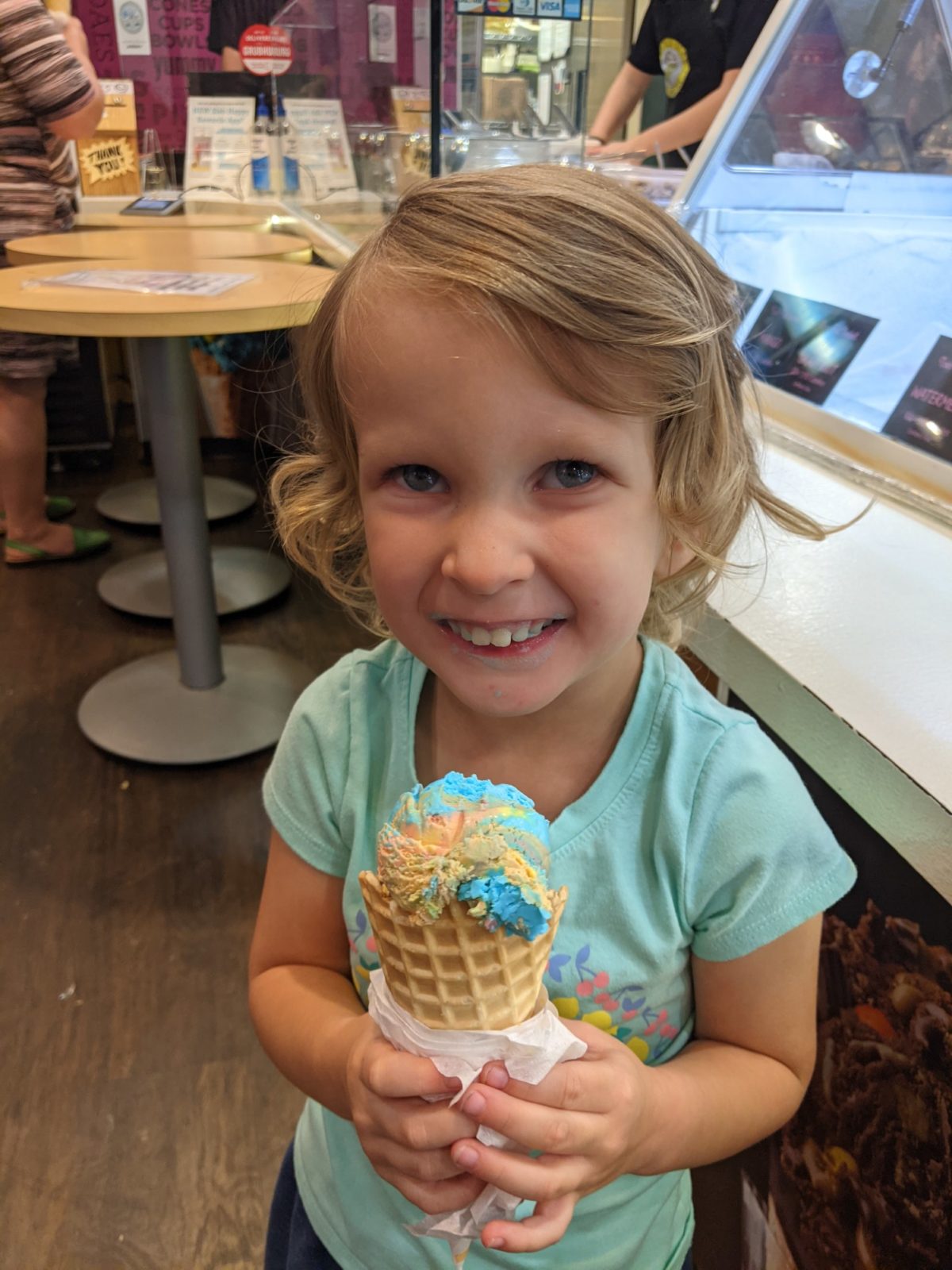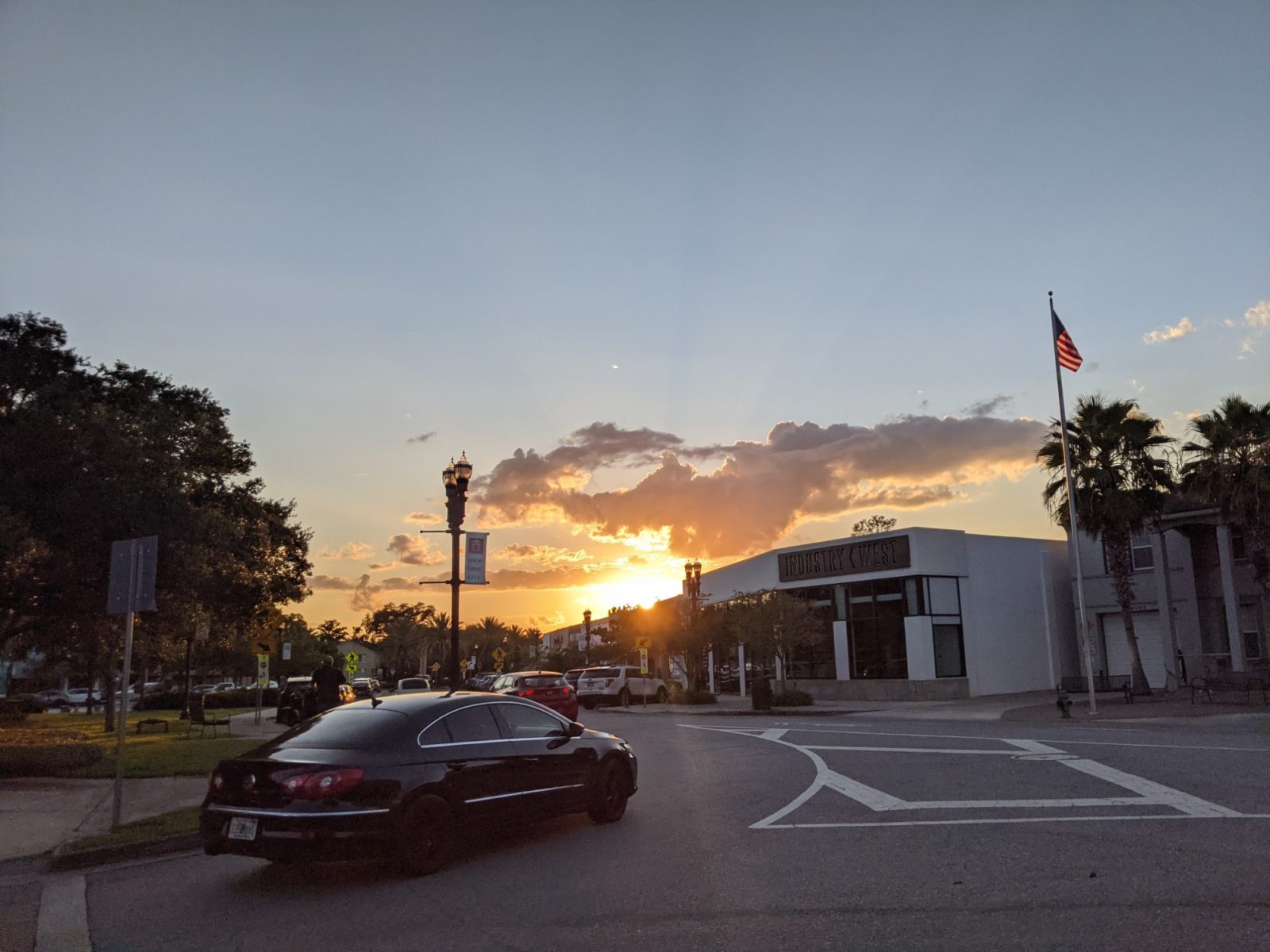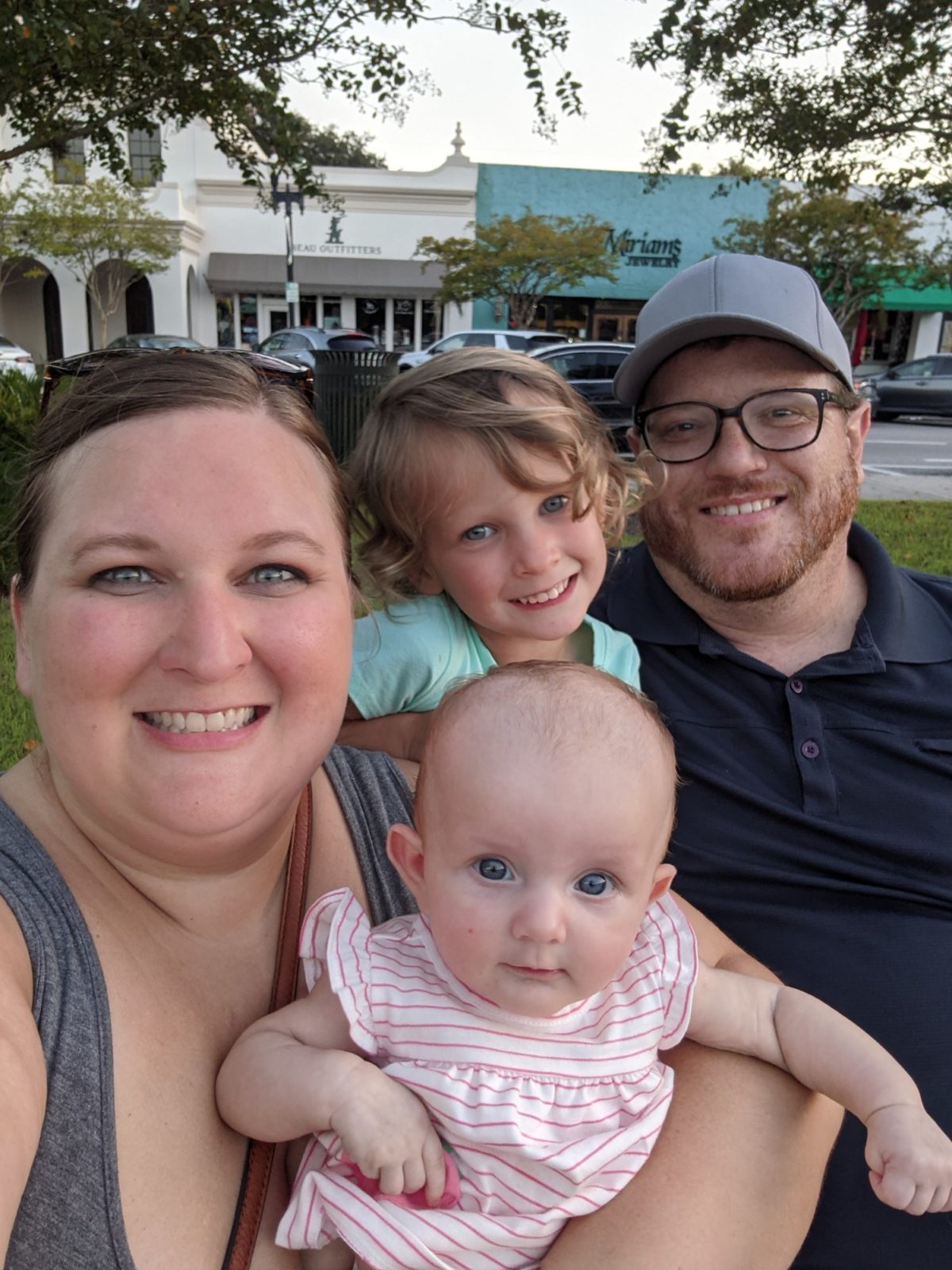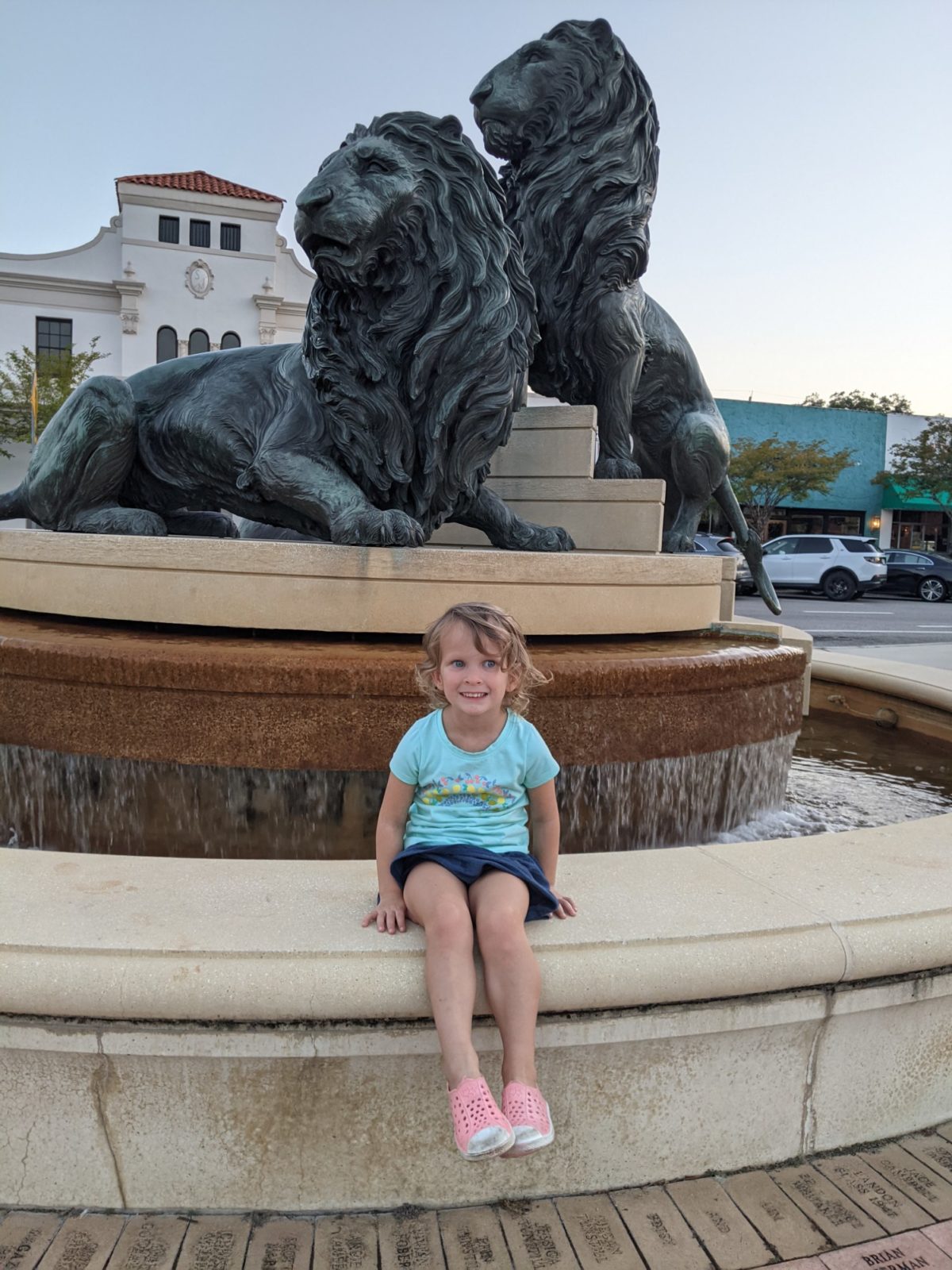 MONDAY
Addison woke up around 6am for her first morning bottle. I got up to feed her, Jeff and Emmie stirred but went back to sleep, and after Addie finished her bottle, she and I went back to sleep too. And then we all slept until 8:30!! That's the latest Emerson has slept that I can remember. We had planned to go out to breakfast again, but since it was so late, and we took so long to get dressed and moving, we just went down for the free hotel breakfast, which turned out to be pretty decent anyways.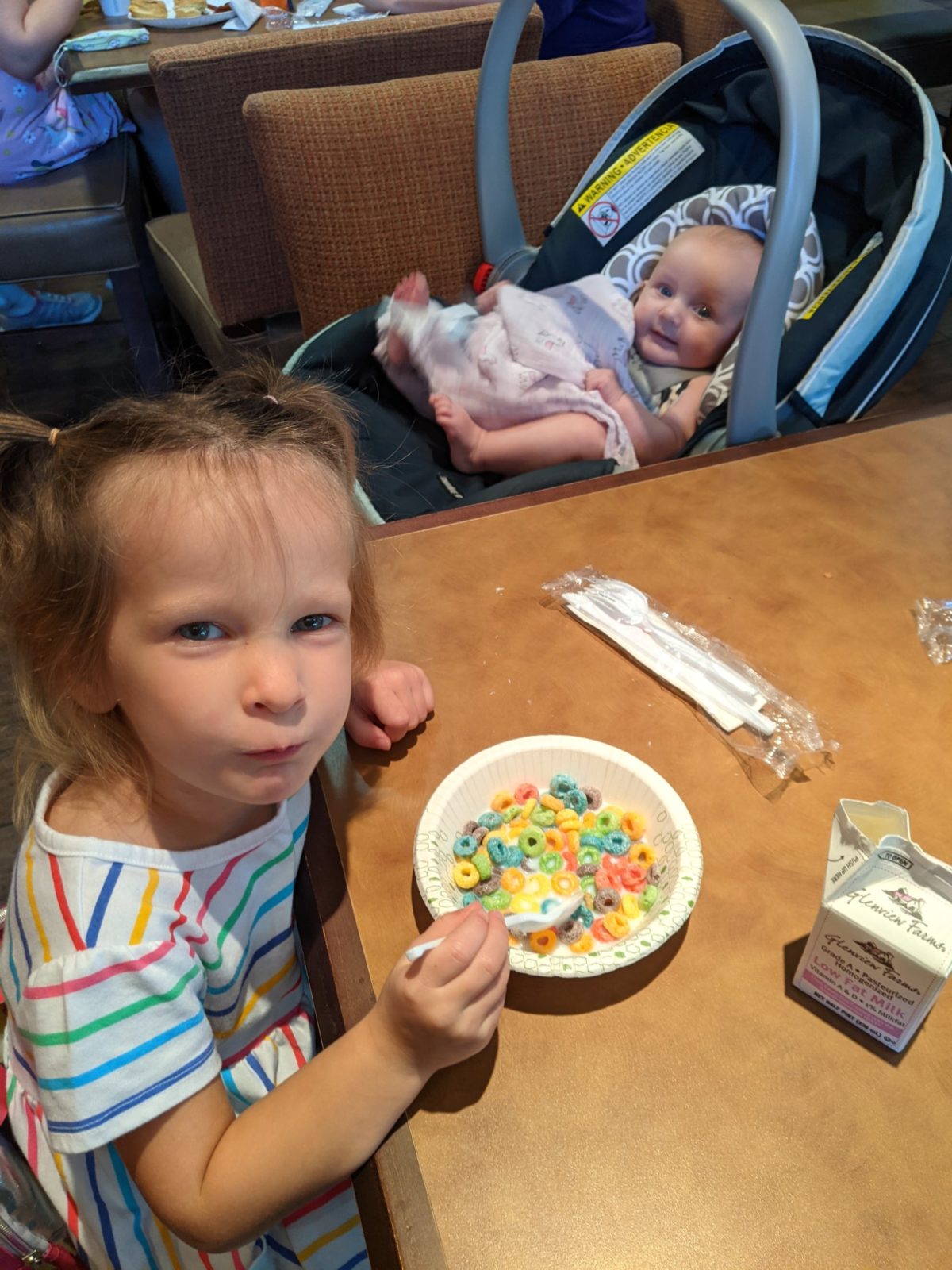 We brought up a empty cart after breakfast, and then I packed and loaded our stuff while Jeff fed Addison another bottle. Then we all went down to the car and he loaded the car, then took the cart back to the lobby with Emmie, and I pulled the car around the front.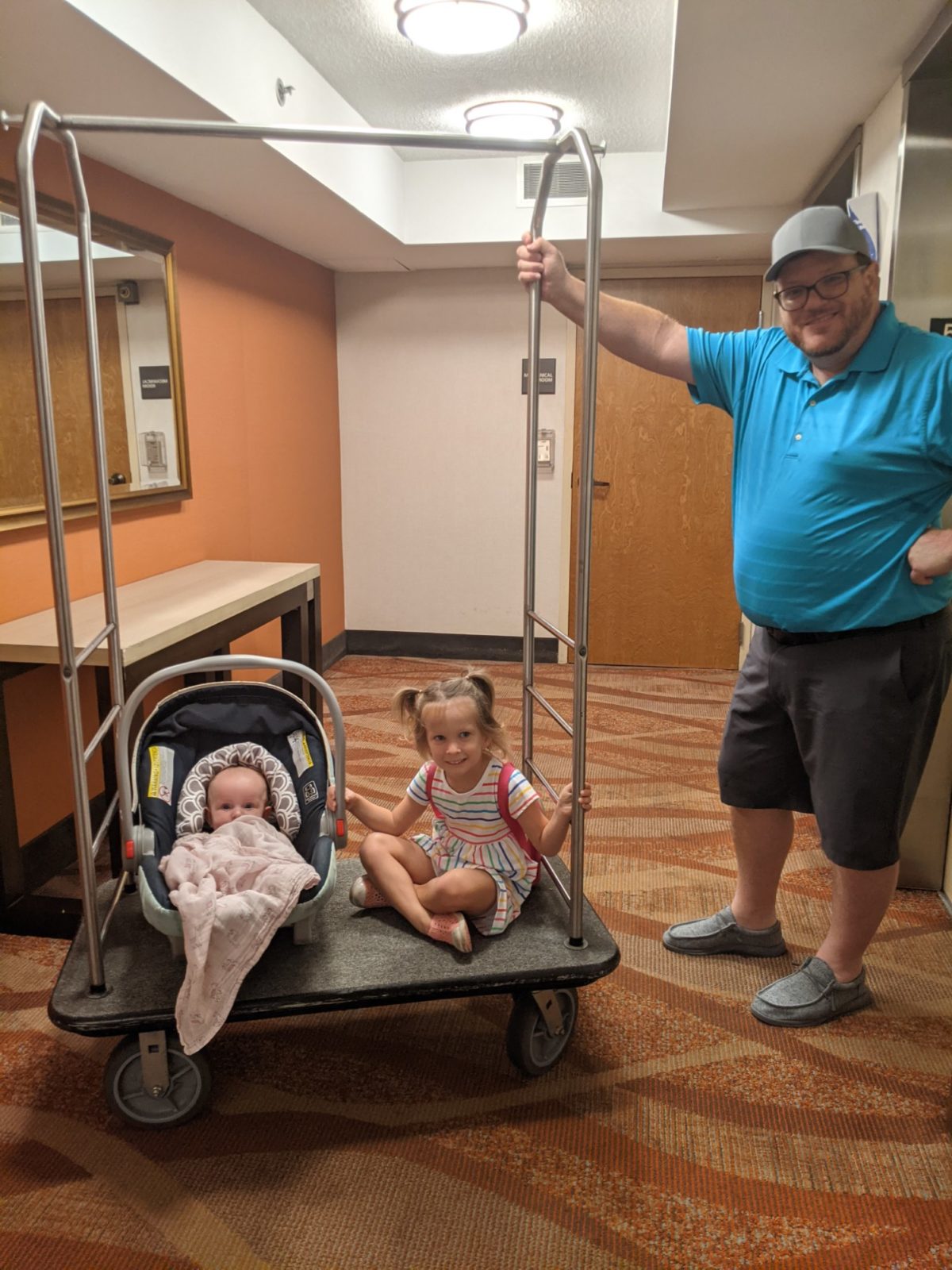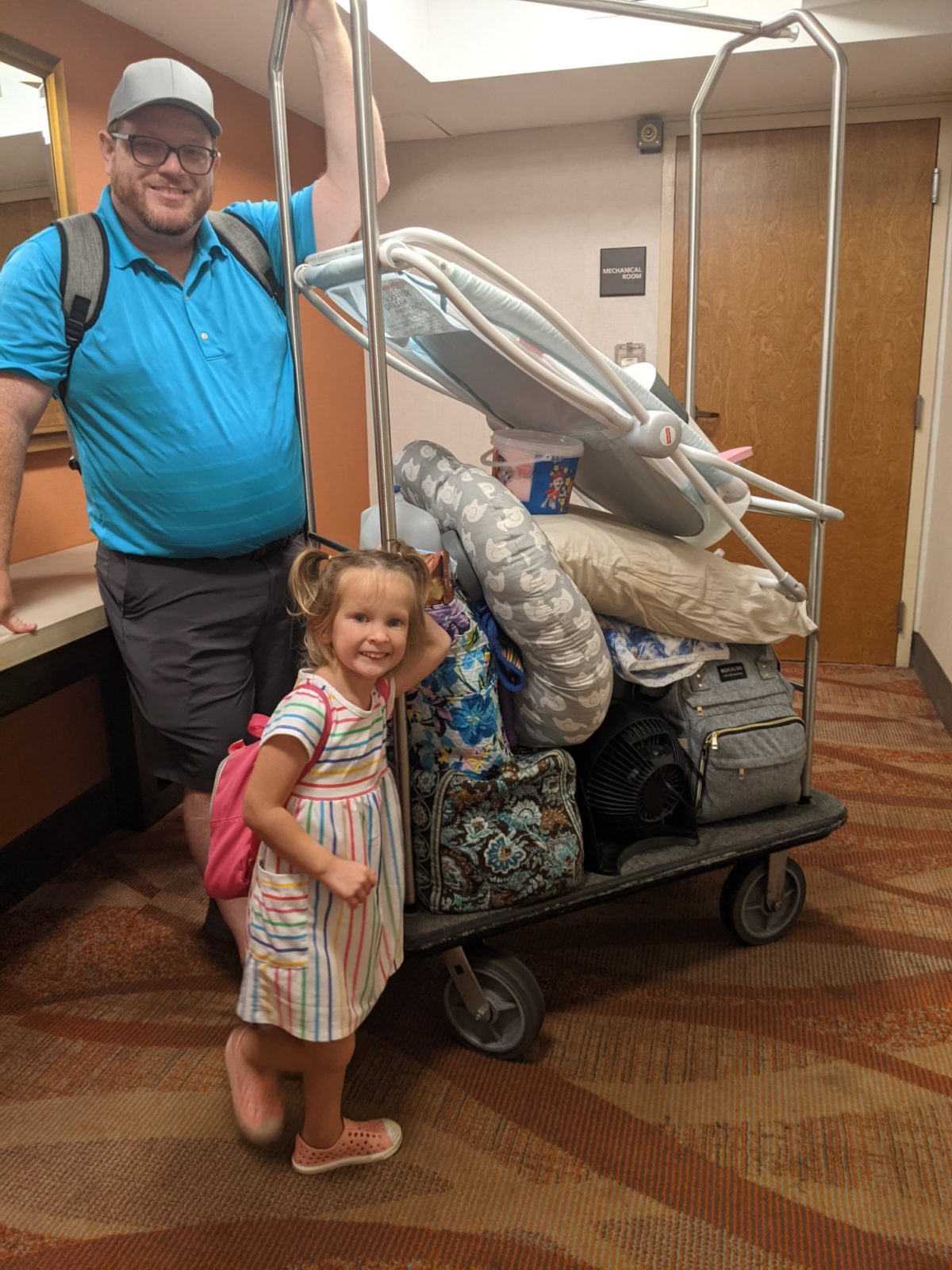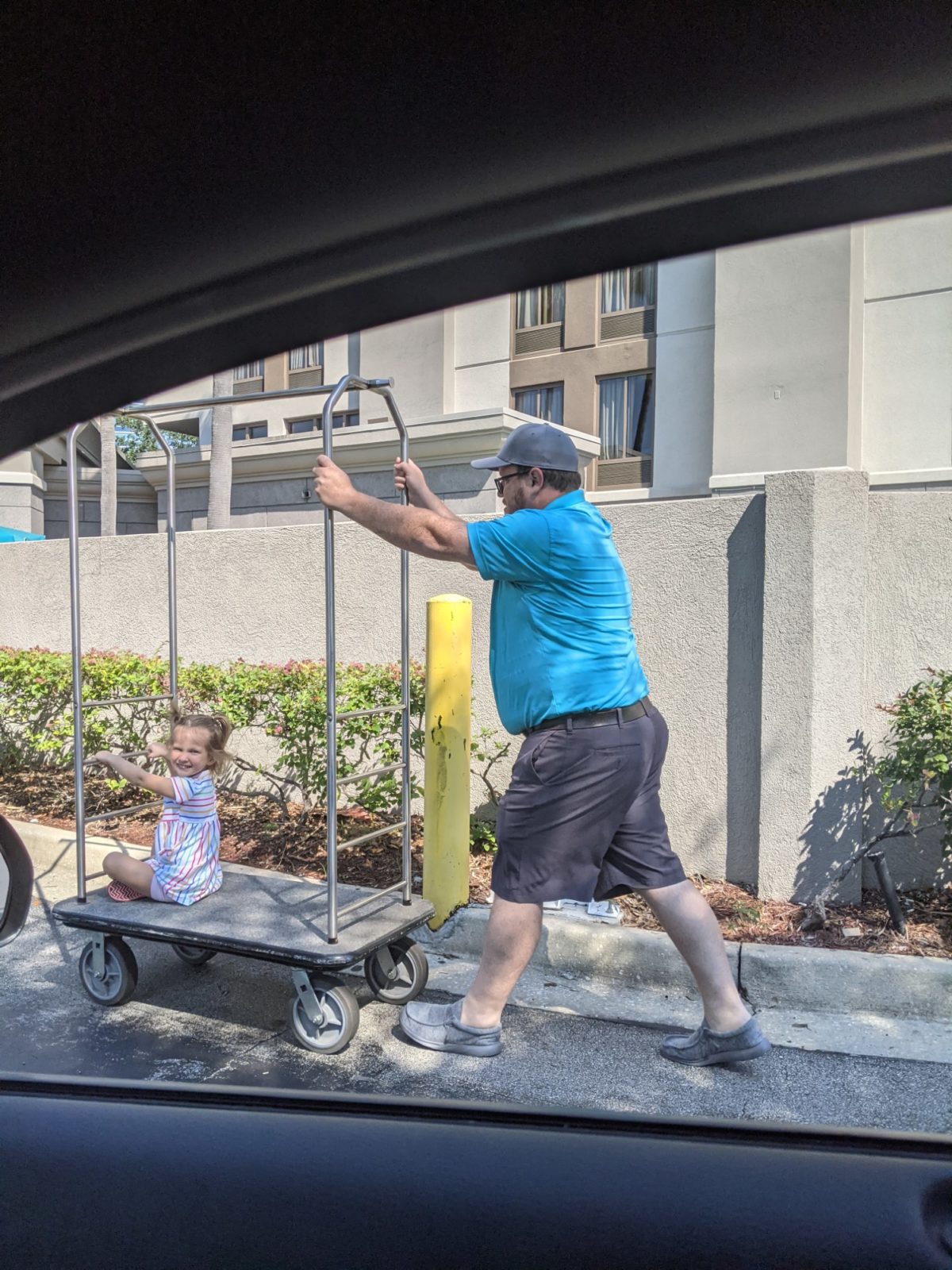 And you know we had to make a quick run through IKEA! We didn't need anything, but of course we wanted to go, just to see what we could find. We didn't have much free space in the car though, so we kept our purchases to a minimum.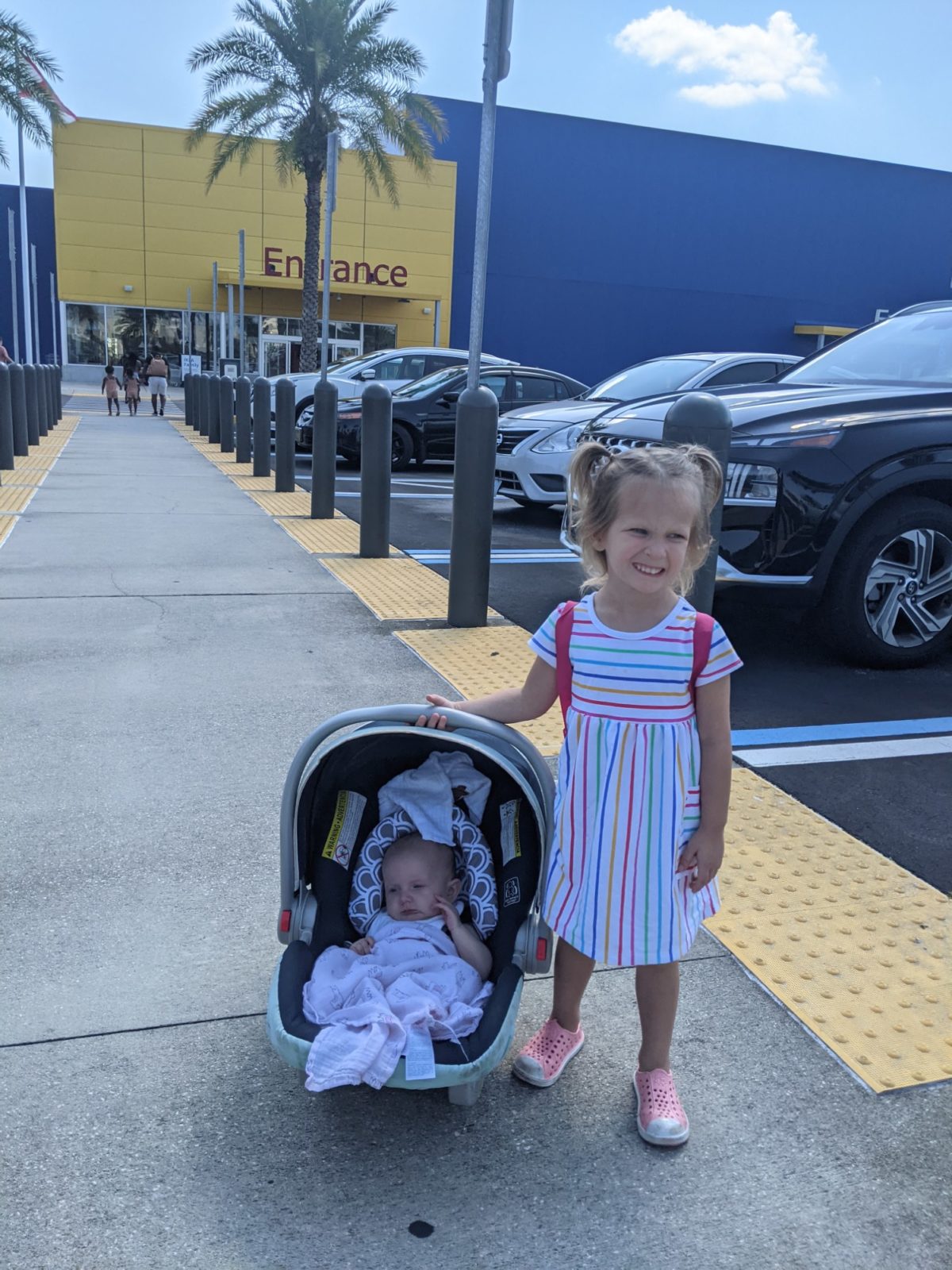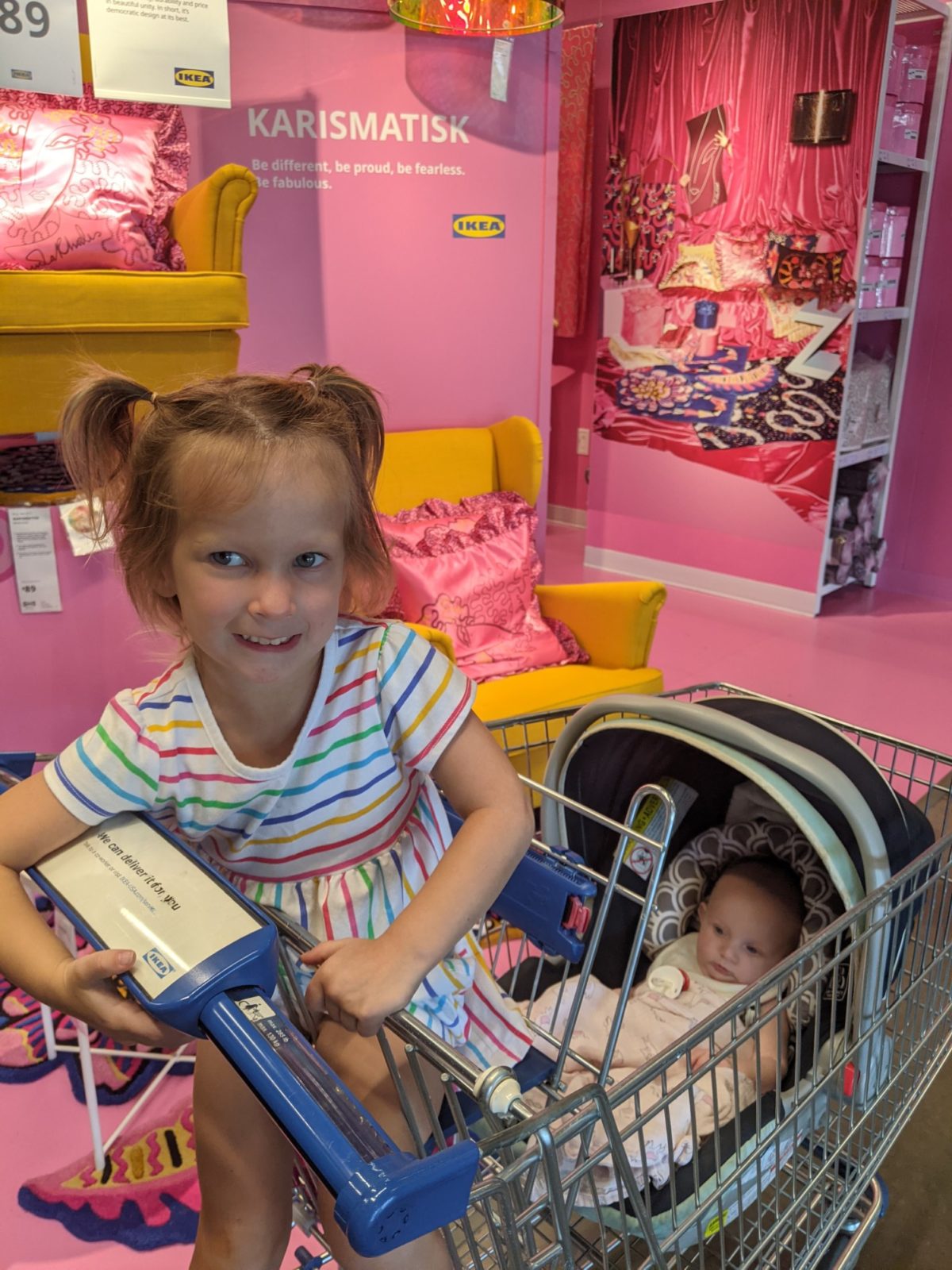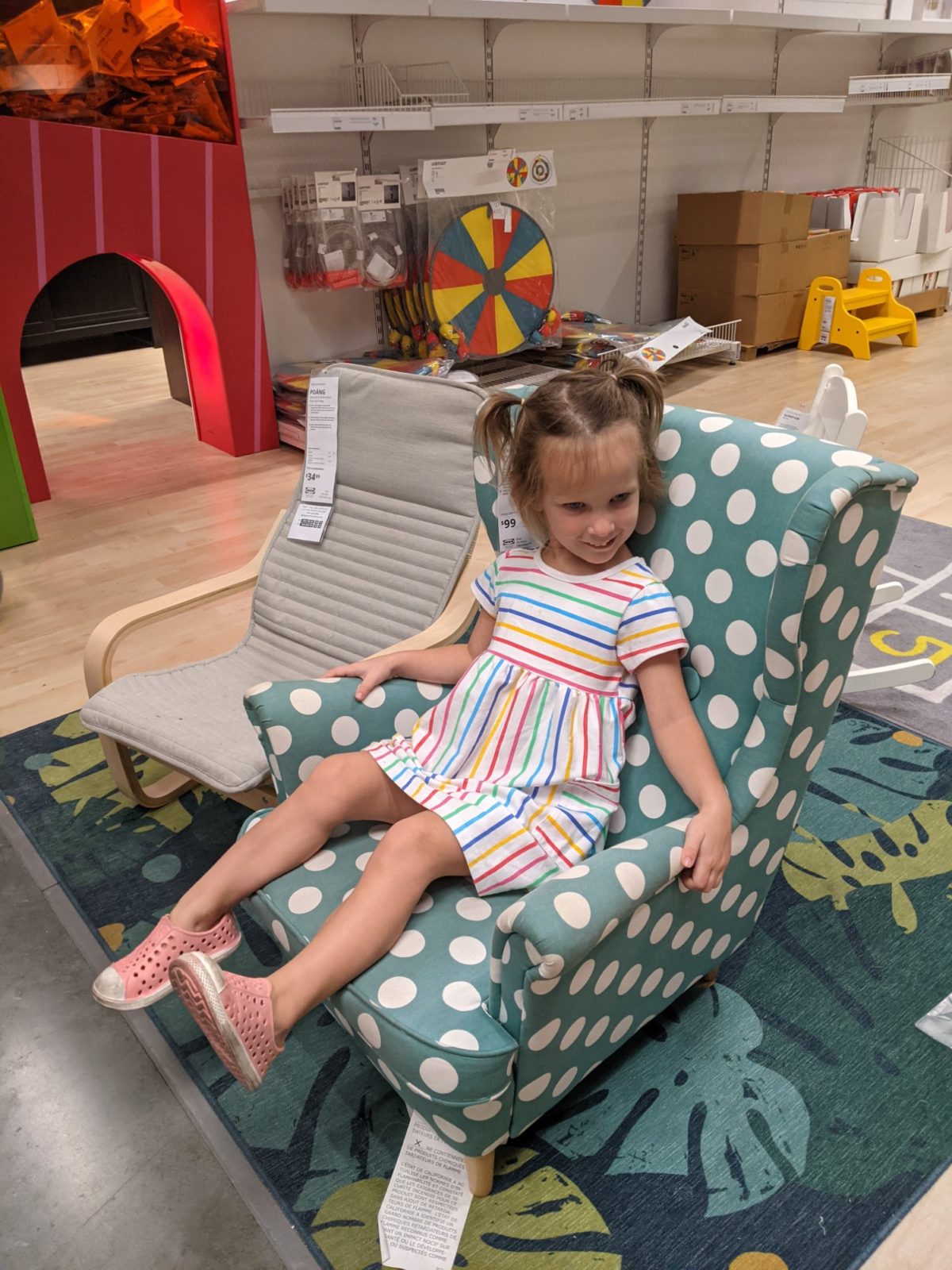 We thought the cafeteria was closed, so we had already decided on a lunch spot, but then when we got closer, we realized they were open, and it was about noon already, so we bought one single meatballs meal and all shared it for a quick snack. That turned out to be a really good idea, because of course it was super yummy, but the check-out lanes were really long (they only had 3 open, on a holiday weekend!), and it kept some of us (me and Em) from getting too hangry before lunch.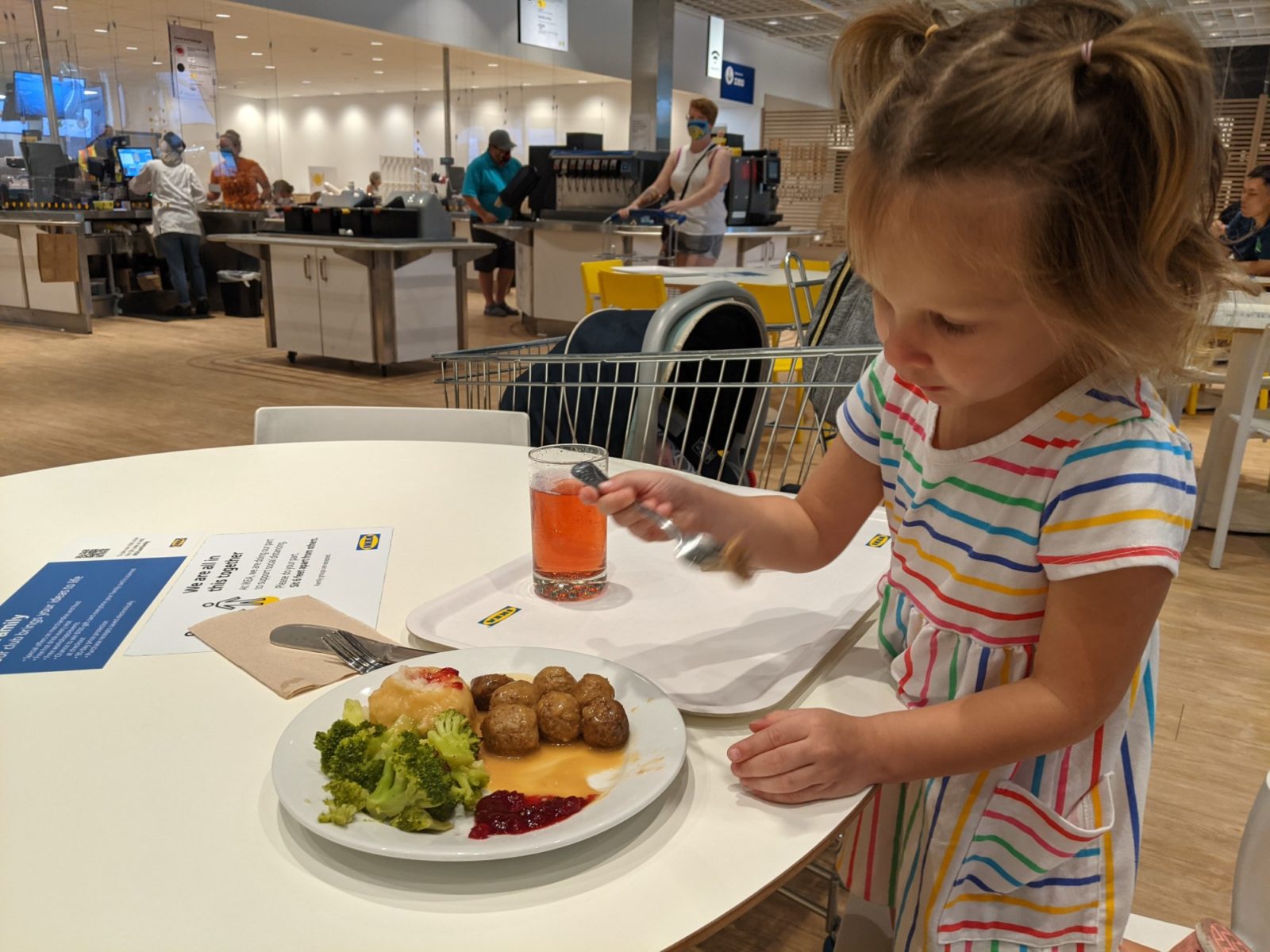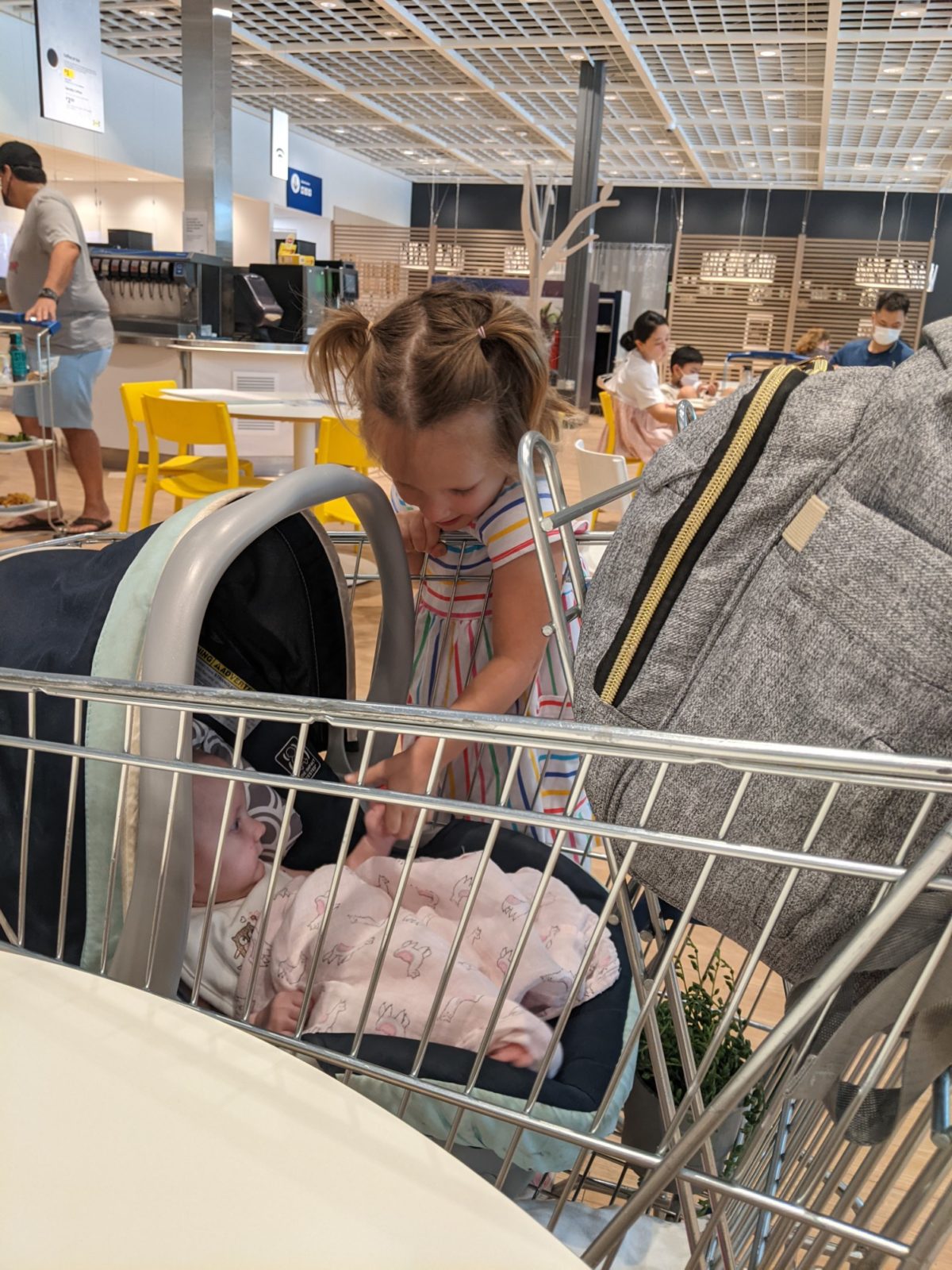 And since we still hadn't yet had any tacos all weekend, we finally found a great spot – El Agave Azul! Jeff and I both got one street taco and one Mexican street corn, with chips and queso for us all to share, and Emmie just had one kids beef taco. And that street corn was one of my favorite things I've eaten in a while. Soooo good!!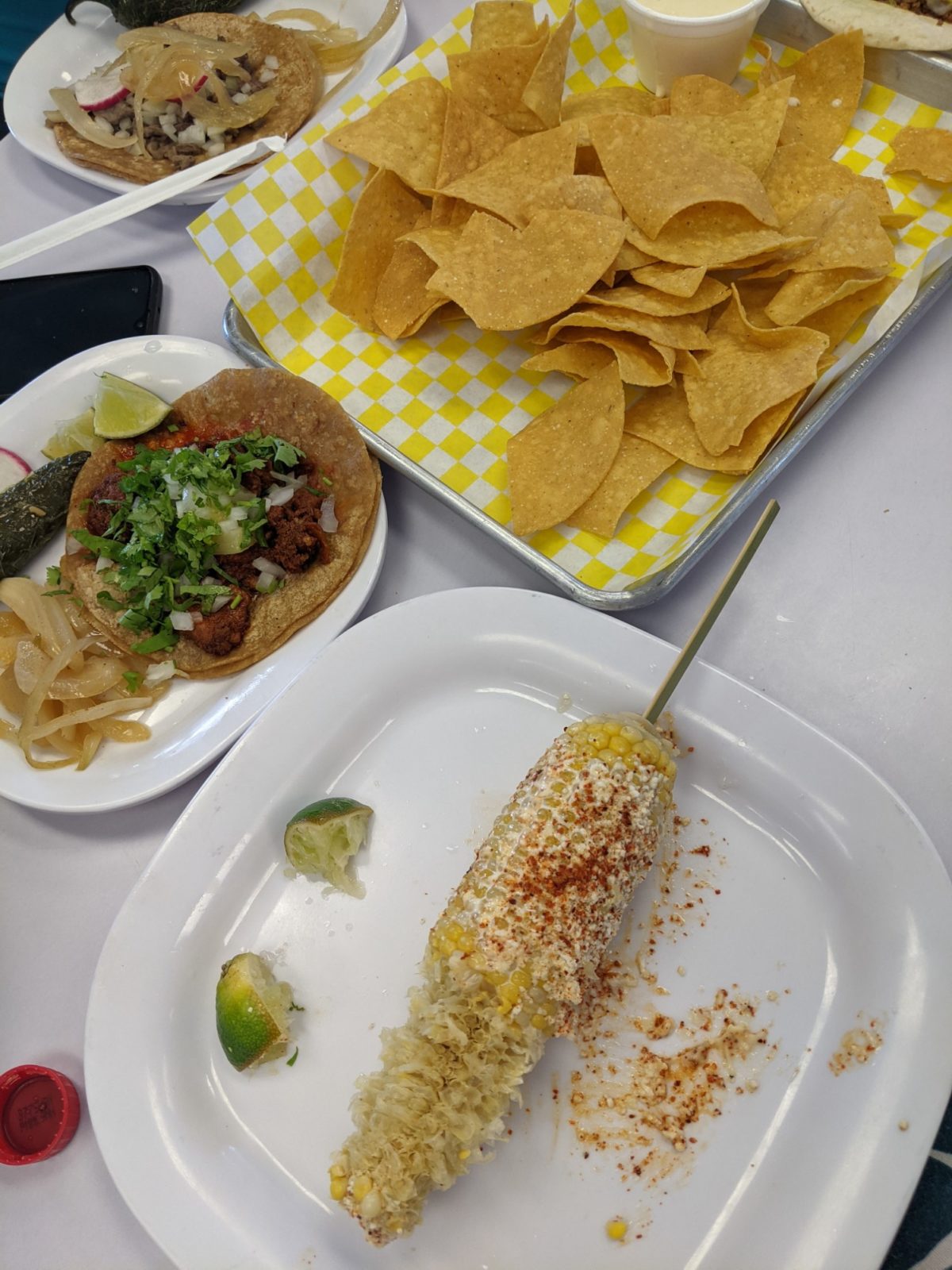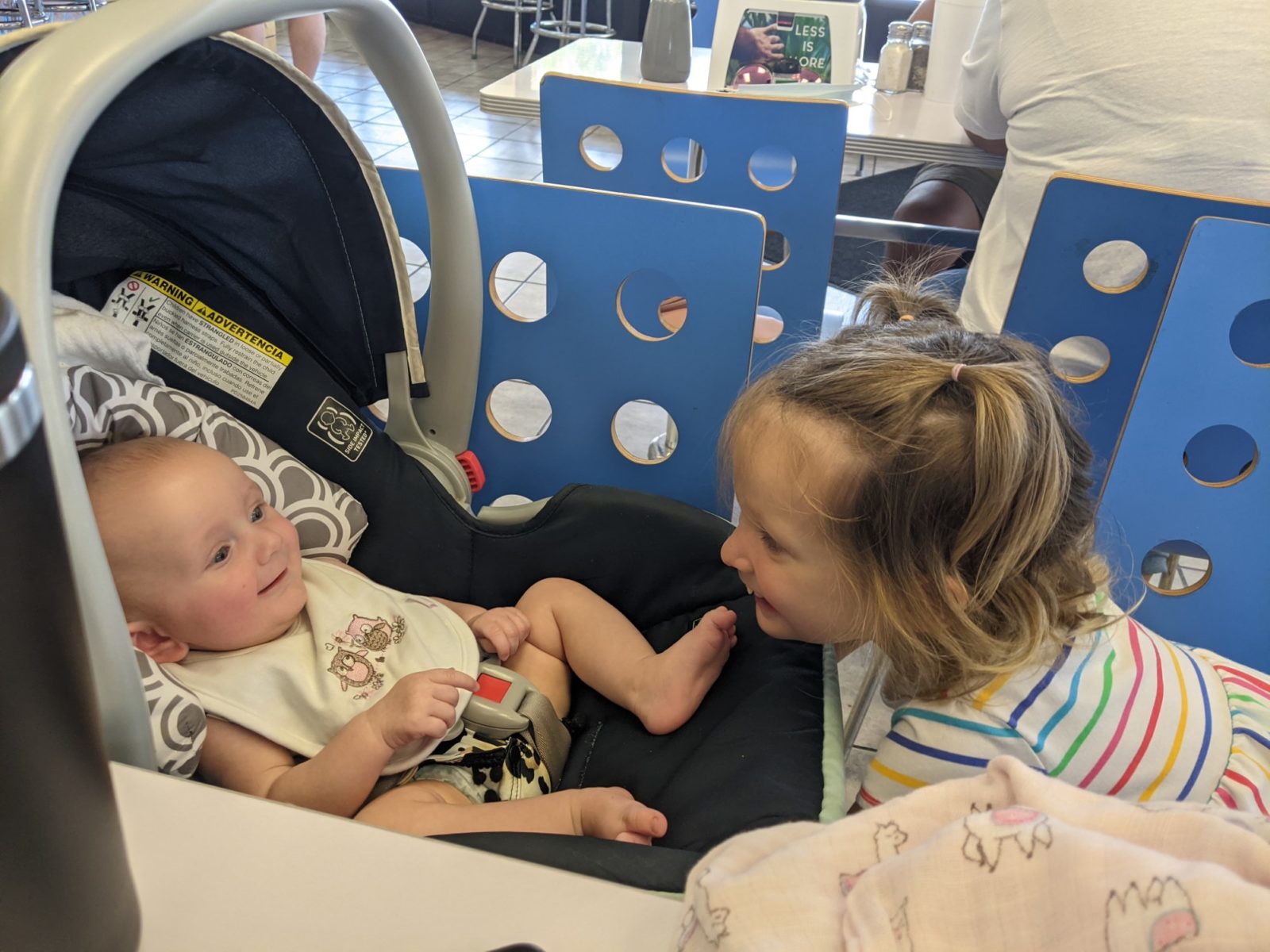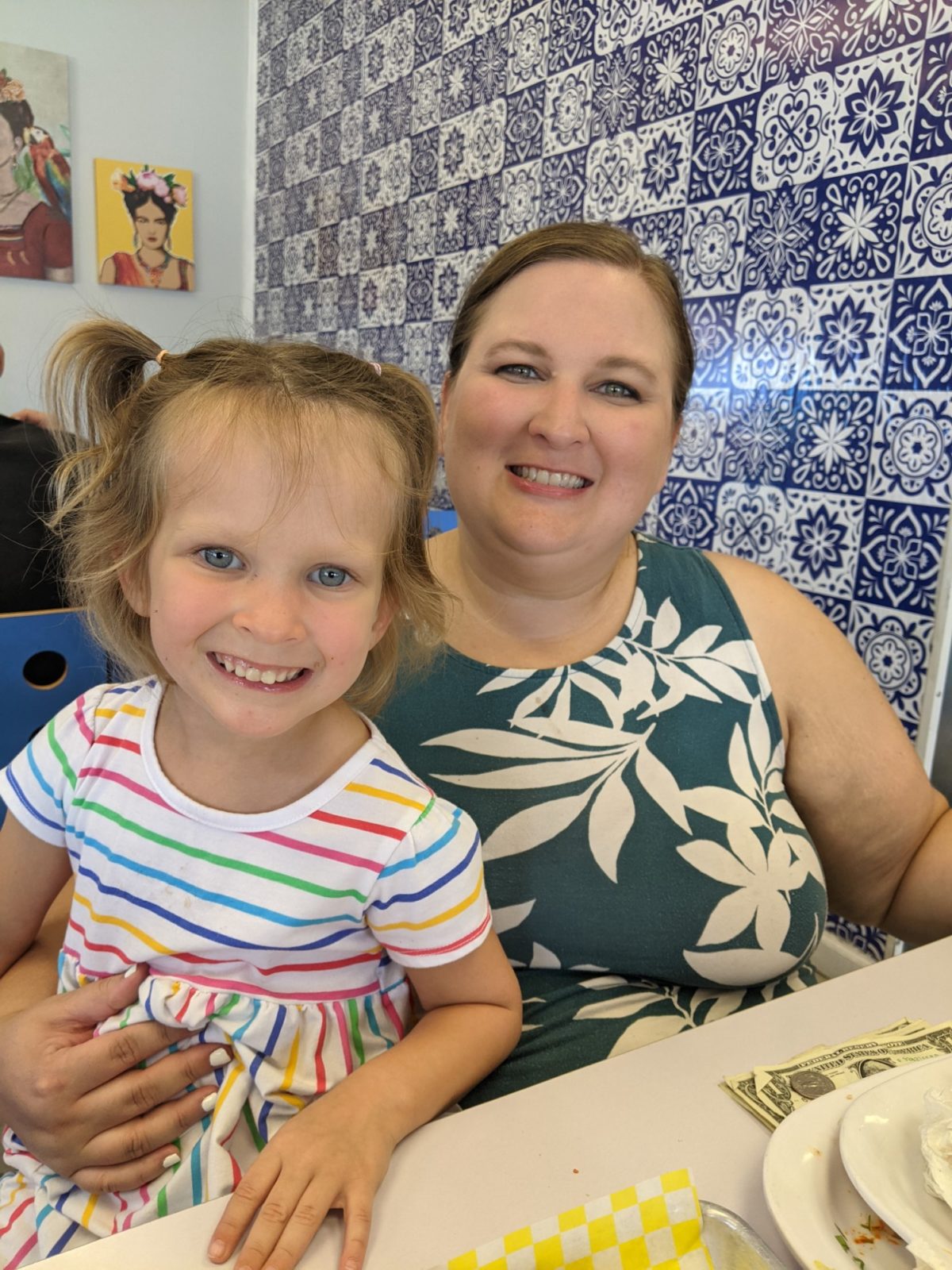 After lunch, we had to sit in the car for about 30 minutes, feeding Addie and holding her while it digested, and letting her just have some cool-off-out-of-the-car-seat-time, since she had been in it a lot already, and we still had to drive home… But this little ham was just so cute and sweet, and loved seeing herself in the camera phone! She has also started laughing a lot lately, and it's the sweetest little sound you've ever heard.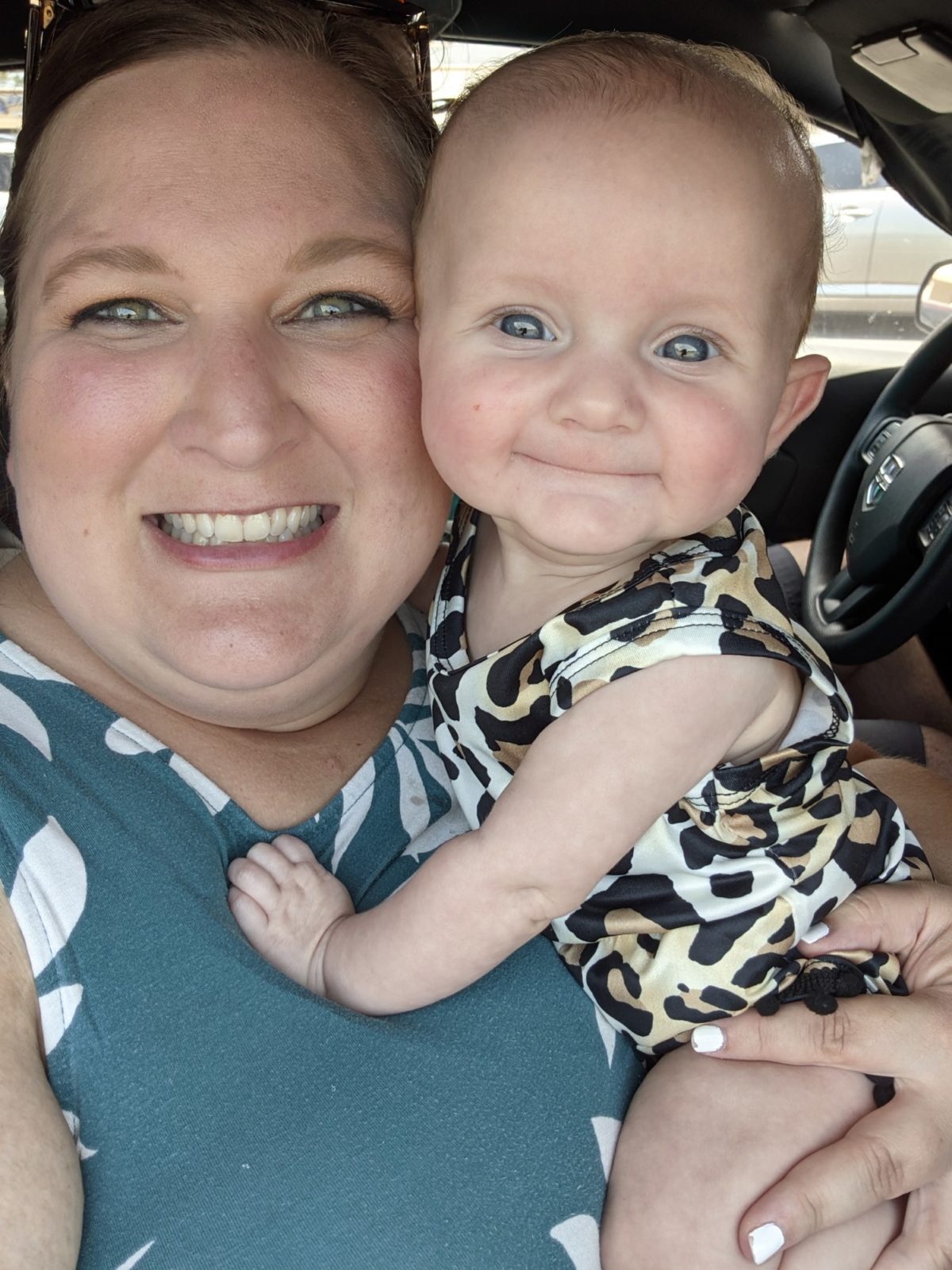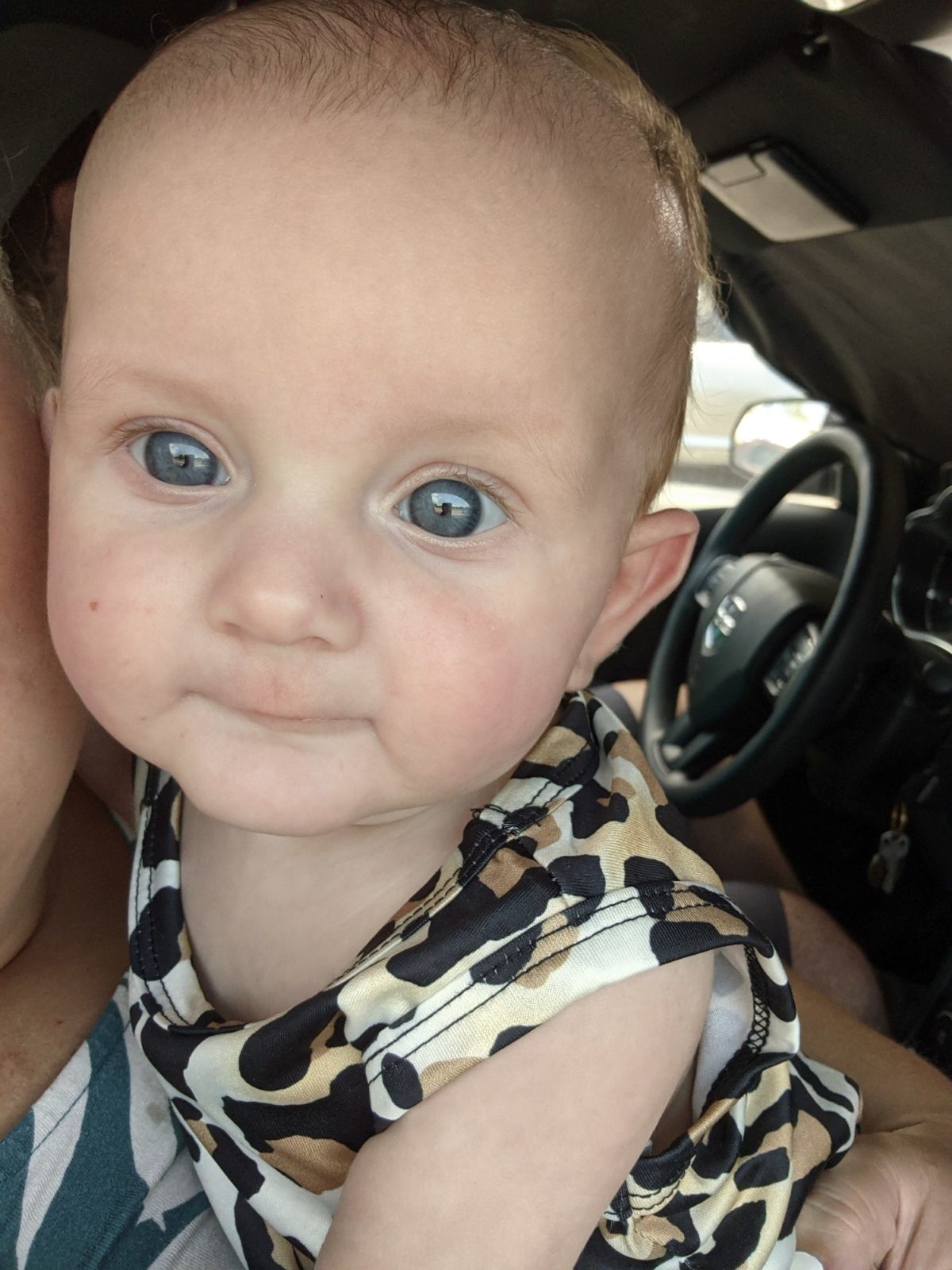 I actually drove home today, and after Jeff helped me navigate through the chaotic and slightly stressful Jacksonville traffic, he and Addie and Emmie all fell asleep. I had planned to stop at the Busy Bee again on the way home, but since I was the only one awake, and I didn't want to risk the girls getting fussy and not sleeping again after stopping, I just kept on driving. And we ended up making it all the way home without stopping at all.
We got back home around 5pm, so we unloaded the car, unpacked a bunch of our stuff, started a load of laundry, fed Addison another bottle, and then sent Jeff out to pickup some dinner for us. After eating some chicken nuggets, we got both girls in their jammies and started on the bedtime routines. At IKEA today, Emmie picked out these two stuffed kitties. Technically, one is for her and one is for Addison when she gets bigger, but Emmie will be taking care of both of them until she things Addie won't spit up on hers 😉 She named them Buttercup & Daisy, which I think is adorable.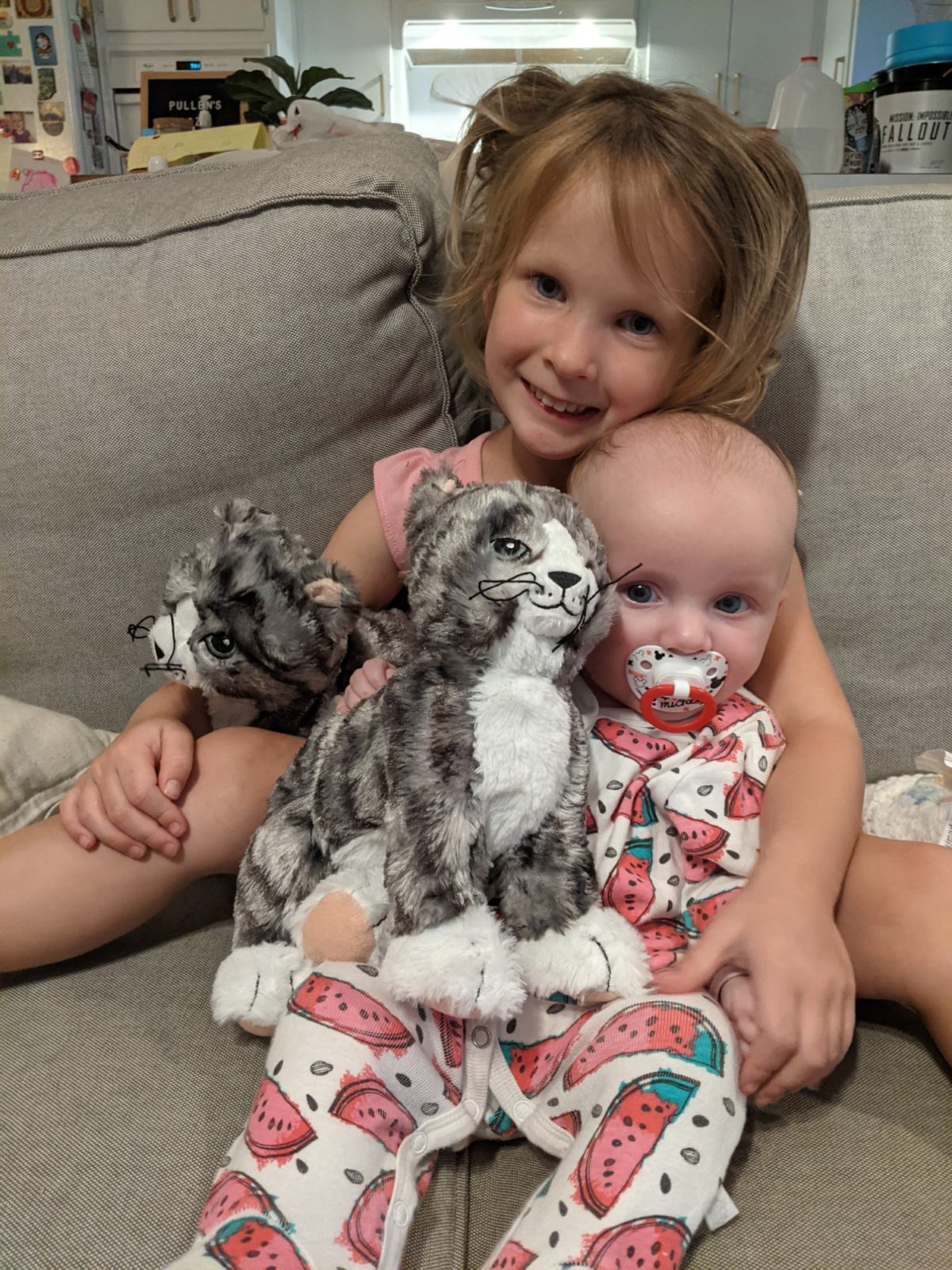 Emerson got back out of bed a couple of times after putting her down, and Addison has been a little wiggly and fussing off and on some too. Hopefully both girls will settle down completely soon, so that we can go to sleep soon too, because sheesh, this quick little vacay has completely worn me out!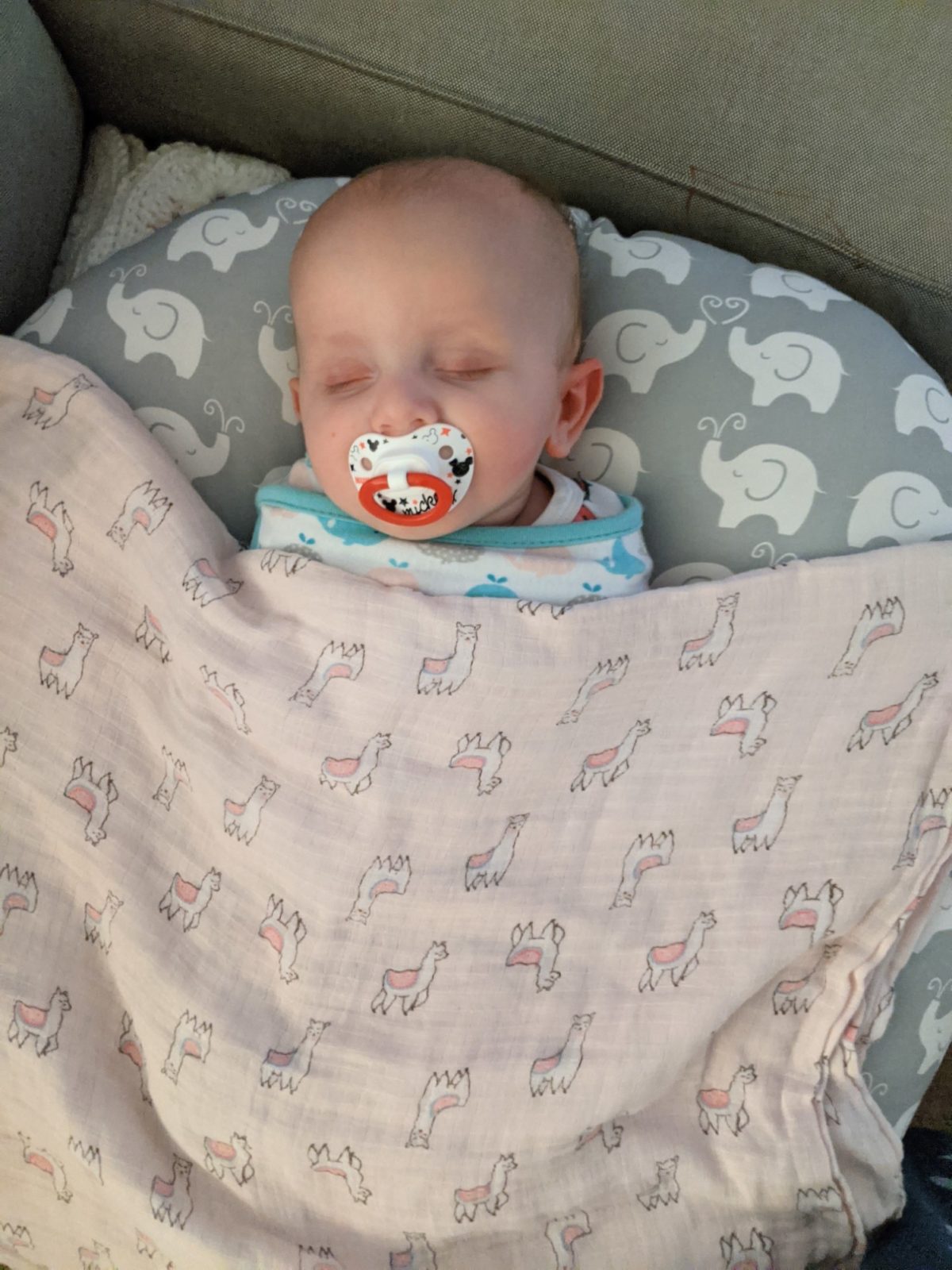 I didn't sleep great in the hotel bed, so I'm most definitely looking forward to getting back to sleep in my own bed tonight. I'm going to grab my Kindle and read a little bit, but I'm quite sure my eyes will grow heavy in no time at all, and I'll be ready for sleep sooner rather than later. We had such a great weekend together, although it was certainly HOT and tiring, but it was also great, and we enjoyed our little getaway!