So Emmie had her sleepover with Grammy last night, and although she stayed awake protesting sleep until after 10pm, she slept until about 7am, and then had a good morning getting donuts with them before church. It was my turn to sing on praise team at church this morning, so I did my full makeup and even wore some lipstick.
When I finally saw Emmie after church and we got in the car, she looked at me and studied my face for a minute and said, "What are you wearing on your lips, Mommy?" So obviously, she's not used to seeing me in lipstick! But of course she wanted some too, so I put a tiny bit on her tiny lips. We decided to go to Village Pizza for lunch today, and she wanted to check herself out in the mirror once we sat down in the booth.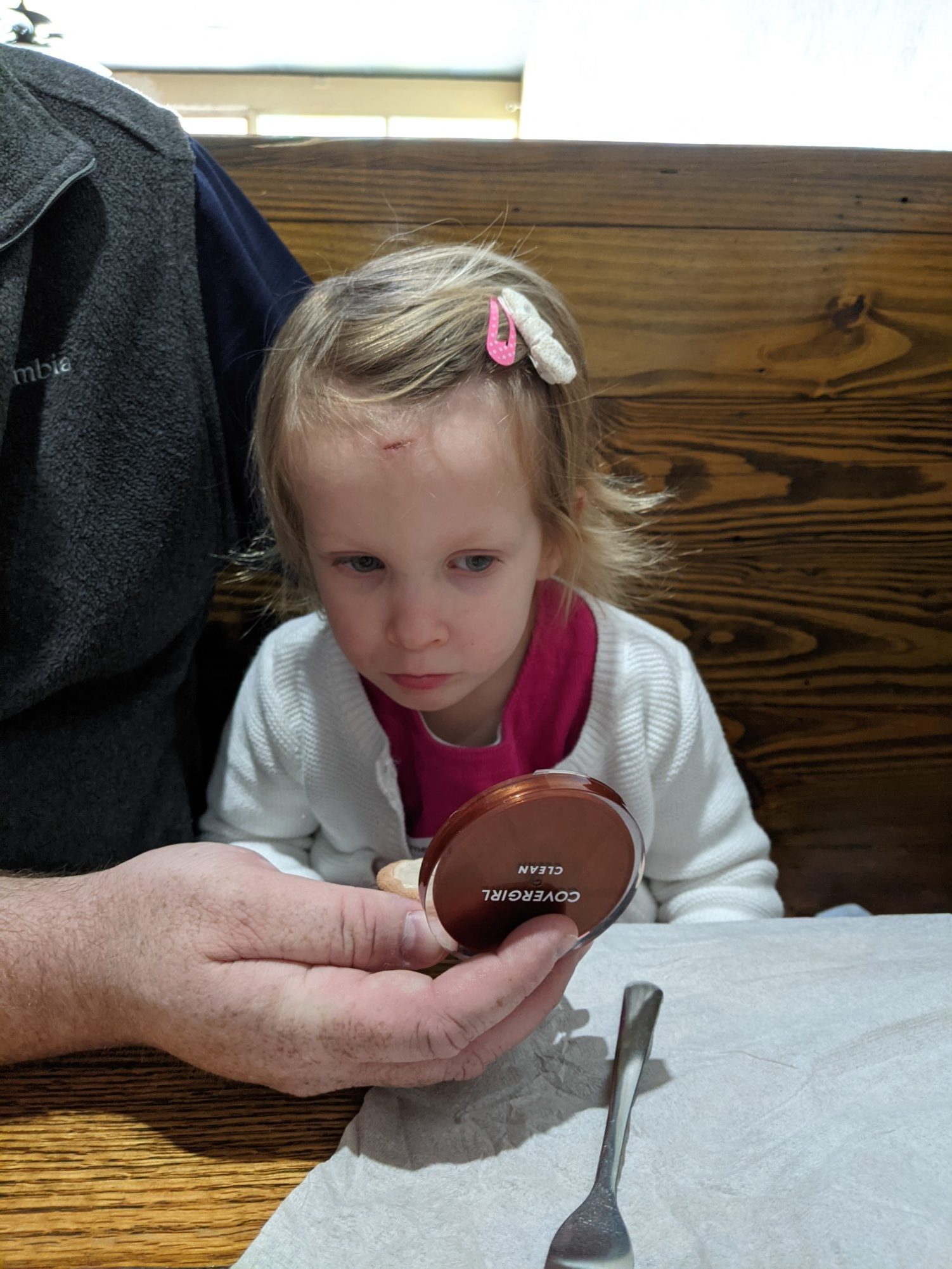 They brought her some raw pizza dough to play with while we waited on our food, and she thought that was the best thing. I ordered the "baby" Margherita pizza, Jeff got chicken alfredo and Emmie got cheese ravioli with alfredo sauce. Our food was all decent, but nothing to write home about, and certainly more expensive than I thought it should have been, for what it was… After tax and tip, it cost us $47 for the three of us! Sooo we probably won't go back there again anytime soon.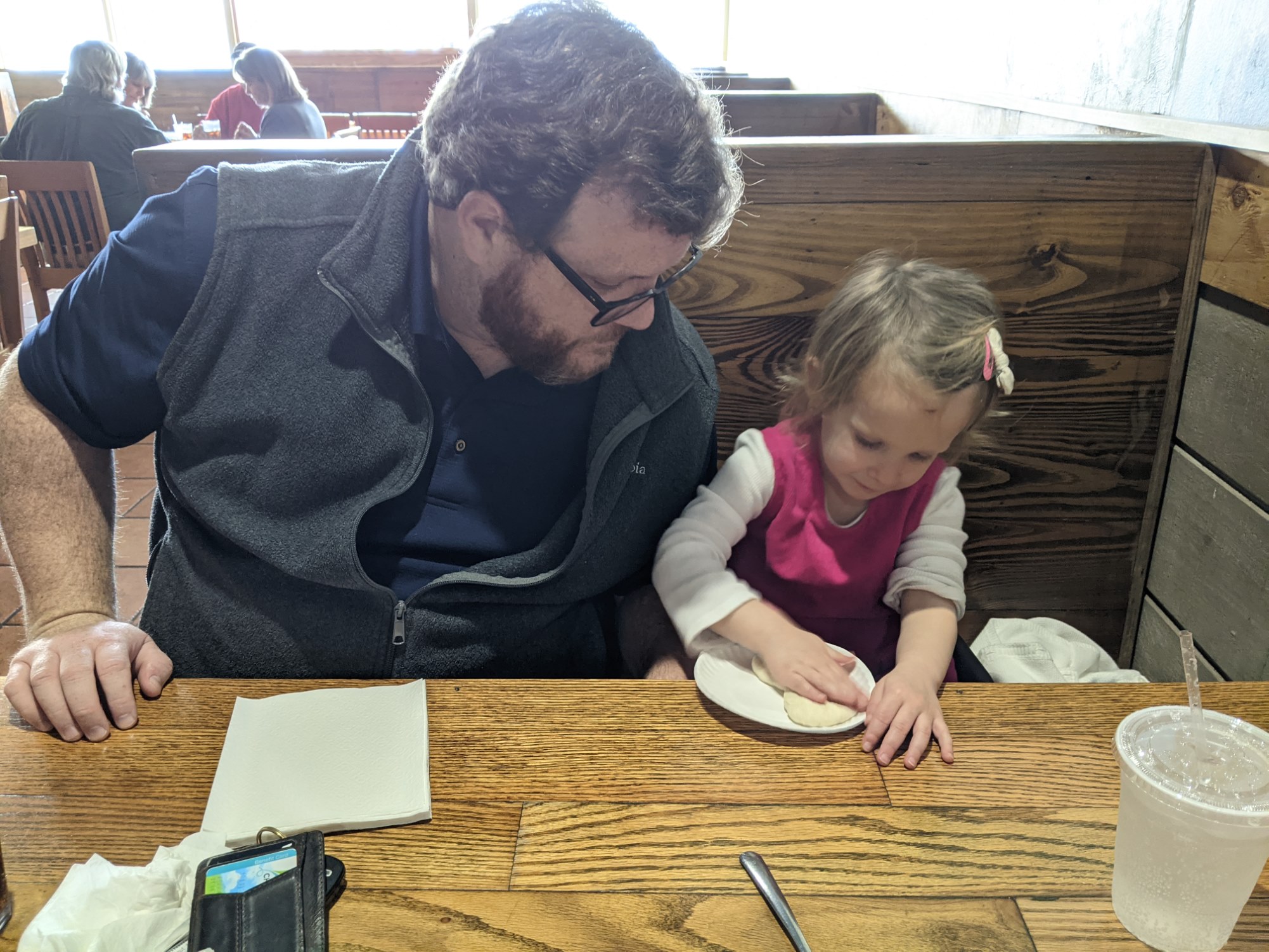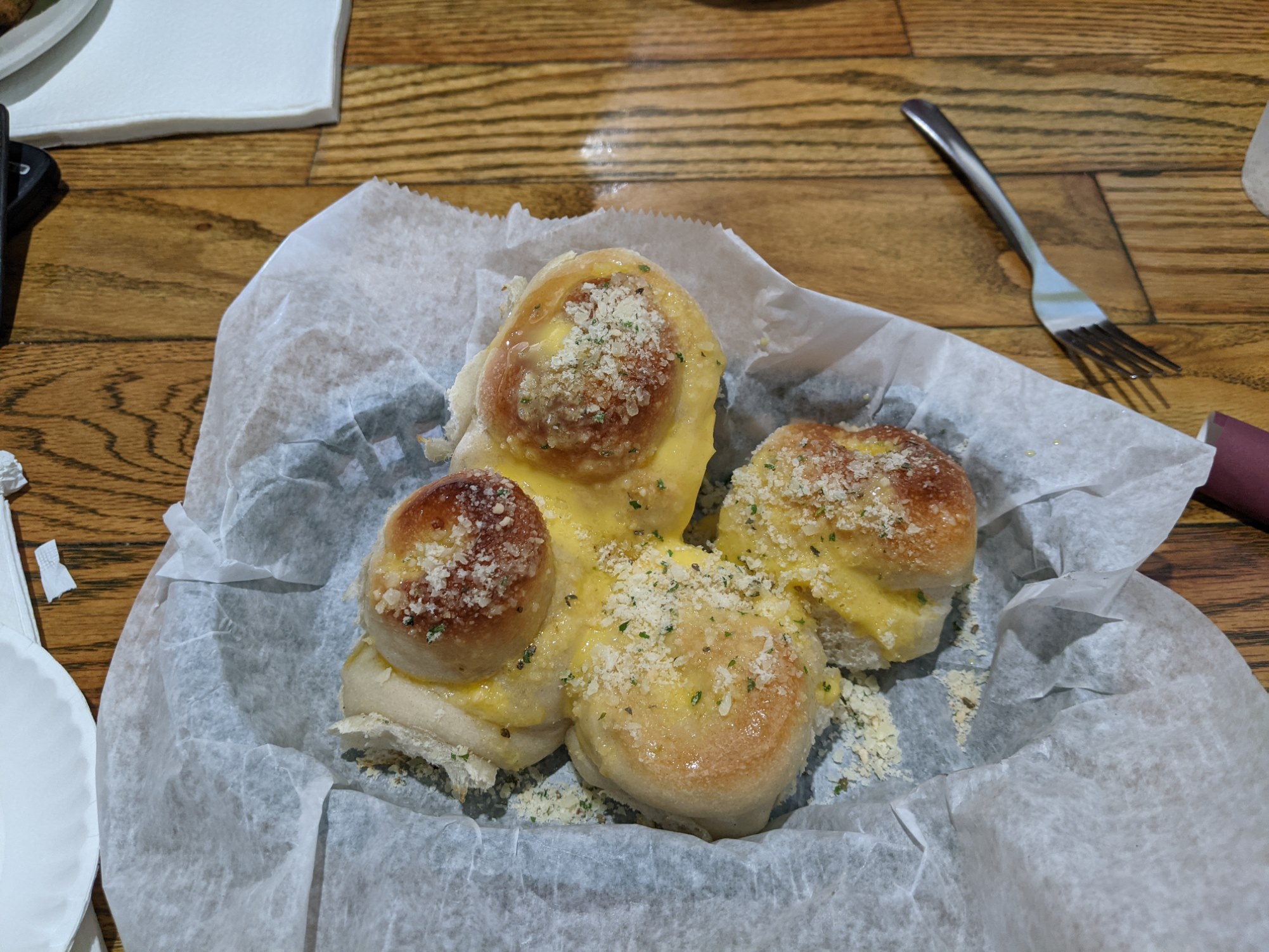 The pizza was decent though, and I ate half of it, and brought half home for some other time…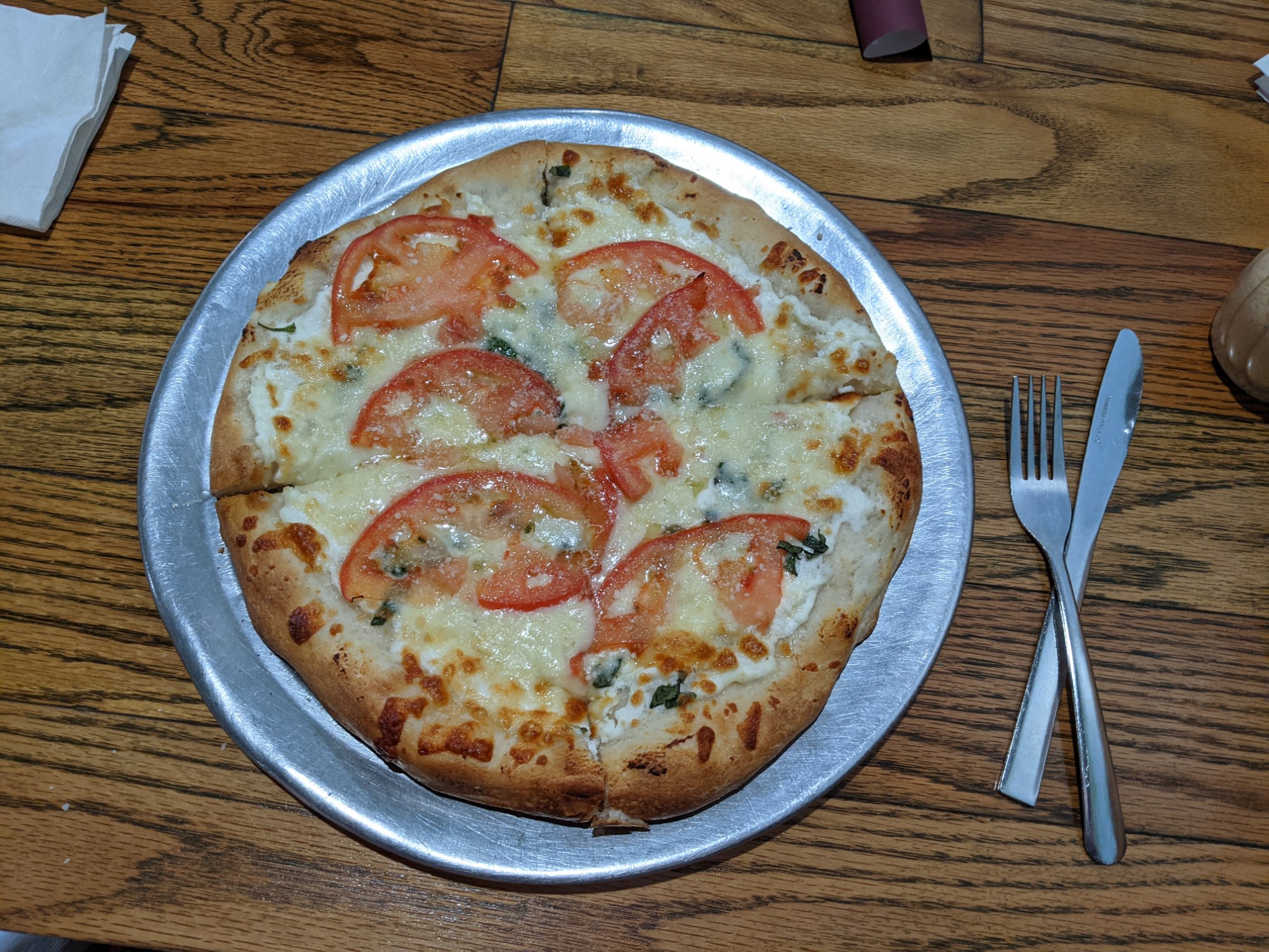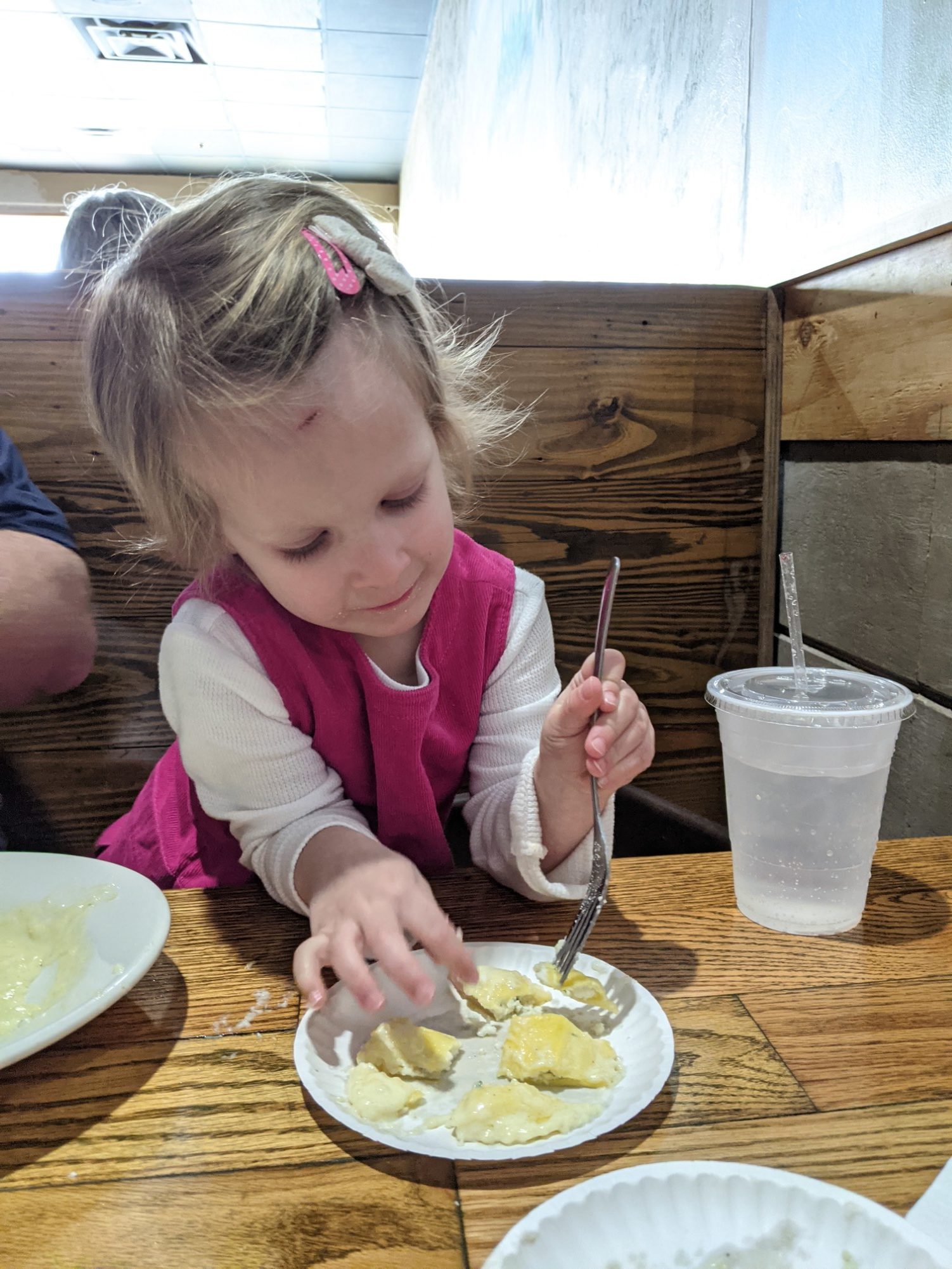 Emmie got a little too comfortable on the ride home, with her sweater as a pillow, her stuffed bear cuddled up with her, using Mommy's sweater as a blanket. But she could somehow feel me taking the picture or something, and started laughing. I forced her to stay awake though, so that she could take a good nap at home. And I wanted to take some pictures of her in her cute church outfit when we got home, because she was of course adorable, as always!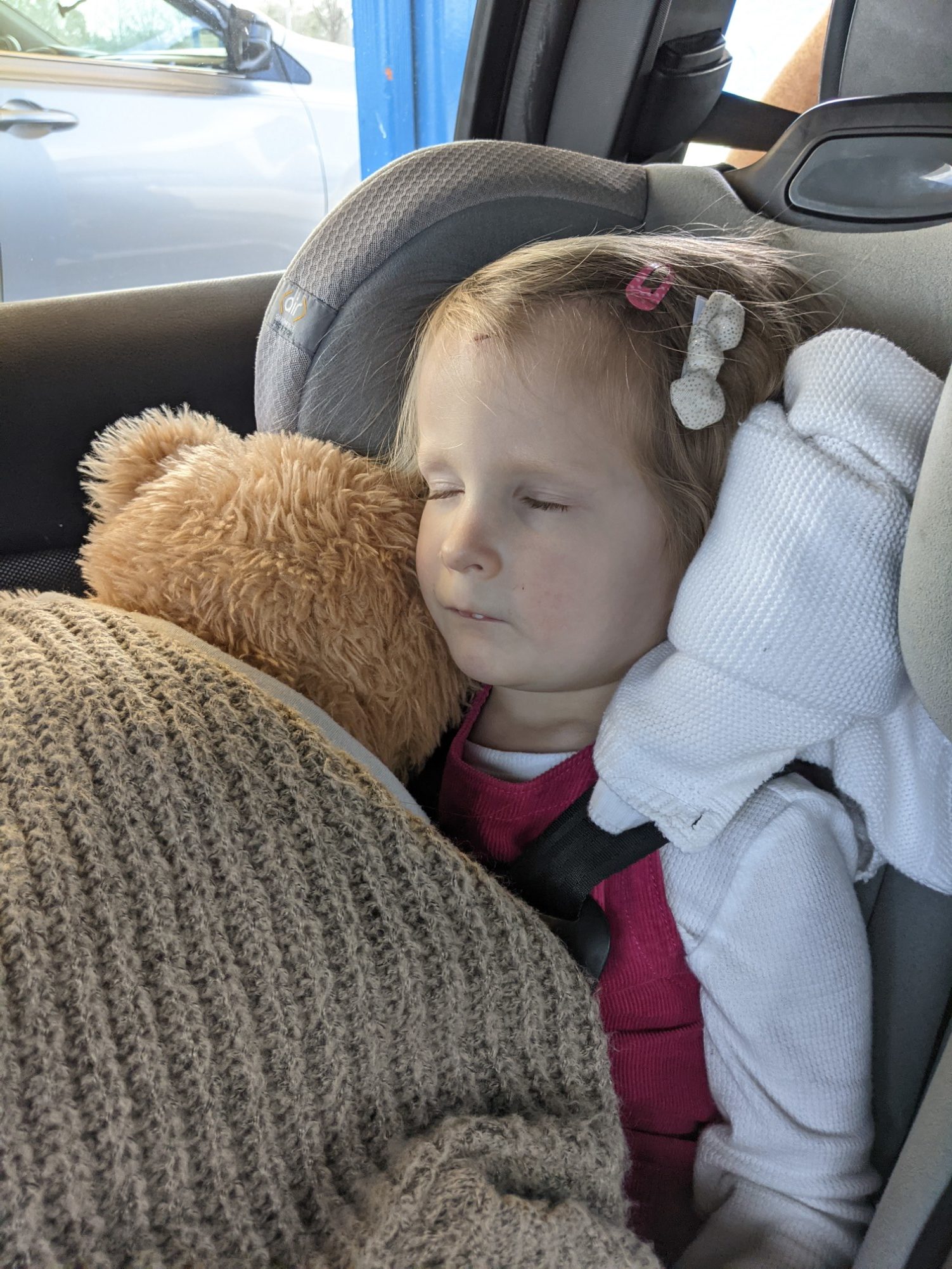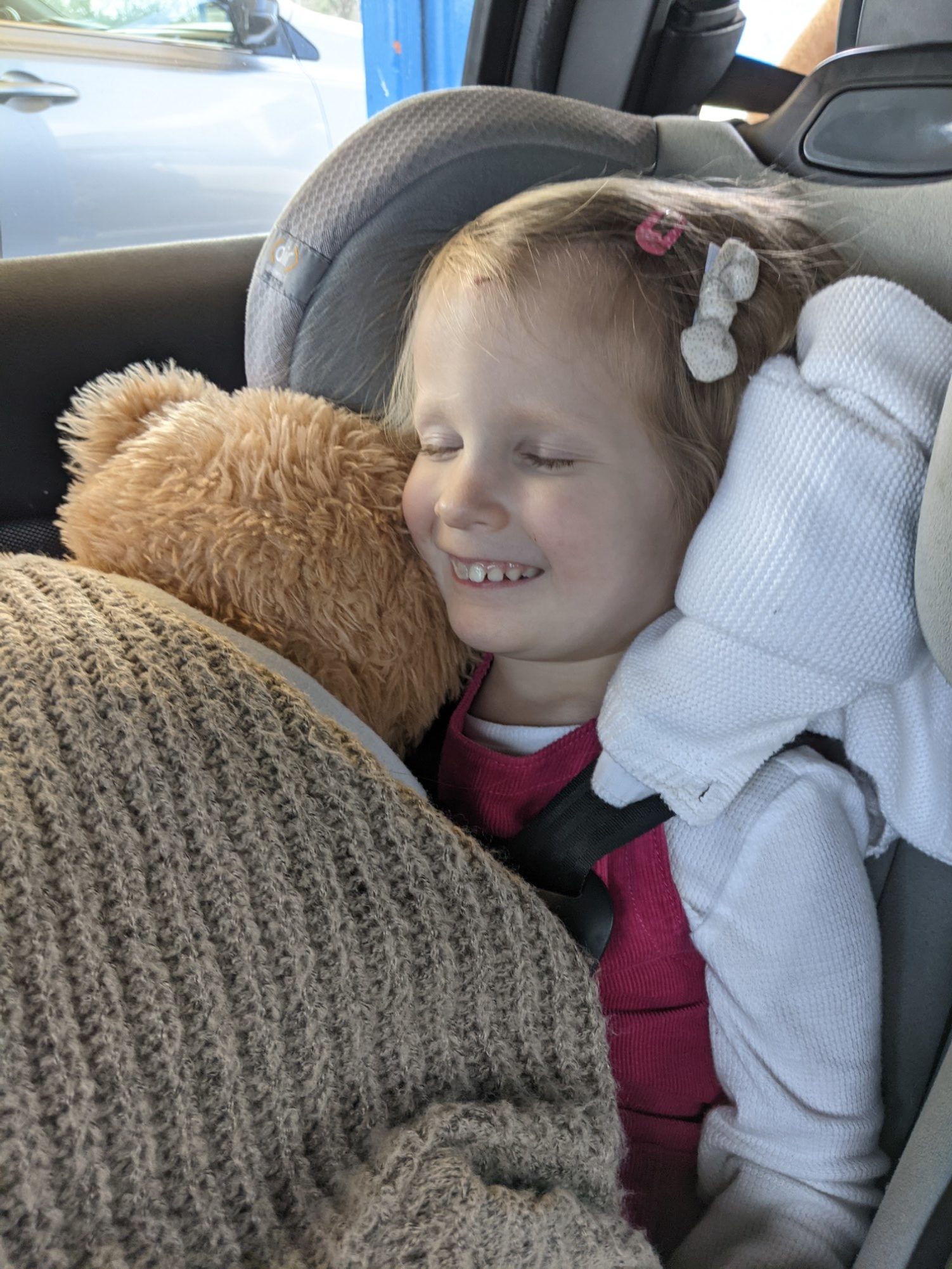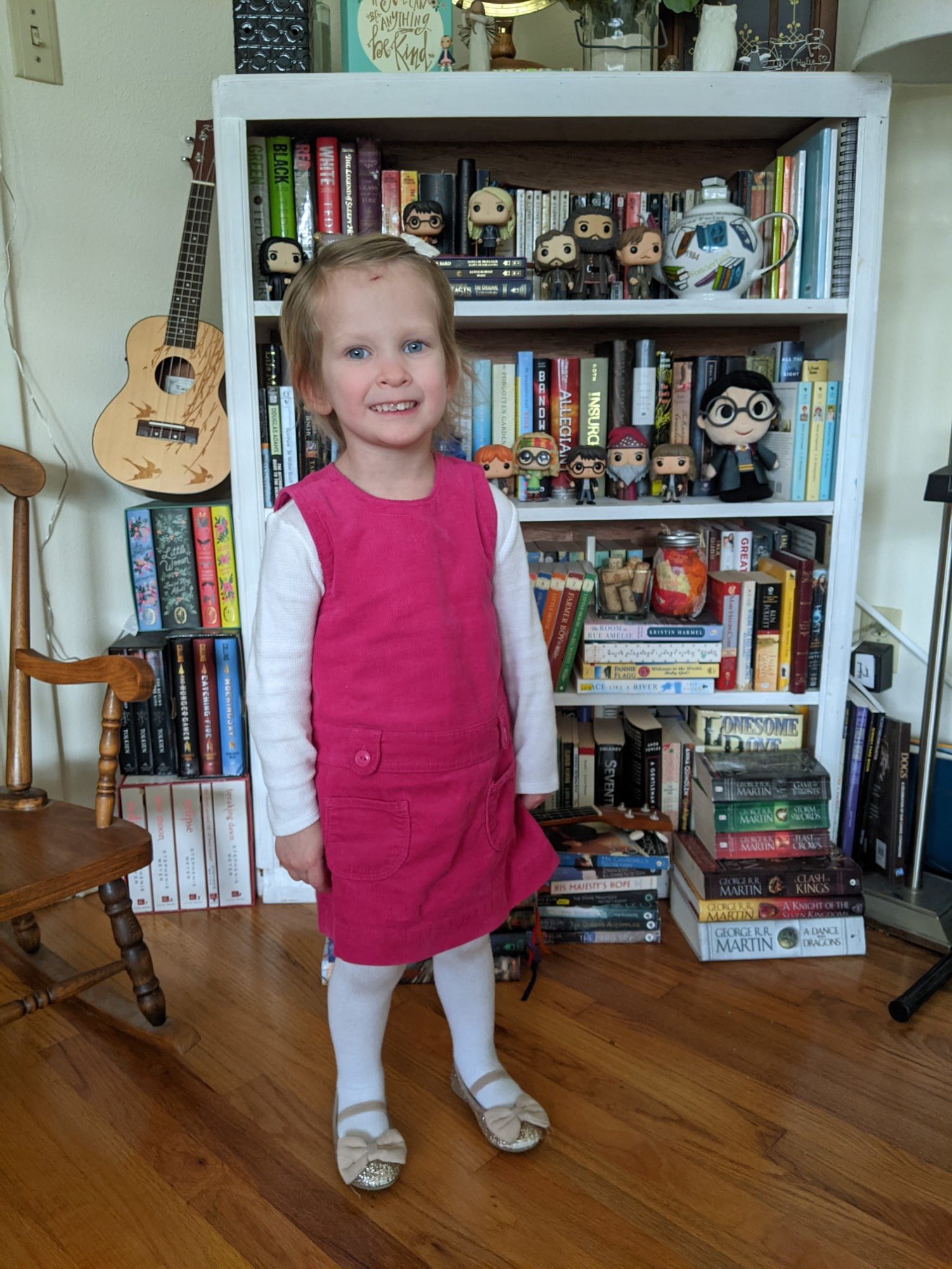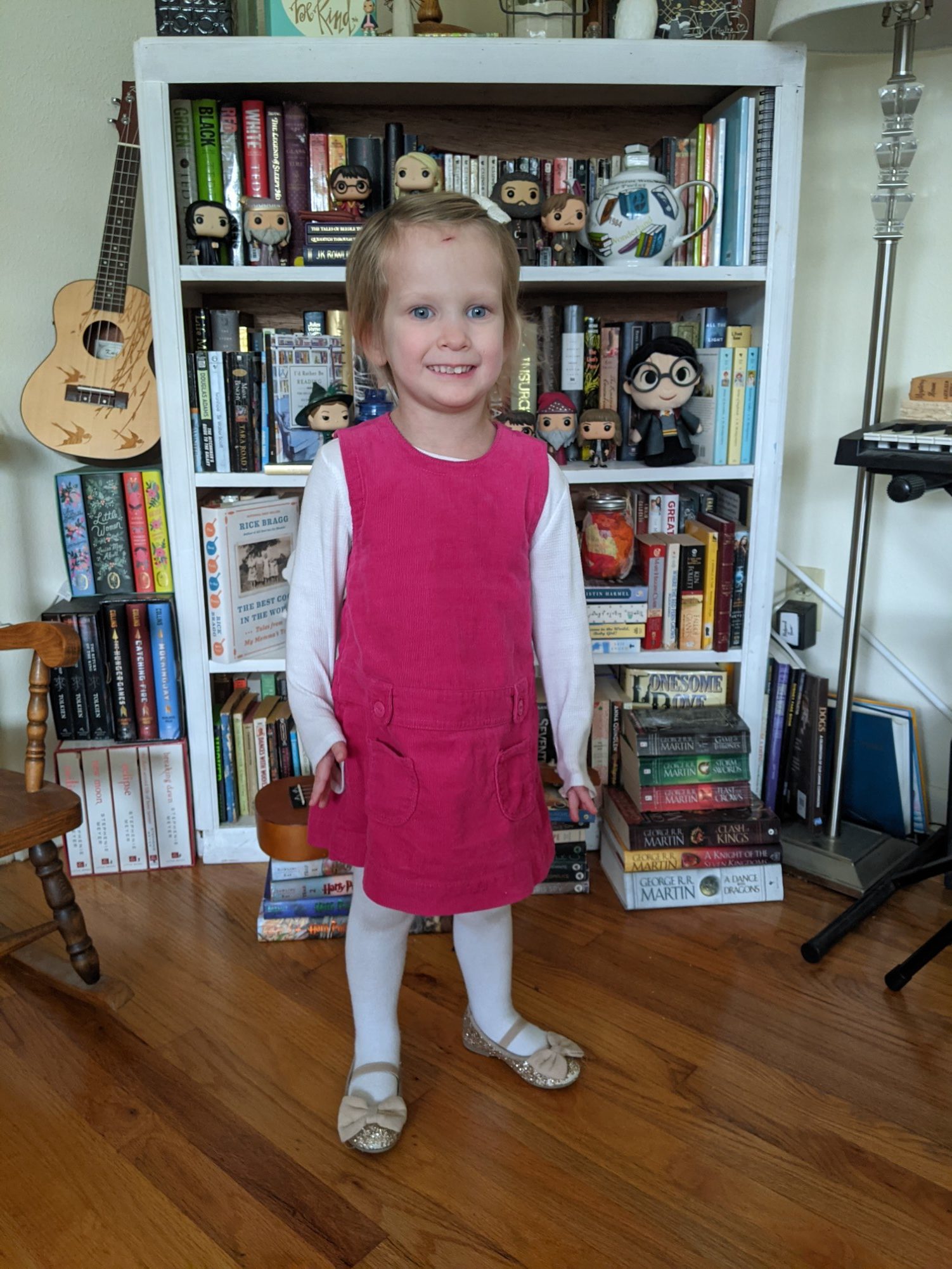 I love the beautiful winter sunlight! And despite the things we still need to straighten up in here, I love this room, and it's always been my favorite in the house!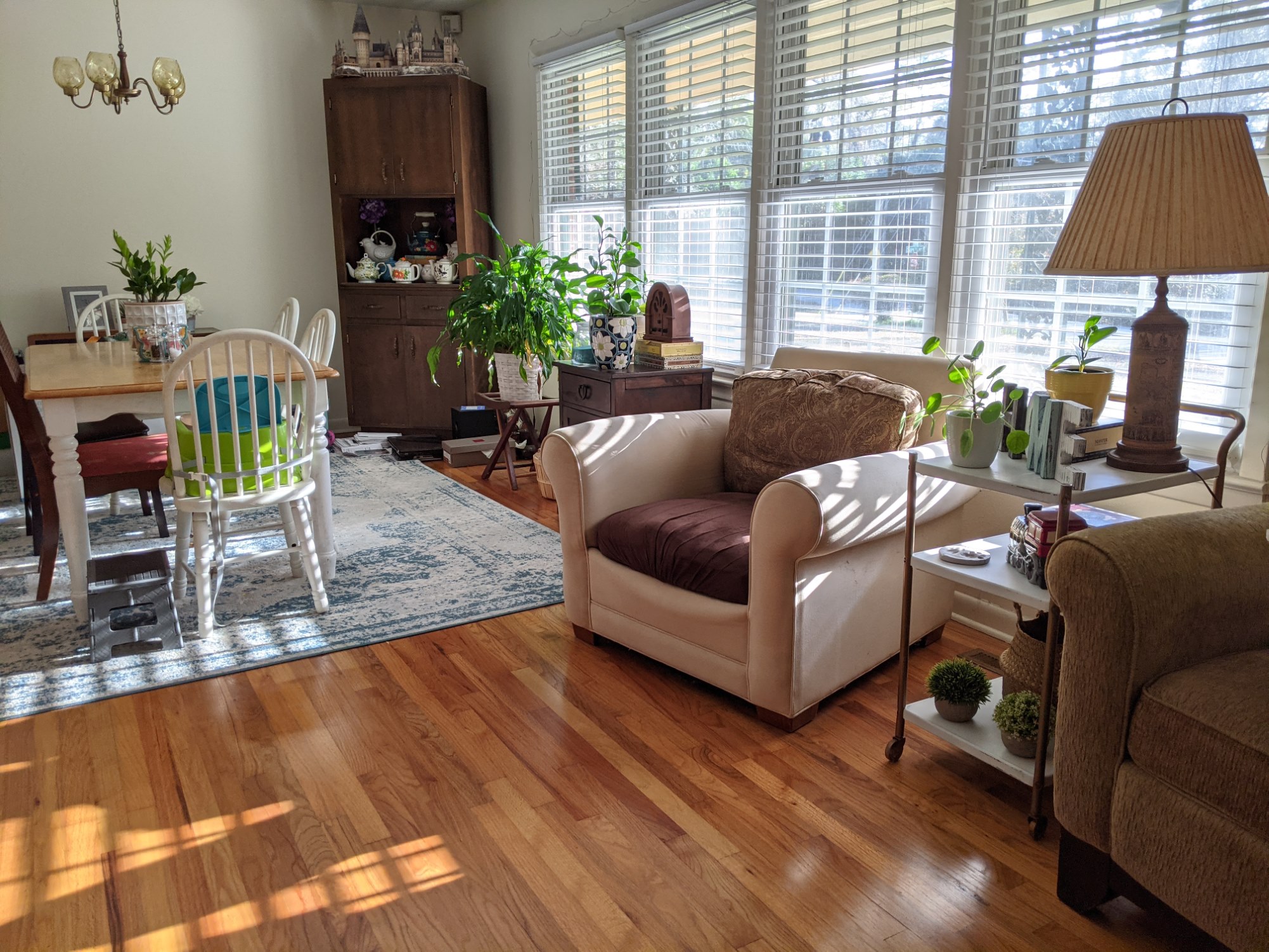 We got Emmie down for her nap really easily right at 2pm, and Jeff and I immediately laid down and napped too. All of us slept until just a few minutes before 4pm, so we had great naps. We headed over to Nana & PopPop's house after we woke up, to hang out and have dinner with them. Emmie helped Nana decorate a cute Valentine's tree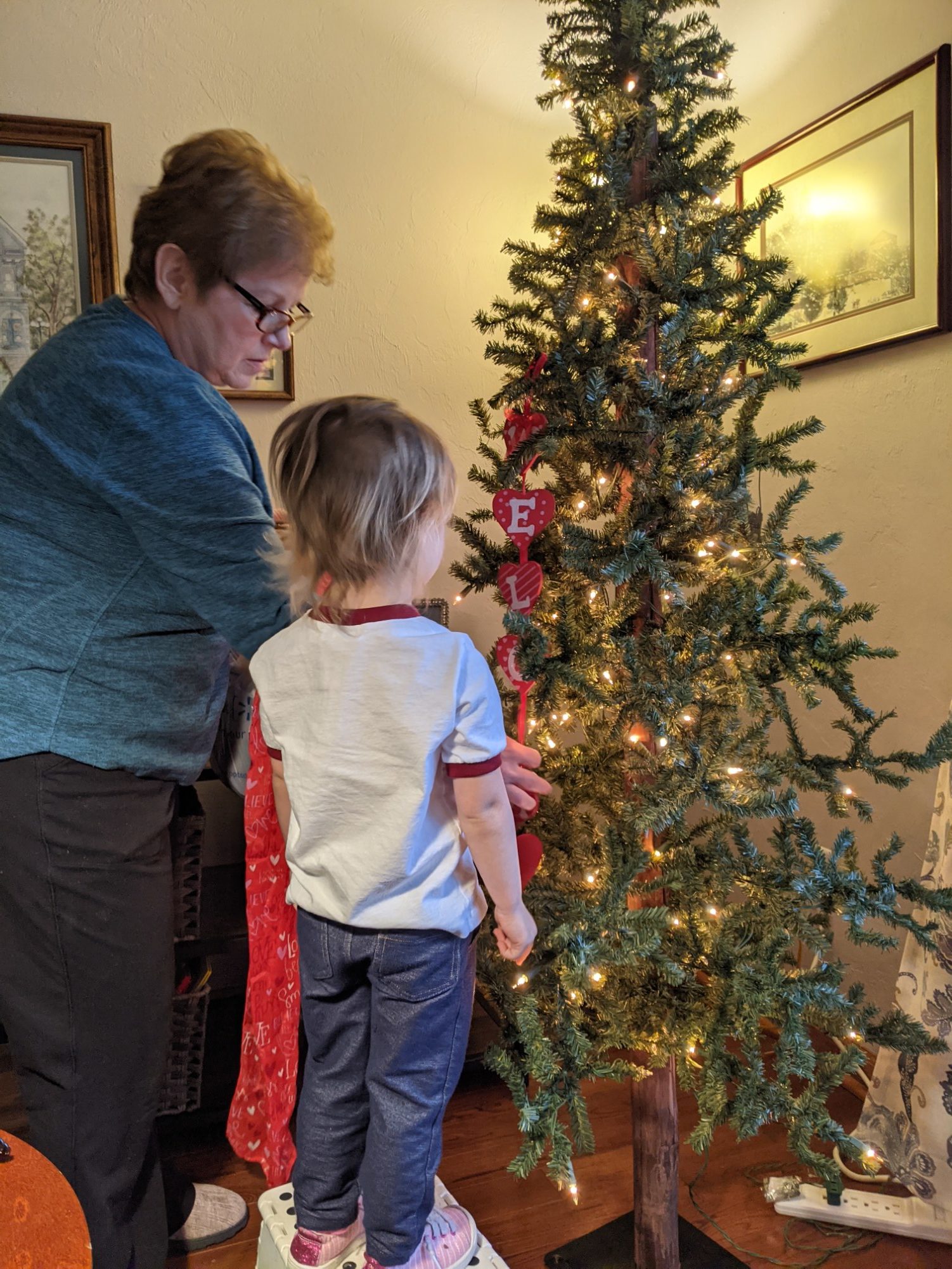 (This photo came from Nana and it's tiny and I don't know why and it's driving me crazy.)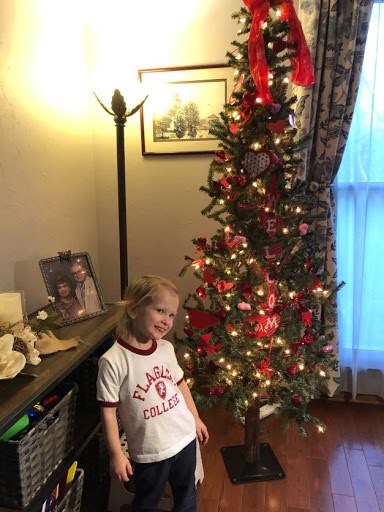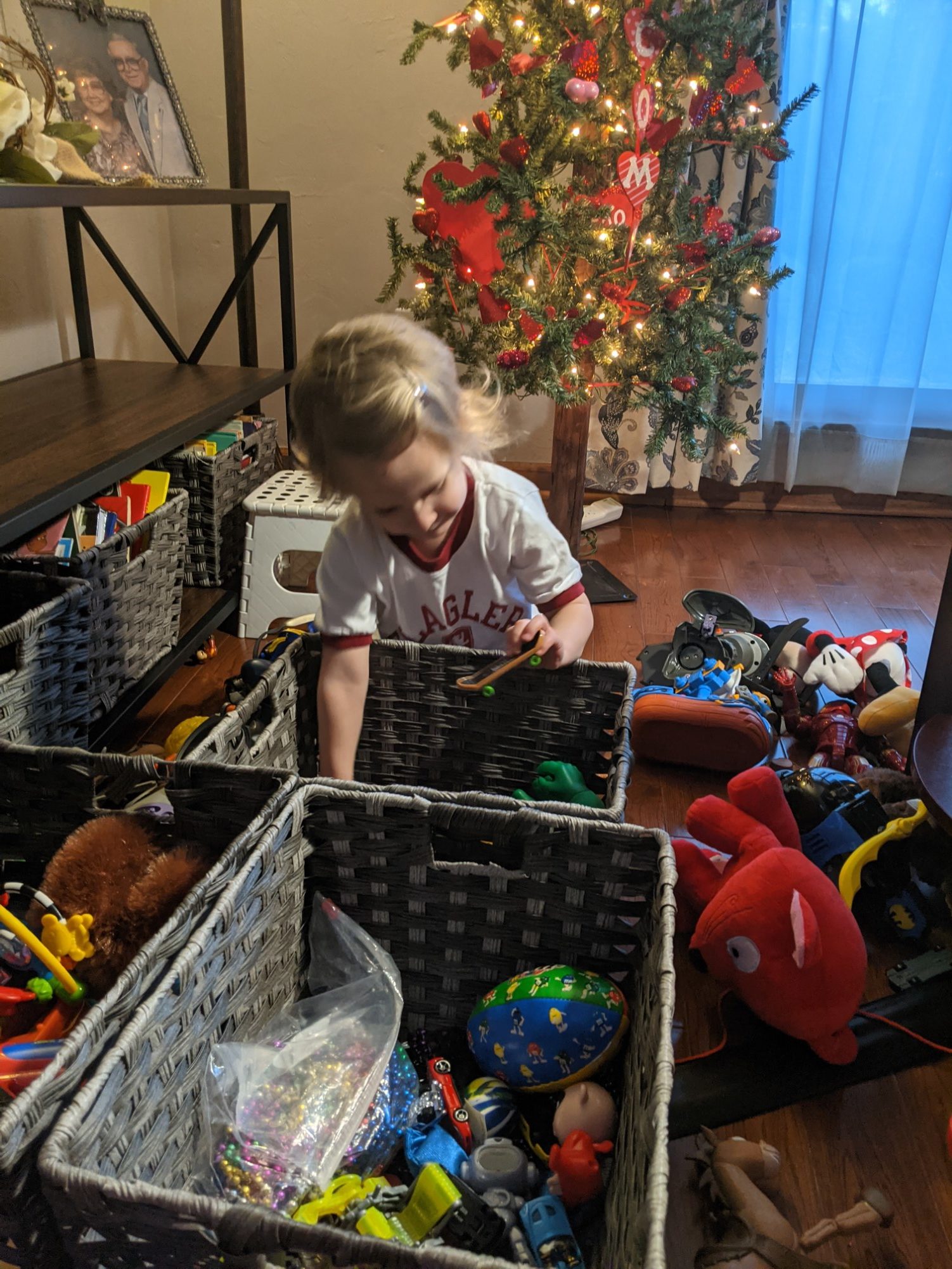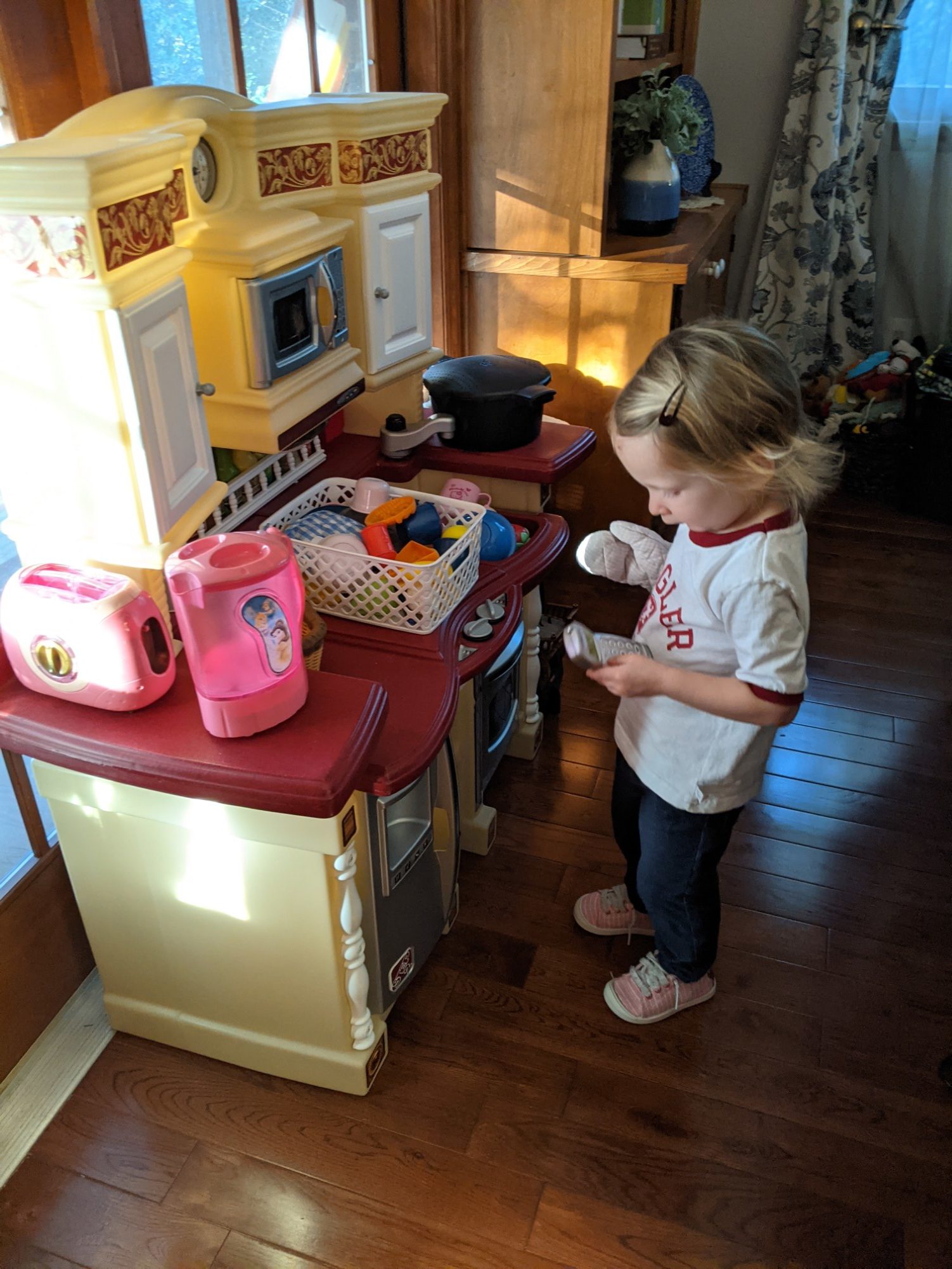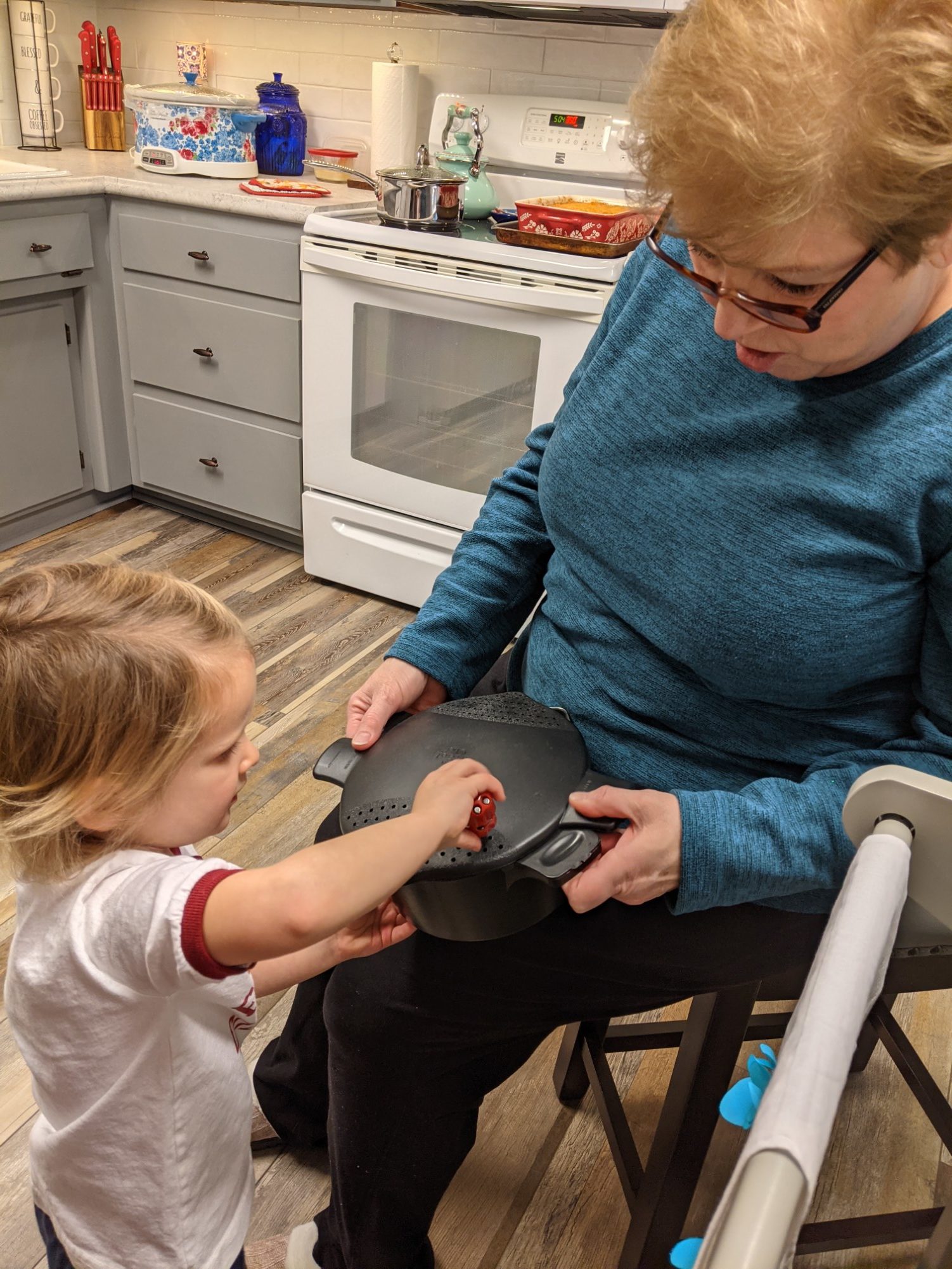 Nana scooped me up a GIANT serving of her homemade mac & cheese, and although it was yummy, I couldn't finish this plate of food. But this ham was surprisingly delicious! Not something I ever choose to make on my own at home, but I really enjoyed this tonight. Good thing she sent us home with a whole bunch of leftovers!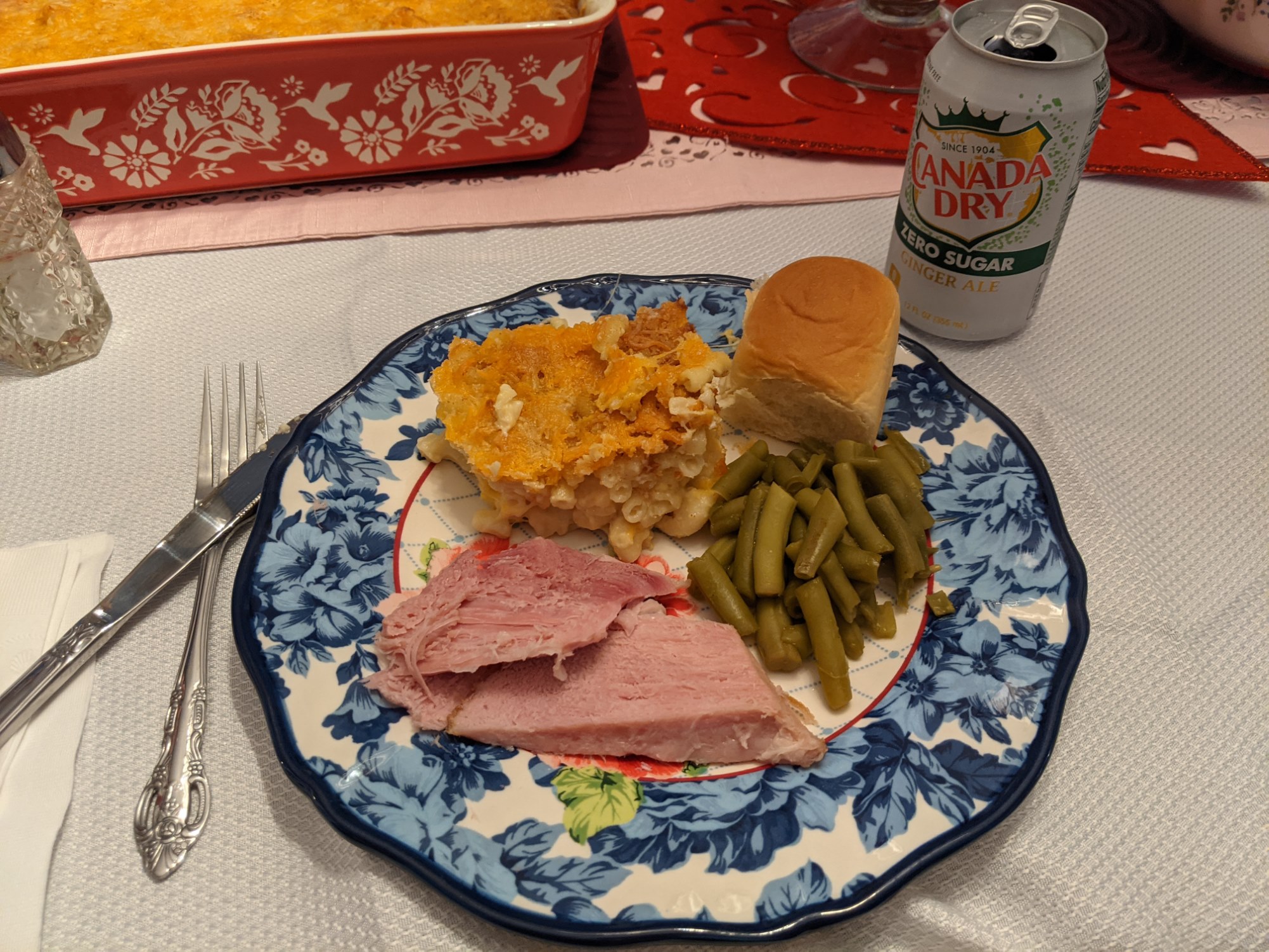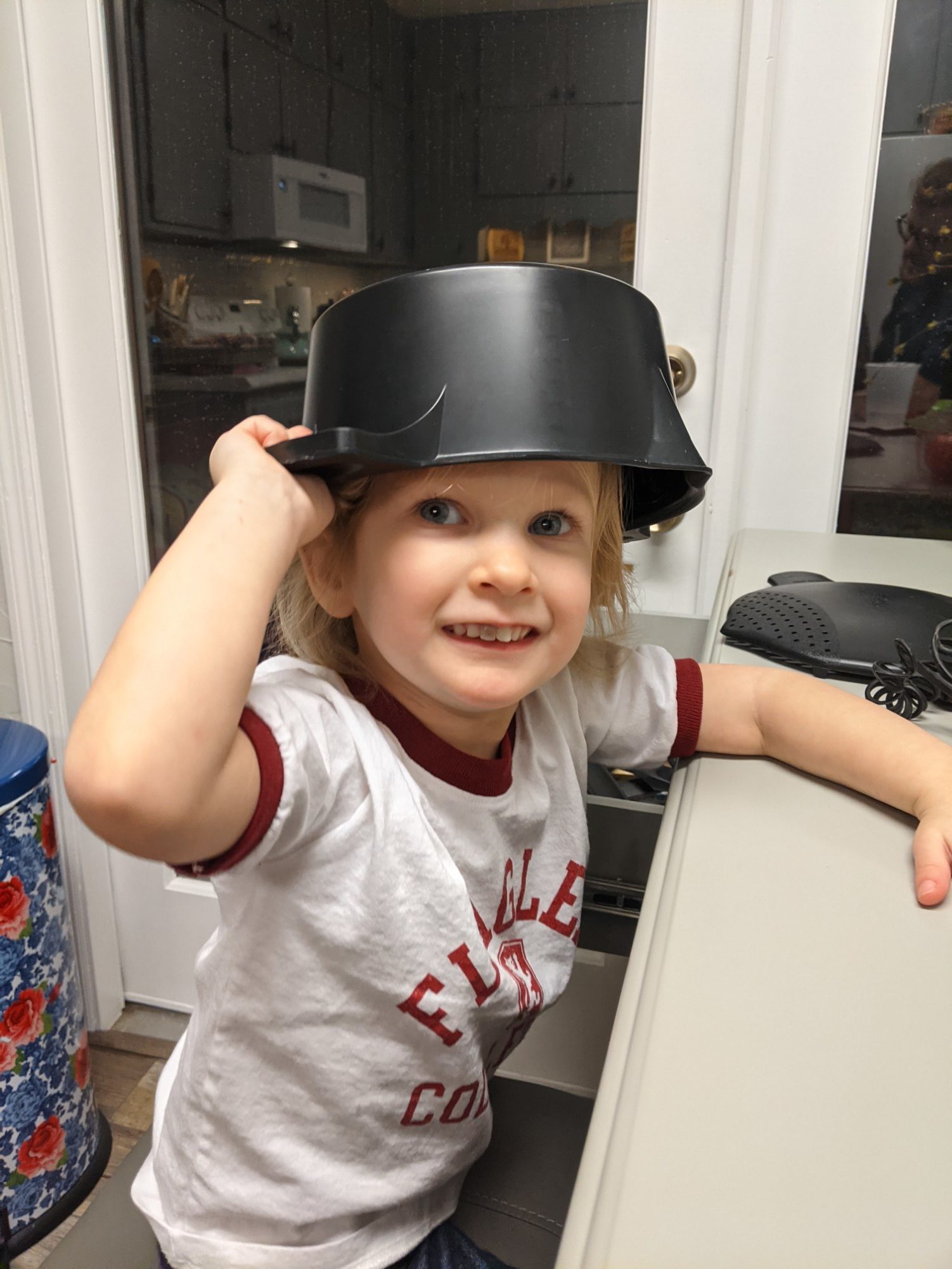 Nana made some brownies for dessert, and Emmie specially requested some sprinkles for hers. Luckily, Nana has a whole stash of like 10 different jars of sprinkles, so Emmie had plenty to choose from!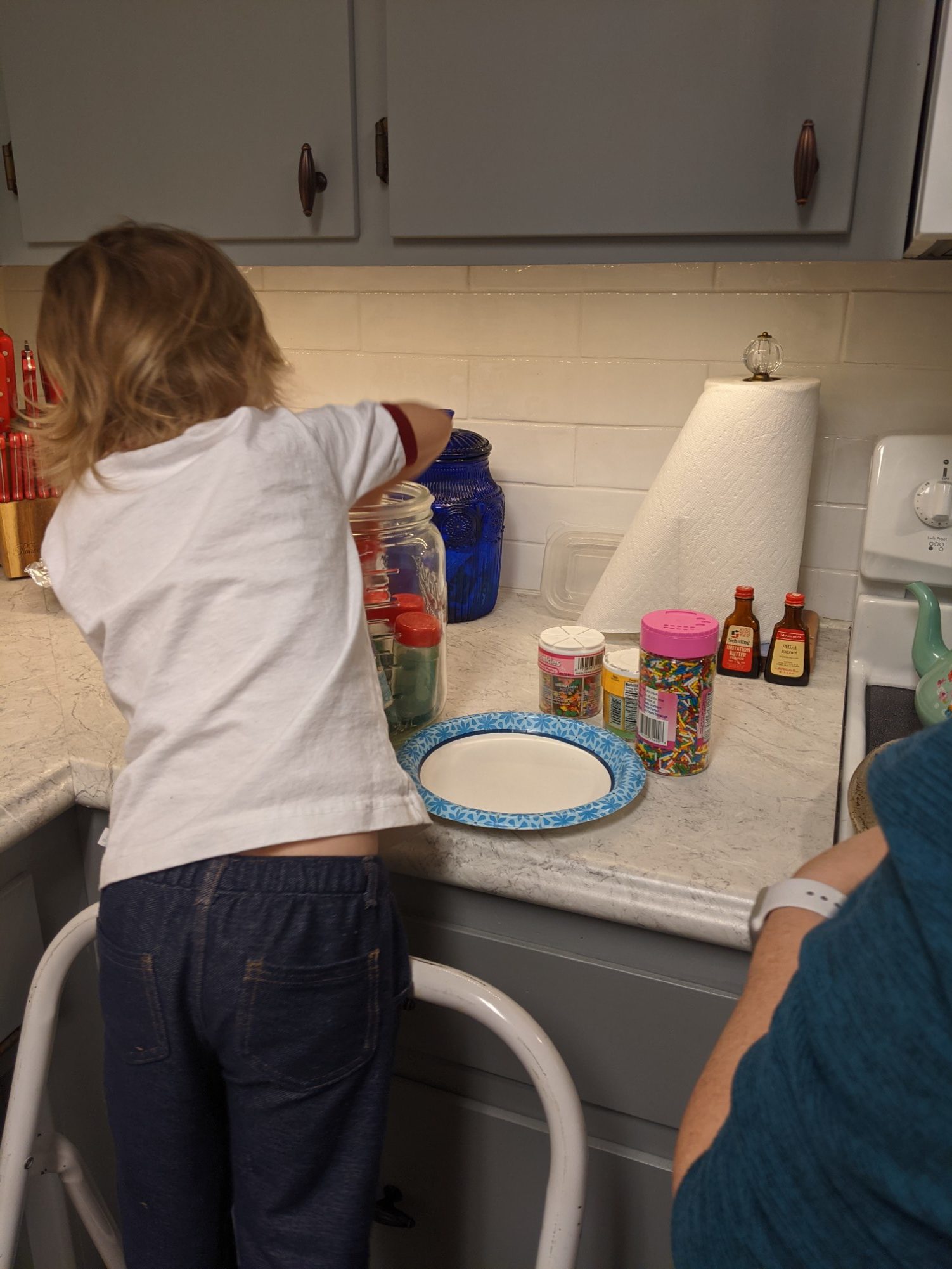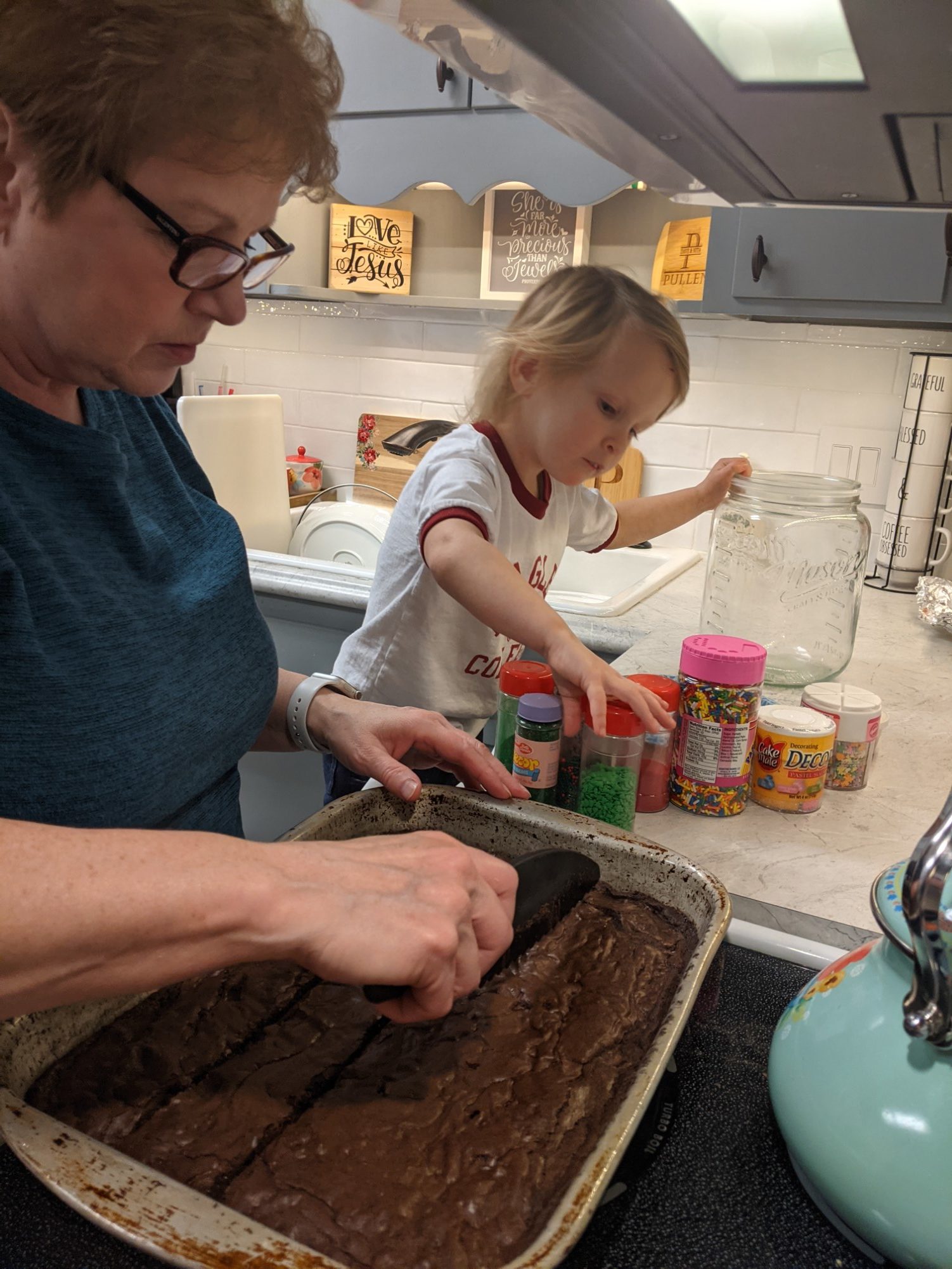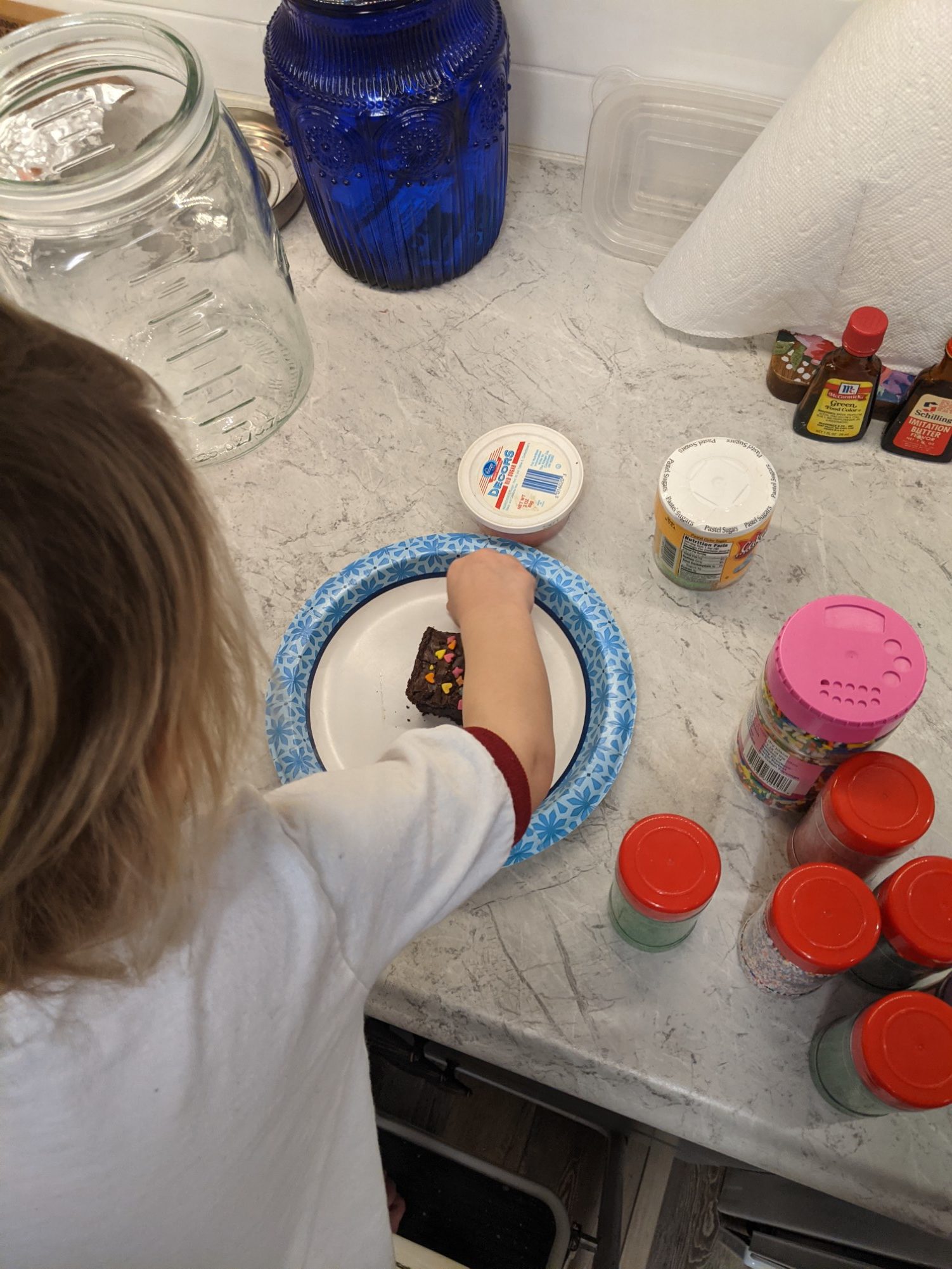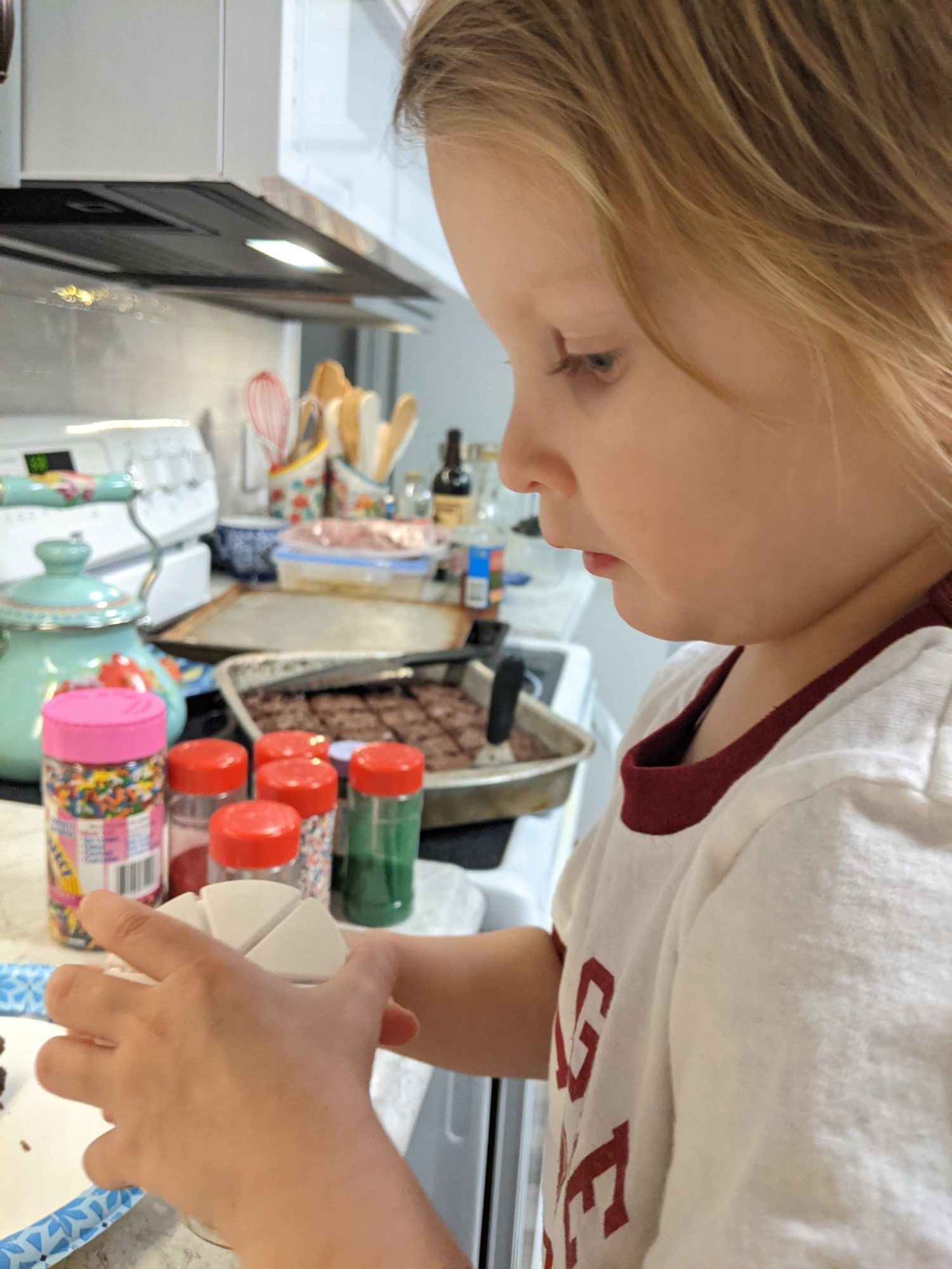 She put on my shoes and read Nana a book, and then she let Nana read a book to her after that.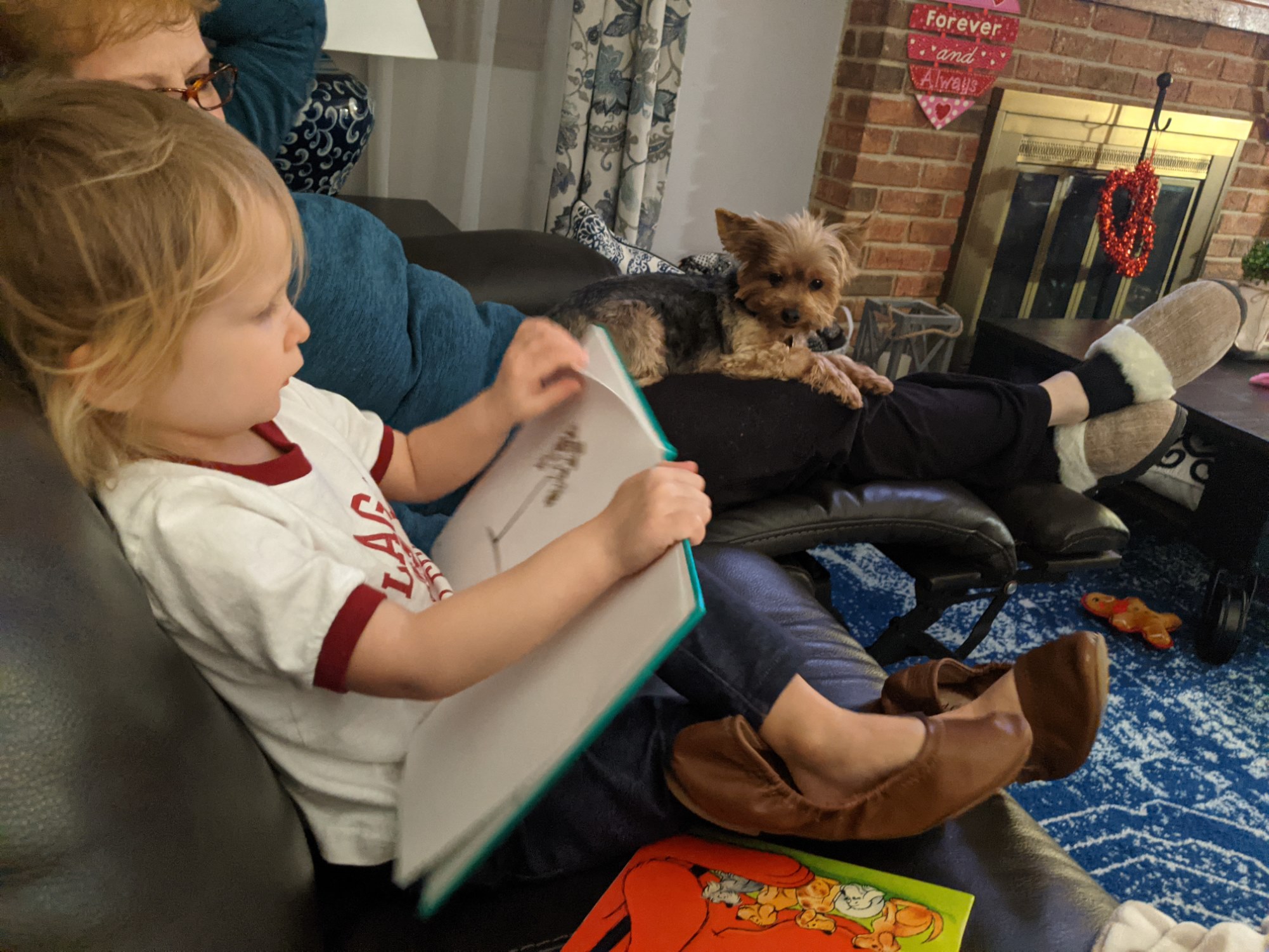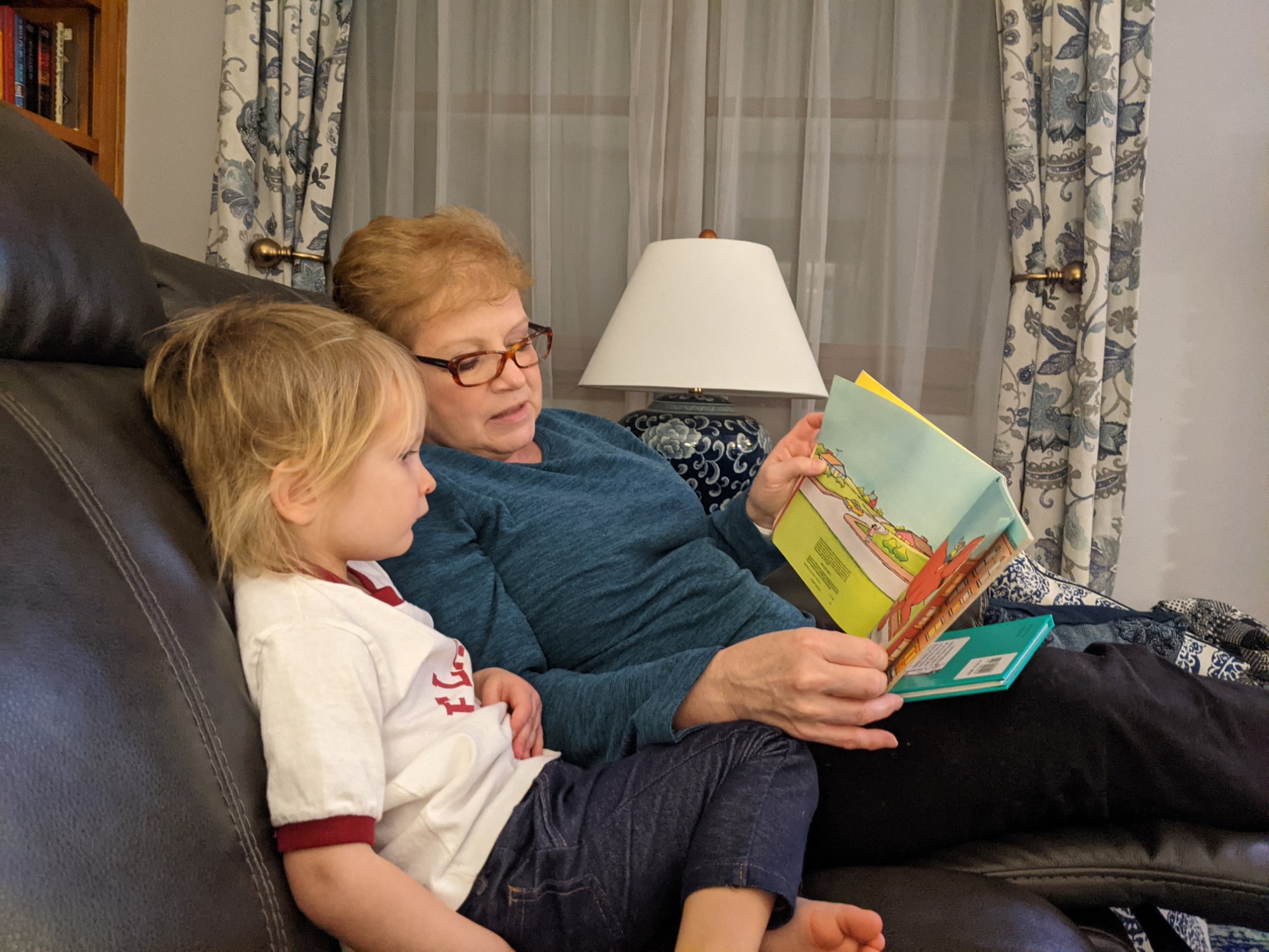 Then the sugar kicked in, and she got a little crazy pants, but she was having so much fun. She thought she wanted to have a sleepover with Nana tonight, but she didn't want Mommy & Daddy to leave, so after much weeping and gnashing of teeth, we decided Emmie would have a sleepover next weekend, and that she would come home with us tonight to sleep in her own bed. She wasn't too thrilled with the plan, but she eventually gave in and we got her to the car to head home.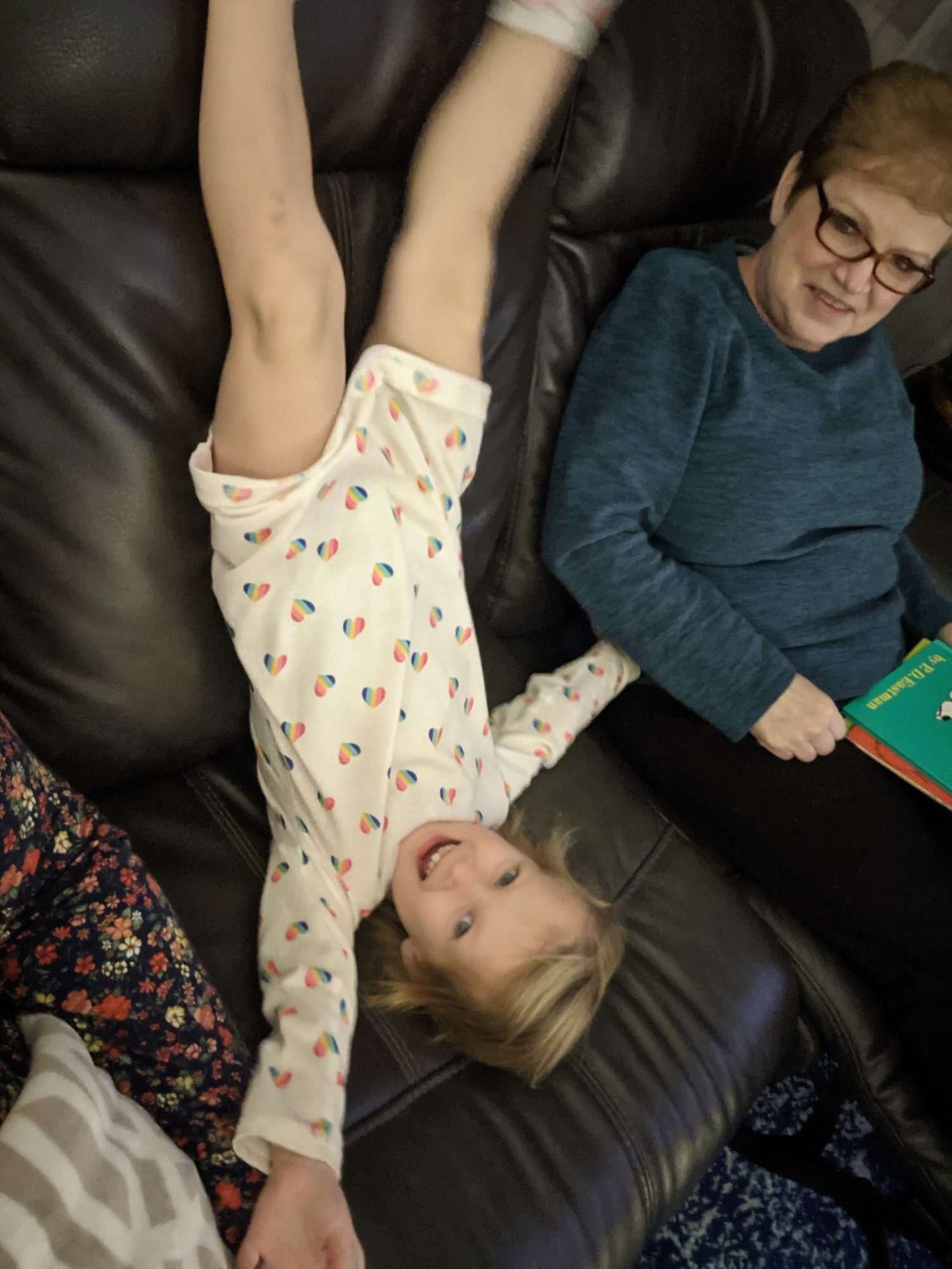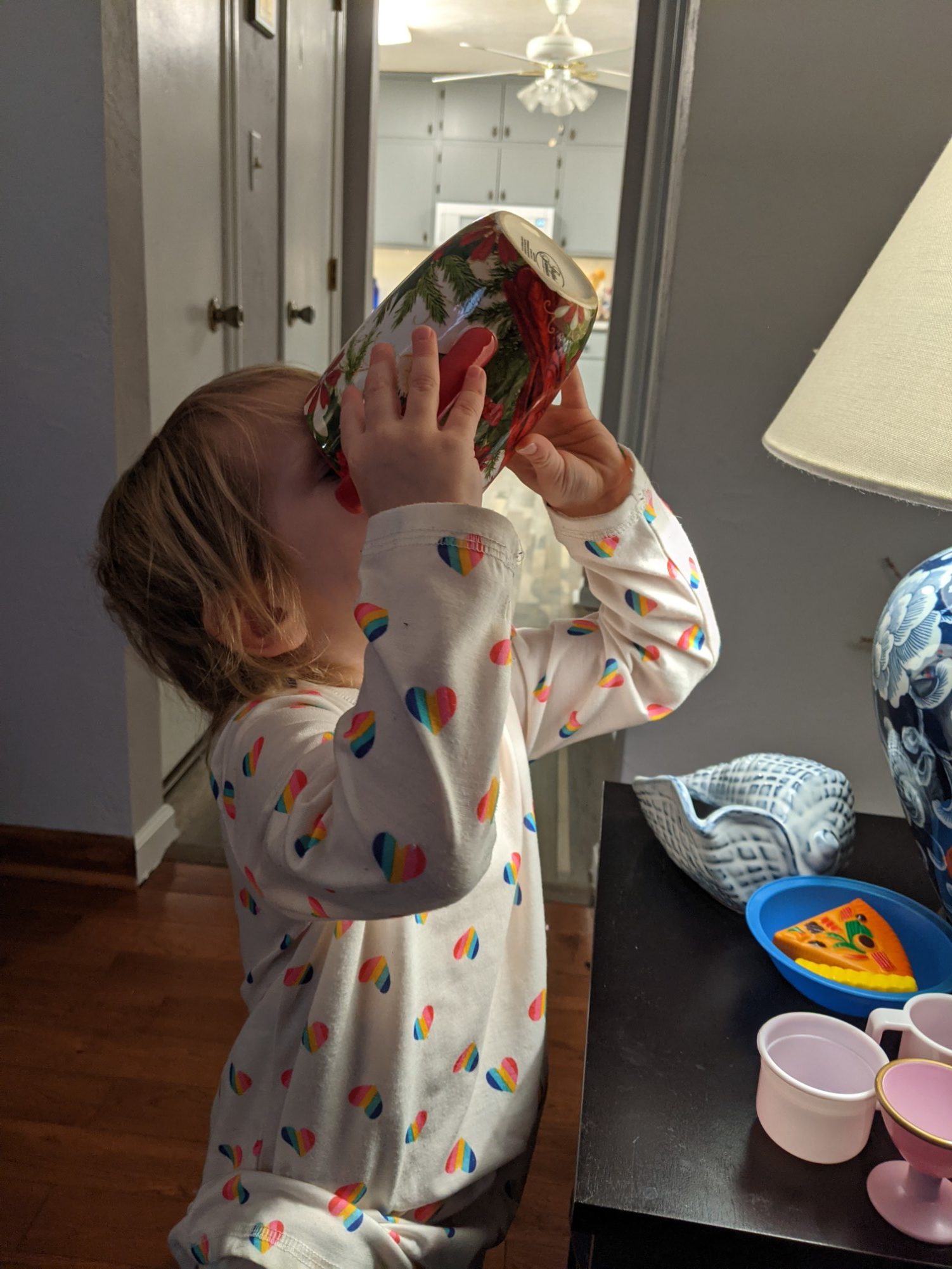 She had a roll for her bedtime snack and we read one of her new books we got her for Christmas. It was super easy to get her to sleep tonight, but it was also about an hour past her usual bedtime, and she was exhausted after such a busy weekend.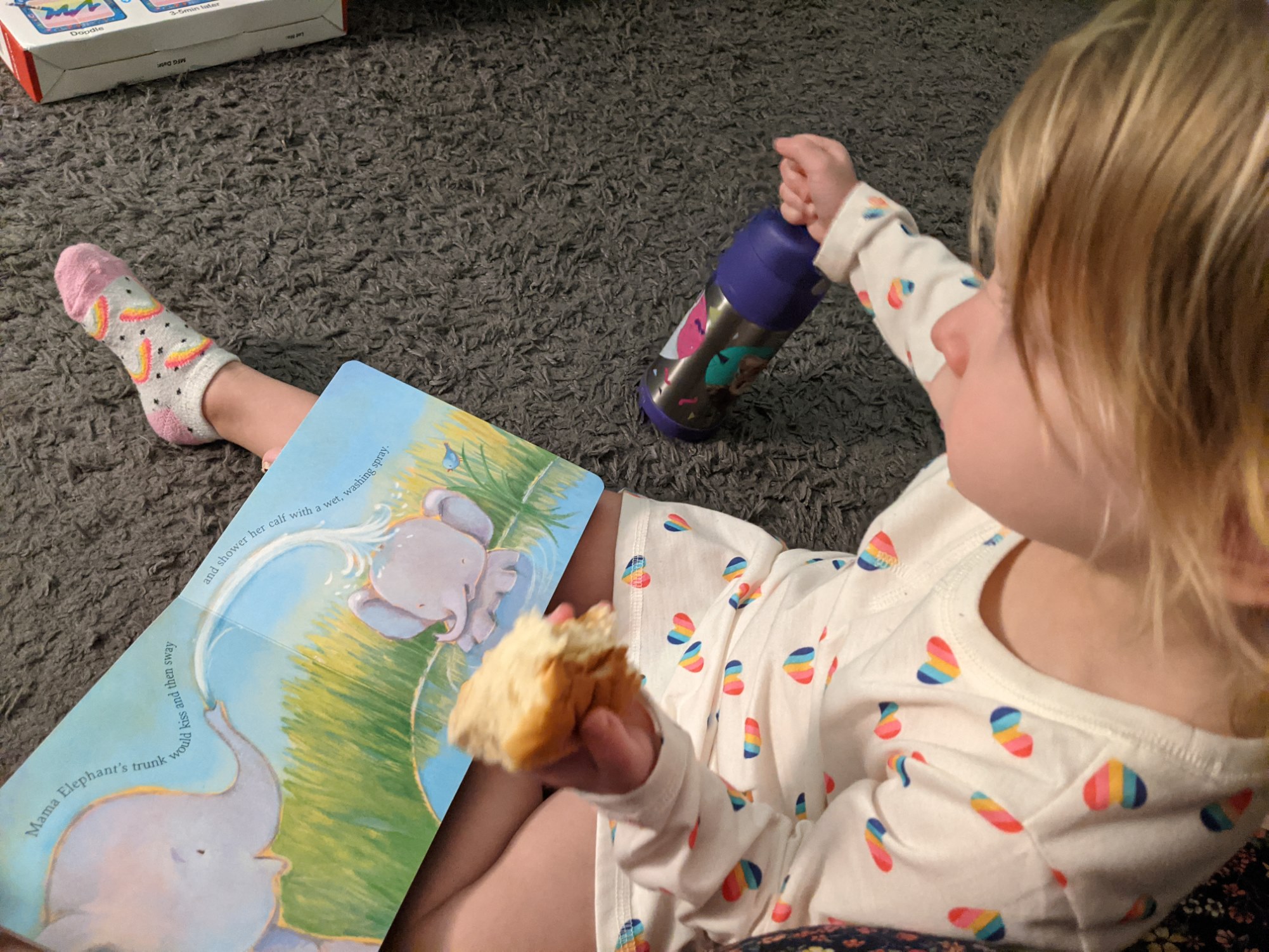 We're gonna take it easy now and rest before bedtime. Yesterday we went hard on the chore and then took a break all day today. But tomorrow, we're picking back up and gonna get back to work on cleaning up and tidying up some of those piles in corners that have built up over the first half of my pregnancy when I was too tired to properly clean much of anything…