My baby girl was a little quieter upon waking up today, but just as sweet as ever. She then gave me some really great sleepy cuddles before getting dressed.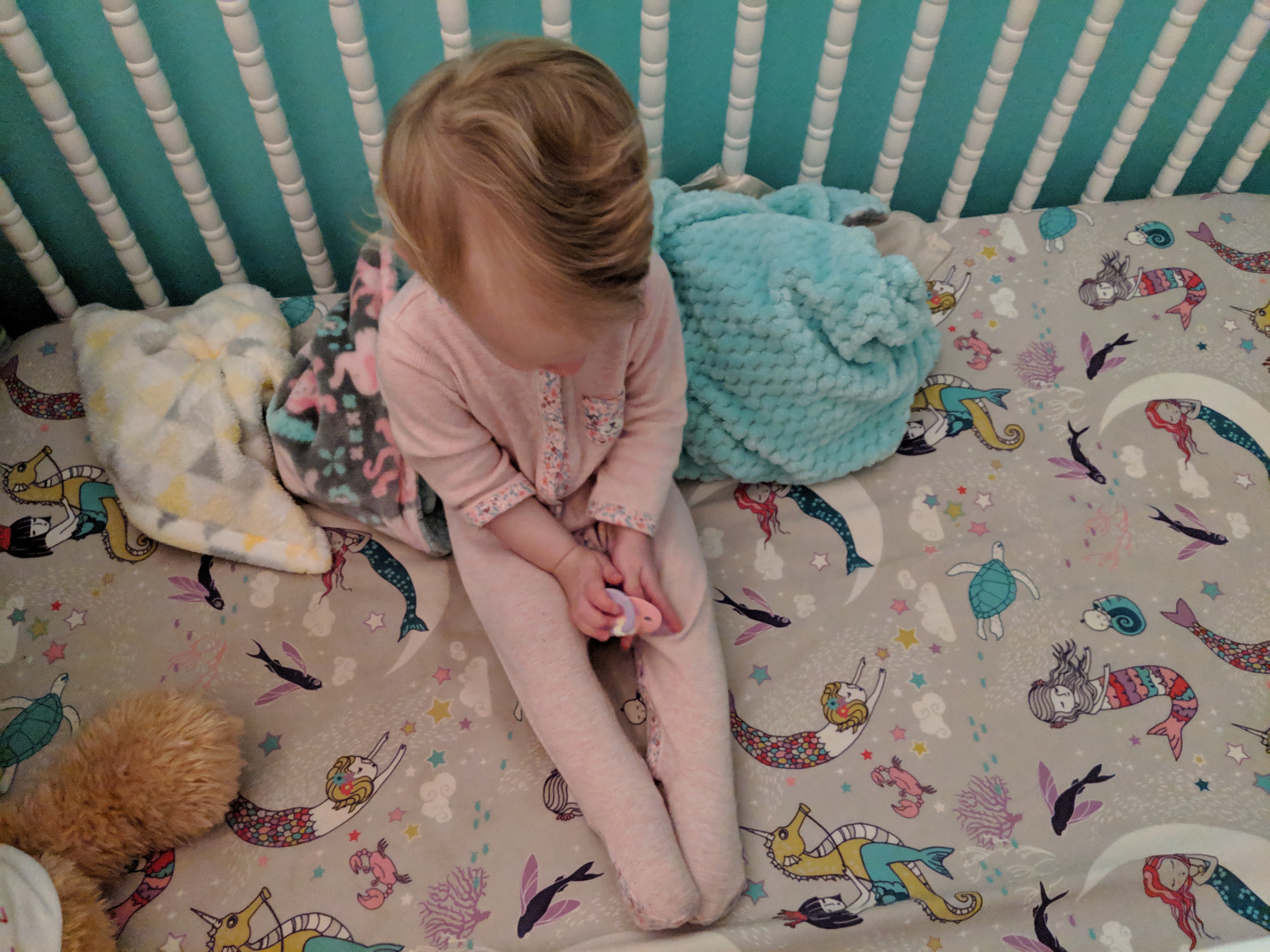 Then I had her sign the Valentine's cards for her teachers (I wrote her name last night, but she scribbled today), I gathered them up, and then we hit the road!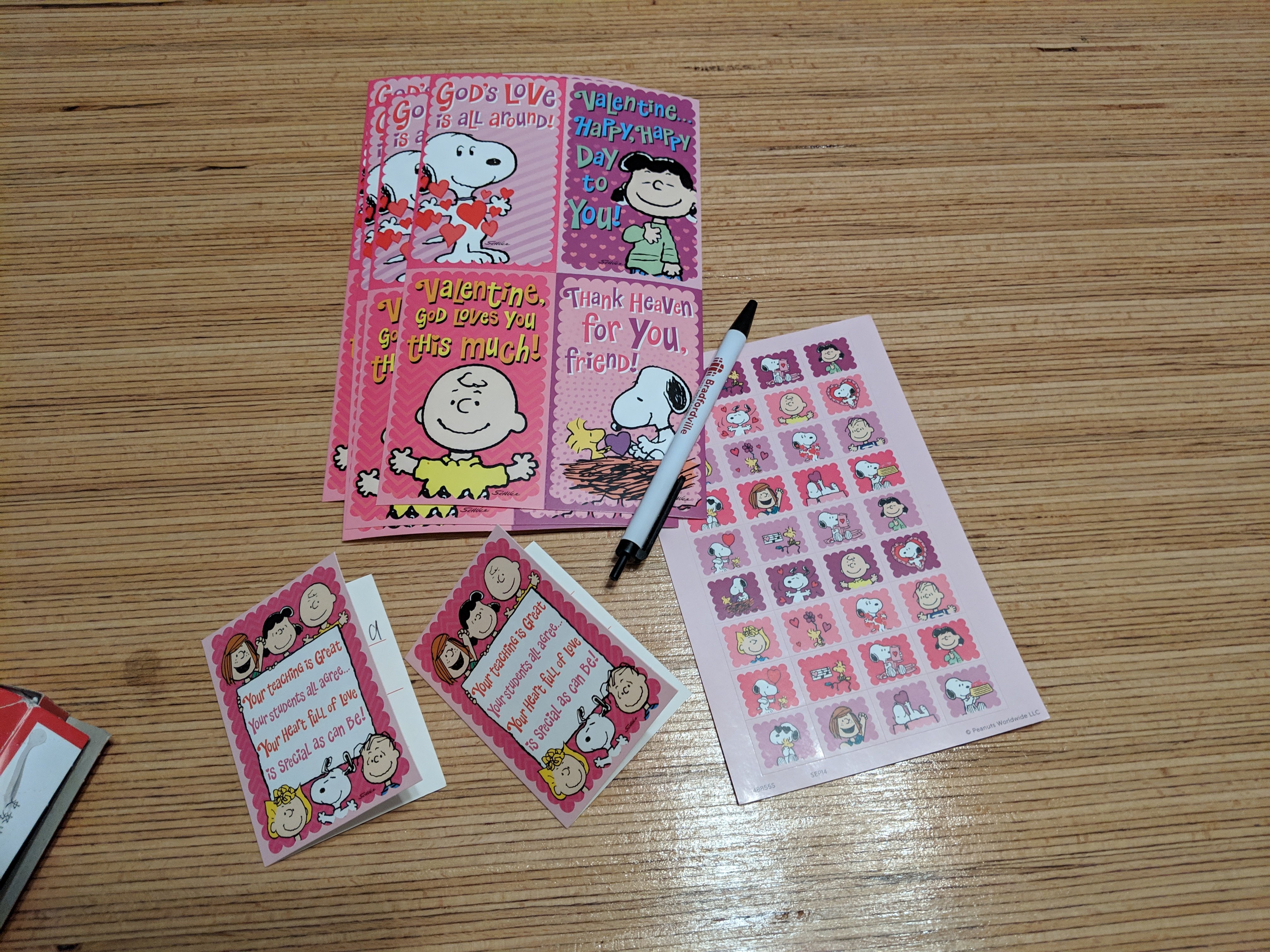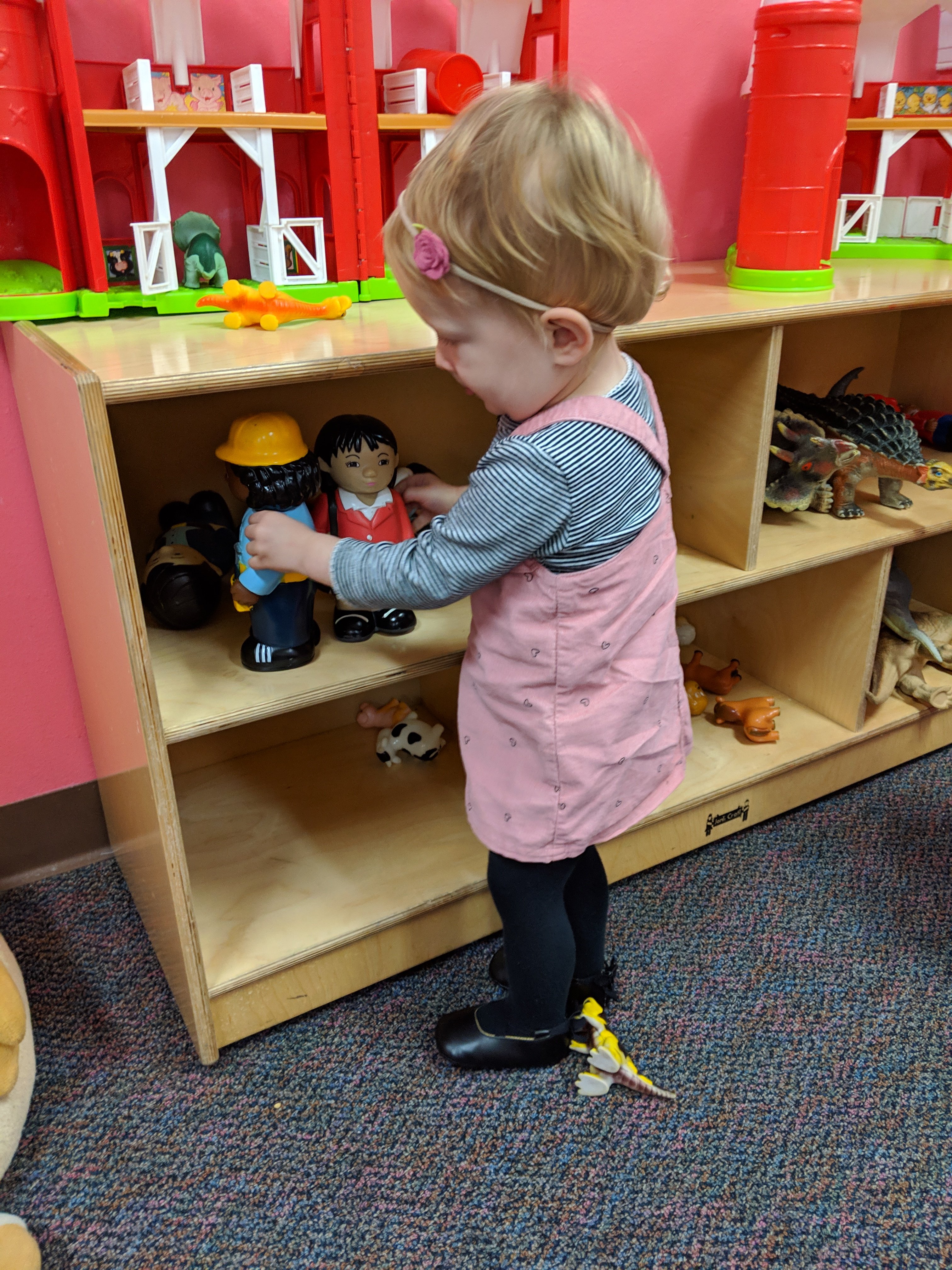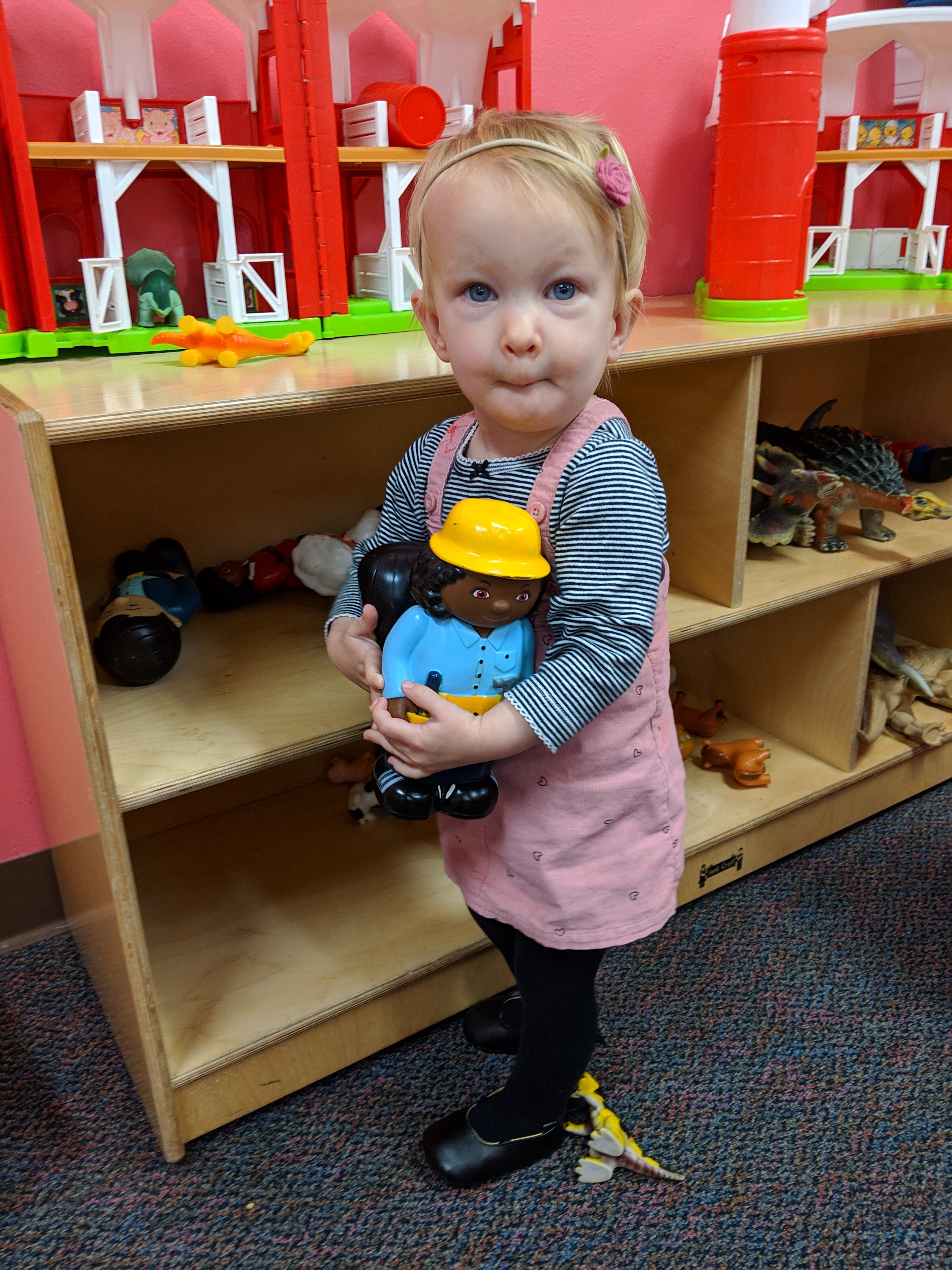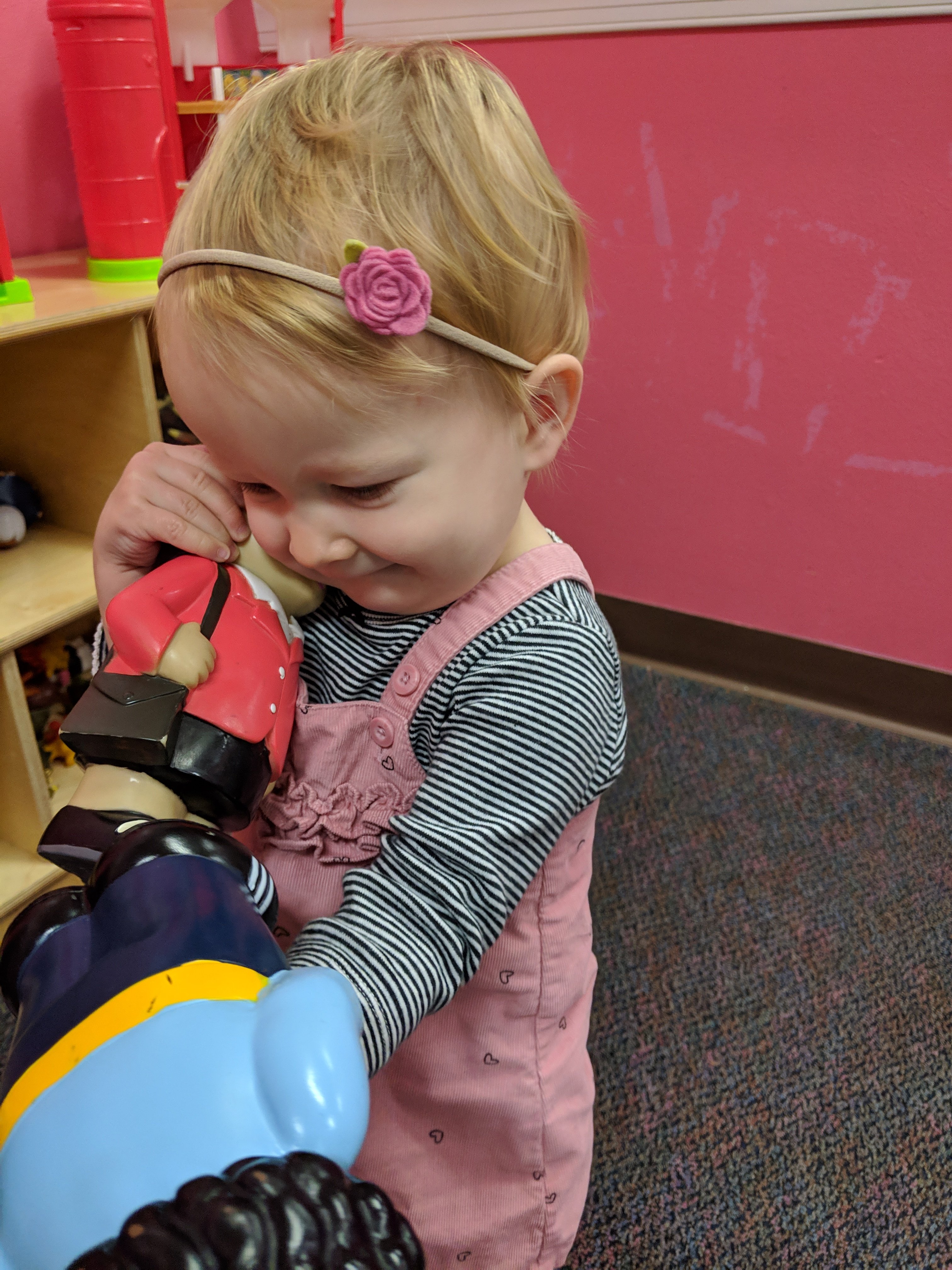 She started playing with the buttons on my sweater, so I asked her about the buttons, and then she decided she needed to show me her belly button!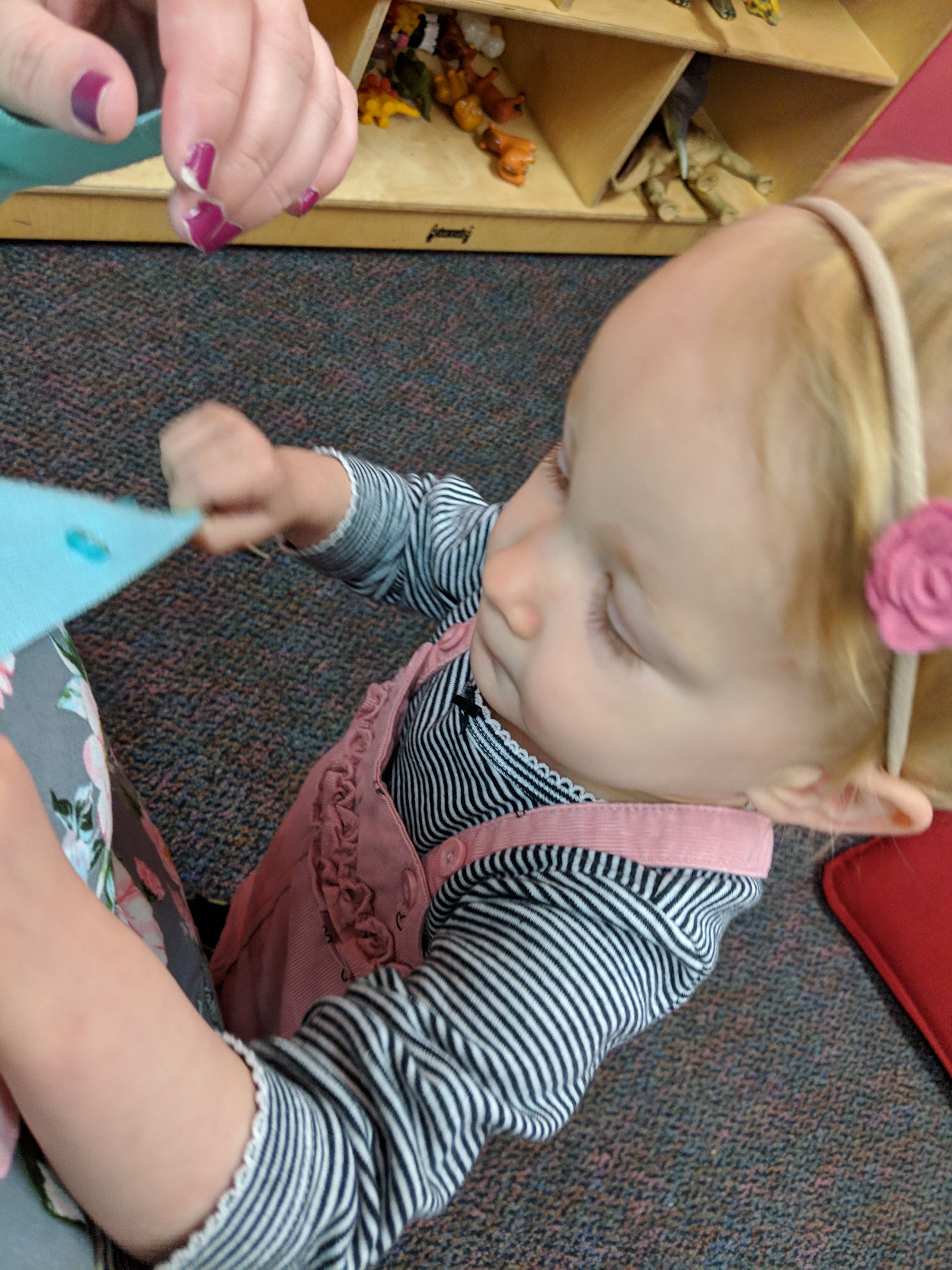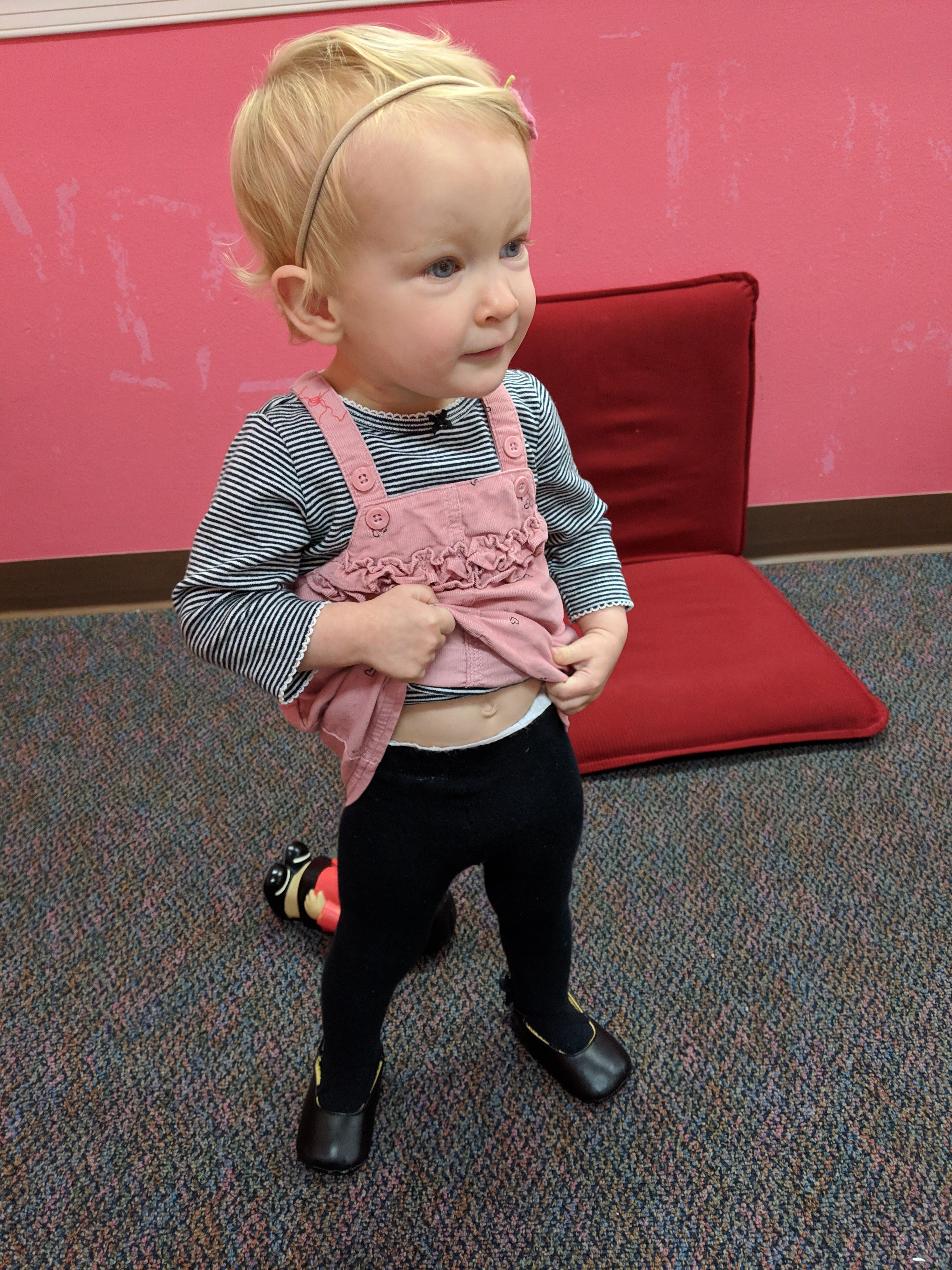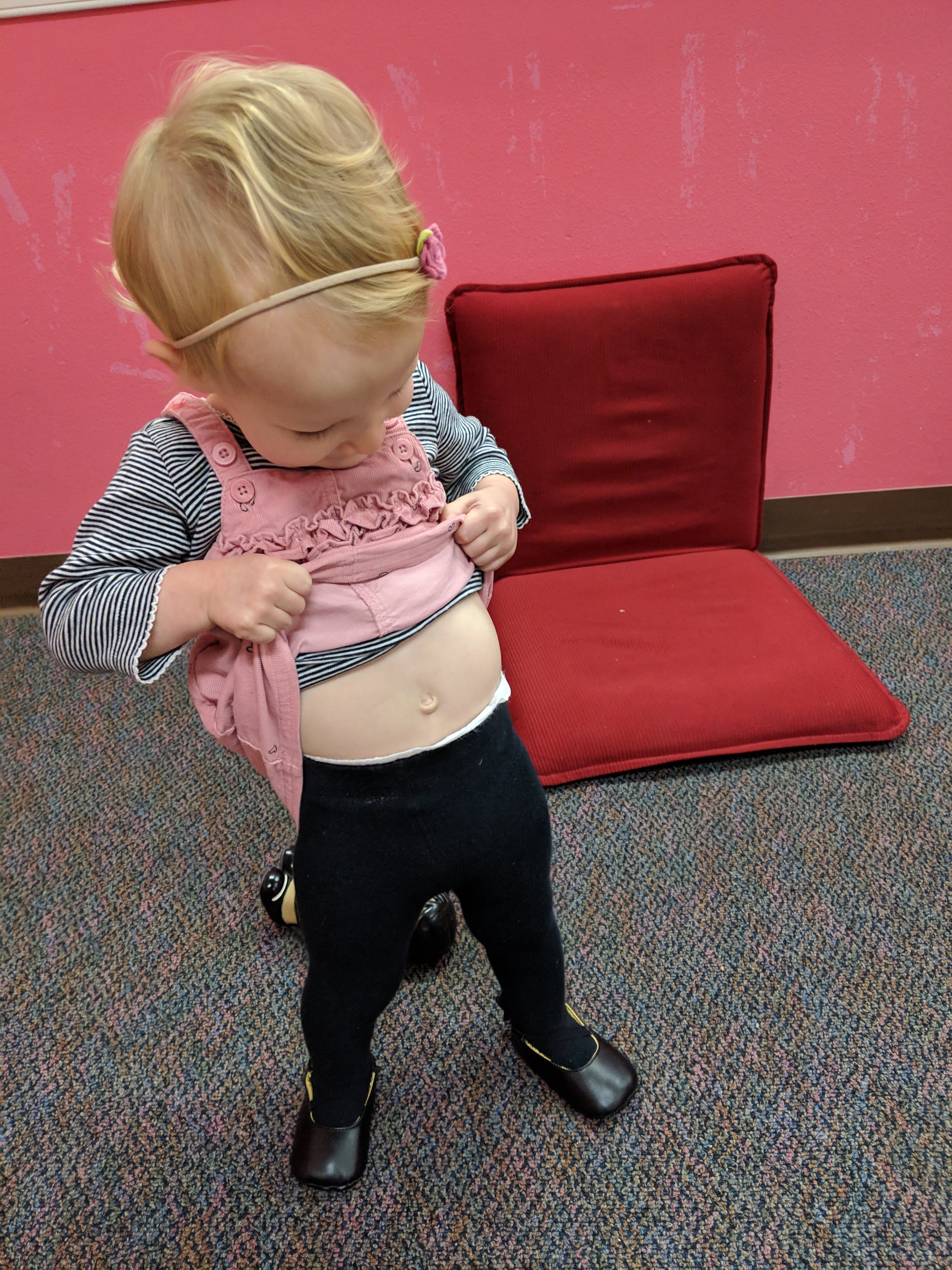 Such a silly goose, and she knows it!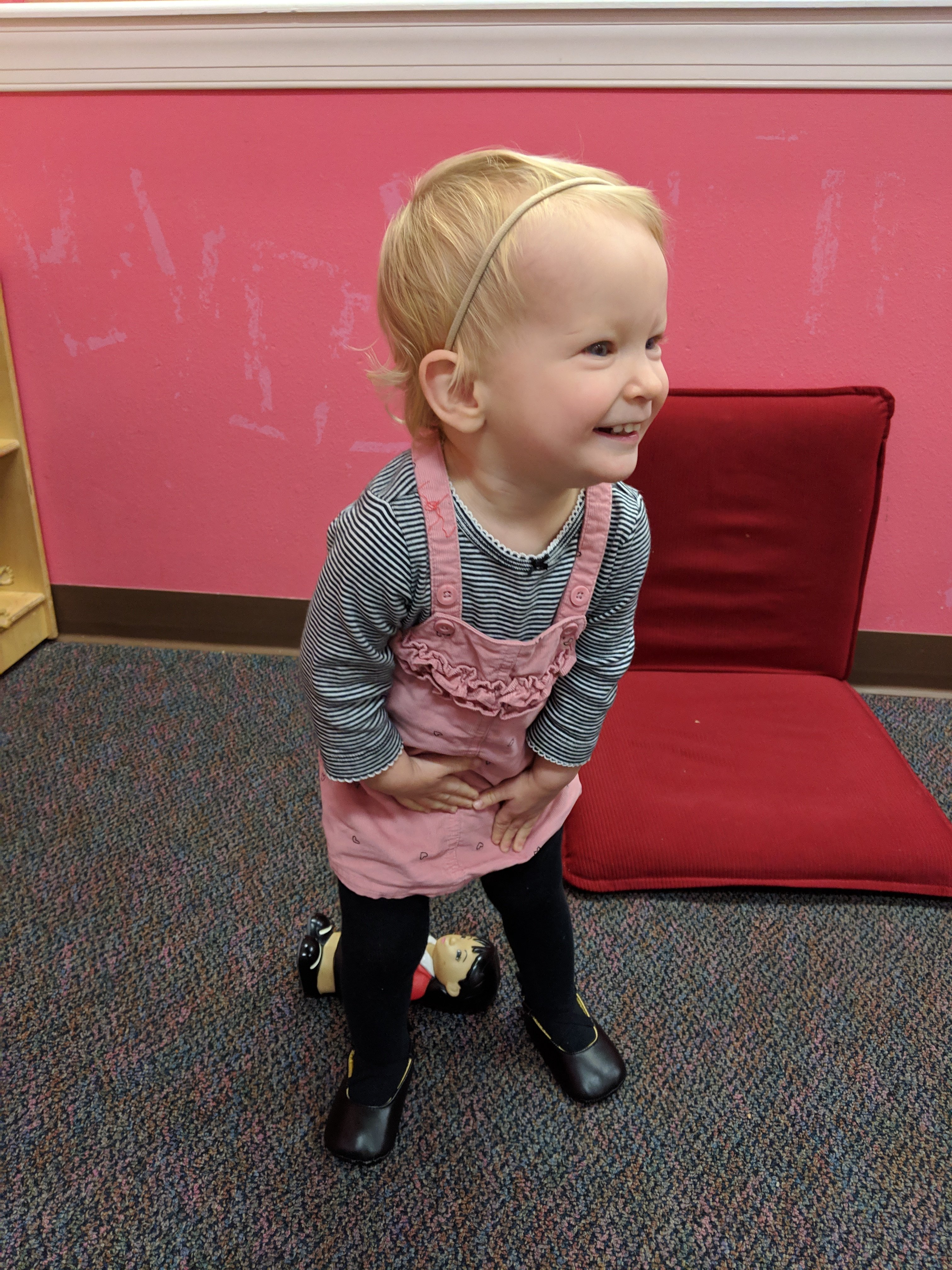 For lunch today, my hubby came and picked me up at my office and took me on a lunch date to Sahara! We both like Greek food, but I especially love gyro's, so this was a great choice! I got the lamb gyro and wow it was so stinking good. Jeff got the beef shawarma wrap (that came with french fries in it!), and his was good too. We had good conversation together and good food, and it was a nice treat to be just the two of us.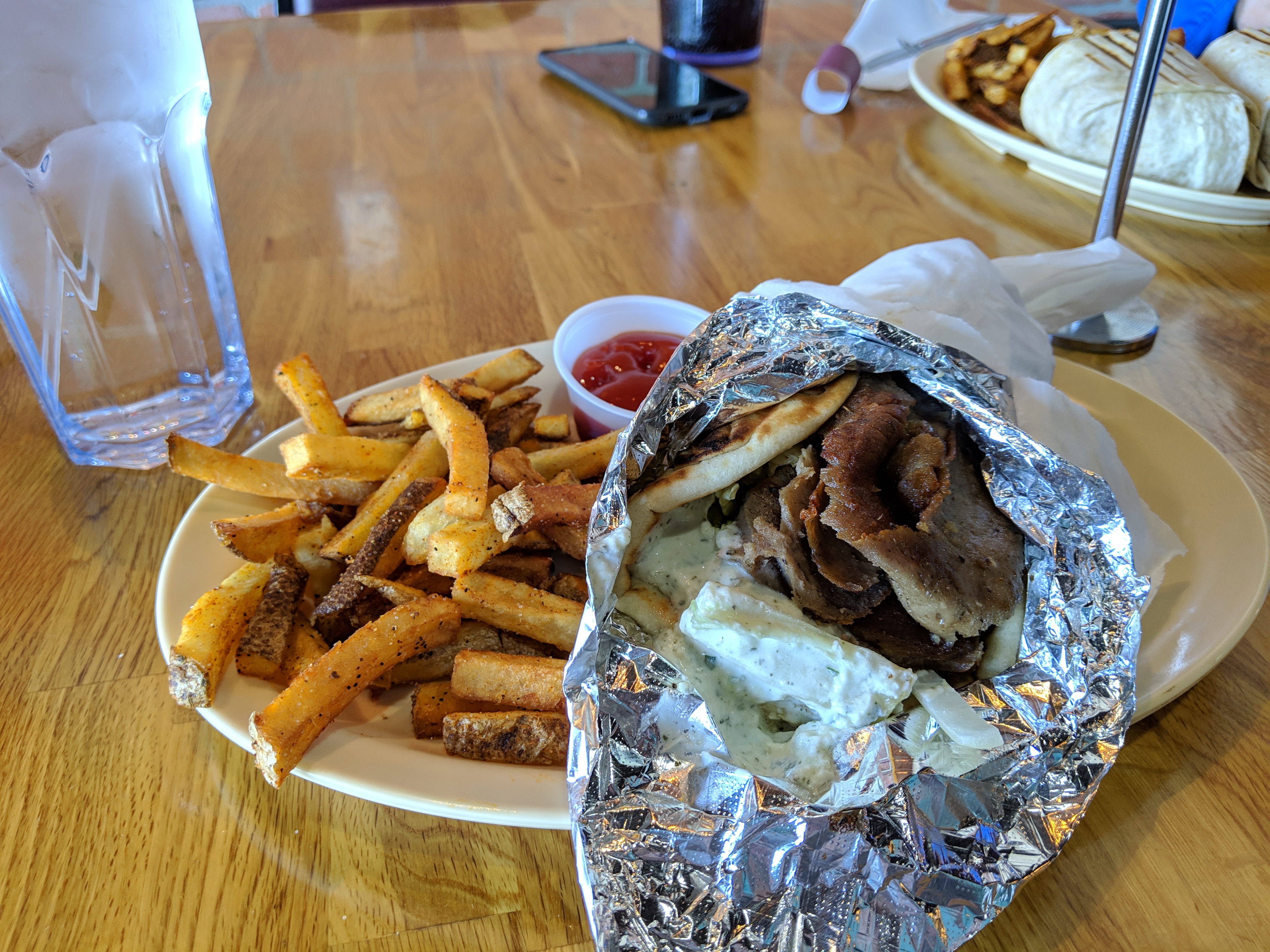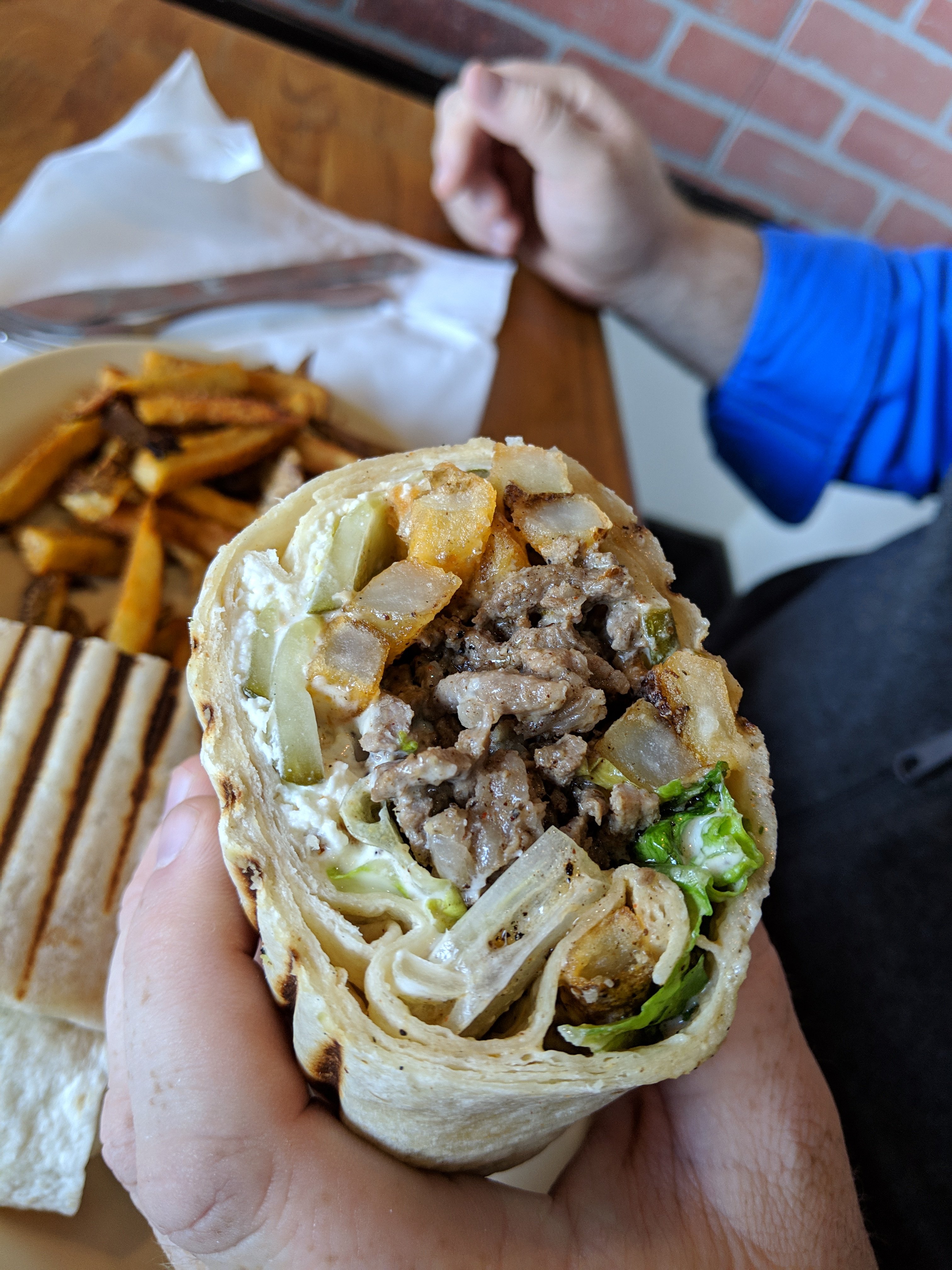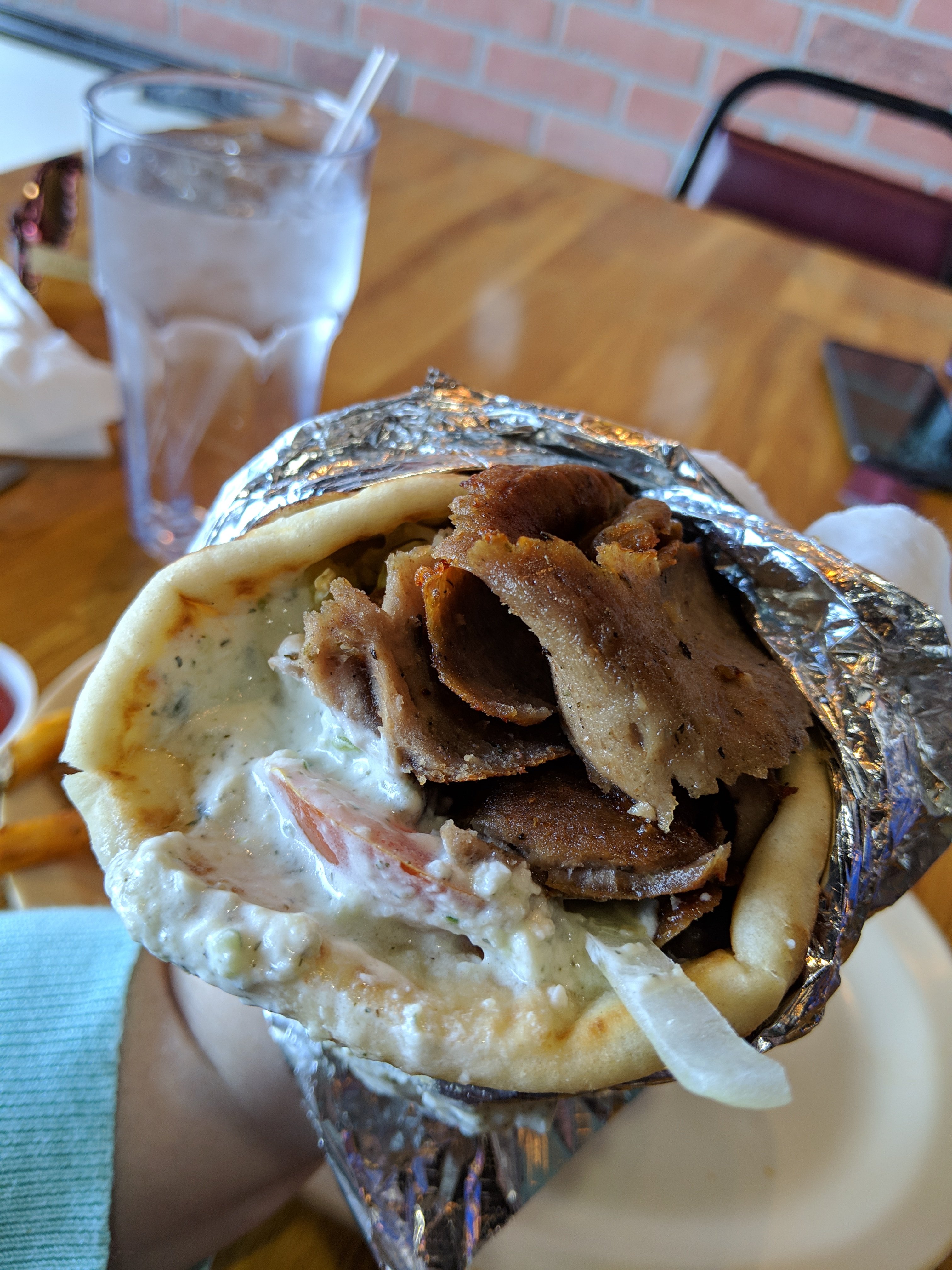 And here are all the photos I got from her teachers through the app today!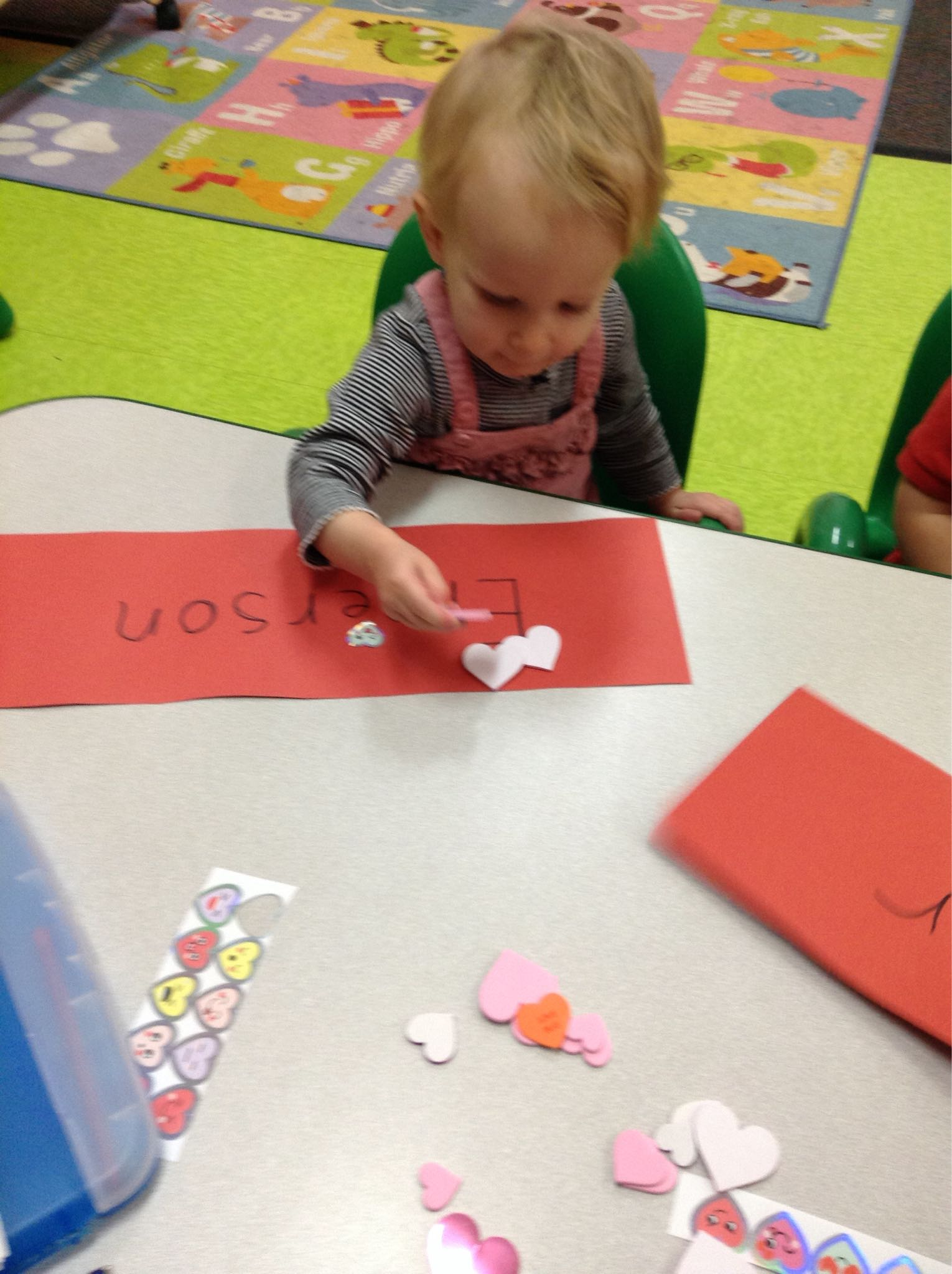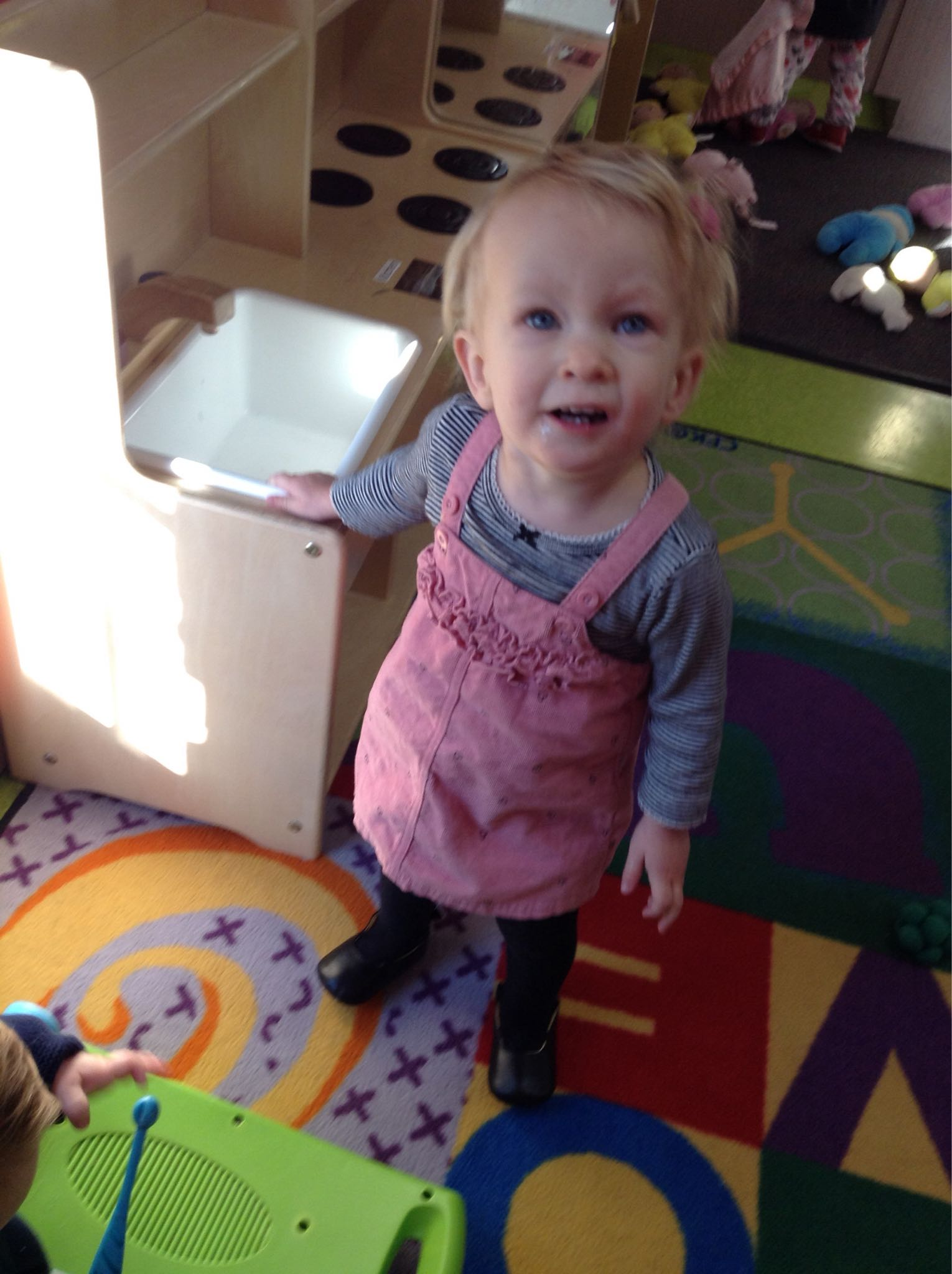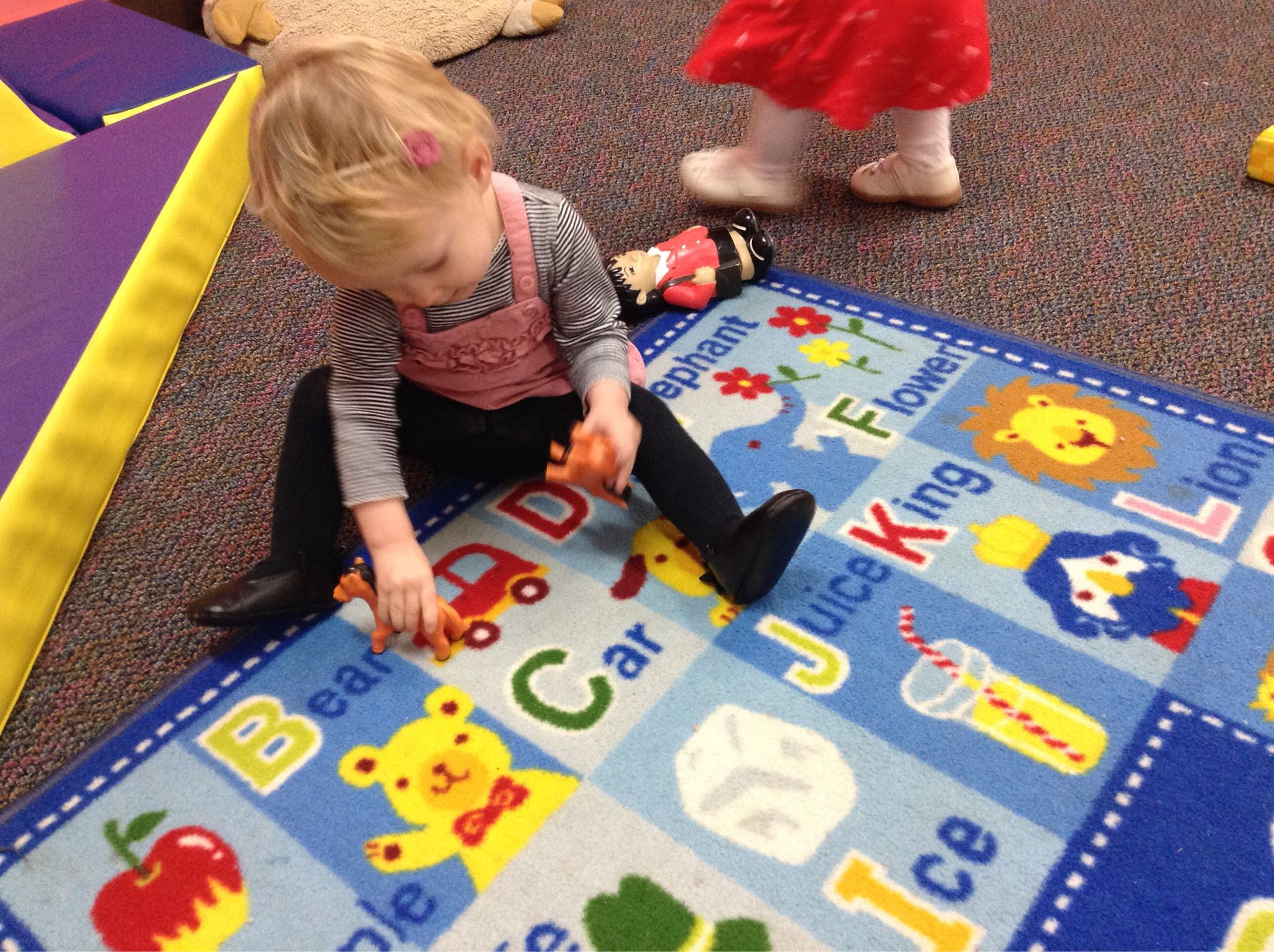 This week is parent reading week, and this is Allie reading to her daughter Maddie and Emmie!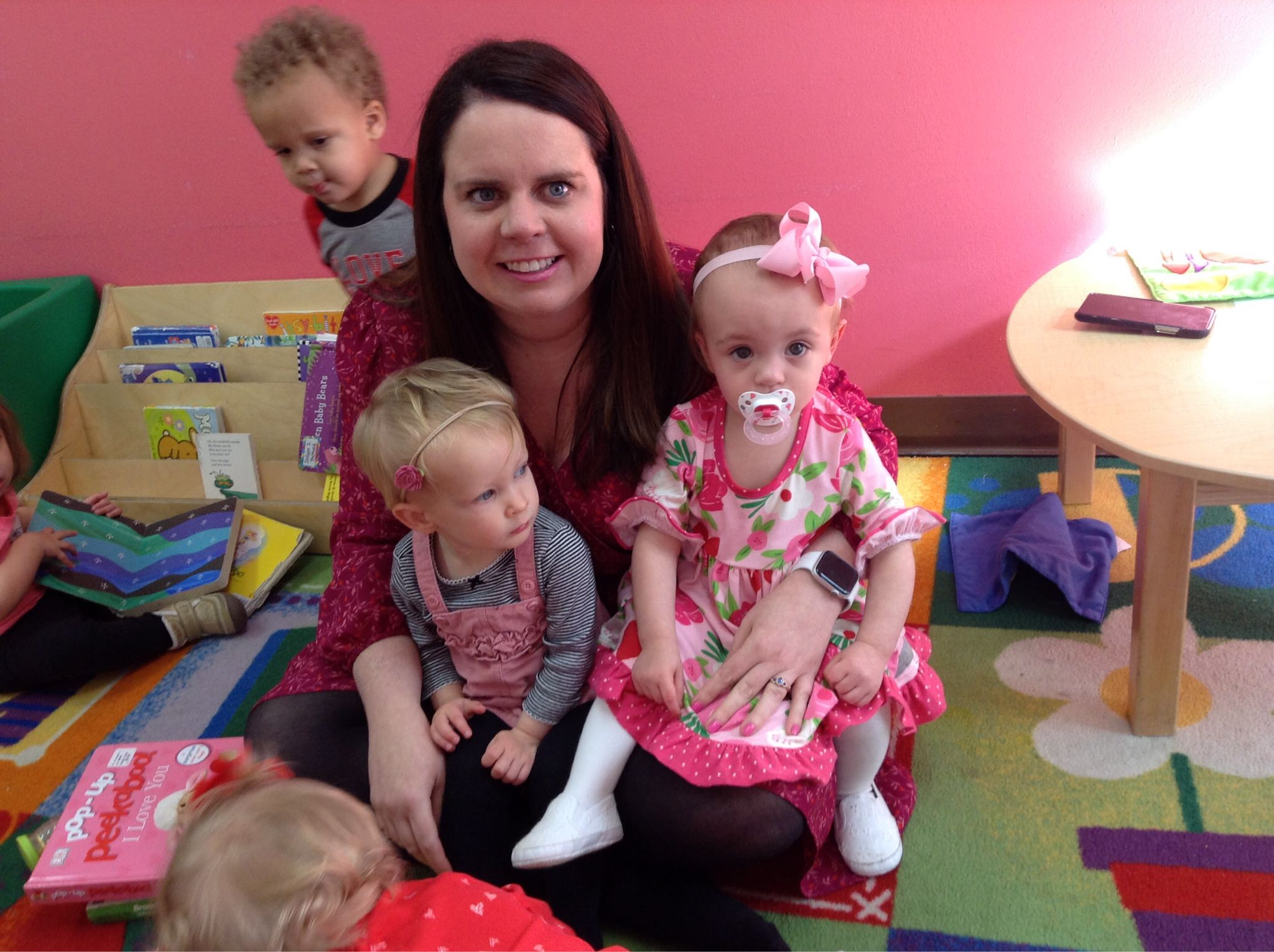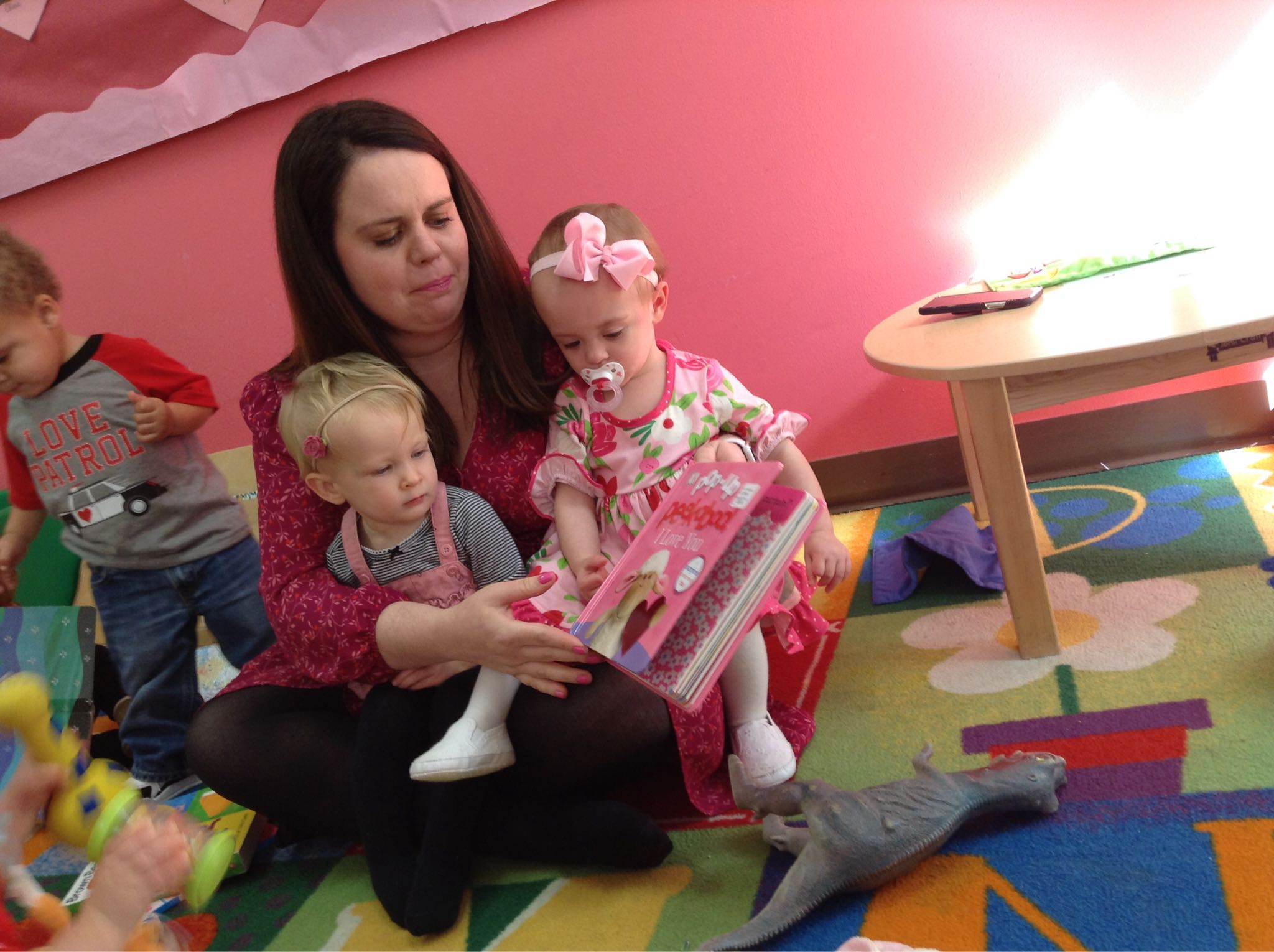 And then Emmie got in the bottom of the dress-up cabinet!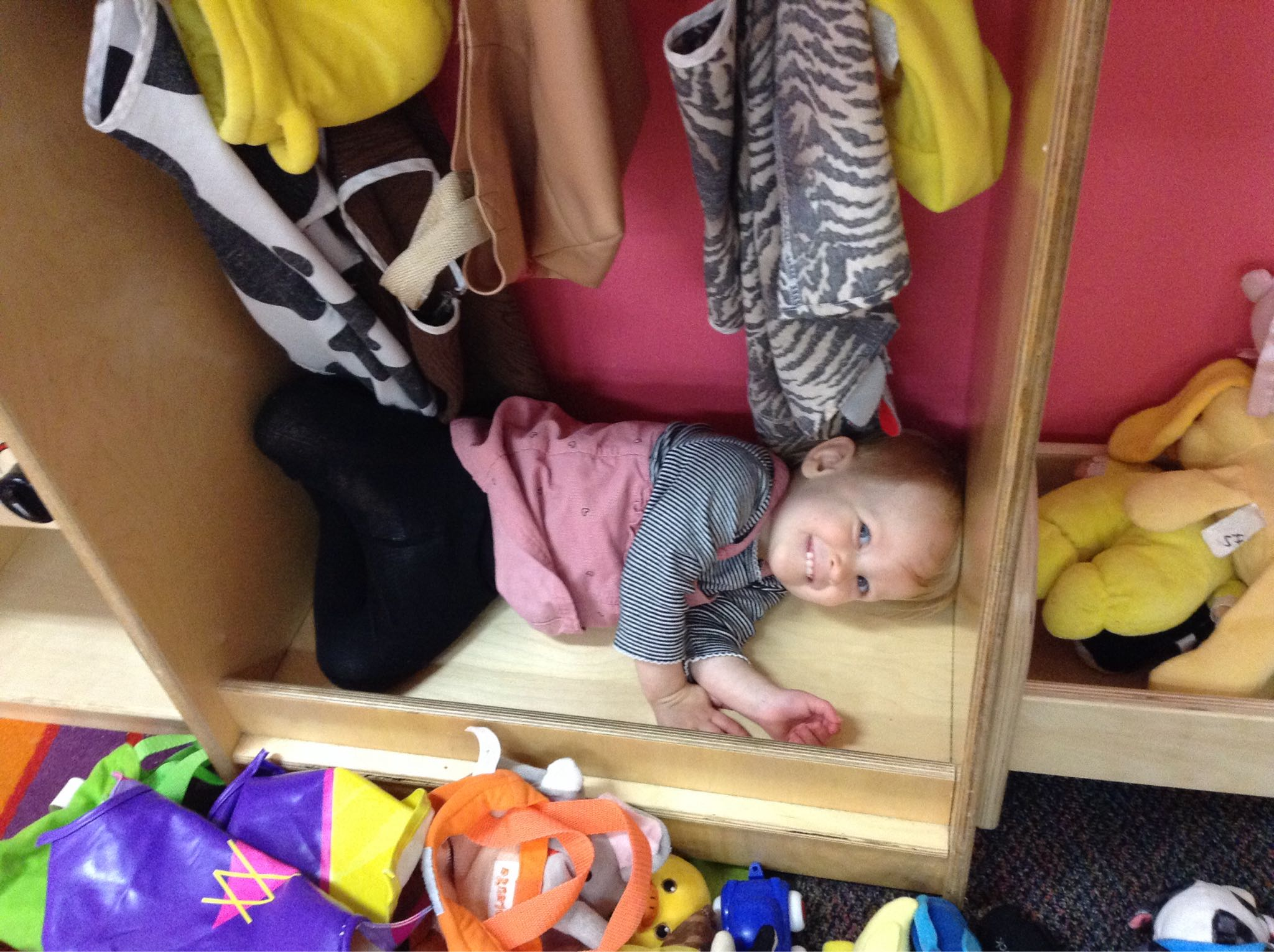 And then she stood in/on the little bookshelf.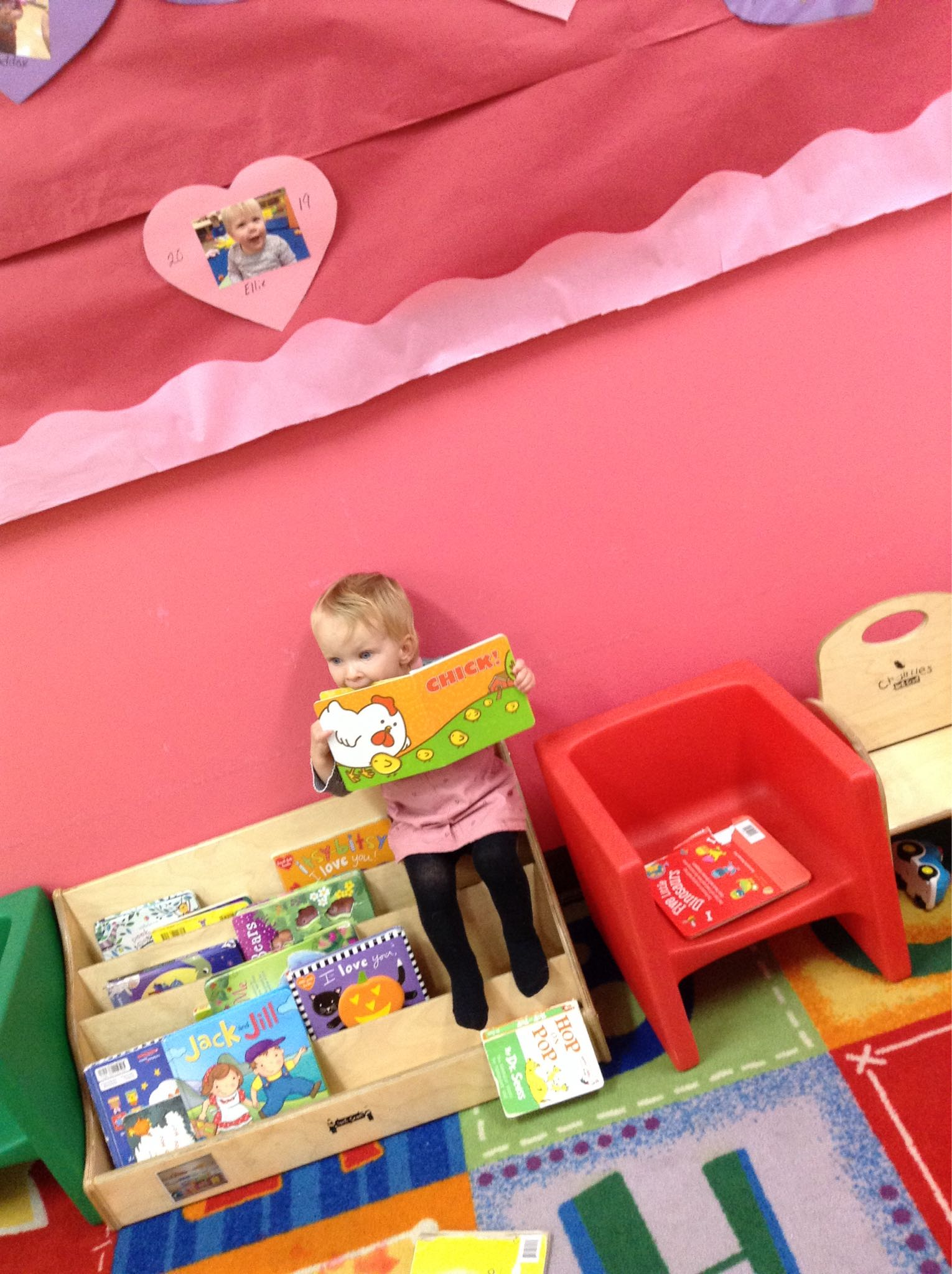 They had a special Valentine's Day party this afternoon during snack time, with lots of fun foods like Jell-O & apple juice!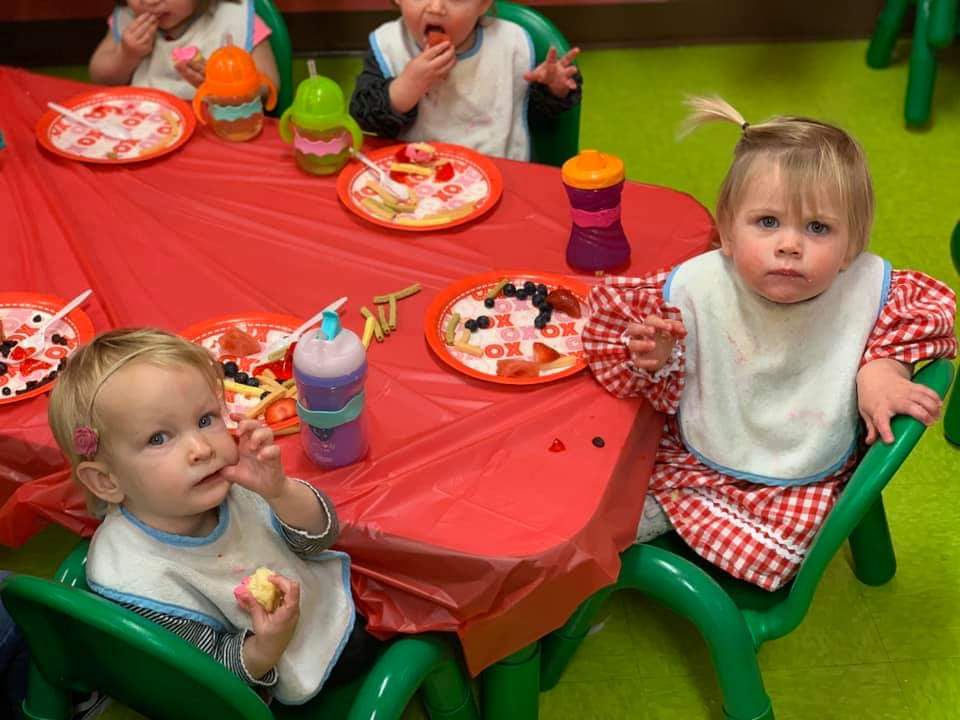 When I got to Growing room after work today, Uncle Bo and Emerson were out back playing on the big kid playground together. She was just squealing and chatting and having so much fun with her Uncle Bo. She was also going down the big girl slide, because she is absolutely fearless at the stage! and of course she was wearing her Valentine's Day stickers on her face.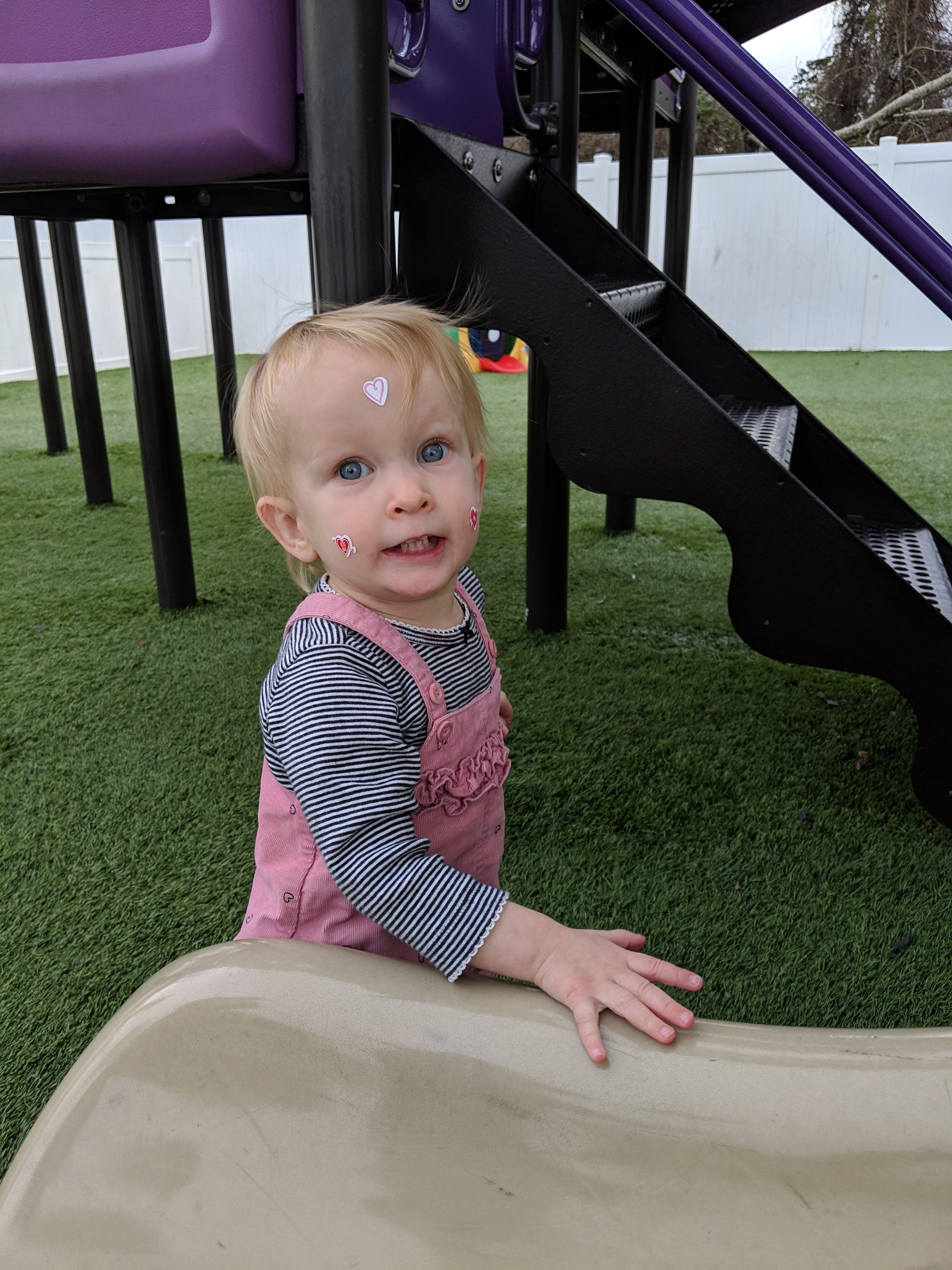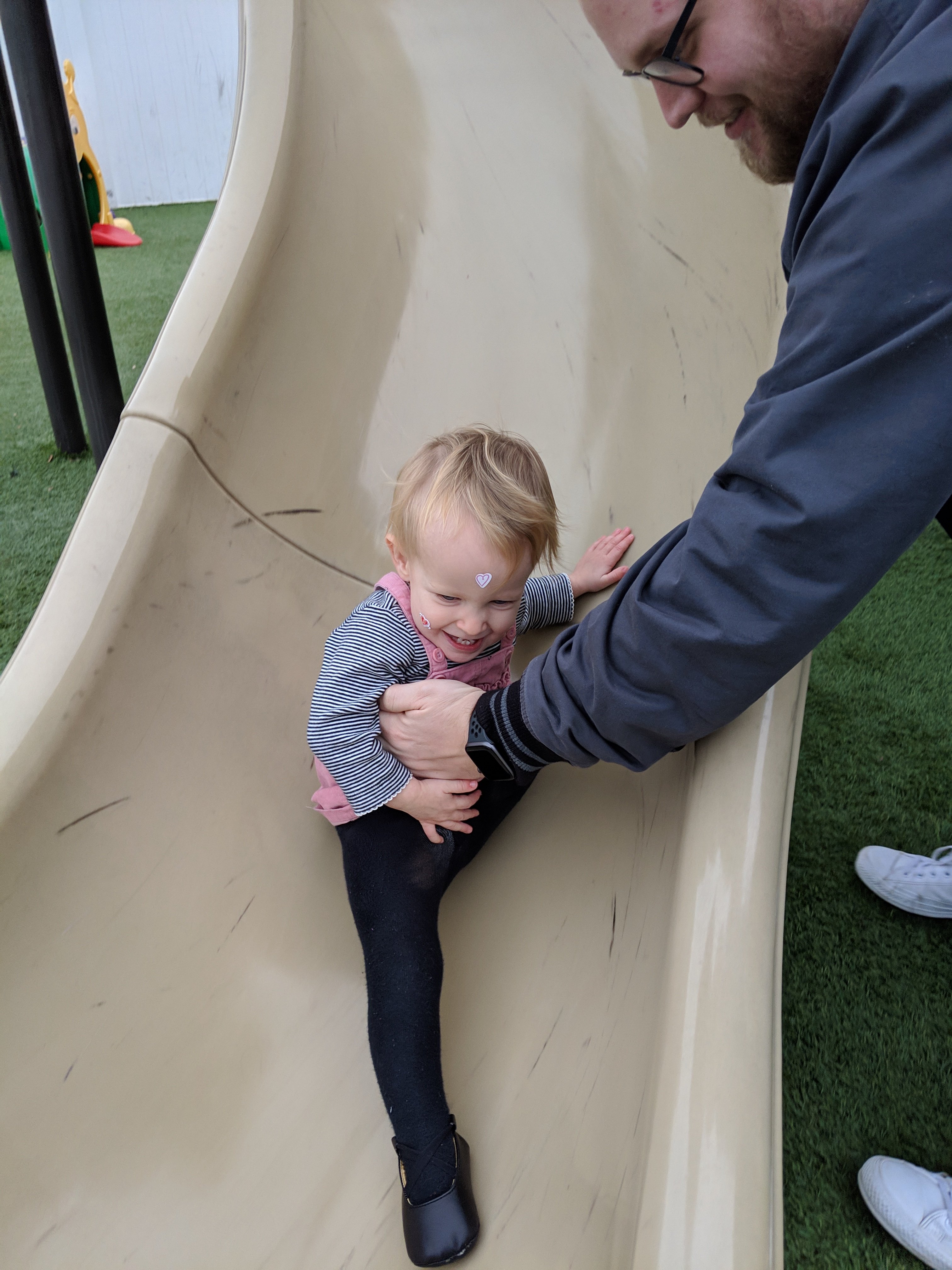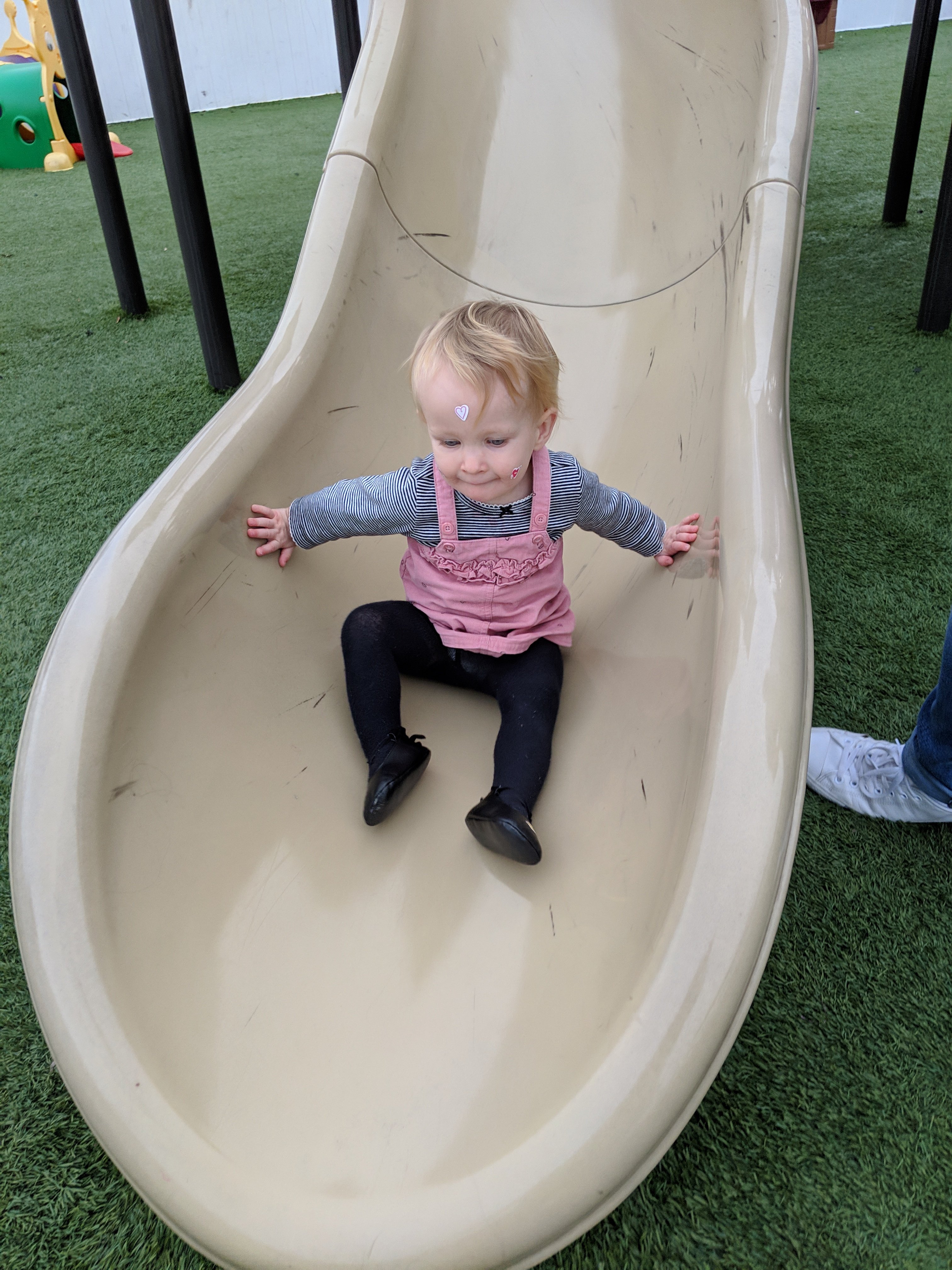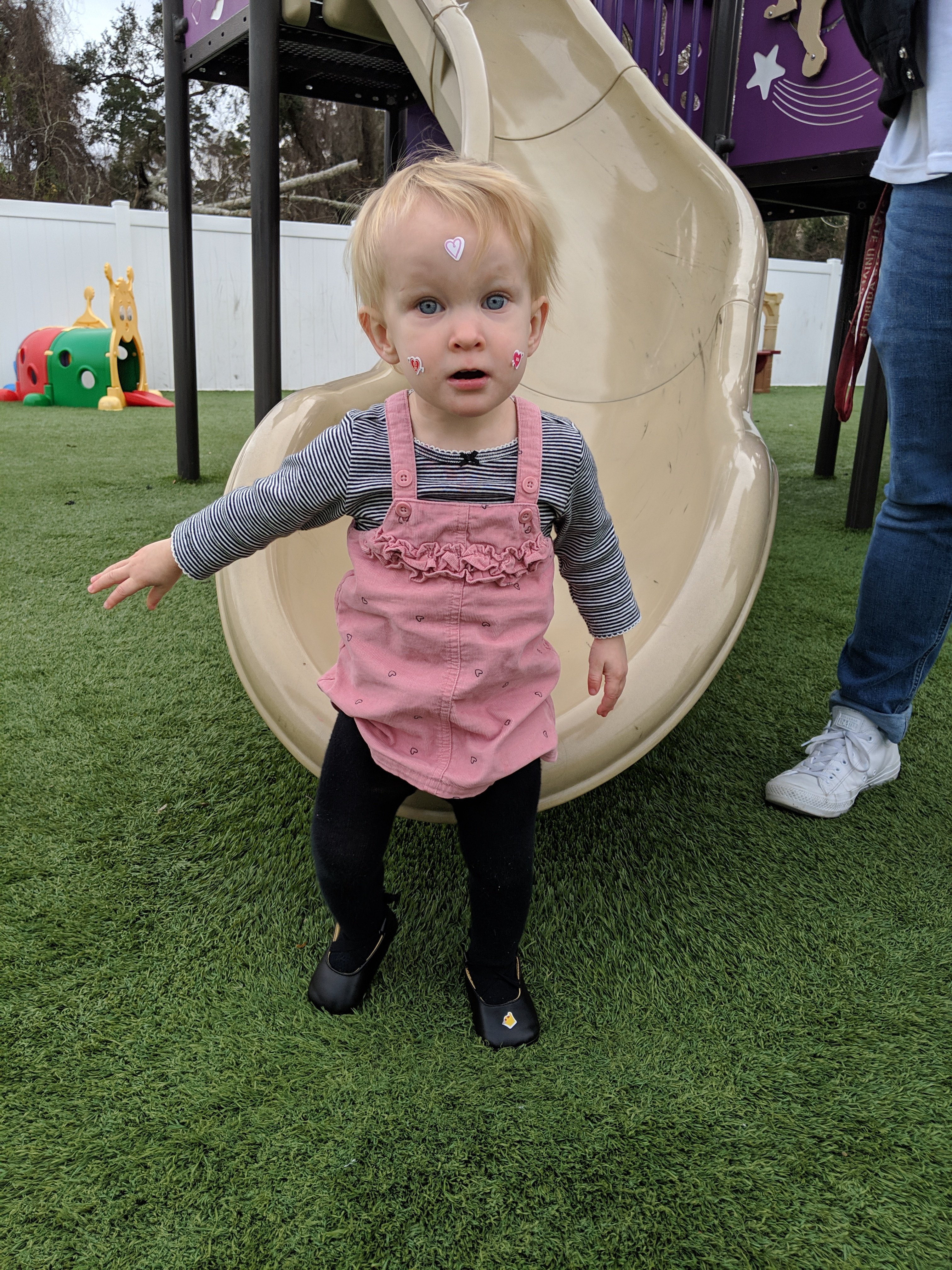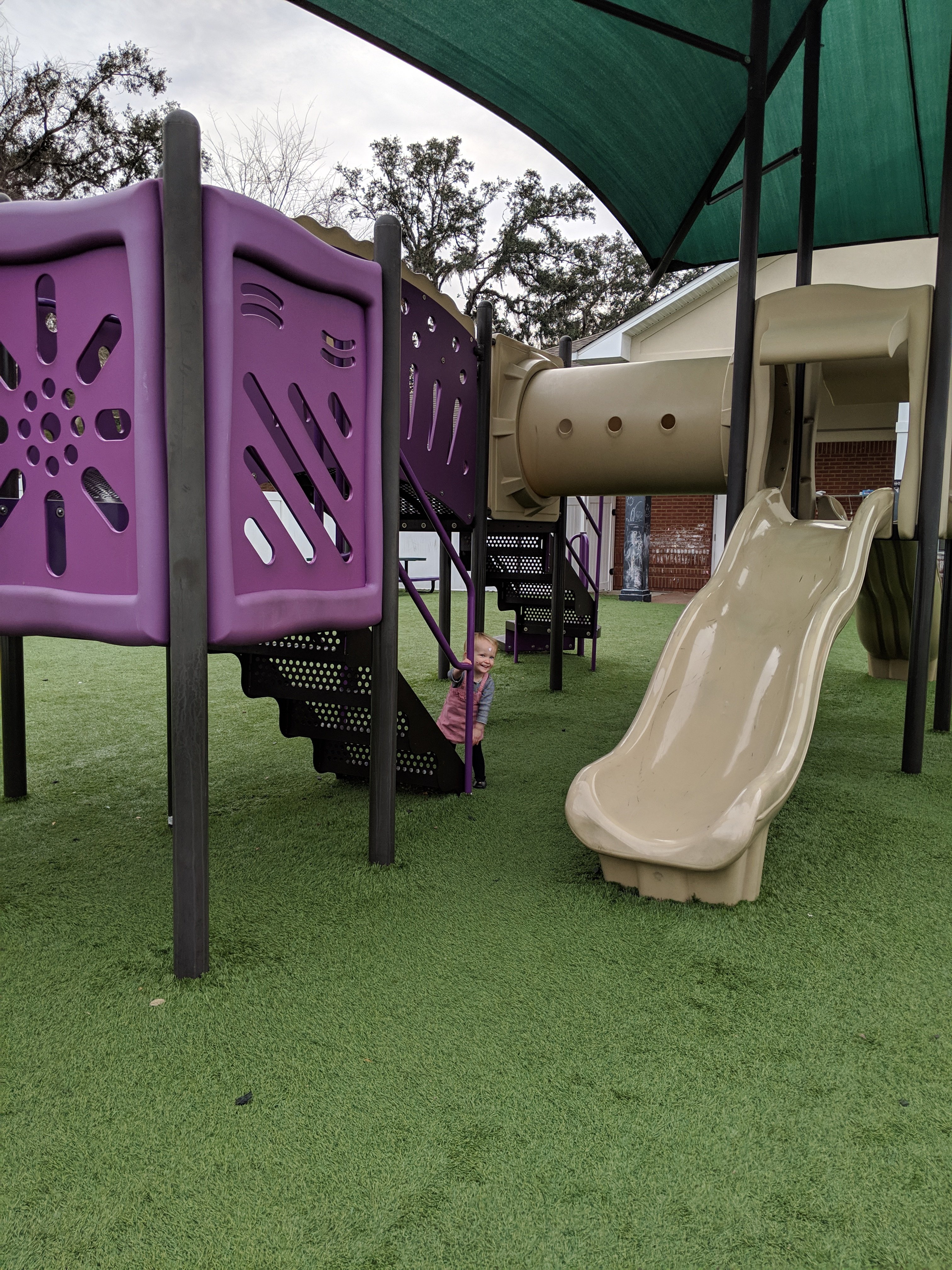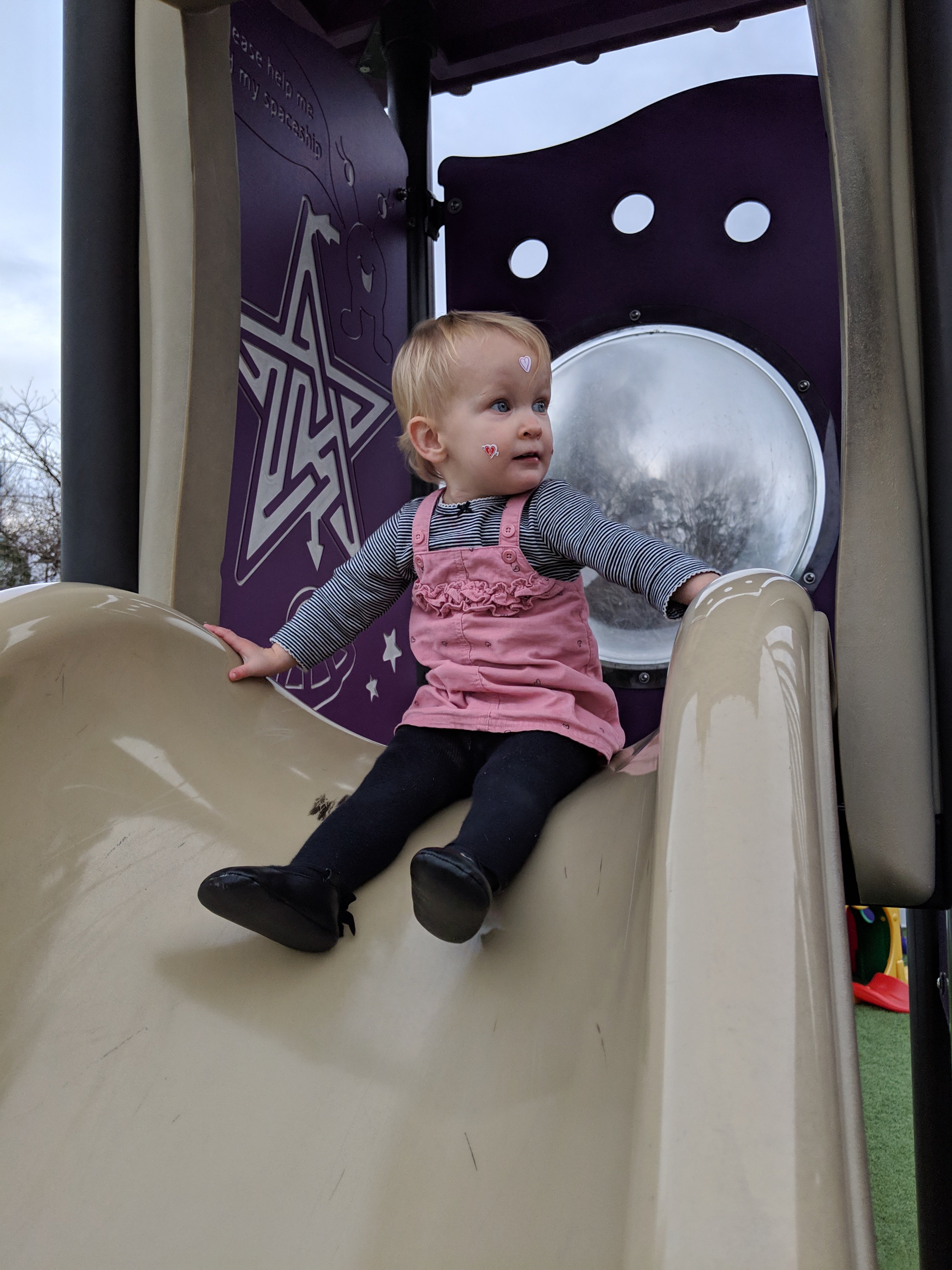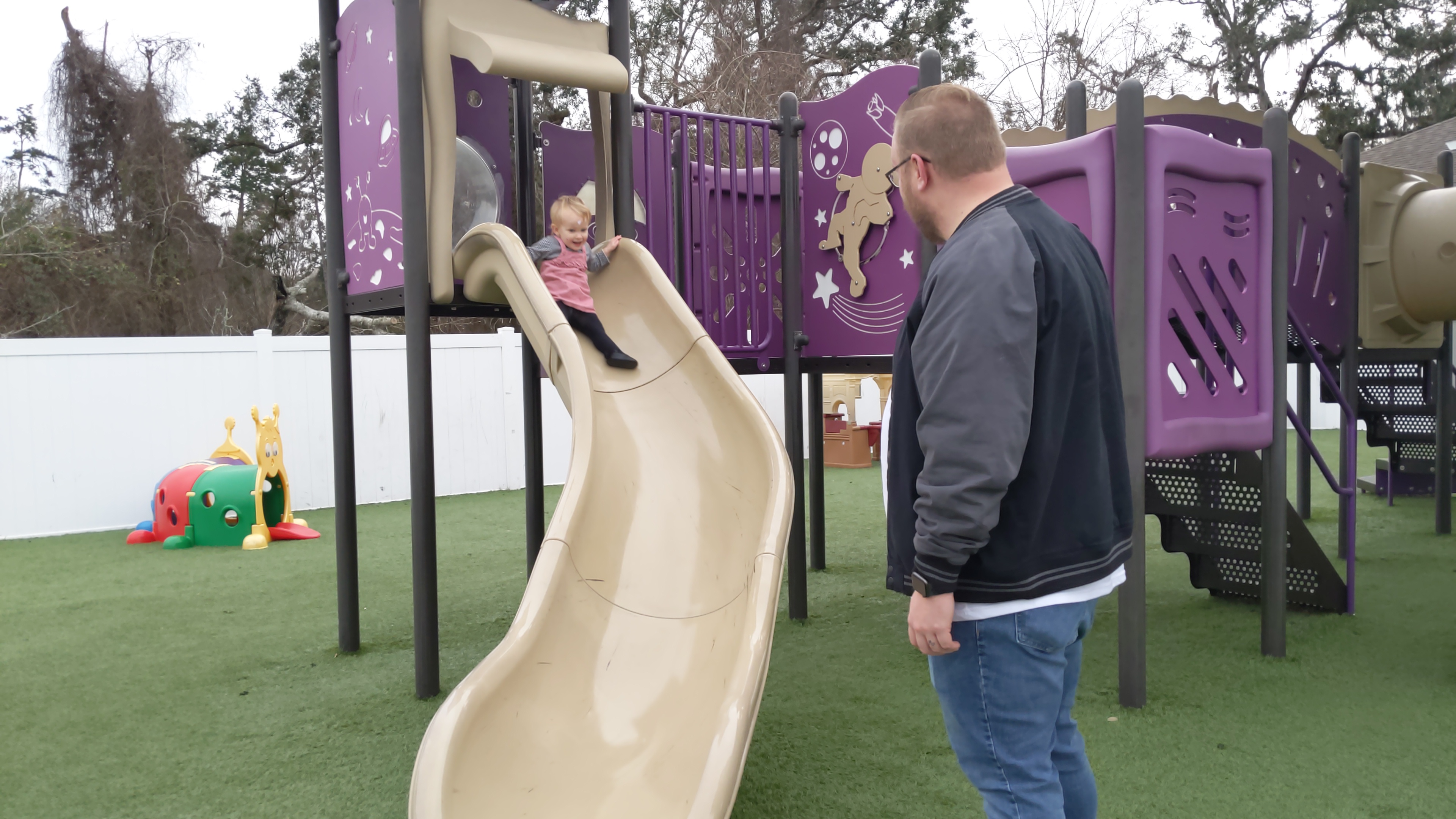 At home, she occupied herself with the alphabet magnets, while I got started on dinner.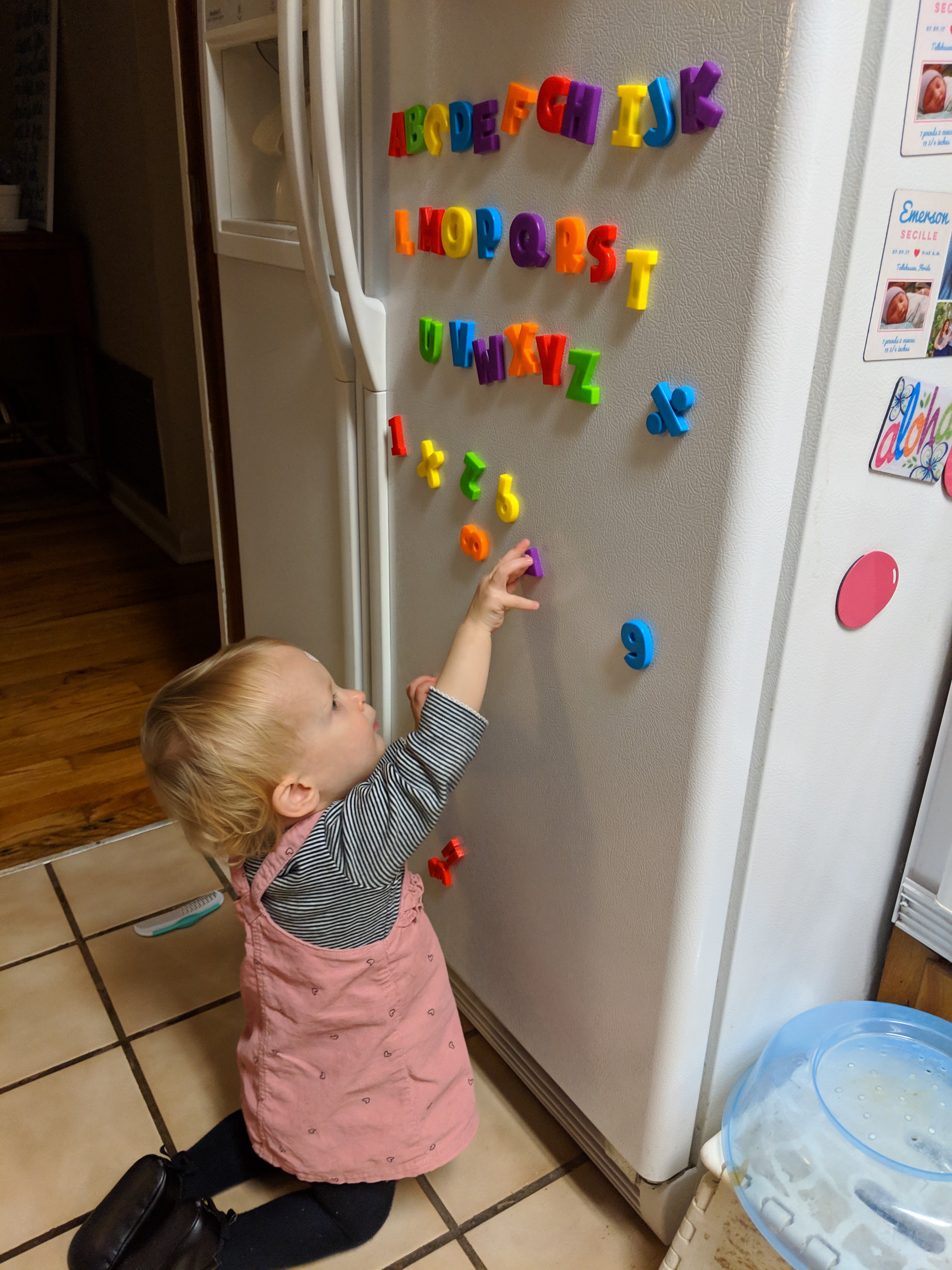 Tonight we had baked salmon, sauteed brussel sprouts, and brown rice. It sounds sort of fancy, but it was super easy to make, and really yummy. The salmon only had to bake for 15 minutes, the brussel sprouts get nice and crispy in the olive oil and butter, and I just had to microwave the brown rice that I cooked a couple of days ago. (On the stove top, it takes almost a full hour to cook brown rice, so I made double the amount we would need the other night, to save myself some time today.)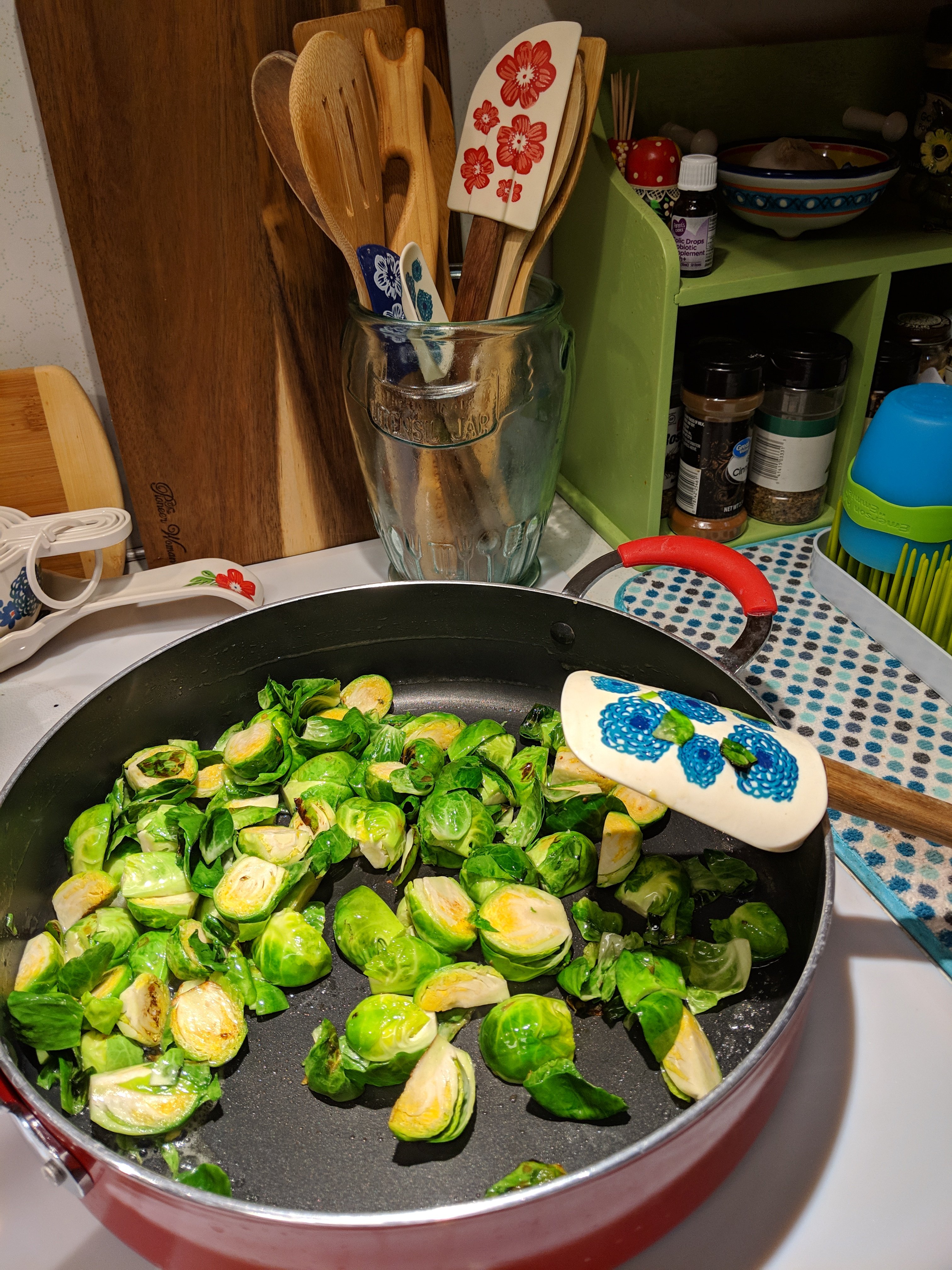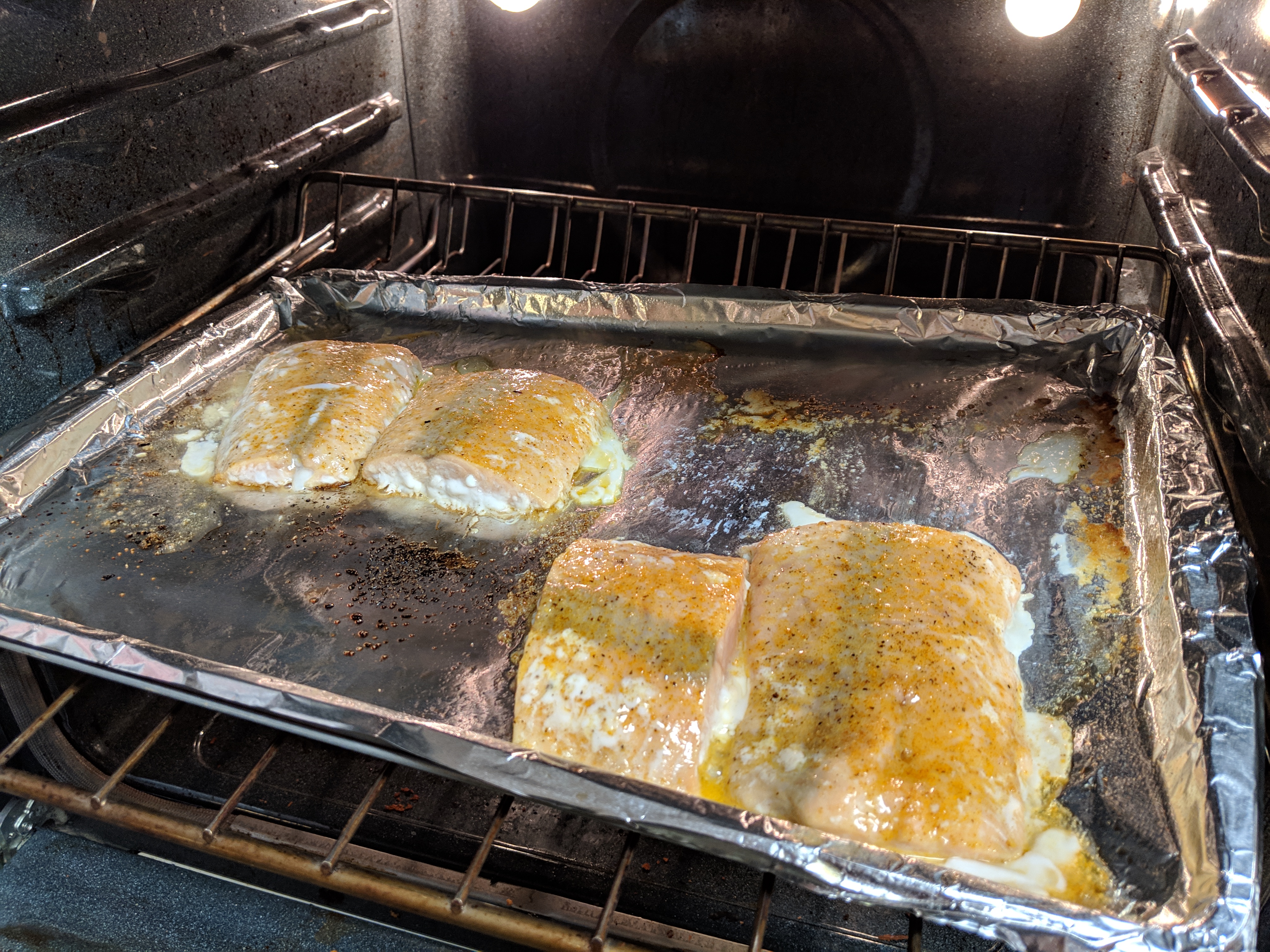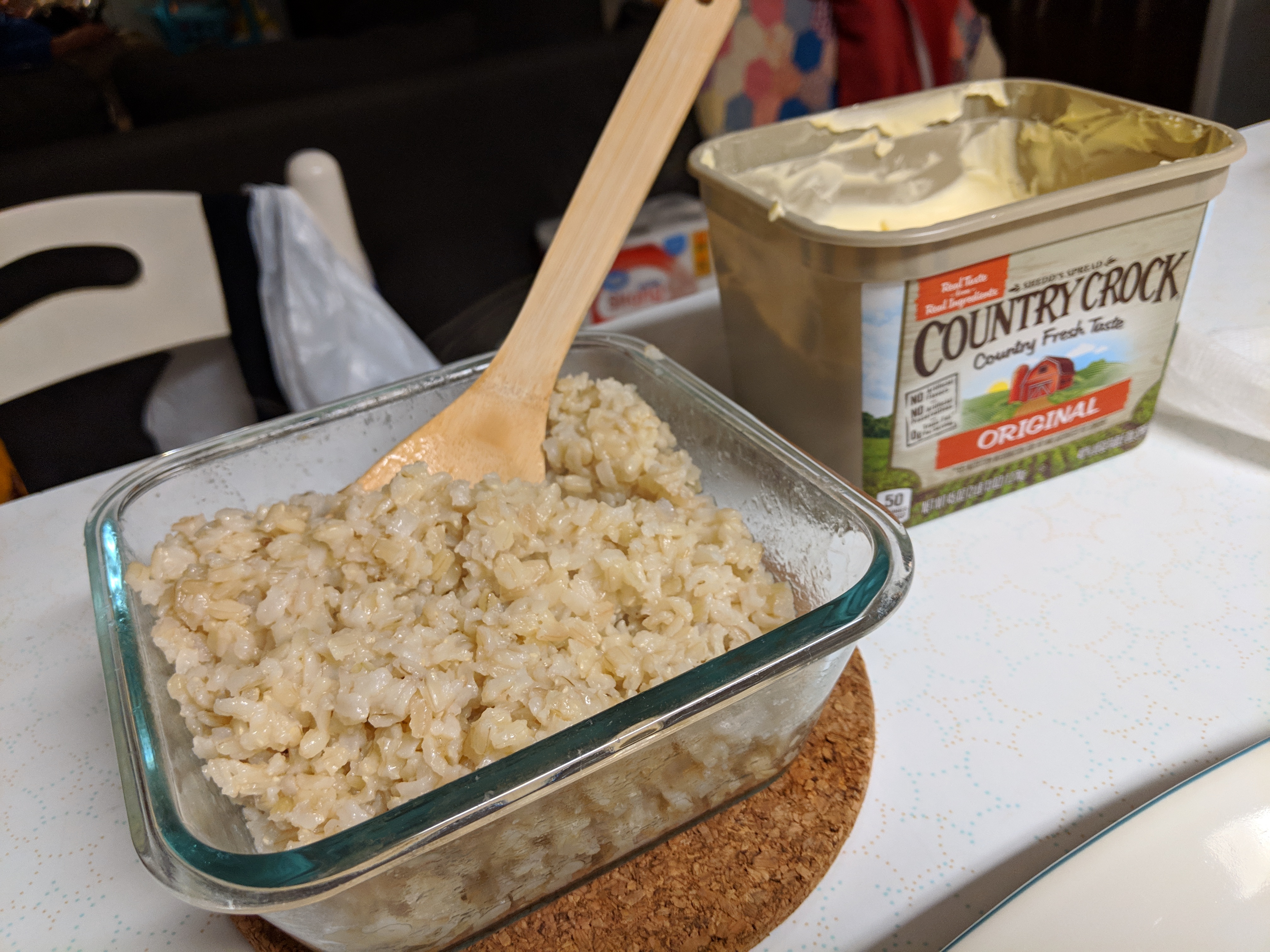 And on the way home just went by Publix and got us dessert for Valentine's Day. I personally can't wait to dig into that slice of funfetti cake! (You can see the desserts on the background below.)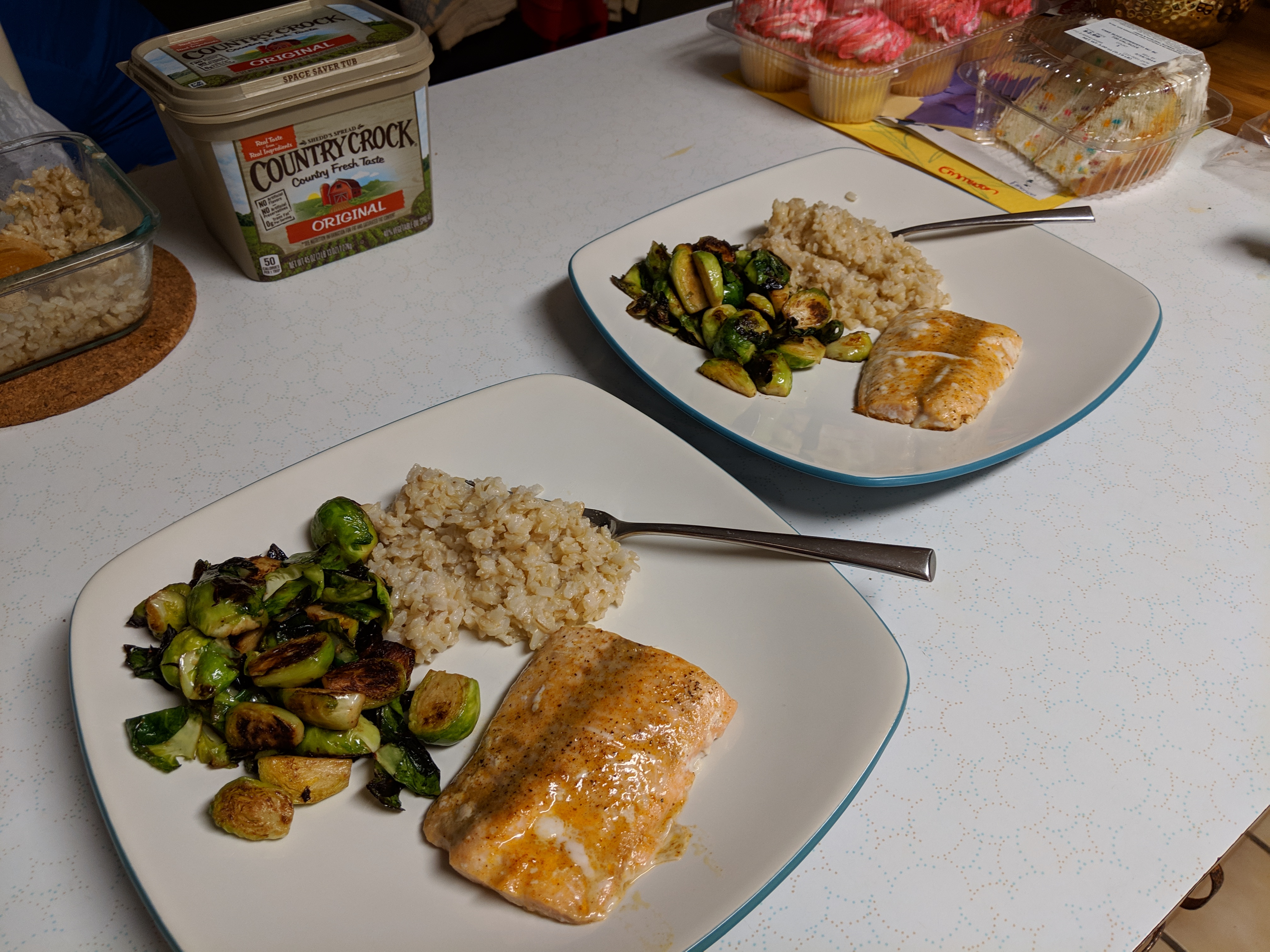 Emerson had a leftover chicken patty and brown rice for dinner, and I didn't even attempt to give her any of the brussel sprouts, because I felt pretty positive she would not eat it. She did however eat all of her chicken, and two helpings of rice. (Also, I find it funny to compare our meals from this week… One day we had frozen chicken patties that reminded me of food from the elementary cafeteria, and just two days later we're having a nice grown-up meal of salmon, brown rice and brussel sprouts! Do y'all weekly meals look like that sometimes too?!)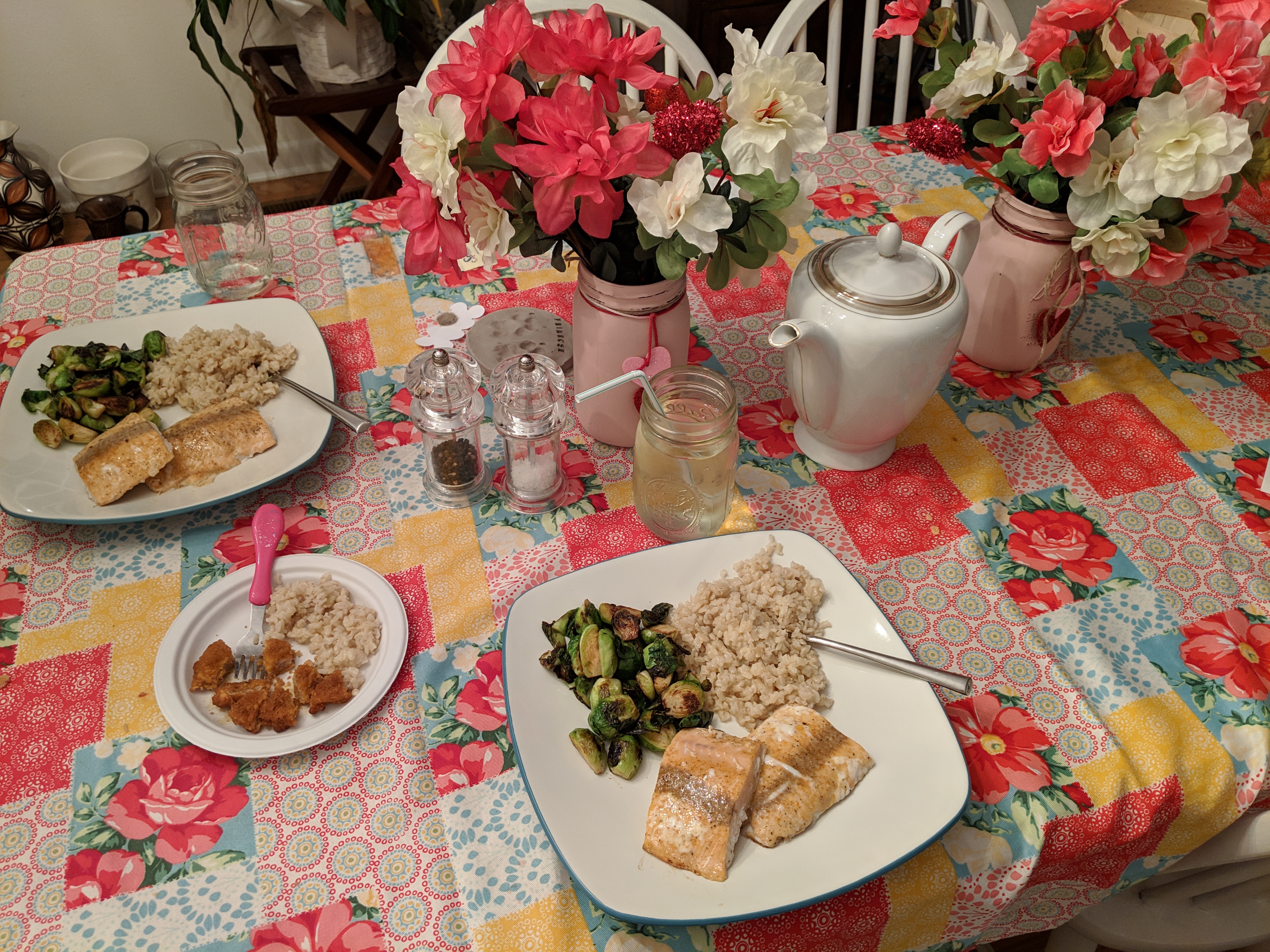 And I was really impressed with how well Emerson did using her fork to eat her rice tonight. We give her a fork or spoon every night for practice, but a lot of times she eats the majority of her meal with her hands still. Although she does of course try using the utensil here and there. Tonight however, she ate almost all of her rice with her fork, and even managed to get quite a bit of it in her mouth! Although it was all over her legs and seat once we got her up later 😉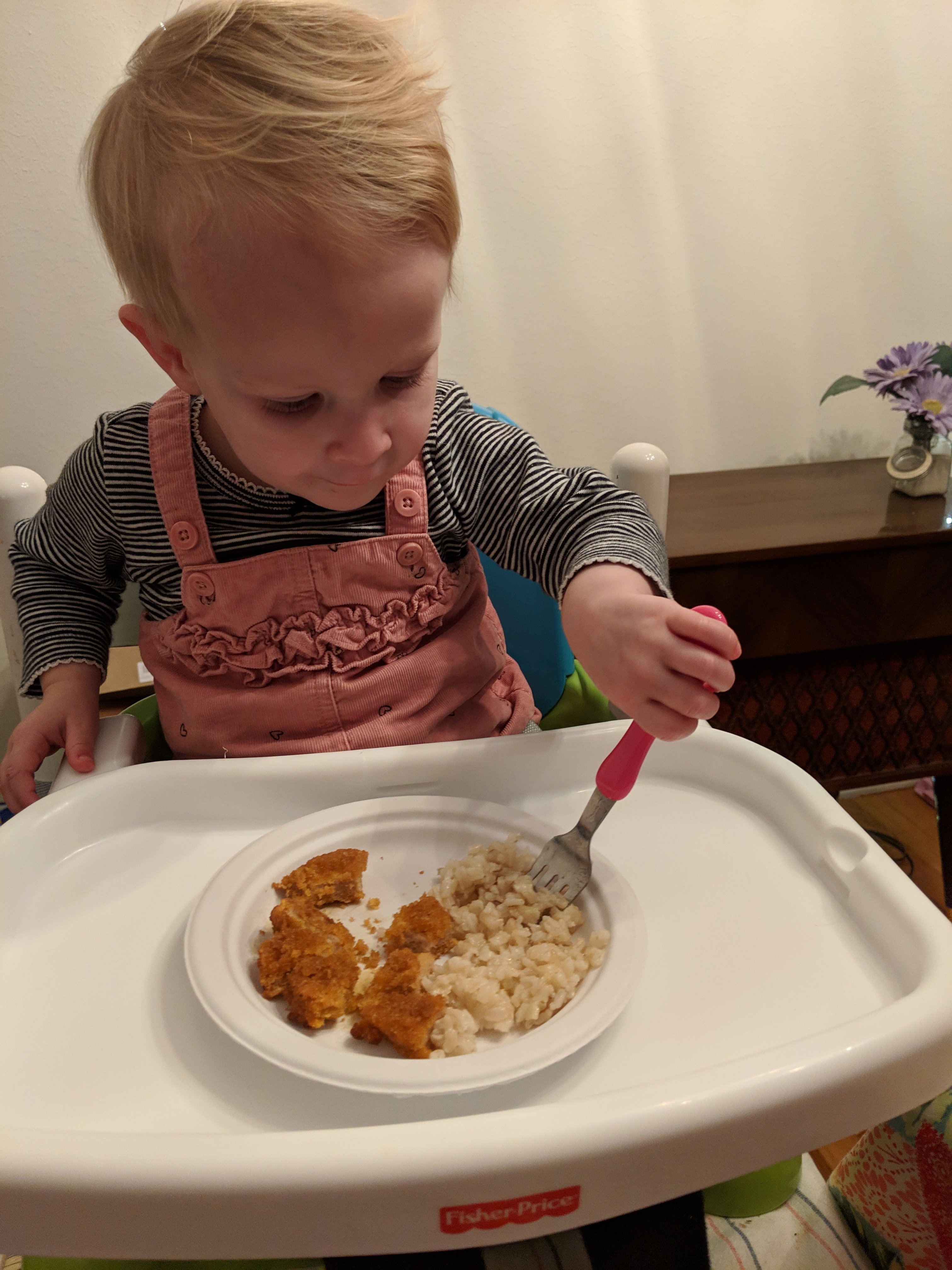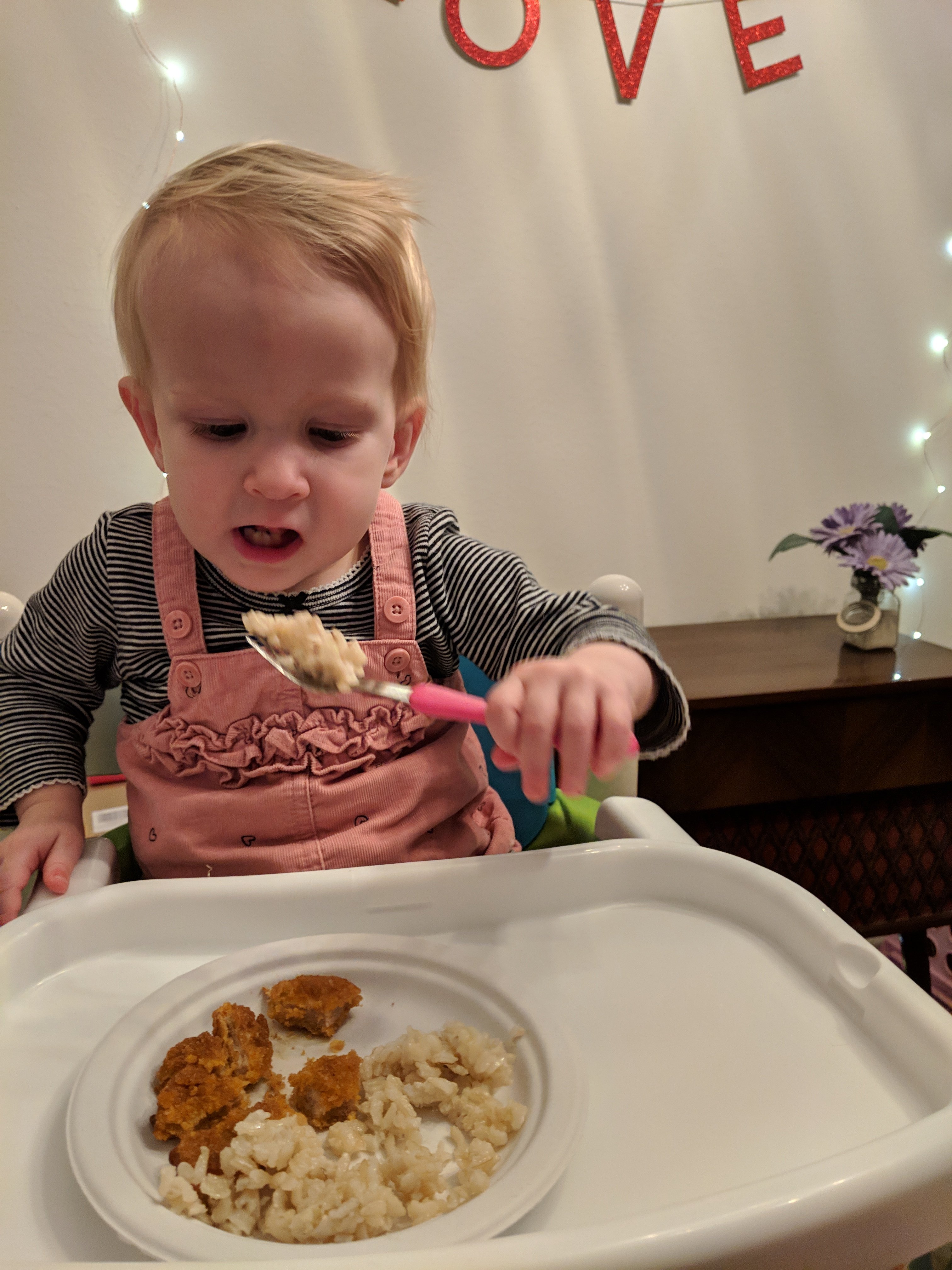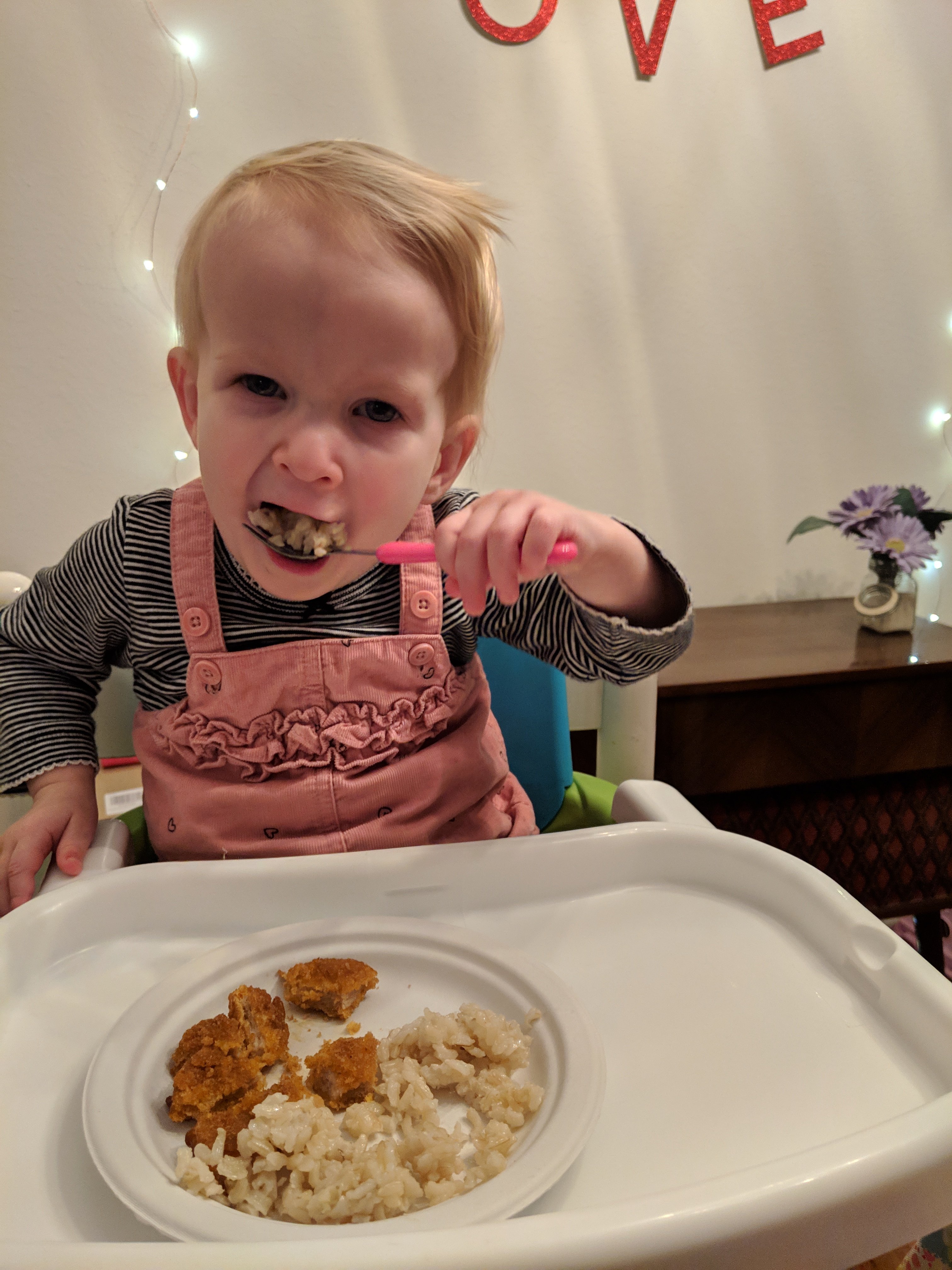 Jeff and I had forgotten to take a selfie together on our lunch date, so after dinner tonight we did a family selfie with Emerson instead.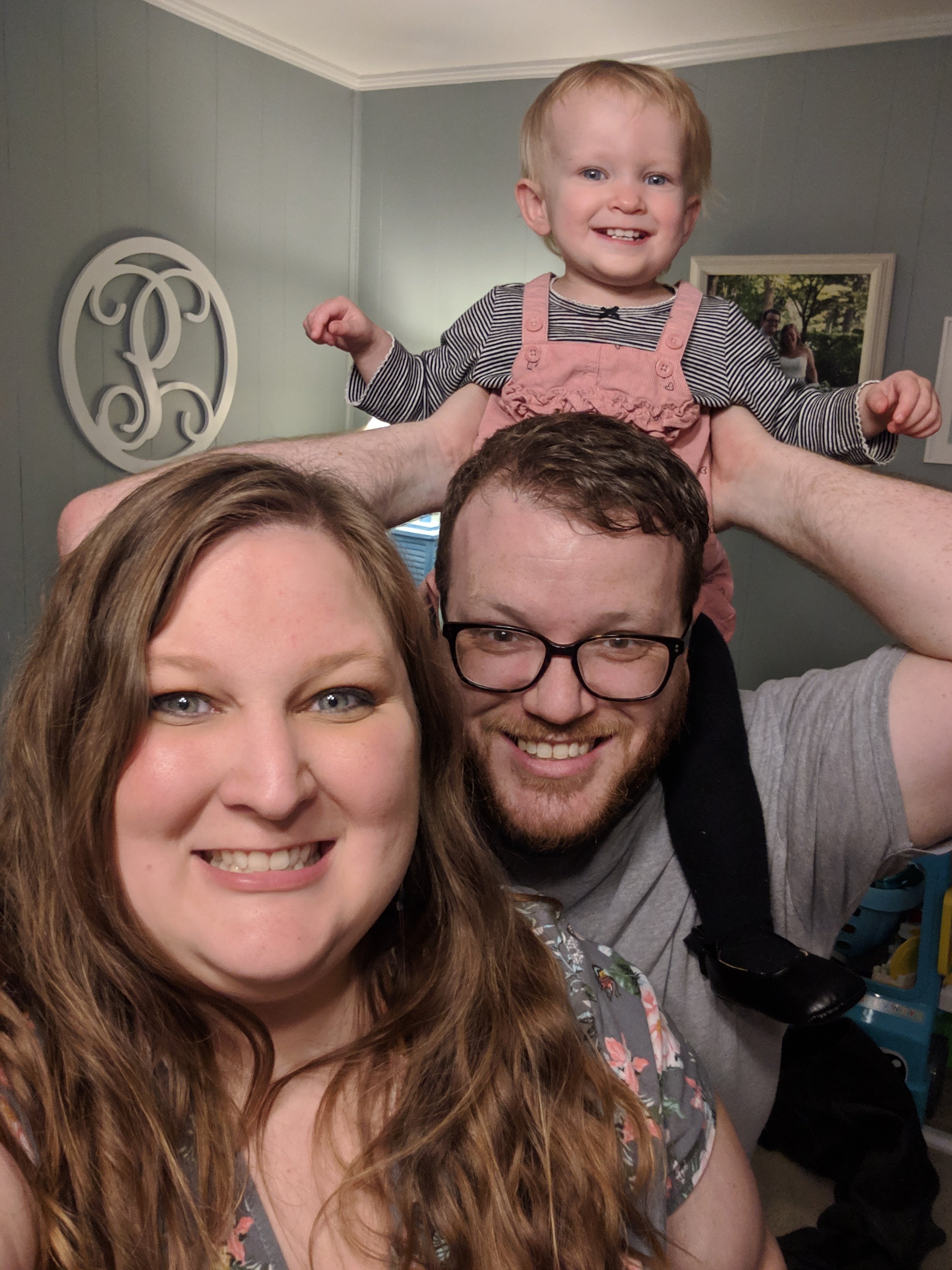 And then we had some play time before bed. She usually has the bath three or four times a week, and tonight should have been the a bath night, but since her hair was still clean and she wasn't dirty, we decided to play and forgo bath for tomorrow night instead.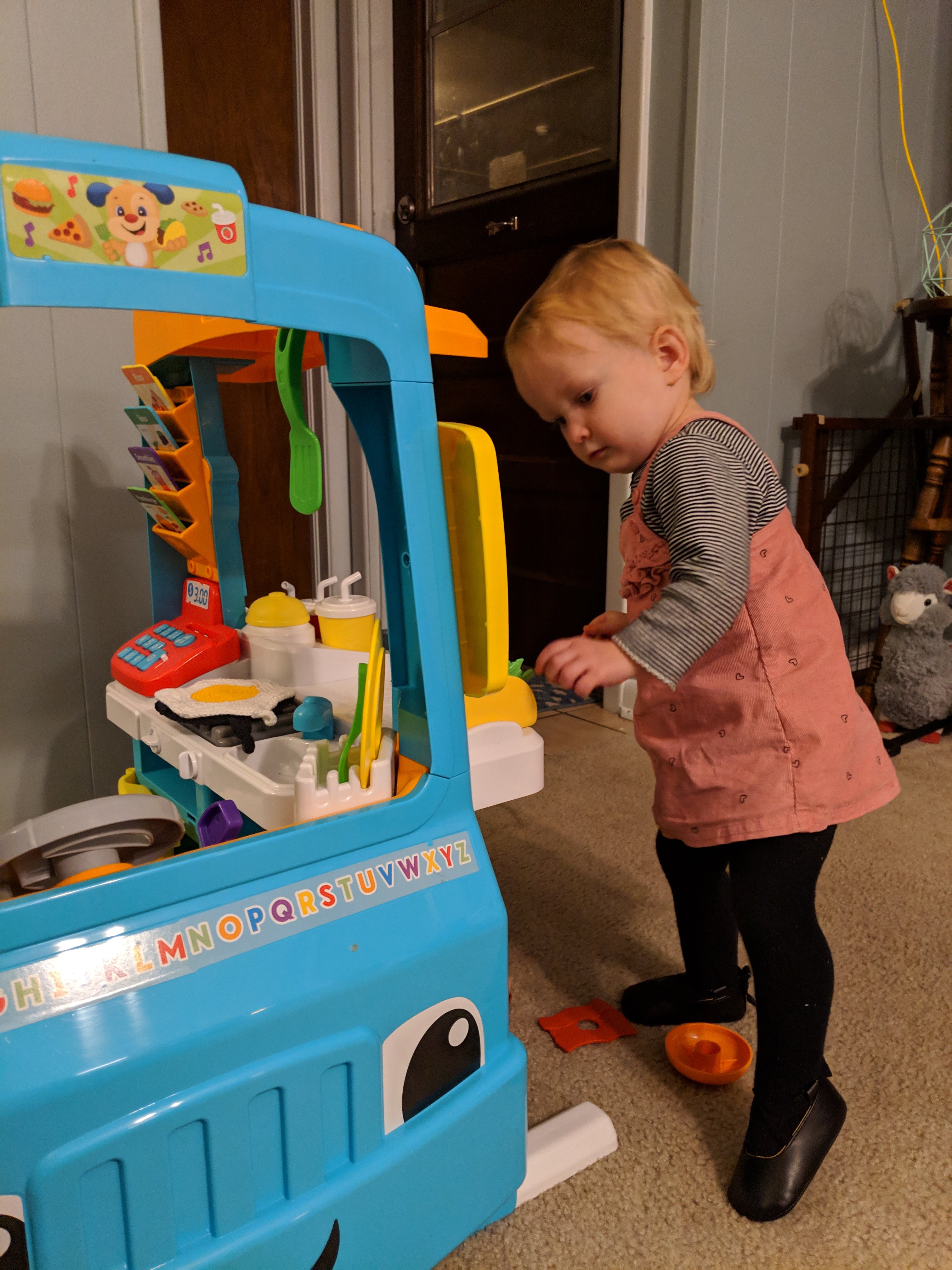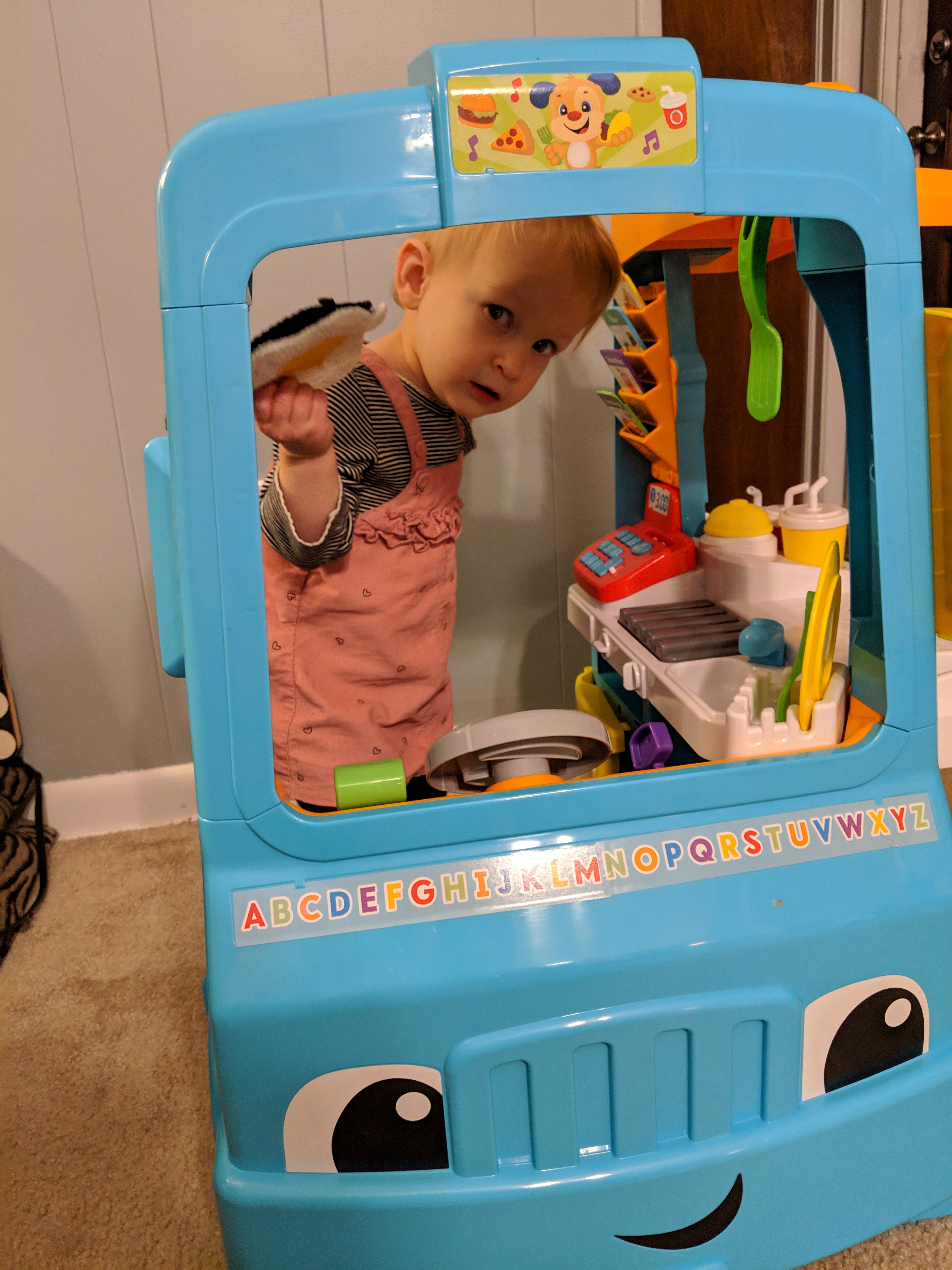 Shortly before bedtime, she made a stinky in her diaper, and when she told us (and yes, she can now tell us when she messes up her diaper!), we took her to get changed. Then we let her run around in just her diaper for a few minutes, and for some reason I just thought it was really adorable. We almost always keep her dressed, and we're just not ones to leave her in her diaper only, but just seeing her tiny little legs and belly full of rice was so cute tonight!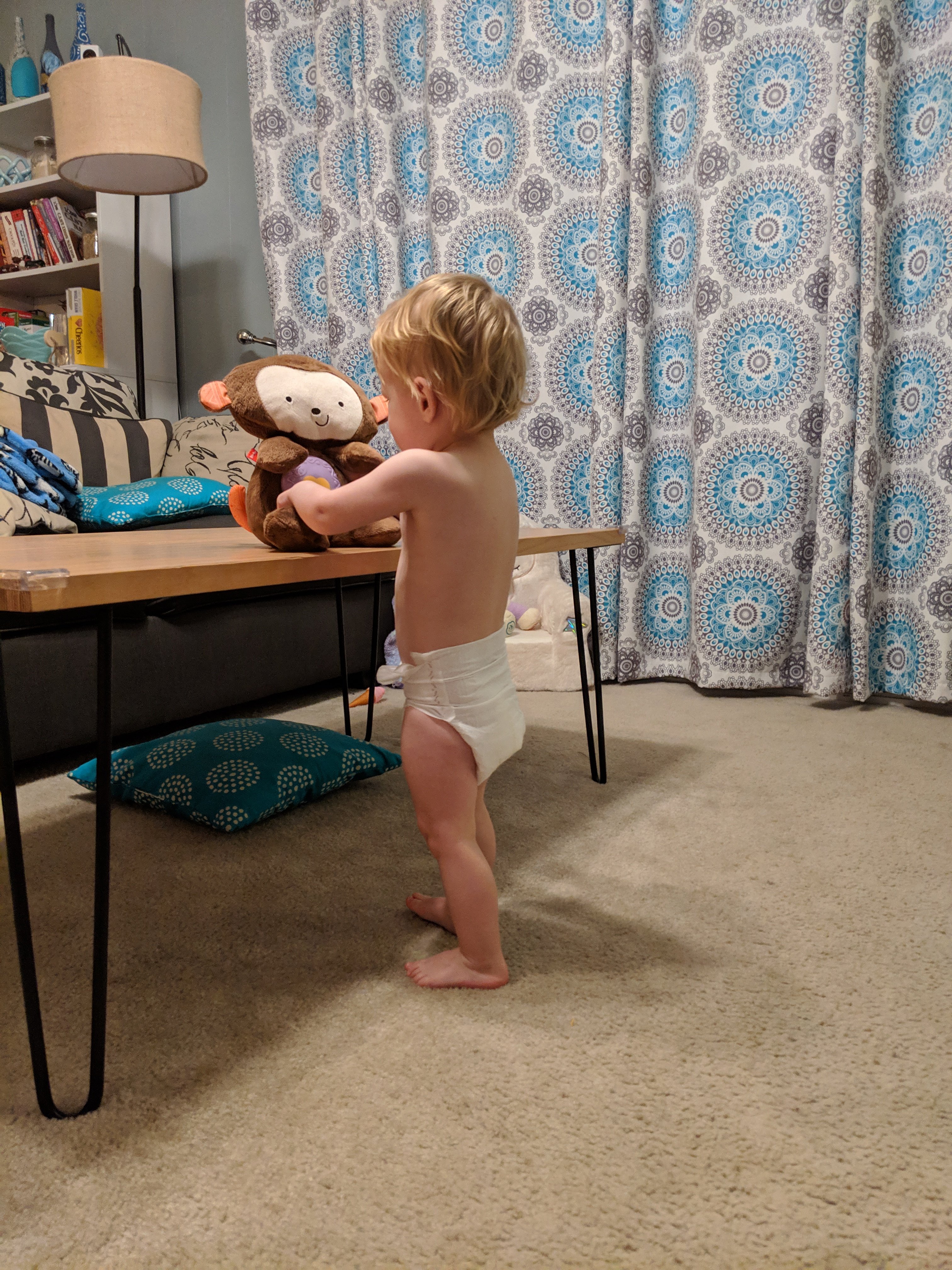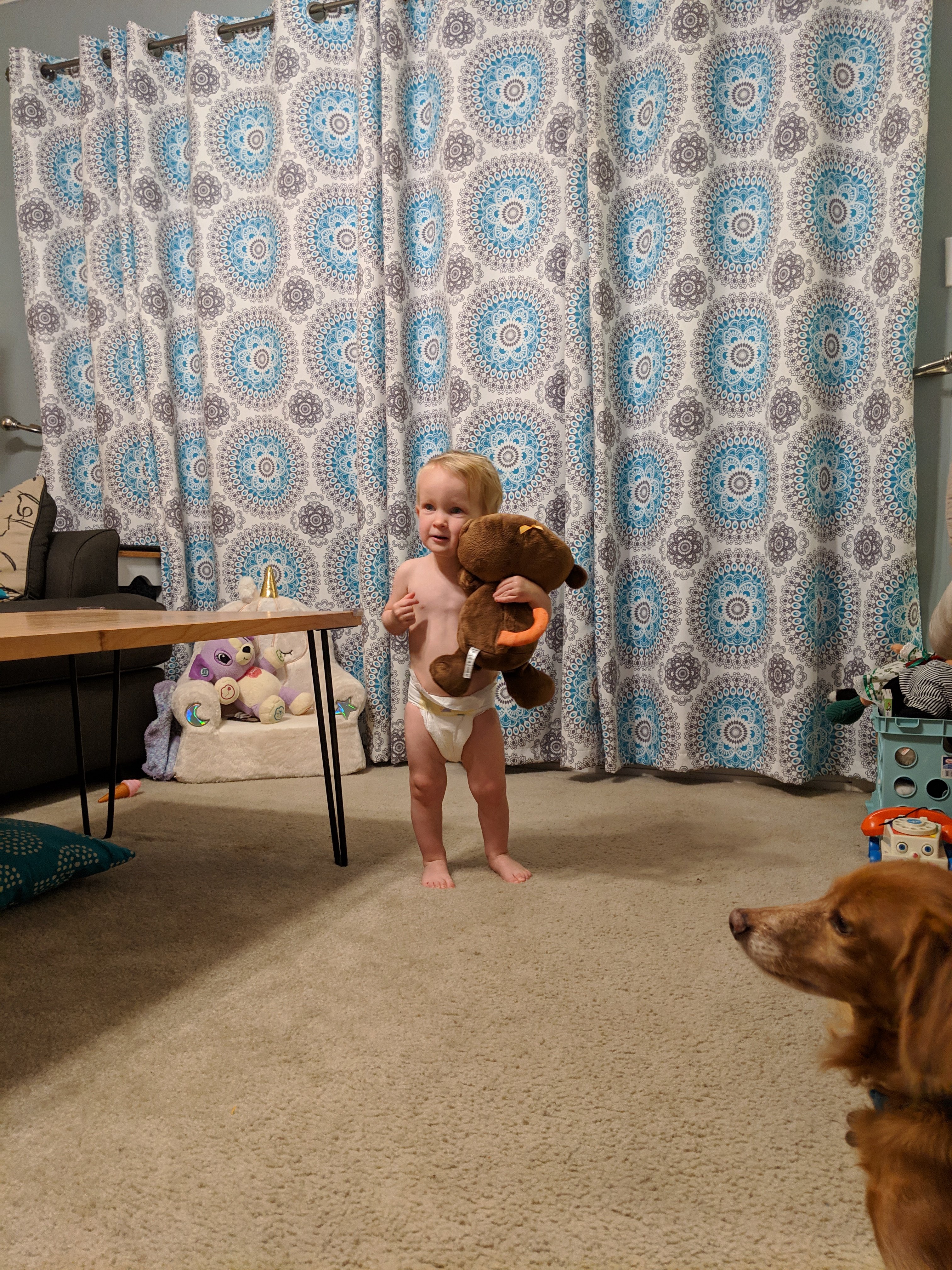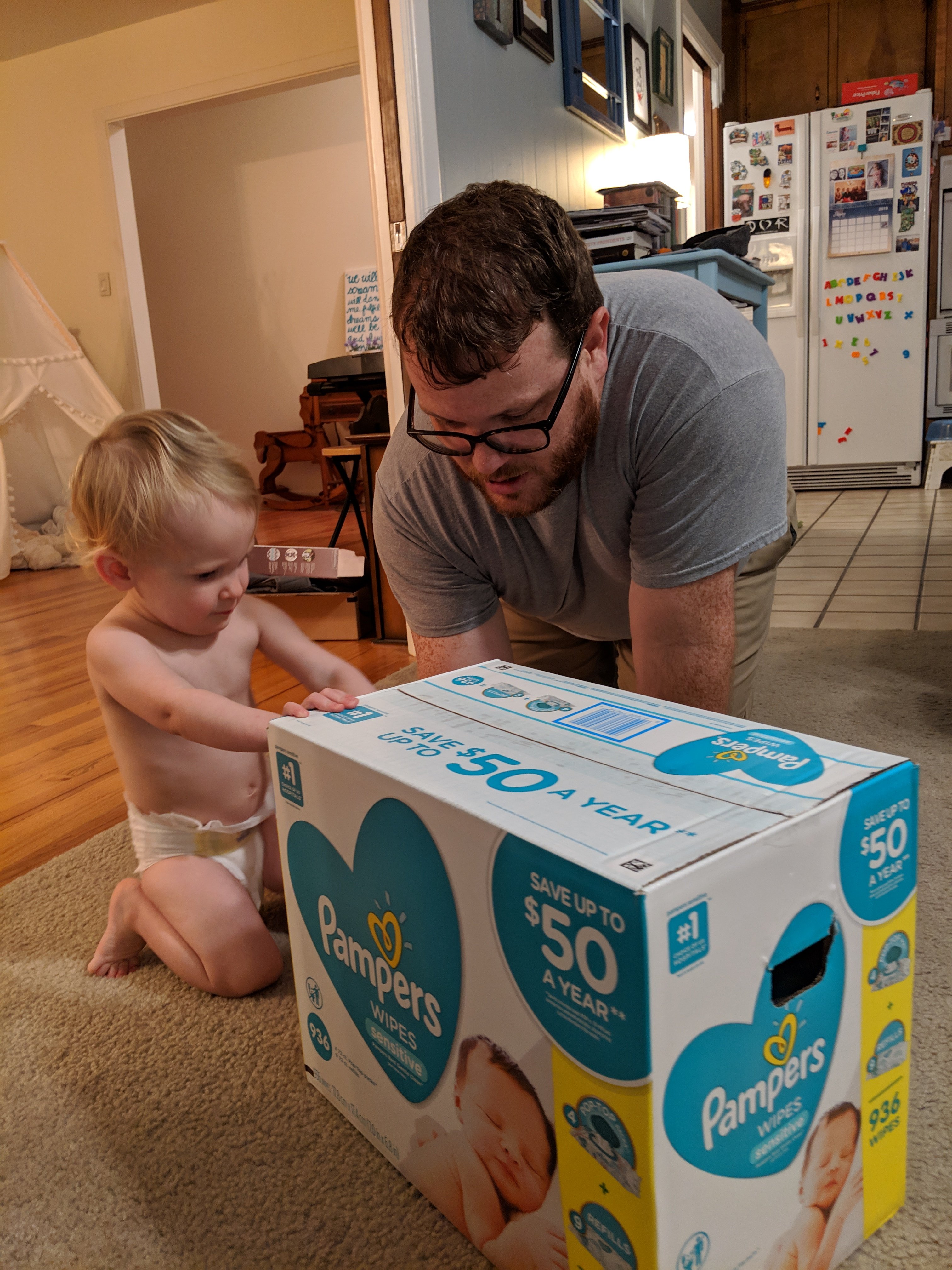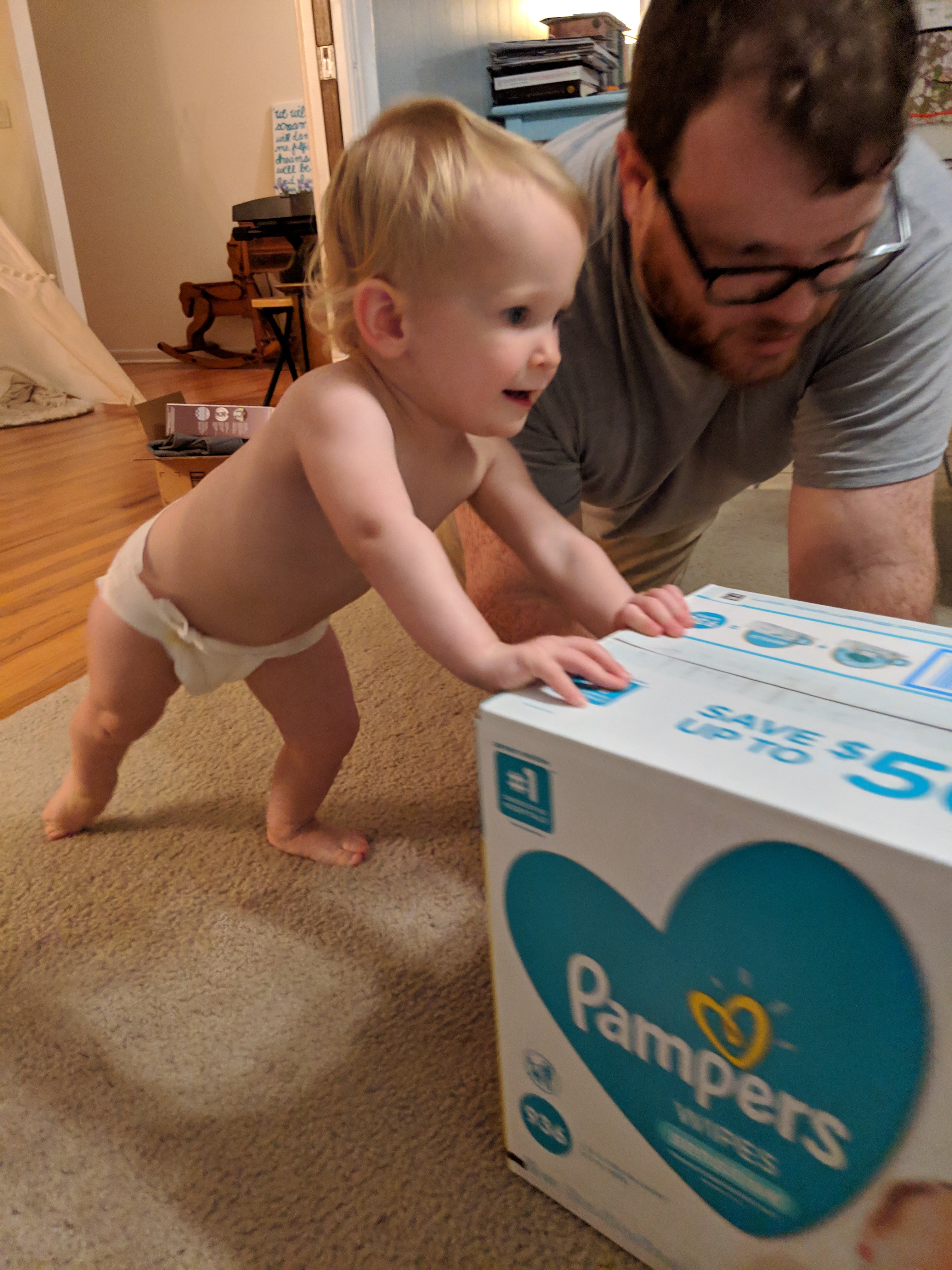 We read the Mr. Brown book from Dr. Seuss, which is one of her favorites because of all the sounds he makes. She loves the part where Mr. Brown goes "knock knock," and always does the knocking motion and she says "knock knock!" We read the book twice tonight, and afterwards she kept repeating "knock knock" over and over again, about 20 to 30 times!
Then once it was time for bed, I asked her if she wanted to go put on her jammies. She nodded her head one time, and she went back to her bedroom. We did her little nightly routine of lotion and baby powder, and then she was ready to read her bedtime books.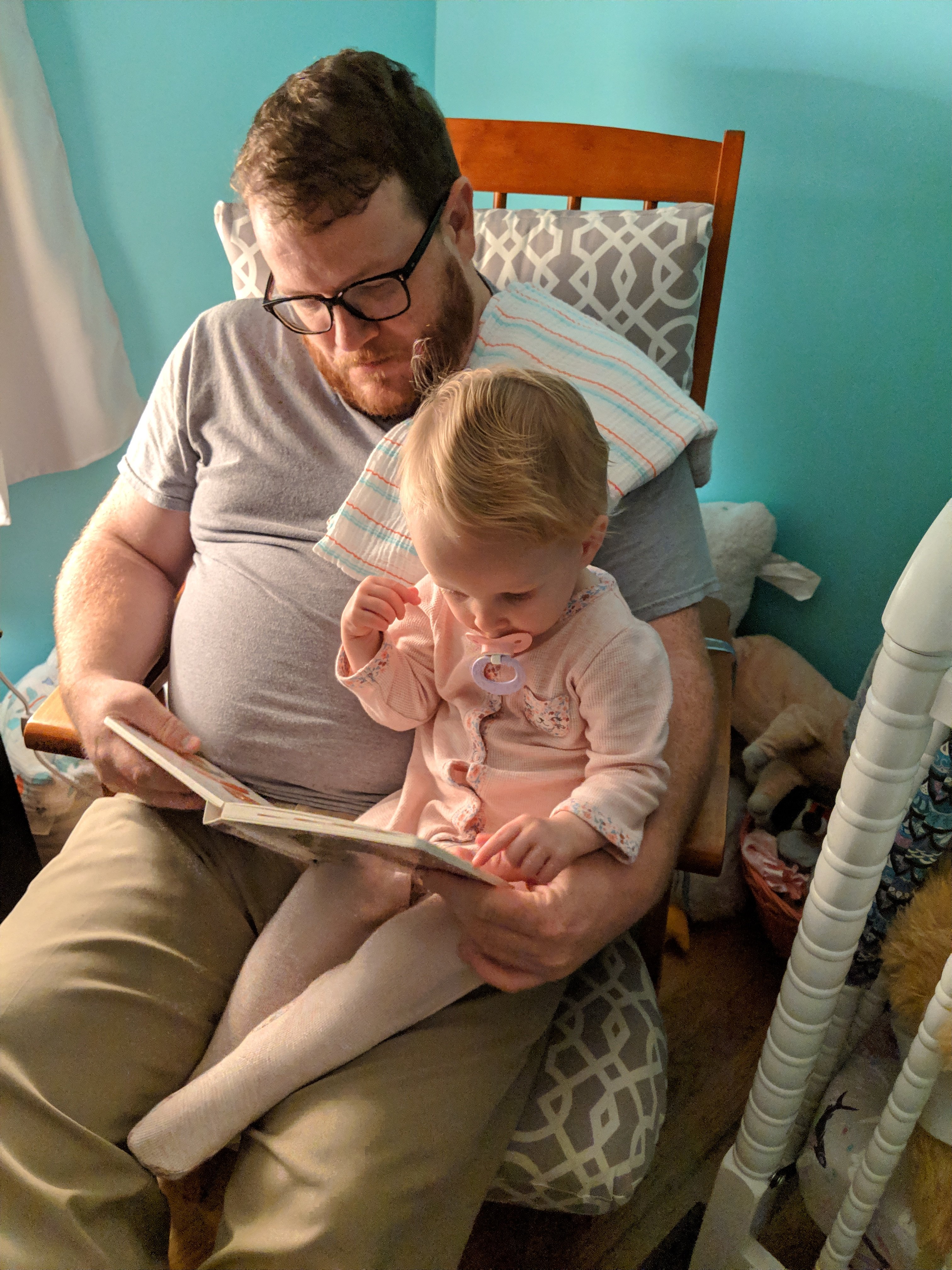 Daddy put her to sleep once again, and he was able to lay her down after only a few minutes! We had a really nice Valentine's dinner at our church banquet Sunday night, a nice, casual Valentine's lunch together today, and a lovely Valentine's family meal tonight at home. And I loved it! I have a great hubby Valentine, and my forever tiny Valentine girl, and I love them both so much!!!😍
And now it's time for a movie and dessert!