Saturday breakfast at home is usually one of two options: egg-in-the-hole or egg & cheese bagels. Today was bagels!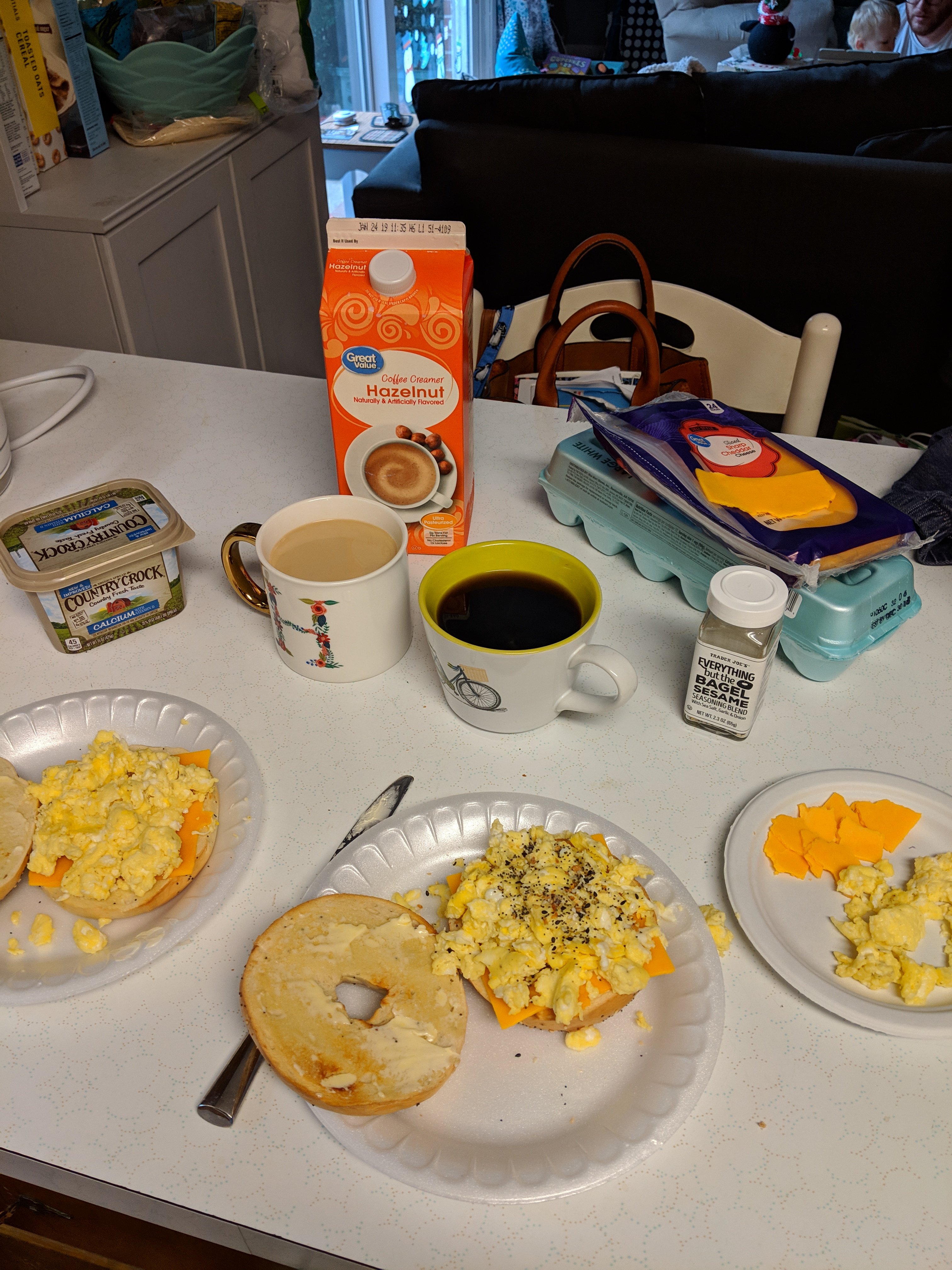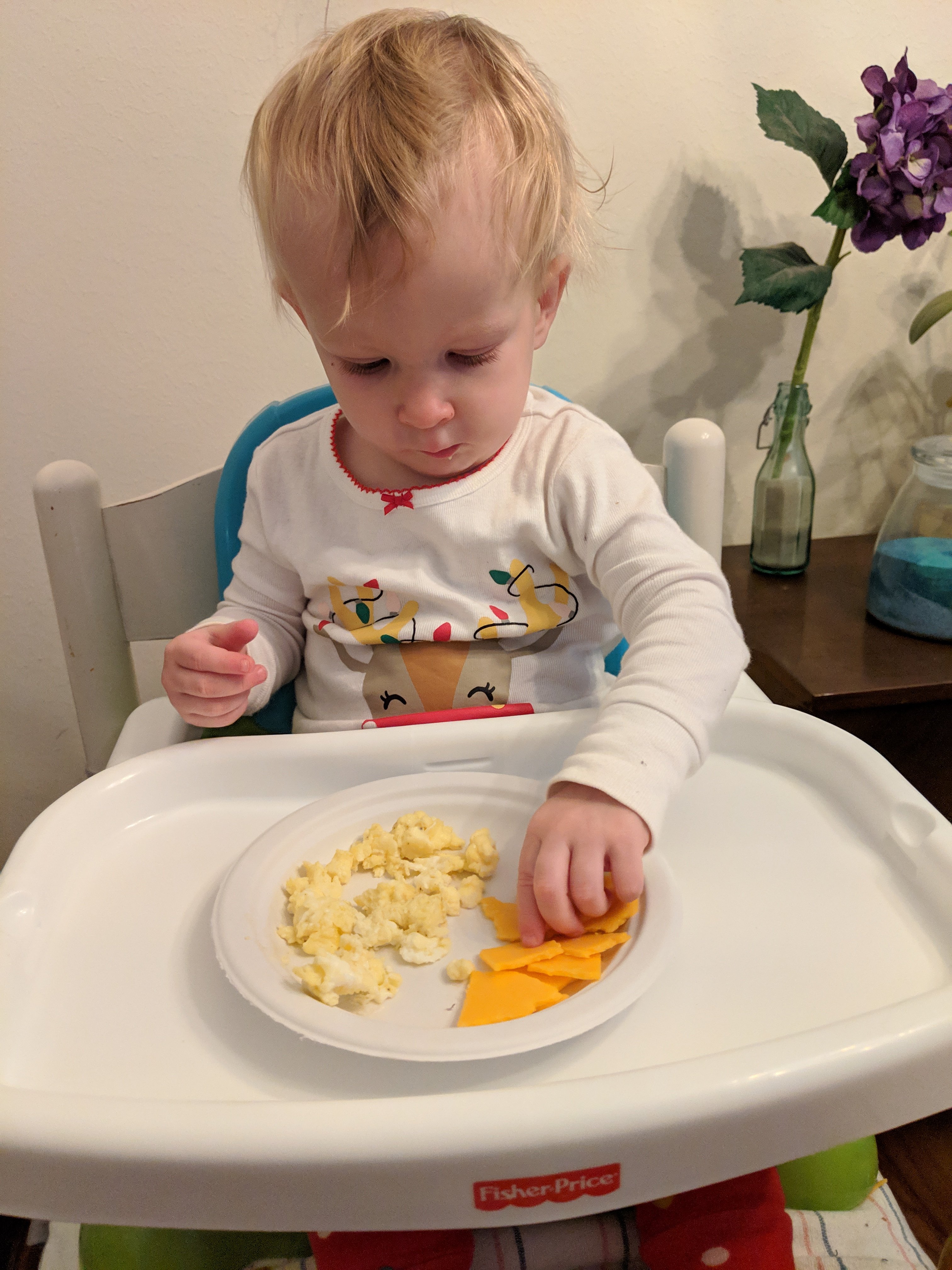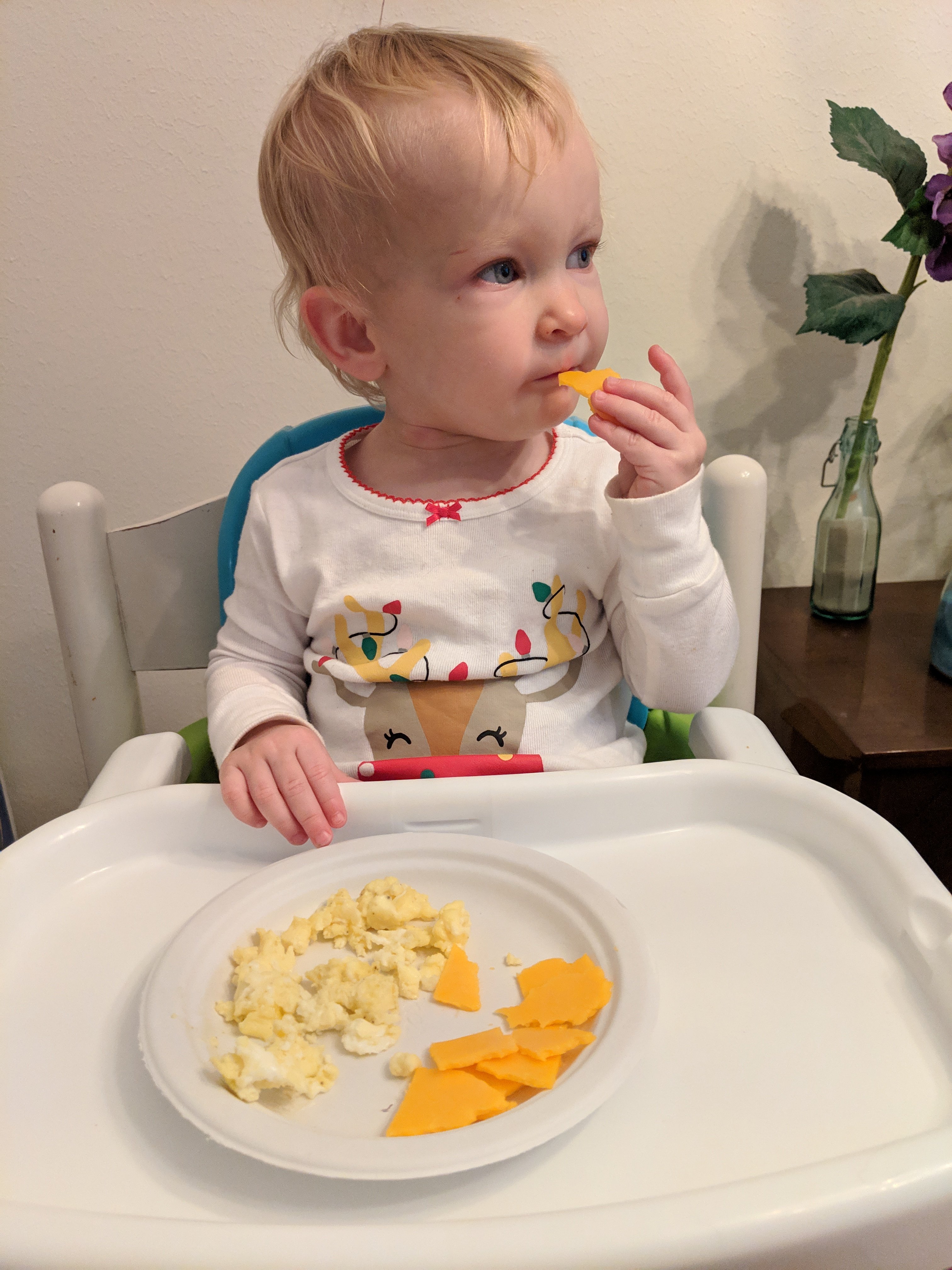 Emmie found these shoes in a box of hand-me-downs, and even though they were 2 or 3 sizes too big, she would have nothing other than to wear them around the house in her jammies for a while!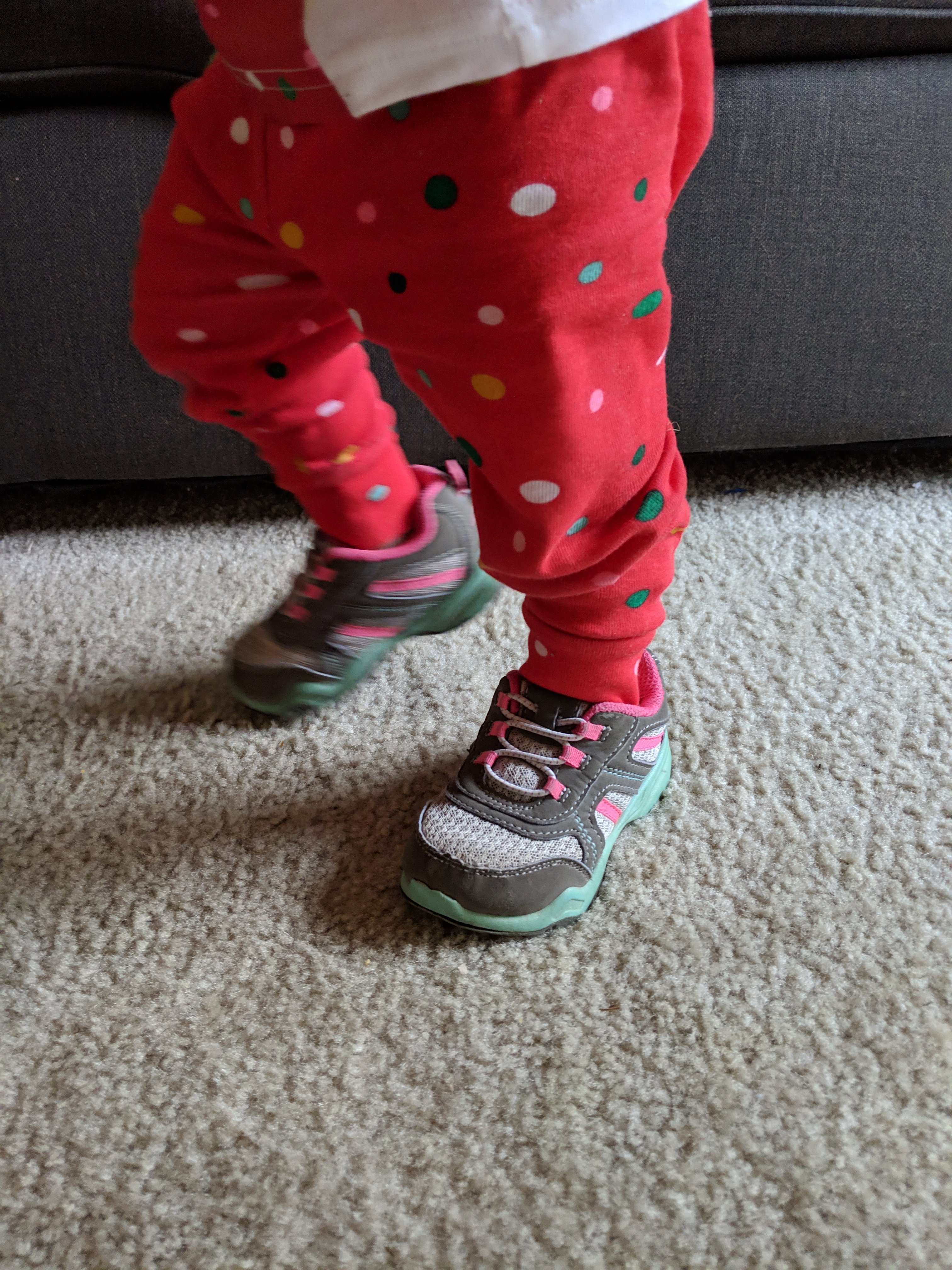 Jeff mowed the lawn this morning, and Emmie and I played inside. We went out to watch him for a while, and she loved waving at him every two seconds. She went down for her nap around 11:30, and I got busy working in the house – dishes, counters, stove top, living room, etc… She only slept for about an hour and fifteen minutes, and woke up ready for more playtime.
Jeff's best friend and old college roommate lives in Atlanta, and sent us this little Liverpool soccer jersey a long time ago, and we finally put her in it today, to send photos to "Uncle Adam."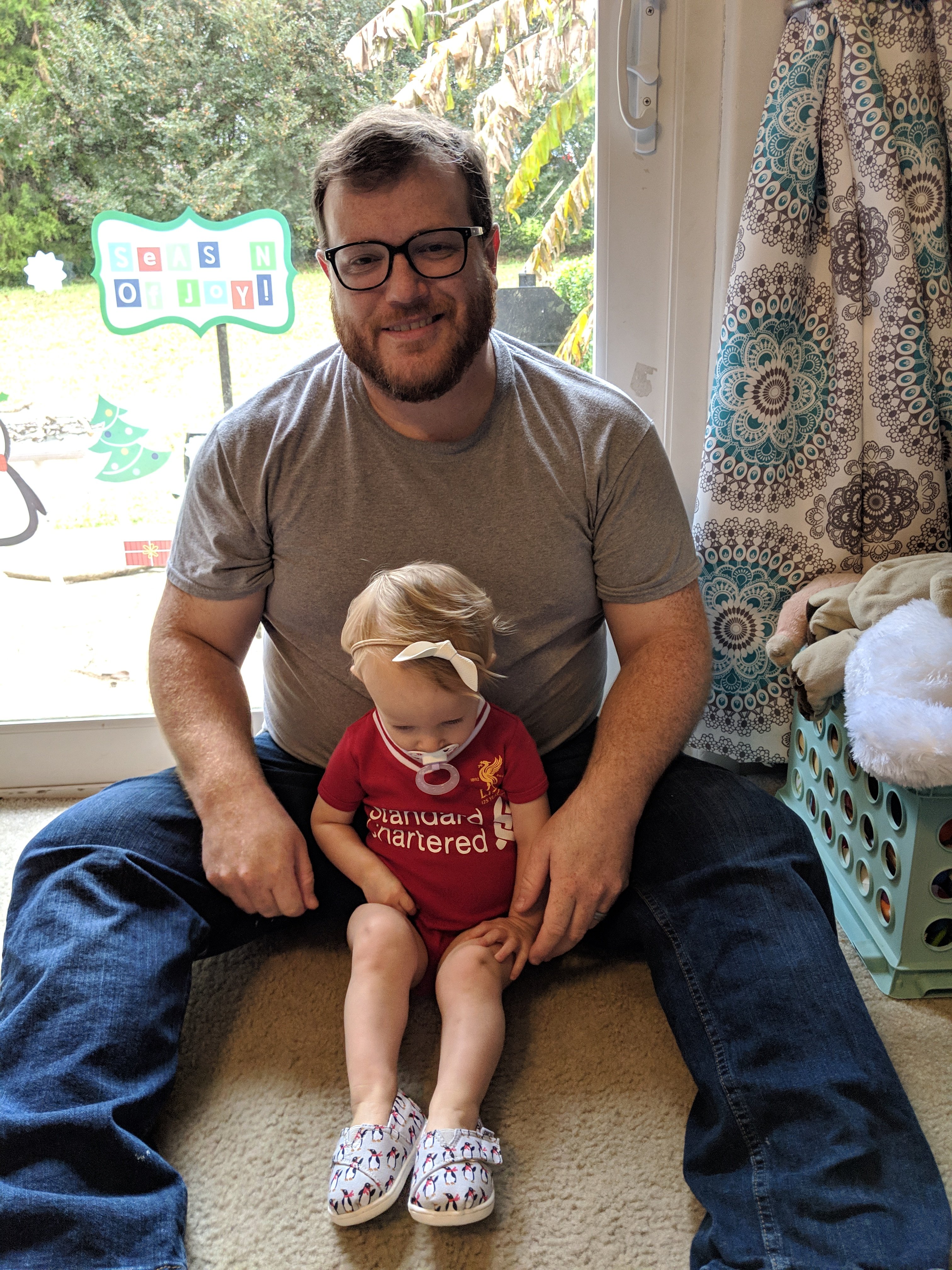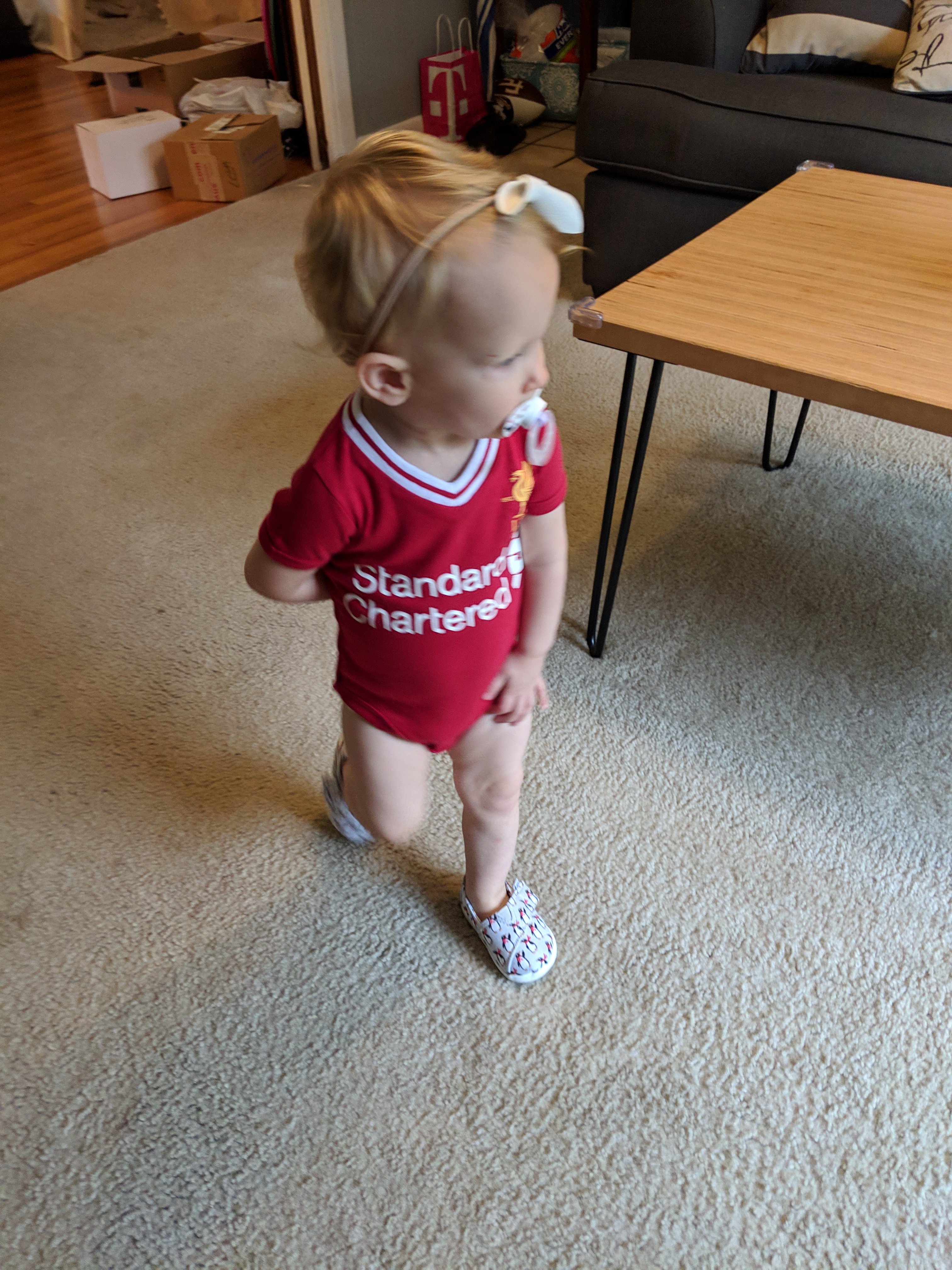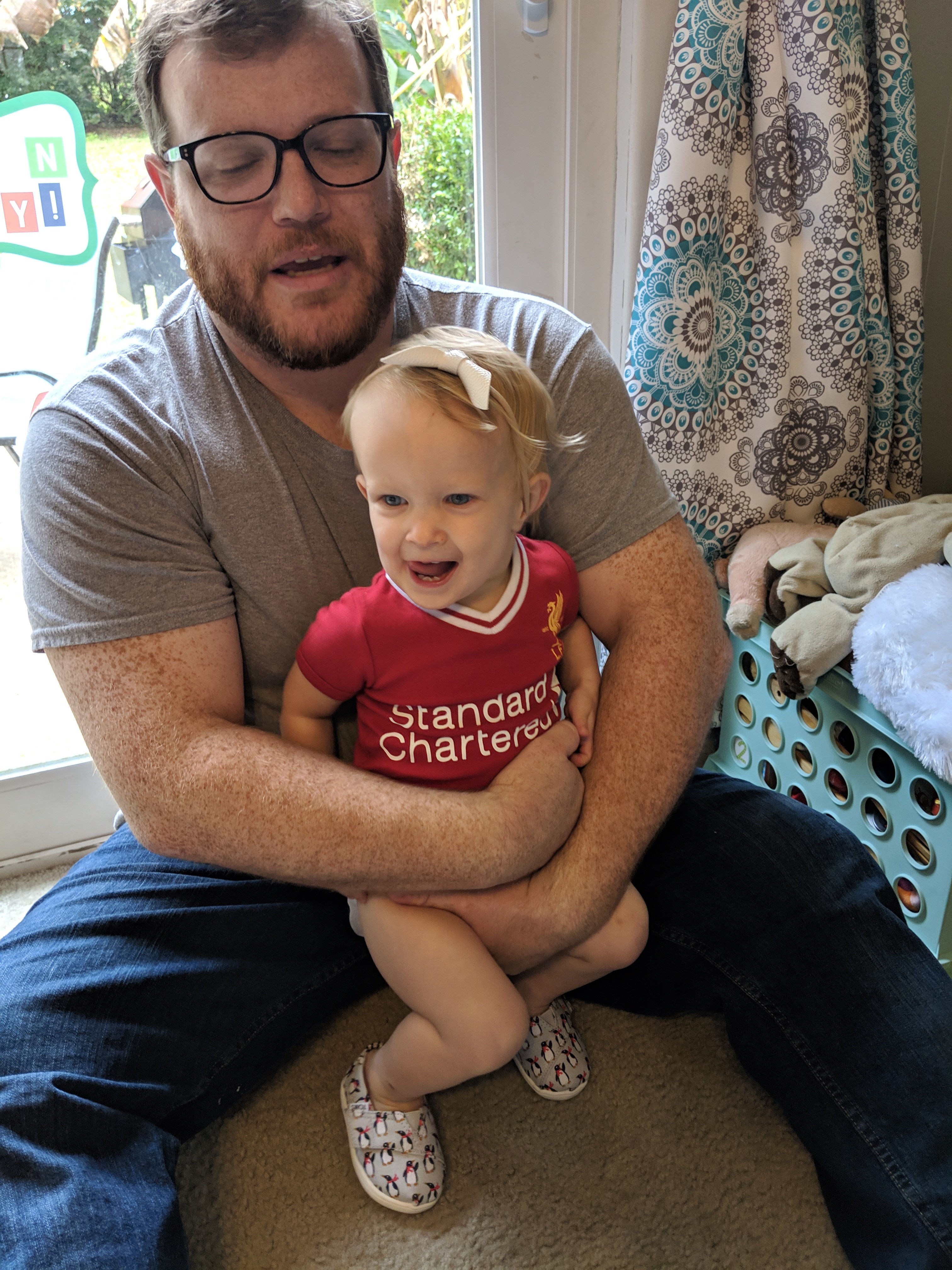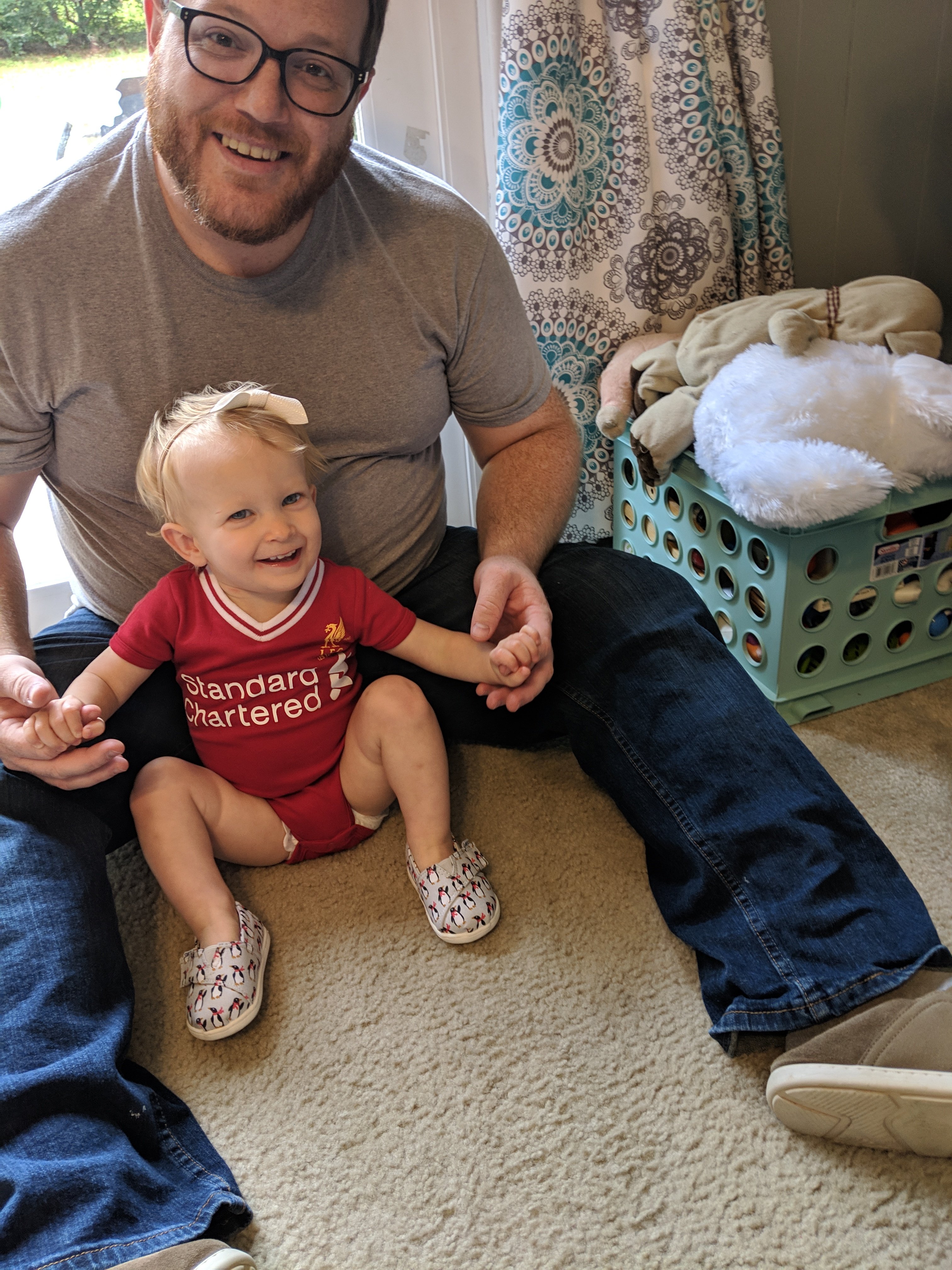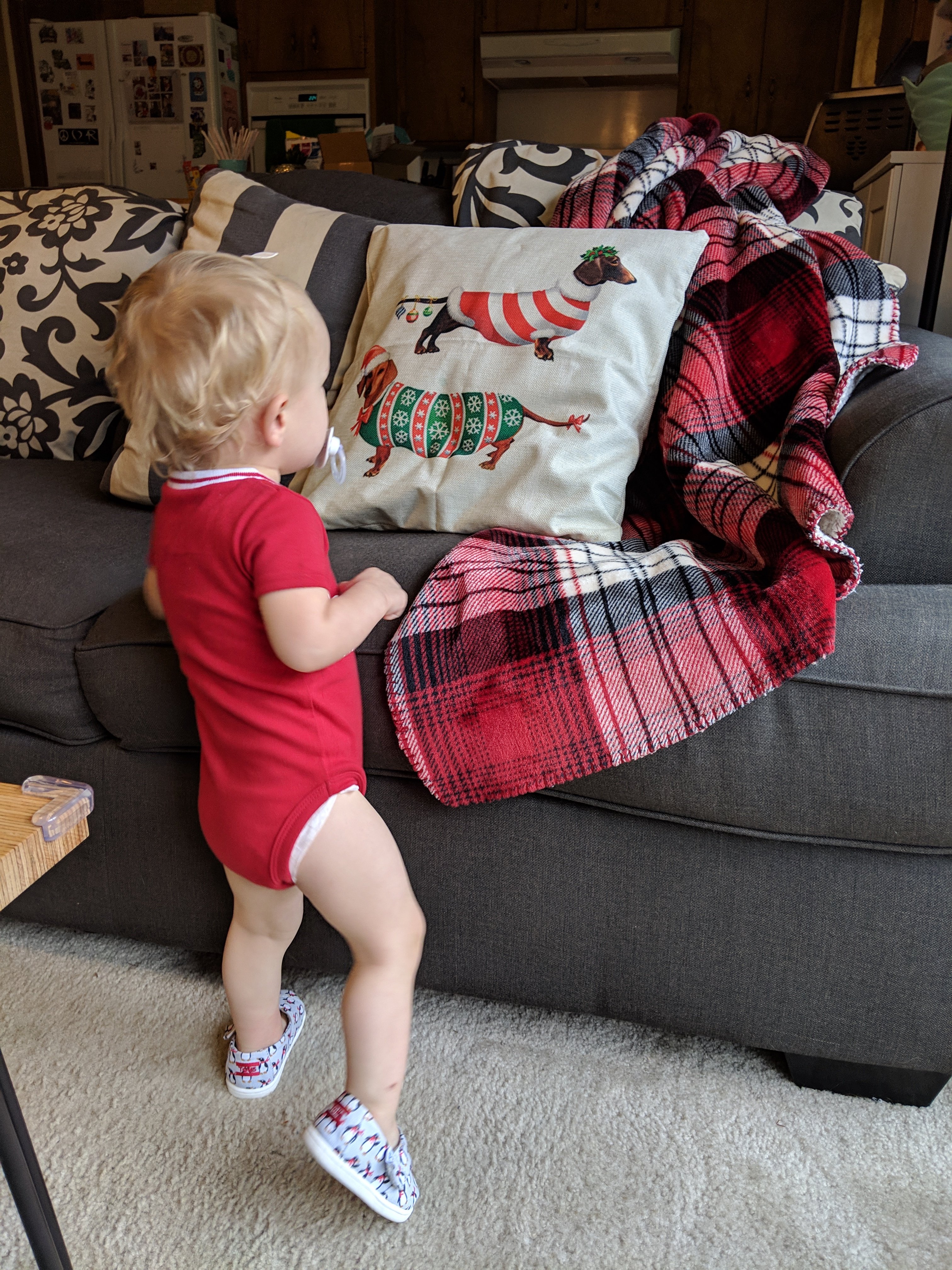 Also, here's my Christmas coffee table decor. Had to make sure it was all stuff that couldn't be broken by a busy, inquisitive toddler! That tiny little tree belonged to my grandparents, and the only ornaments on it are the Nativity characters, and it's so sweet.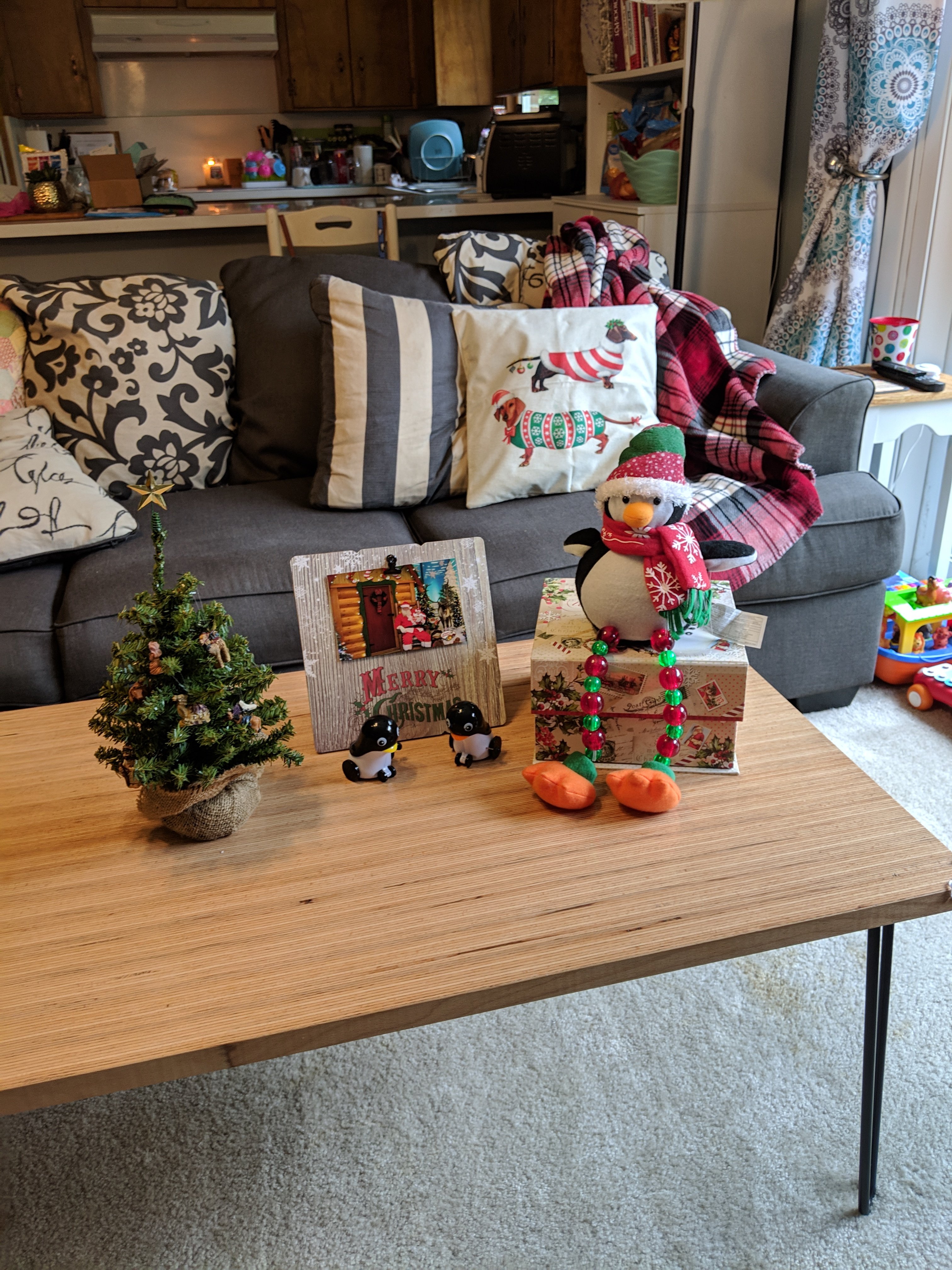 Then we got her dressed in something "festive," per Grammy's request, and dropped her off at my parents' house.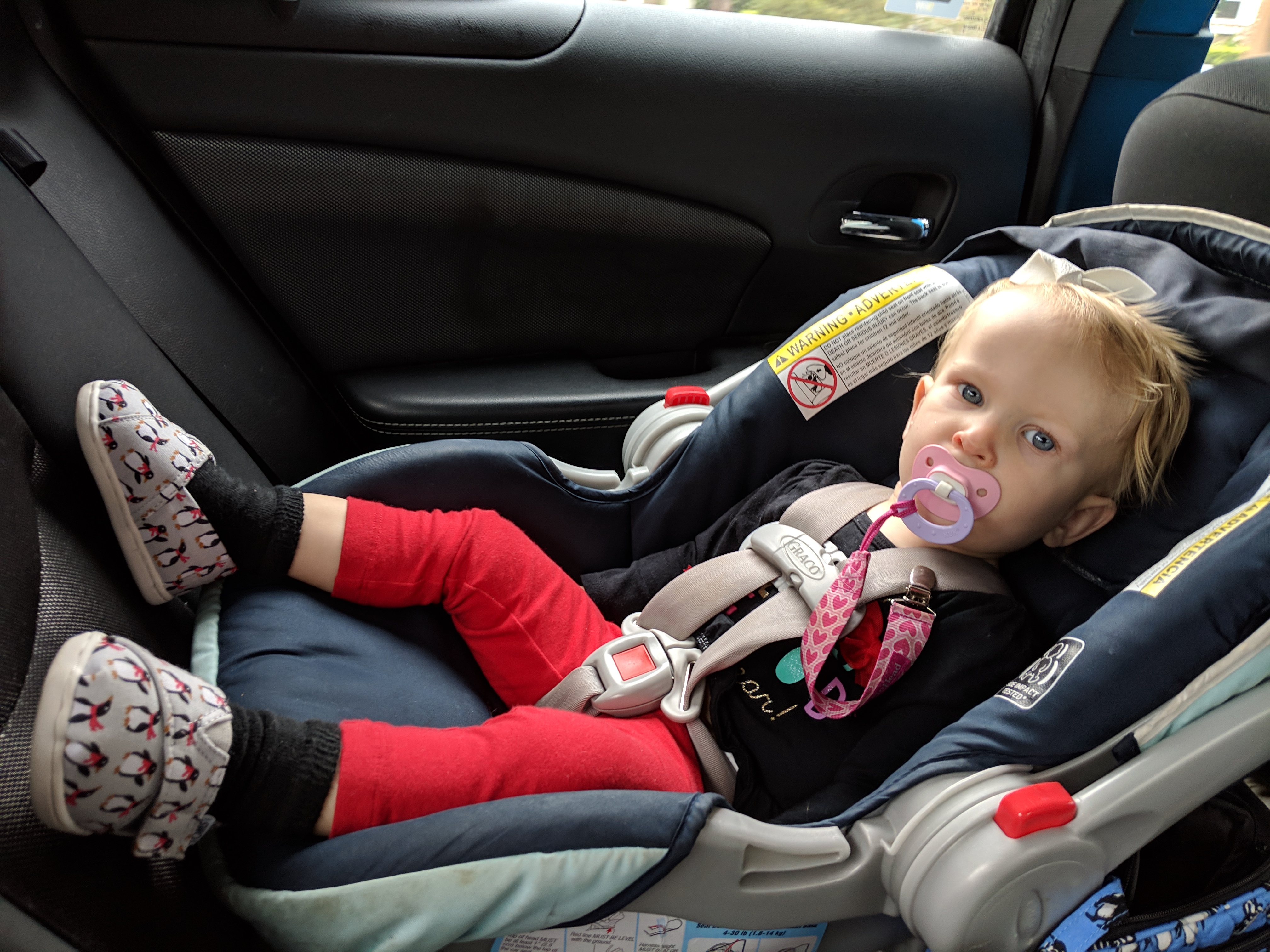 Then Jeff and I went to church for performance night #2 of The Singing Christmas Tree. This is my sweet friend, Libby! She helps find the tricky & rare second soprano part when I'm feeling brave enough to attempt that, instead of my normal alto part.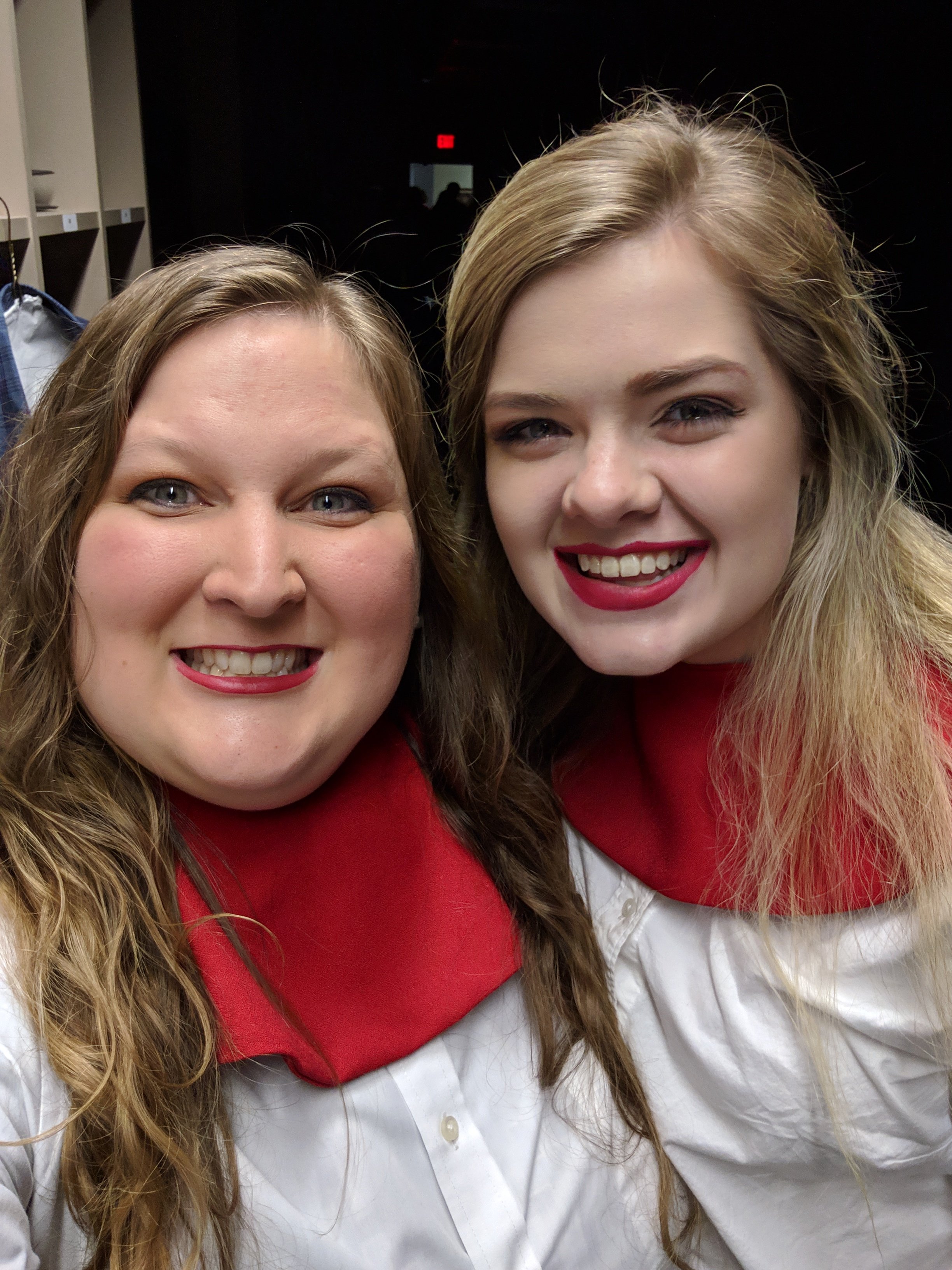 Meanwhile, my parents took Emerson to Winter Wonderland at the Bass Pro Shop, to see Santa. They also did some quick errands at Costco, and Emmie loved riding in the buggy. Mama said she had a great time playing in the line, until it was her turn to actually meet Santa, and that didn't go well at all!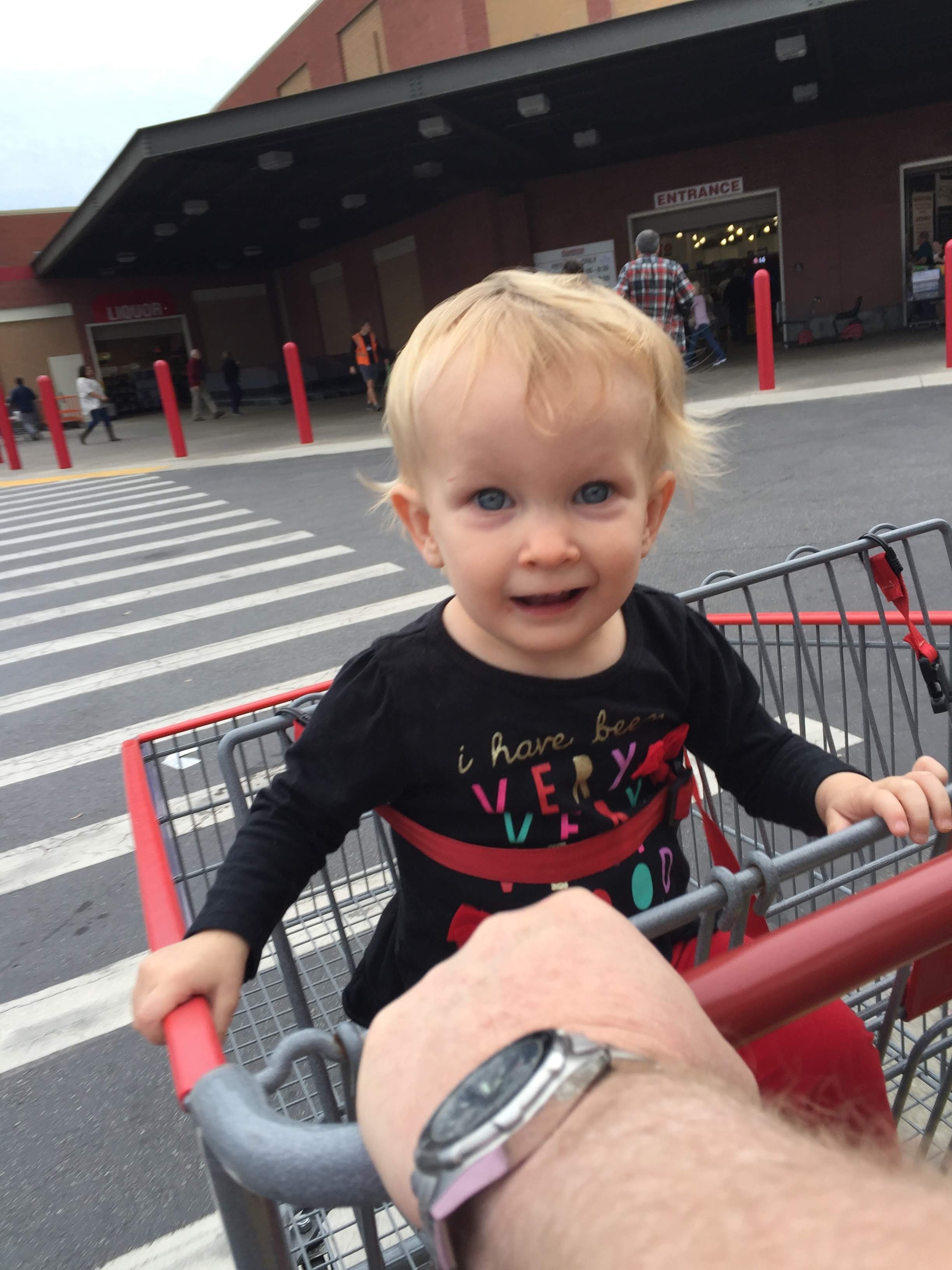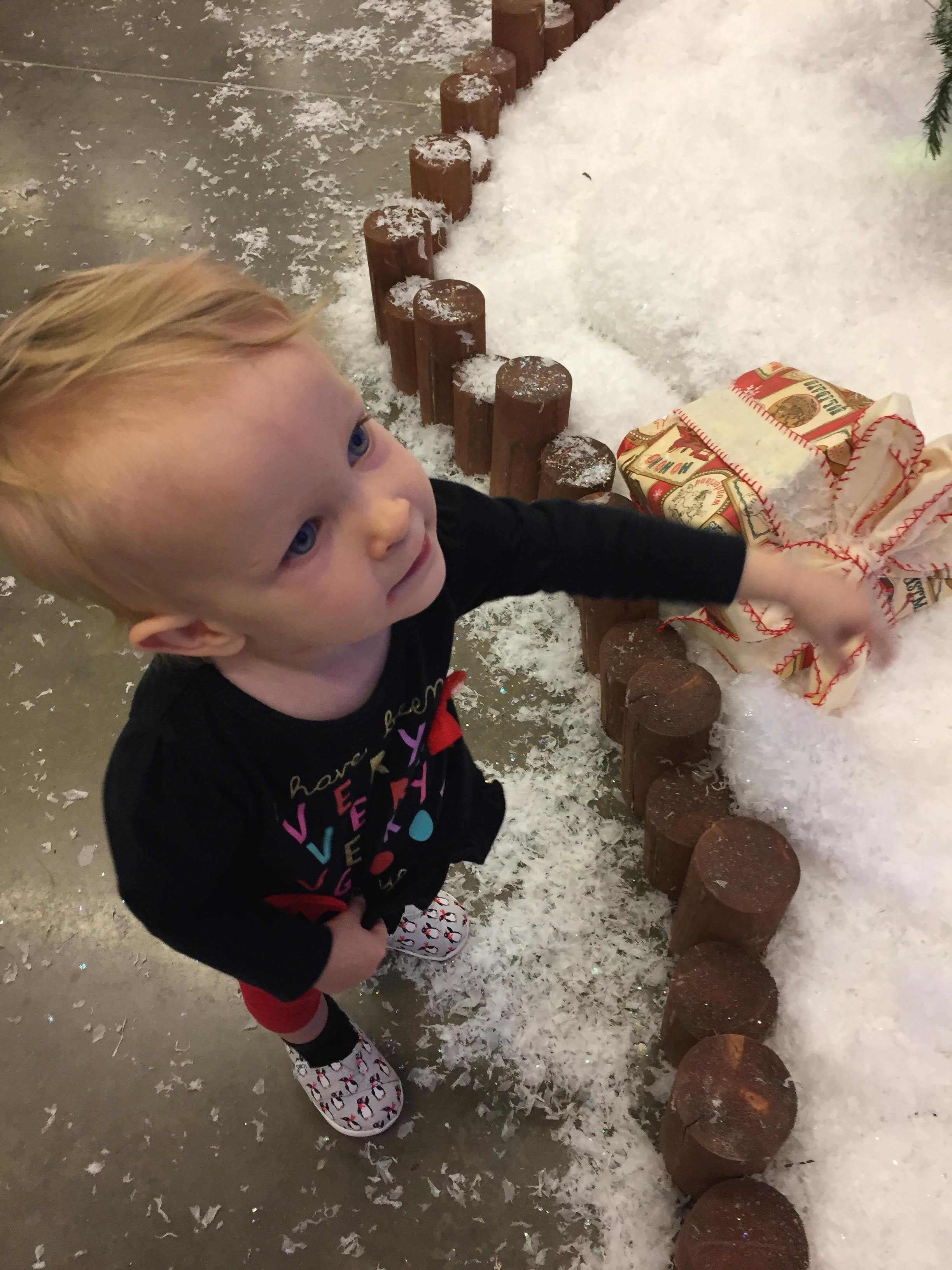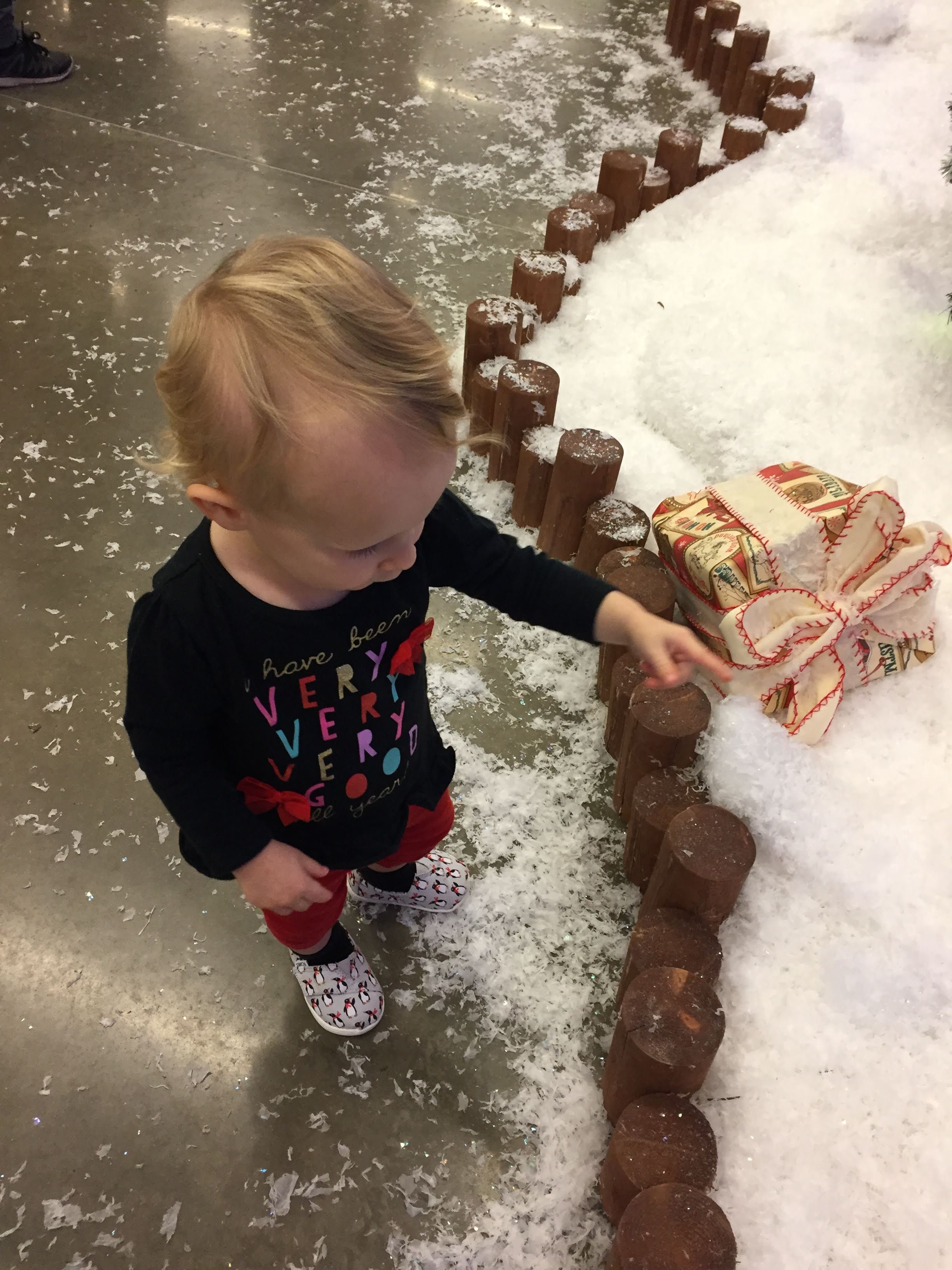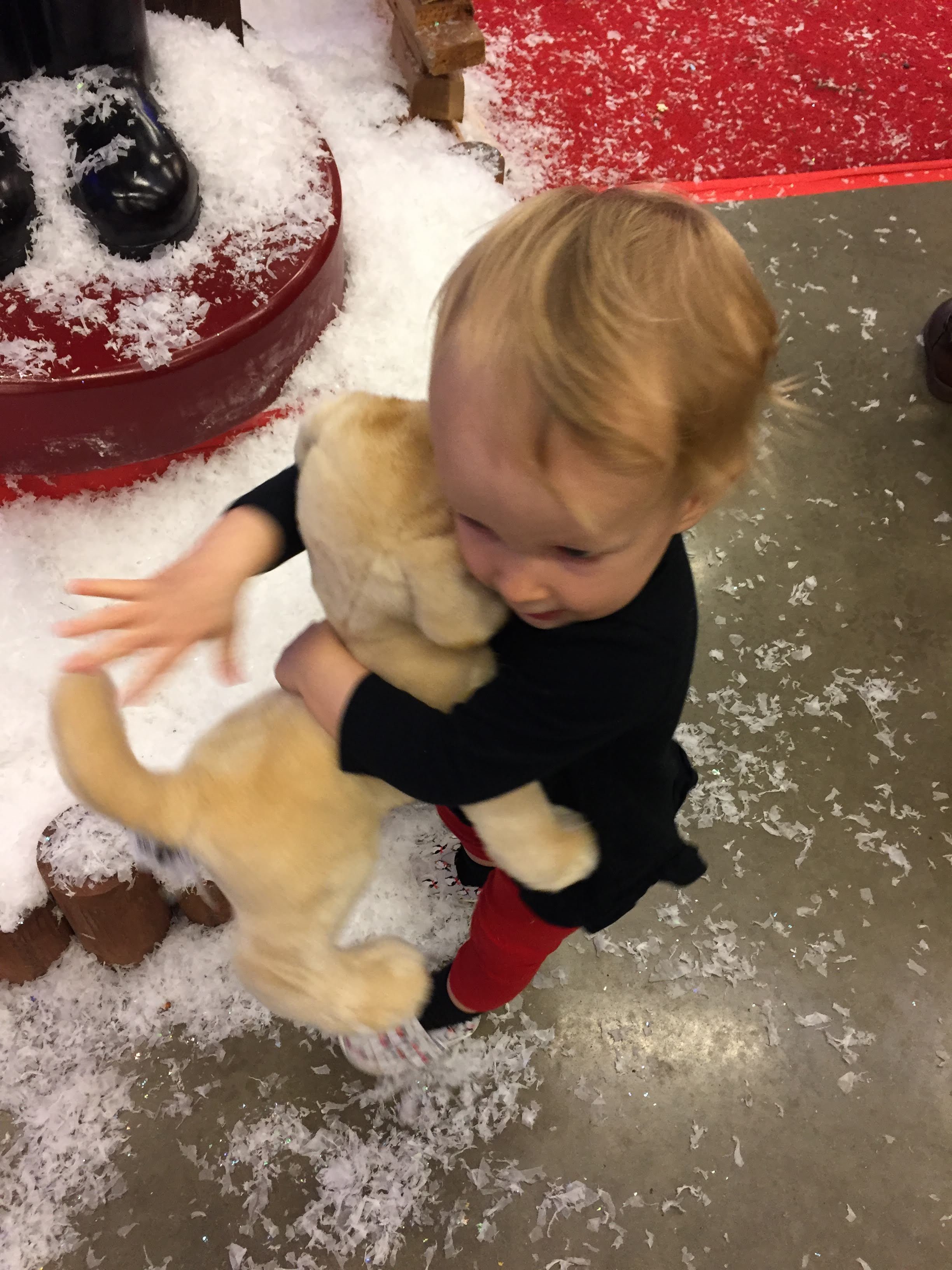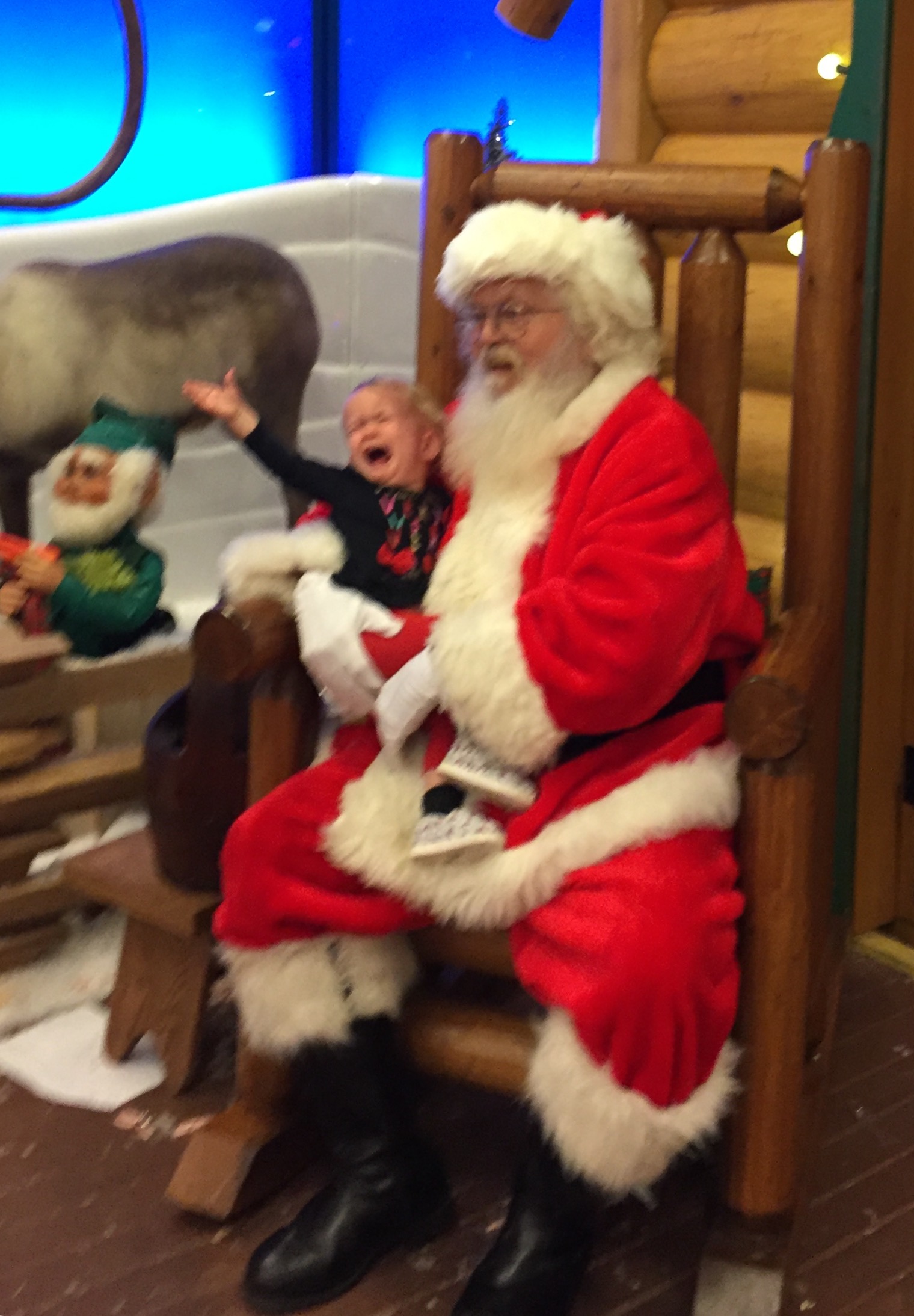 My dad scooped her back up really quickly, and she immediately calmed down. Honestly, I was surprised to hear how upset she got about it, considering this girl has no fear of strangers usually!
After we all finished up, we met at Blaze for a pizza dinner.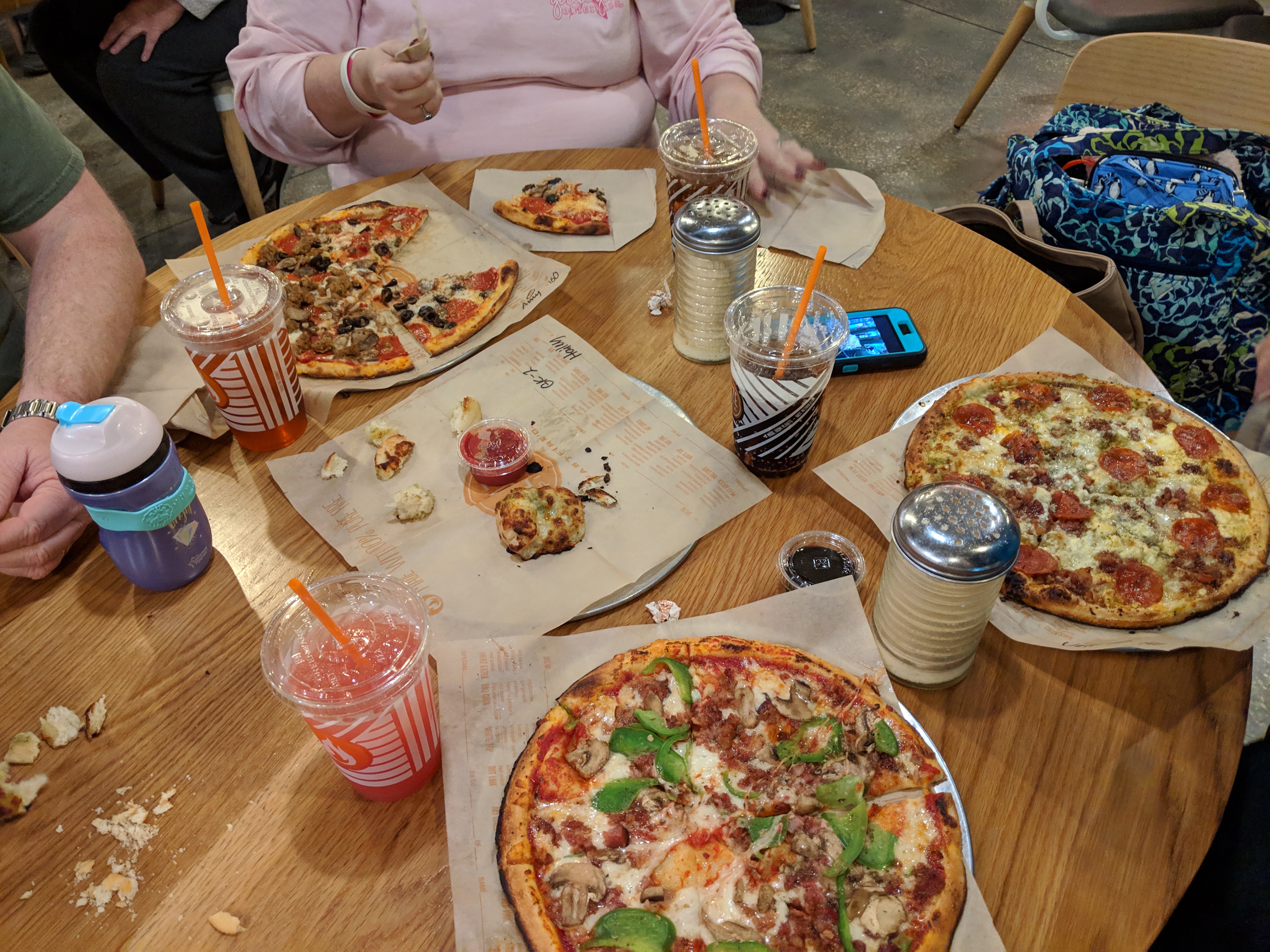 Then we came home for bath & bed. I love taking selfies after her bath, but tonight she was especially silly & giggly, and just so cute!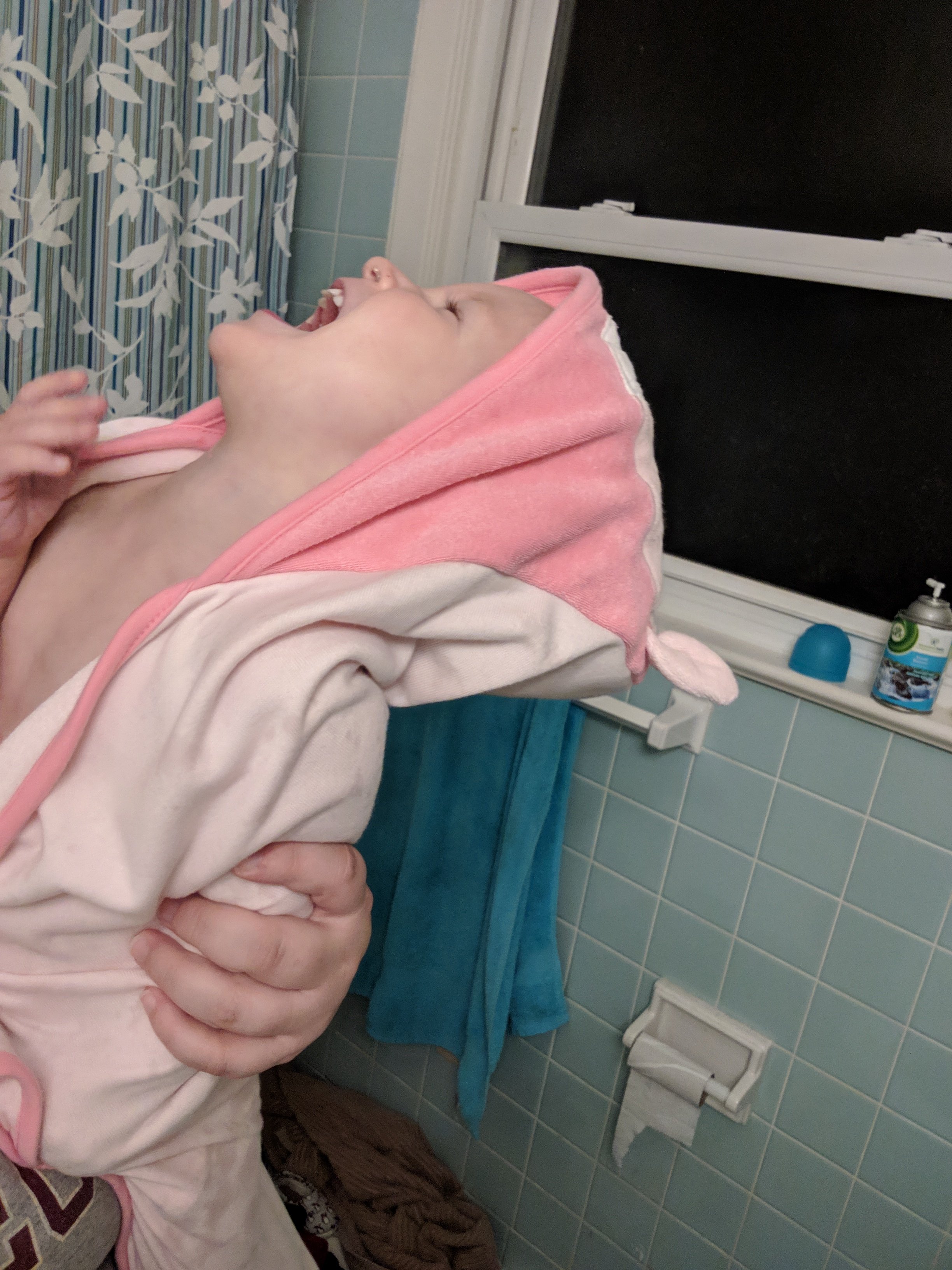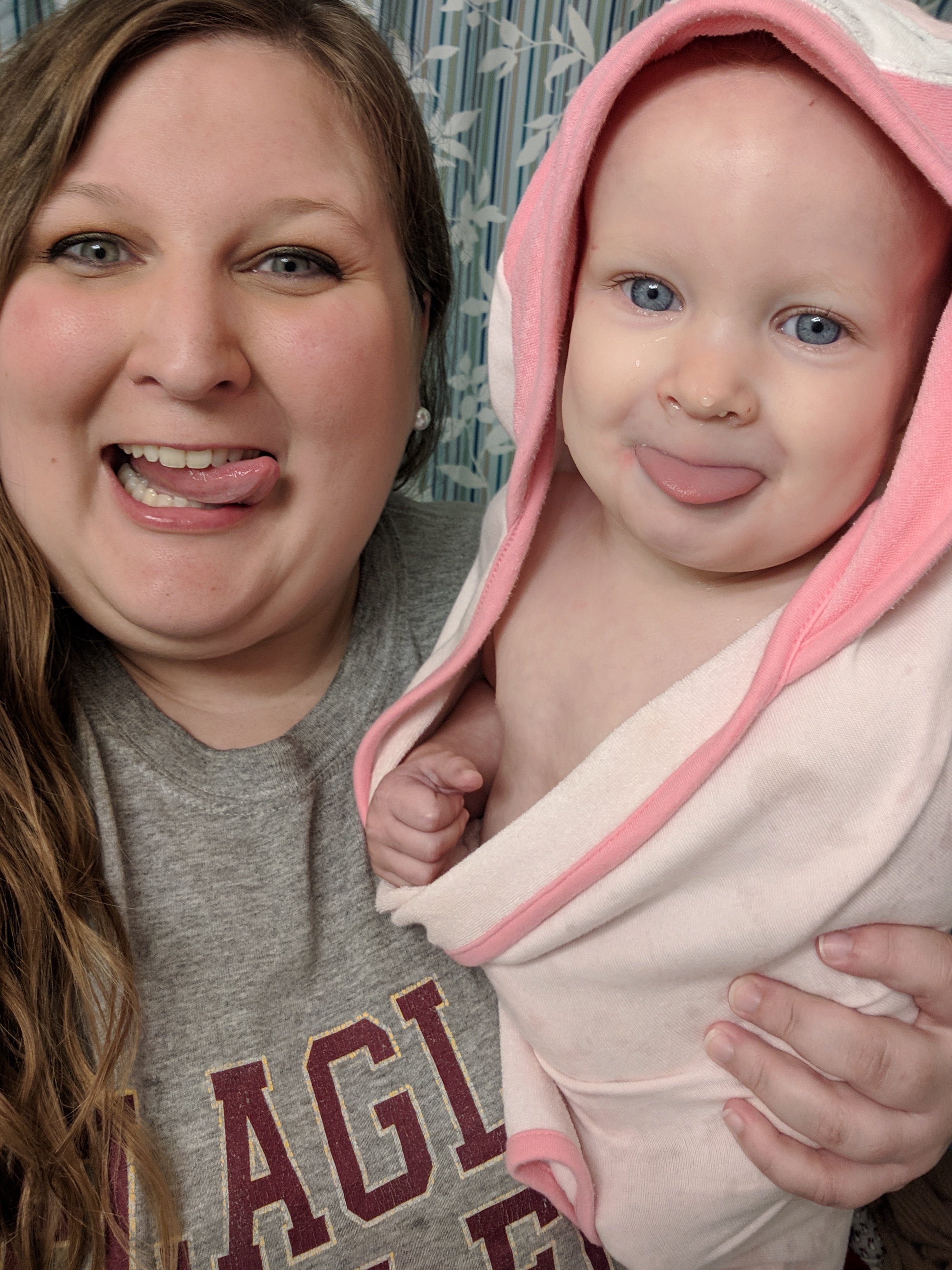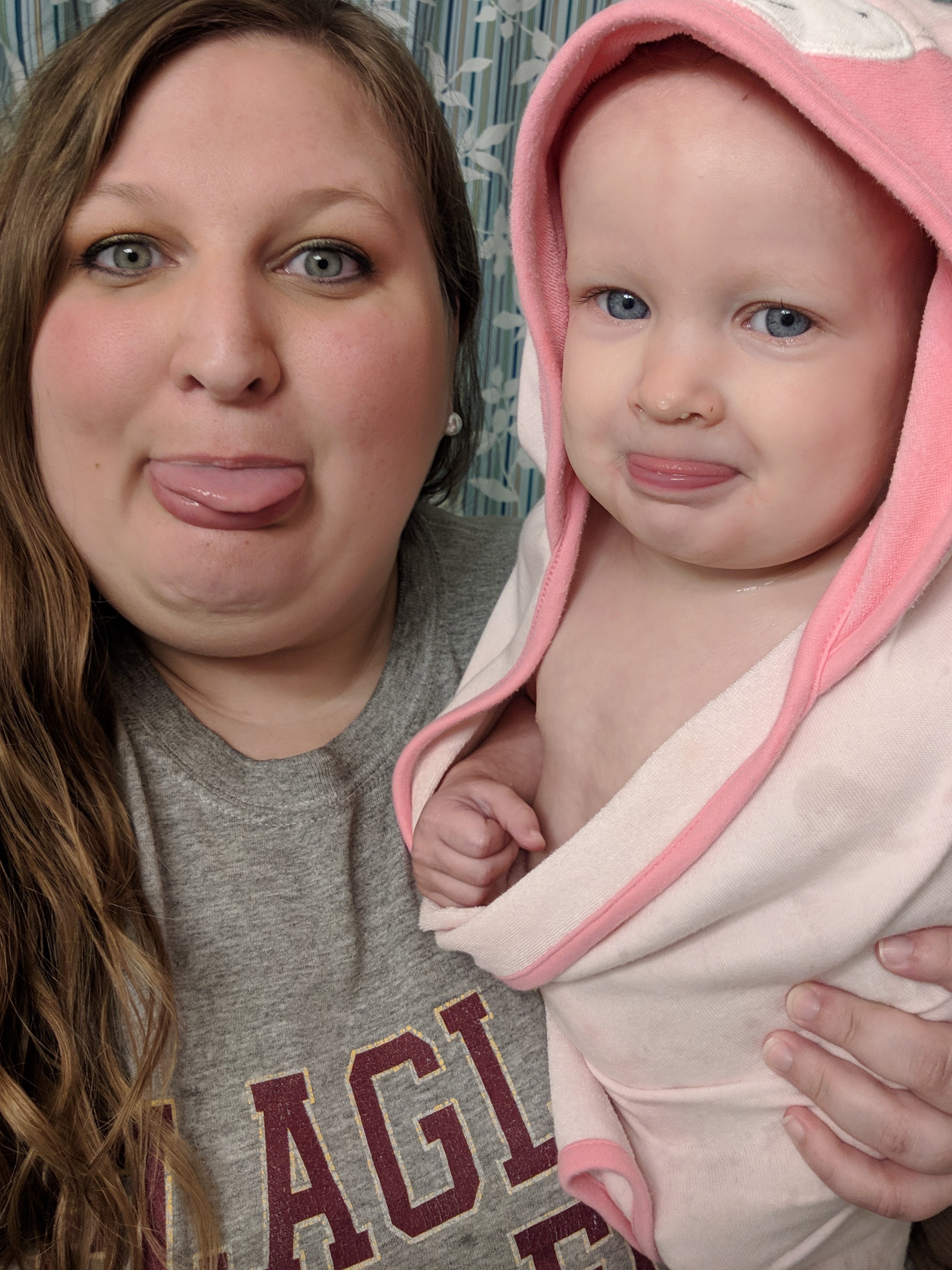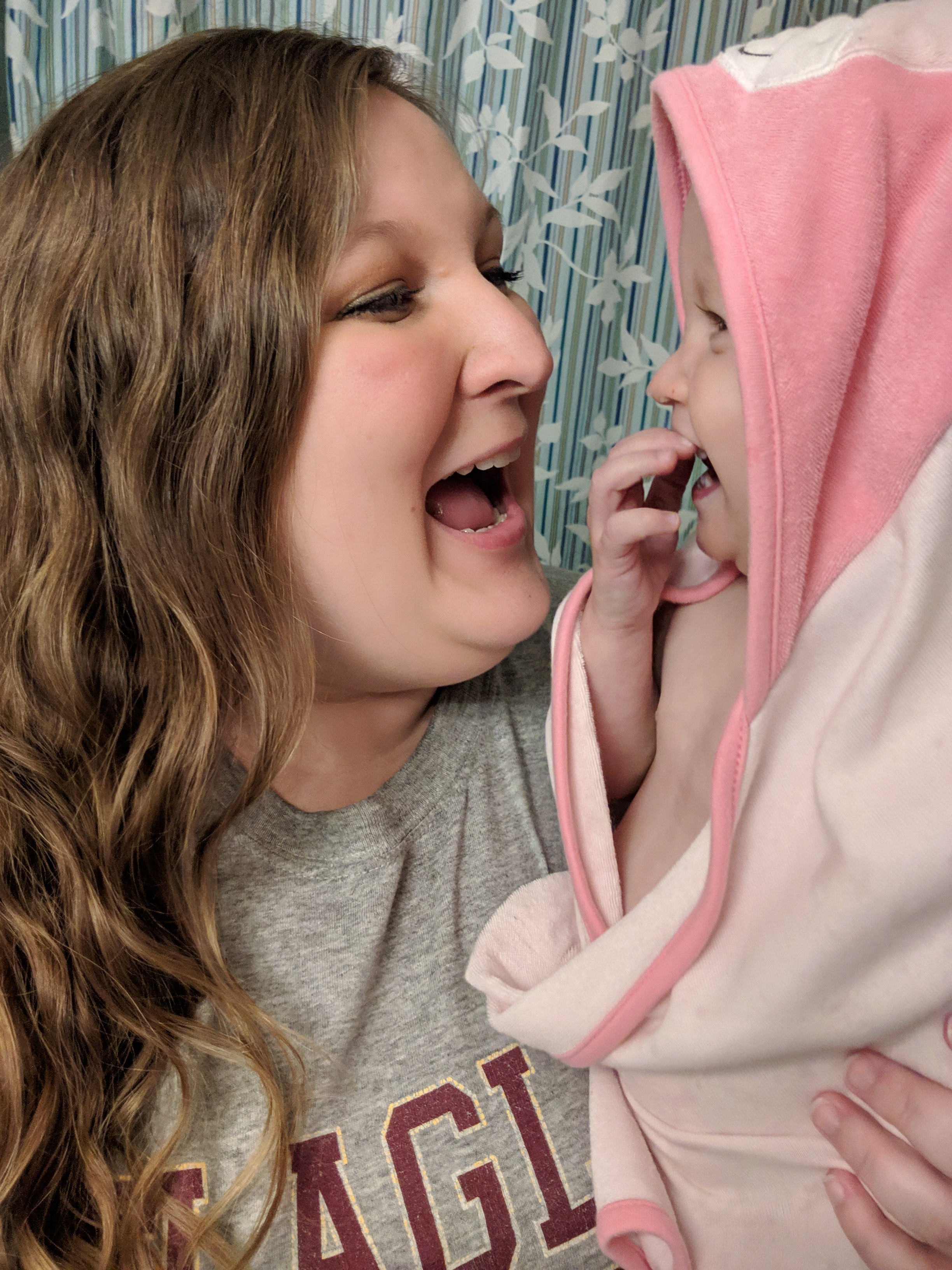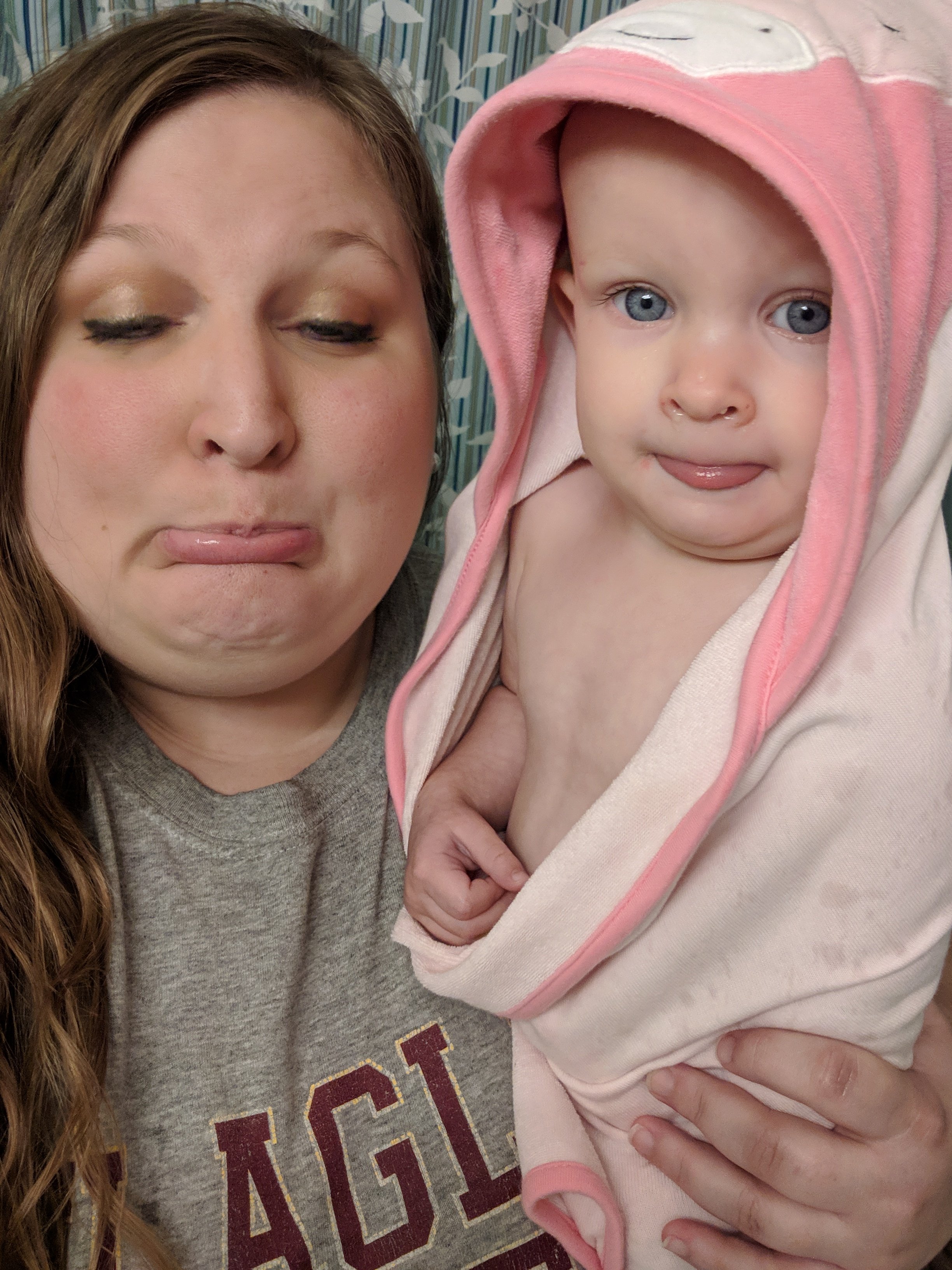 Girlfriend was exhausted, and asleep right away after her milk. Jeff and I are exhausted too, after lots of work & a night singing in a giant Christmas tree, so we're already cozied up, resting our feet, watching one of our favorite movies this time of year. I think it's a Hallmark movie from 2011, called "The 12 Dates of Christmas," and honestly Jeff loves it more than I do! But "Zach Morris" is one of the two main characters, and that's certainly fine with me.