It's JUNE!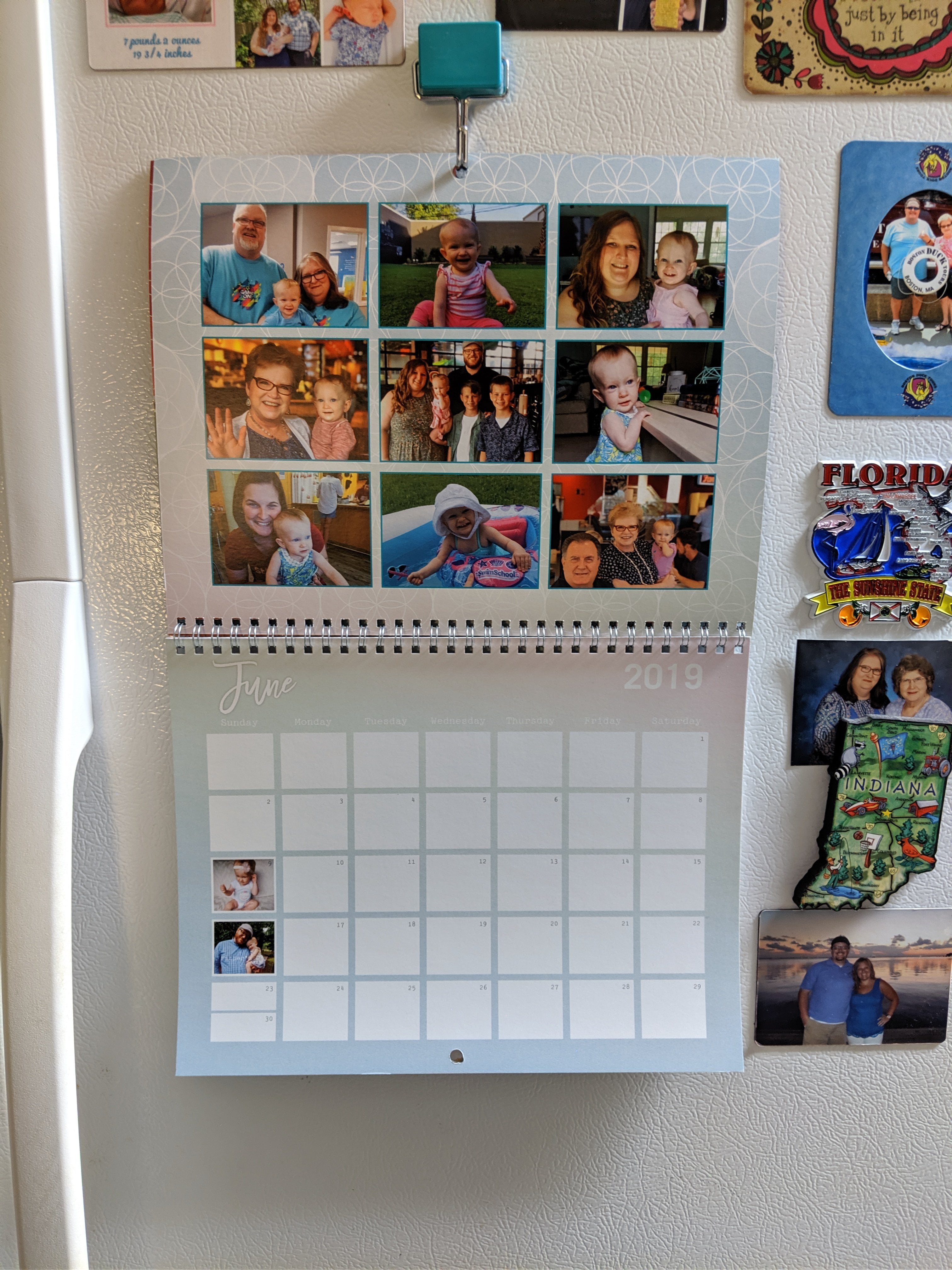 We had breakfast this morning with my parents at Woodchuck's. My dad first texted saying they were coming to pick up Emmie to take her to breakfast, but I told him her parents were hungry too & we wanted to come! So they let us crash their party 🤣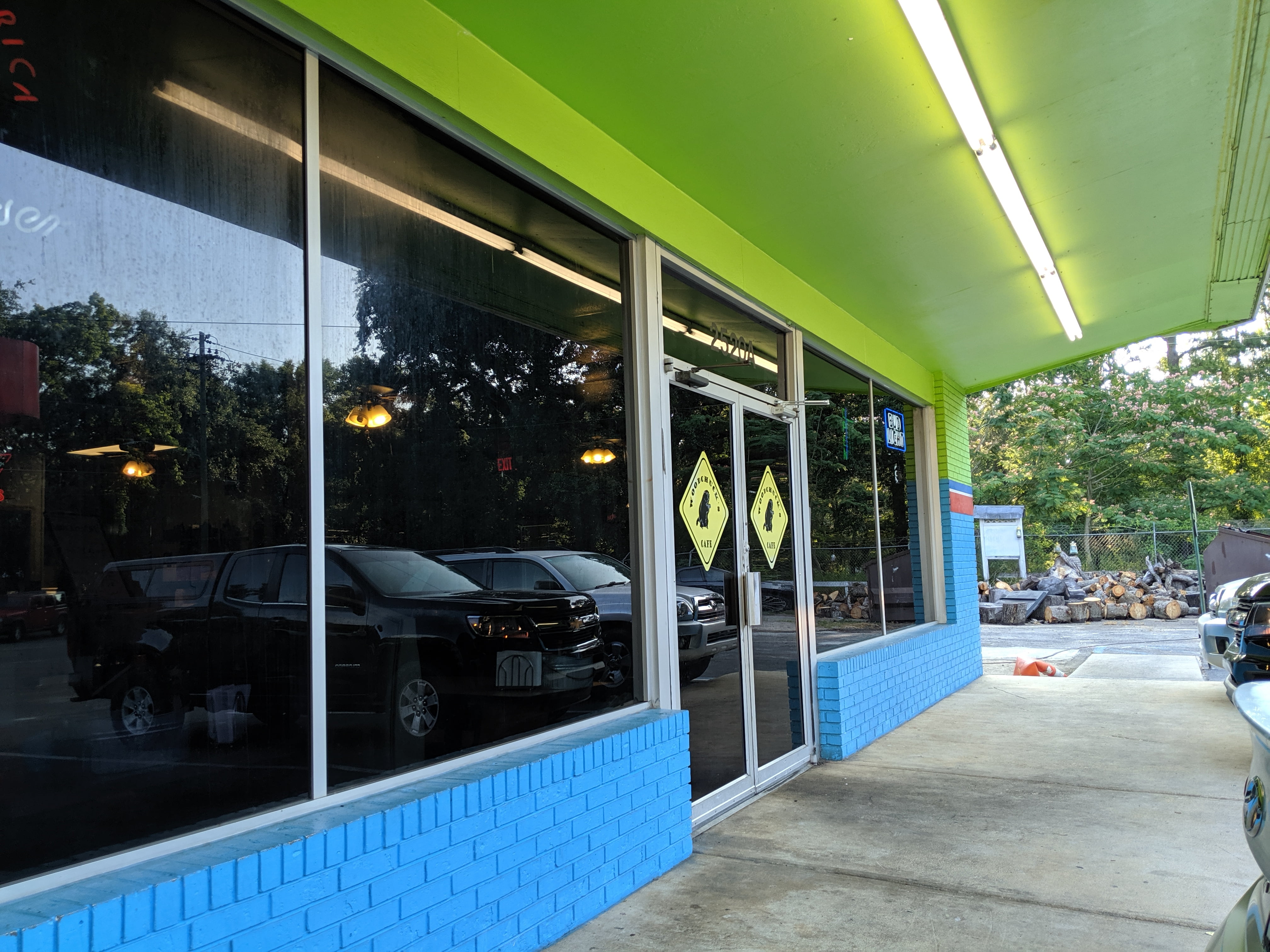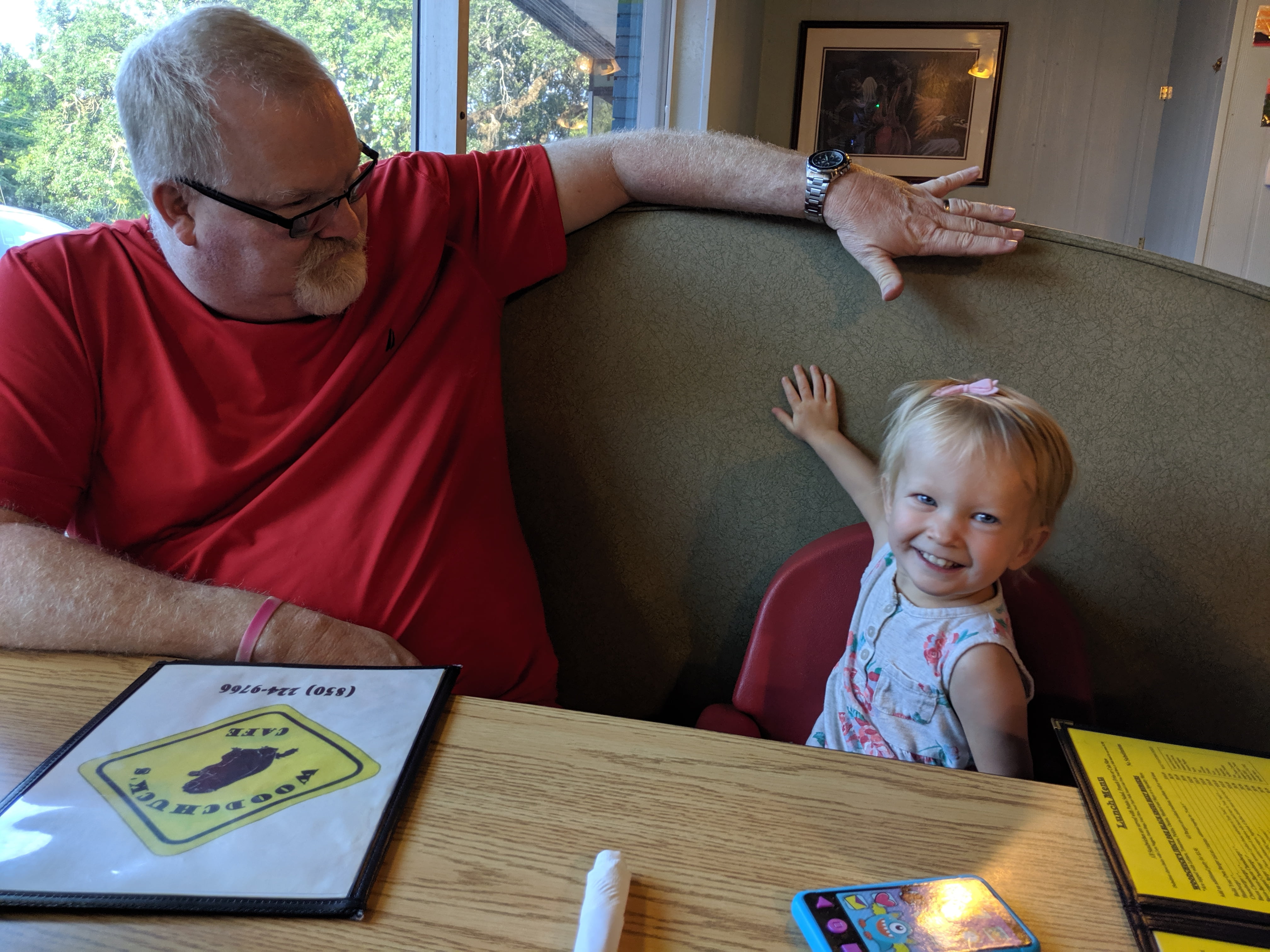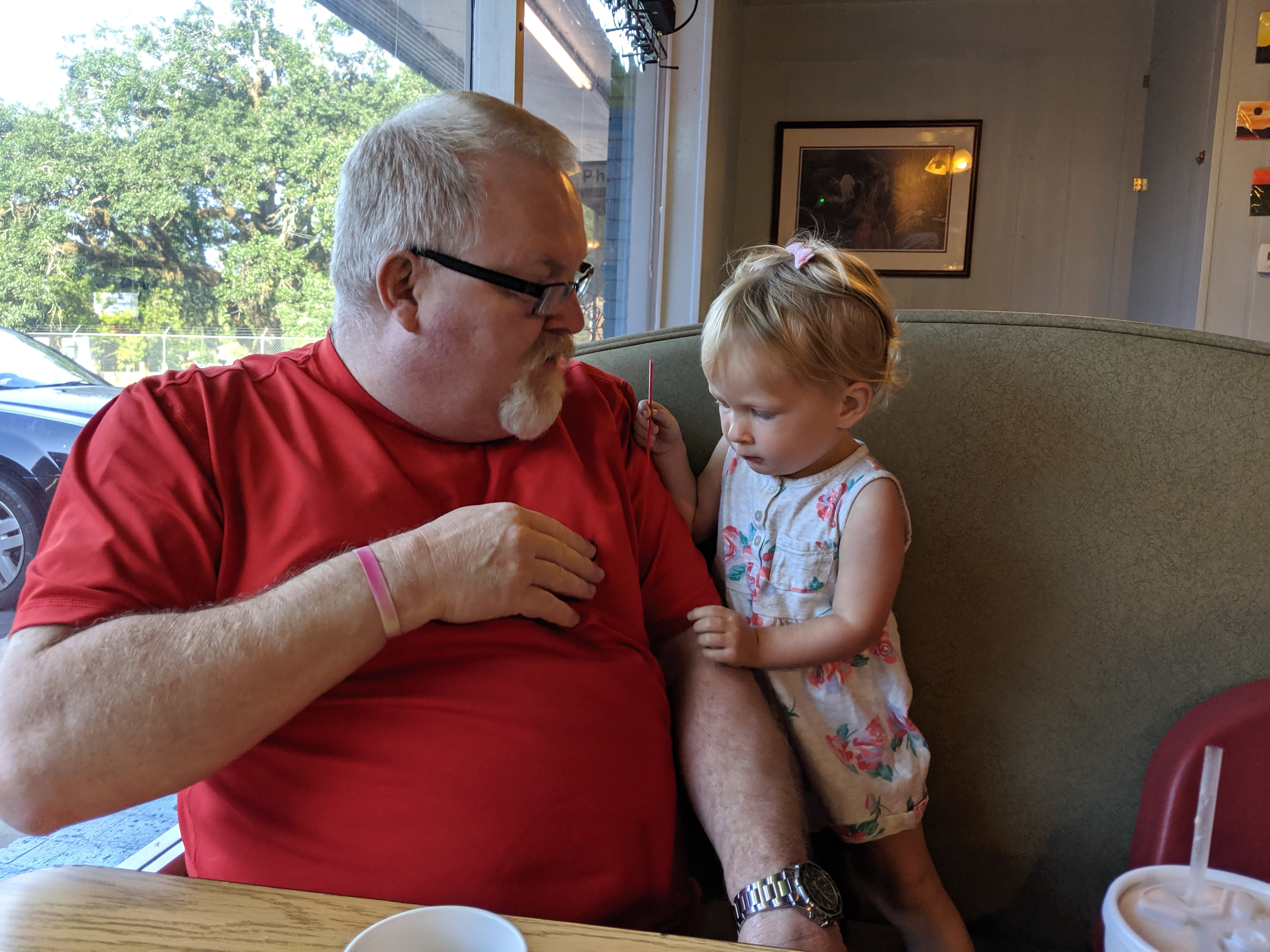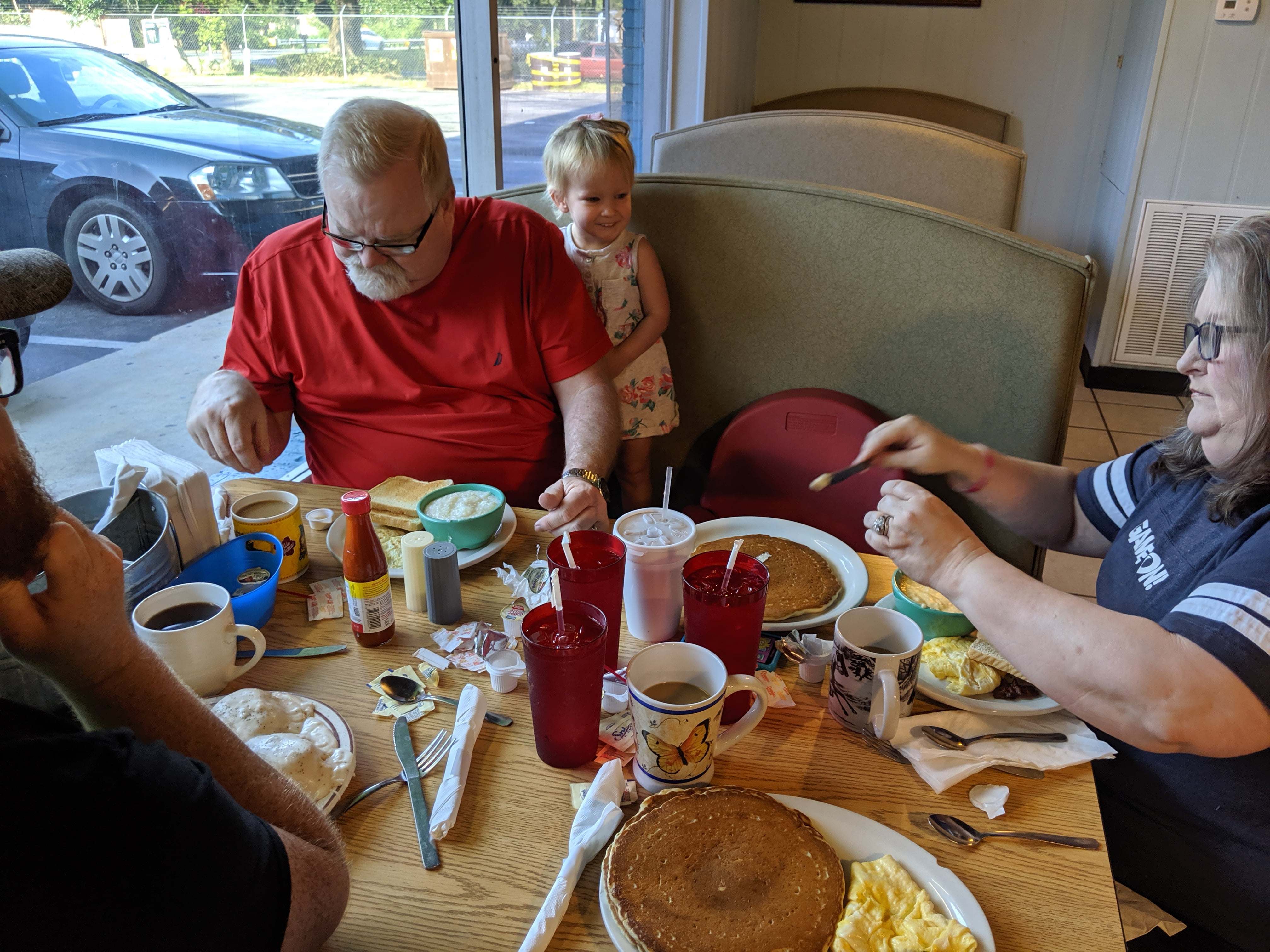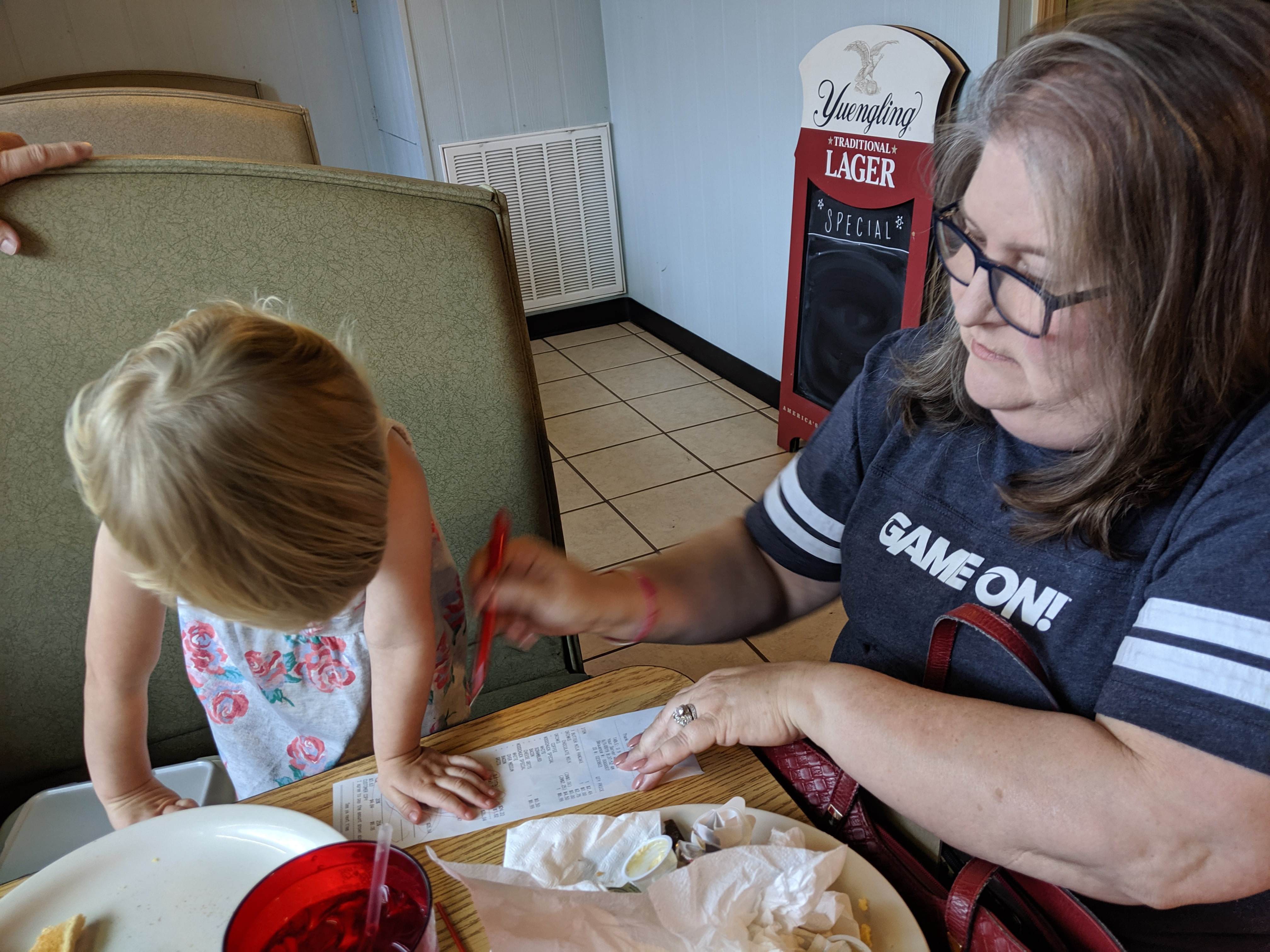 Then Grammy & Pepaw took Emmie to Publix, while Jeff and I ran some errands at Walmart.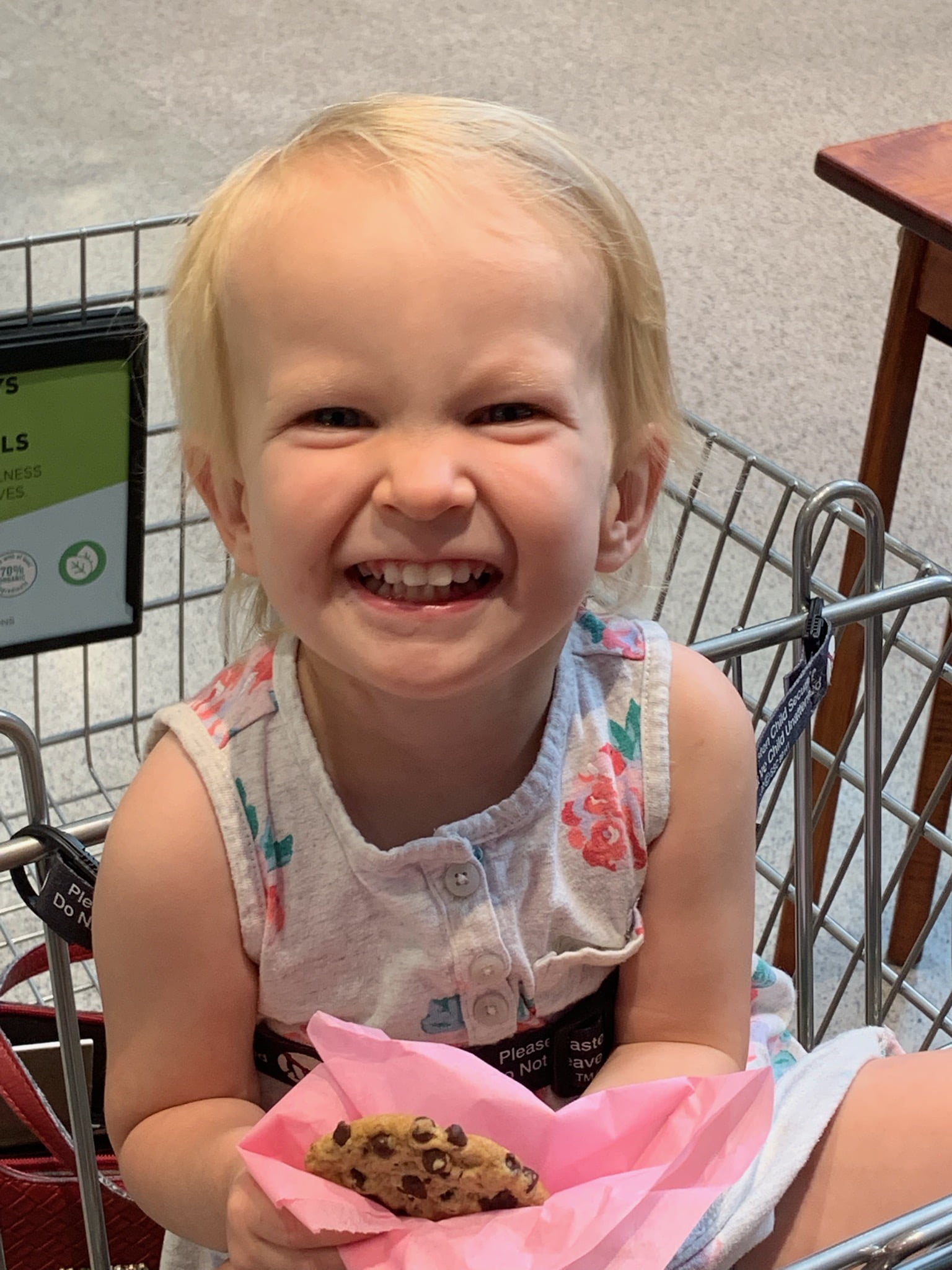 They got done before us, so they headed back to our house and let themselves in with their spare key. We brought our groceries home, put everything away, picked up Emmie, and then went to the Farmer's Market for some fresh produce.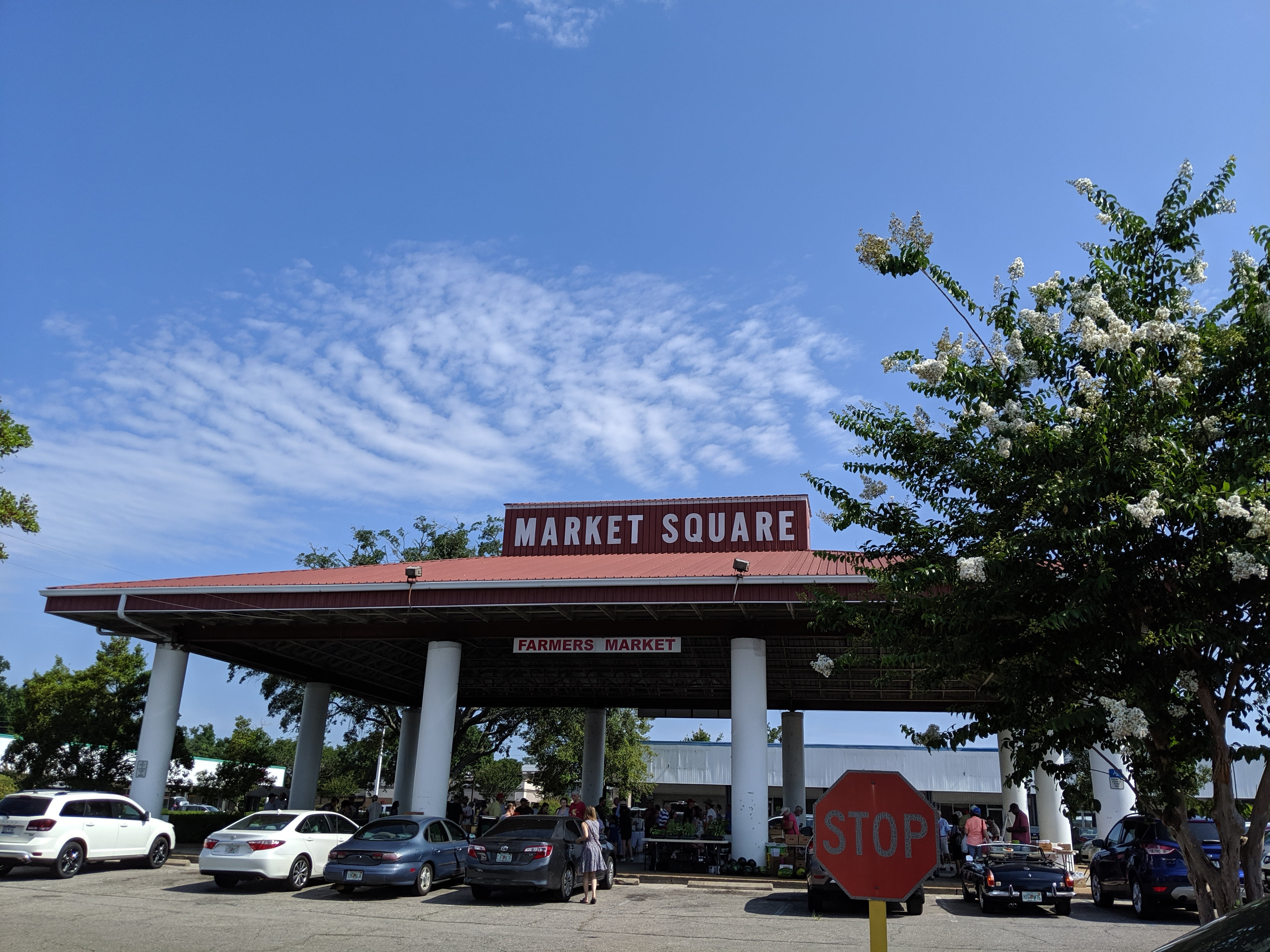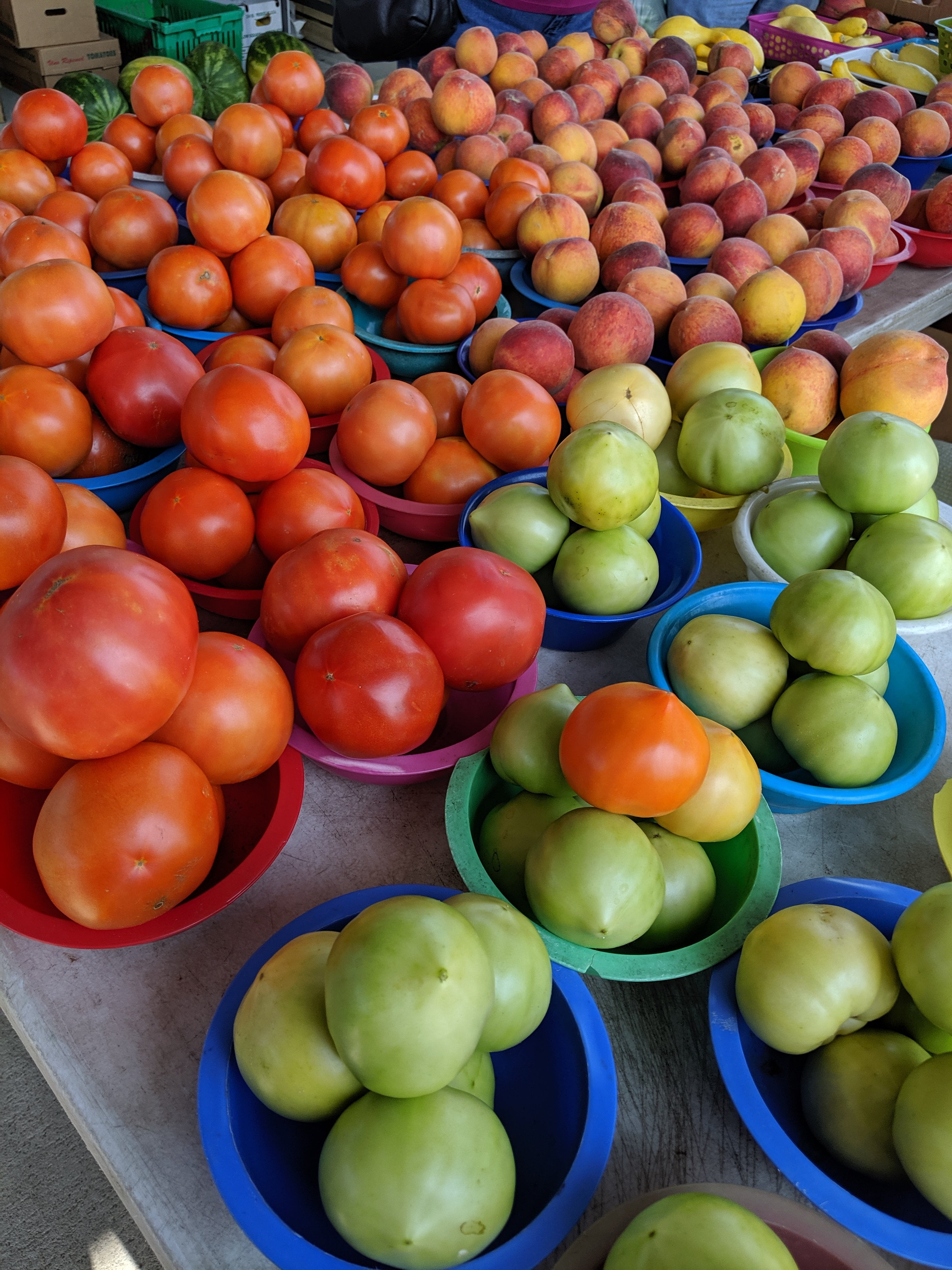 Emerson loved this squash, and wanted to put it in her purse. Then she held it for the car ride all the way back home.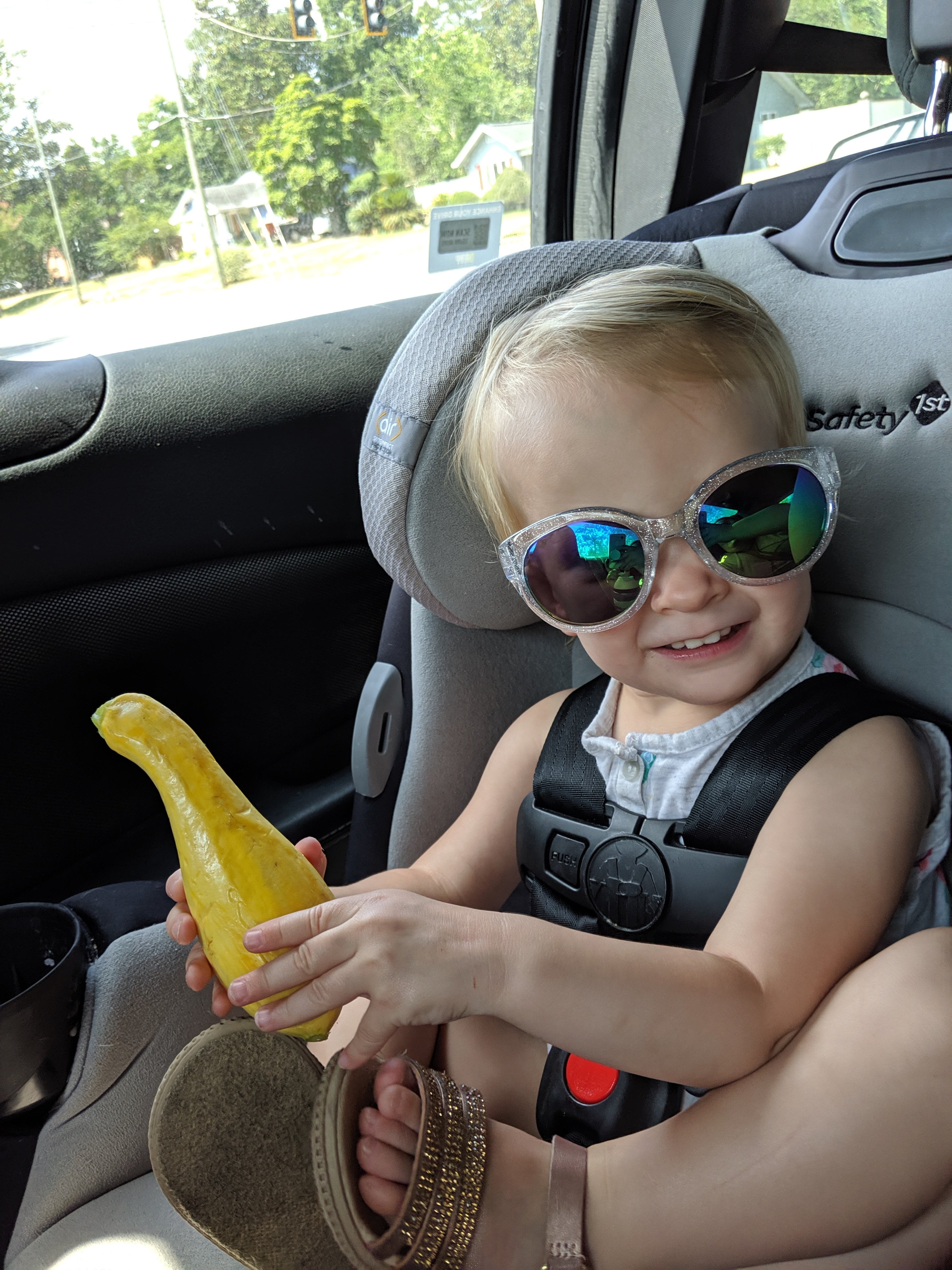 And between the farmers market and my usual grocery pickup order, we got so much fresh fruit and veggies today! Kiwi, green beans, broccoli, bell peppers, blueberries, squash, zucchini, tomatoes and brussel sprouts. Plus bananas, green tomatoes and onions hanging in the basket over the sink. I was really feeling all the fresh fruits and veggies on this hot summer day!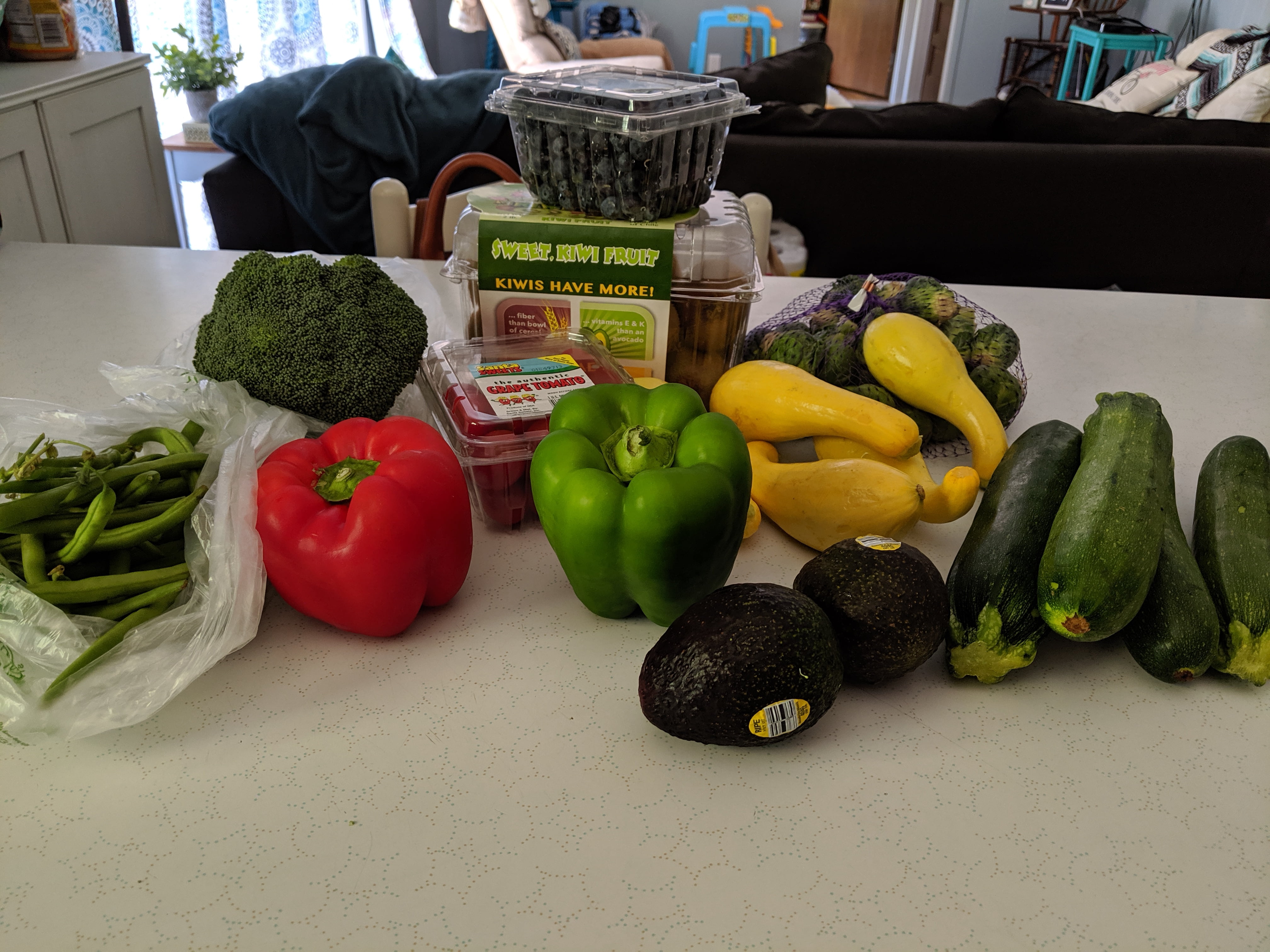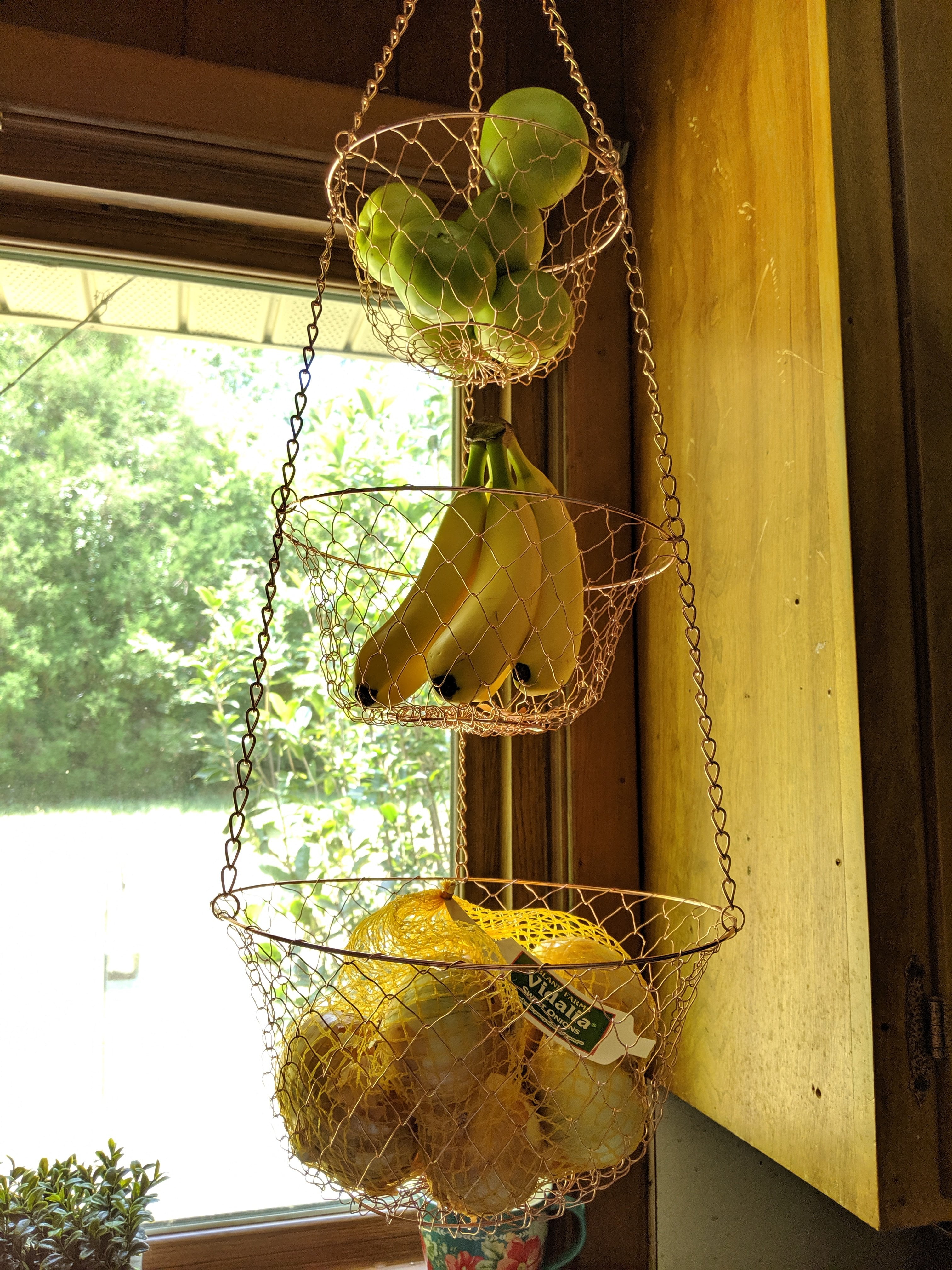 Emerson had some leftover chicken nuggets, noodles, and fresh blueberries for her lunch today, before she got ready for her nap.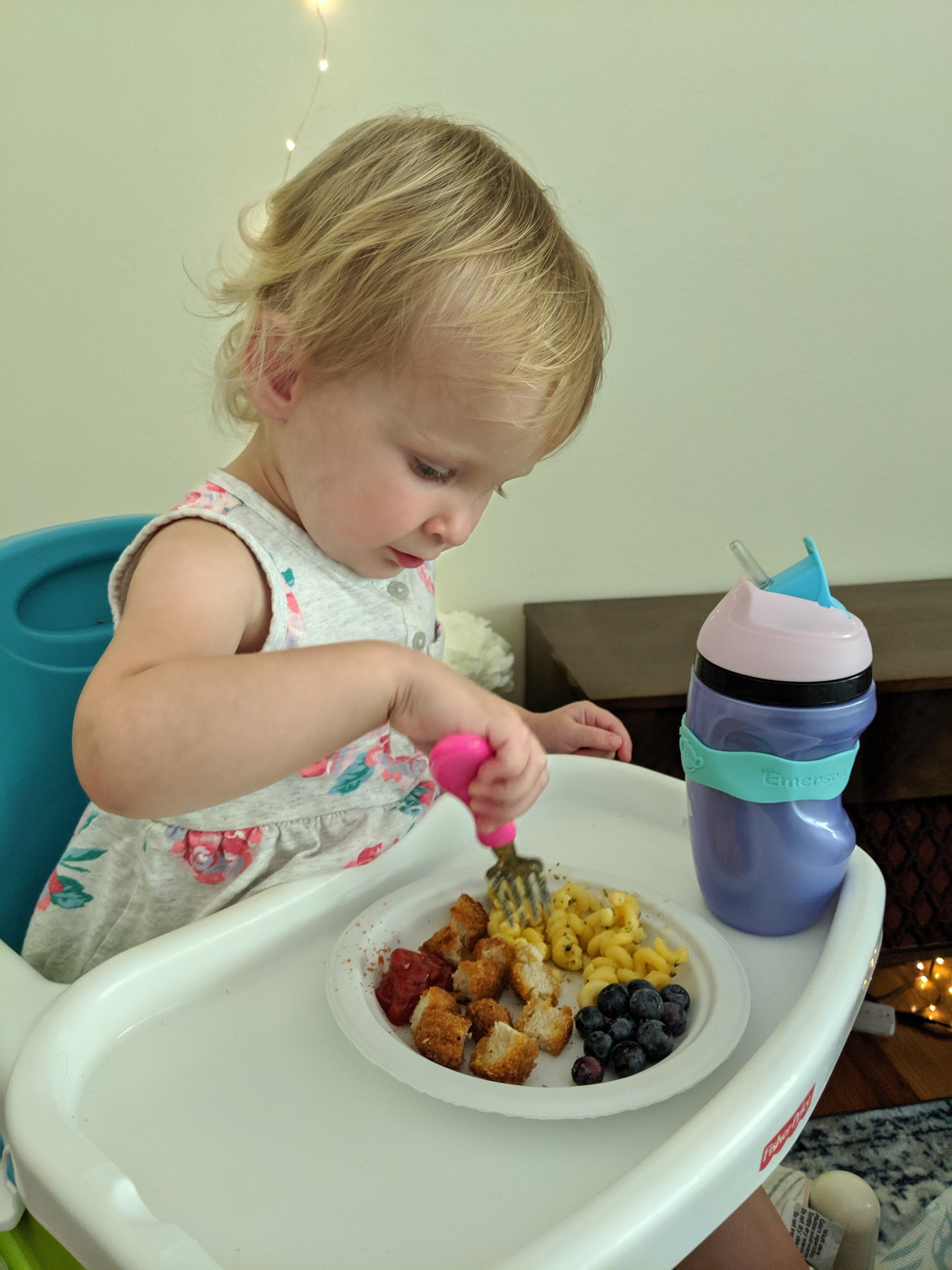 While she napped, I washed some dishes from last night, and went through some more of her clothes. We had a couple of bags and boxes of hand me downs from three different families, and I got that all sorted by size and ready to hang in her room when she was awake. I sat down to read for just a few minutes, but of course she woke up after only a few pages.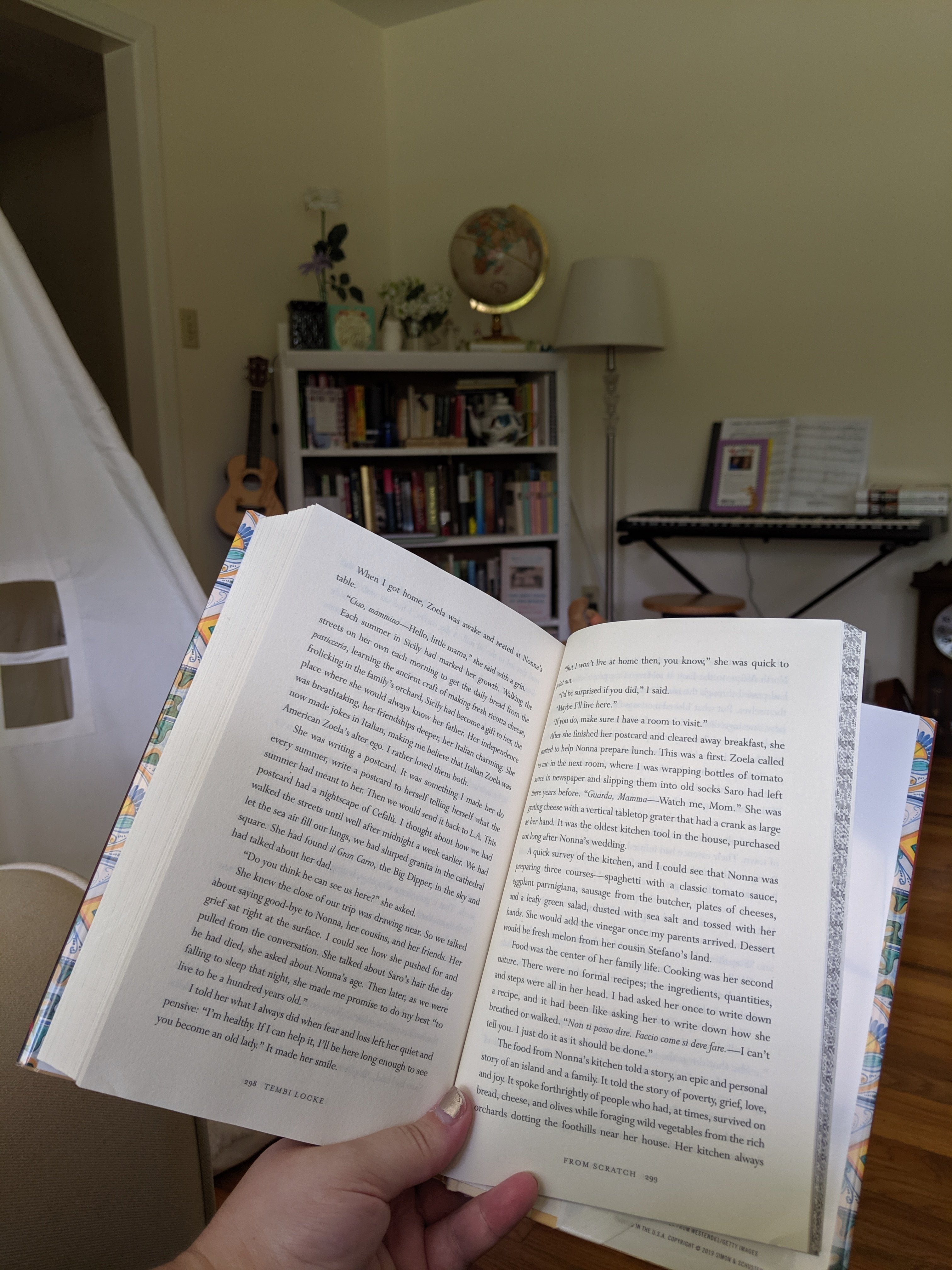 Jeff went over to his parents house to work on their computer some more. Emerson and I dropped off a few boxes of clothes and stuff at Goodwill that we had been collecting while doing all of our clean-up recently. And then we went back to Walmart to exchange some clothes we bought this morning that didn't fit quite right. We dilly-dally'ed through there for about 20 or 30 minutes, just checking things out, and enjoying the free air conditioning! We didn't buy anything that time, and only decided to leave once she got tired of ridng in the buggy!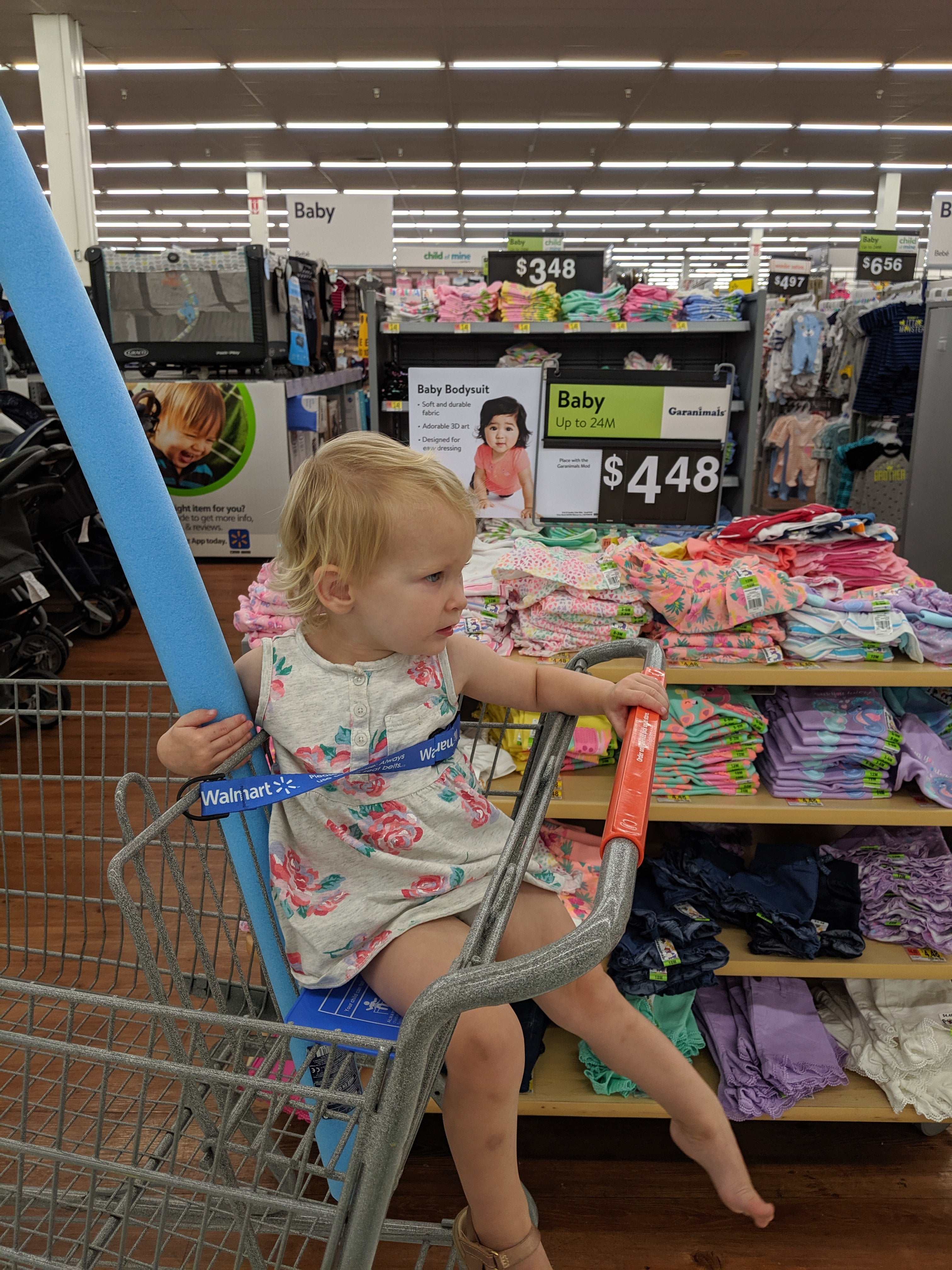 After we left Walmart, I stopped to get us a little treat. I got myself a new chocolate cherry cold brew, which was only $2 during happy hour, and one chocolate munchkin for my tiny munchkin!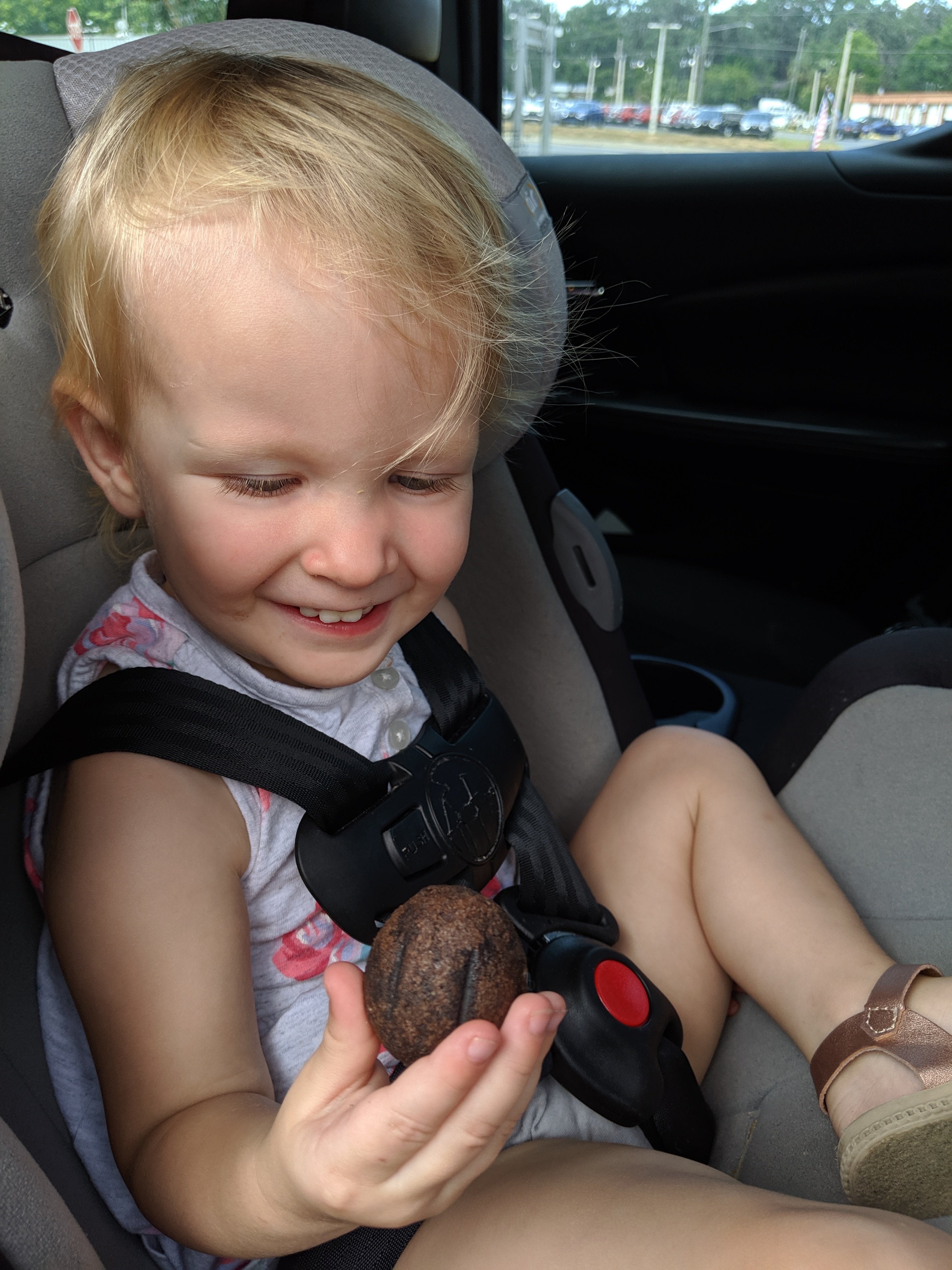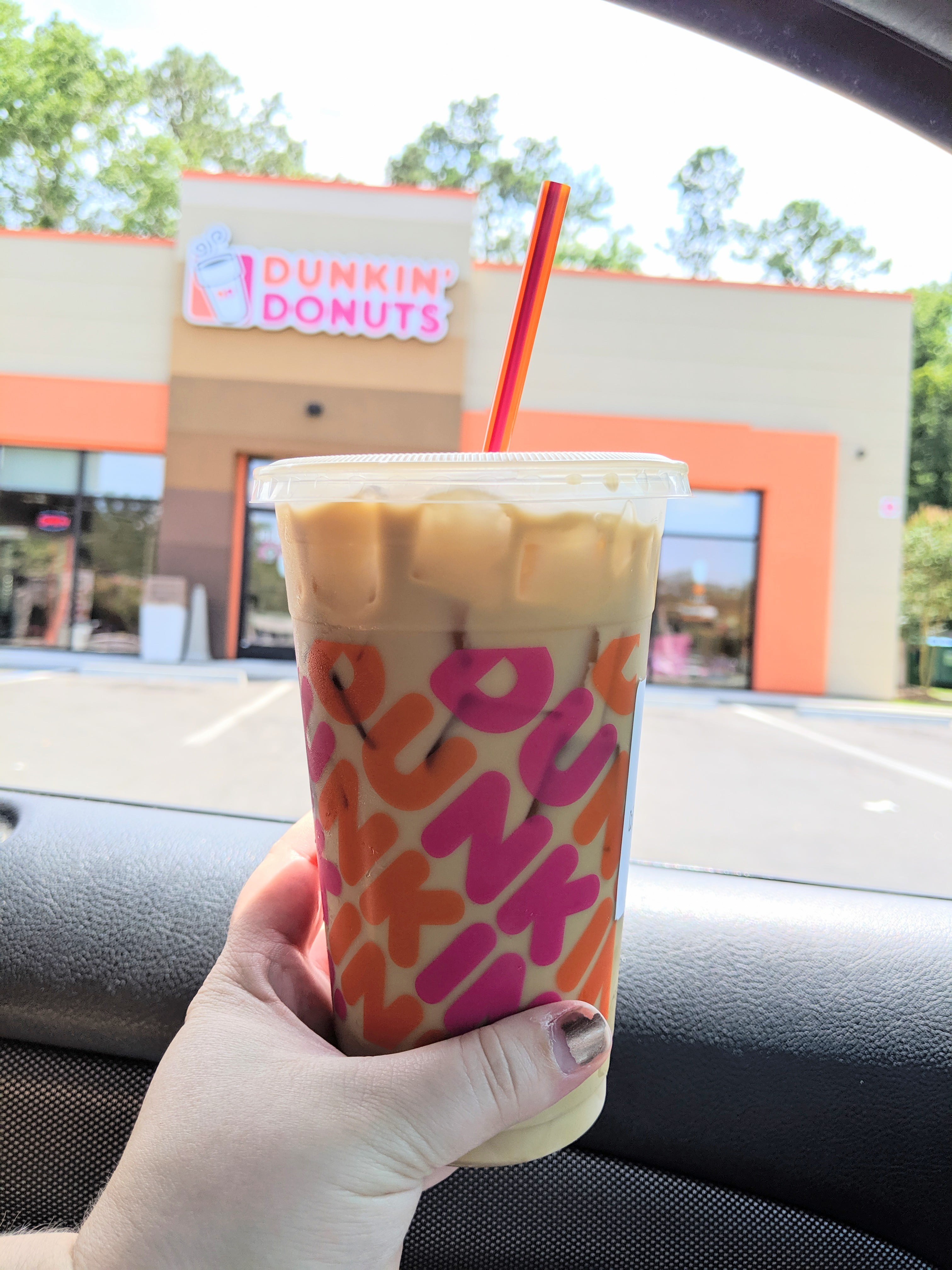 We returned a couple of books to the downtown library, but didn't check any new ones out this time, and then came home to do some afternoon swimming! Jeff had worked hard earlier this afternoon to blow it up, get it in the right spot, and get it filled with water. So it was ready and waiting for us when we got home.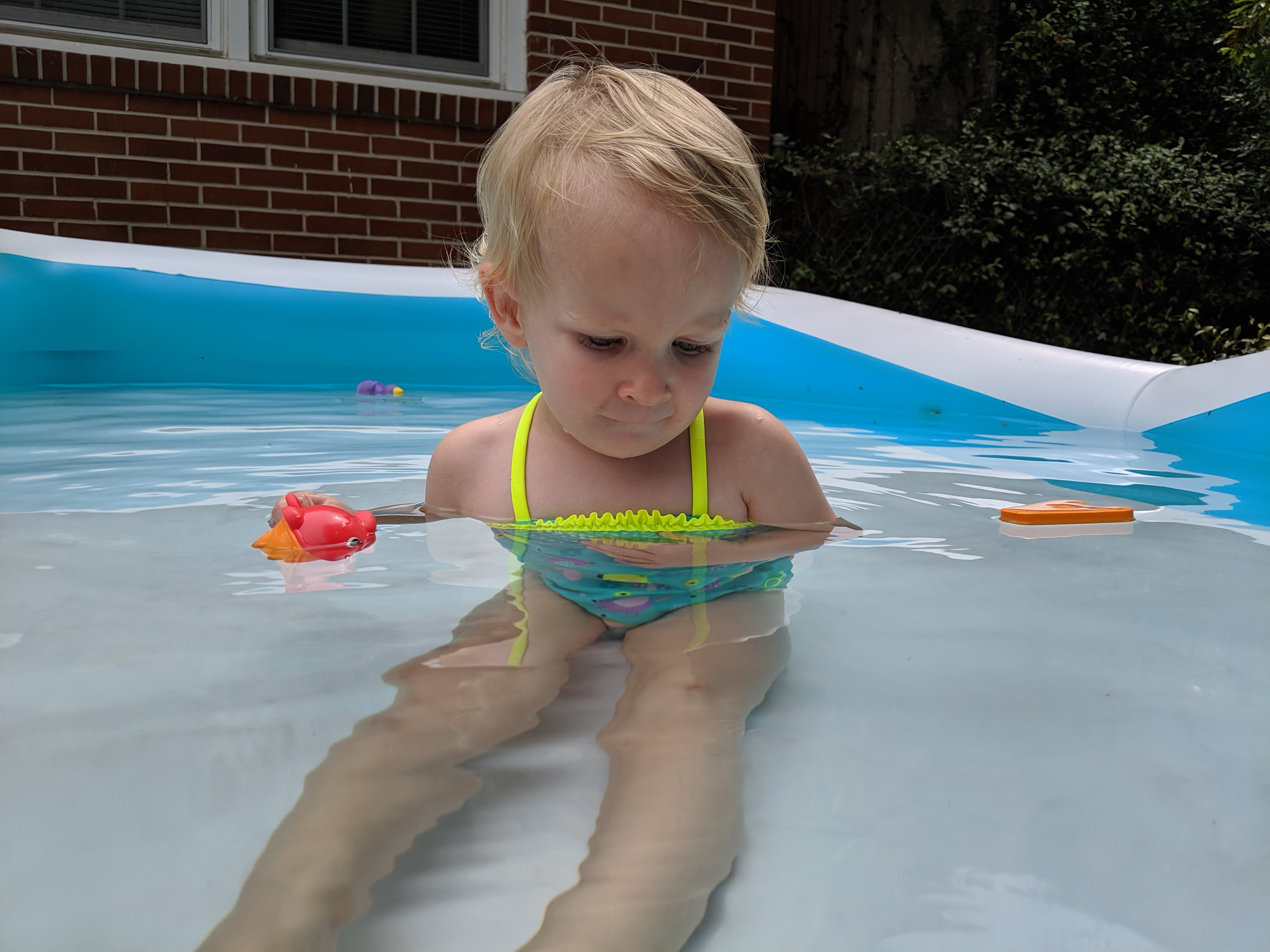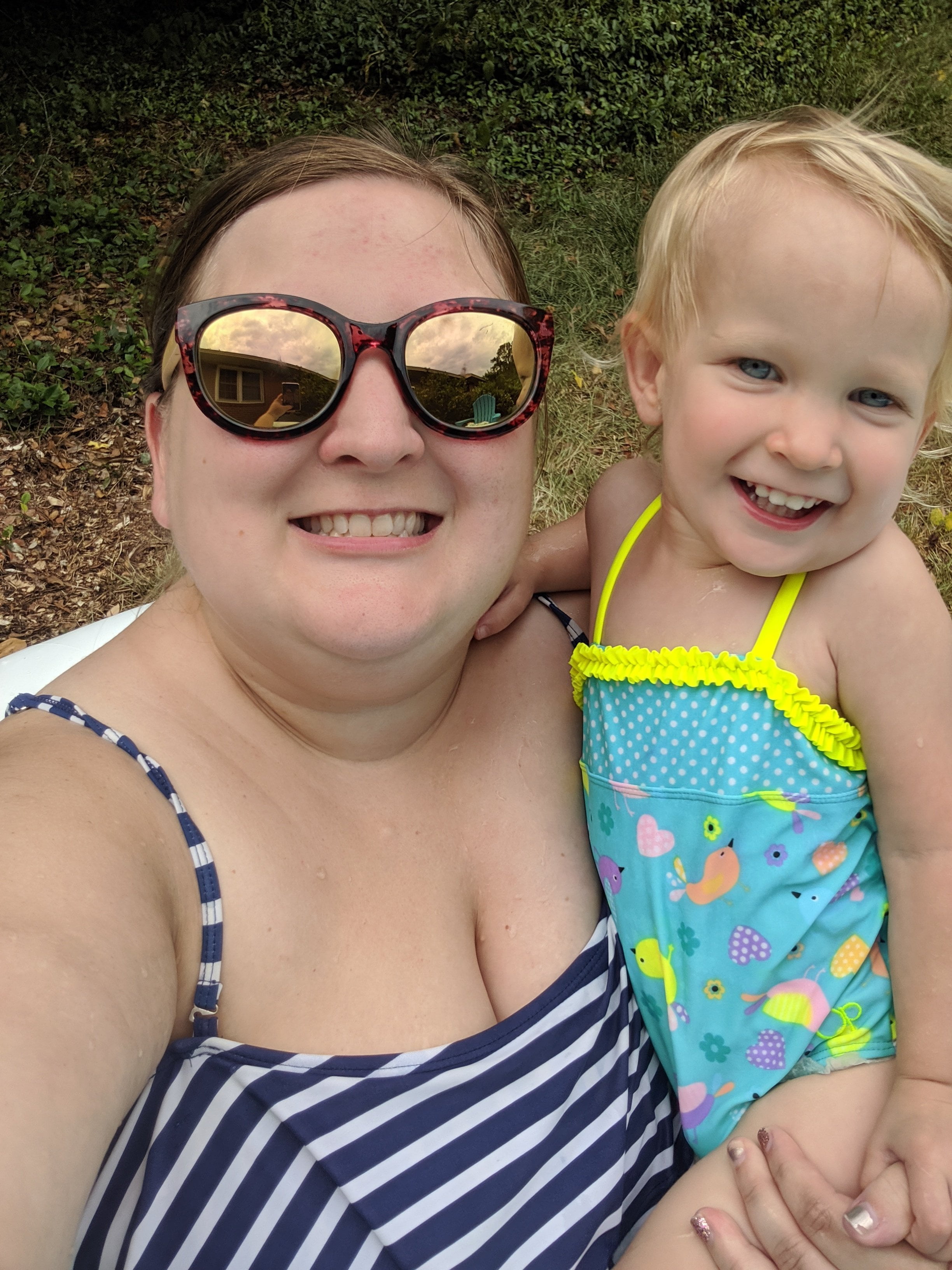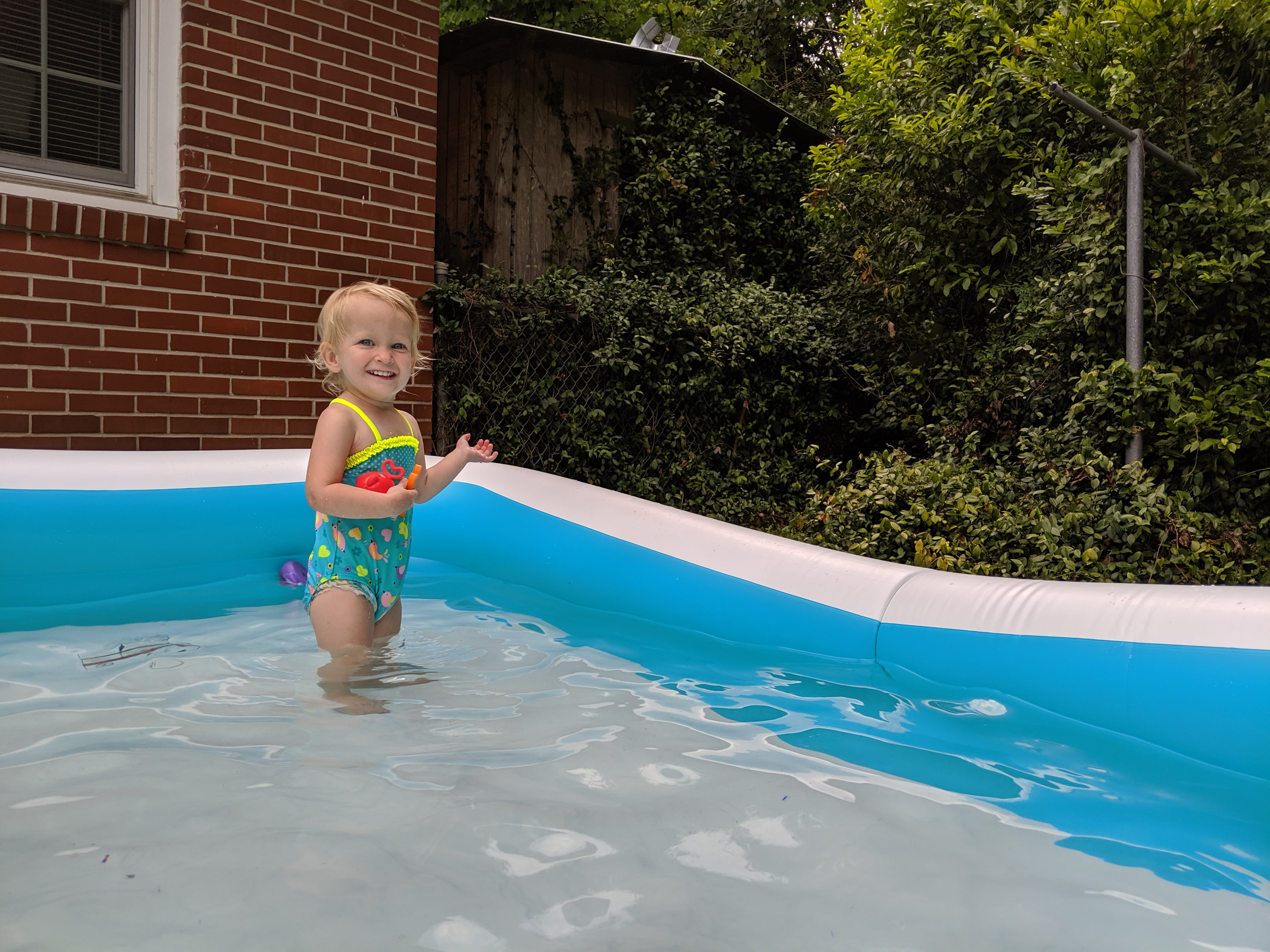 It took her about 10 minutes to warm up and want to play on her own instead of just sitting in my lap, but once she got going, she had a blast!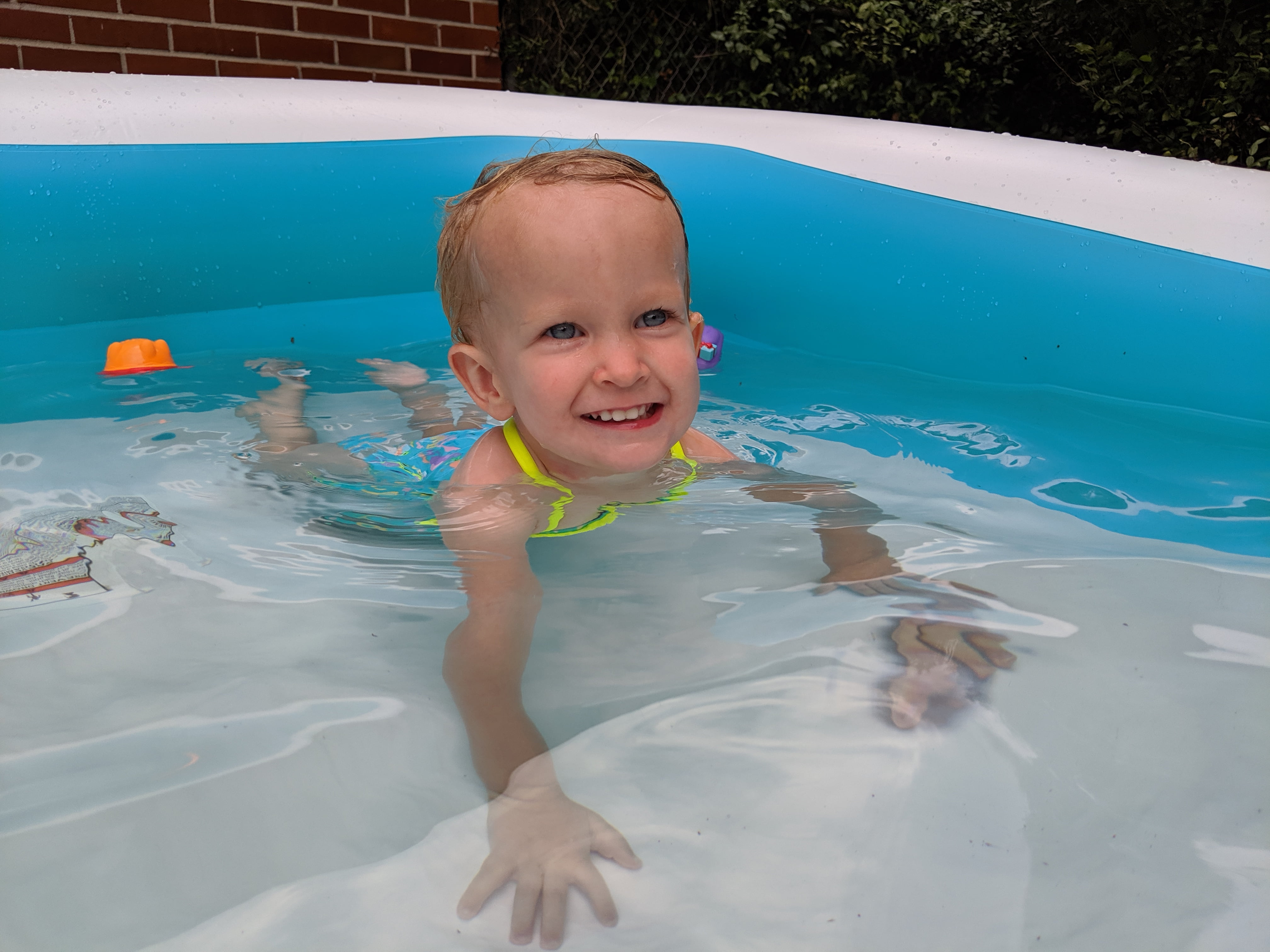 We were outside for about an hour and 15 minutes, and it was cloudy and gray and overcast almost the whole time. I was afraid it would start raining on us, but I only felt like three sprinkle drops the whole time, and then the sun finally came out for the last 10 minutes before we came back inside.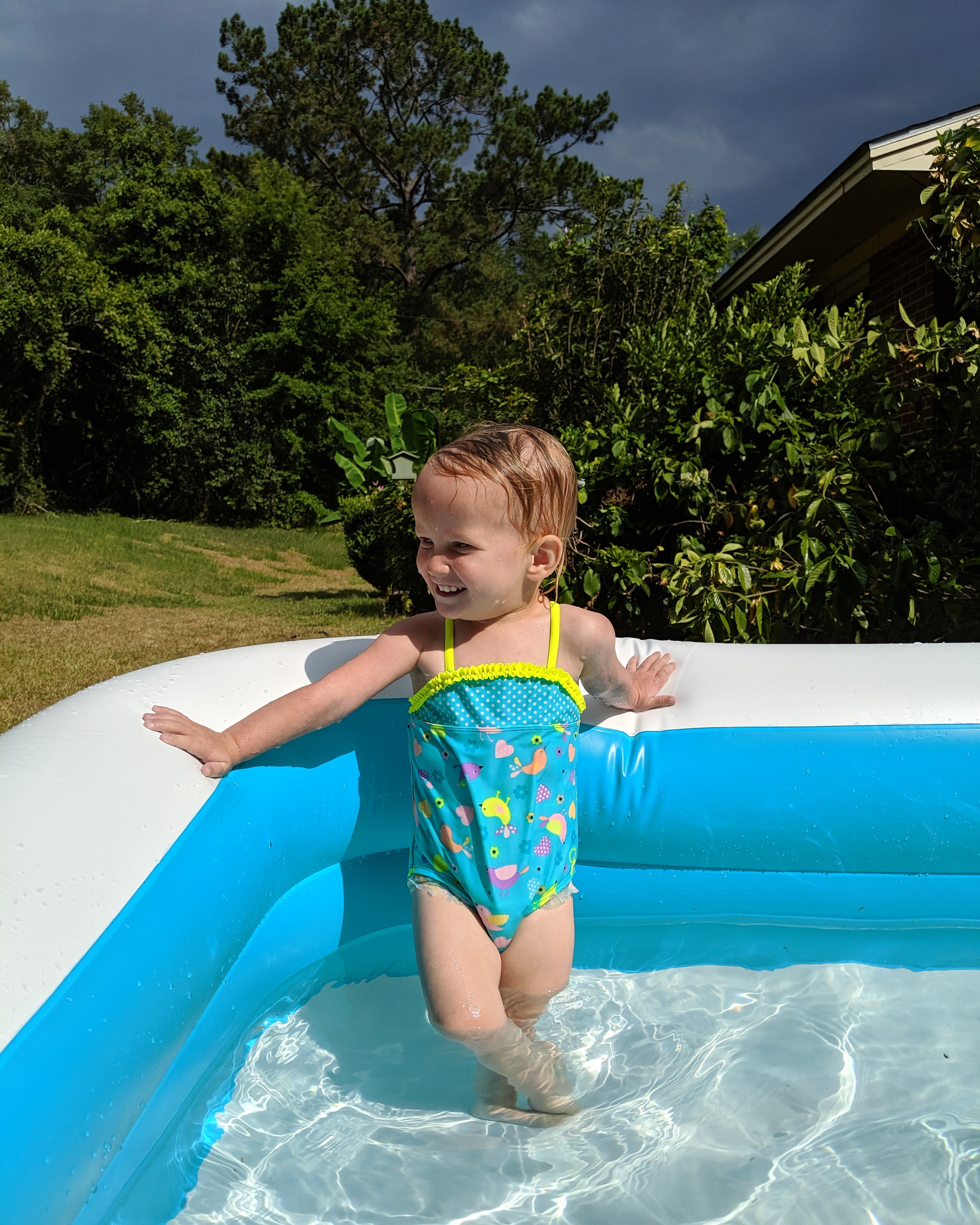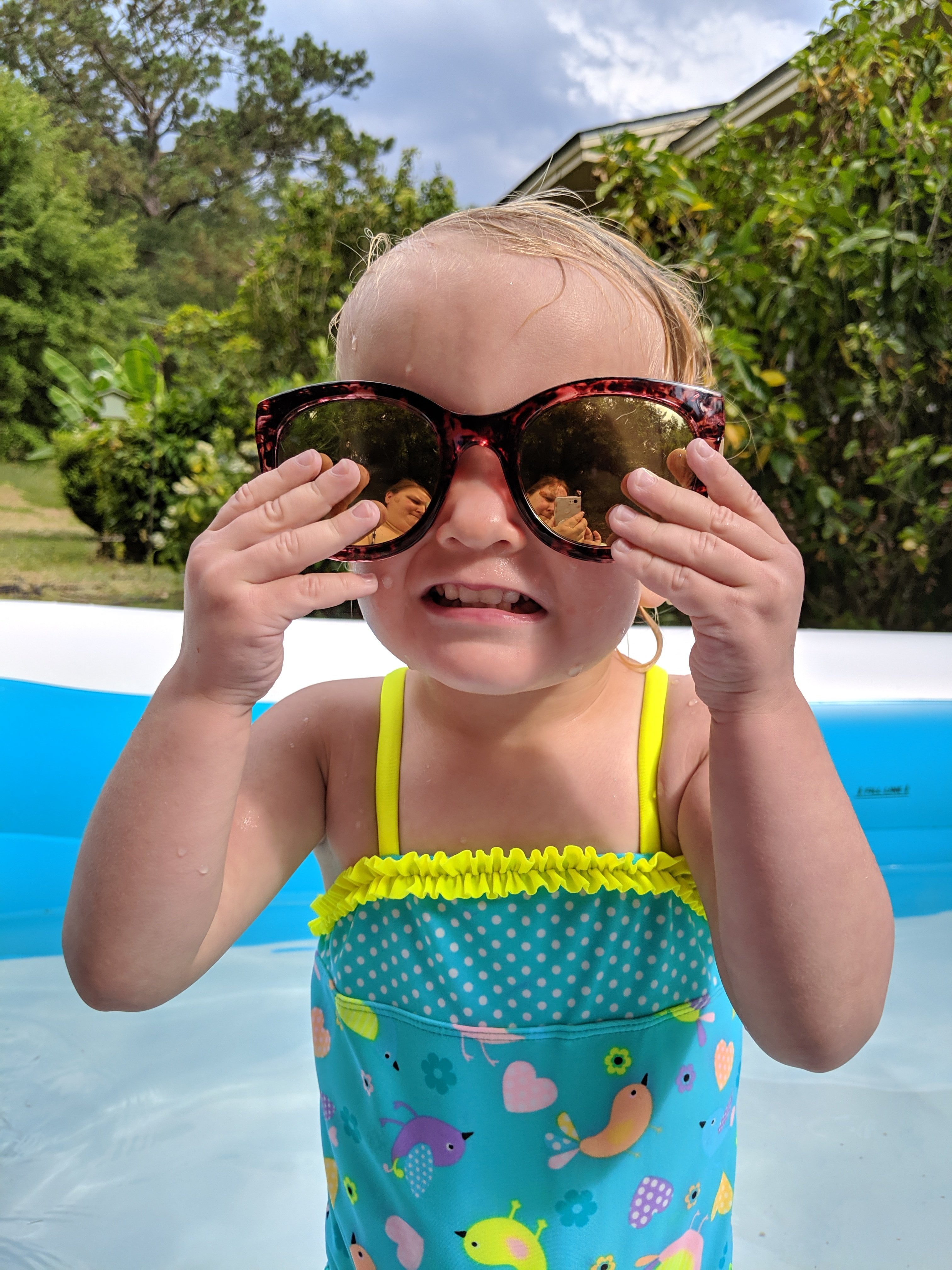 After getting dry, and putting on some fresh clothes, my little girl needed to warm up after being out in the water for so long. I put her in her little chair in the living room, and wrapped her up in my warm snuggly robe, and she was so cozy!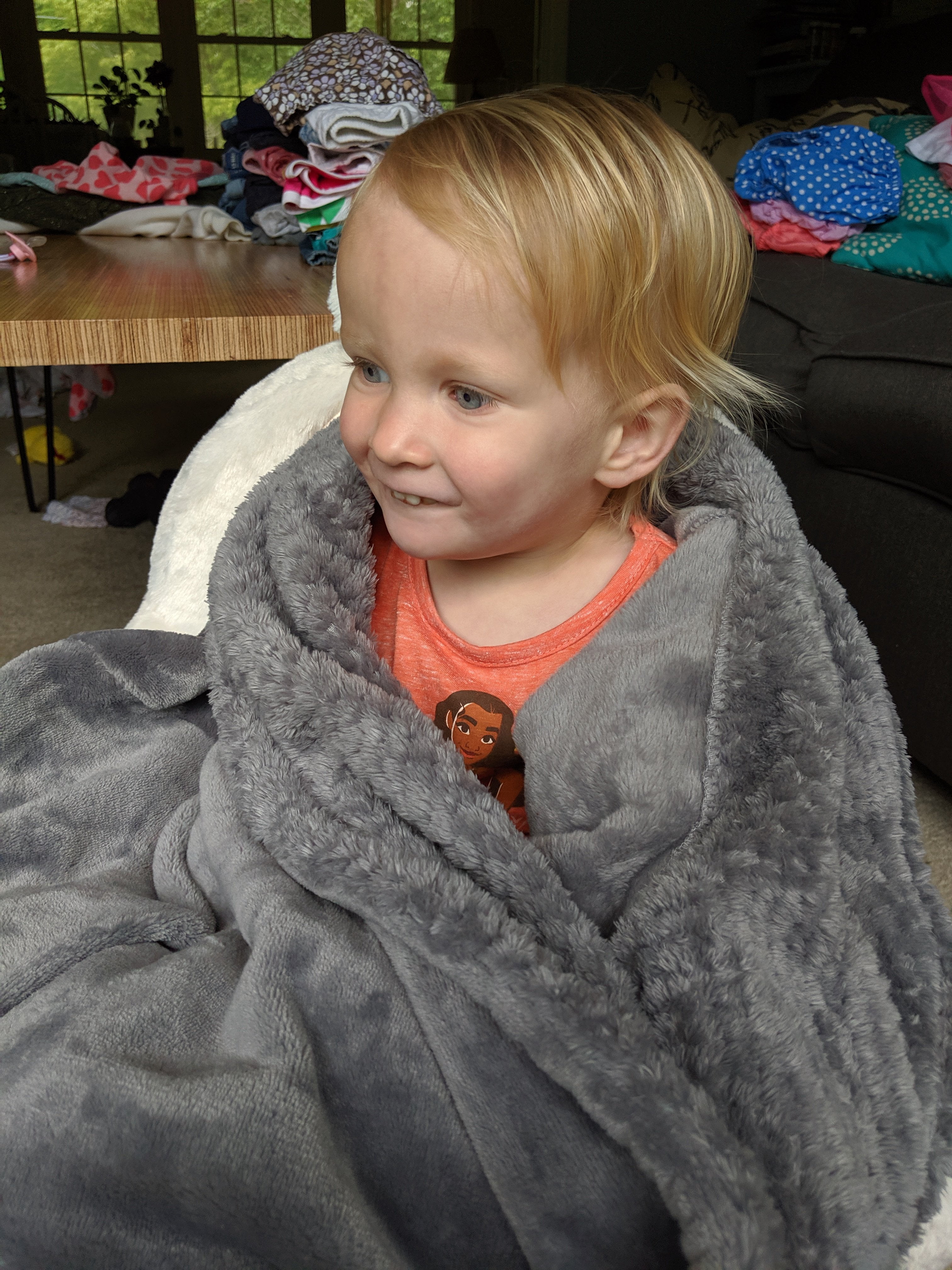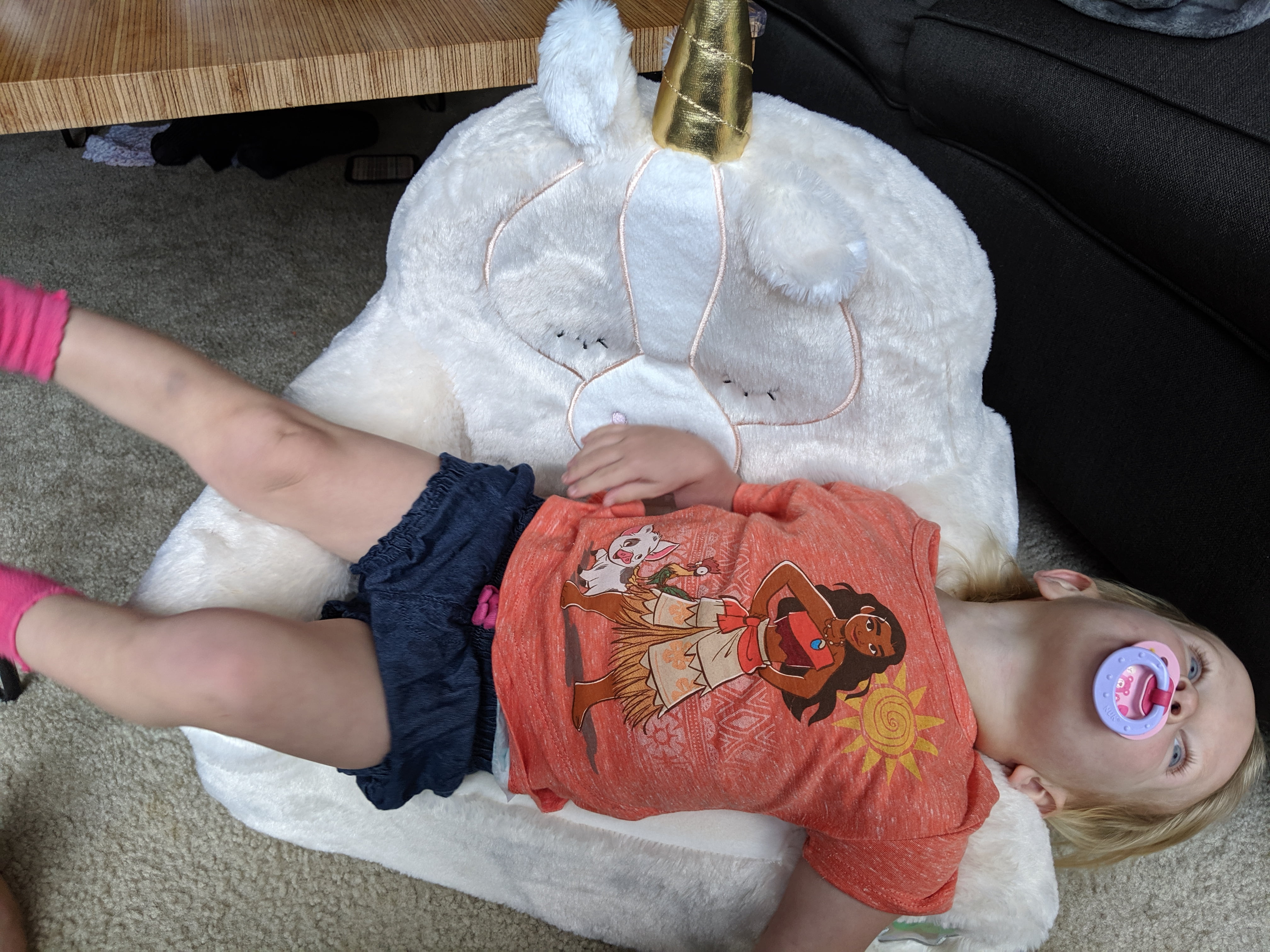 Jeff came home a few minutes after we were back inside, which was just in time for me to start cooking dinner. I made a new recipe Tonight, in honor of finishing my book from this past week, which was a memoir written by the wife of an Italian chef. So of course I was craving pasta. I had saved this recipe from Erin Napier's blog about a year ago, and finally decided to try it out tonight. And it was so delicious! I trade it out a sweet Vidalia onion instead of the green onions, plus added garlic and chicken. And I absolutely loved it!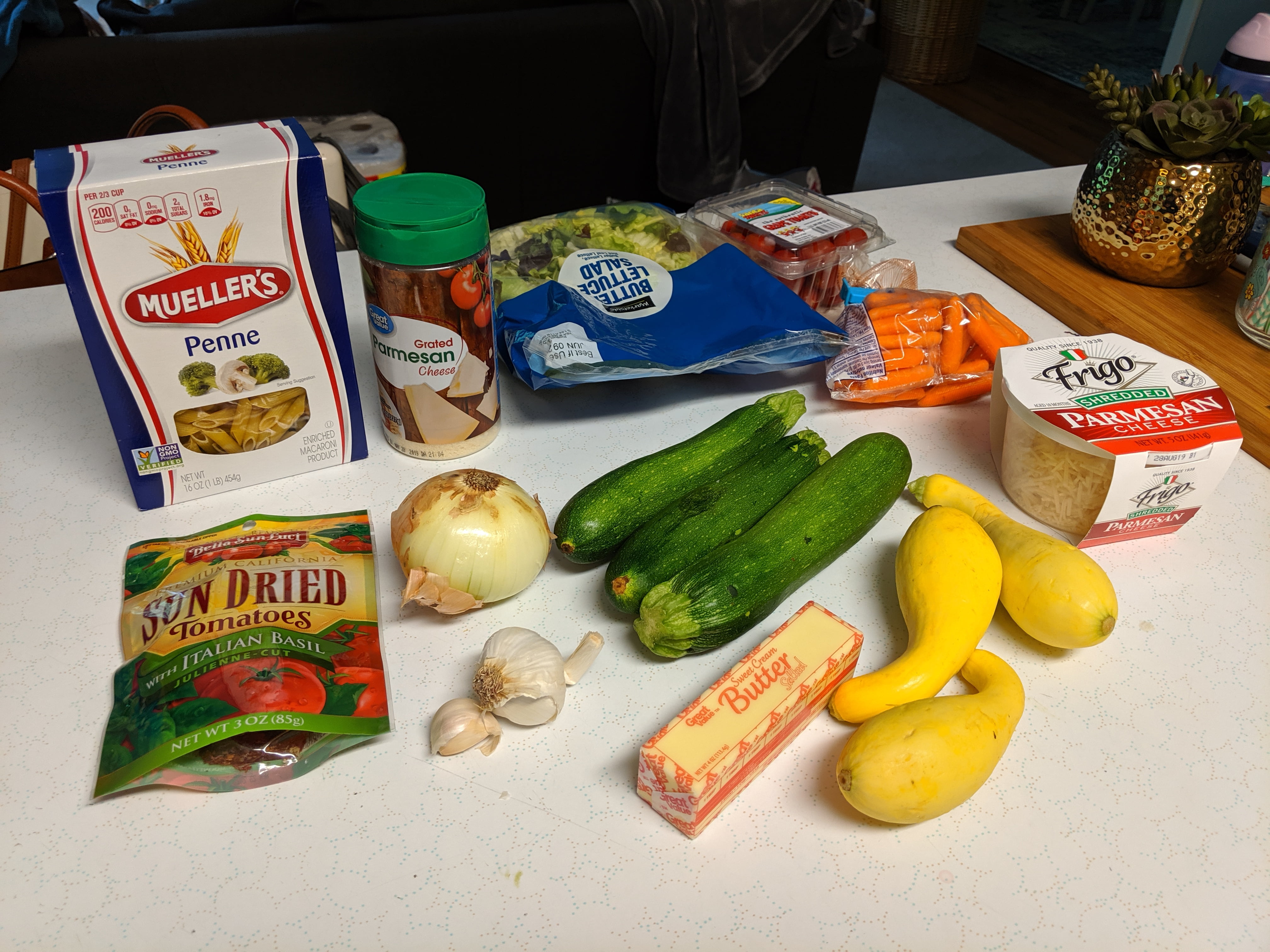 Emerson was also cooking with some of the squash and zucchini…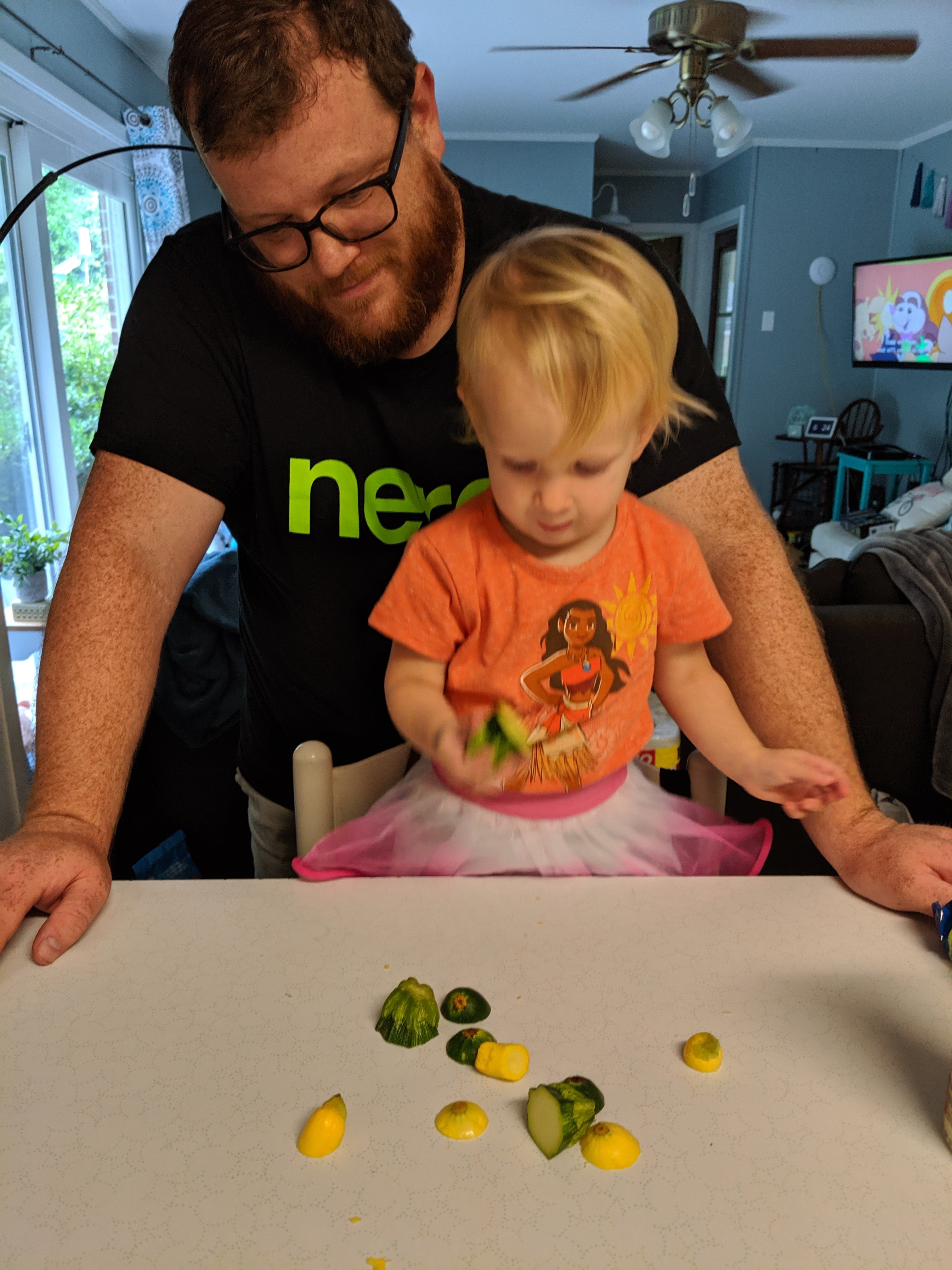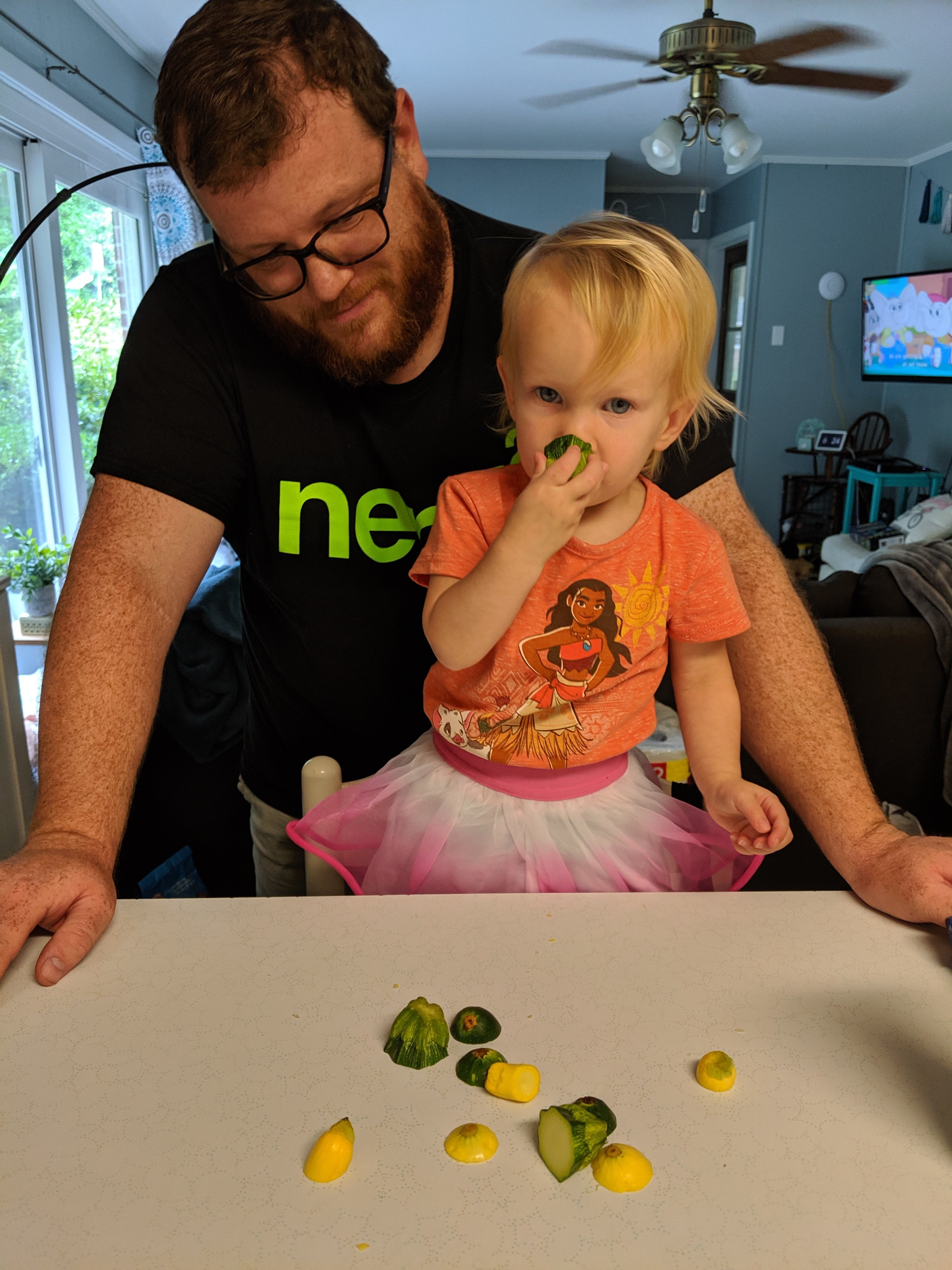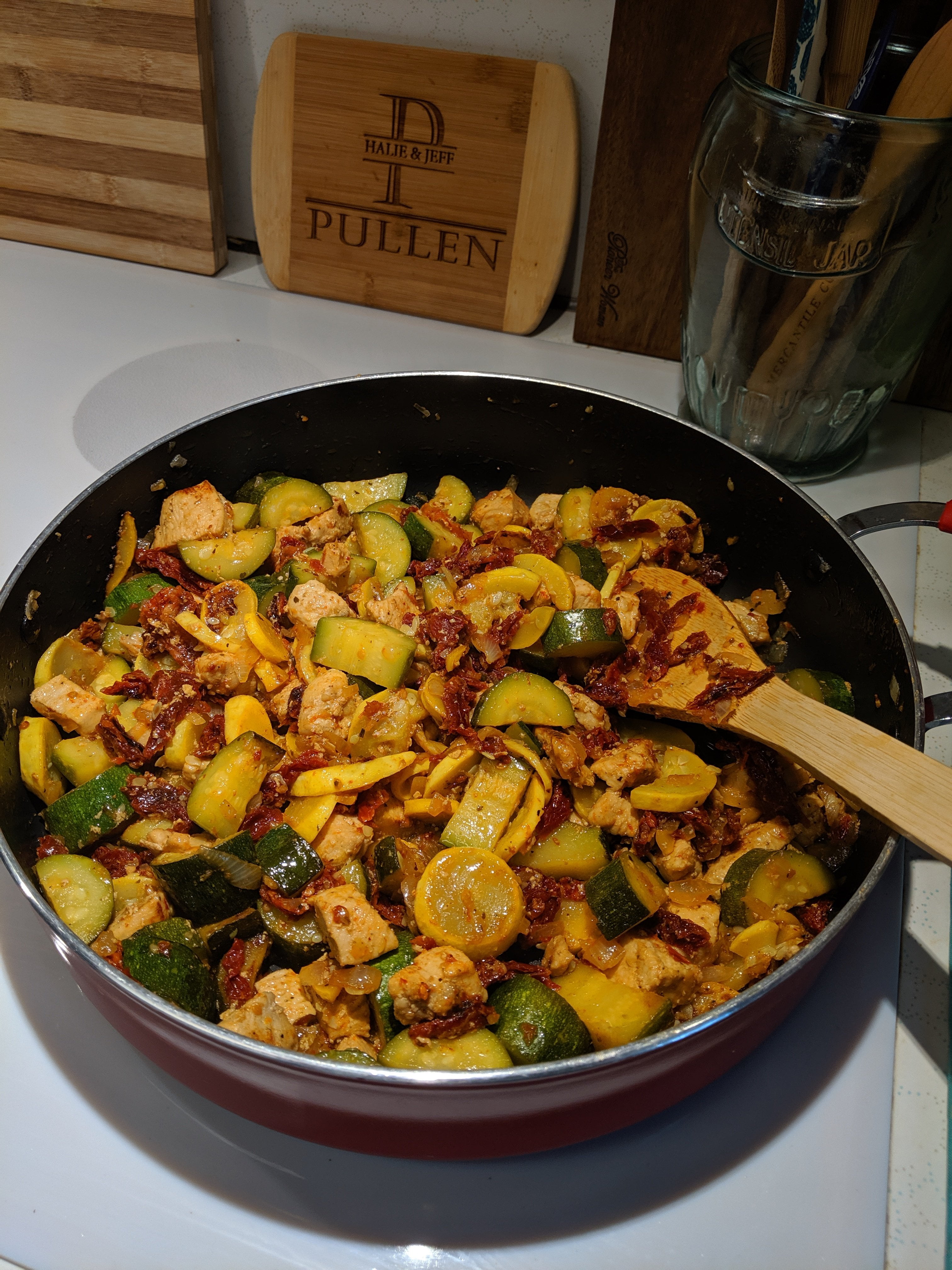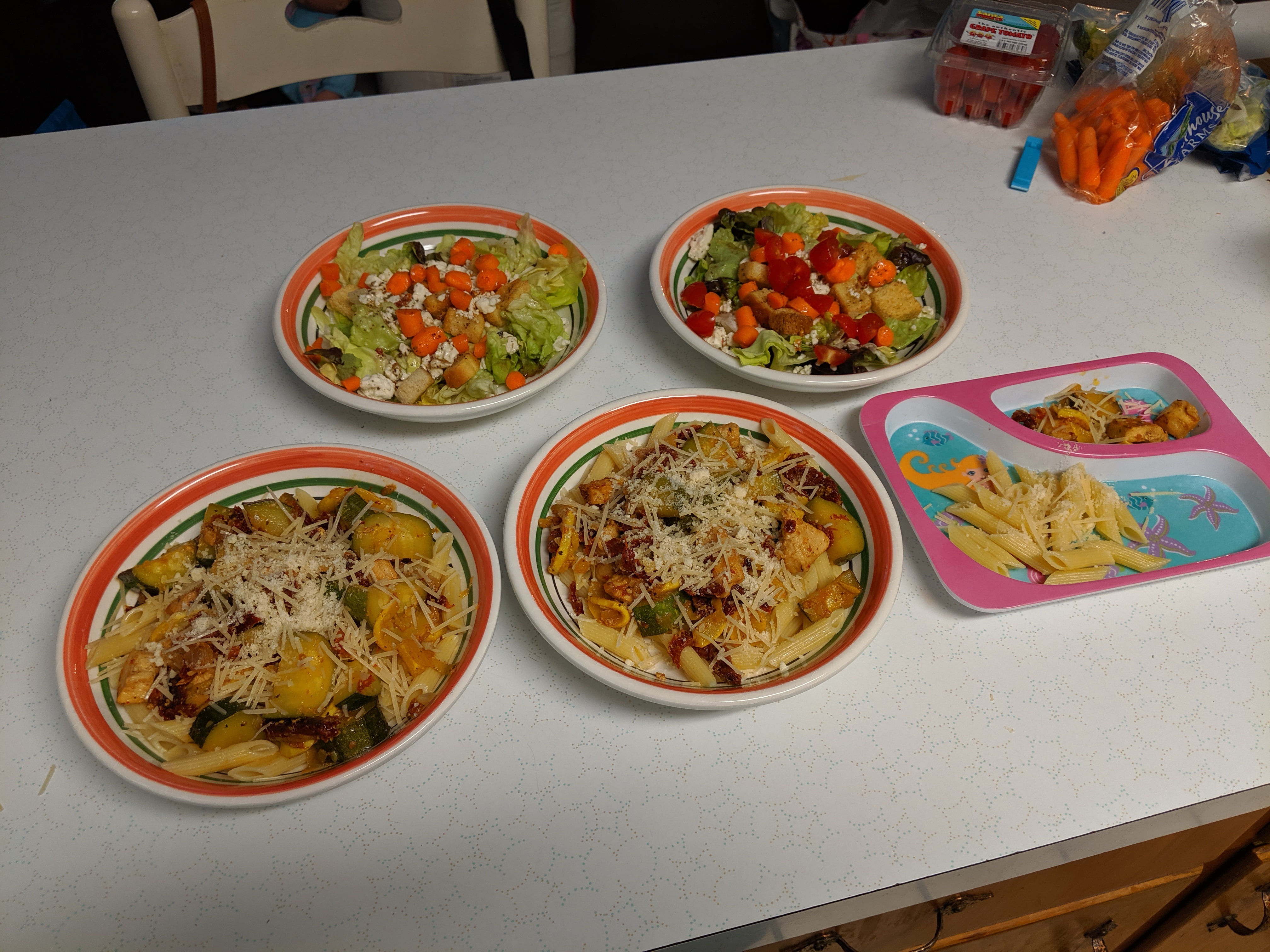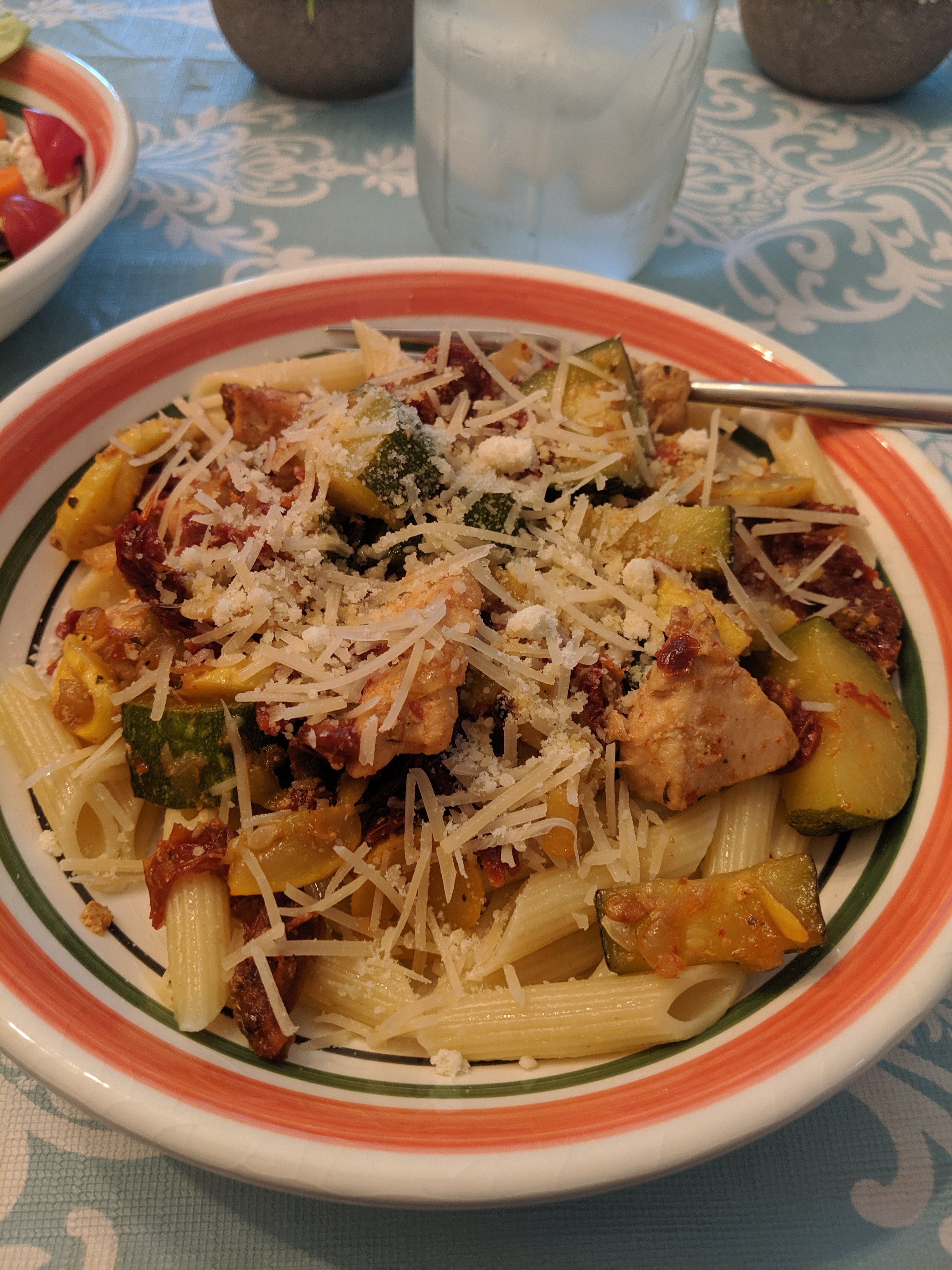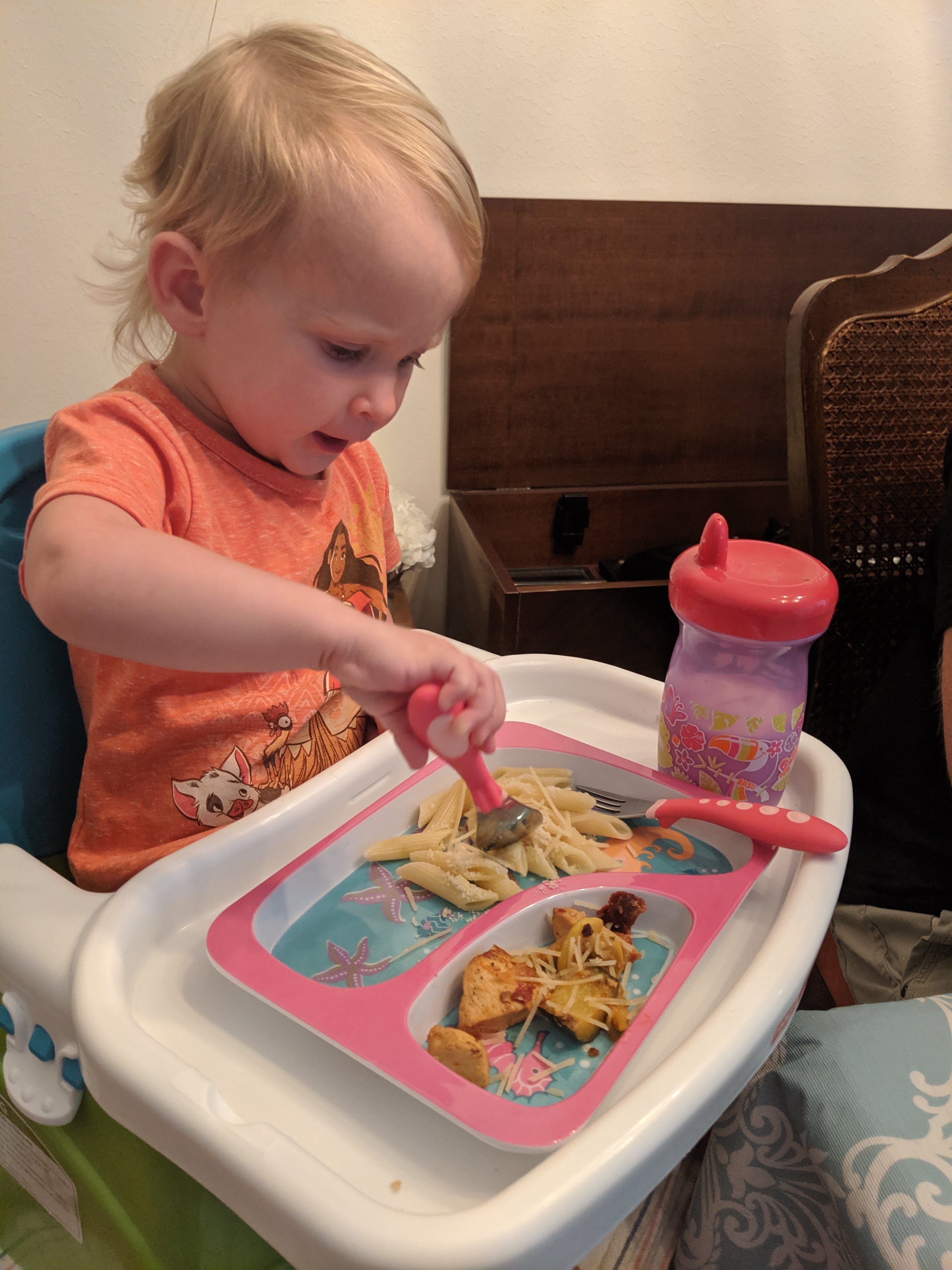 While I was putting the leftovers away after dinner, I showed Emerson the little bowl of plain noodles I put away for her, but she decided she wanted some more of them right now, and that she wanted to eat them on the couch. This girl is such a mess.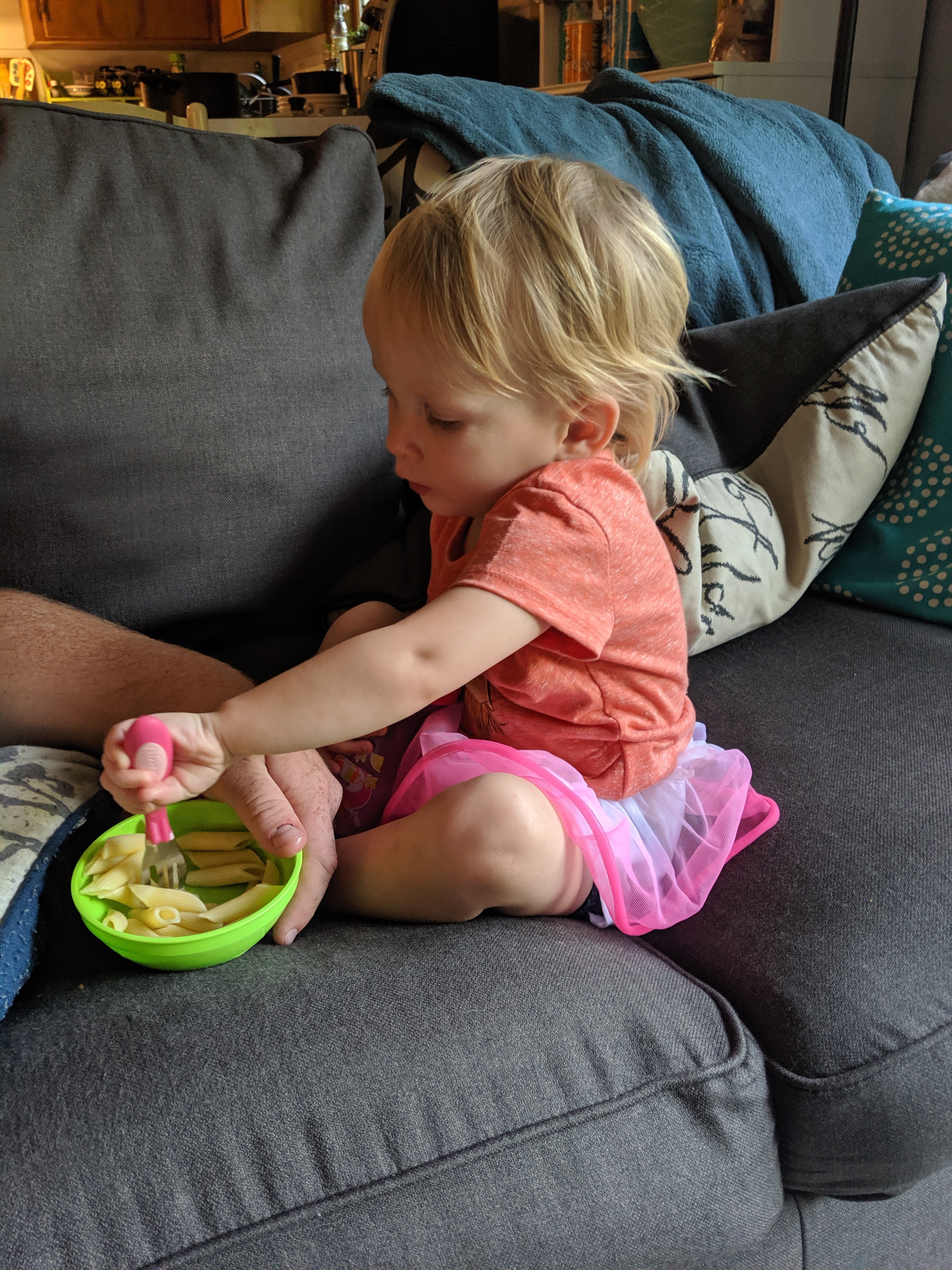 And we still have so much leftovers! The two glass containers on the left, are normal to large size portions, and then the little one in the middle is a smaller portion. So Jeff and I will both get to have pasta for lunch one day next week at work, and of course I'm already looking forward to it.
Emerson napped for only a little over an hour today, so by the time dinner rolled around, she was extremely tired and a little emotional about pretty much everything. So we made sure to get her in bed on time. We did books and reading, and she had some gummies for her bedtime snack. Then she wanted Daddy to put her to sleep.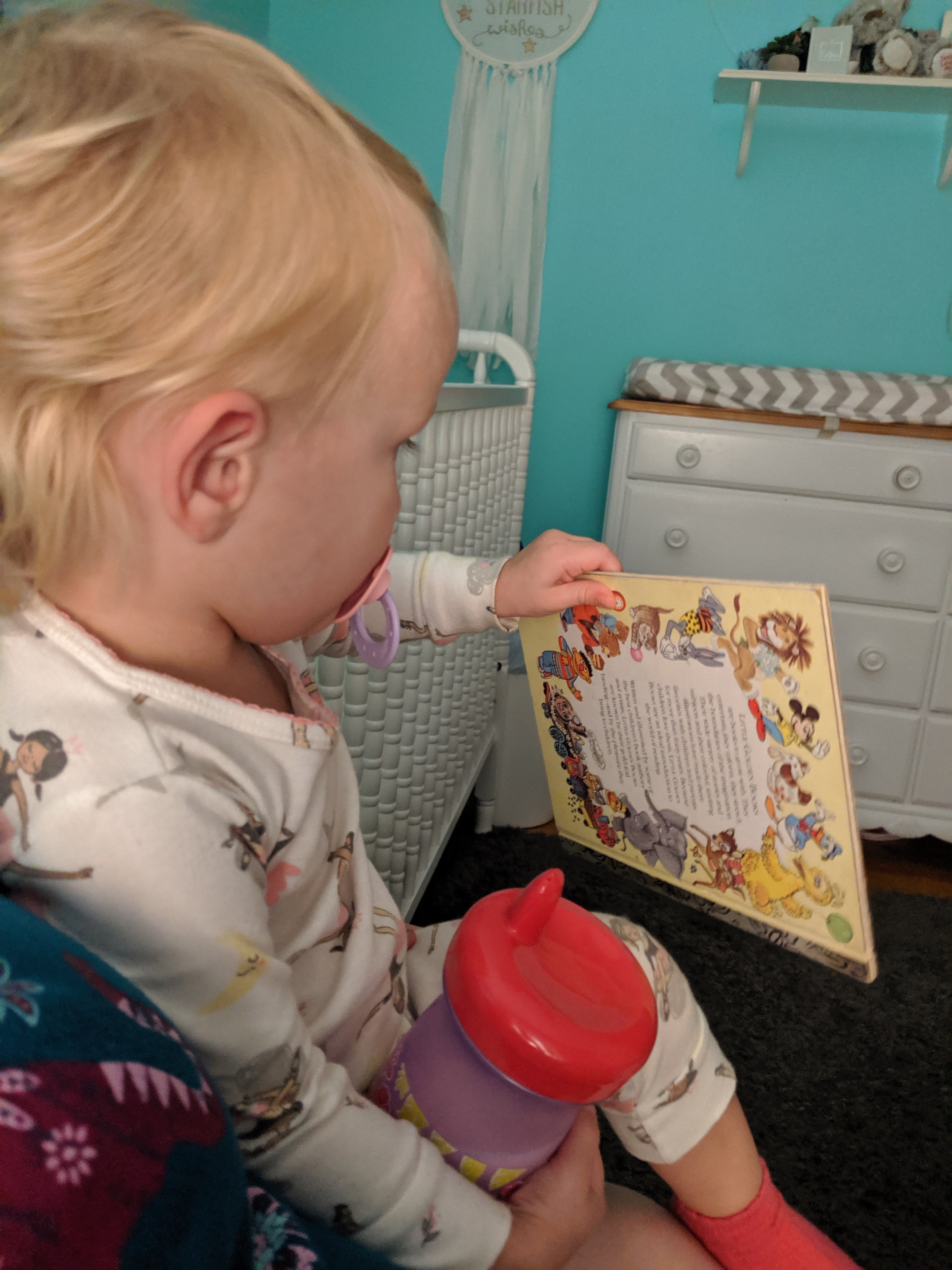 While Jeff loved her and rocked her to sleep a little bit, I washed the dishes and cleaned the kitchen.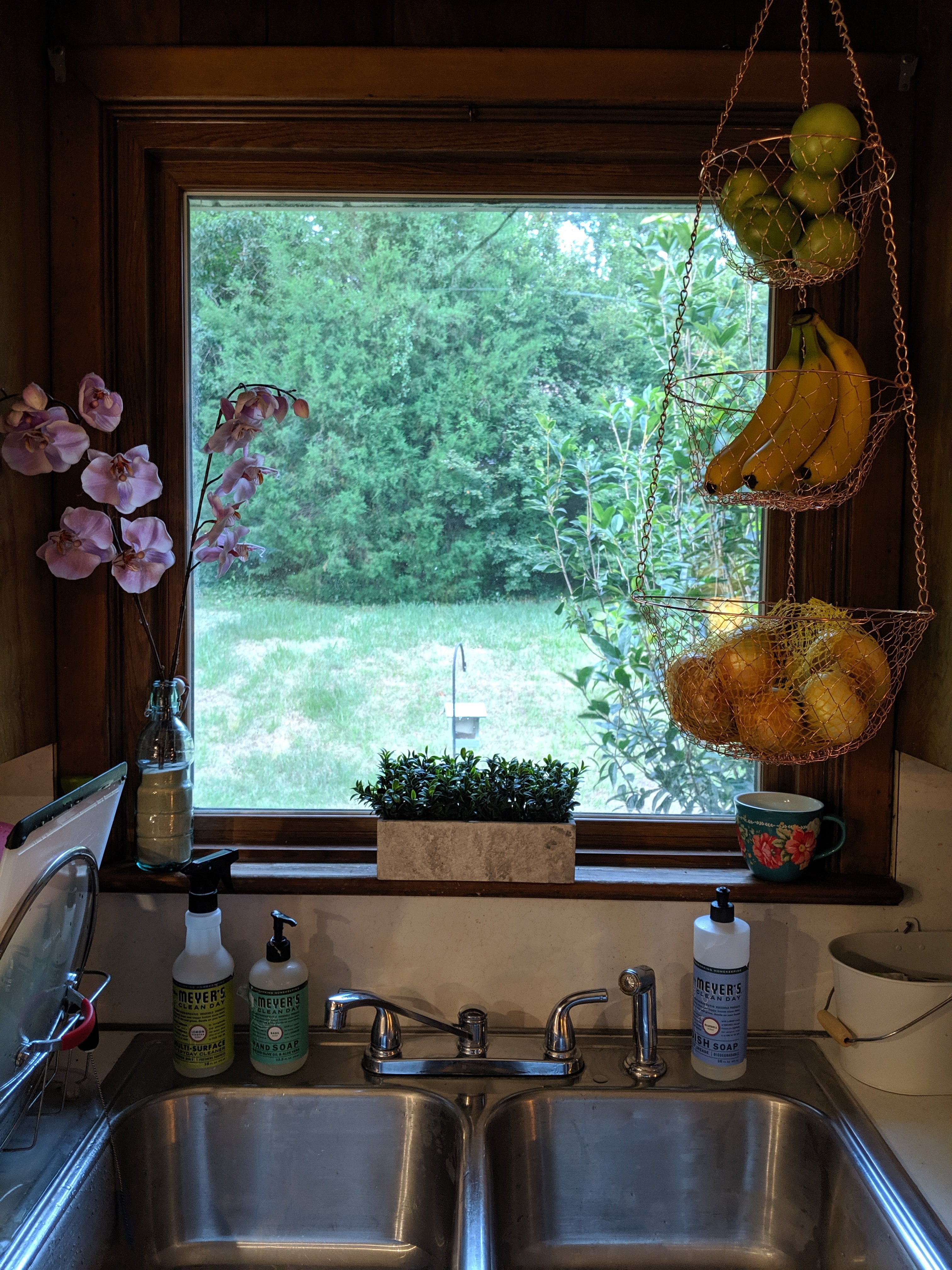 We took care of a few more things around the house, and now we're both settled in to relax a little bit before bedtime. Going to paint my nails while we watch an episode of "Fringe." It was a great Saturday, and I'm looking forward to a great Sunday tomorrow!