Emerson did not have such a great night sleeping last night. She went down at her normal time around 7:30/8:00 p.m., but woke up whining and crying at 12:45 a.m. Jeff went into check on her and he picked her up to hold her and rock her, but then she didn't want to be laid back down. Long story short, he ended up sitting / sleeping with her in the living room recliner from about 1:00 a.m. to 5:30 a.m., When she woke up early. Then he came to bed, and I got up with her at 5:45. We snuggled on the couch for a while and watched Moana quietly, but by 6:30 or so, she was wide awake and rairing to go for the day. So we went ahead and decided to cook some breakfast before church.
And this sweet baby girl has been loving to "help" in the kitchen a lot these days. So cute! I made a quick breakfast of scrambled eggs and sausage patties, with some more leftover naan. (Apparently we'll be eating that from now until kingdom come.)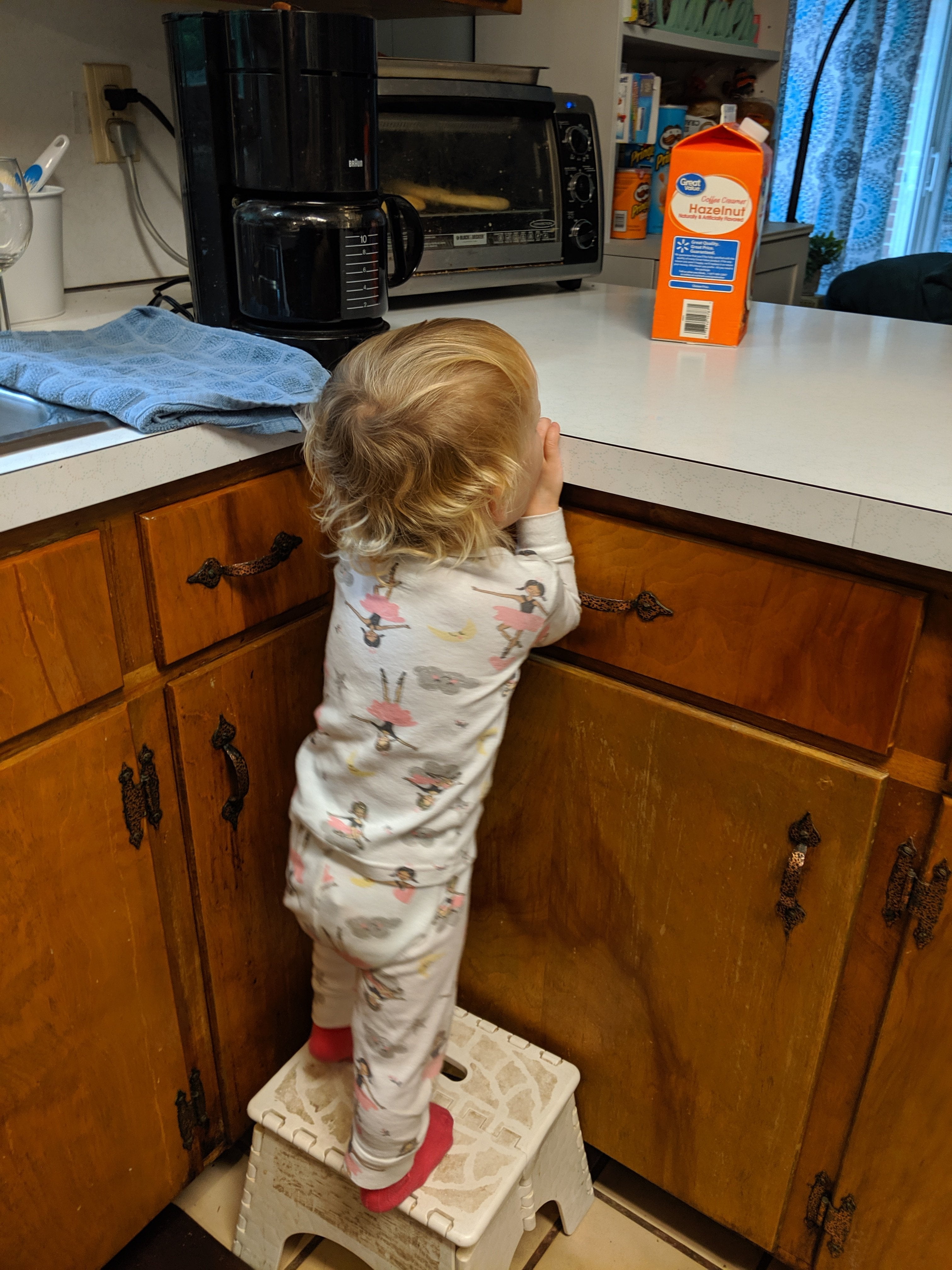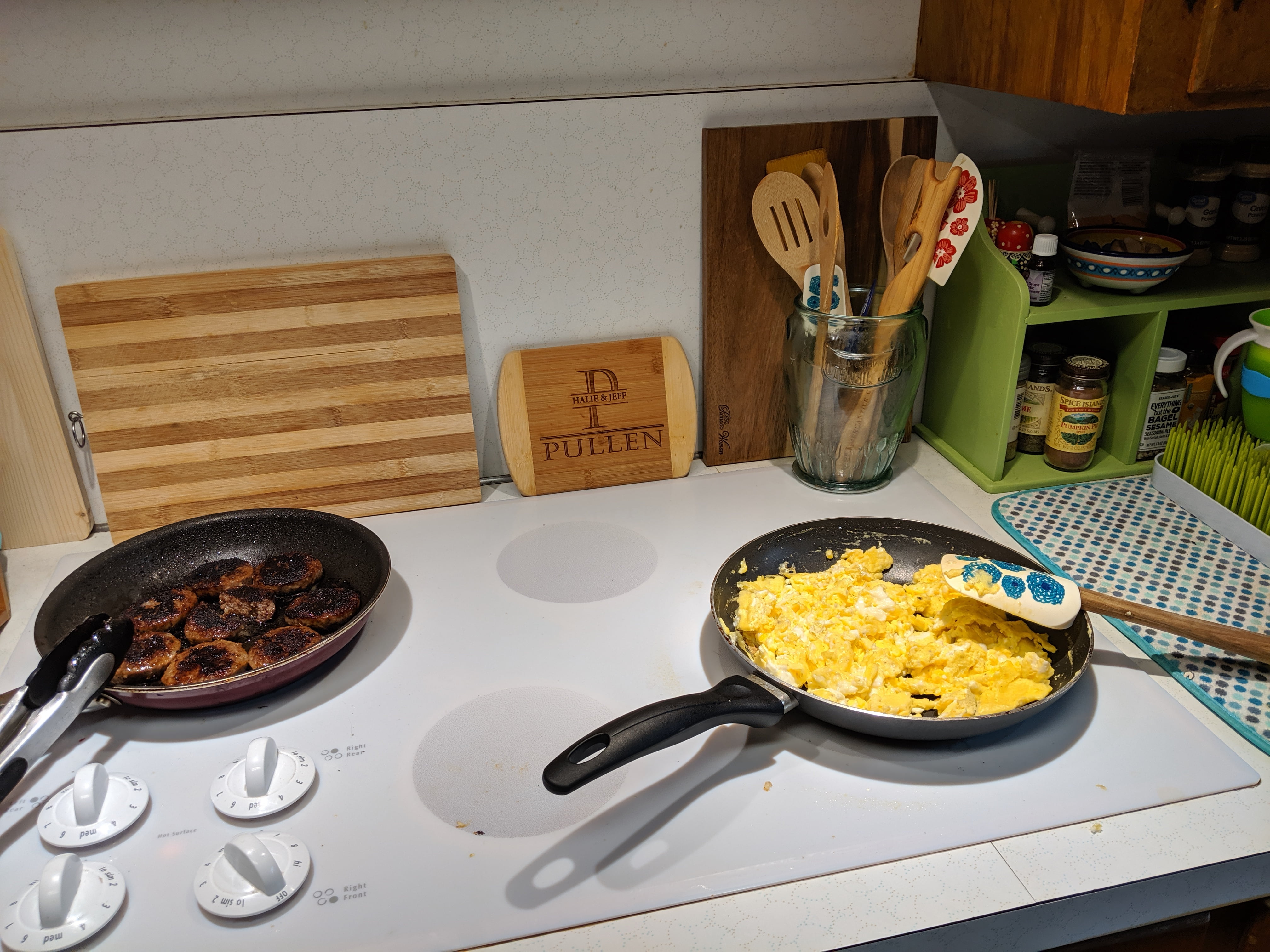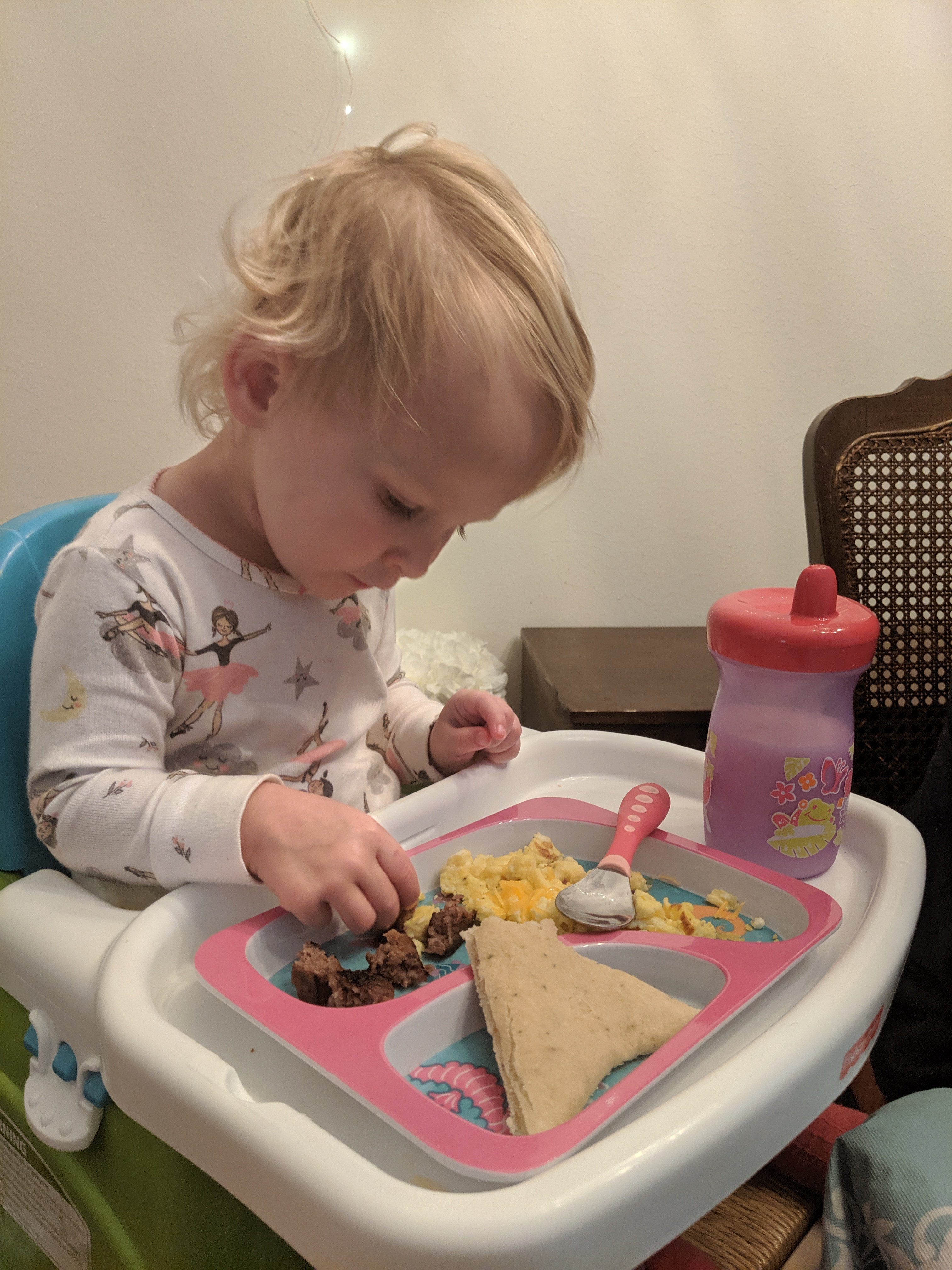 She was being silly, and wouldn't hold her own cup, but was making daddy hold it for her just to drink her pink milk!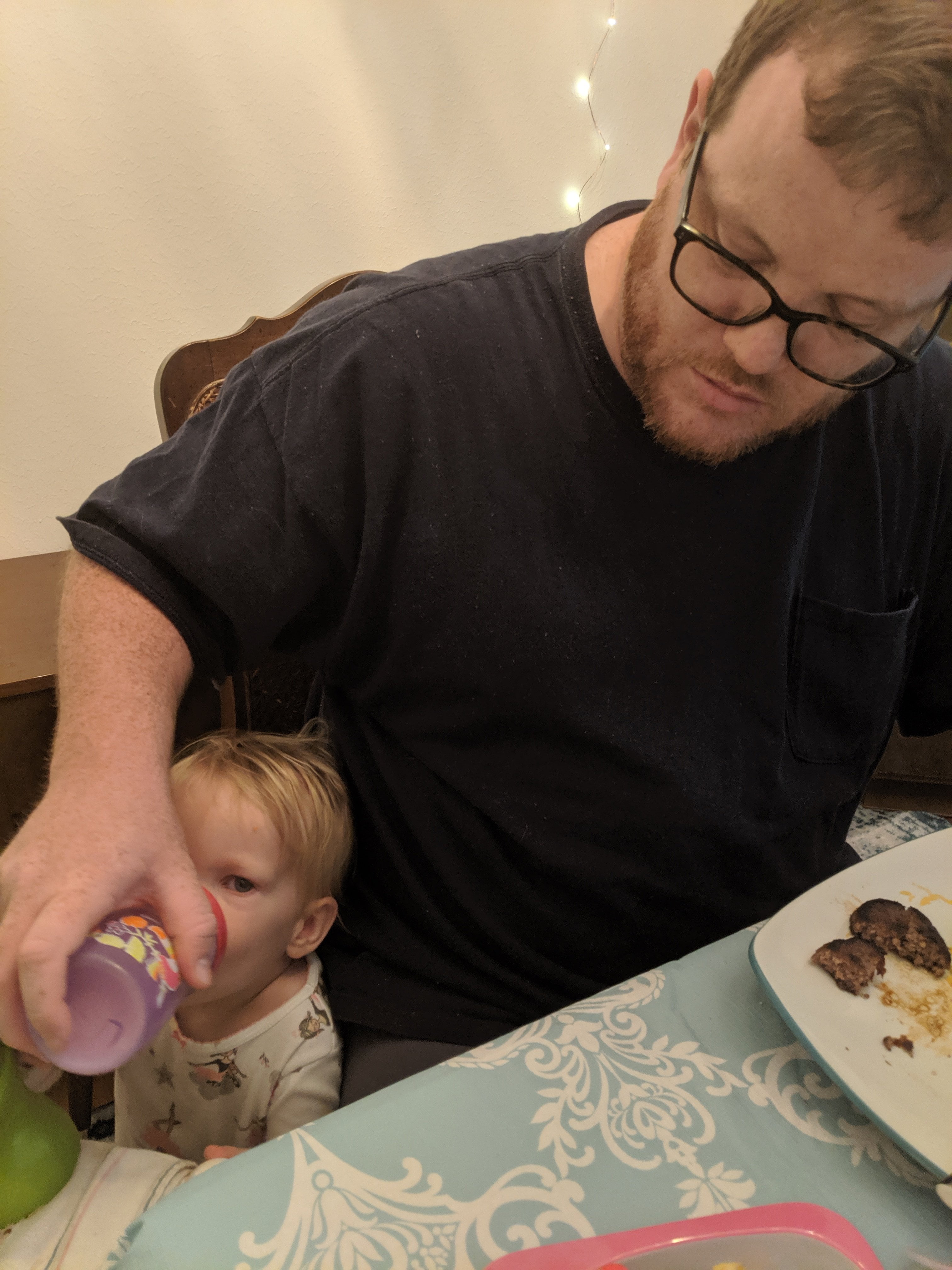 All dressed up and ready for church!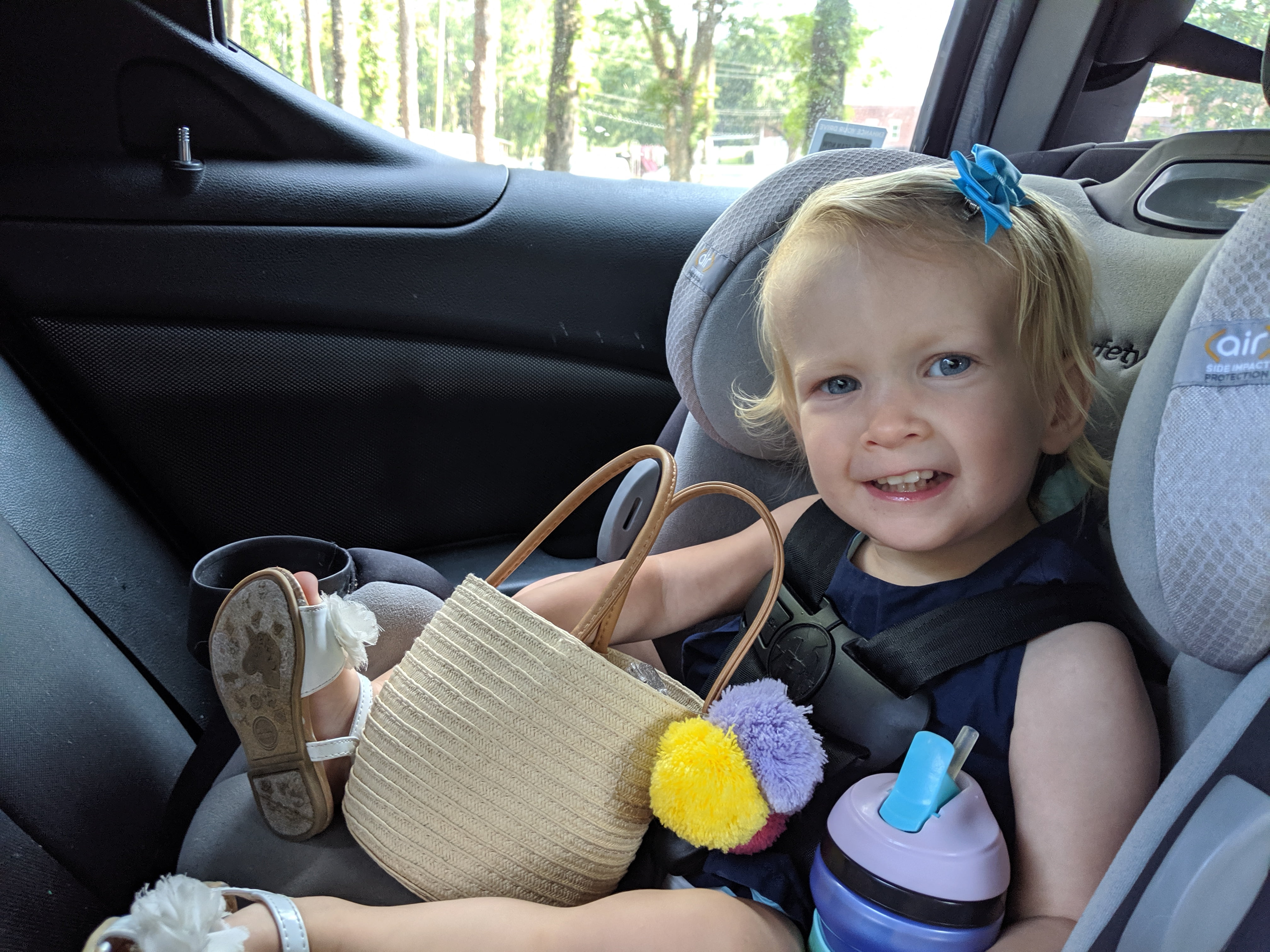 Fashionista with her purse & sunglasses.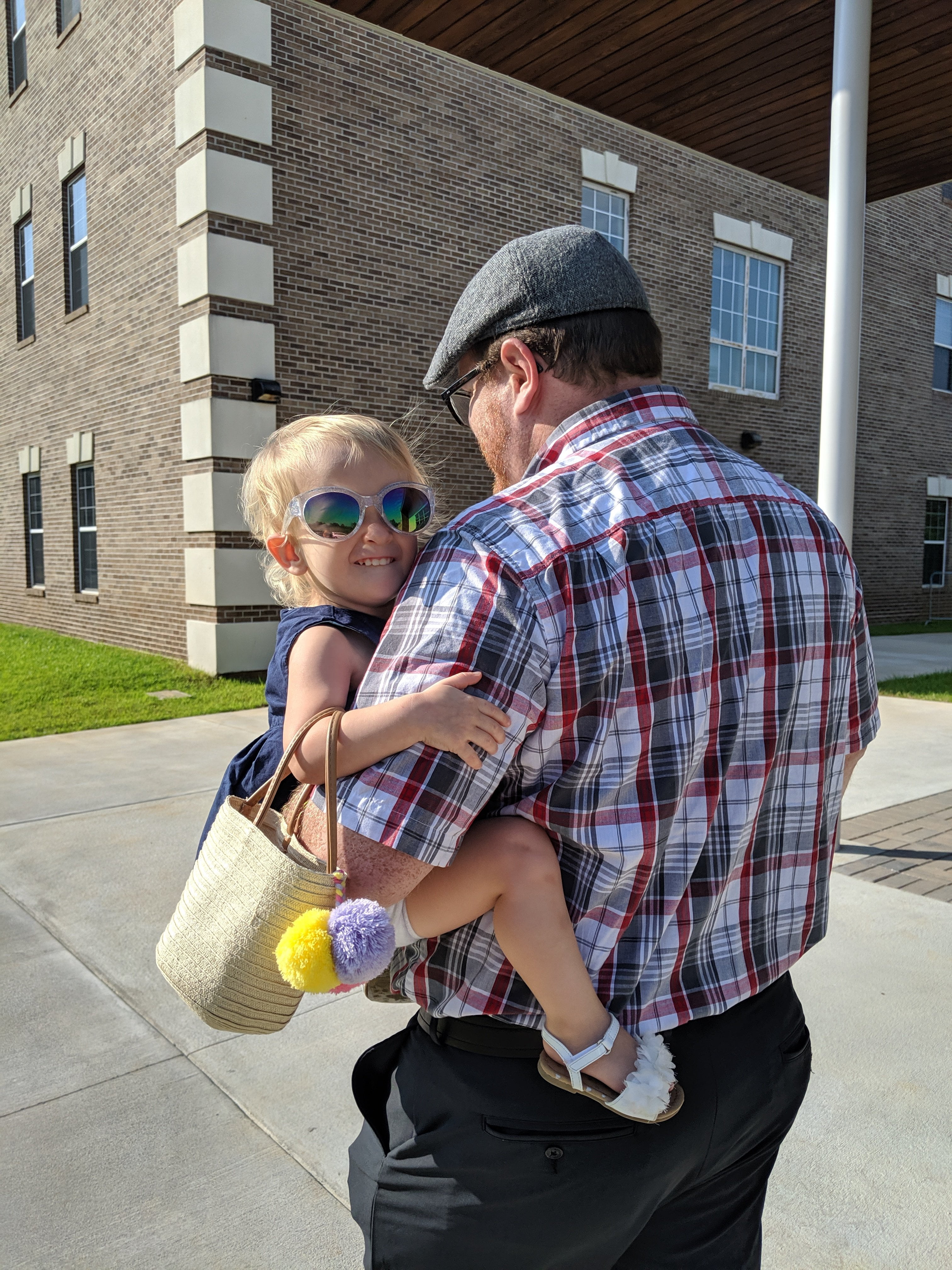 Our friends Sara and Levon were part of the founding members of our Sunday school class with us back in 2015. Then they moved to Brooklyn in the beginning of 2017, had a baby in November of 2018, and finally moved back to Florida last weekend! They were back at church this morning, and I actually got to keep their daughter Hazel in the nursery this morning! She's such a content, happy little squish, and I loved getting to hold her while she napped! So glad to have our friends back in town again too!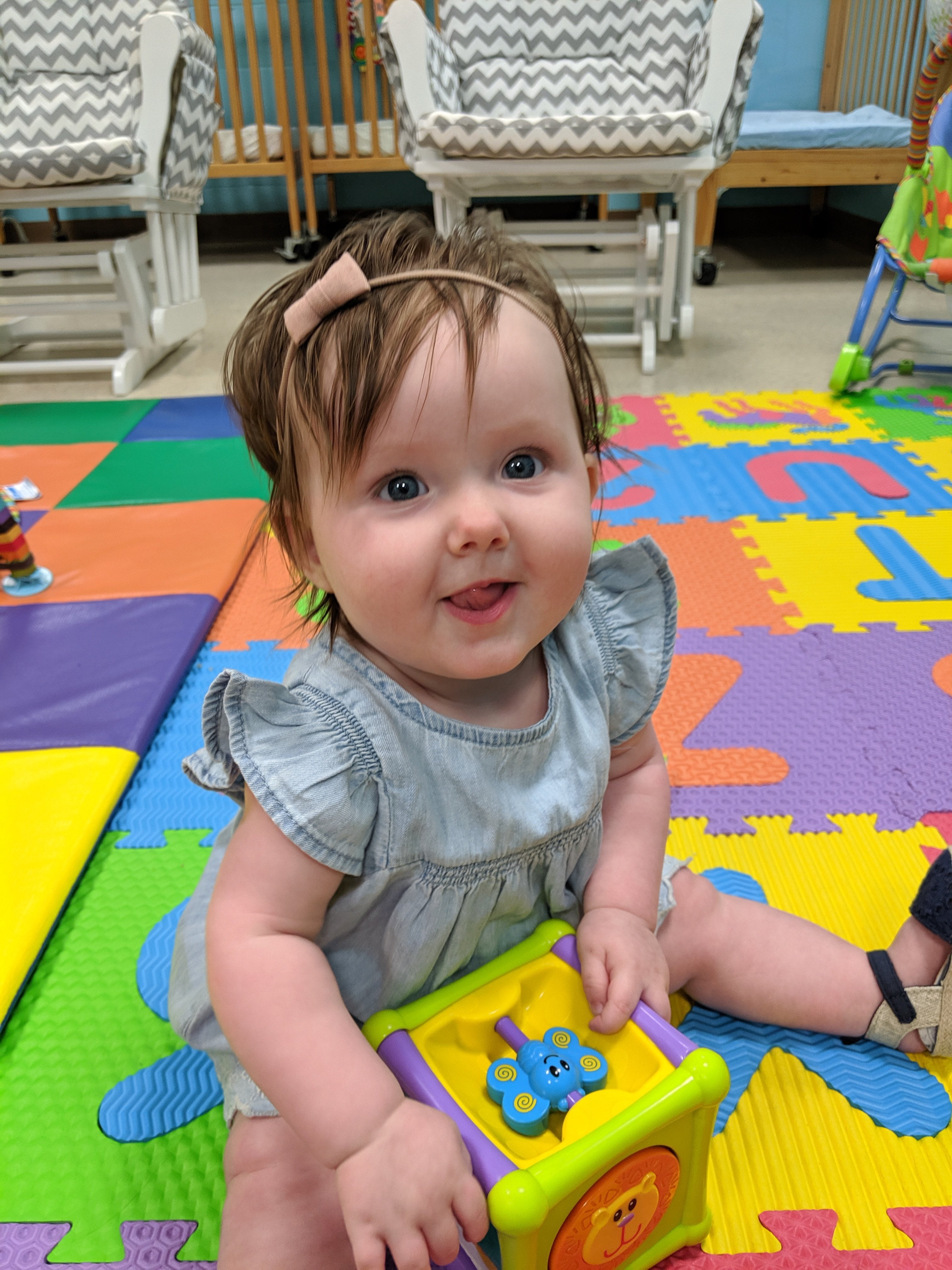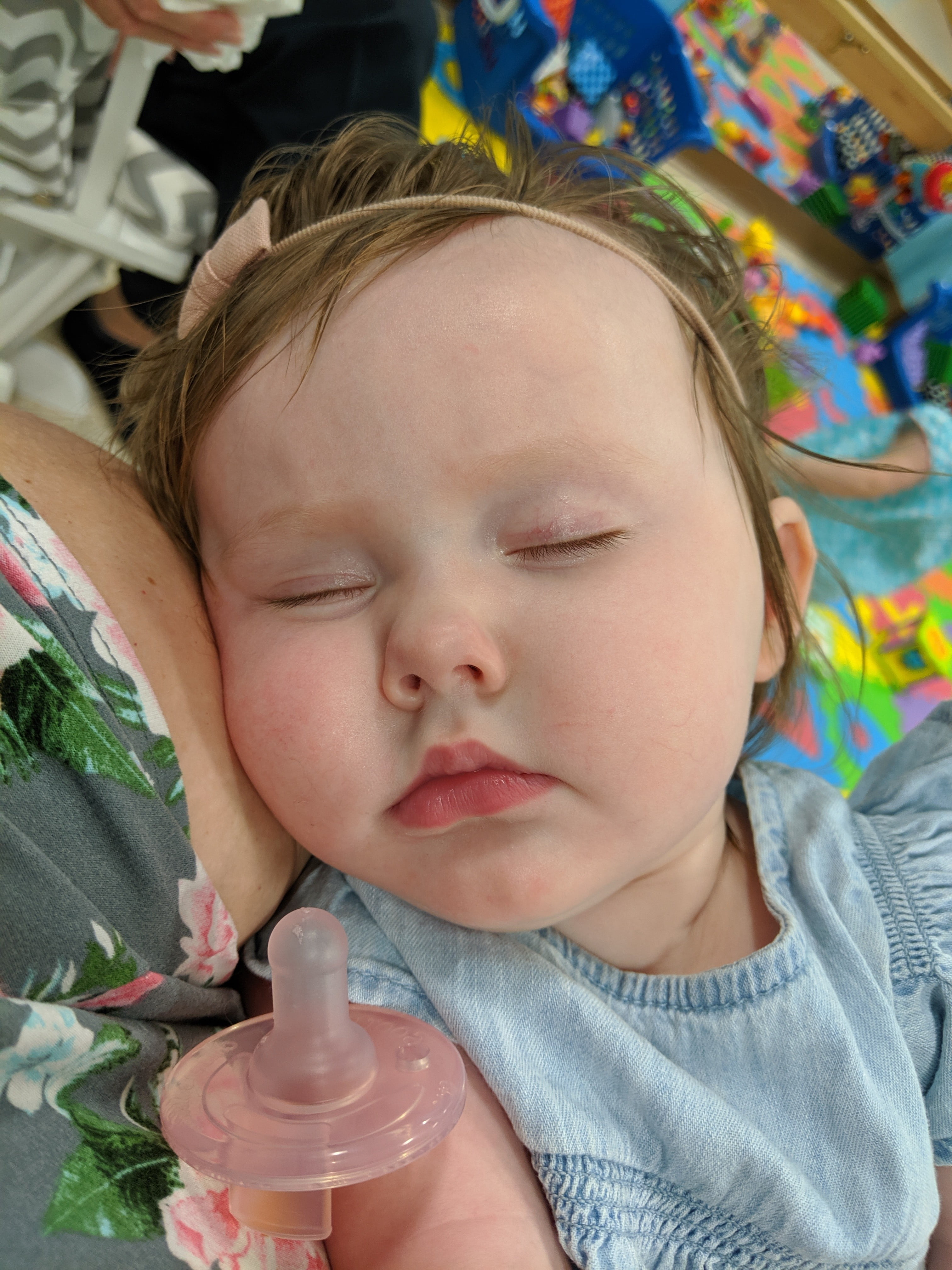 We had a couple of pretty neat things in our church service this morning. The first was the commissioning for our VBS this coming week, and a mission trip to Altha, Florida next weekend, which is a tiny town that was devastated by hurricane Michael last fall that we've been partnering with. We also had a special time of prayer together as a congregation. And then the third and final thing was an interview and commissioning of a young couple that are leaving to be full-time missionaries in Asia. It was just a neat service!
And can we even handle all the sass with this almost 2-year-old?!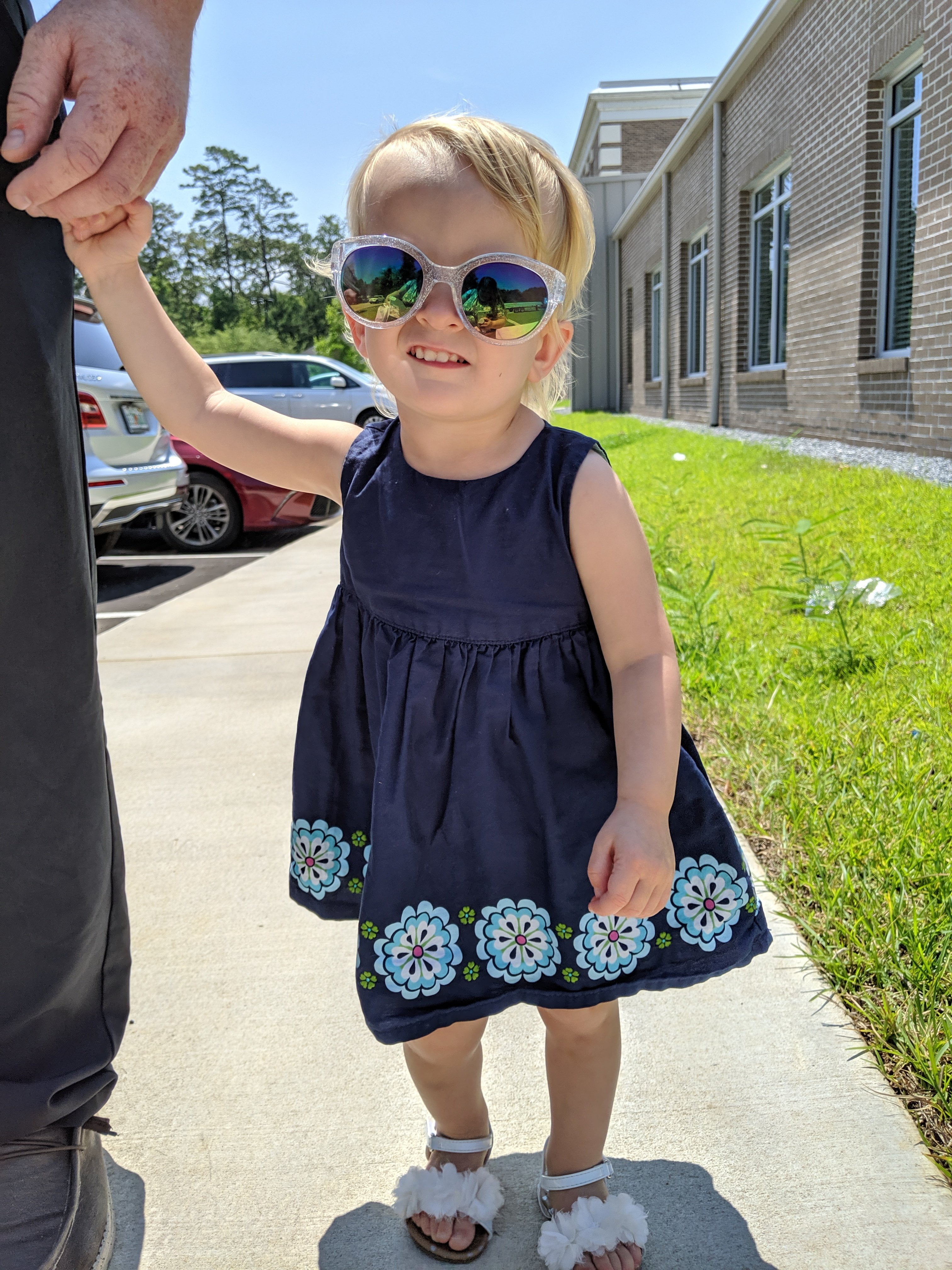 Since Emerson didn't sleep all last night, and woke up super early this morning, we Got her to eat lunch as fast as possible after church, and then got her down for her nap around 12:45. And then I got our dinner thrown into the crock pot.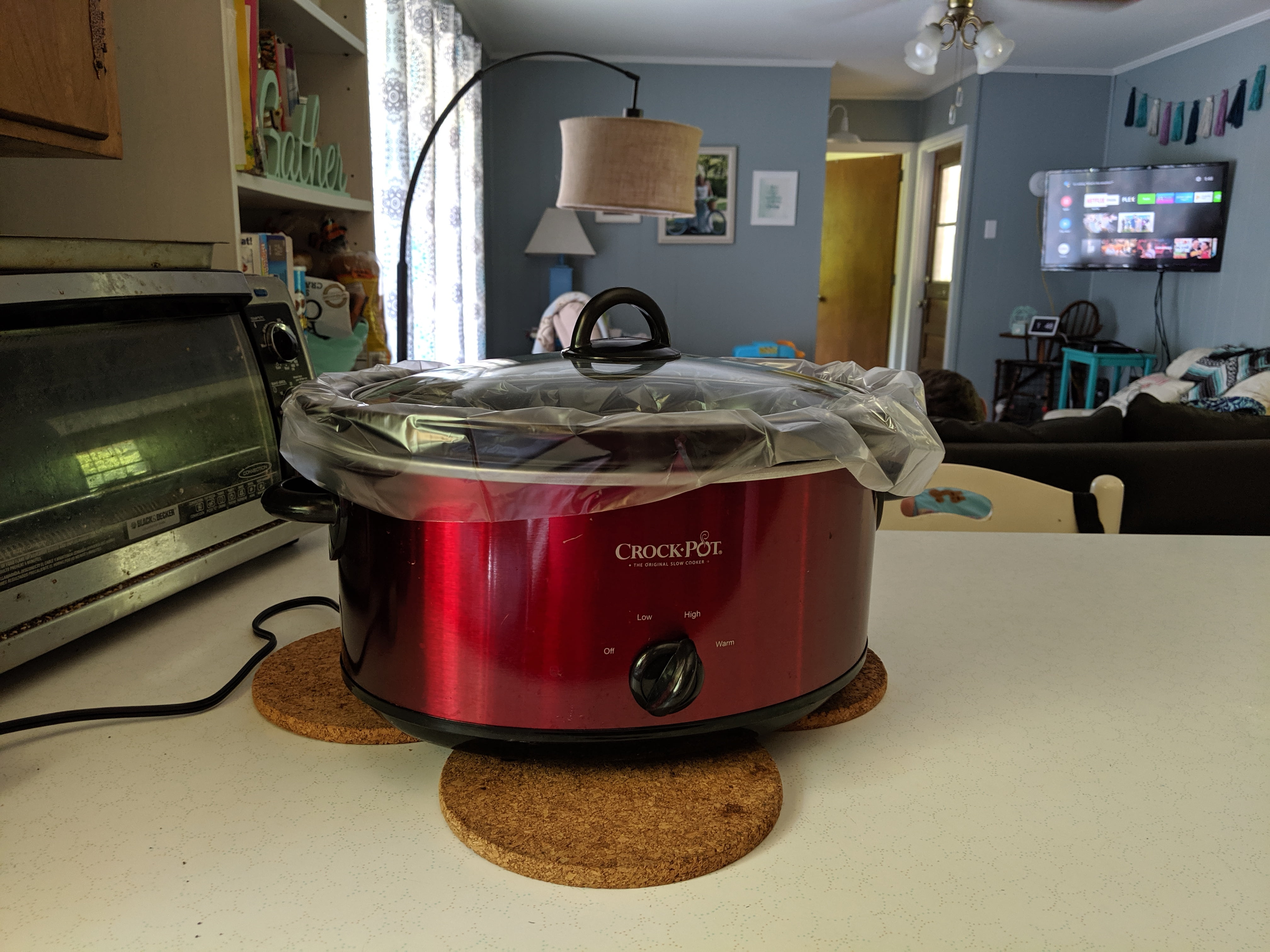 We watched an episode of "Fringe" while little one napped, and then she woke up happy as a clam! She wanted a snack, so I was going to get her to try a kiwi for the first time, but she wouldn't even take a bite! (Also, she was super excited to re-wear this Moana t-shirt again this afternoon!)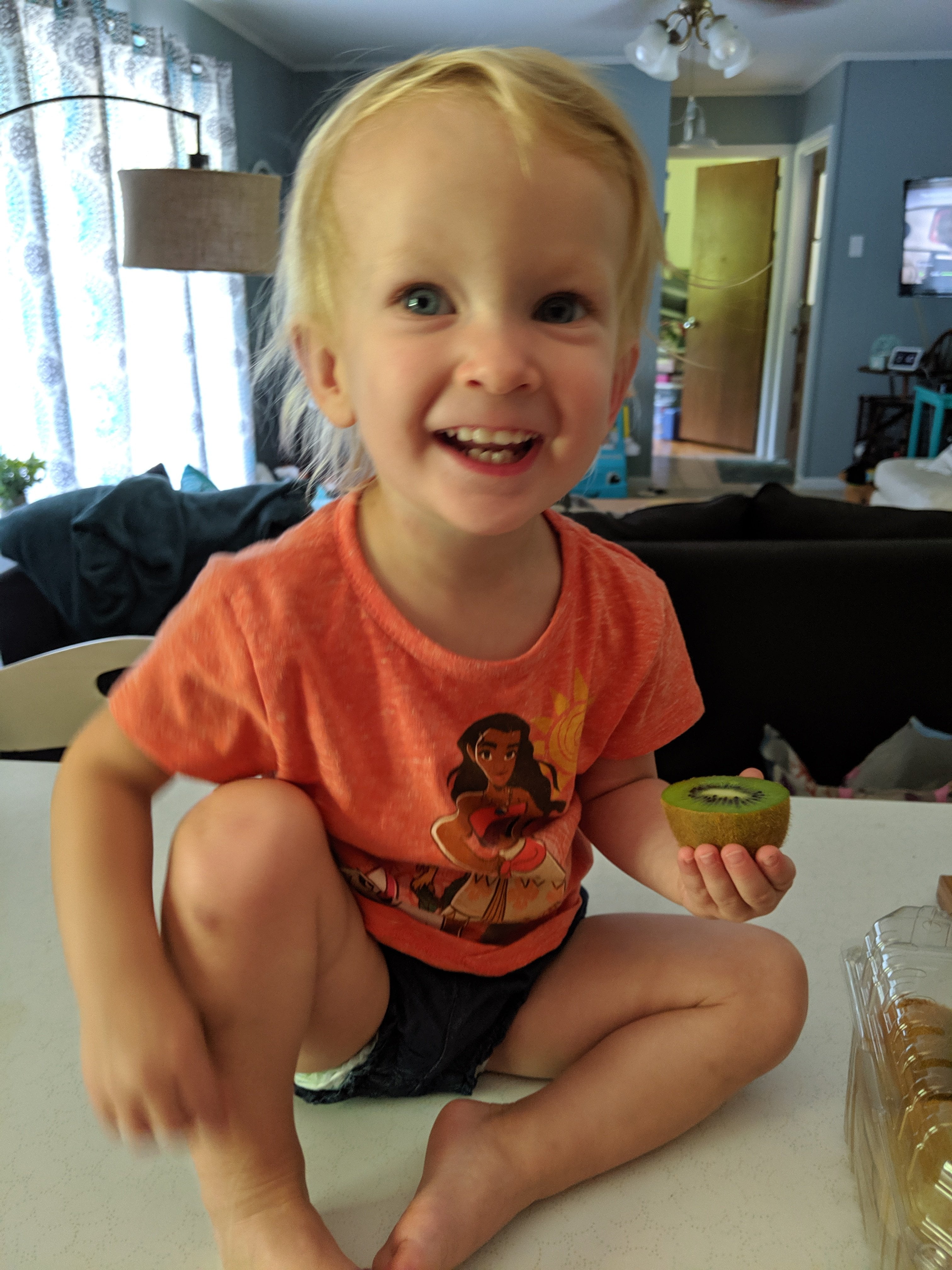 Jeff had to go and do some more computer work this afternoon for a guy he knows, so Emerson and Mommy had another afternoon pool date.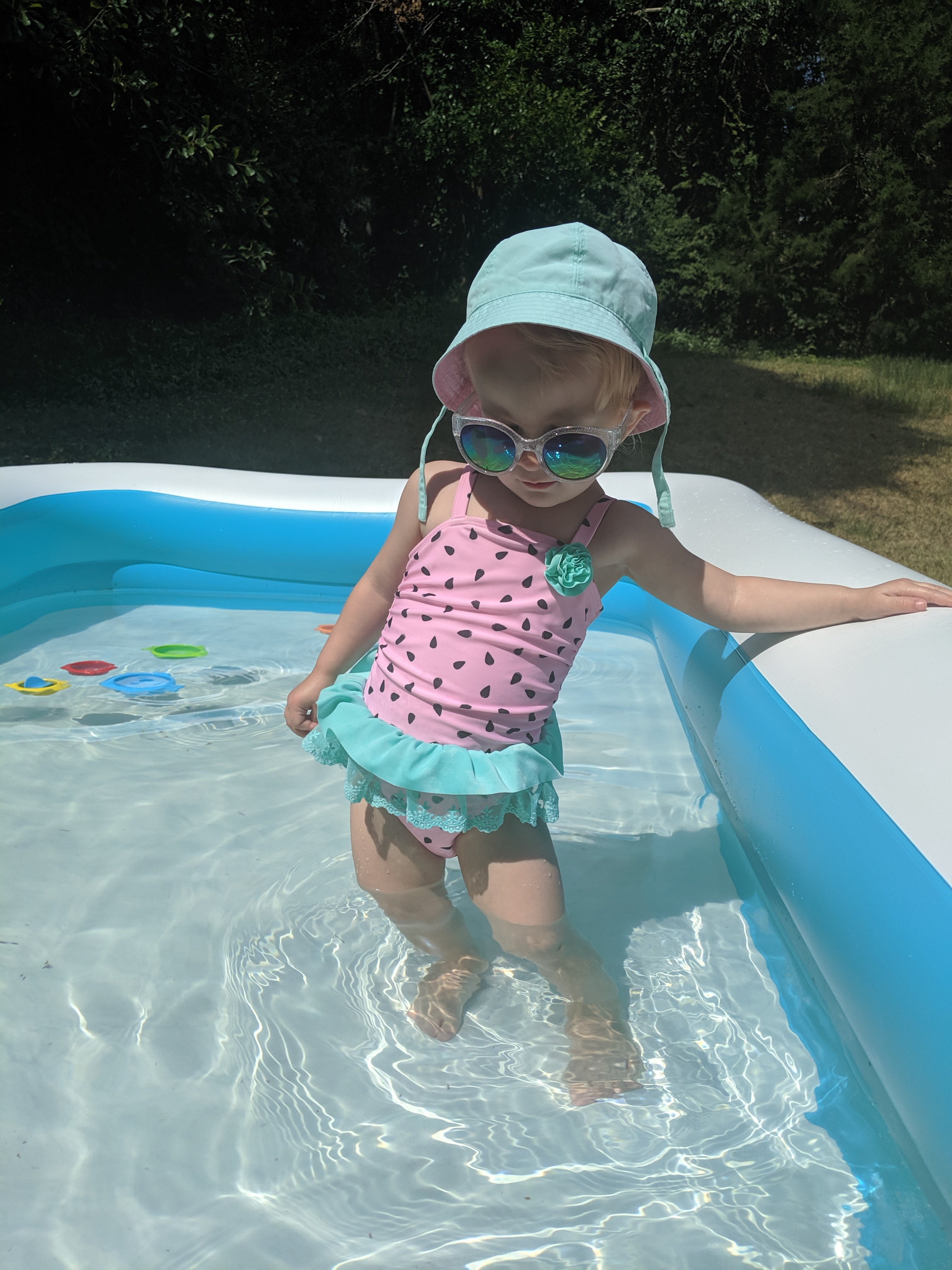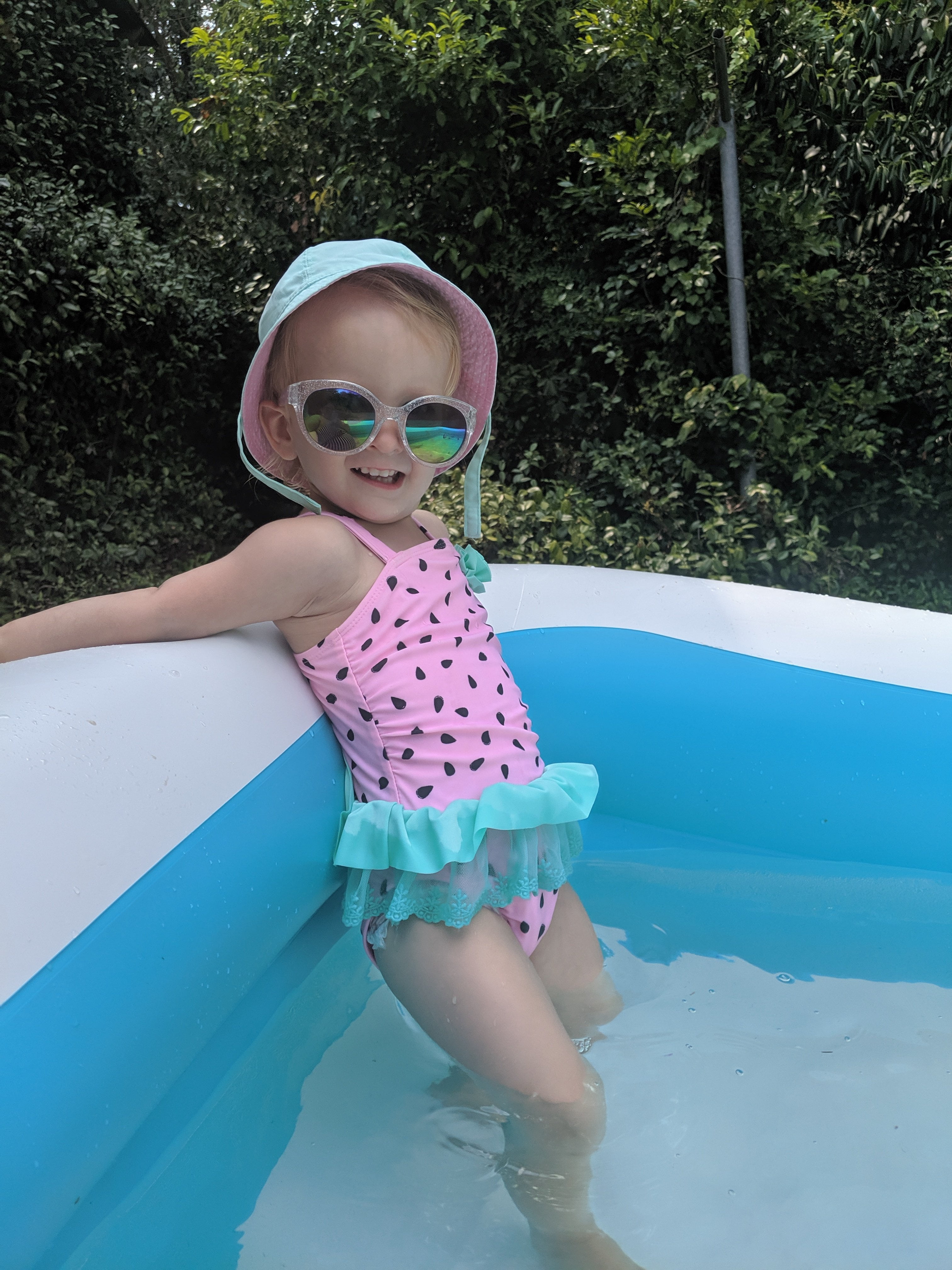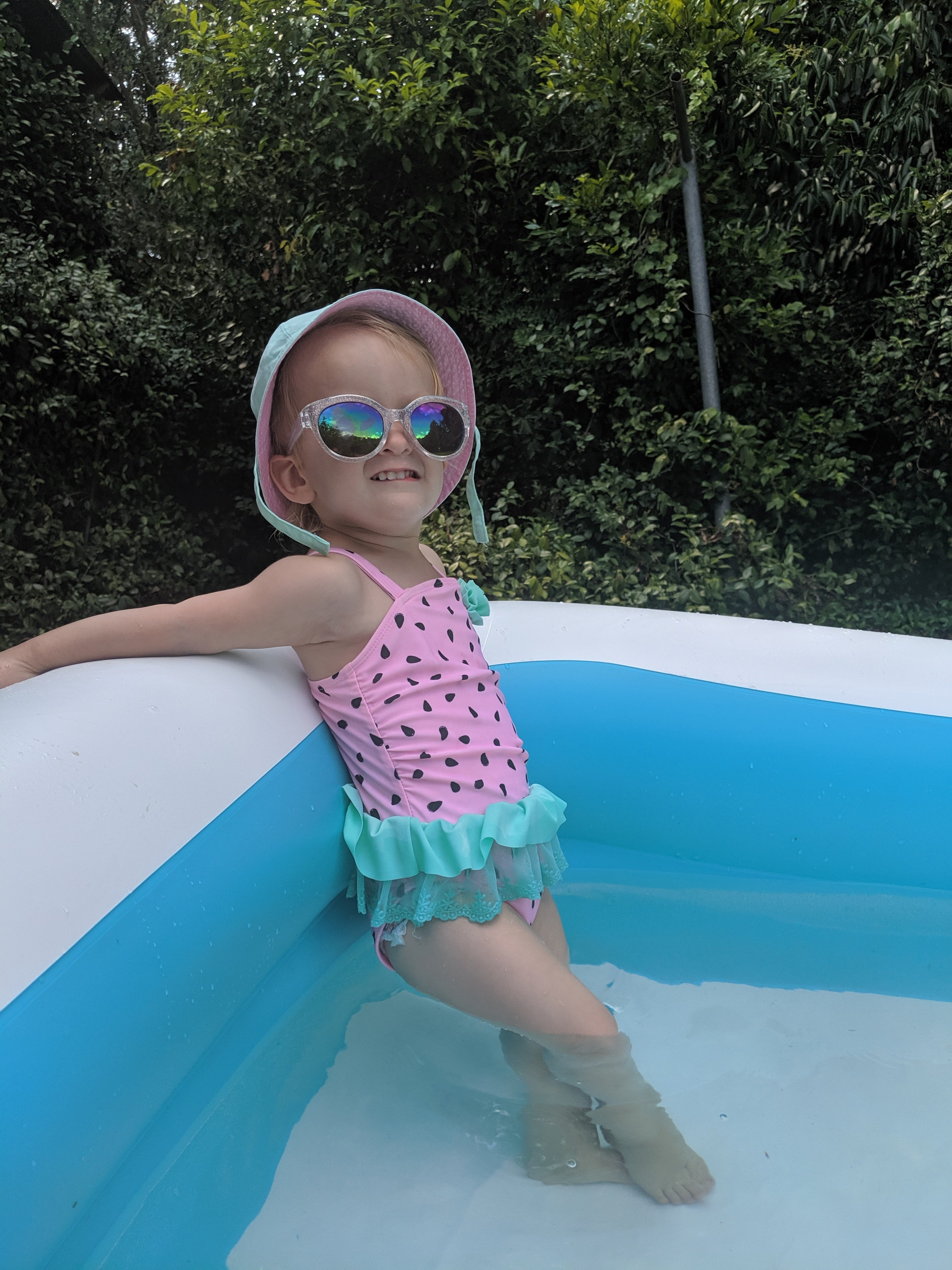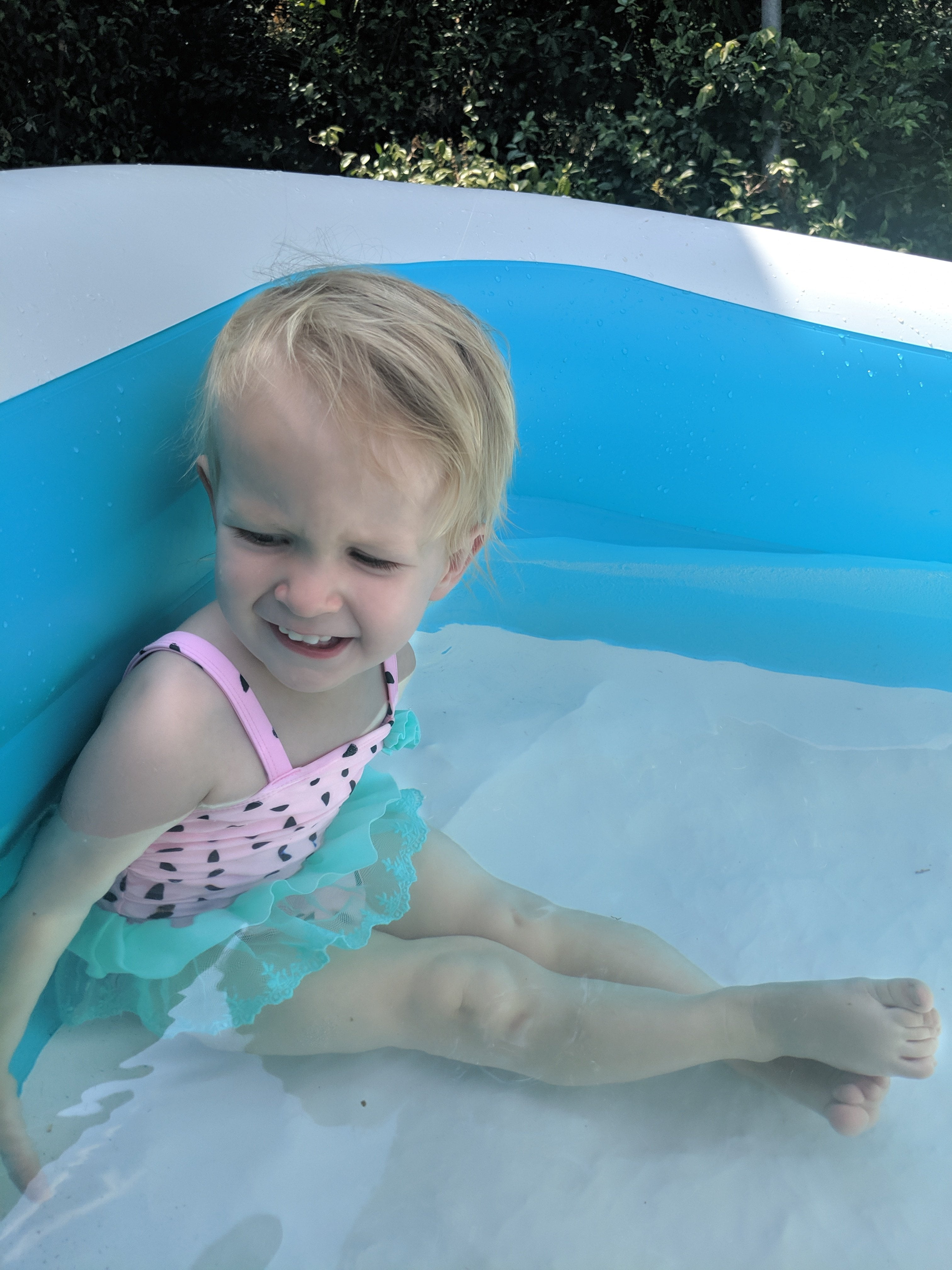 I grabbed a random paperback from my bookshelves (didn't want to risk ruining one of my many library books & having to "buy" it from them), and over the course of about an hour, I was able to squeeze in about two pages of reading. I figure this will just be my summertime pool book, and I'll read it slowly over the summer.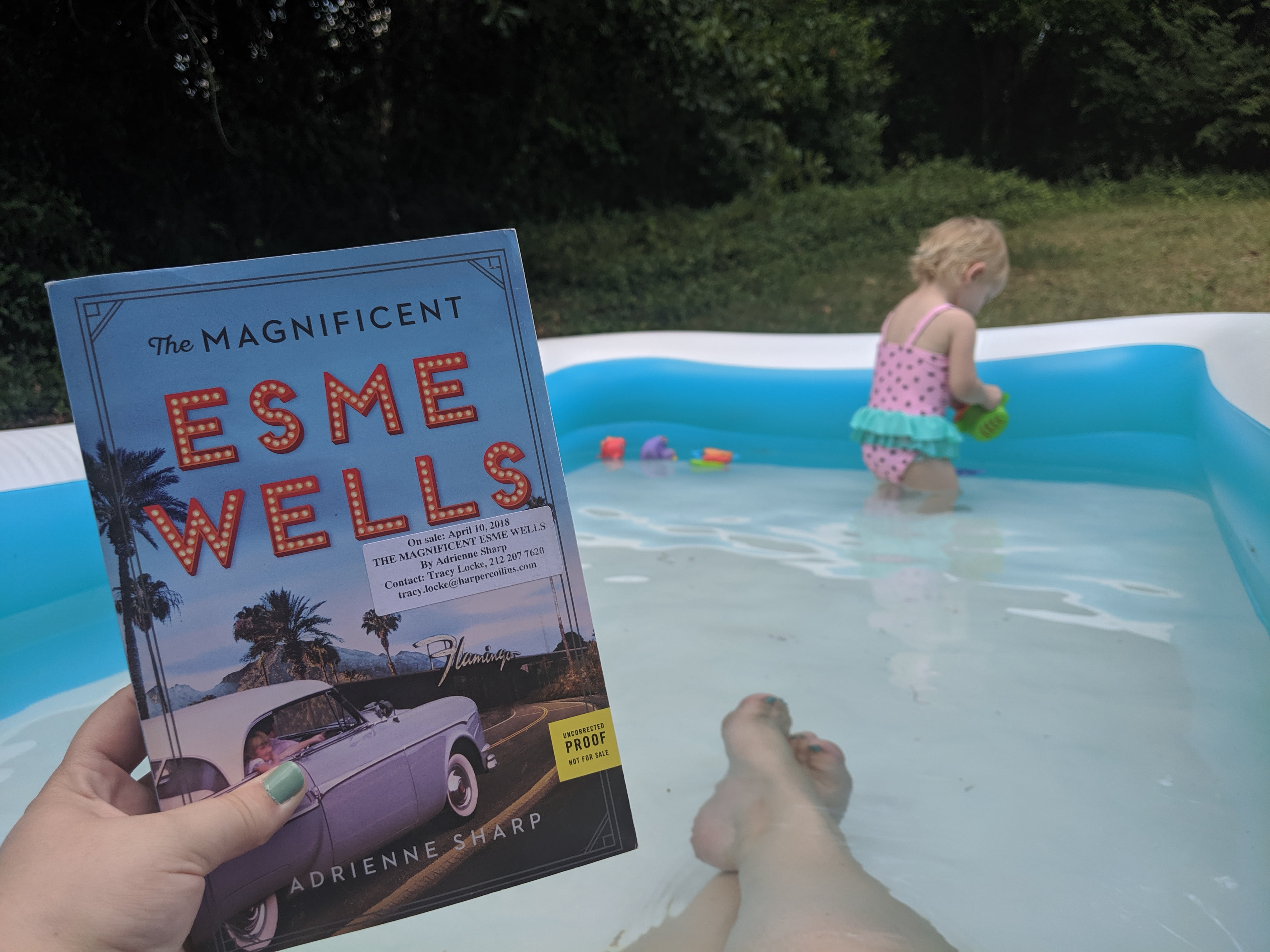 Right before we got out of the pool, I washed her hair and bathed her, so we could avoid doing it at bath time later. But of course she still didn't like it, and as soon as I started pouring water over her head, she started whining at me. But at least we were able to get it over with quickly!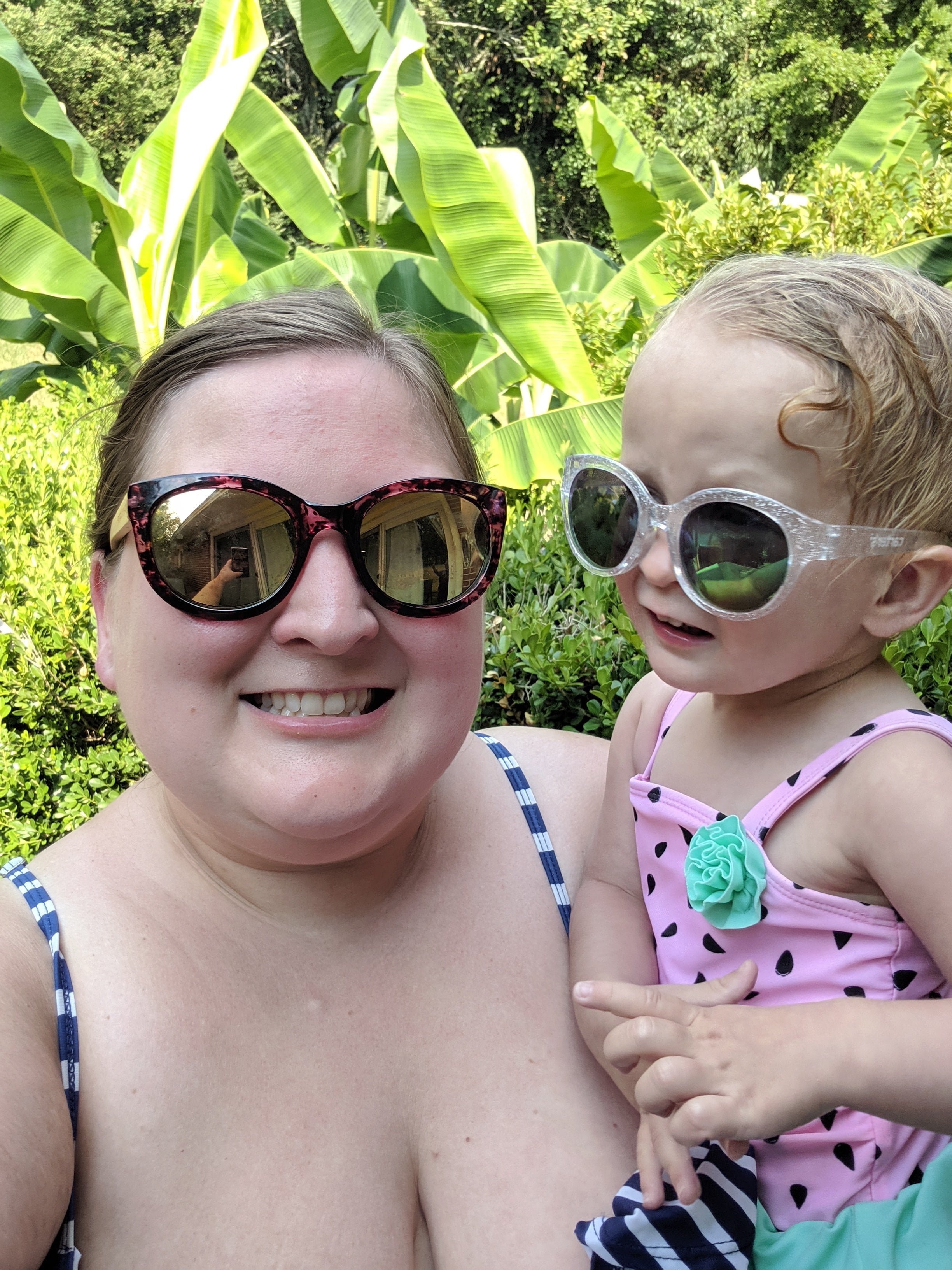 Remember a few weeks ago, when I was raving about this nail polish? Well I used it again last night, and I'm still completely impressed by it! I did two coats of my nail polish around 9:30 last night, and then around 10:00, I put on the top coat, then went to bed at 11:00. And I have absolutely zero sheet marks or any mess ups! You guys seriously need to buy this stuff.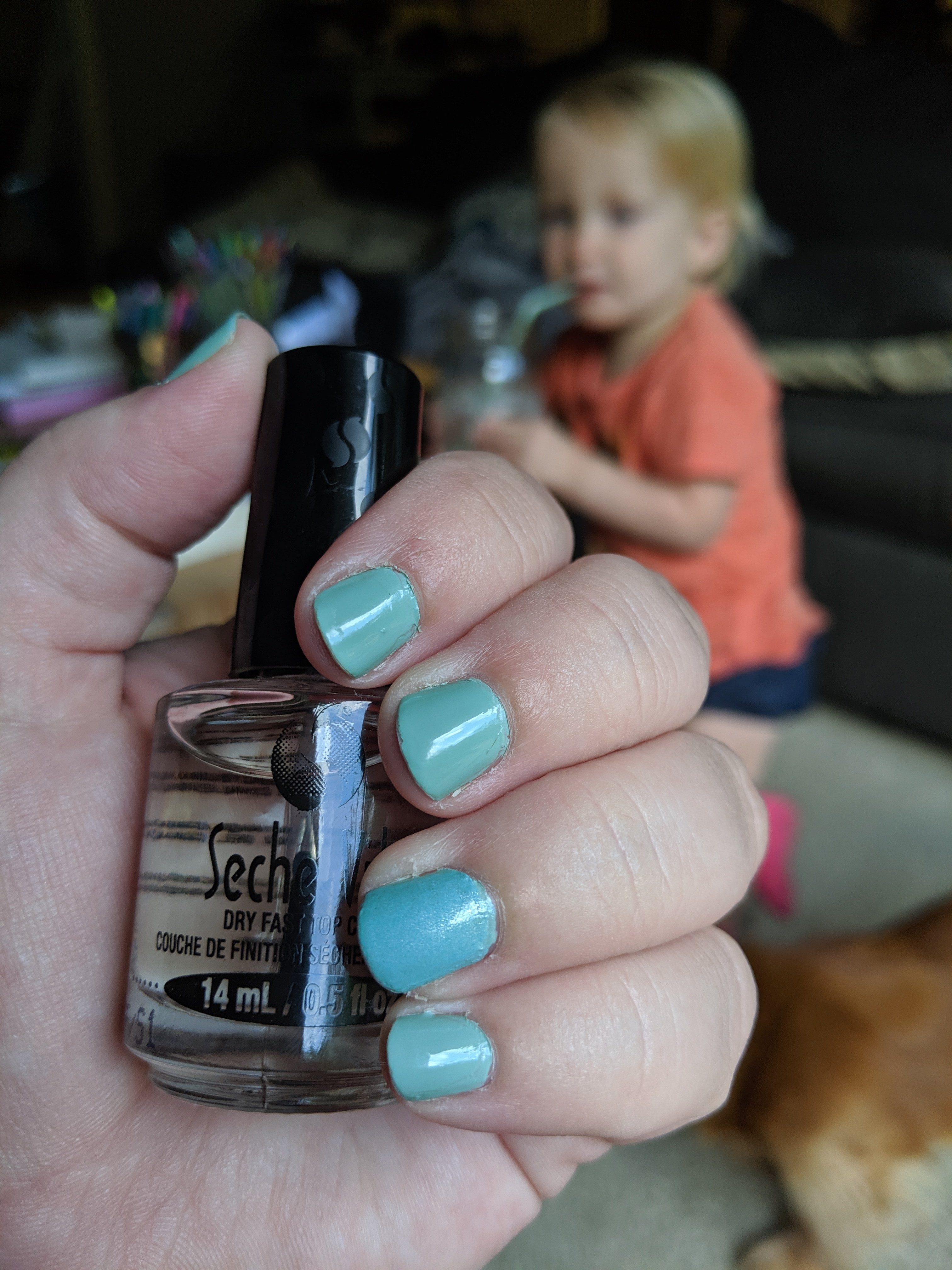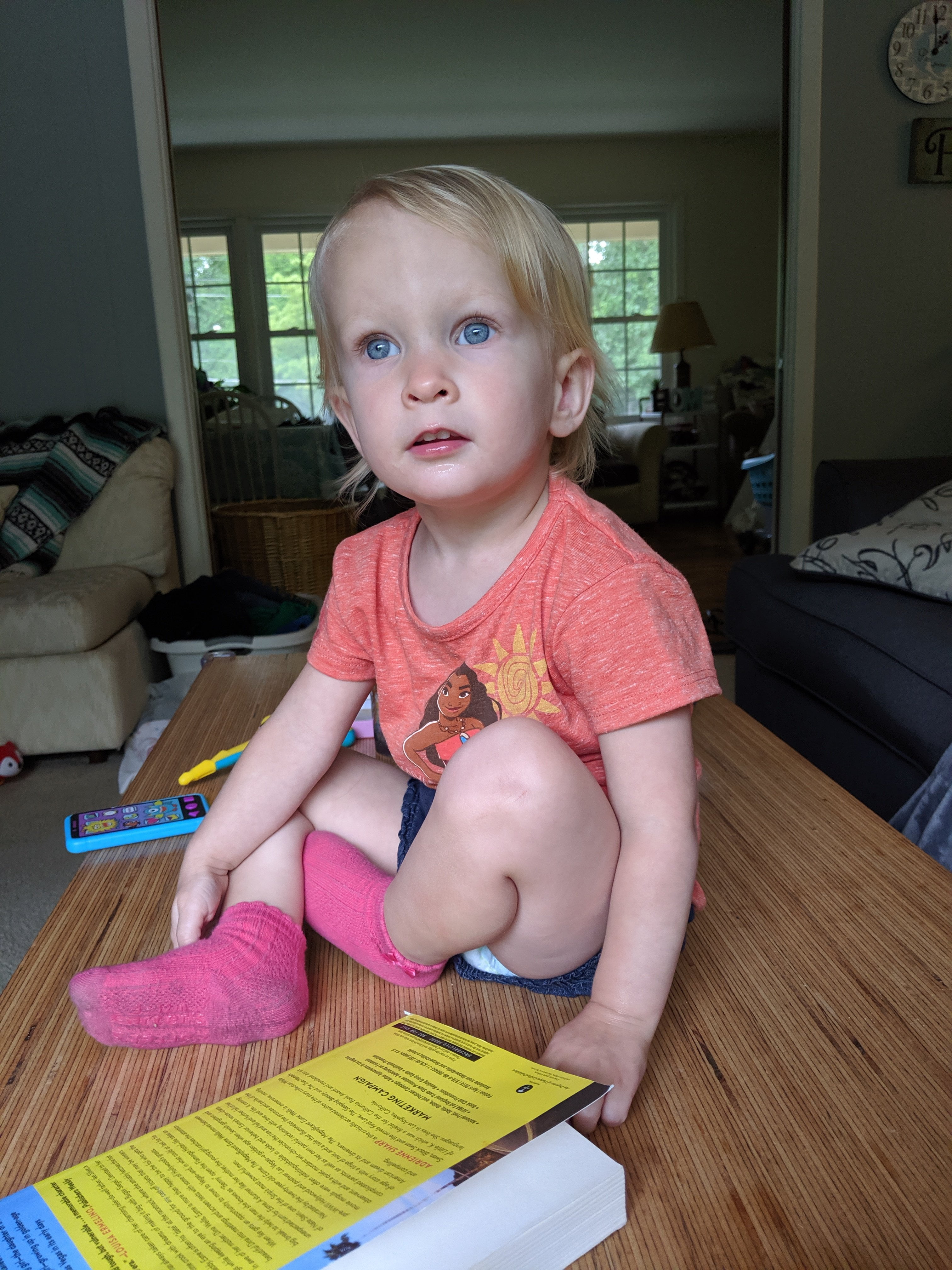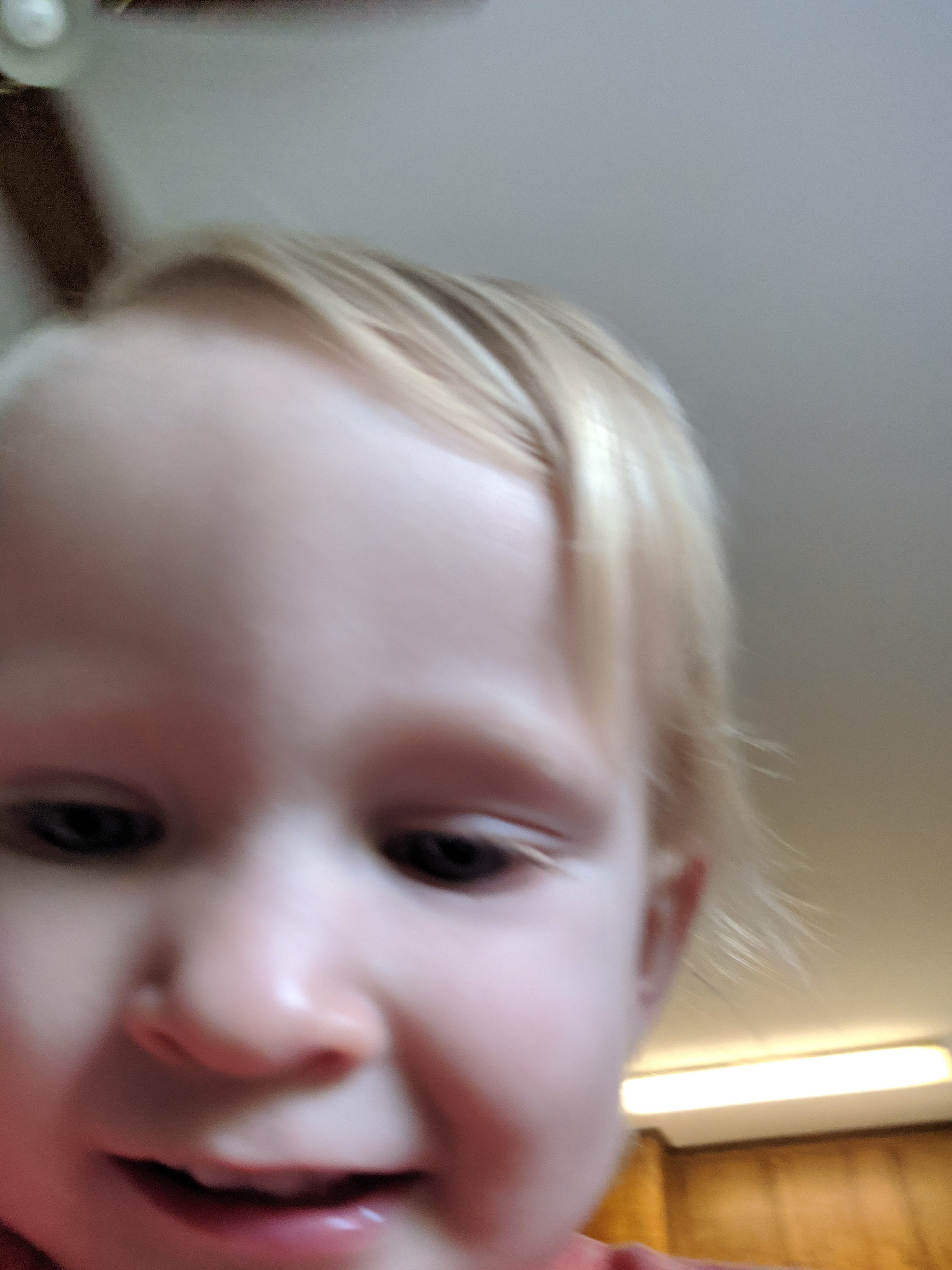 After getting dried off, and dressed, and warmed up, we played in the living room for a while. And then it was time for dinner. I know it doesn't look like much (it doesn't exactly make a pretty presentation), but this was delicious! My mother-in-law actually made something like this recently, and sent me the link to the recipe she used. I then made a bunch of tweaks and decided how I wanted to do it myself. I'll definitely be making this again, and here's my "recipe" if any of you want to try it as well… I'm calling it Creamy Cheesey Crock-Pot Chicken. (I love alliterations.)
Throw all ingredients into Crock-Pot & cook on high 4-5 hours: 4 frozen chicken breasts, 1 can cream of chicken with herbs, 1 big glob of cream cheese, 1 packet dry Ranch seasoning, paprika, dried dill & rosemary, garlic powder, onion powder, S&P. Add in broccoli & diced zucchini for the last 45-60 minutes, serve chicken & veggies (with lots of the creamy sauce) over rice or noodles (I used basmatti rice because that's what I had in the cabinet). It was super flavorful, and really yummy. And of course we have leftovers for work lunch. (If you can't tell, I love taking home-cooked leftovers to work for lunch.) Jeff was still working when we sat down to eat, so we had a dinner just the two of us, and I made him a bowl when he got home.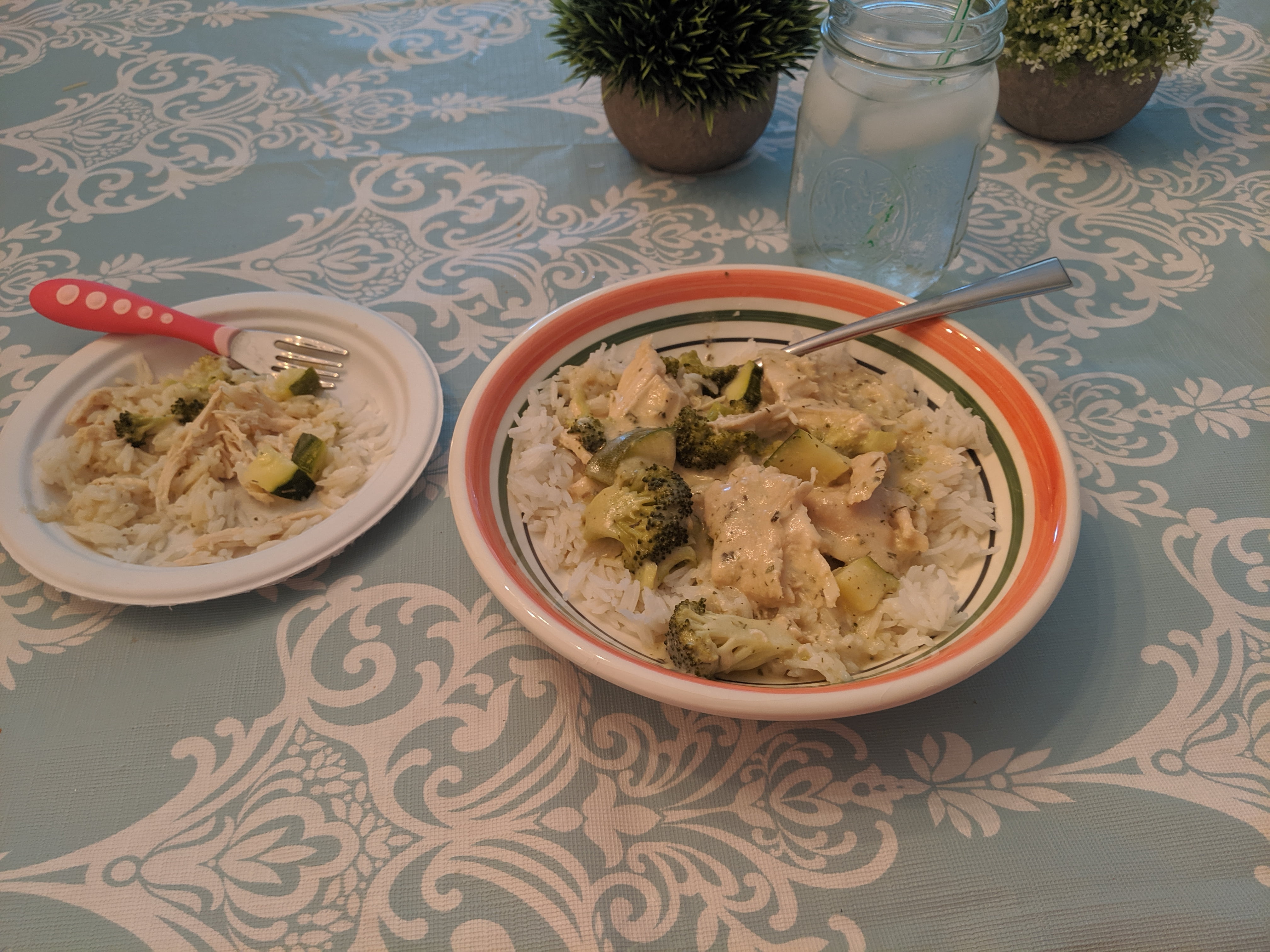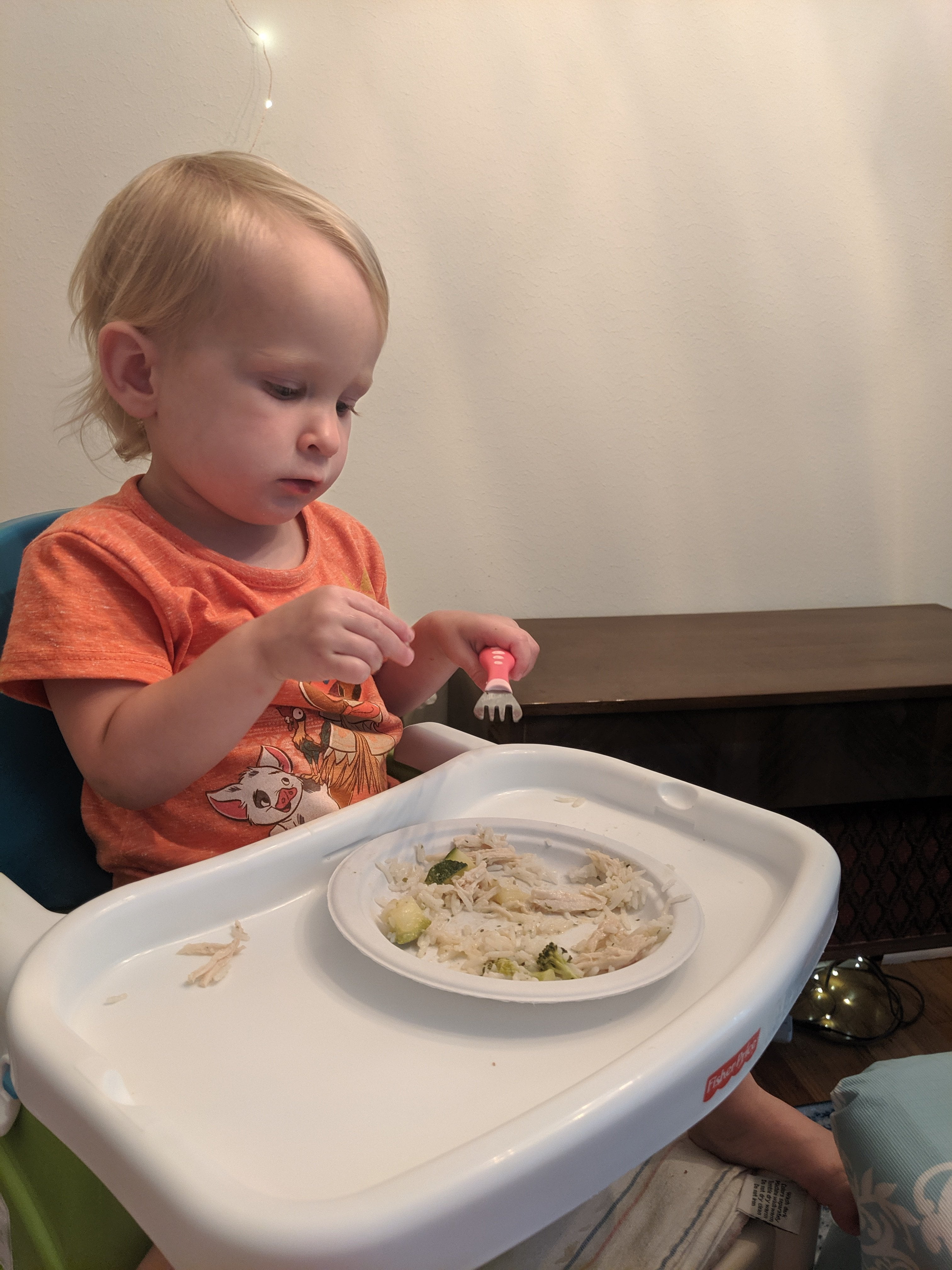 We watched a few more minutes of Moana, and had a quick video chat with Grammy, while waiting on Daddy to get home.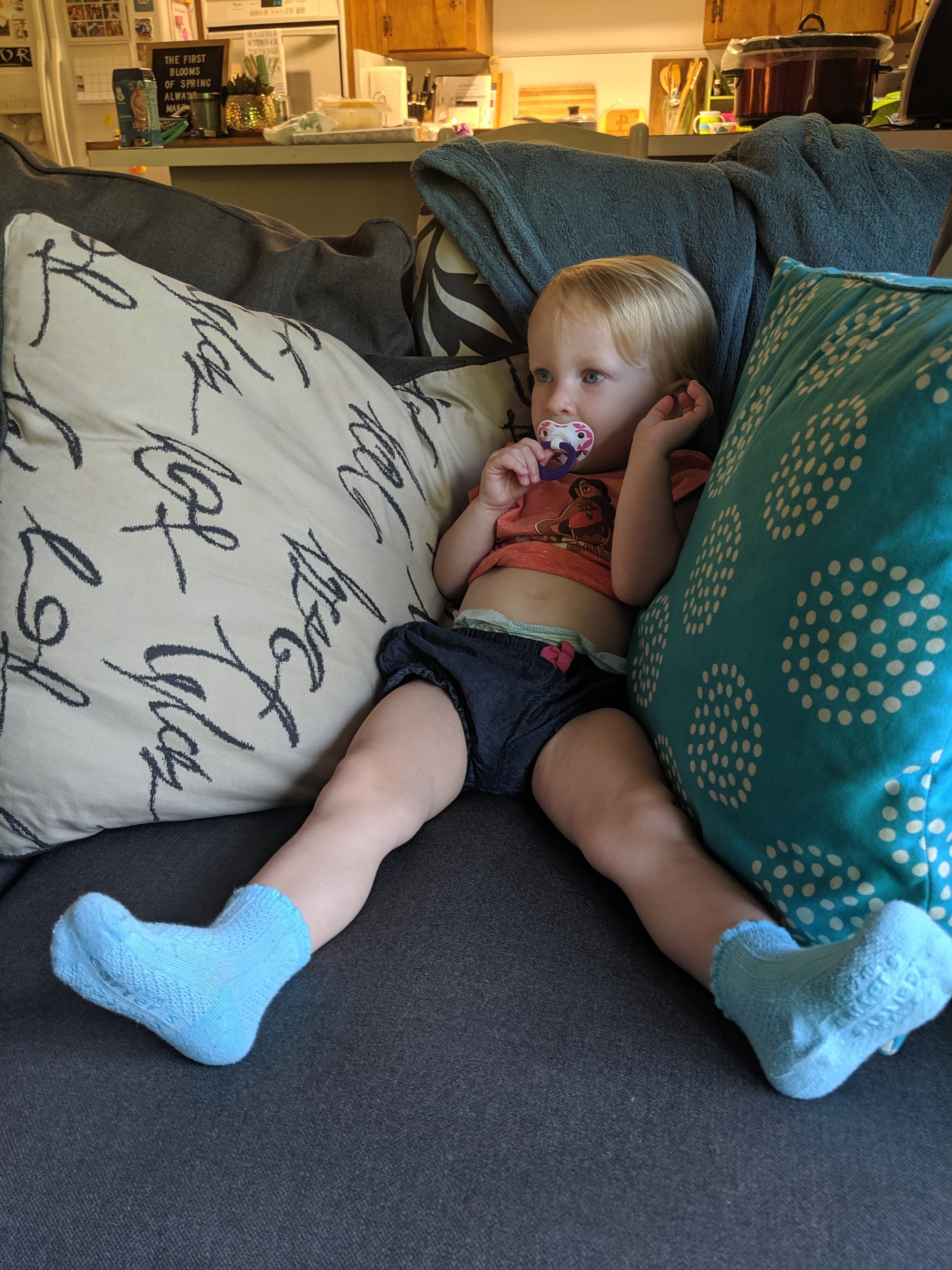 Then we did books and bedtime, and I washed the dishes while Jeff put her to sleep. We're hoping and praying and crossing our fingers, that she actually sleeps through the night tonight!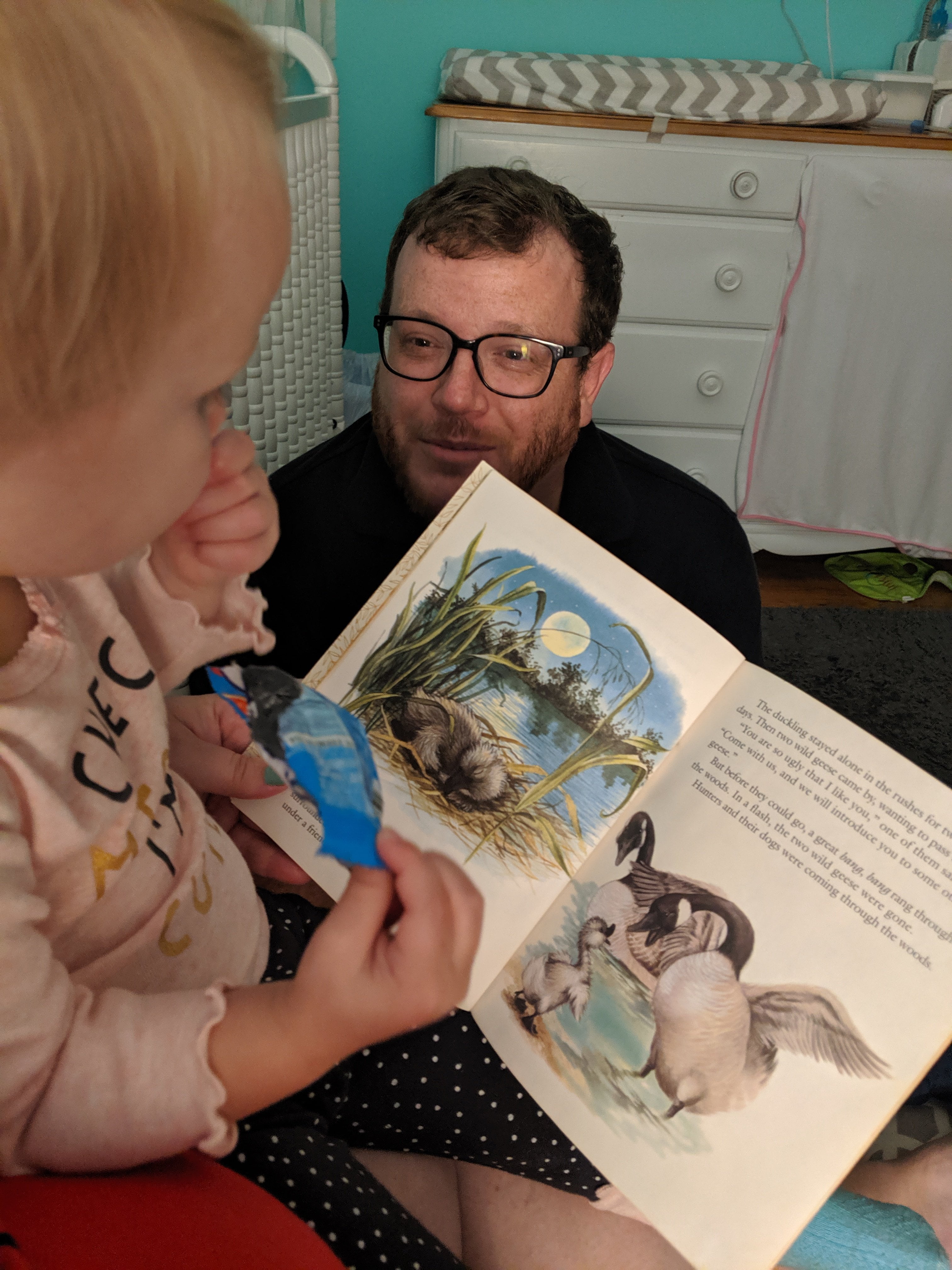 And I just love this beautiful little head of blonde curls!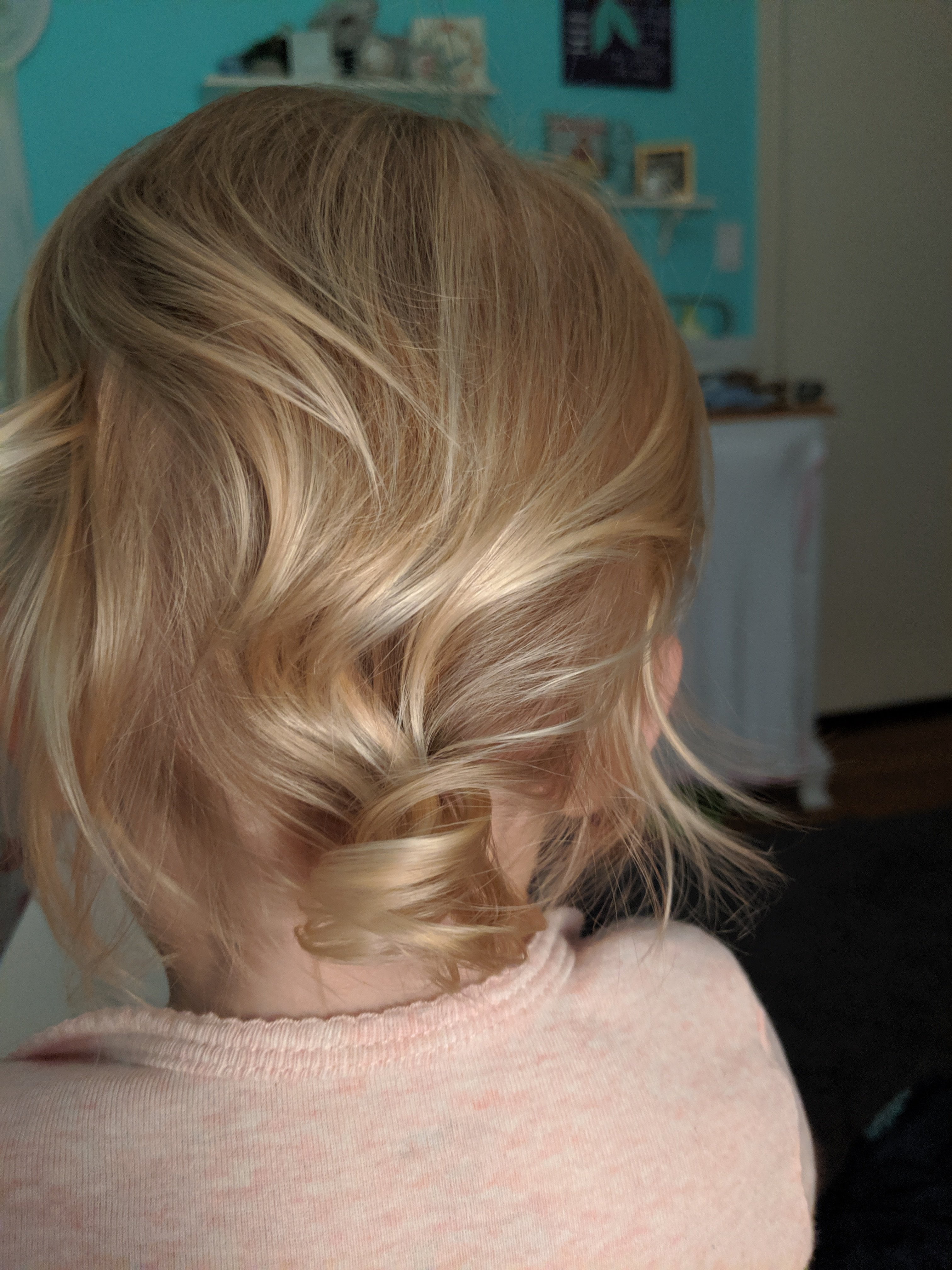 Jeff got the pool drained & deflated, and put away until next weekend. There's some tidying up that needs to be done really quick in the living room, and then it'll be time to relax and watch another episode of "Fringe."