Well, first things first, we've been having these sleepovers for the past couple of nights, because Jeff was out of town for four days, and we didn't want to be alone all weekend. (Some of you shrewd readers recognized he wasn't around lately or at church this morning, but I was keeping it under wraps, instead of announcing to the world that Emmie and I were home alone for a few days.)
So Friday night we had a sleepover at Nana's house, went home long enough Saturday afternoon for Emmie to nap and me to do a few chores & repack our backpacks, then Saturday night we had a sleepover at Grammy's house. I didn't blog either of those nights, but I did post some pictures on Facebook, so we'll just skip those nights and start with this morning.
Emmie and I both slept in the guest bed at Grammy's house together, and she was so super sweet. She woke up in the middle of the night from a little nightmare, and ended up in Grandmommie's bed for the last half of the night.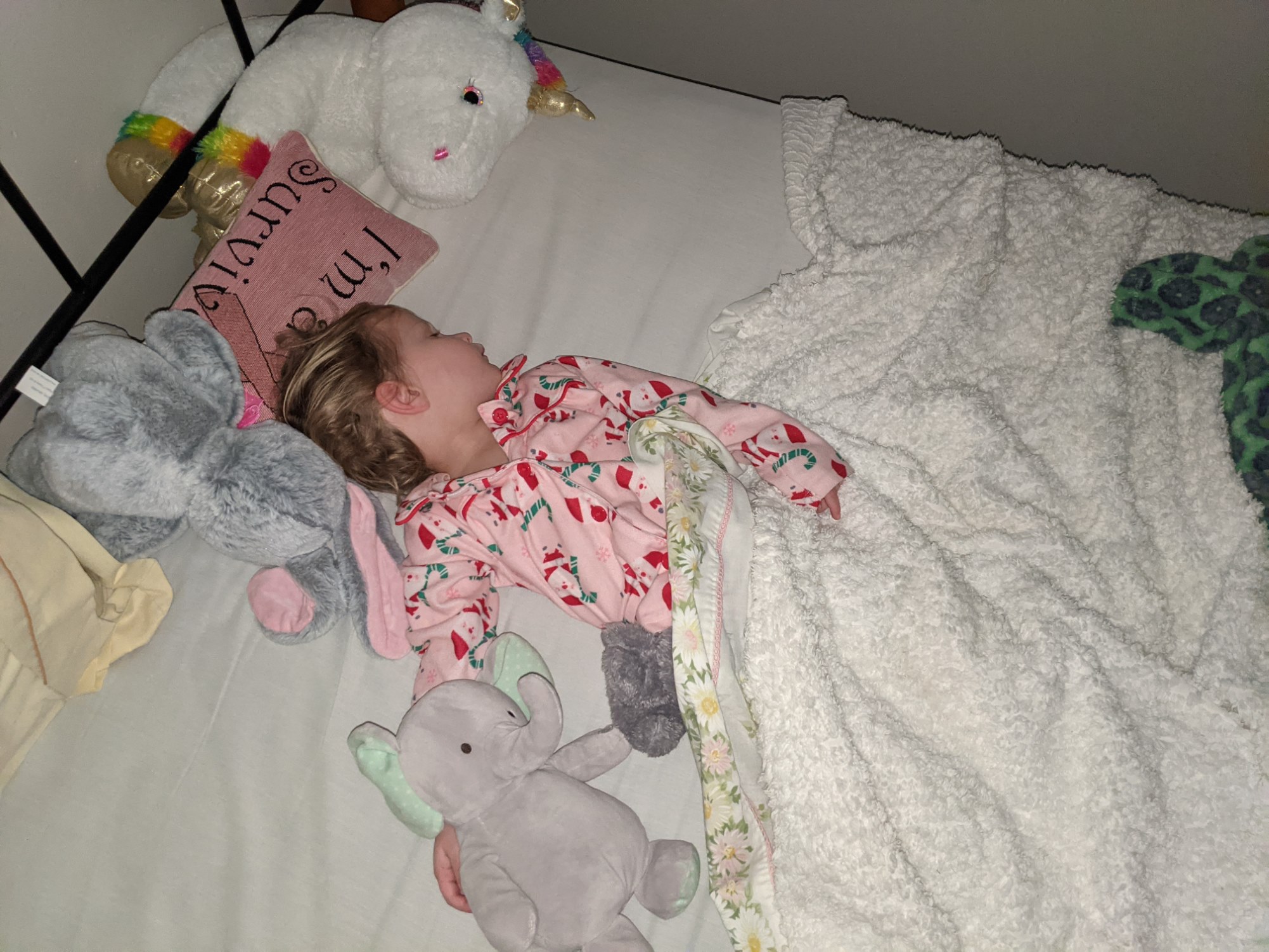 Today is my amazing Grandmother's birthday, and Emmie was a sweet little helper, while she opened her card & gift this morning. And then she was a sweet helper with Grammy, getting some special breakfast stuff made for all of us before church. She even got her own mini cup of coffee (about 1/2 full, at most), and drank the whole thing in about 10 seconds.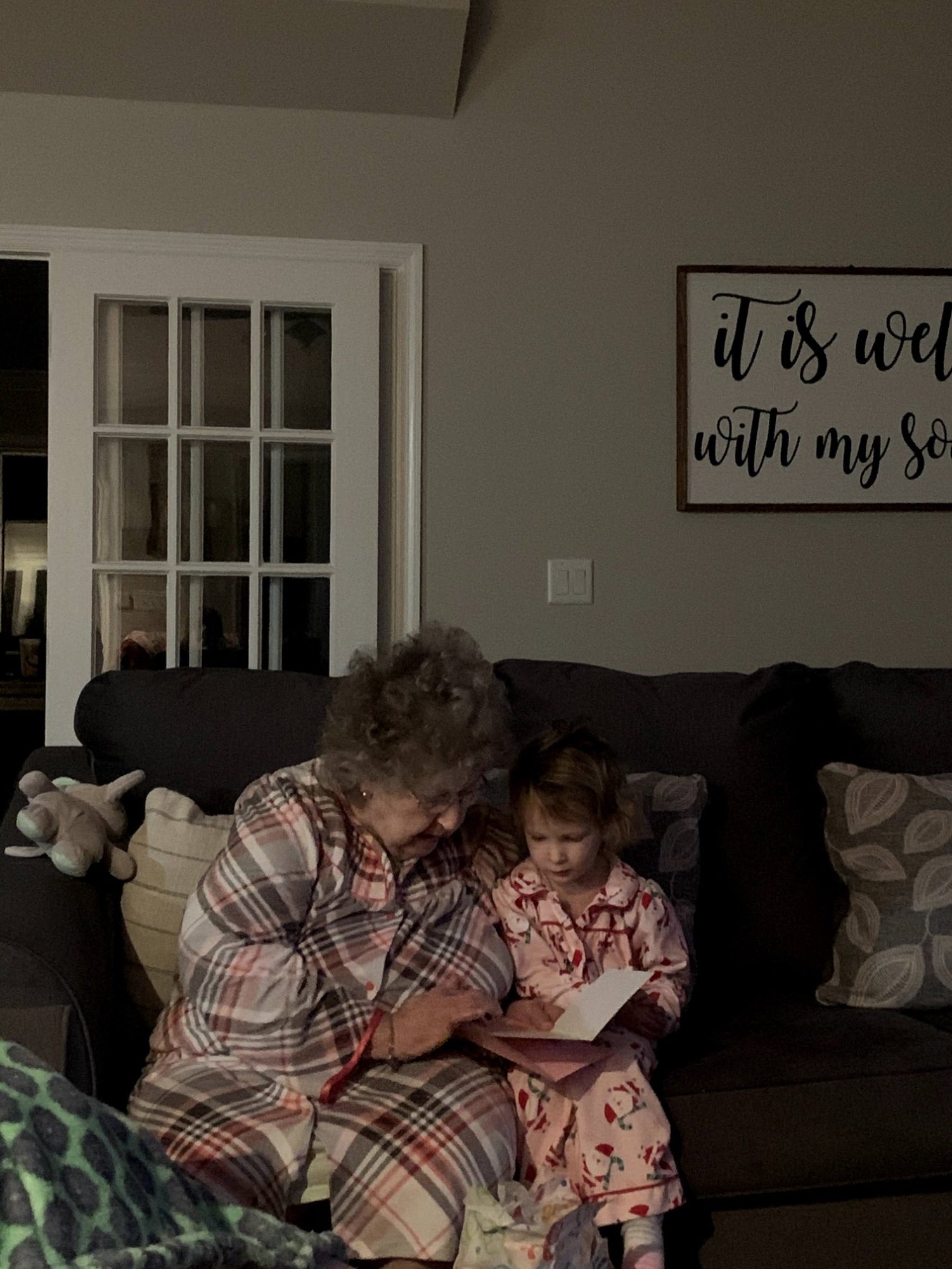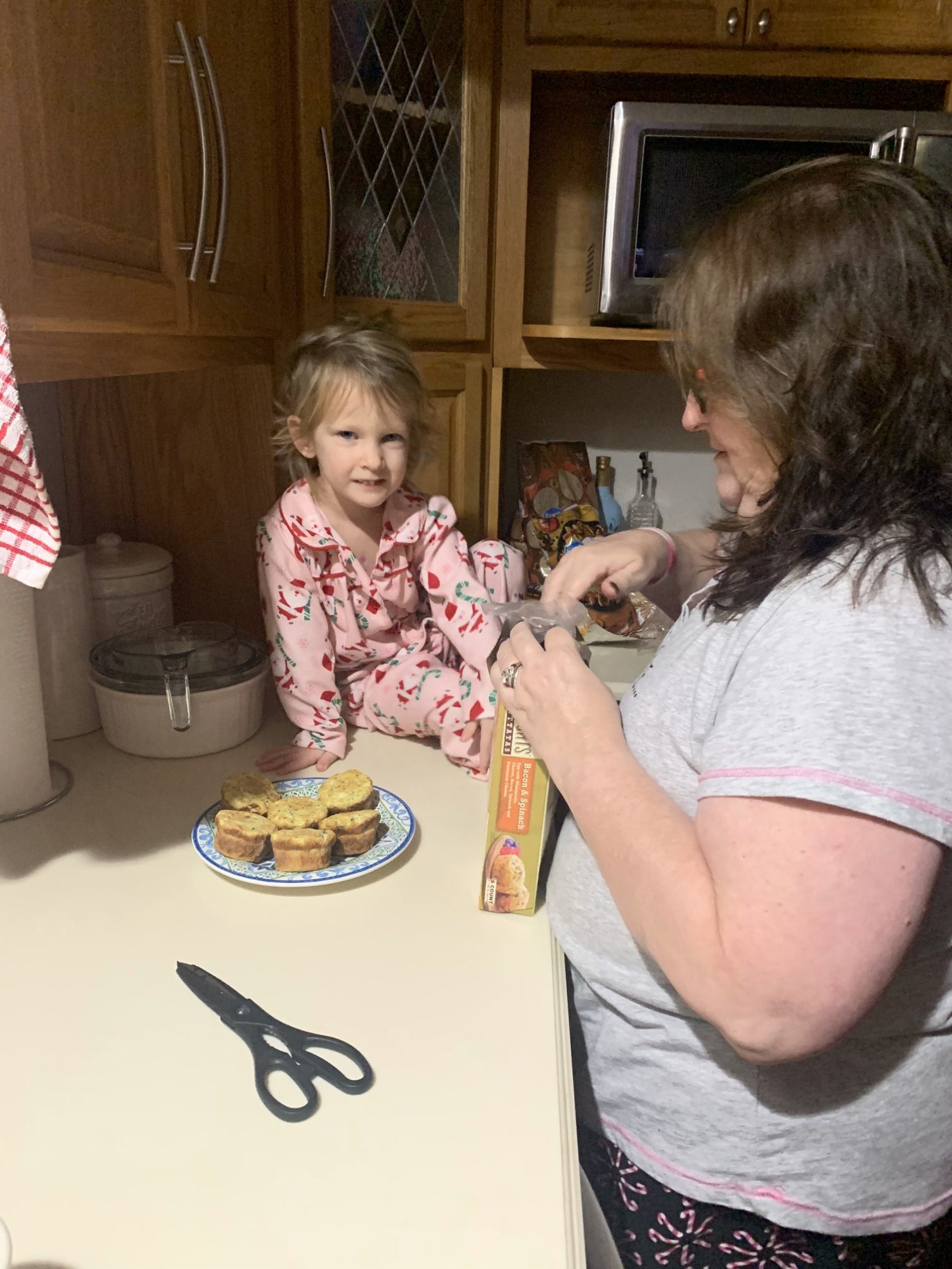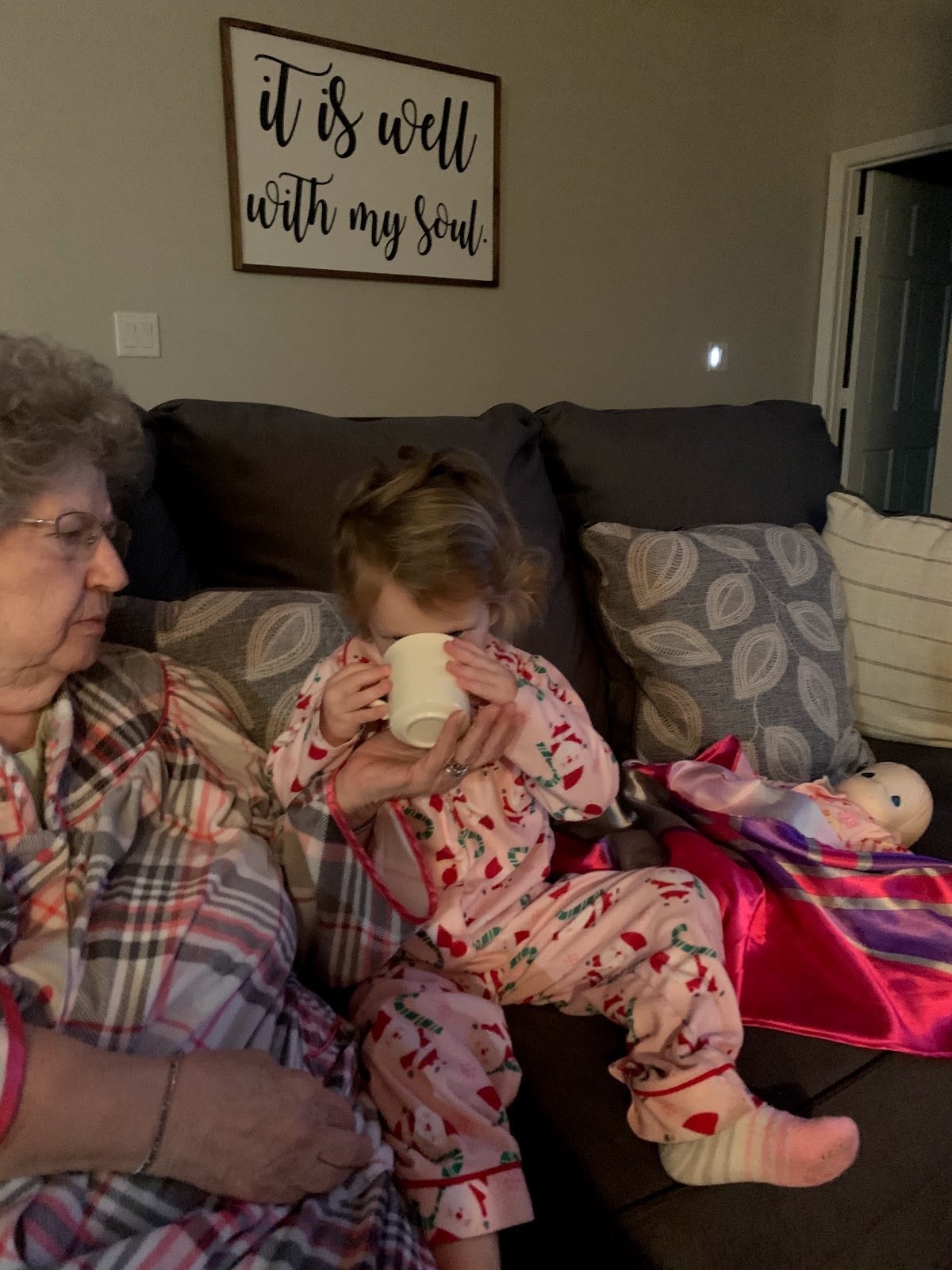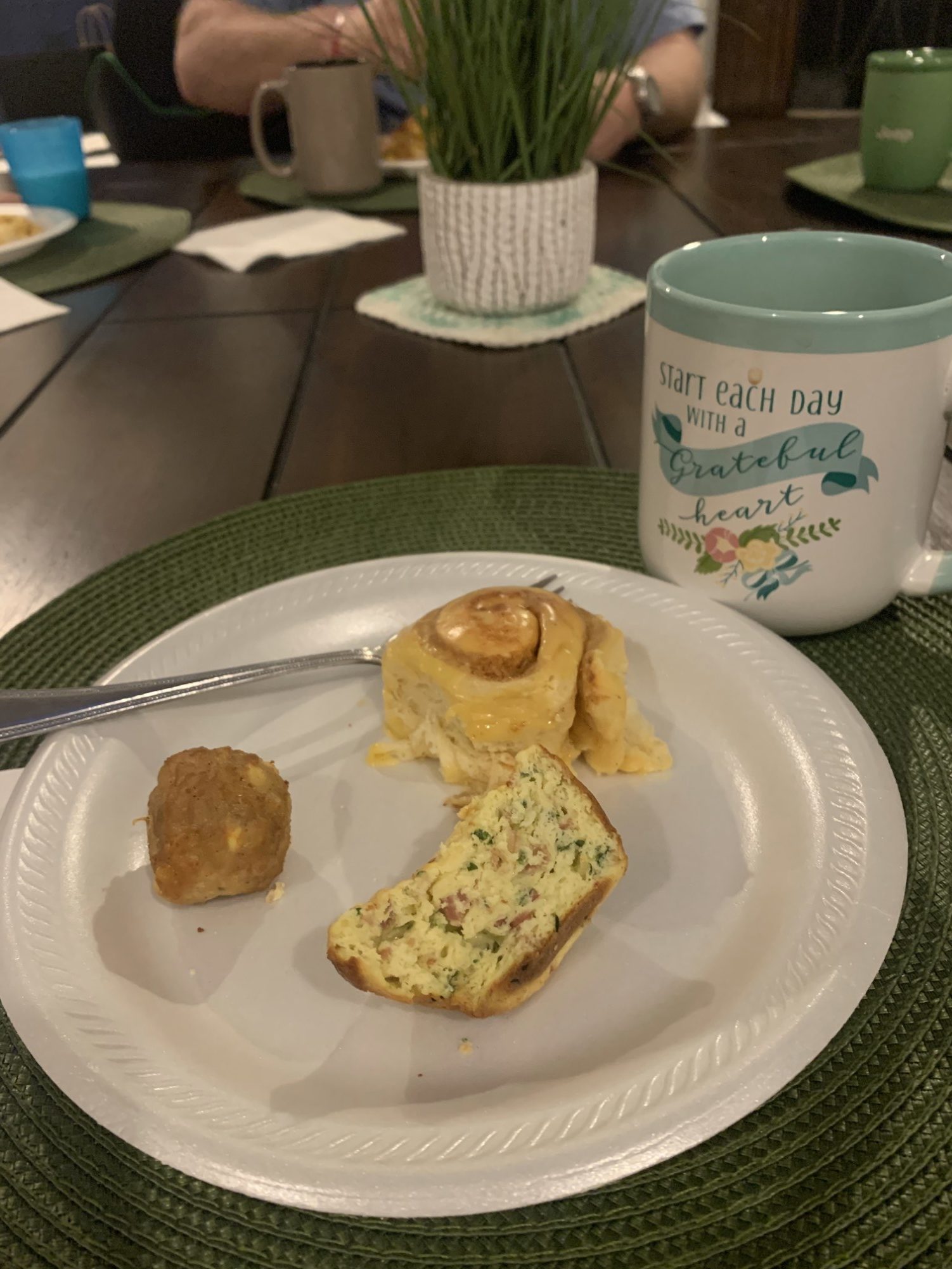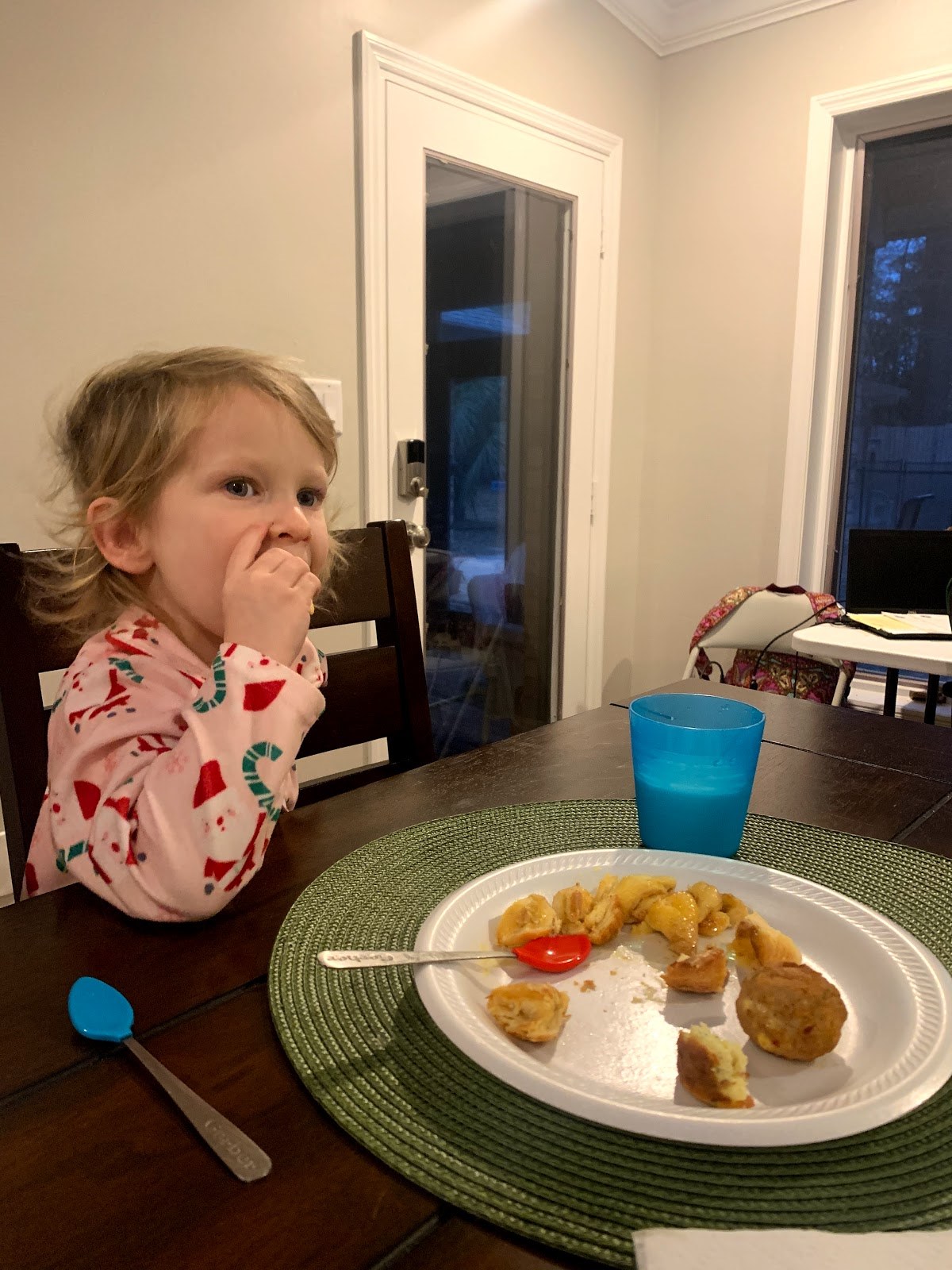 Then she cuddled up with Papa super sweetly, while all of us ladies got showered and dressed for church.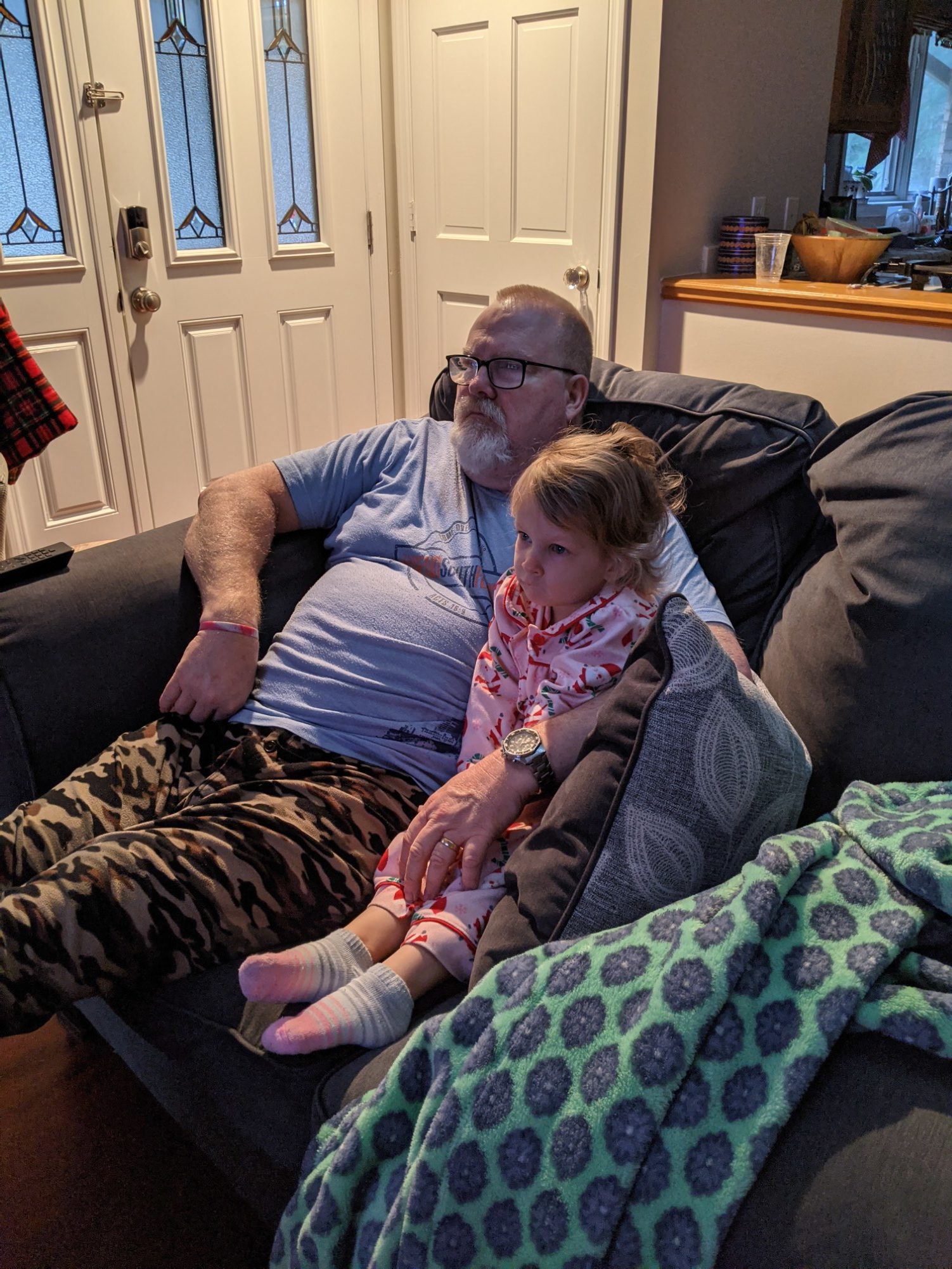 When we went out the front door to leave, there were four deer sitting in the front yard, and they just looked up at us and stared as we walked to the car. Emmie said, "Bye deers, we'll see ya later or somethin," and they never even moved a muscle!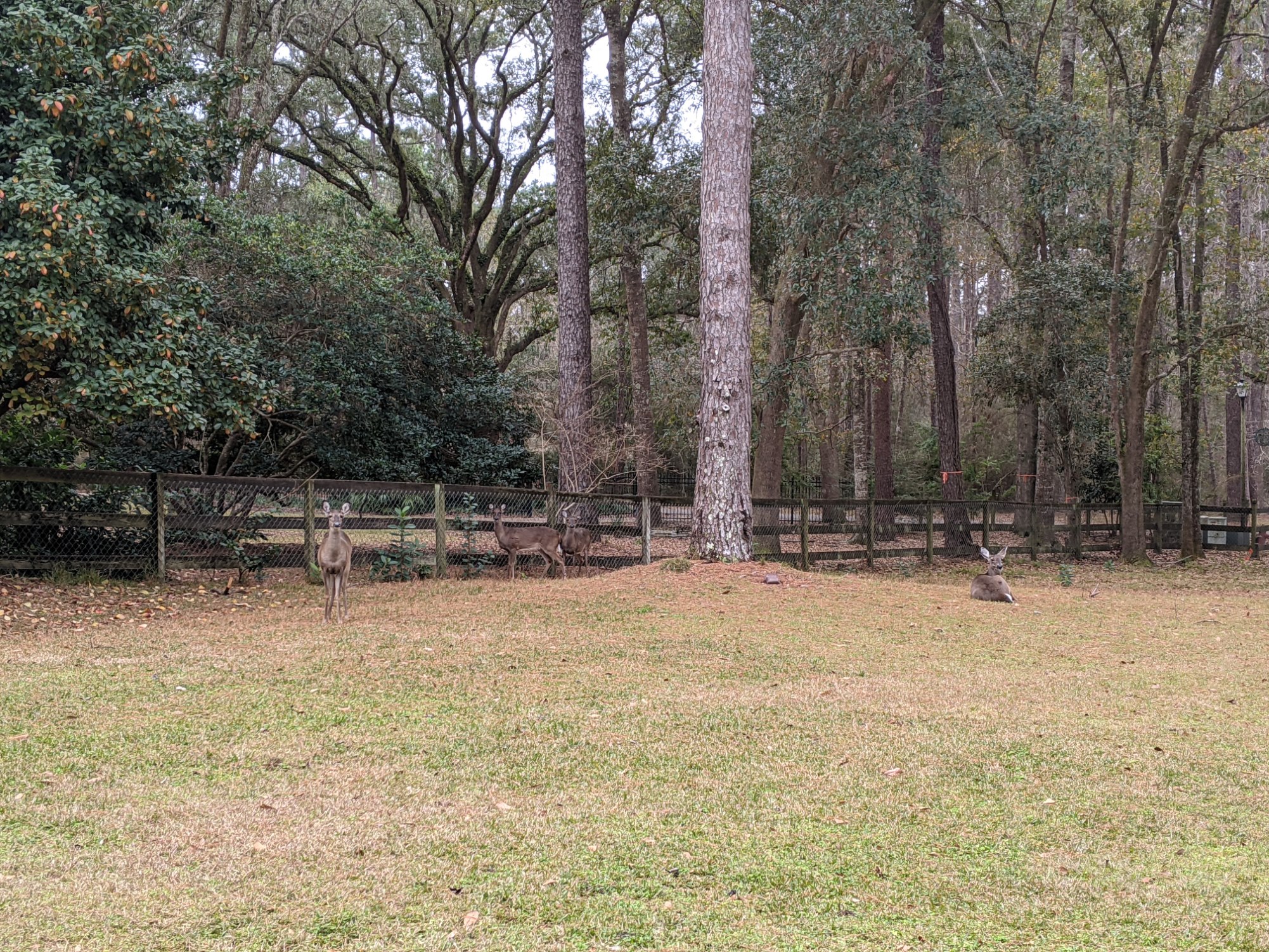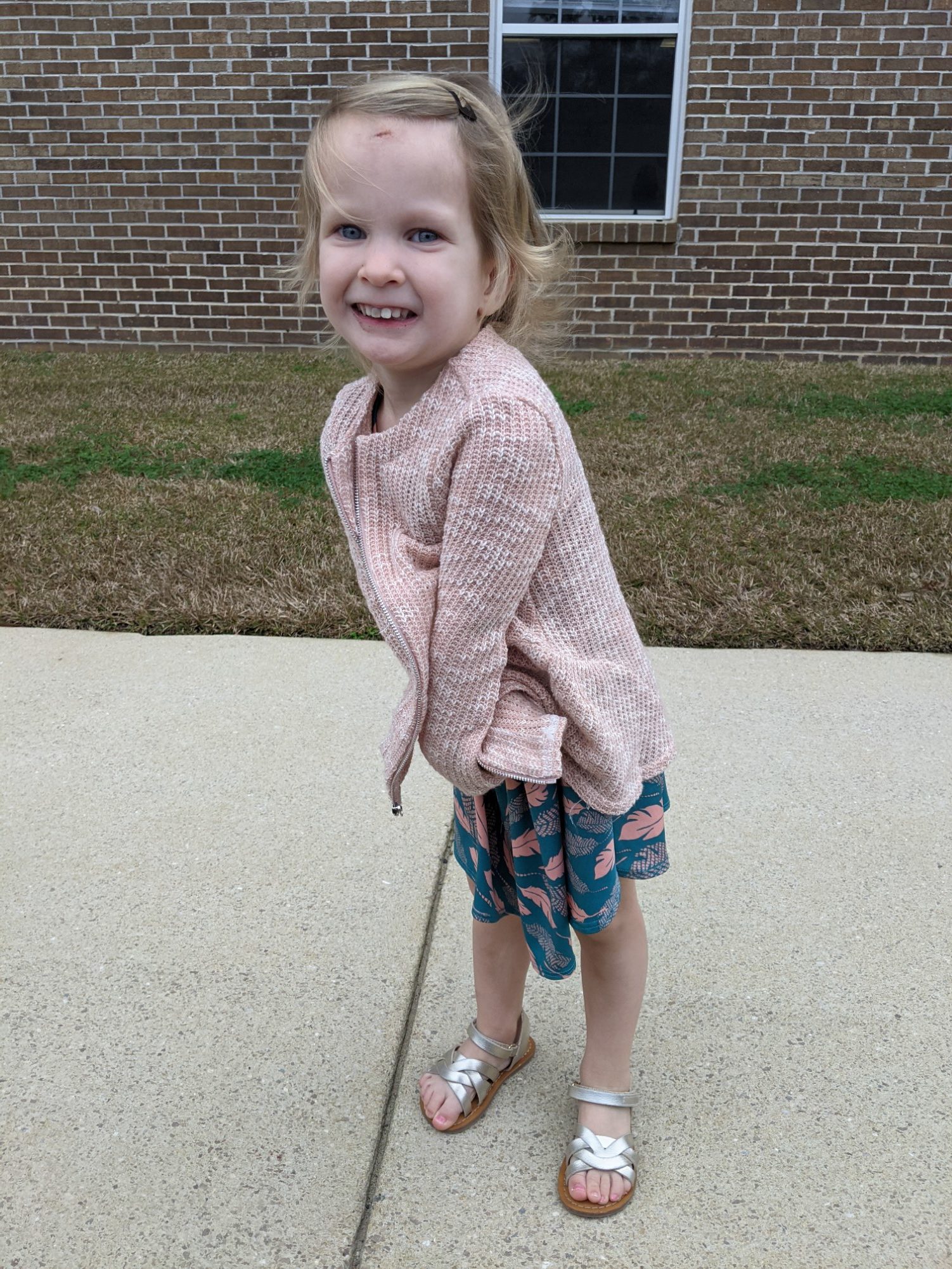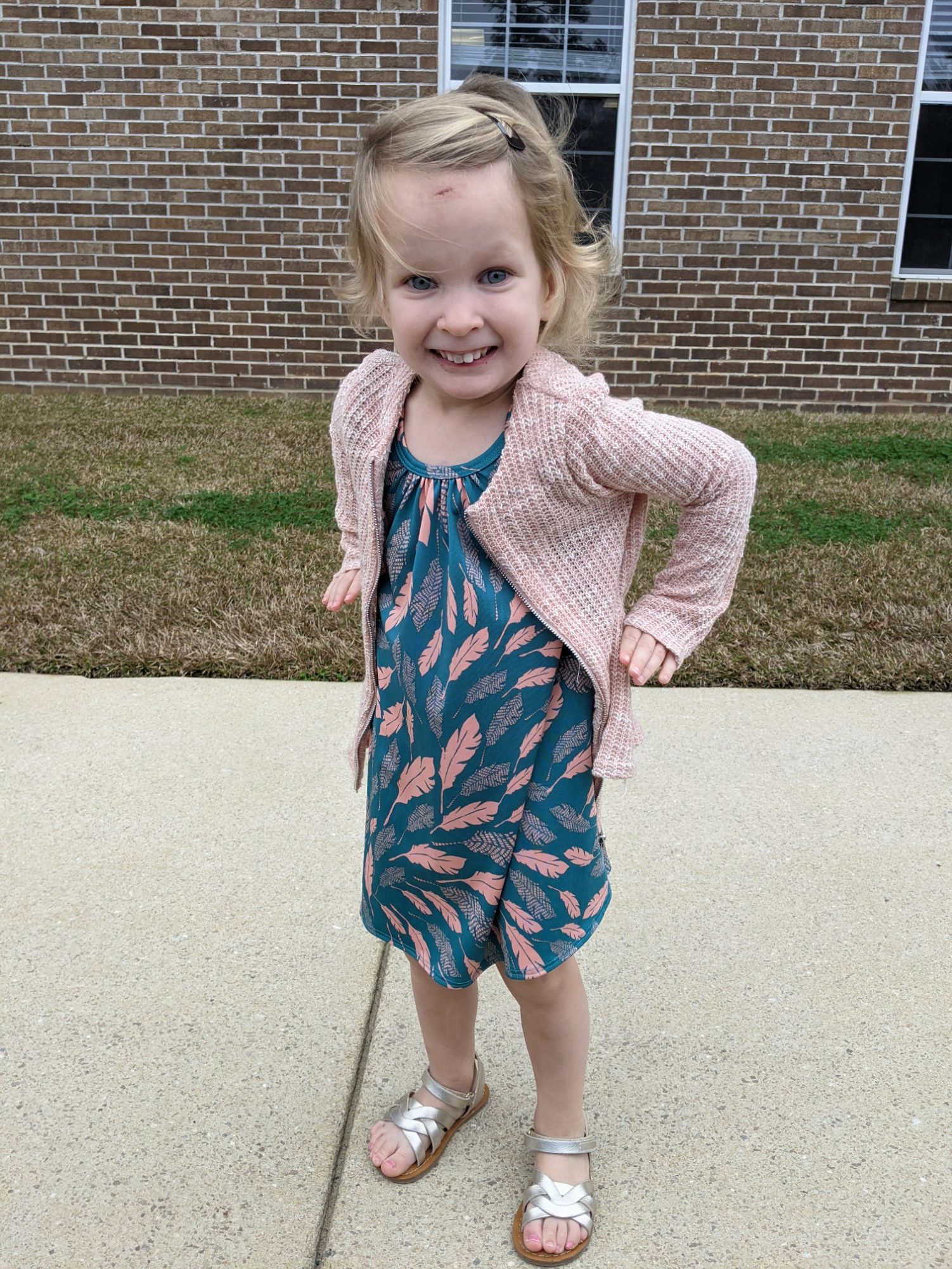 We went out for lunch at Pepper's after church for Grandmommie's birthday lunch, and this grilled chicken & mushroom quesadilla was extremely delicious.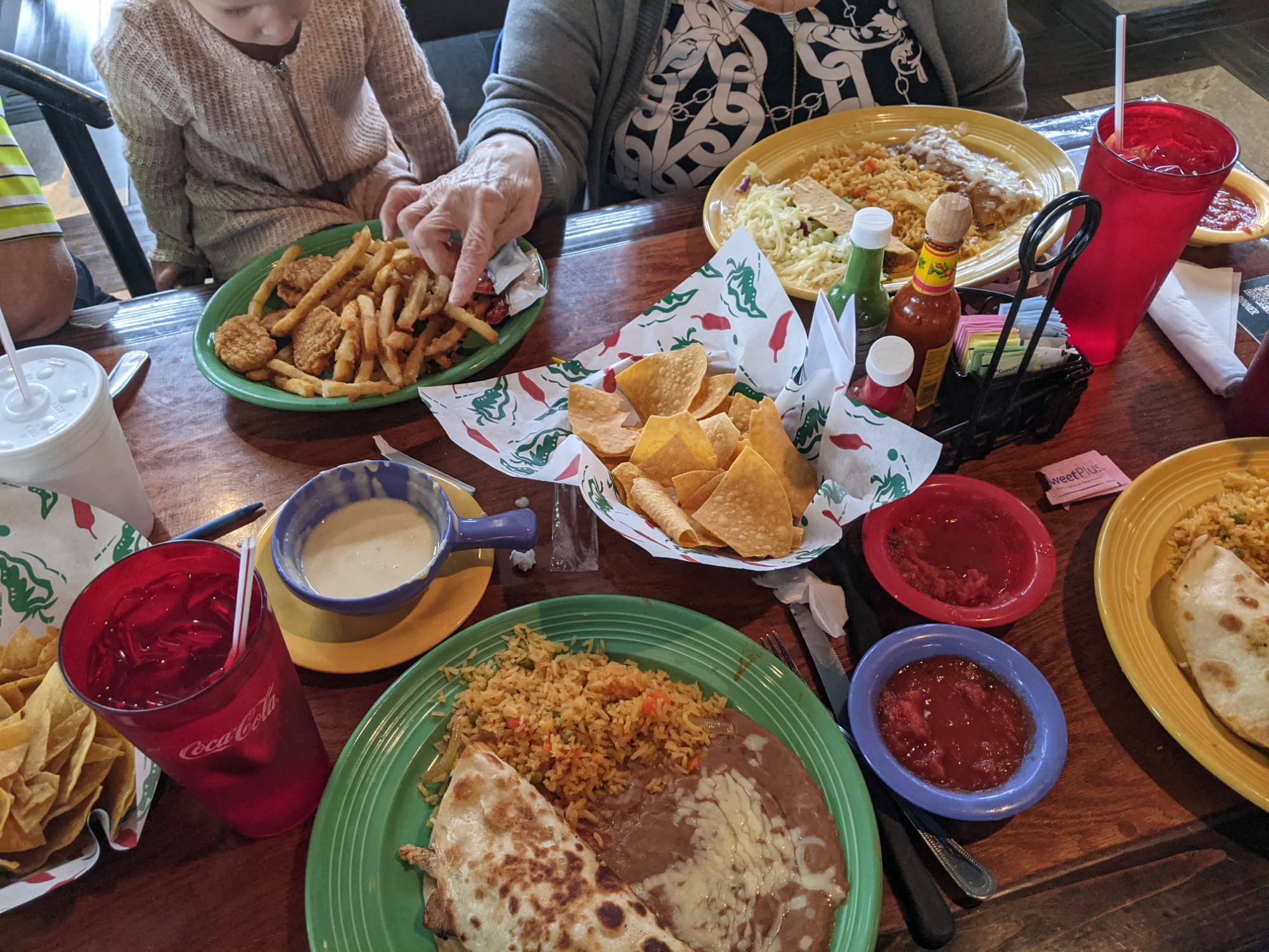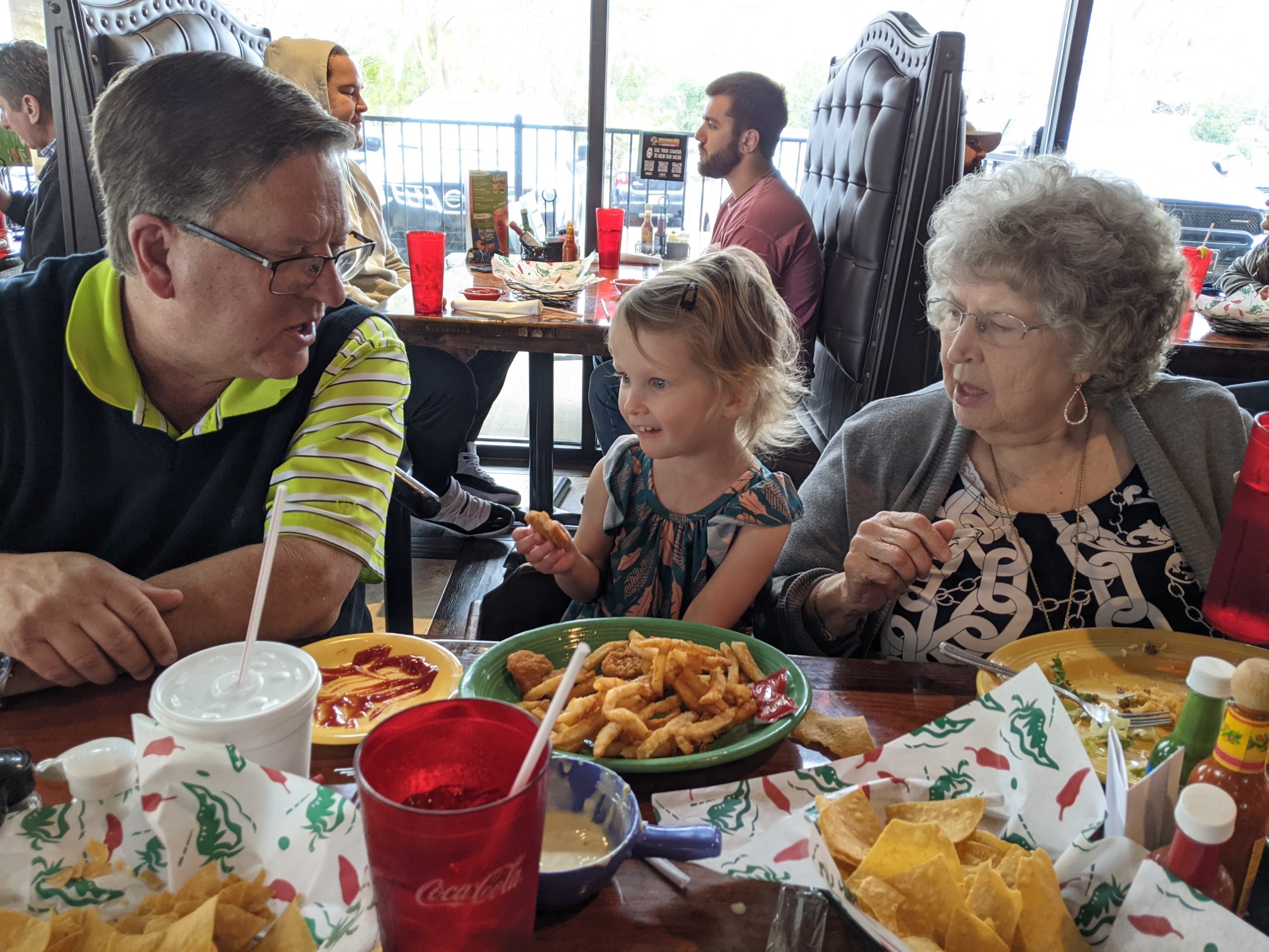 Emmie went down for her nap once we got home, and Jeff made it back home in the middle of her nap. She was so super excited to see her Daddy for the first time since Wednesday night, and she wouldn't let go of him for about 30 minutes after he got her up out of bed. Jeff ended up falling asleep cuddling, and then Emerson wanted to play on her Kindle…
My phone was charging and I couldn't find a book to read (I finished #3 in a series of 7 books, and my hold on #4 hasn't come in yet and nothing else sounded good), and I honestly was just bored. So bored in fact, I ended up just doing more chores – started a load of laundry, cleaned the toilets, and finally remembered to take the Christmas pillow cases off the couch throw cushions.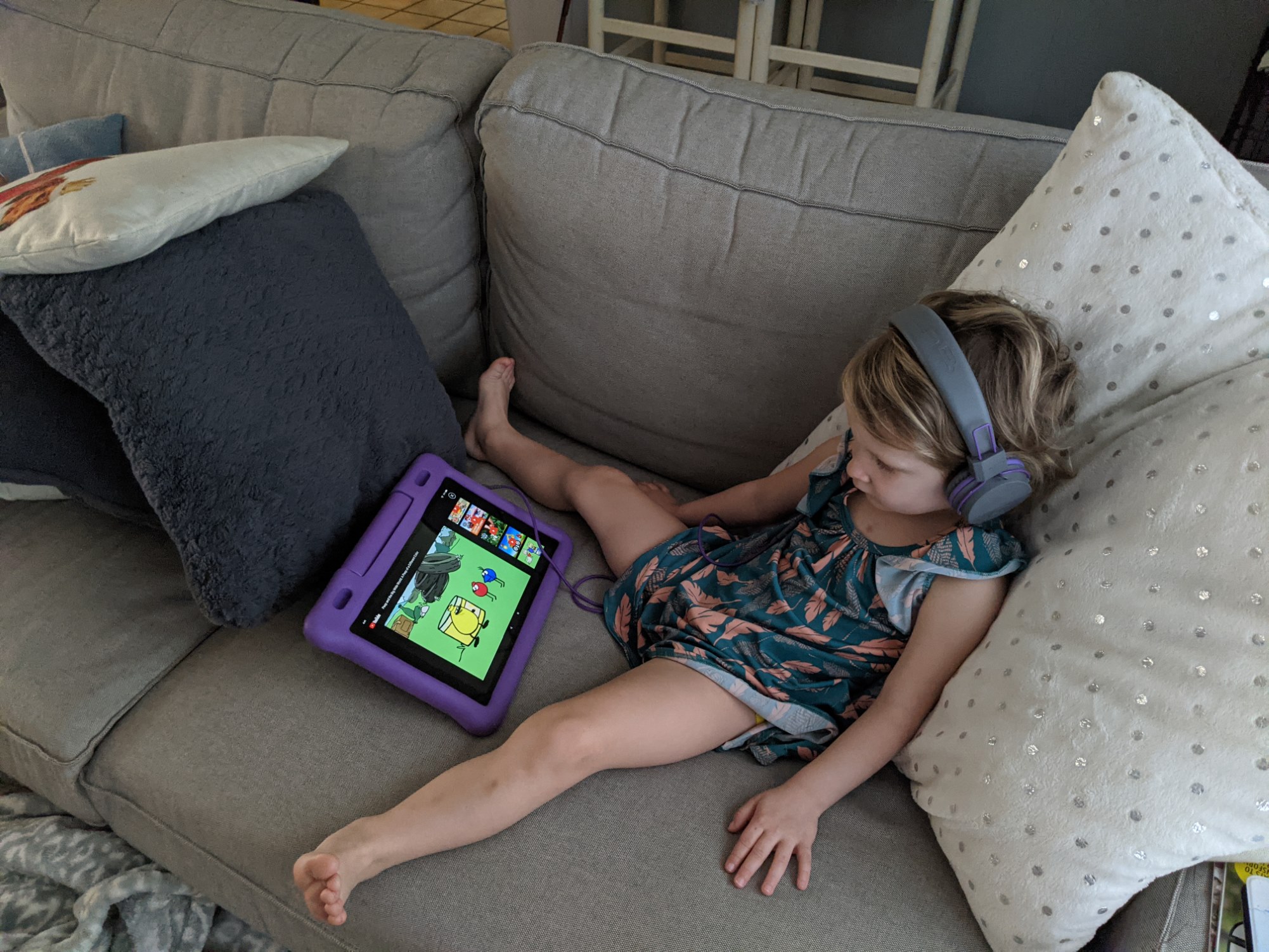 We ended up ordering take-out from Super Perros for dinner, and Jeff went to pick it up for us. We got one pollo encebollado (marinated chicken with grilled onions) to split (this is just my half, and Jeff had a plate of his own), and an order of cheese fries to split as well.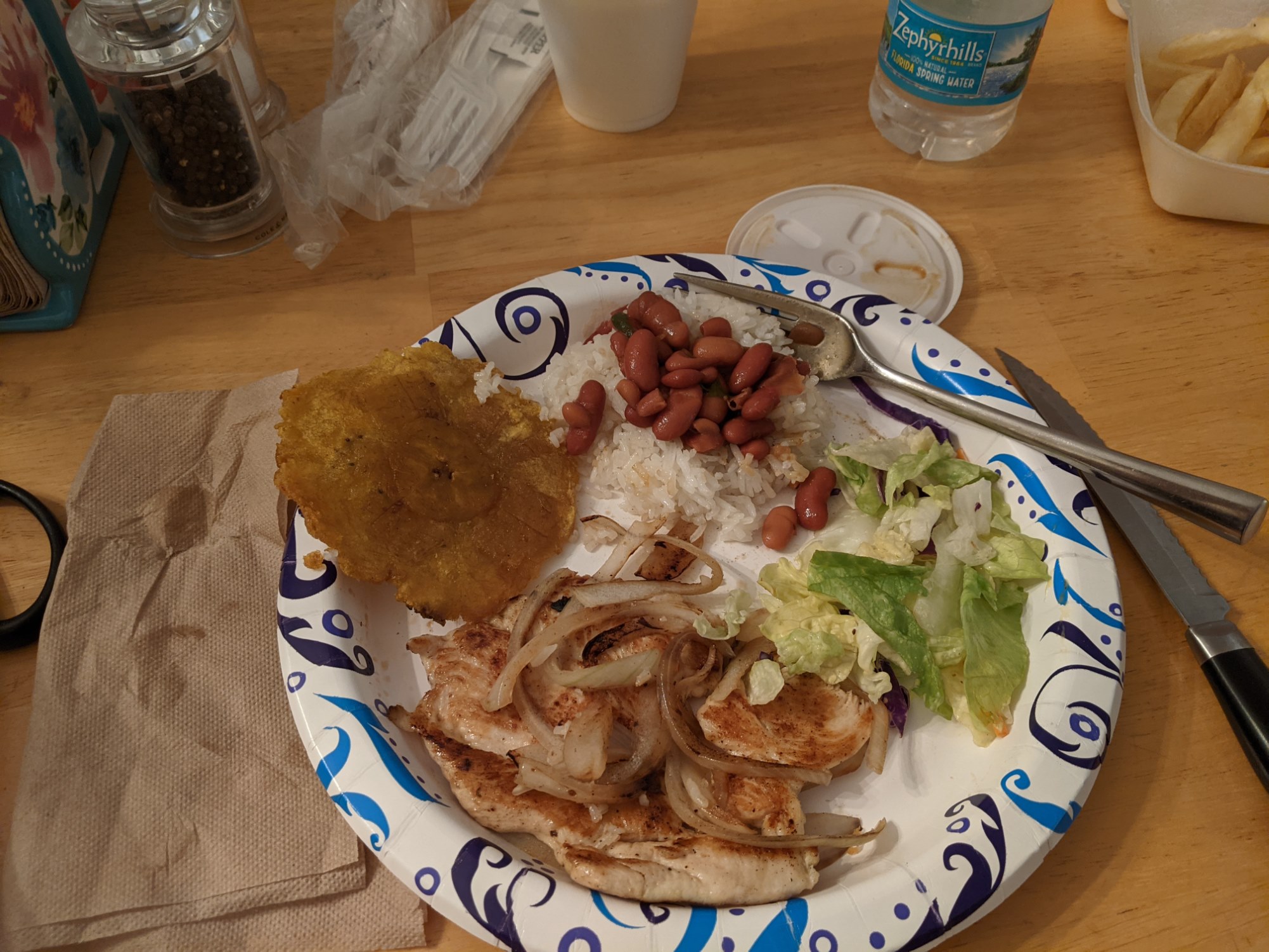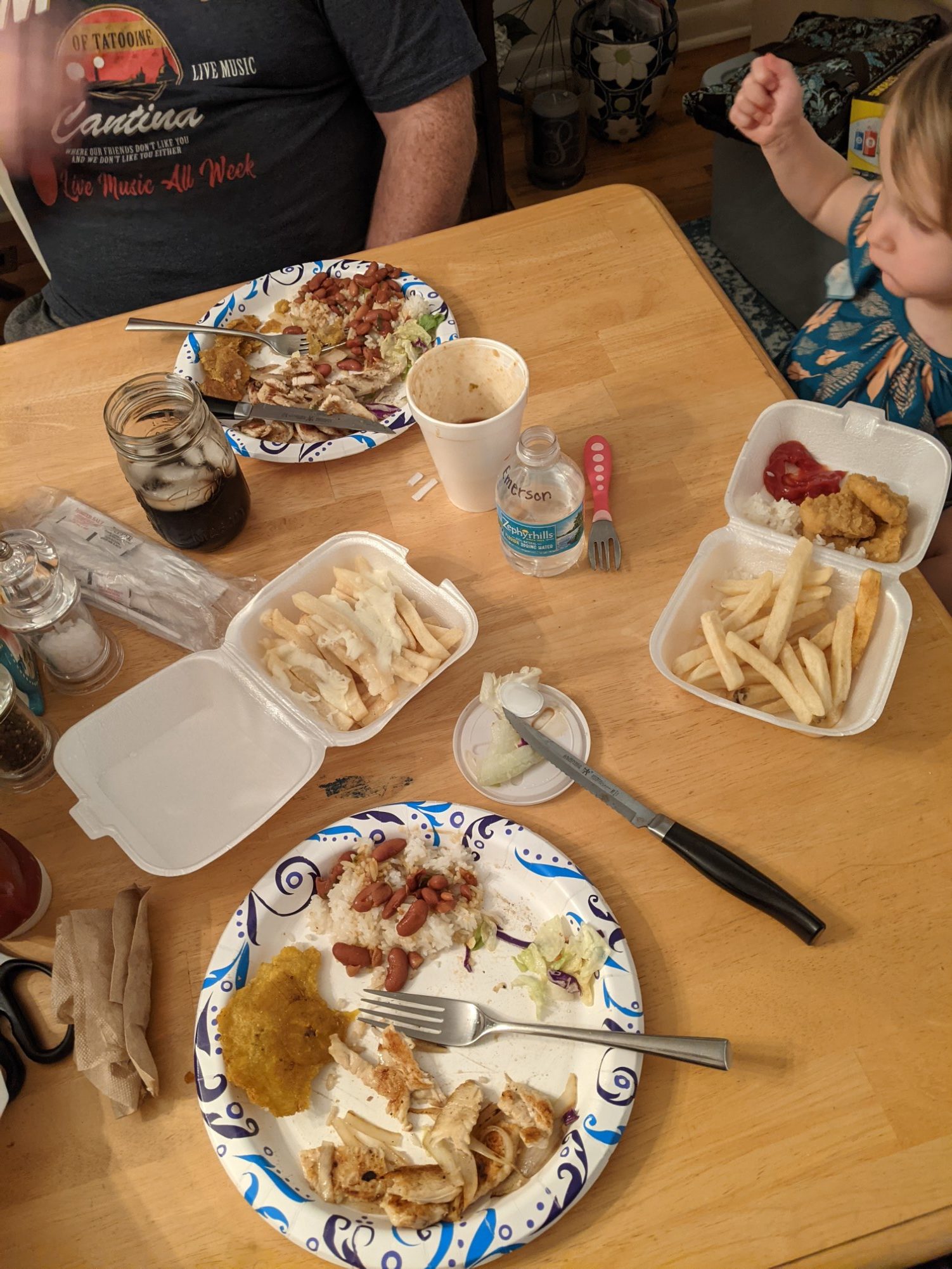 Plus we got two churros for the three of us to split as well, which was a nice treat to end the meal.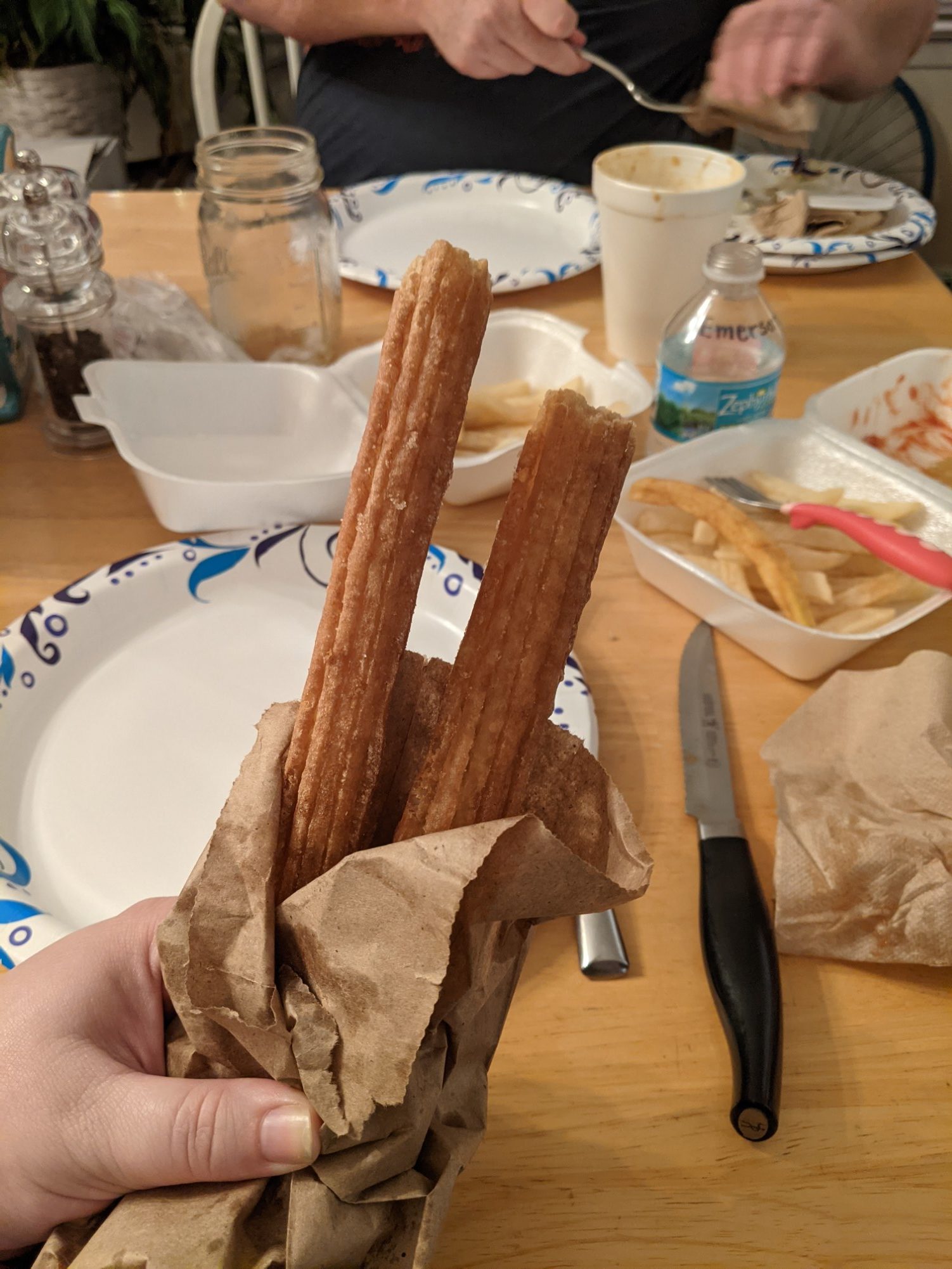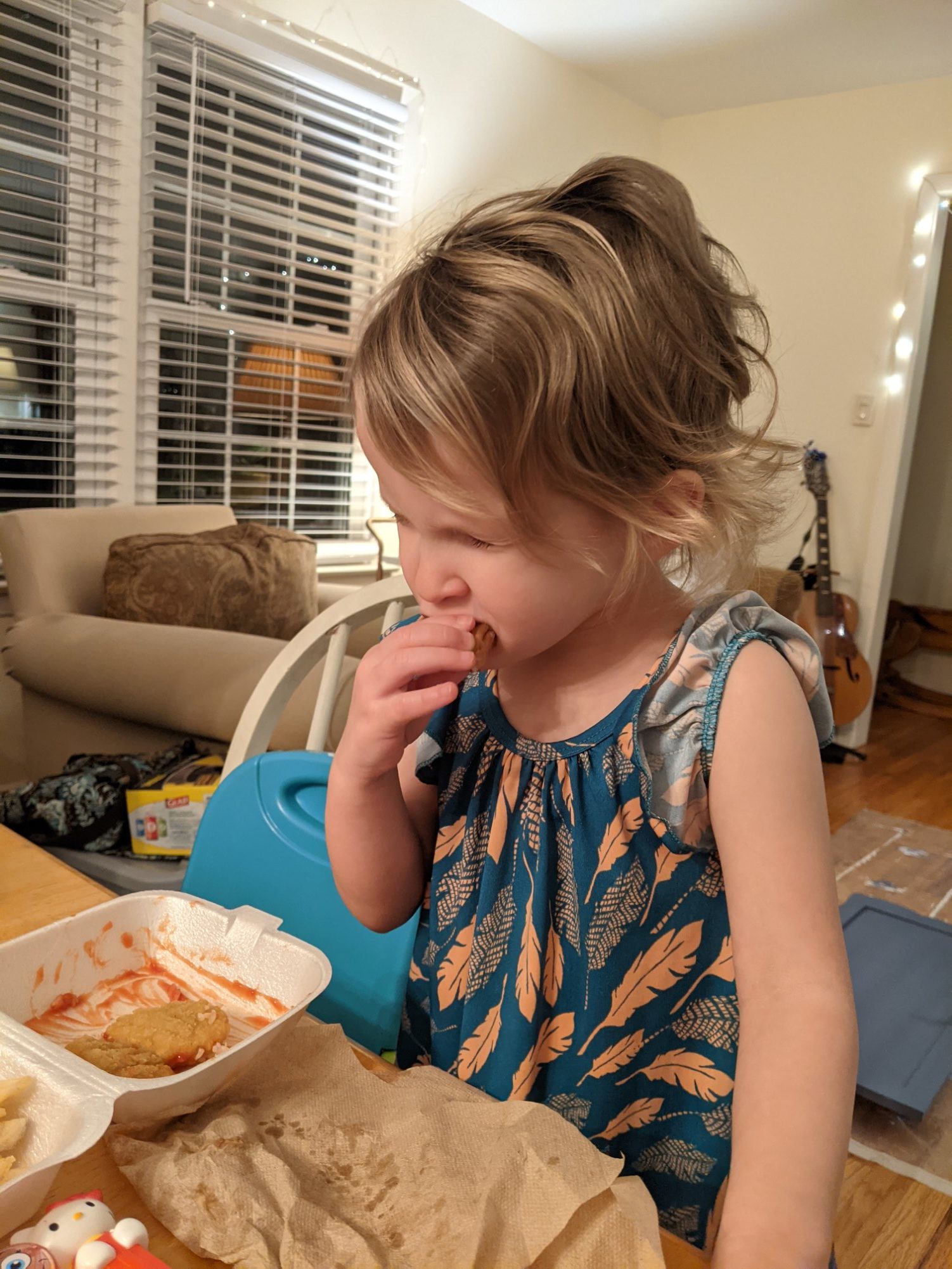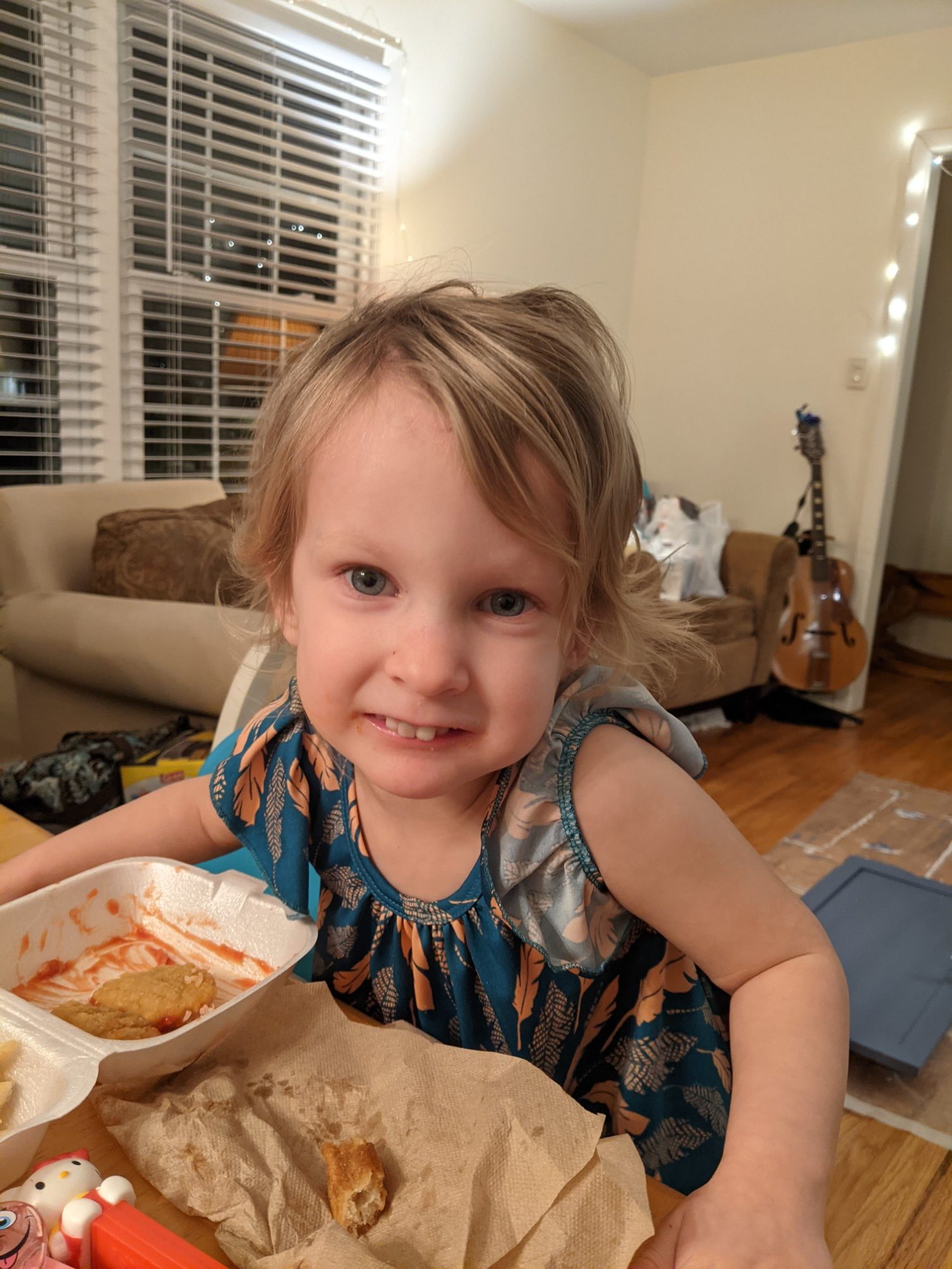 Jeff went to an IKEA on his trip, and got Emmie this cute little teddy bear. And just like every stuffed animal she's ever been given, she instantly fell in love with it.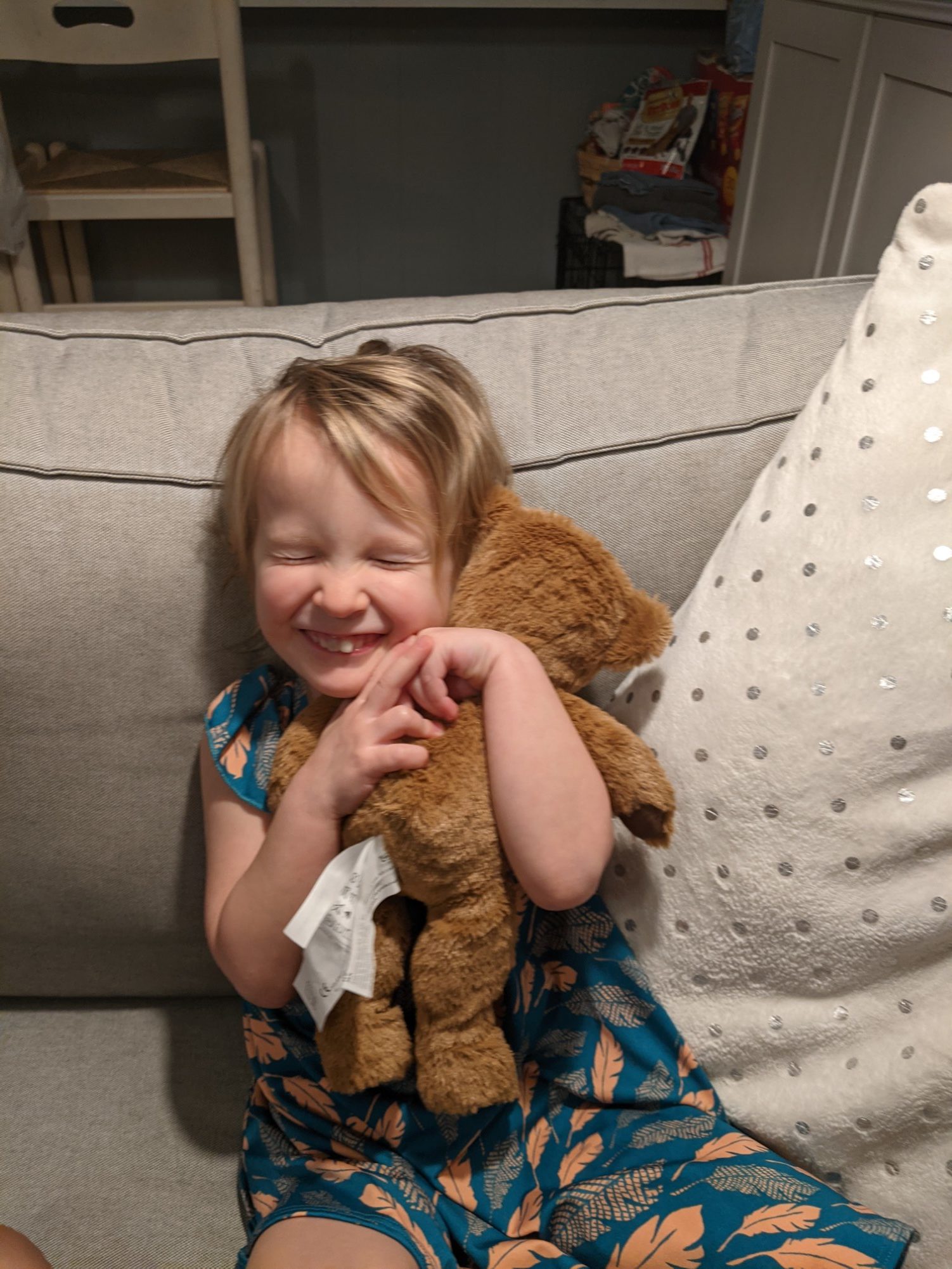 Once she got her nightgown on, Jeff carried her around in the bag for a little bit, and then we read a book together on the couch. She also helped Jeff put together a little coat rack thingy that he got, because of course she loves to help all the time.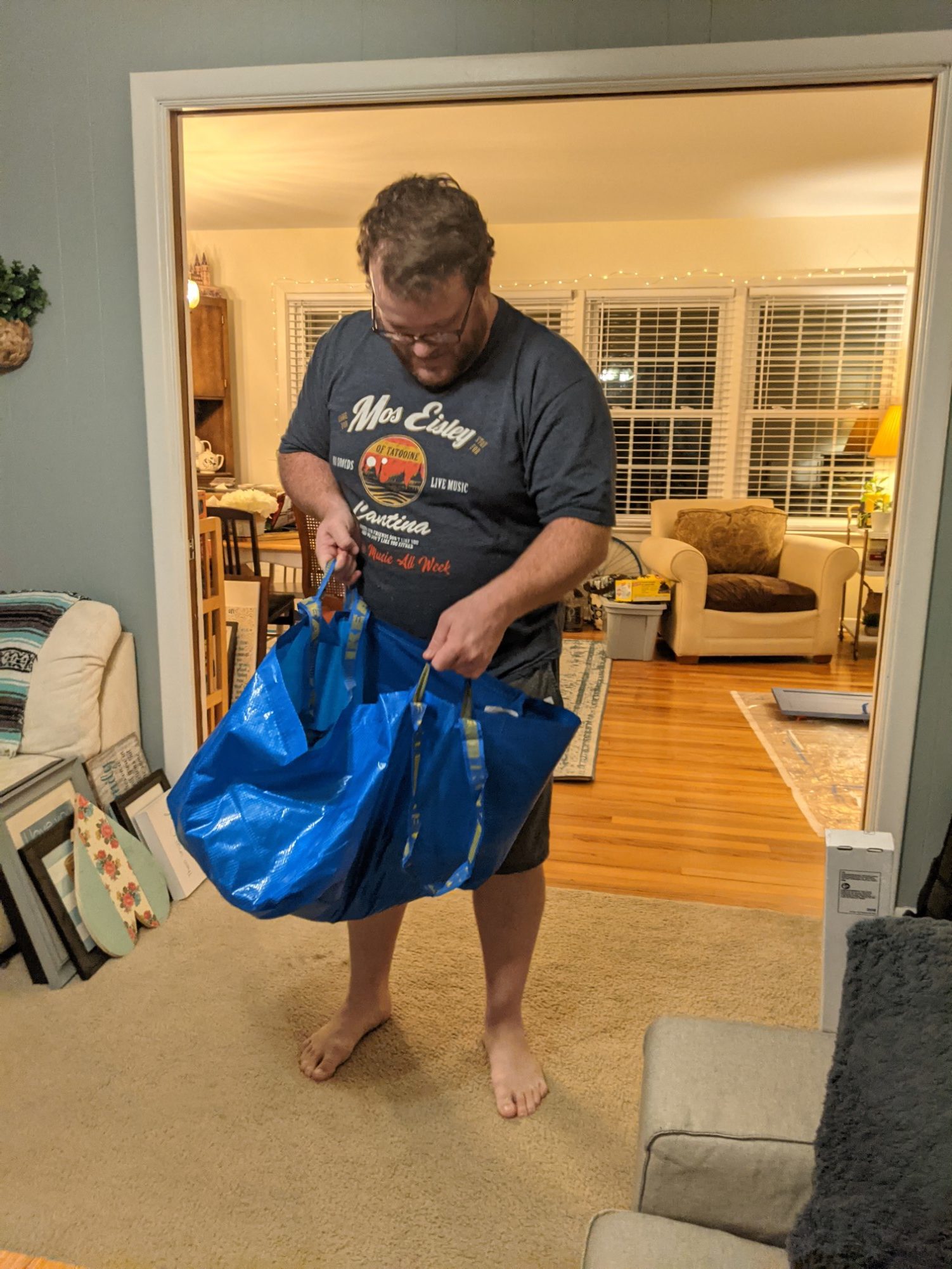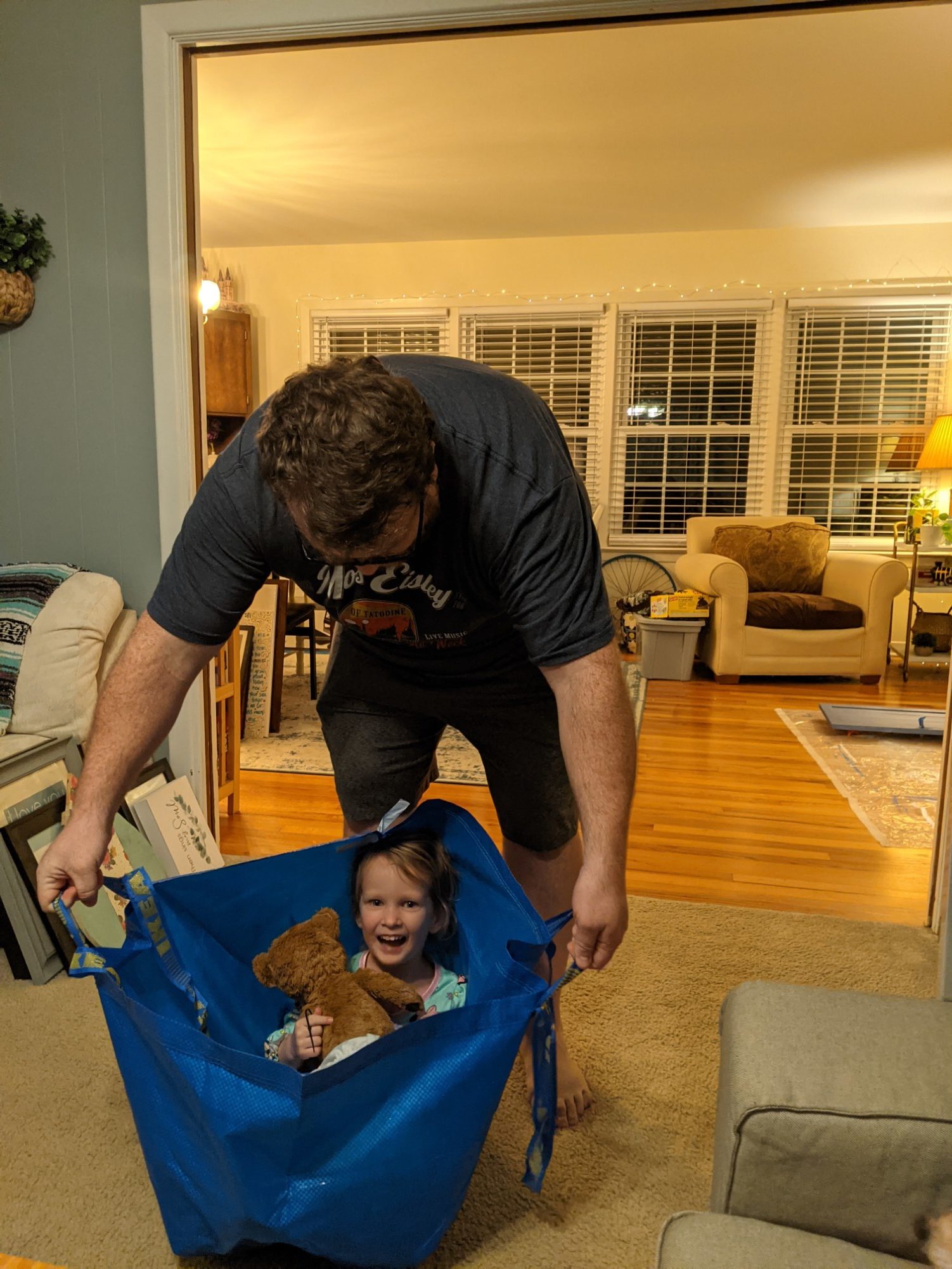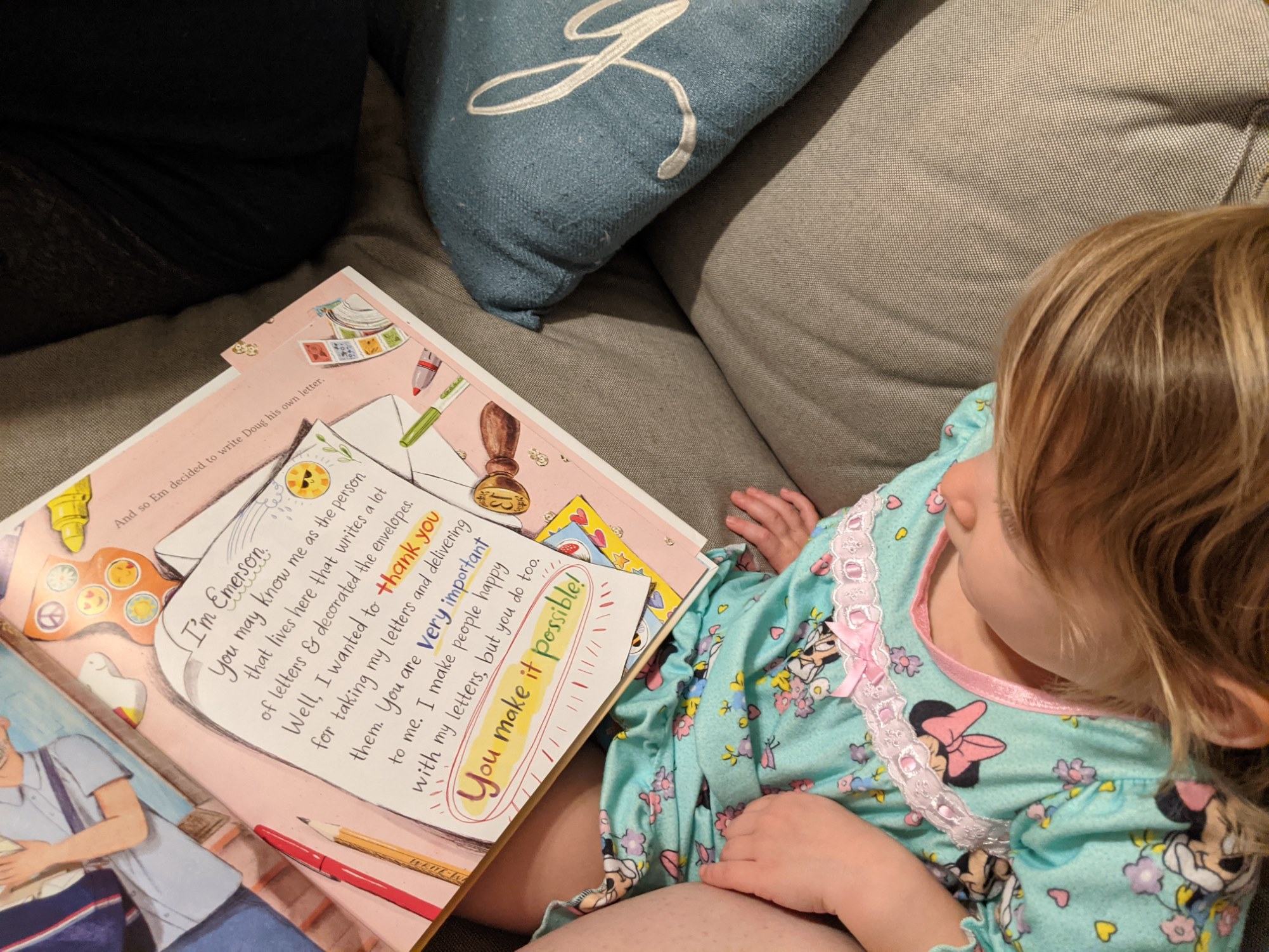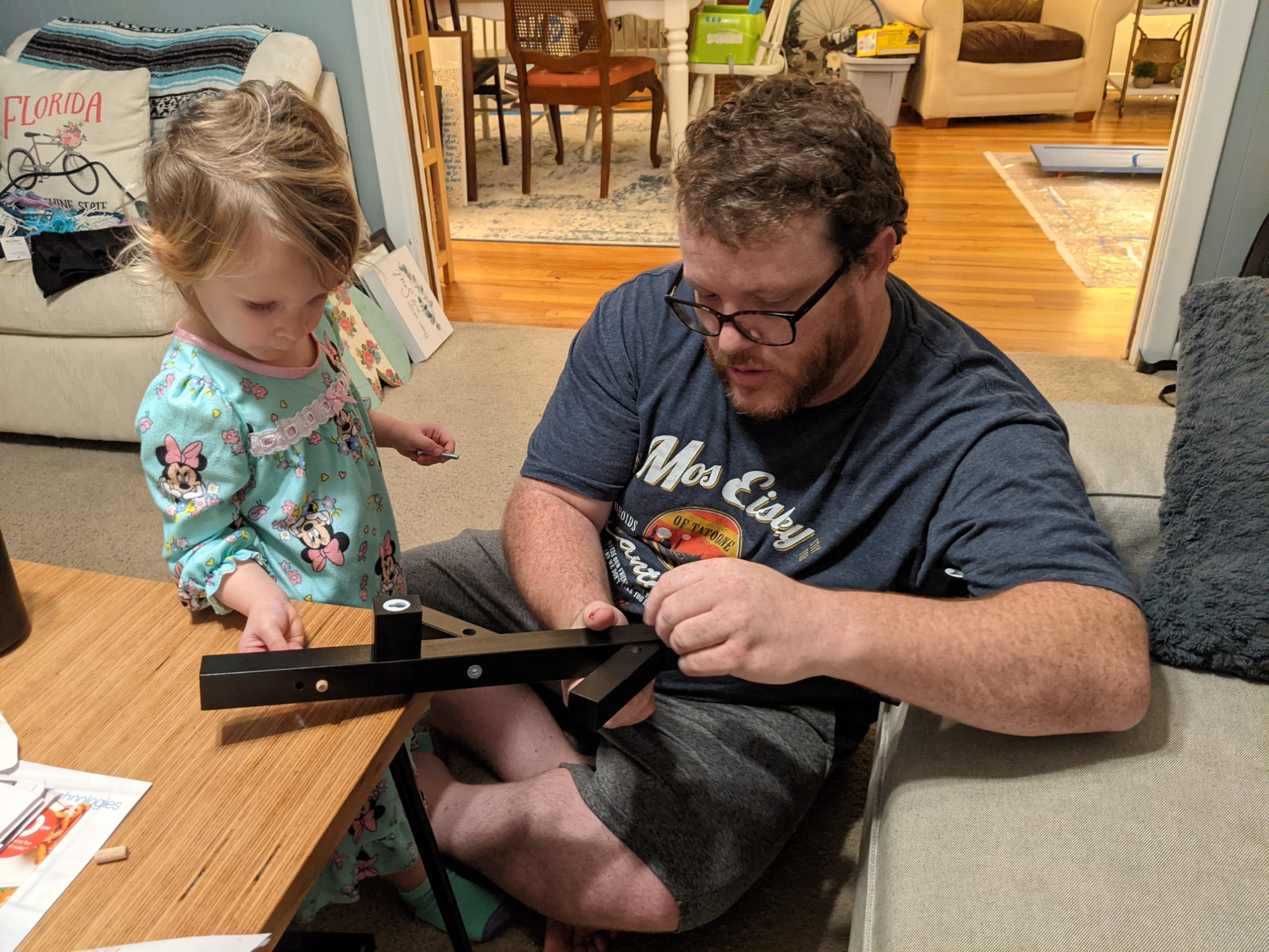 We read Merida's story from the princess book at bedtime, and she got a million night-night hugs from Daddy, whom she was still so super thrilled to have back home. It took about 30 minutes and a few back & forth's, and in's & out's of her room, before she finally settled down and wen to sleep.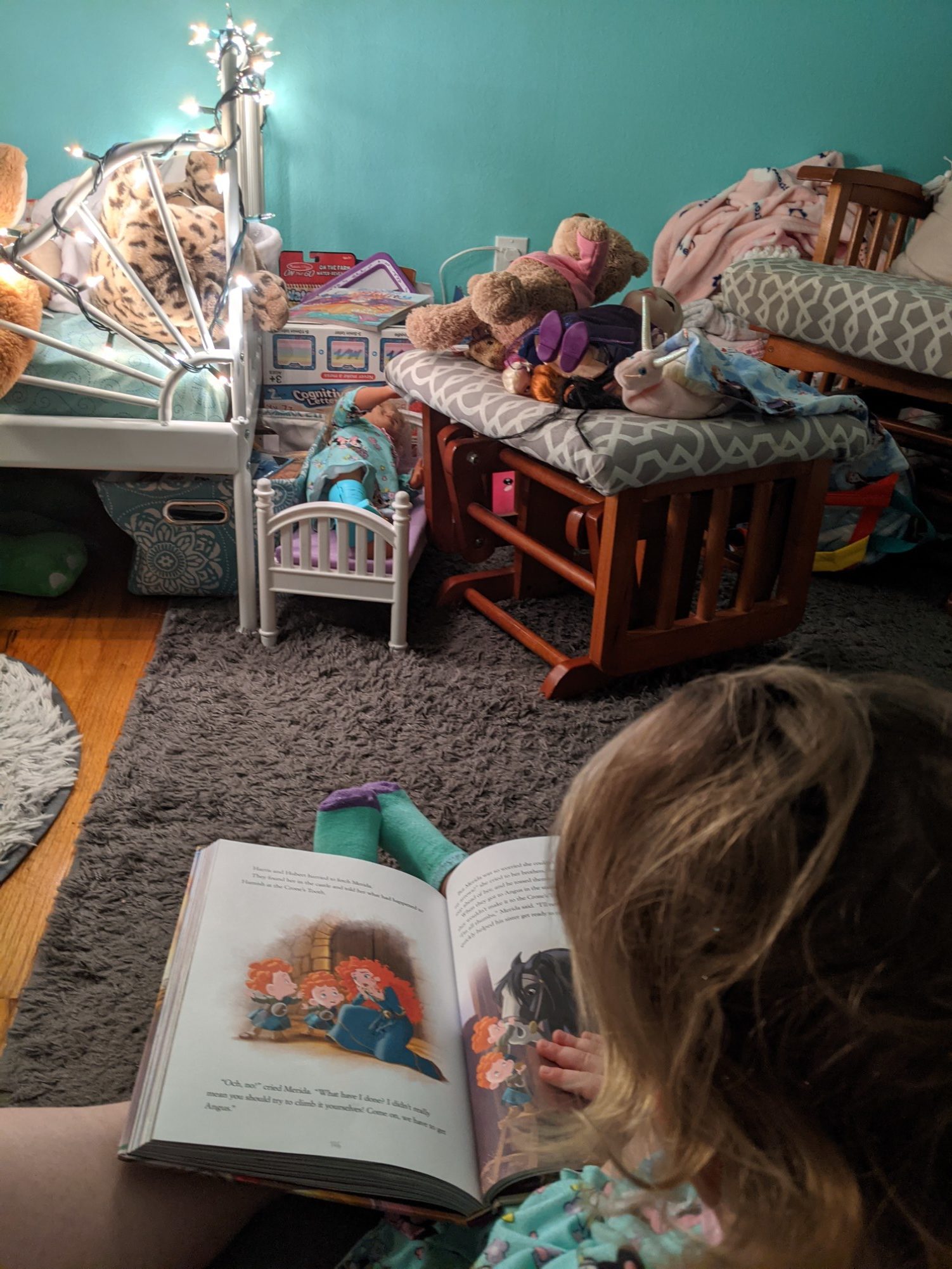 We started the day with great family time at Grammy's, and ended the day with great family time at home this afternoon and evening. As excited as Emerson was to have her Daddy back home, I'm equally as excited to have my hubby back home. Gonna go cuddle up on the couch with him and chat and watch tv and just relax together. And probably grab a nighttime snack, because my and Baby Girl are feeling a little snacky tonight 😉