Jeff woke up with a migraine this morning. And it was my turn on praise team, so I had to be at church early. So I dropped off Emerson with Grammy & Pepaw, to have breakfast at the Bagel Bistro, so I could get to rehearsal on time. (Nursery starts at 9am, and I had to be there at 8:45am.) But of course neither Emmie nor her grandparents minded this last minute arrangement.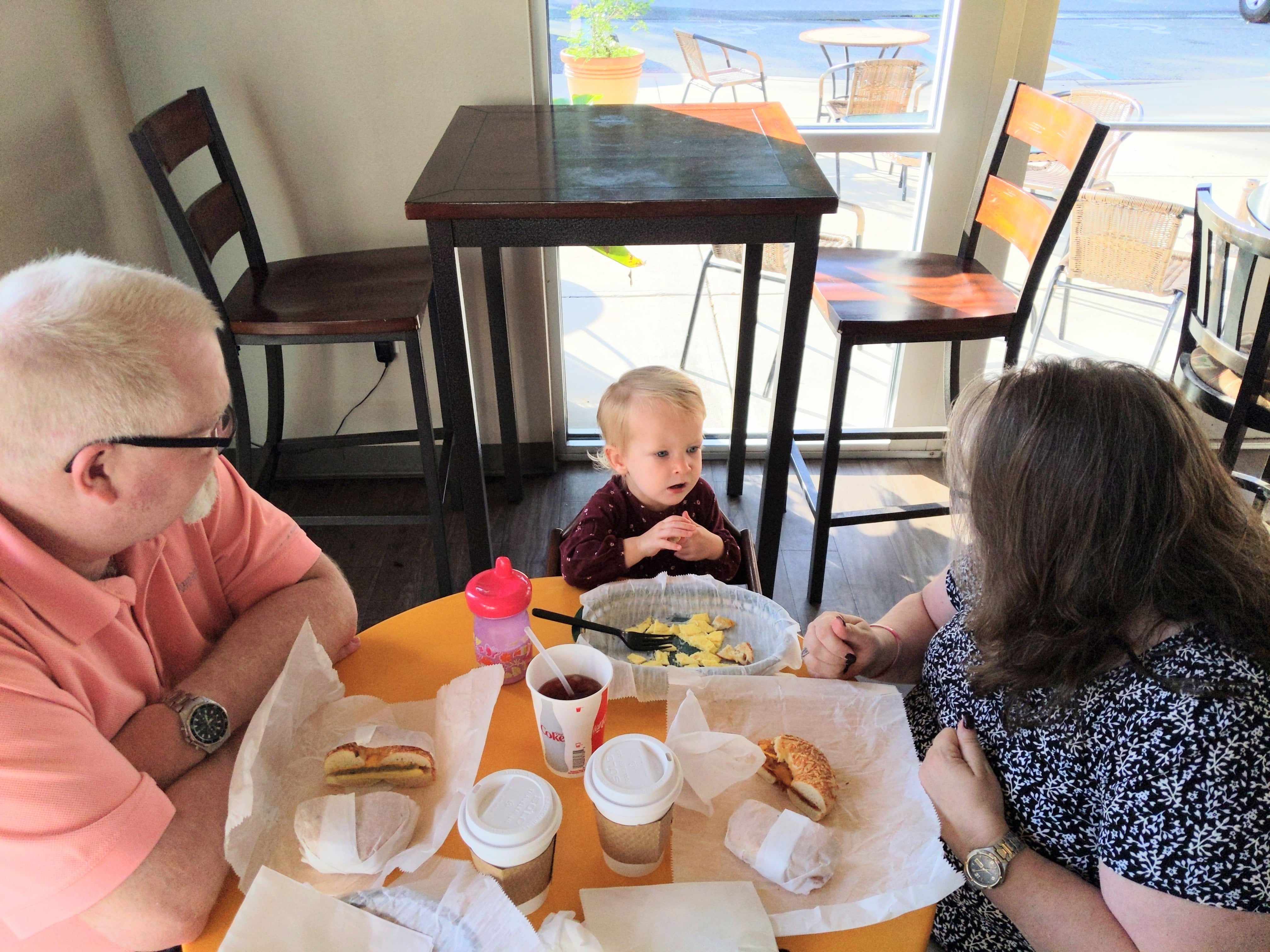 Then once they got to church a little bit later, Grammy brought Emerson into the sanctuary to listen to us, and she loved it! When Mama first opened the door and Emmie saw me up on stage, her whole face lit up and she smiled so huge! Then she just sat there in Grammy's lap, listening to her Mommy singing. And I loved it!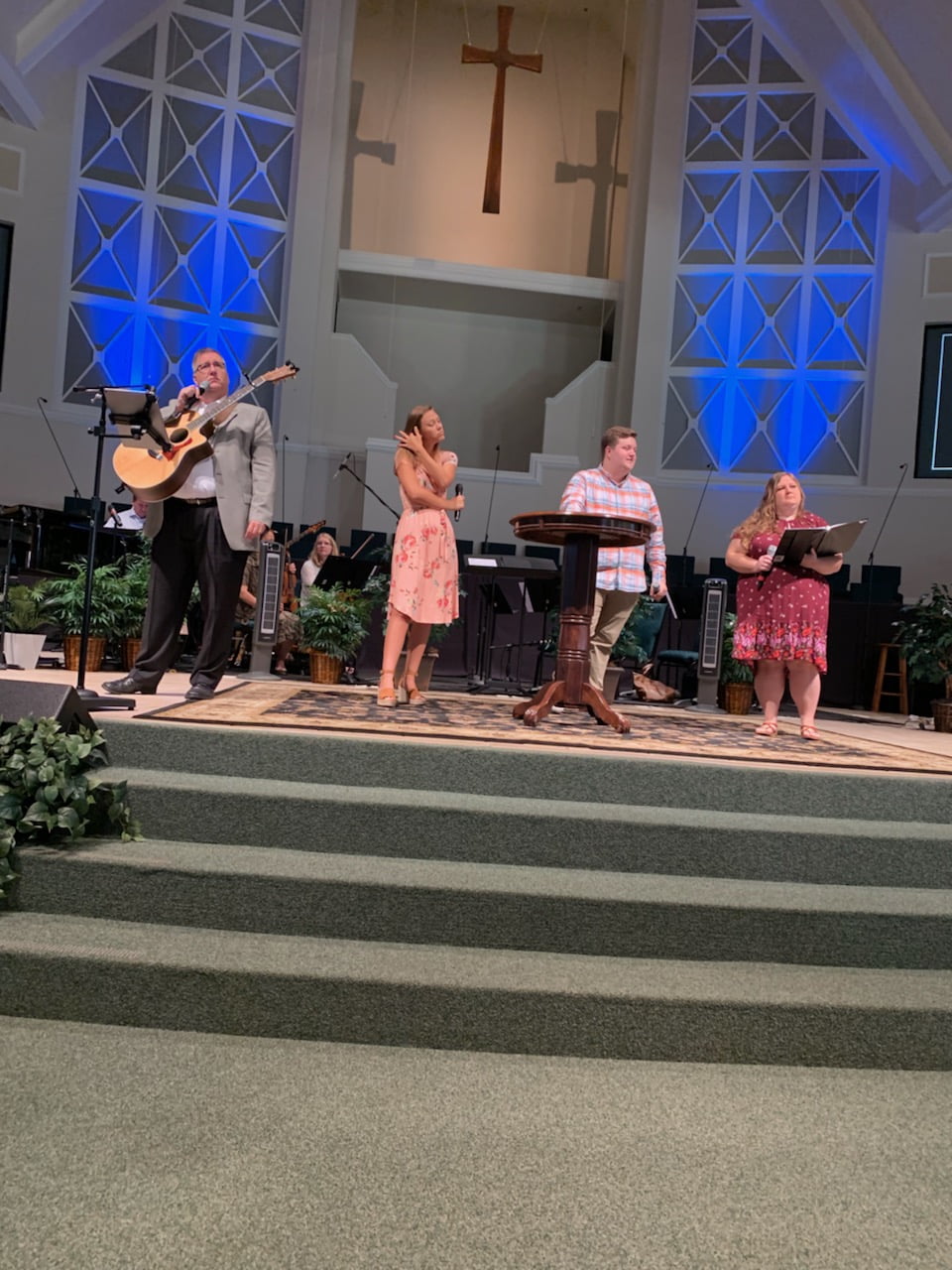 After church, Grandmommie gave Emmie a box of raisins from her purse, and Grammy gave her some gummies & Graham crackers from her purse. And then we gave Aunt Suzanne a hard time for not having toddler snacks in her purse too 😂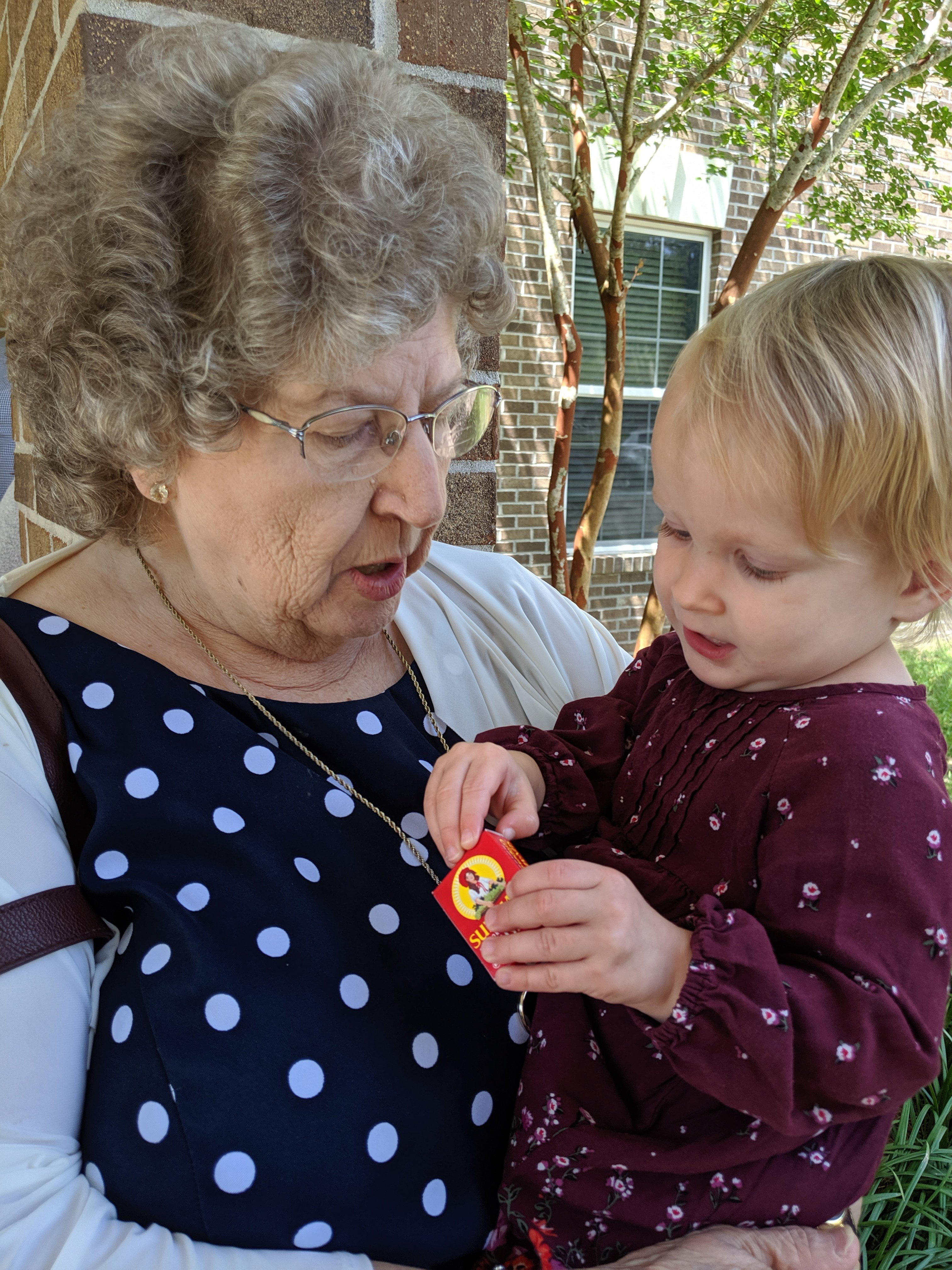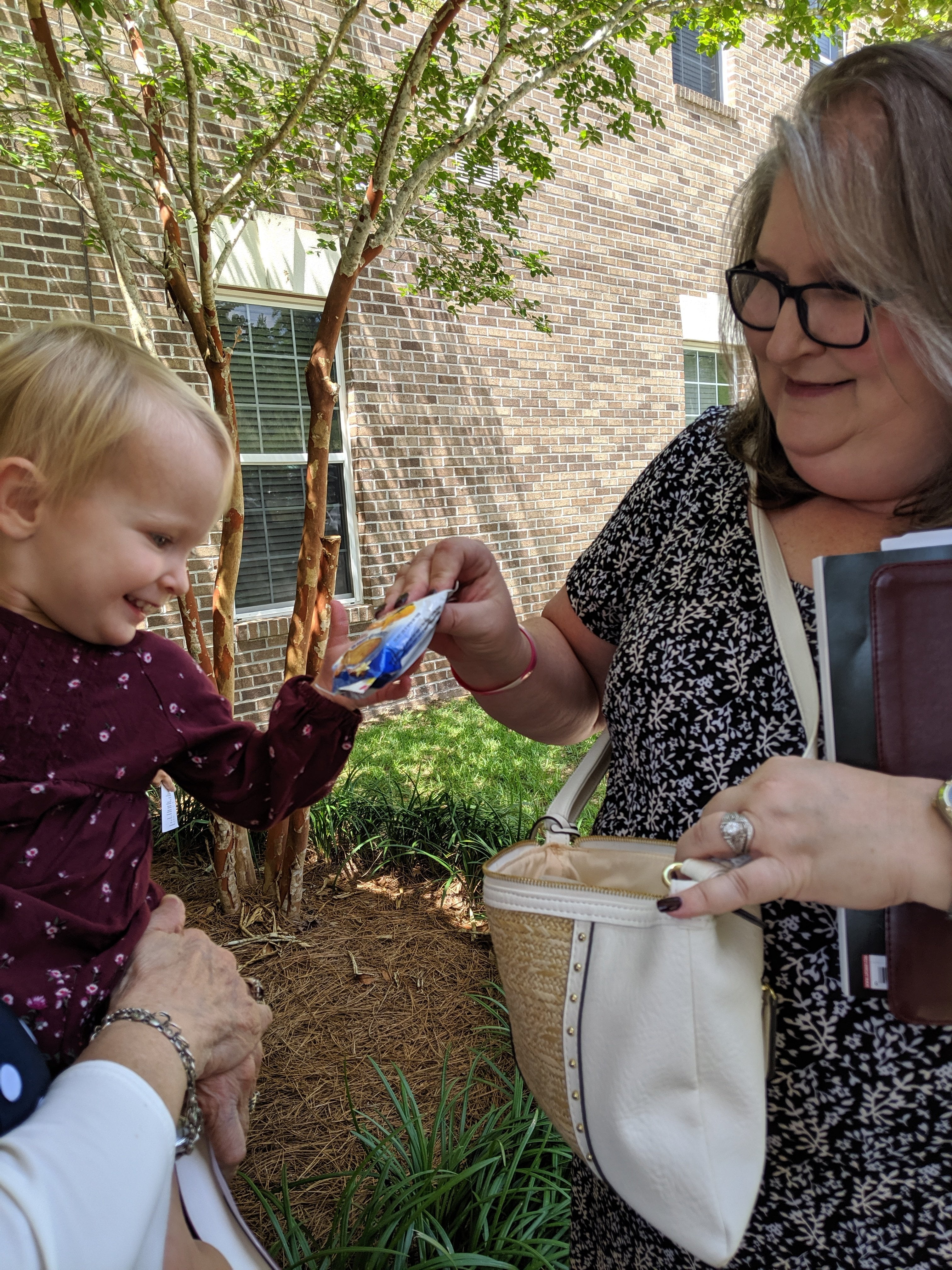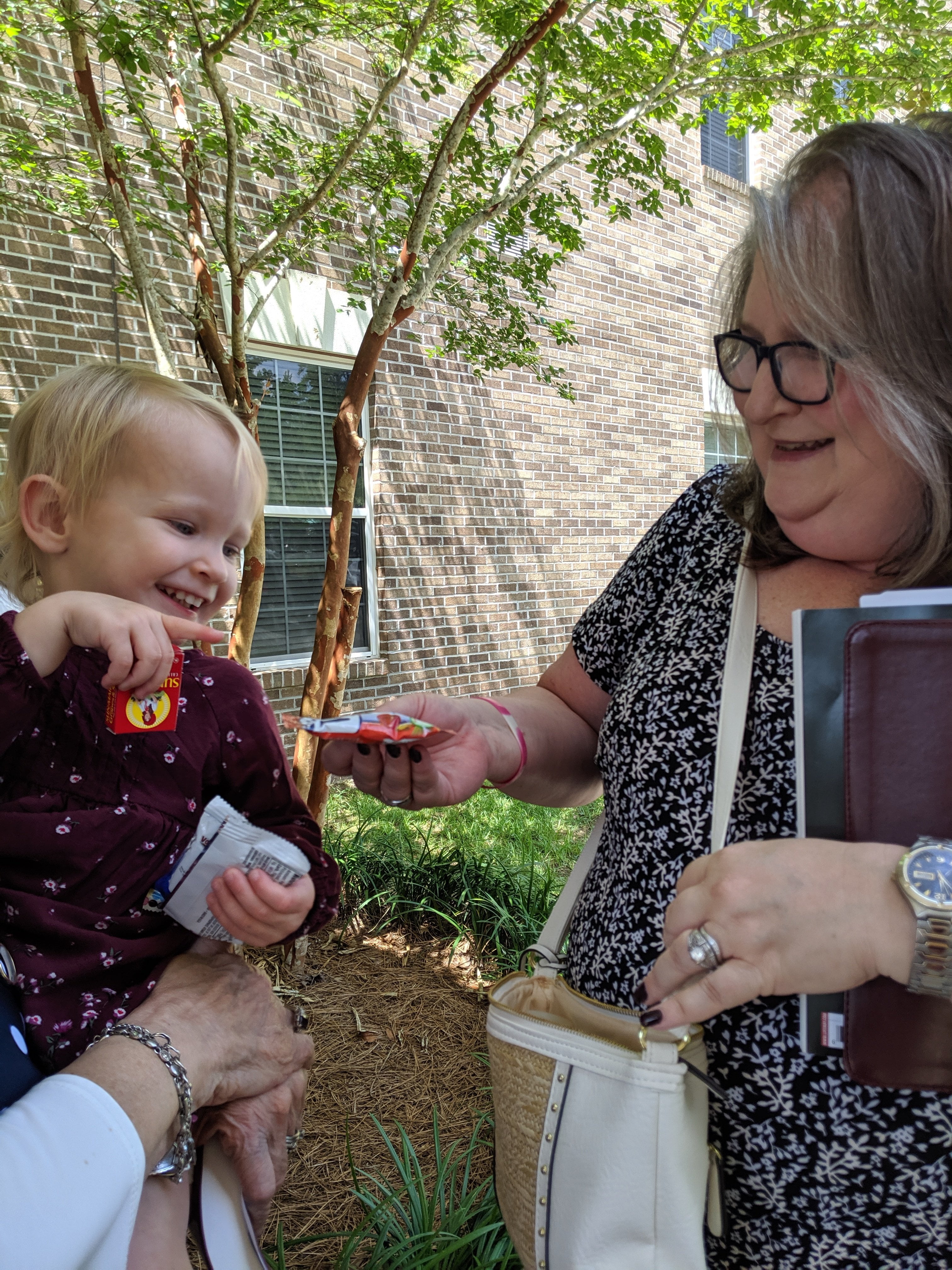 And ease check out this crazy little diva girl! (These are some freebie sunglasses my parents gave her, that she's been really liking this weekend.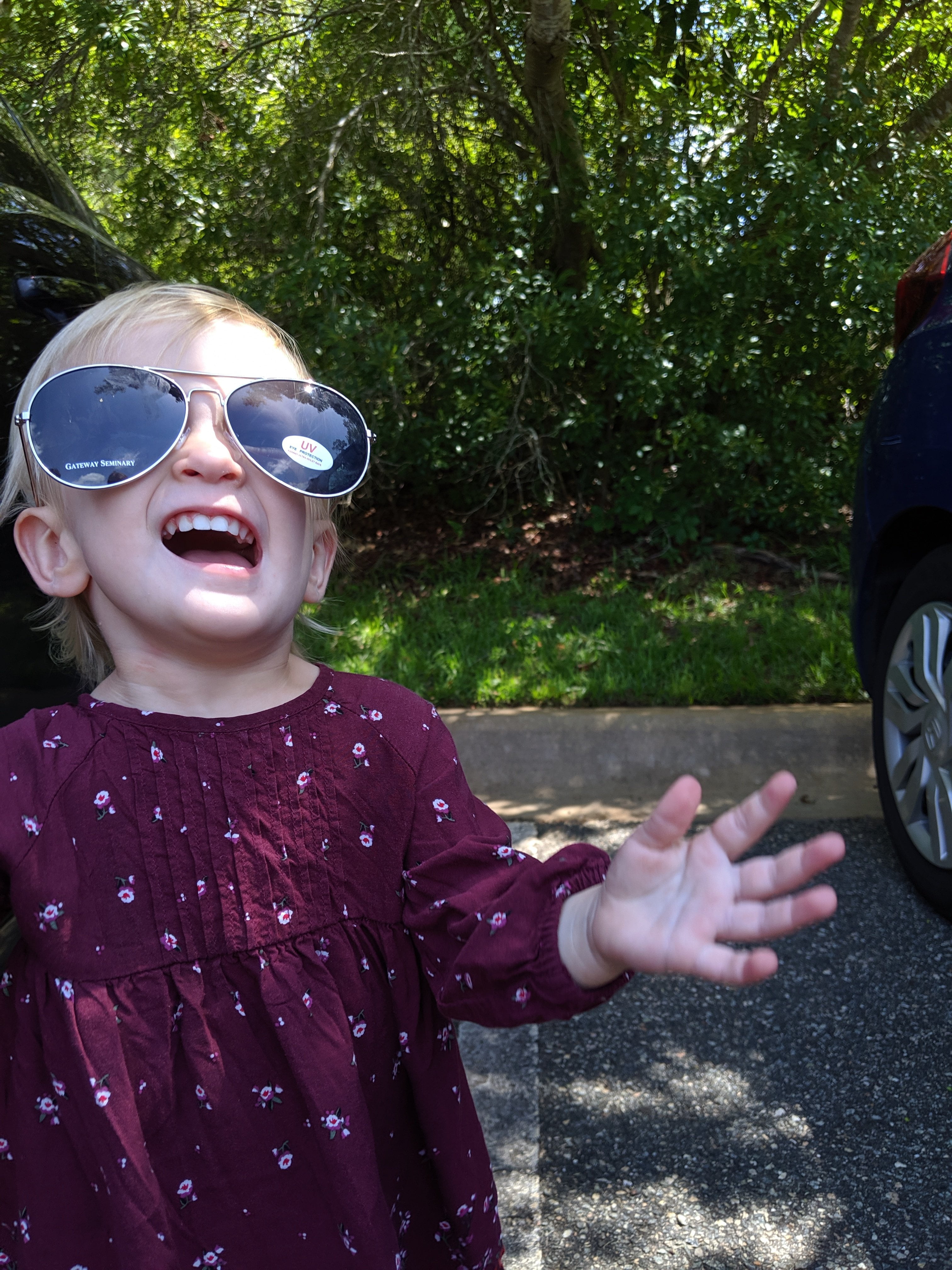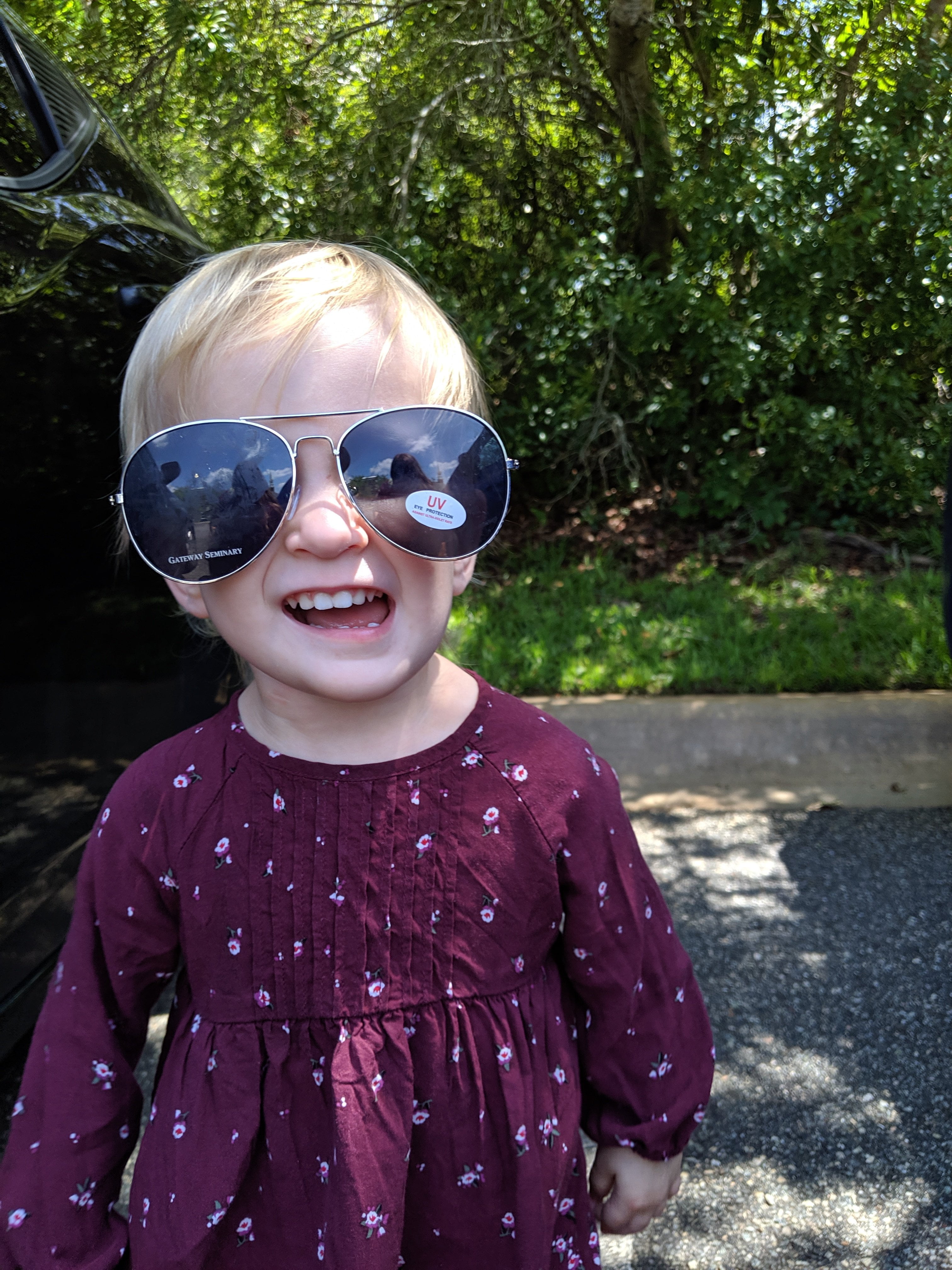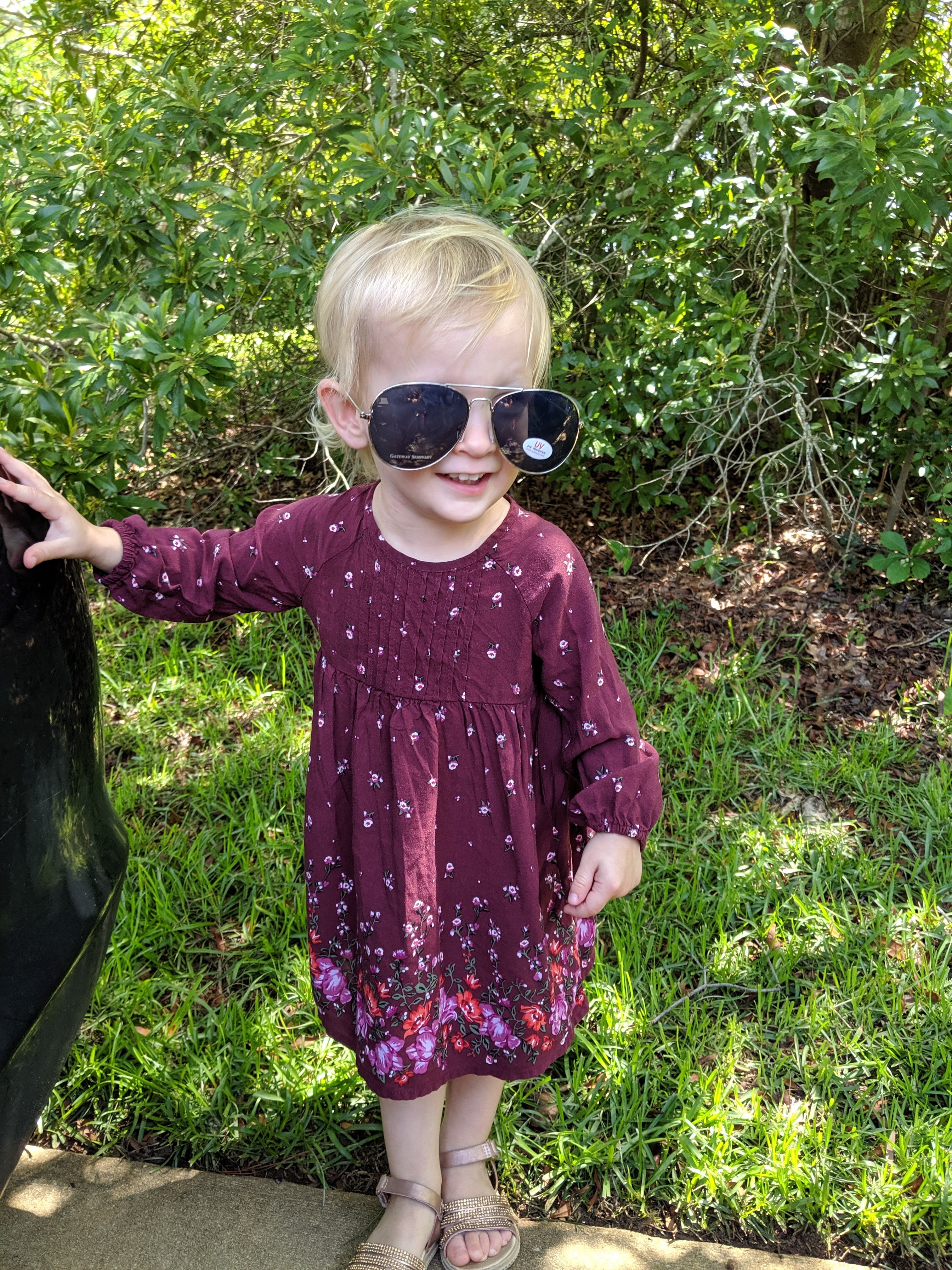 We wore out matching dresses today, and we looked so cute together!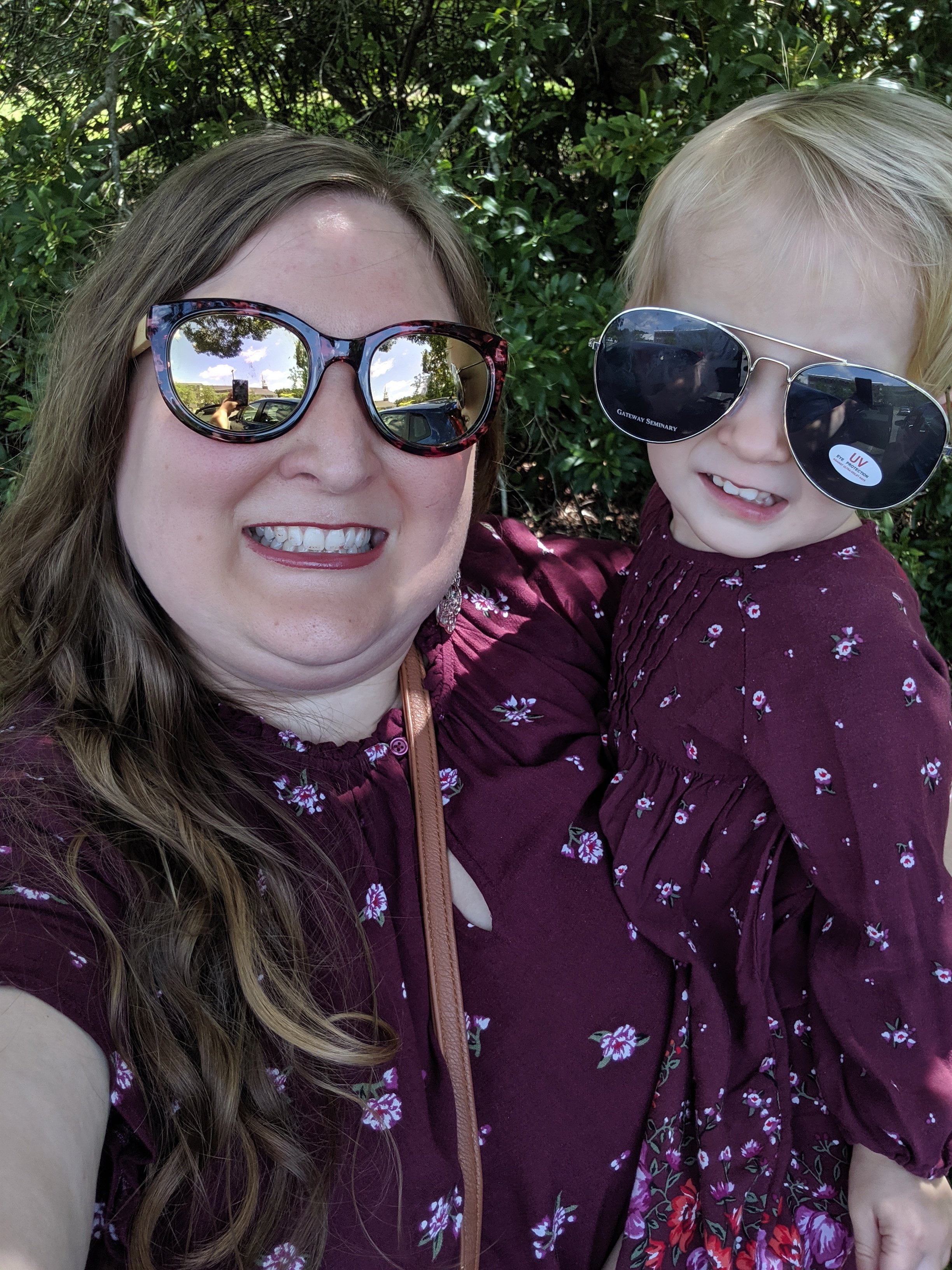 As soon as we got in the car, she wanted both the raisins and the gummies, so I just let her go for it!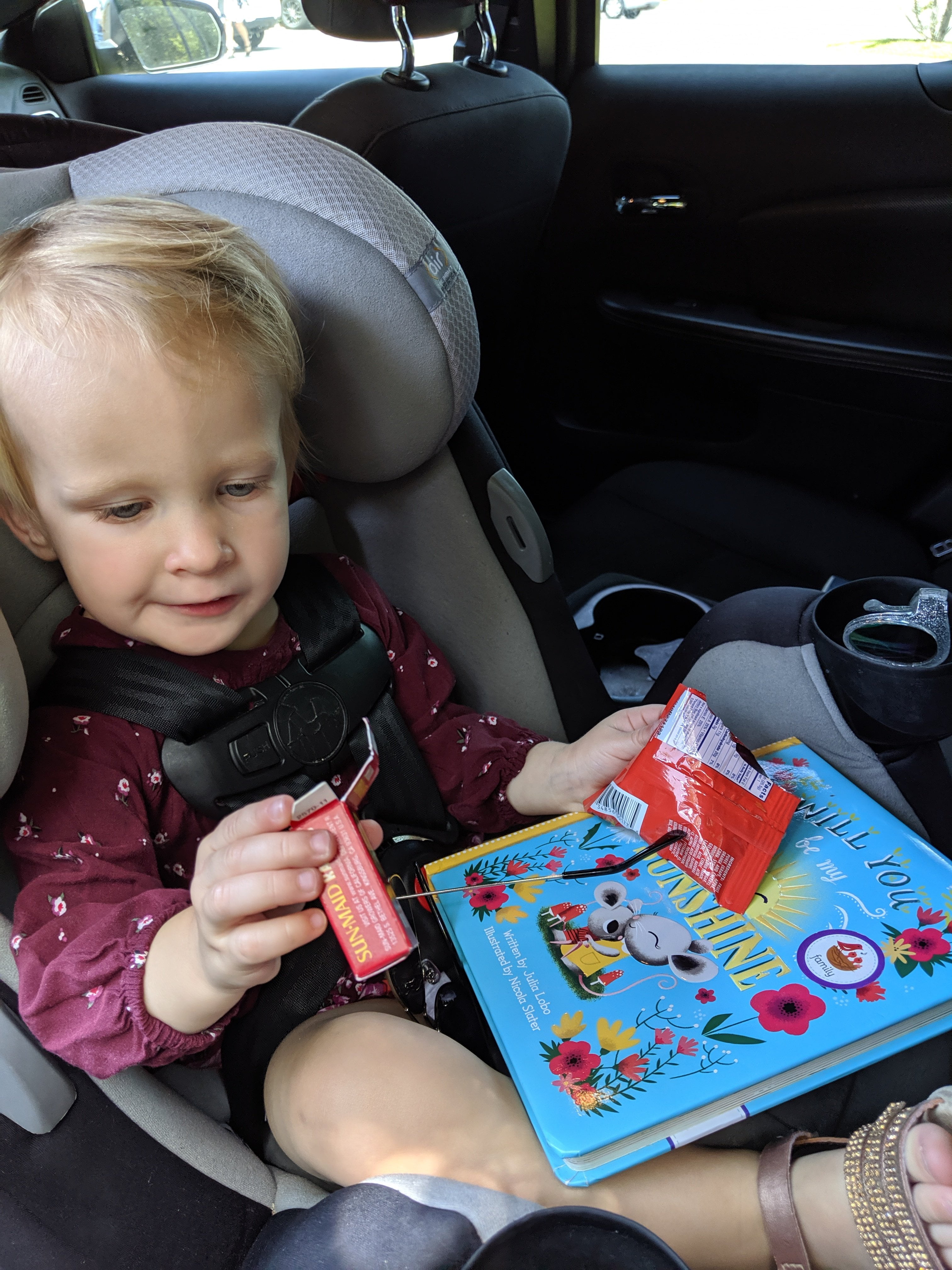 We went through the McDonald's drive-thru on the way home, for speed & ease, and this girl loves herself a burger.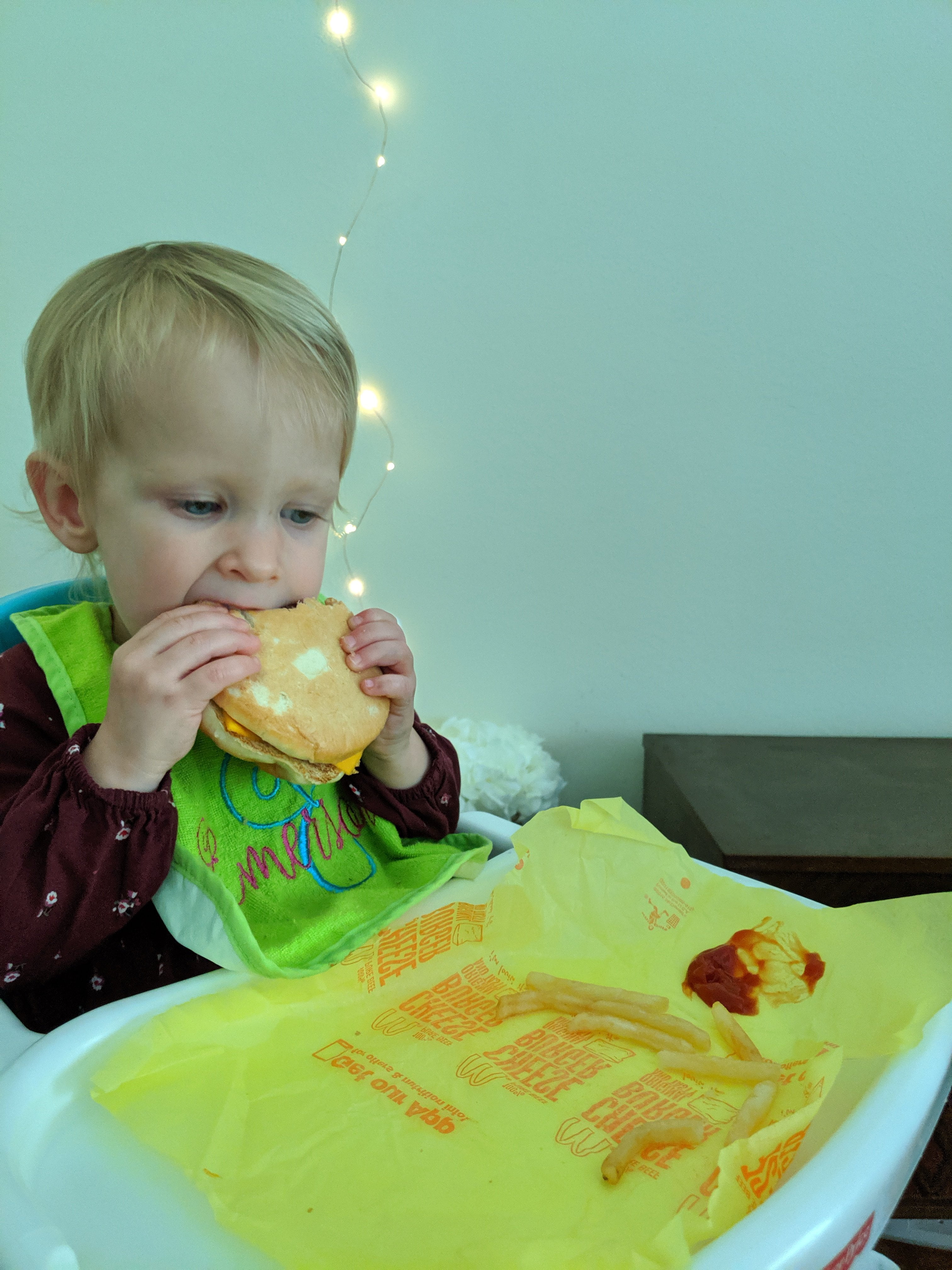 I got her down for her nap right after 1pm, and I got busy on chores and such, while Jeff was still sleeping off his migraine. I washed a few dishes I needed that were still dirty from last night (cutting board & my favorite knife, because I'm a grown-up with a favorite knife), and then got started on dinner. I had planned to make Indian Butter Chicken tonight, so I diced the chicken breasts and made the marinade, then popped it in the fridge to chill for a few hours. And then I finished washing last night's dishes.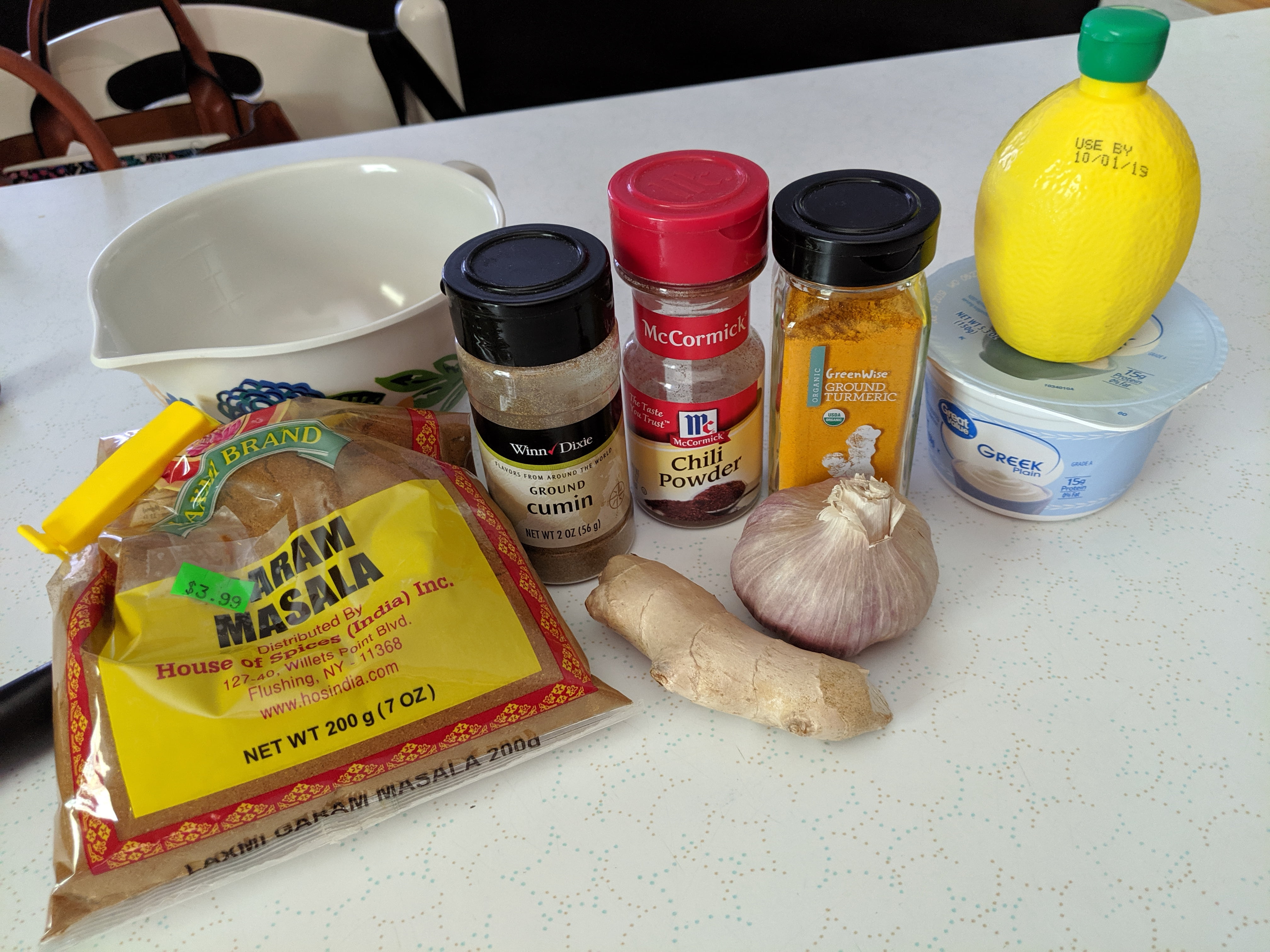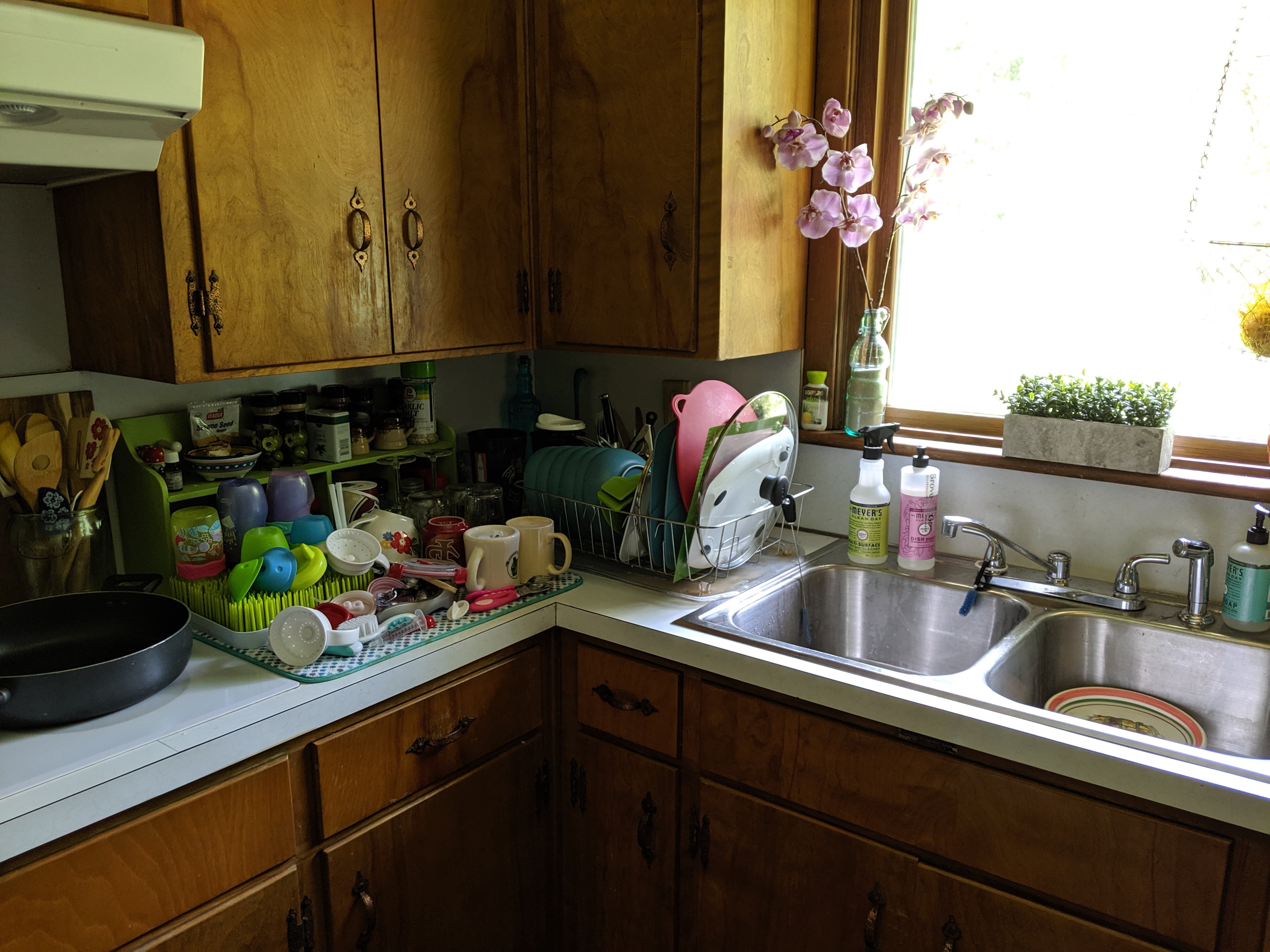 I was given two surprise bags at church today. The first was a recycled TJ'a bag of super cute hand-me-down clothes for Emerson, and the second was from the Laurel Mercantile again! A sweet lady from church who reads my blog & knows how much I love the Napier's from Home Town, visited Laurel on their vacation last week. And she actually got me these treats! I was so surprised! Thank you so much, Ms. Joann! (Side note – we are actually watching an episode of Home Town as I blog right now.)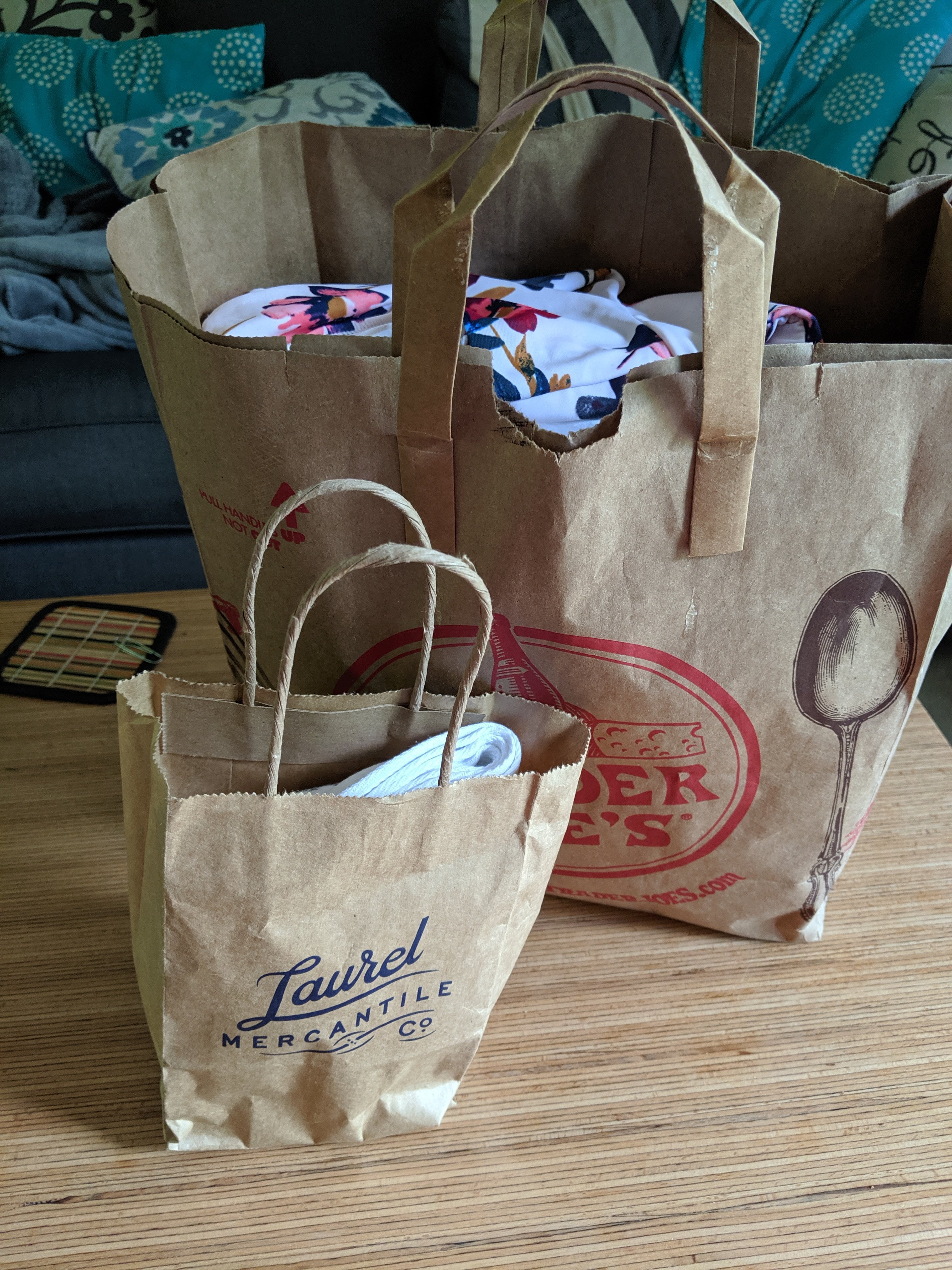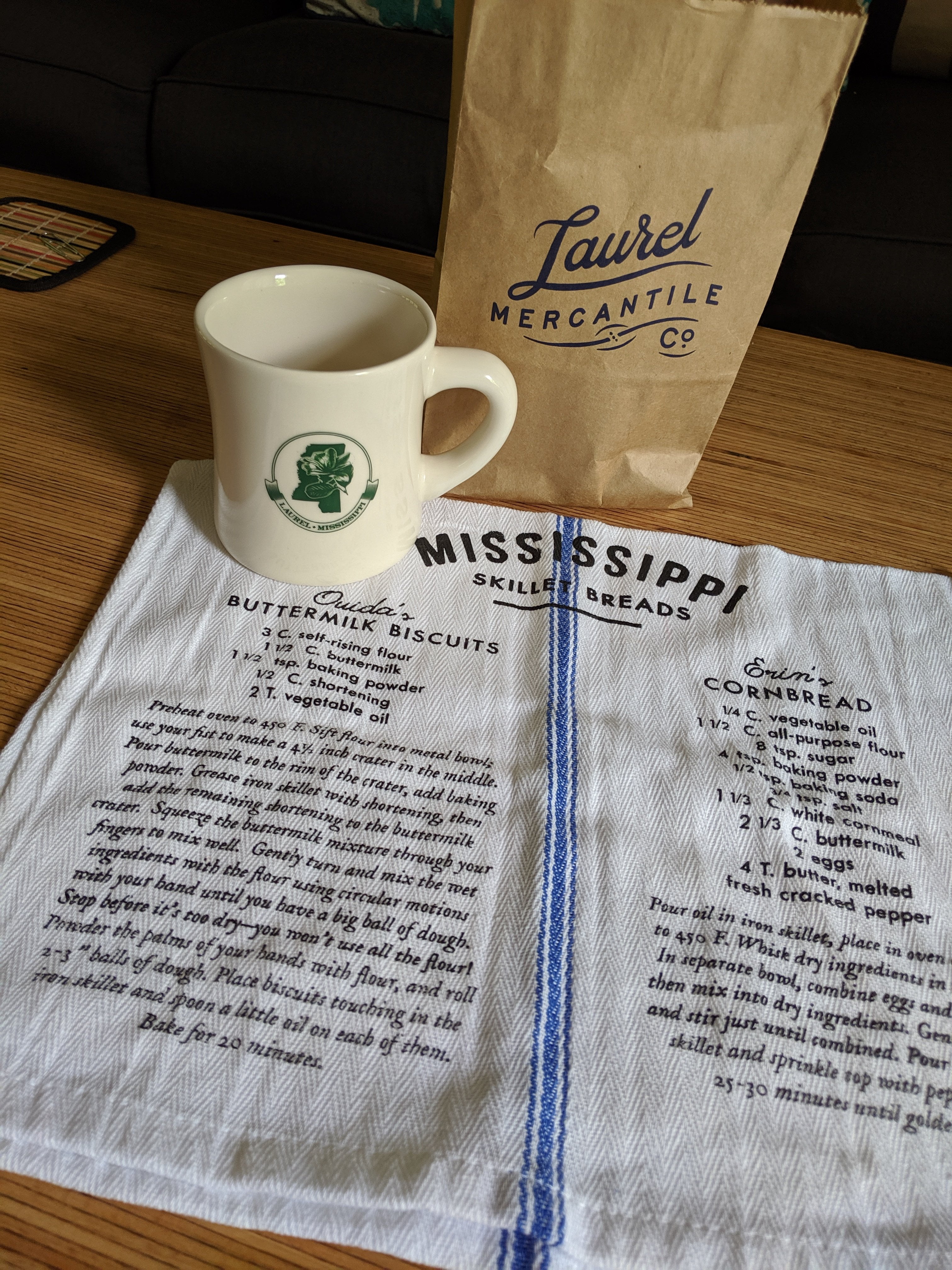 After Emmie woke up from her nap, we had to run to Publix again, because I forgot to buy naan bread yesterday to go with our dinner tonight. She didn't mind though, because that meant another sugar cookie for her!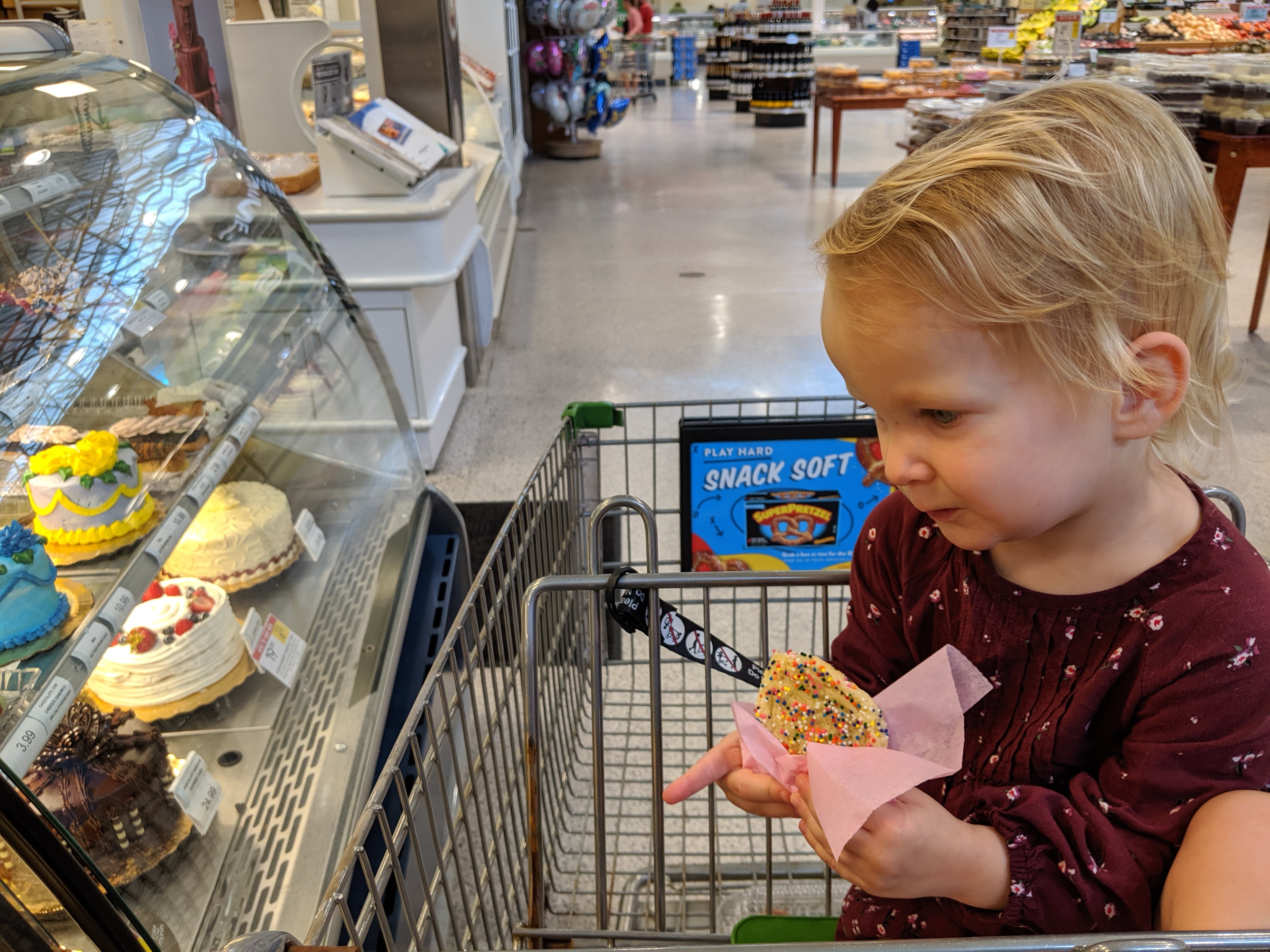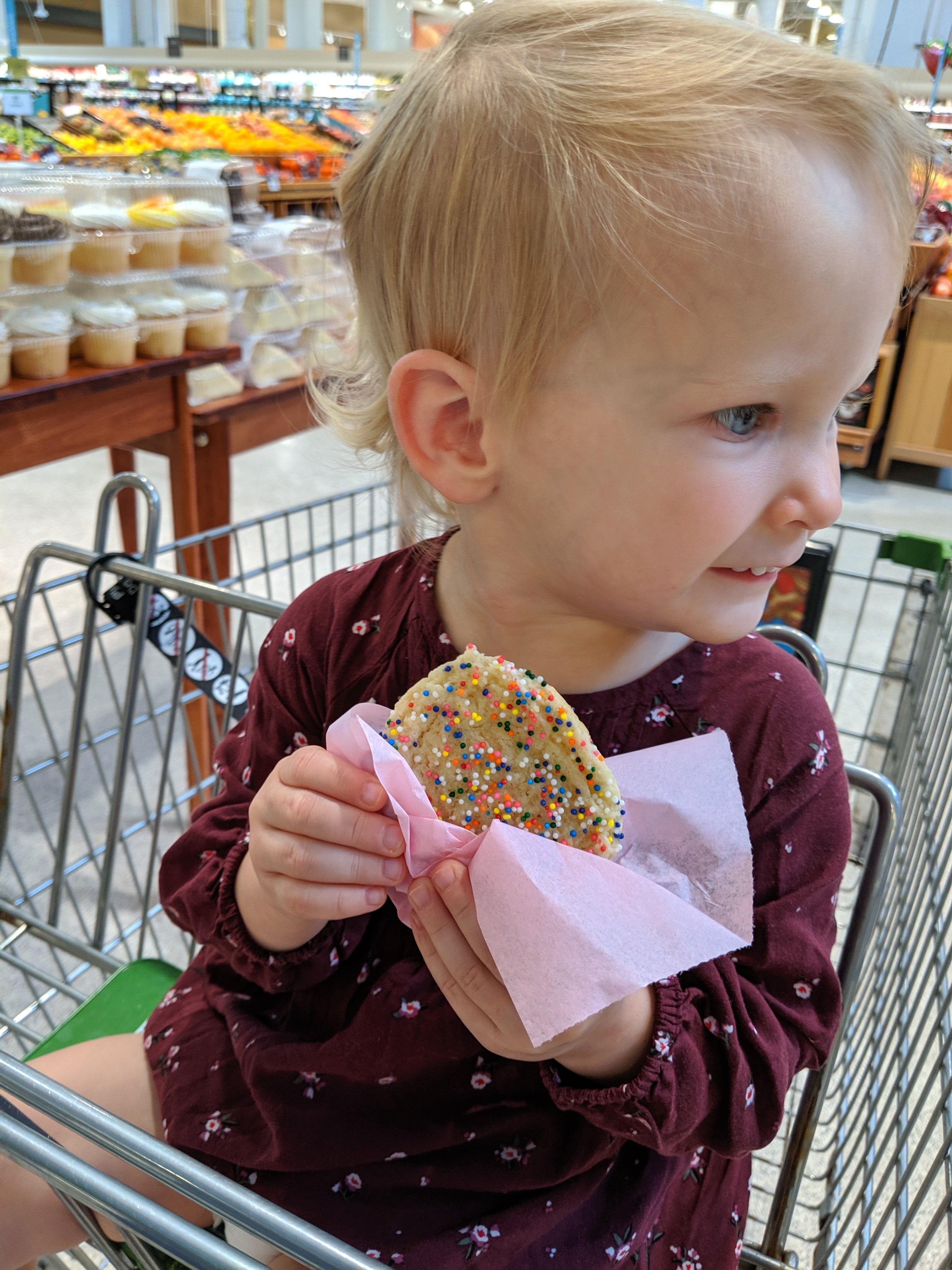 And then we came back home and got in the pool! We found this bathing suit in the bag of hand-me-downs, and my word it's so stinking cute!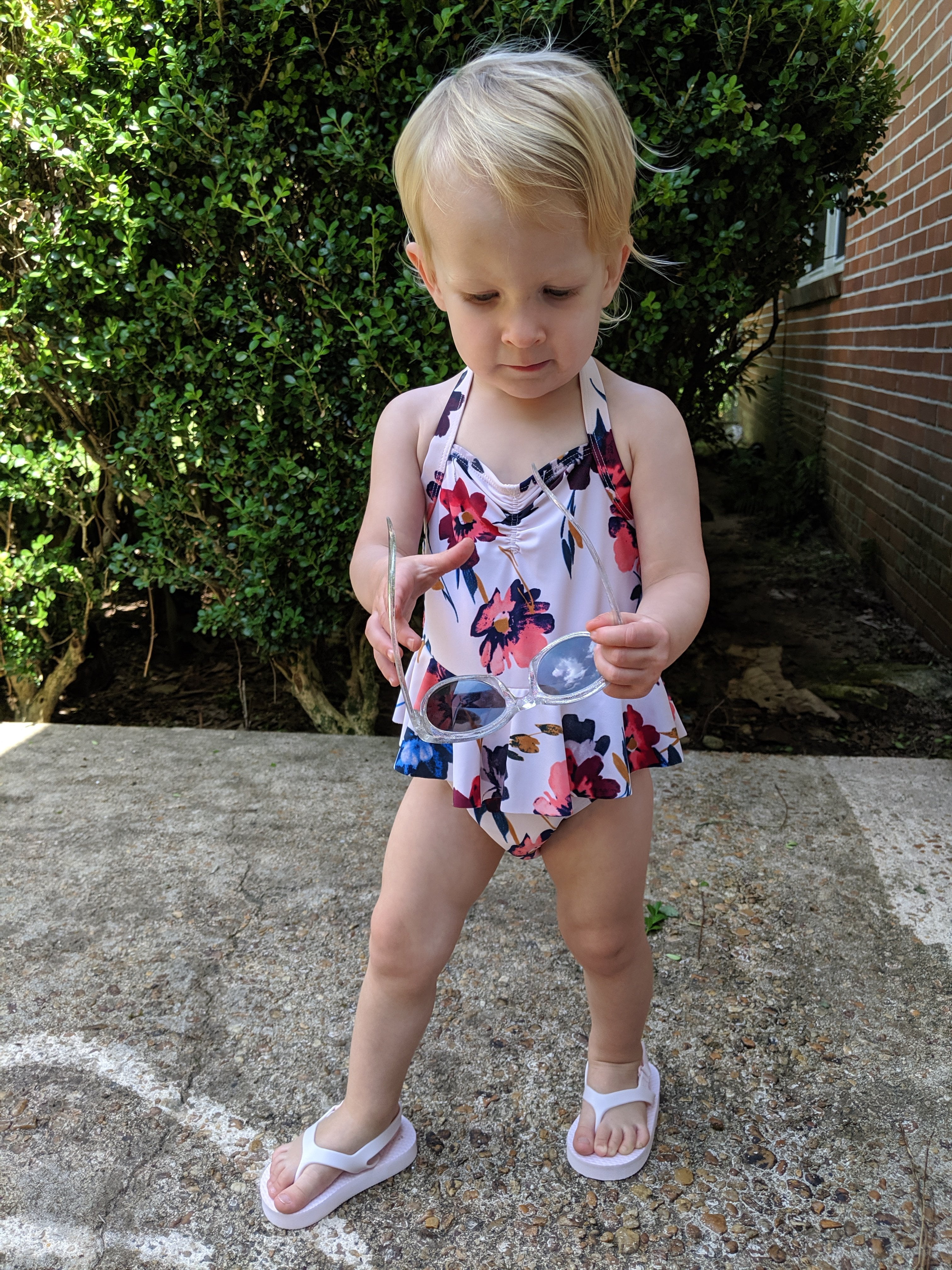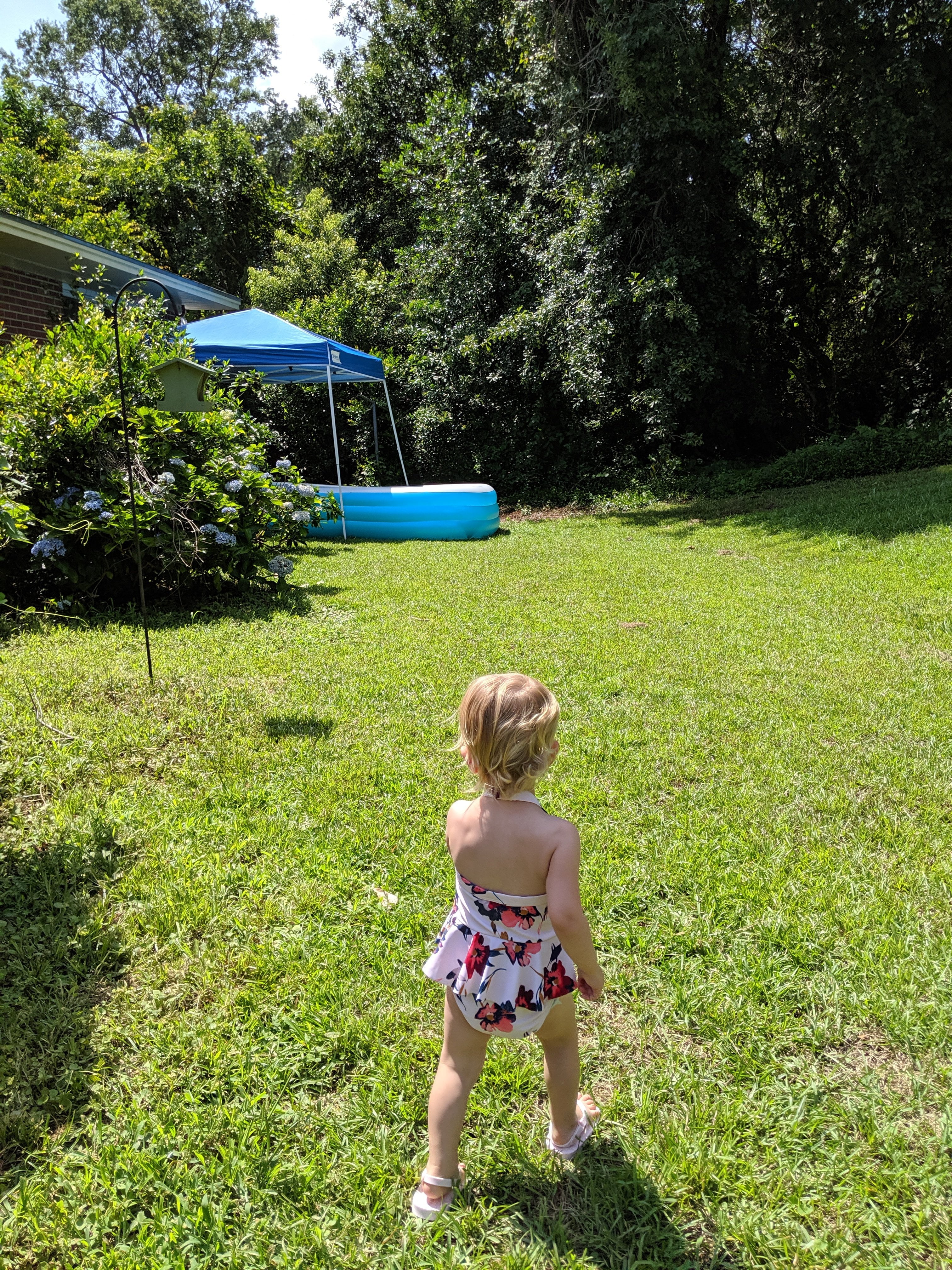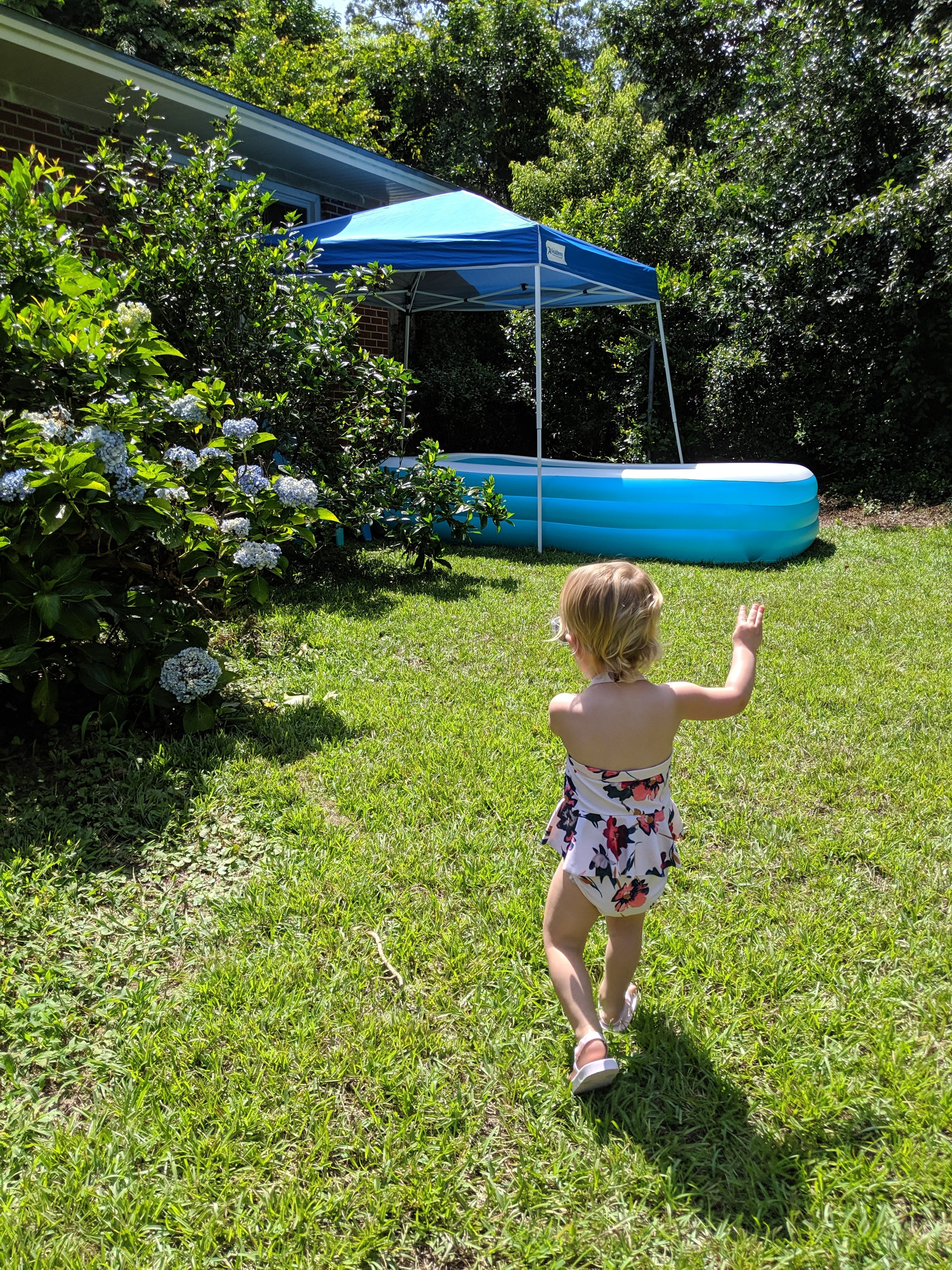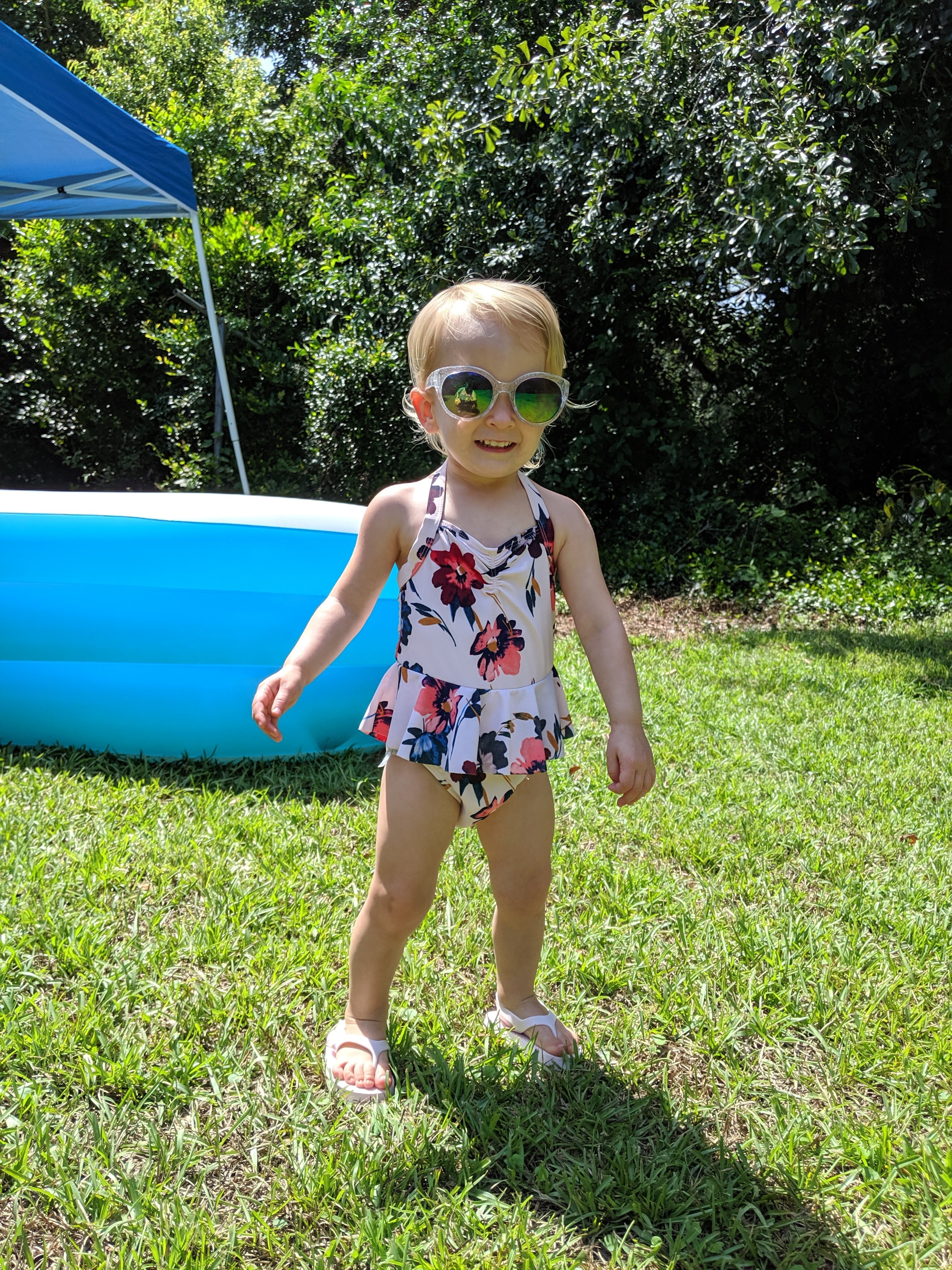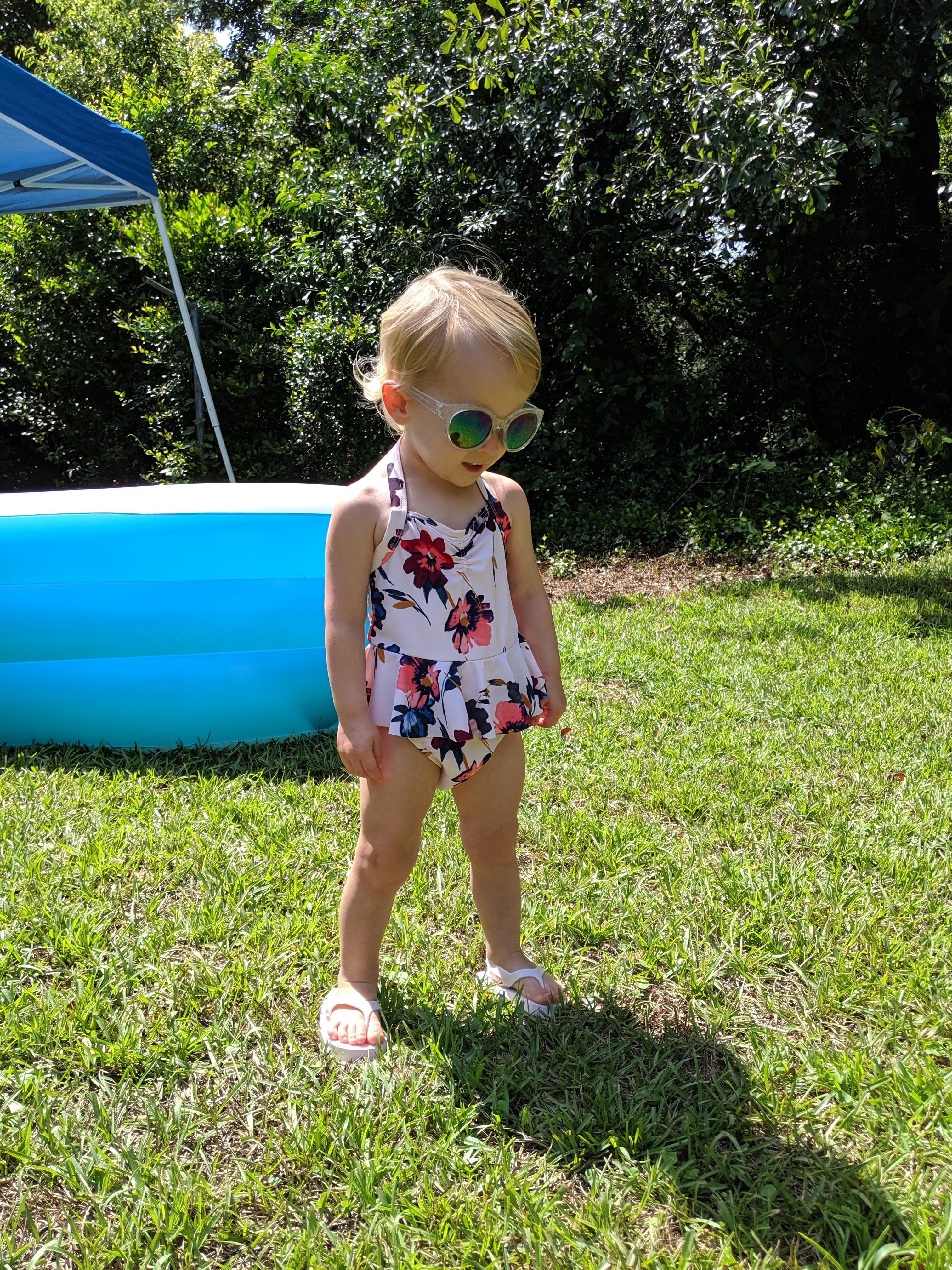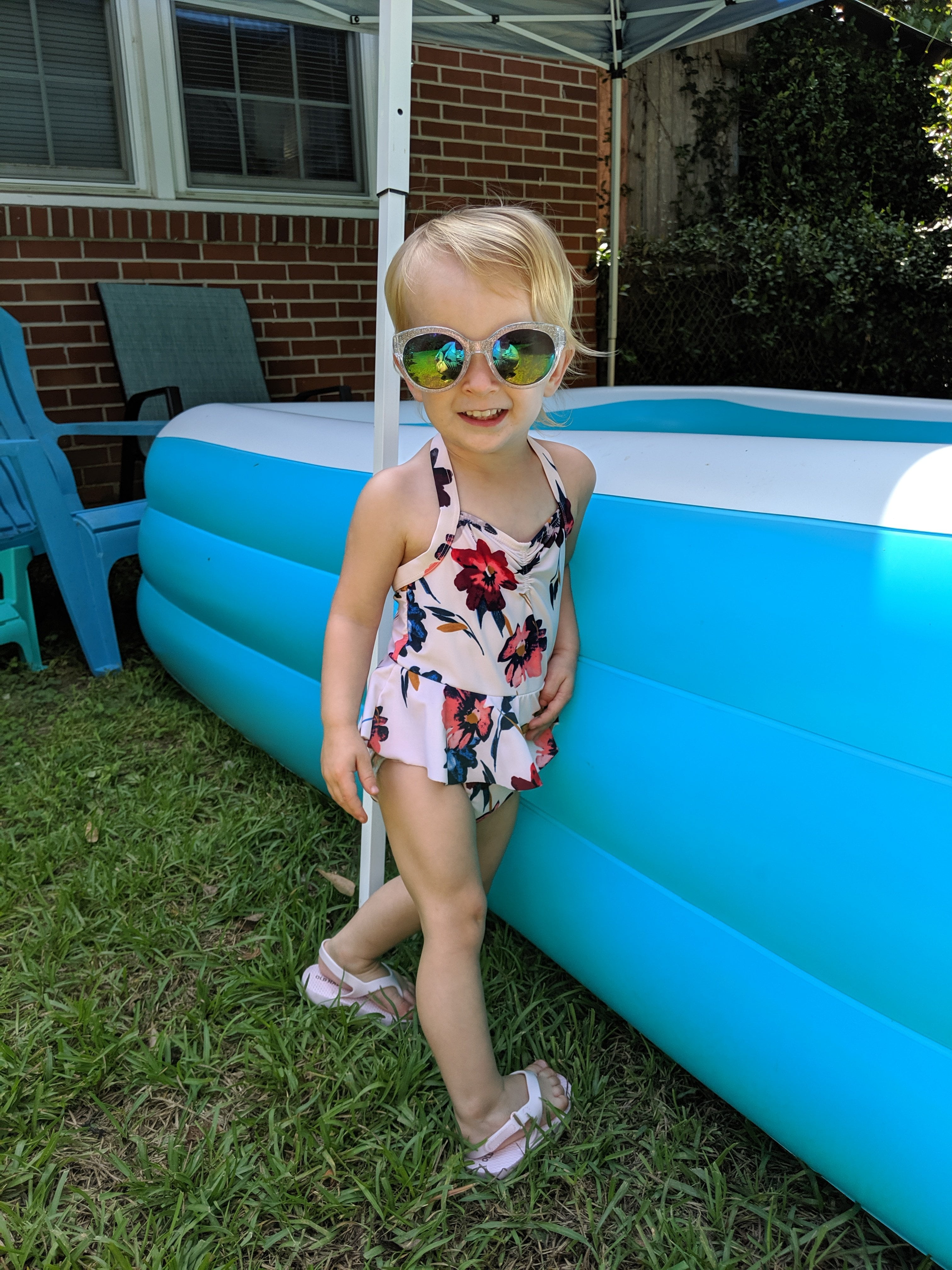 So to add to the feel of our backyard secret garden pool, we think there is a wild grape vine on the side of our property. We've found these on the ground all over the place in that corner lately, and in the pool today too. We haven't climbed up on all the foliage to pick them off the vine, so we haven't eaten one yet, but it's pretty neat! My dad thinks they might be scuppernong grapes.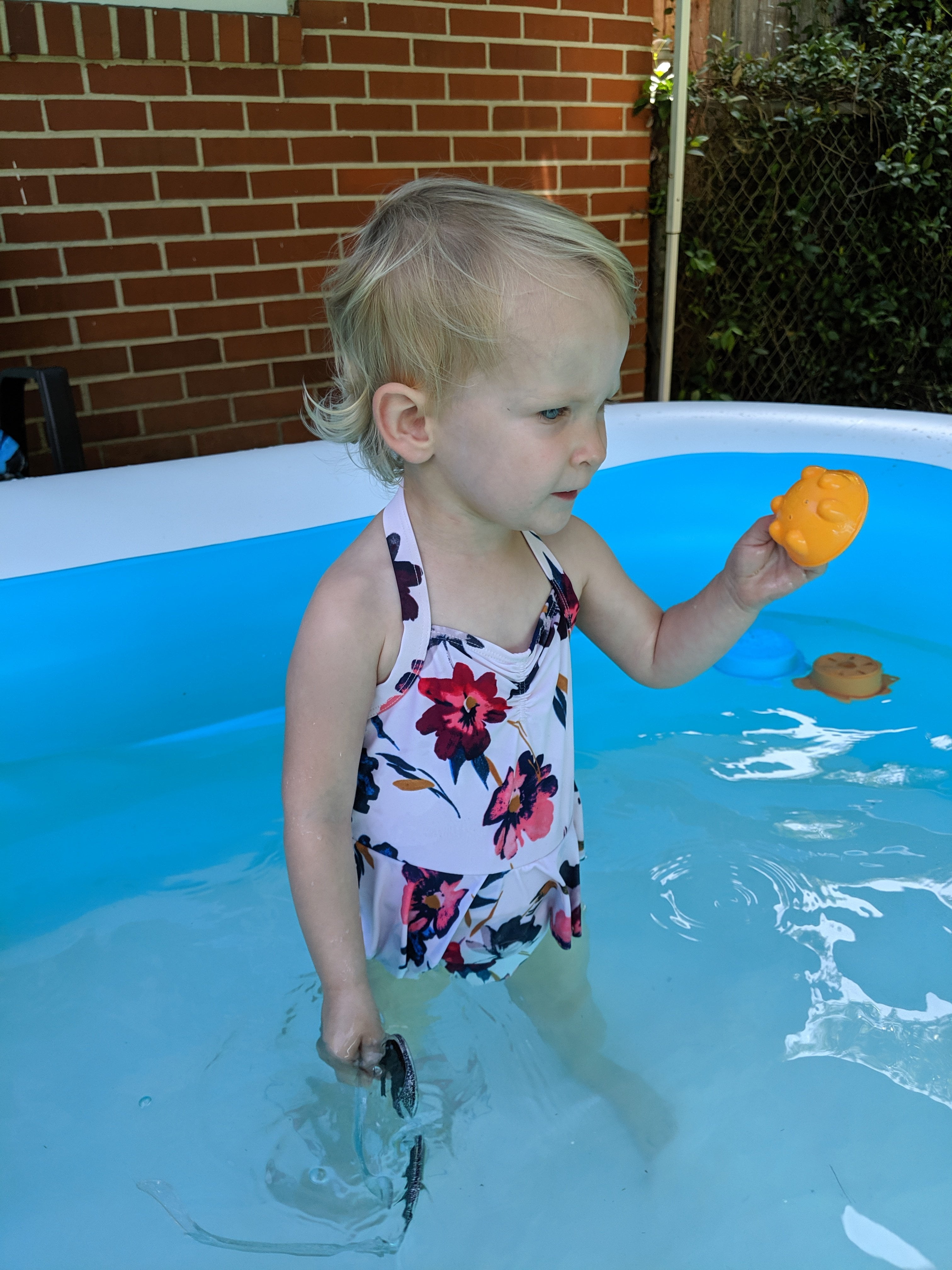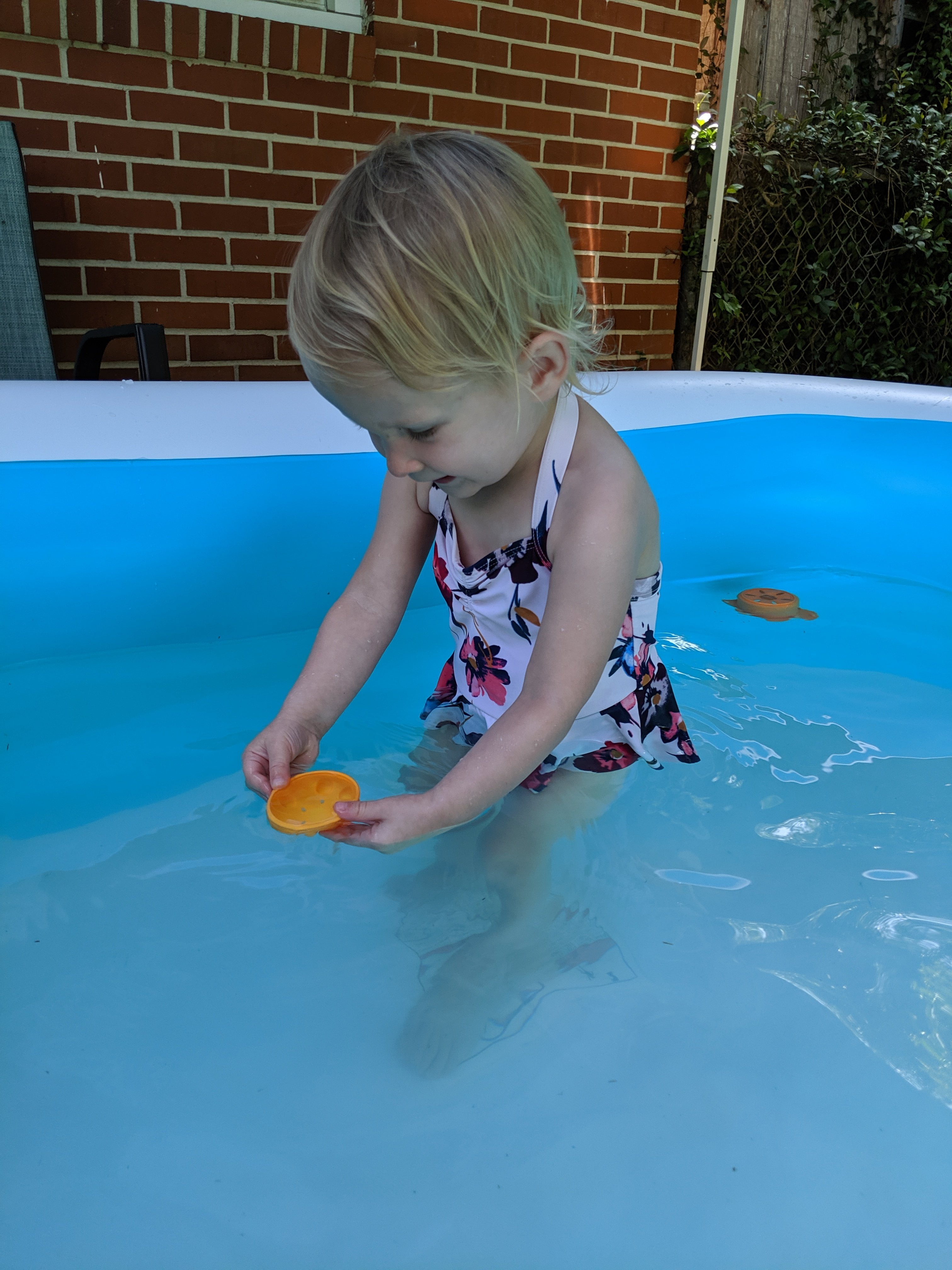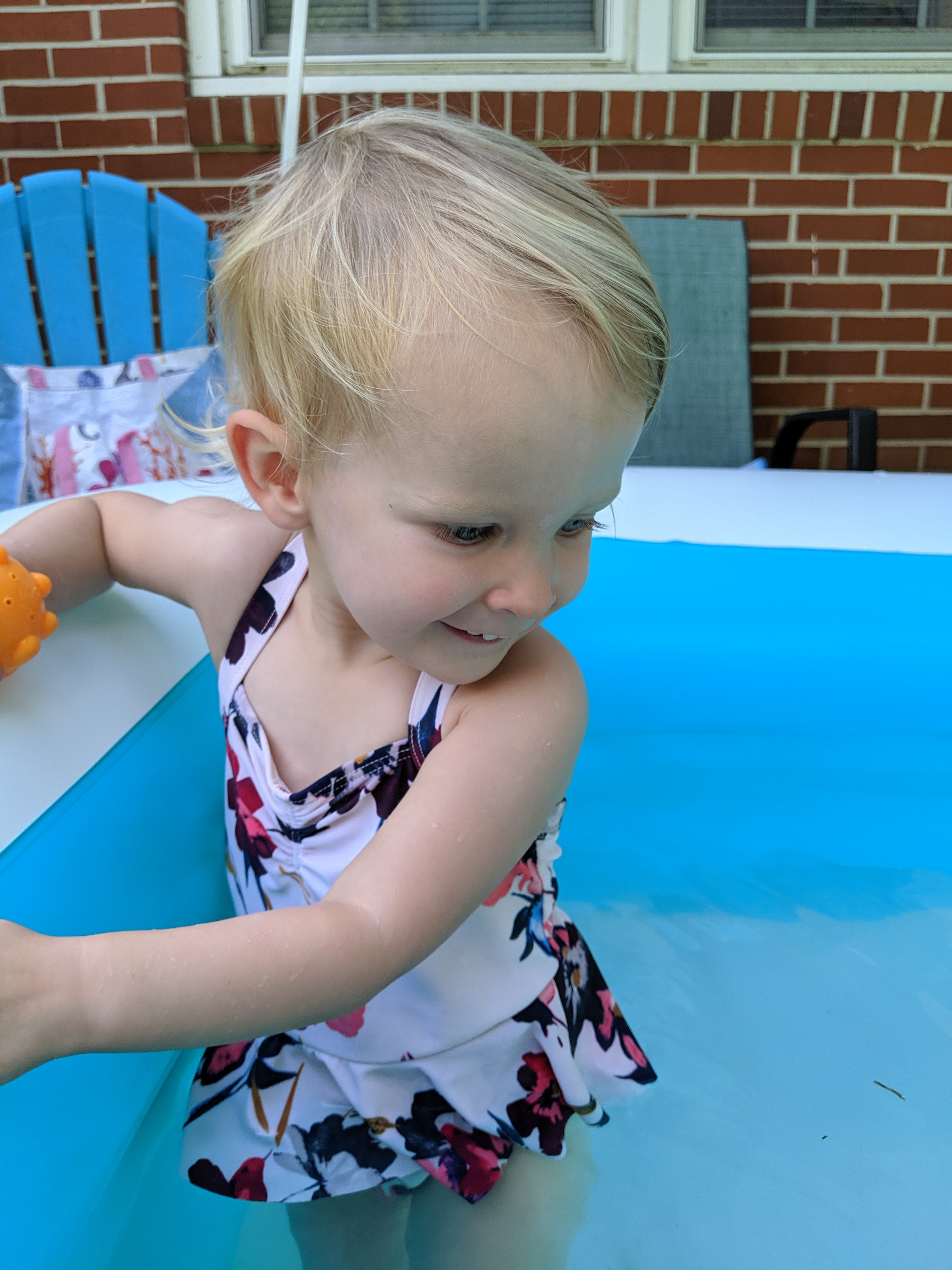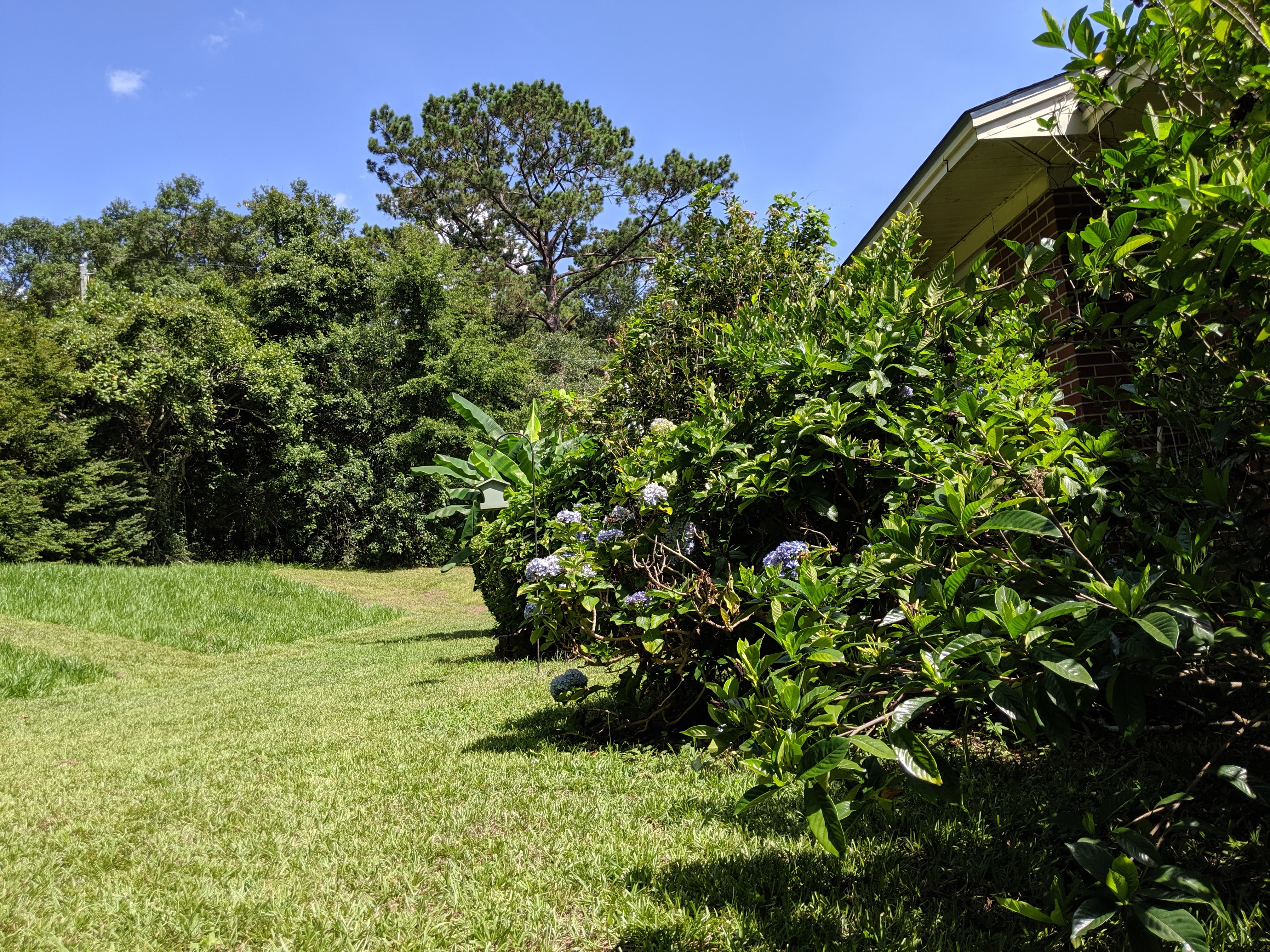 We ate some watermelon in the pool, and it was such a perfect snack. She saw me about out a seed, so needed to copy me, and occasionally she just pulled out some partially-chewed bits & three them out 😆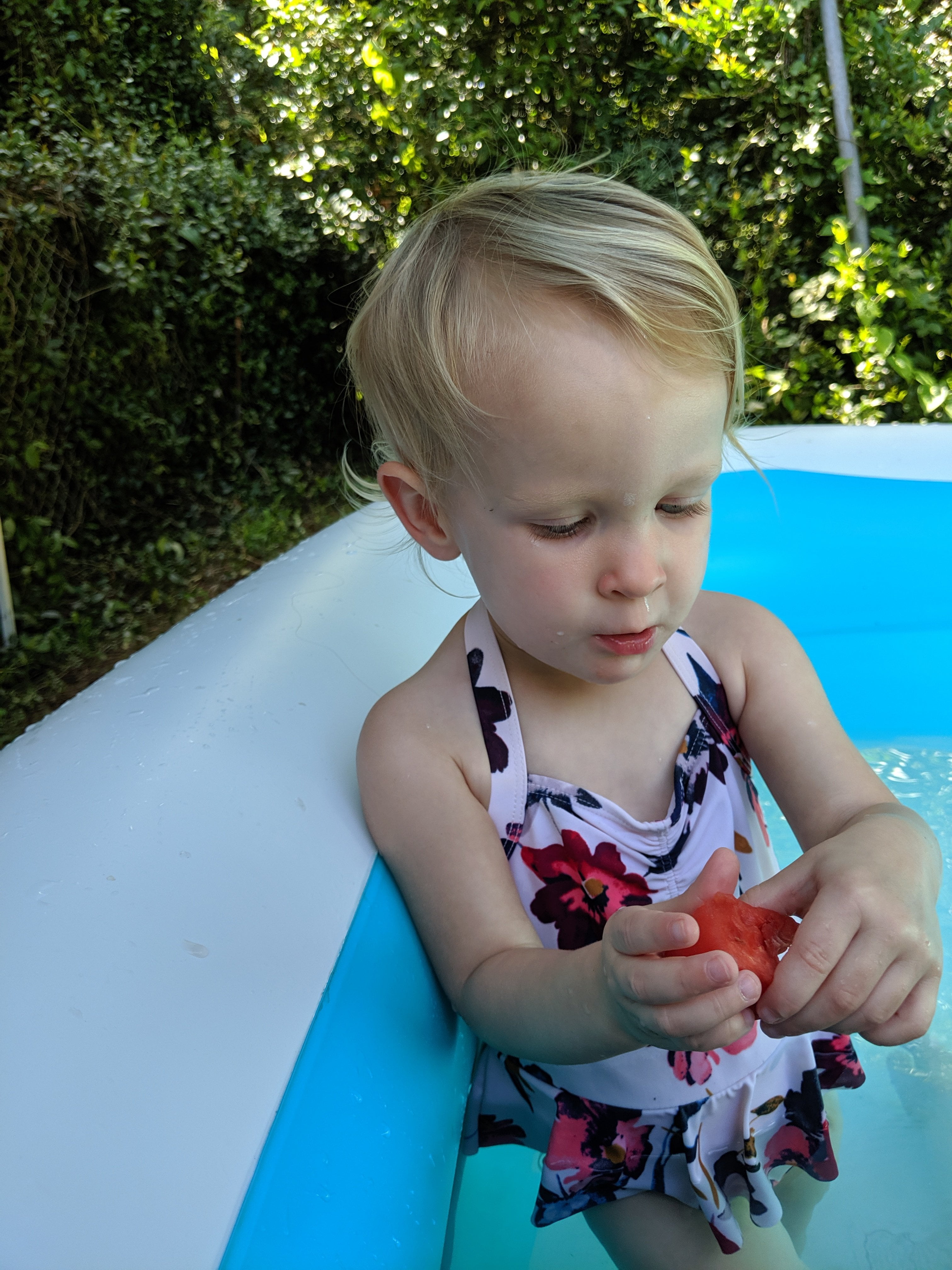 And Daddy was able to come join us!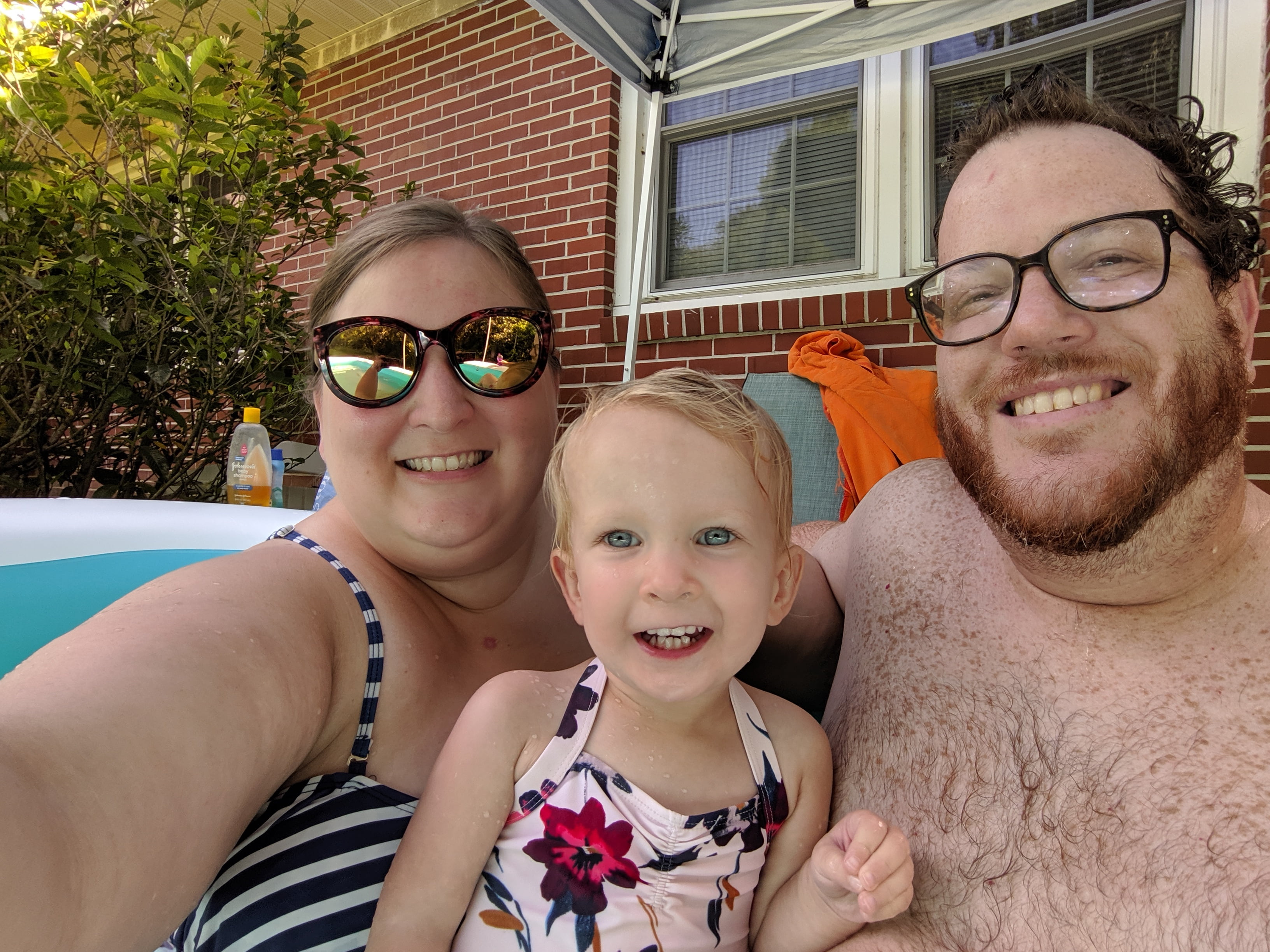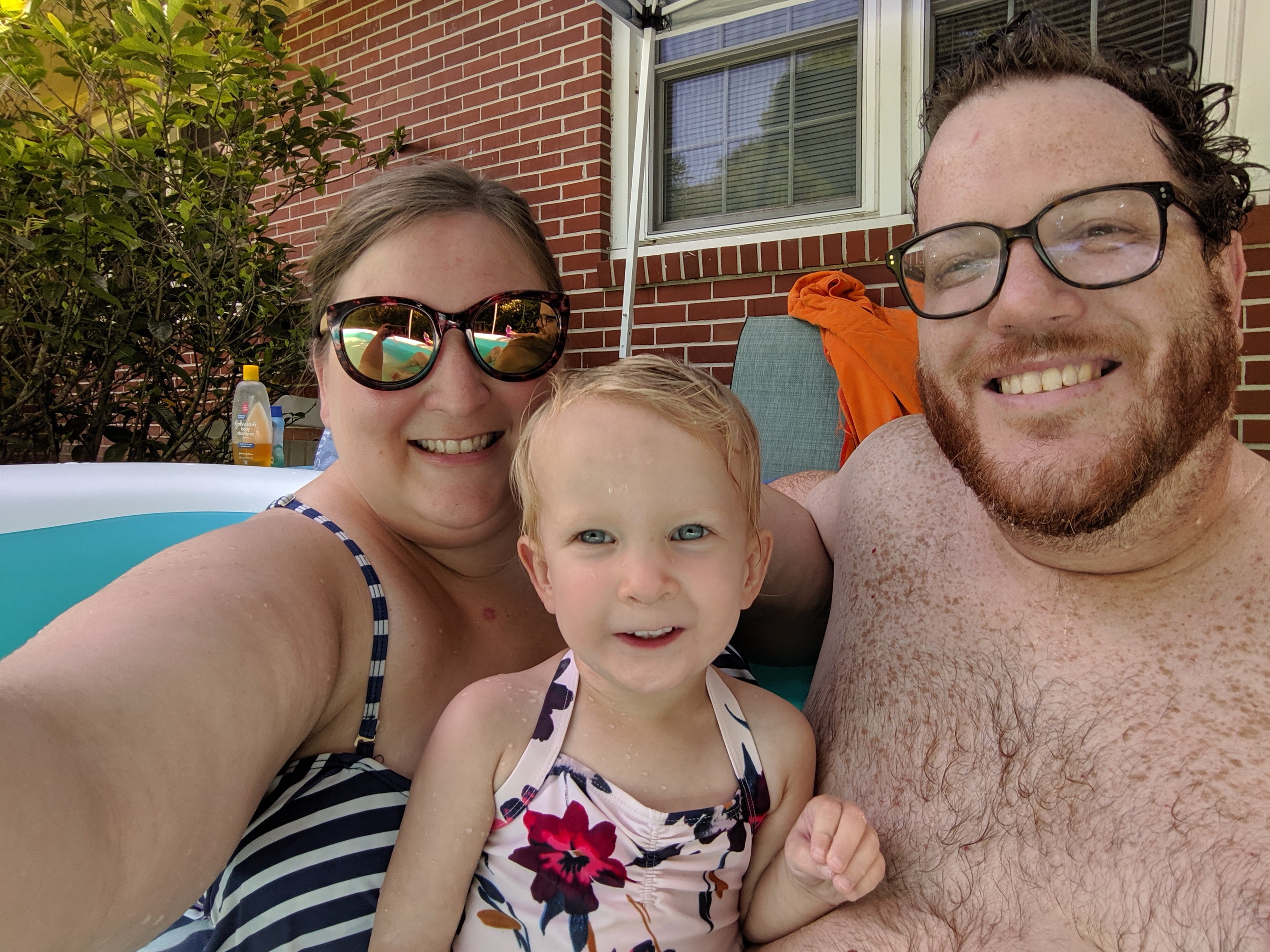 Washed her hair in the pool again today, and called it good.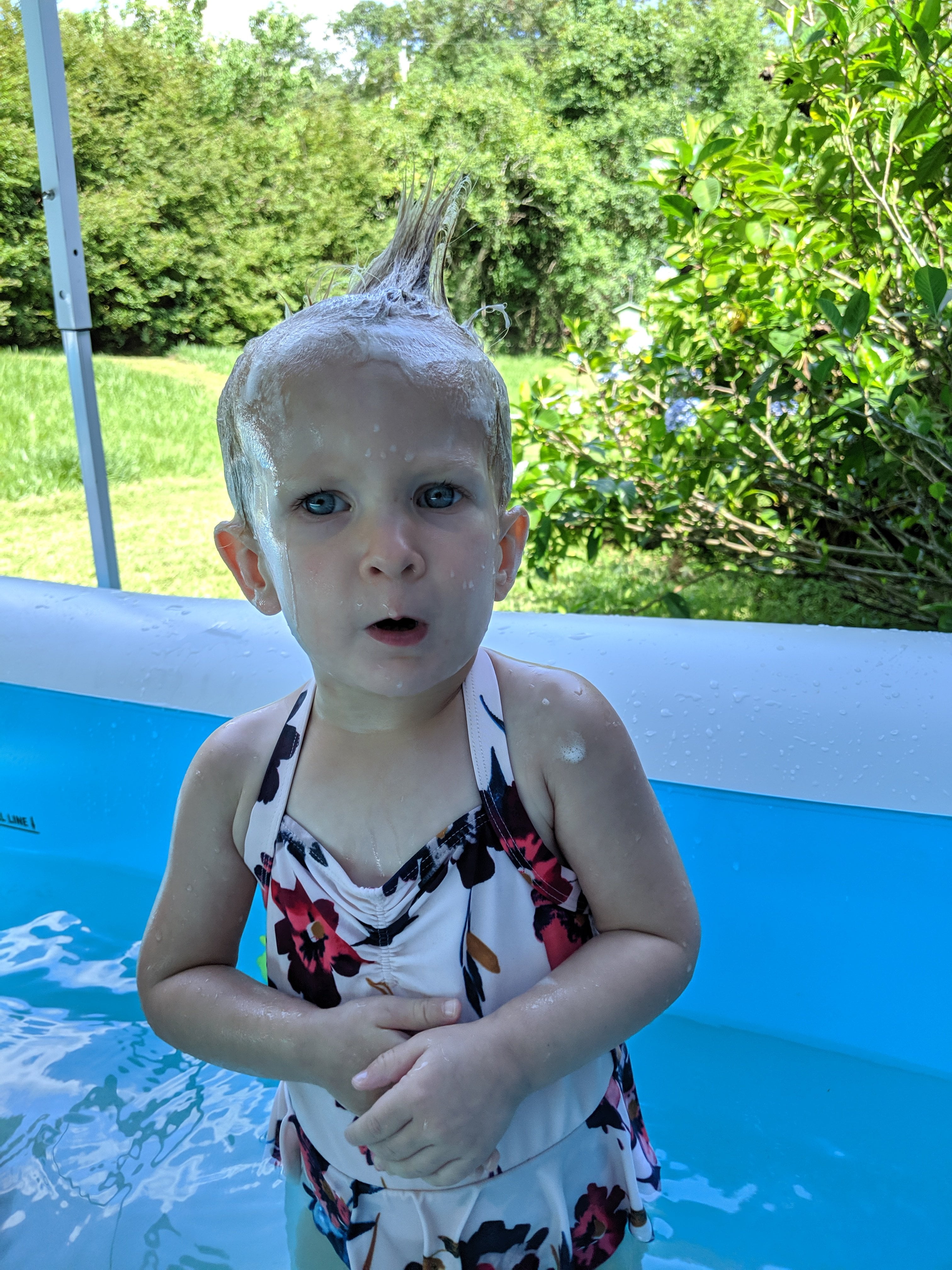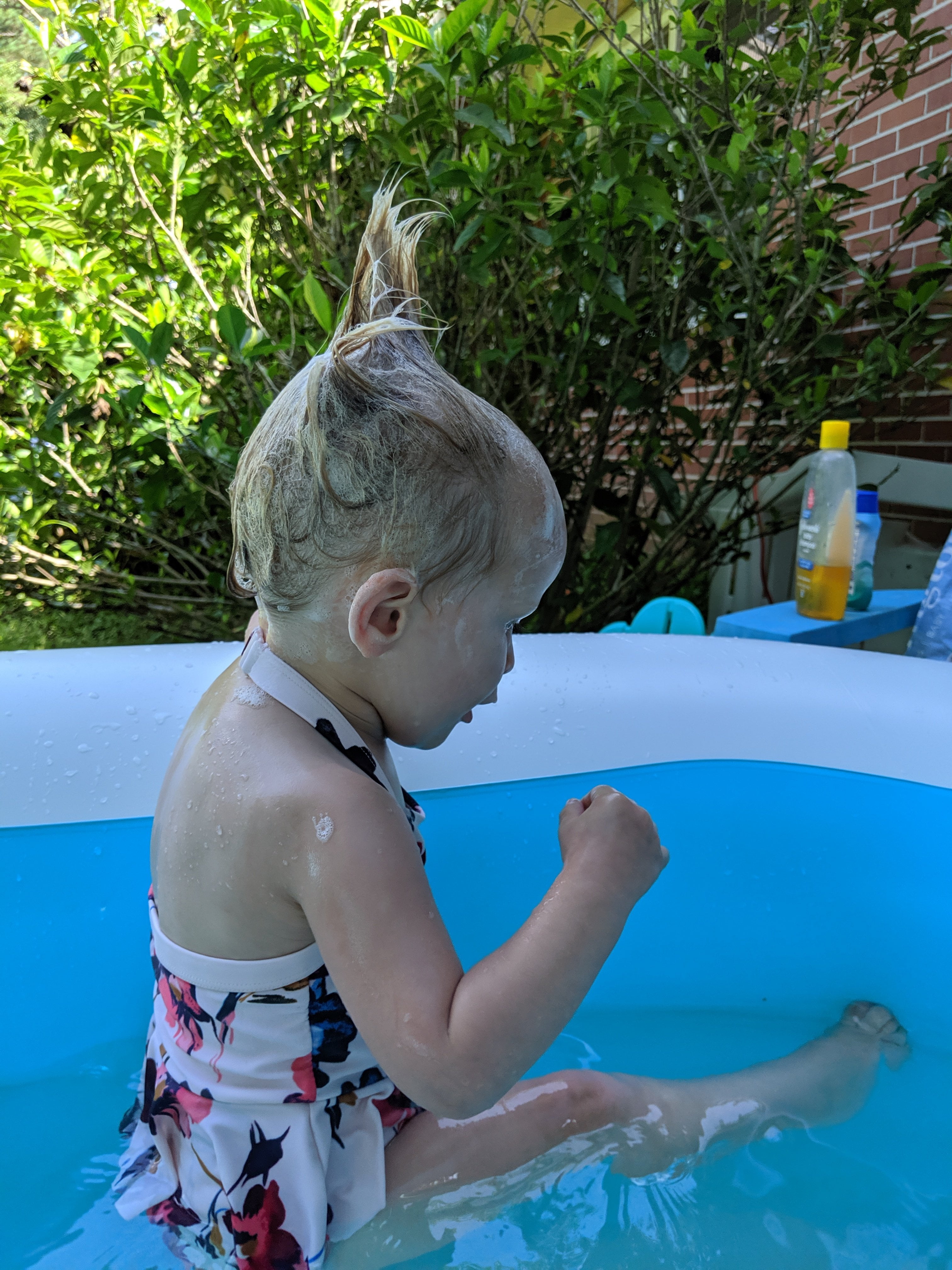 Then we got dry and put on some comfy cozy house clothes, and played for a little bit, while waiting on Grammy & Pepaw to come over and join us for dinner.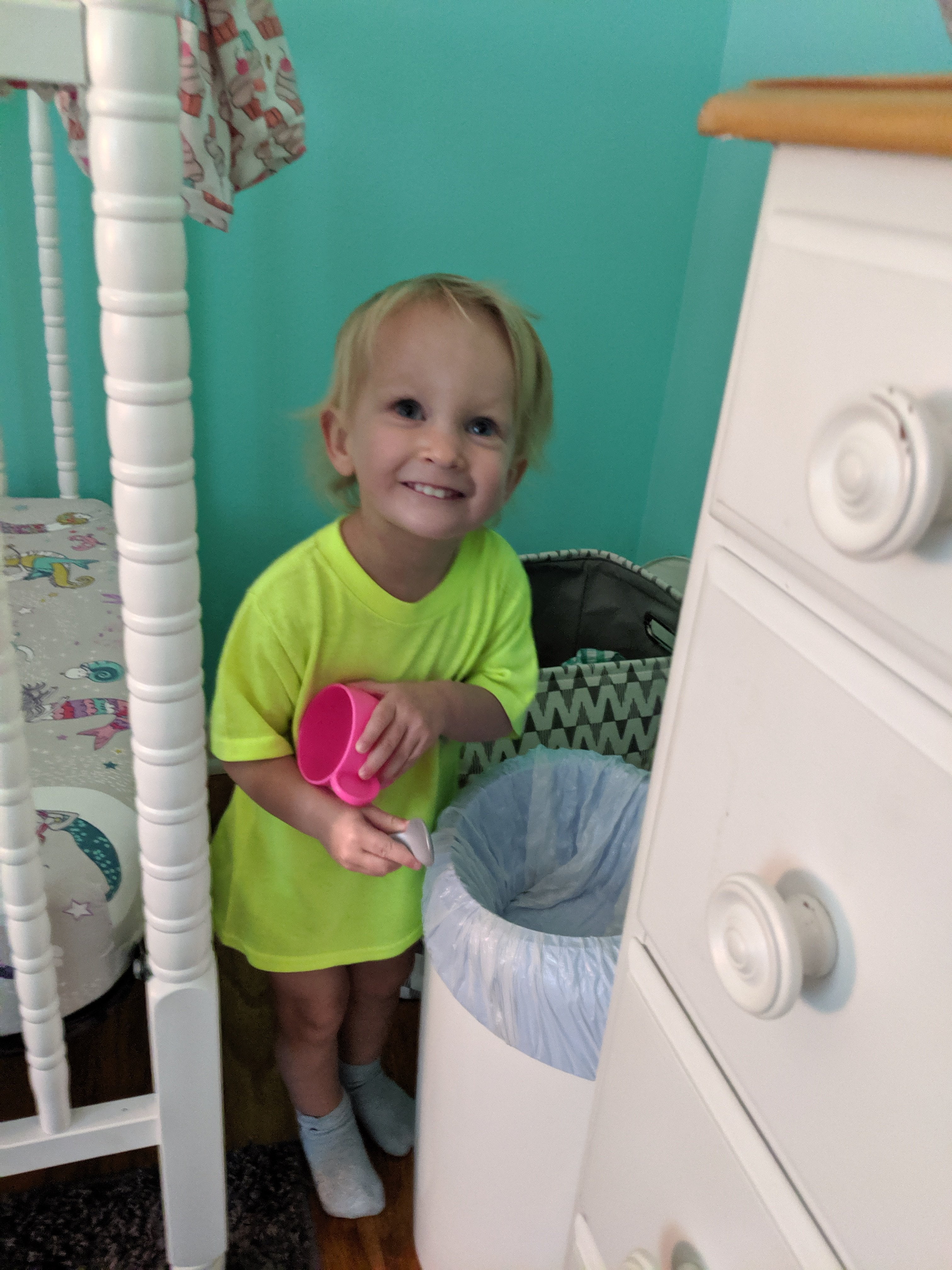 A huge pot of basmati rice, and a skillet full of delicious Indian butter chicken. We also had another yummy Asian bagged salad kit from Publix, that was one of my faves so far. My parents hadn't really ever eaten Indian food before, so they weren't sure if they would like it, or if they would get a McDonald's cheeseburger on the way home! And while neither of them loved it, they did both clean their plates and said it was pretty good. I, on the other hand, absolutely loved it again.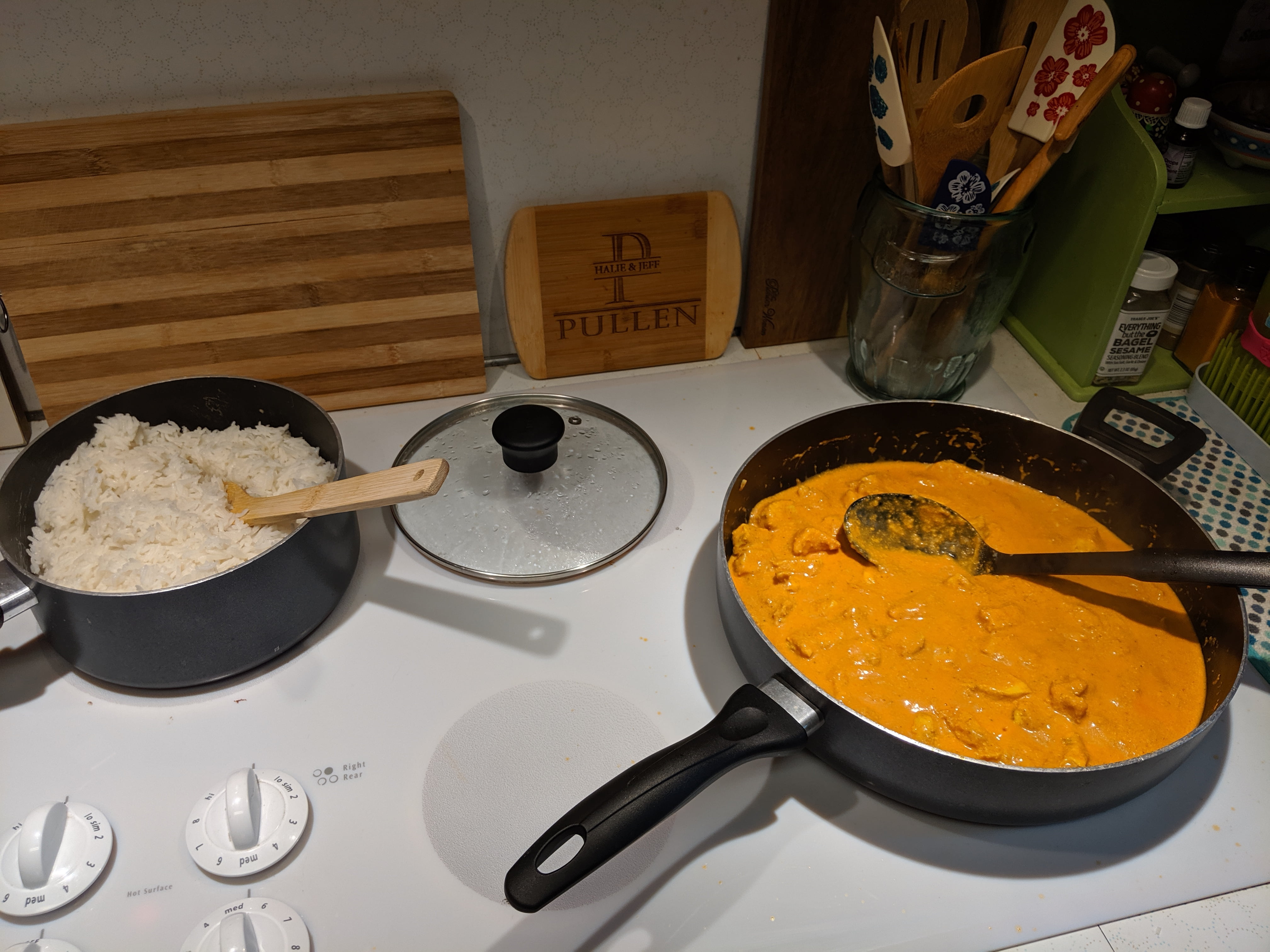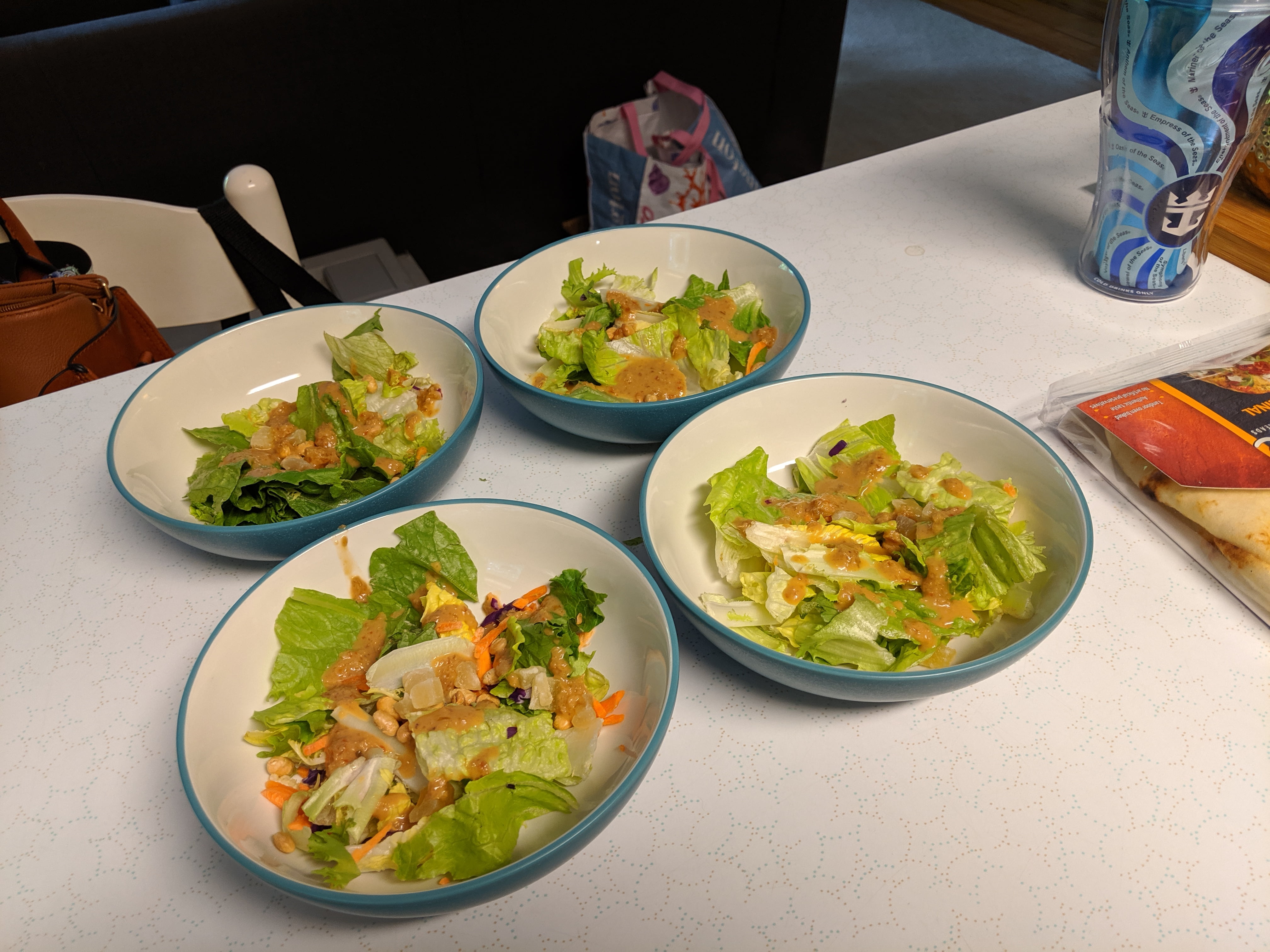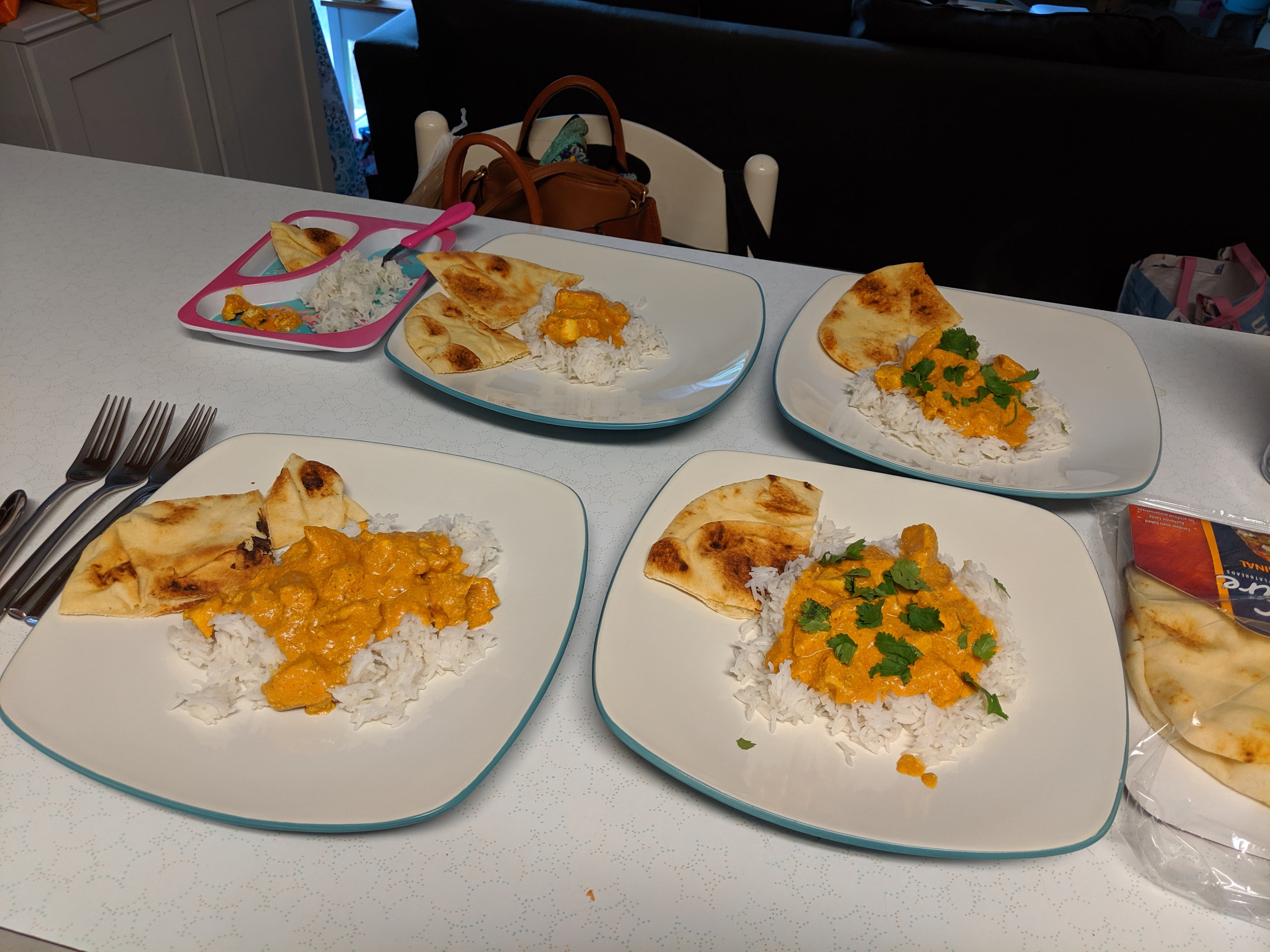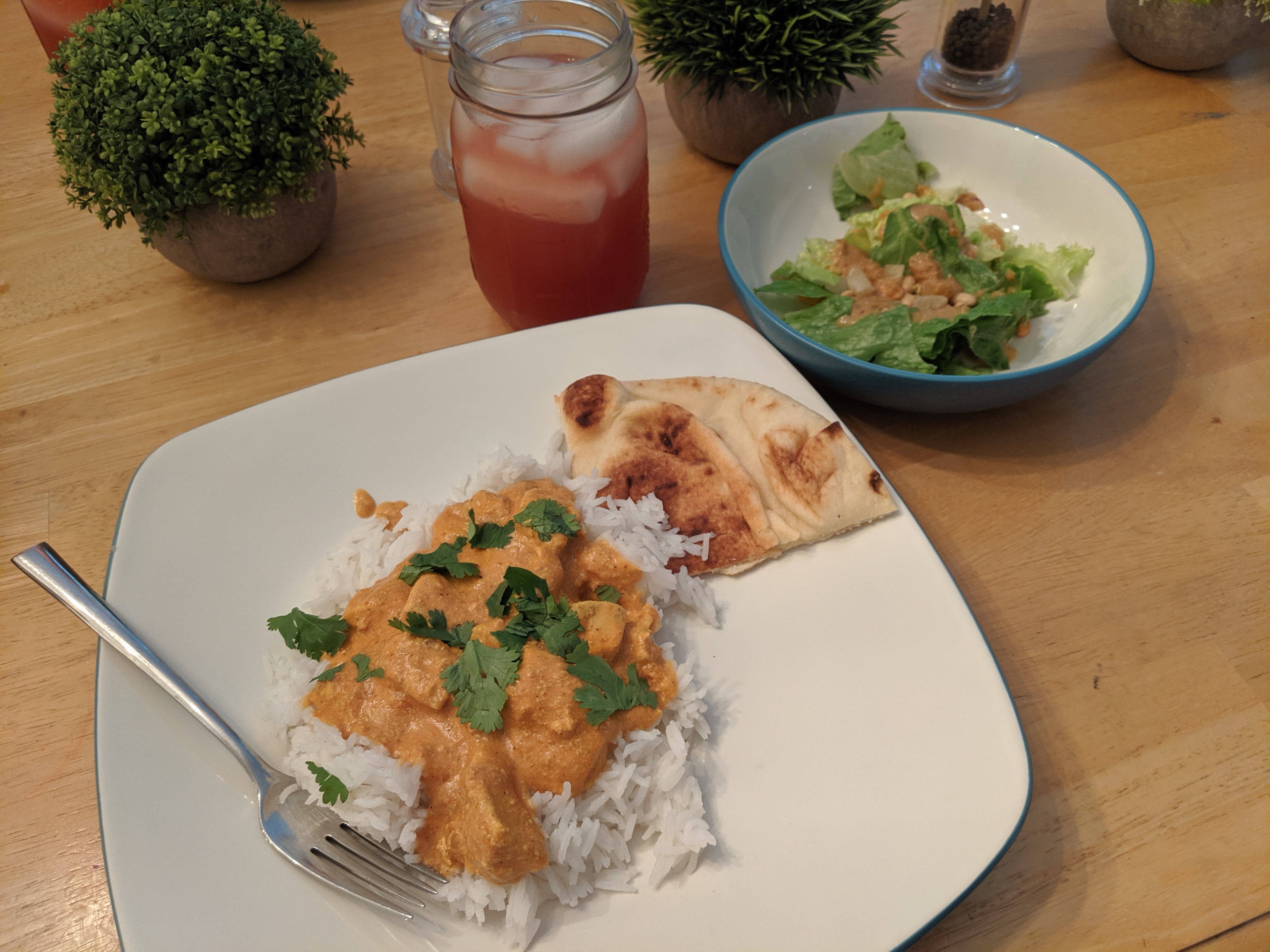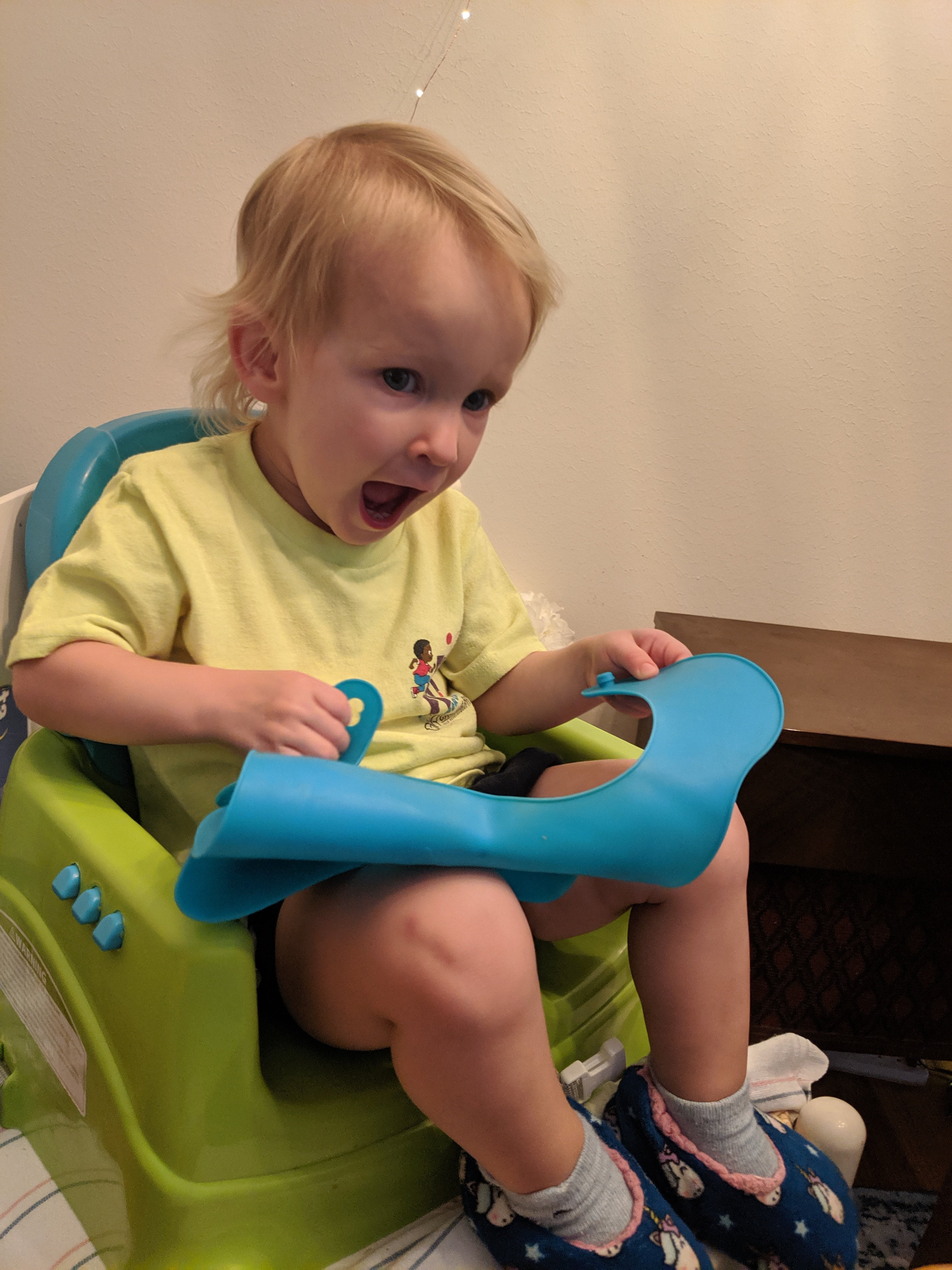 We had some good play, chat & chill time after dinner, and Emerson was really just cracking us all up so much! She was going through the bag of new-to-her clothes, and trying stuff on, on top of the clothes she was already wearing. Then she found some pj's, and decided she would just wear those to bed, and I thought that was a pretty good idea! She was also taking really good care of her little baby doll, Cracker. (Yes, the baby's name is Cracker, thanks to Aunt Meggie.)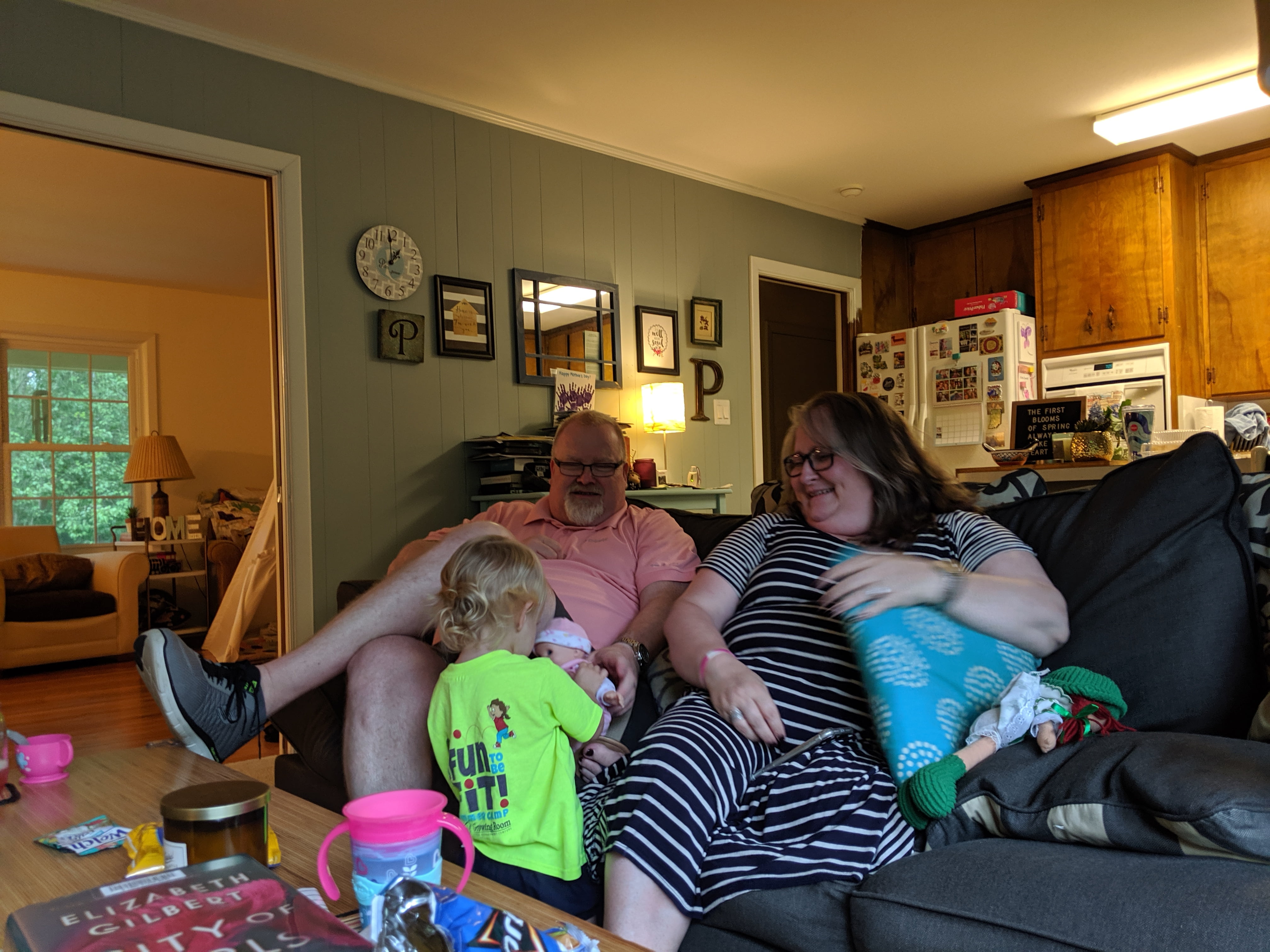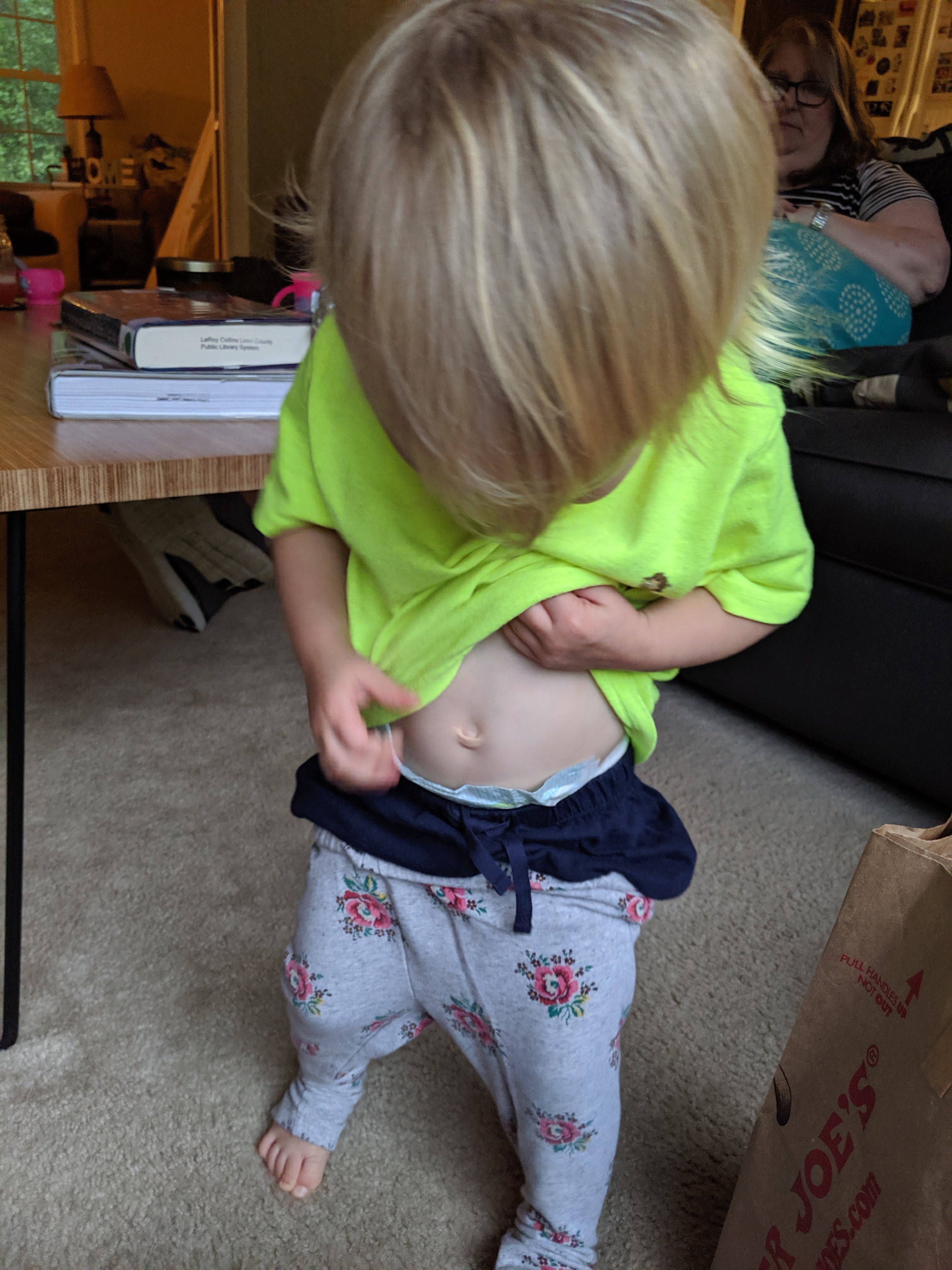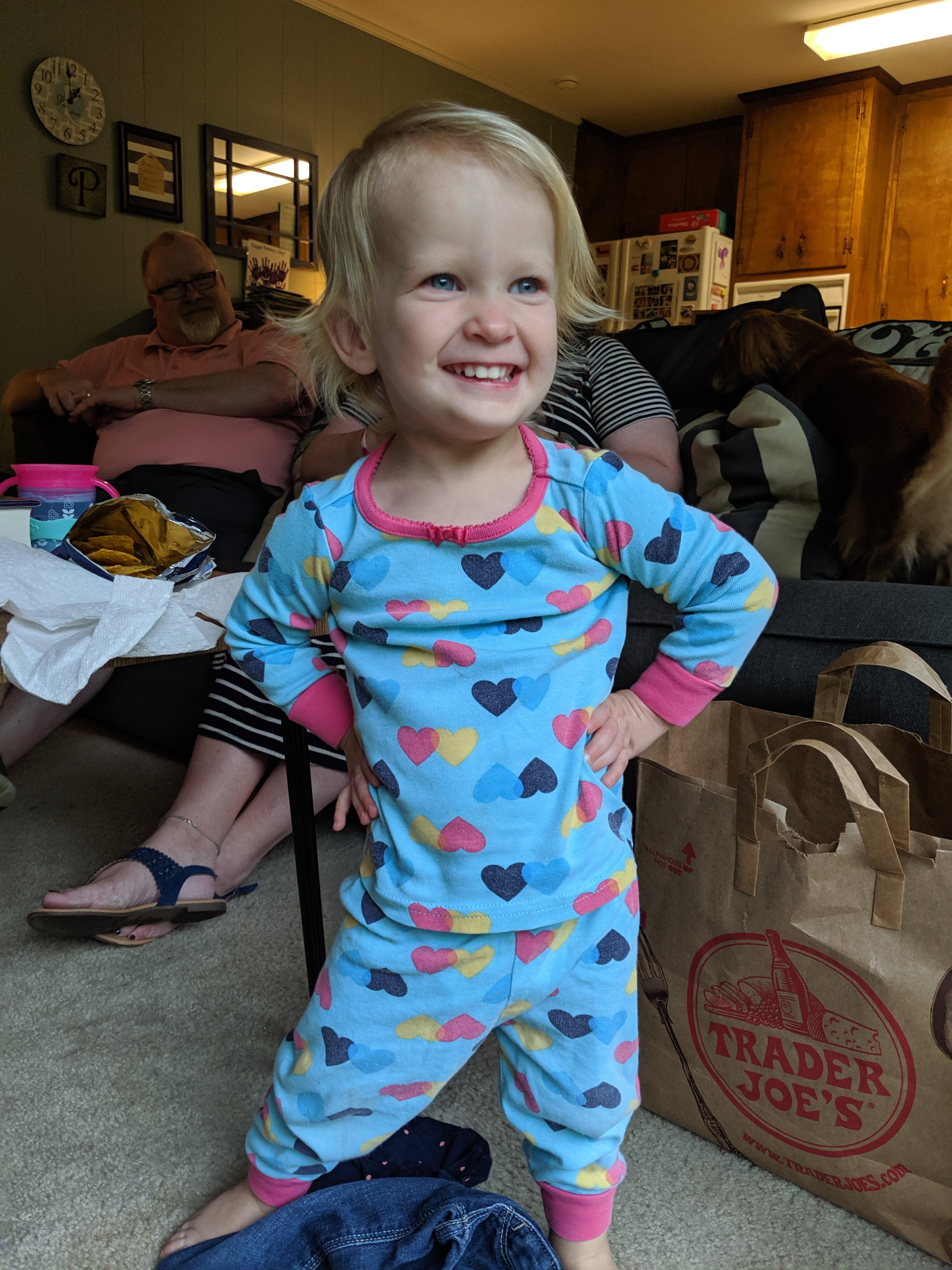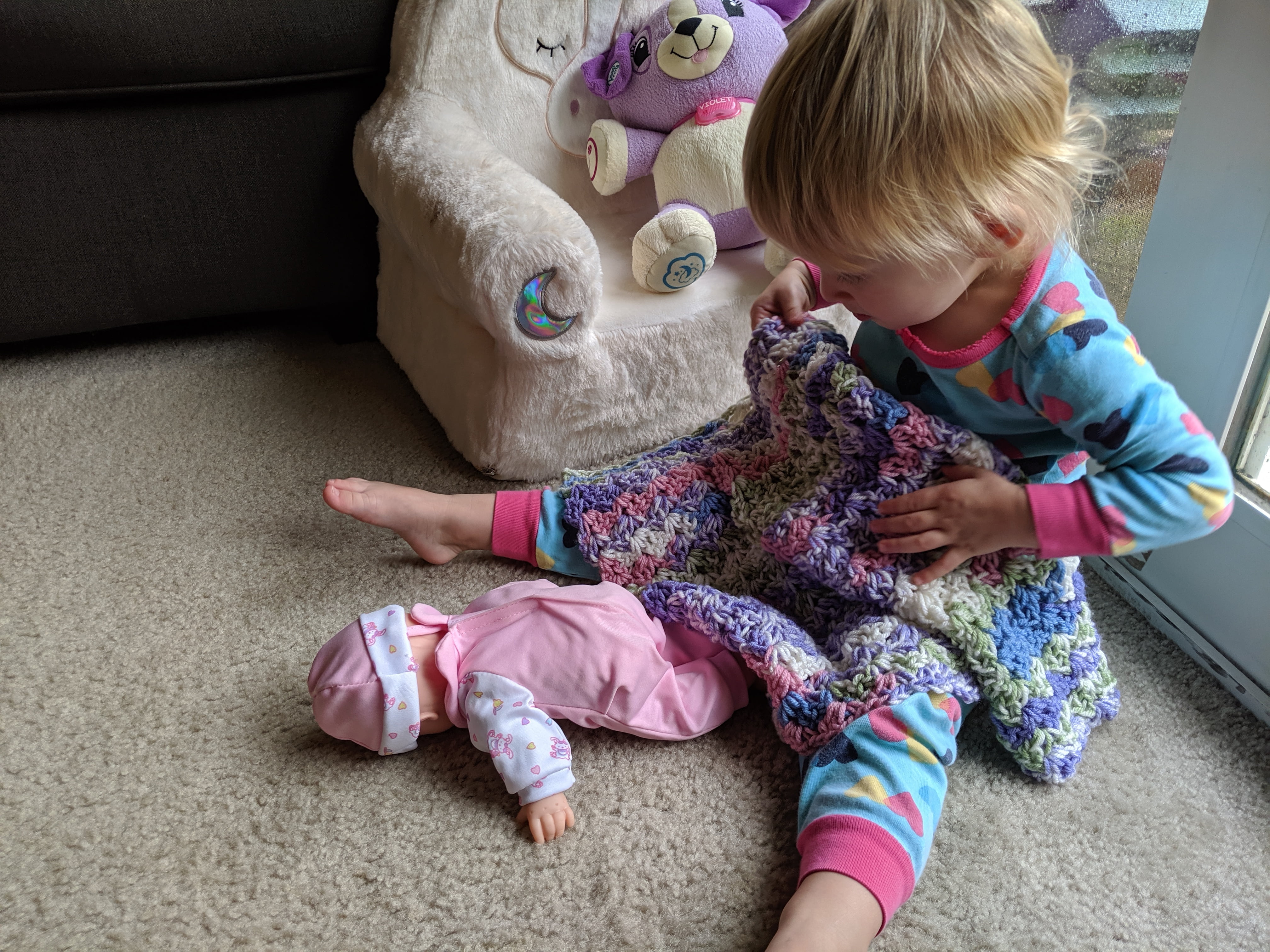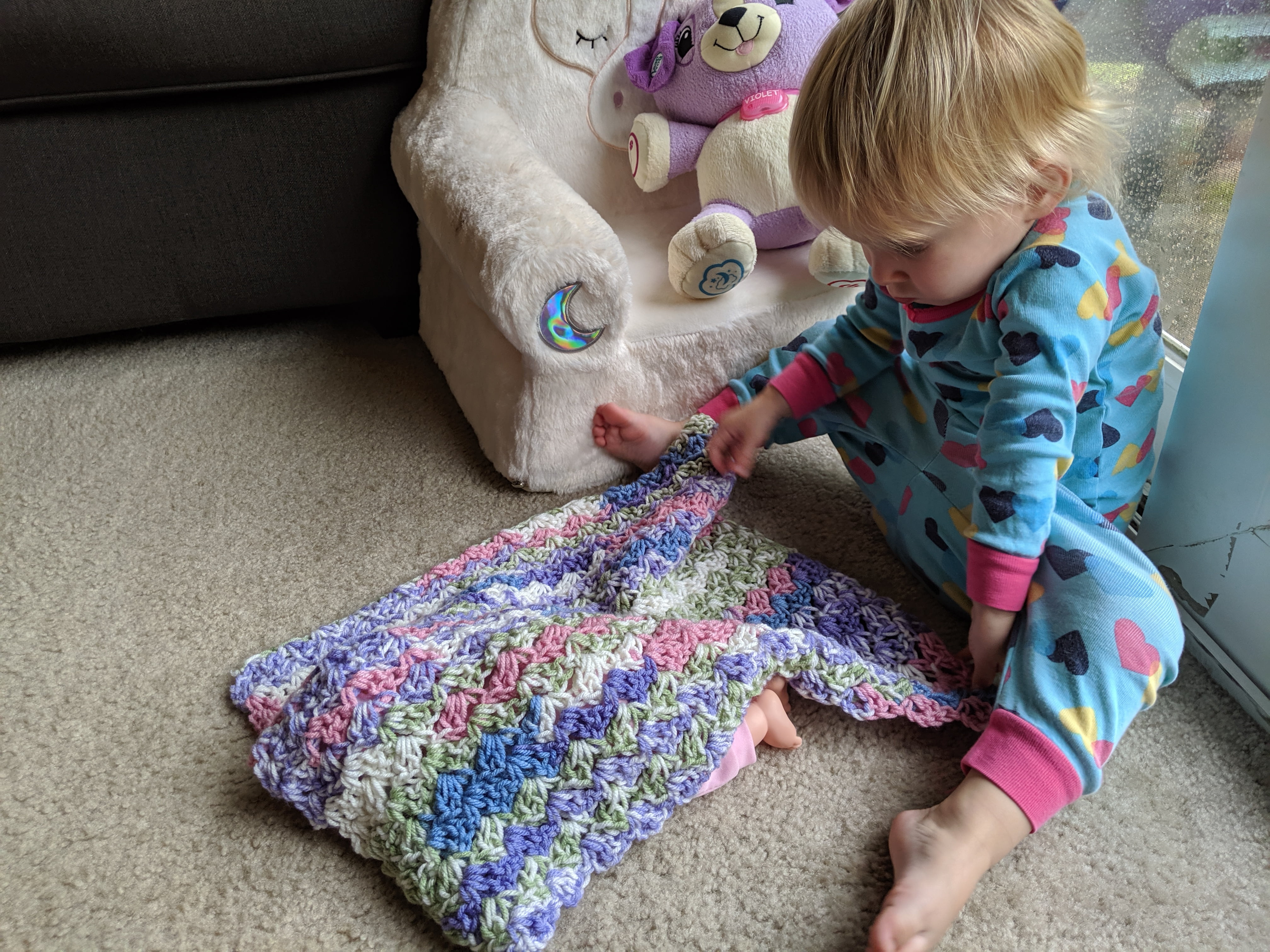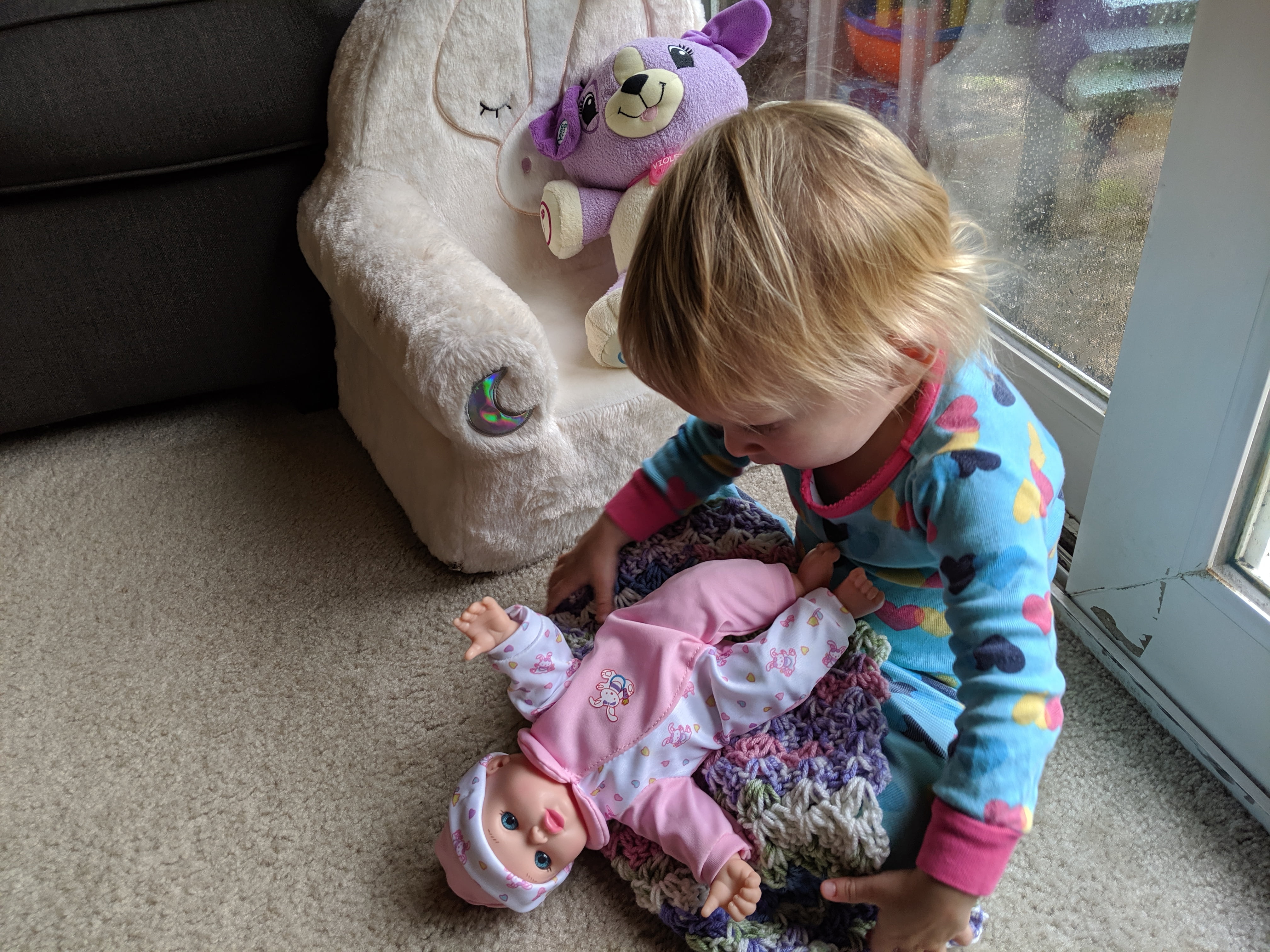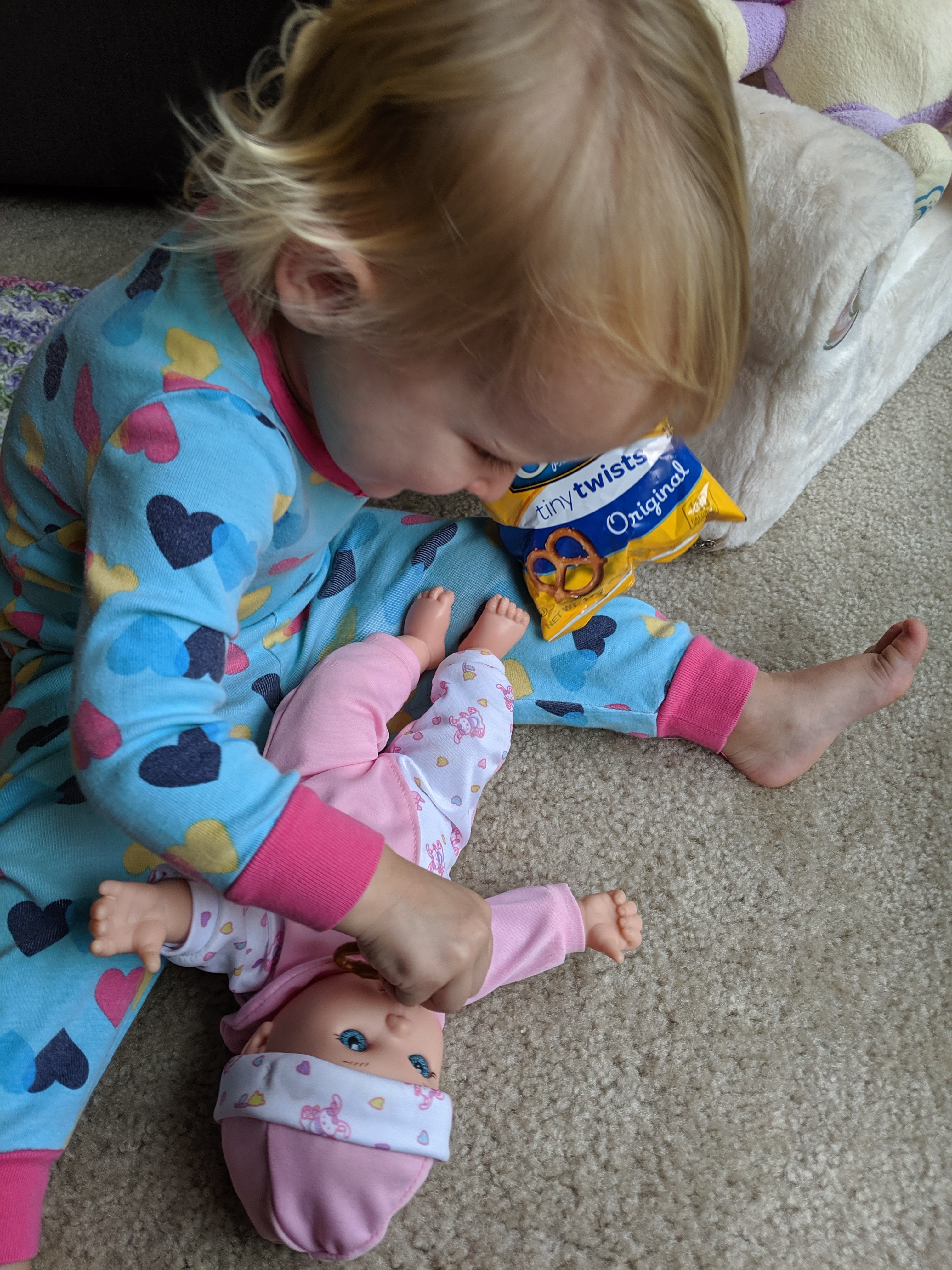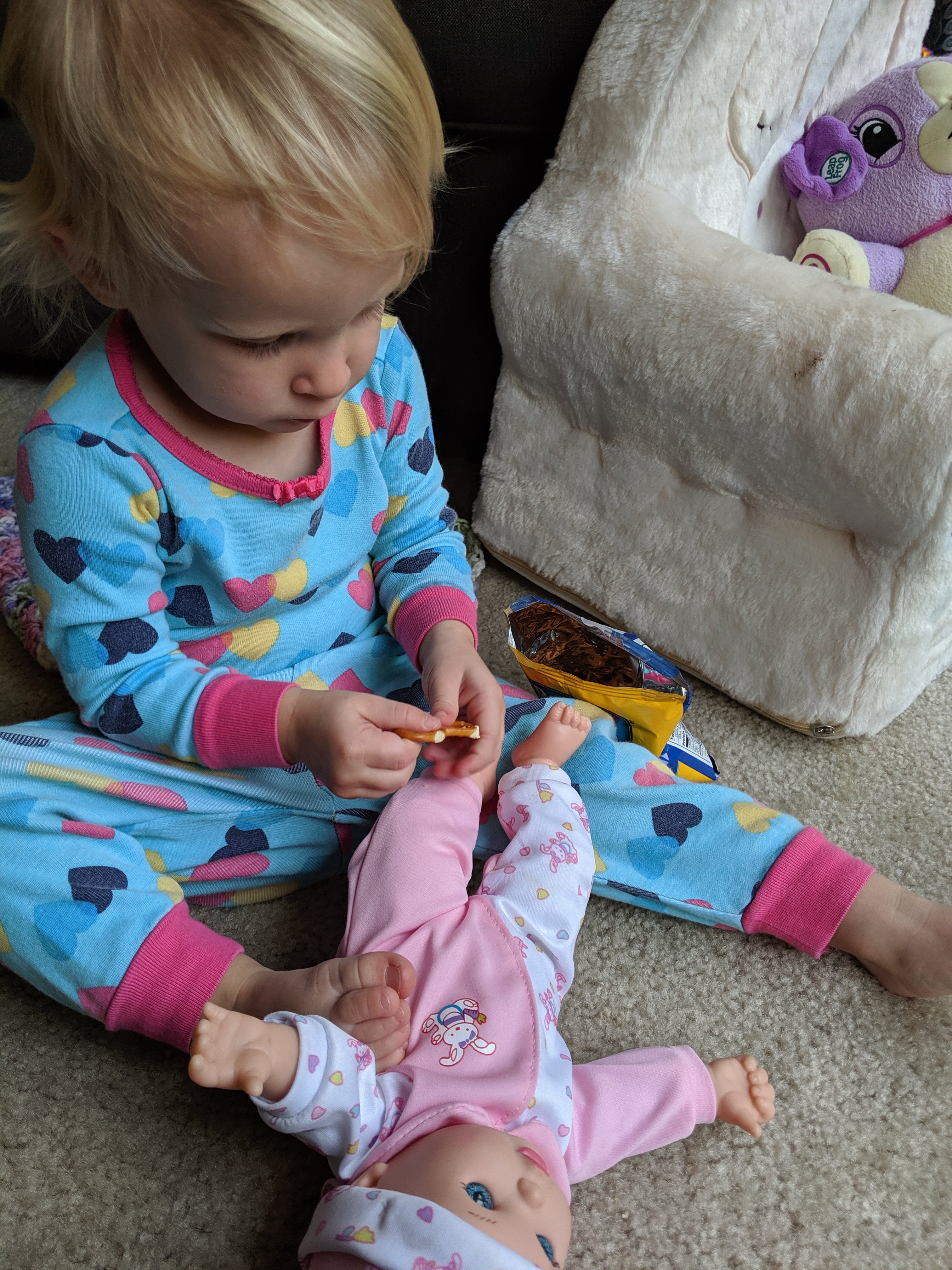 It had been storming & thundering & lightning for a little while, and then all of a sudden my Mama hollered, "Look at the rainbow!" But when I turned around, it was actually a double rainbow! And it was beautiful! What a lovely reminder of God's promises!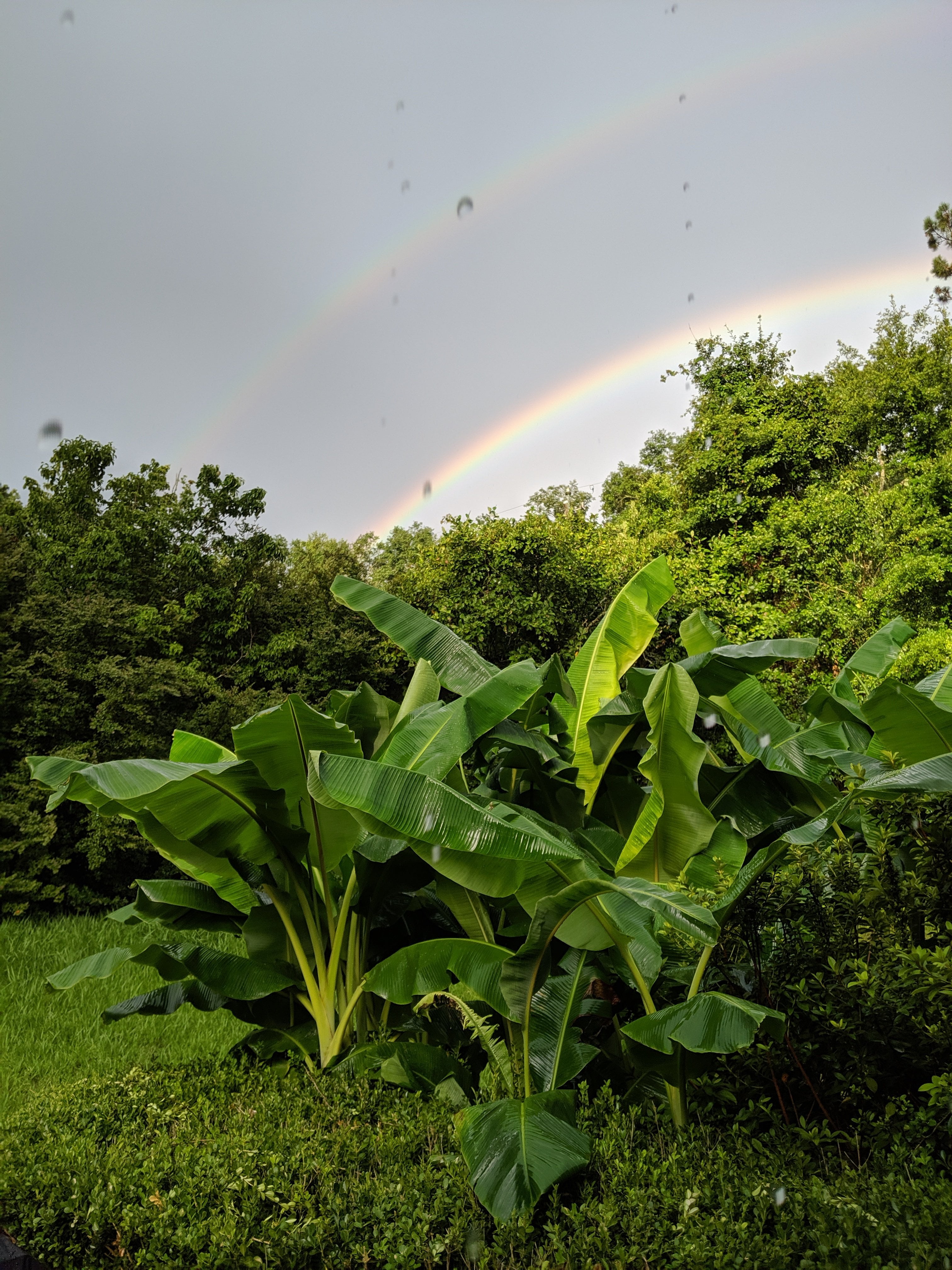 We had such a nice evening together, and I'm so glad that my parents accepted our dinner invitation, even though they weren't crazy about the menu. It's always nice to spend time with family!
Grammy brought Emmie back to her bedroom, and then snuck away and out of the house. I did bedtime books, and then Jeff came in to hold her for a few minutes before putting her down for the night. I put away the leftovers, and washed the dishes, and then got comfy. We just started our second episode of Home Town, and I'm super cozy on the couch. Today was a great day!