I love a sweet, sleepy baby first thing in the morning. She woke up early (as toddlers do), so we cuddled up in my robe & watched Moana together for a little bit.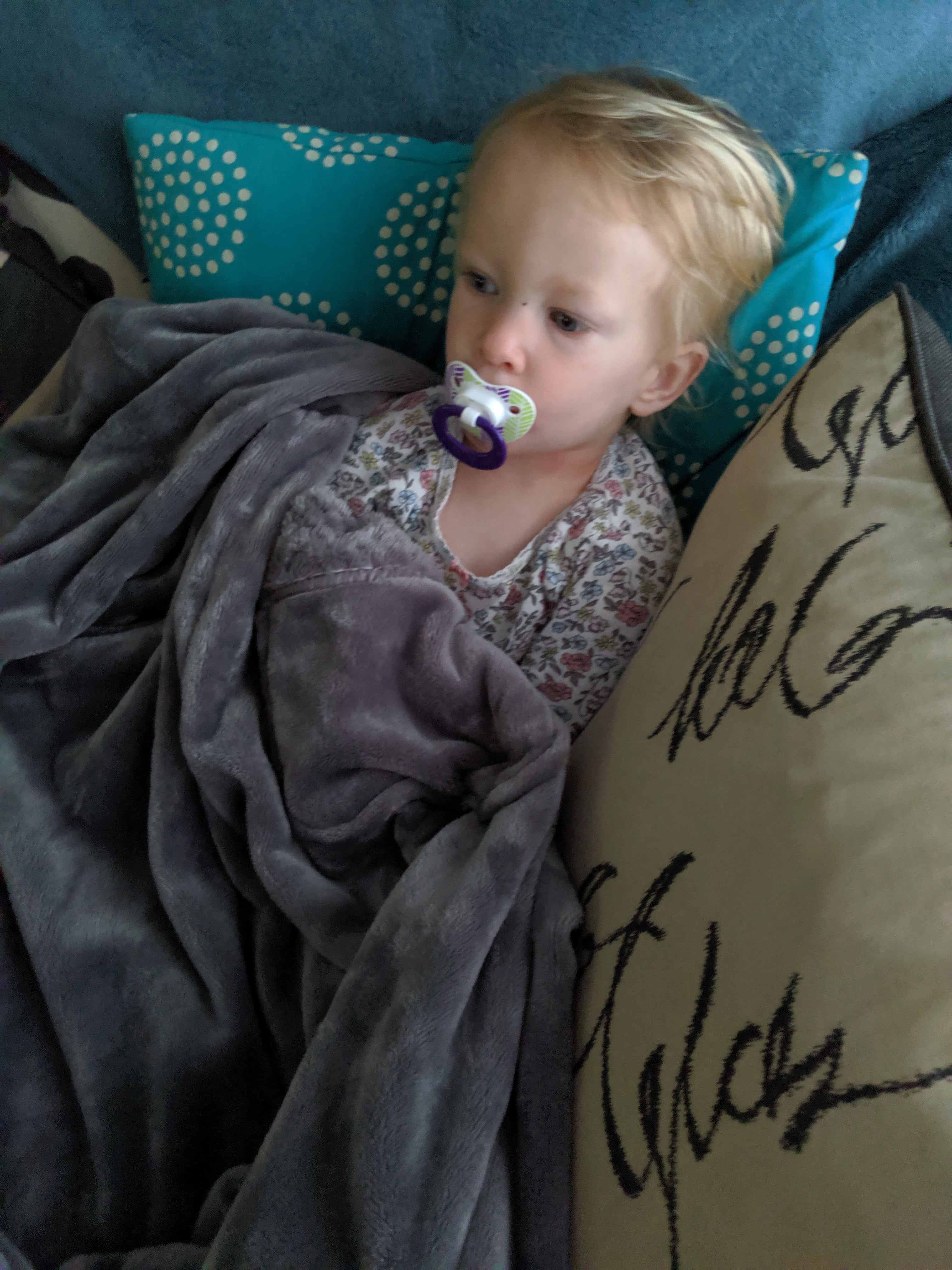 Then we shared some chocolate toast crunch cereal (we buy cereal in this house like we're 10 years old), and peach yogurt.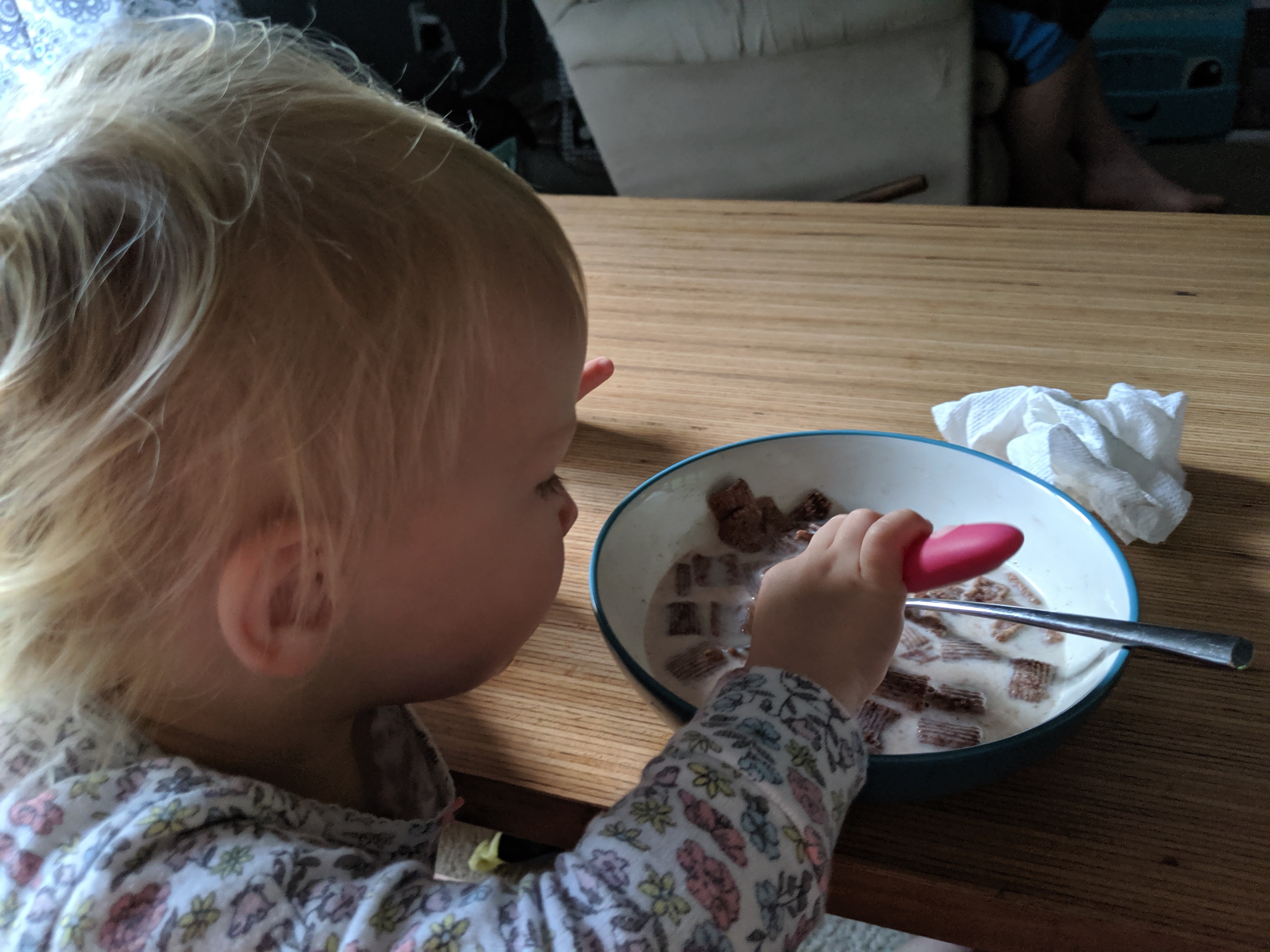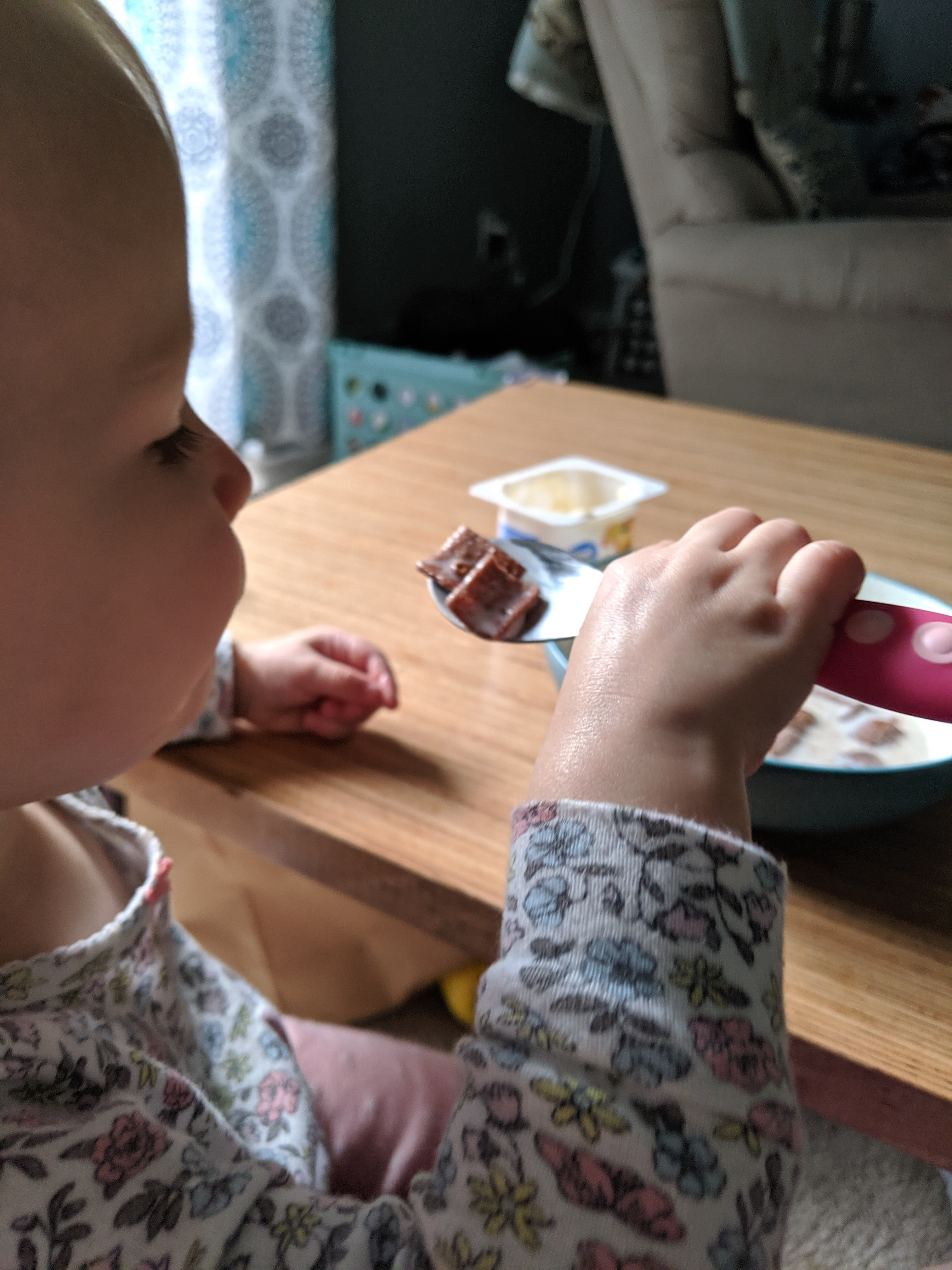 While Emmie played in her food truck, I looked through my Pioneer Woman cookbook for a new recipe to try. Flipping through my PW cookbook, drinking coffee from my Magnolia coffee mug, while burning my Laurel candle. And I decided I wanted to make this simple pasta recipe. It's nothing special, but I would never have though to put fresh mozzarella in my marina sauce, so I figured that it would be something new & fun to try! So I texted my friend Sara & invited her and her hubby over for dinner to try it out on them.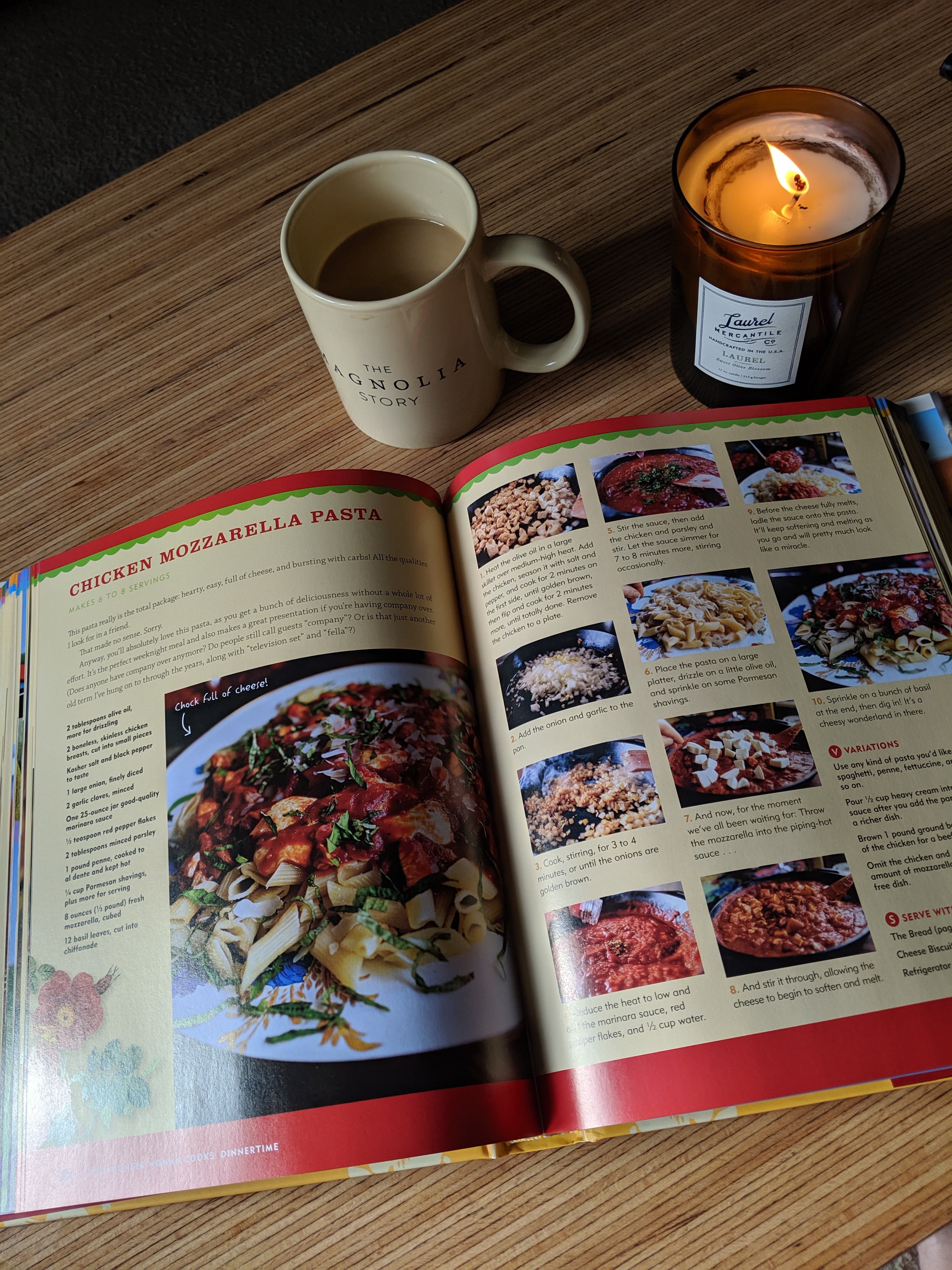 And Emmie wanted to pick out a few new recipes to try too, but she got distracted by the photos of dogs & horses.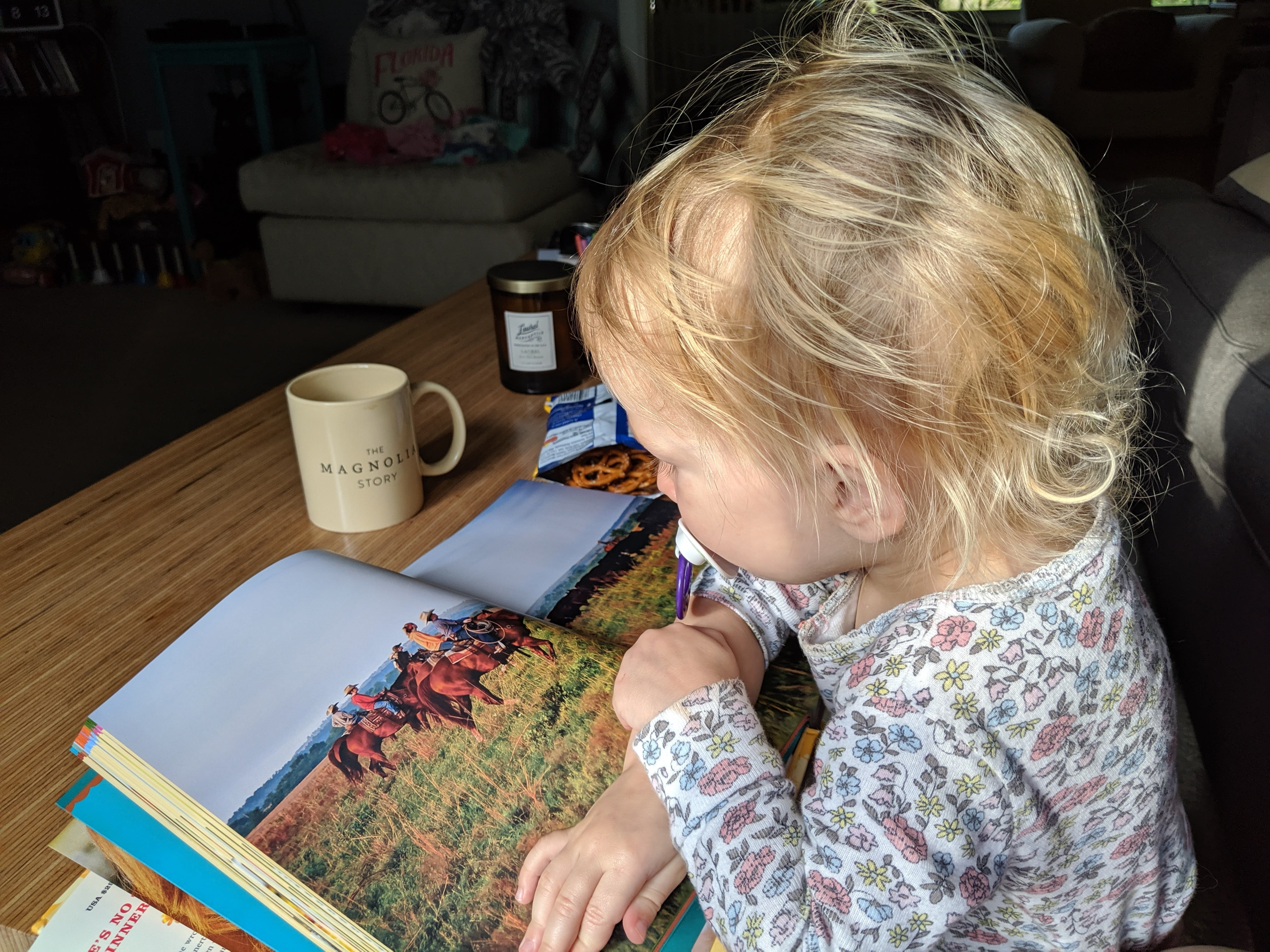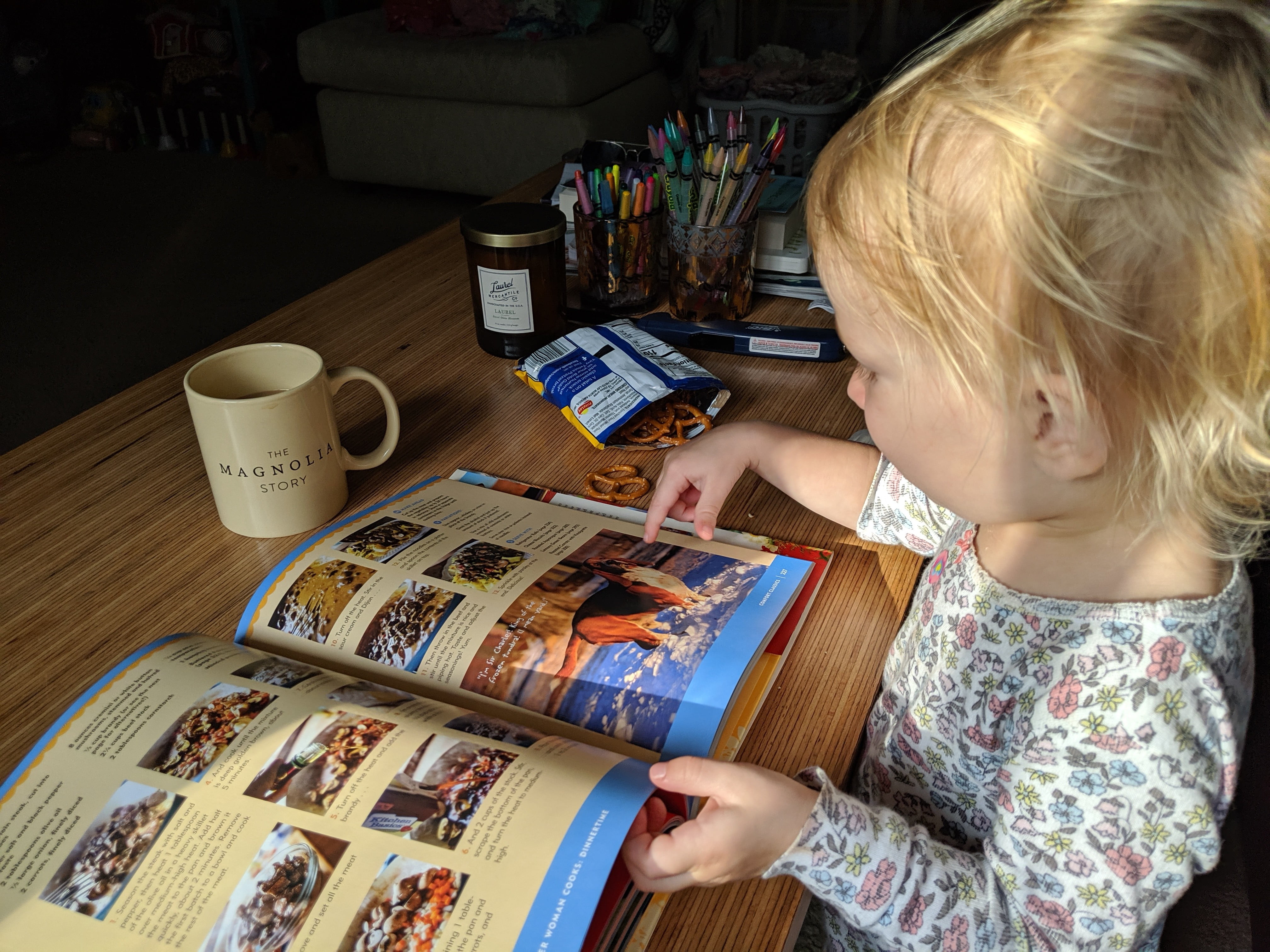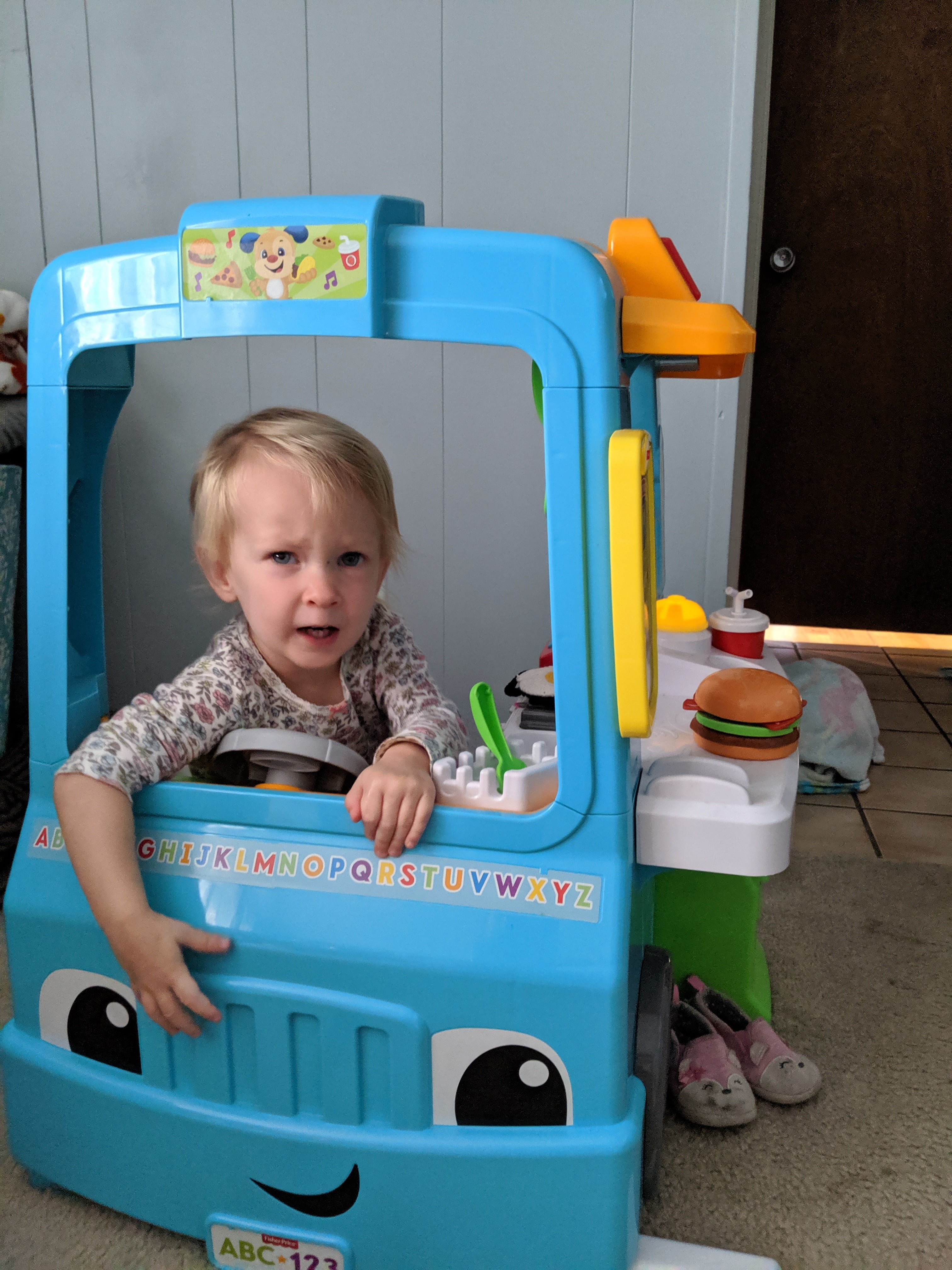 I put in a Walmart grocery pickup order, and then we got dressed. We needed to go to Publix for the fresh mozzarella, since Walmart didn't have any. She took a few pretzels for the road, and we headed out!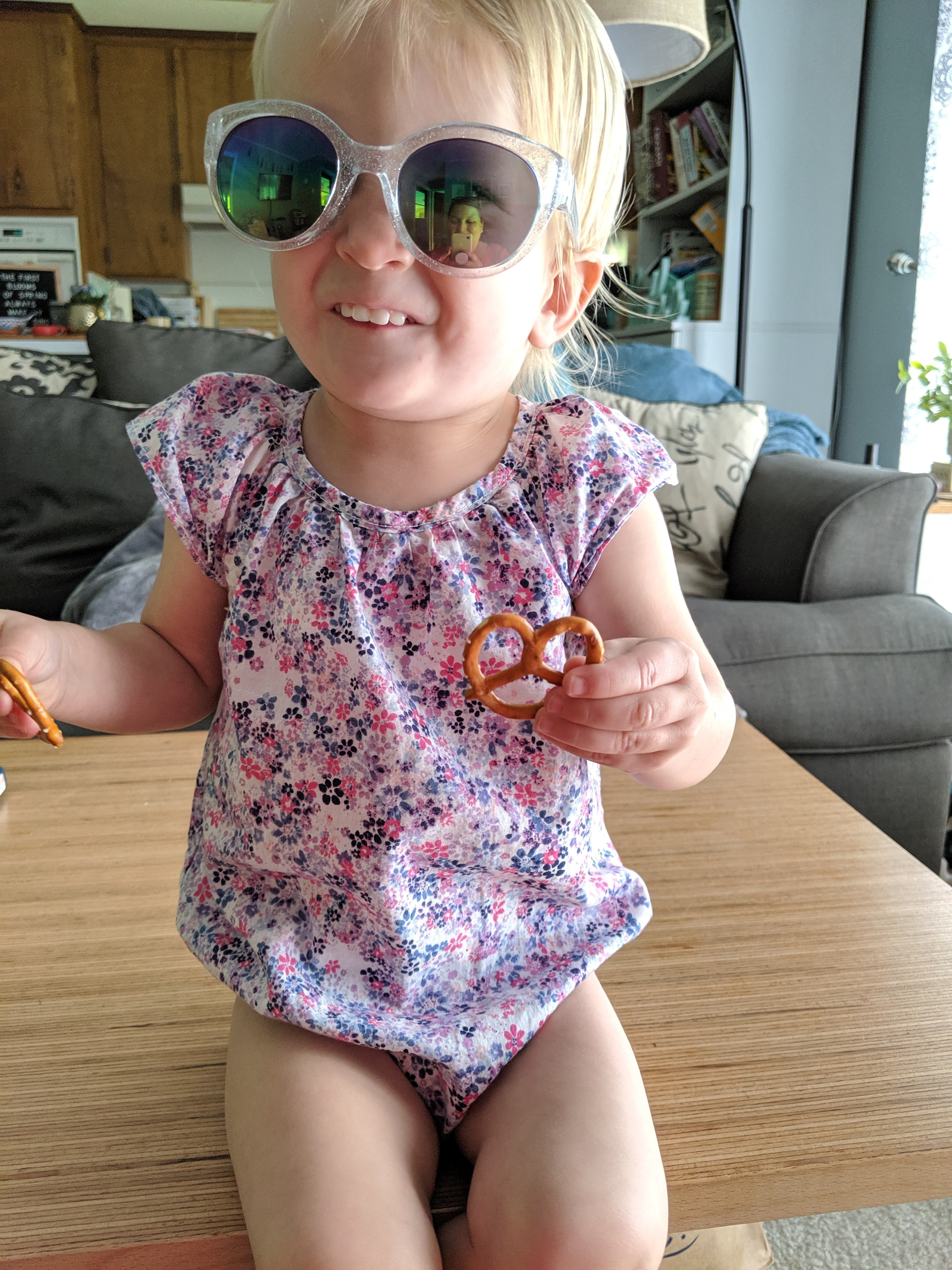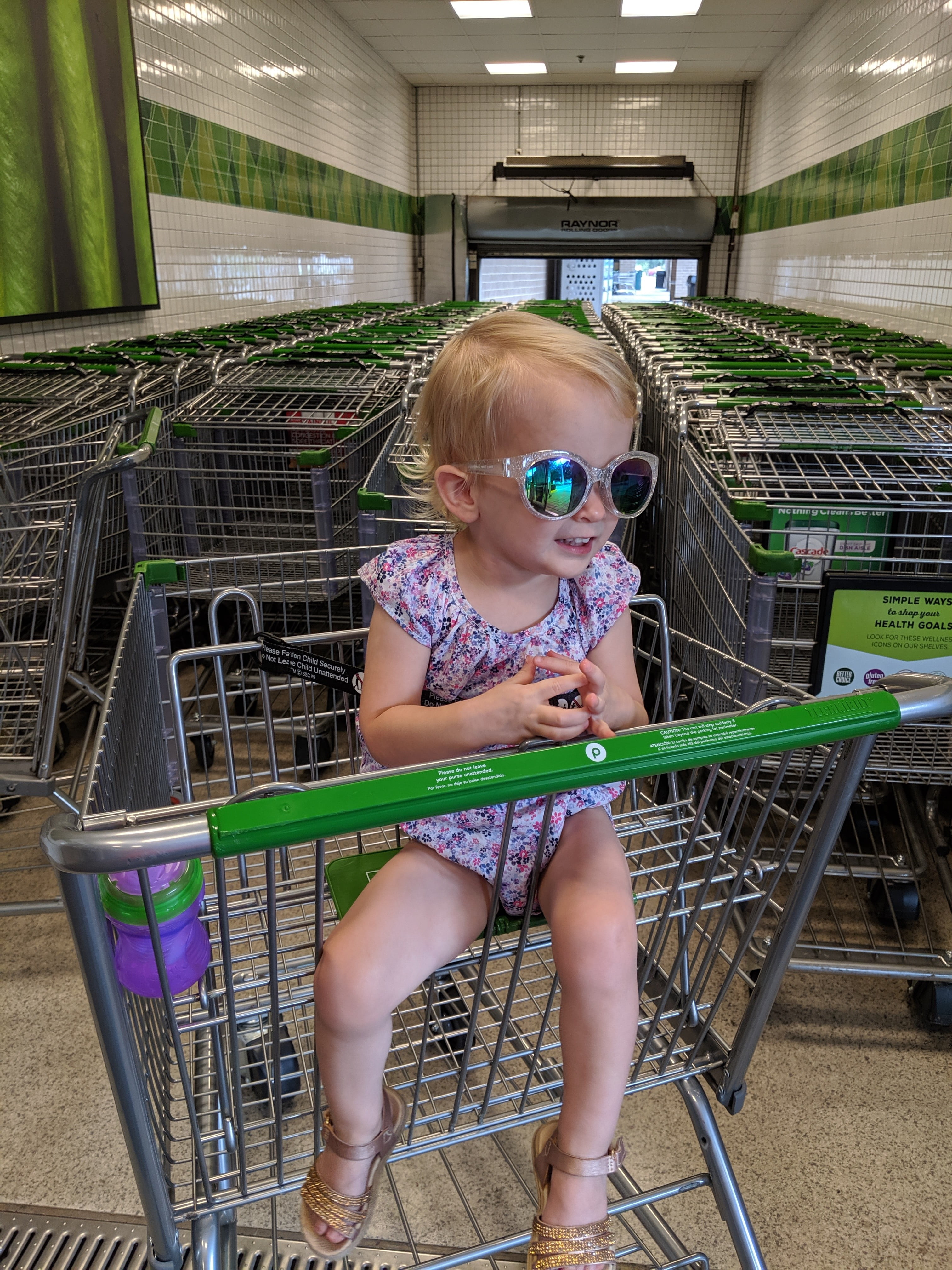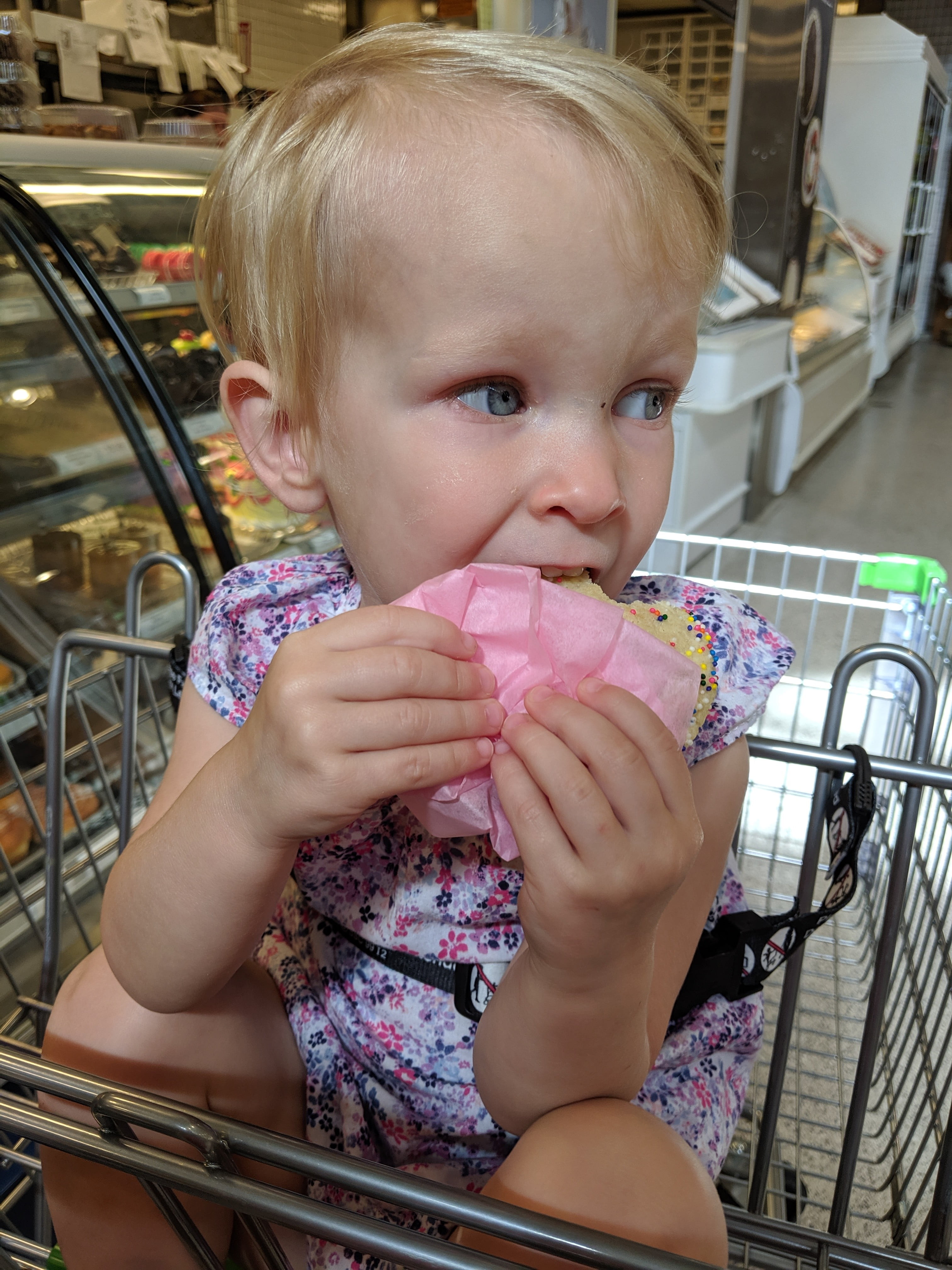 With all the library books I currently have in my house, I needed a library for my library books. We have this old high chair set up kind of decoratively in the living room, so I decided to put all the books in the seat, so I can keep track of them. I usually keep them on the blue table in the kitchen, but there are currently too many for that! (Ten books pictured below, one is hidden behind though, plus one more I just returned today, plus two more on the coffee table.)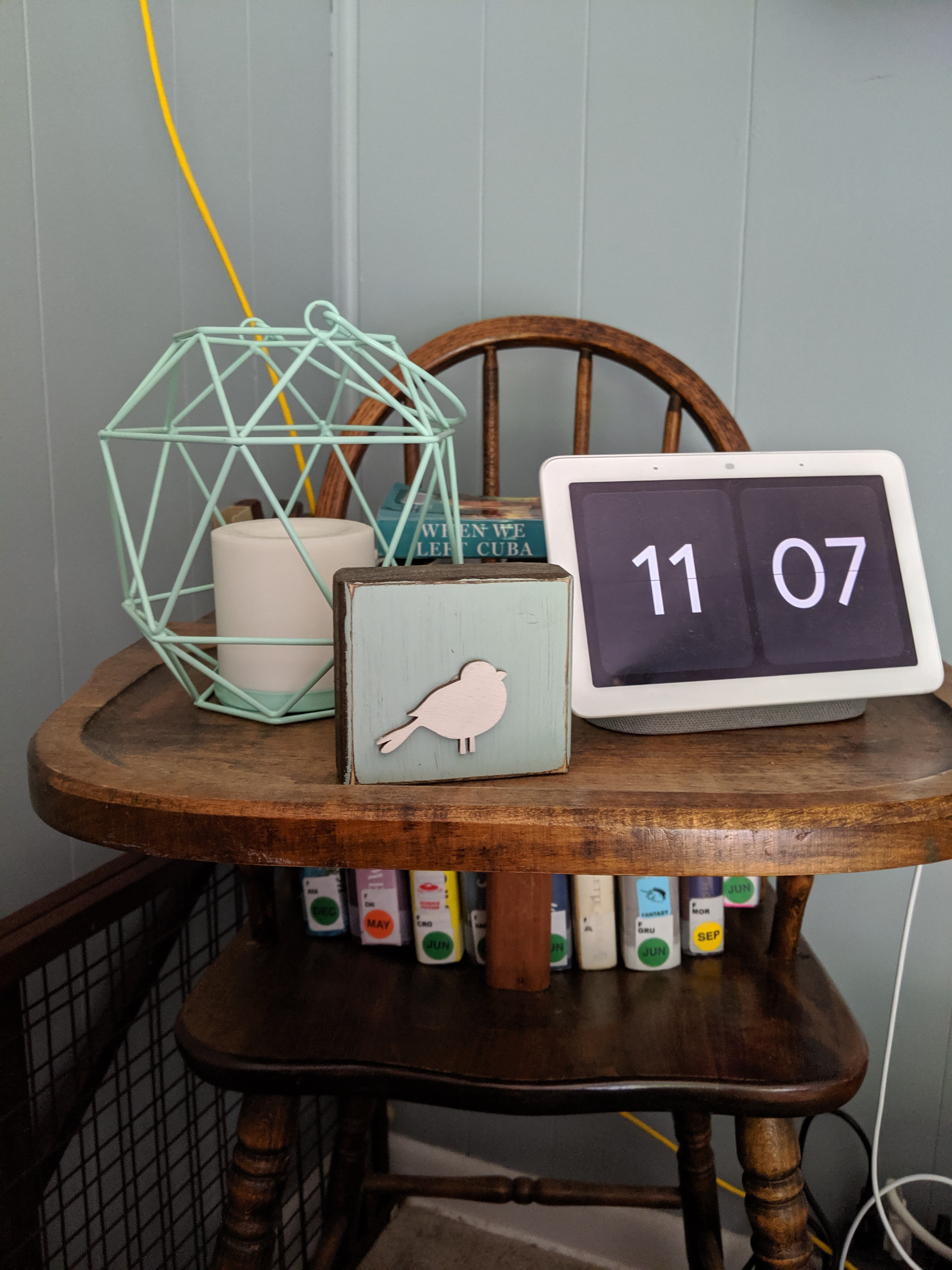 We did chores & played inside, while Daddy was outside doing yard work. Emmie loves watching him from inside! And Mommy likes getting to stay in the a/c 😉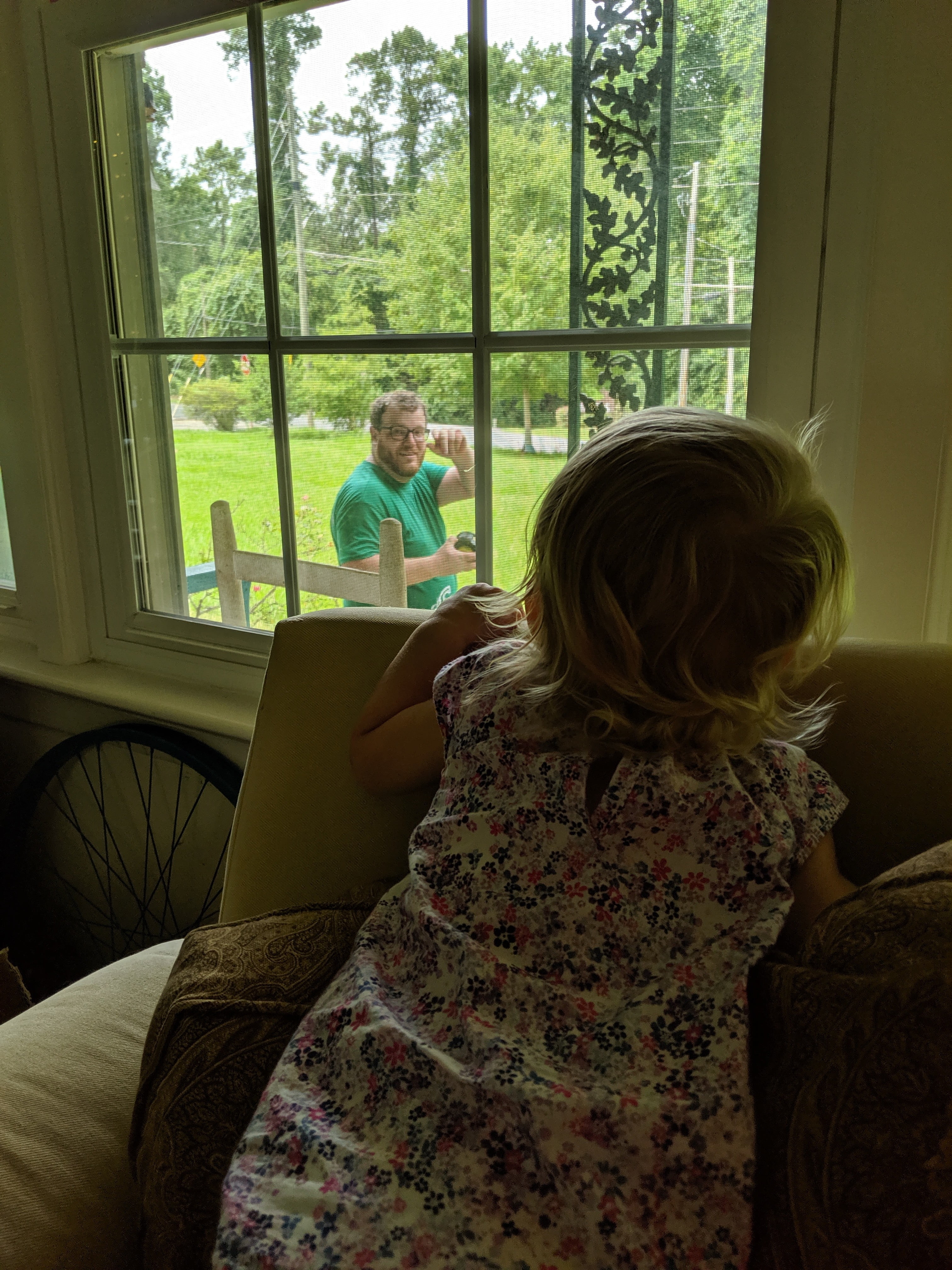 But then we did end up going outside to help Daddy get the pool ready, and clearly Emerson really is such a big helper.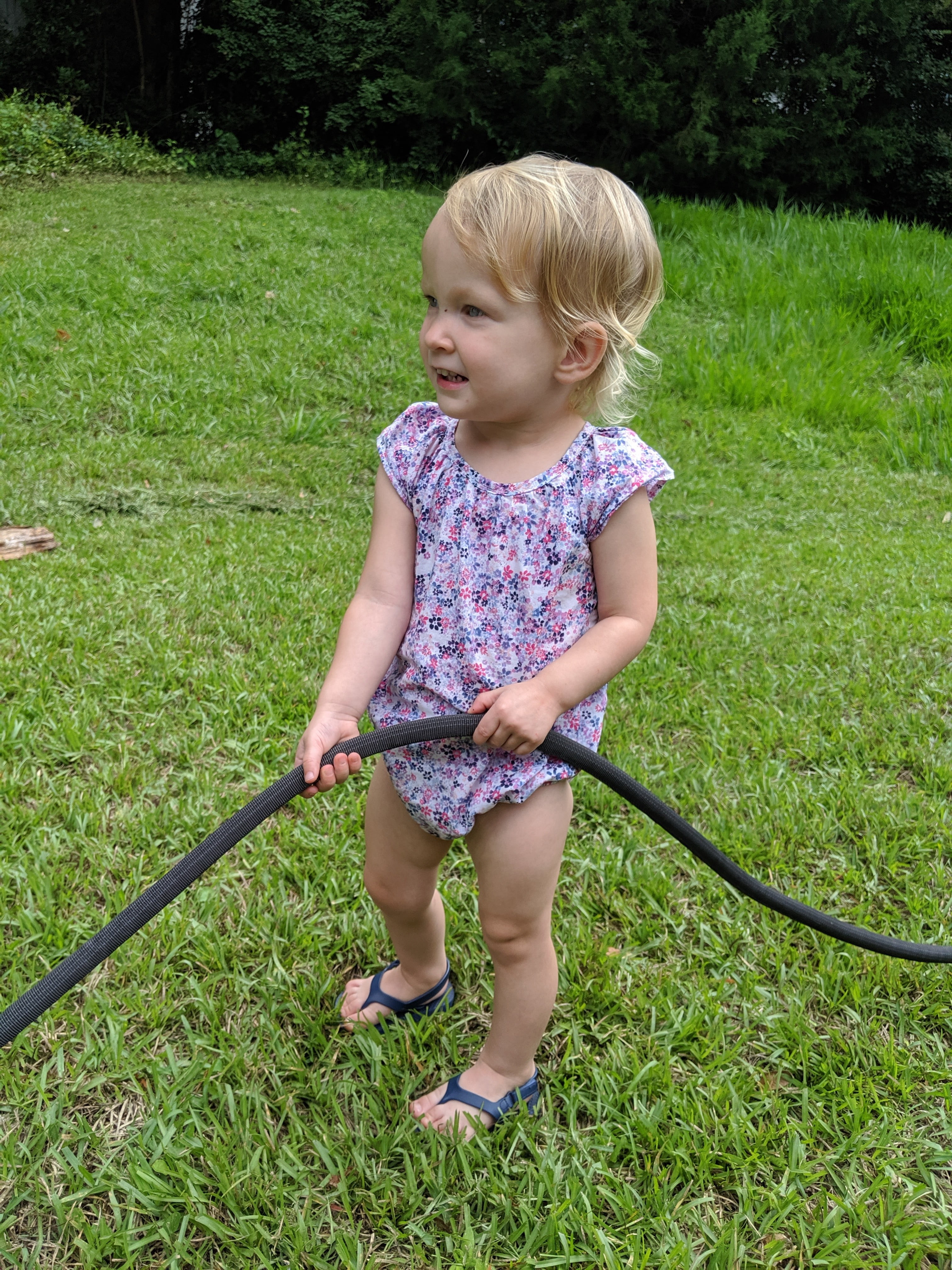 Then Emerson and I had lunch together, and she dipped her Wavy chips into her strawberry yogurt, because she's a little weirdo.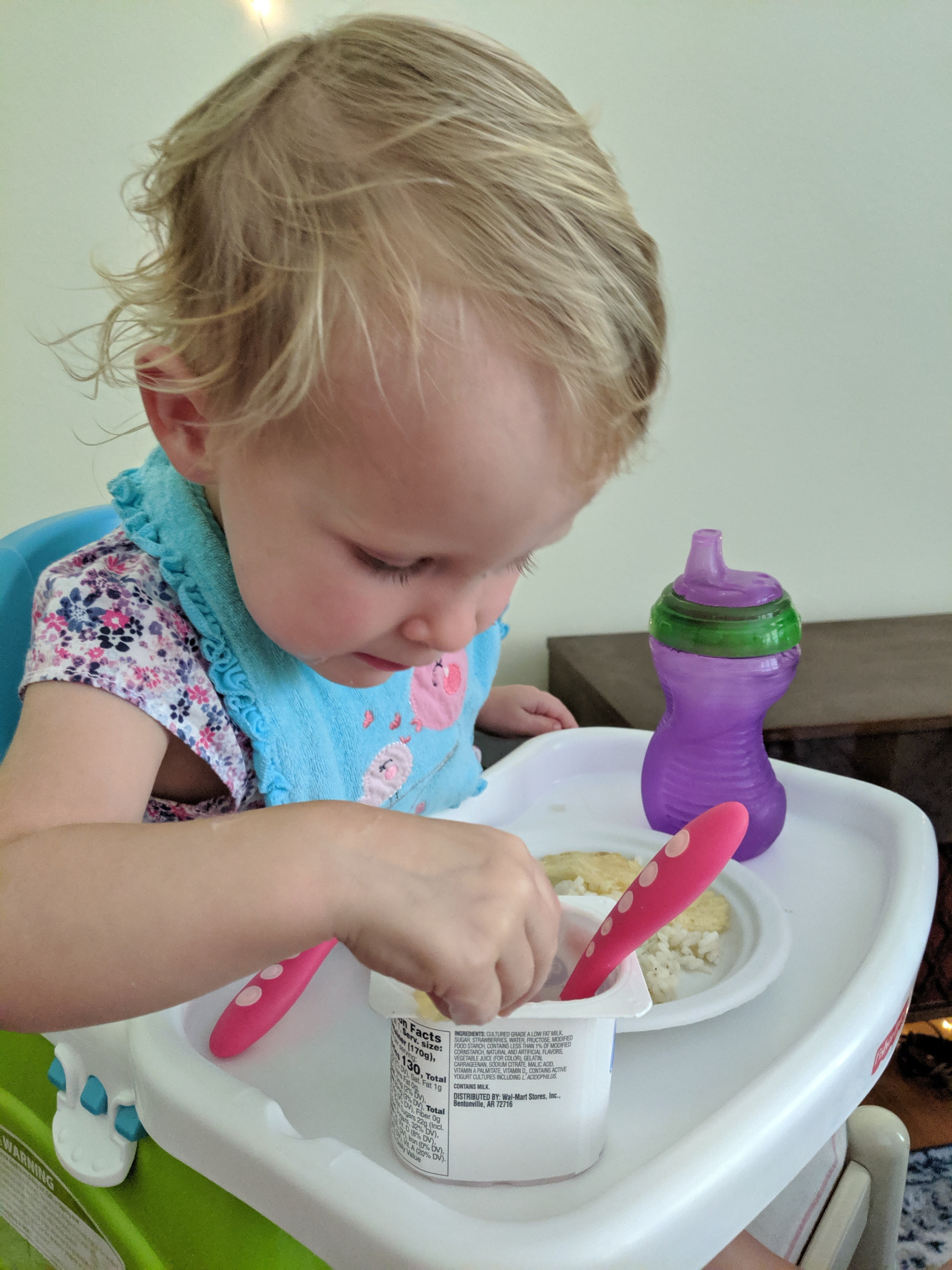 She need a little coaxing to go down for her nap, but once she did, she slept for 2.5 hours! I cleaned & vacuumed the living room, then cleaned the kitchen, while Jeff helped someone with some computer work remotely. (Which means he was in our house, but helping through a program connected to her computer.) After all my chores were done, I sat down to read, but ended up falling asleep on the couch after a bit. And I actually napped for like 30 minutes, and it was pretty great.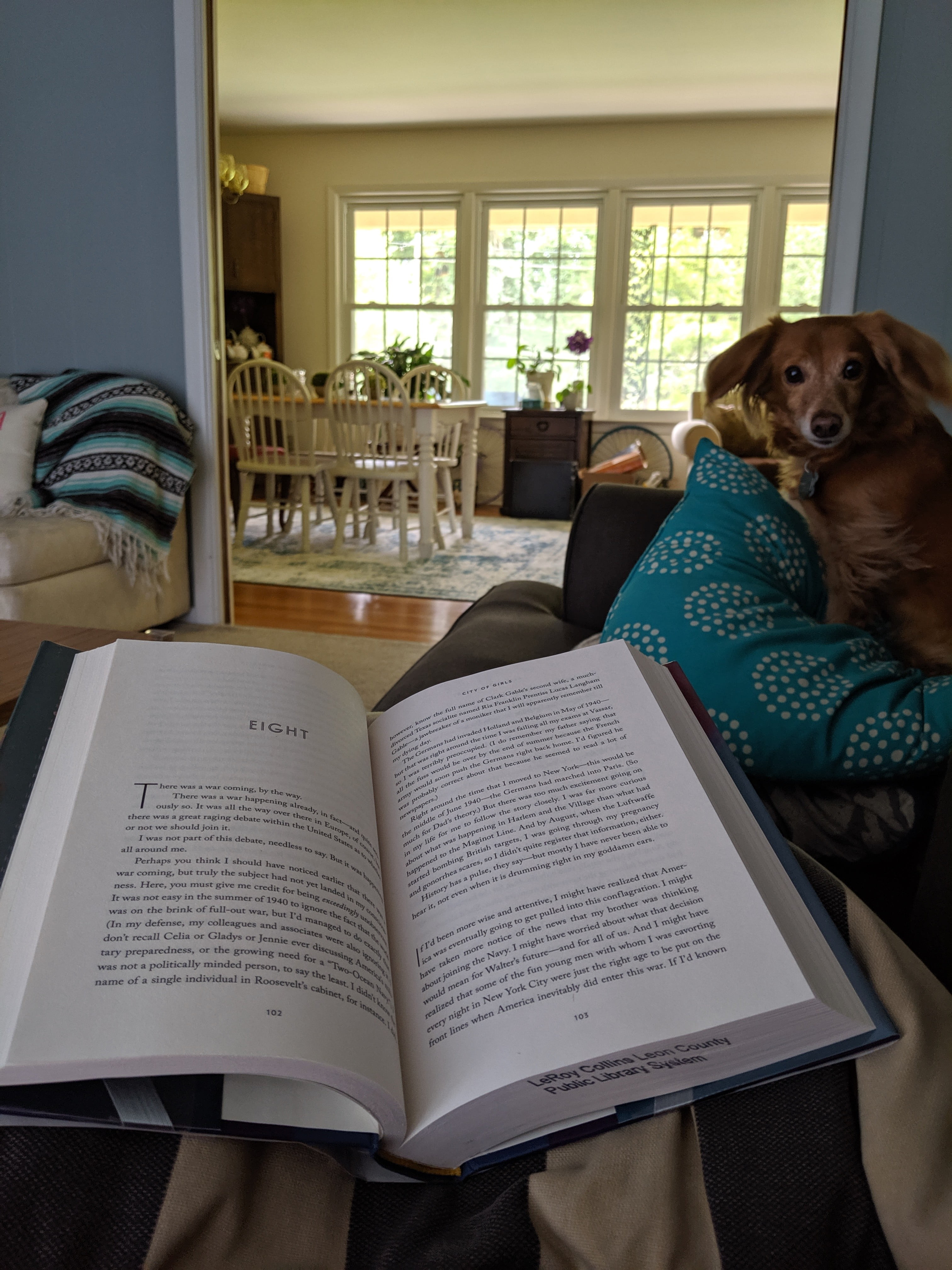 And then it was time to go "swimming!" (Can you tell Jeff ran out of time to finish mowing the backyard? haha)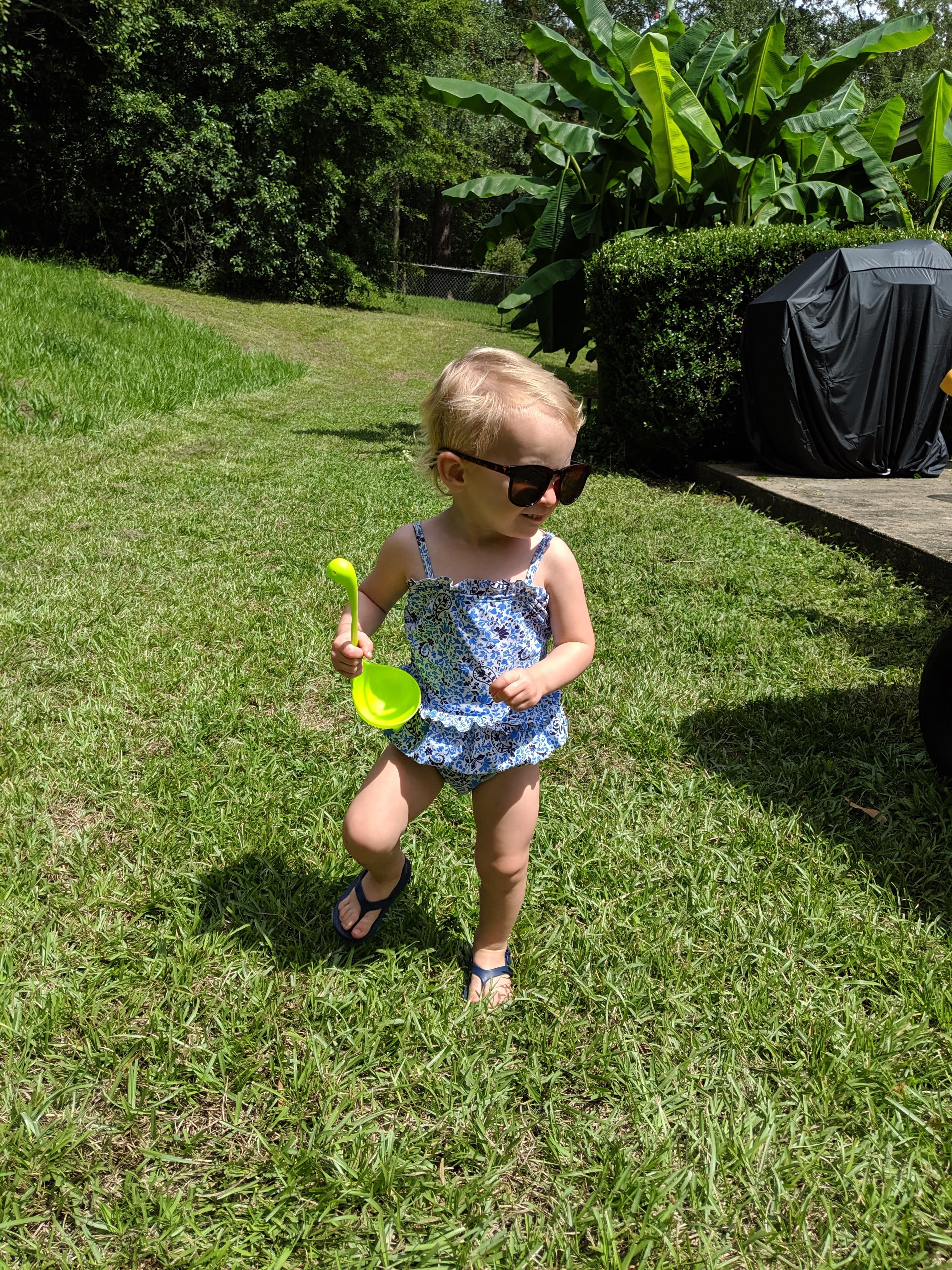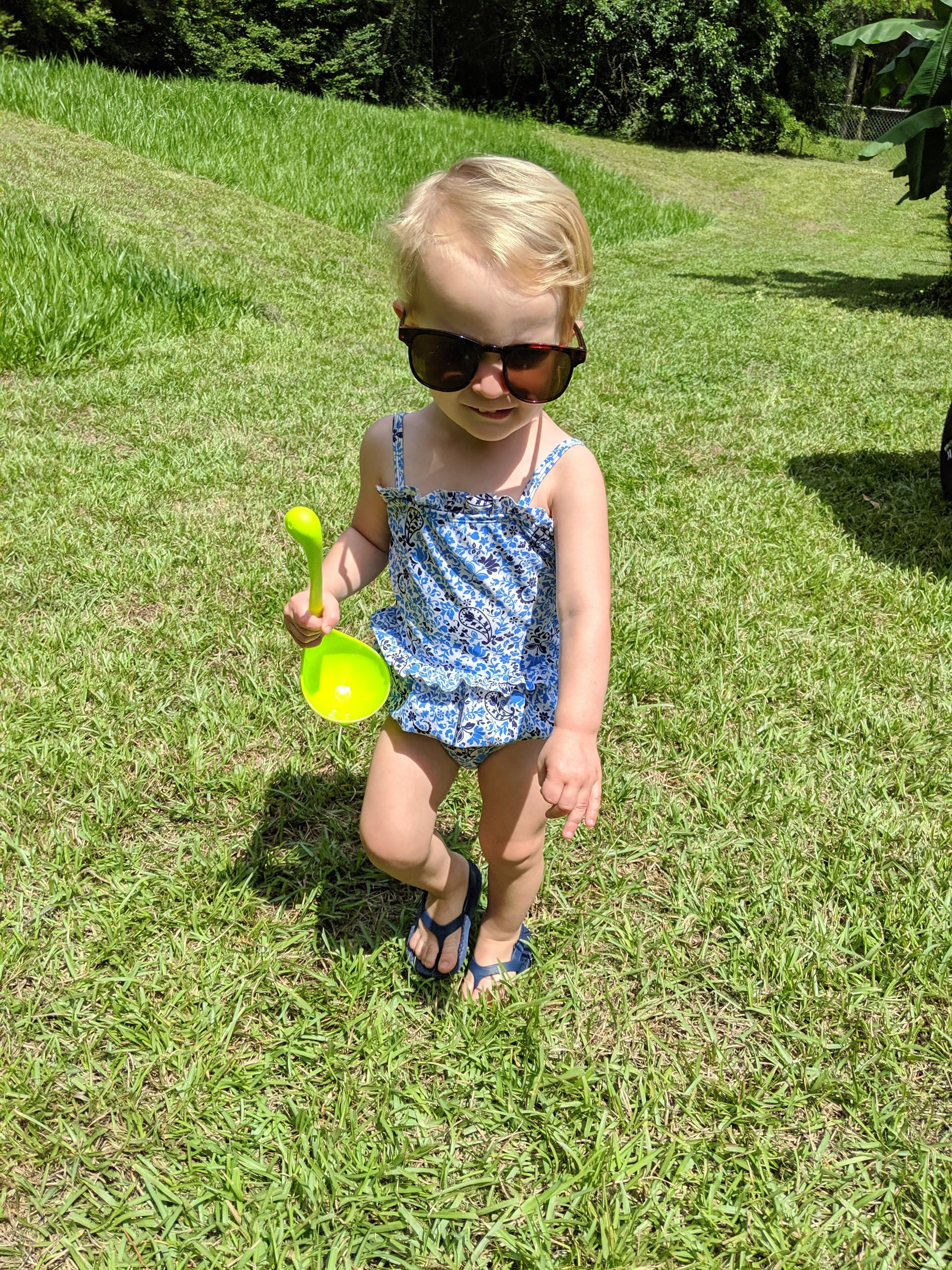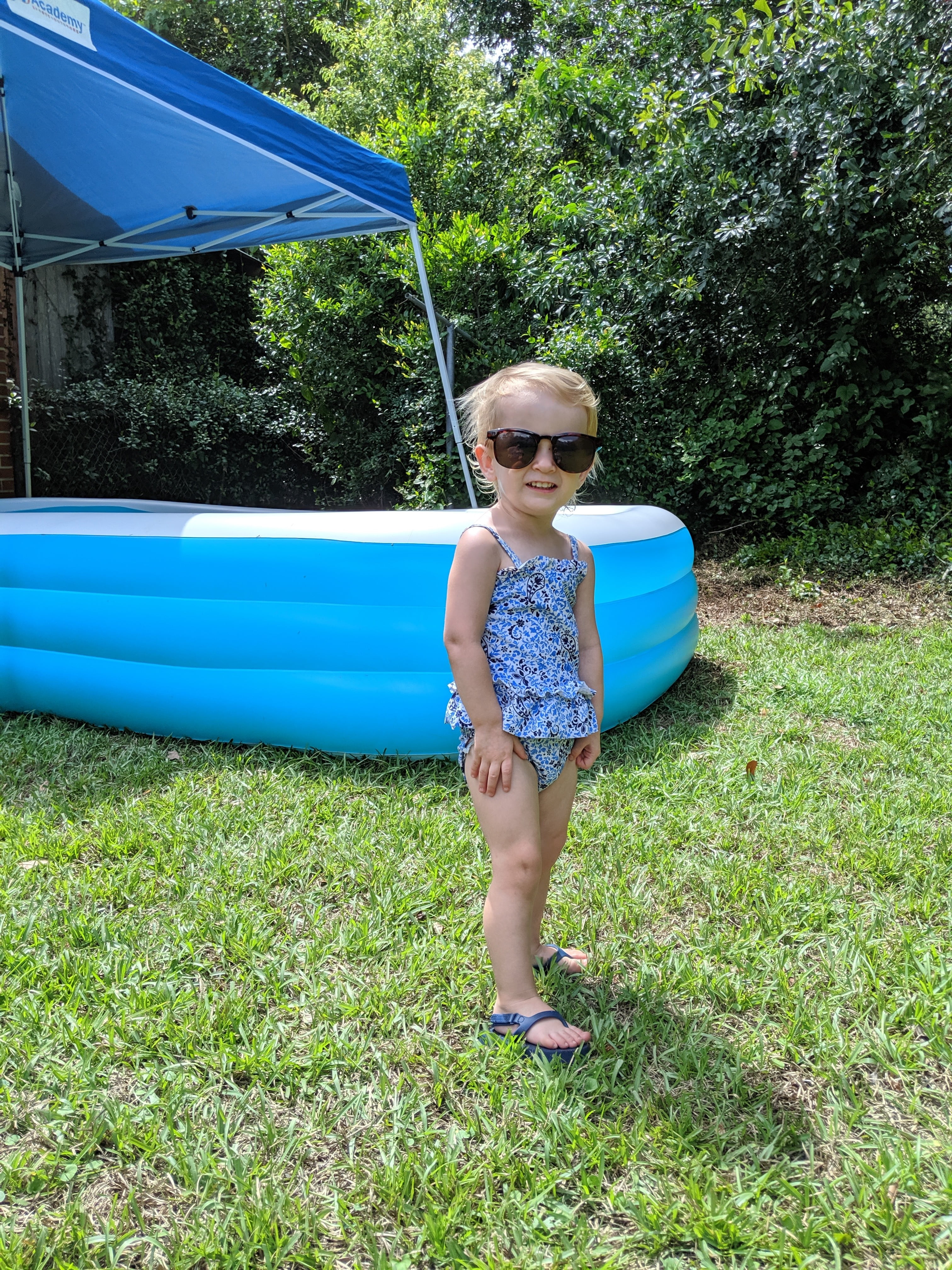 I'm just really loving this pool back here so much! Last week I said it felt like our secret garden pool, and I still think that. It just feels so green & private & magical & lovely back here!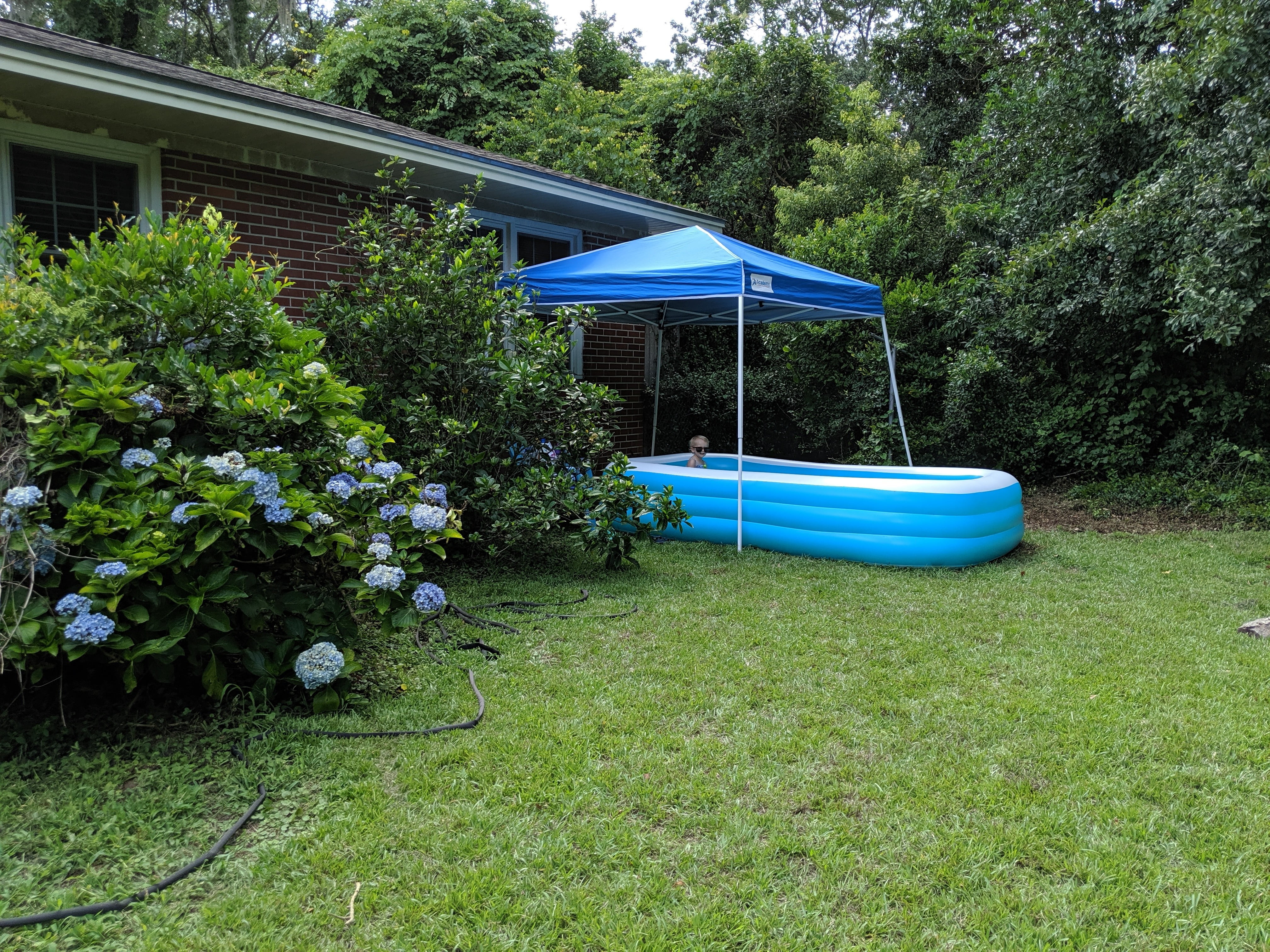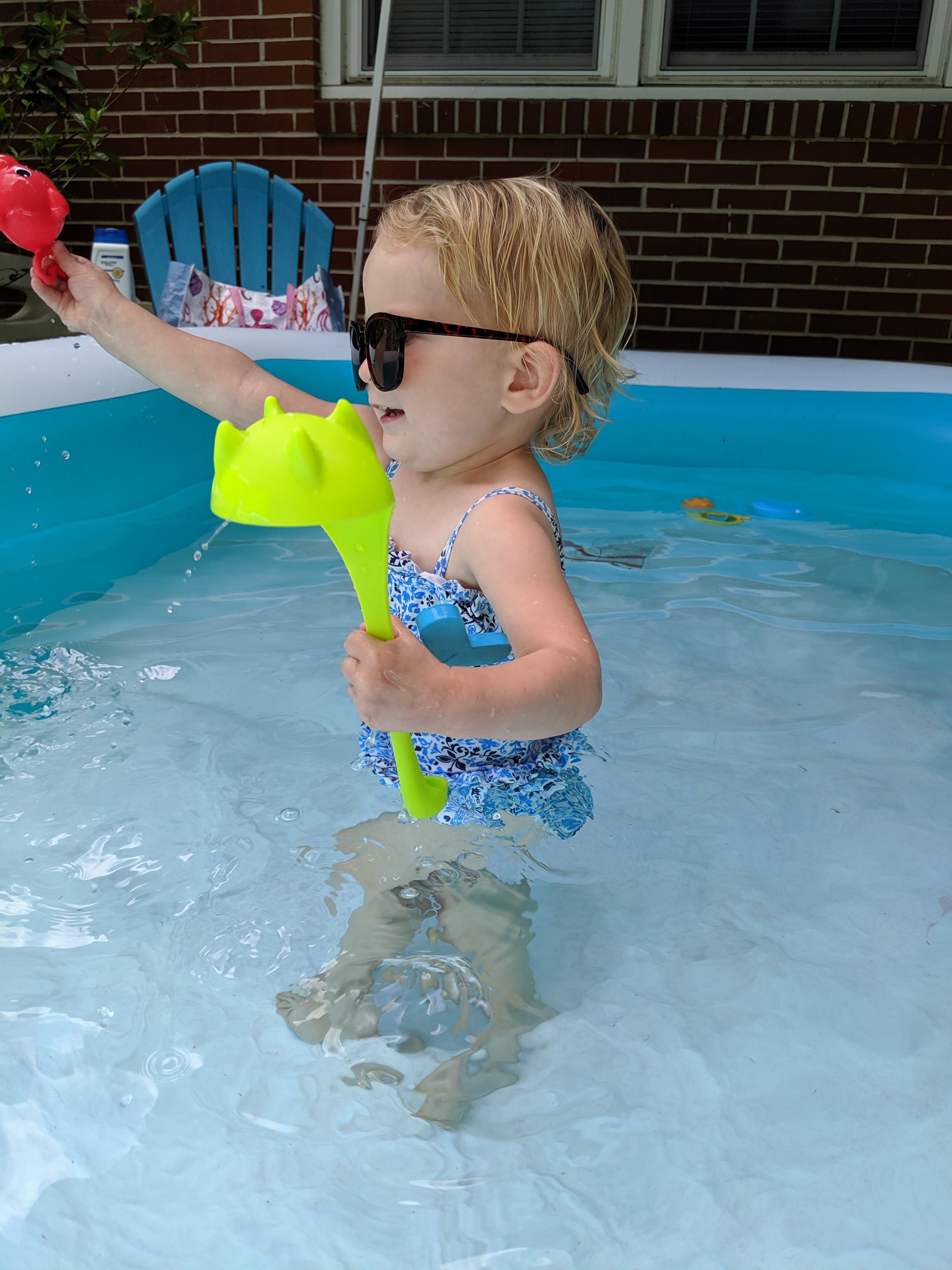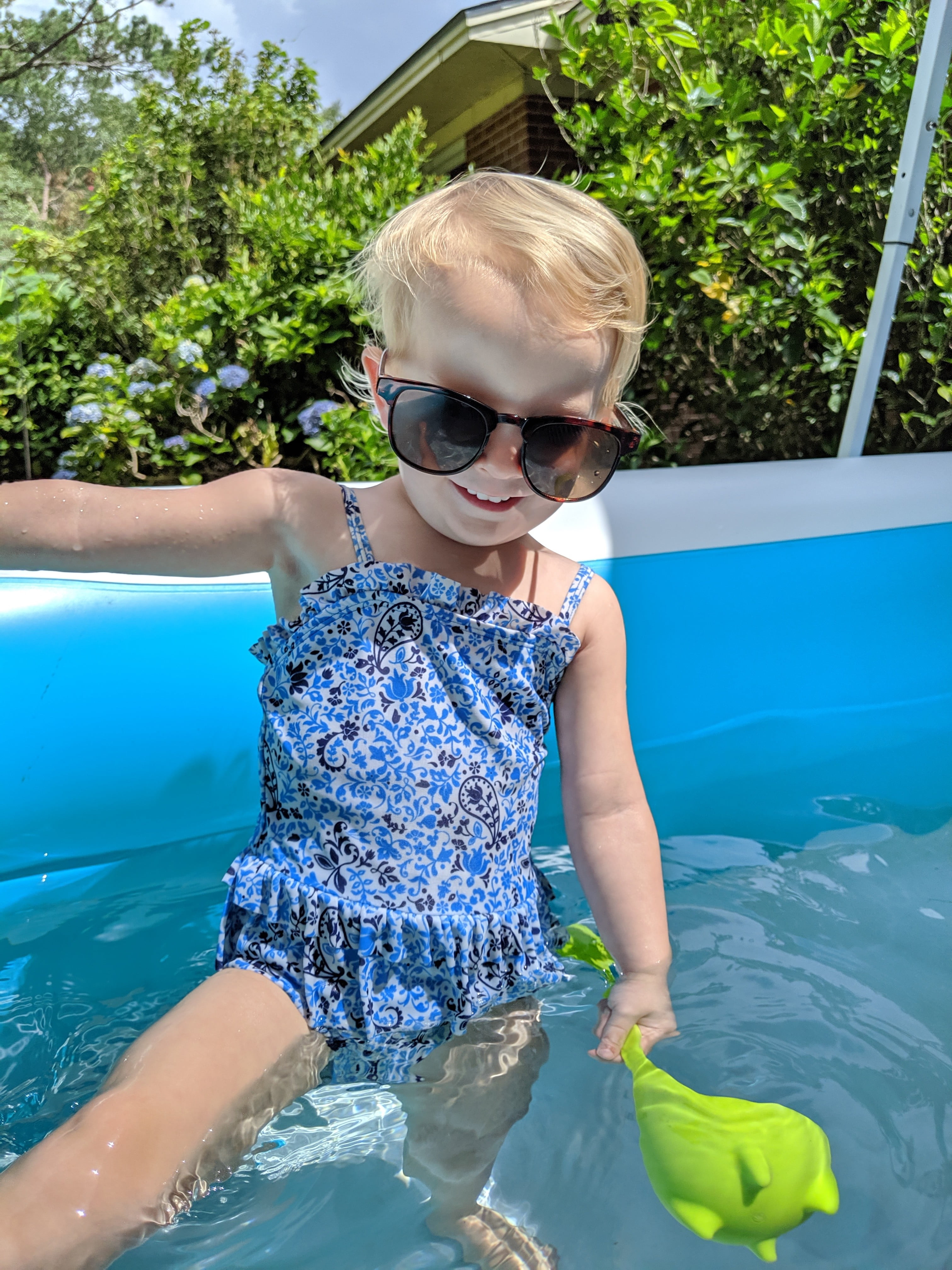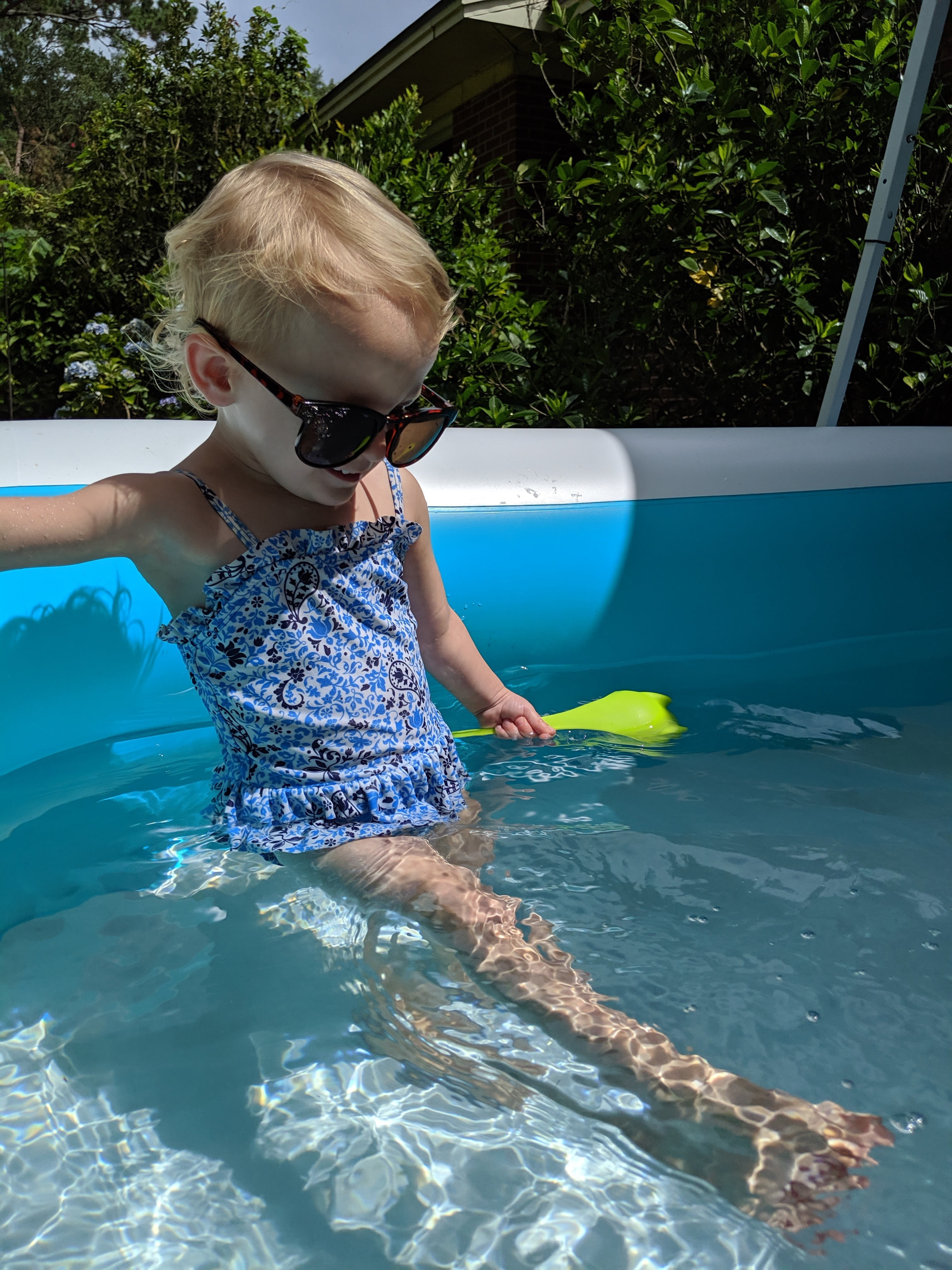 She thought she wanted her seat in the pool, so we put a towel underneath it, to make sure it didn't puncture the bottom of the pool. But after she sat in it for approximately 90 seconds, she was already done with that, and wanted me to take it back out.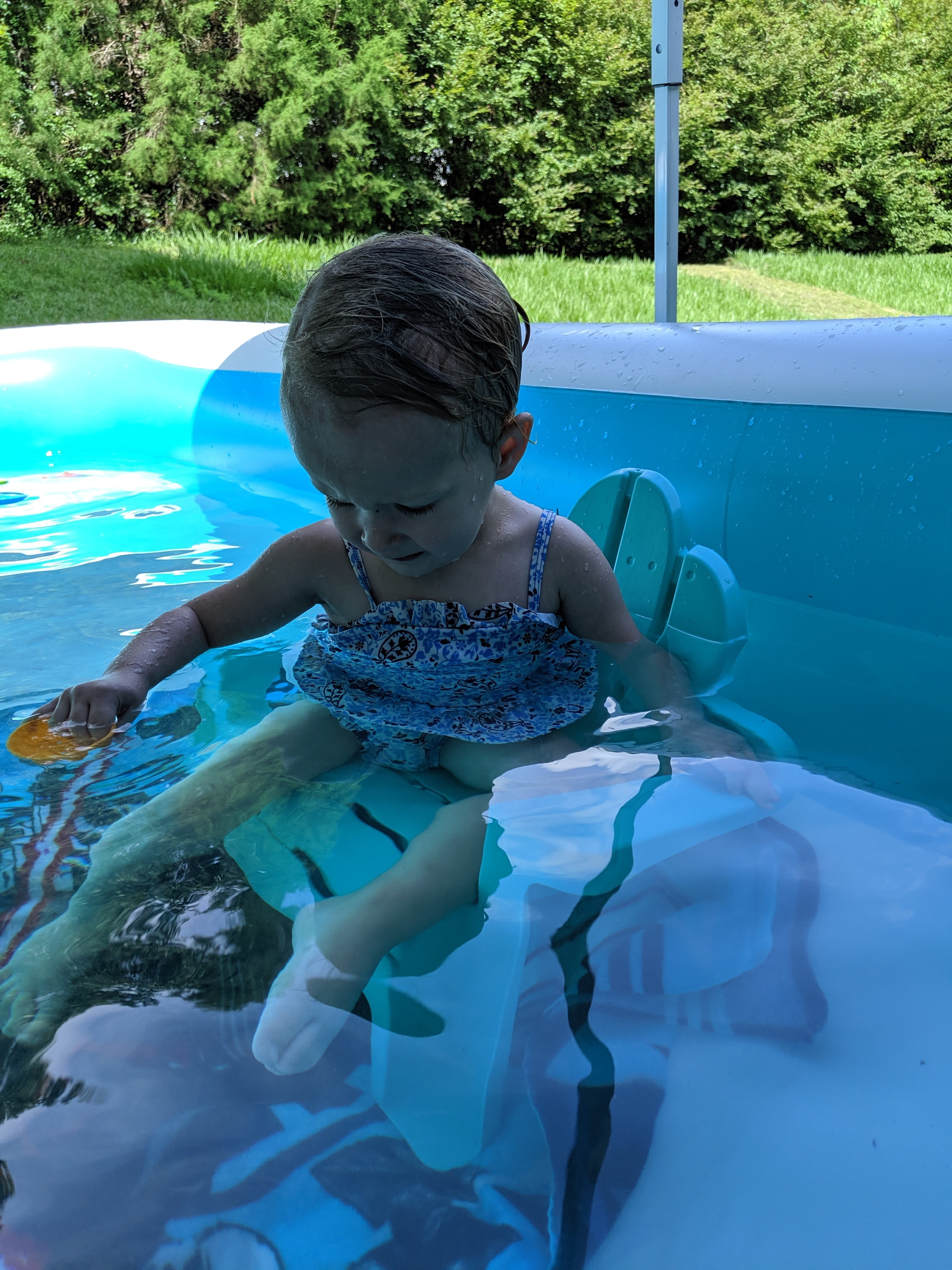 I washed both of our hair in the pool before getting out, so that counts as bath time for us today, right?!
Jeff started pressure washing the back patio a little bit today too, and even though he ran out of time to finish that as well, he did leave a cute note for me 🙂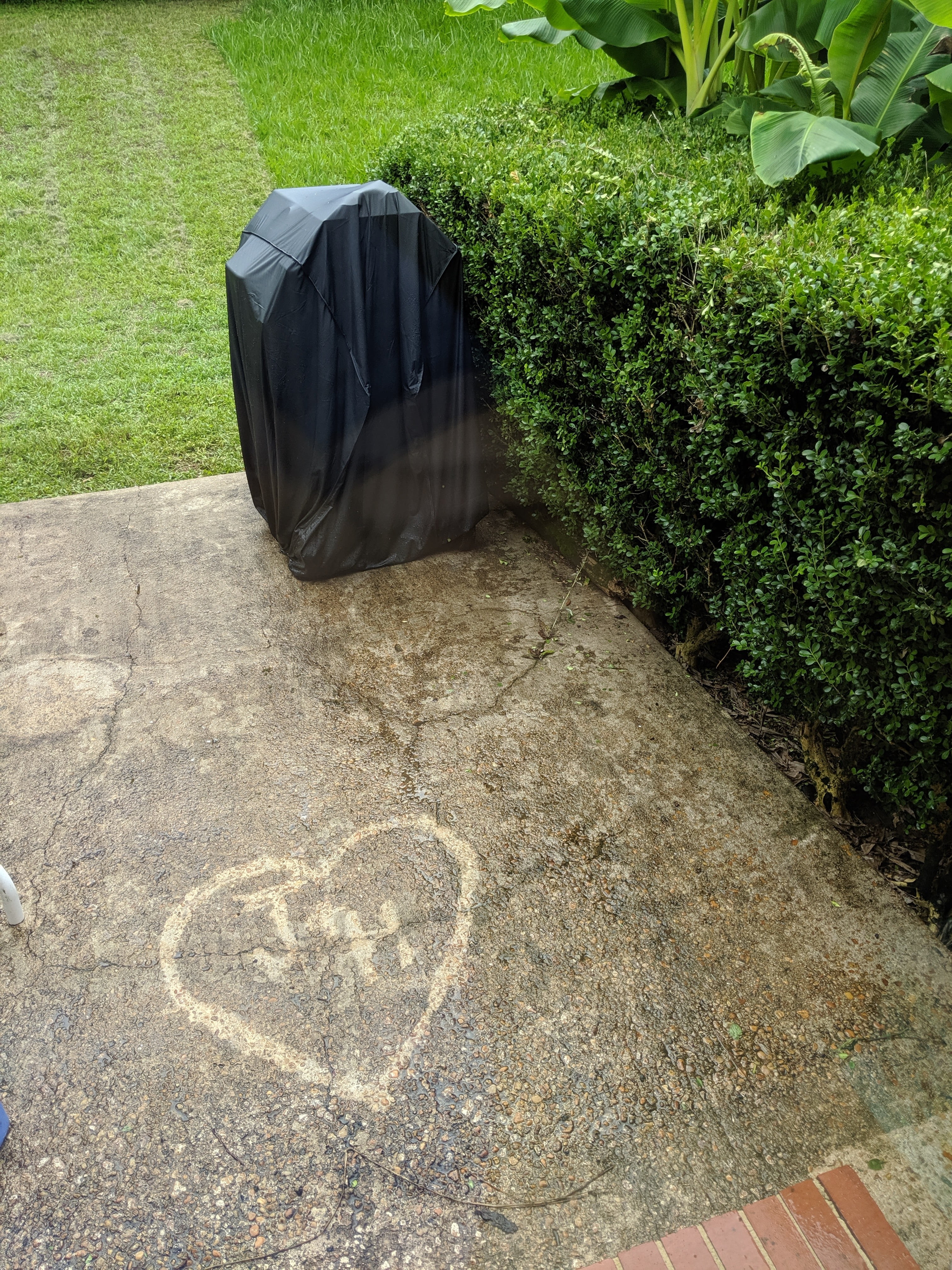 By late afternoon, it was starting to get gray & stormy, so I turned on all of our lamps, and our house was just so comfy-cozy!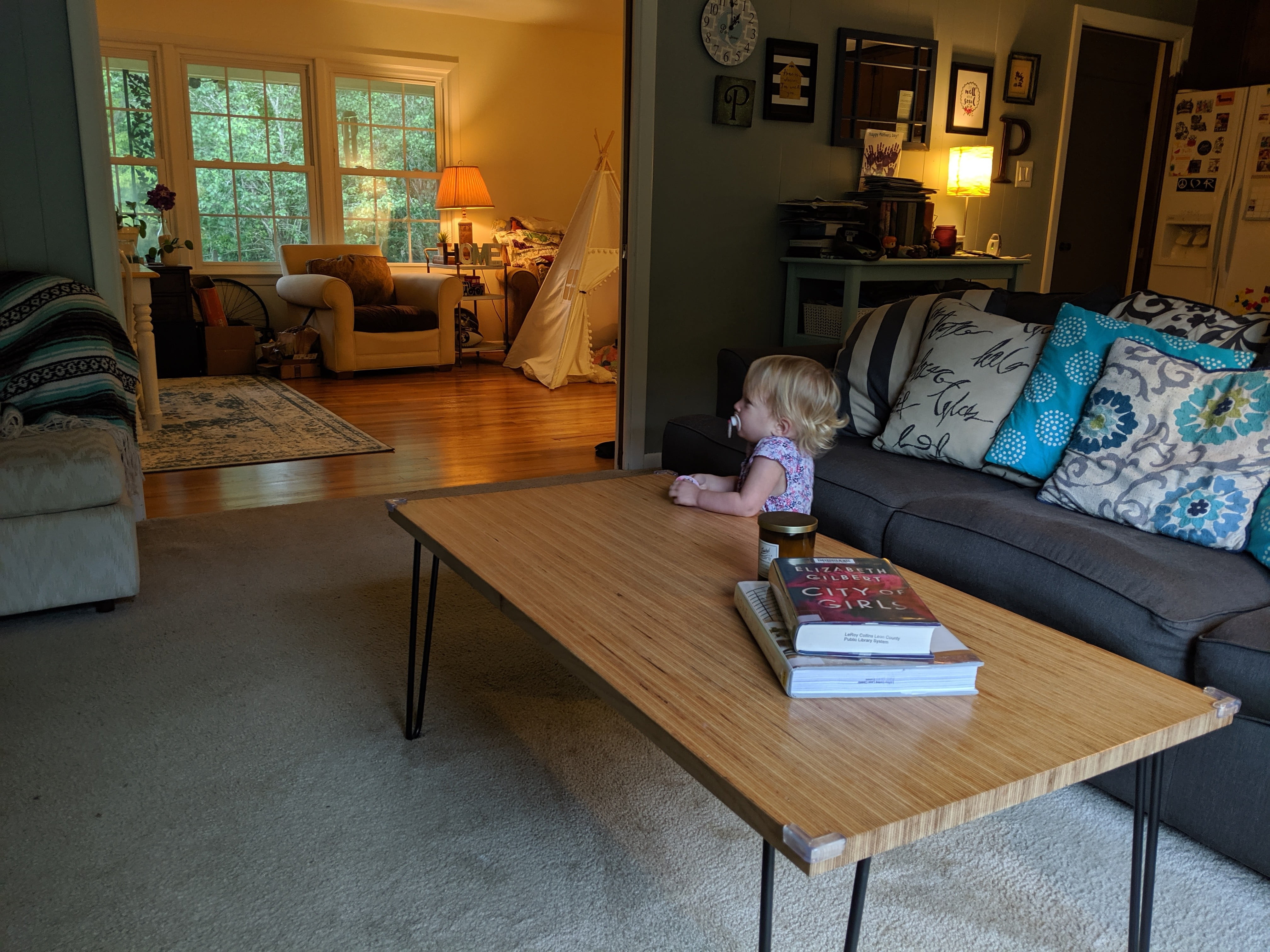 Emmie took her little dog for a walk, while we waited on our friends to come over.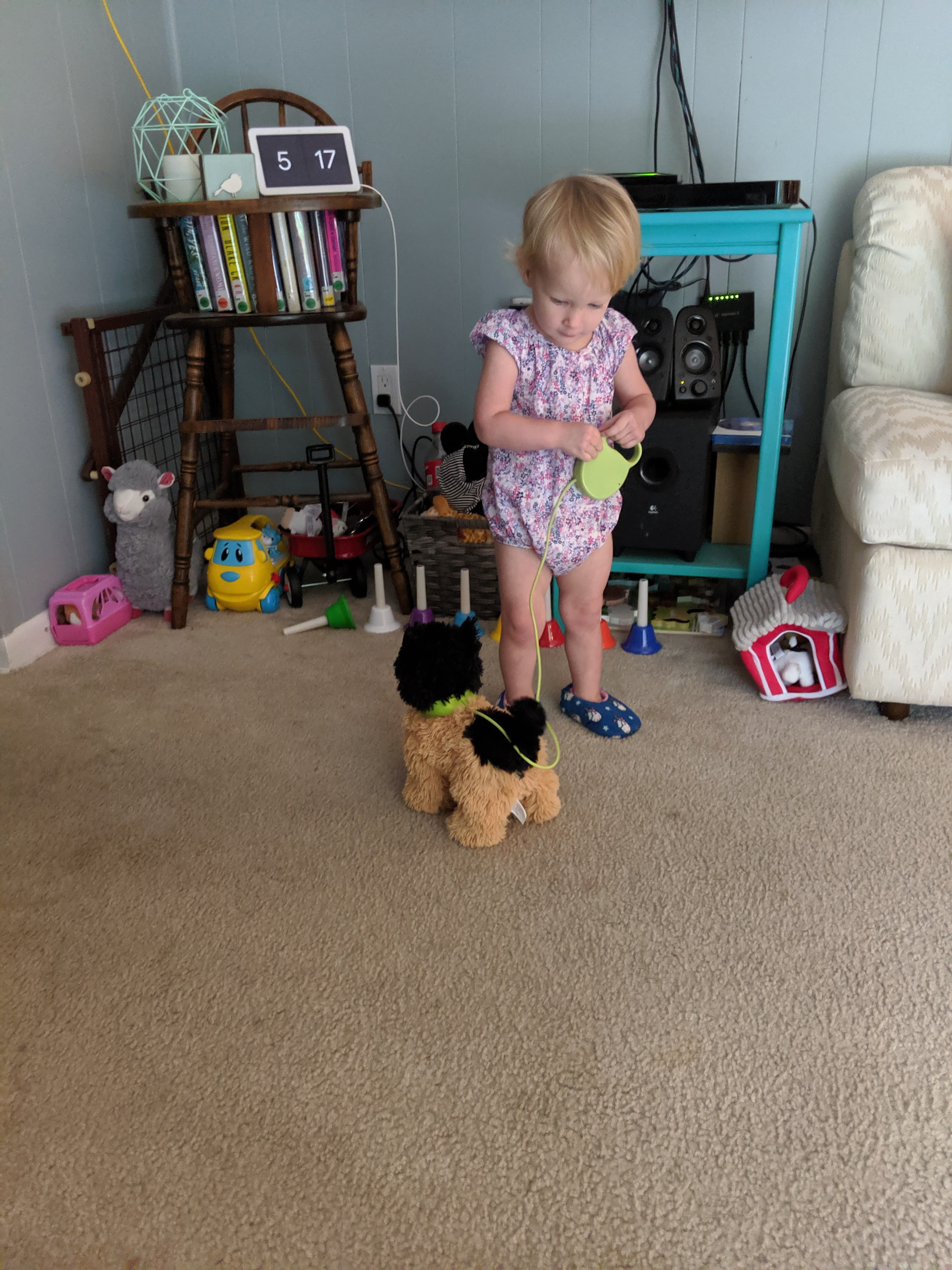 While Jeff & Levon played with Emerson in the living room, Sara & I chatted and cooked dinner. Emerson took to Levon pretty quickly, but it helps he was being silly & tickling her.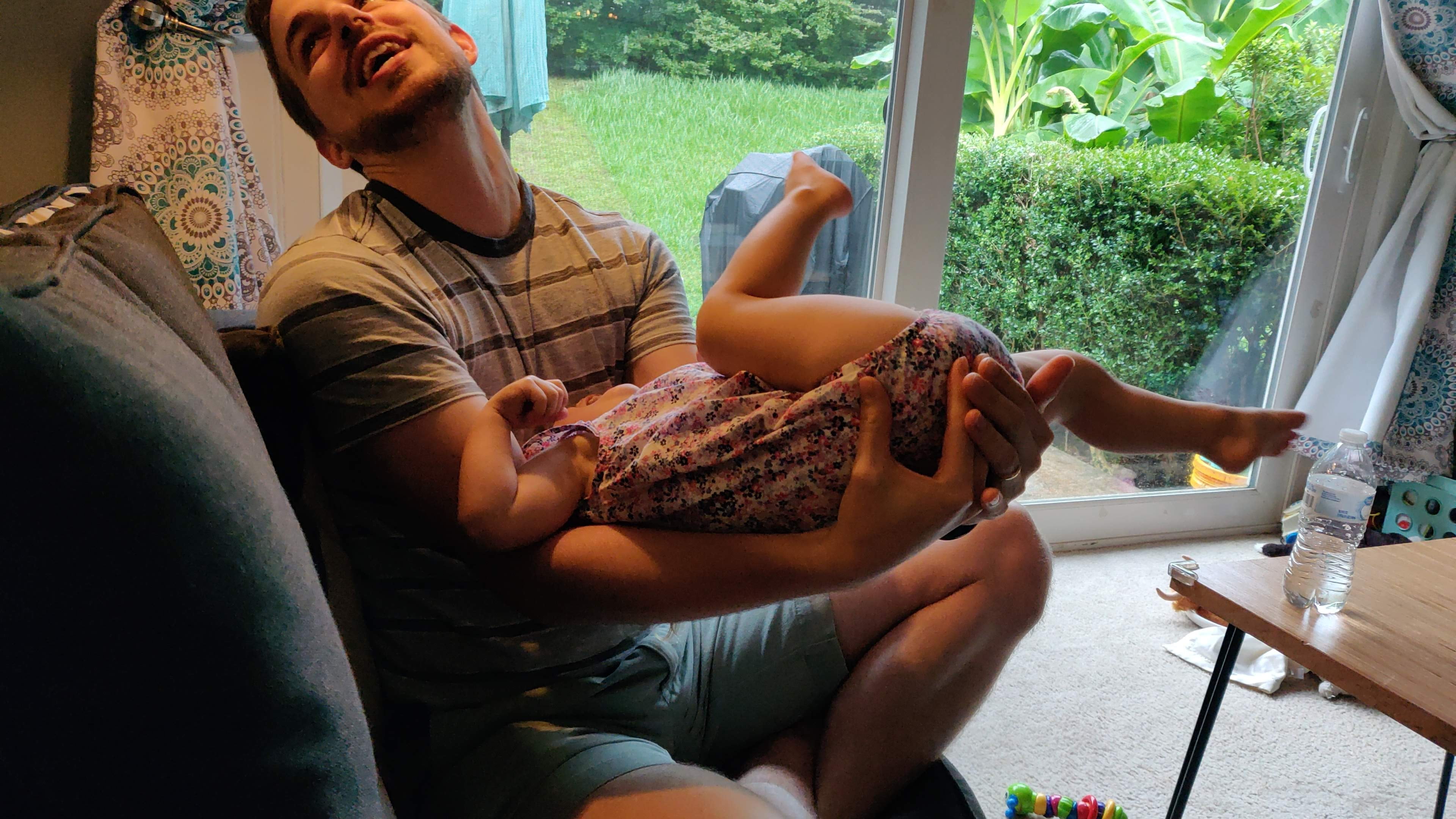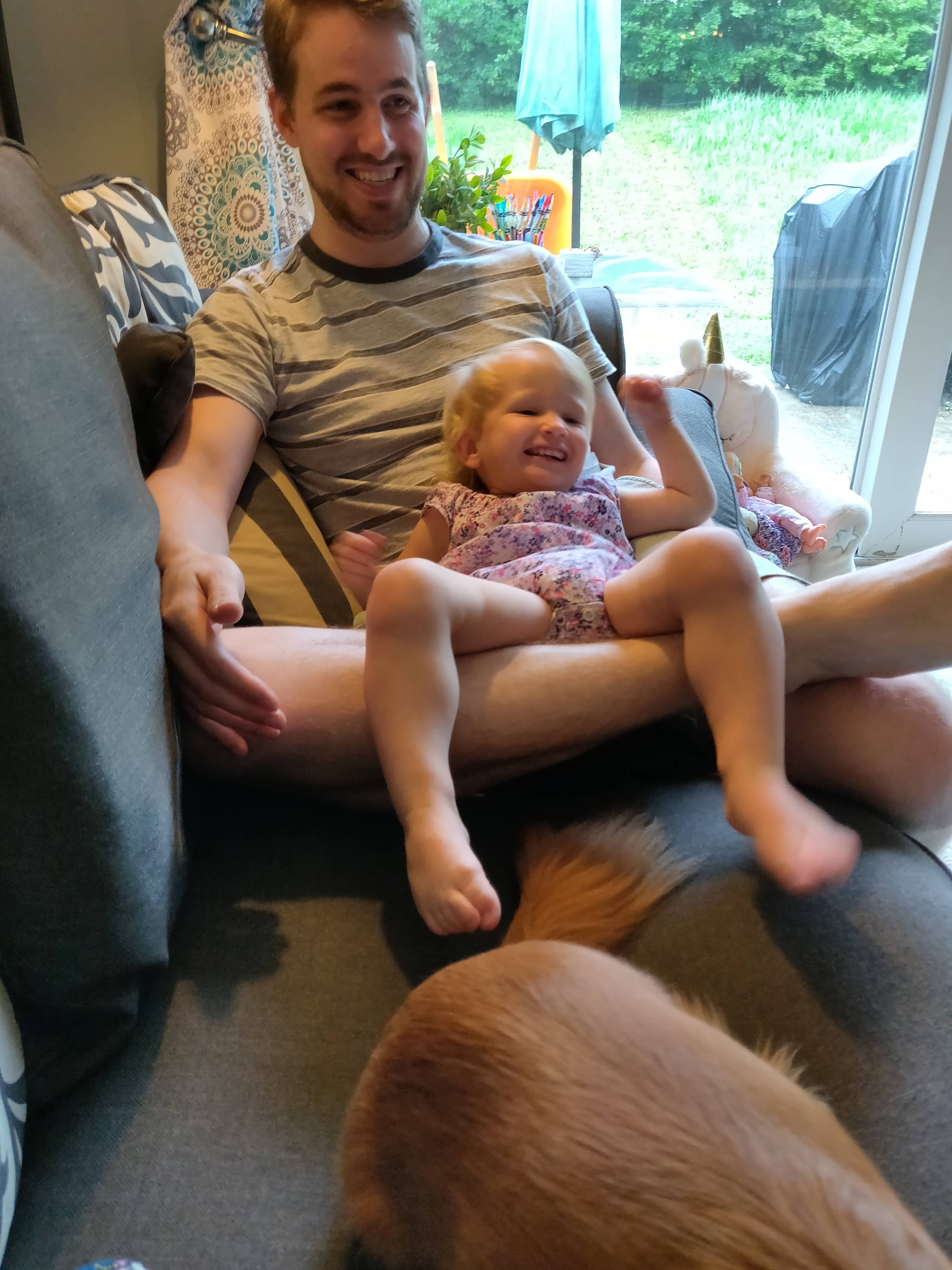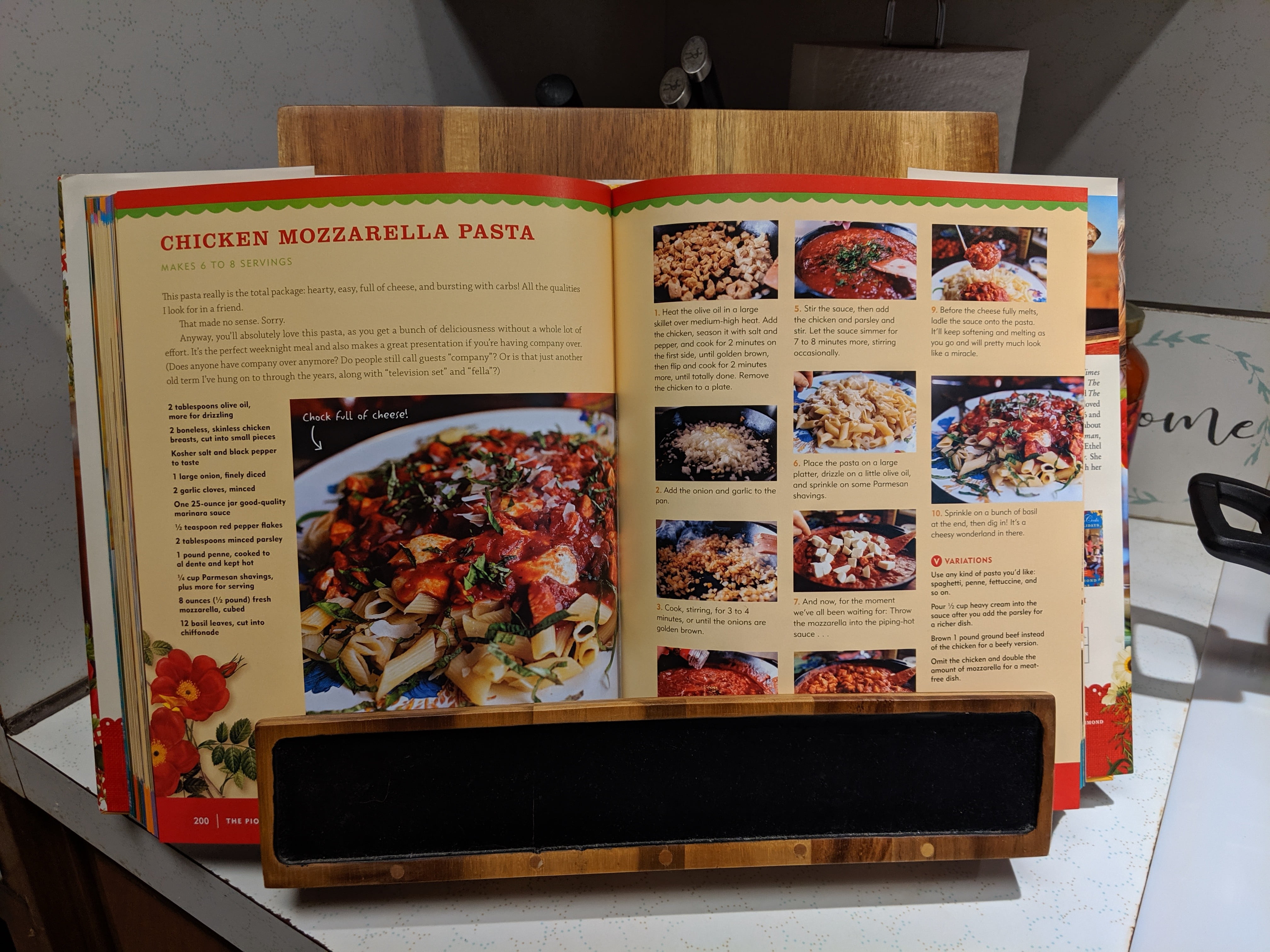 And this Chicken Mozzarella Pasta was delicious! You just saute onions & garlic, add diced chicken breast, and pour in a jar of marinara sauce. But THEN that's where things get interesting – you add in fresh diced mozzarella right to the sauce & stir it in. It's so creamy & cheesy & delicious. Plus, you add fresh basil on top, which is my absolute favorite.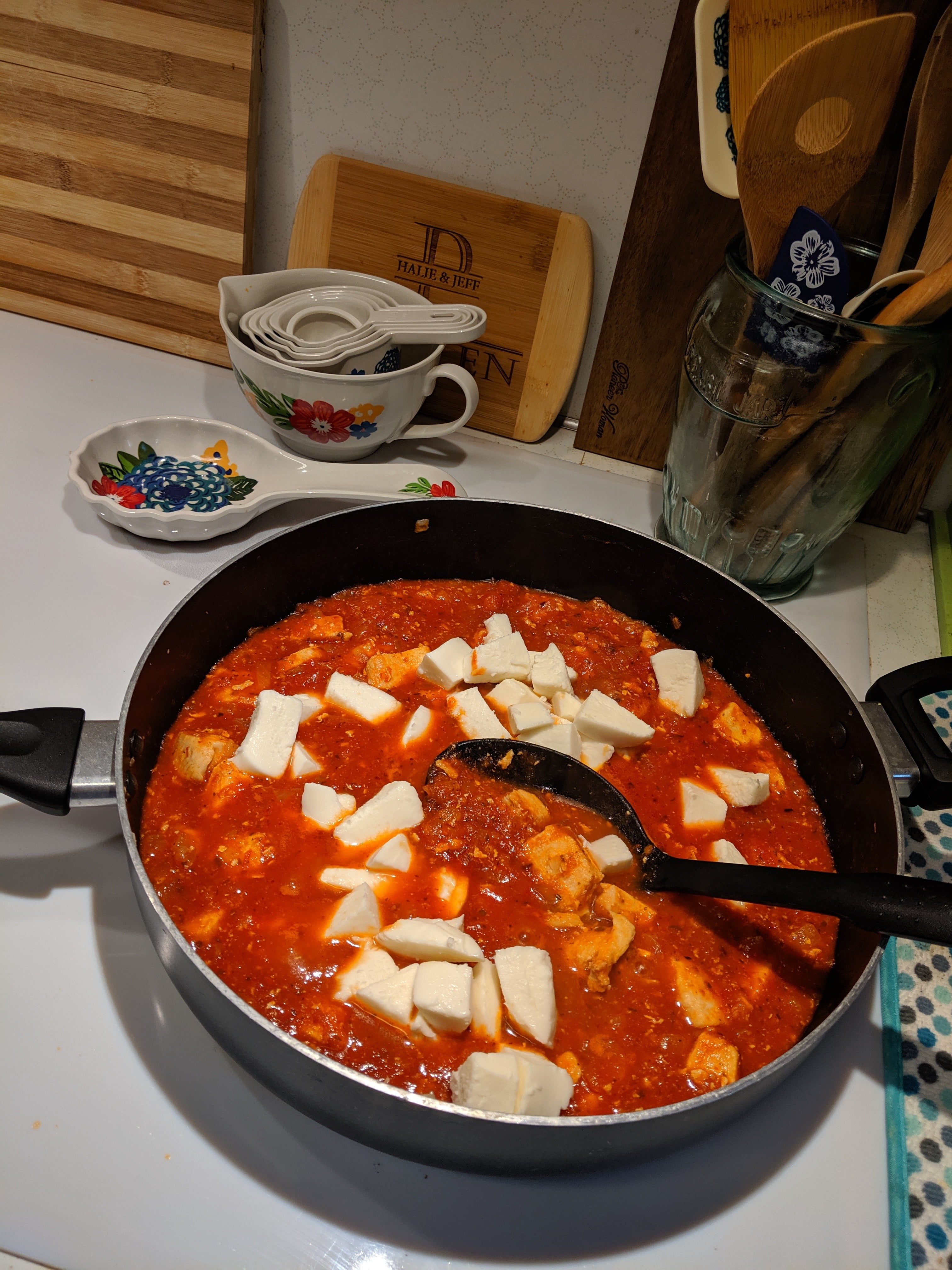 We had pasta & cheesy garlic bread, plus a really good salad from one of those fancy bagged kits. Plus a store-bought pound cake from Publix for dessert.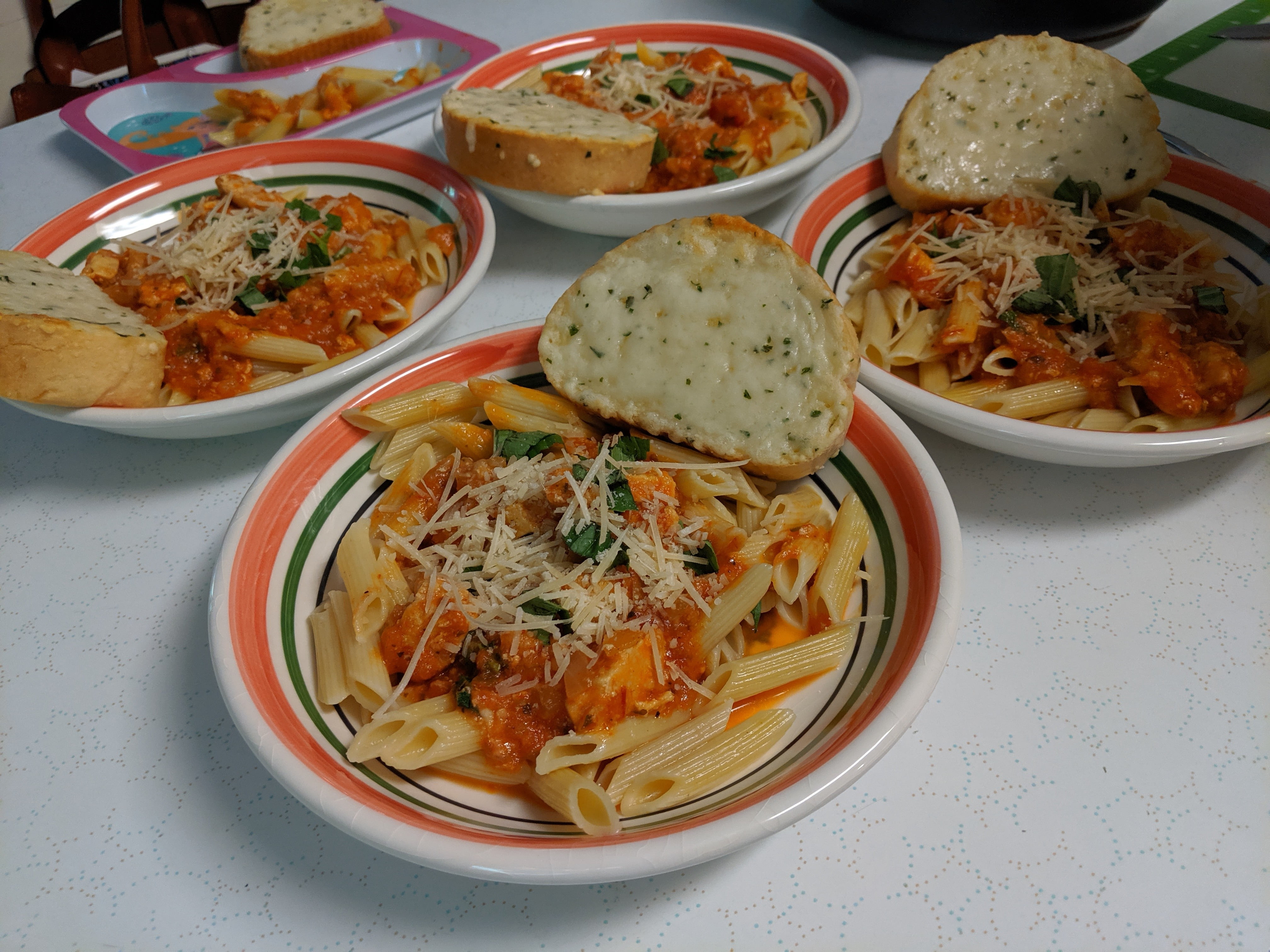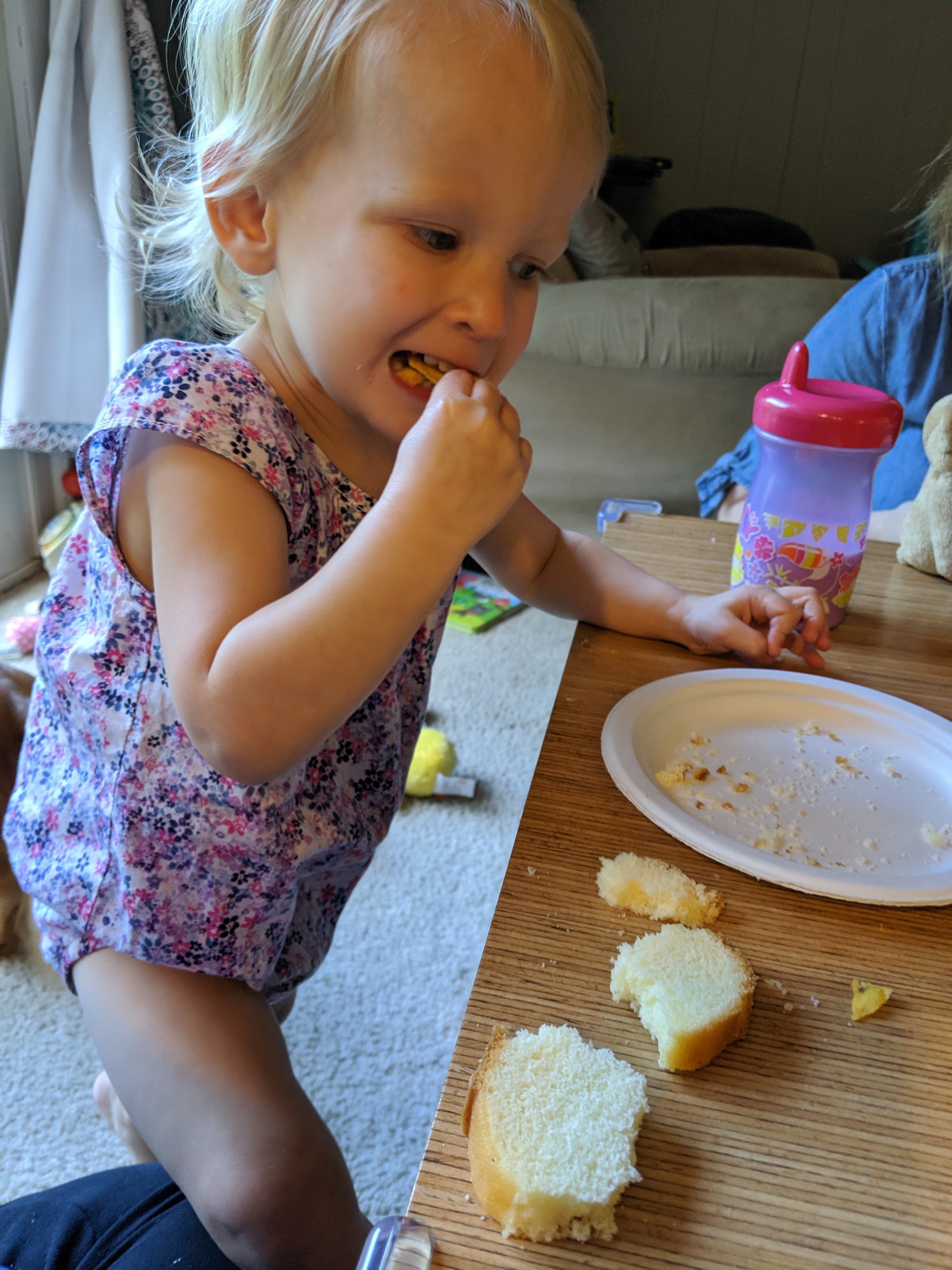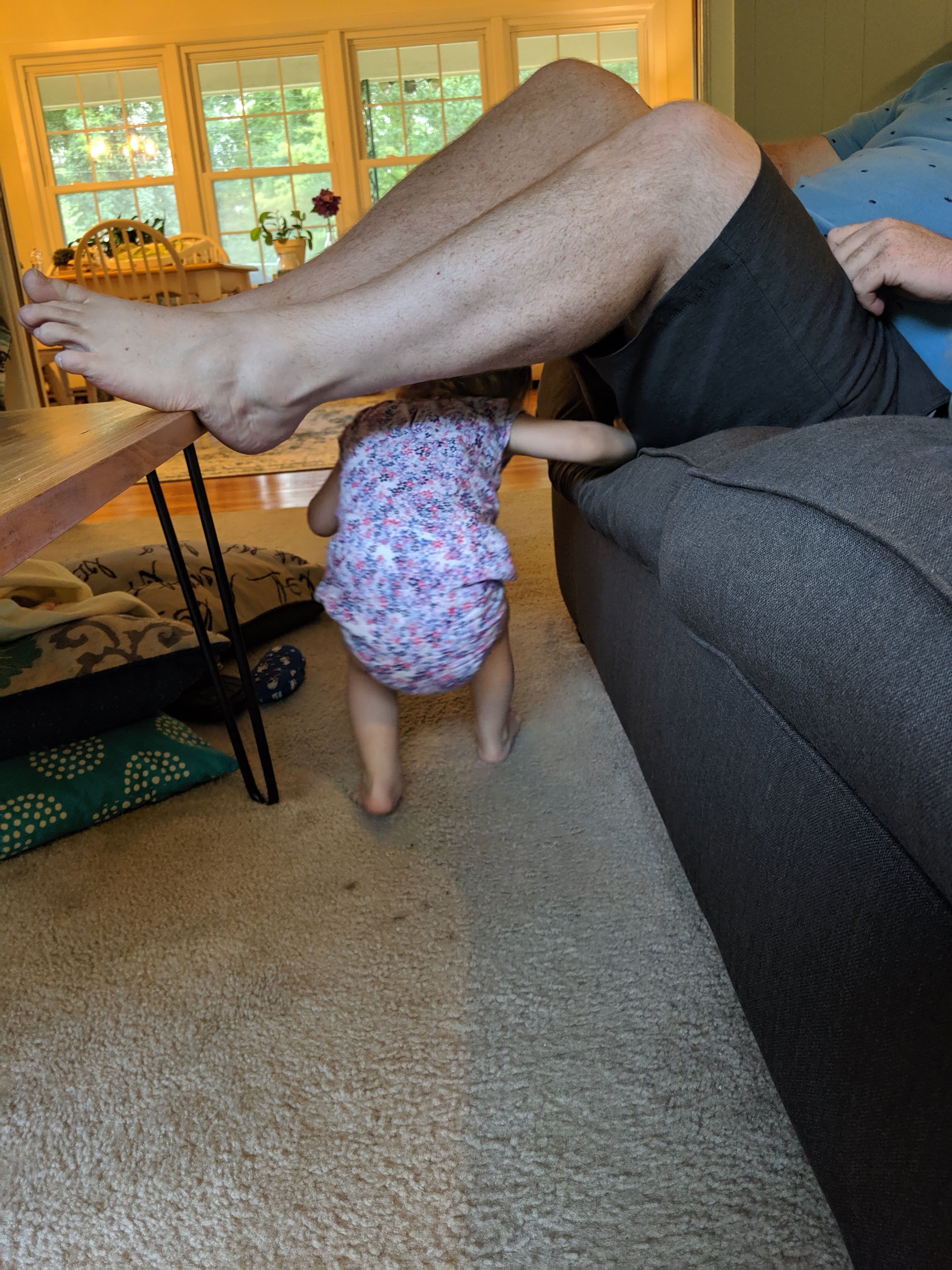 After some play time in the living room, while Jeff, Sara & Levon kept chatting, I read Emmie her bedtime books and got her ready for bed. We read "Moana" & "Dada" and then after just a few minutes of rocking, she was ready to be laid down. It only took about 20 minutes total, and I was actually really surprised. Since we had friends over, I assumed she would fight harder to stay up & play, but we did well!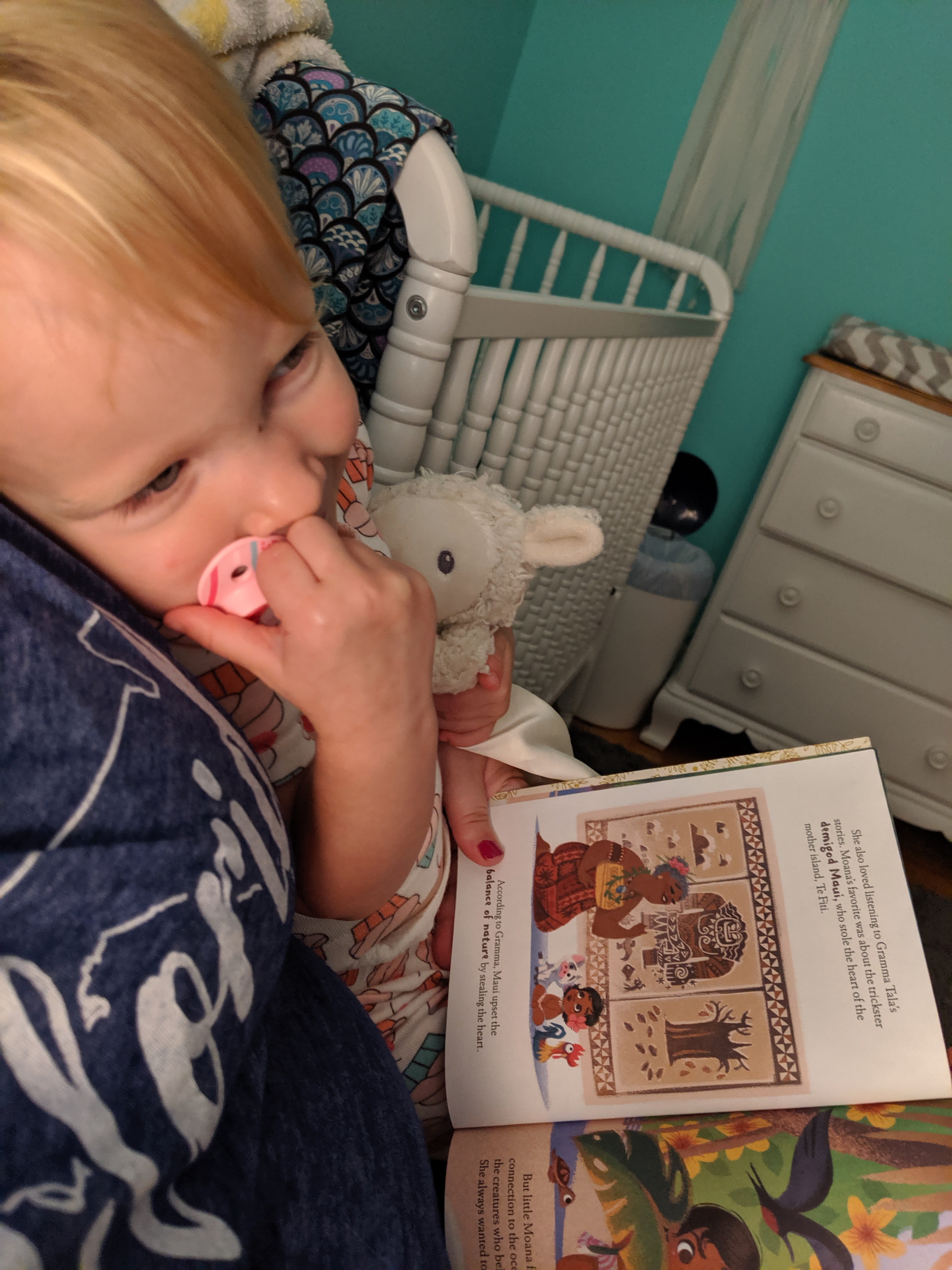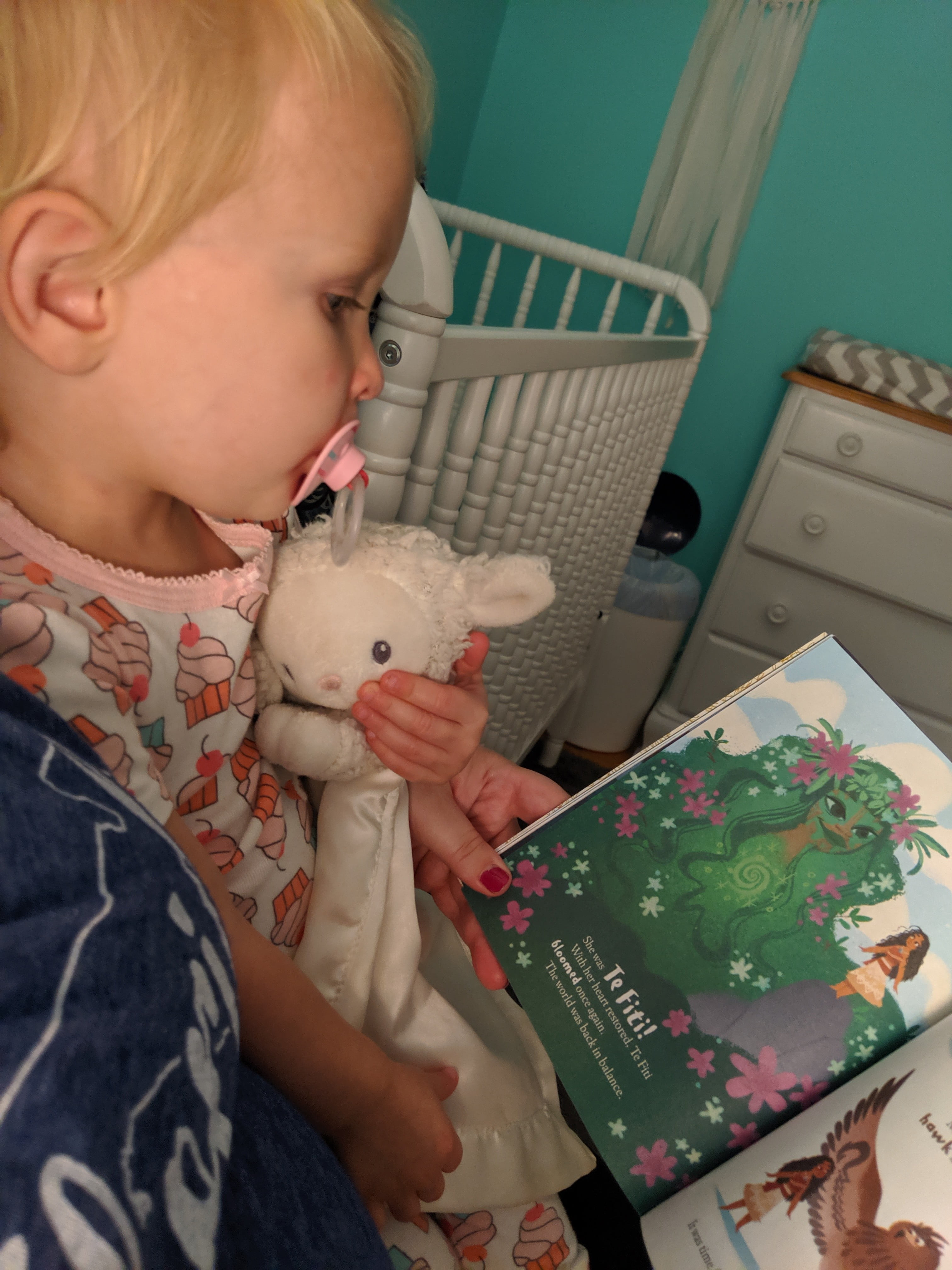 Sara didn't end up in any photos tonight, but she did take this beautiful shot of Emerson! She's actually a photographer, so she took a great shot, & edited it so pretty! She was a wedding photographer before they moved away to NYC for a few years, but now she wants to transition to family photography. She asked if she could come take our photos sometime in our house, and of course I said yes! If she can do this on her phone, I can't wait to see what she can do with her big girl camera!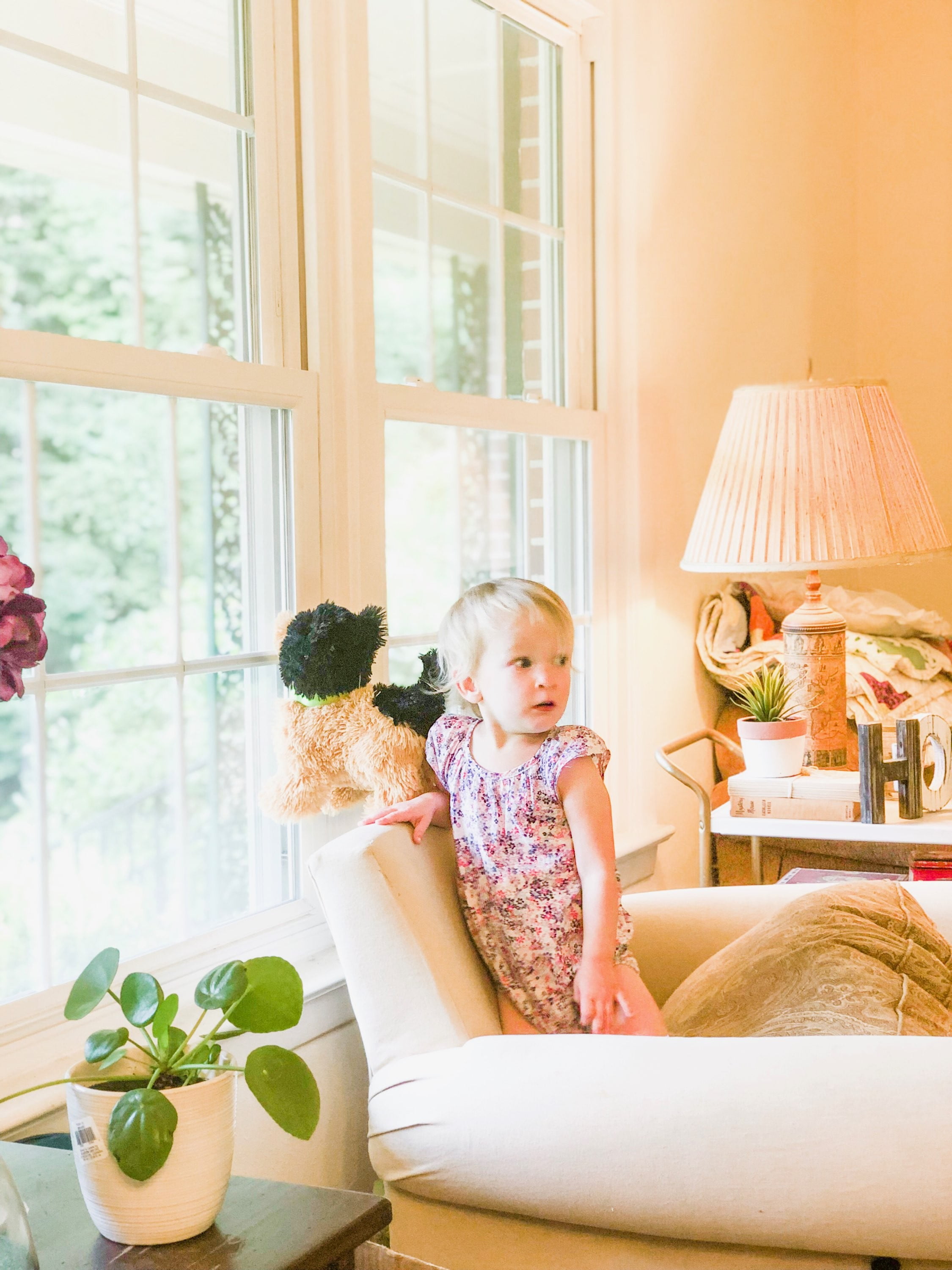 I didn't wash any of the dishes tonight, so I'll have lots to catch up on tomorrow, but it was worth it to just sit down and hang out with our friends and catch up. Today was a great day!