Emmie very sweetly played on her Kindle for a while this morning, while I snoozed on the couch, since she woke up at her usual super-early hour of 6:15am.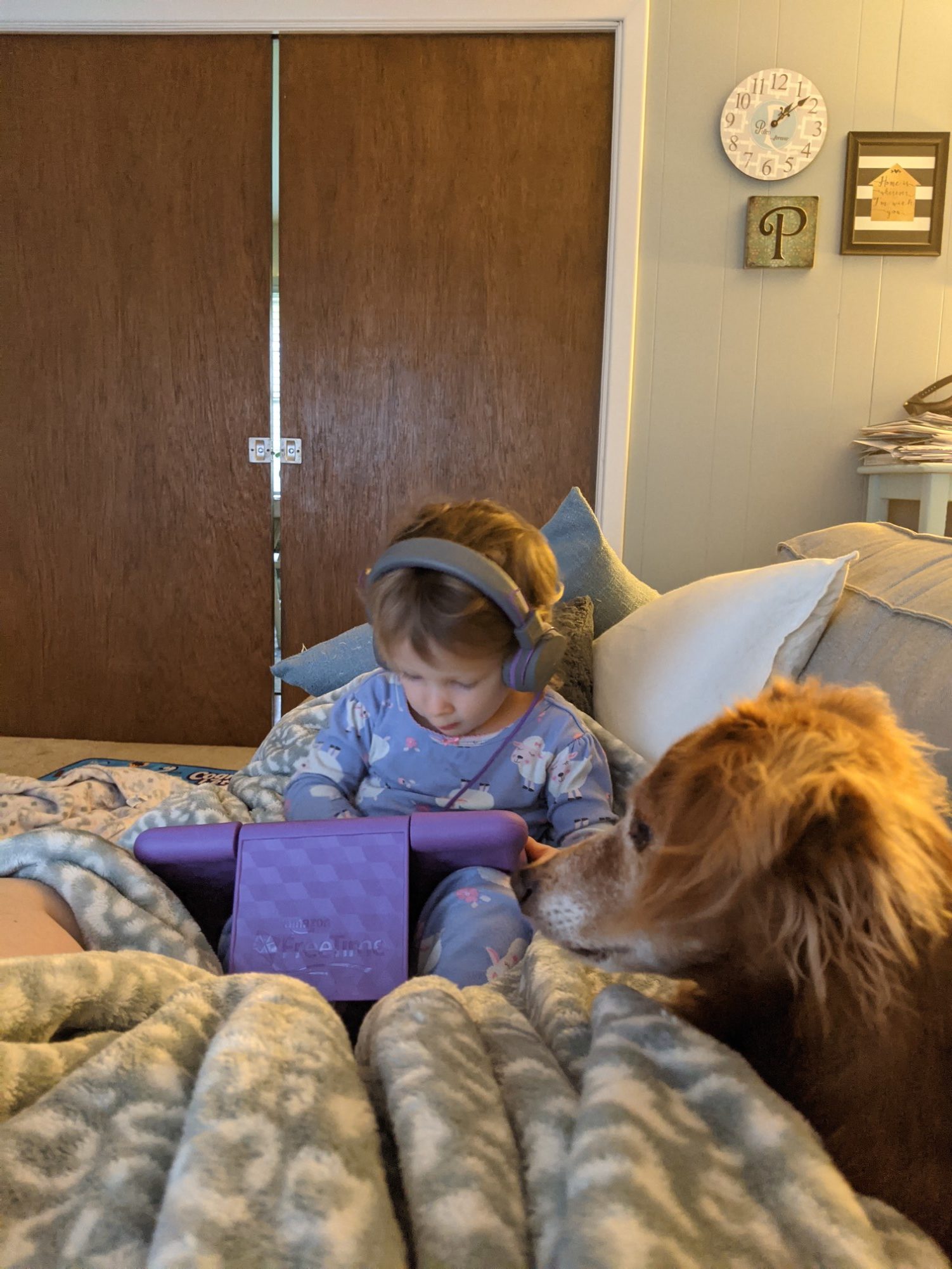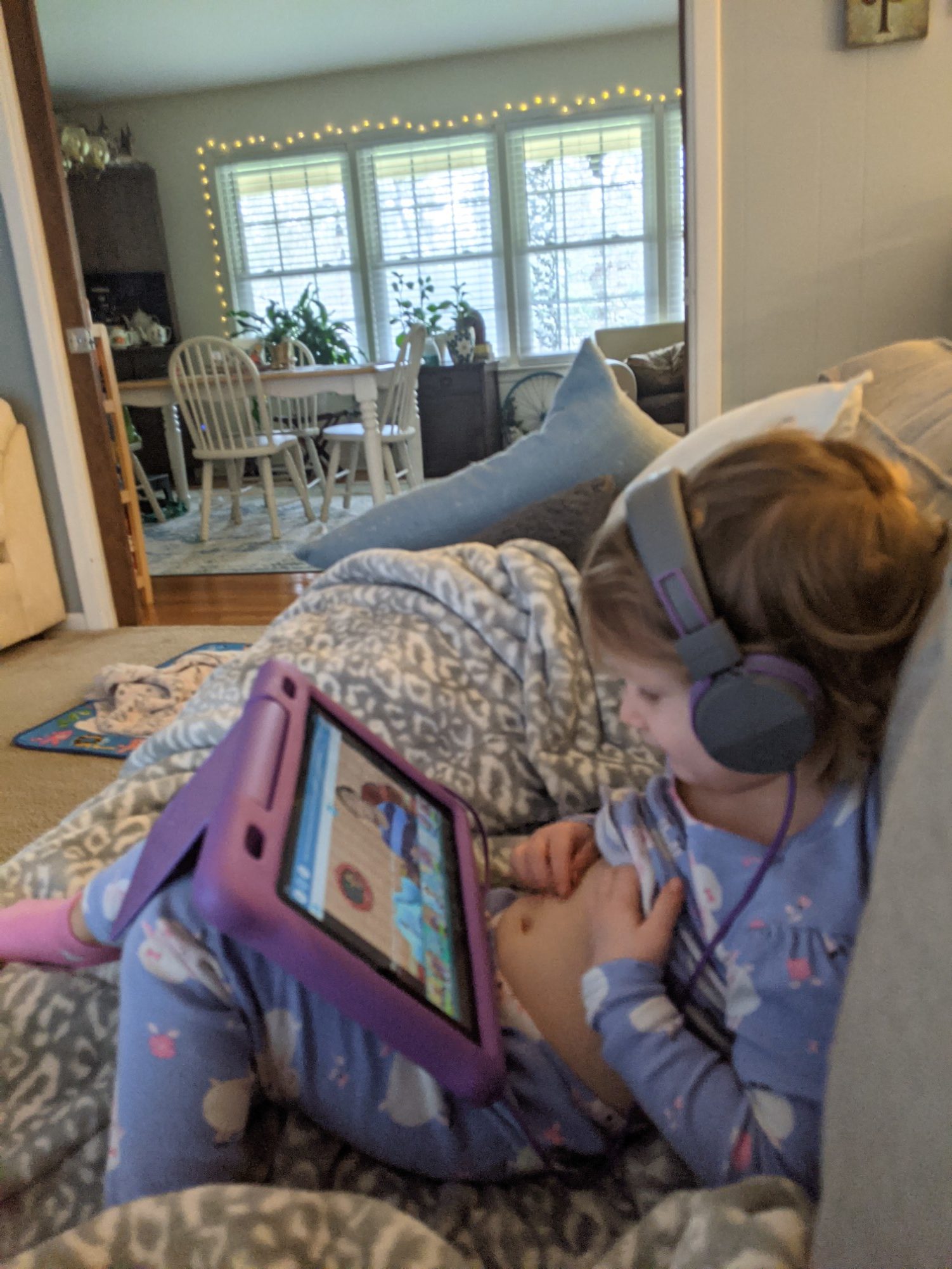 Eventually, we got moving and I made cinnamon rolls for breakfast before we got dressed, and all went down to Bragg stadium for our covid tests. If you missed it, there was a teacher in Emerson's classroom on Monday (for only 45 minutes during circle time) who test positive for covid, and her class was subsequently closed for quarantine. The schools' quarantine options were to return with negative results this coming Wednesday, or wait to return until the following Monday, without testing.
Although we had a strong feeling we weren't at huge risk, we decided all three of us should get tested, just to be on the safe side, and to allow Emmie's return to school earlier. And it went super well today. It was super quick and easy, and Emmie didn't even cry or freak out! And by the time we got back home (a mere 12 minutes later), we had already received negative results for all three of us! So praise the Lord for that!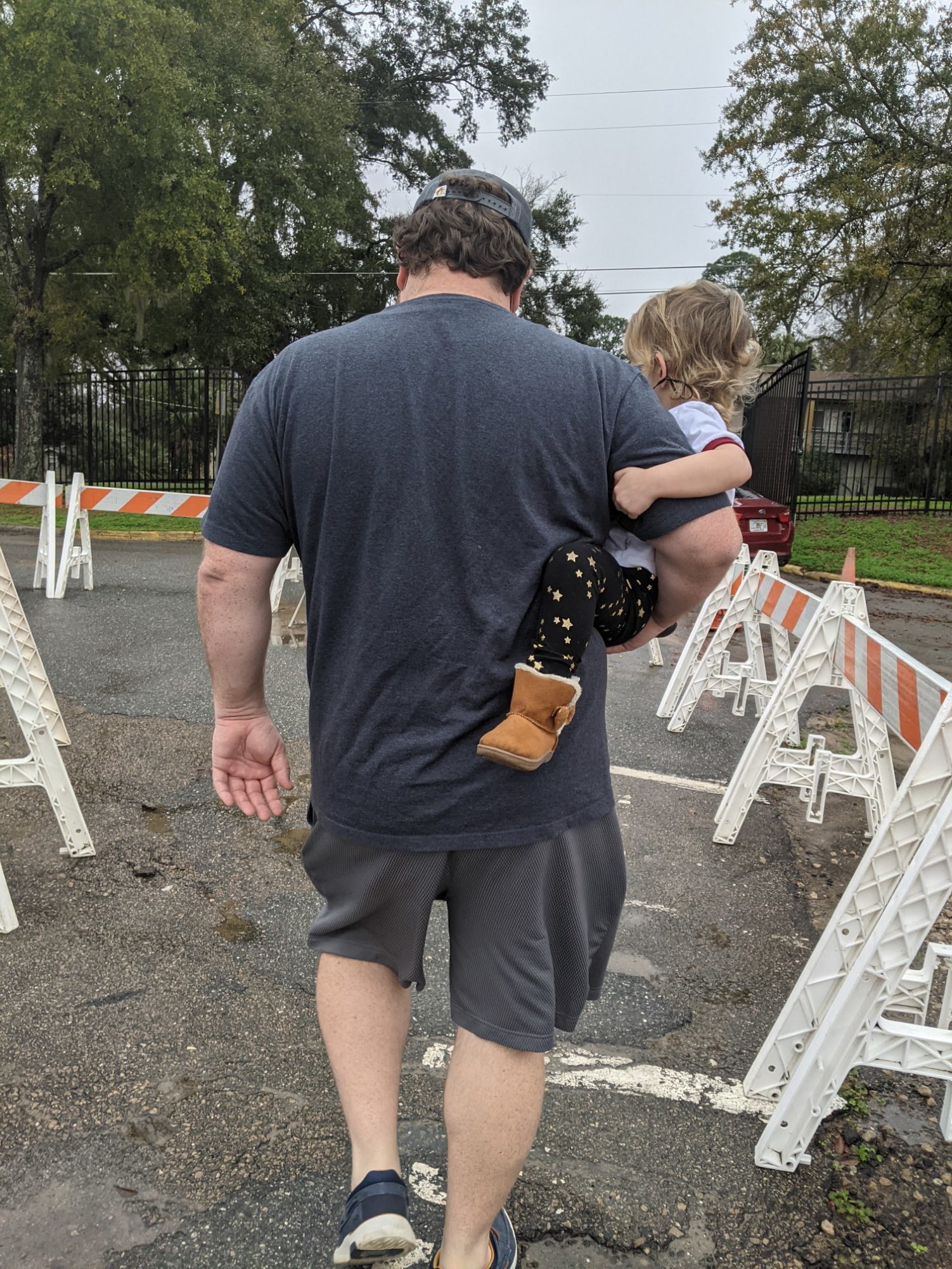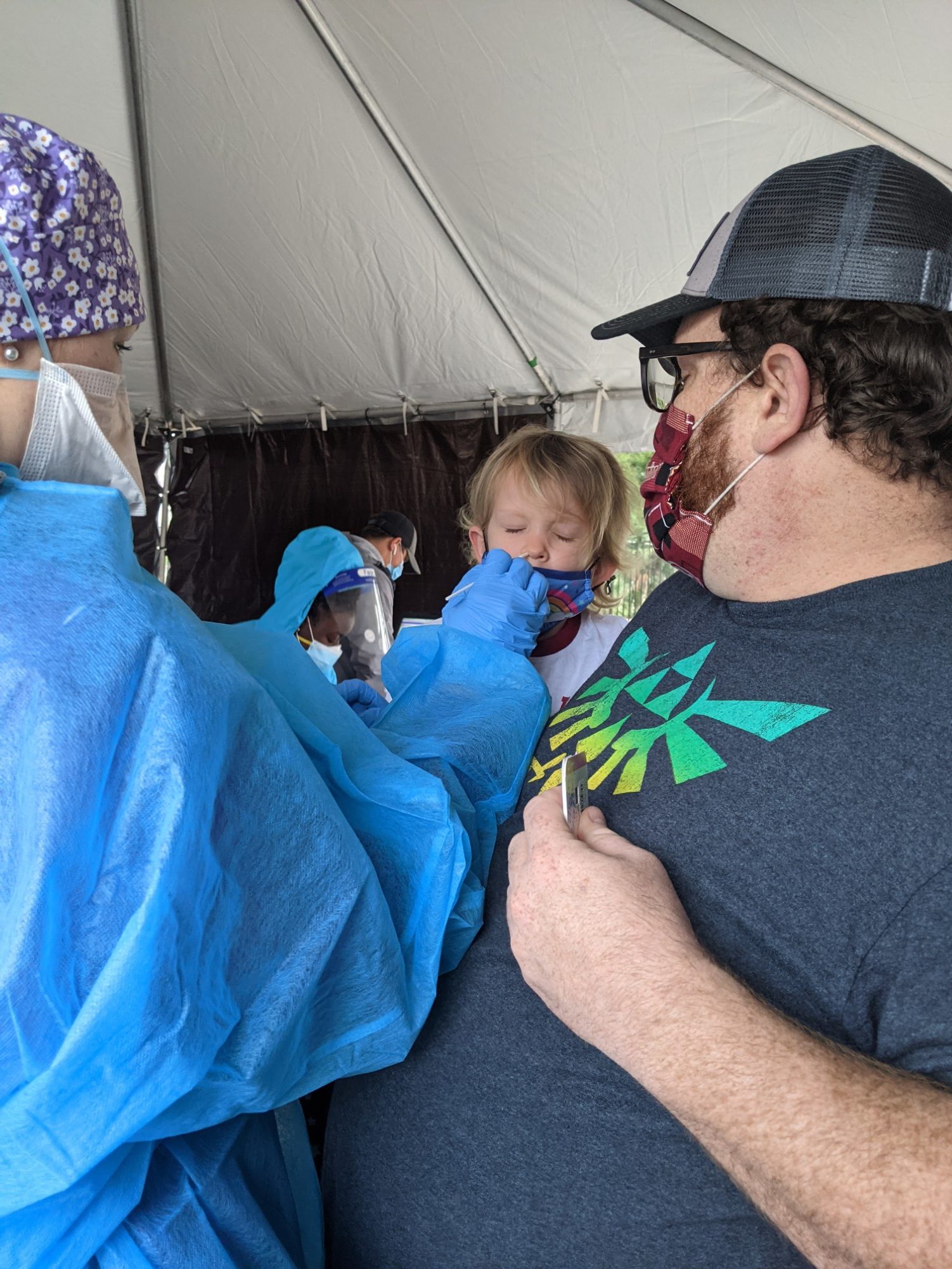 Emmie is always dying to love on Pretzel, and today, he actually jumped up and settled in her lap, and she rubbed his belly like this for at least 10 minutes, and it was precious.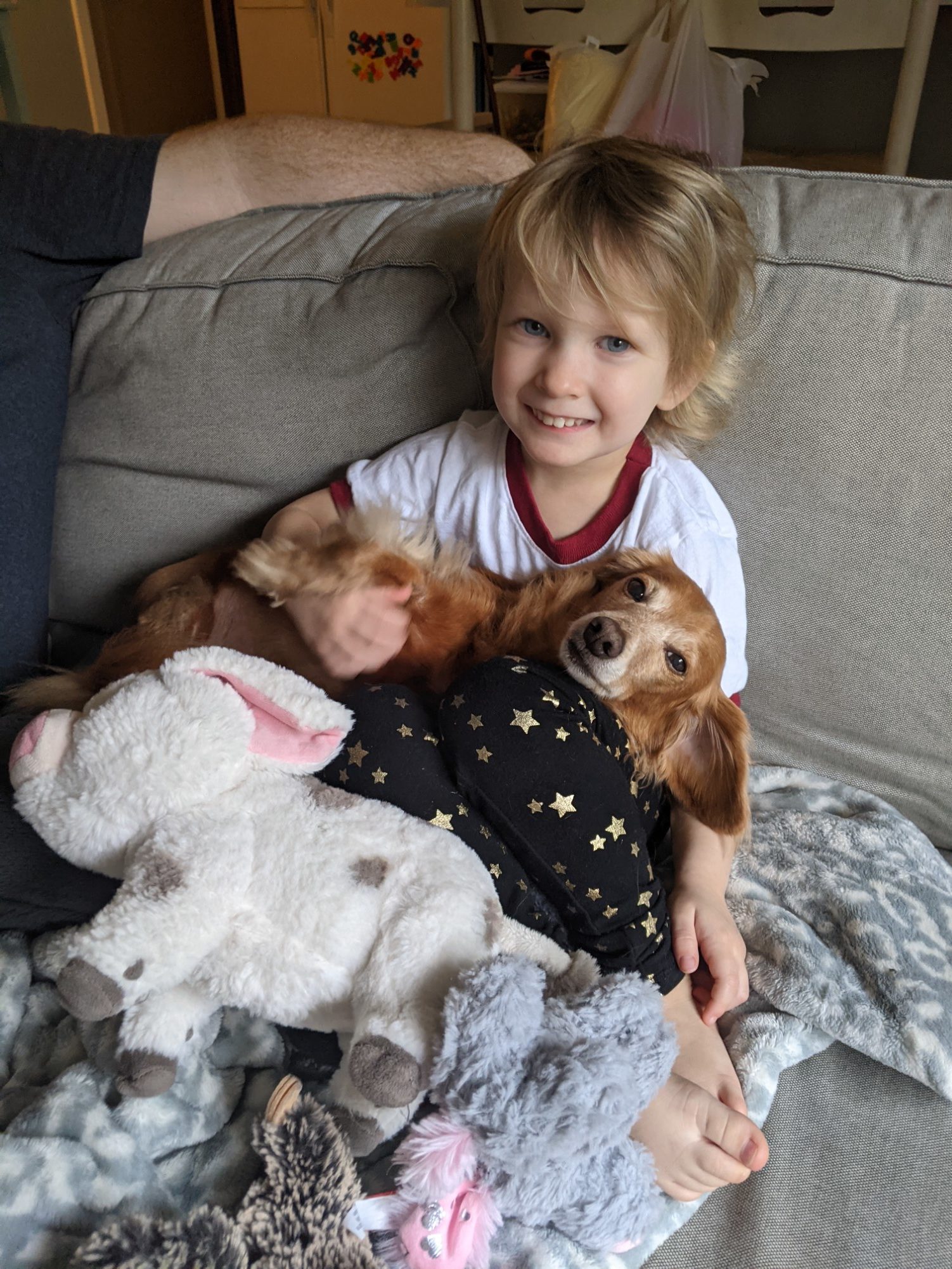 Grammy and Grandmommie were out running errands and stopped by to give Emerson some special Valentine's treats. It was nice to see them and have them spend just a few minutes with us!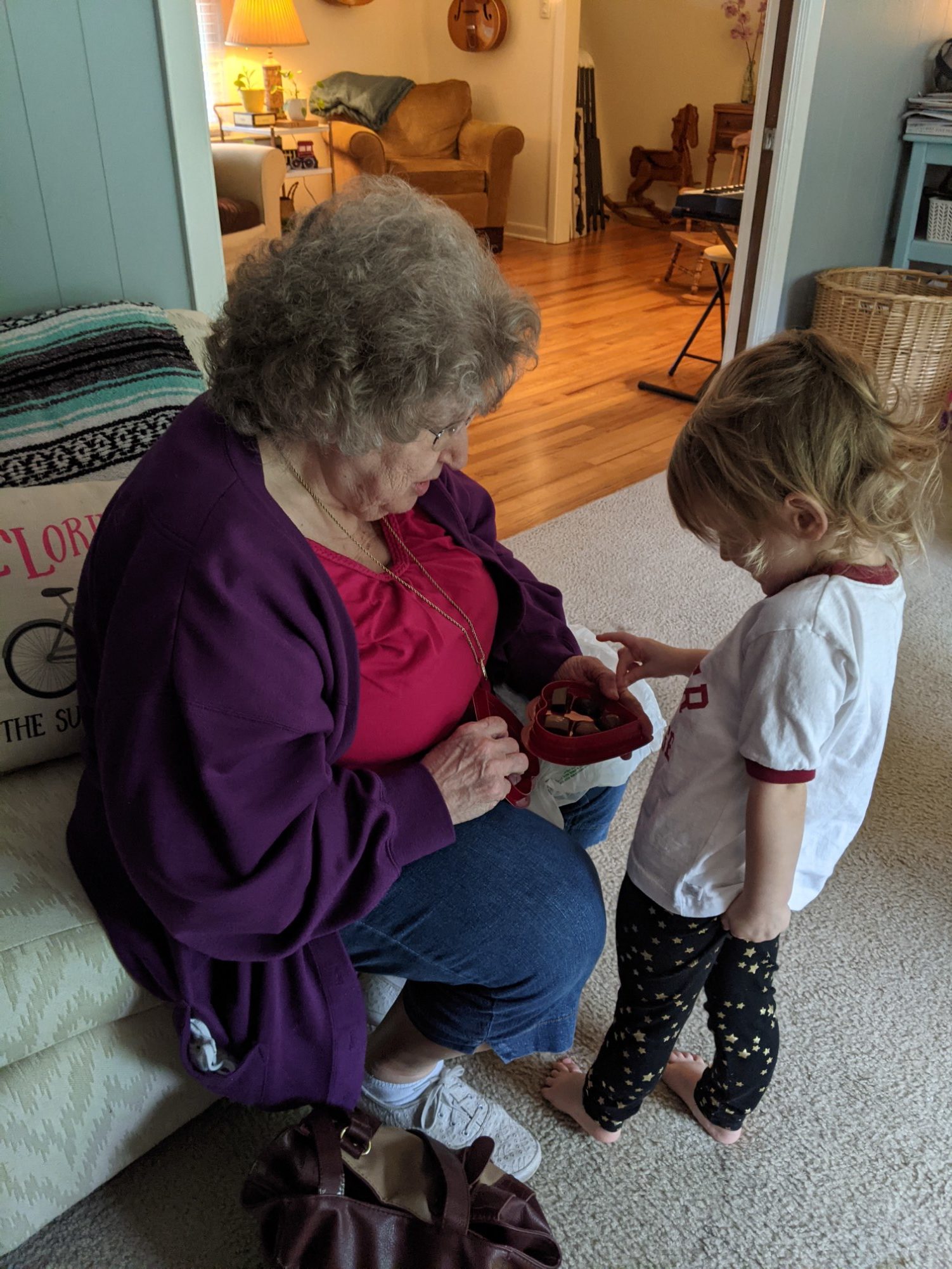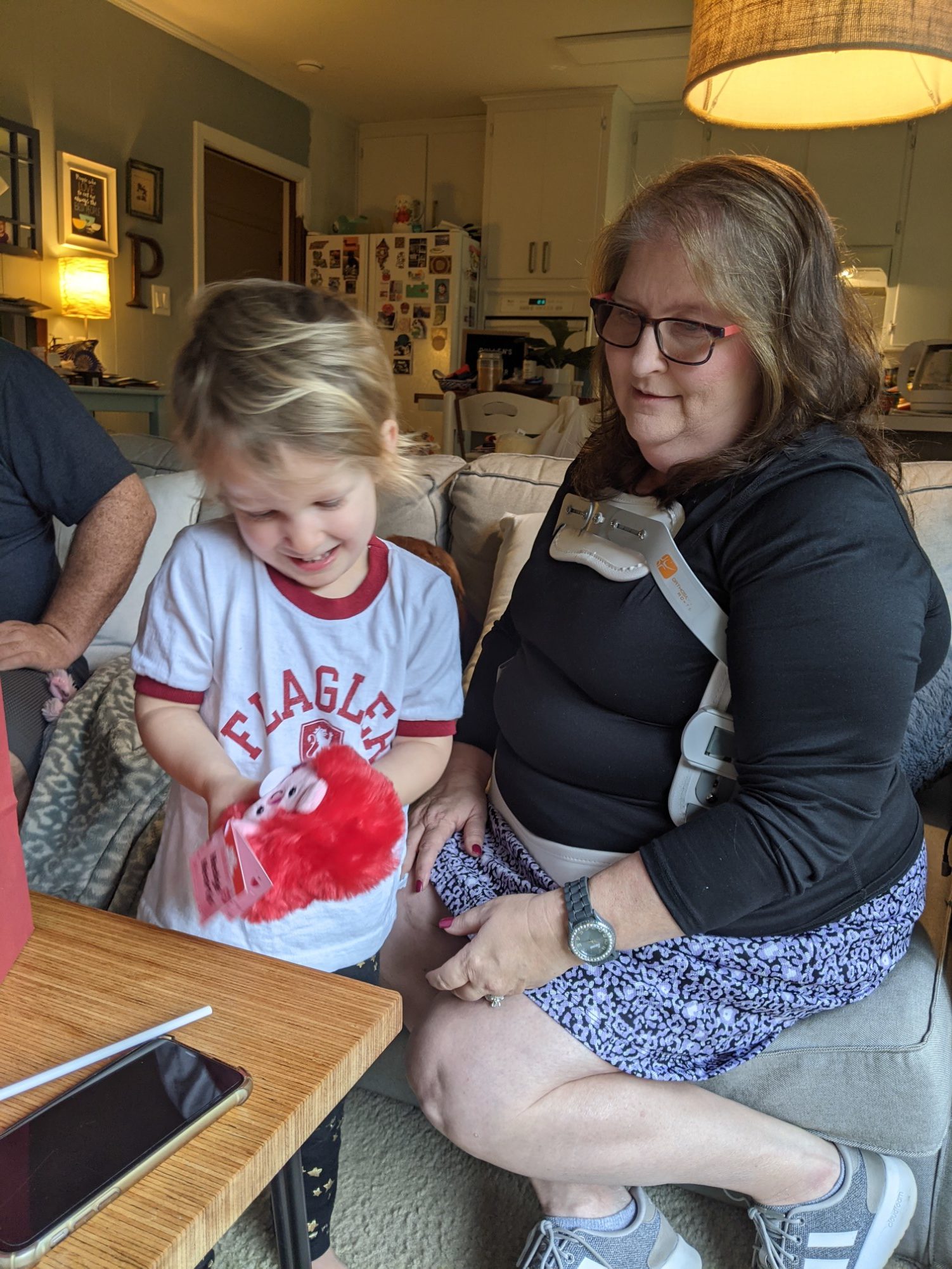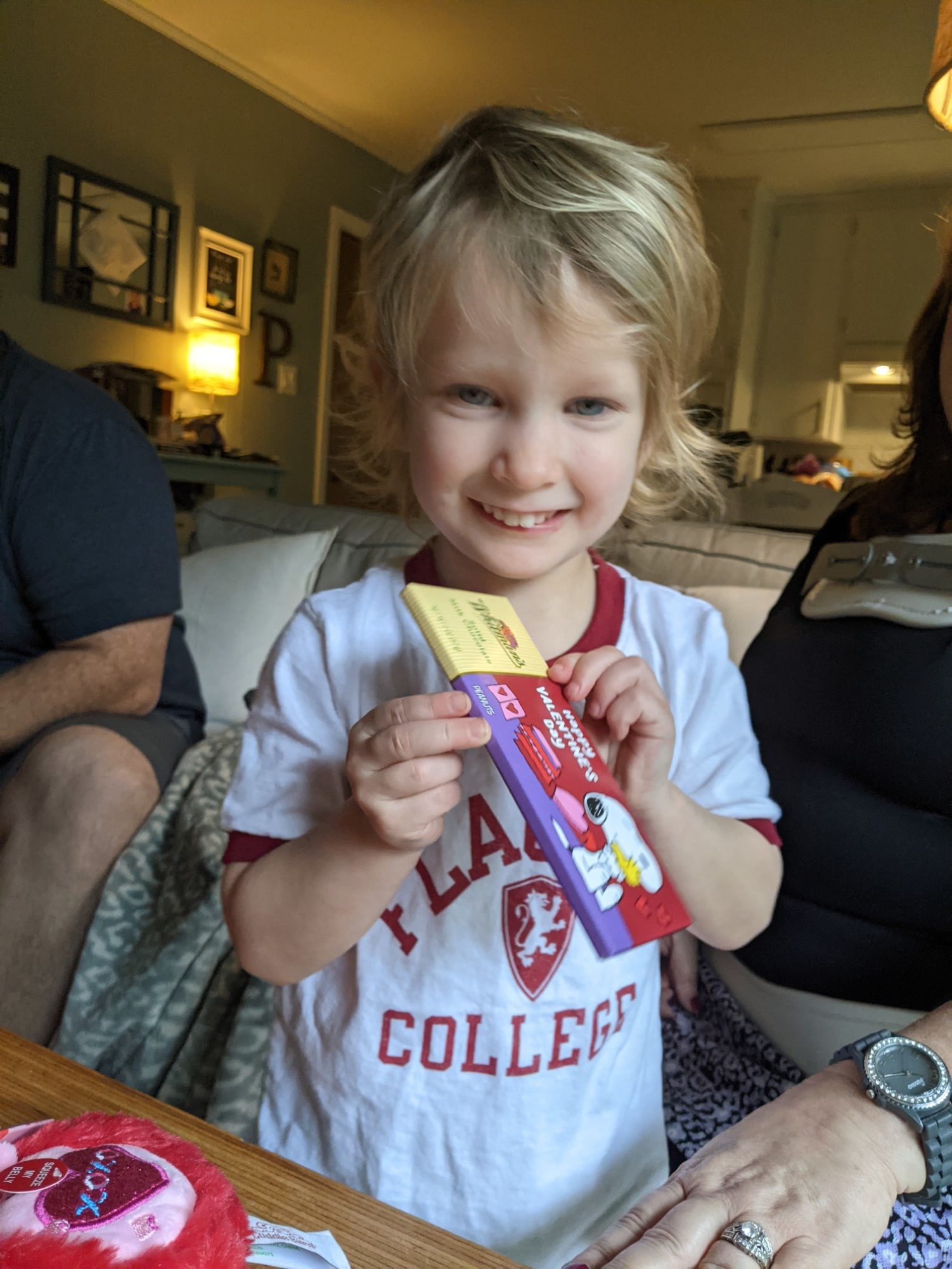 We decided to take it easy and not work too hard today, but we did take some time to pare down our library collection, by going through the bookshelf in the boys' room, which was full of random things from high school, college, yard sales and the boys' old things. We filled one large-ish box full to the brim and rearranged the shelf, and it felt good to do a small organizational task. (Emmie was clearly no help though 😉 )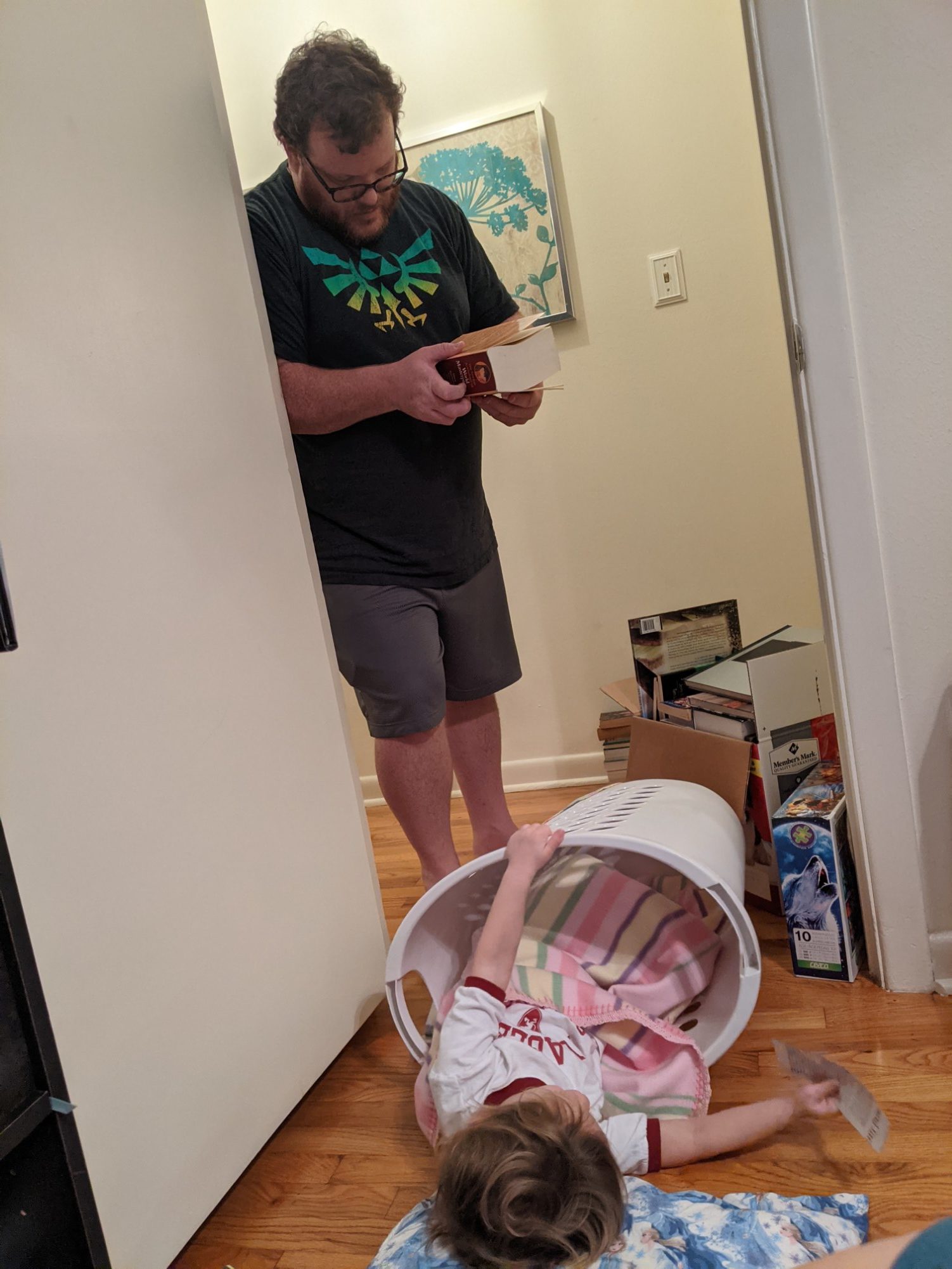 We all had some lunch, read Emmie a book, and then got her down for her nap. I rested on the couch while she slept, and Jeff ran out to get a much-needed haircut.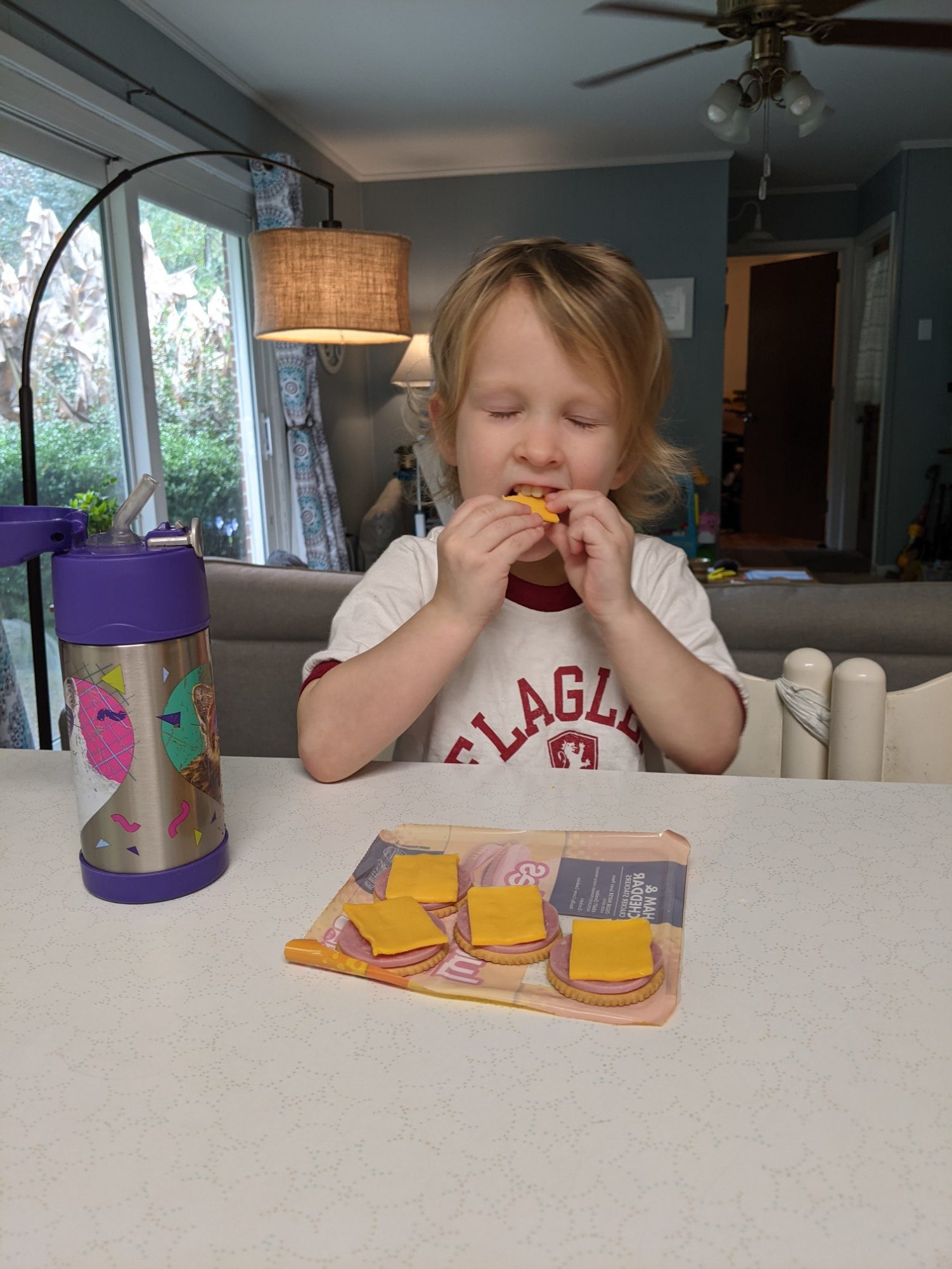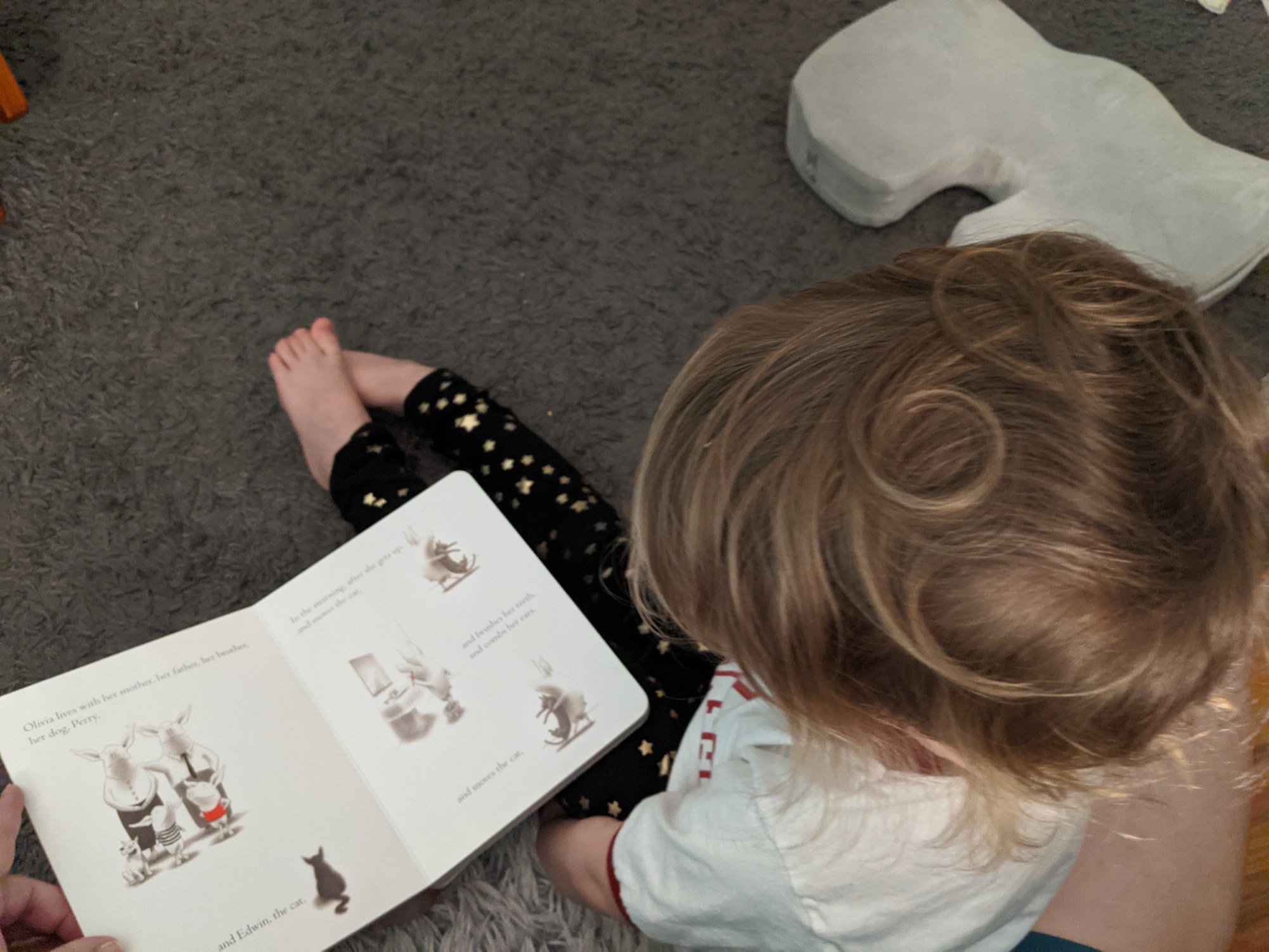 Once Emmie woke up, we drove all  the way across town donate our box of books (and one random box of puzzles we can't remember where it came from) at the Goodwill bookstore on Mahan, because I specifically wanted to browse that store. My friend Bridget and I were doing a "tandem read" (which just means we were reading it at the same time) of "Pretty Things" by Janelle Brown. I was listening to the audio version from the library but I didn't finish it before my loan expired and magically disappeared. I was already 82% done, so I don't want to buy it at full-price just to finish the last little bit (the library doesn't have a physical copy, and it would be months before it would be my turn on the holds list again), so I was hoping to find it at a used book store for cheaper. We ended up searching two Goodwill book stores and My Favorite Books on Market Street, but no such luck… We did however find some new records in good shape at a great price, so that was worth all the running around.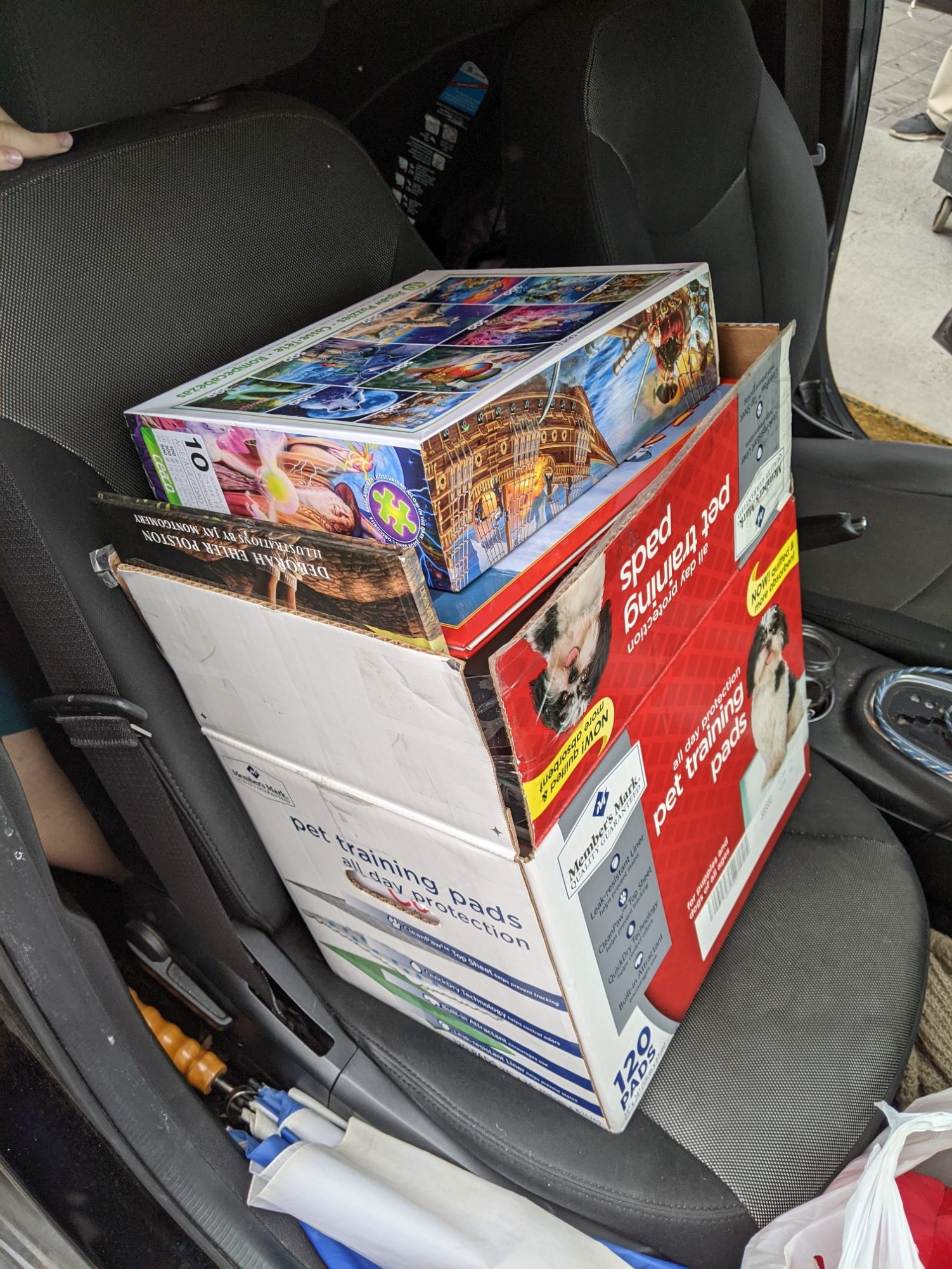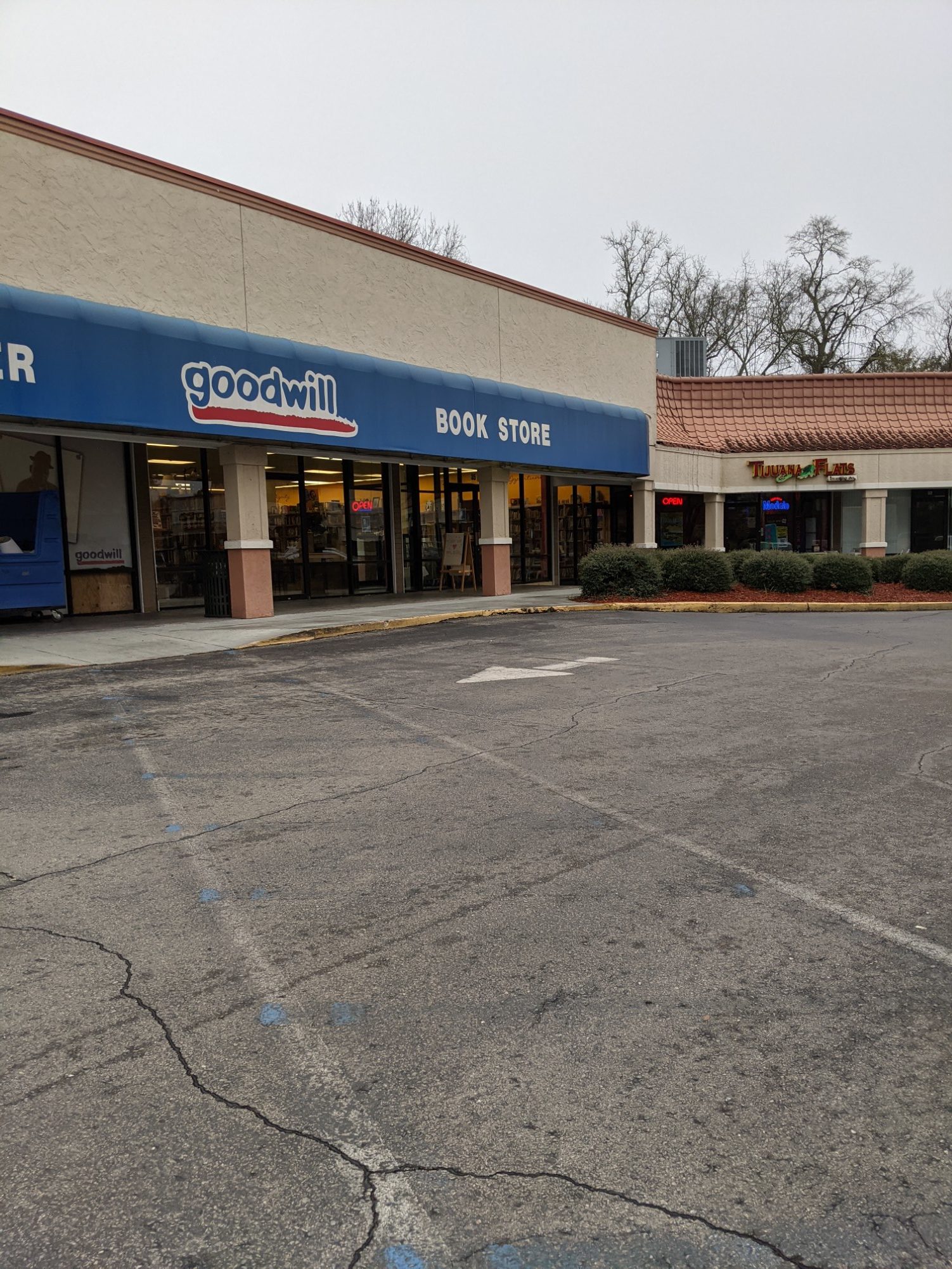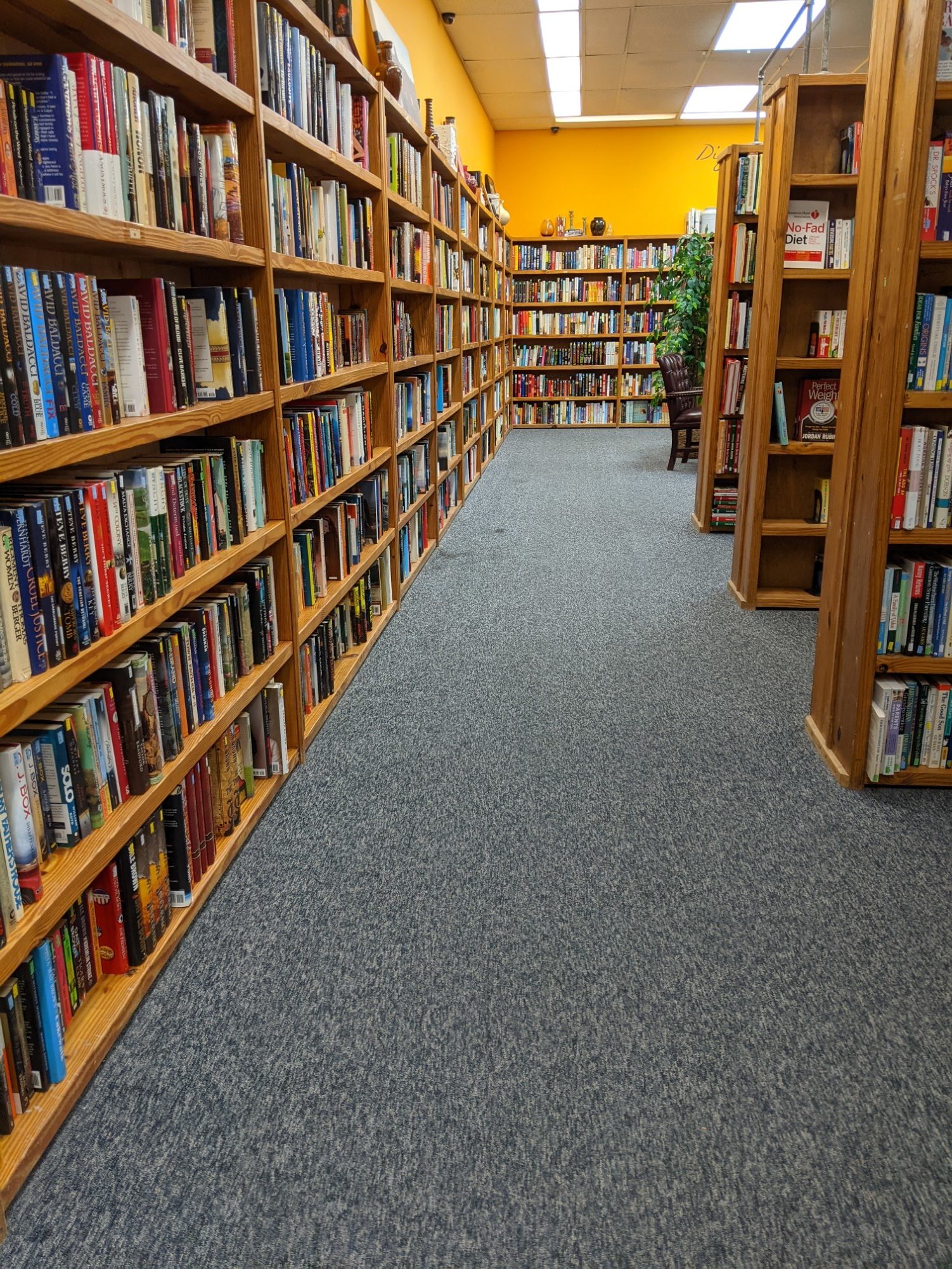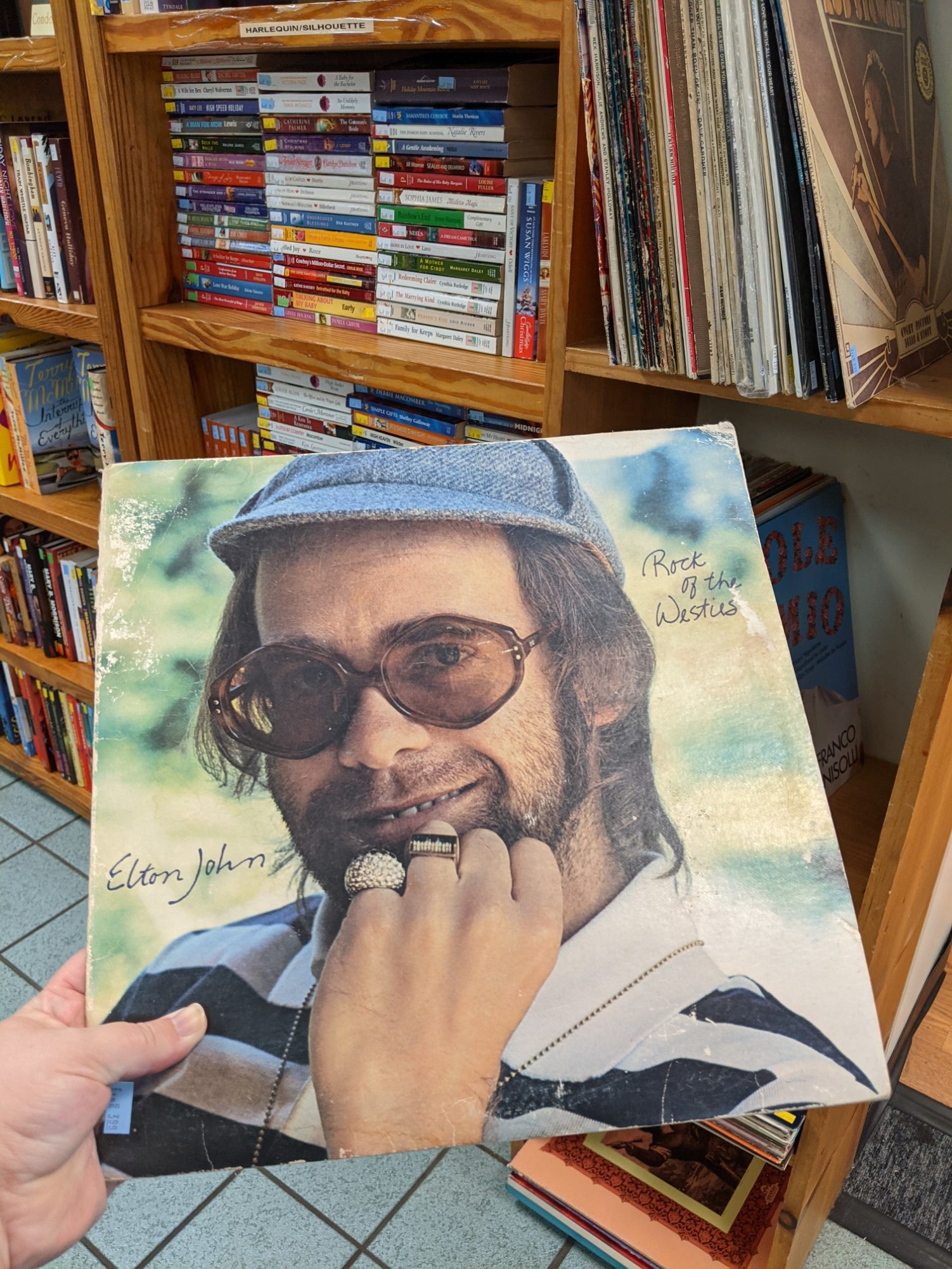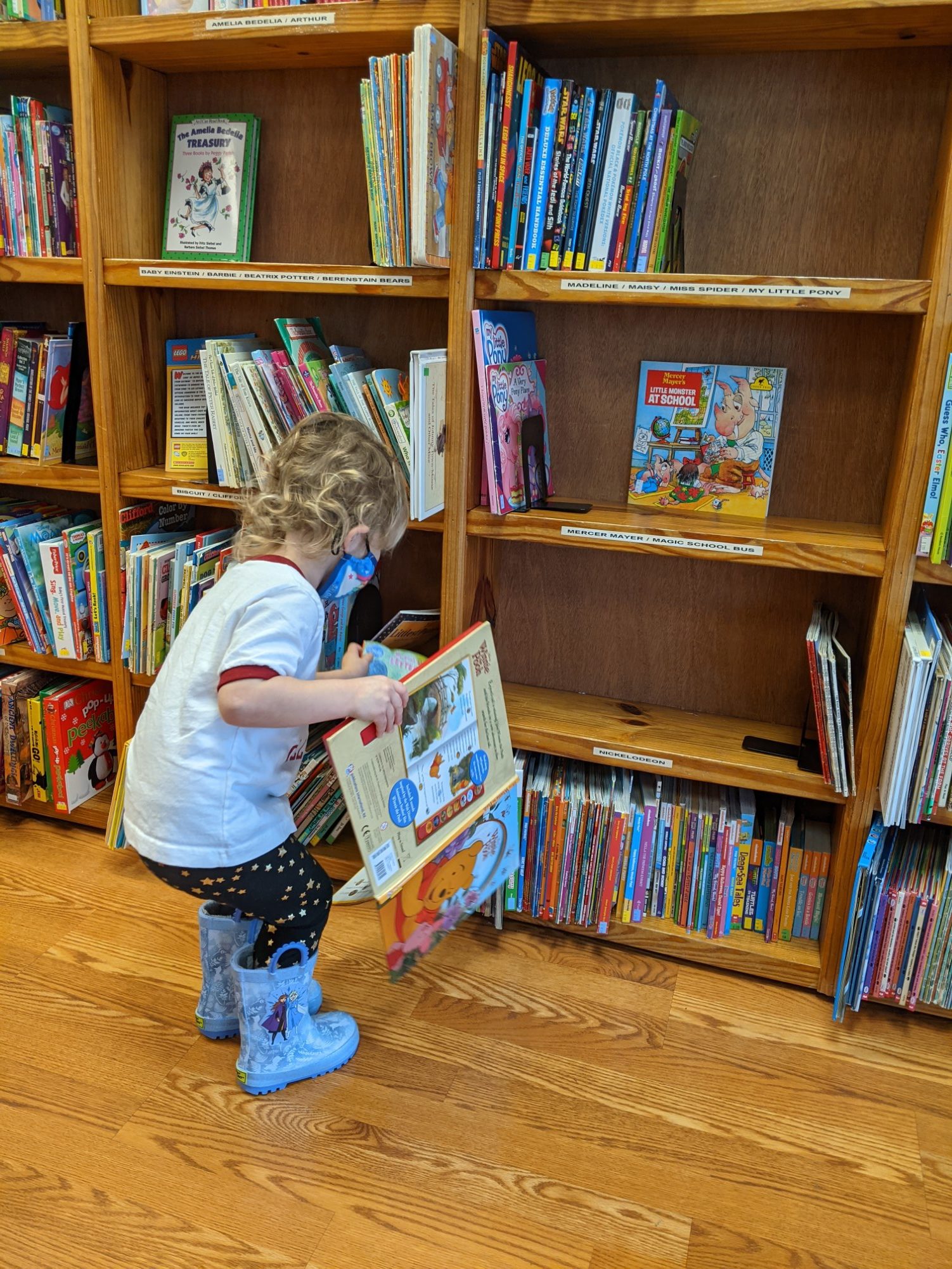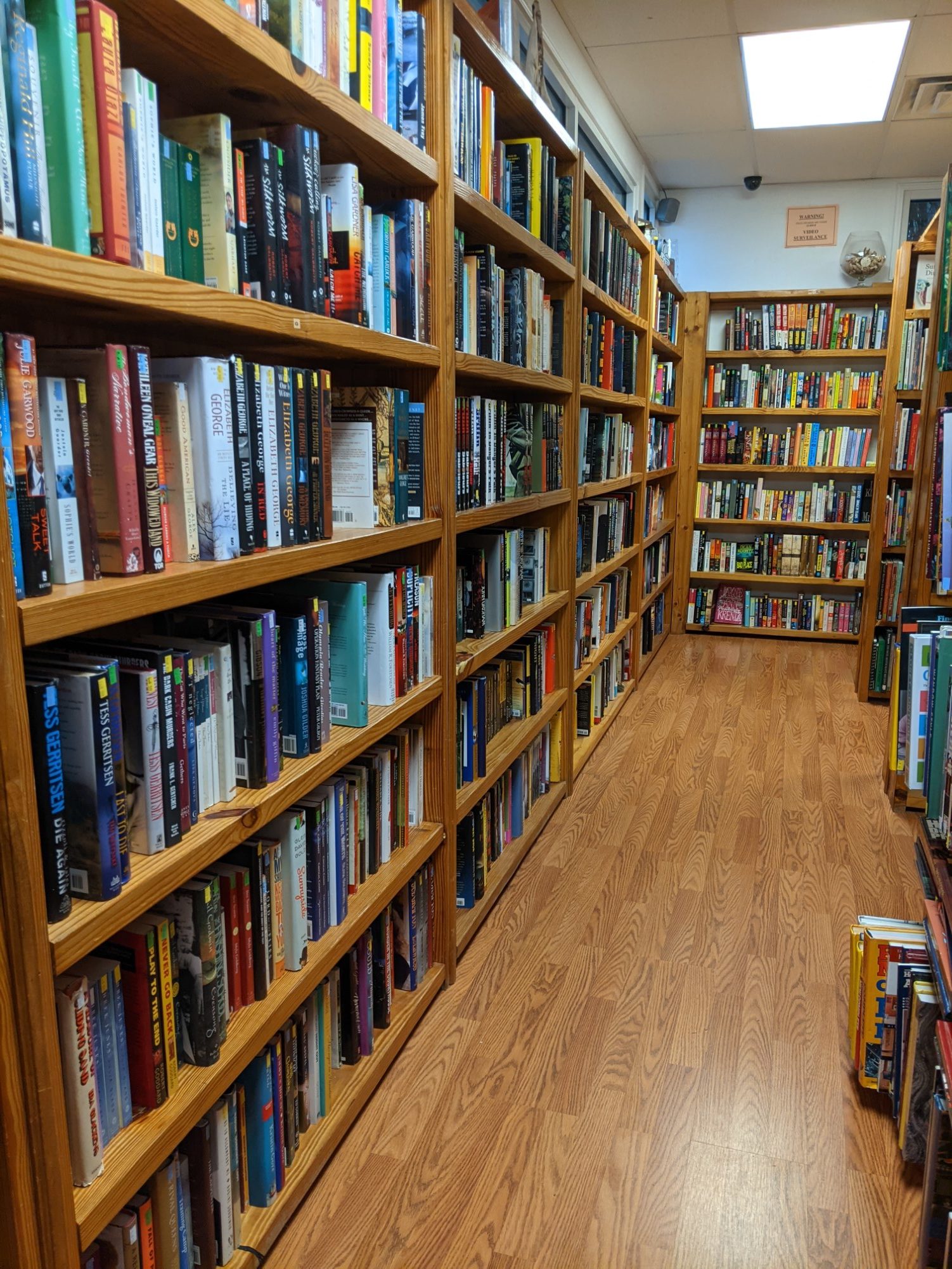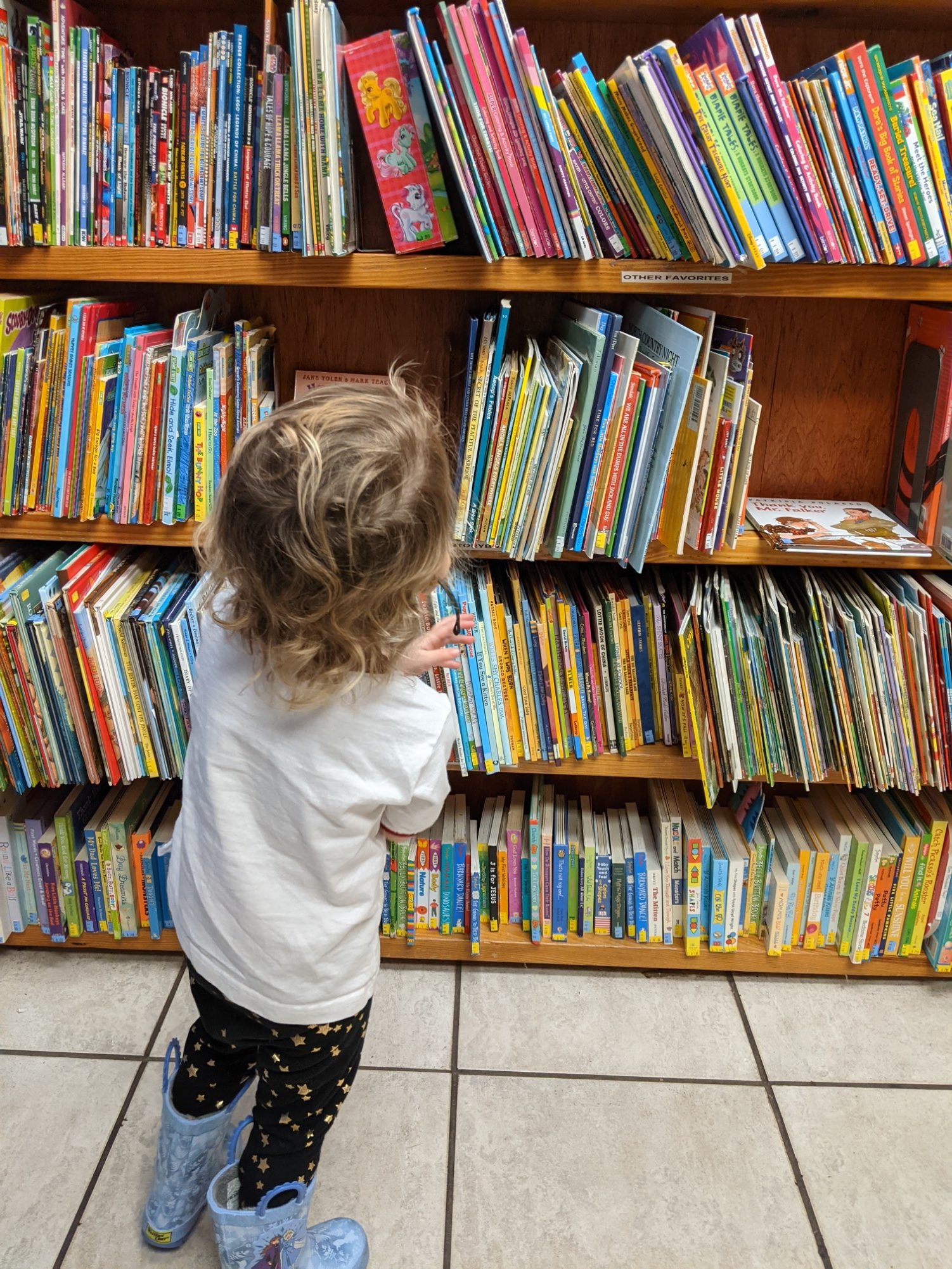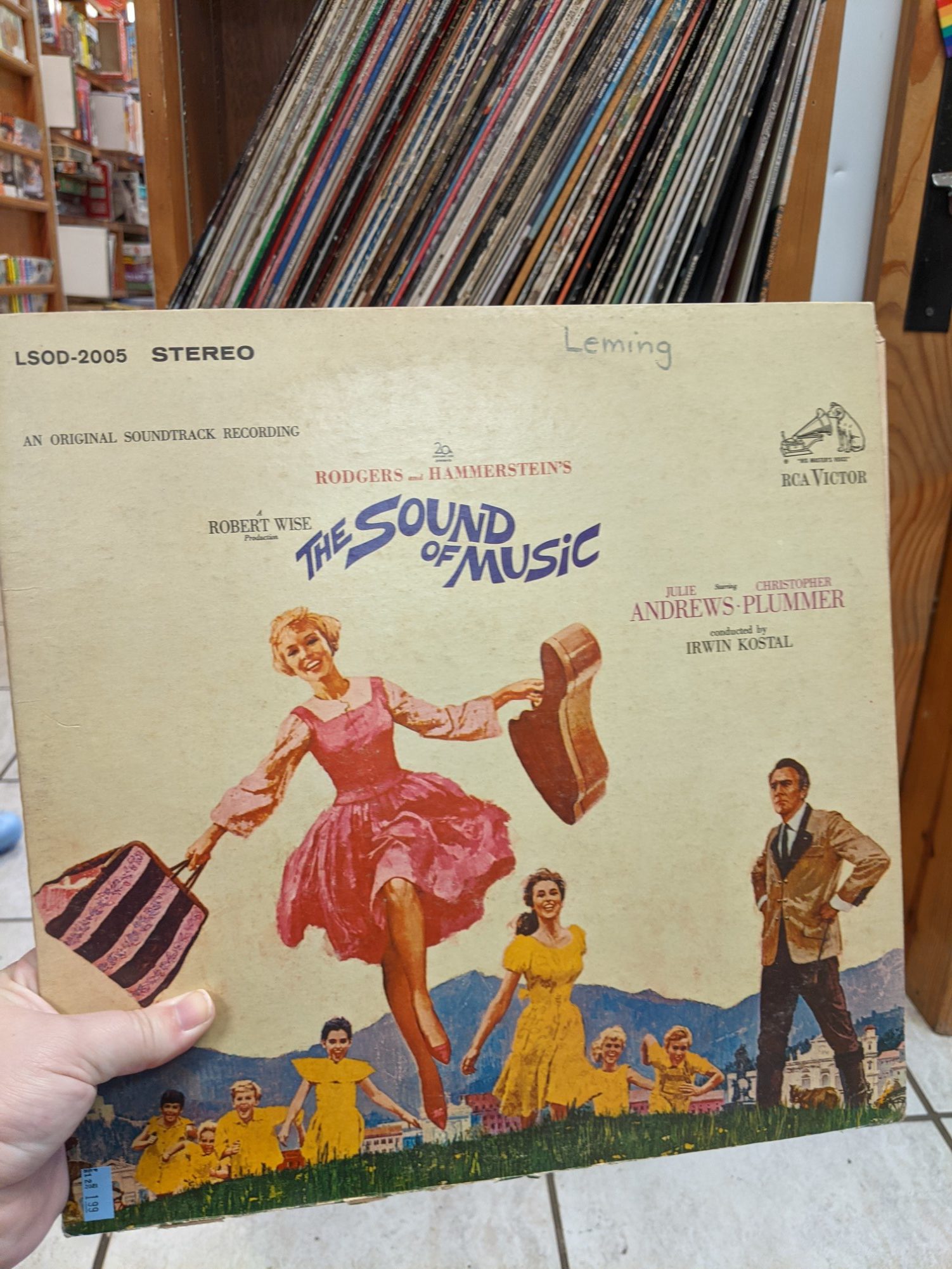 We went by Wahoo Seafood to pick up some curbside dinner, but it wasn't ready when we got there, so Emmie needed to get out and run around for a bit while we waited. It was misting lightly, but by the time she got back in the car, her little hair was so wet, but she was so happy!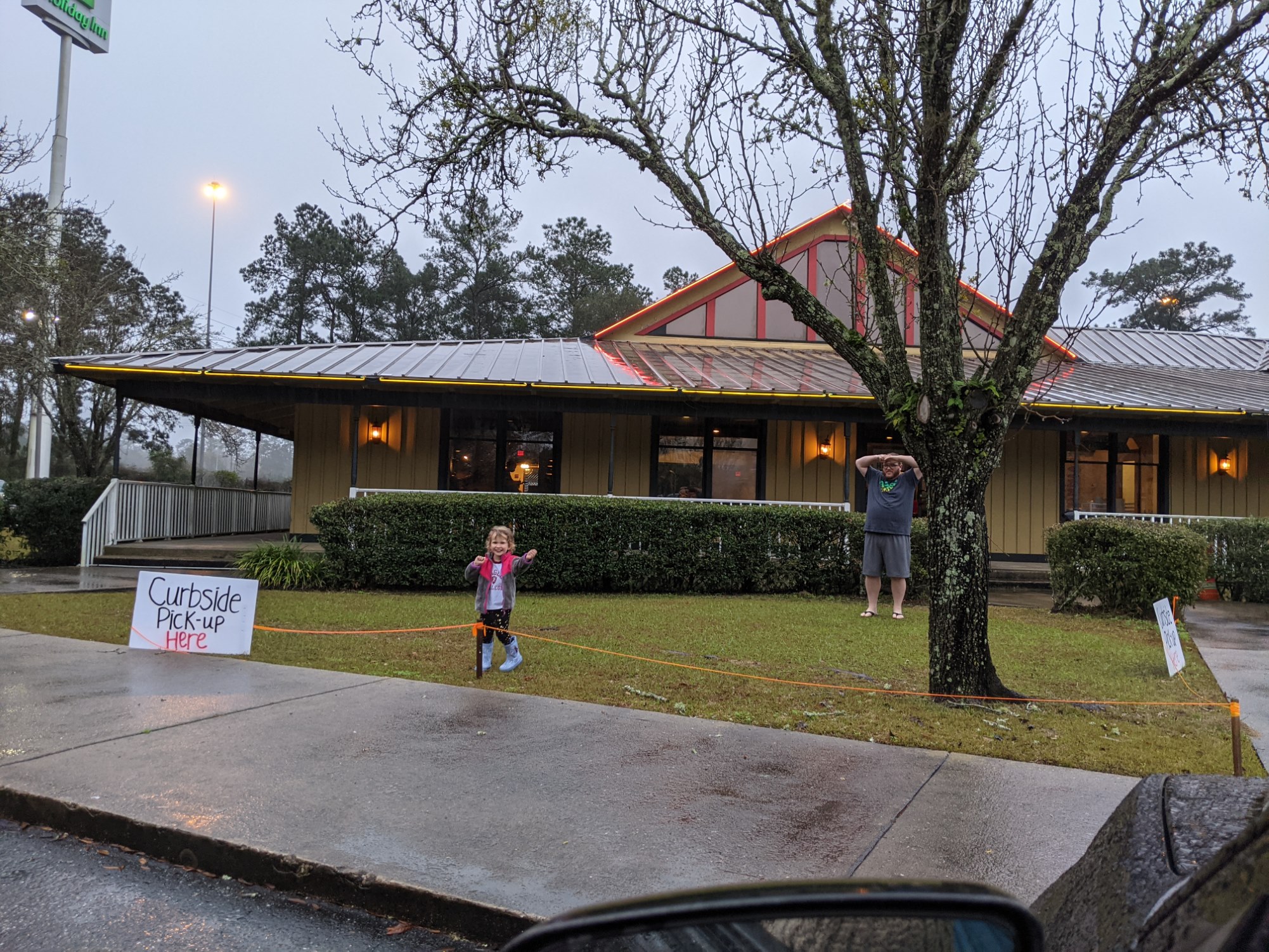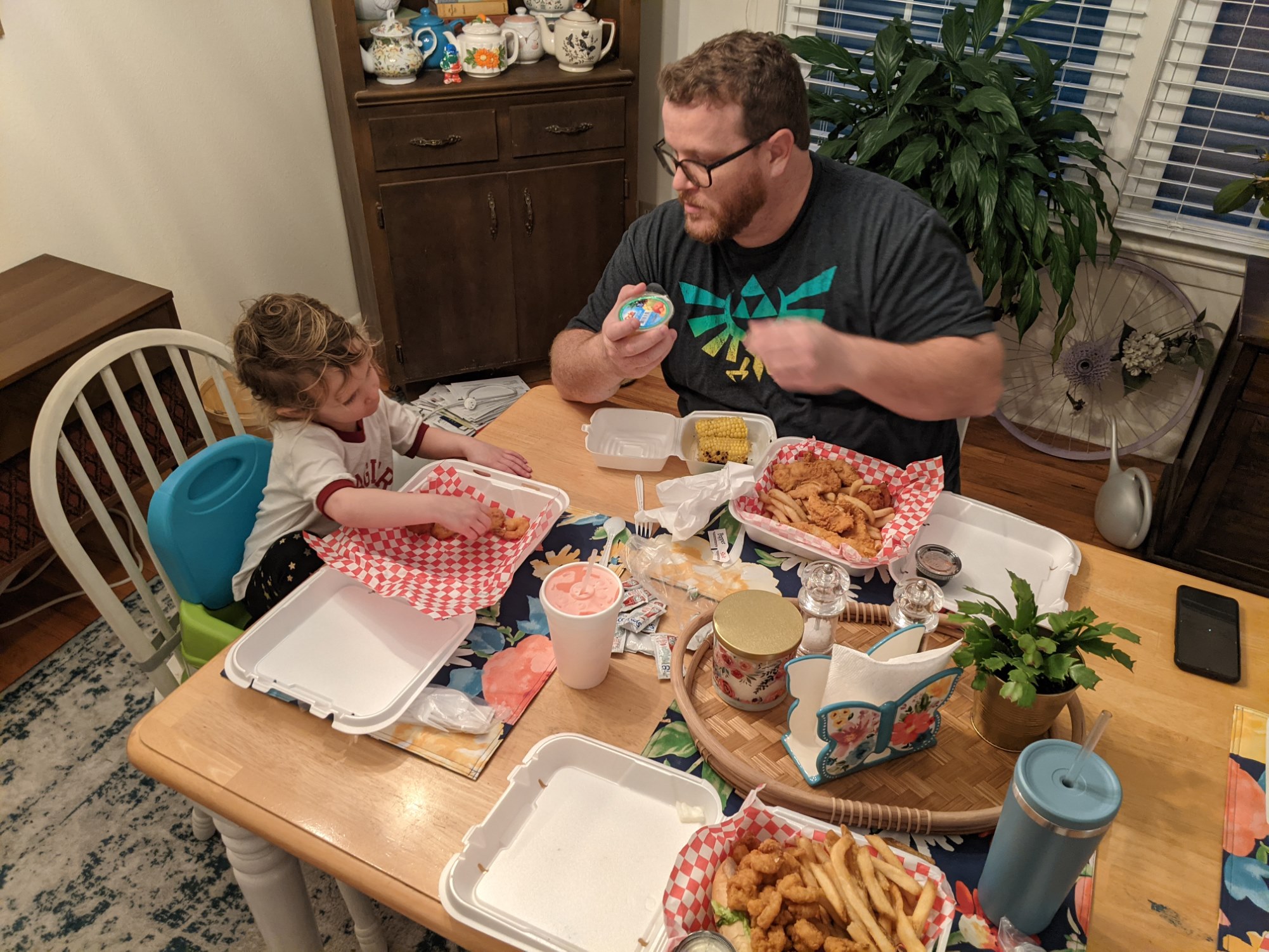 I got the shrimp po'boy and fries, and it was absolutely overflowing with shrimp. I had to take of about half of them, and shared quite a few with Jeff as well. It was super good, and I loved their very dill-y homemade tartar sauce. Jeff got the fish & chips (he'd been craving it lately), and said it was delicious. Emmie chose the fried shrimp kids meal and a fruit cup, and ate it very well!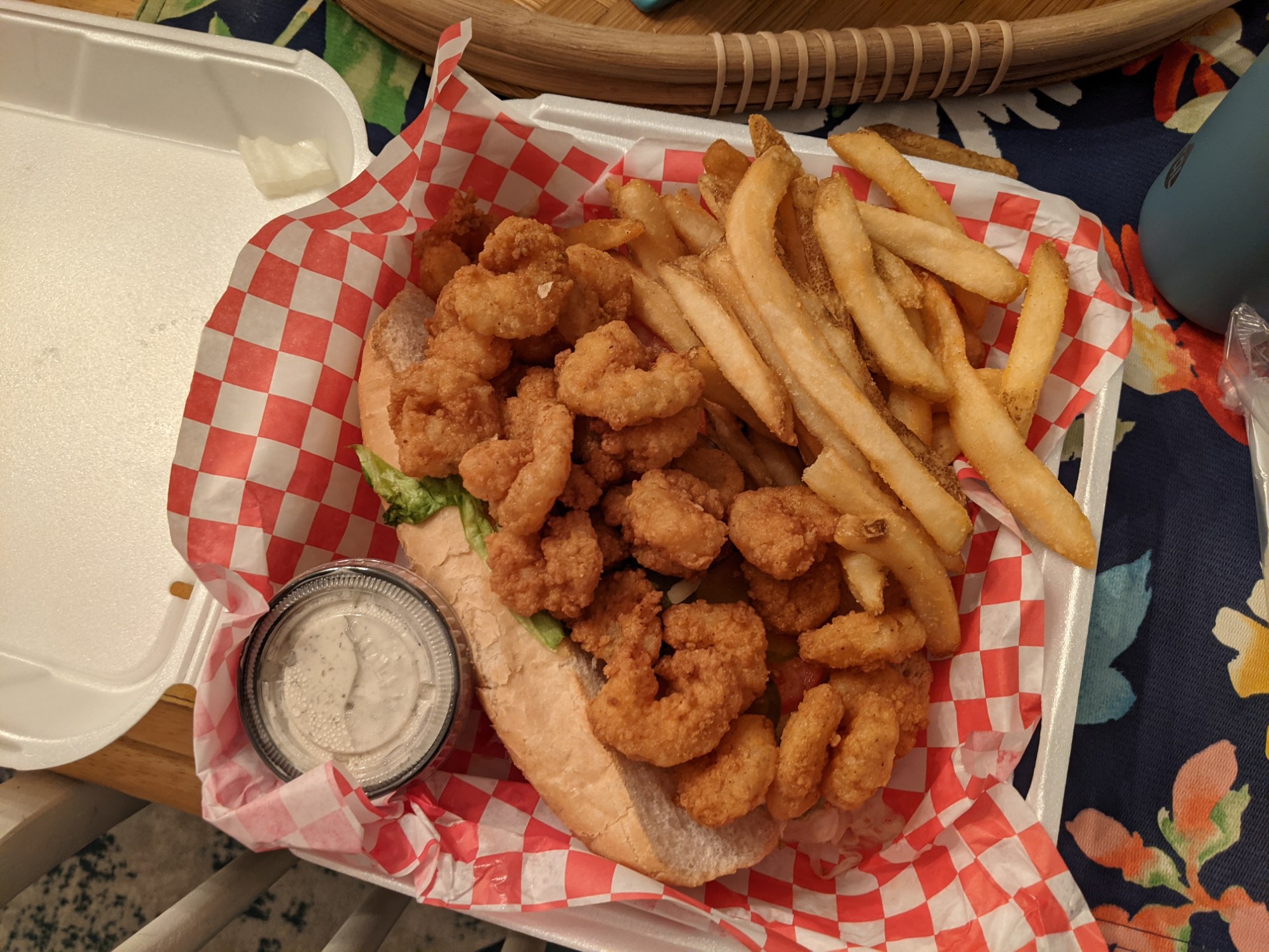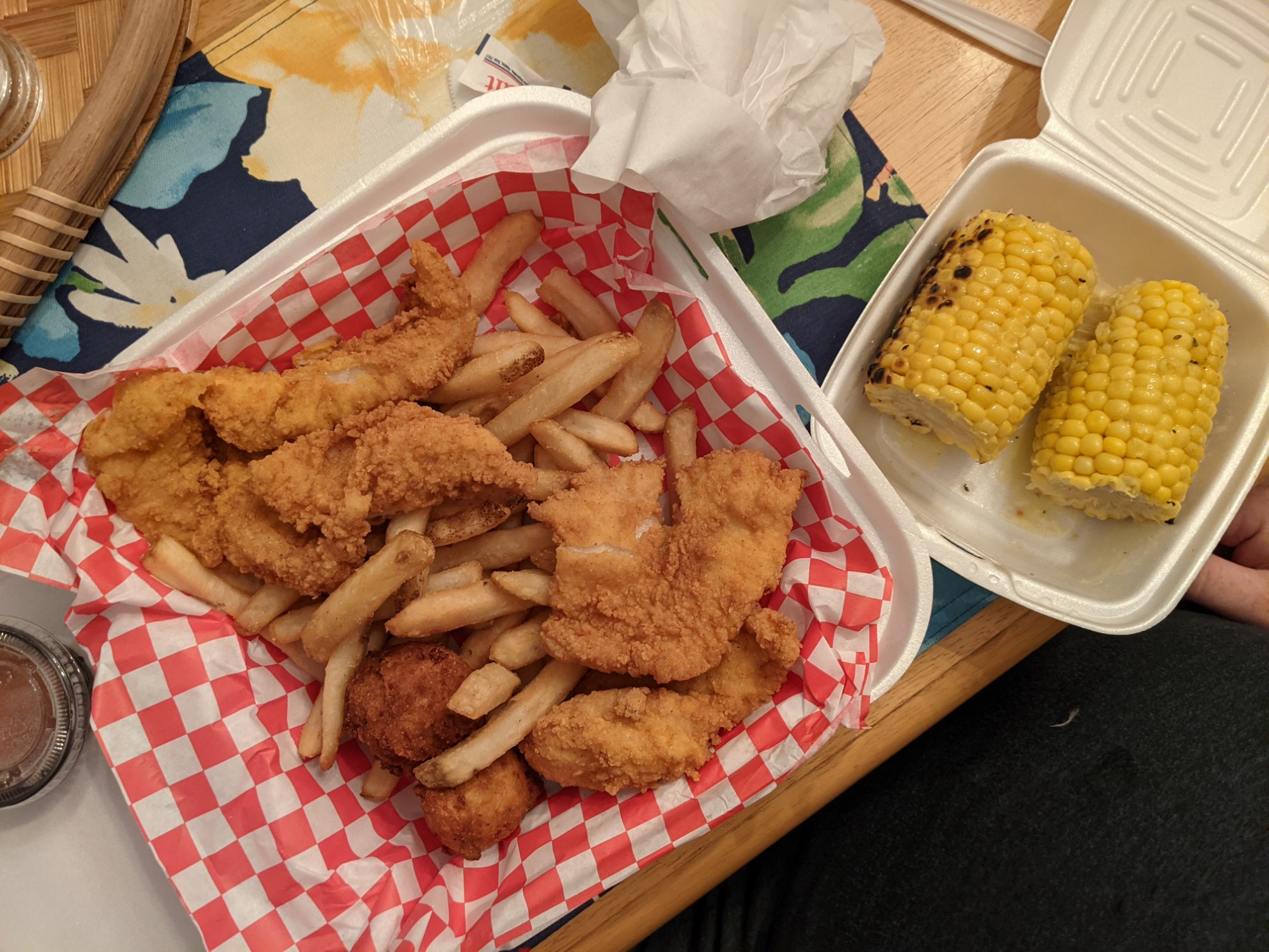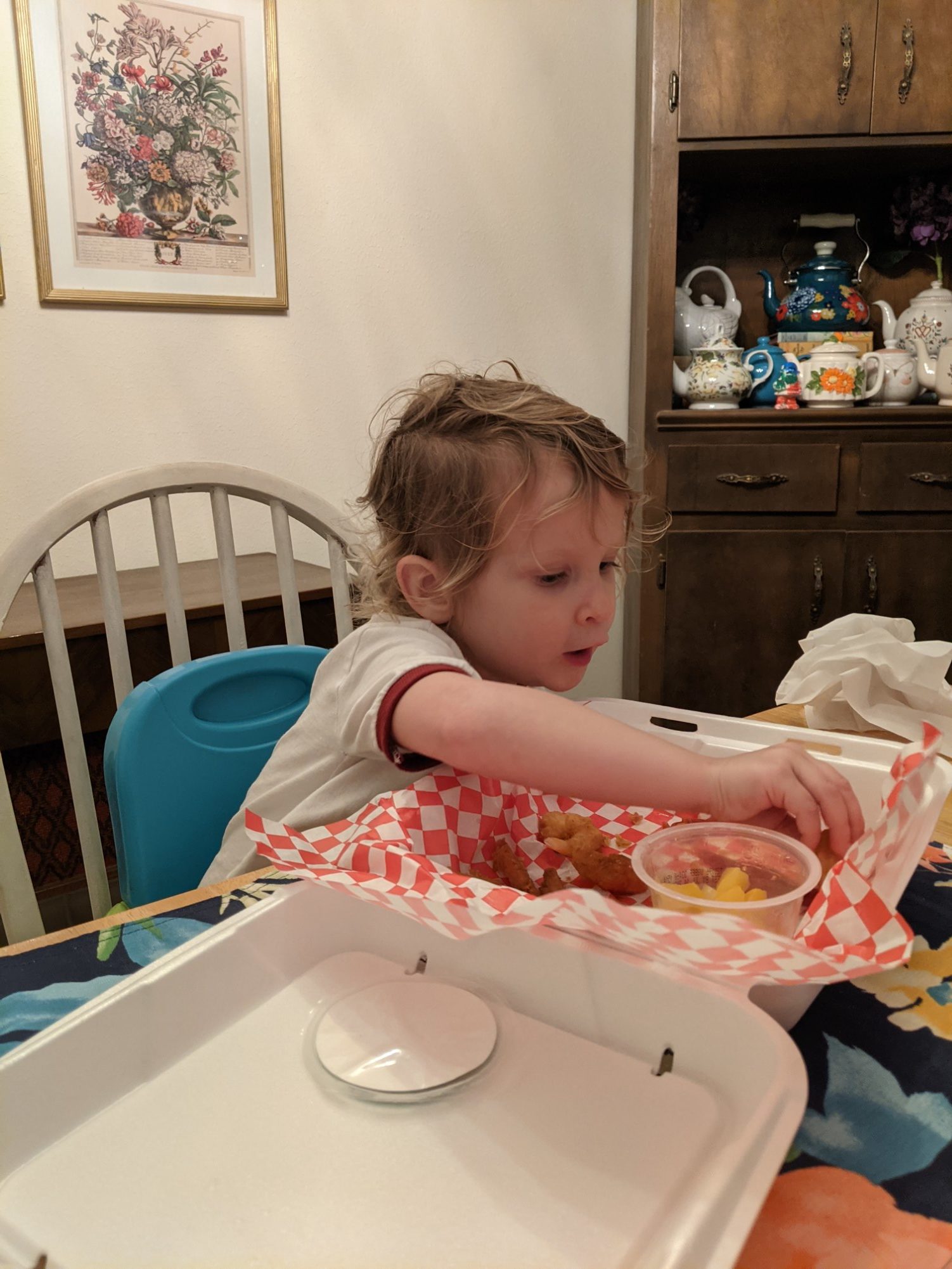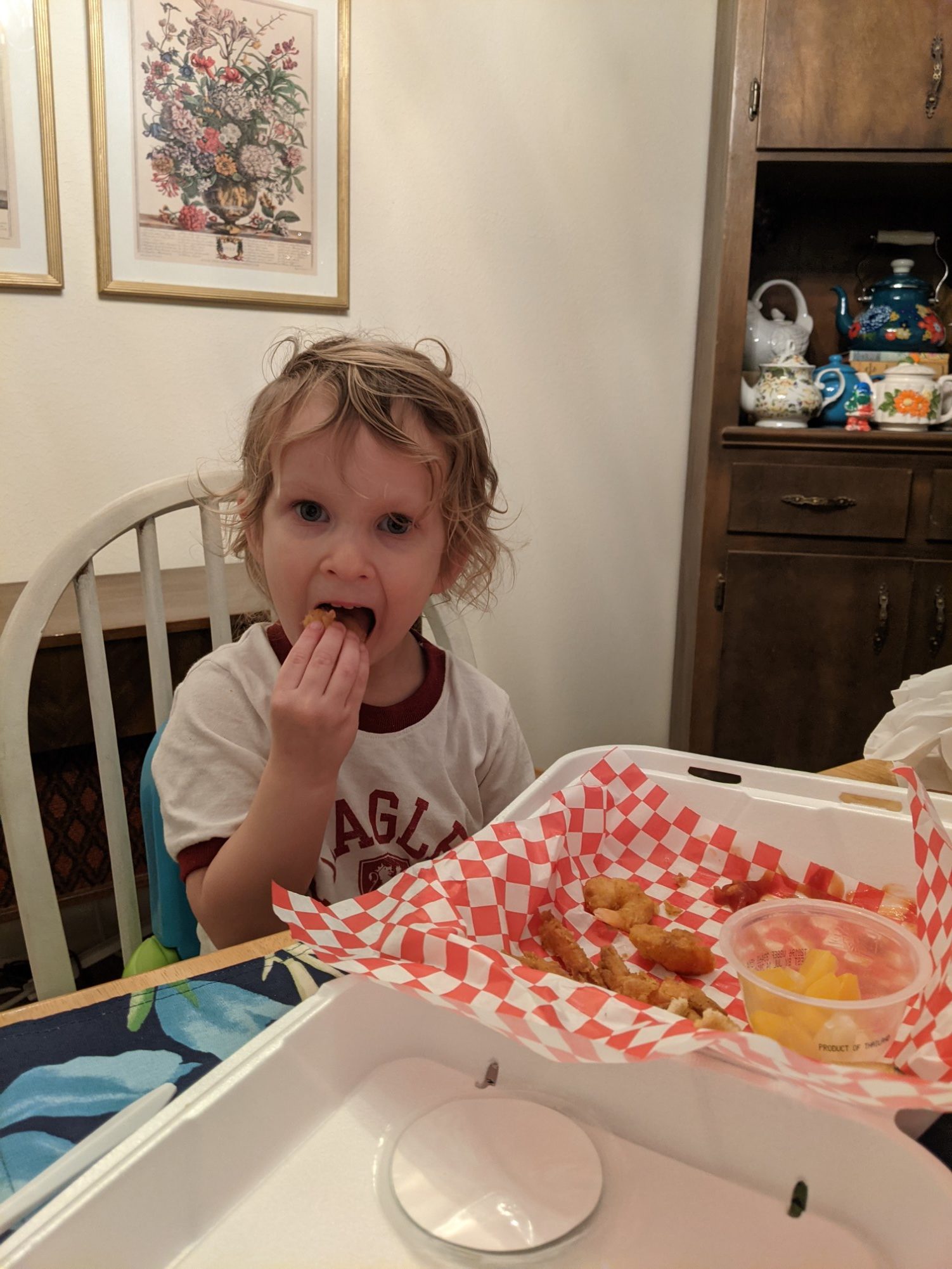 We found a whole Madeline series of shows on YouTube, and she's been very into them the last few days. So we watched part of one where they go on vacation (in Tahiti I think?) and rested a bit after dinner. Then she was super wiggly, so she had to get up and run and dance around the living room for about 15 minutes, until she had gotten out some of the crazies.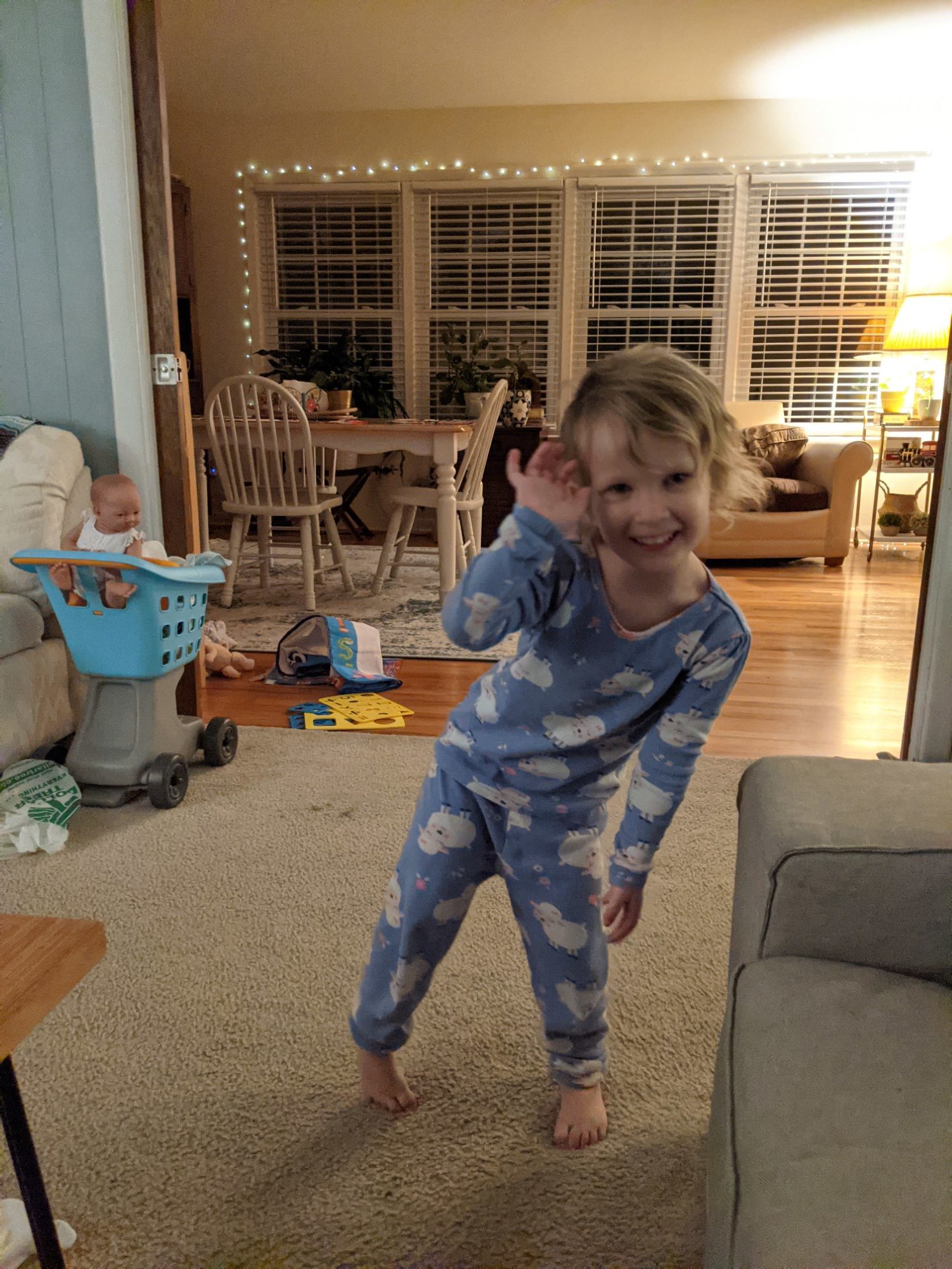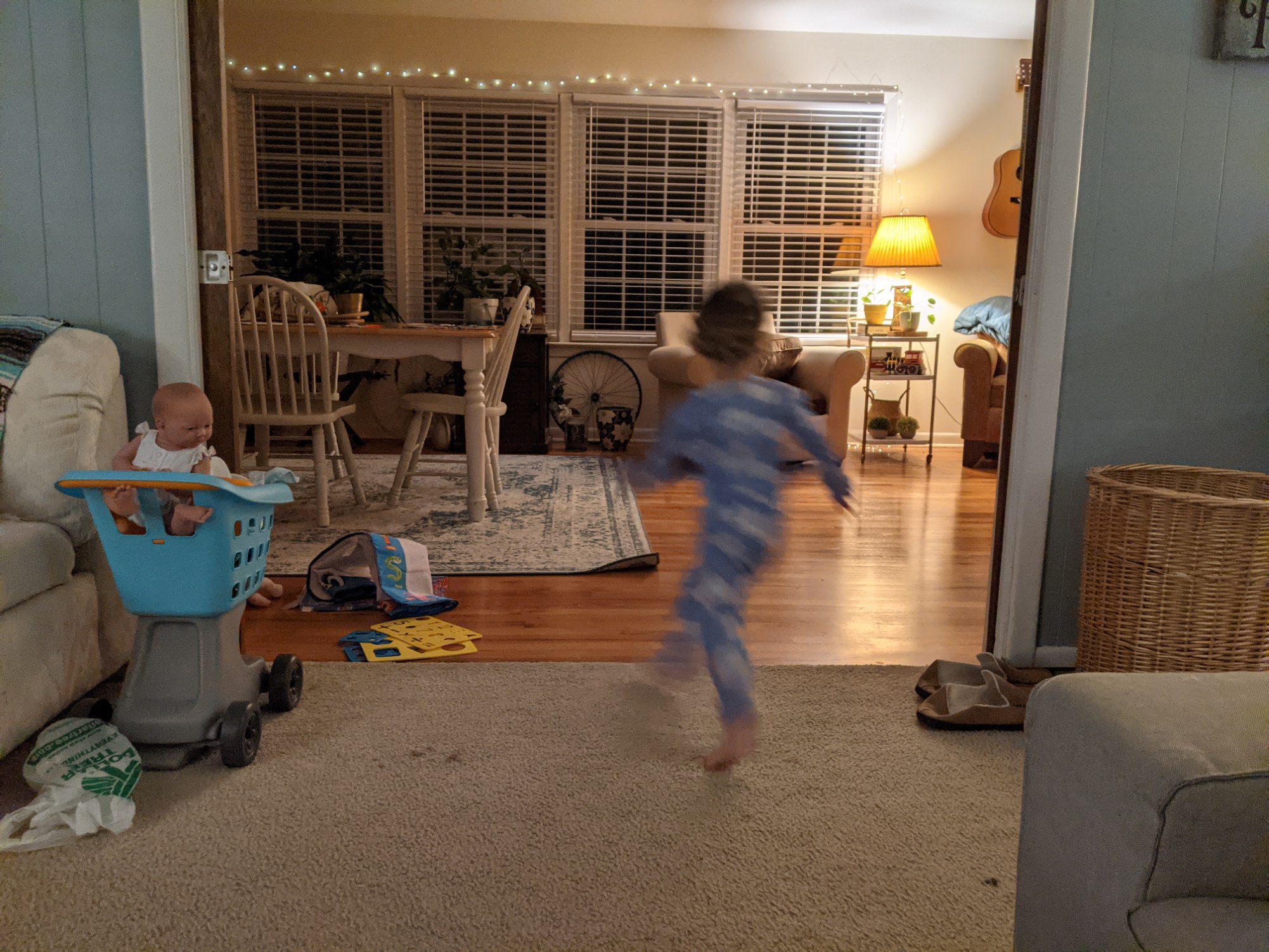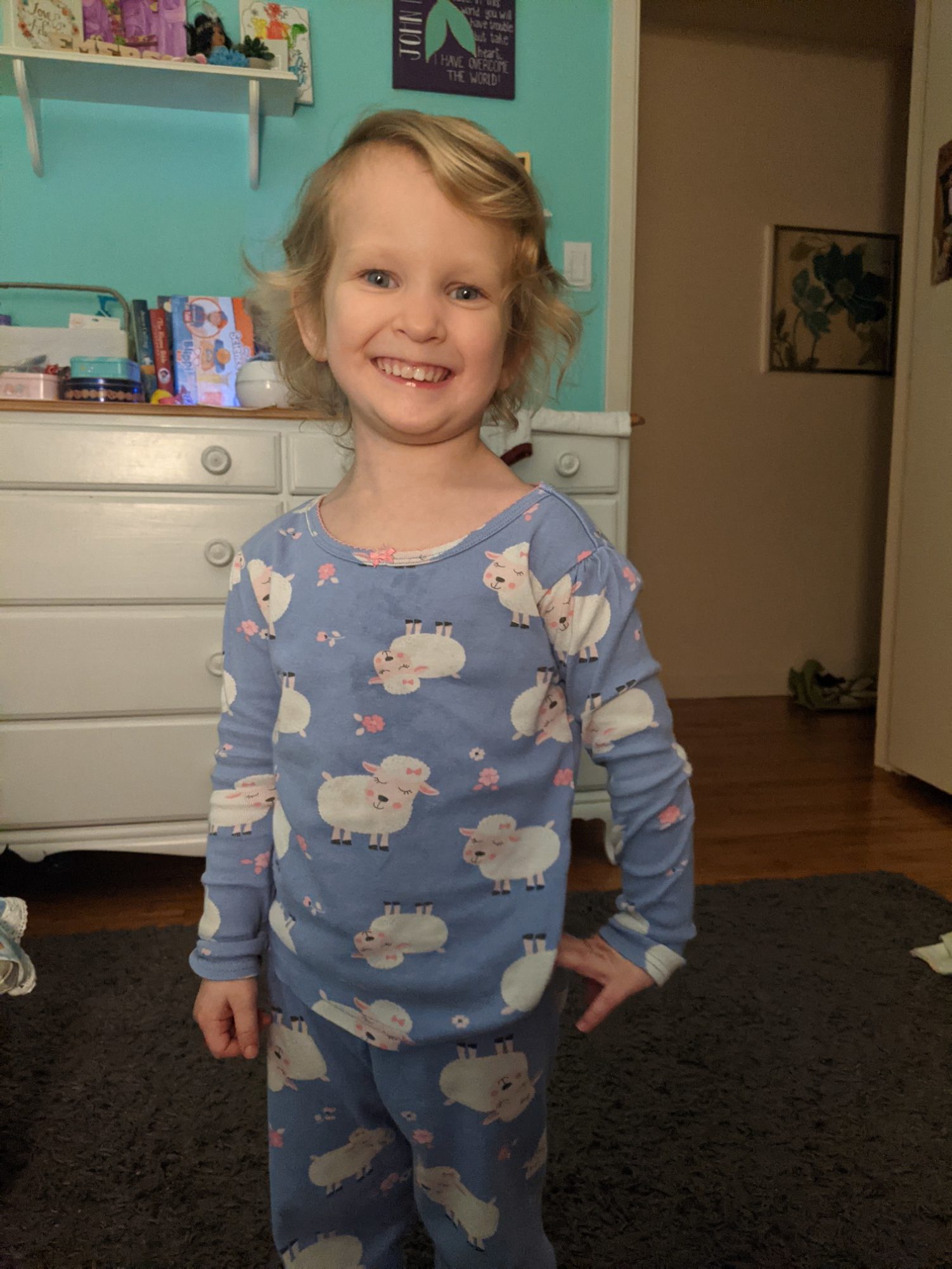 Bedtime went well, but I myself was about to fall asleep while reading her bedtime book and going through the prayers and lullabies. I'm sure I'll be heading off to bed very soon to rest up for another day!