I made us some scrambled egg sandwiches for breakfast, with some extra eggs on the side, because I made so many eggs.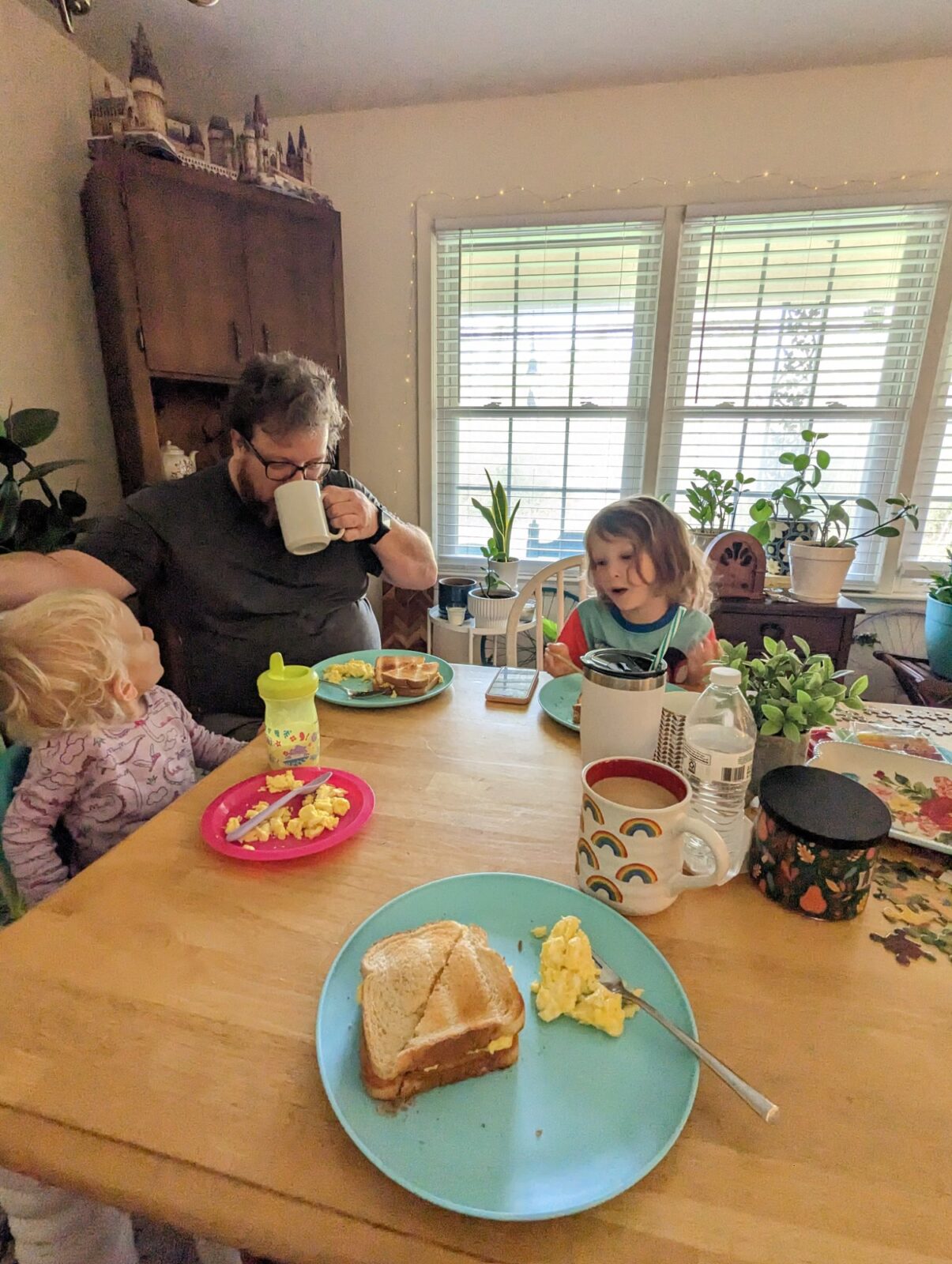 We made a very ambitious to-do list for the weekend Emerson helped me get Addison dressed, so very sweetly.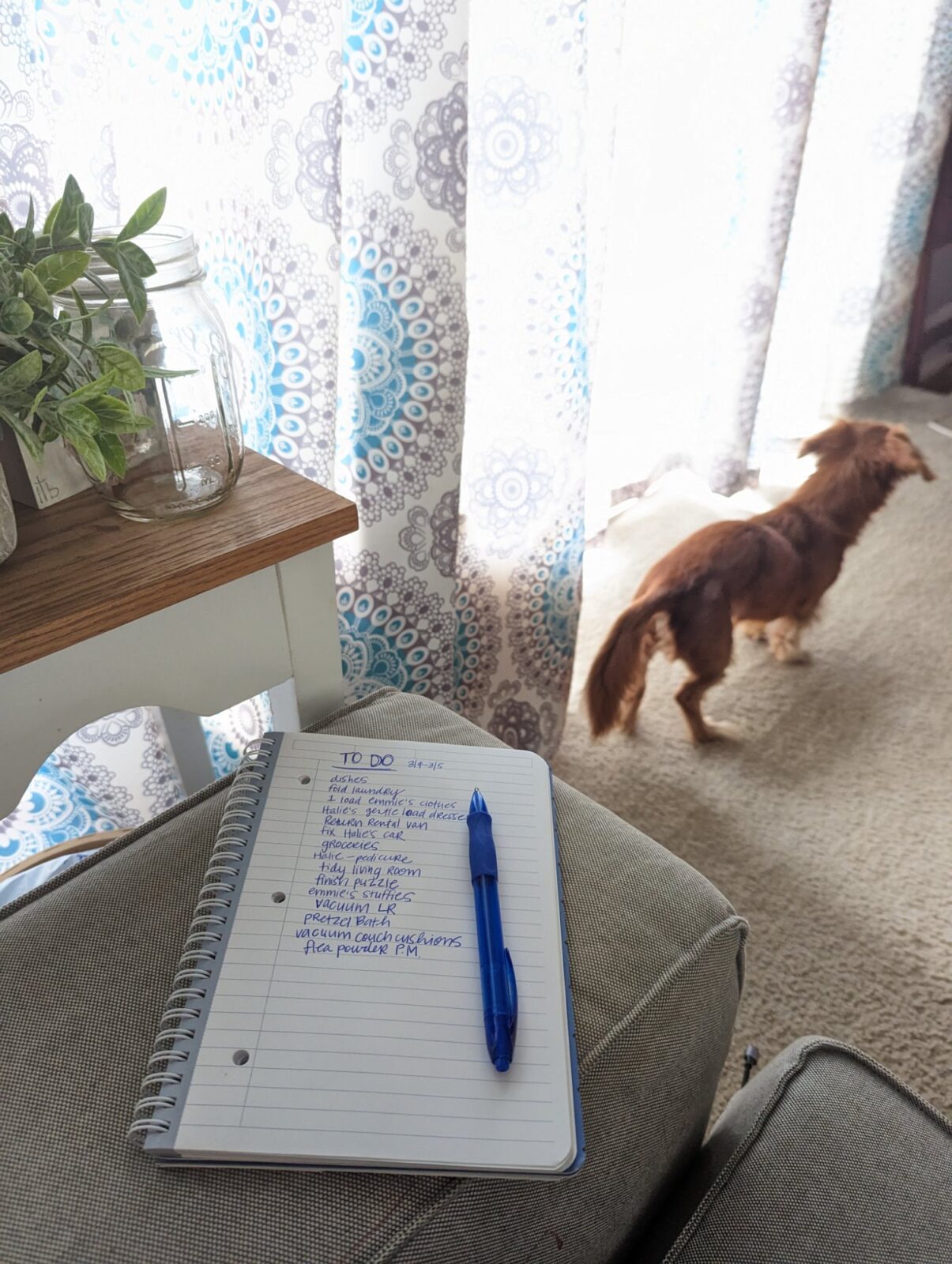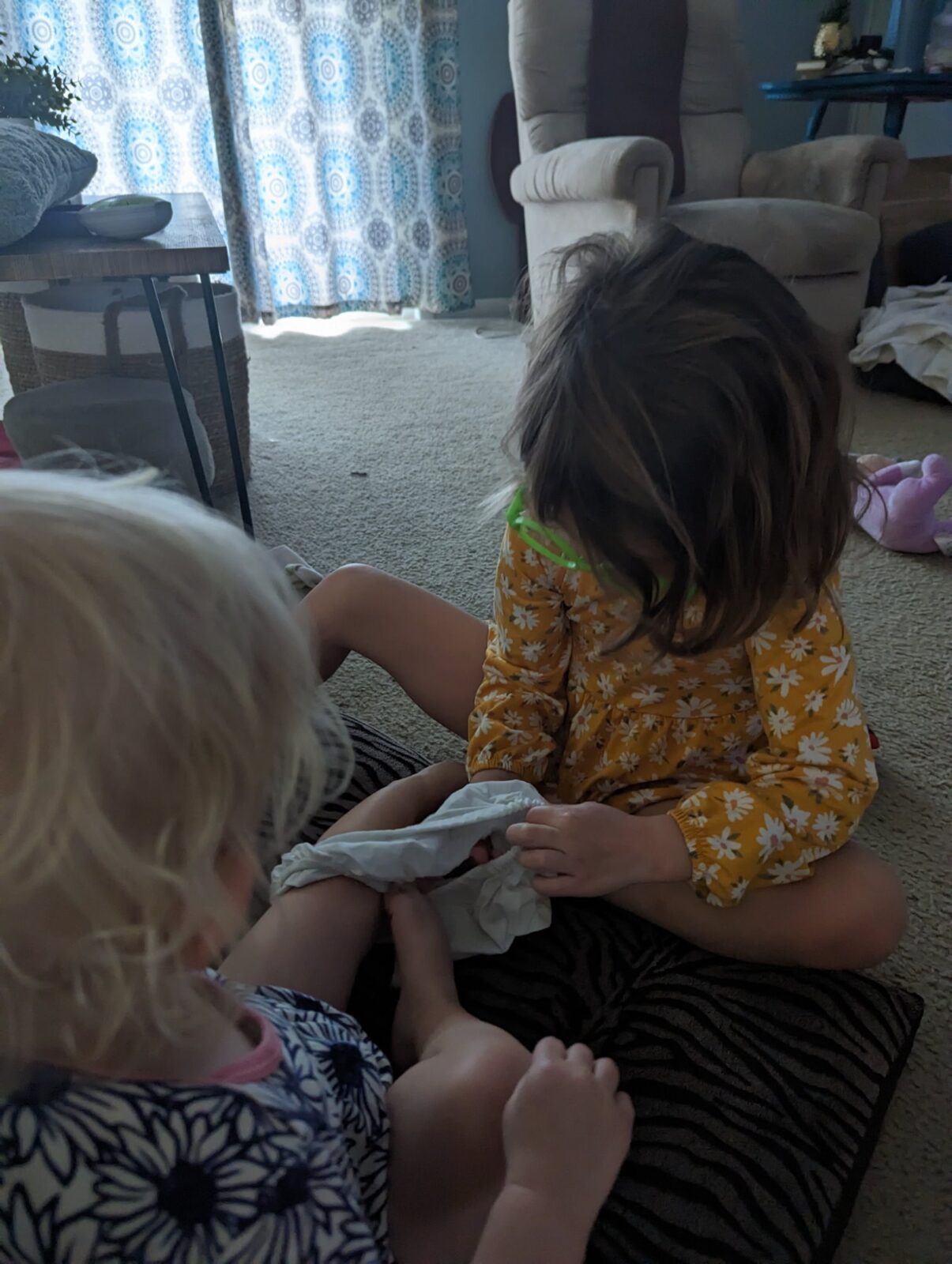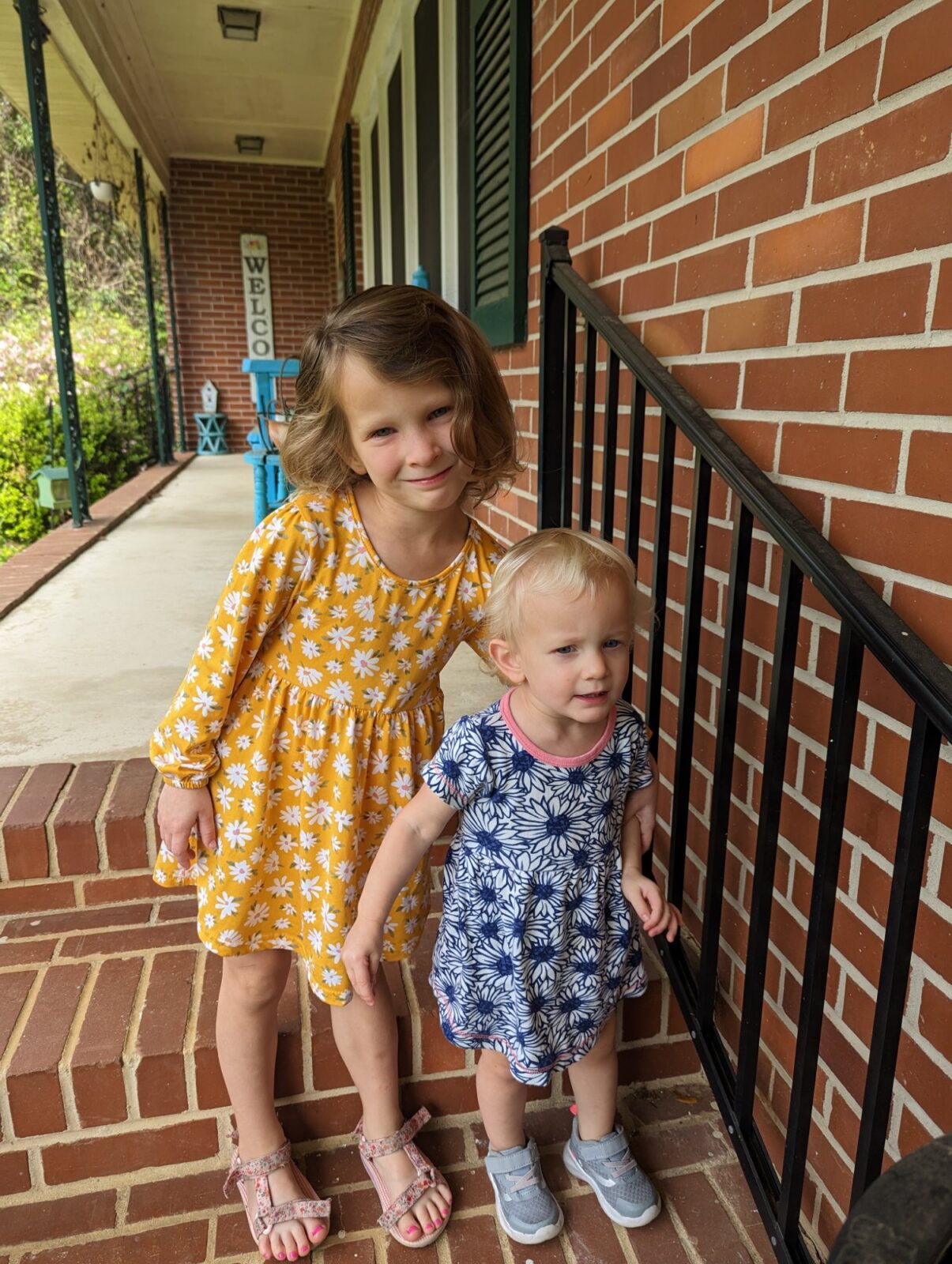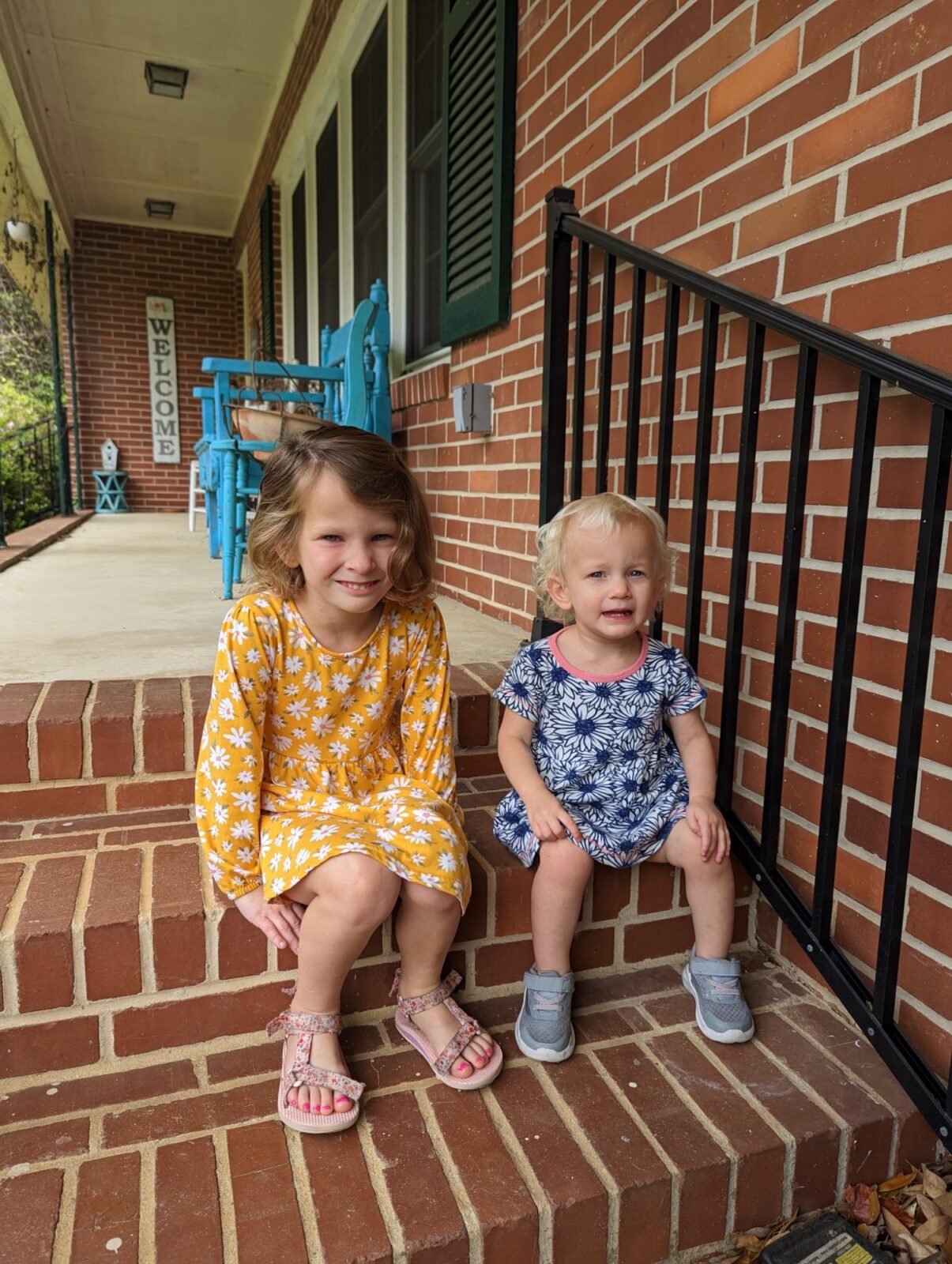 Then we returned Jeff's rental van, and decided last-minute that we would go to Gilchrist for the S.T.E.A.M. Carnival at the school. There were tons of tables and activities and projects set up all over the school, and it was really cool. We even got to paint a little square in the new giant mural on the side of the building. (I would have loved to stay there and paint more of that, paint-by-numbers giant wall mural, for a long time.)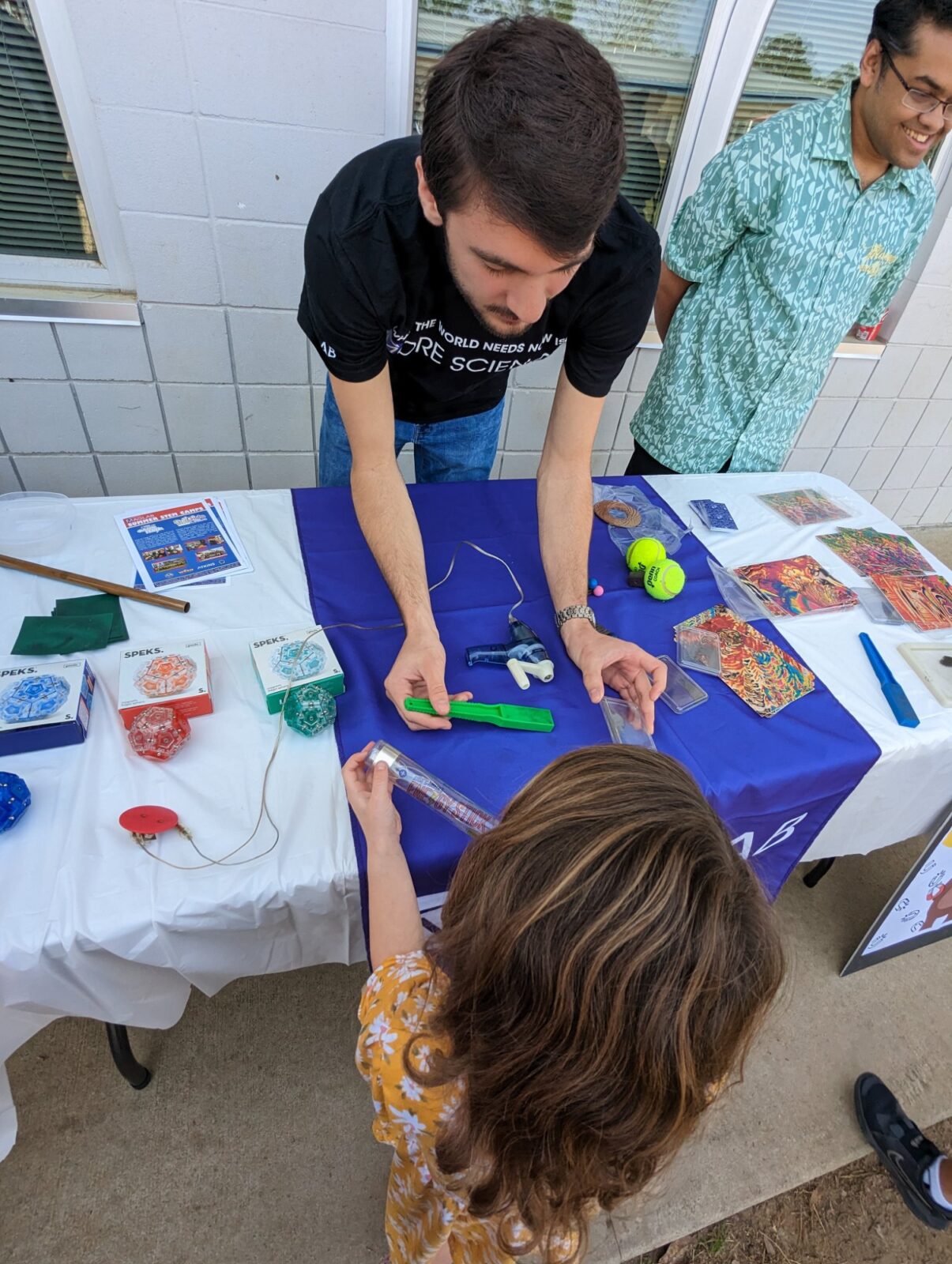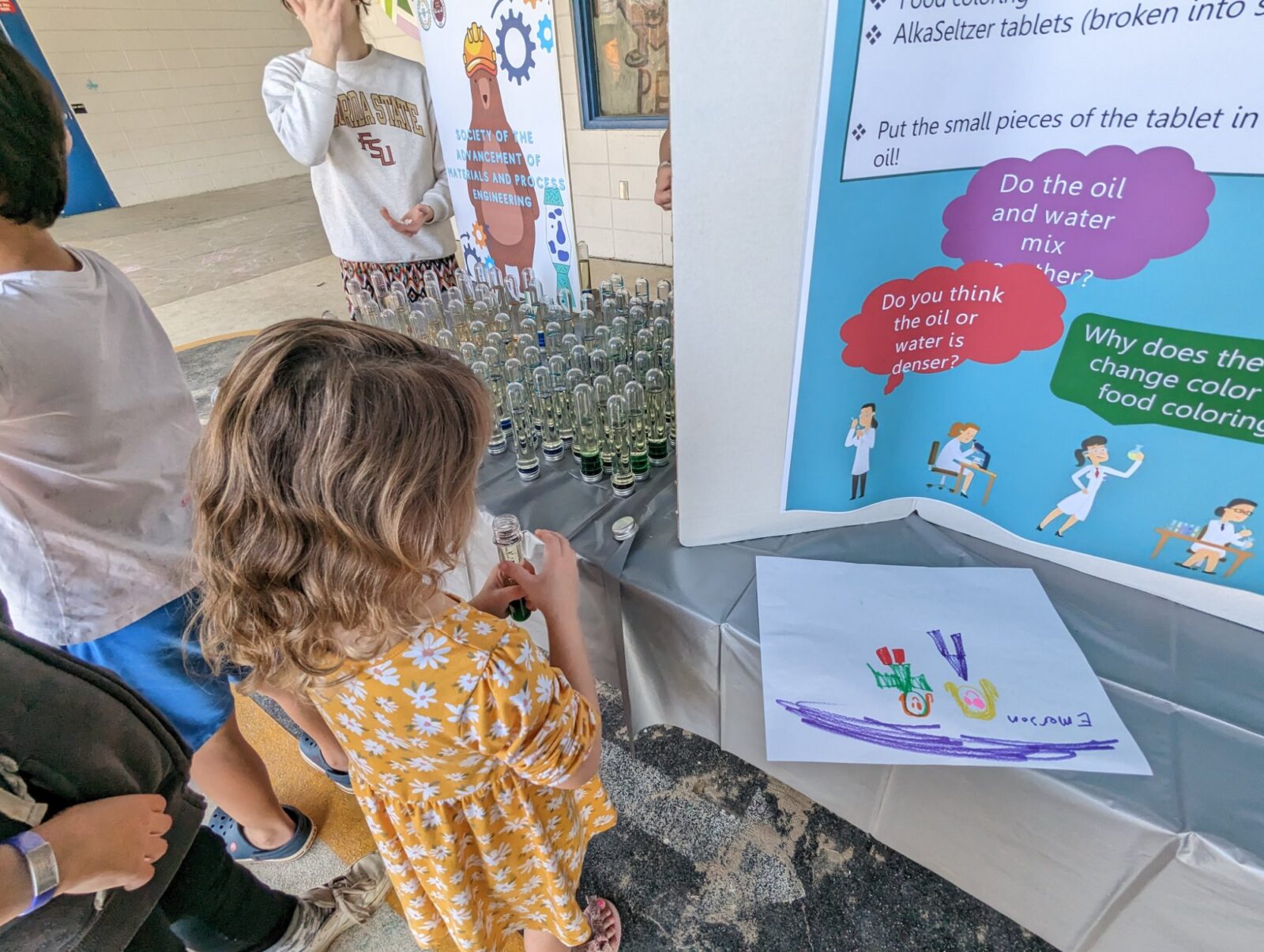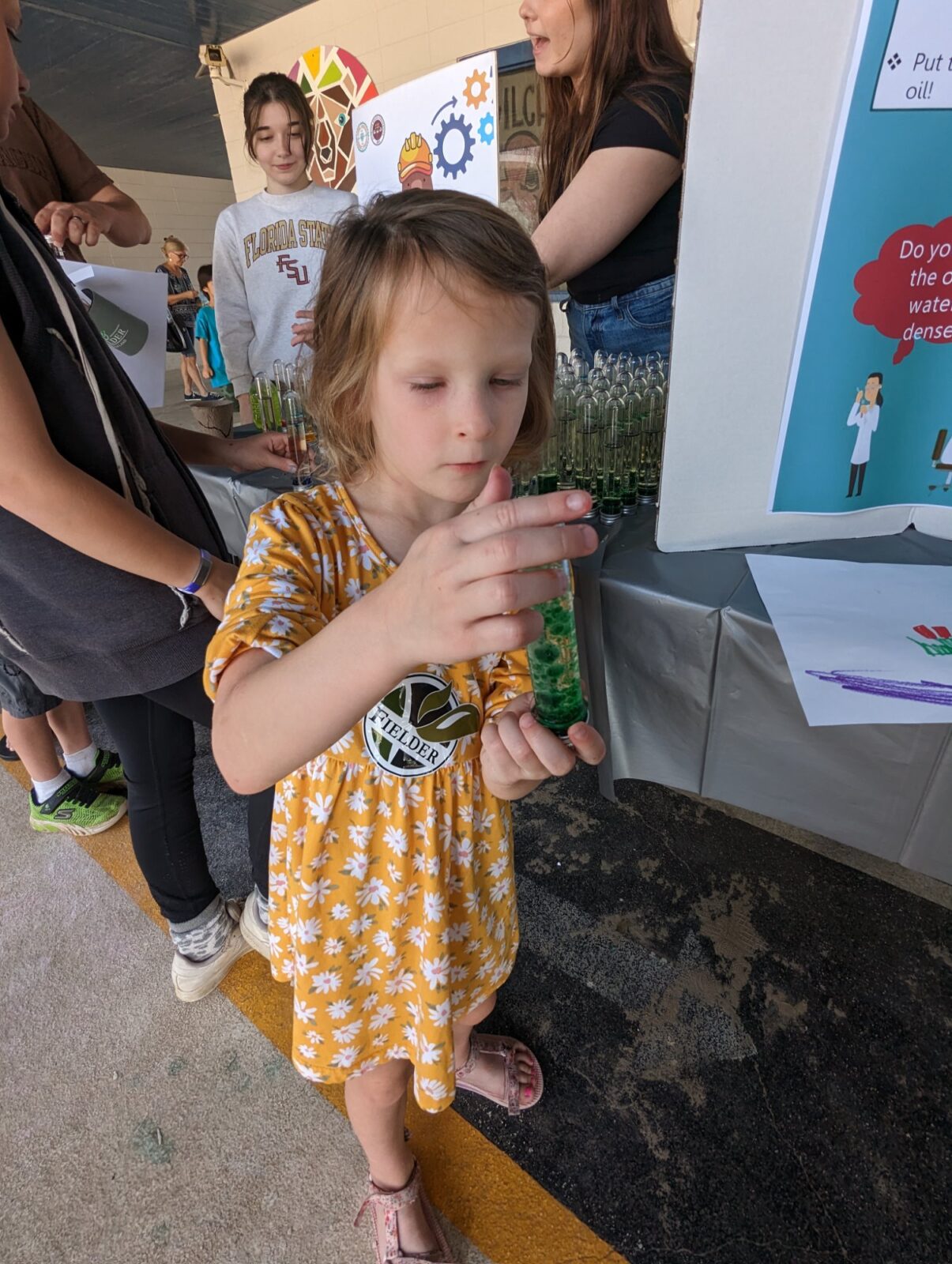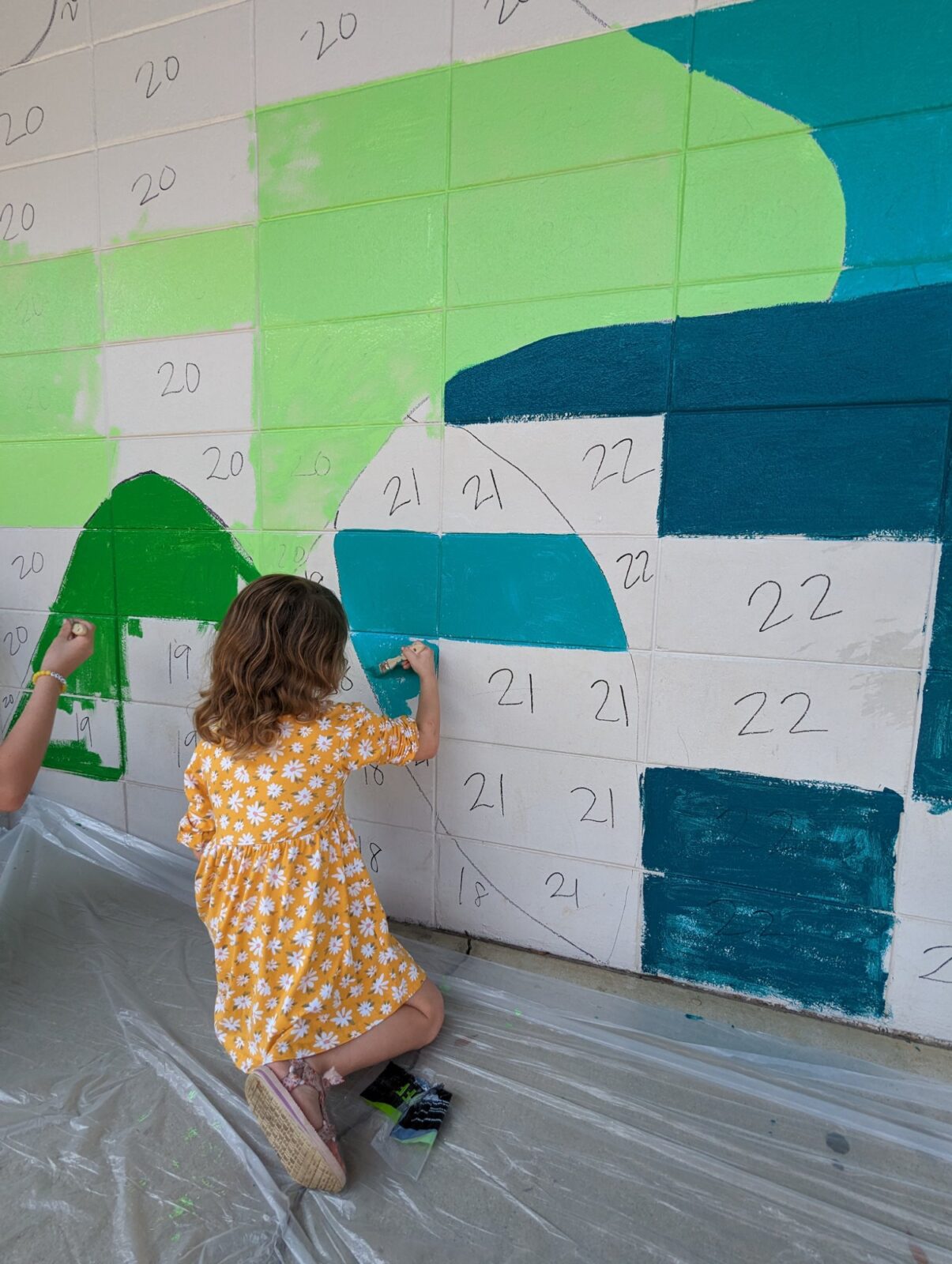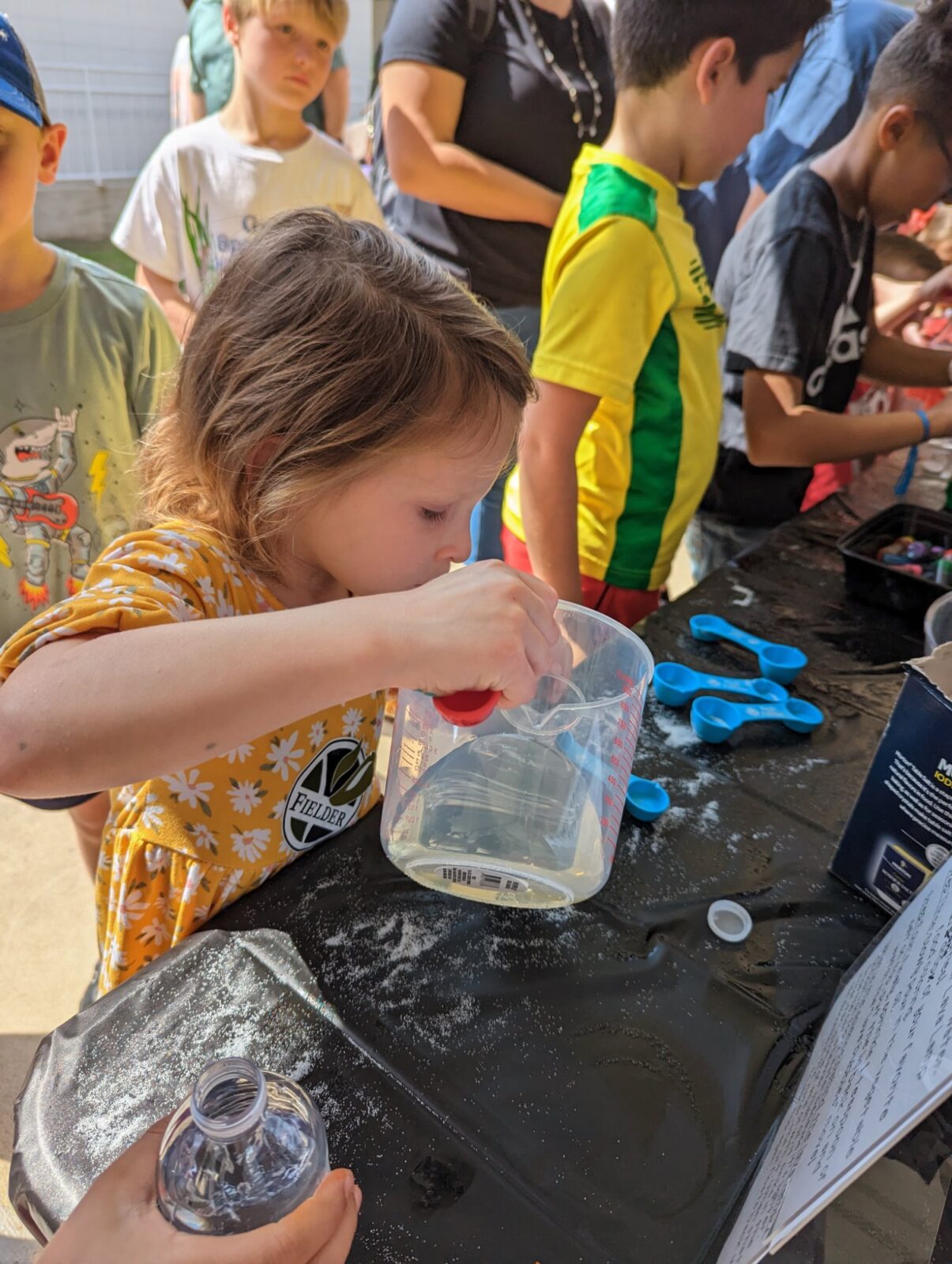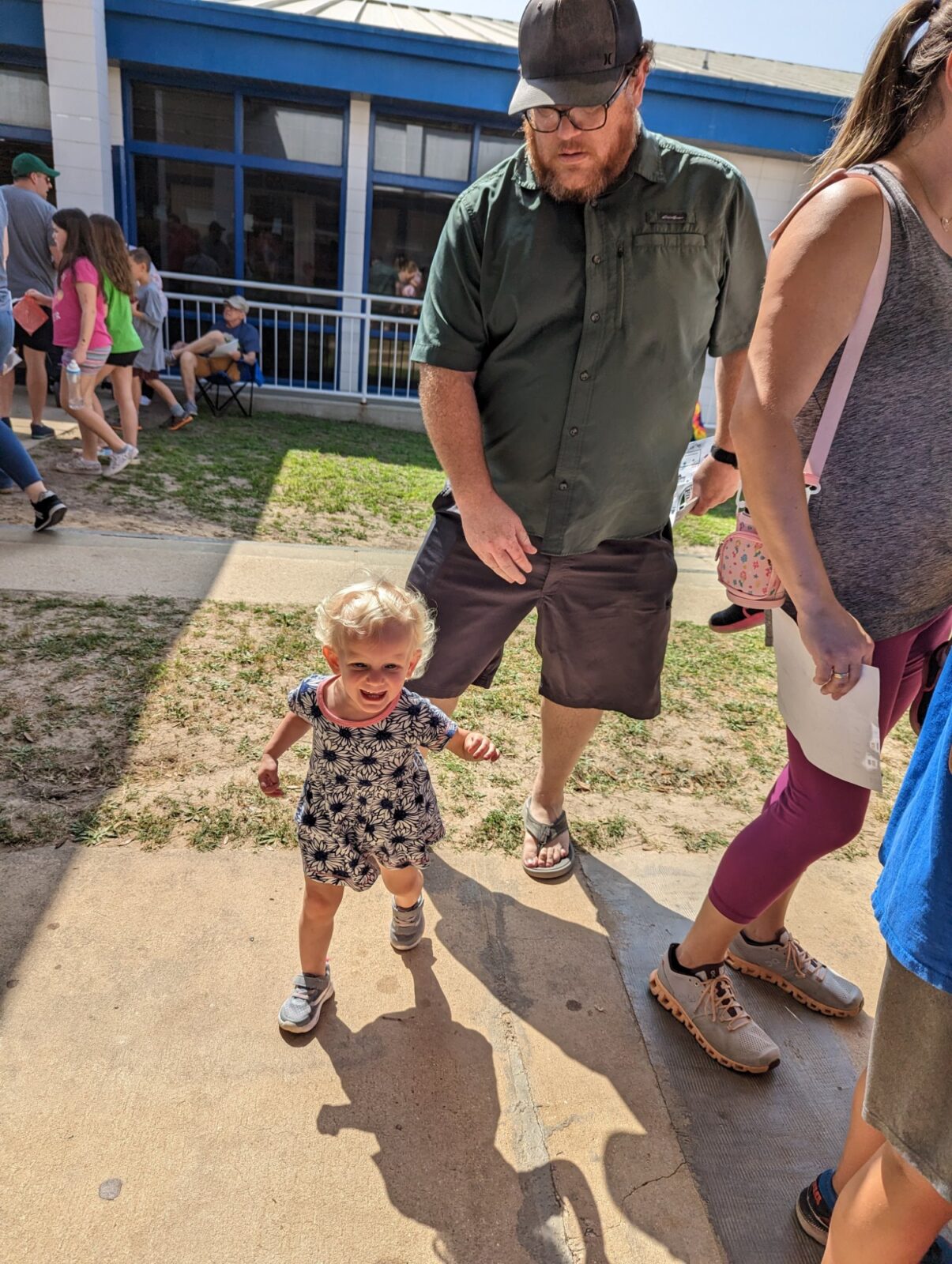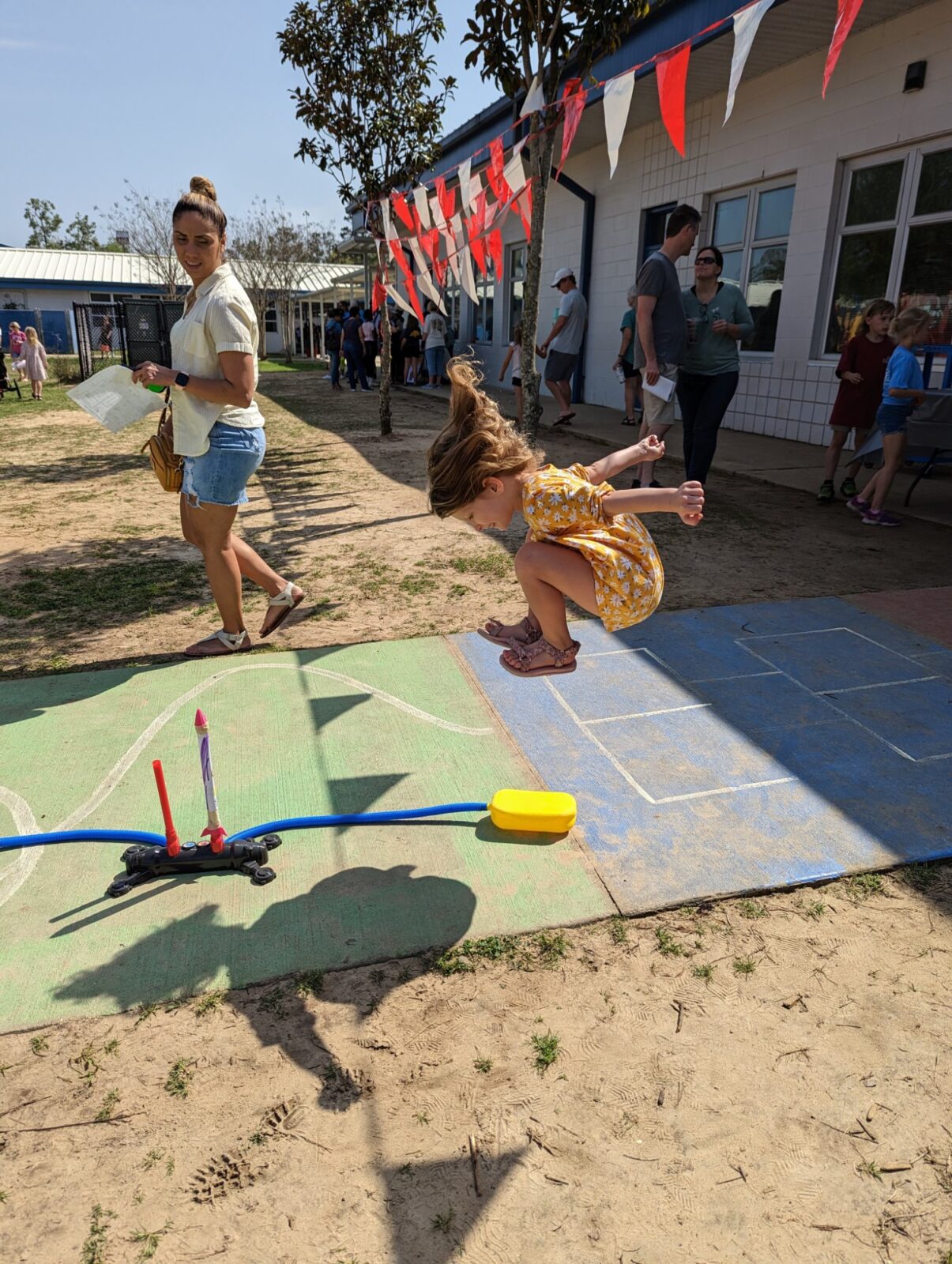 We ran around there for as long as we could handle it, but it was hot, and Addison was hot and tired and hungry, and it was past her naptime already. Nana was out and about running errands, so she met up with us for lunch, and also gave us the giant box of diapers we asked her to buy for us at Sam's this morning.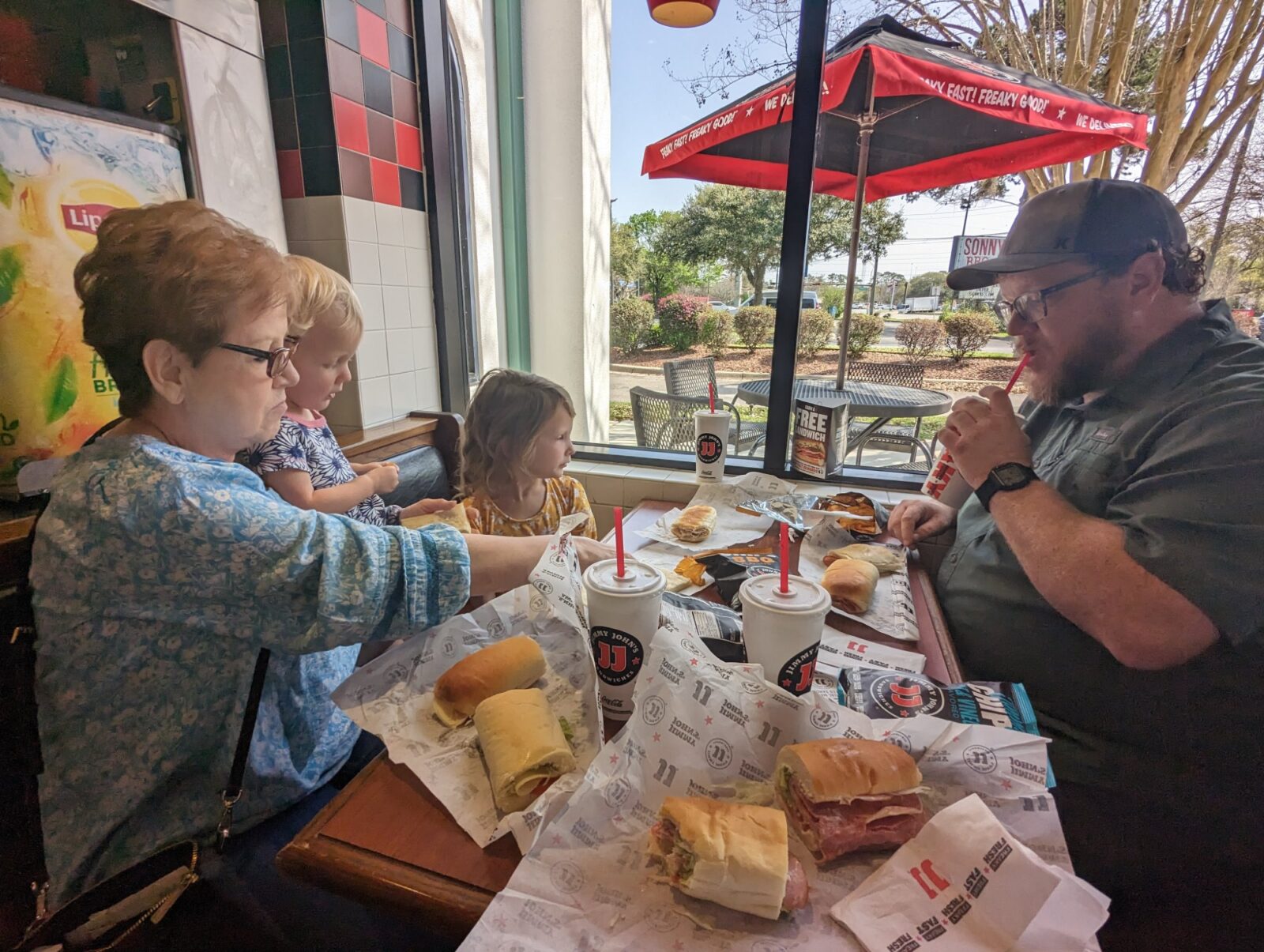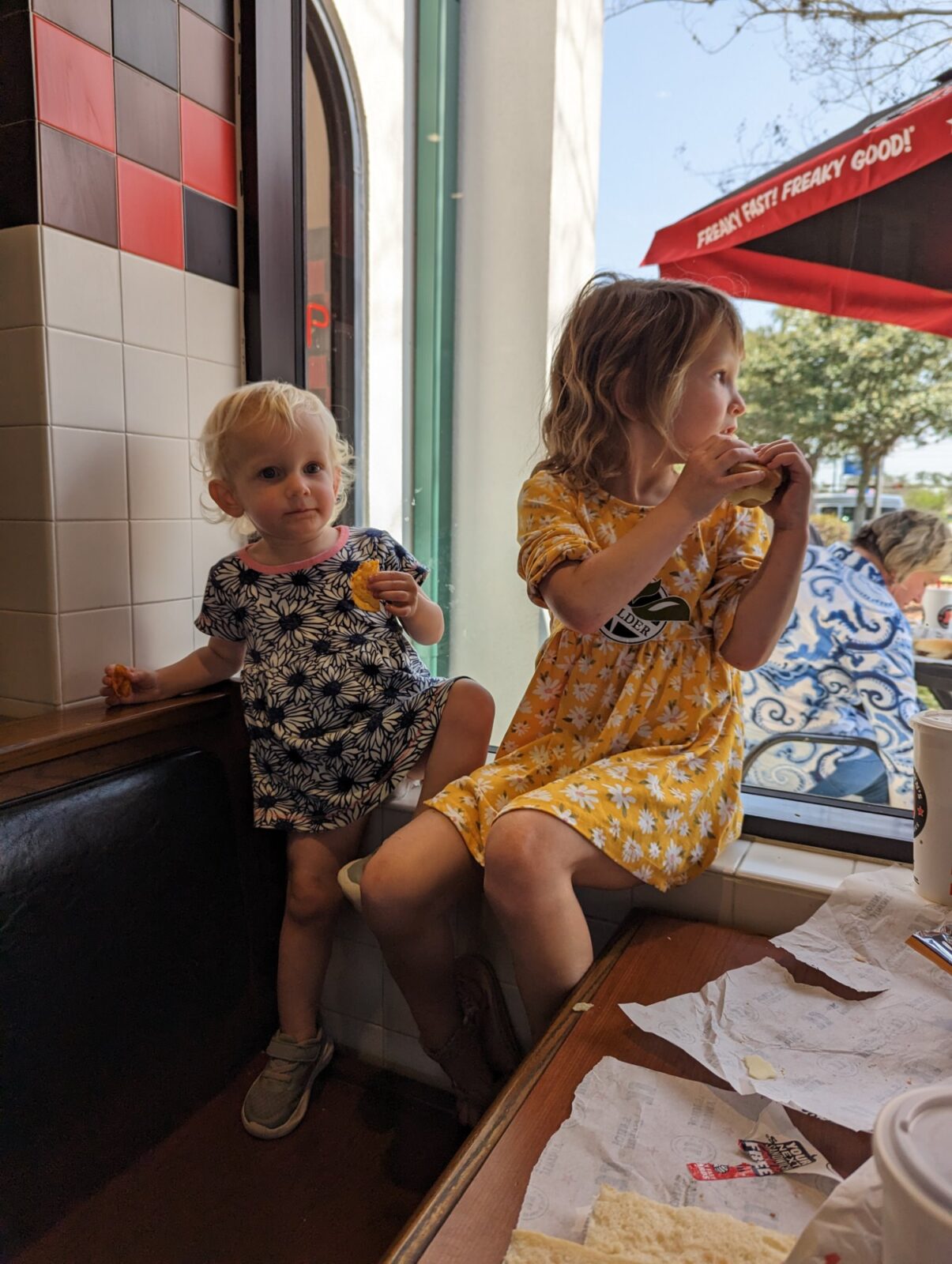 Once we got back home, we fought both girls into nap time (I don't know why they fought so hard), and then Emerson slept for about two hours, and Addison slept for about three hours. I had planned to do some of the chores on our to-do list, but after rocking Addie, I laid down next to Jeff while he was watching TikTok, and accidentally fell asleep. Sooo… none of the chores got done, but I did get some rest.
Emmie and I worked on our puzzle once her and I were both awake, and then we also went through her gigantic pile of stuffed animals, and she was able to pick out 10 stuffies to donate, trying to pare things down a bit. But we still have like, a hundred 😉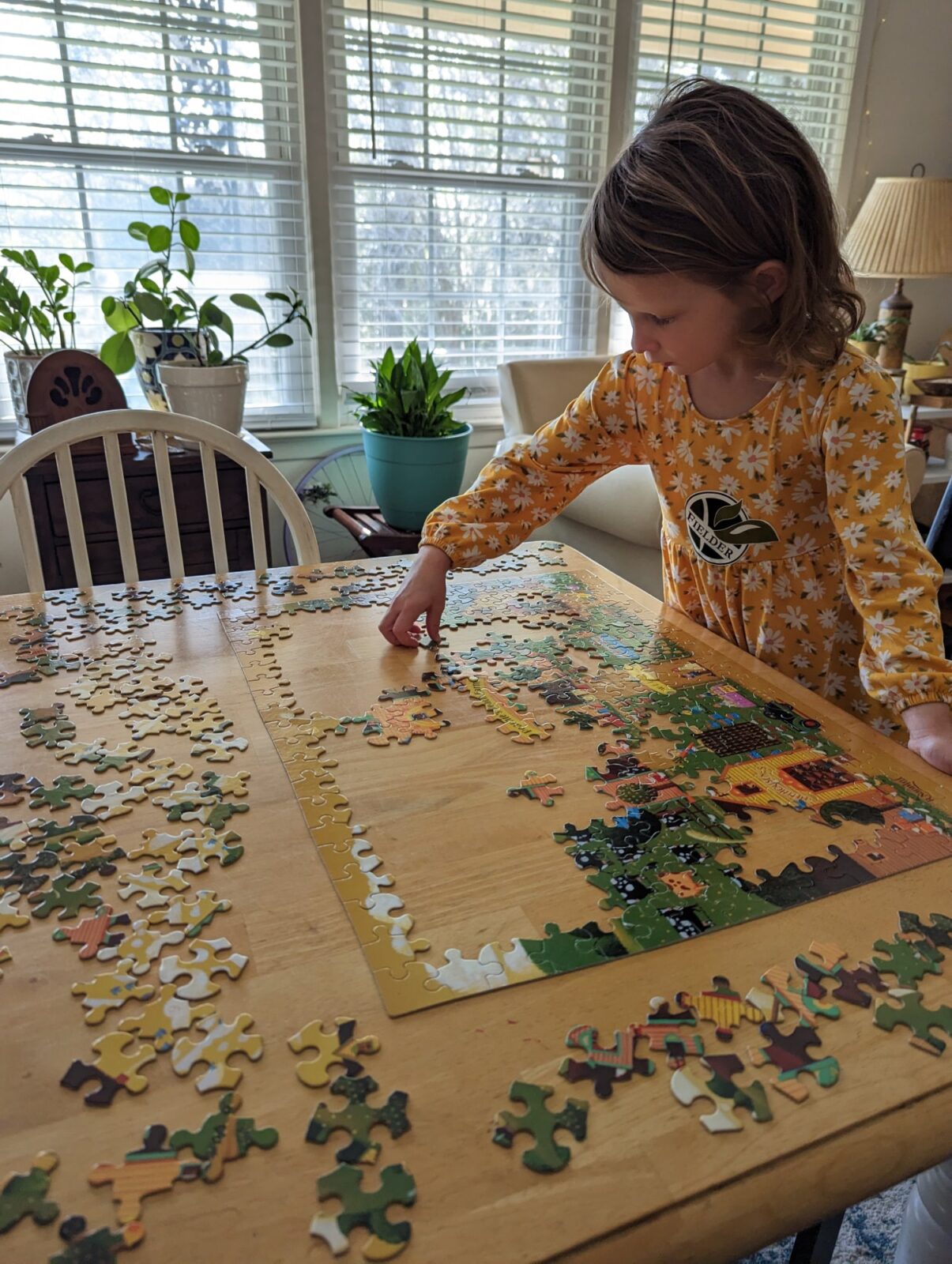 Addison finally started waking up as Emerson and I were finishing up cleaning her room. Jeff was outside working on my car (remember, it was having problems Monday right before he went out of town), and of course the girls had to go out and be all up in things while he was working.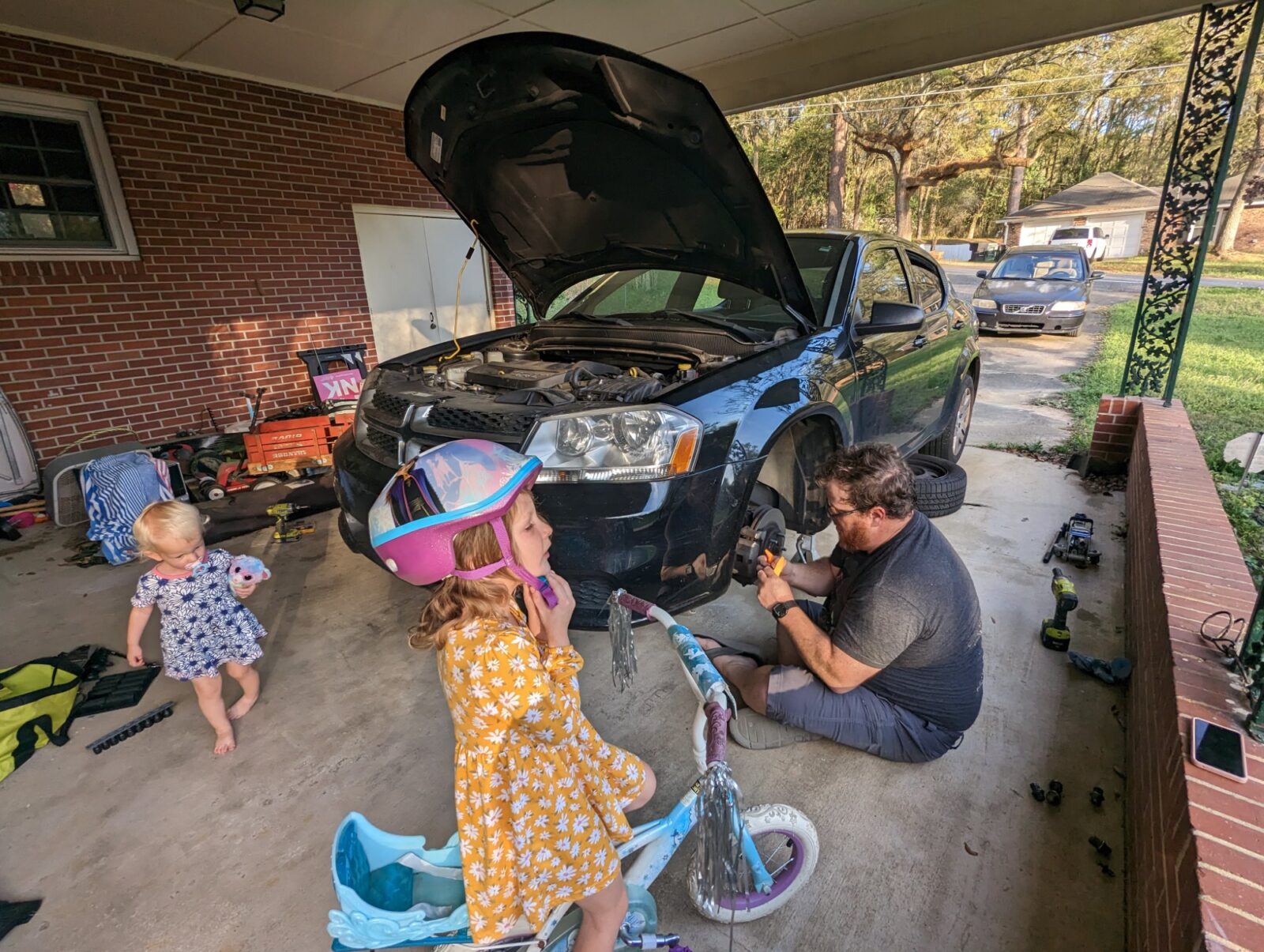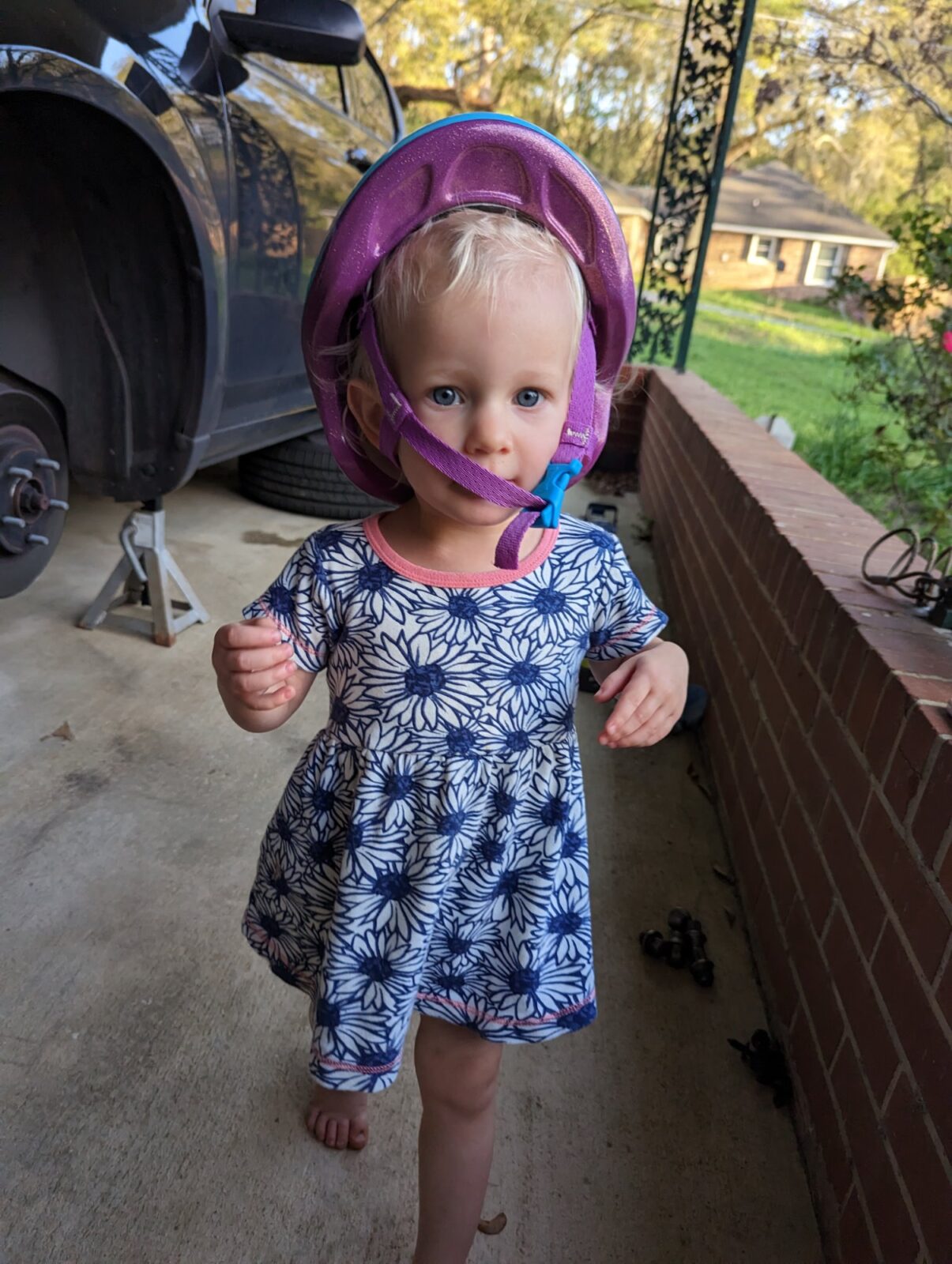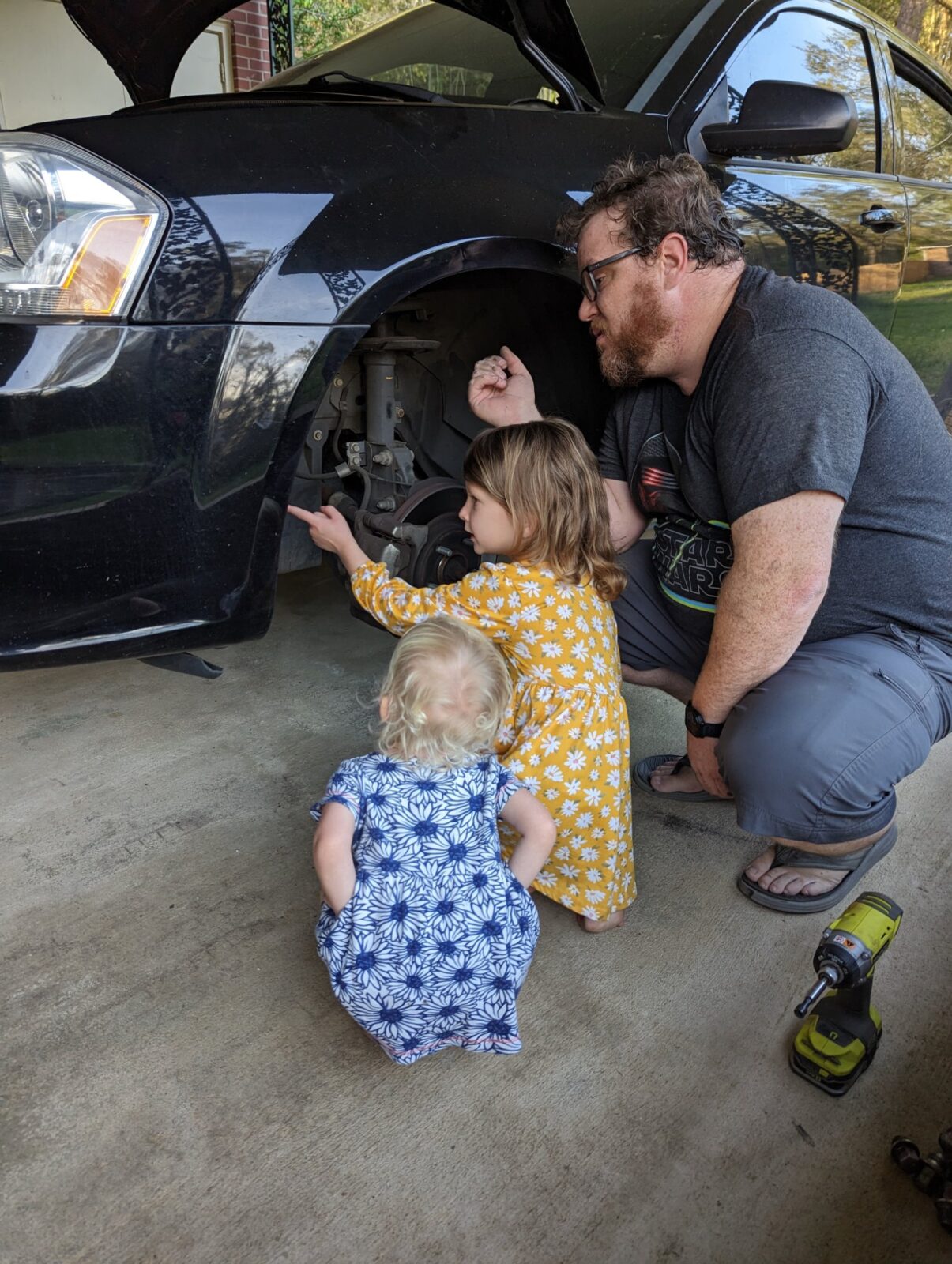 The girls and I decided to run and out and grab dinner really quickly, and left Jeff at home working for a bit. Emmie had been carrying Addie around in the house for about 10 minutes while we got ready and they played, and then she wanted to carry her out to the car too, and geez louise they are so stinking cute.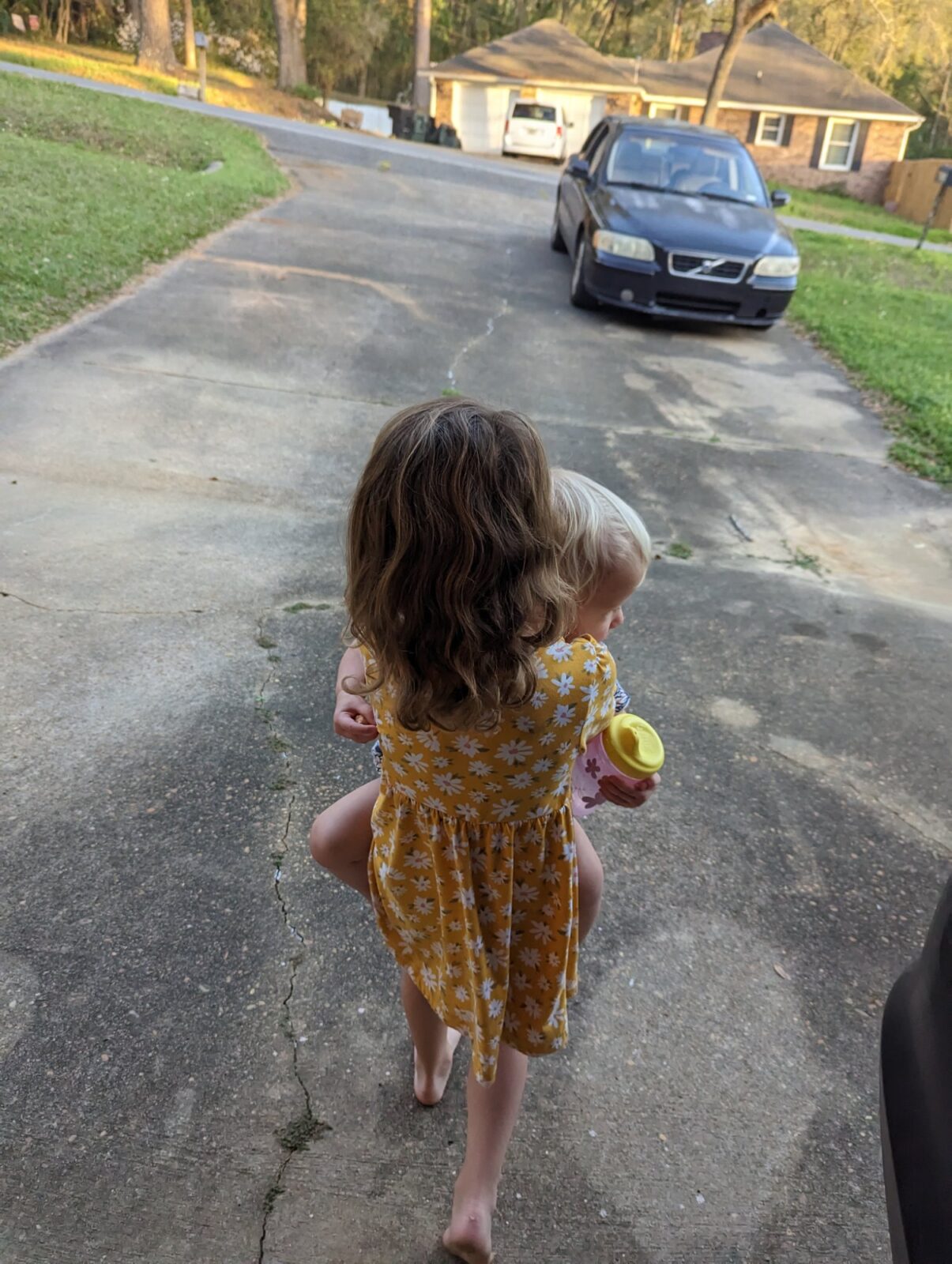 These little barefoot babies are the most precious girls in the world!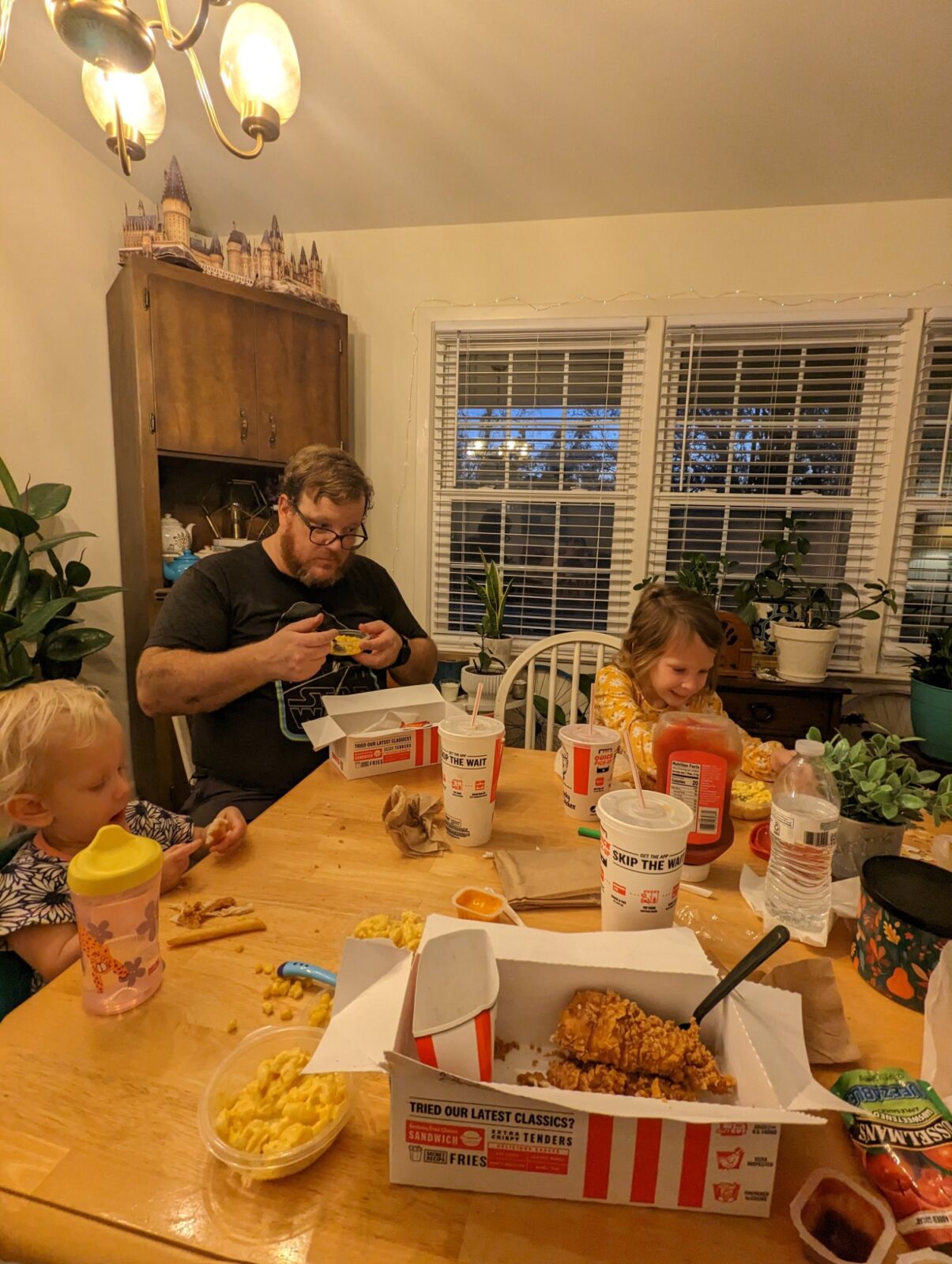 After we ate (and put away a bunch of leftovers because we ordered way too much food), I did the girls' bath time, while Jeff went outside and worked on the car more. He replaced the alternator last fall, around August, so it was still under warranty, so they replaced that for free. He also got a new battery, because the last time we bought a new one was 2019. The girls were fresh and clean and wearing freshly washed jammies, and cuddled up on the couch together for a few minutes to watch Mickey Mouse.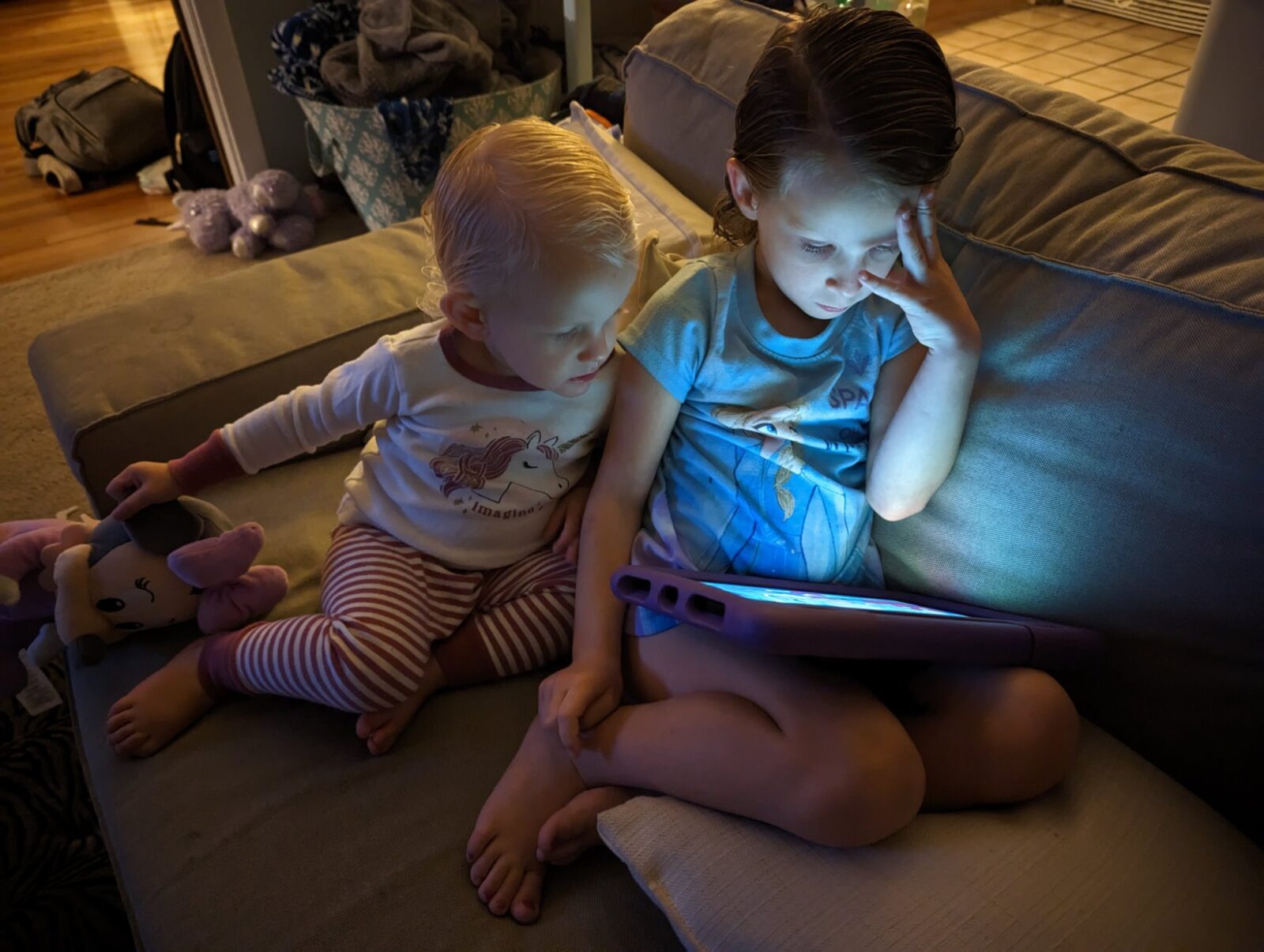 After that, both girls fought us on bedtime and sleep again, but after about an hour, both of them finally gave up and I was able to lay them both down. Jeff was steady working on the car, and I went out after I got the girls down, so I could sit on the ground next to him, holding a flashlight up in there while he worked. He stayed out there until about 10:15pm, but he got it running again. Tomorrow, he'll have to actually put the tires/wheels/fender thingy back on, and then hopefully I'll be able to drive my own car again by Monday.
Since today ended up being pretty unproductive (well, we did about 3.5 things out of the 15-ish on the to-do list), we'll definitely be working on that stuff more tomorrow.