So long story short, it took forever to upload all my photos to my website tonight, and it's getting late, and I'm tired of sitting at the computer, so I'm gonna wrap this up quickly…
Baby chickpea slept so good last night, from about 8am – 6:30am, when we finally unwrapped her and woke her up, just to ensure we'd have time to feed her before having to leave for school.
Today was wacky hair day at school, and the girls were wearing matching strawberry outfits, which I loved on both of them.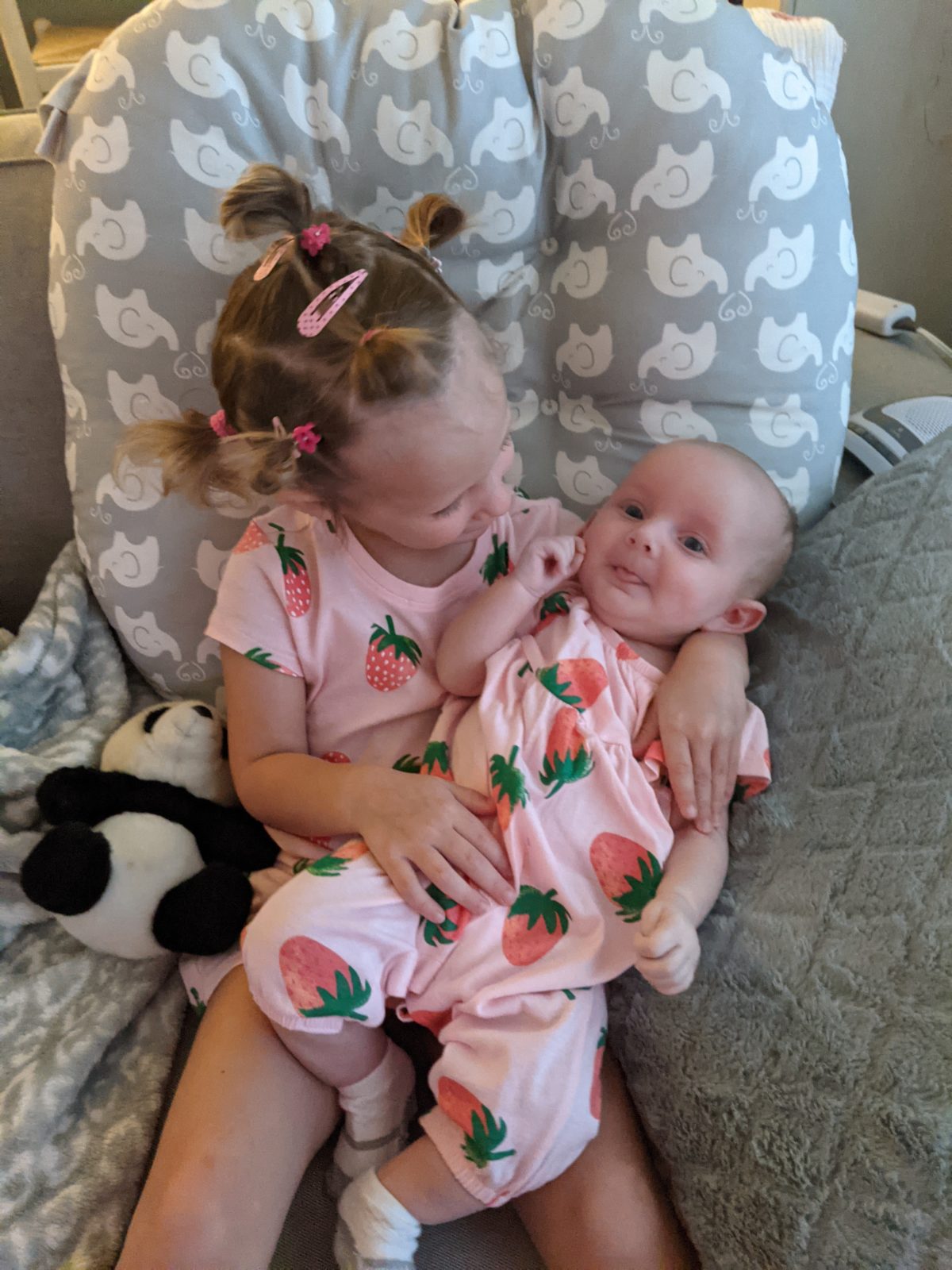 Emmie was trying to do the same little face and hand motion as Addie.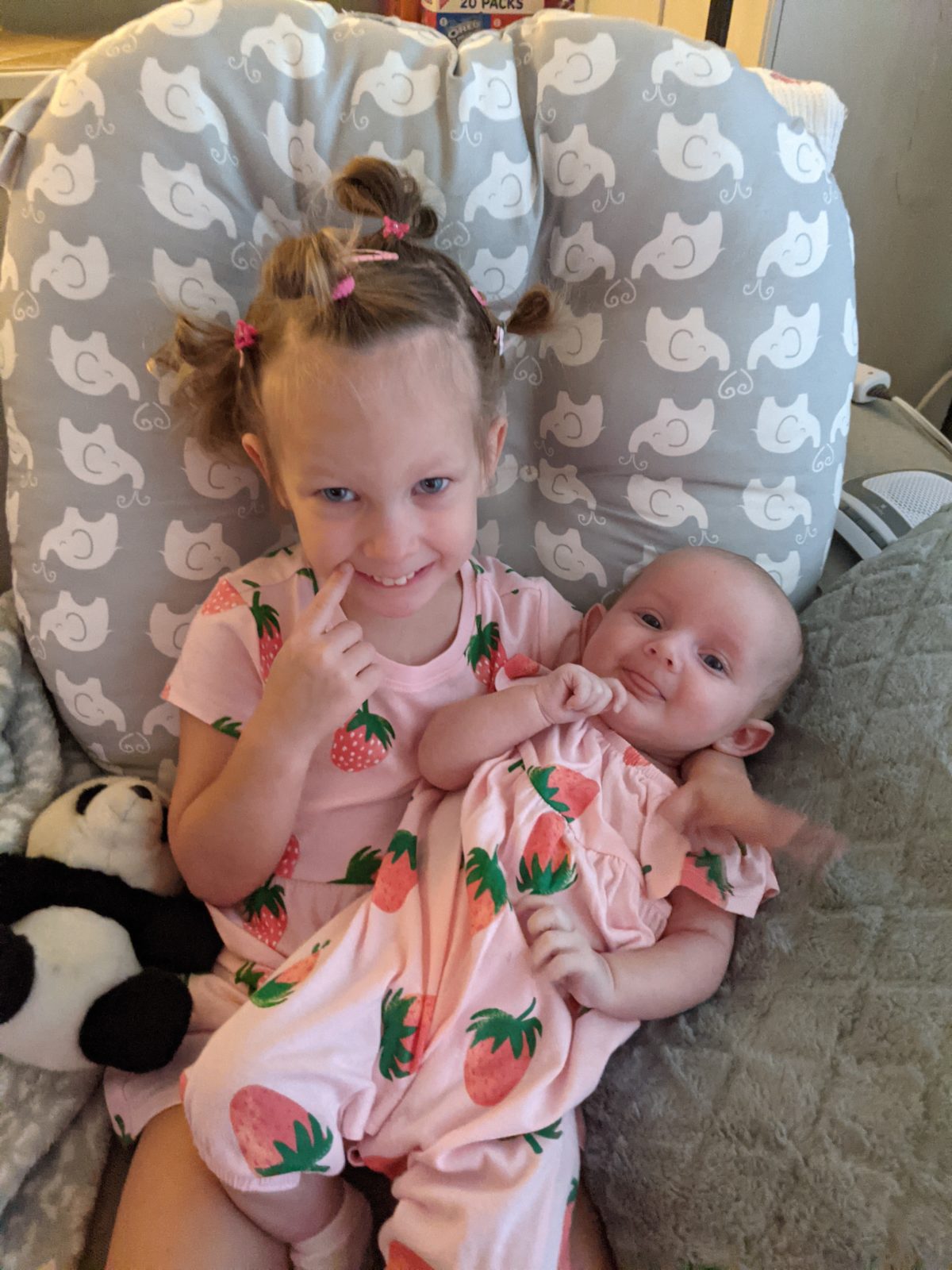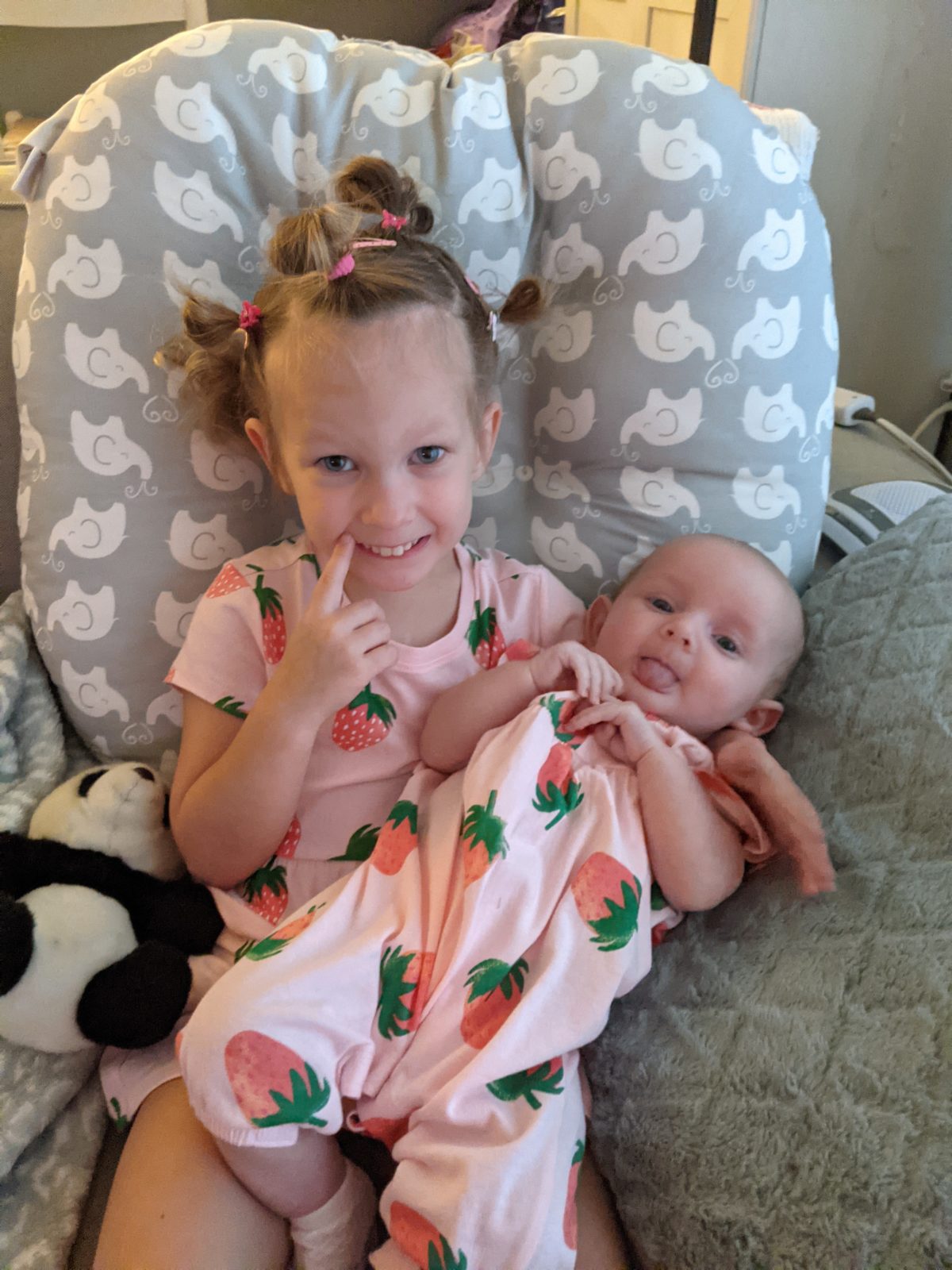 She got some new jelly shoes at Walmart over the weekend, and wore them today. She said on the way there, "I hope Ms. Cole knows who I am since I have on shoes like Olivia." I said, "Yeah, I think she will, plus, she can look at your face to know if you're Emerson or Olivia." And she said, "Or my hair!"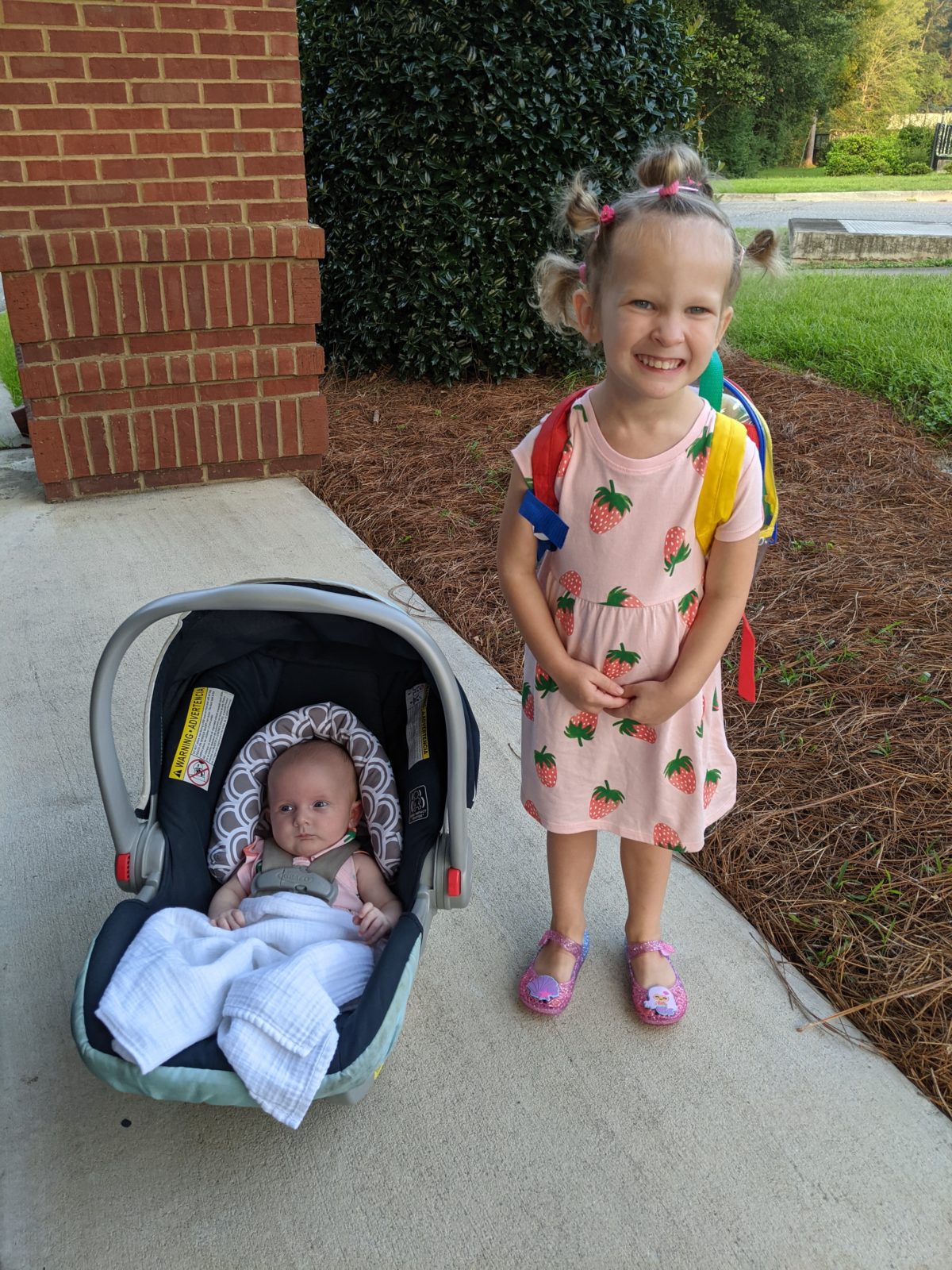 I basically just put in as many tiny space buns as possible, and as many pink barrettes and hair clips as I could find. And I think it turned out pretty cute and definitely wacky!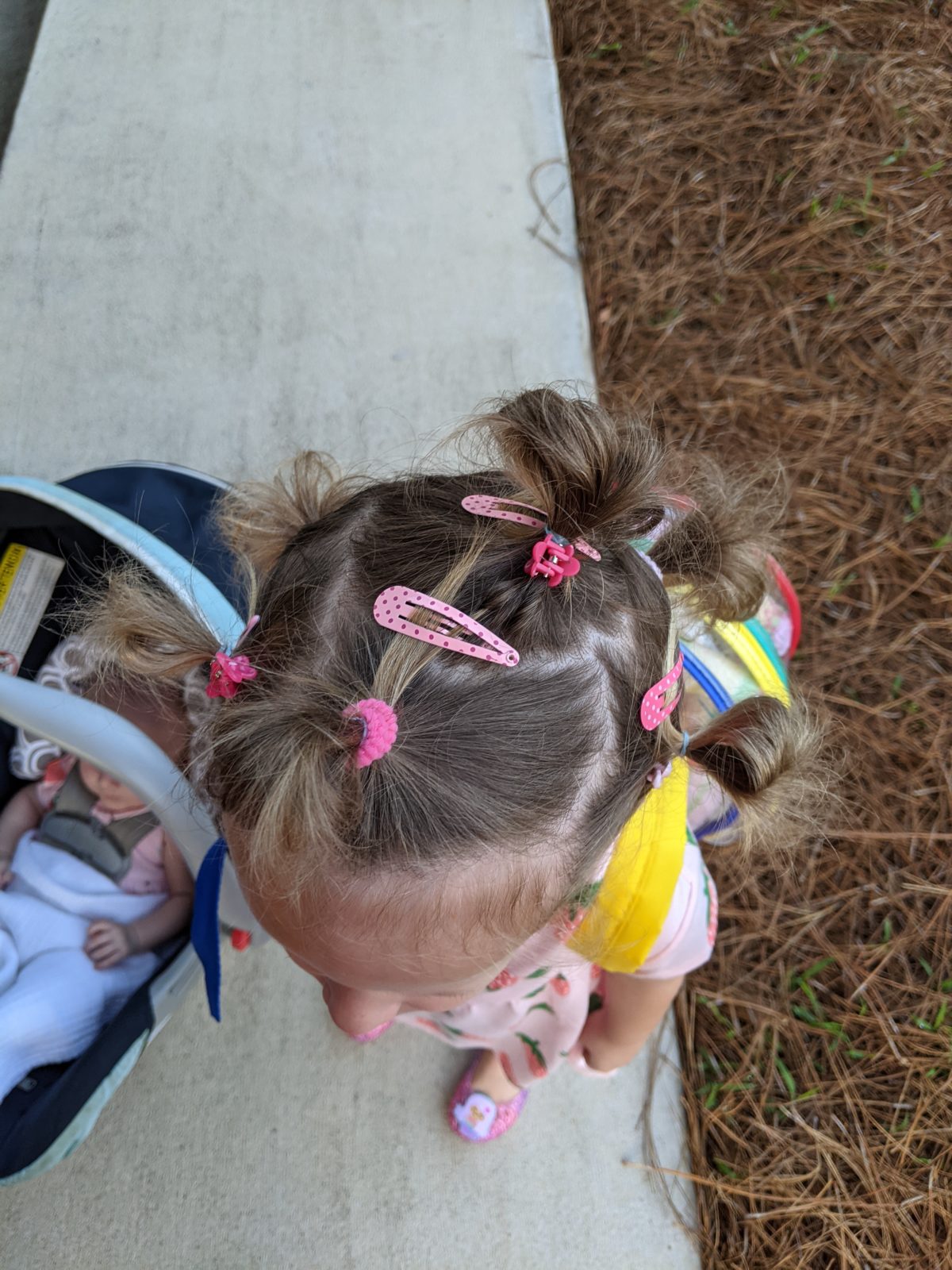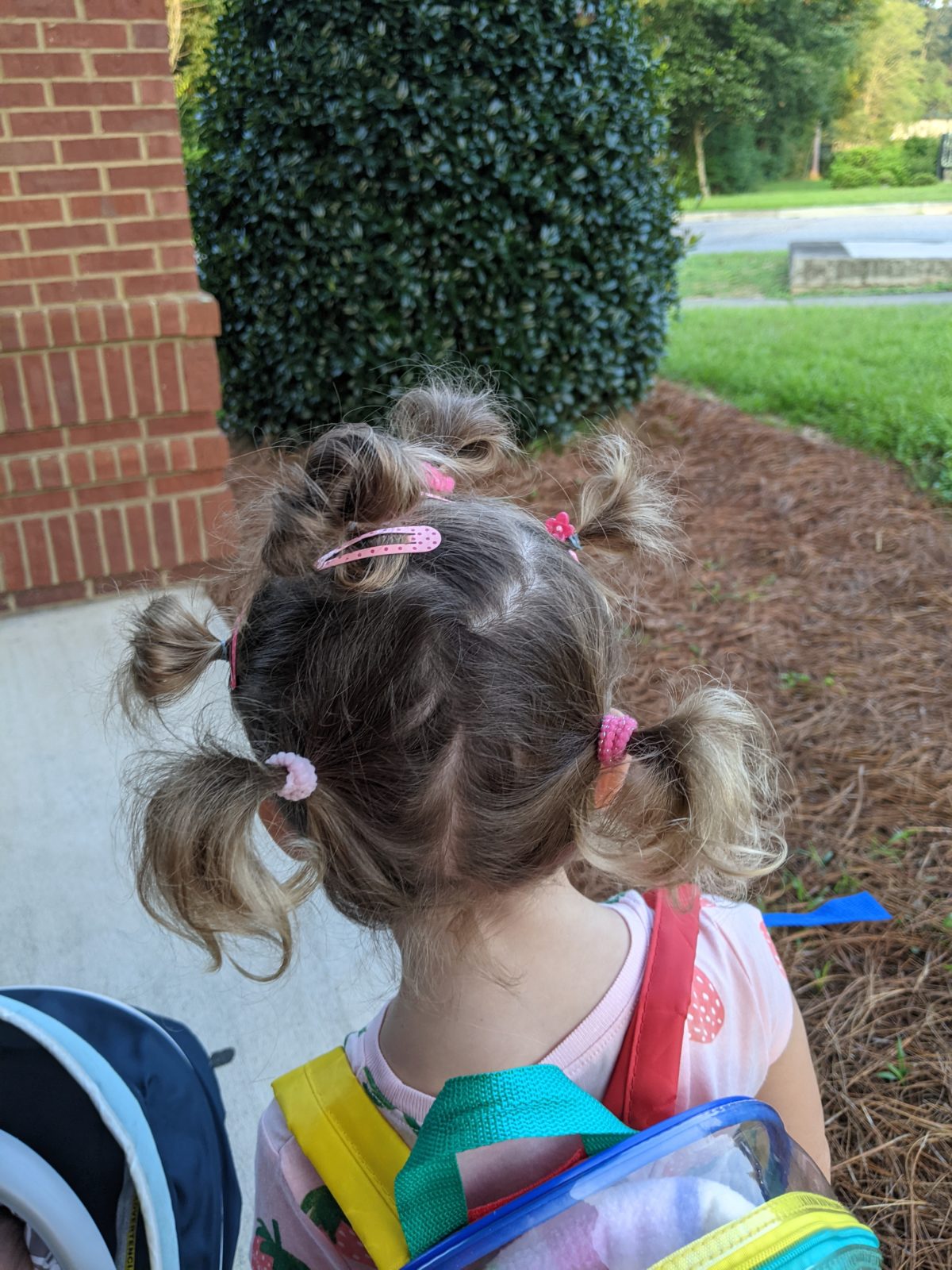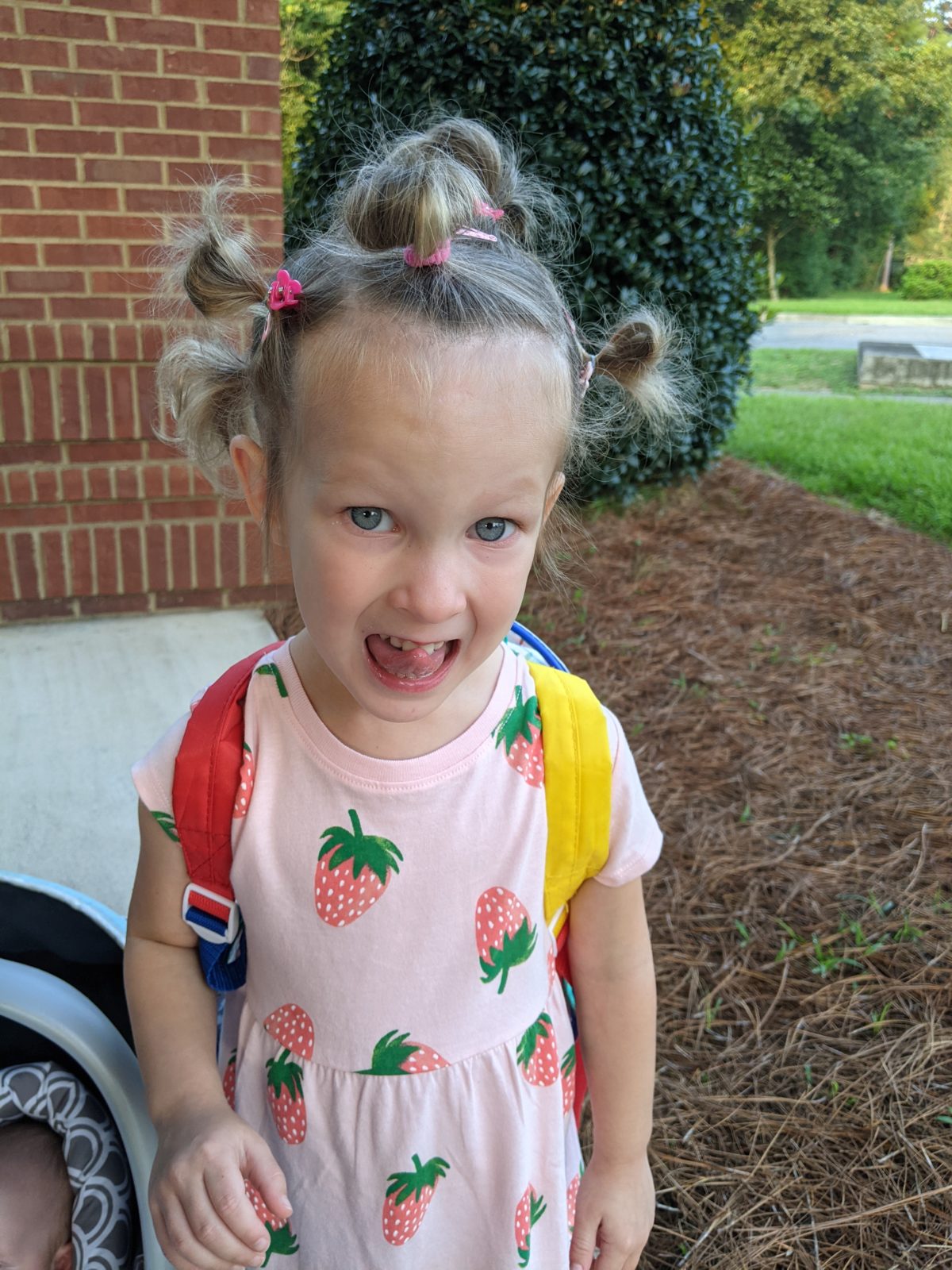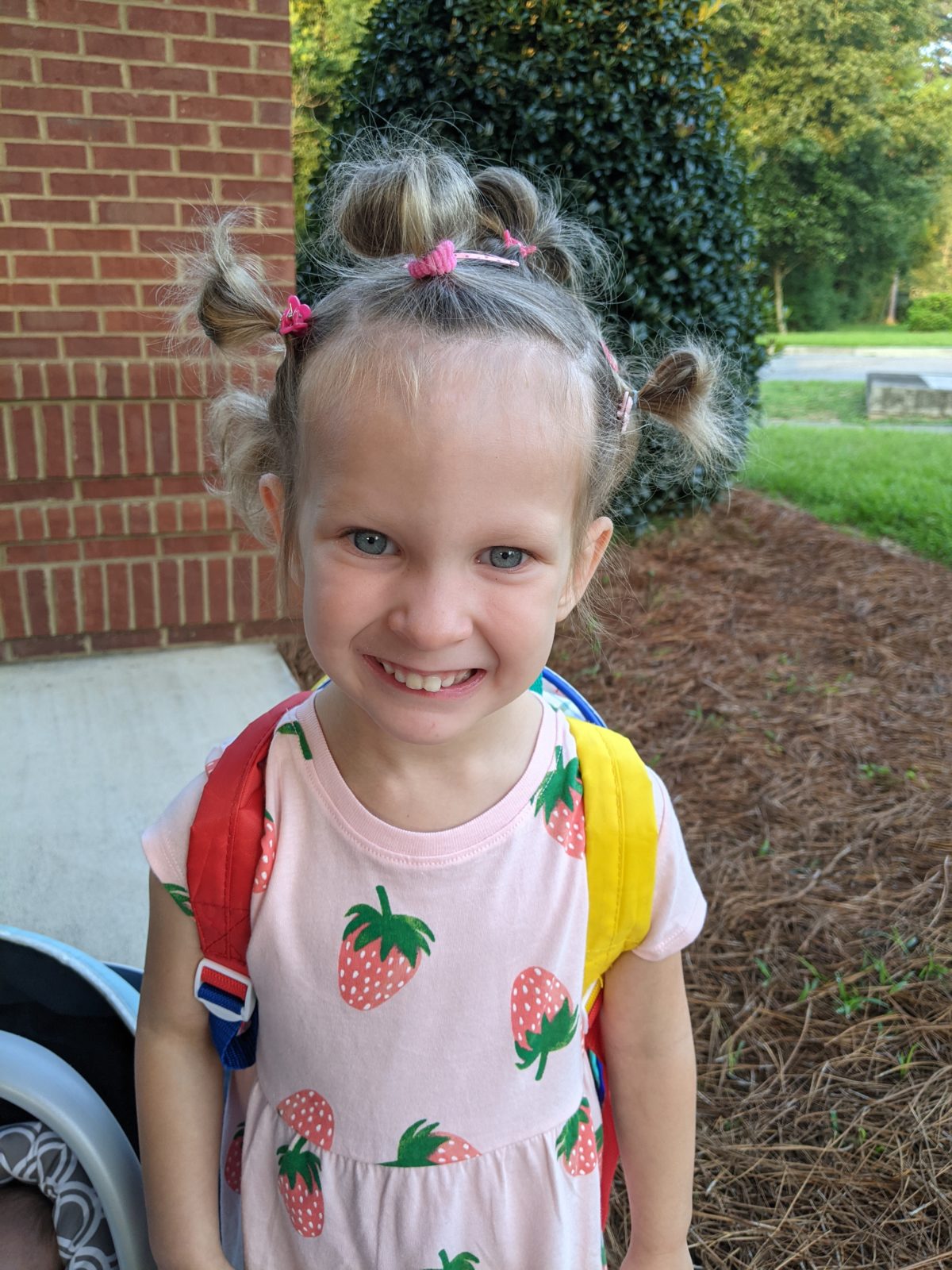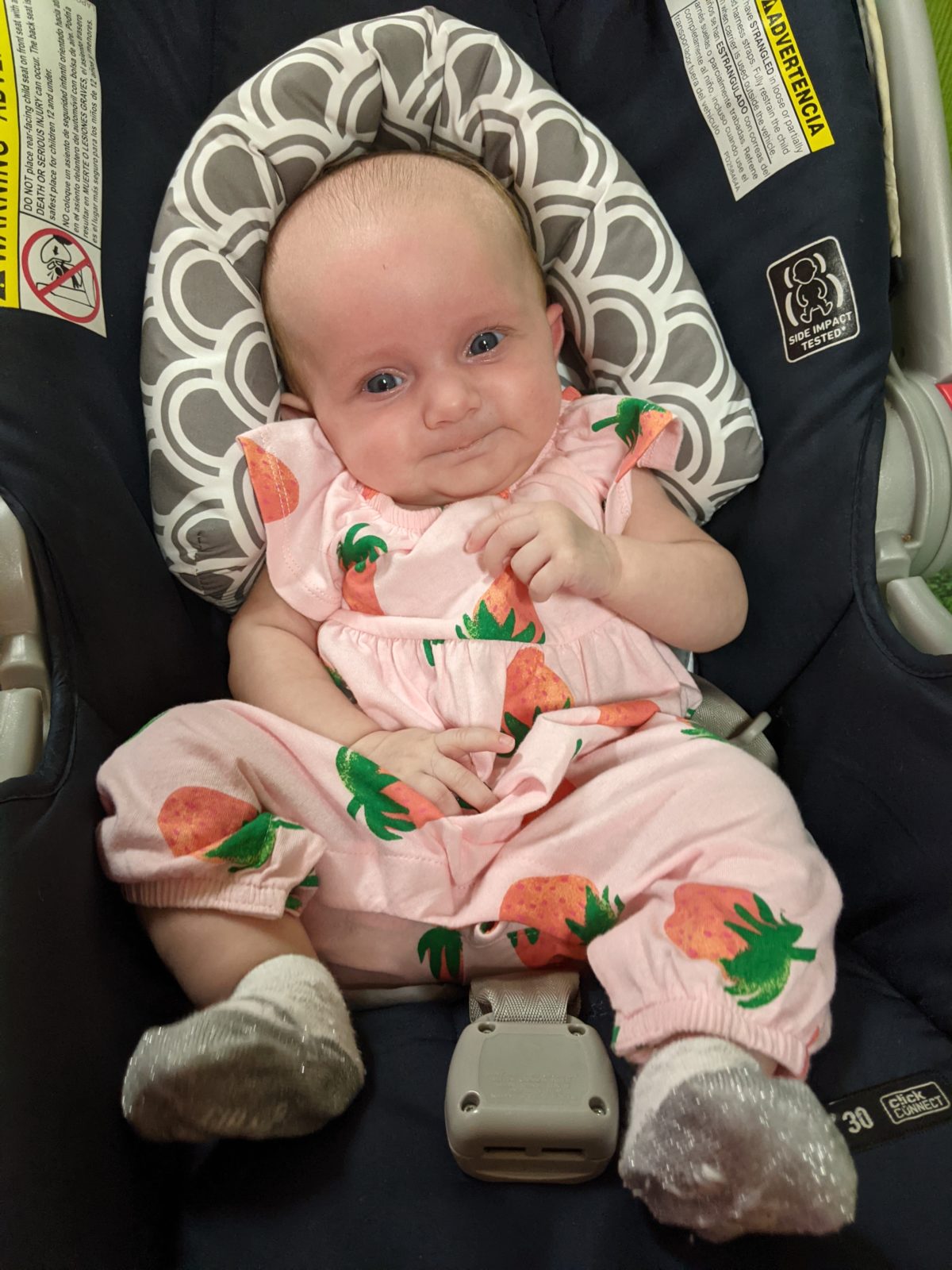 Addie smiles more at Emmie than at anyone else, and I love that.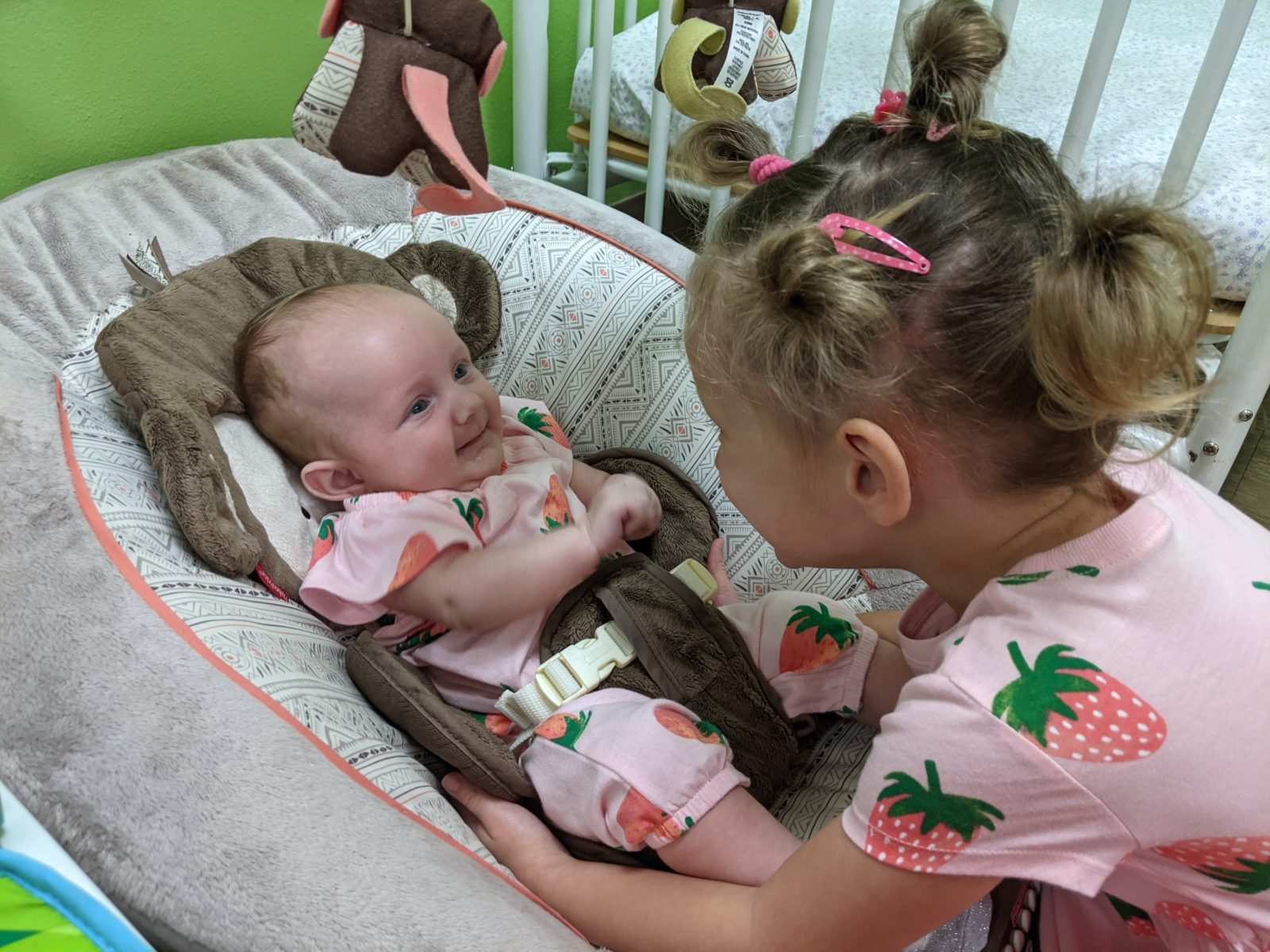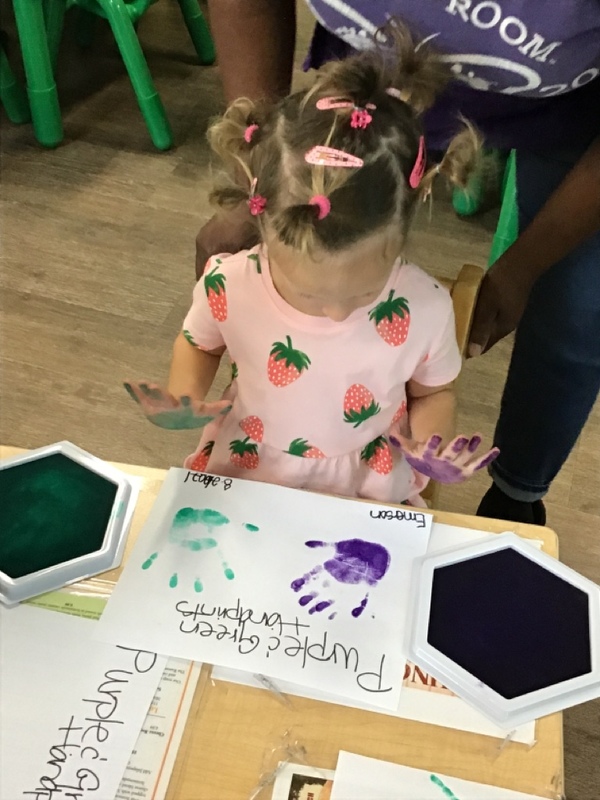 On my lunch break, I ran to Marshall's to get some three-month-late teacher appreciation presents. It was actually the same week that Addison was born, so I had a little bit going on that week, and didn't get any presents for Emerson's teacher. So this is her last week with Ms. Nicole, so we're getting her a "going away" present this week. I also got a few things for myself while I was there, like a new notepad and faux plant for my office 😉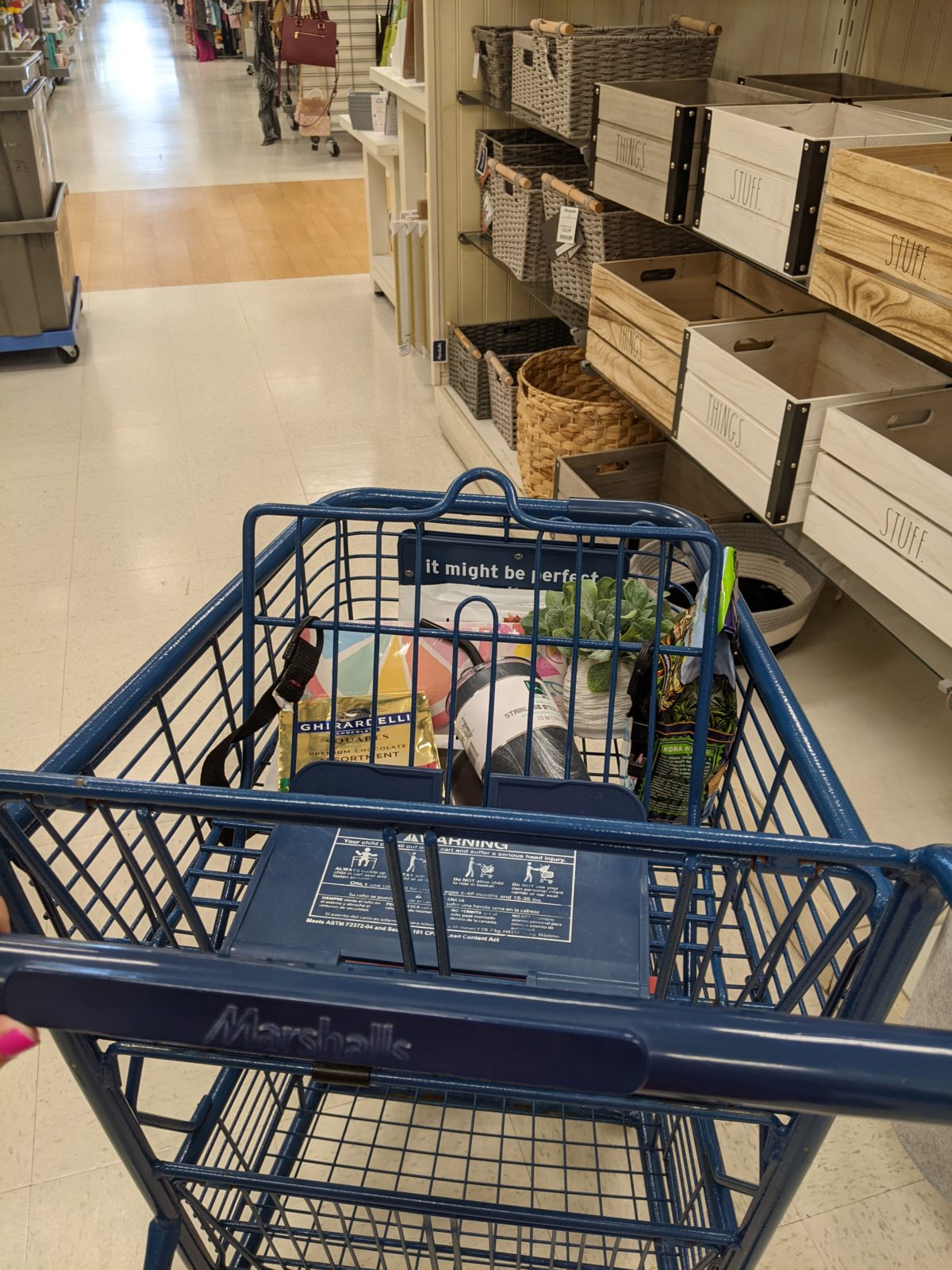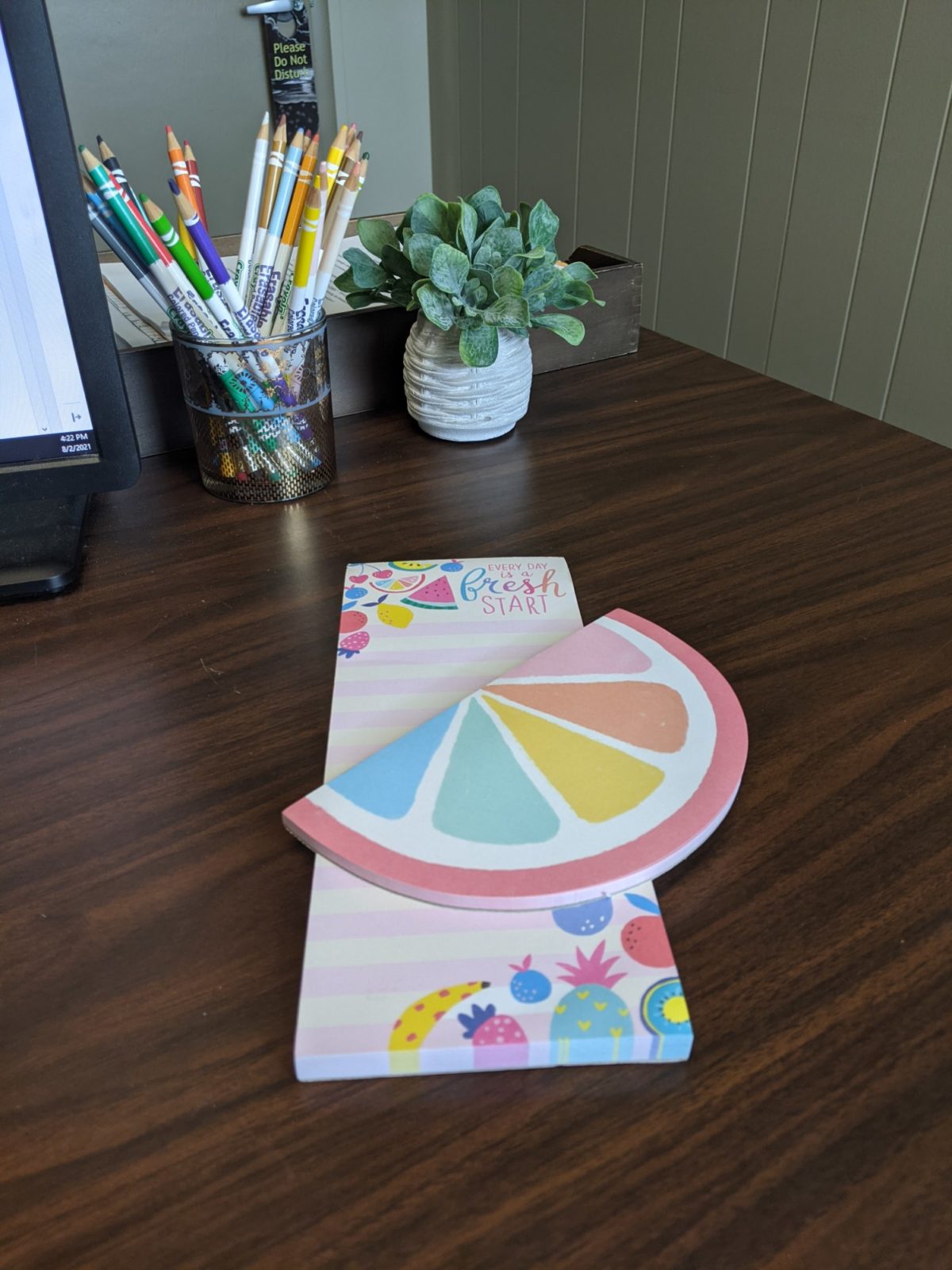 I love this little corner of our home…. My grandparents' record player from the 1970's that I inherited, an old record cabinet I found with my dad at a garage sale for $5 (that my MIL helped me chalk paint blue while I was pregnant) that holds some of my Granddaddy's Perry Como records, a framed photo my Mama gave me as a gift of my Grandmother making my favorite angel biscuits, a new wicker lamp that goes with the '70's/boho vibes, a fake rubber plant I love, and a thrifted Sound of Music record my 4-year old knows most of the words to. We've now lived in this house for 5 years, and I love the cozy home we've made. And not pictured, is a China cabinet in the other corner behind me, that was also my Grandparents', full of thrifted & gift tea pots, that my Granddaddy himself designed for my Grandmother 50+ years ago.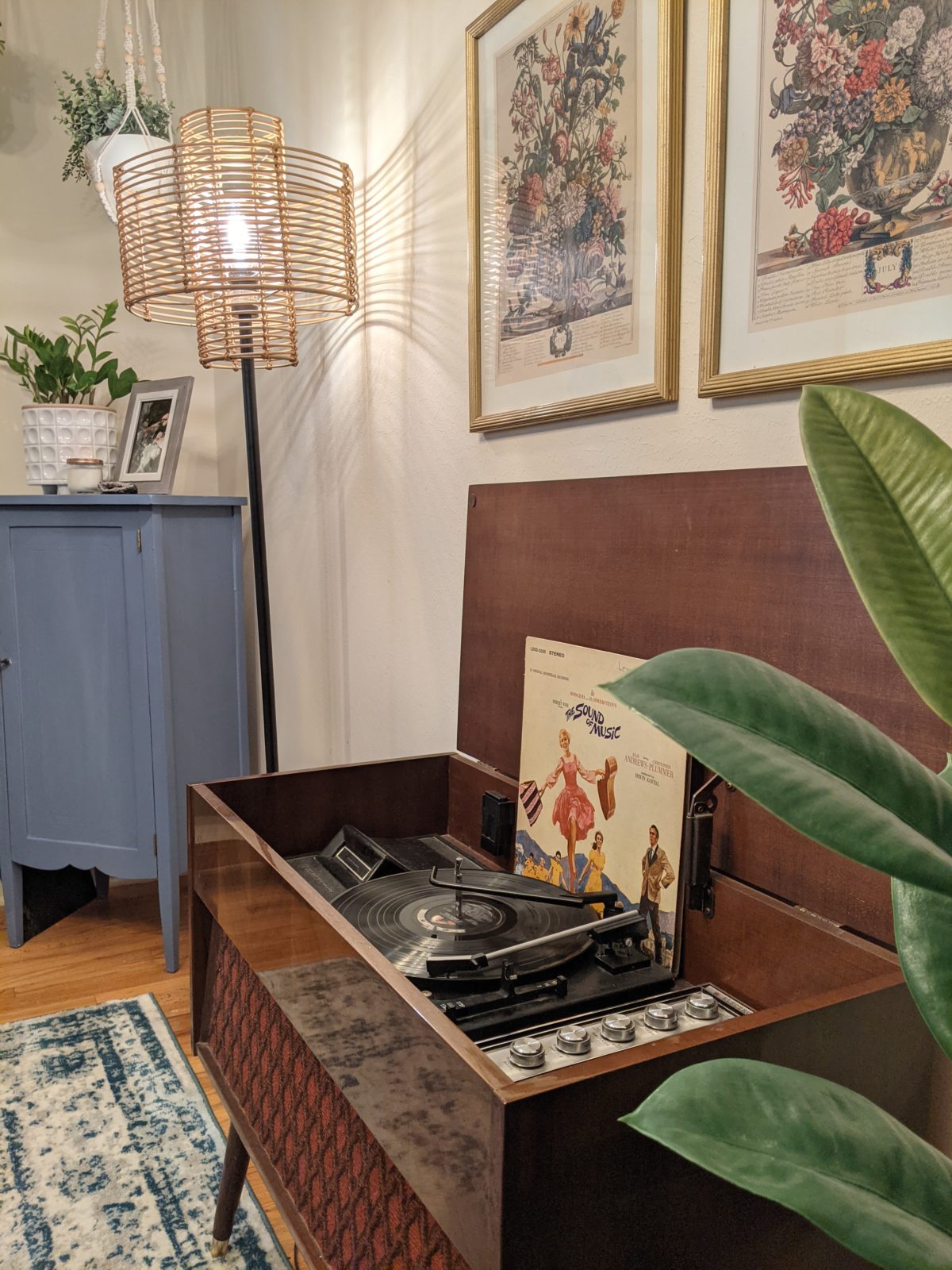 We had spaghetti and salad tonight (but with rotini noodles, not spaghetti), and it was delicious. Emmie just had butter noodles with Parmesan cheese, but she ate every single noodle! While she was eating, she was like, "If you just had a lot, a LOT of cheese covering all the noodles and you couldn't even see 'em, that would be really good." I said, "Uh yeah, that's called macaroni and cheese, kiddo." She said, "HUH?" And I said, "Cheese noodles goofball!" And then it was like a lightbulb clicked, and she was like, "Ohhh yeahhhh!"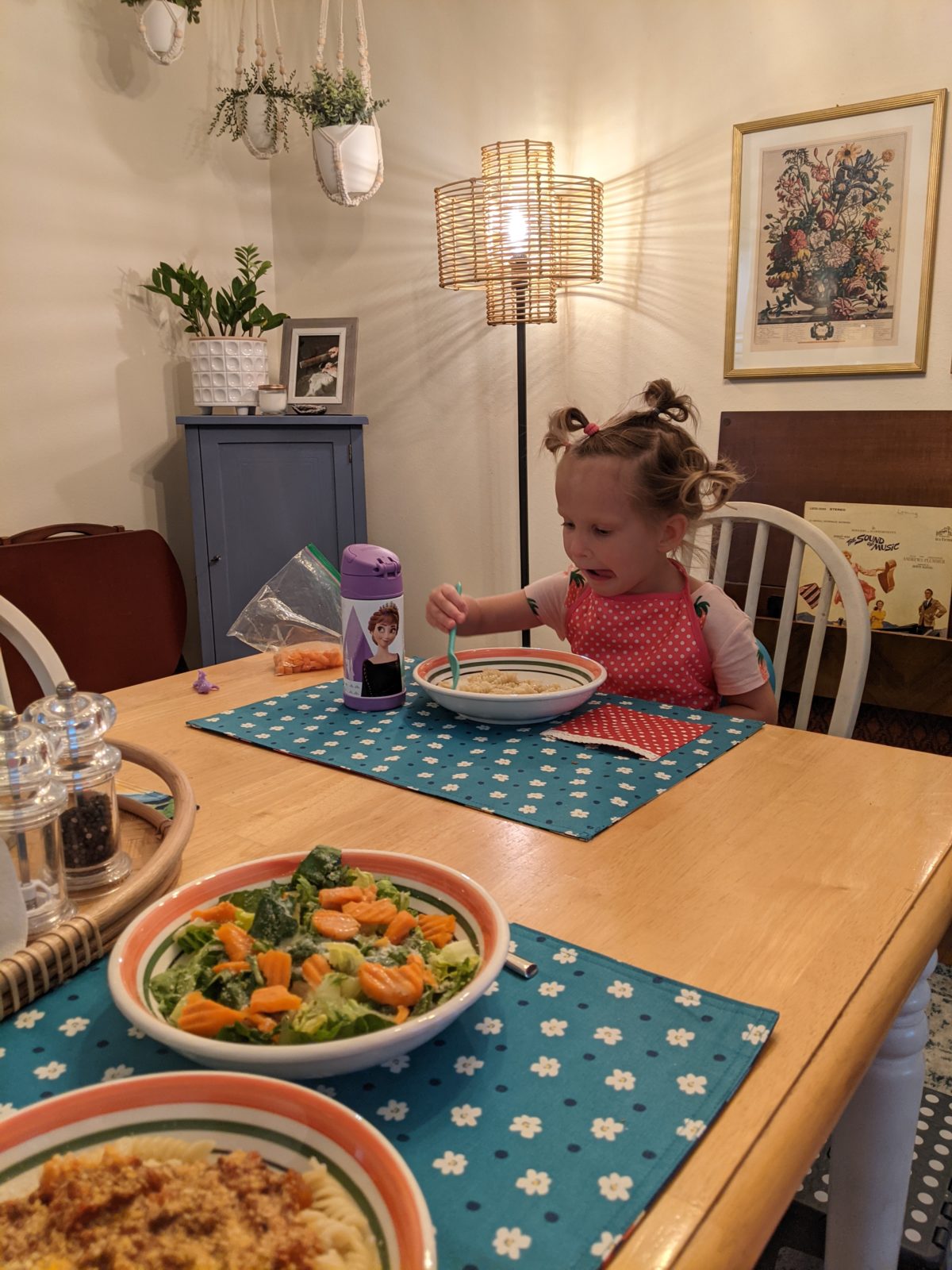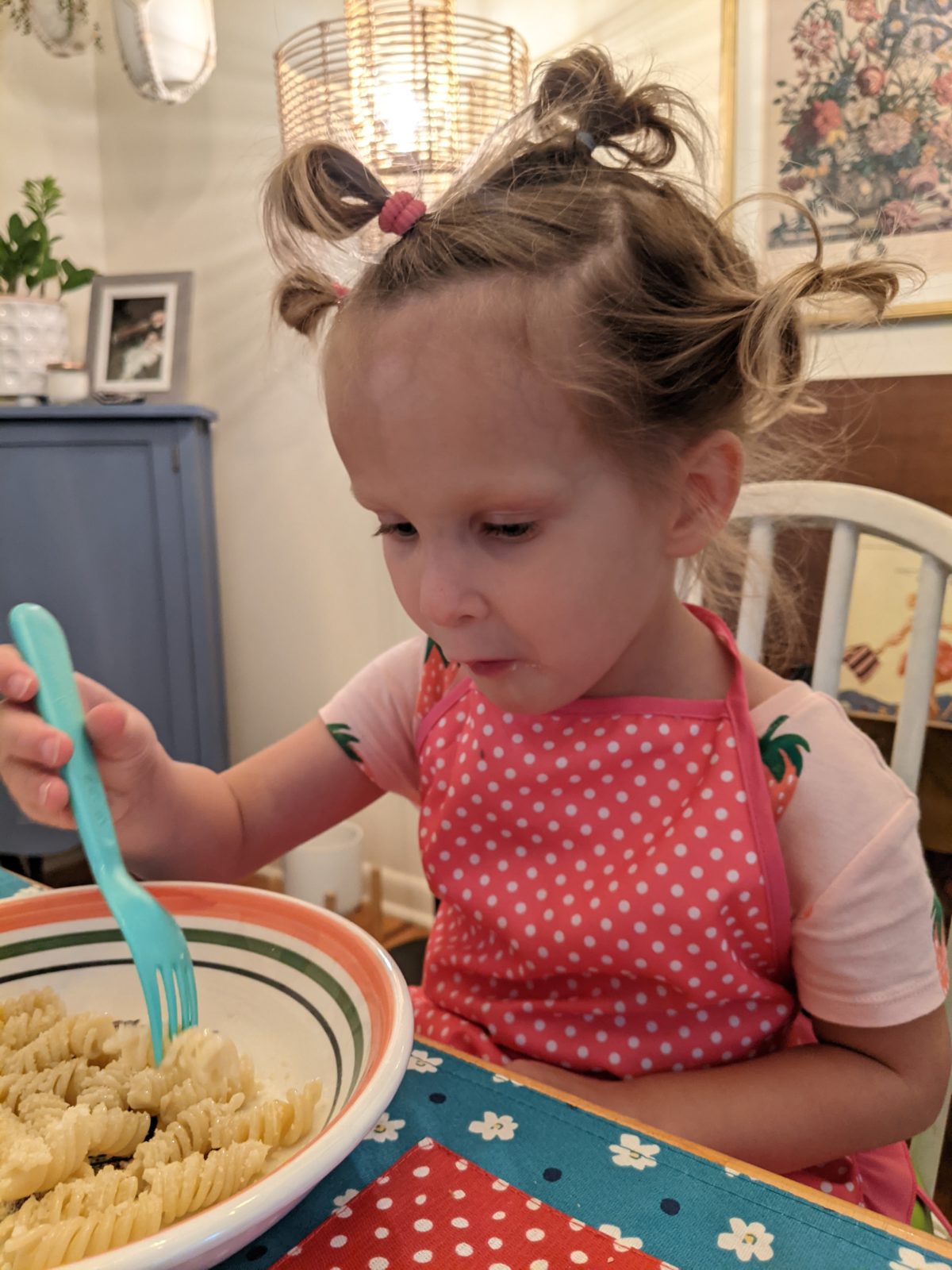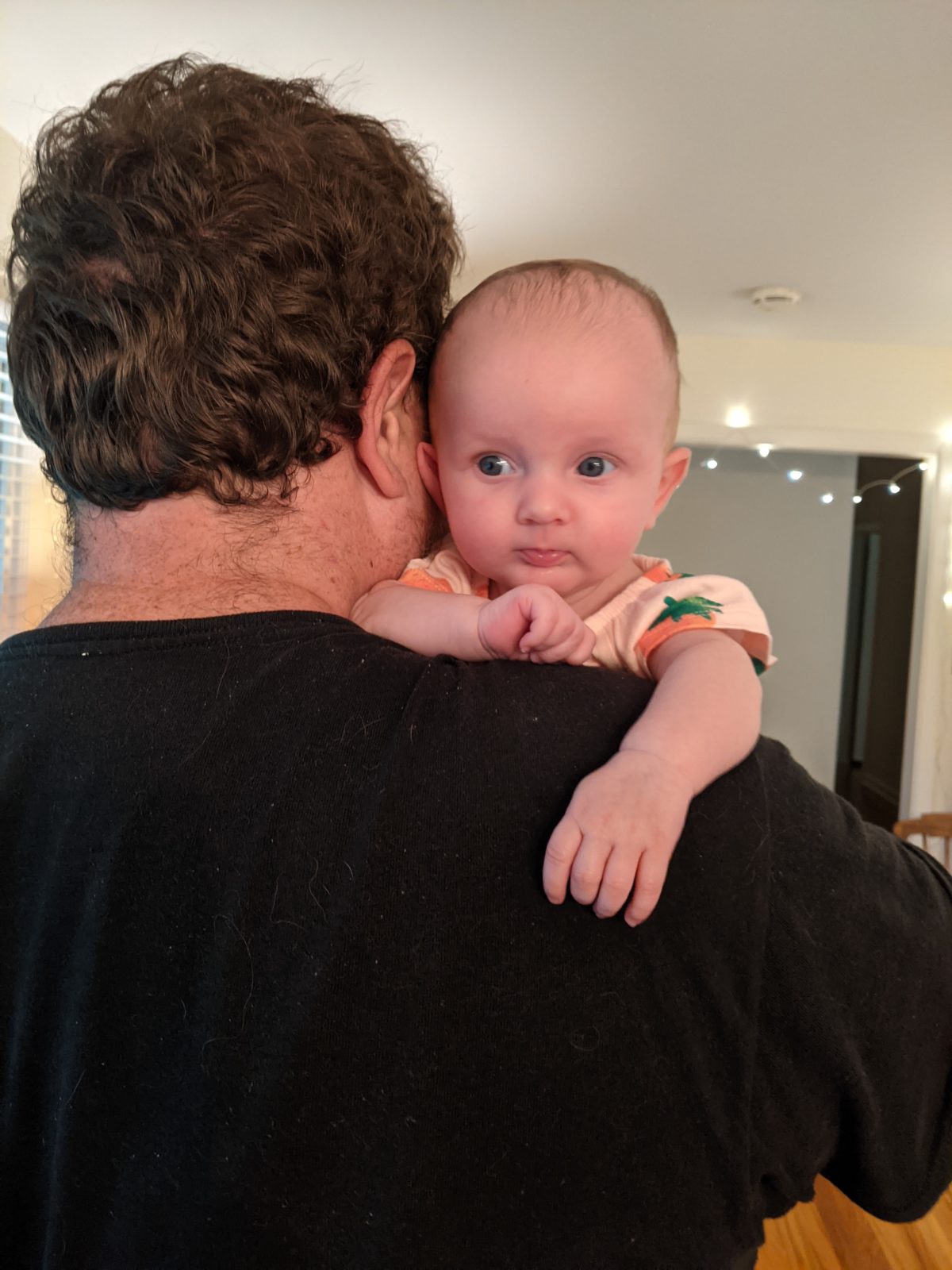 Very proud of her last bite, and very proud to be in the clean bowl club tonight.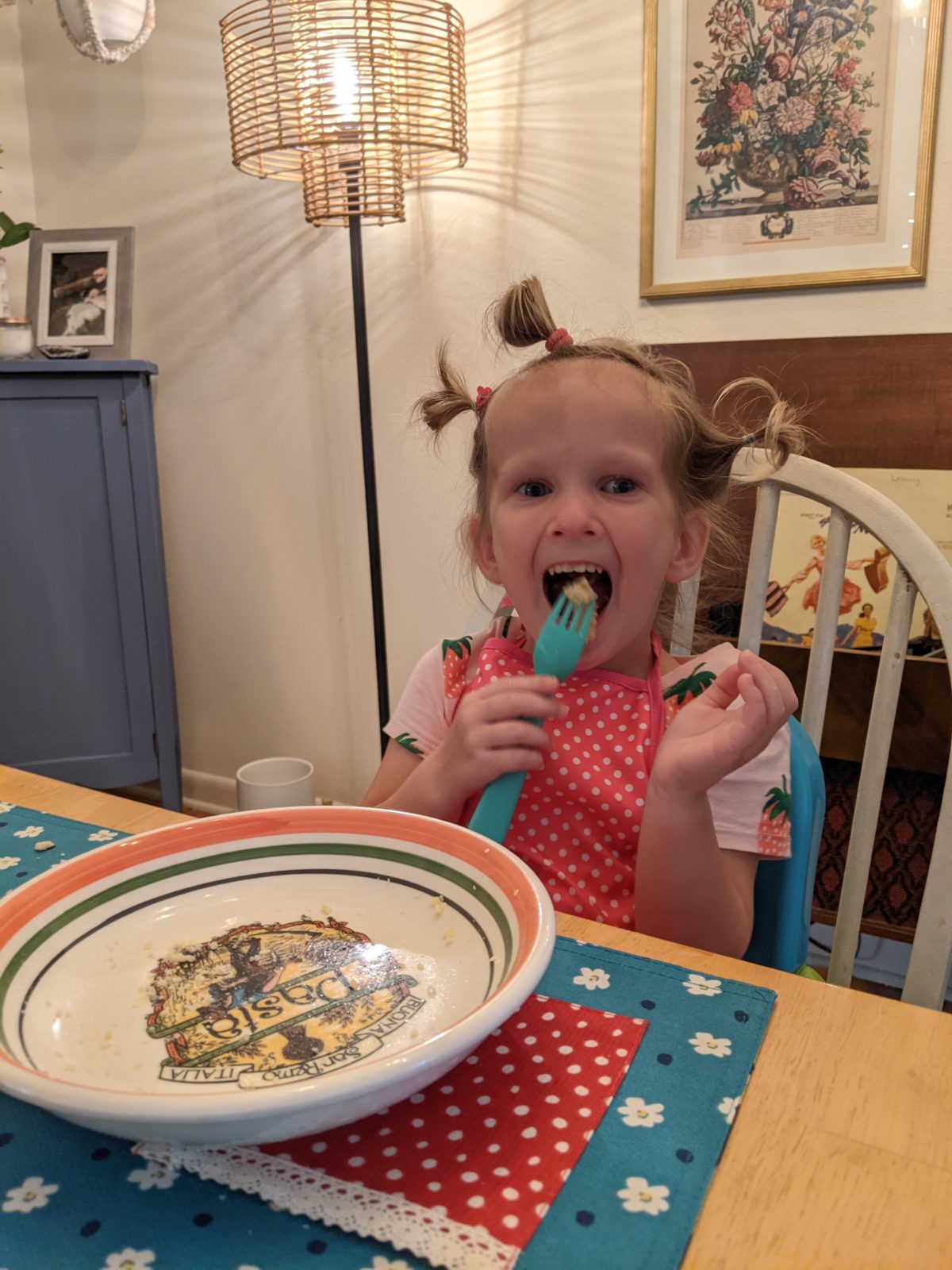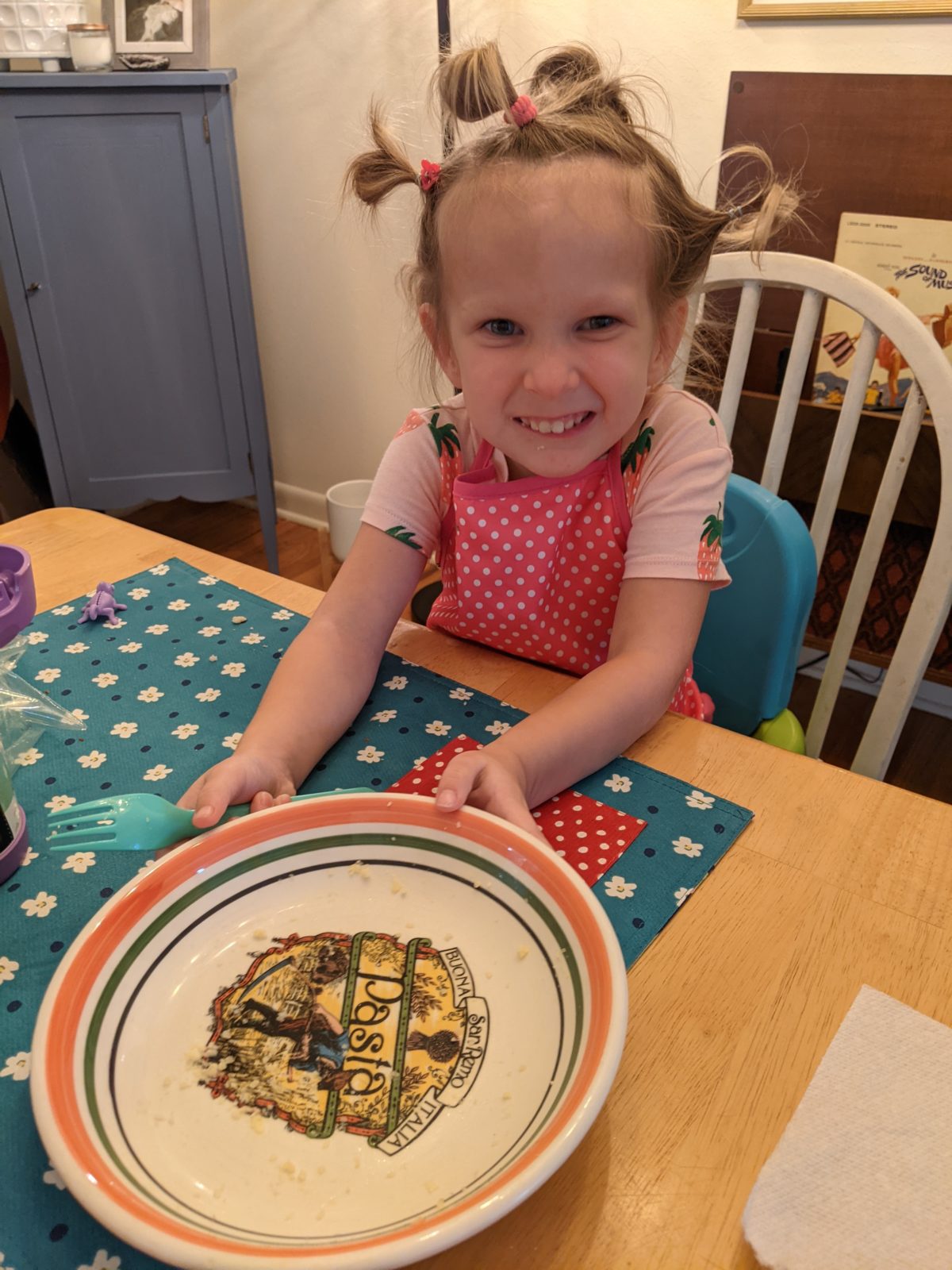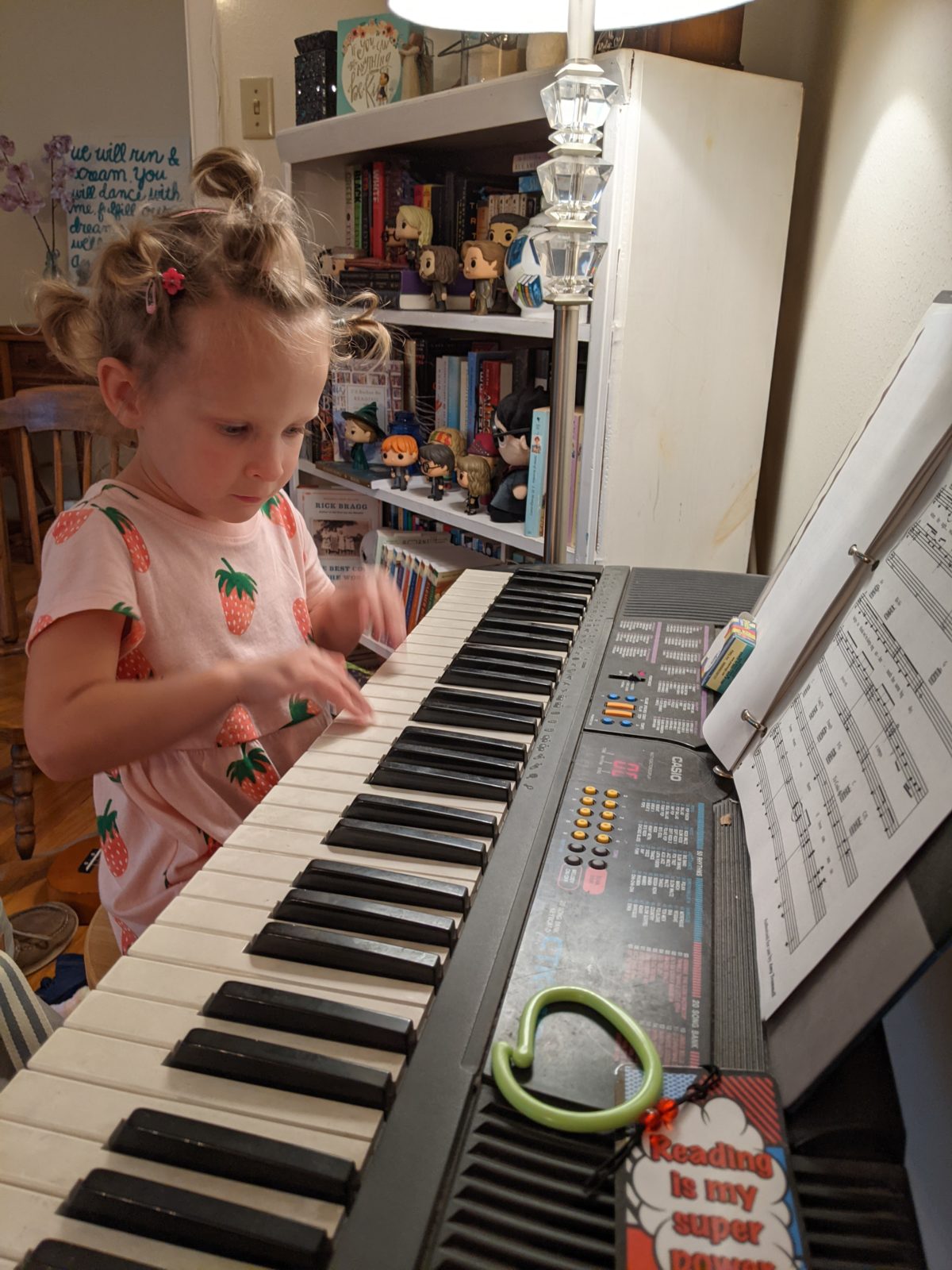 She found a little tub of cotton candy (that I'm sure came from Grammy at some point), so I let her eat some of it, but only about 1/4 of it, so she didn't get too loaded down with sugar.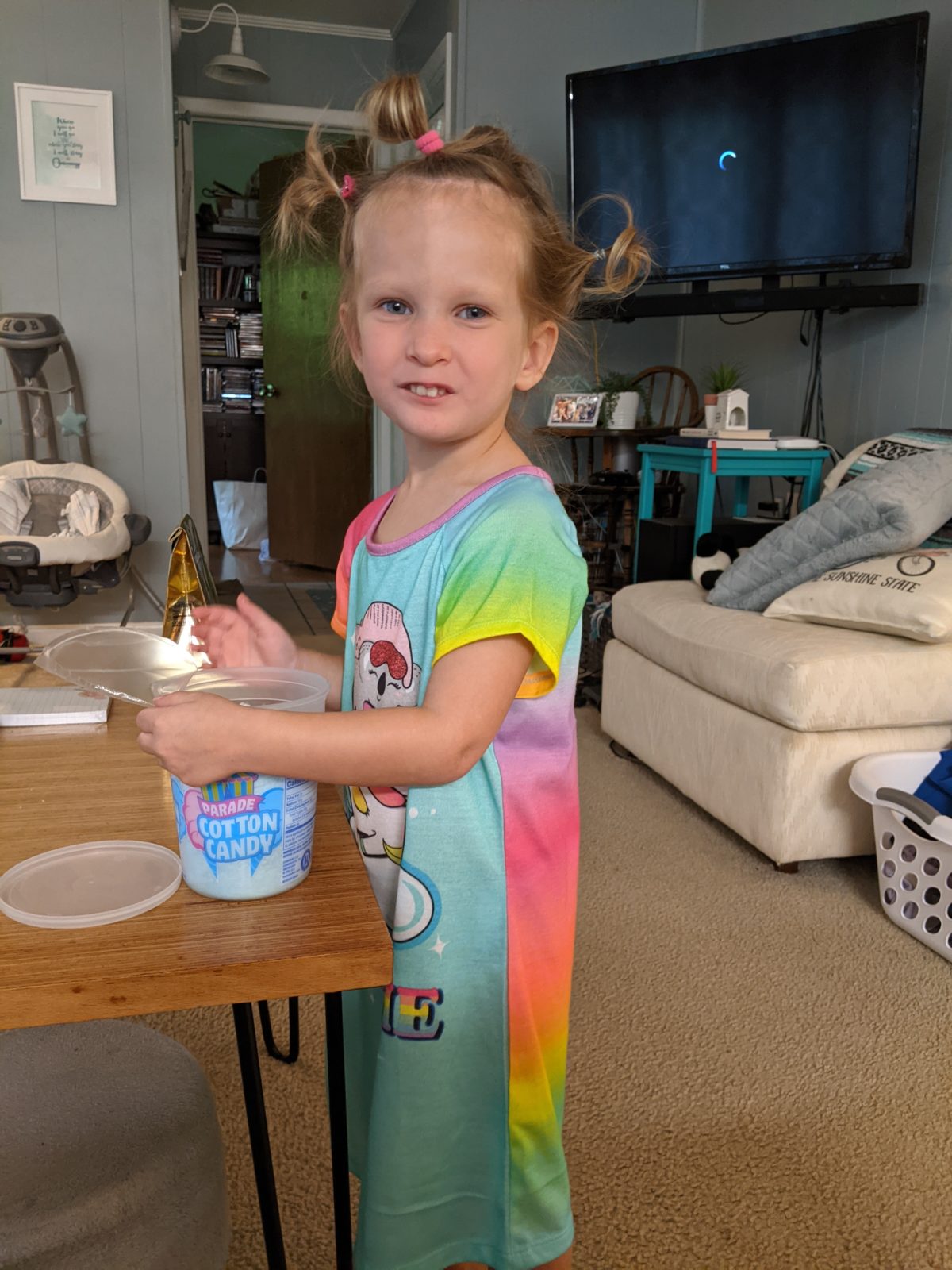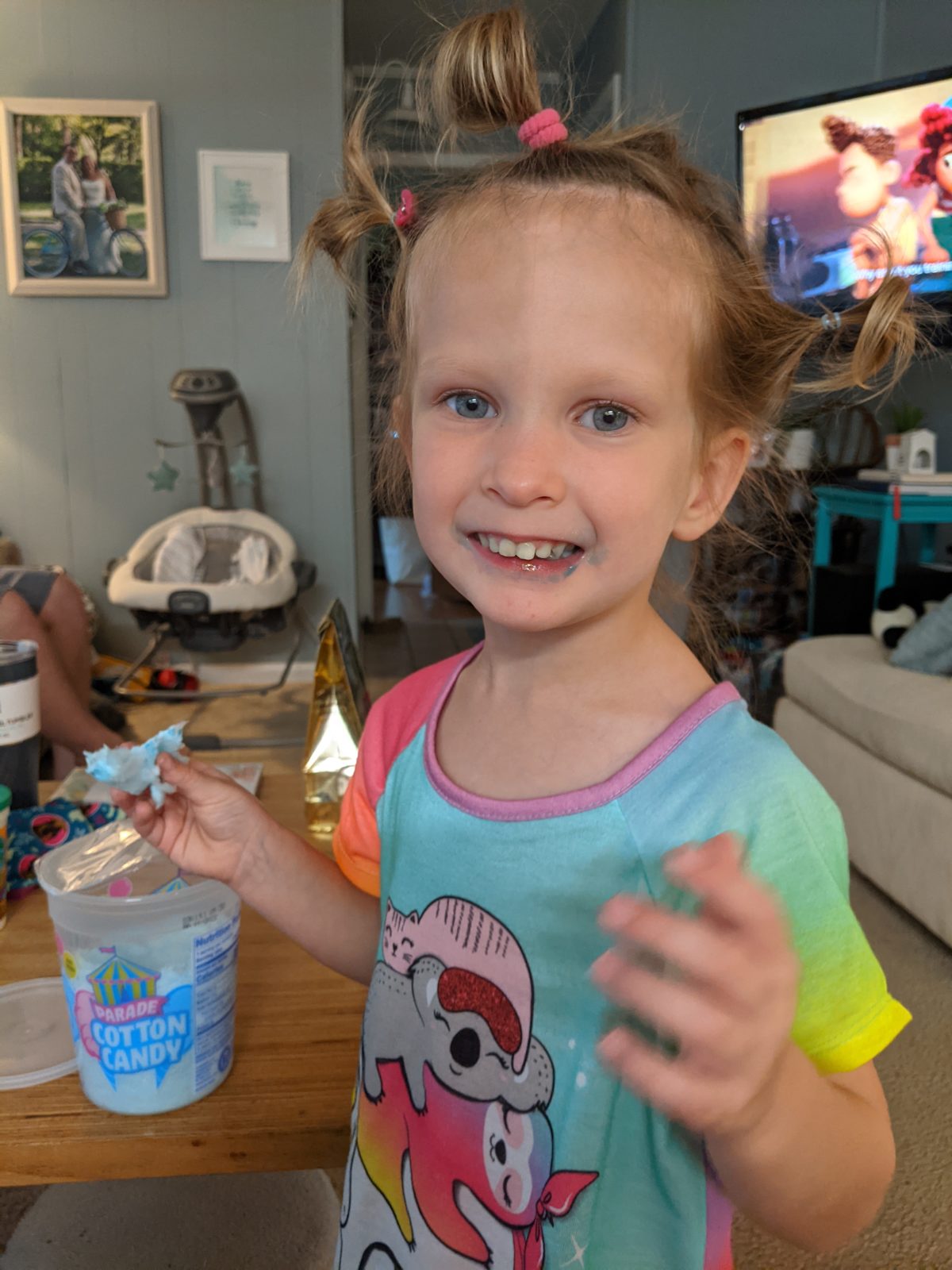 This precious little girl was just snoozing away in my arms, with these pouty little lips that I could barely handle.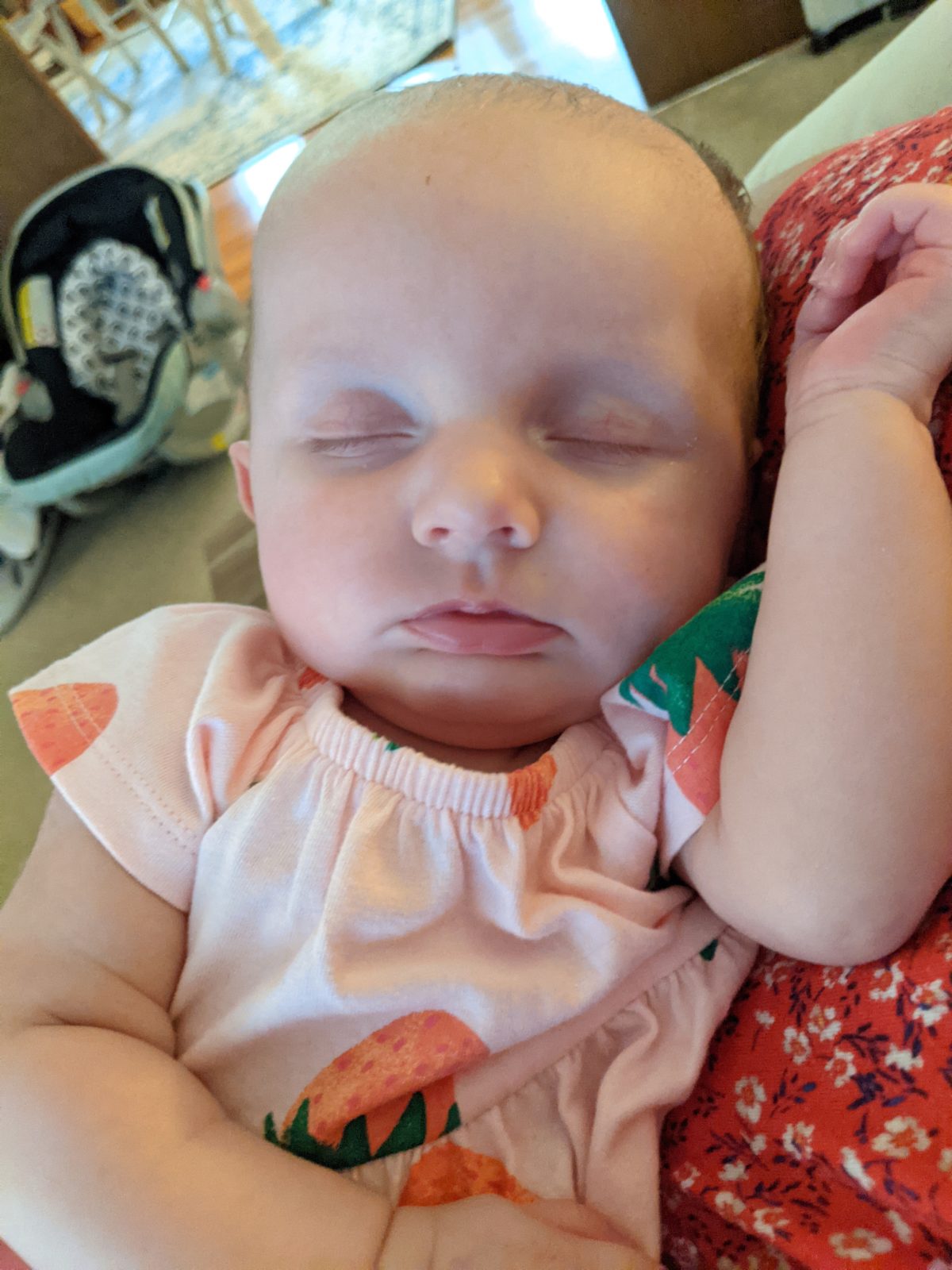 After lots of cuddles, I got her all wrapped up and laid down, so I could read Emmie her bedtime story and then get her ready for bed.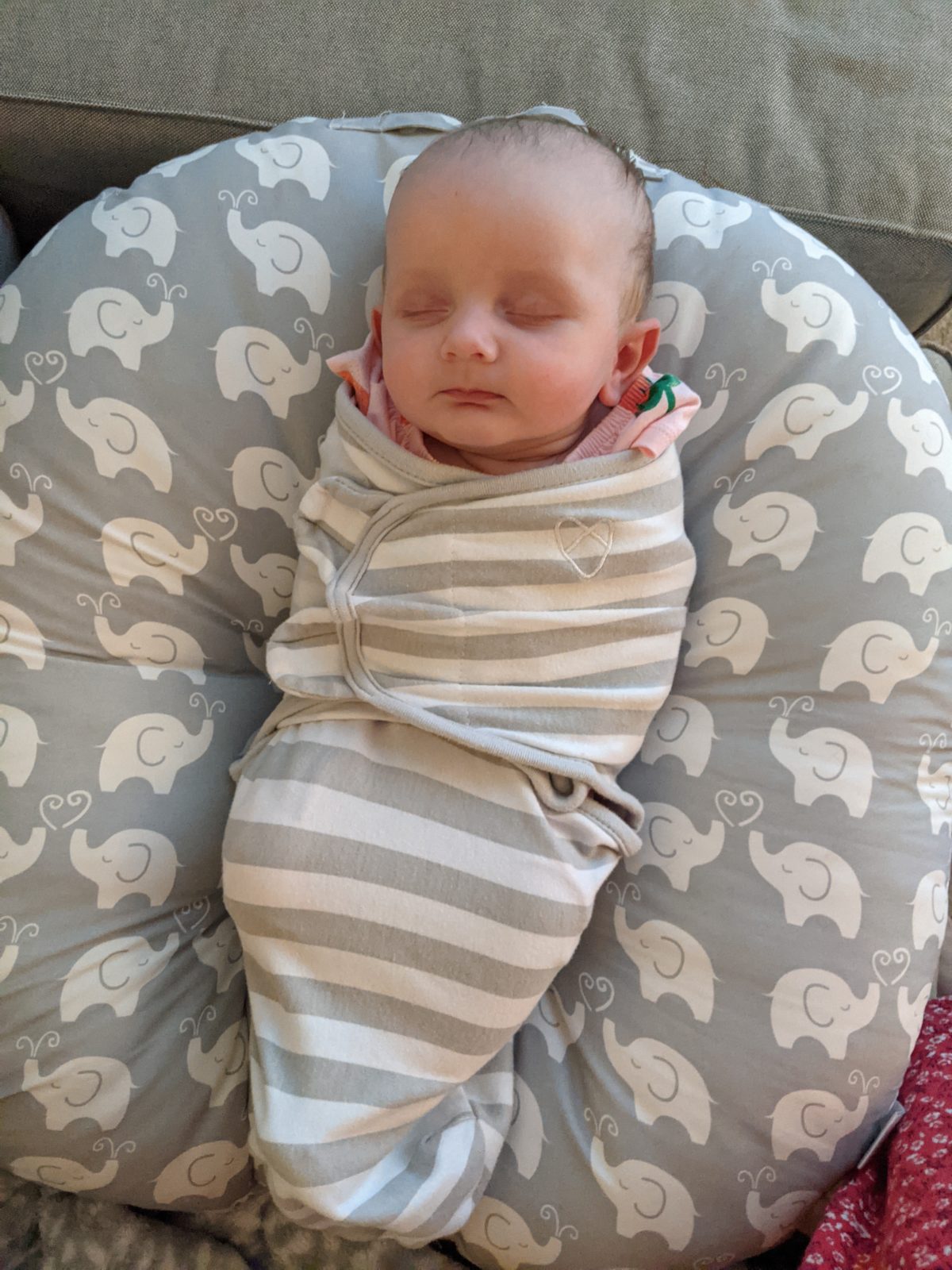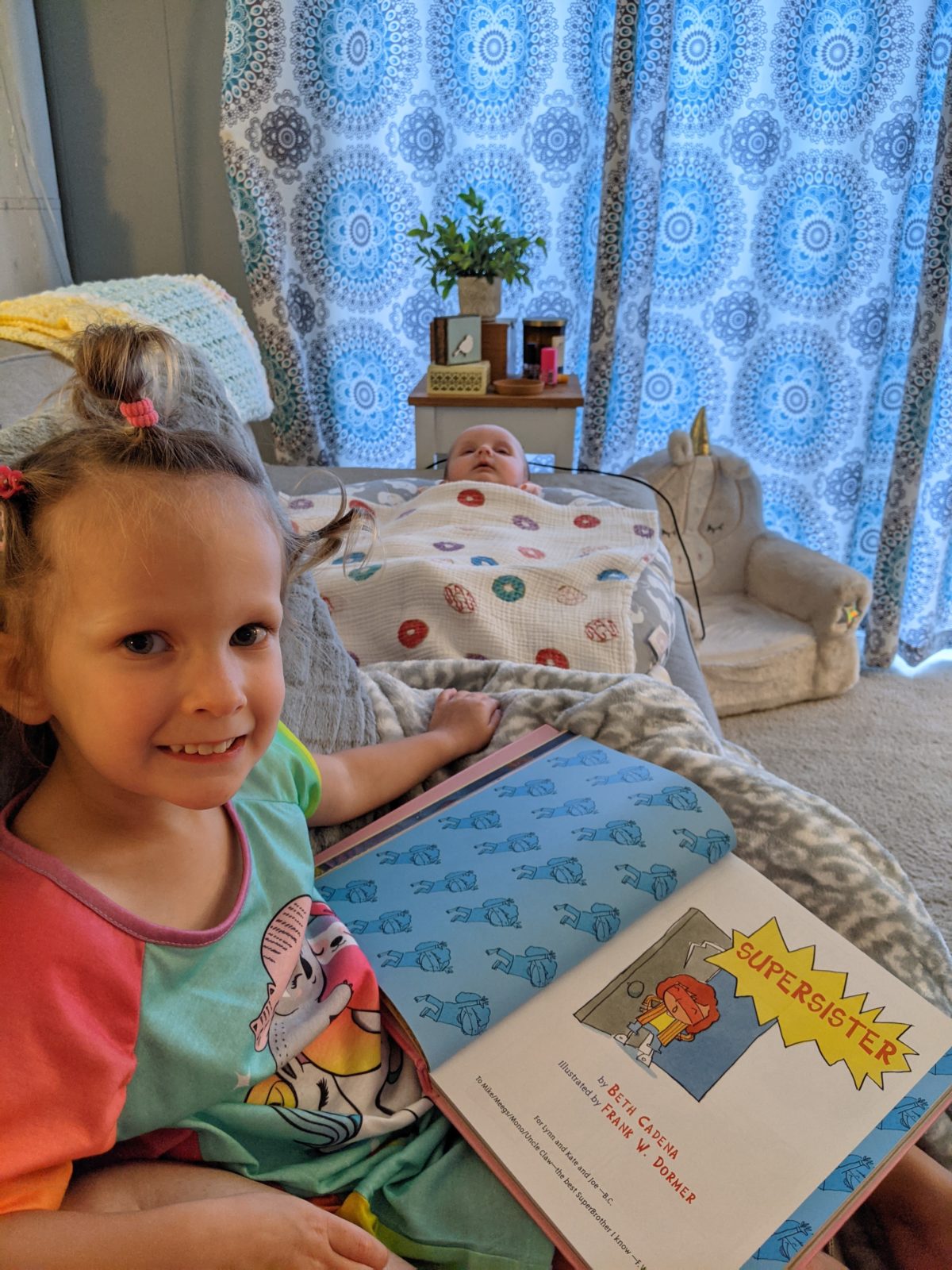 Even after we took out all the ponytails and space buns, her hair was still sticking out in all directions possible, and I was cracking up as we tried to brush it out but it just kept floofing up like crazy. She's gonna need a super fast shower in the morning to get that under control before school.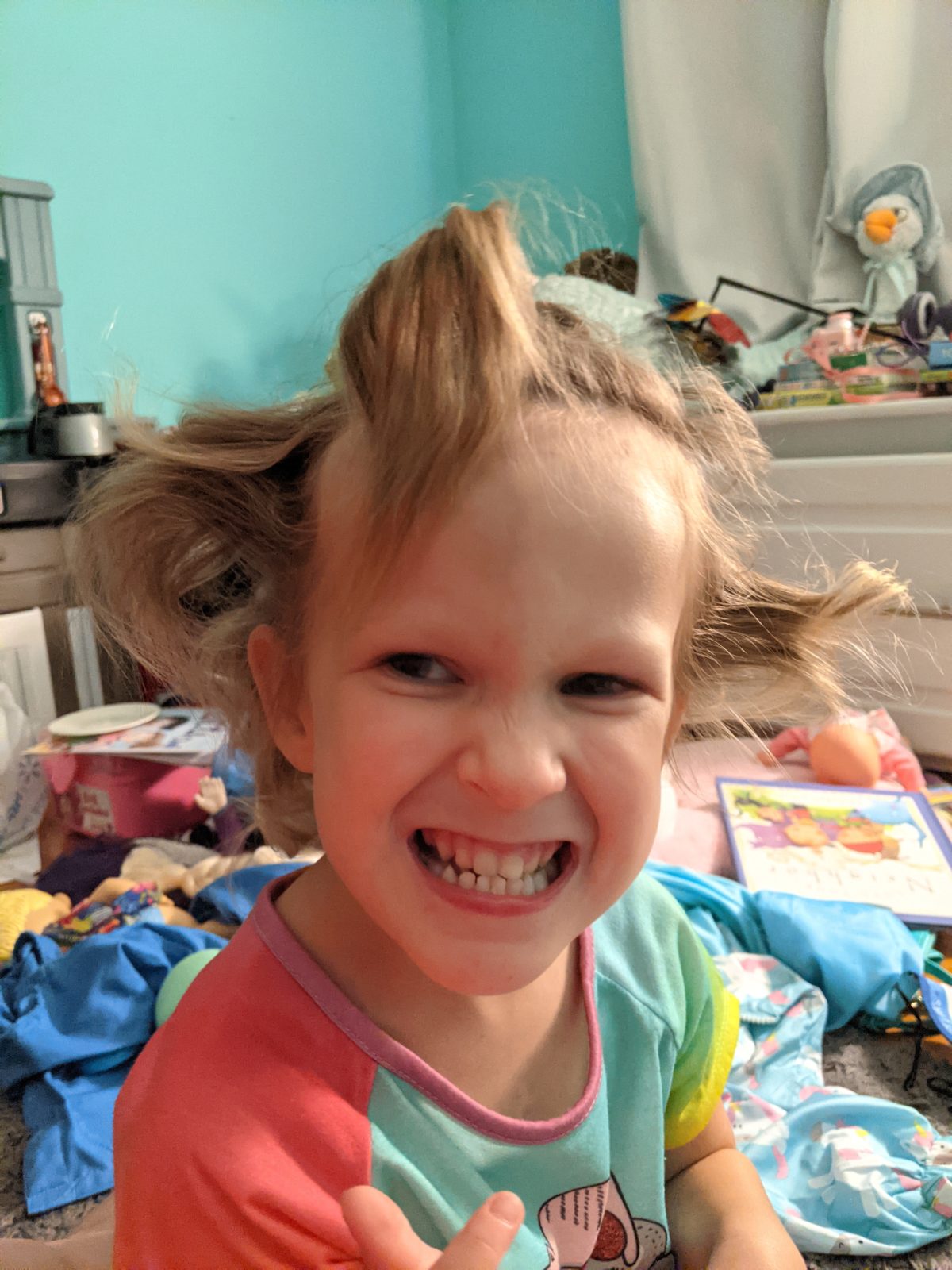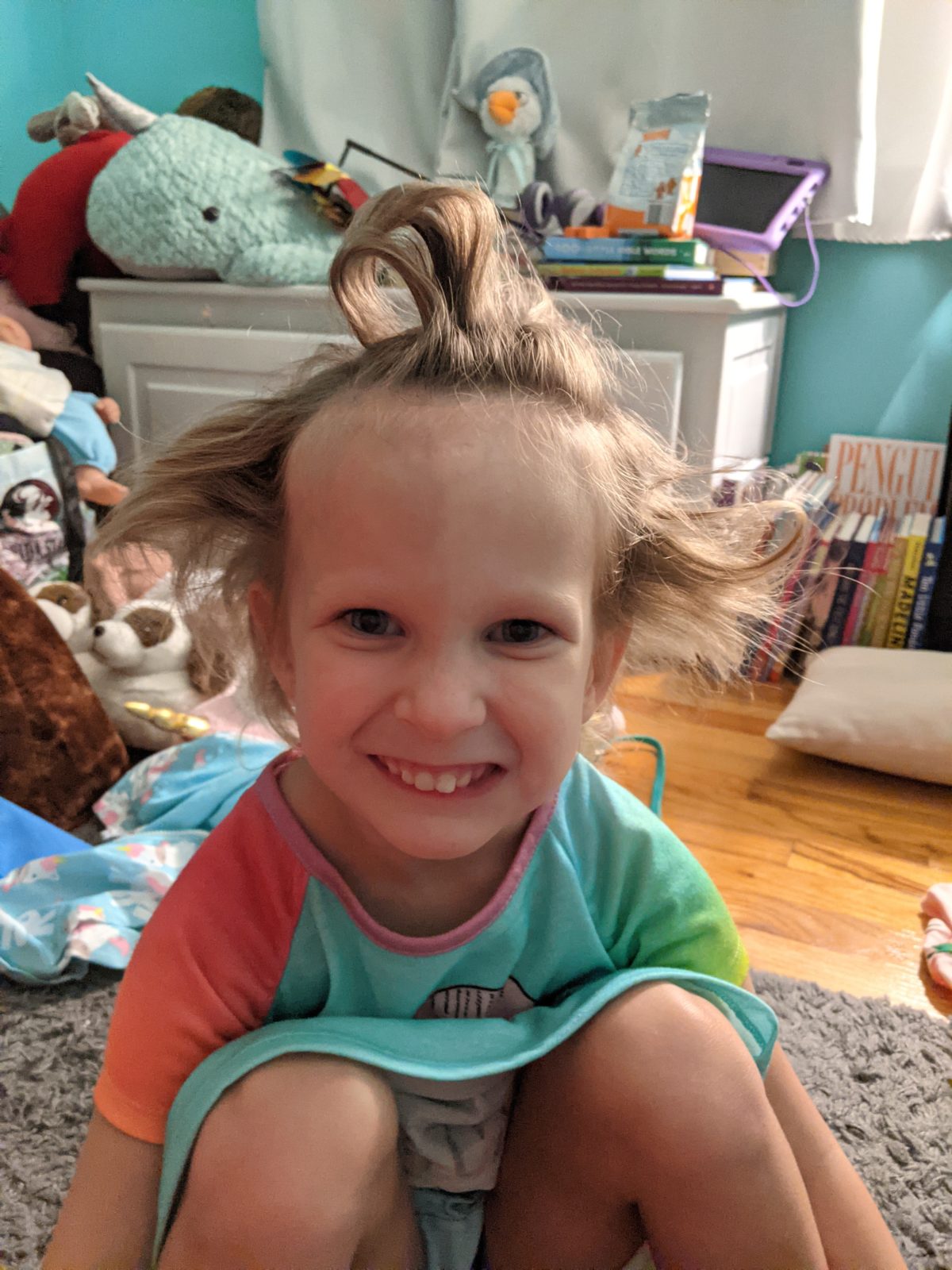 When I left this morning, there were zero dirty dishes, but after Jeff and I both had coffee and breakfast, and lunch from Tupperware, and then all the pots & pans & bowls from dinner, plus bottles of course, it ended up taking me about 20 minutes to get a clean sink again. It's 10pm now though, and pretty much my bedtime, so I'm going to grab my Kindle and read until I can't hold my eyes open (aka, 10 minutes probably), and then fall asleep.