There are way more sky pictures included in today's post than usual, but both the sunrise and the sunset were just beautiful today!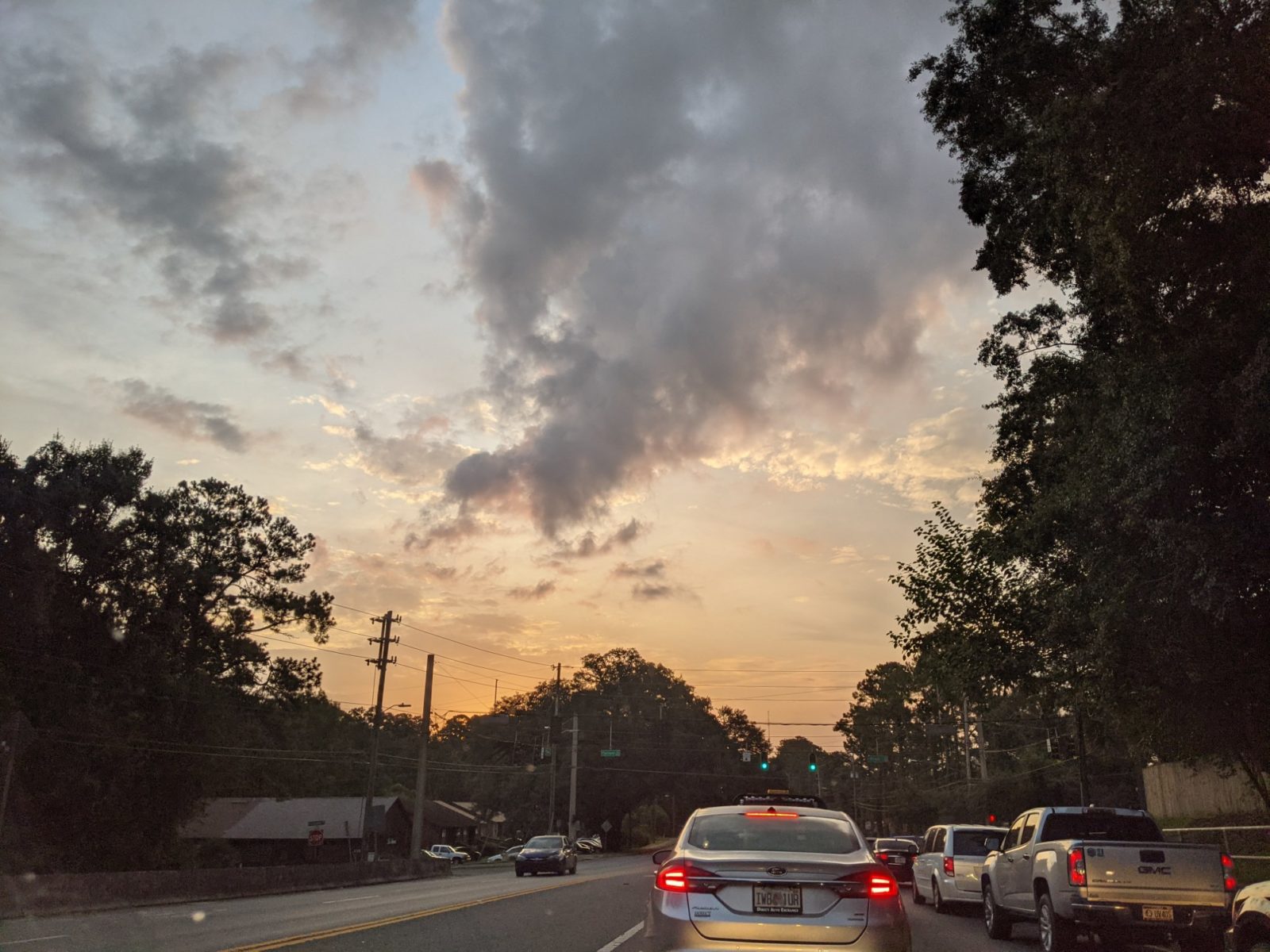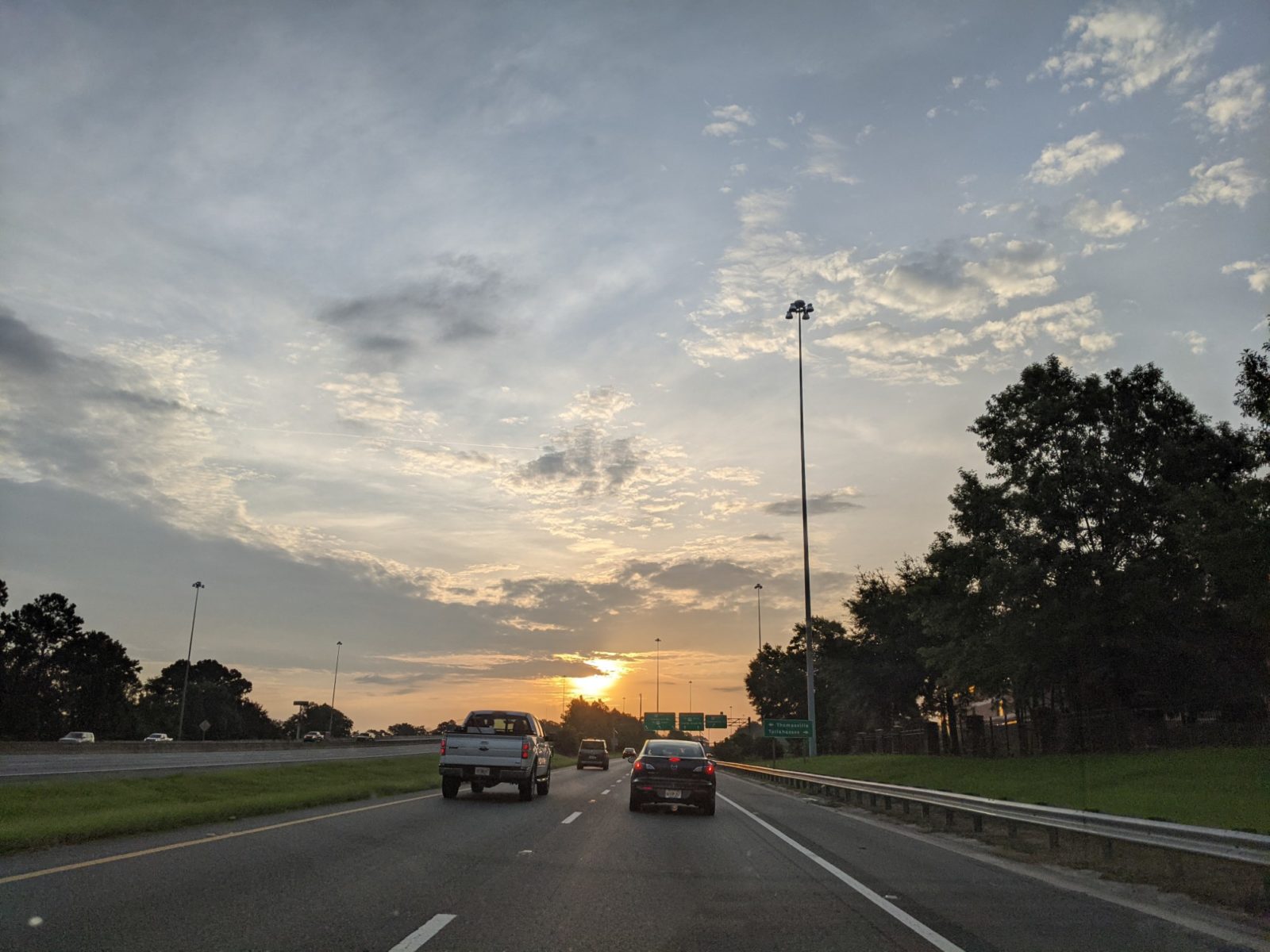 Baby Addison got to return to school today after her class was closed for the past 10 days for quarantine, and Emerson was very glad to have her sister back with her.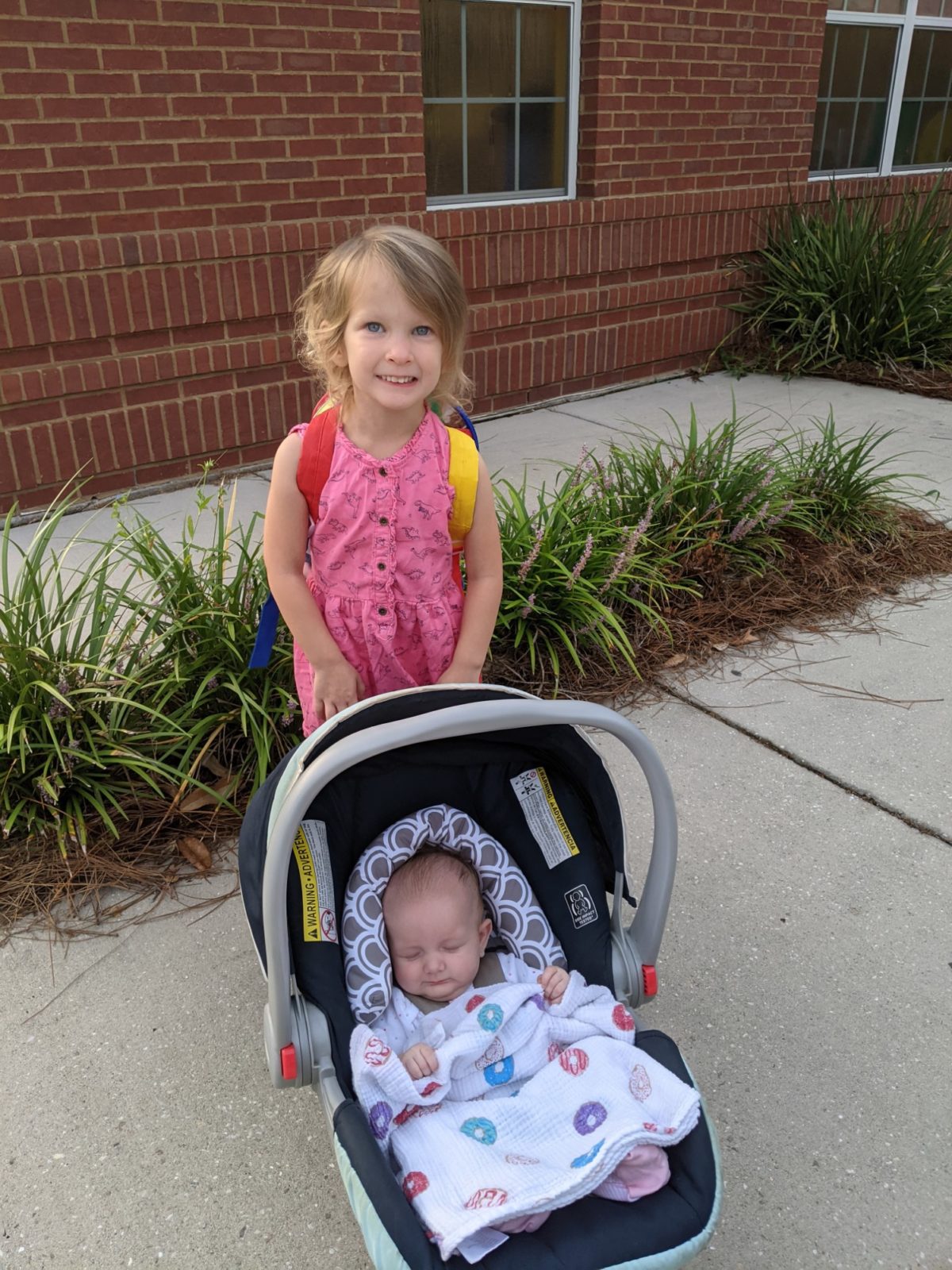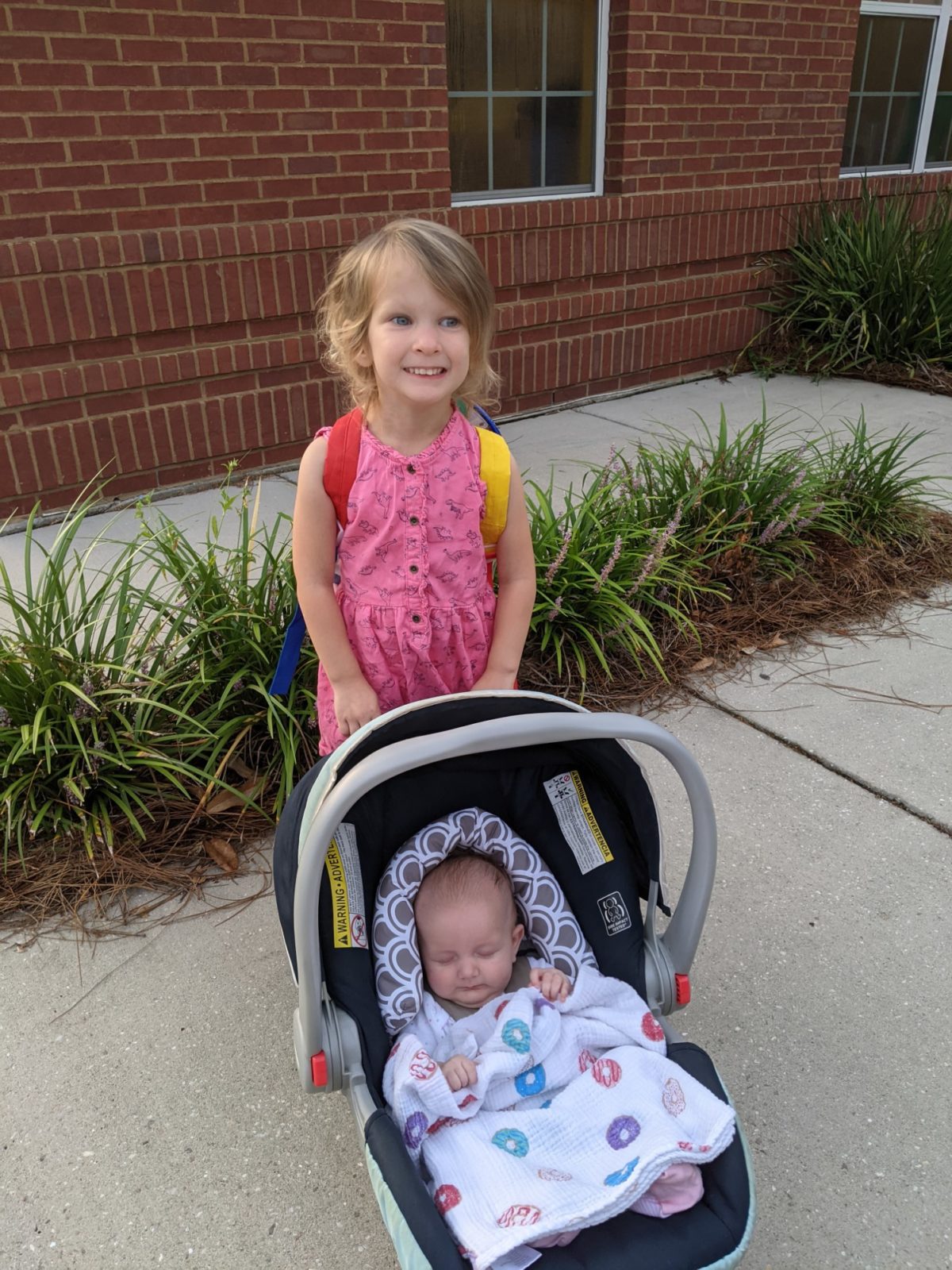 But judging by this face, Addie wasn't quite so sure about going back out into the world and leaving our cozy home.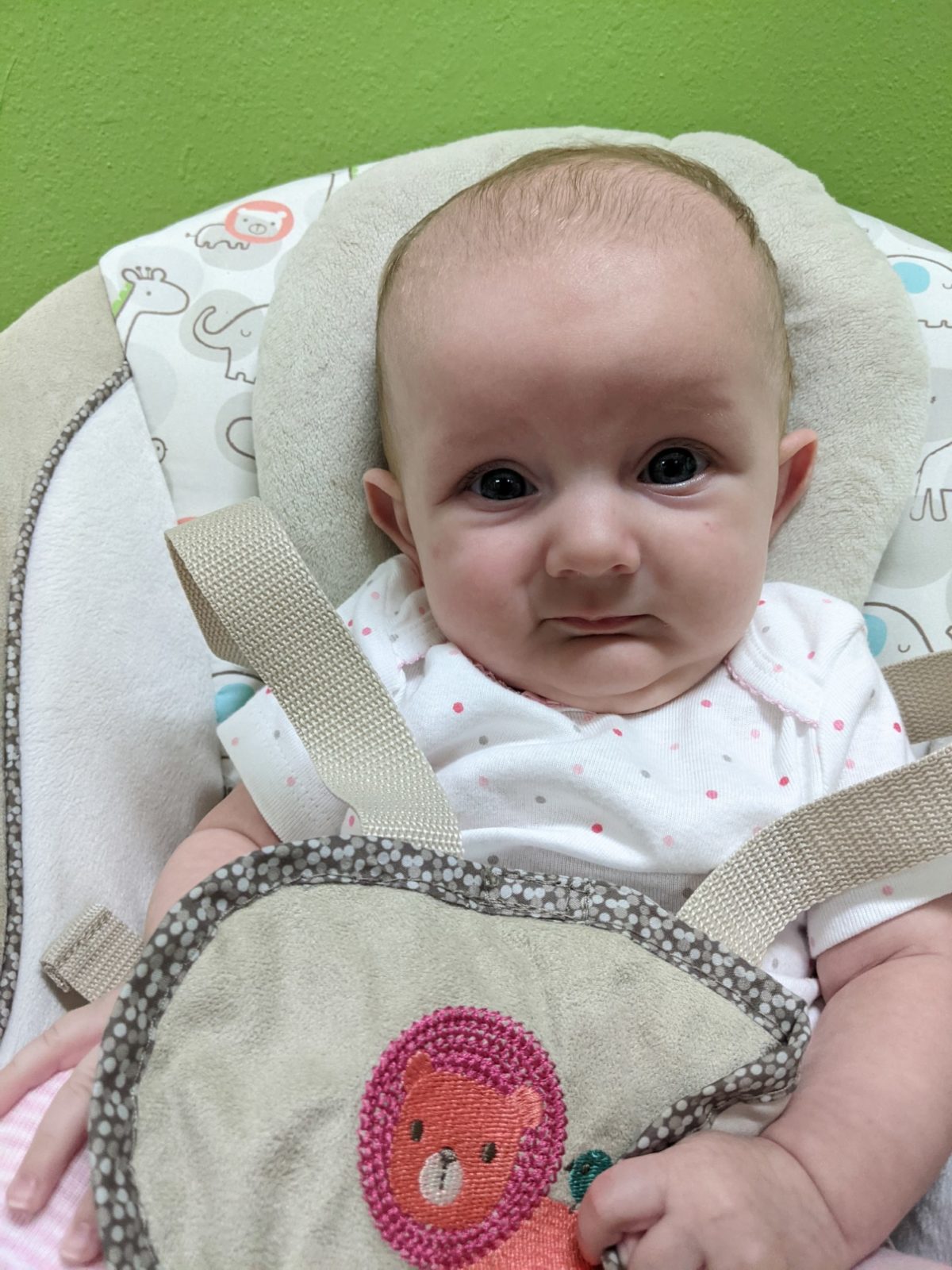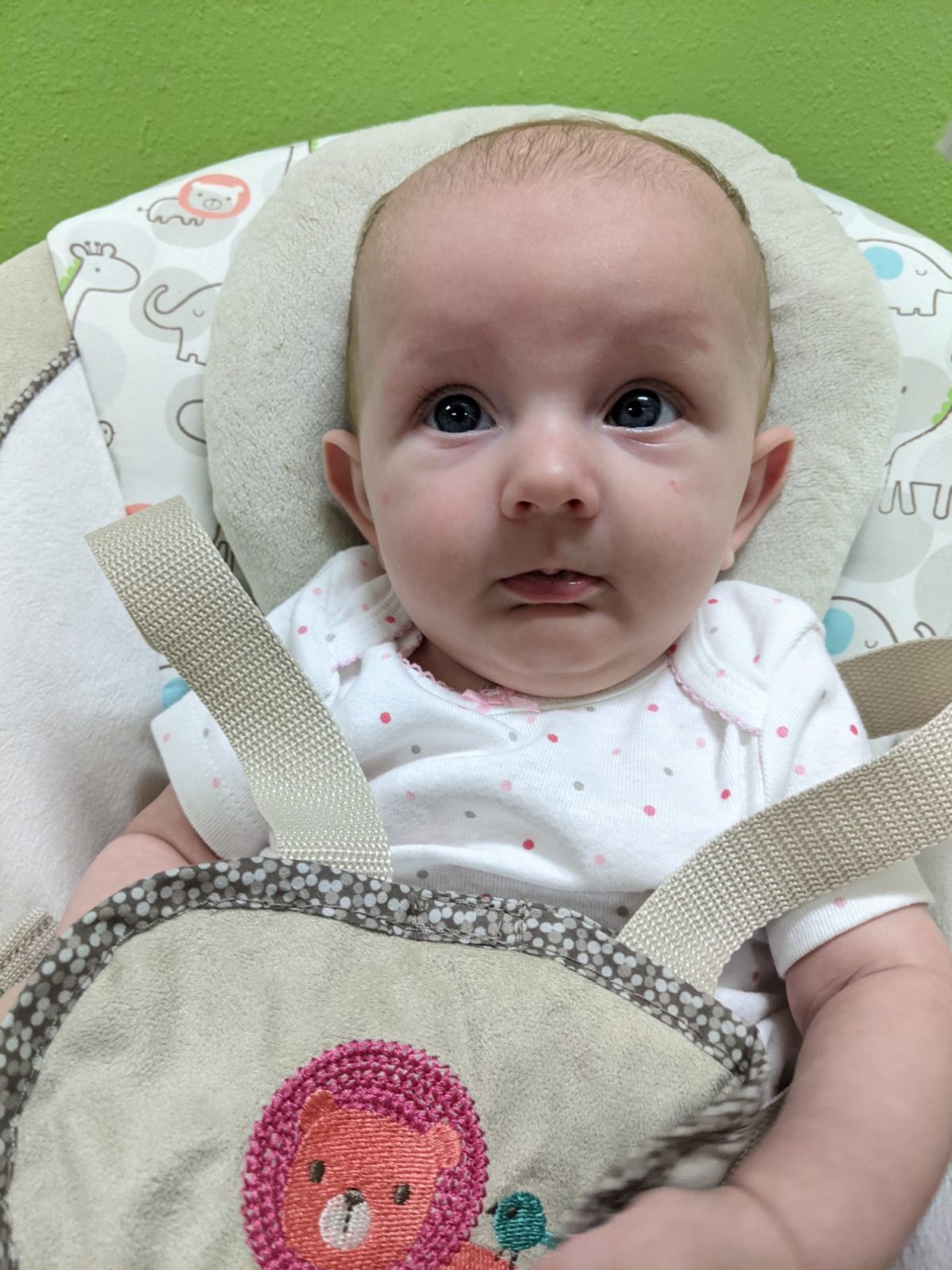 When I walked into my office today, I had three more gallons of can tabs waiting for me! I'd had a cup out in the office for people to drop their tabs in, but my boss' husband and his friends have been really collecting like mad for months! She said they even printed out a picture of Emmie from Halloween in her Wonder Woman costume to put above their collection jug. And I just thought that was so sweet!
Our trip back to Jacksonville (just for fun, no check-ups or anything) will be next weekend over Labor Day weekend, which will also mark the one-year-anniversary of Emerson's open heart surgery. We plan to make a stop by the Ronald McDonald House where we stayed, to drop off all the tabs (of which we now have like, 7-8 gallons of!). So, if any of y'all have been collecting for us too, next weekend is finally the time!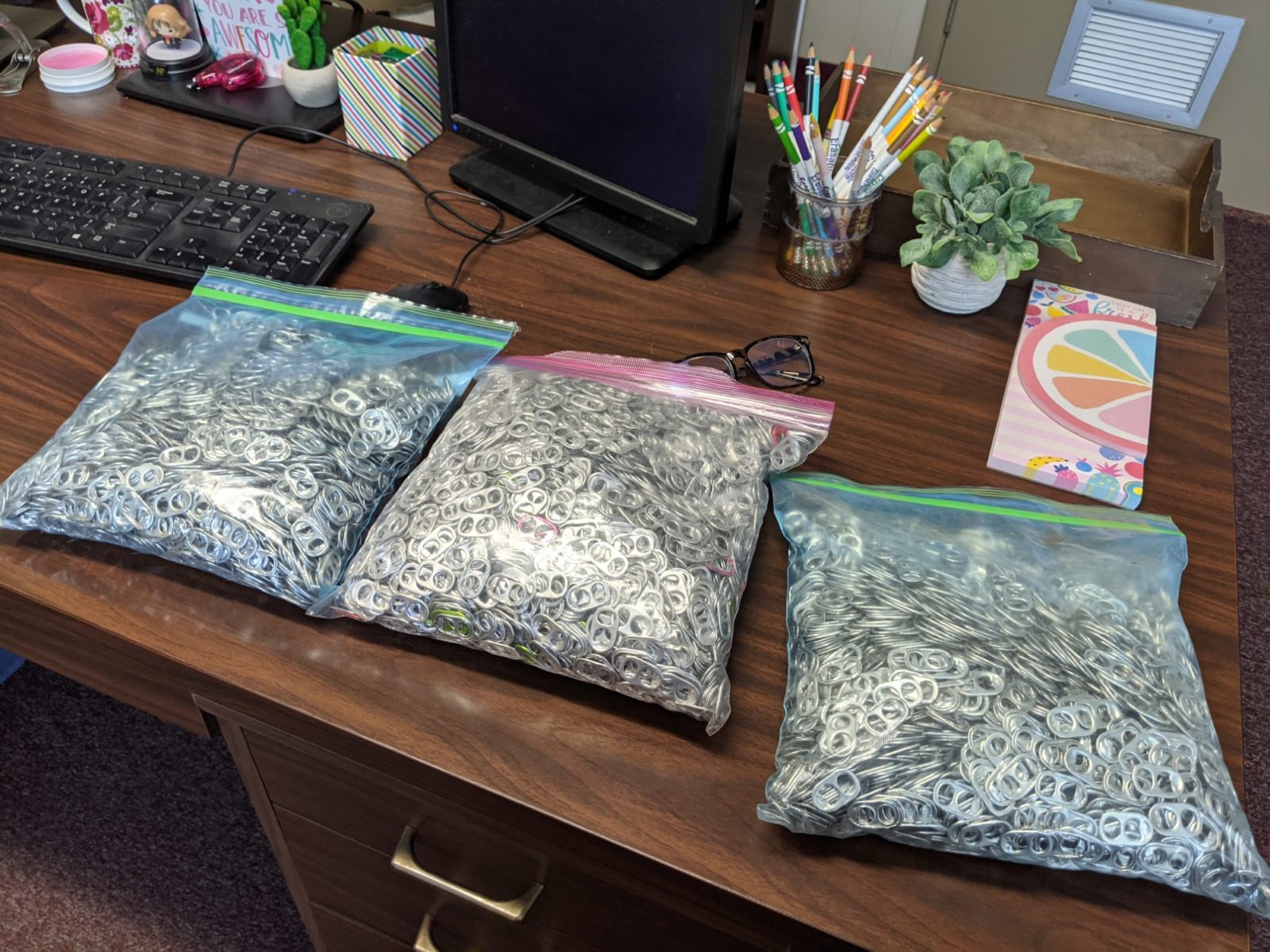 Both girls had a good day at school – napped well, ate well, did crafts, and Emerson told me she started learning how to write the letter "C."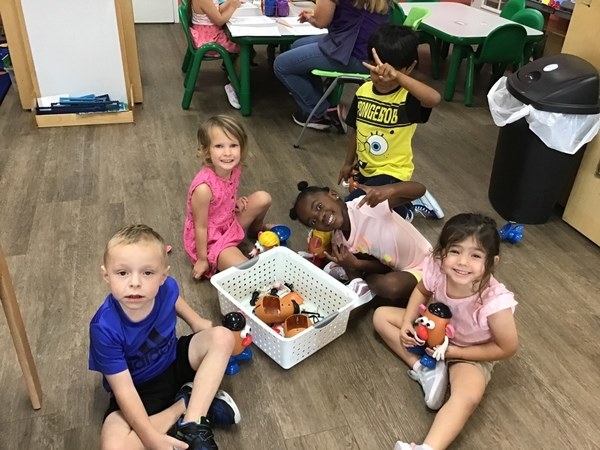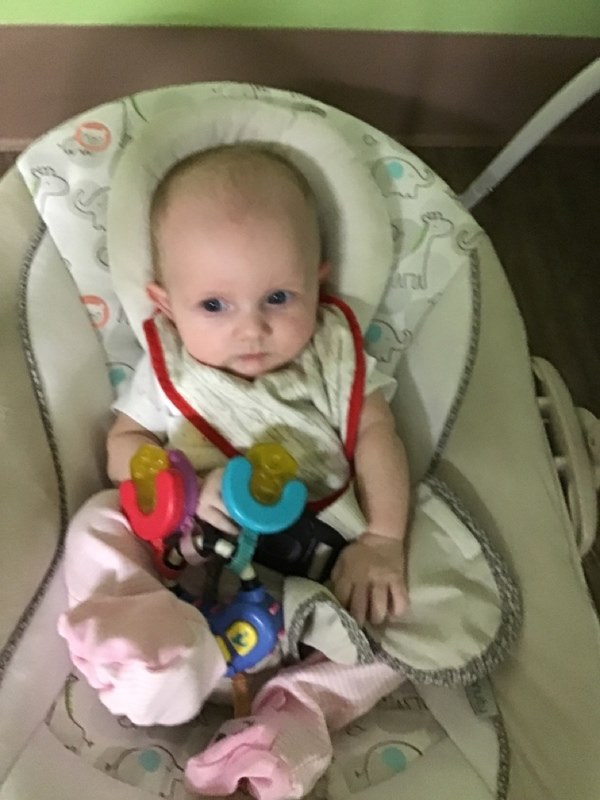 When I got to school to pick up the girls, I found this tiny girl in her crib, sound asleep, but half busted out of her little swaddle. I hated to wake her up, but of course I wanted to take her home for cuddles!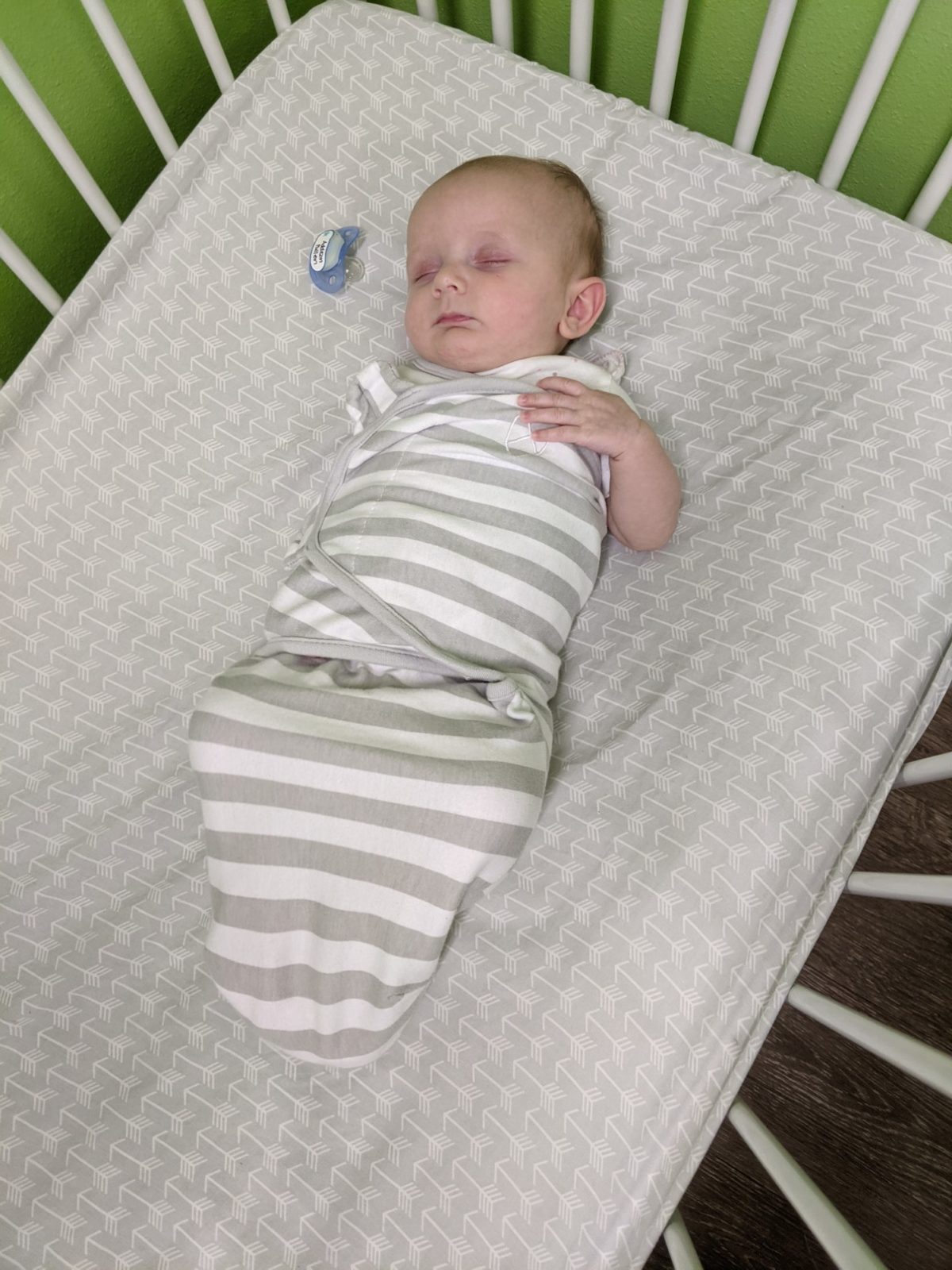 At home however, Jeff fed Addison her bottle, and Emerson helped me cook dinner! She "helps" me a lot, but this was the first time I let her actually do any real cooking or anything involving the stove, and honestly, she did so so great! She was very attentive and gentle and took her egg-cooking duties very seriously. I was SO VERY PROUD of her!!! She was very excited about it, and we talked about how I'll teach her to cook all sorts of things with me as she gets bigger, and she was so sweet and excited about that too.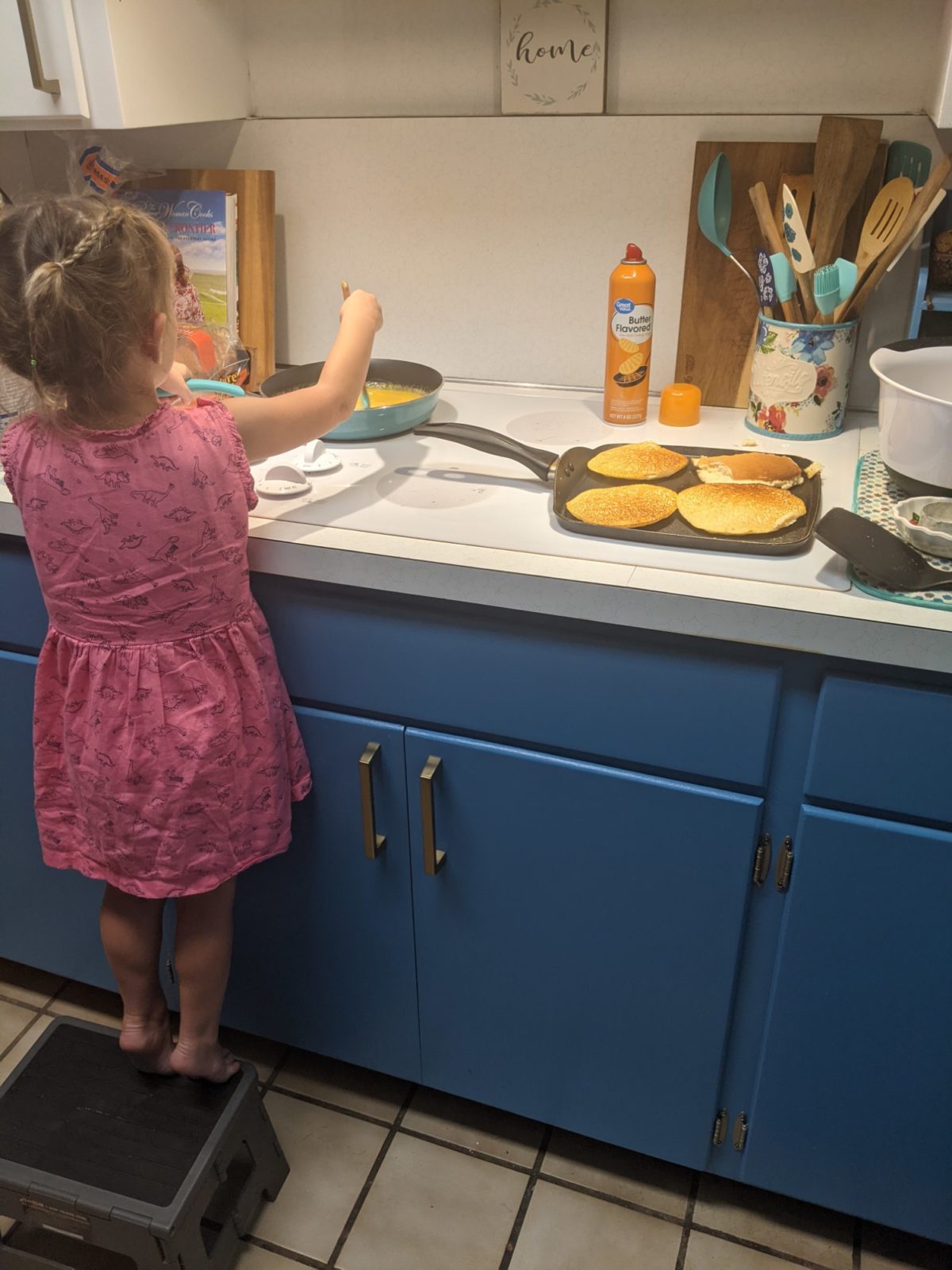 We made fresh pancakes and scrambled eggs, and microwaved some Jimmy Dean sausages, and then added a little bit of the cinnamon rolls Nana brought us the other day from The Bread Wagon in Thomasville.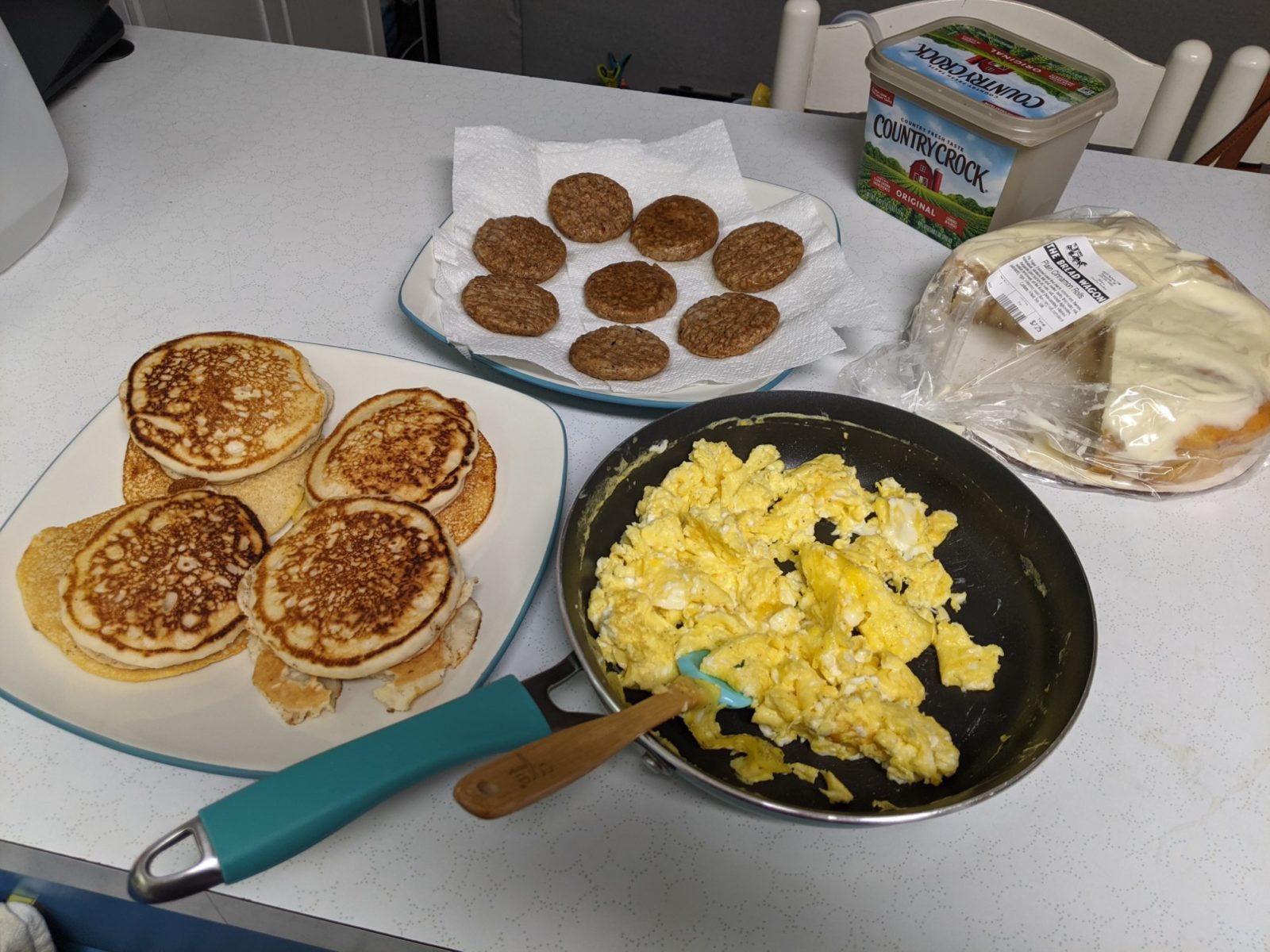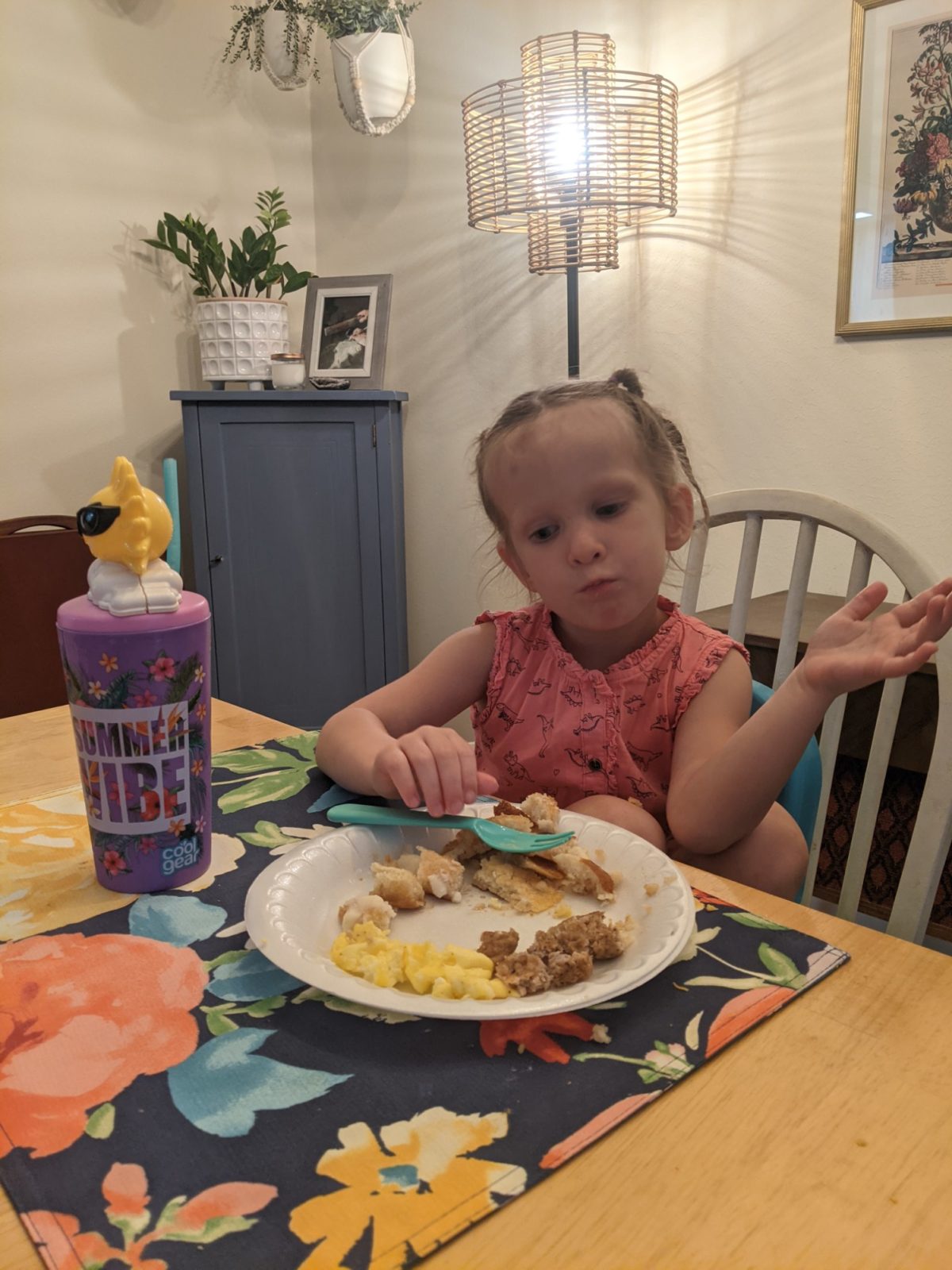 Miss Jessica did her hair at school today, and it was super cute. But, you'll see later in the post how ridiculous it looked when we took it all out for bedtime 😉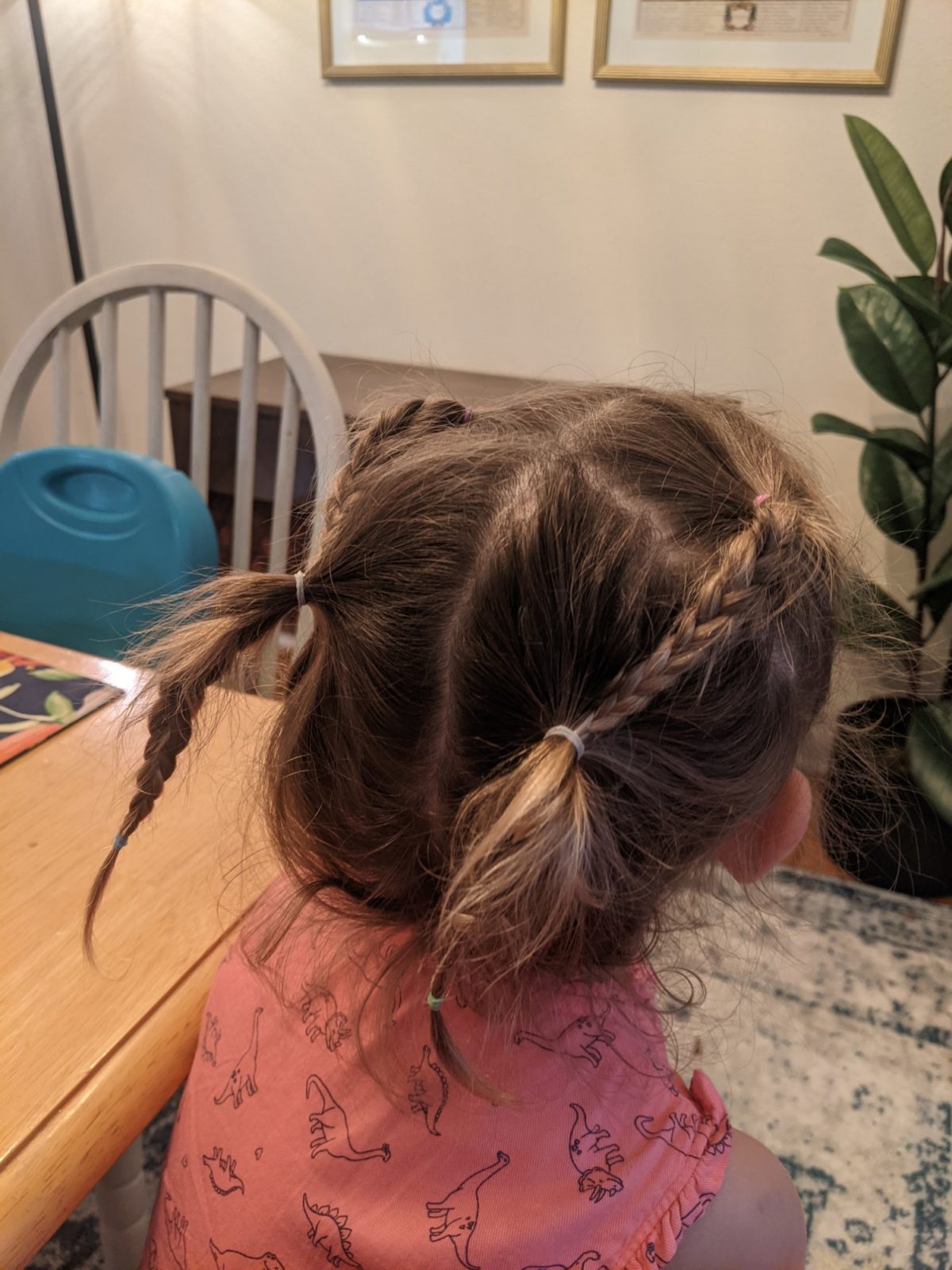 I got to hold and cuddle the baby squish after dinner, and Emerson ate a tiny bit of a crazy lollipop, while we watched Tangled.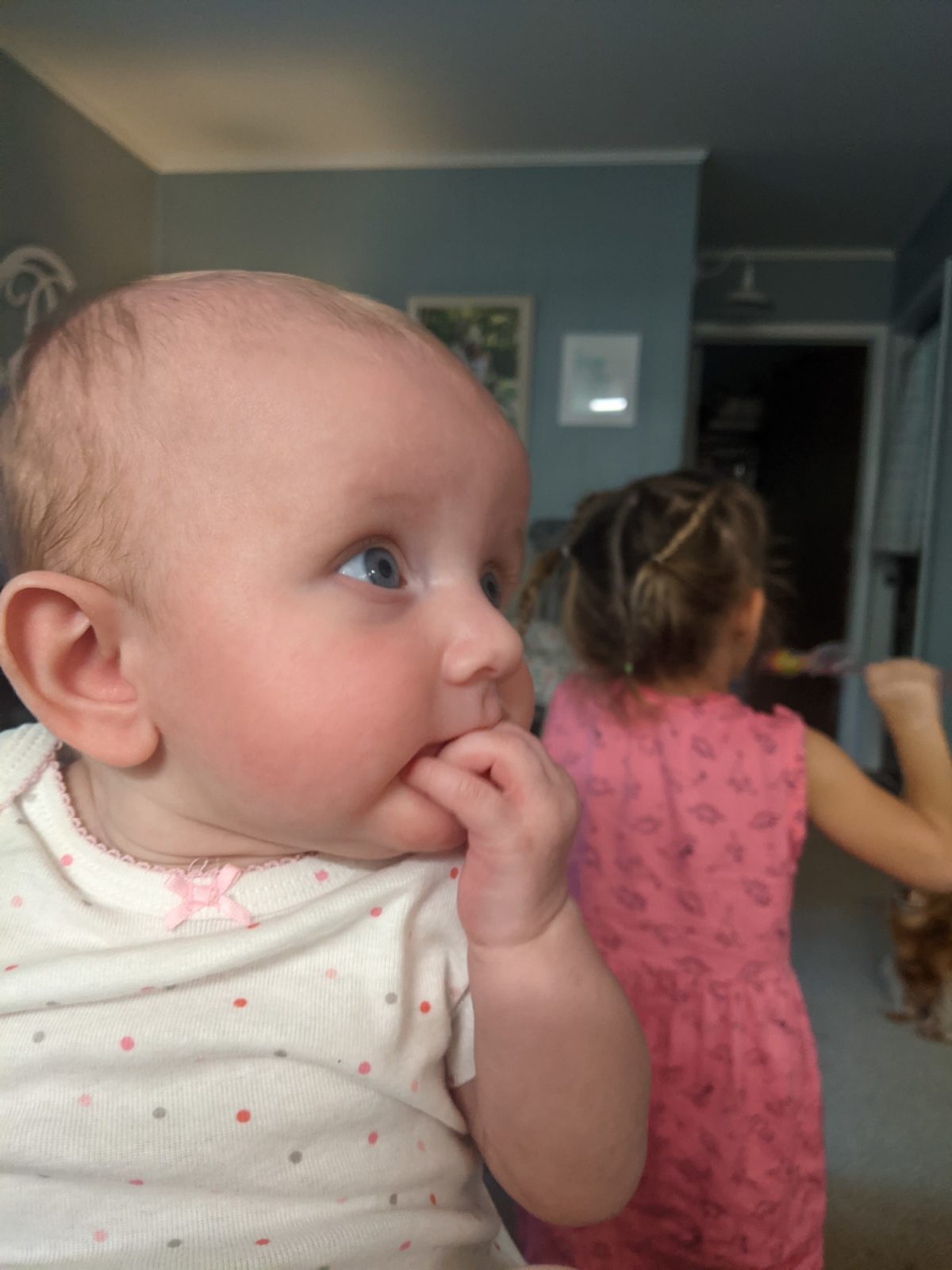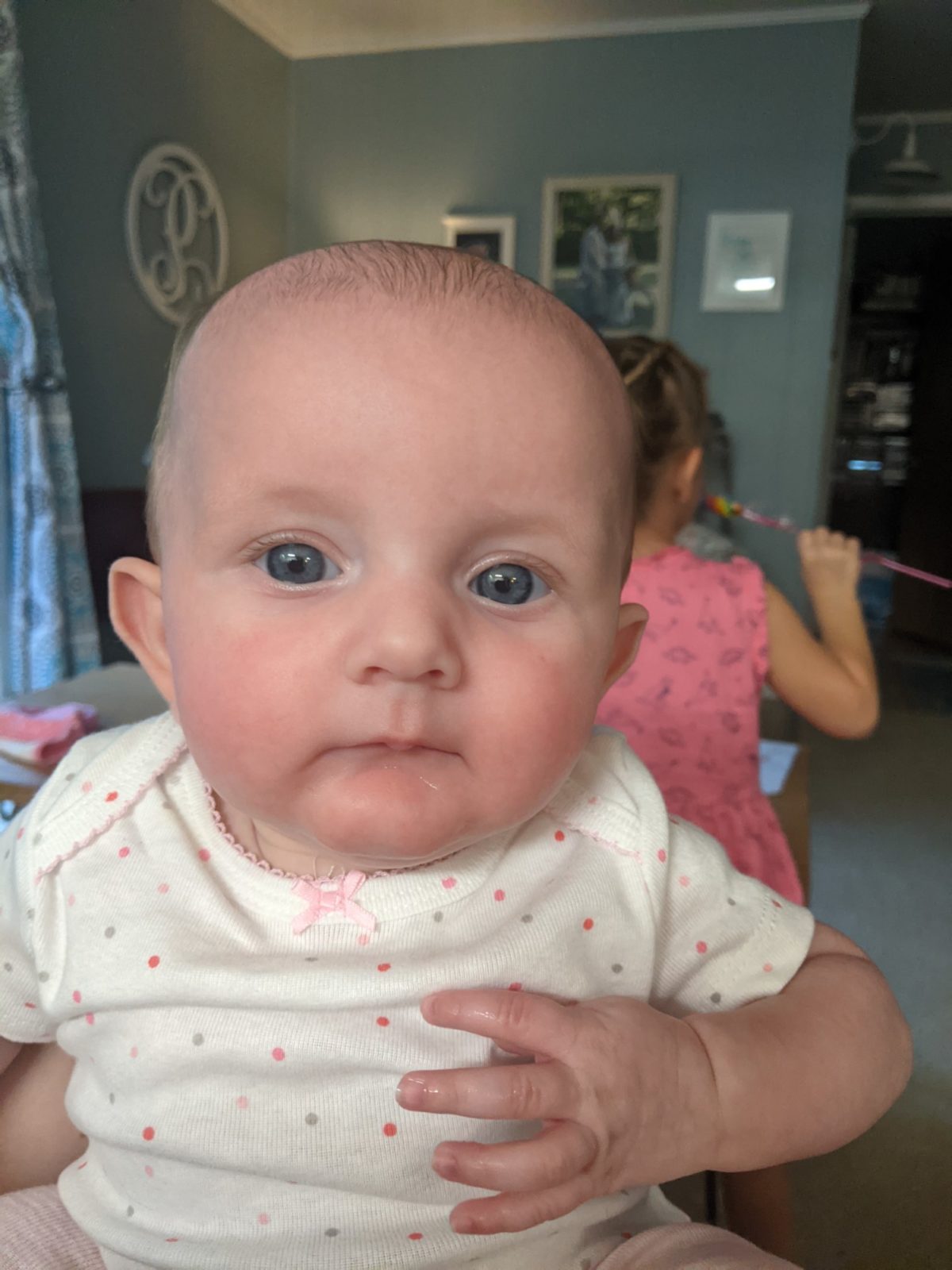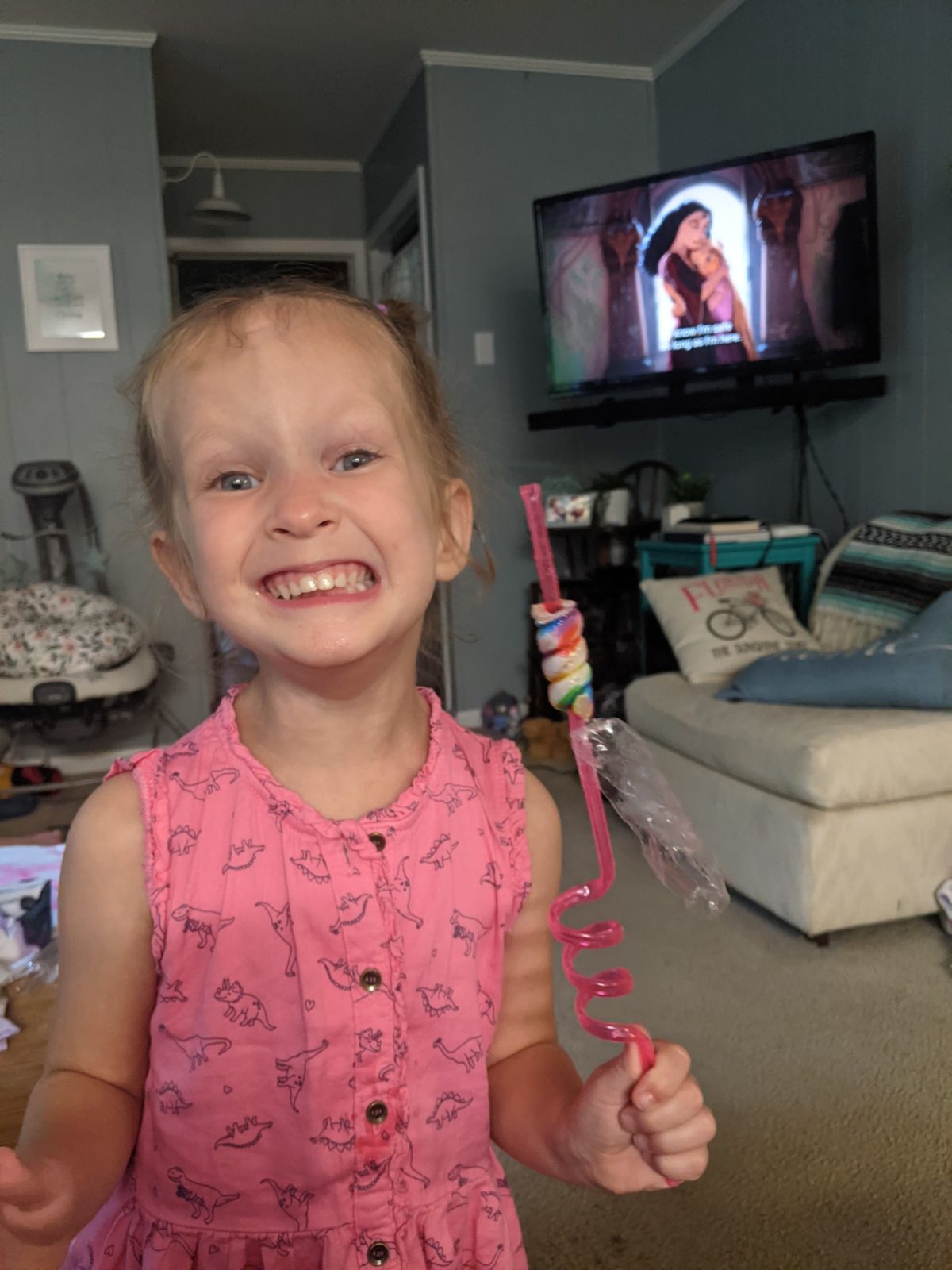 Then I was clipping both girls' fingernails and toe nails, and although things all went smooth for Emerson, we had an accidental catastrophe on Addison's tiny thumb. She wailed and screamed for a solid 10-15 minutes, but luckily Jeff was able to get her settled down and then all the hub-bub made her fall fast asleep.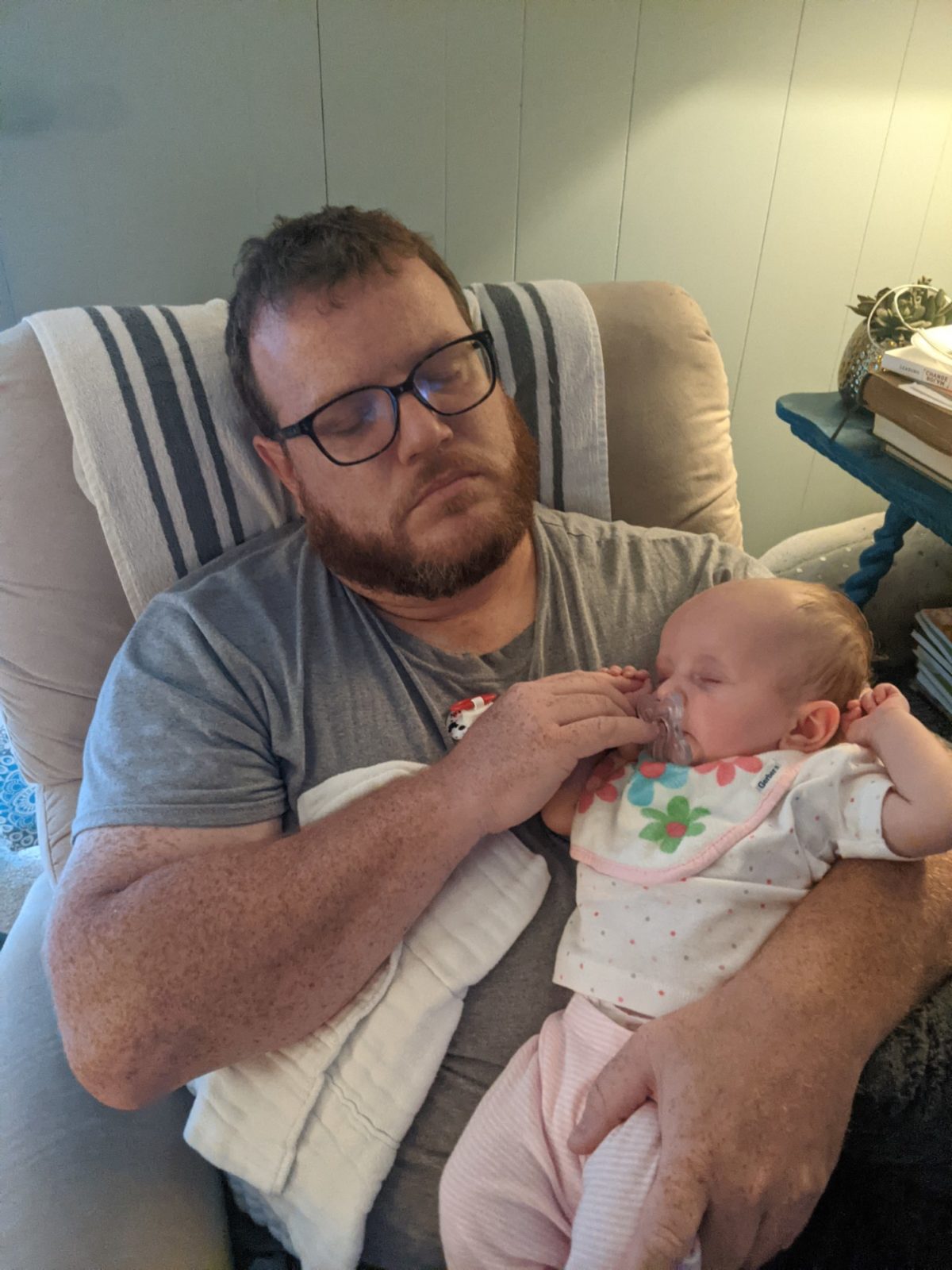 We took Emmie's braids out, and then she changed into her jammies and picked a book for us to read. The Giving Tree has always been one of my favorites, since I was a young girl, and I love reading it to her now too.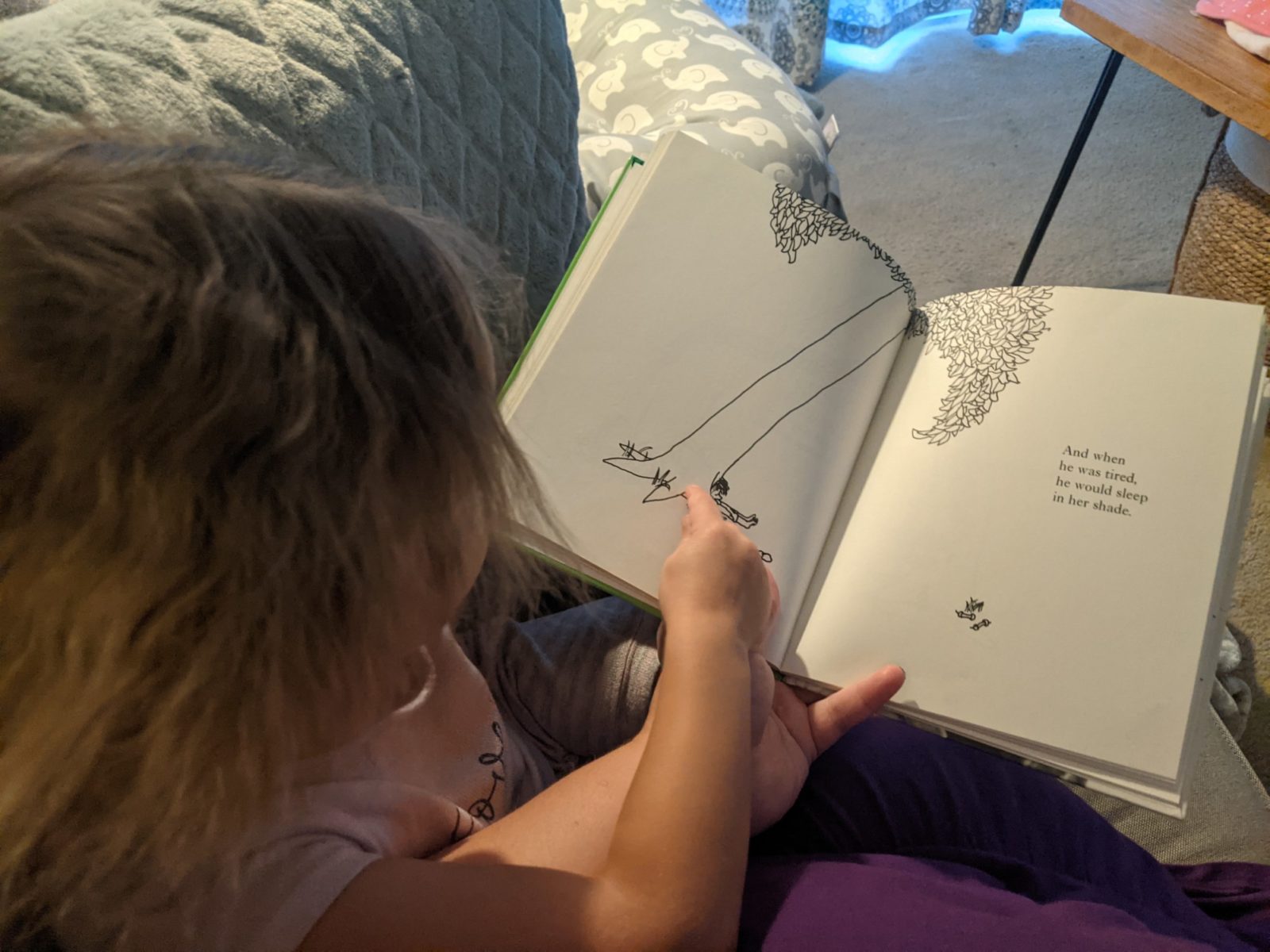 Since tonight wasn't bath night, I'm not sure what we're gonna do with this crazy hair tomorrow, but I think maybe we'll just have to full-on wet it in the morning, so we can brush it down and get it looking nice.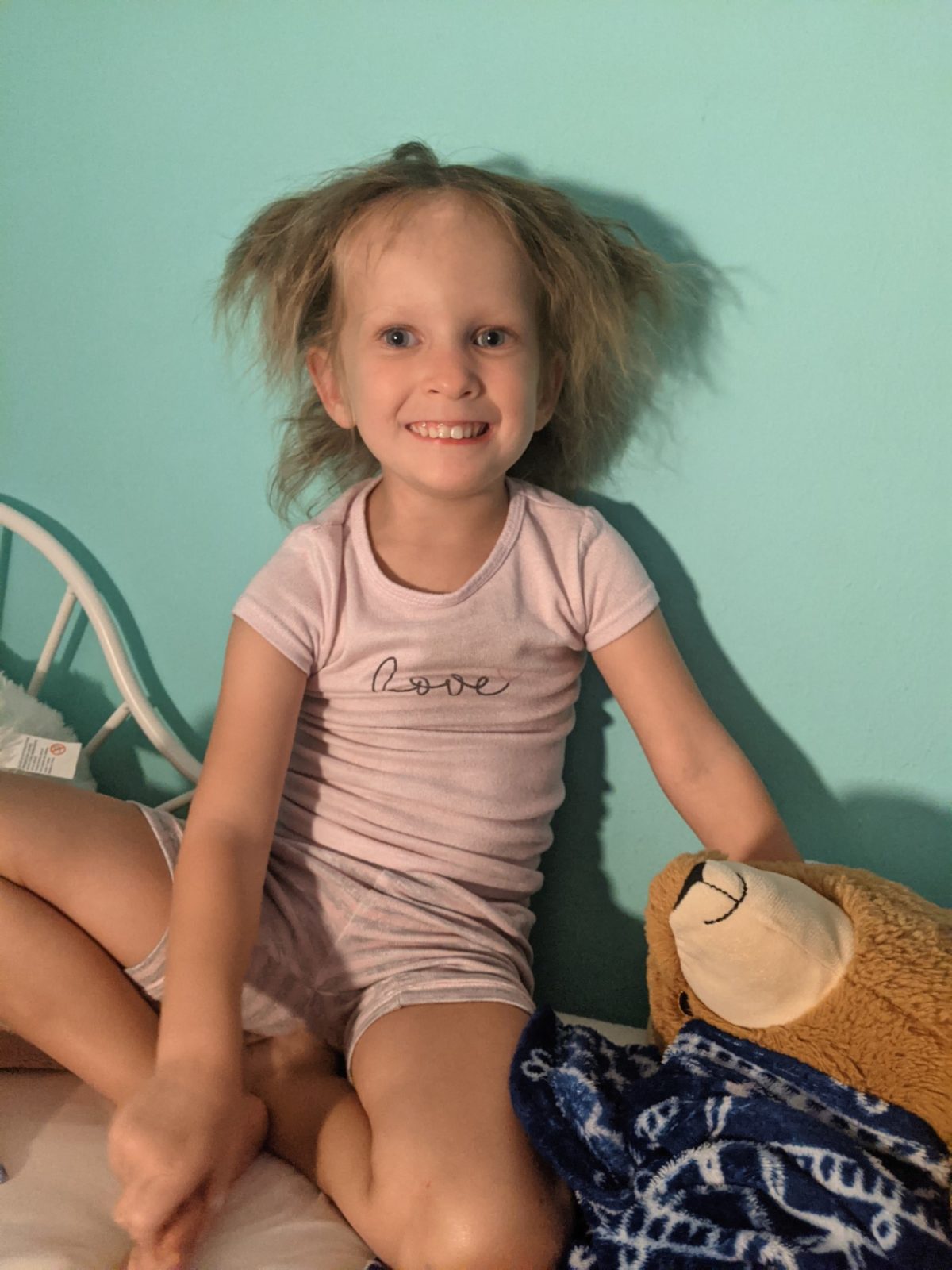 I scooped up Addie from Jeff and cuddled her for a while, just because I wanted some baby cuddles, especially after making her so sad with the nail-trimming-incident earlier.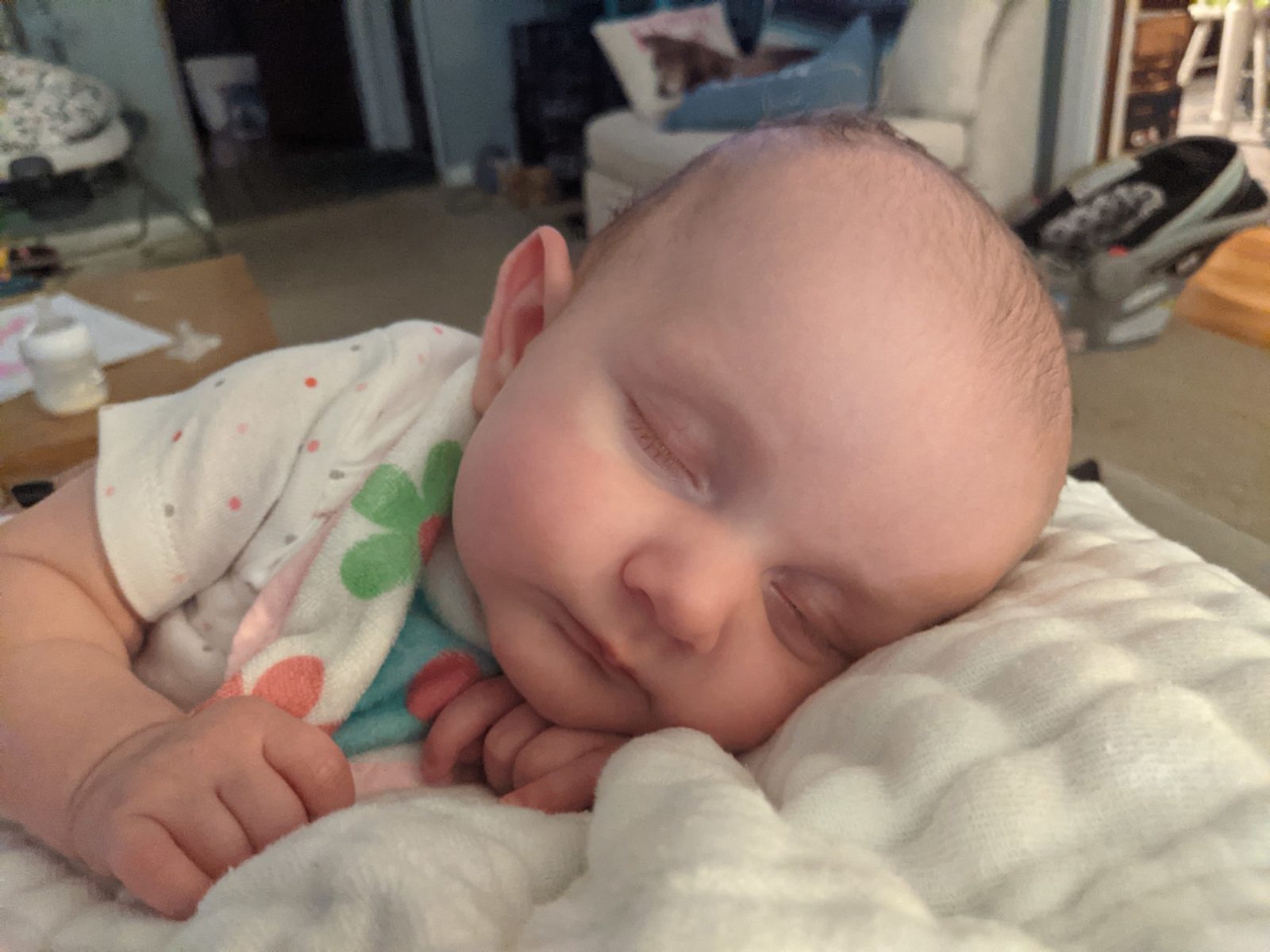 I had to lay her down eventually though, so I could clean up the kitchen and wash dishes. She was so cute and all stretchy when I first laid her down, which let me get a good photo of her cute little outfit. I'm not really sure if it's actually pajamas or a real outfit, but she wore it to school either way. Emmie and I both loved the cute little flamingo feet!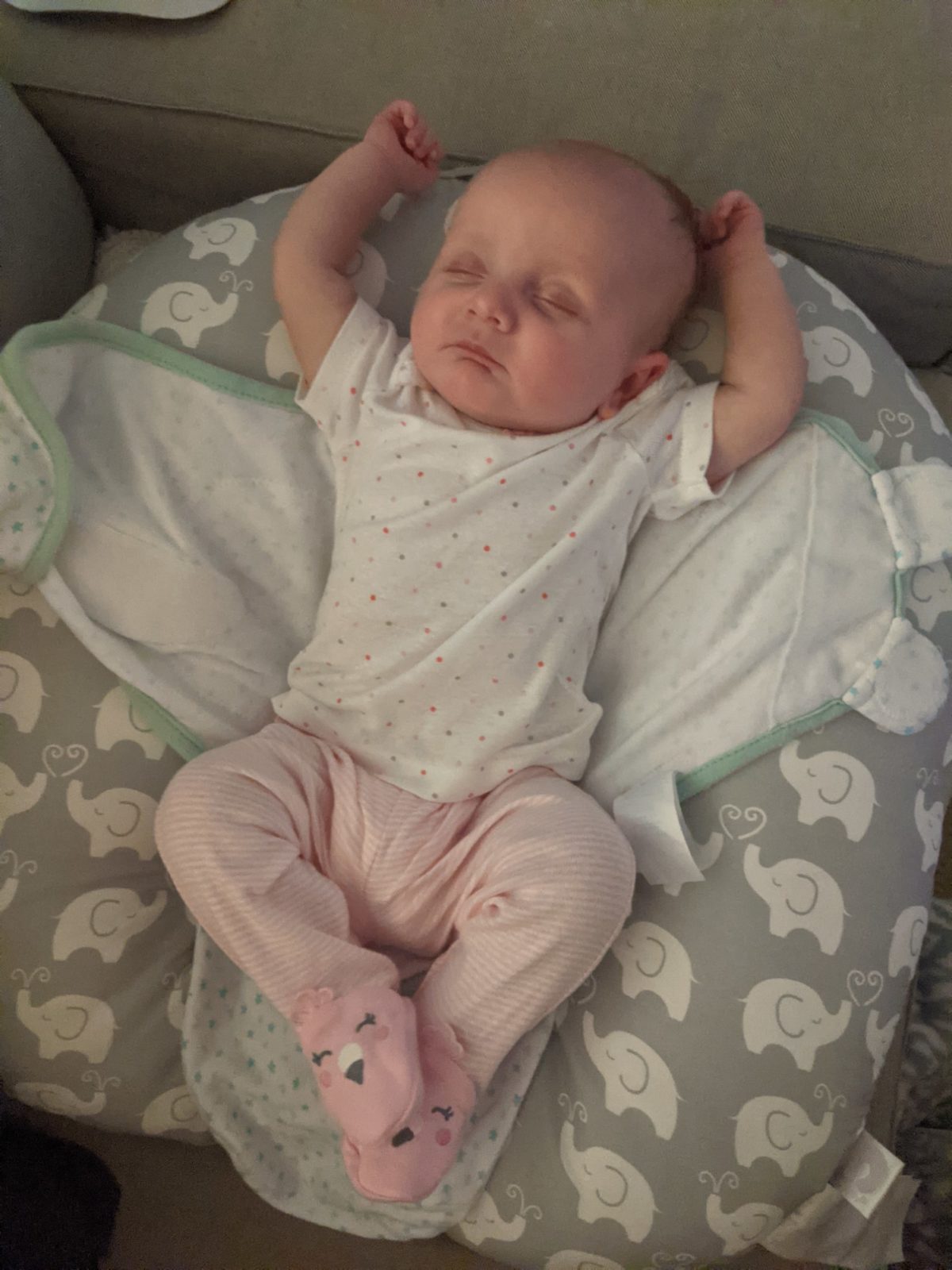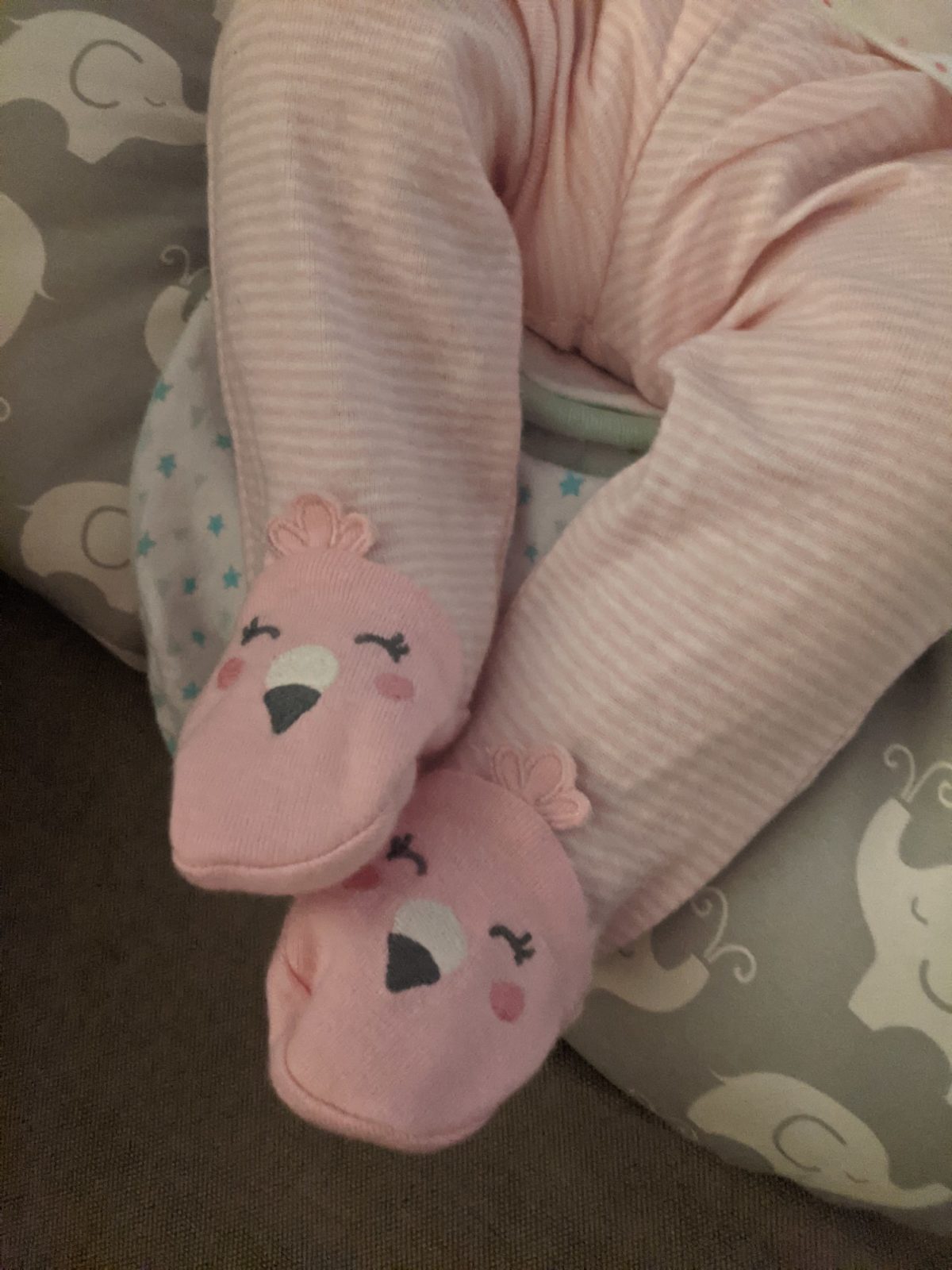 After getting her swaddled, I looked over at the closed curtains on the sliding glass door, and the coloring looked very weird and golden, so I just had a feeling the sky probably looked pretty. So I ran out to the driveway really quickly, and I was not disappointed!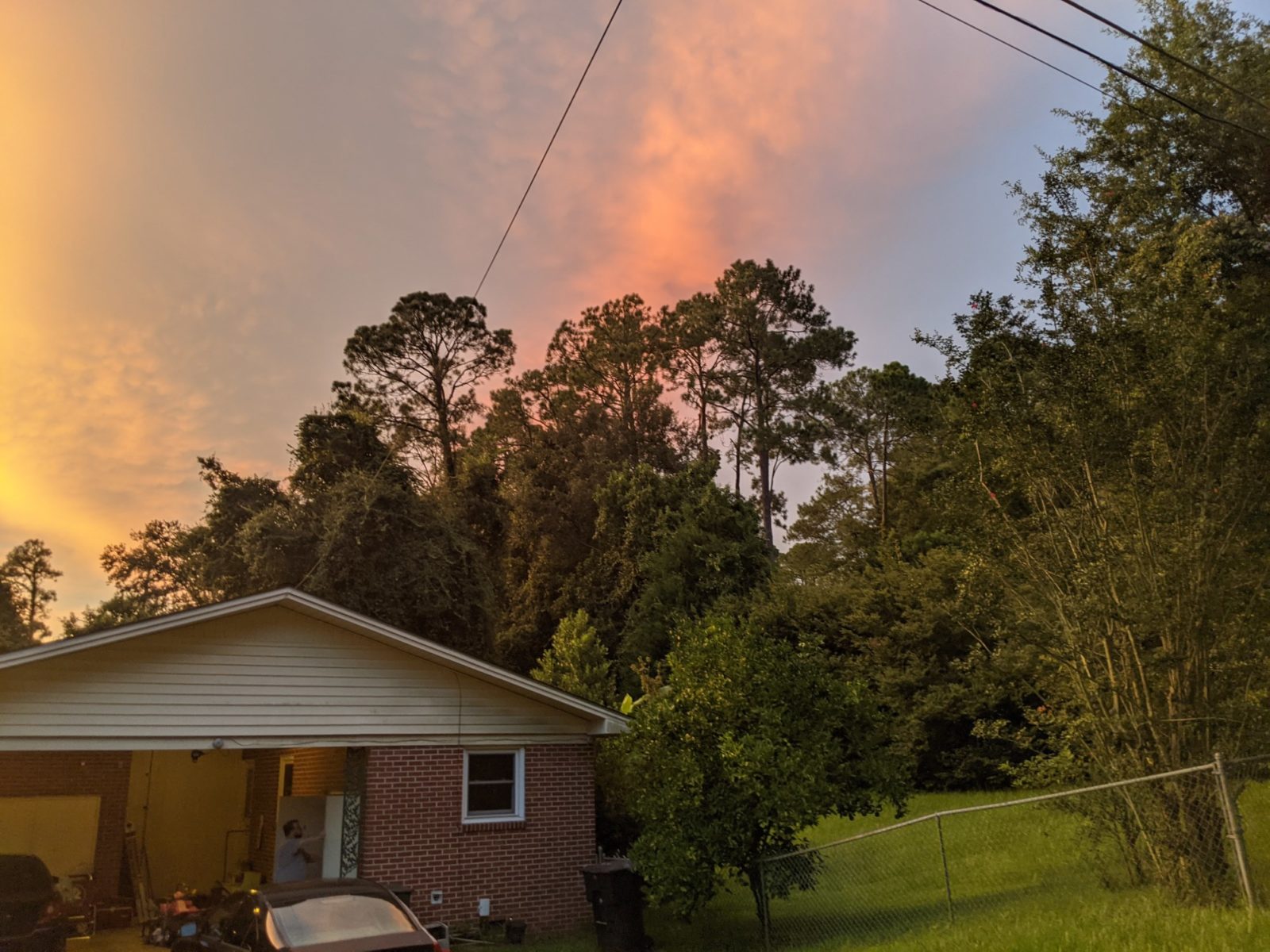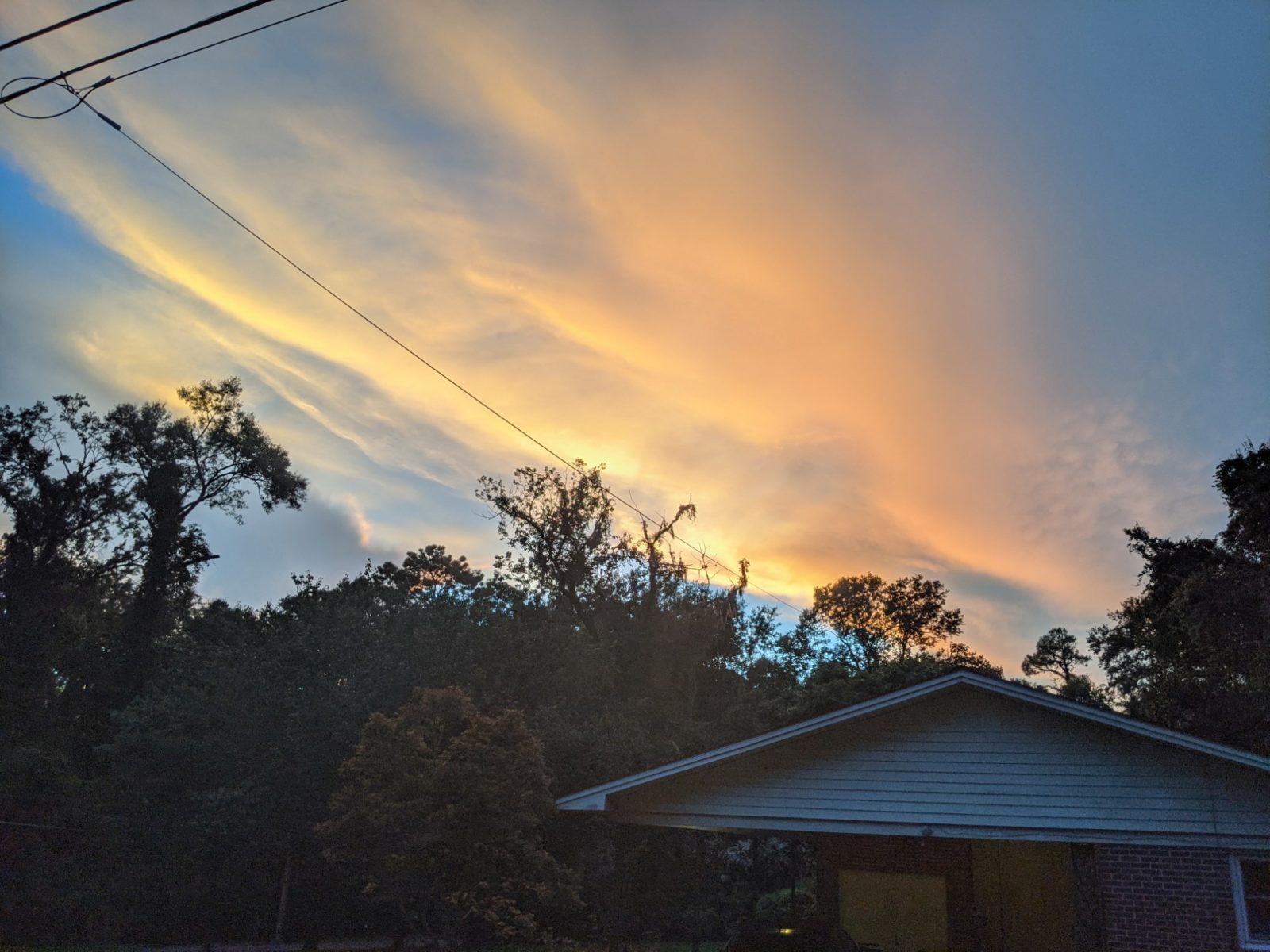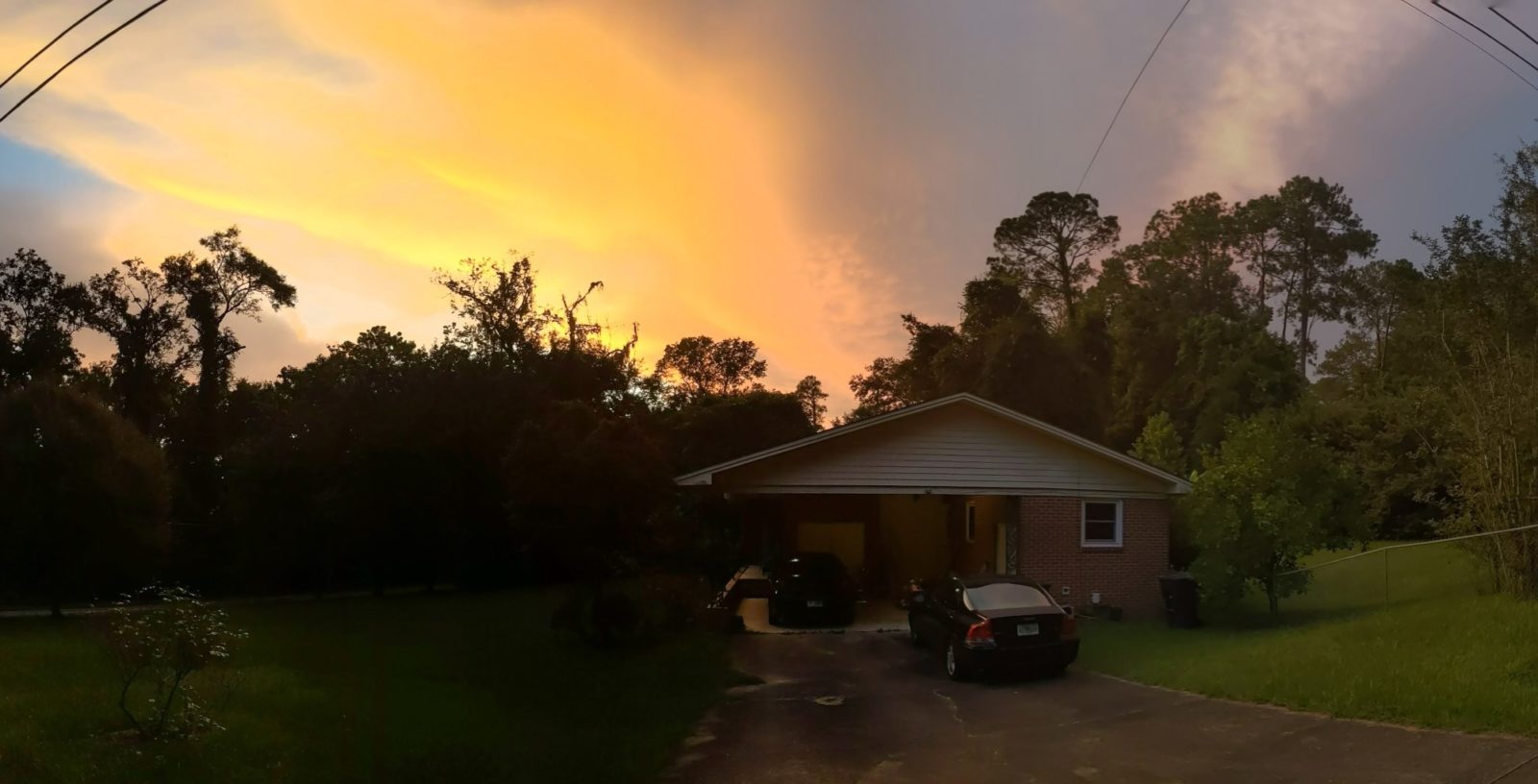 I did get all the dishes washed up and the kitchen cleaned and the leftovers put away, and Addie just kept on snoozing through all of it. Jeff and I have started re-watching "Brooklyn Nine-Nine" on Hulu for the second time, and it's even funnier the second time around. So we'll probably watch an episode or two (they're only 22 minutes each) before heading off to bed.