Since my car was not drive-able due to all the radiator fluid leaking everywhere and the engine overheating, we all loaded up in Jeff's car, to do all of our chaotic morning drop-off's together. Addie was still a little sleepy, but both girls were sweet. We did Emmie first so she could get to the cafeteria in time for breakfast, then Addie.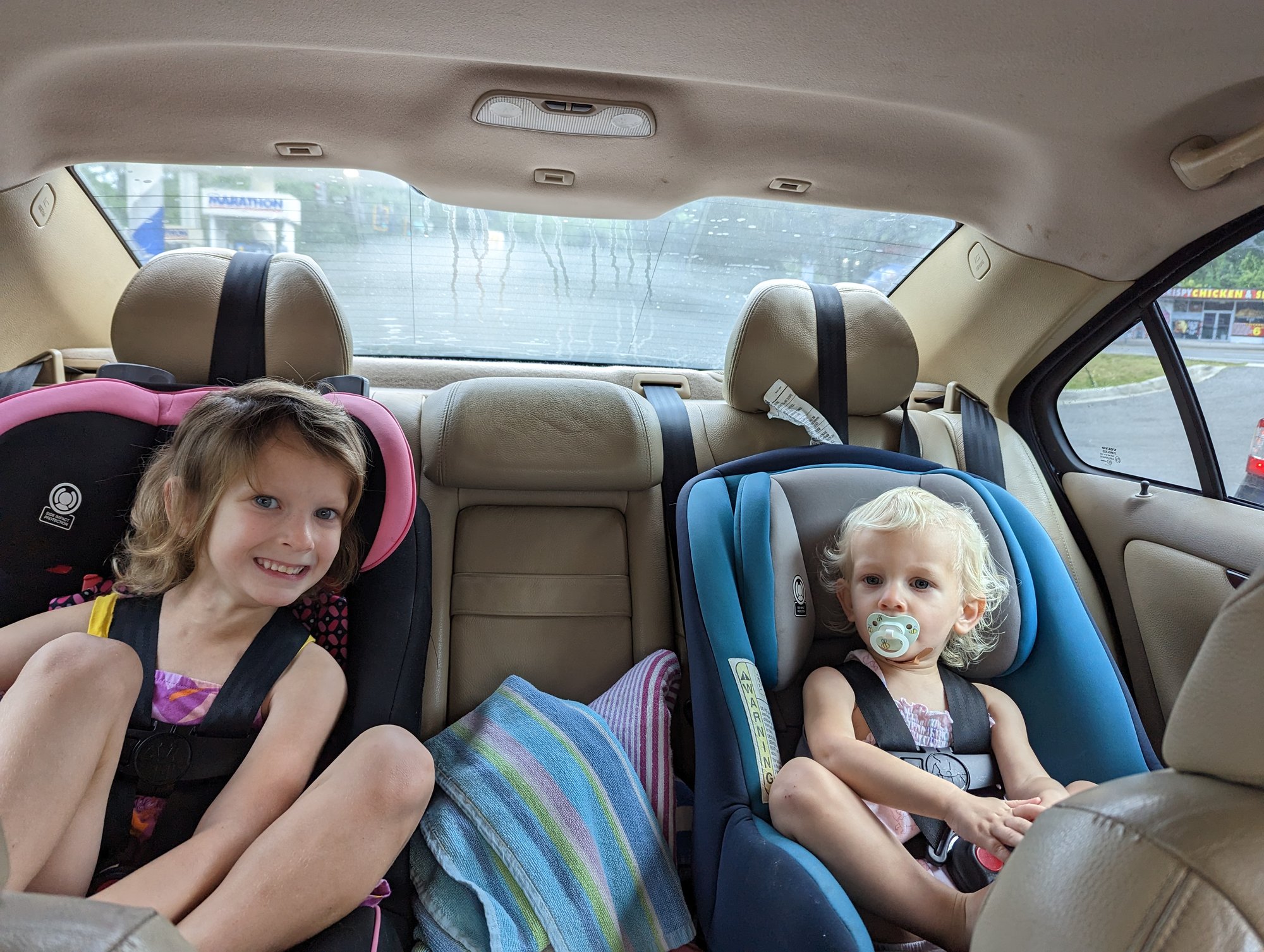 This is when Jeff walked back to the car after the gas station, and they both smiled up at him so sweetly.
Then Jeff dropped me off at my office, before he headed off to his. This week is Corrections' Employee Appreciation week, so they were handing out breakfast. But since I was later than usual due to all the drop-off's, I missed the Chick-fil-A breakfast biscuit. I took the parfait instead, buuuut it wasn't all that good and I didn't eat much of it…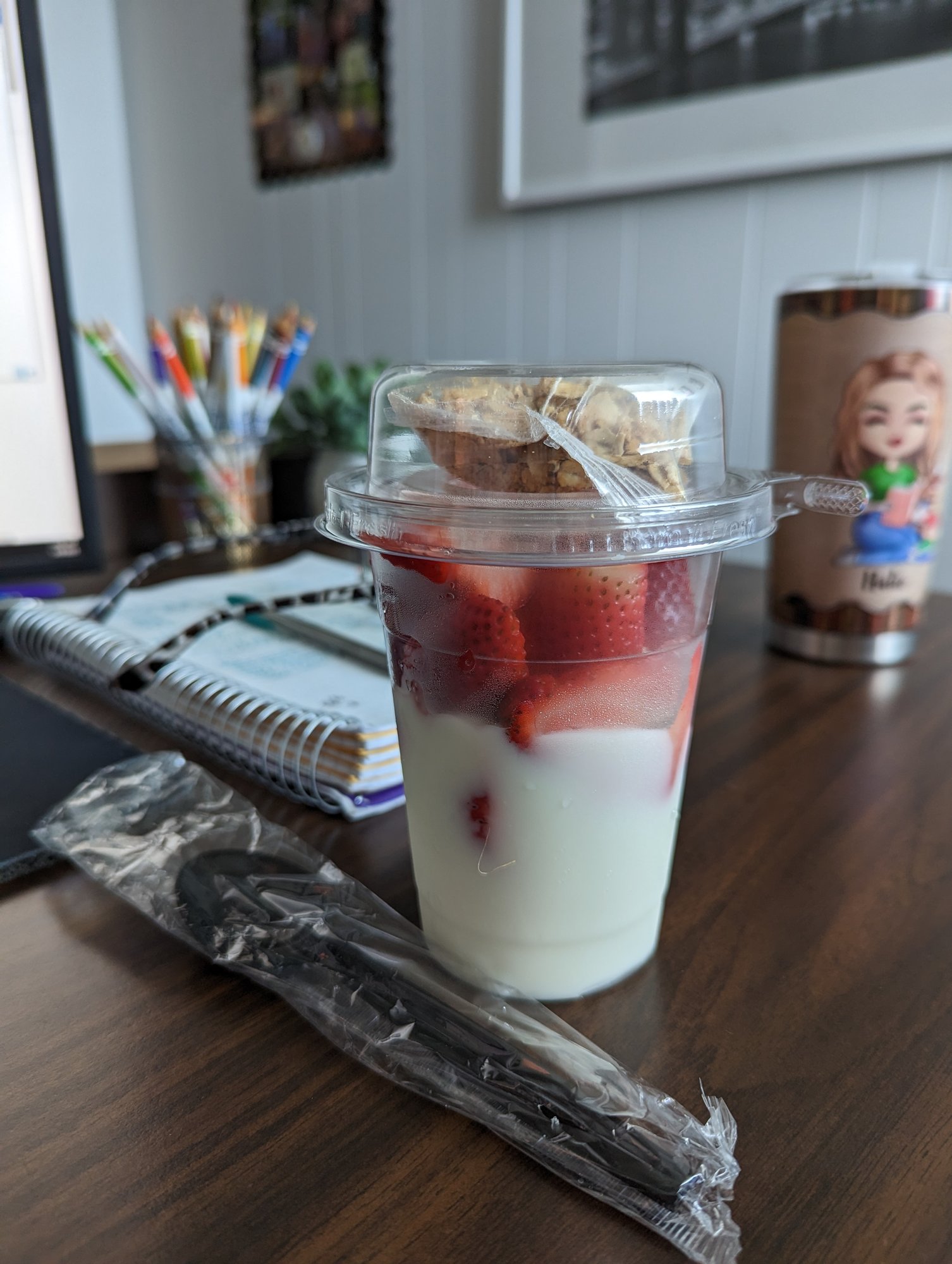 And since my car was gonna have to go back to the car shop again today, we got back in touch with our insurance agent, and she got us another rental car agreement. I called around to find a branch that had immediate availability and could come pick me up (like their ads say!), and the guy showed up in this beast! I just told them I needed a vehicle big enough to fit my two car seats in the back, and this 2022 Suburban is what we got. It's gigantic and I felt like I could chauffeur Taylor Swift back there, but it's amazing and a bit intimidating and even fancier than the little GMC I had last month.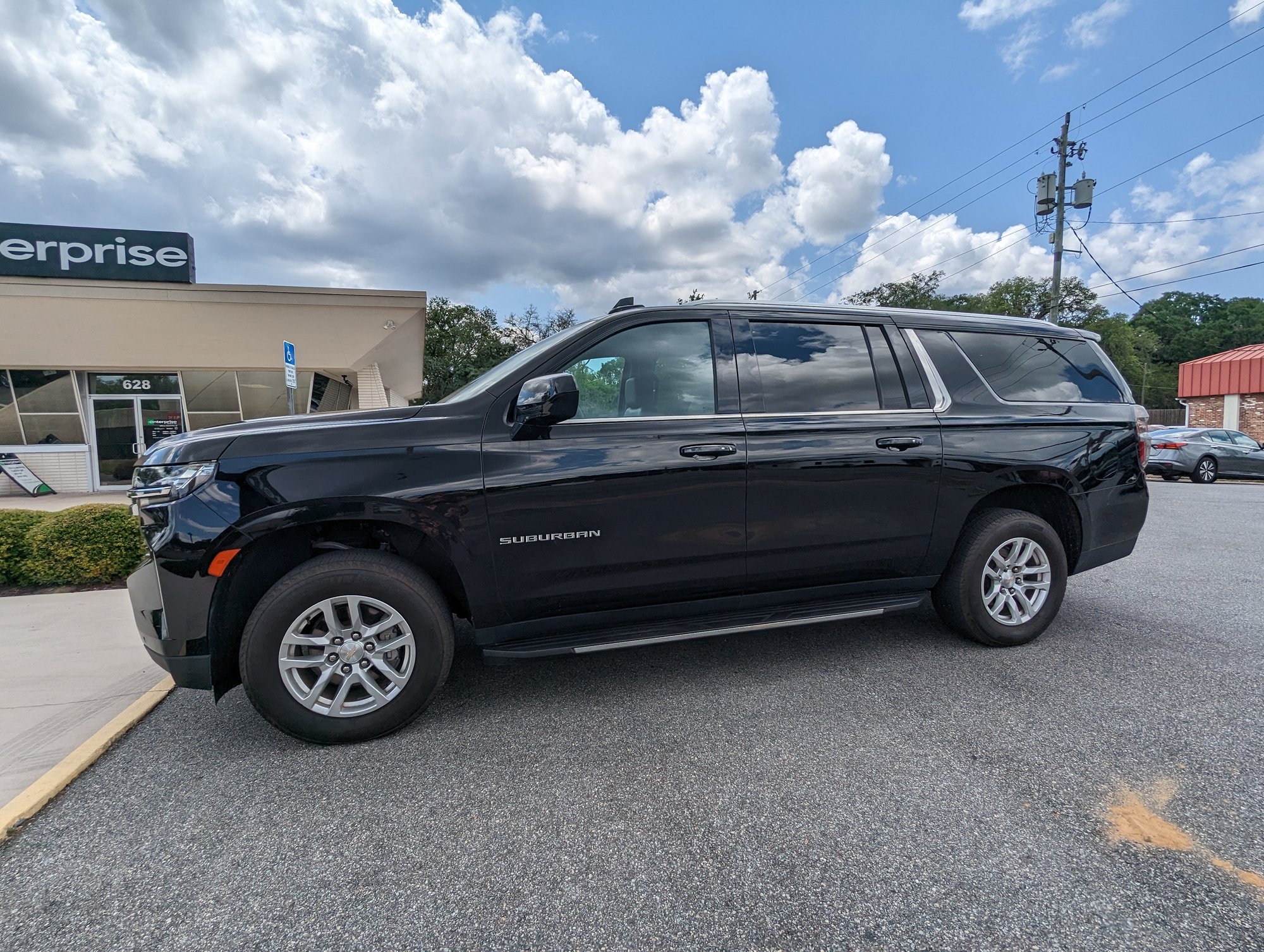 I got back to the office after signing the rental car paperwork, just in time for our ice cream sundae bar, put on for our Bureau by our Chief and a couple other supervisors. They had about a million toppings, and stations for banana splits and root beer floats, and everything you could wish for –  including little shots of caramel and chocolate sauce, which was hilarious and adorable.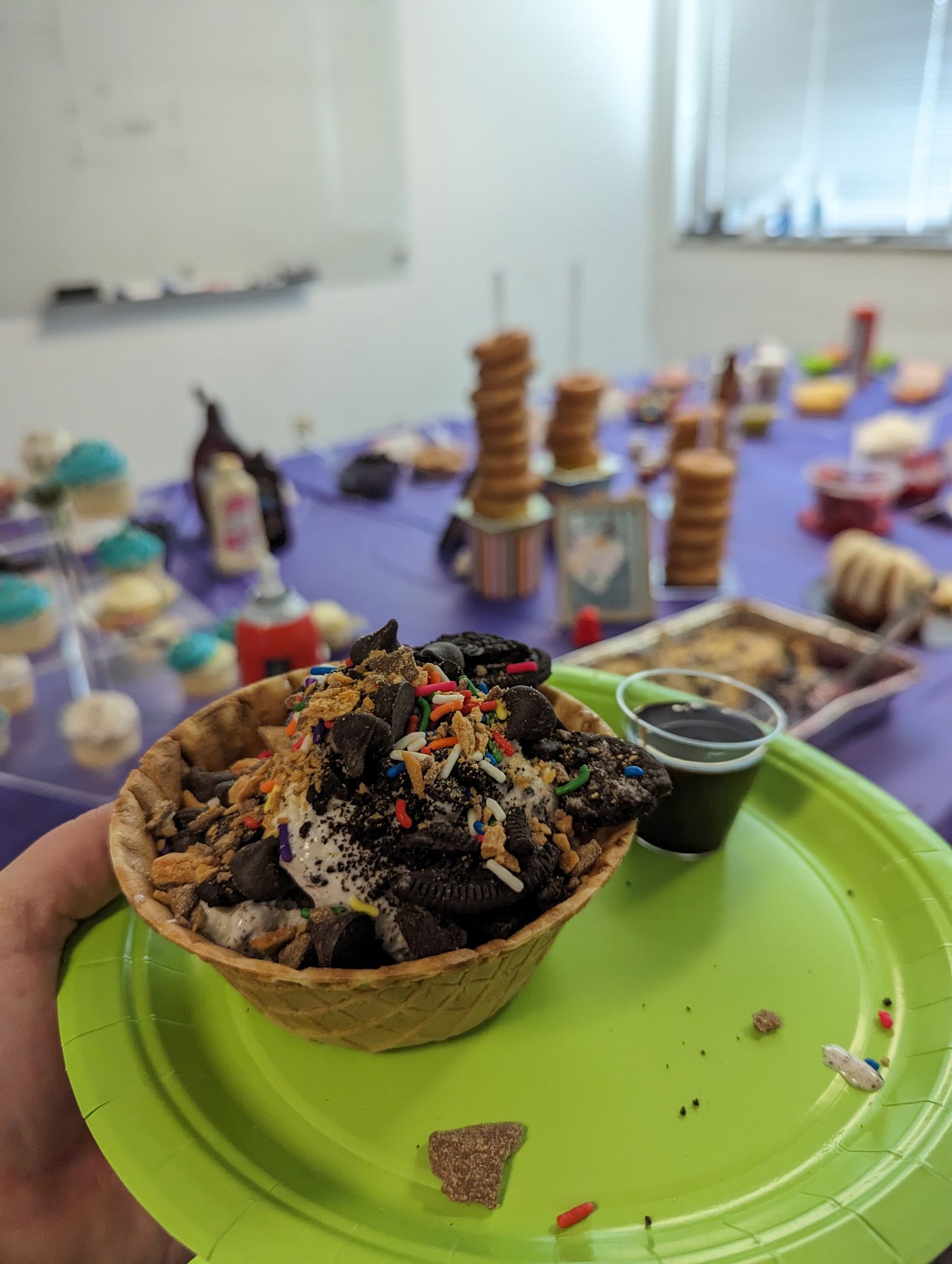 Addie had fun playing at school, like usual.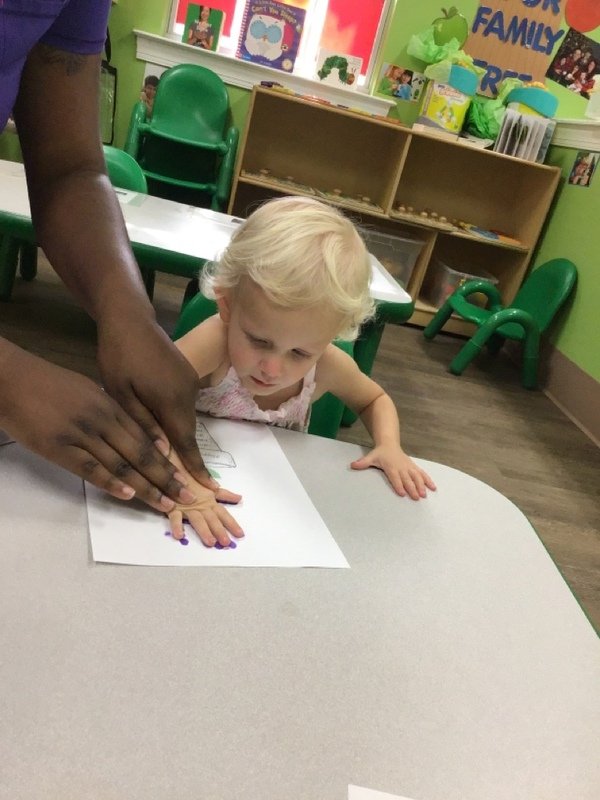 And looks like she even got in on all the car hoopla today too!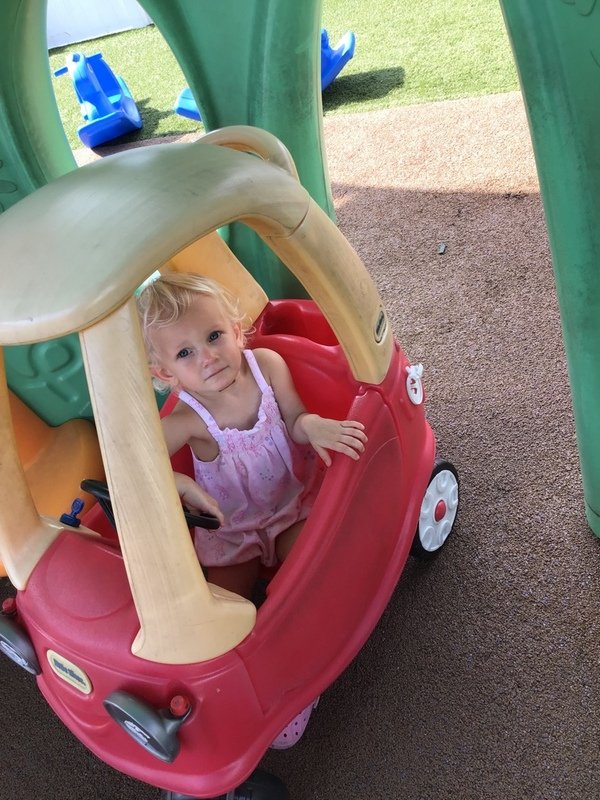 With all the car hoopla, and since I didn't actually have the car seats in the rental yet, we asked Nana to pick up the girls (which turned out great that we forgot to get the extra seats out of her car last night), and I just headed straight home after work. The last rental had a screen like this and Android Auto when I plugged my phone in. But this one does everything wirelessly through Bluetooth, and it is so nice. I love this "little" luxury.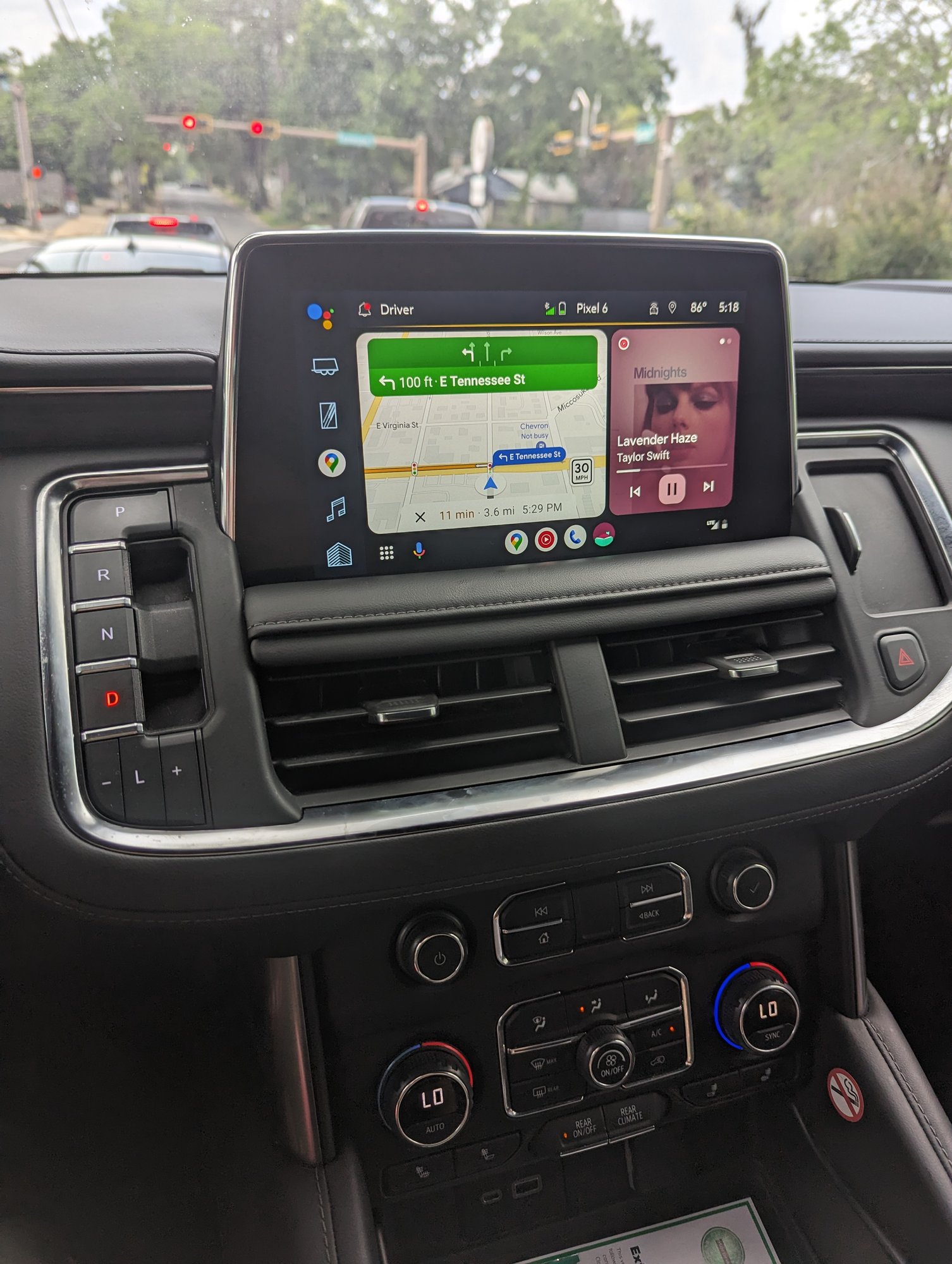 Nana and the girls were pulling in our driveway from one direction, right as I turned into our driveway from the other direction. And of course both girls had to climb in and check it all out.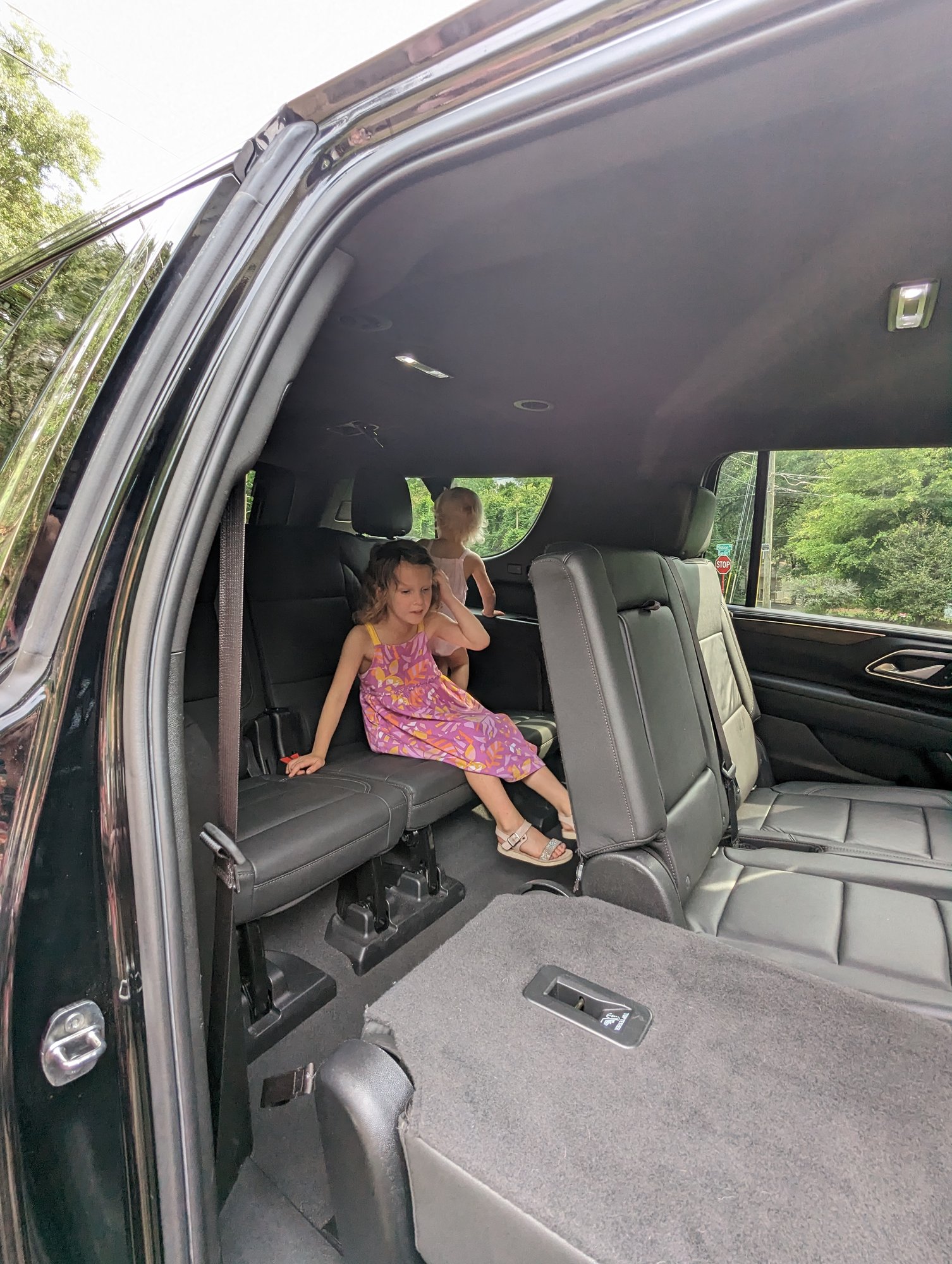 I needed to keep things super simple after such a chaotic day, so we just did grilled cheese and deli-fresh soup, and I "boiled" some eggs while I did all that.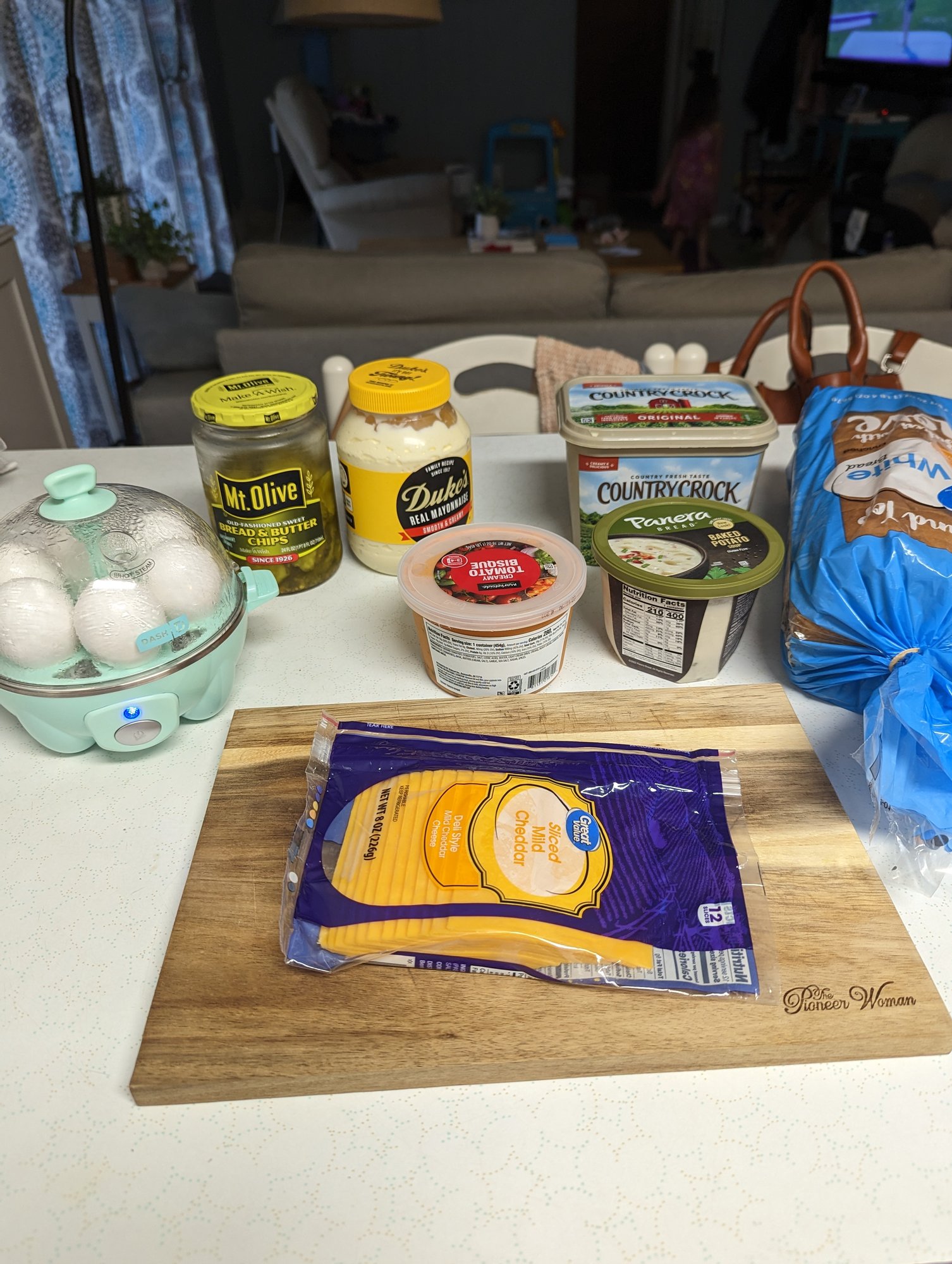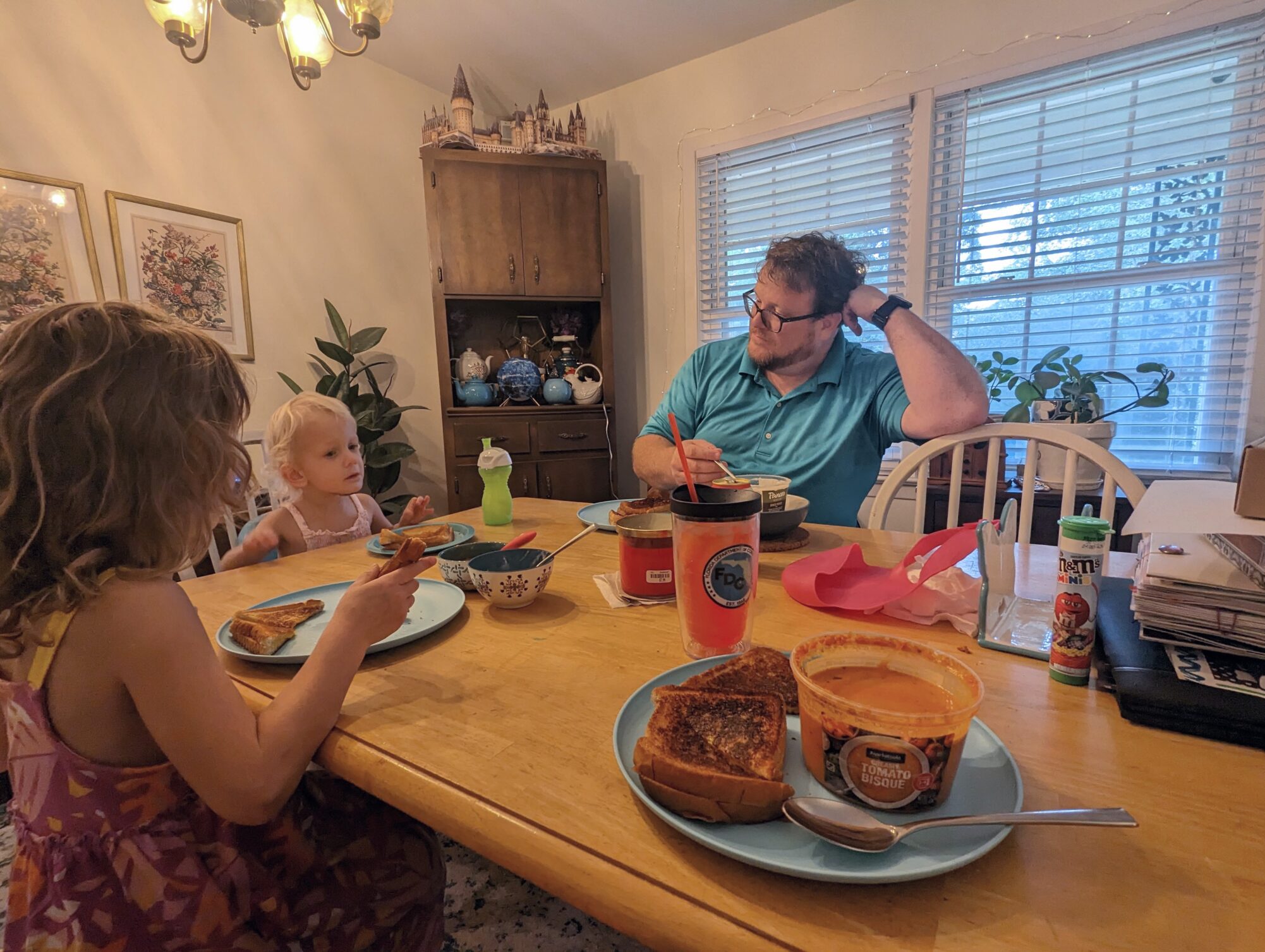 After dinner, Jeff got the car seats buckled into the Suburban, then I made up some egg salad for my lunch this week, and washed up some dishes. We had some cuddle times watching Bluey, and then got started on the girls' bedtime routines.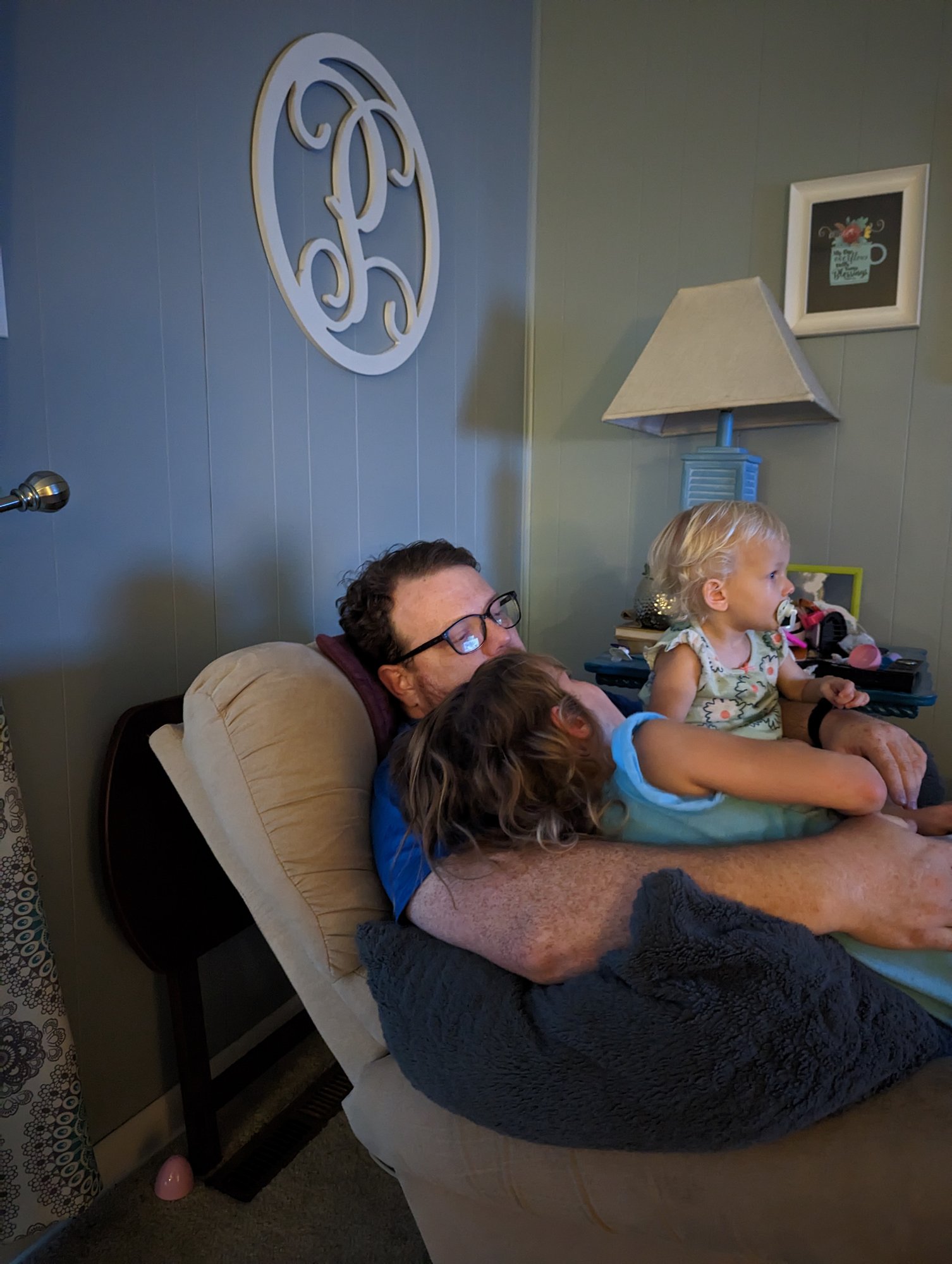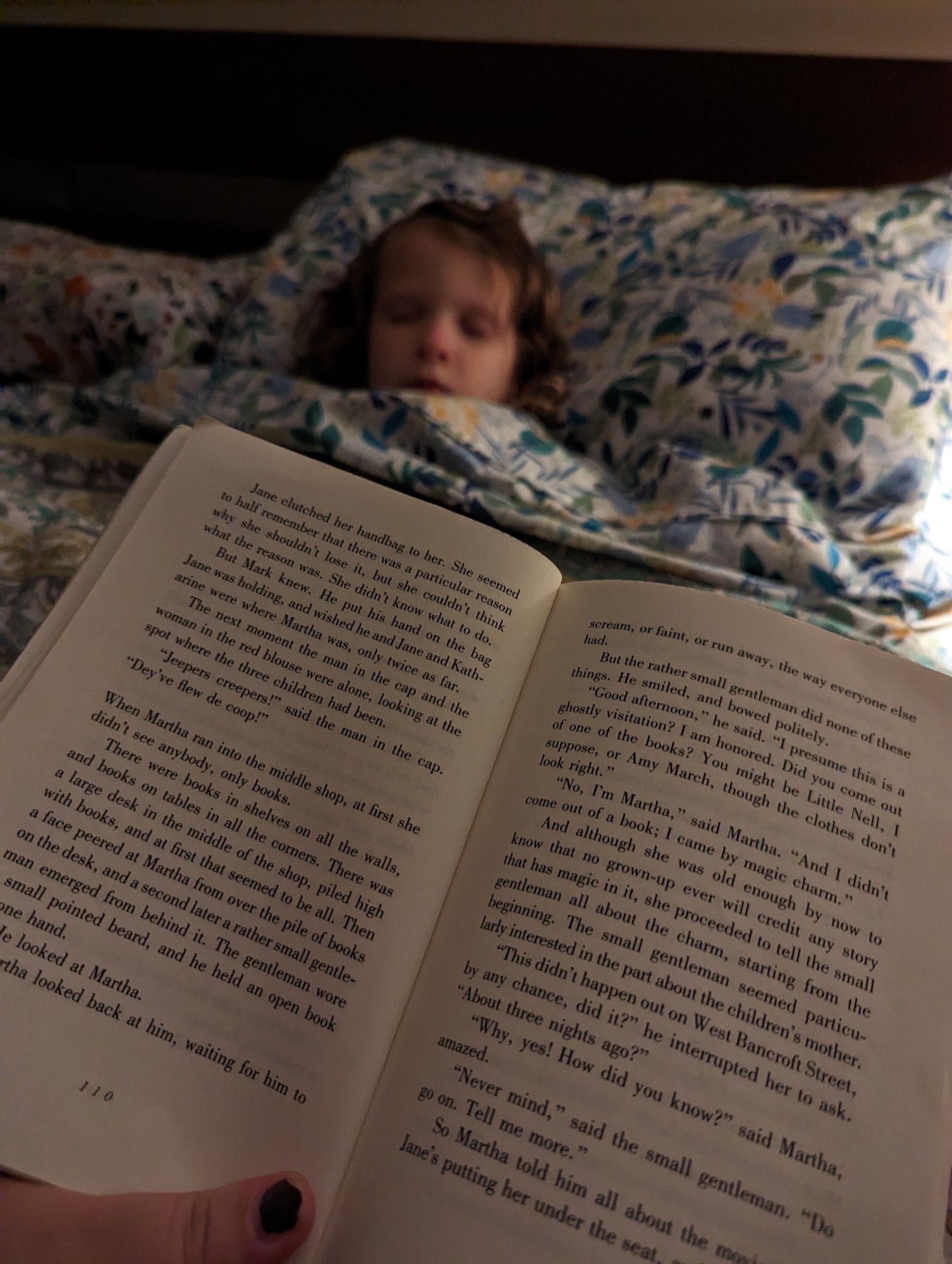 Once I finish this current episode of "Firefly Lane," I'll watch a few of our YouTube "friends" with Jeff, and then read a little bit before going to bed.