WEDNESDAY, Day 3 – Port of Call: George Town, Grand Cayman. (If you missed it, check out Day 1 and Day 2.)
We woke up super early on Wednesday morning, had a quick, light breakfast in the Windjammer, and reported to our meeting spot by 6:50 a.m., to head out on our excursion! The port here isn't deep enough for the giant ships to go all the way in, so we all loaded up in a smaller tender to head to the island.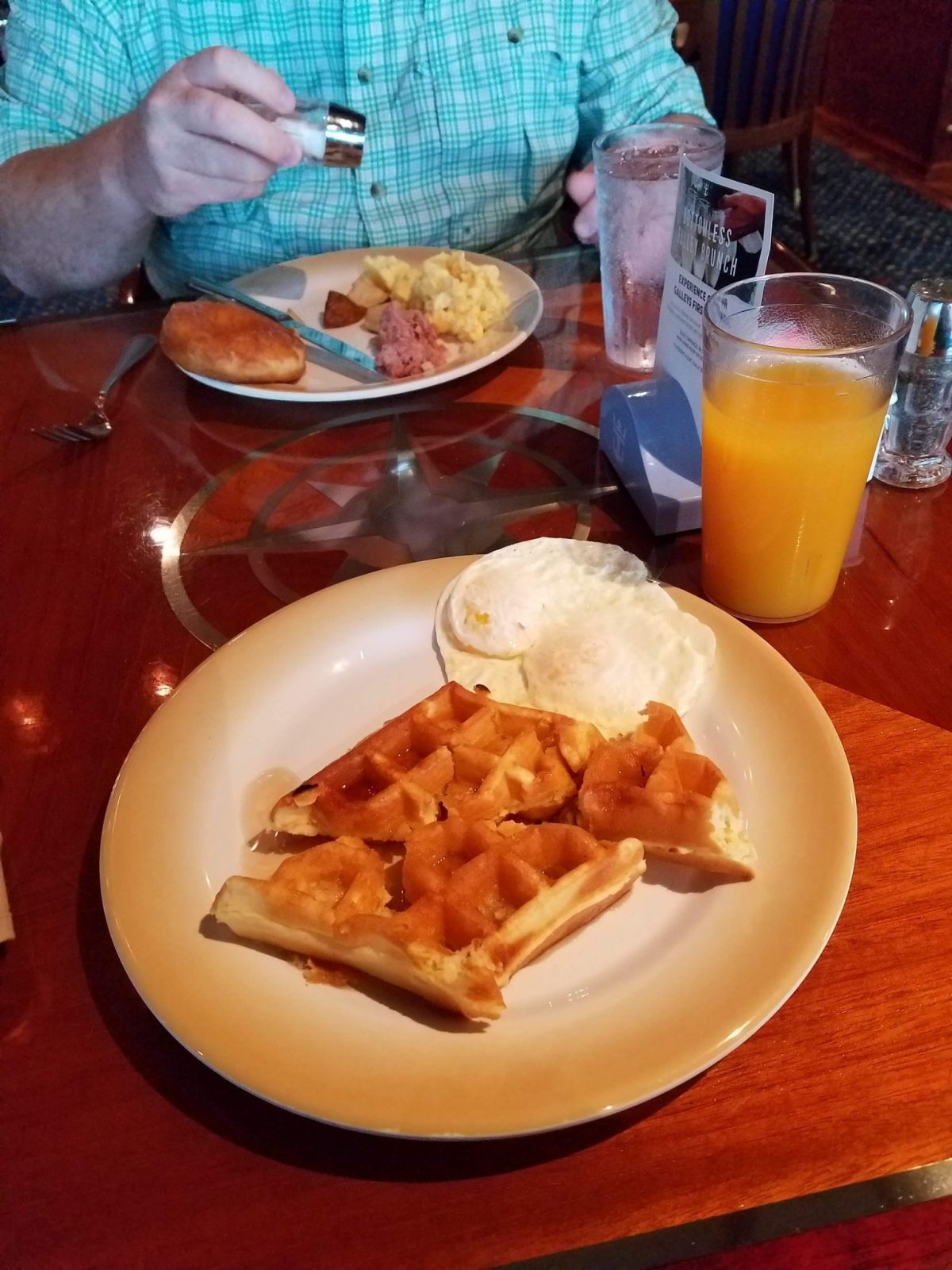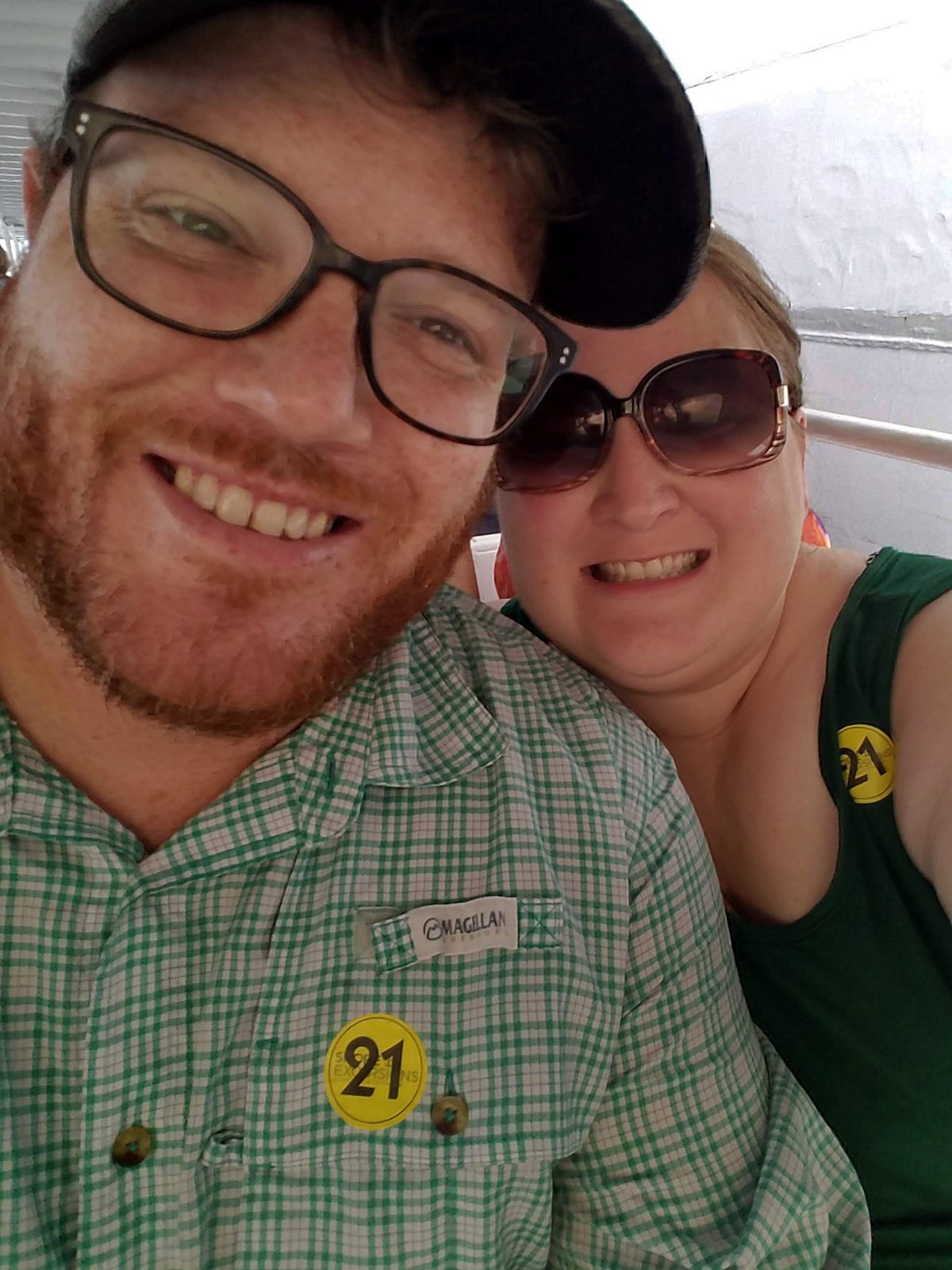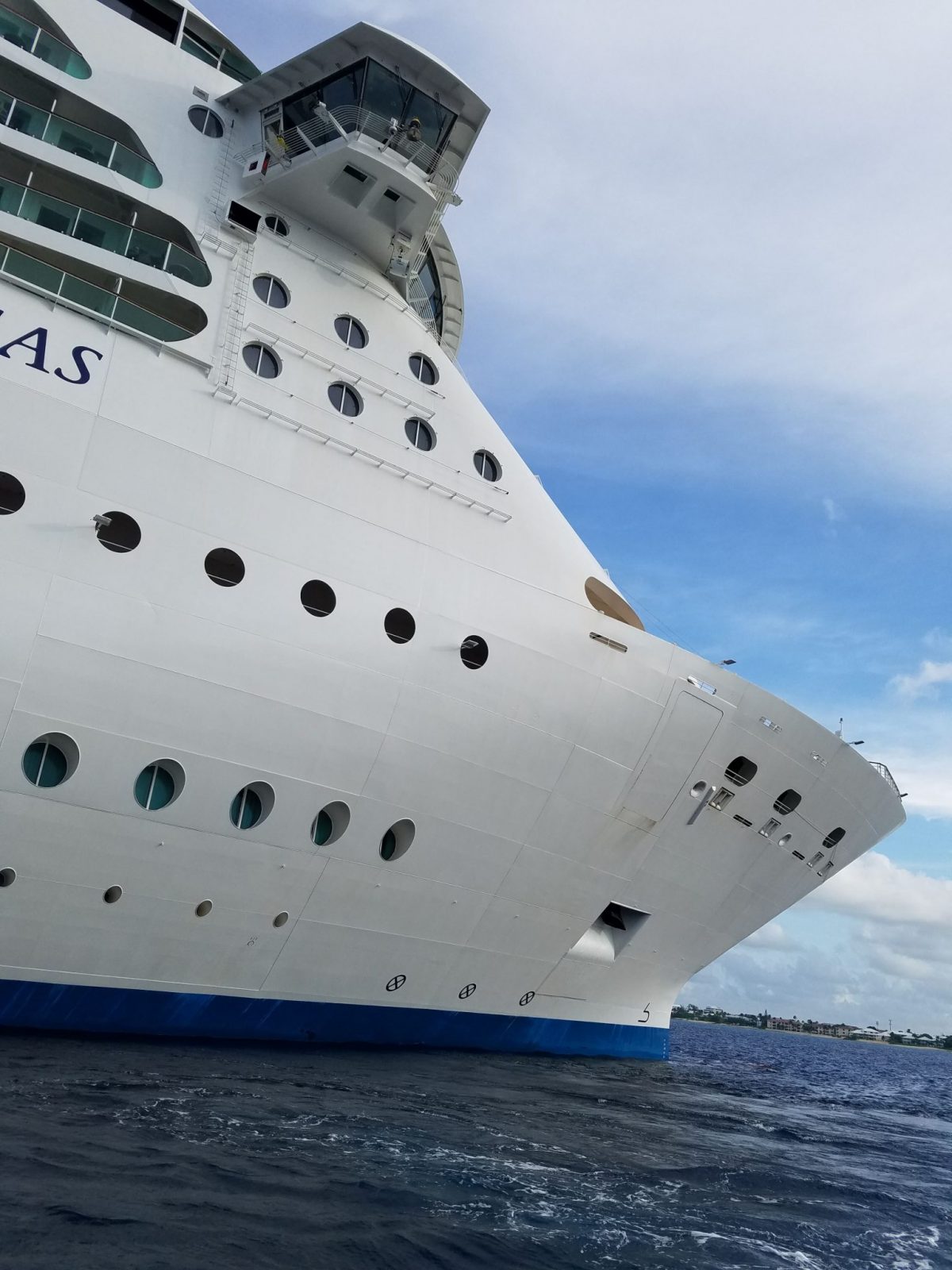 We then took a 20-minute bus ride to the other side of the island with about 25 other people, and then we all boarded a 60-foot racing catamaran! We motored out to Stingray City, and got to hop in the crystal clear blue waters and swim with stingrays! There are hundreds of them that congregate and live together on a sand bar, and they've been kind of "tamed" by all the people that come out there. Some have even had their stingers removed, but they're all pretty much "harmless."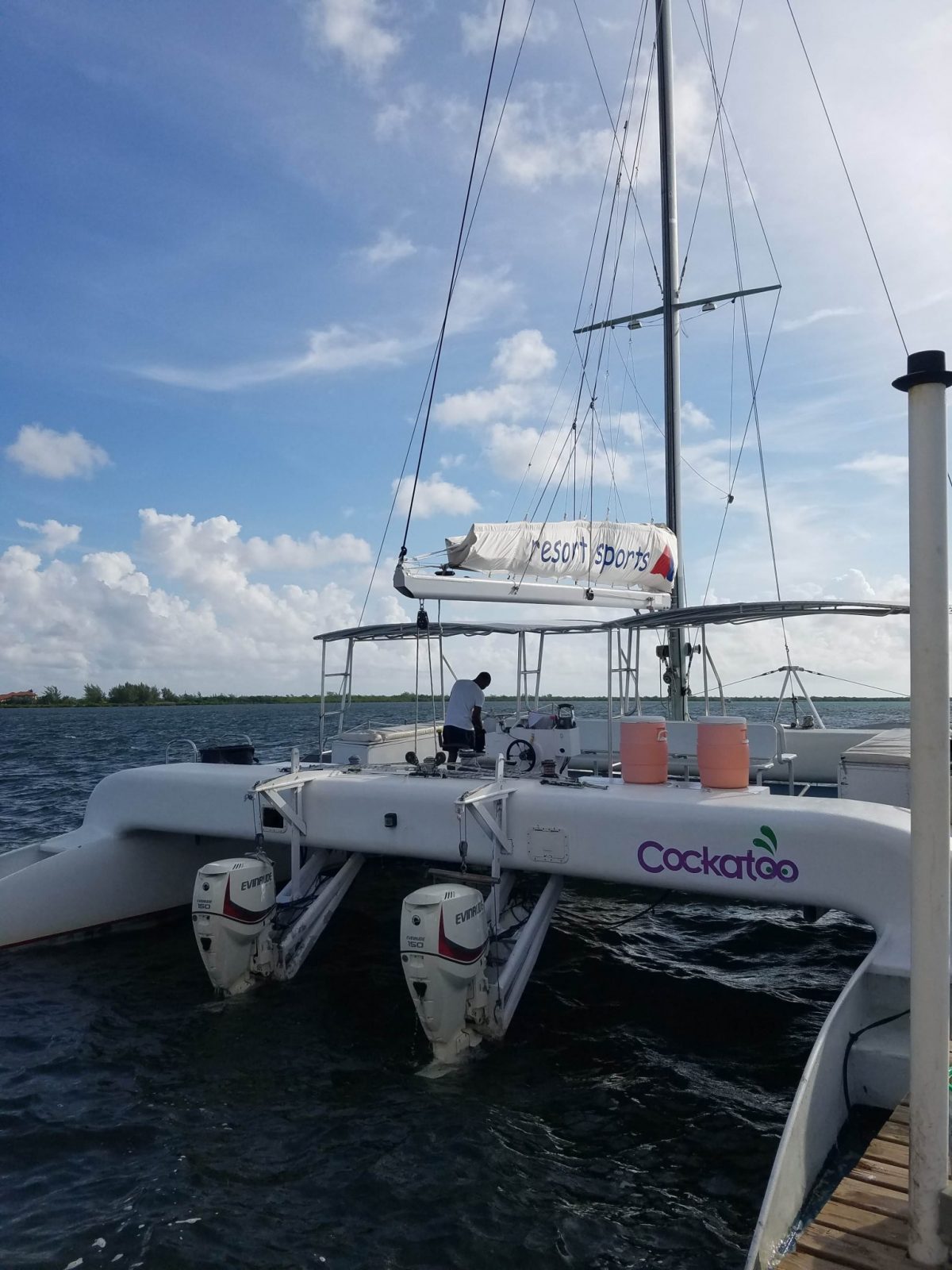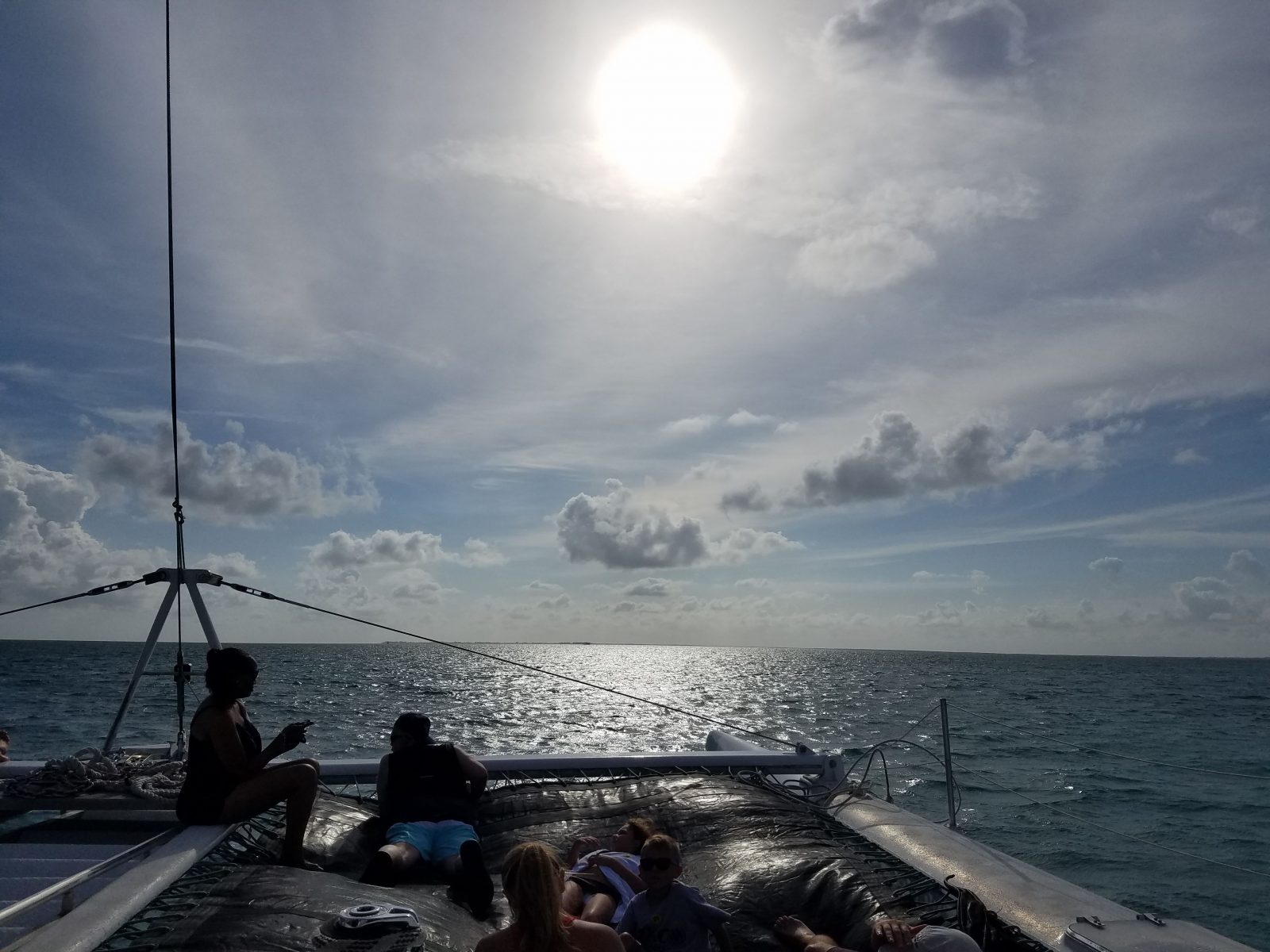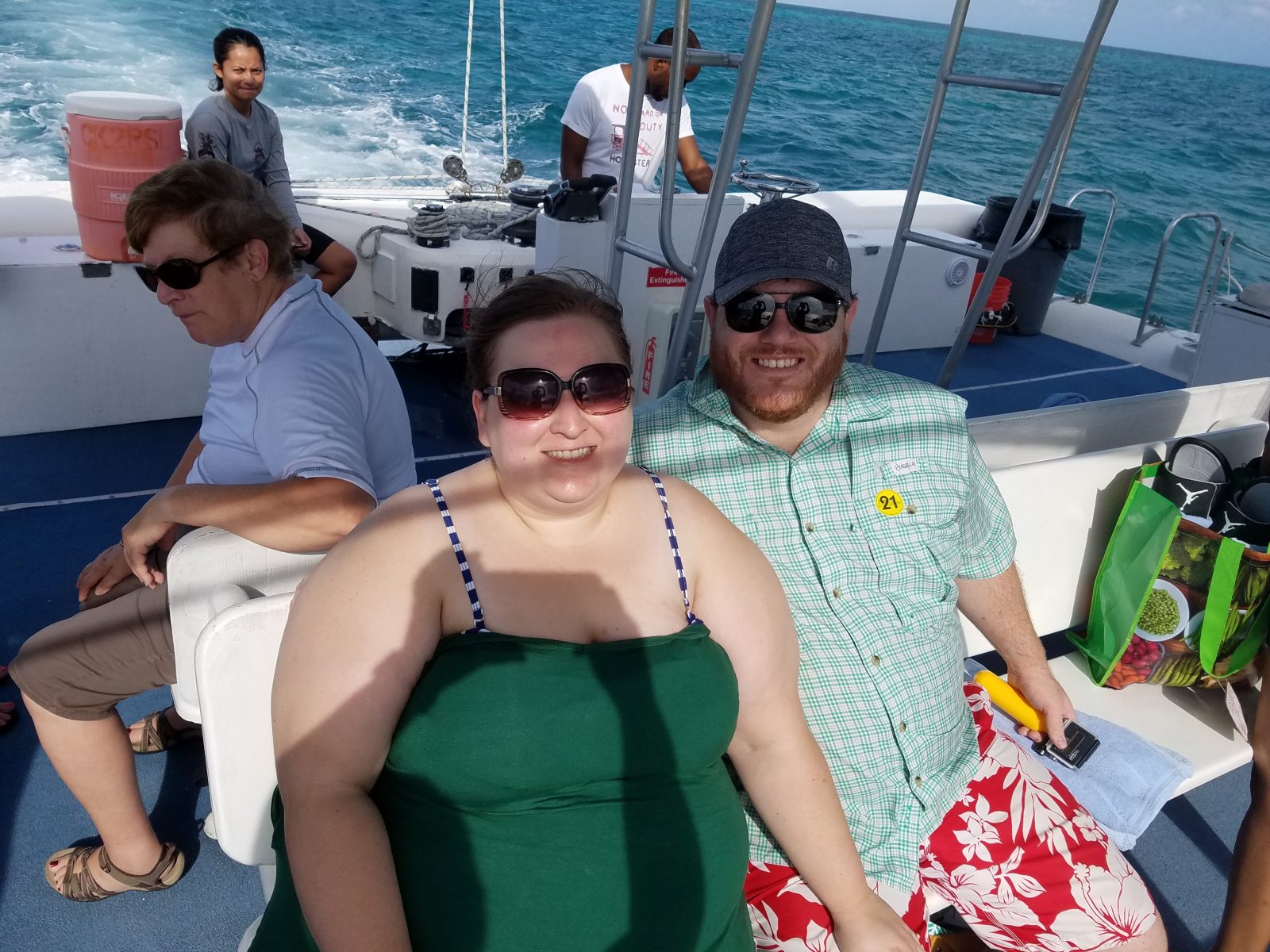 When it was time to get off the boat, one of the "skippers" (or whatever she was), slipped down the stairs, while holding our bucket of chum we were going to hand-feed them, so the stingrays all came swarming over, and there were just so many of them! It was a little overwhelming at first, and I'm not gonna lie, there was a lot of screaming and shrieking. But at least I wasn't the only one – lots of other people were too!
Eventually, things settled down, and that allowed all of us to settle down. I even reached out and felt them as they swam by. The guide caught one of the larger ones, so that each of us could take turns holding it right at water level, and having our photos taken by their crew. The holding of the stingray freaked me out again, but I did it, and we got some great photos!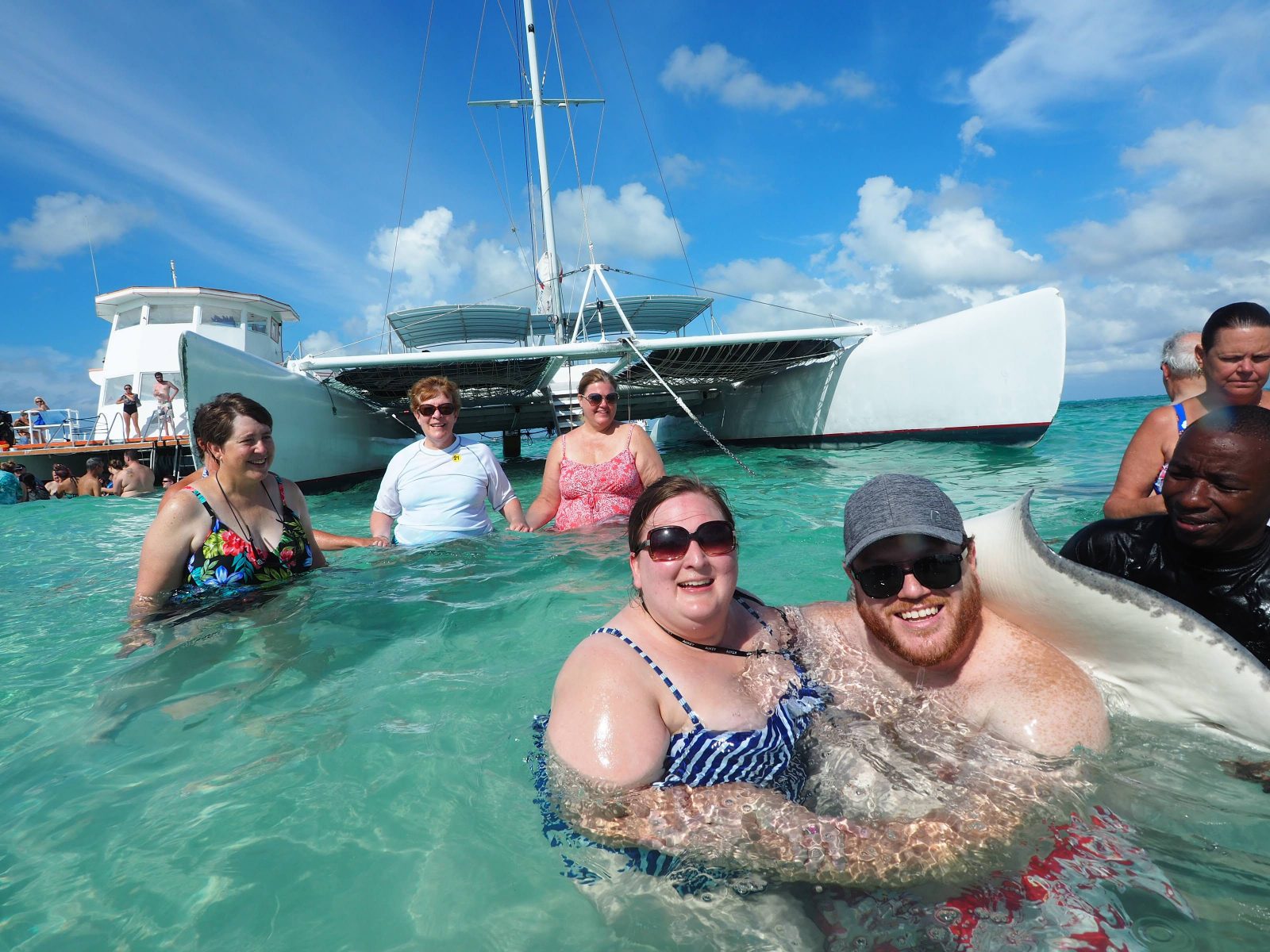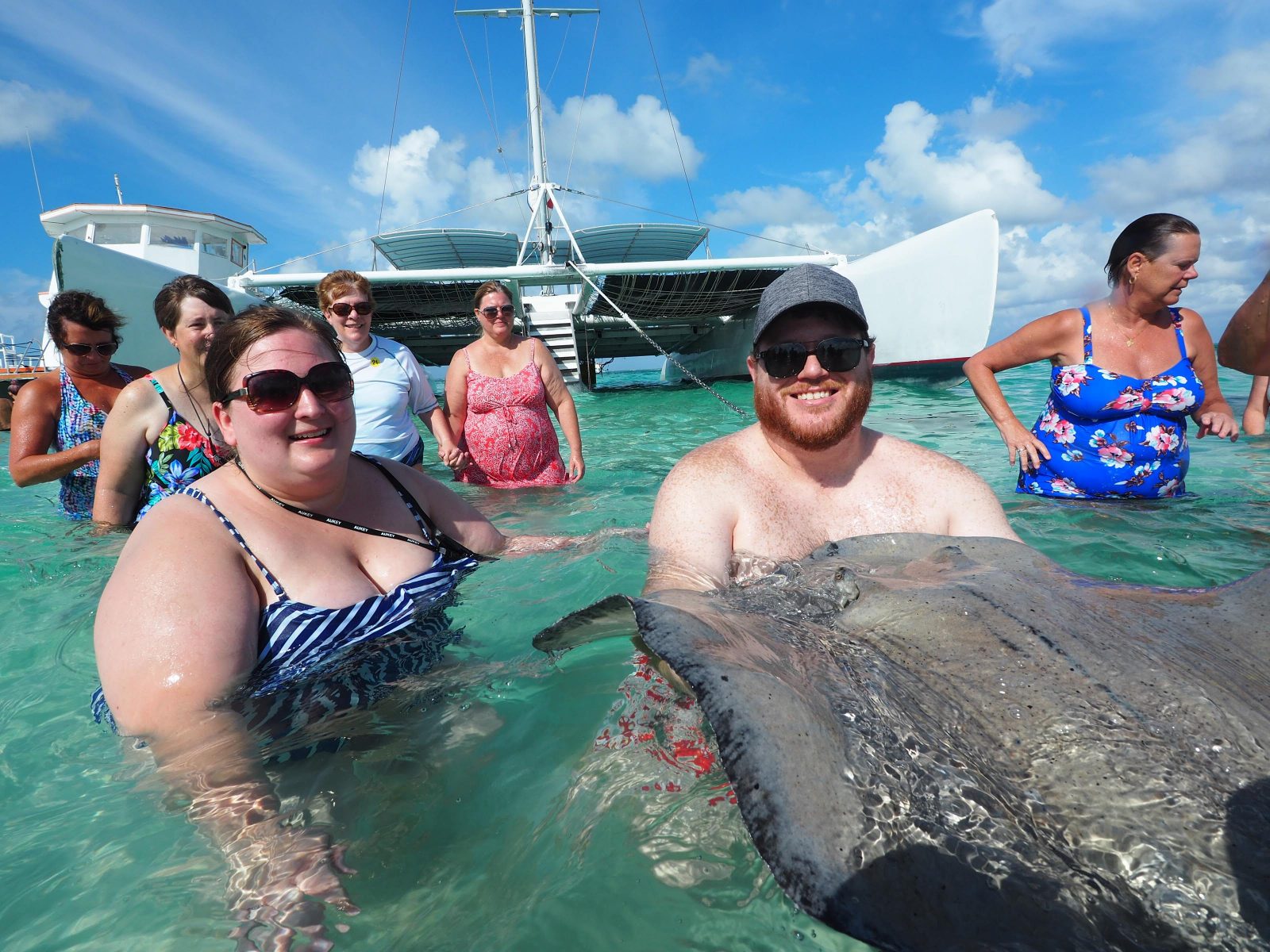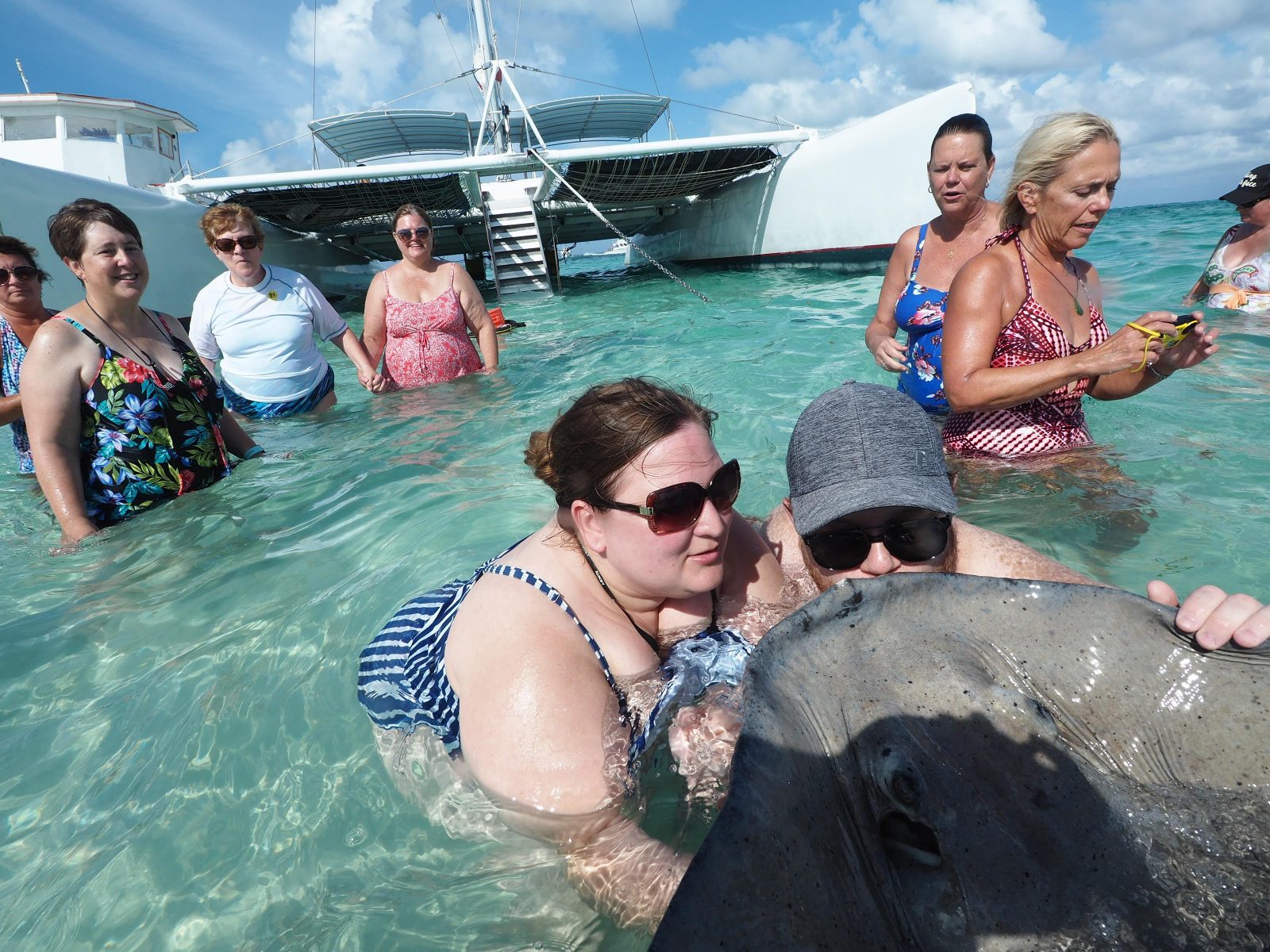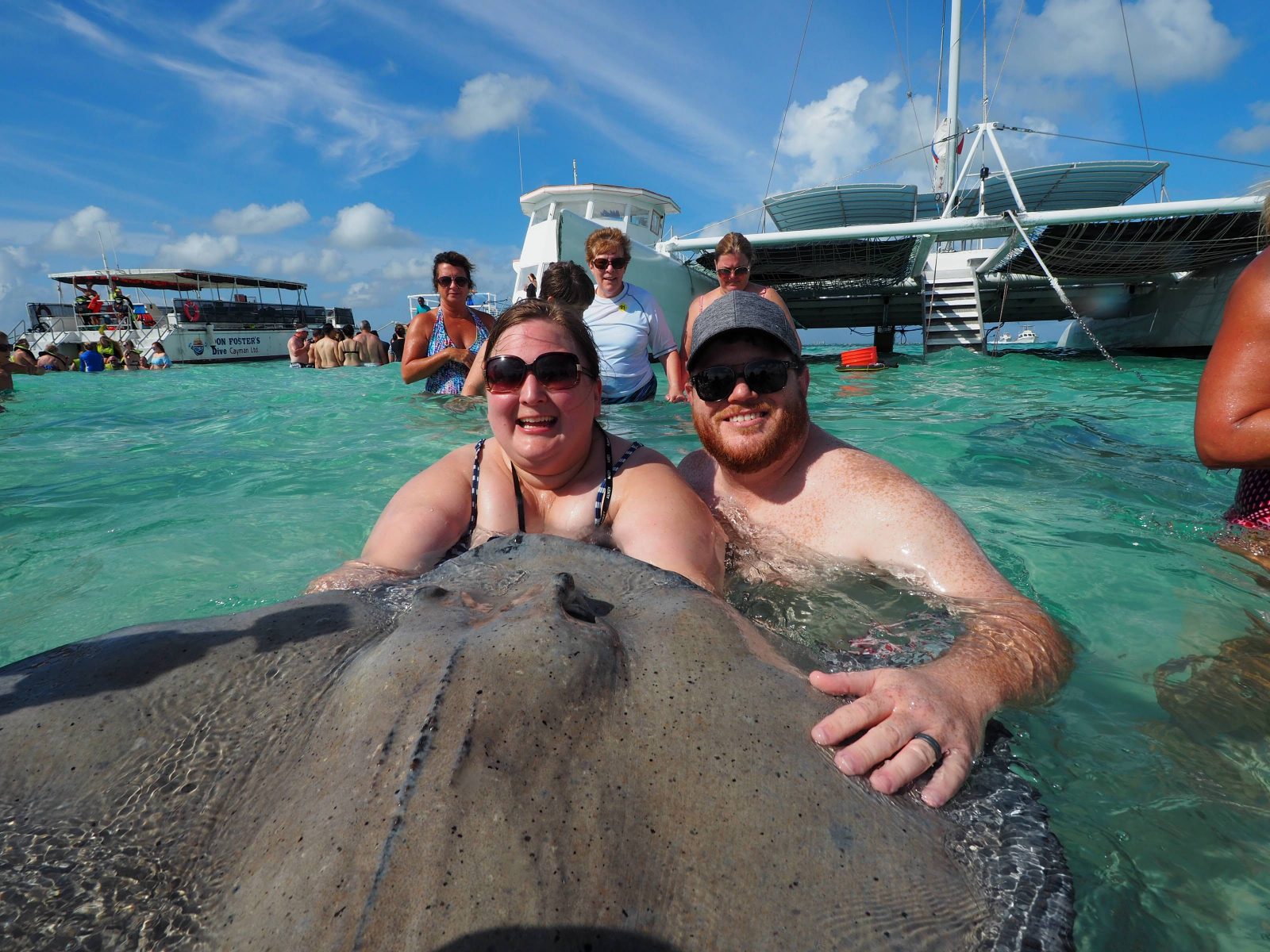 After about 30-45 minutes in the water, we all boarded the catamaran again, and the raised the sail. We motored out to Stingray City, but we slowly sailed back to shore on the way back in. And it was so lovely! We sat out on the "trampolines," and chatted with a sweet family of 4, with a 12-year-old girl and an 8-year-old boy. We basked in the sunshine & breeze from the sailboat, and just enjoyed the slower ride back!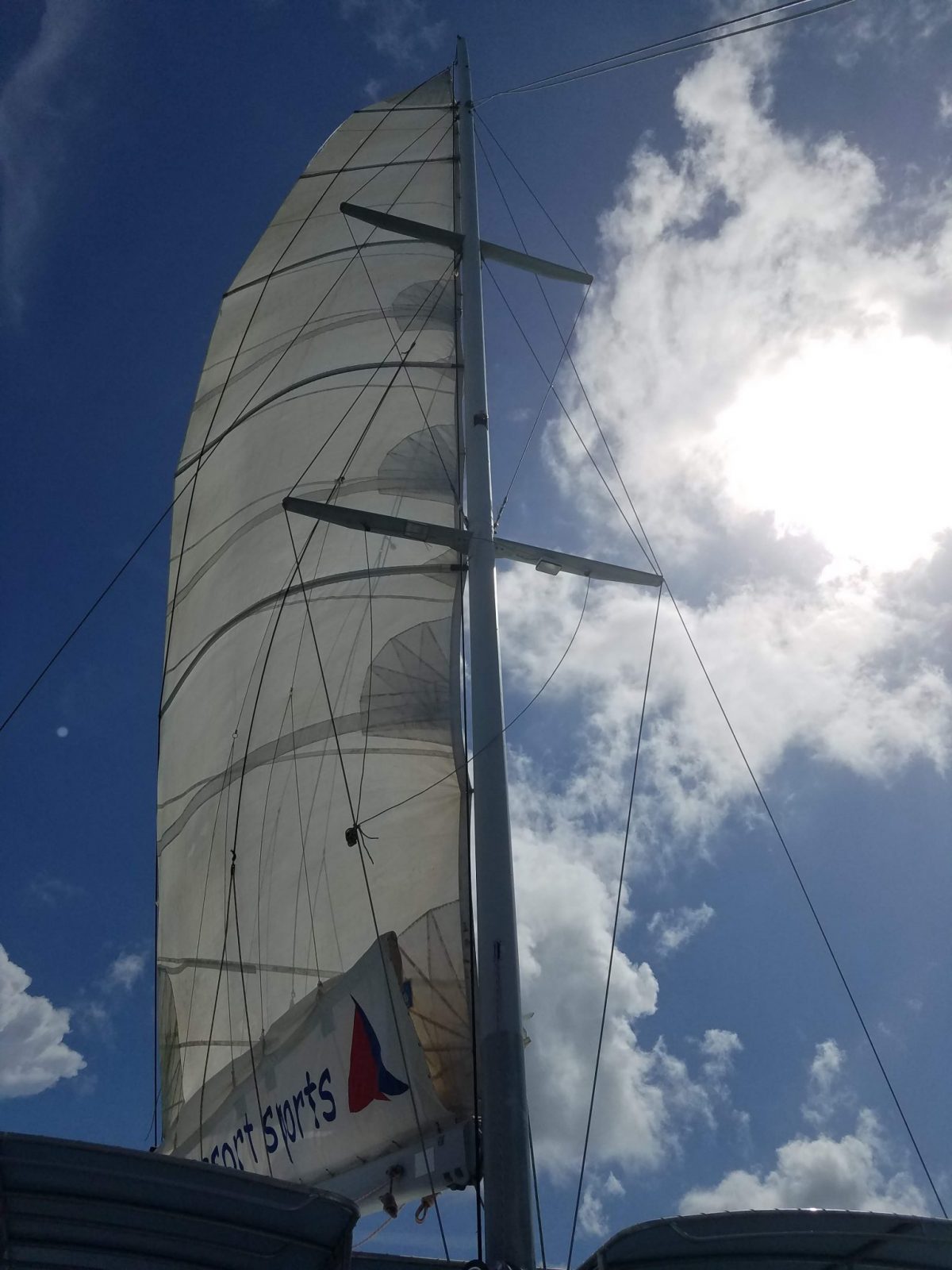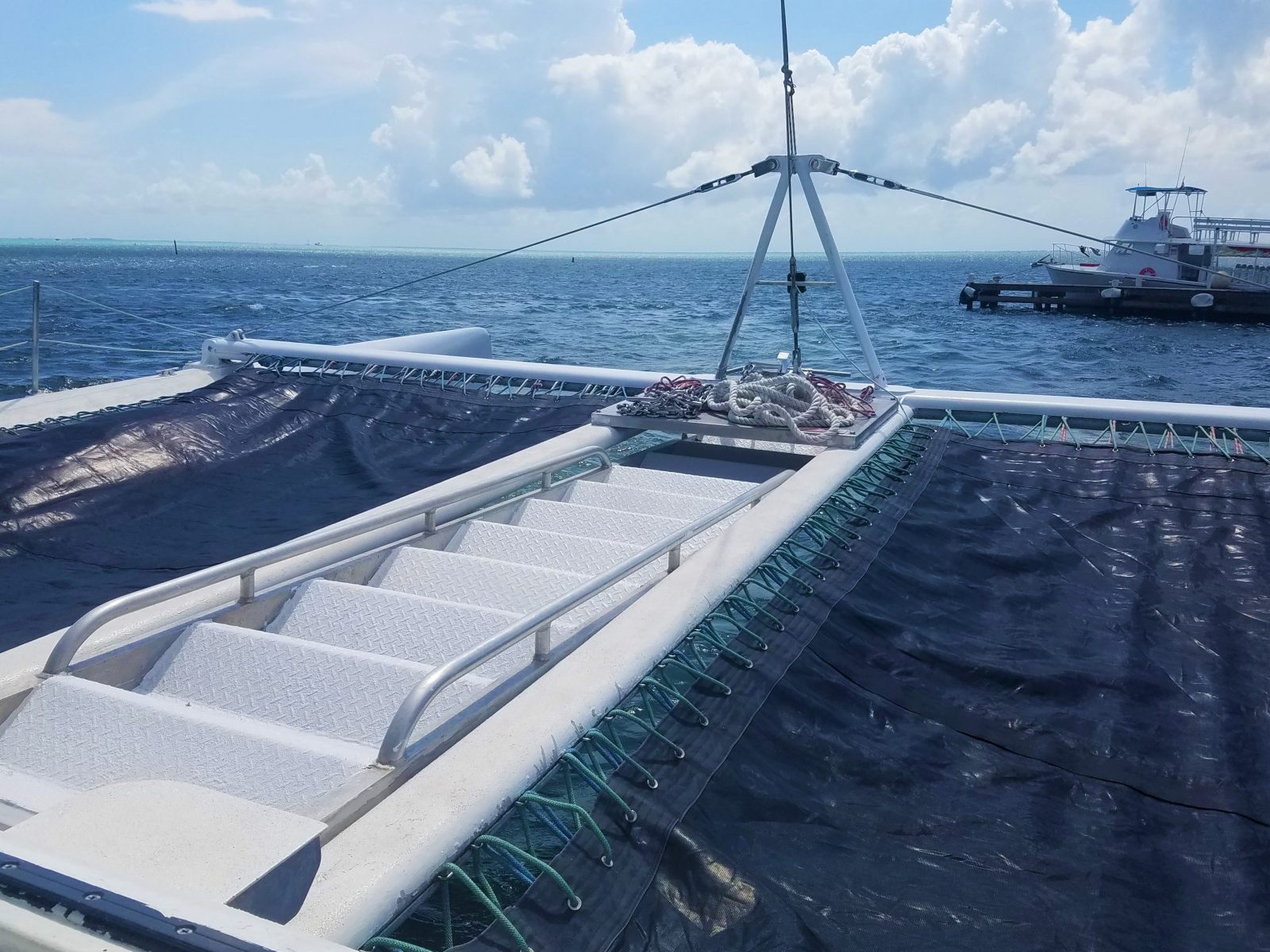 Once on land again, we all took the 20-minute bus ride back to the port, and the group parted ways. Jeff and I wandered around for a while, going in and out of a few shops, but dang it was expensive! Grand Cayman is apparently known for their incredible shopping, and even though there was plenty of it, they didn't sell the kind of stuff my bank account can afford. Diamonds, watches, jewelry, etc. were in abundance! We opted for the cheaper souvenir shops, and found a cute little dress for Emerson. We also found a little drink stand where we got coke & orange soda, and used their free Wi-Fi for a few minutes. (We opted not to pay the $16/day fee for on-board ship Wi-Fi, so we just did a quick check-in with my mom to see a few photos of Emmie.)
There were two Royal Caribbean ships and two Carnival ships all anchored in Grand Cayman this day.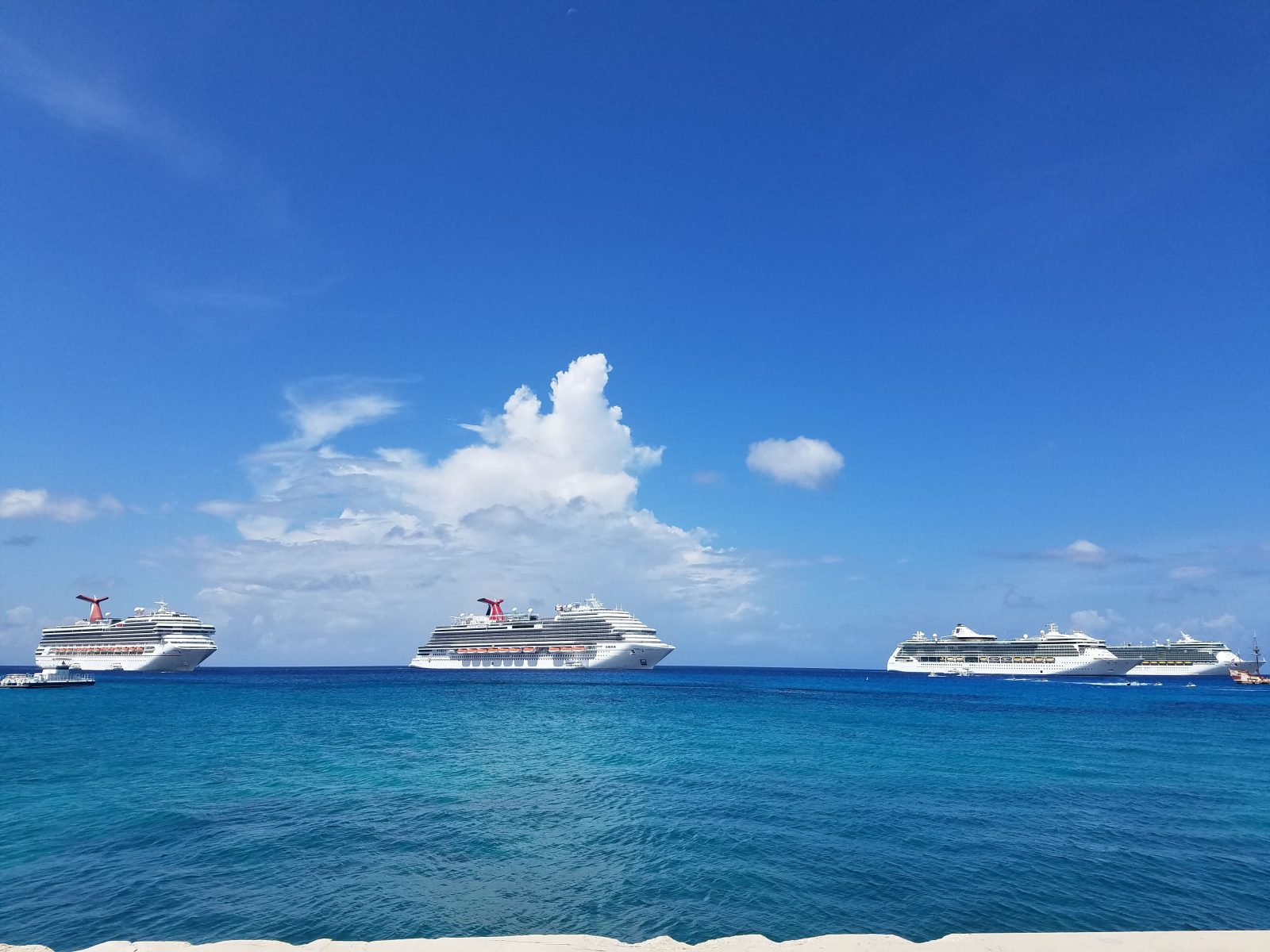 We also couldn't find any cute local (and cheap) restaurants nearby, so we boarded the ship again, and had a buffet lunch in the Windjammer. We spent a few hours hanging out in the pool, and then the ship set sail again by 3pm, and we had fun watching all the crazy people at the "sail away" party on the top deck.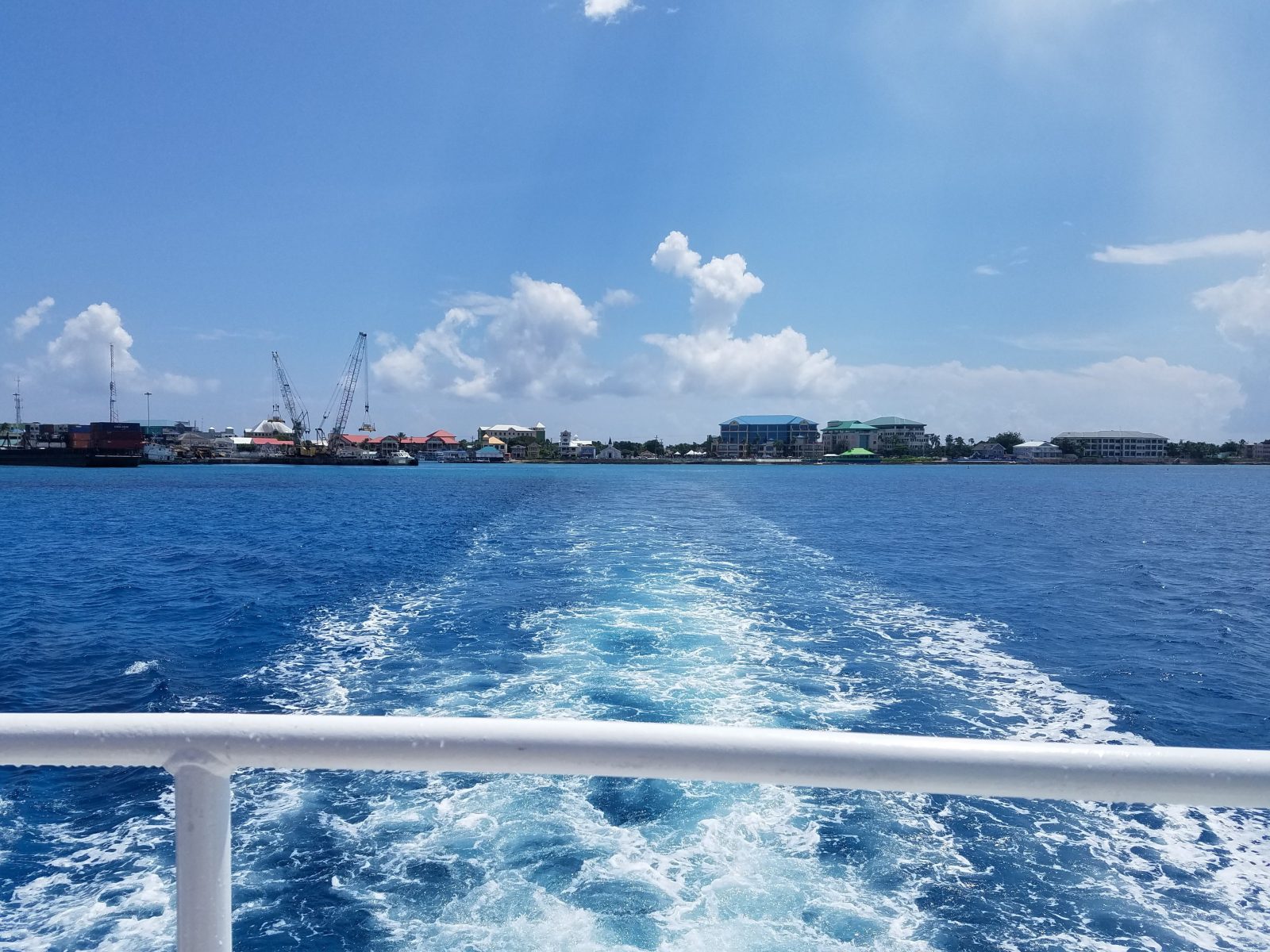 We made our way back to our cabin eventually, and got cleaned up for dinner. I had a goat cheese & roasted veggies tartlette for my appetizer, ordered two entrees (roasted thyme chicken & parpardelle carbonara), and raspberry cheesecake for dessert. Both entrees were delicious (the chicken was very moist & flavorful), but that carbonara was my favorite thing from the entire week! The noodles themselves were delicious, but the whole dish was so creamy, with so much bacon & parmesan cheese. Mm! I want more! I only ate half of each entree, but wanted more of both.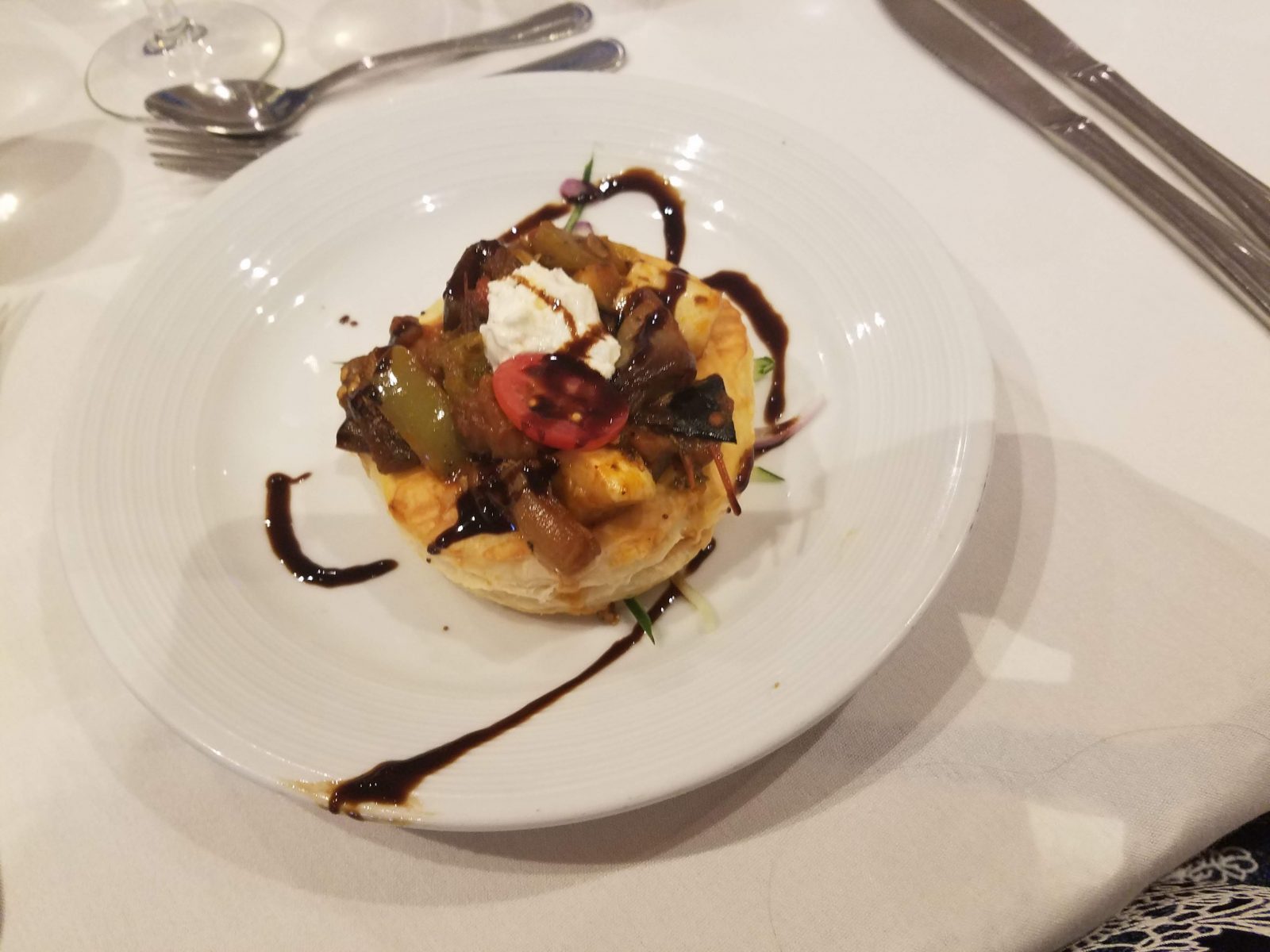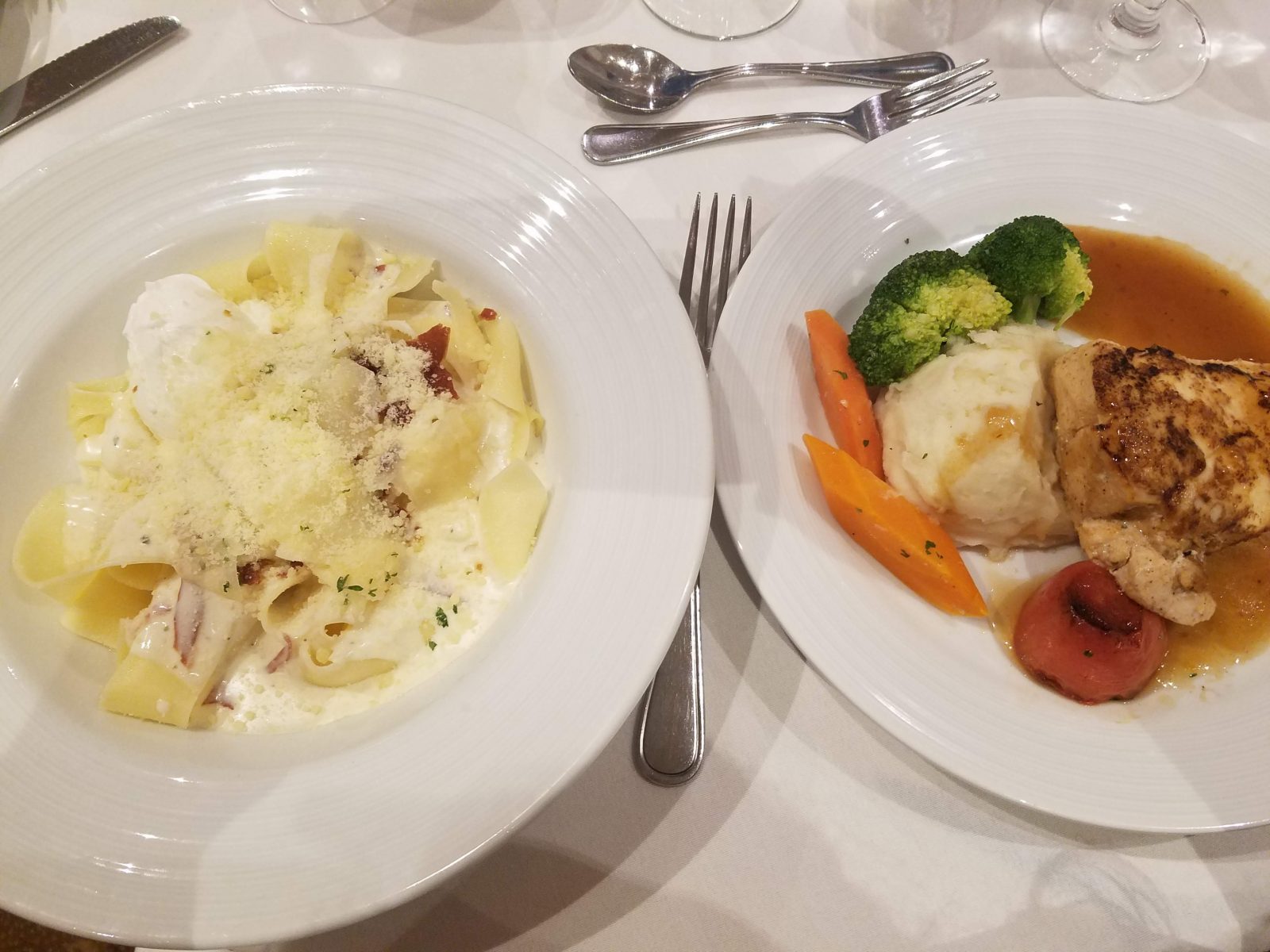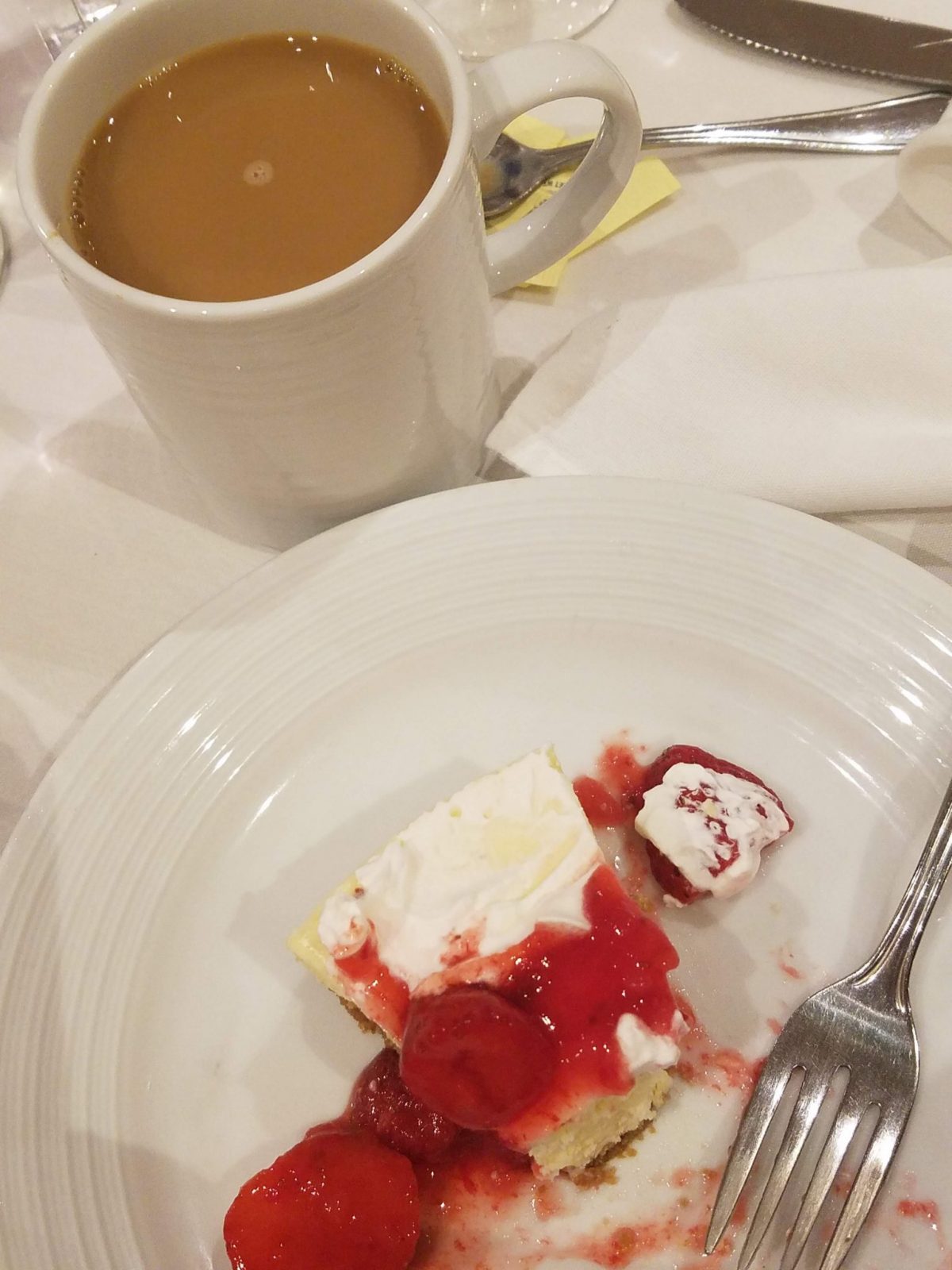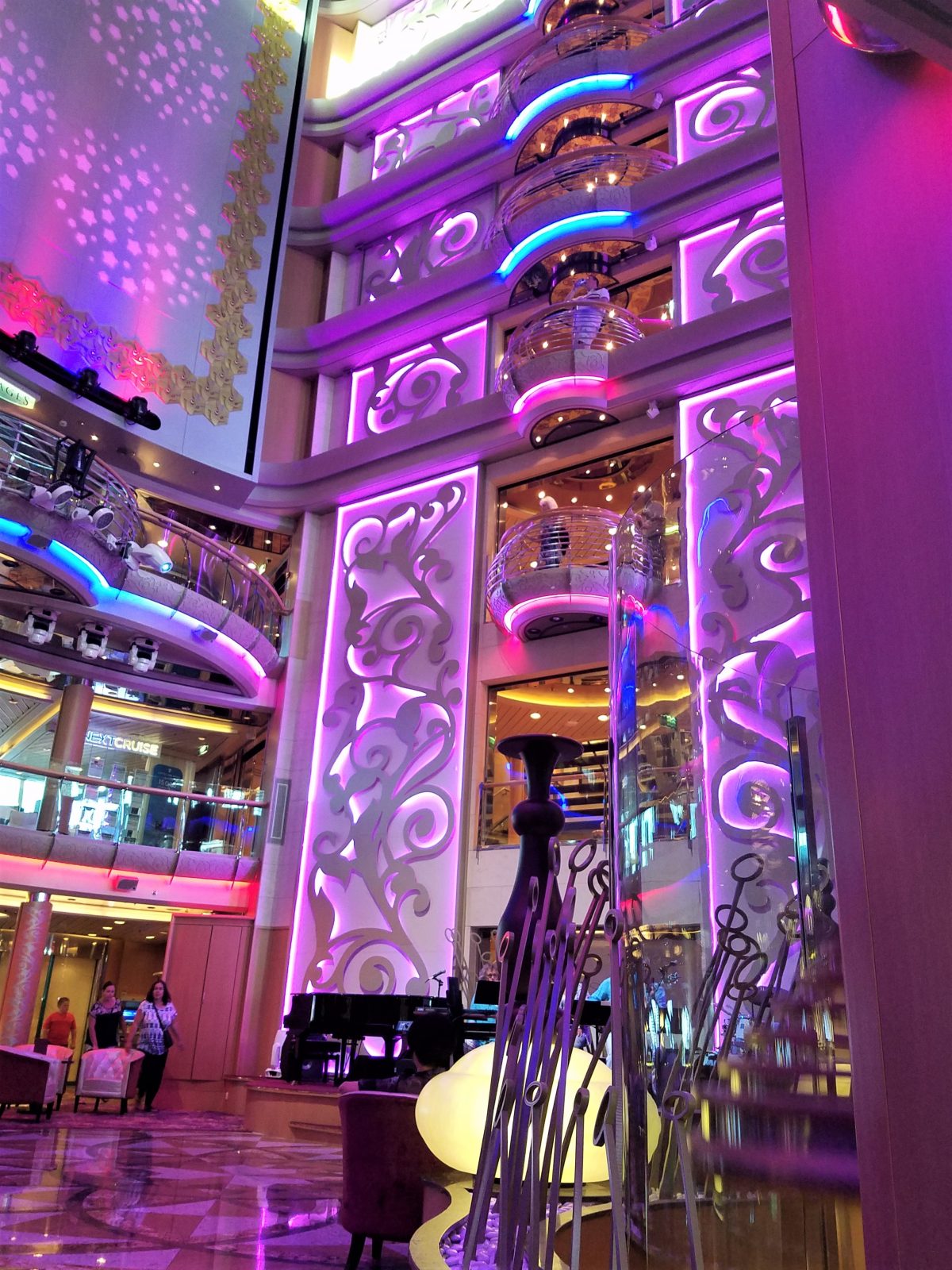 After dinner, we went back to the Schooner Bar for evening trivia, and sat with a young couple from Canada! Both of our teams did well (we even shared some answers back and forth), but they came in 2nd place out of everyone! Afterwards, we went to the Pacifica Theatre for the evening production show. It was a "certified" Billy Joel impersonator. We stayed for about 3 songs, but then I looked over and Jeff was asleep, so we headed back to our cabin to go to bed after a busy day with the stingrays!