Ok let's start out with some rather un-exciting before & after photos, from cleaning one of our bathroom sinks with the new Bar Keeper's Friend cleaner I got the other day. At first I didn't think it did much, but then looking at the photos side-by-side, I can see it helped quite a bit! This sink is in the front, spare room, so it was partly dirty from dust, and just rusty since it's like 55 years old. Anyways, I'll just be over here scrubbing everything I can with this stuff all over the house.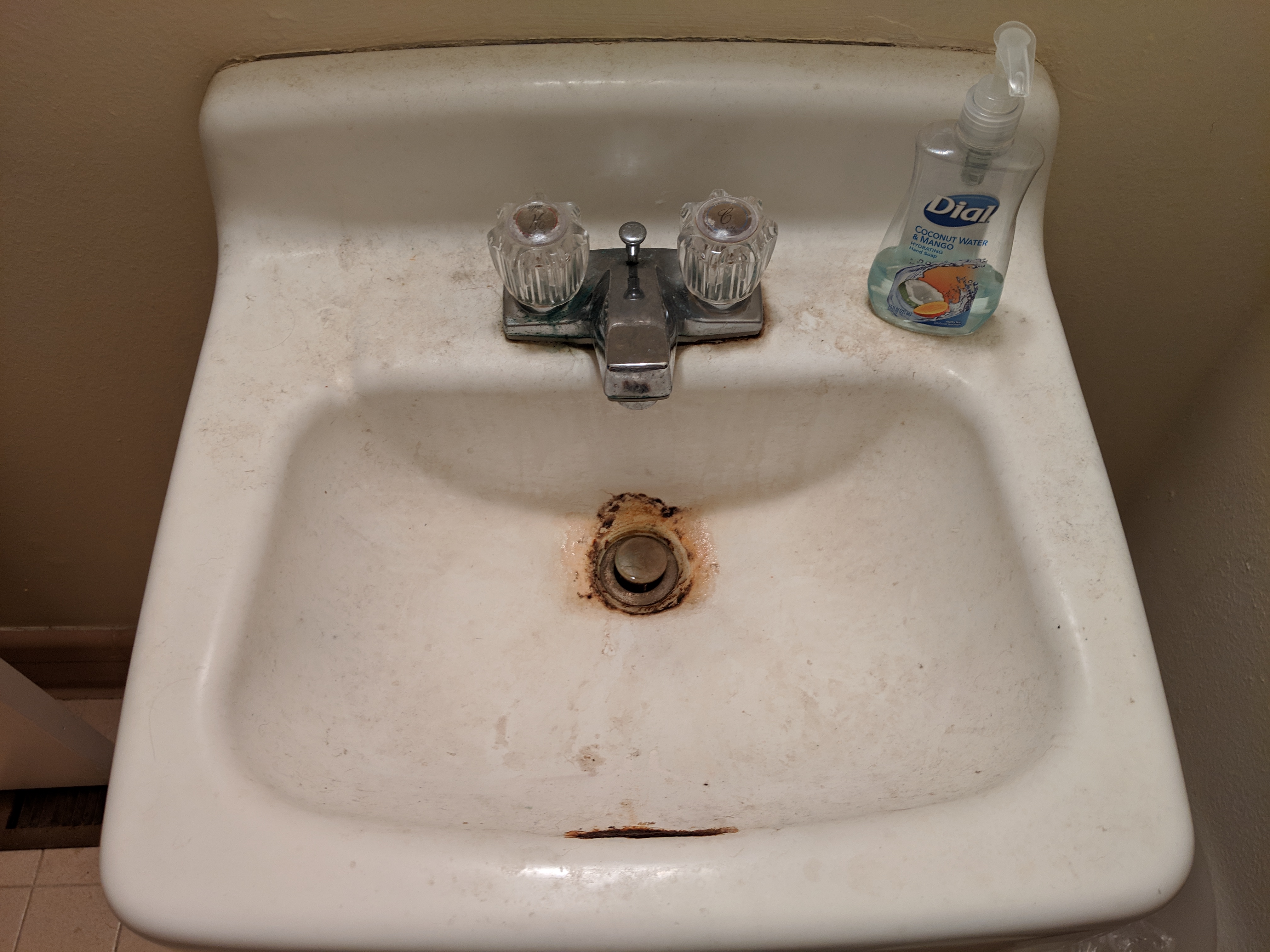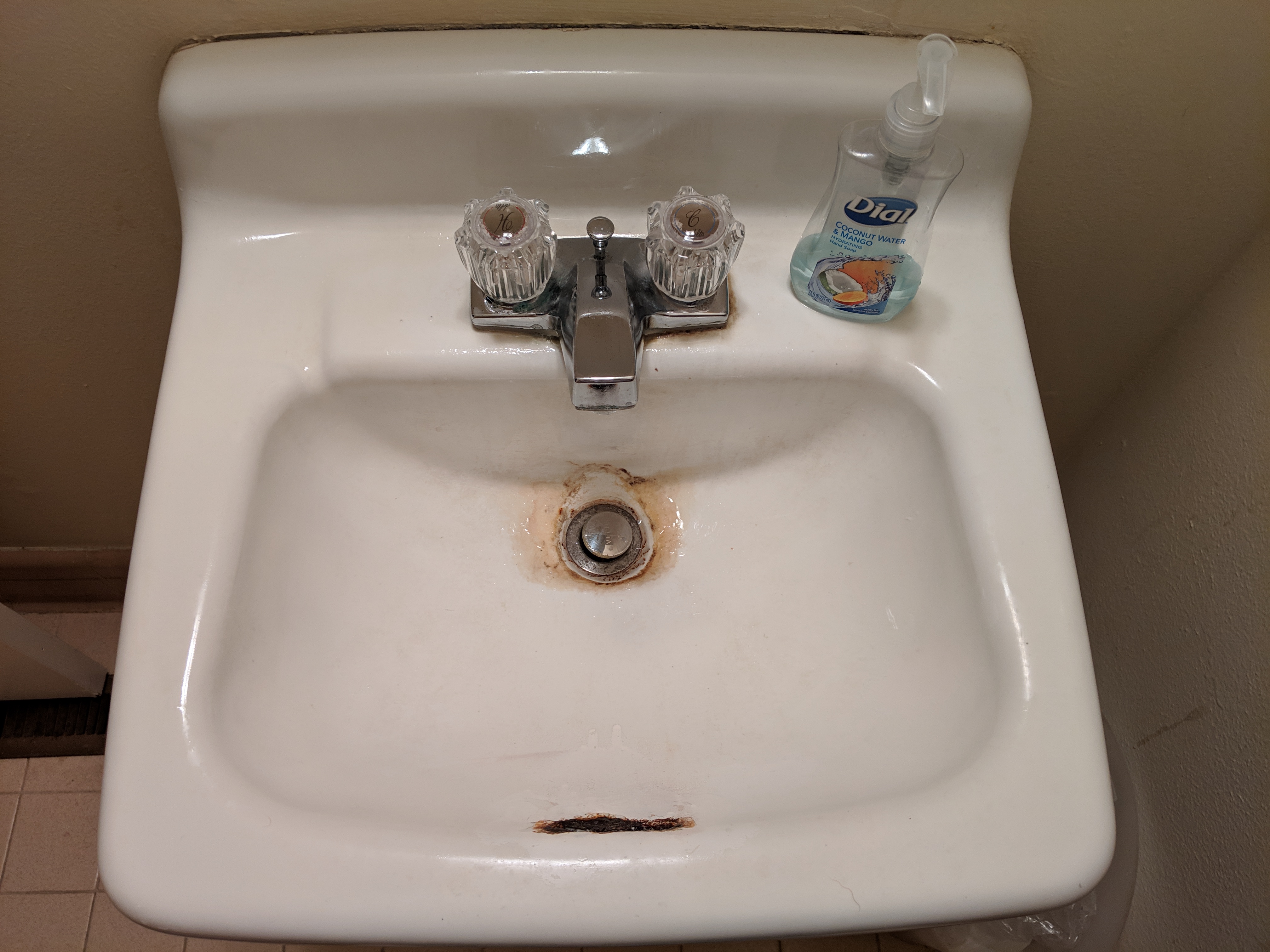 And now back to our regularly scheduled programming. I made breakfast out of our giant box of pancake mix again today, and it was delicious as usual. Emerson agreed, and ate one and a half pancakes!
Daddy had taken her to walk to the mailbox this morning right before breakfast, and had just slipped her little shoes on over her footie pajamas, which looked hilarious!
After breakfast, Emerson needed a bath, because she had syrup on her hair. So we got her a bath, and we shower, and we all got dressed for the day. Then we went out to run errands. We went to Hobby Lobby to pick out ornaments for our white elephant ornament exchange with our Sunday school class Christmas party tonight.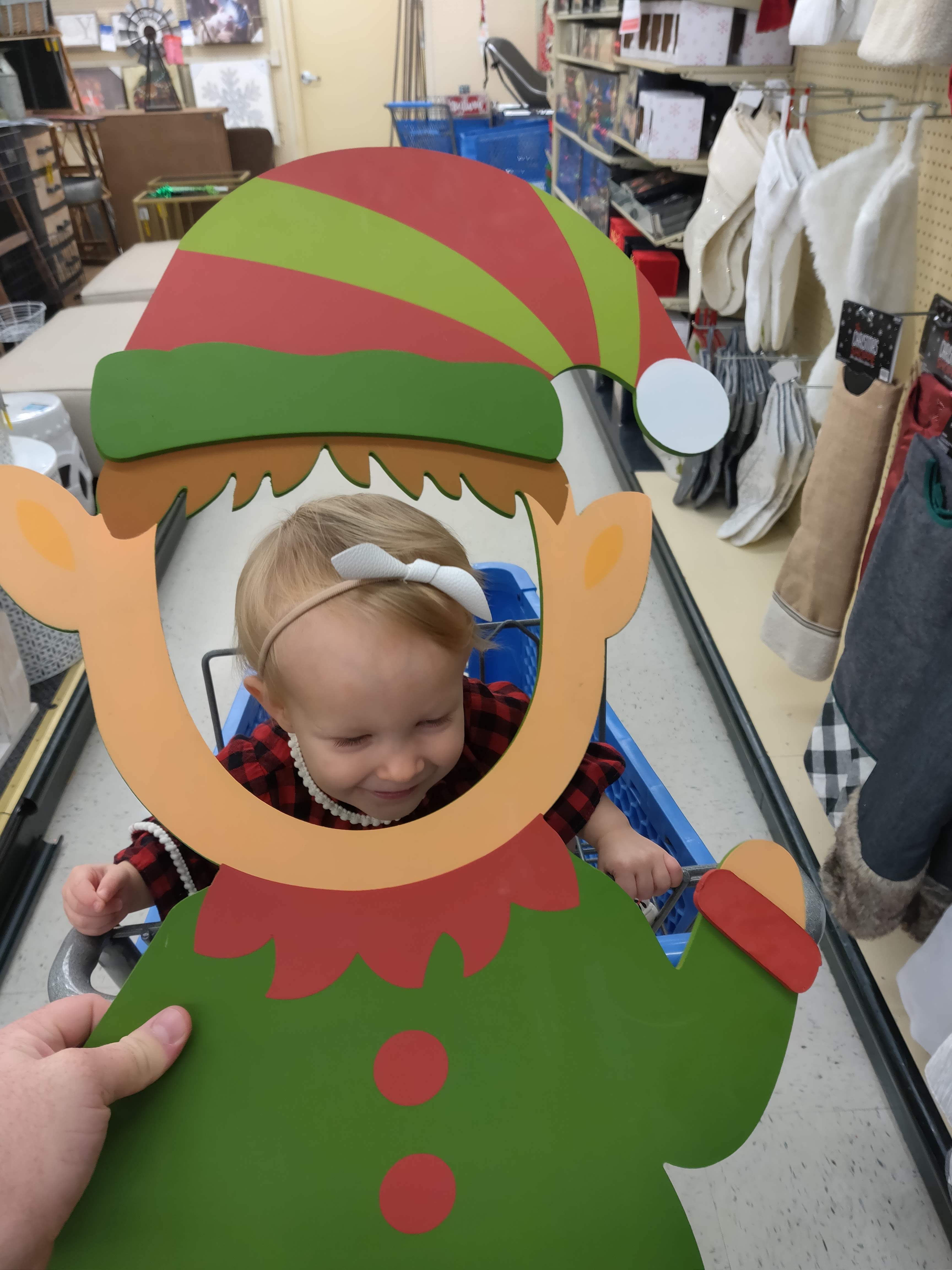 We also ran into Publix to pick up the ingredients I needed for our side dish for tonight, and Emerson was inconsolable until we gave her the donuts she saw on the table in the center aisle next to the sour cream we were picking up.
The plan was to go by a place and take pictures in the Christmas trees, but two of the places we went had already completely sold out and closed up shop. So now we're going to look for another place tomorrow, if Emerson's feeling up to it. (Side note, does anyone know a place that still has Christmas trees that we could take a few family photos?)
Since we couldn't find any Christmas trees, we went back home so immersed I could have her midday nap time. she slept for a little over an hour and a half, and then we had lots of good family playtime at home.
For a quick girls trip, Emerson ran to CVS with me, so I could grab some new makeup. I got the same powder I always get, but I also picked up some foundation to try out. I don't normally wear it, but lately I've been thinking my thirty-year-old skin might need a little extra coverage….
And it looks like the citrus tree in our backyard is finally right and ready for the pickin'! so if you'd like a small basket of oranges, feel free to let us know and we'll bring you some! Clearly we have enough to go around.
And then tonight we went to our friends Abby and Greg's house for our Sunday school Christmas party. They provided the HoneyBaked ham and turkey, and the rest of us brought sides, drinks, and desserts to share. We also brought them a little bowl of oranges from our tree, as a host/hostess gift.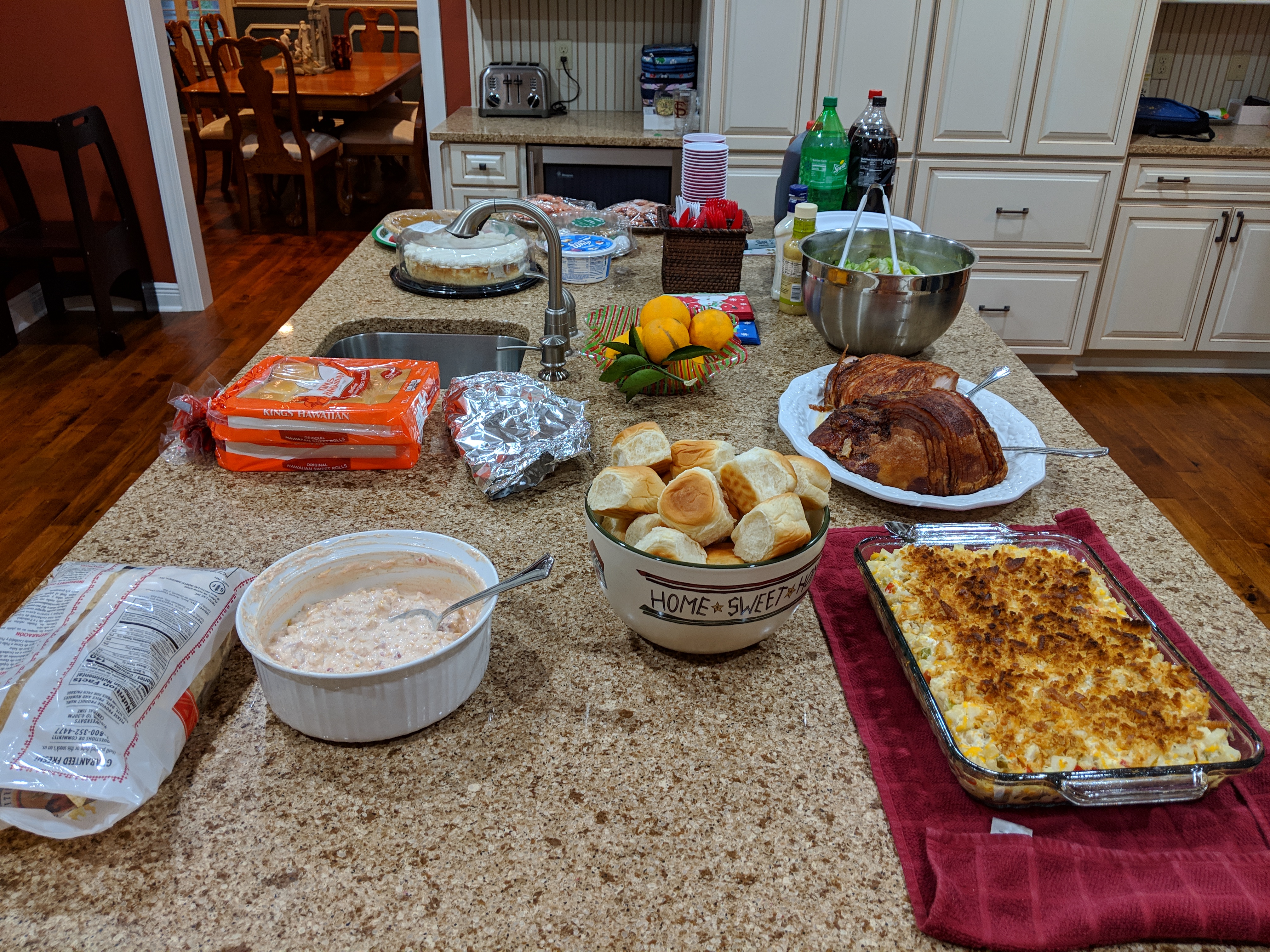 This is Abby : )
After dinner, we did a white elephant style ornament exchange. This is always our favorite part, and I'm glad we do this every year as a part of our party. Some of our favorite ornaments have come from our Sunday school friend this way!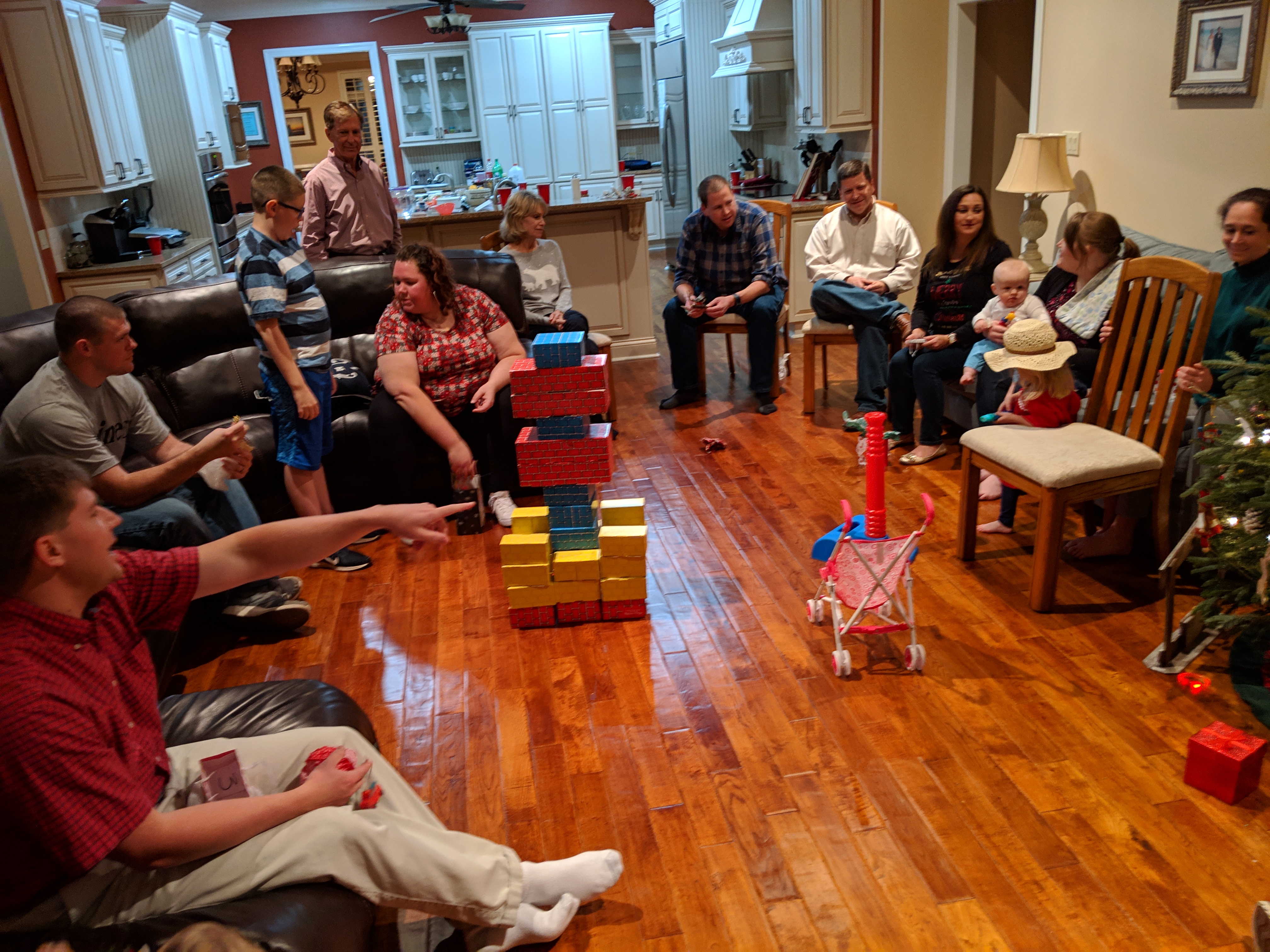 One of our families had already left tonight by the time we took the group photo, and we're missing about 5 or 6 more families, but we were very thankful that even this many of us could get together this evening.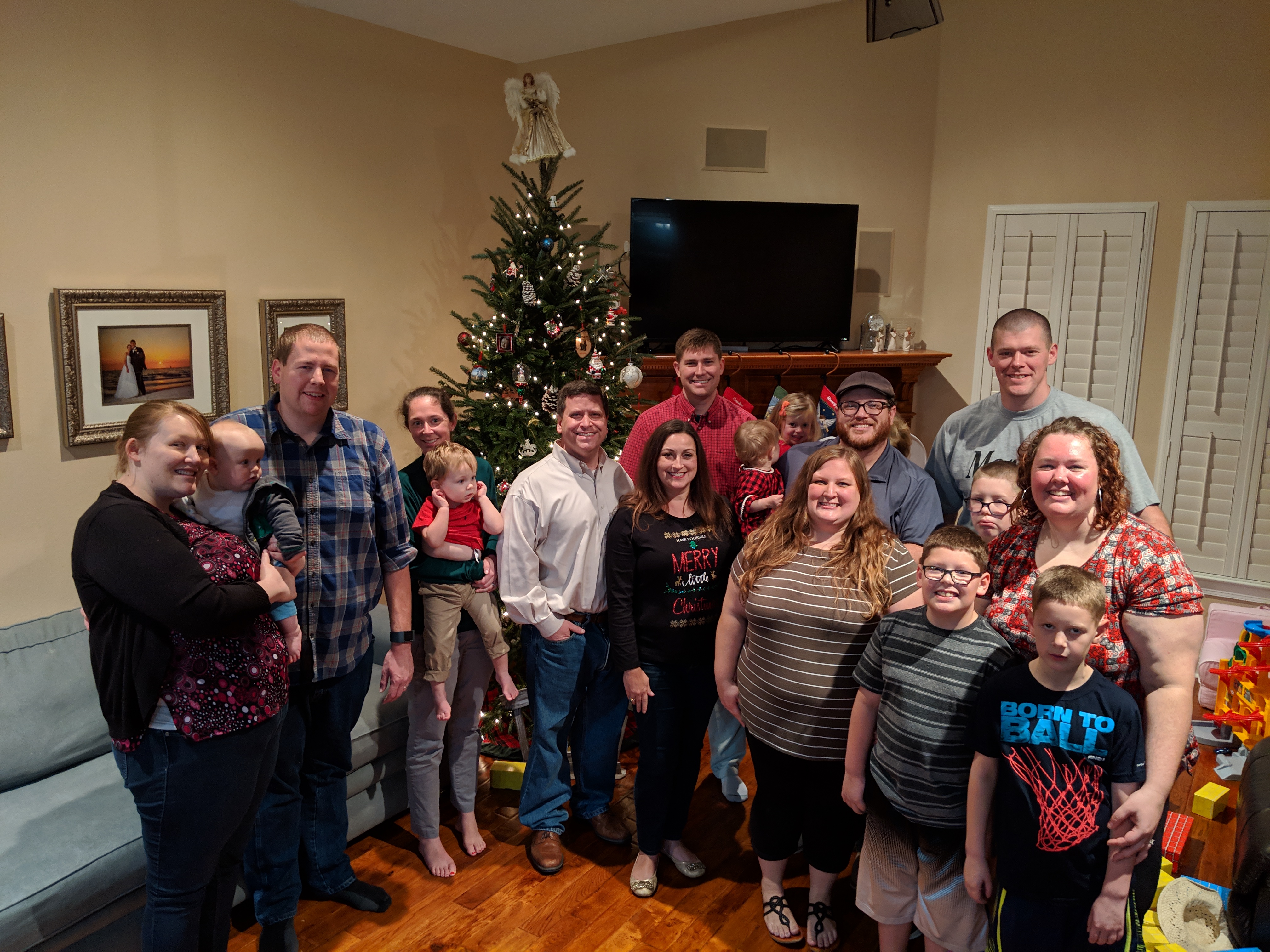 This sweet little boy is Luke, Greg and Abby's youngest child. He and Emerson already have an arranged marriage. Looks like they're in love already!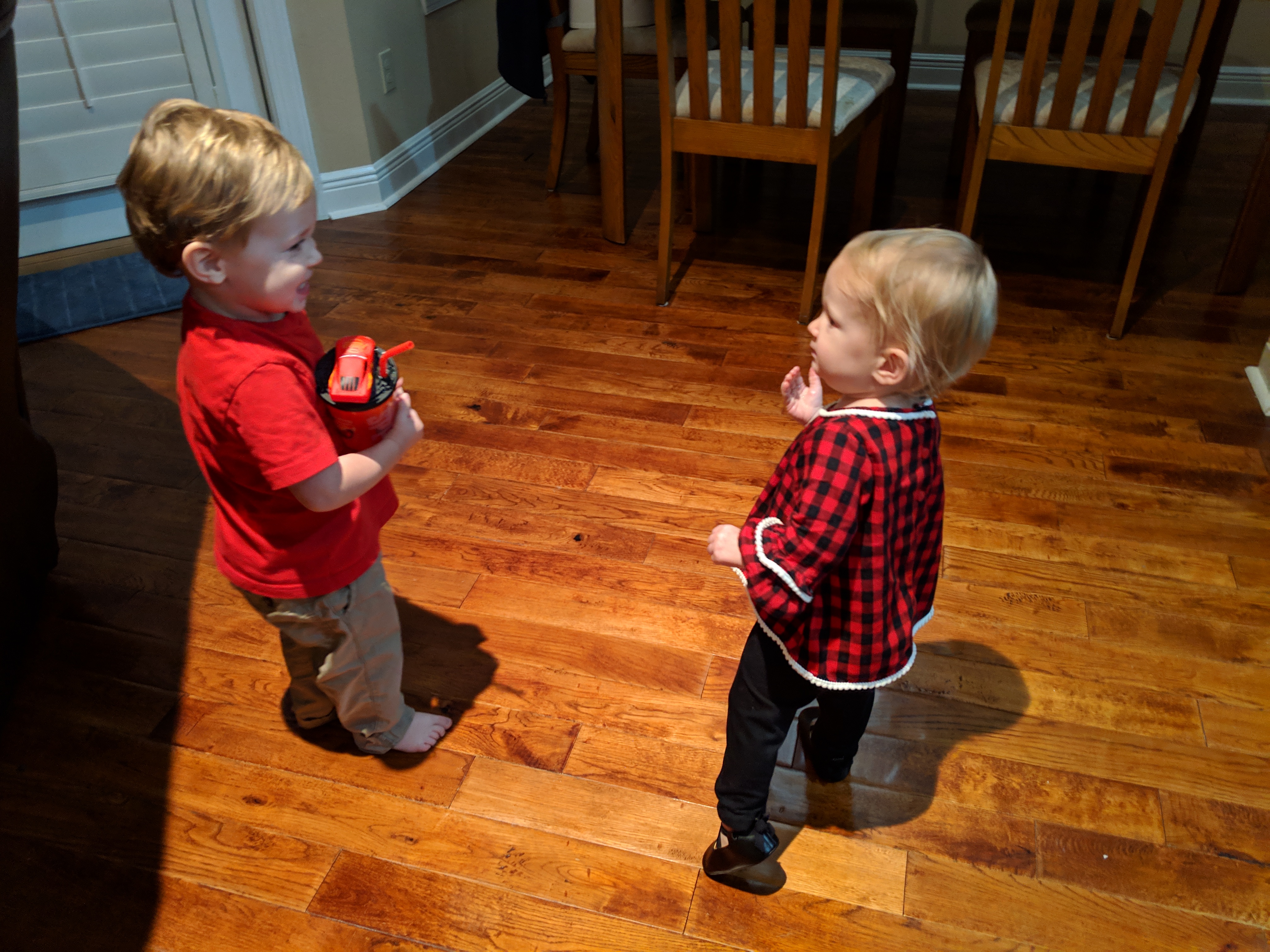 Emerson basically only ate a Hawaiian roll for dinner, and then there was too much fun and playing and other kids for her to sit still any longer. Once everyone else left, Abby was peeling little oranges for her kids, and Emerson decided she wanted some too. She ended up eating two whole clementines on her own!
Caroline is Abby's older child, and at three years old, she's already a great big sister to not only Luke, but to Emerson now as well. They gave each other about 20 goodbye hugs at the end of the night. She even grabbed Emmie's little head, and kissed her on the top of the head. It was just so sweet I almost died.
On our way home, we went by and saw some of the Christmas lights in southwood. This house has their lights timed to music on a radio station. we got Emerson out of her seat, so she could see, and she really loved watching it. We sat there for about 10 minutes, and when it was time to strap her back in the car seat, she screams like a mad woman because she didn't want to go!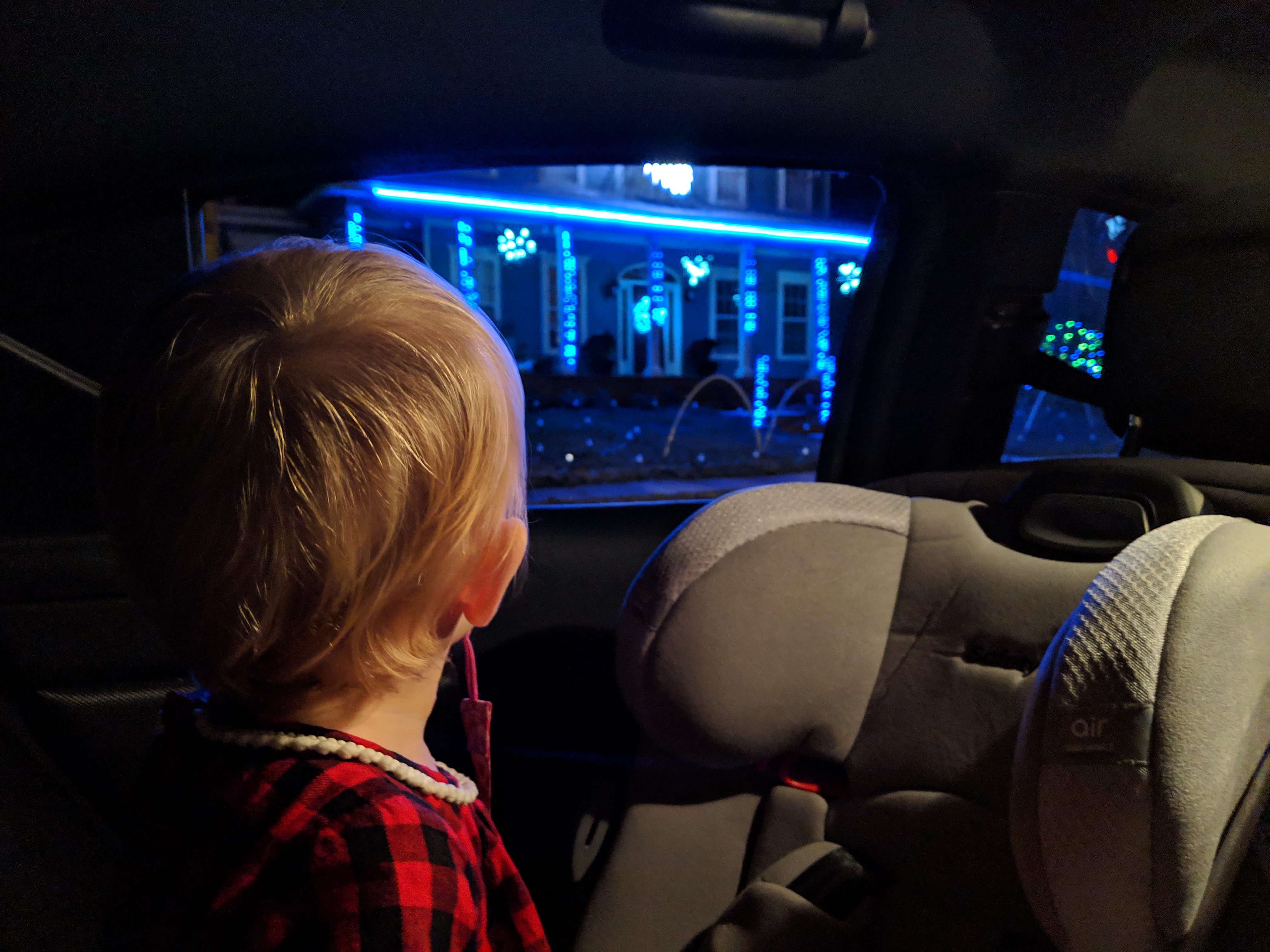 And here are the two ornaments we ended up getting. We got one giant gold sparkly jingle Bell, which I love, and matches perfectly with all the other red and gold stuff on our tree. And we got this little white and gold sleigh with a spot for a photo. I'll probably print out one of the photos from today, to remember when we got the ornament.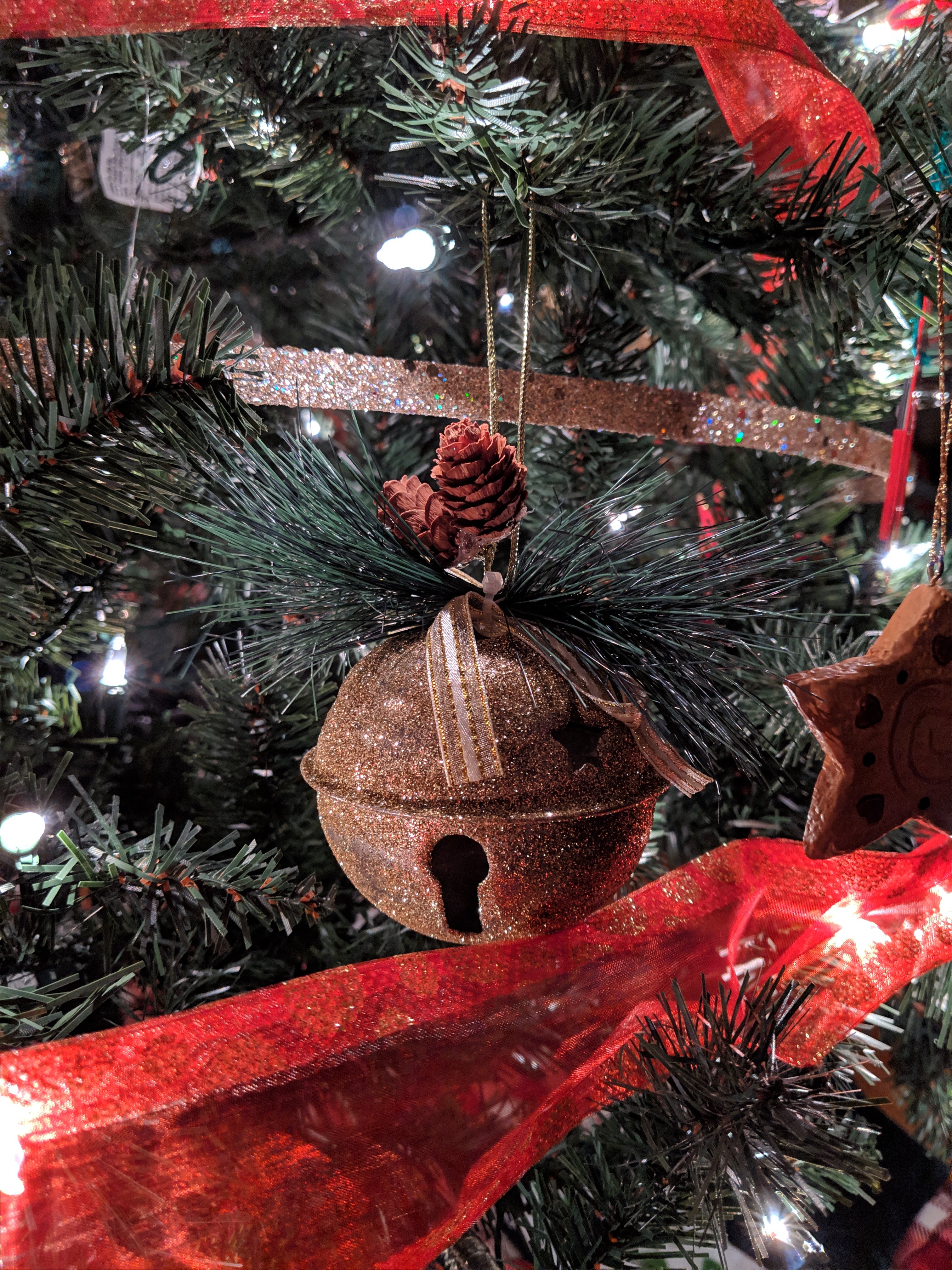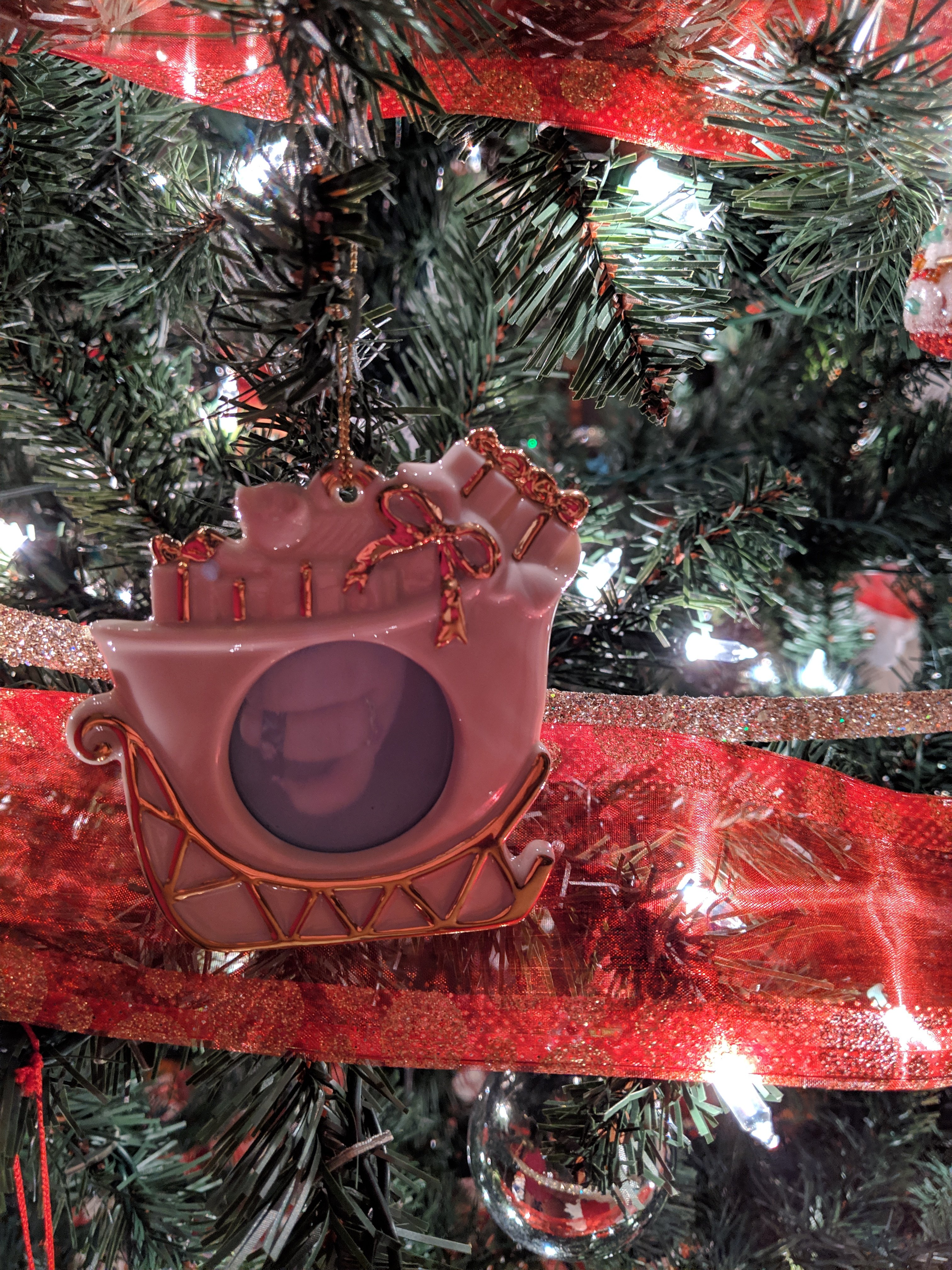 Today was a really great day, and I enjoyed all the special time with our little family, and especially all the time with her church friends tonight. Thankful for great Saturday, full of Christmas fun!