We had our usual early morning wake up call by our cute toddler, and then we had an early morning Walmart grocery pick-up, during the 7-8am "at-risk" hour. (I accidentally drove to the wrong Walmart first, but eventually made it to the right one…) Then when we got home and put everything away, I made scrambled egg sandwiches for breakfast, and used this nice whole grain and nut bread for mine, which was super yummy. (Also, I now use sugar-free coffee creamer, and we've always used Splenda, so we're still good to go on the coffee side of the low-sugar situation…)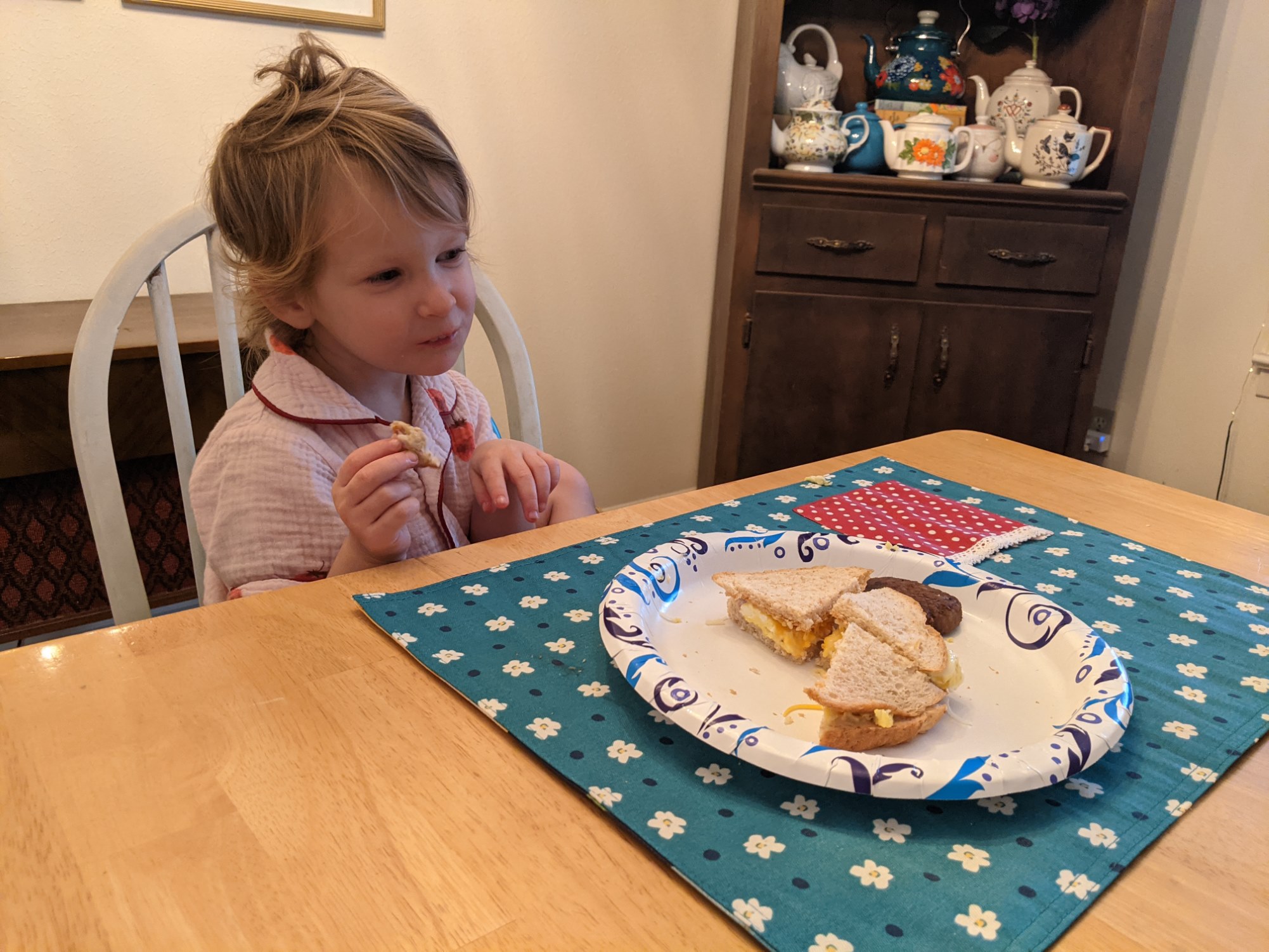 We played for just a little while, and then we spent a few hours cleaning up our front room…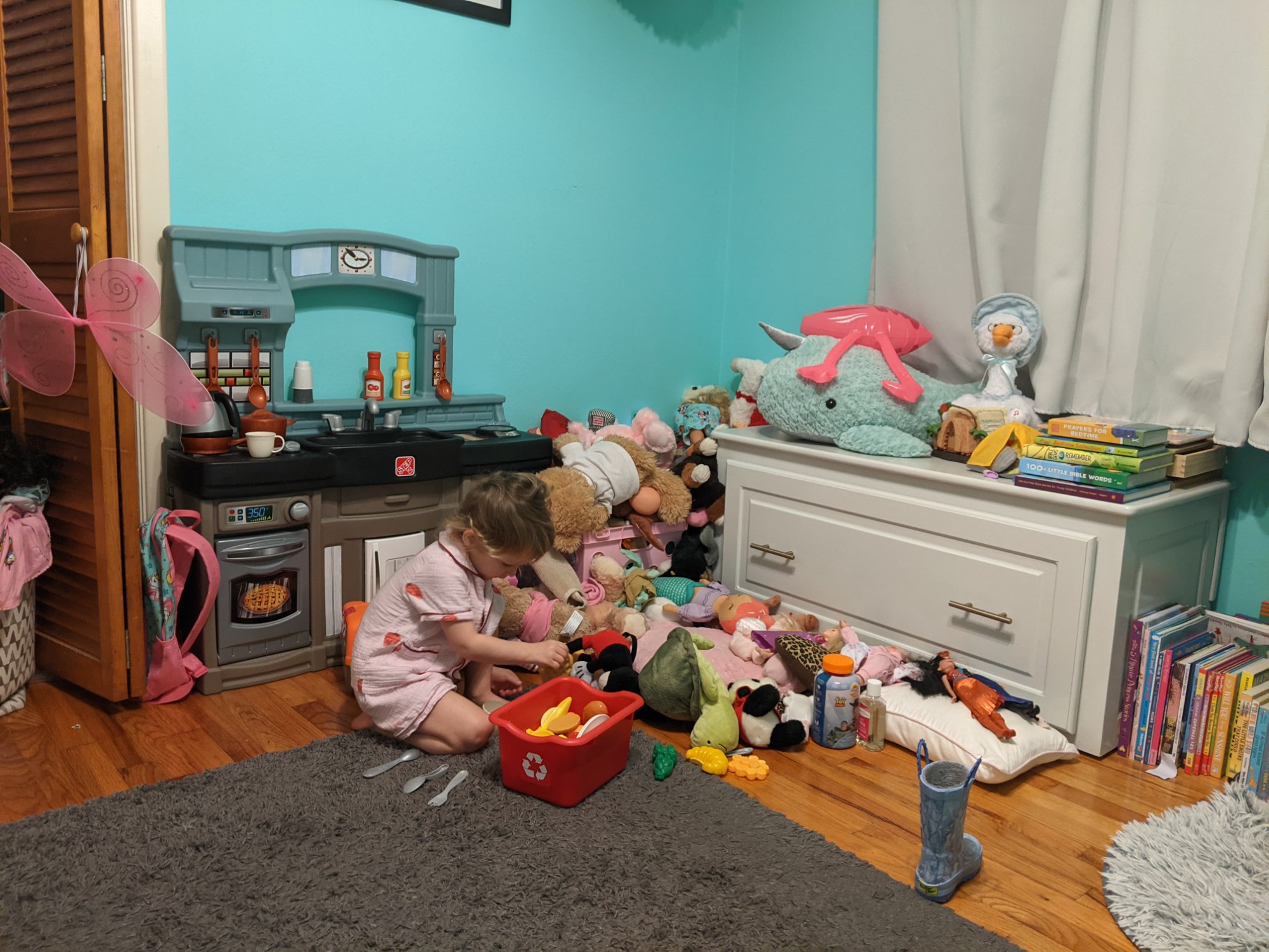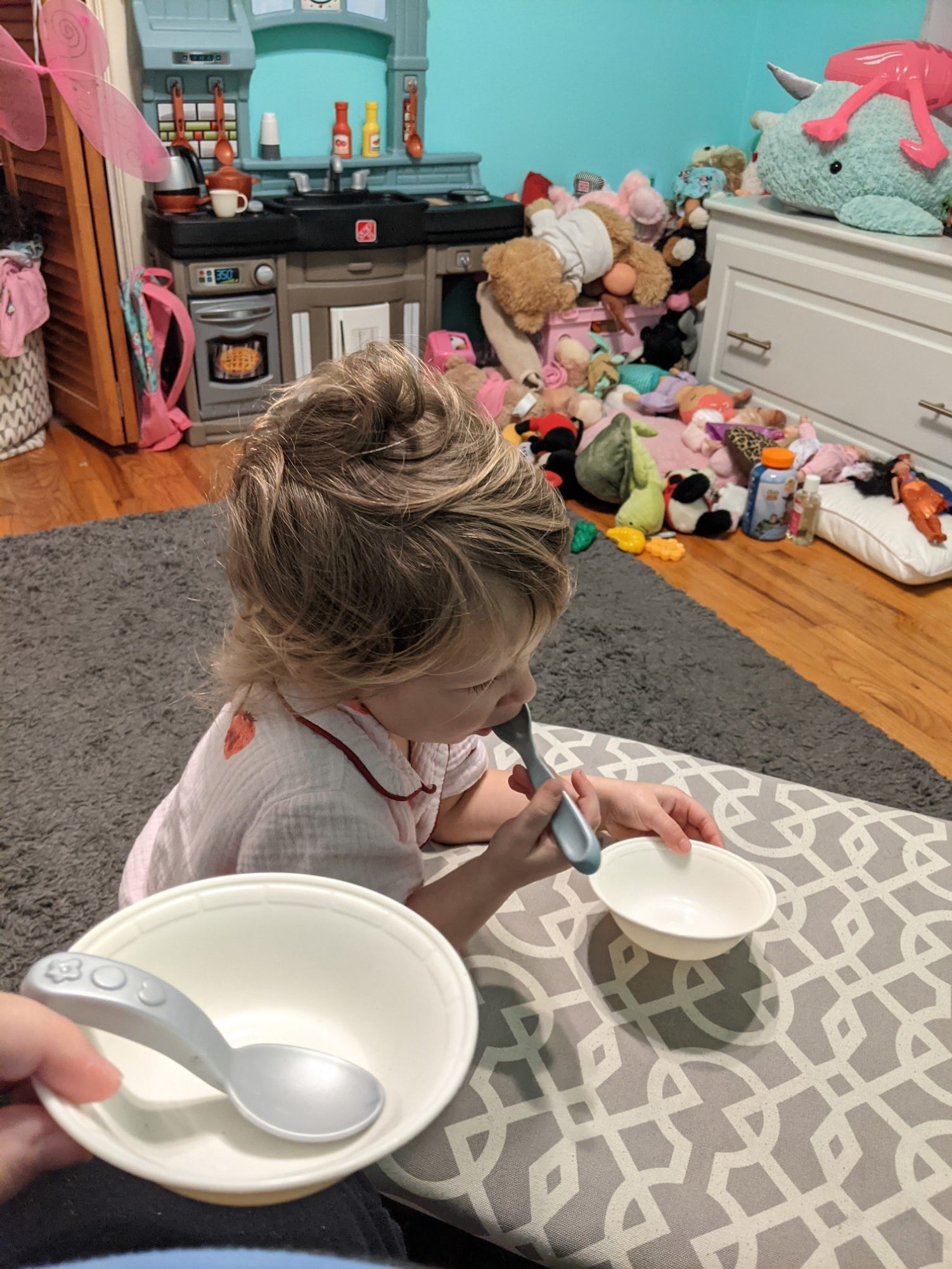 The front bedroom of our house has always been a super messy and used more as very cluttered "storage" for the entire four years we've lived here. But with the new baby coming, we've got to make some changes! So we're cleaning out all that junk, and moving the boys into that room, so Baby Girl can go in the bedroom on our hallway, right next to Emmie's room. So we finally started working in there today, and made a decent amount of progress. This is our first load of donations to our local thrift store, plus a few more things from after this photo was taken.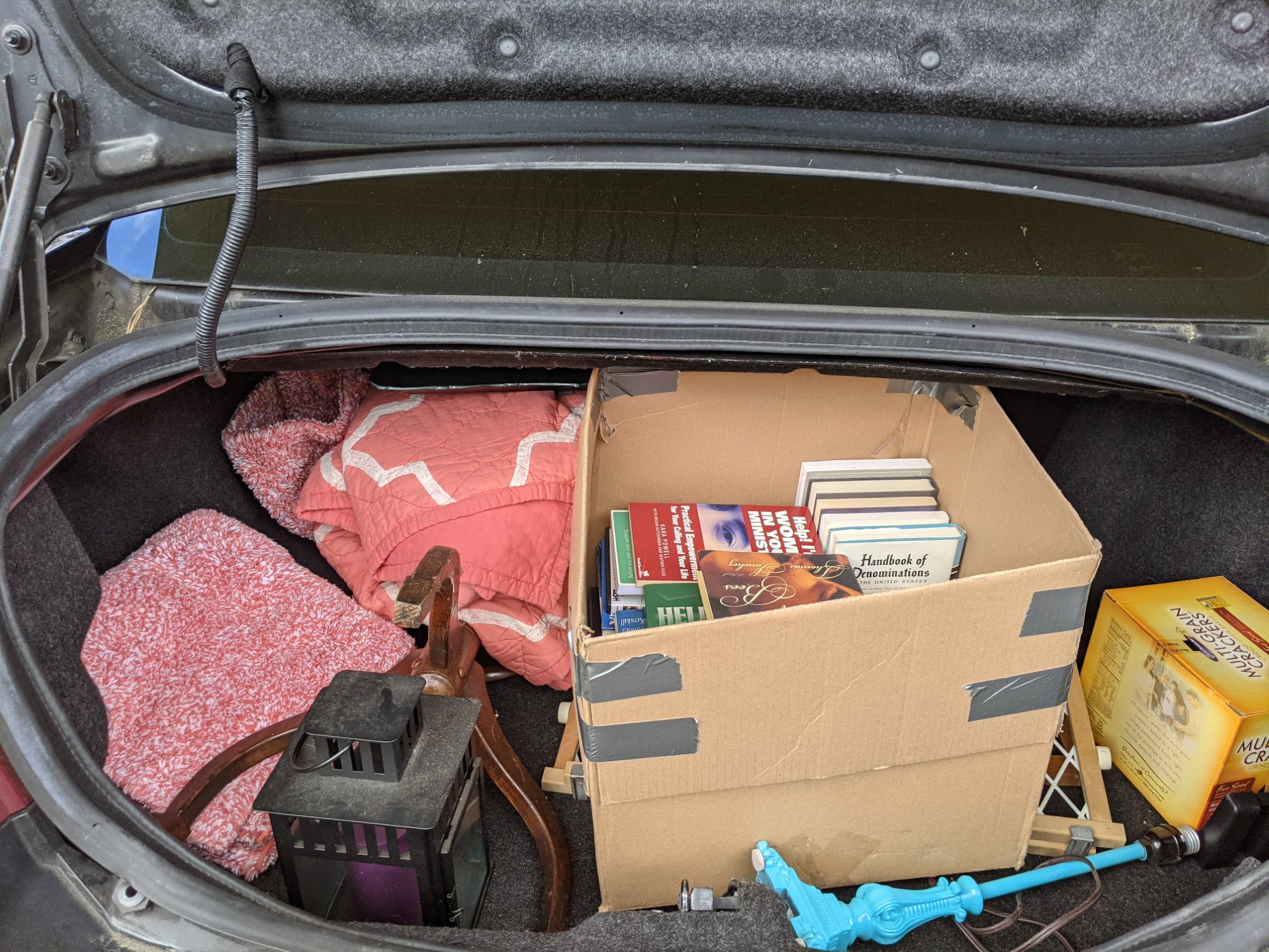 We braved the chaotic West Tennessee Chick-fil-A drive-thru line for lunch, and I tried their new spicy grilled chicken sandwich, and it was really good! No waffle fries for me anymore 🙁 At least not for the next few months. But luckily I really like their little side salad.
We got Emmie down for her nap after lunch, and then I sat down to rest for a few minutes too. I wanted to keep working, but I was tired, and Jeff convinced me to nap. I was feeling guilty though because it felt like "wasted time" when there was so much work still to be done, and I was also feeling anxious about trying to get everything done in the next three months. But a nap was exactly what I needed, because I ended up sleeping for about 1.5 hours, and Jeff reminded me I am growing a human, and extra rest is not only okay, but necessary.
After nap time, we sliced an apple and dipped them in sugar-free peanut butter, and went out to play in the nice weather. Jeff mowed the yard, and Emmie I played all sorts of games in the carport, and she shared my snack with me. I tried to read a little while she played, but she's such a chatterbox, I could only read a few sentences at a time, between all of our "batending." (Which is "pretending," for those that don't speak toddler.)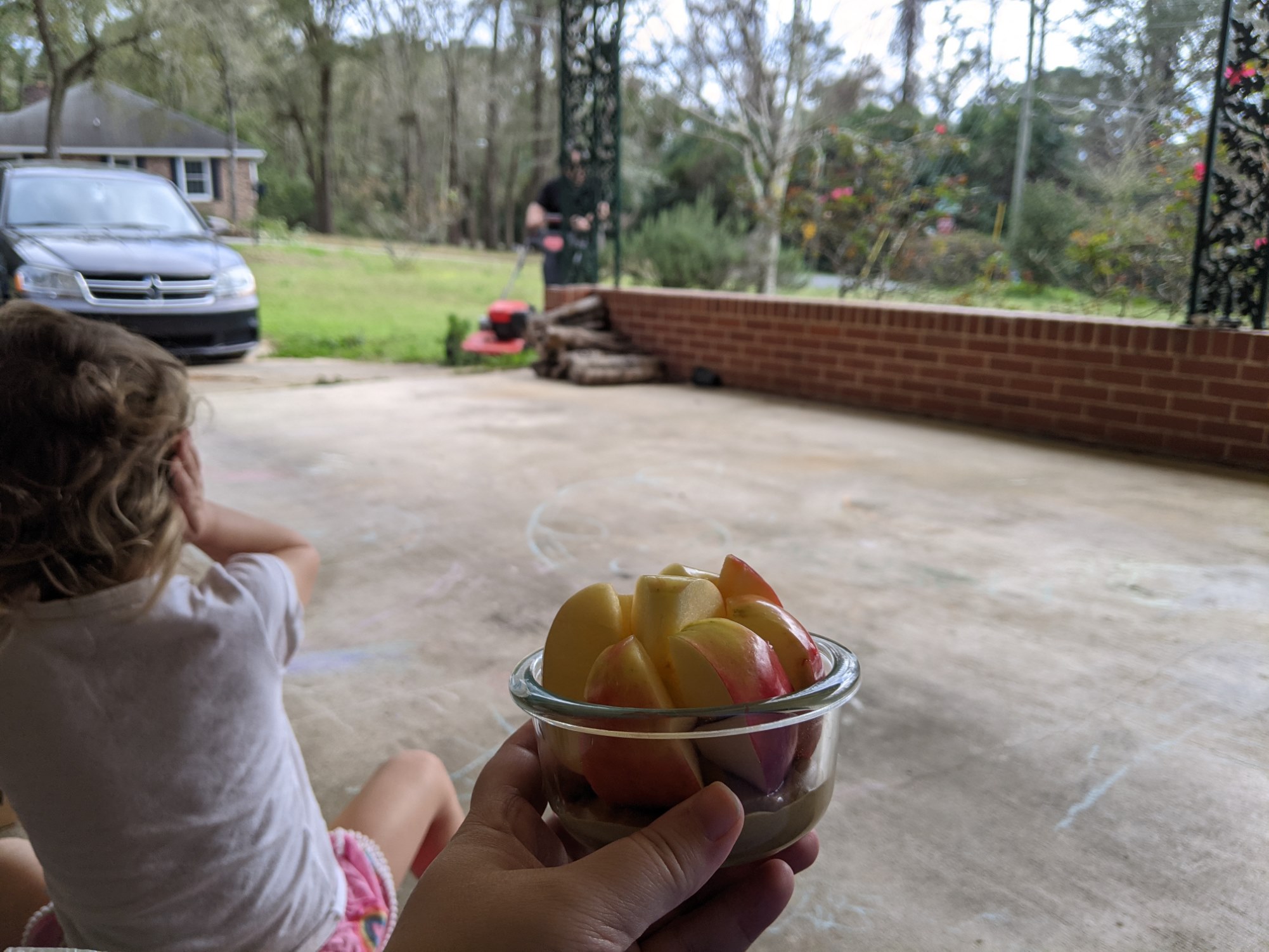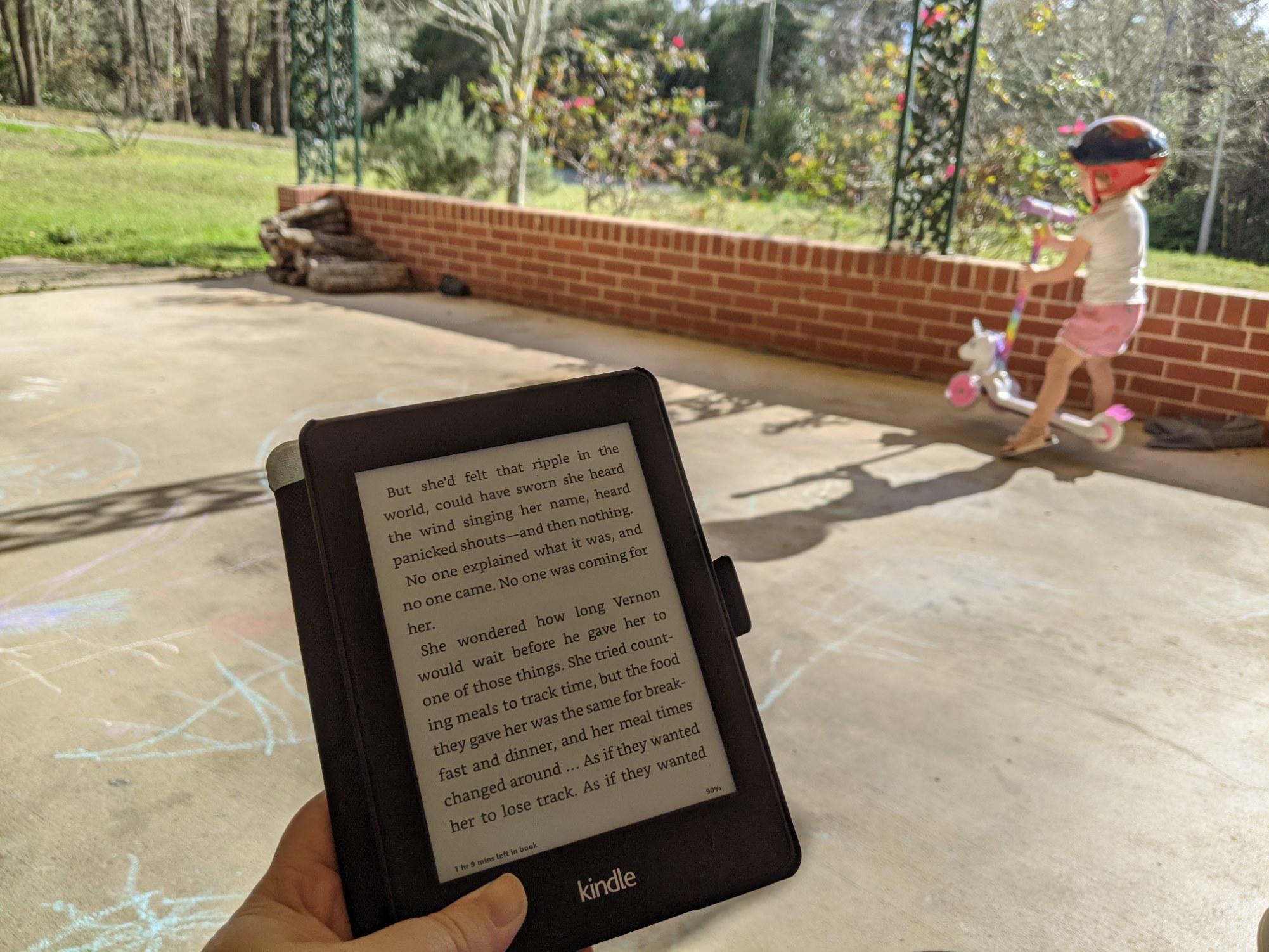 She "packed a lunch," looked at me and said, "See ya after kindergarten school!" and then rode off on her scooter.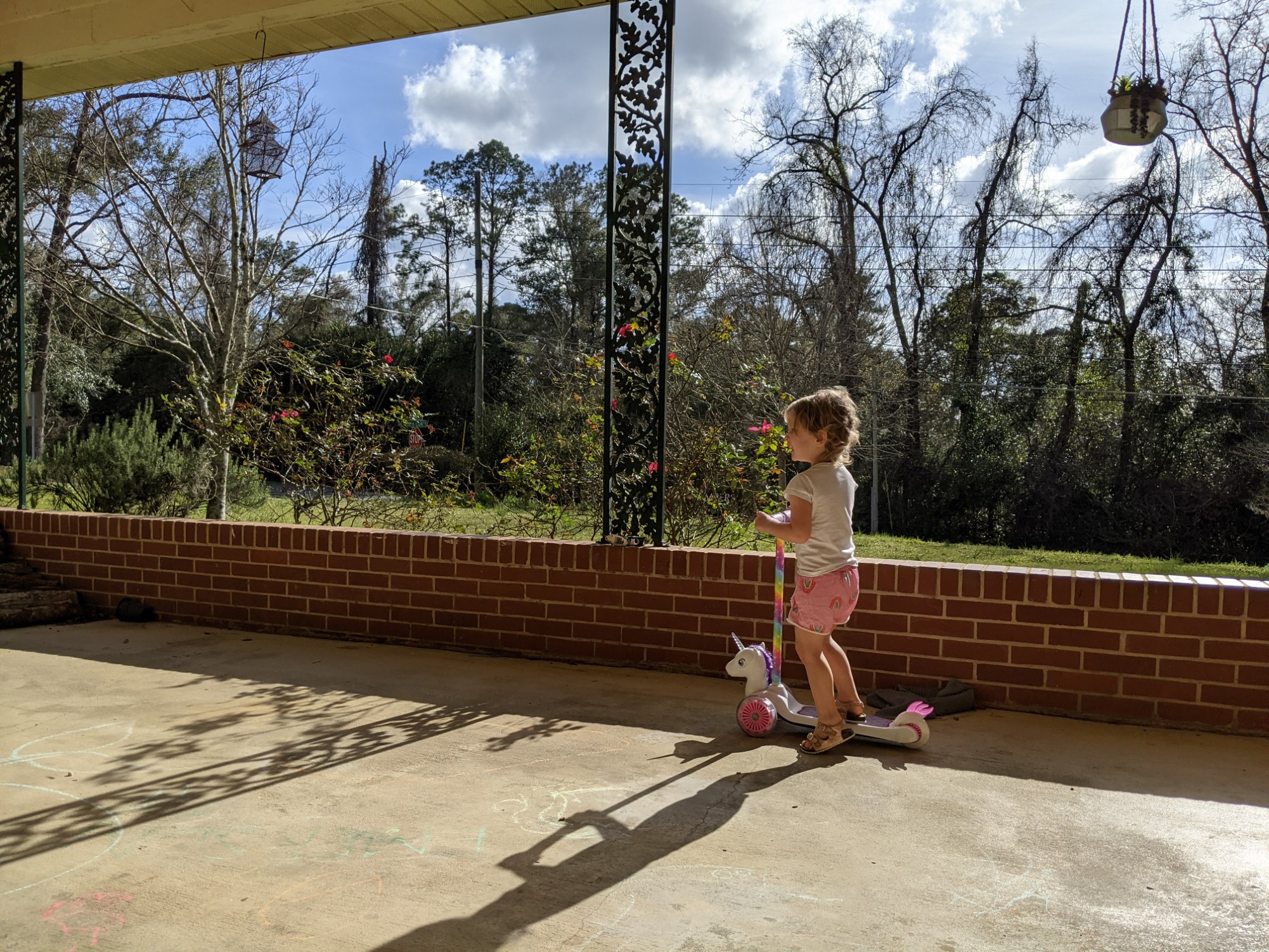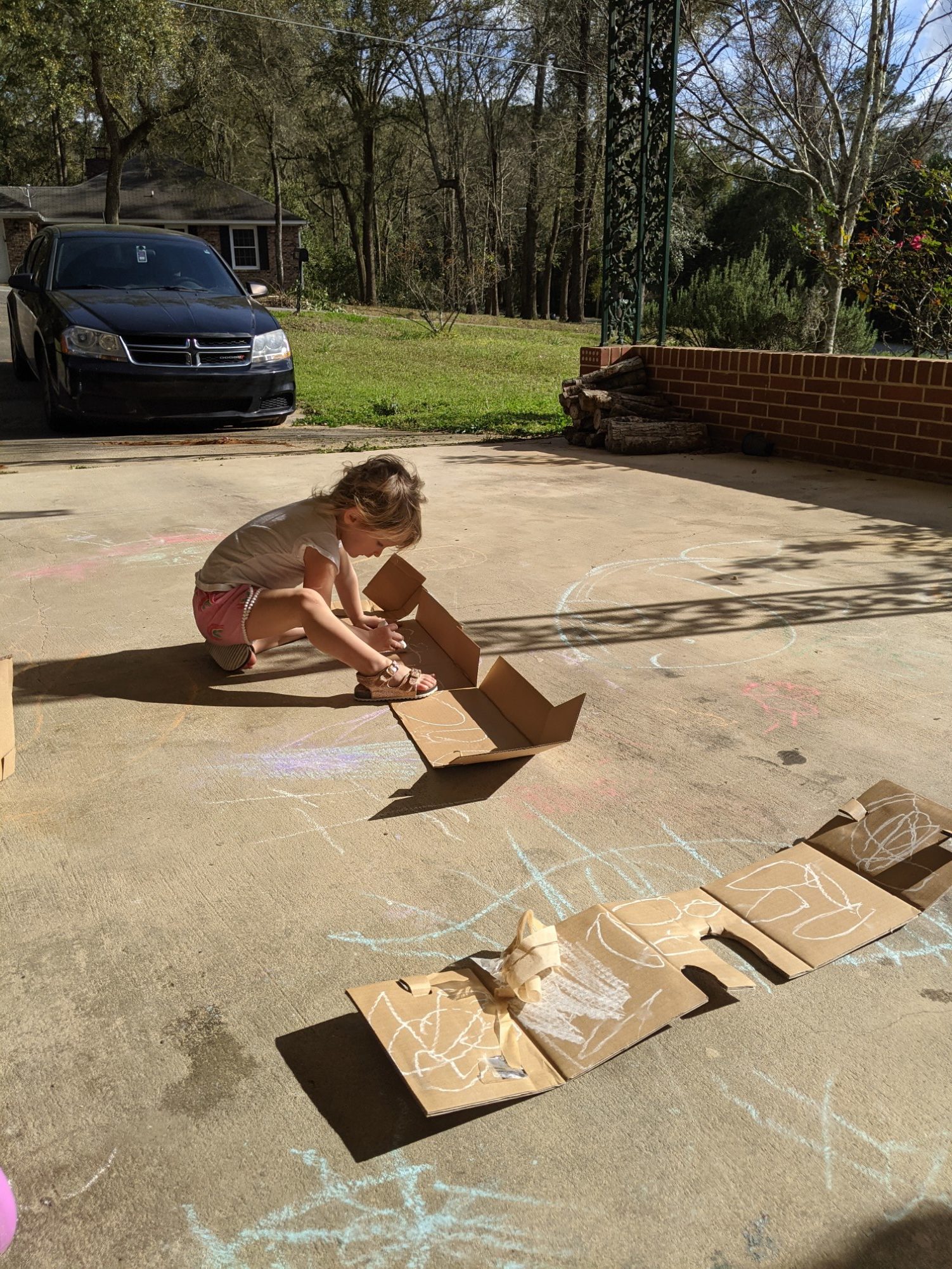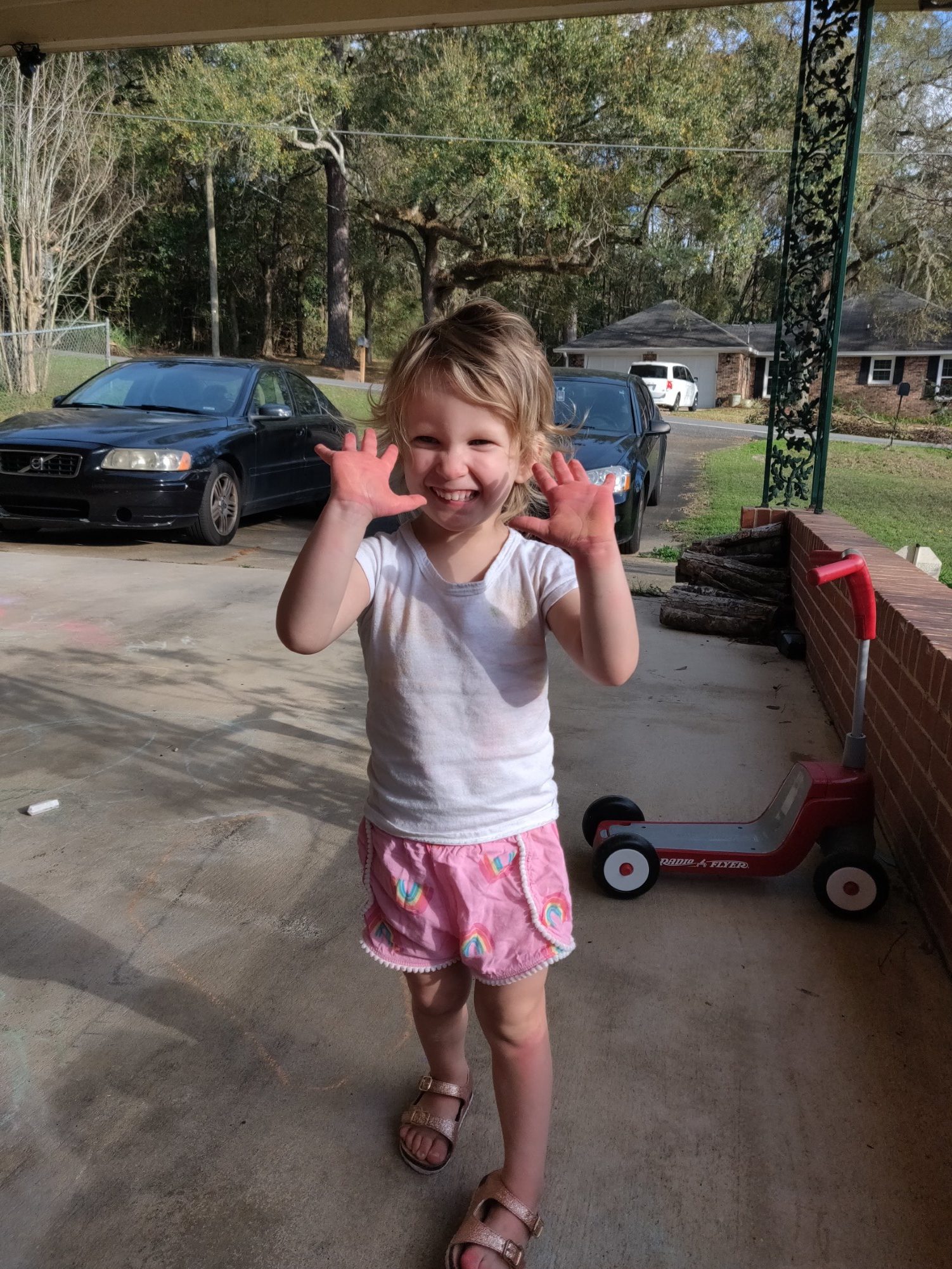 Please make sure you see the pink chalk on her cute widdle nose.
This was her astronaut helmet and she kept hollering "lift off!"
The yard looks so nice and pretty now!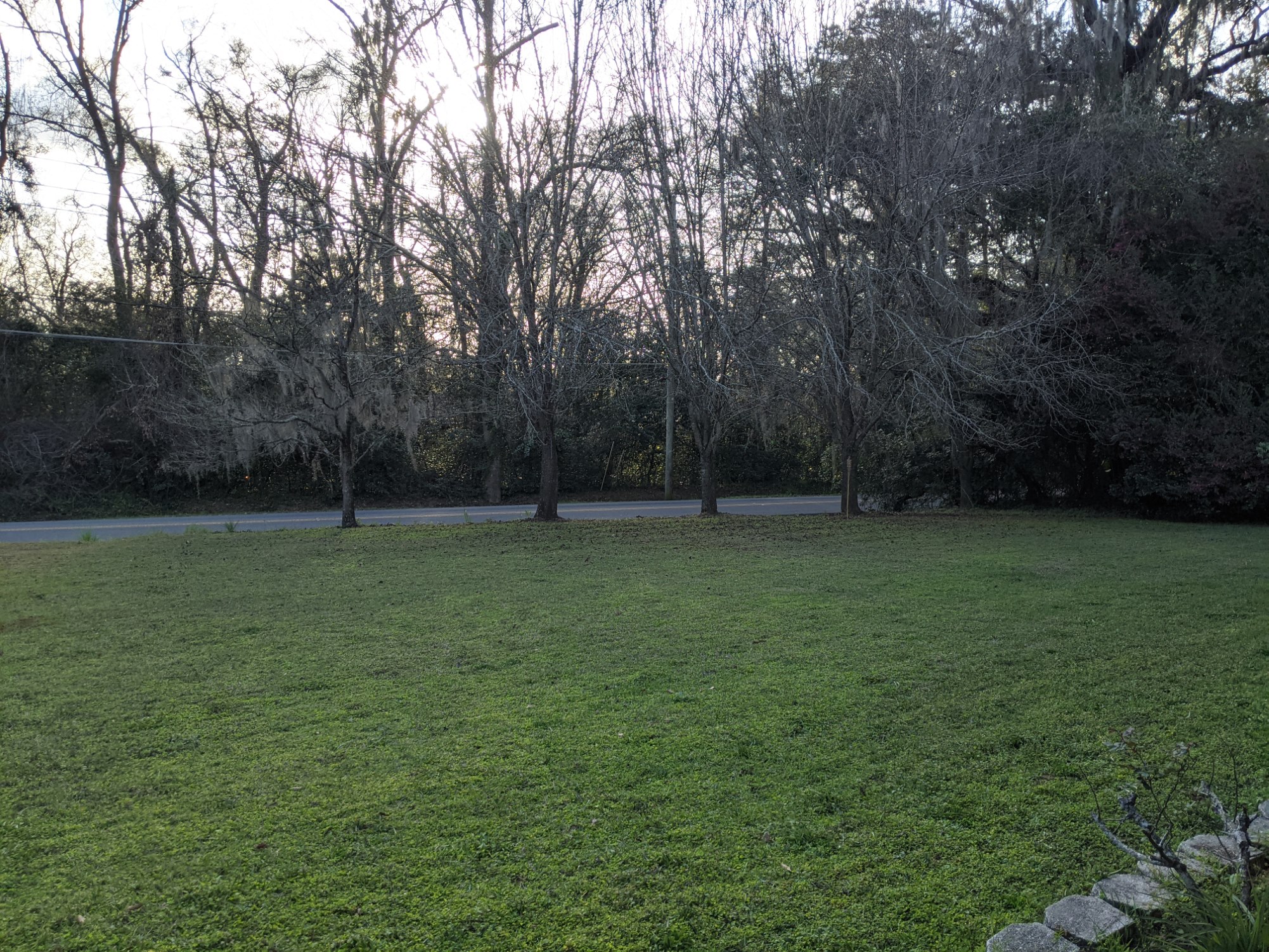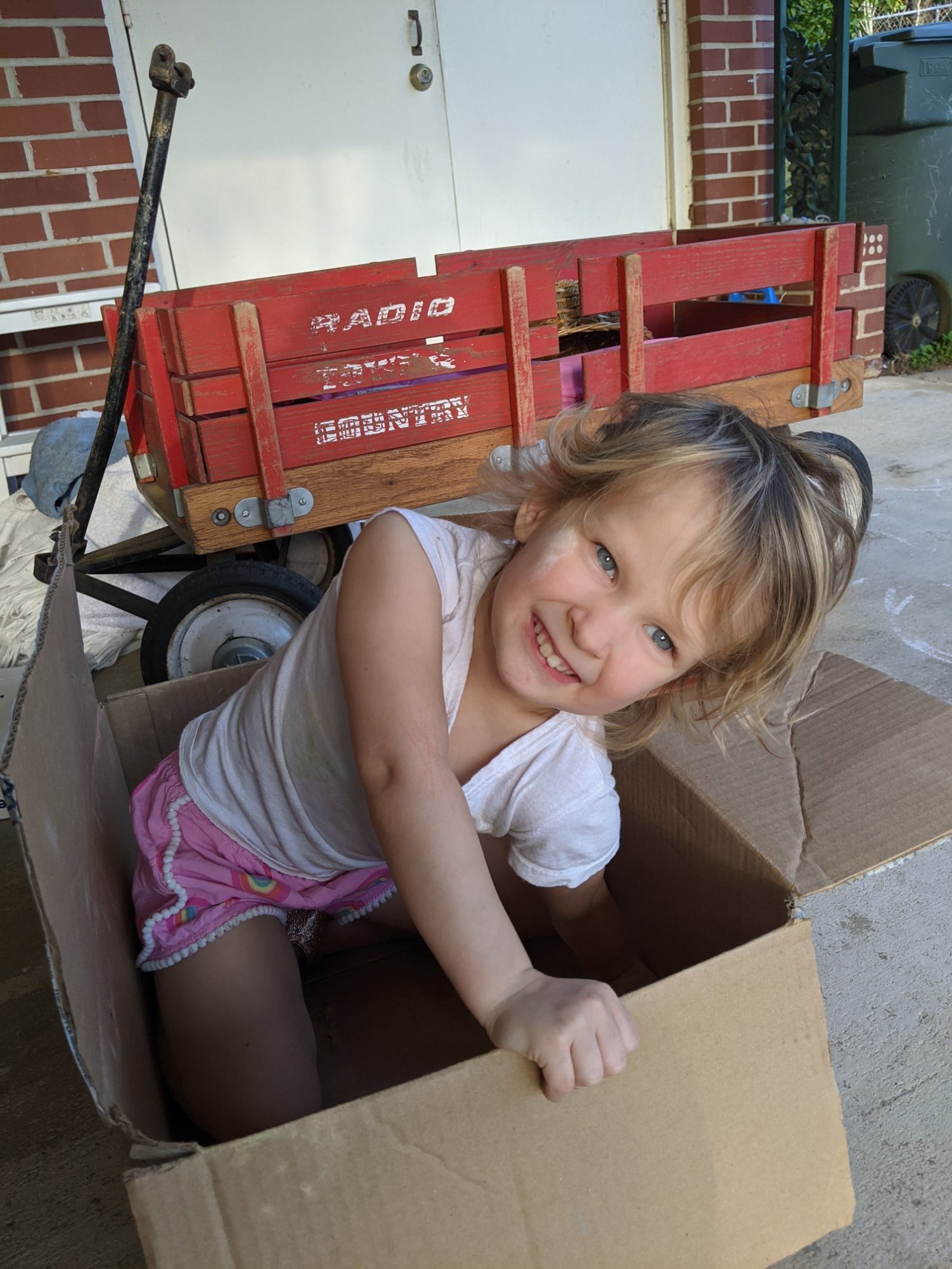 After all that time outside, she came in and got straight in the bathtub to get herself all cleaned up.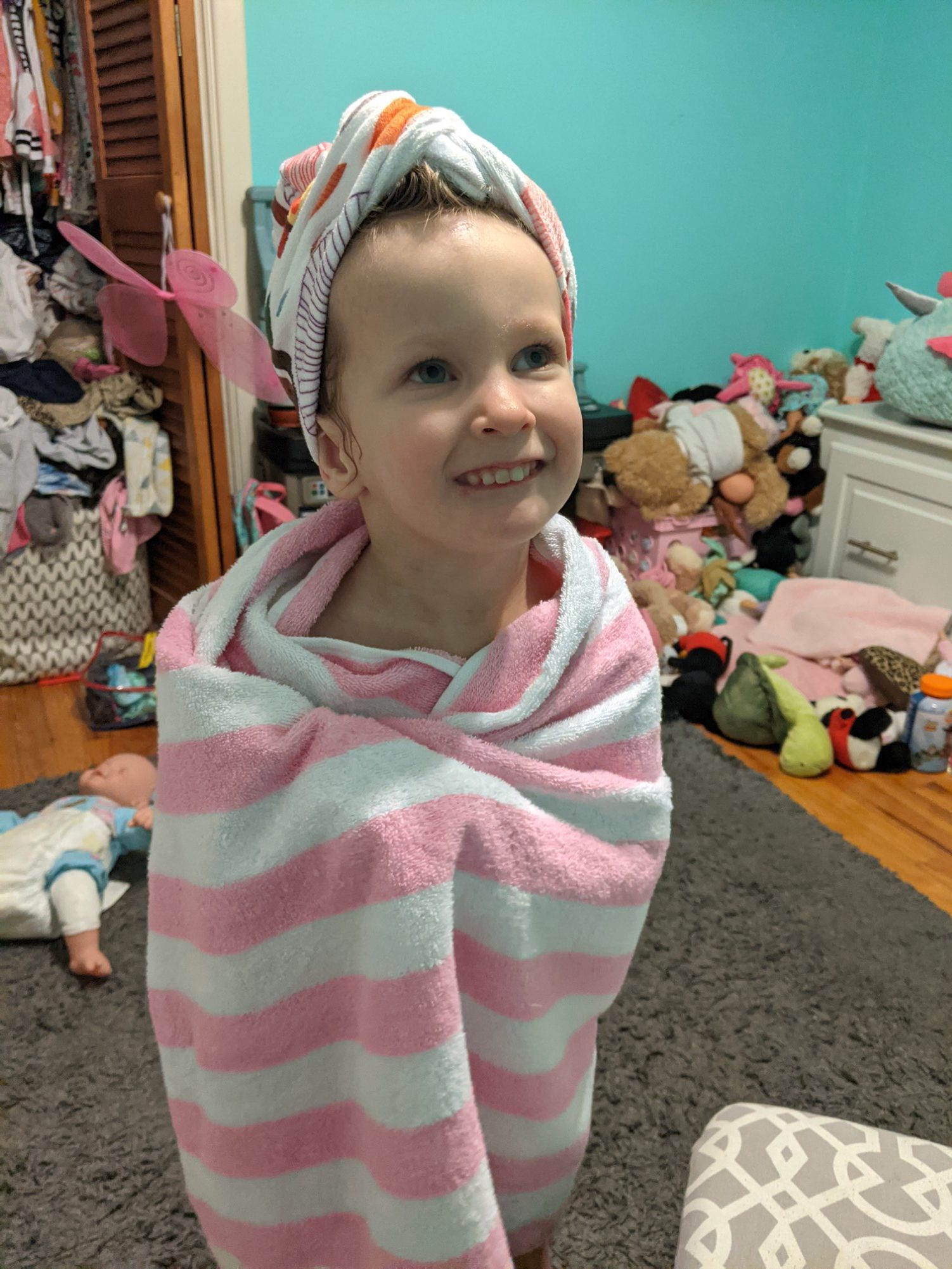 Then she played on her Kindle for a few minutes, and I finished up the last few pages of my own Kindle book.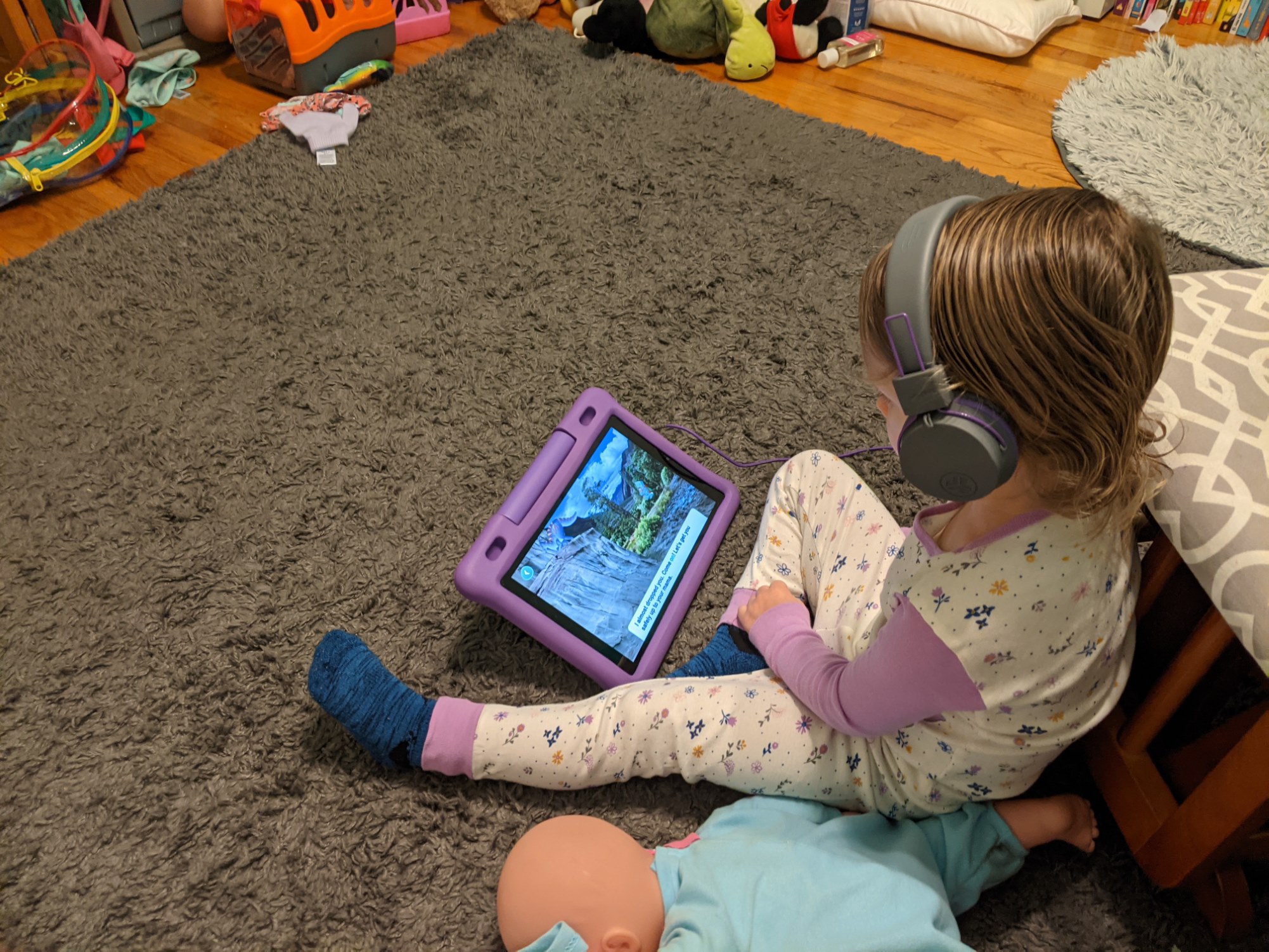 And then we had a delicious dinner at A-Town Wings. I had done a quick search of the Tallahassee Foodies Facebook page for some "keto-friendly" take-out options (since Keto is similar to low-carb, low-sugar like I'm now doing), and lots of people recommended buffalo wings, as long as their the "naked" ones and not breaded, and this restaurant specifically was mentioned a lot. I'd heard of them before and been wanting to try it out, so we went tonight.
We were gonna get it as take-out to bring home, but they had every other table blocked off, and although there were TONS of people coming in for take-out, there weren't very many people actually staying to eat, so we decided to stay. And y'all, these were some of the best wings I've ever had! I ordered 10 wings (but lucked out will 11!), split half mild buffalo and half honey garlic pepper, and dang if those honey garlic pepper weren't my new favorite thing ever. (The honey part might have had too much sugar, I didn't think about that before ordering, but they were still so good.) Jeff was famished after walking nearly 10,000 steps just while mowing the yard, so he went for the giant meal of Philly, fries & five wings, but he couldn't even finish all of it. I had just a couple fries, plus a bite of his Philly, and it was delicious too! I love me a good Philly, so I'll need me one of these in a few months!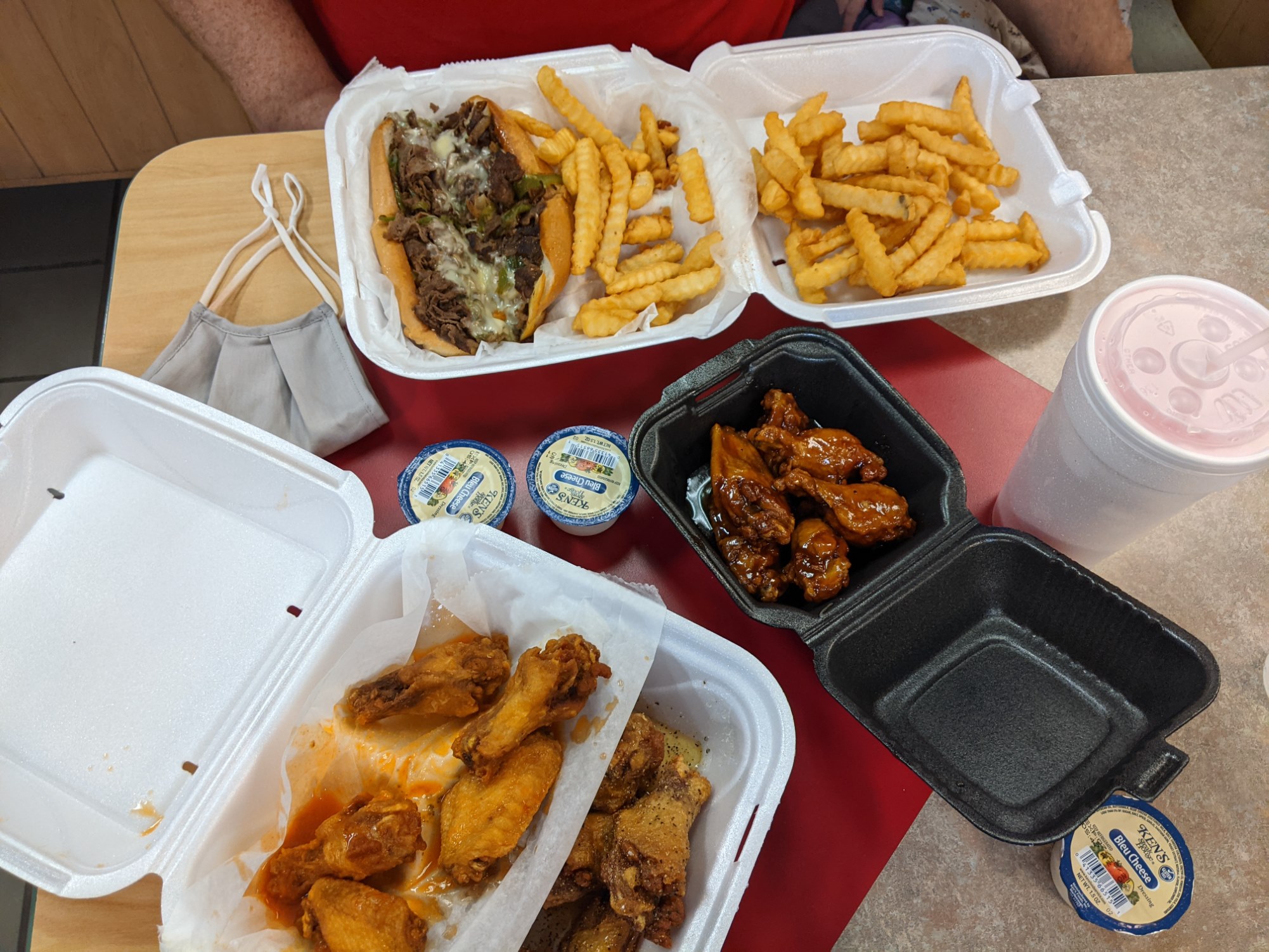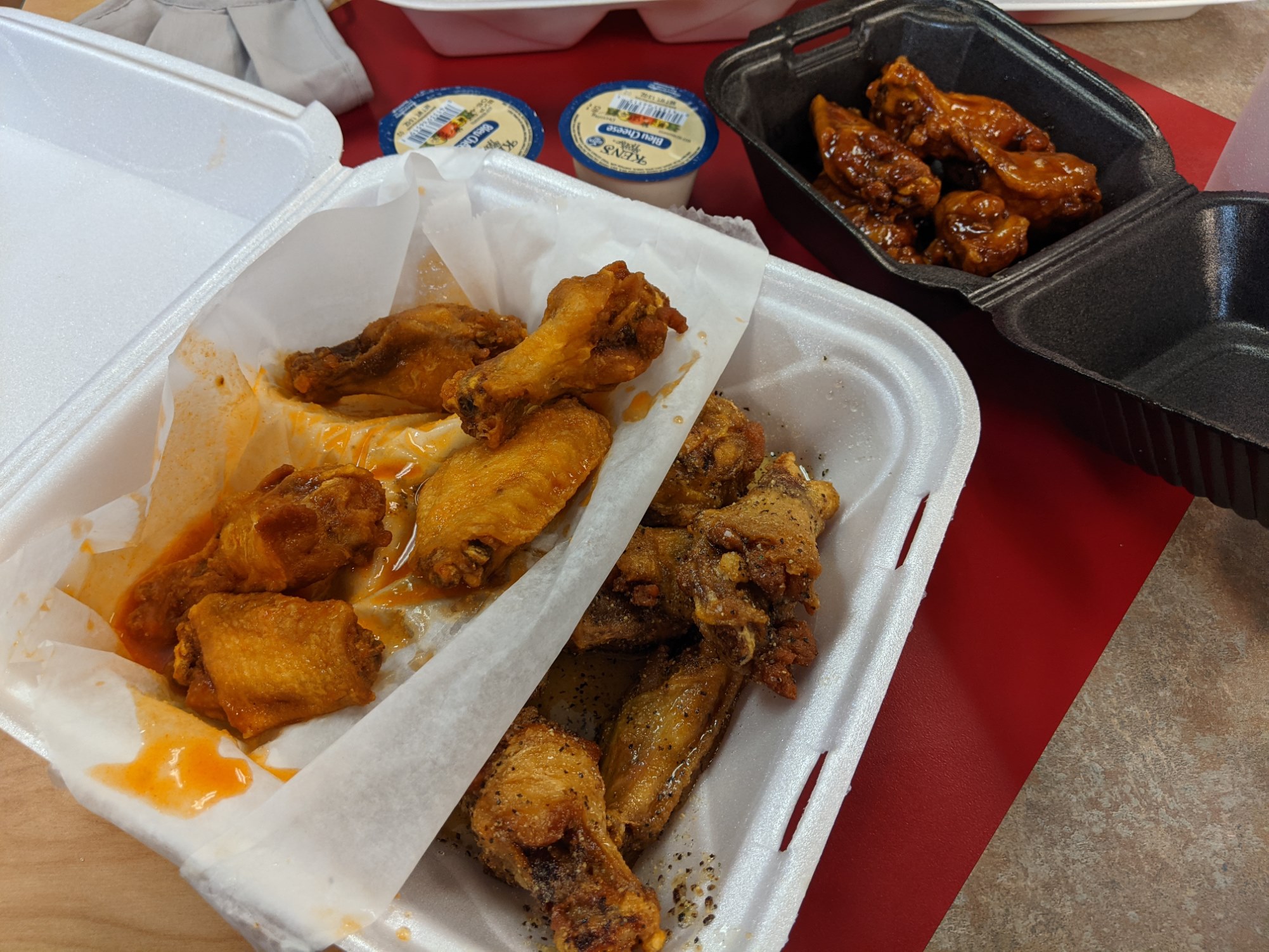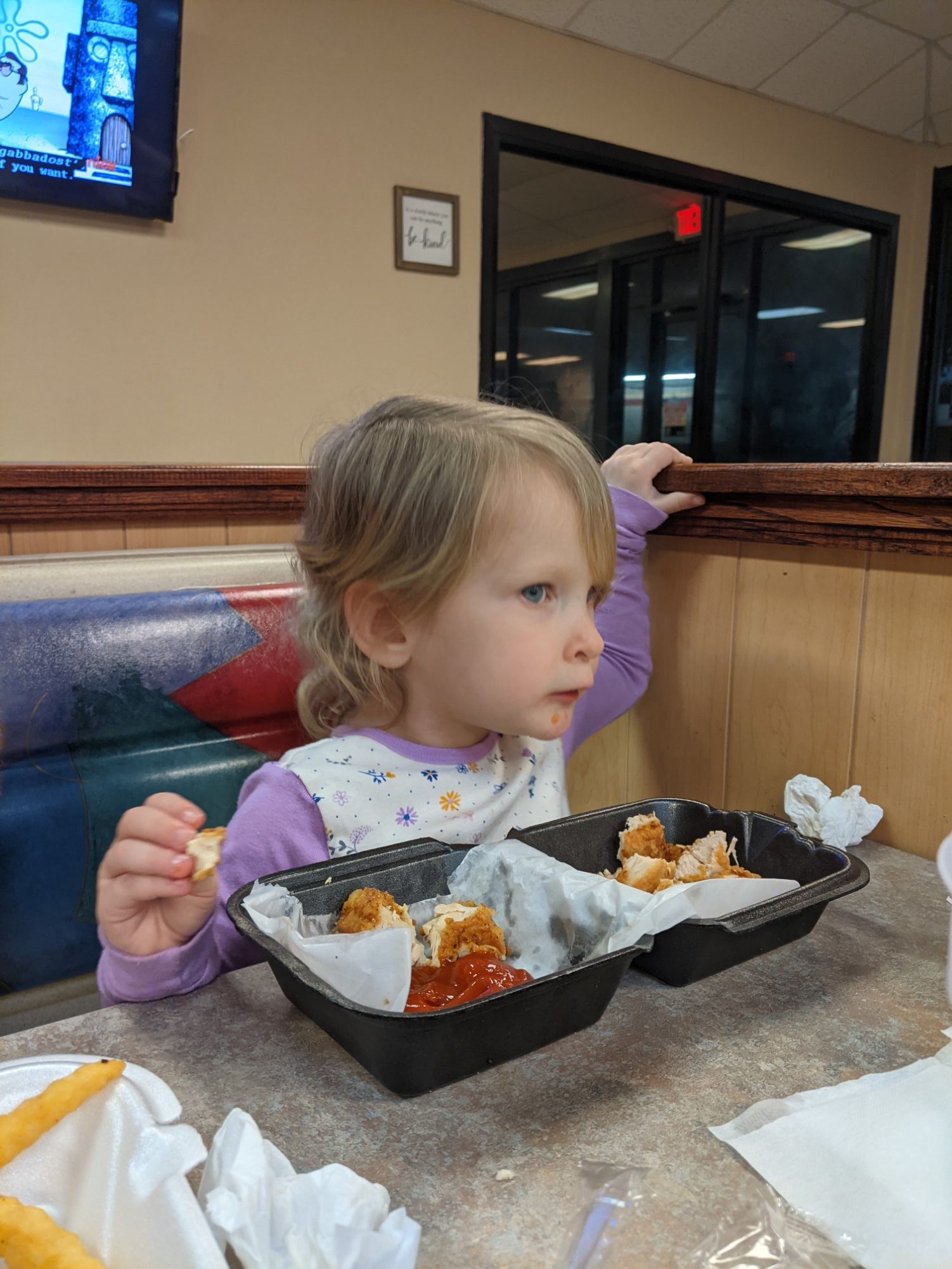 We snuggled a little bit once we got home, and then went through the bedtime routine with Tater Tot.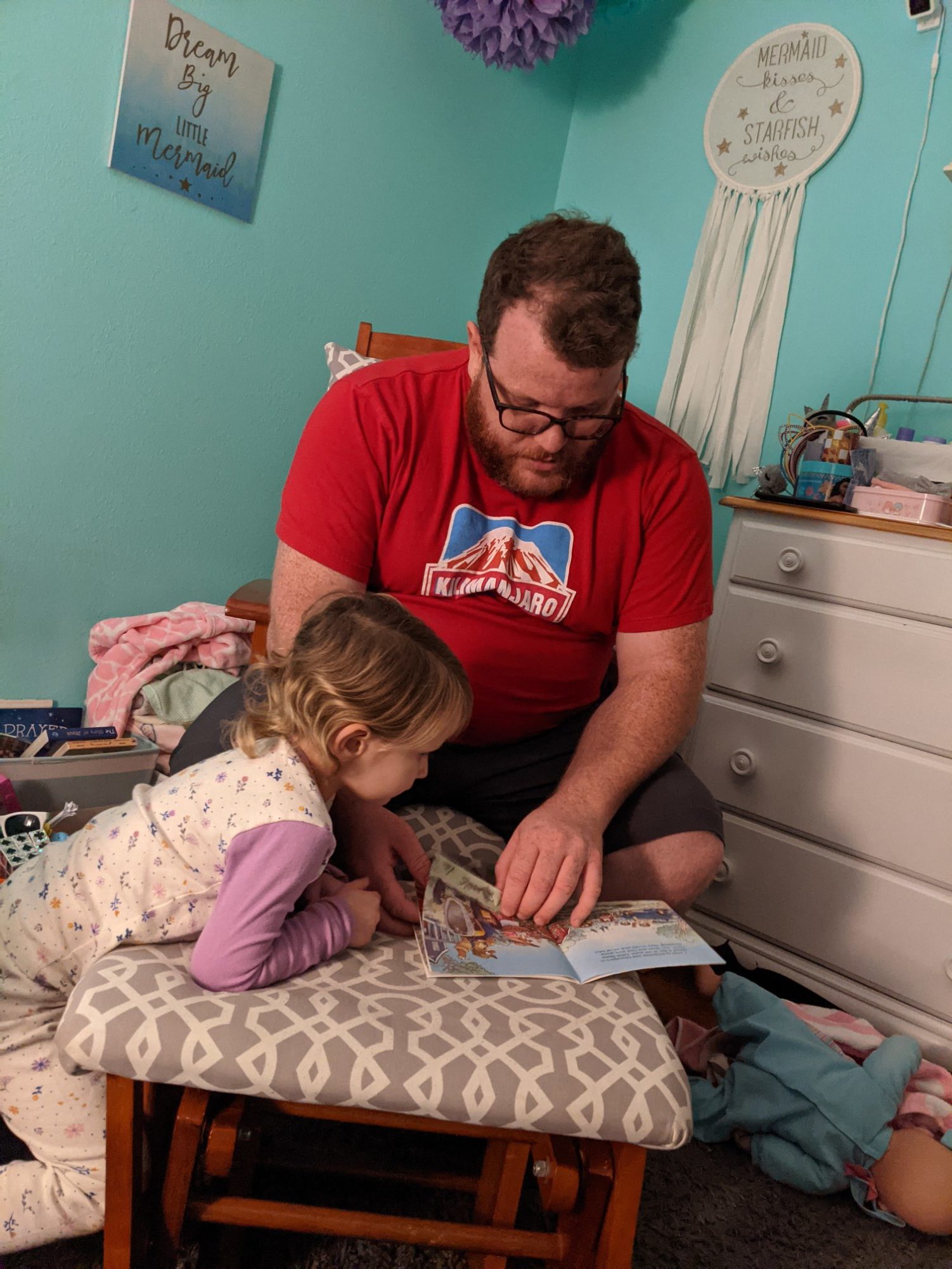 Beth Jeff and I are now completely exhausted after so much hard work today, so we'll be heading off to bed soon now ourselves.