When I first walked into Emerson's room this morning, I was carrying Addison. She was immediately like, "Are you holding baby sister? Can I hold her, please?" So right away we went into the living room and she held her and loved her and was so sweet.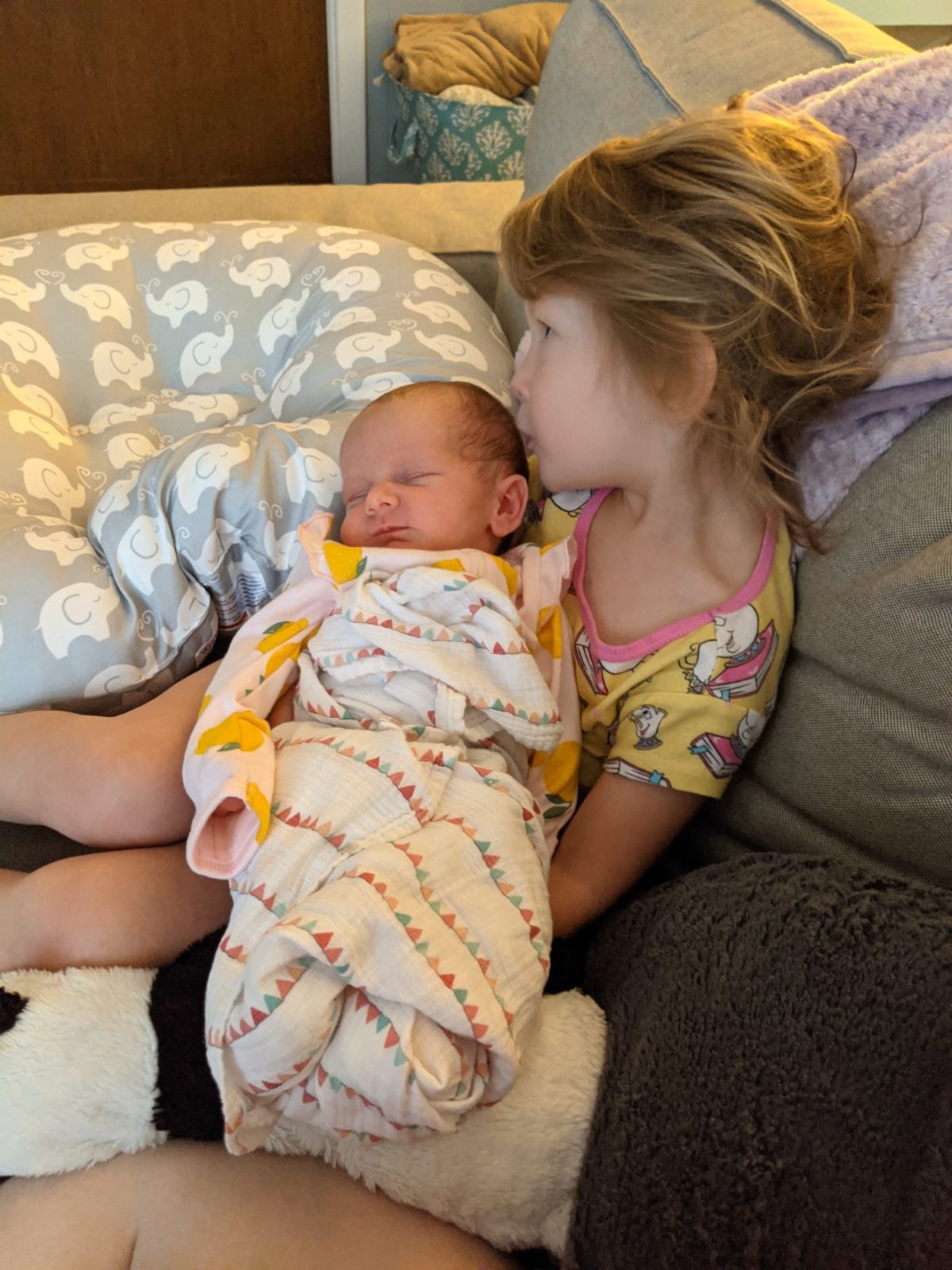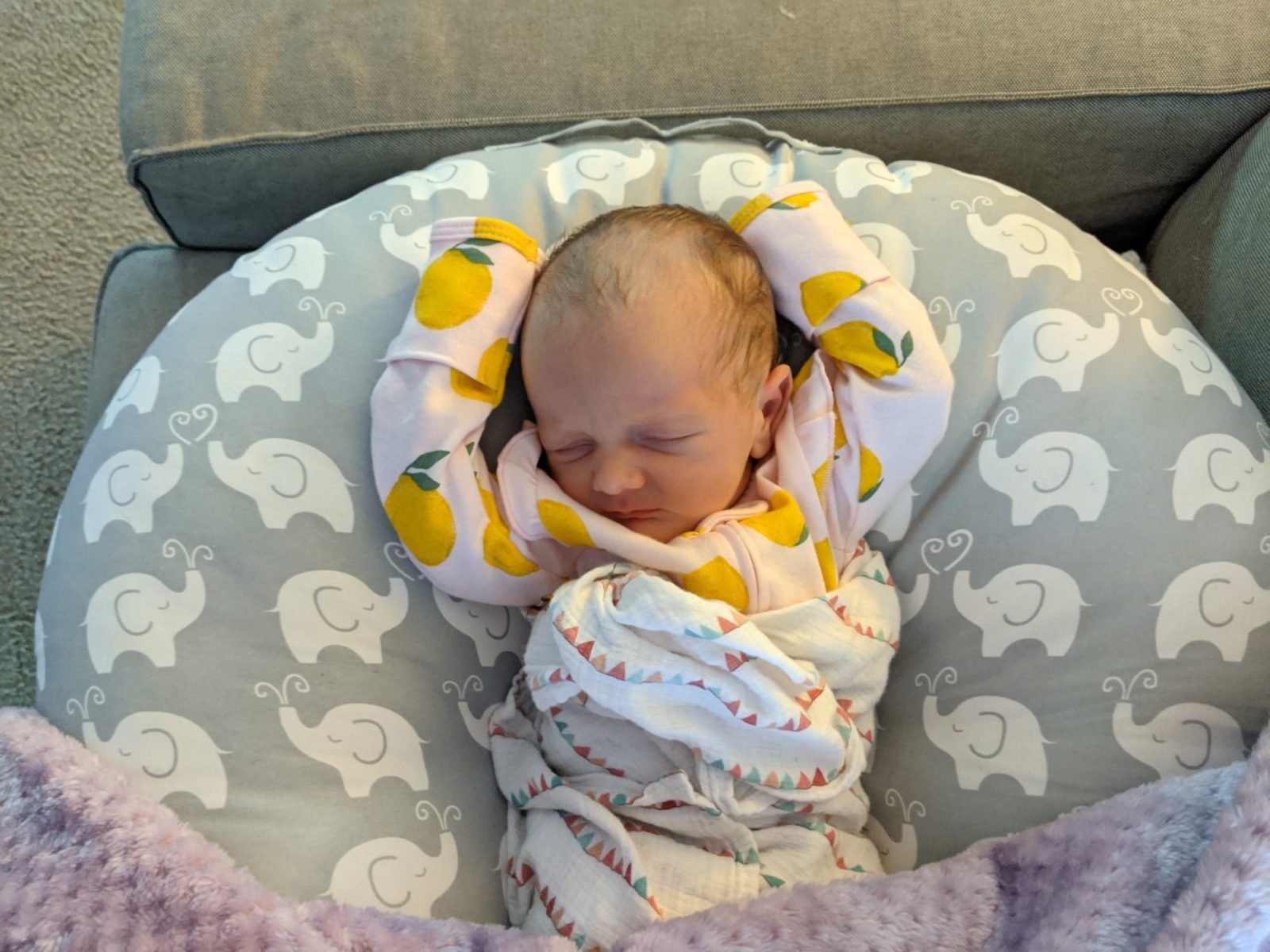 She specifically asked for two hair clips this morning (one on each side), and it did look super cute. I also loved this new-to-her hand-me-down dinosaur dress, that was just perfect for her.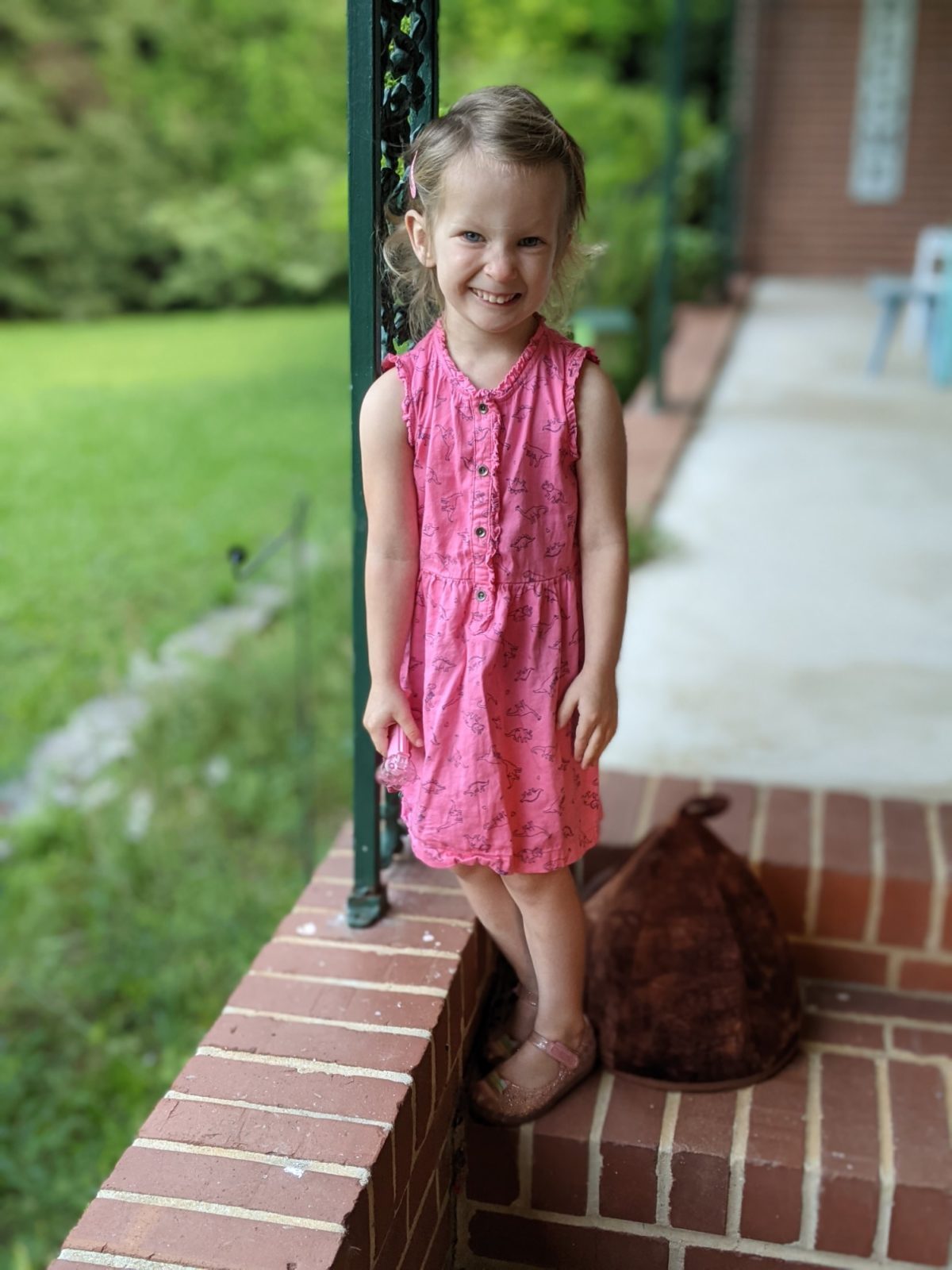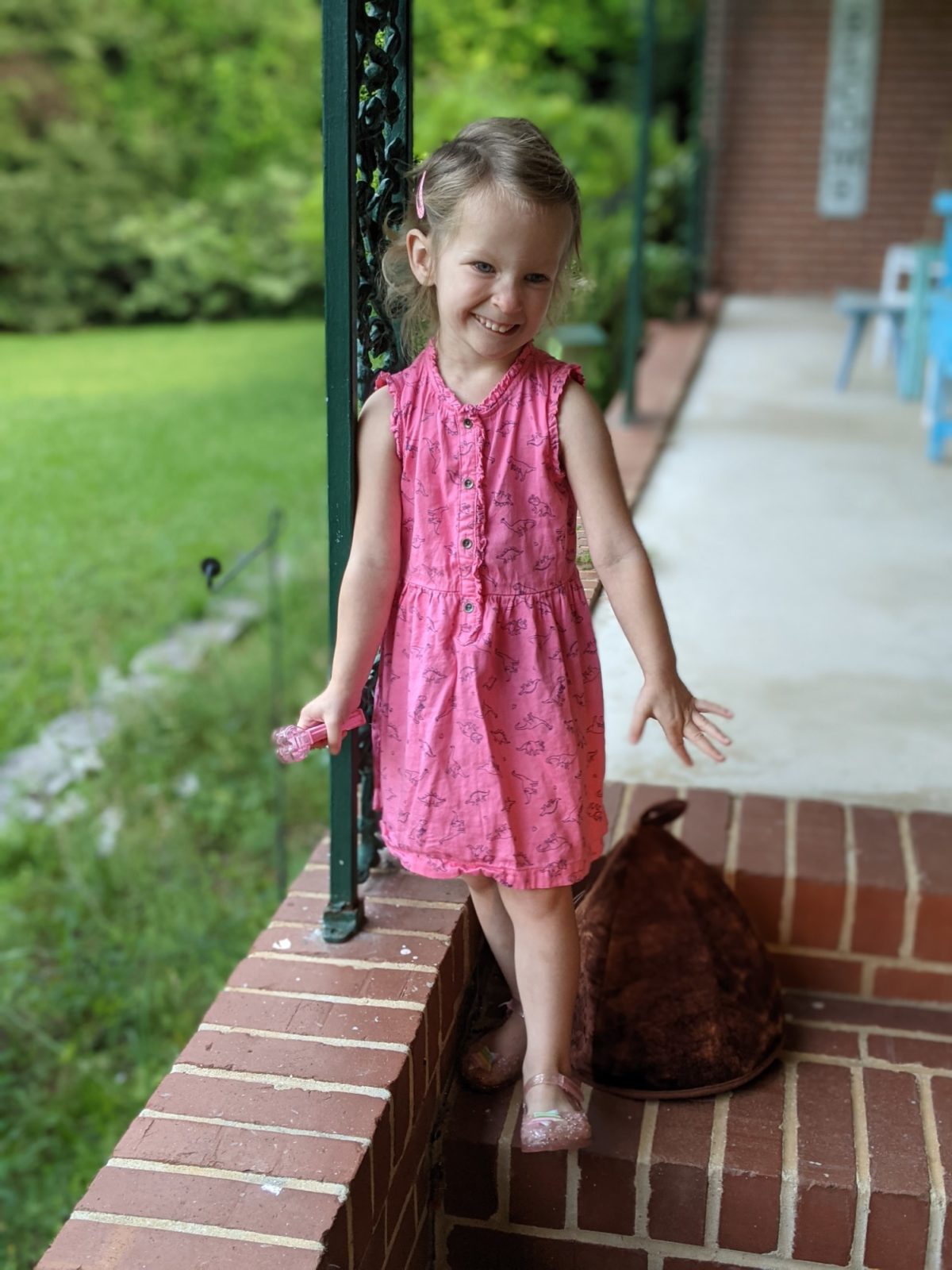 Not sure what happened to her hair in the car, but by the time her and Jeff got to school, it was quite a mess! But Jeff said she had a good drop-off, so that's what's important.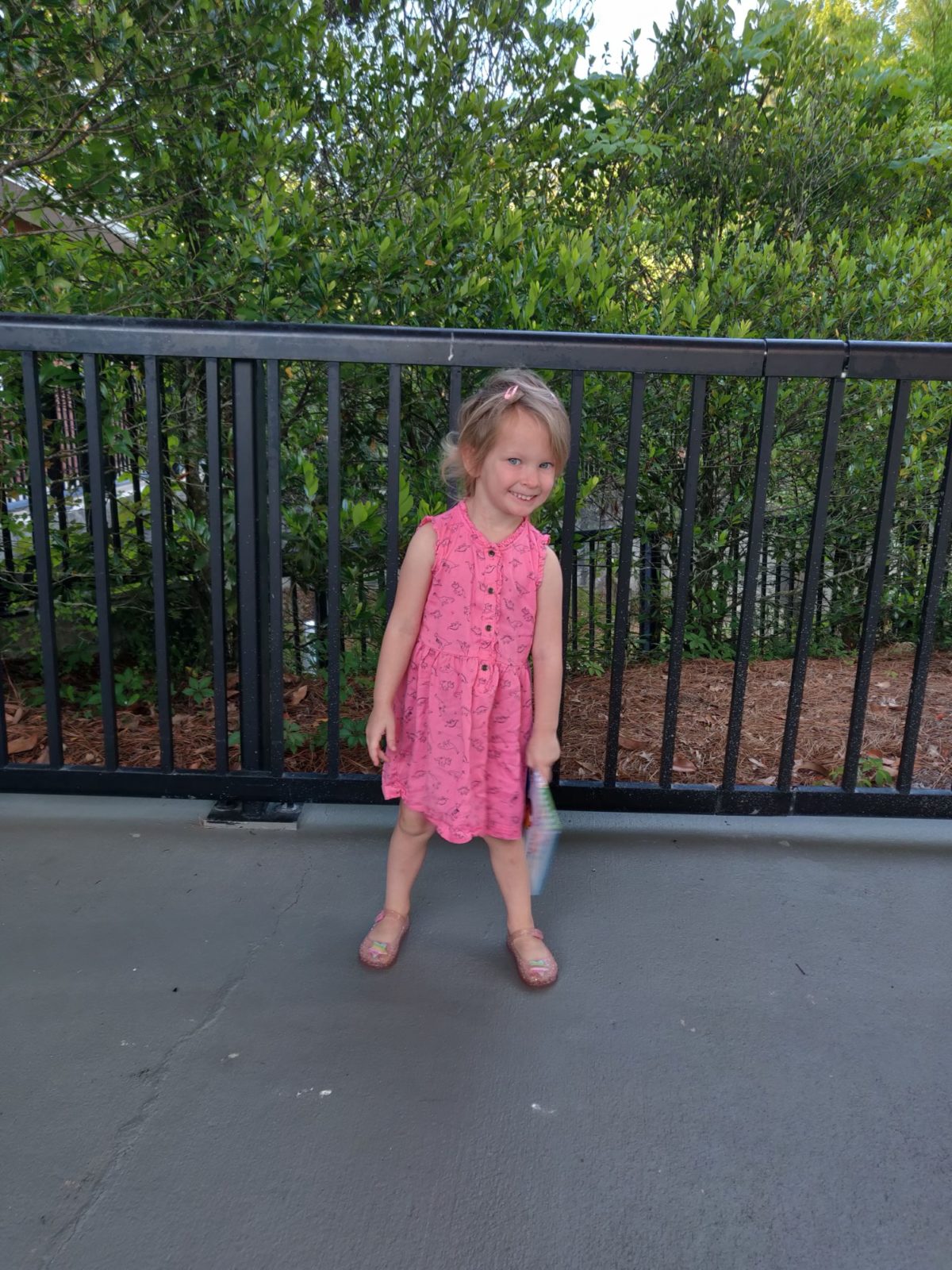 Back at home, Addison and I had a great day today. She slept a lot, as newborns do, but she also had her little pockets of wakefulness, just looking around and staring at Mommy. Between feedings and cuddle sessions, I was also really productive around the house today while she slept, which I actually really enjoy. I folded and hung and put away two loads of mine and Jeff's laundry, started a load of Addison's stuff, and washed up all of the Tupperware I cleaned out of the fridge yesterday.
She was also looking absolutely adorable in these lemon jammies from my friend, Ashlee! I actually kept making up little songs today about her being a "lemon baby," and and calling her "lemon girl" all day.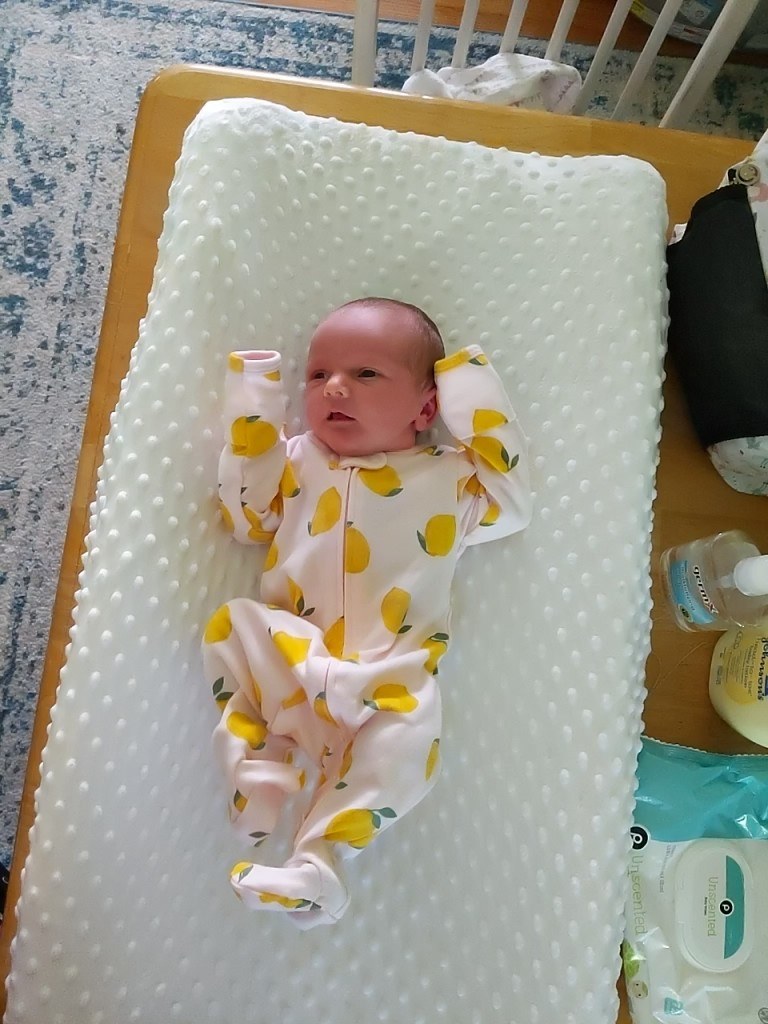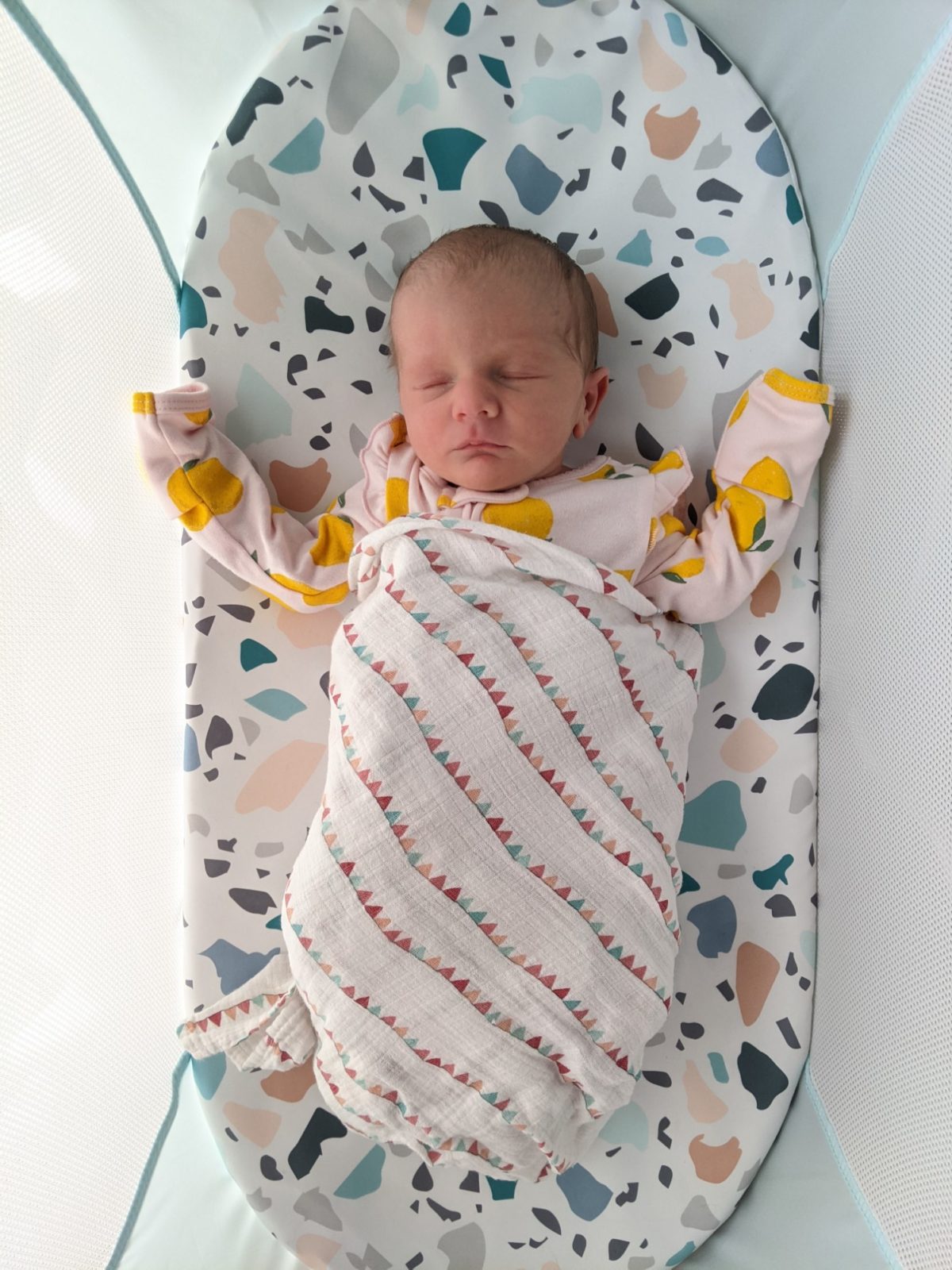 At almost-two-weeks-post-partum, I finally felt comfortable enough to sit in the floor again. So we spent a little time in Addison's room, playing with a few toys, and I read her a few books.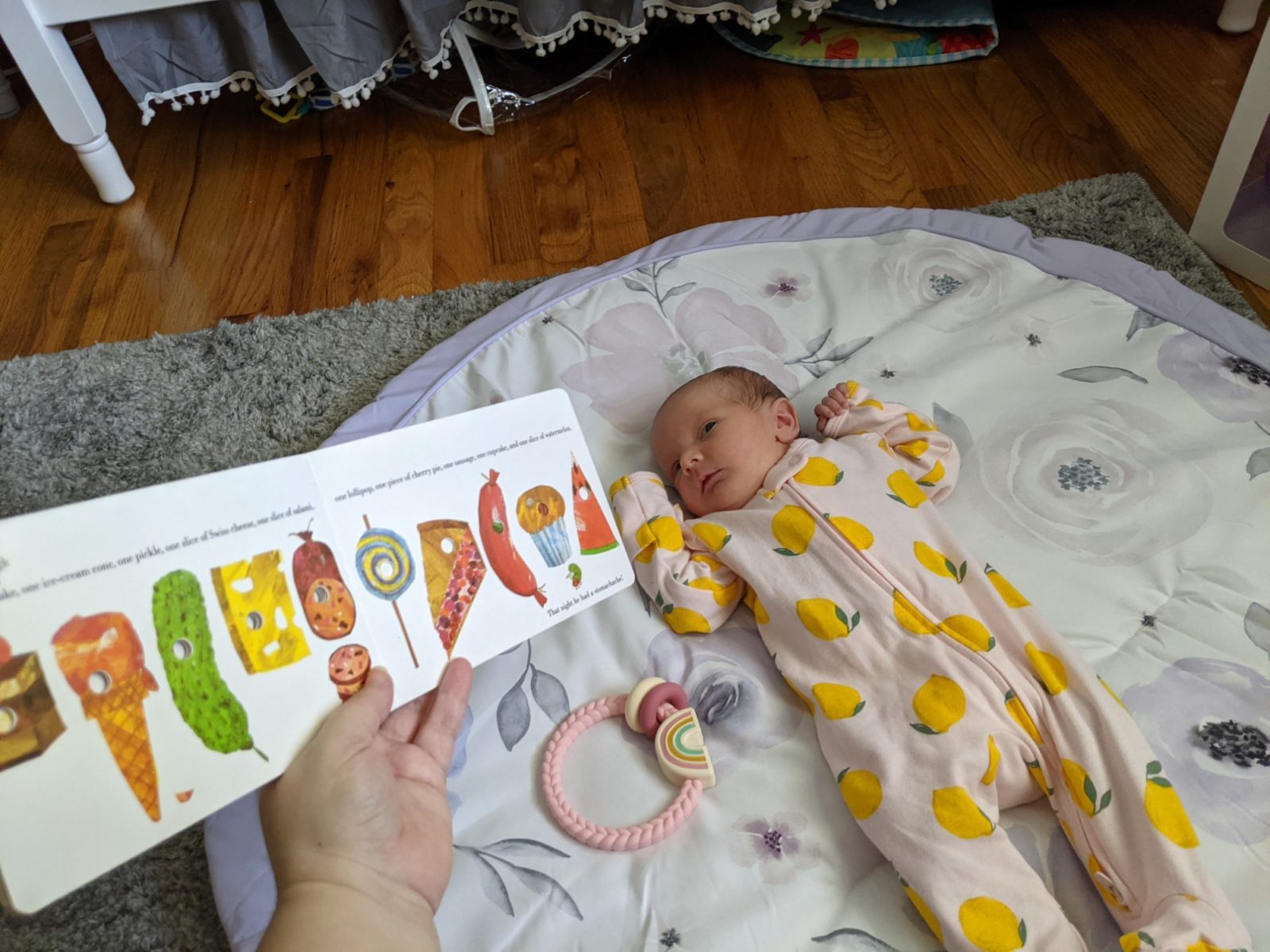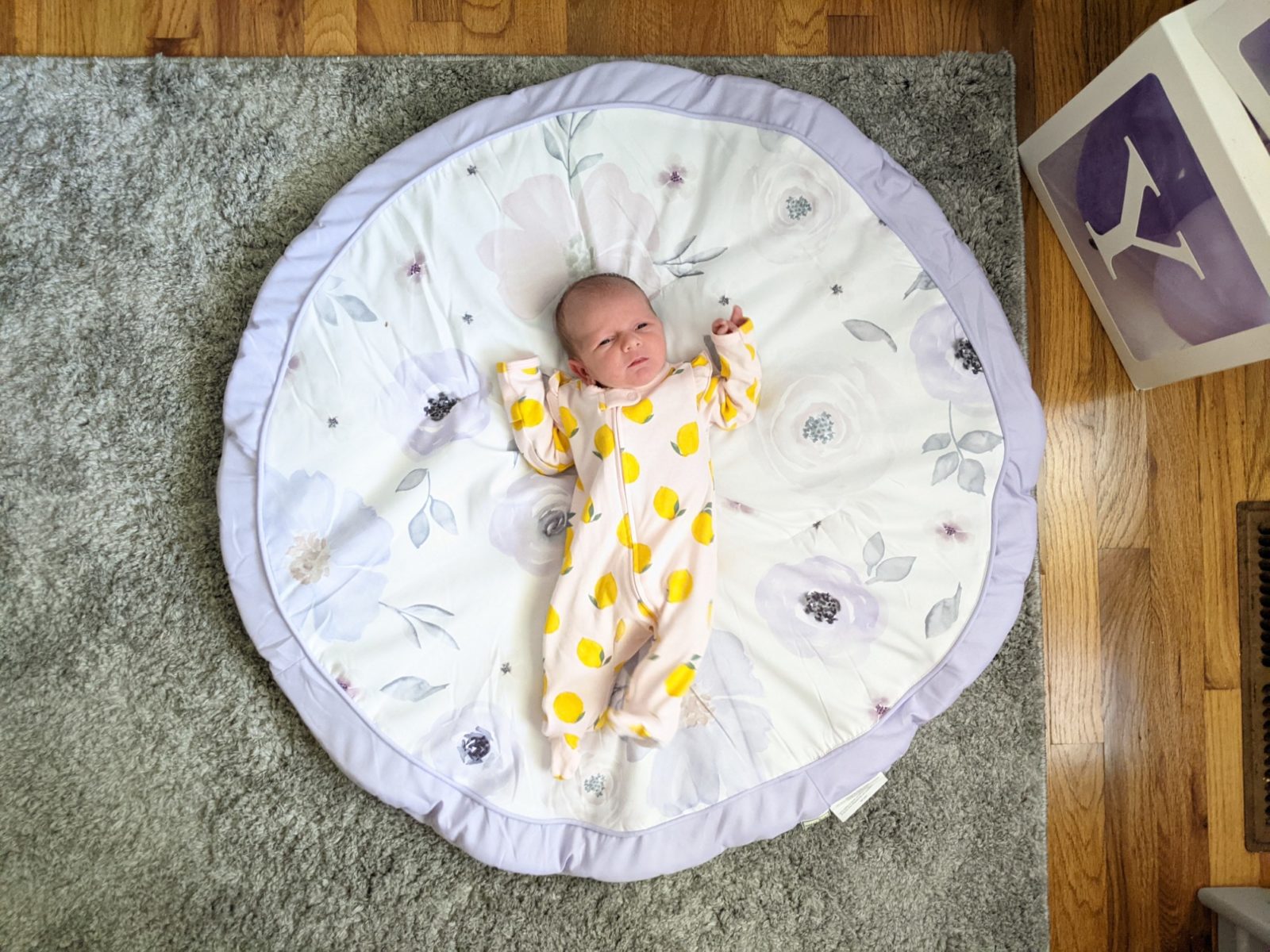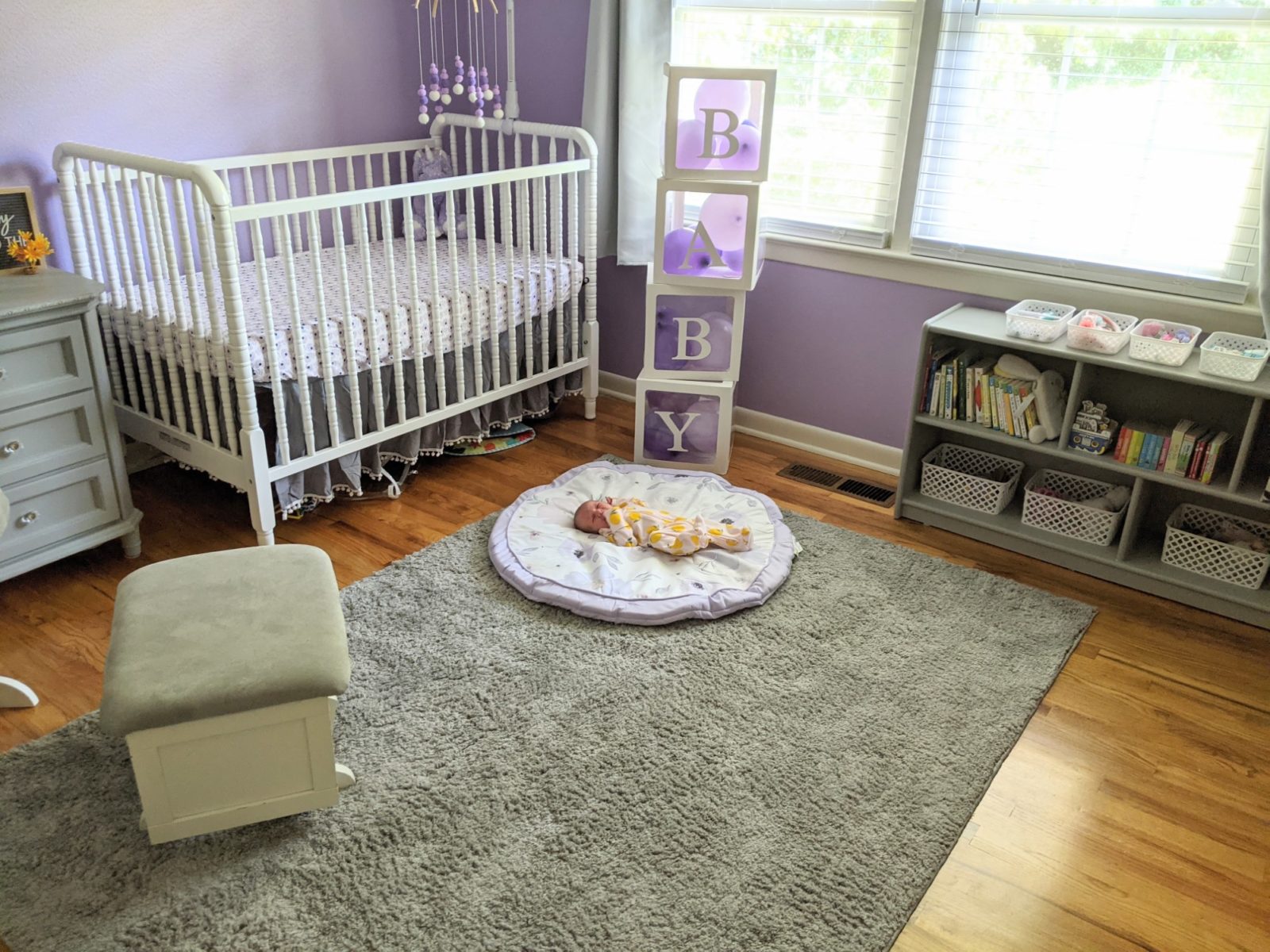 And would you please just look at this perfect little face?!?!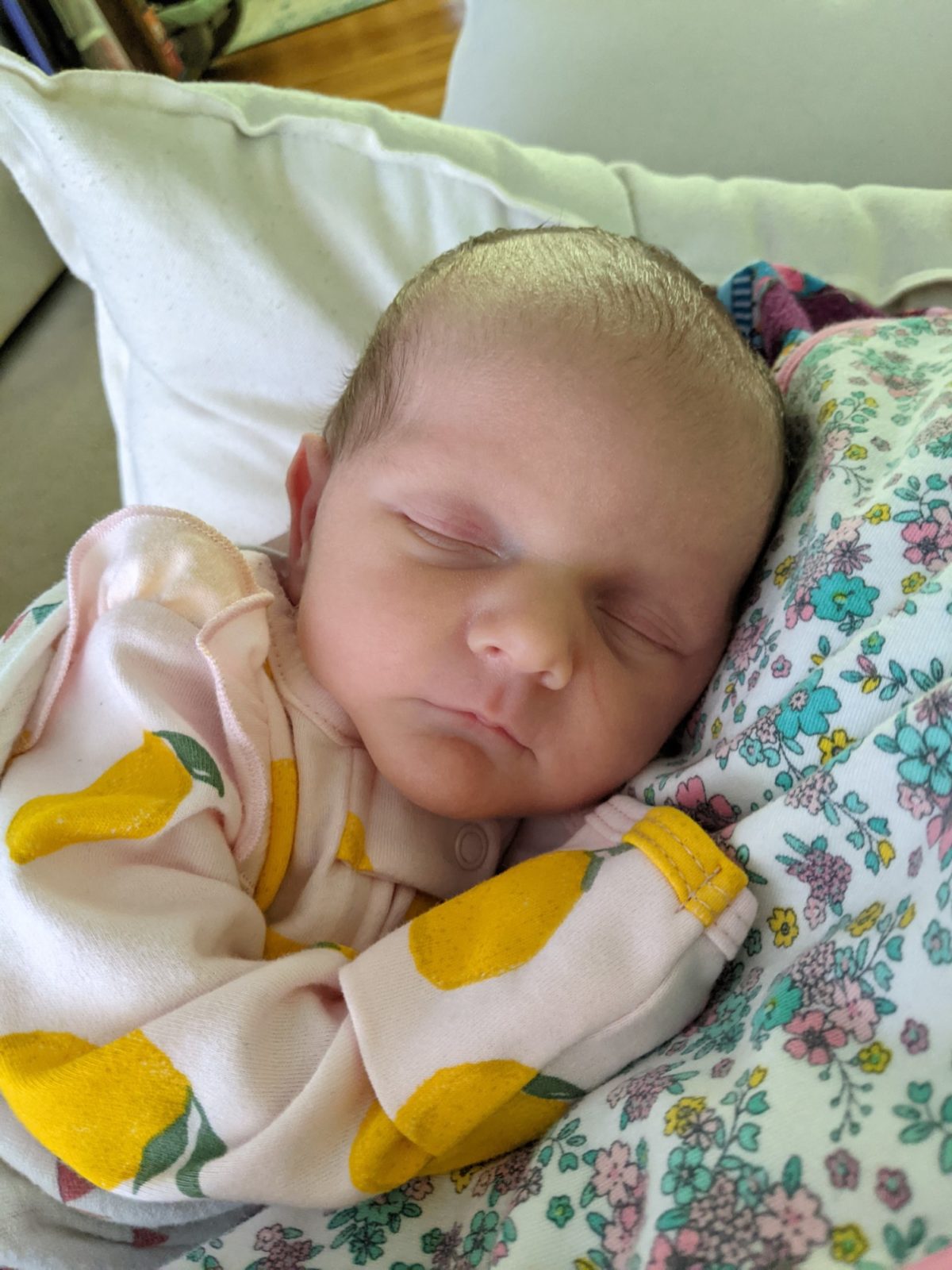 Another beautiful handmade, crocheted blanket from Grandmommie 🙂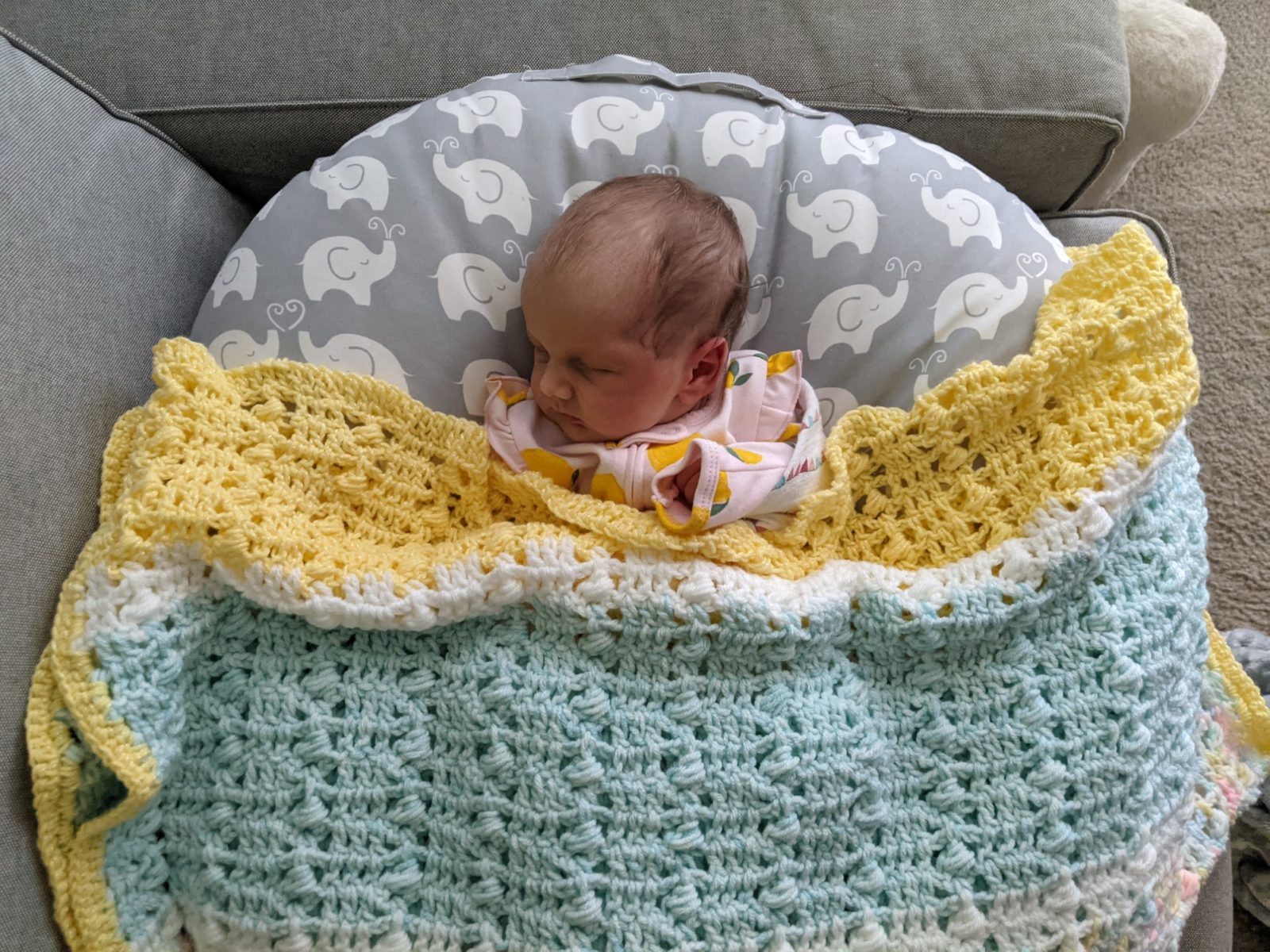 Addison and Pretzel just snoozing away on the couch together, while I worked on our clean laundry. (By the way, my 12-pound doxie puppy now feels super heavy when I pick him up, compared to my 6-pound tiny baby girl.)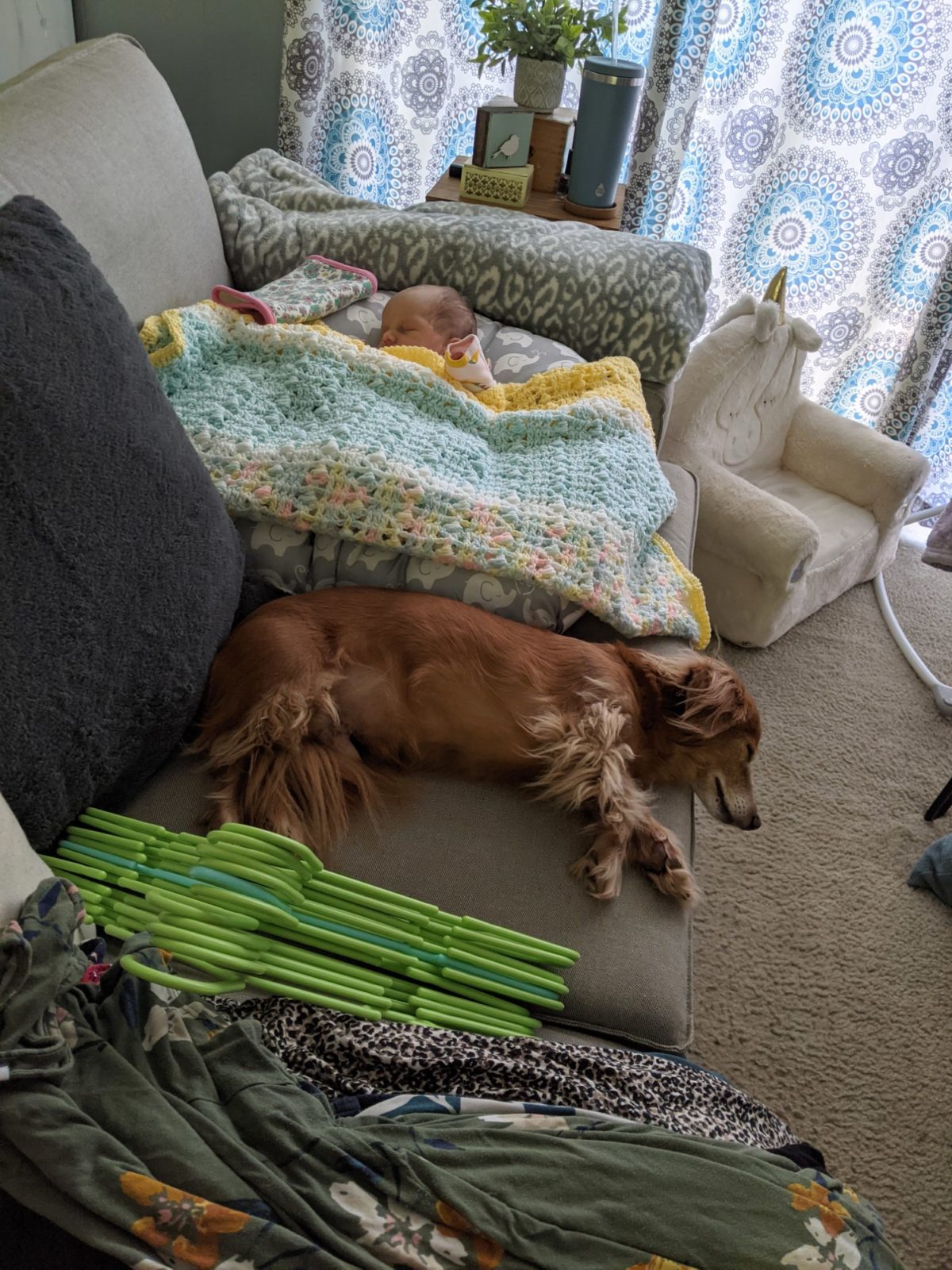 Although we've had this chair for like 2.5 years, he's only recently started curling up in it the past few days, and it's really funny and cute.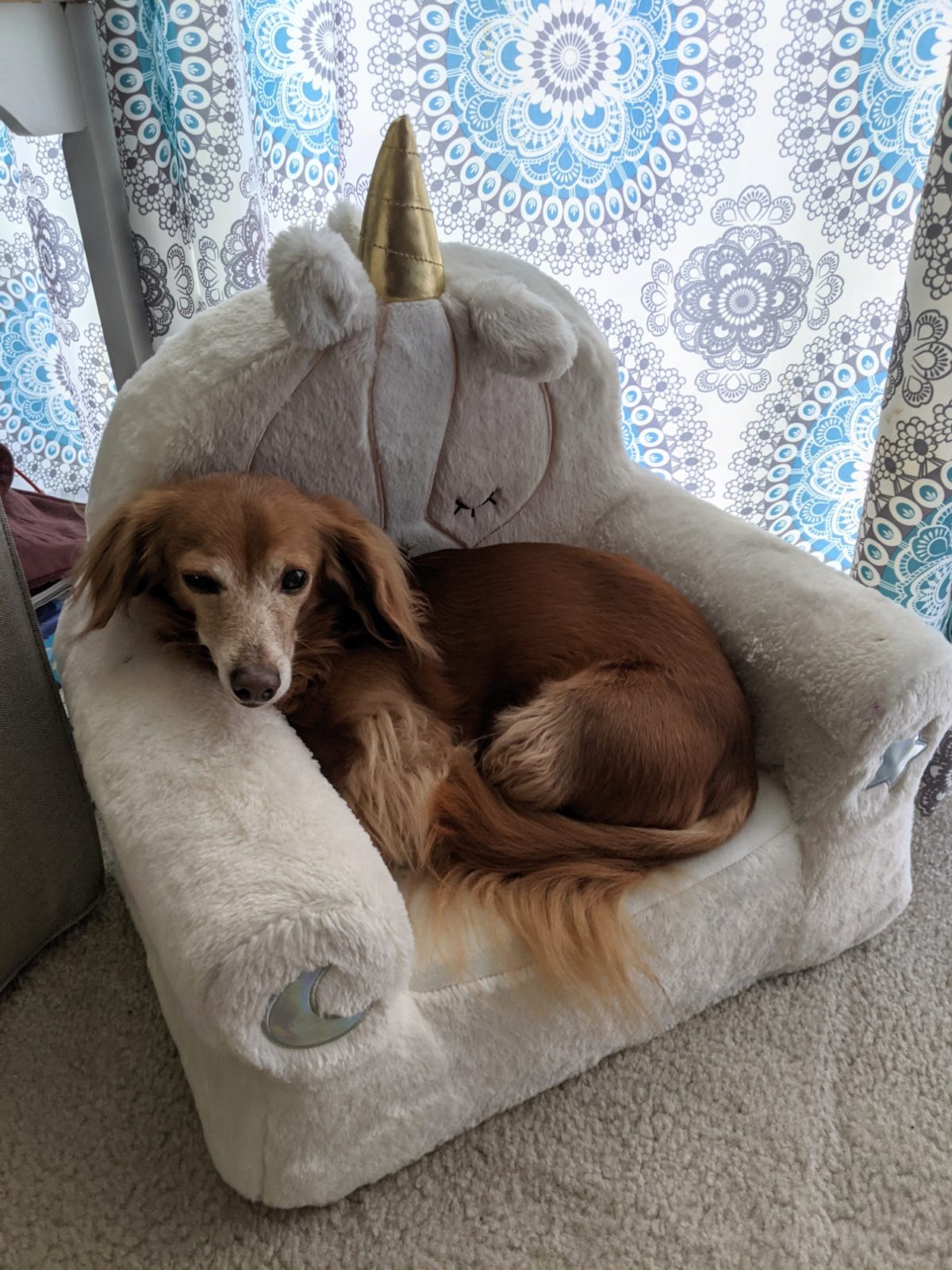 I even had time this afternoon to sit down and start a new book, and read for like 30-45 minutes, while baby girl slept in her bassinet!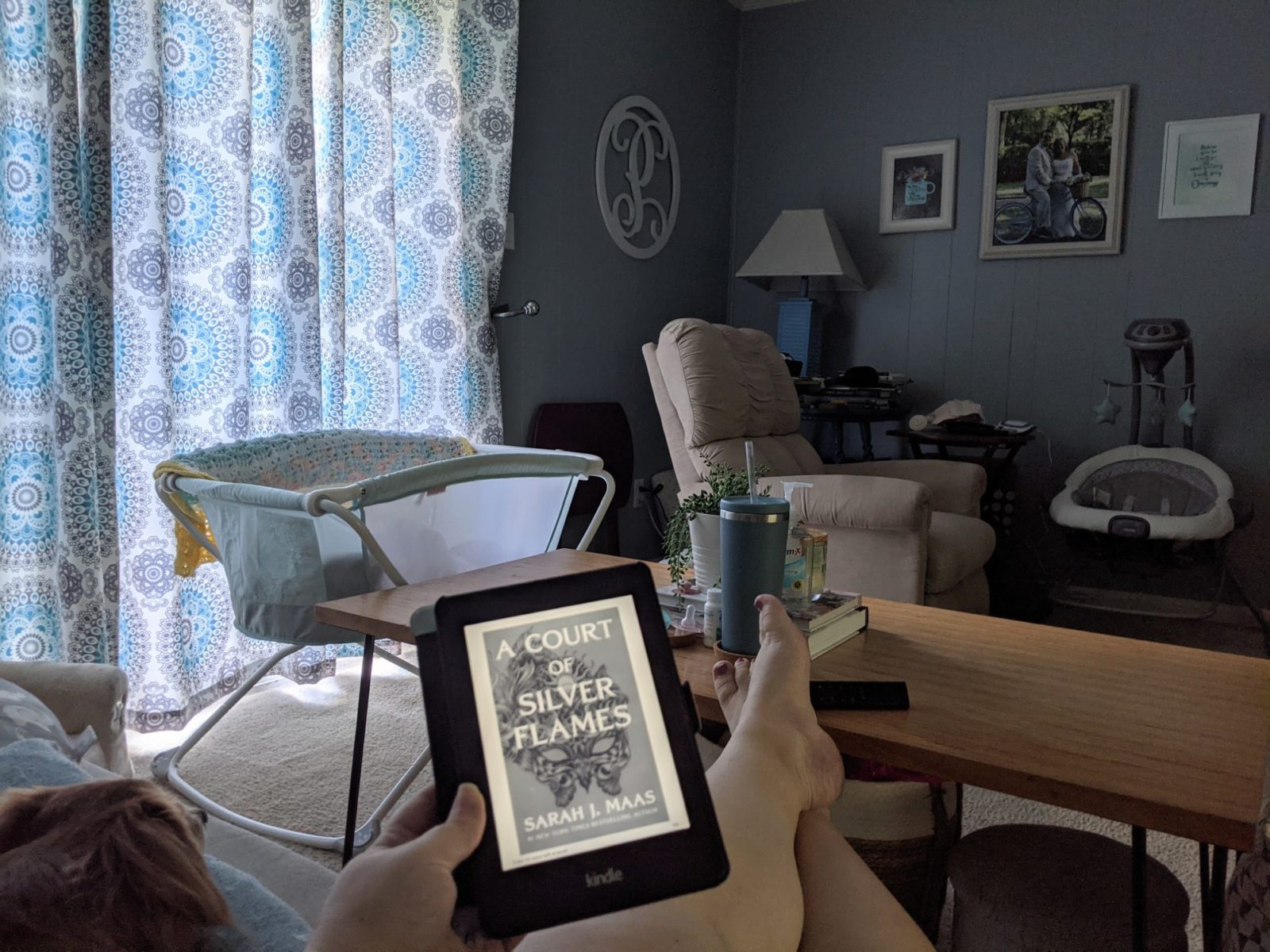 Emmie had a good day at school – napped almost two hours, and her report said they made a book worm during art time, and the worm even ate some of the book! It also said they're supposed to come to school on Thursday dressed as their favorite book character. I have no idea what that would be, so I asked her, and she said she wanted to dress like a book worm. I said, "Well that sounds cute, but I don't know how I would actually dress like that?" And she was like, "You would just put a worm clothes on me, and then I'll hold a book in my hand!" (While using all the hand gestures imaginable.) I'm still not sure how or if we'll dress up on Thursday though…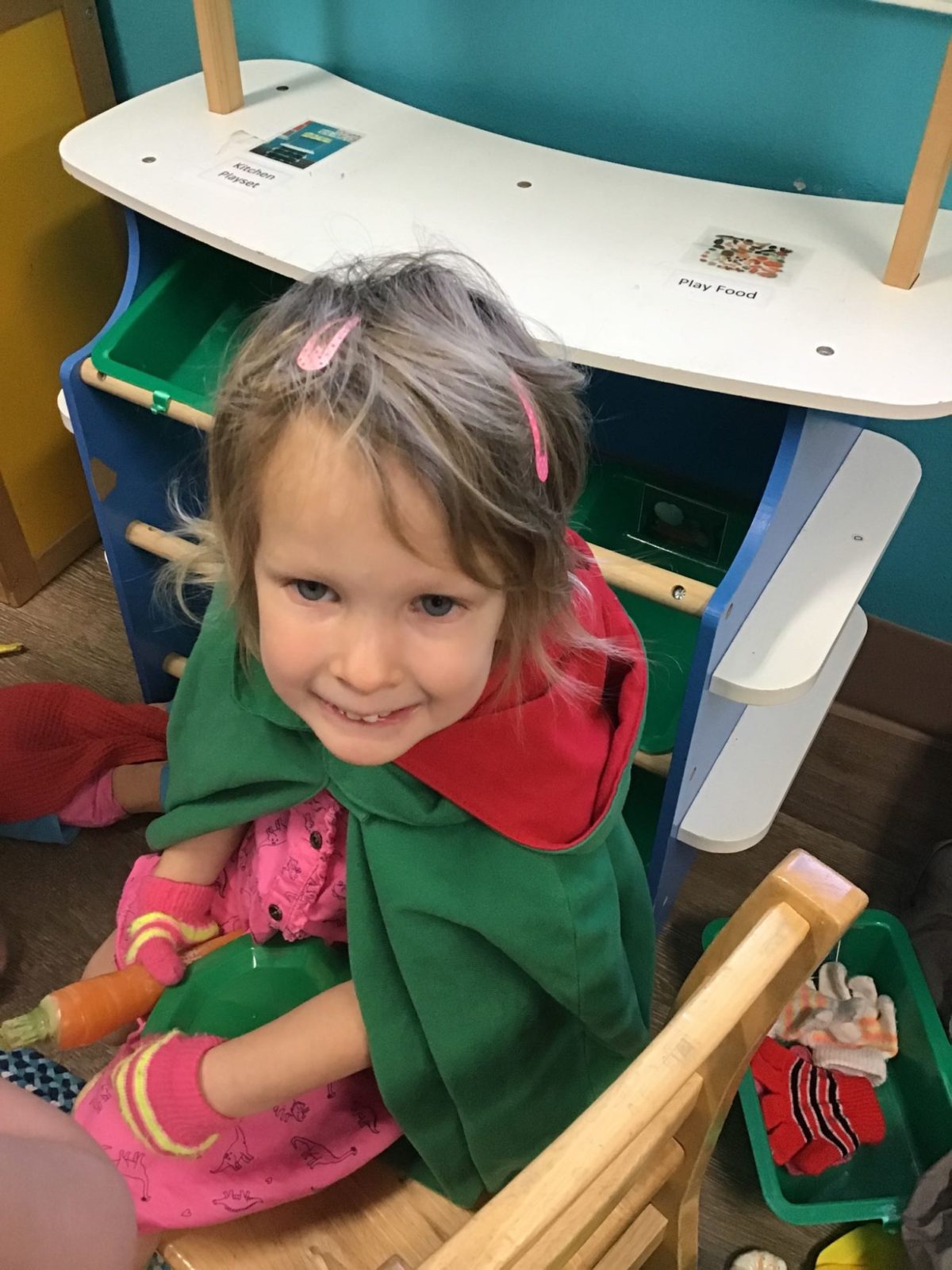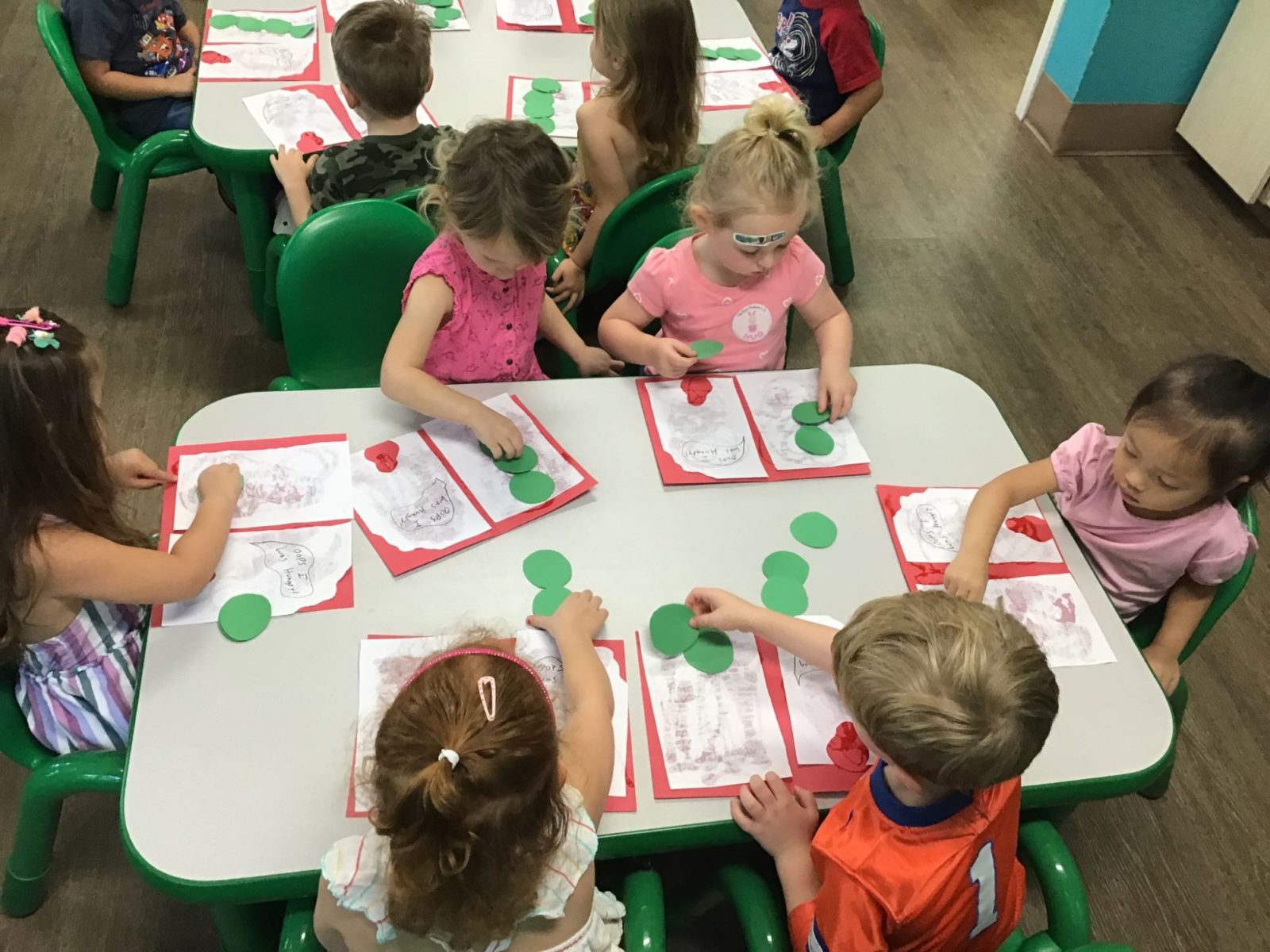 For dinner tonight, one of our friends from choir had a frozen, prepared meal delivered to our door, that just needed to be thawed and baked. It was honey lemon chicken, mashed potatoes and broccoli, and even lemon bars for dessert. (It's just a funny coincidence that Addison was wearing her lemon jammies, on the same day we had the lemon chicken and the lemon bars, and I actually just now realized that while writing this blog post tonight.)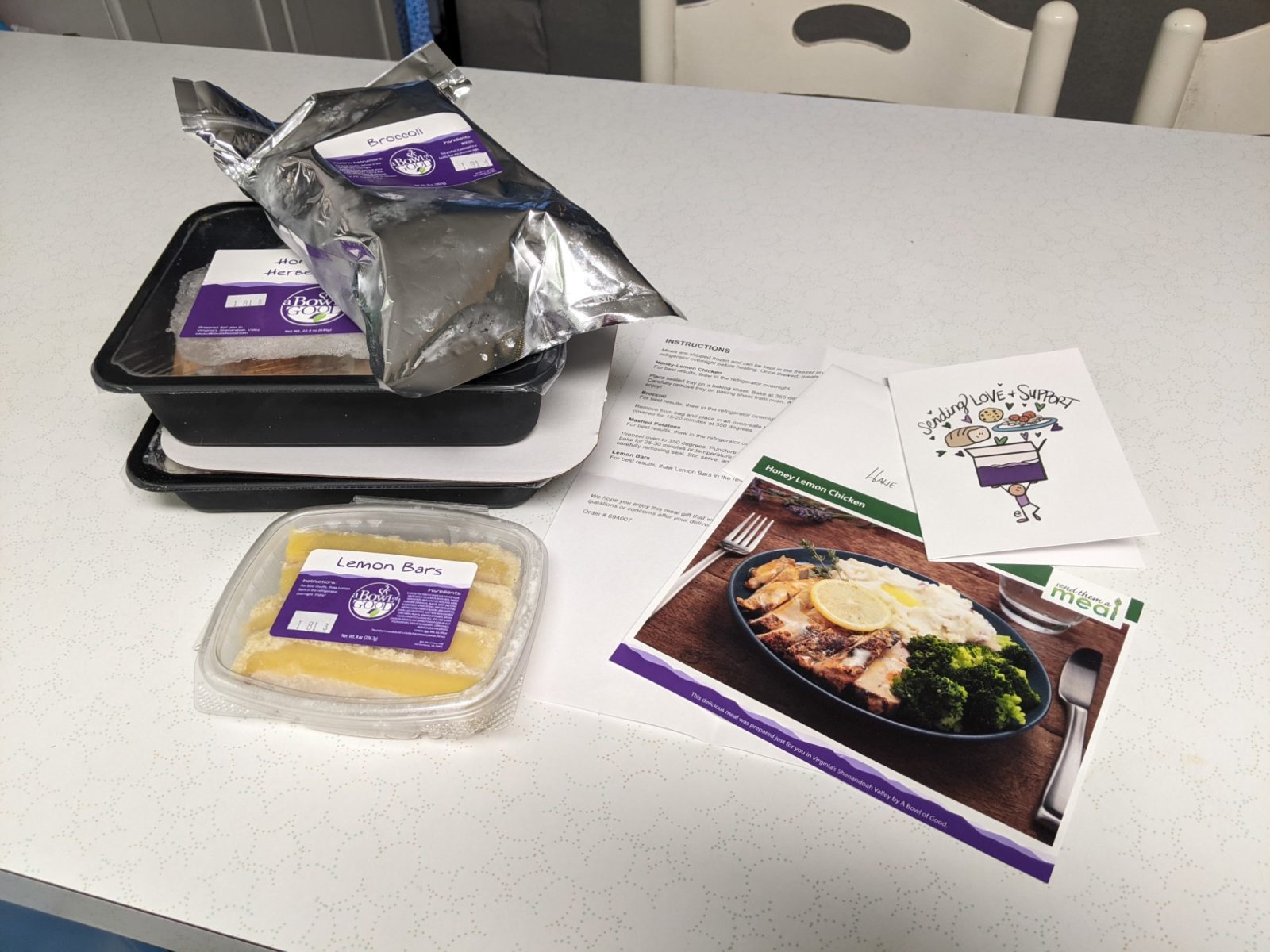 When Jeff and Emmie got back from school, I tried to get Emmie to help me fold her load of laundry. I taught her how to do her shorts and shirts, and how to roll up the matched socks. She wasn't actually super helpful, but it felt like a step in the right direction to get her started on some more of her own chores.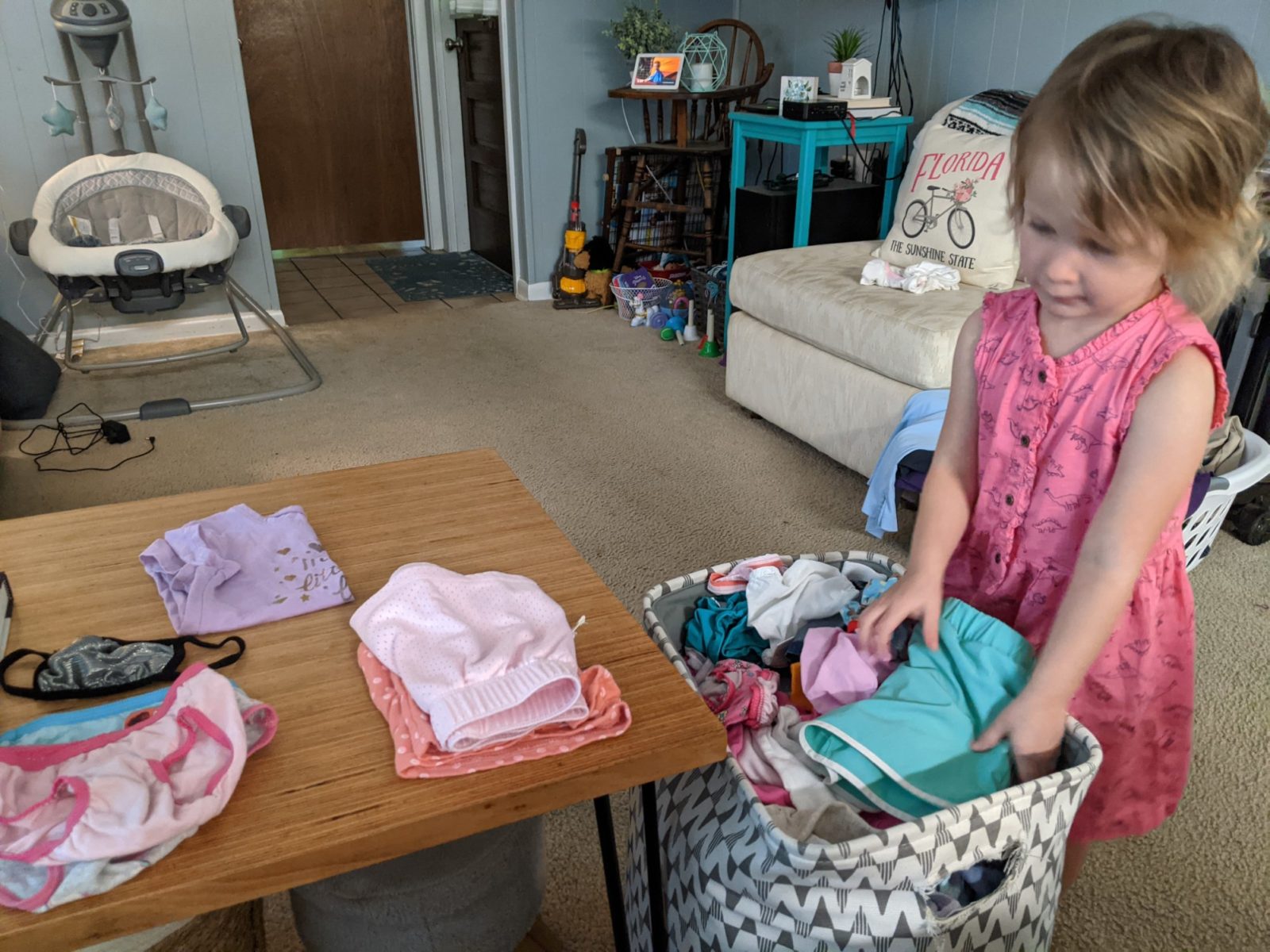 And look how nice this dinner turned out! Of course we ate outside again tonight at Emerson's request, and brought baby sister out with us. Miss Priss needed her sunglasses because it was a little sunny, and she looked so glamorous wearing them 🙂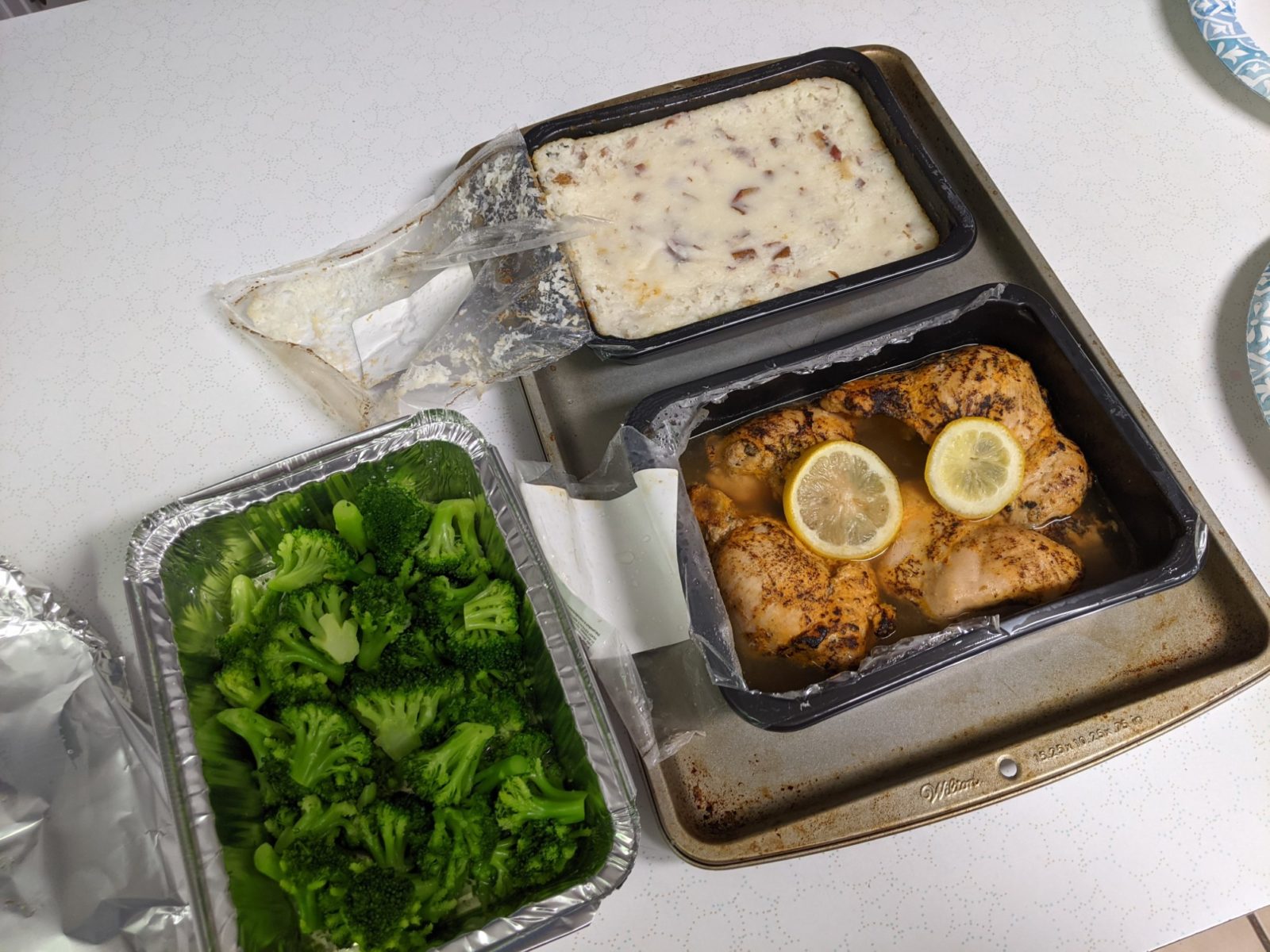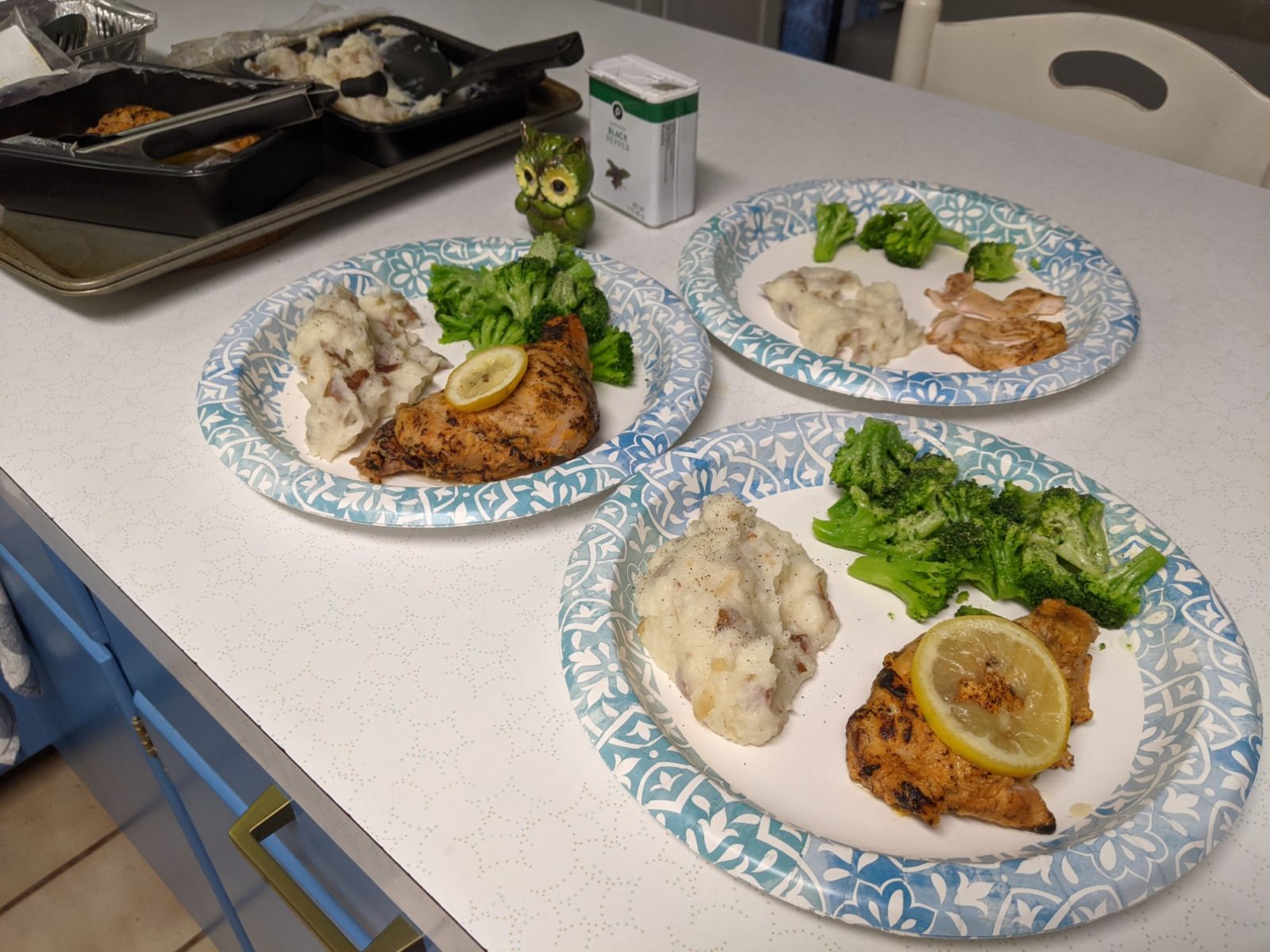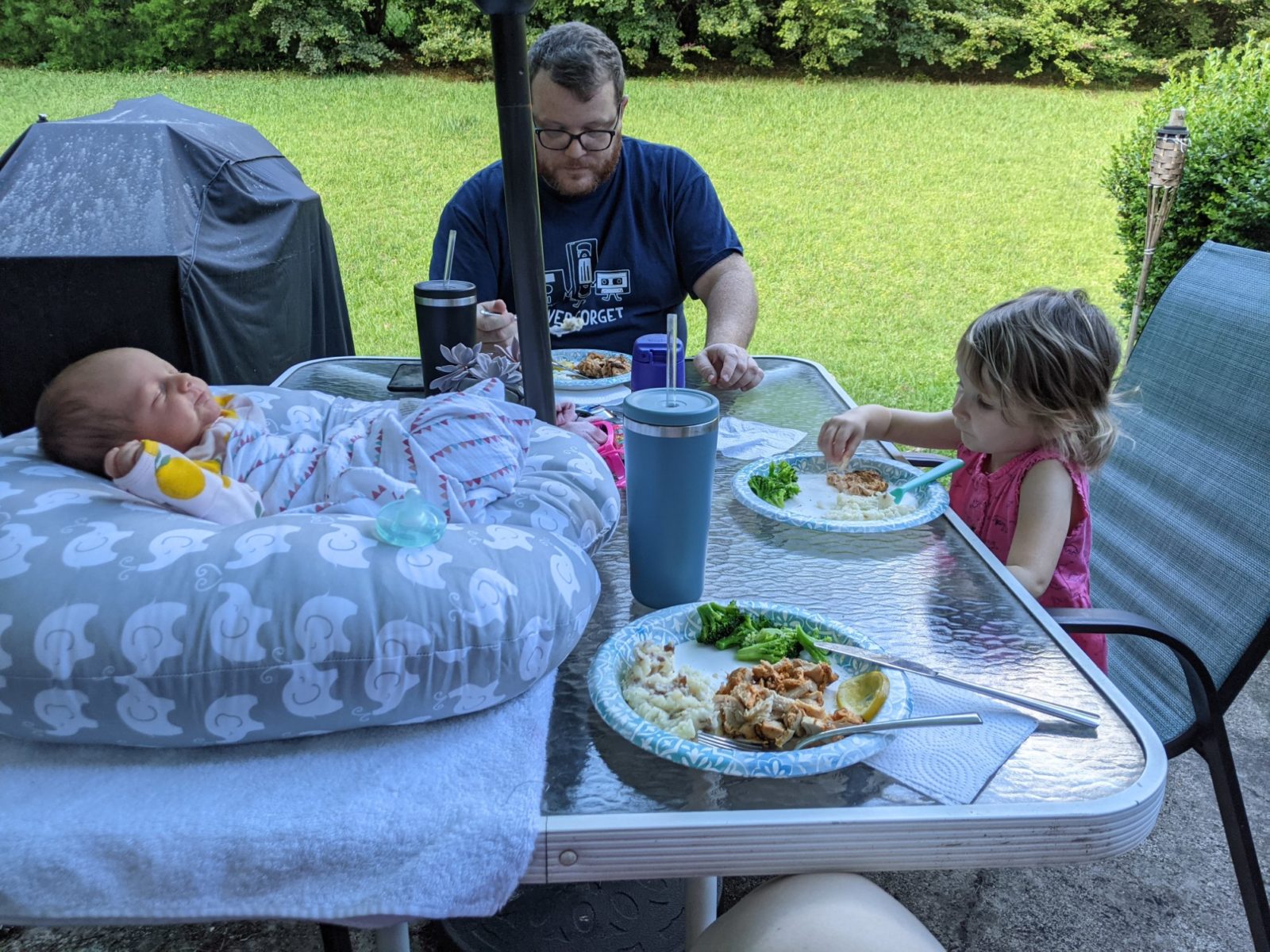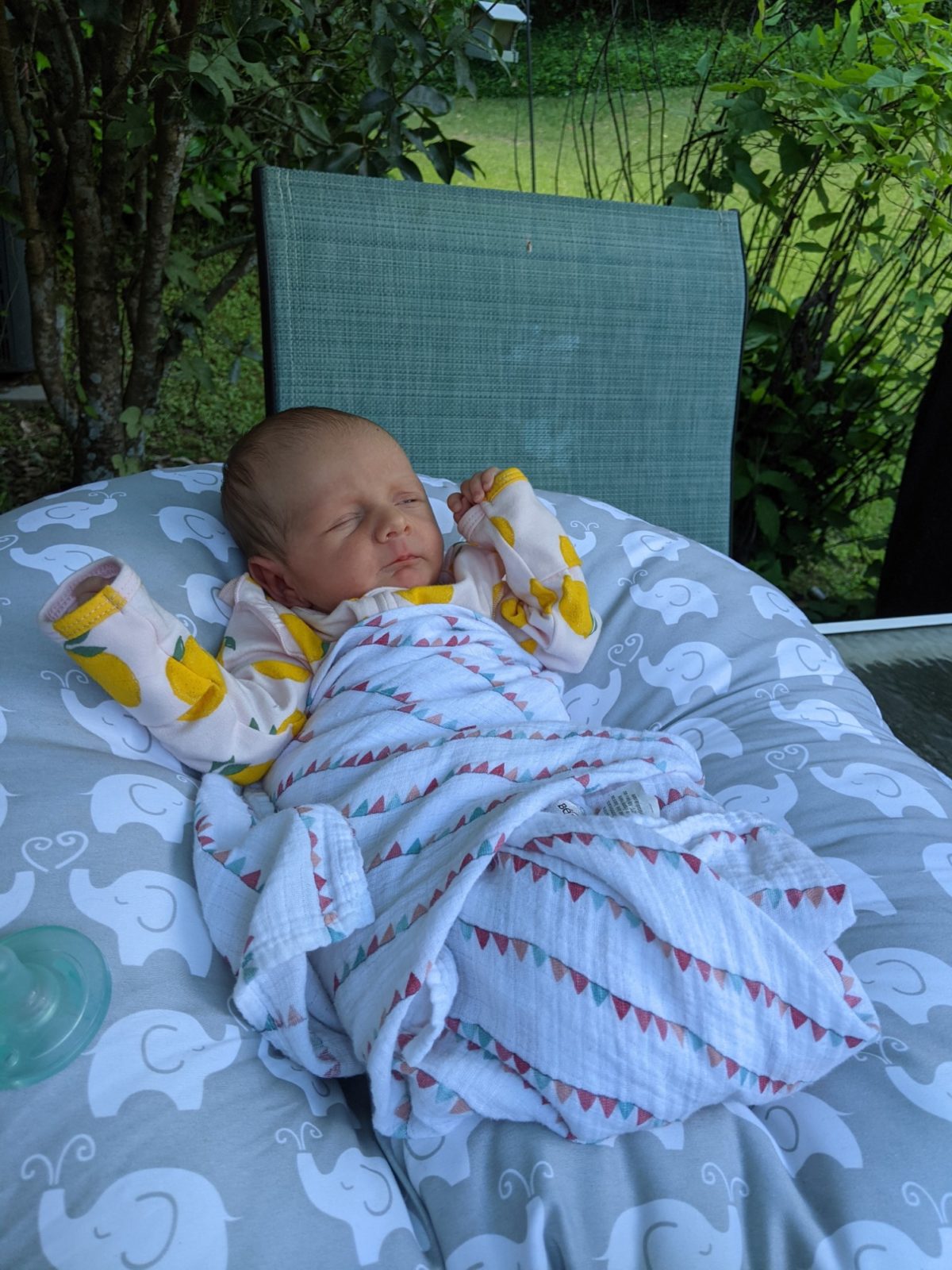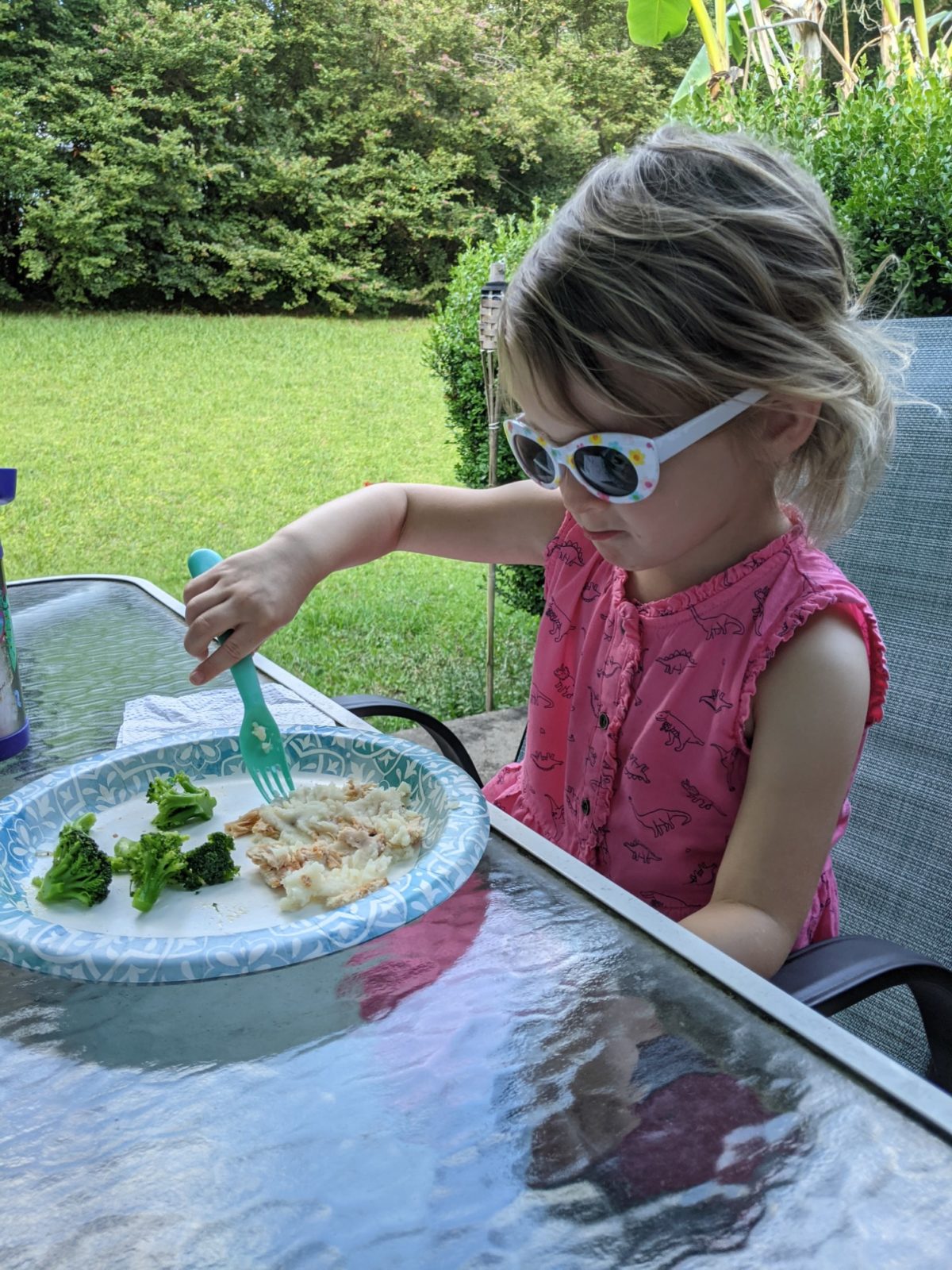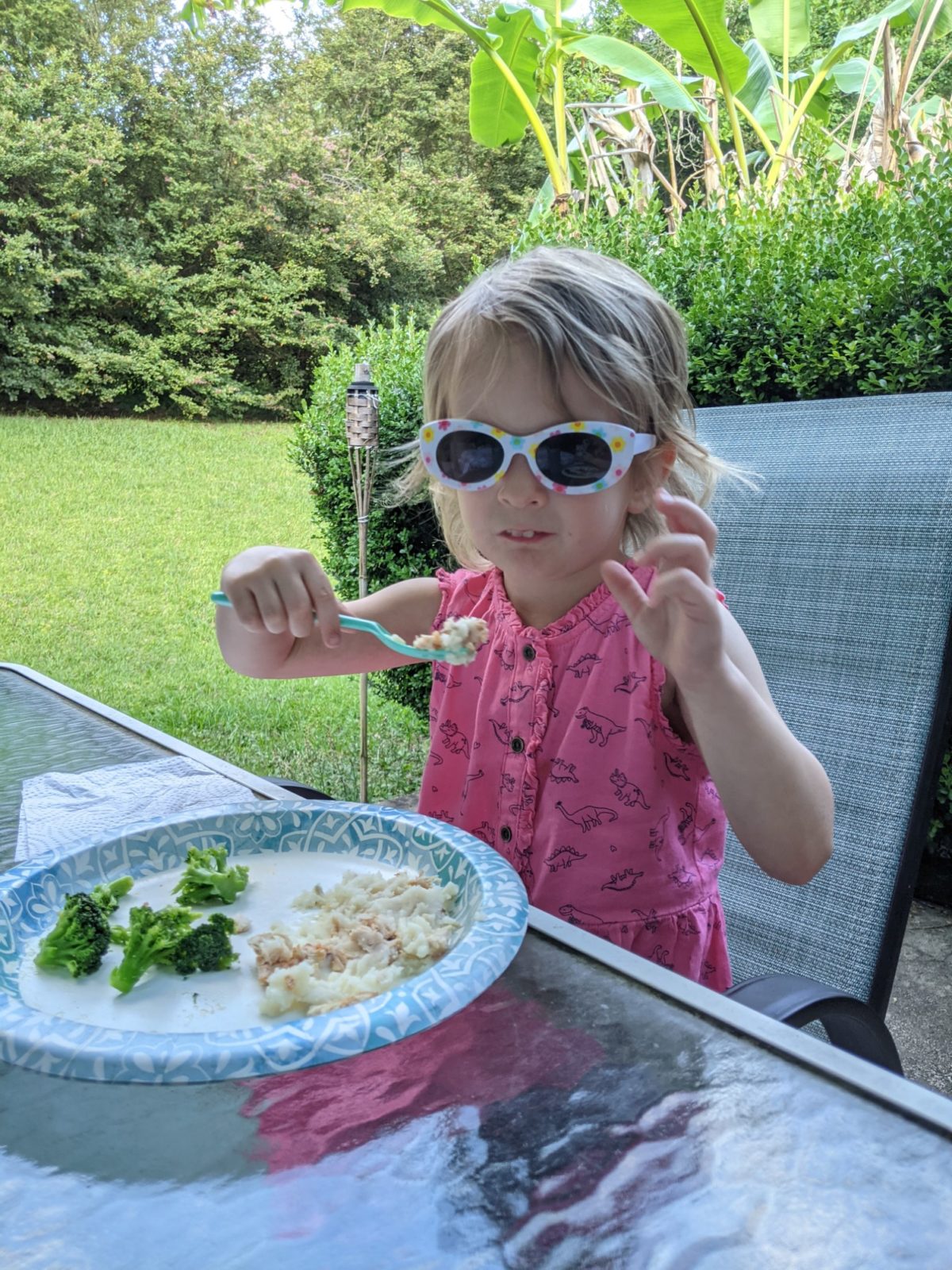 After dinner, she was a really big helper, bringing all of the stacks of her folded laundry back to her room, while I put it all away in her drawers. She would run get another stack, and I'd quickly put away what she brought me. I also took a few quick minutes to pull out some of the super warm jammies, and some shirts and shorts that had gotten too small, and put it all away in a giant bin in her closet.
And then before bedtime, she was rewarded for all her hard work with an ice cream sandwich and a few minutes of Mighty Pups. That was then followed by a bedtime book, and another snack in her room before prayers and "Jesus Loves Me."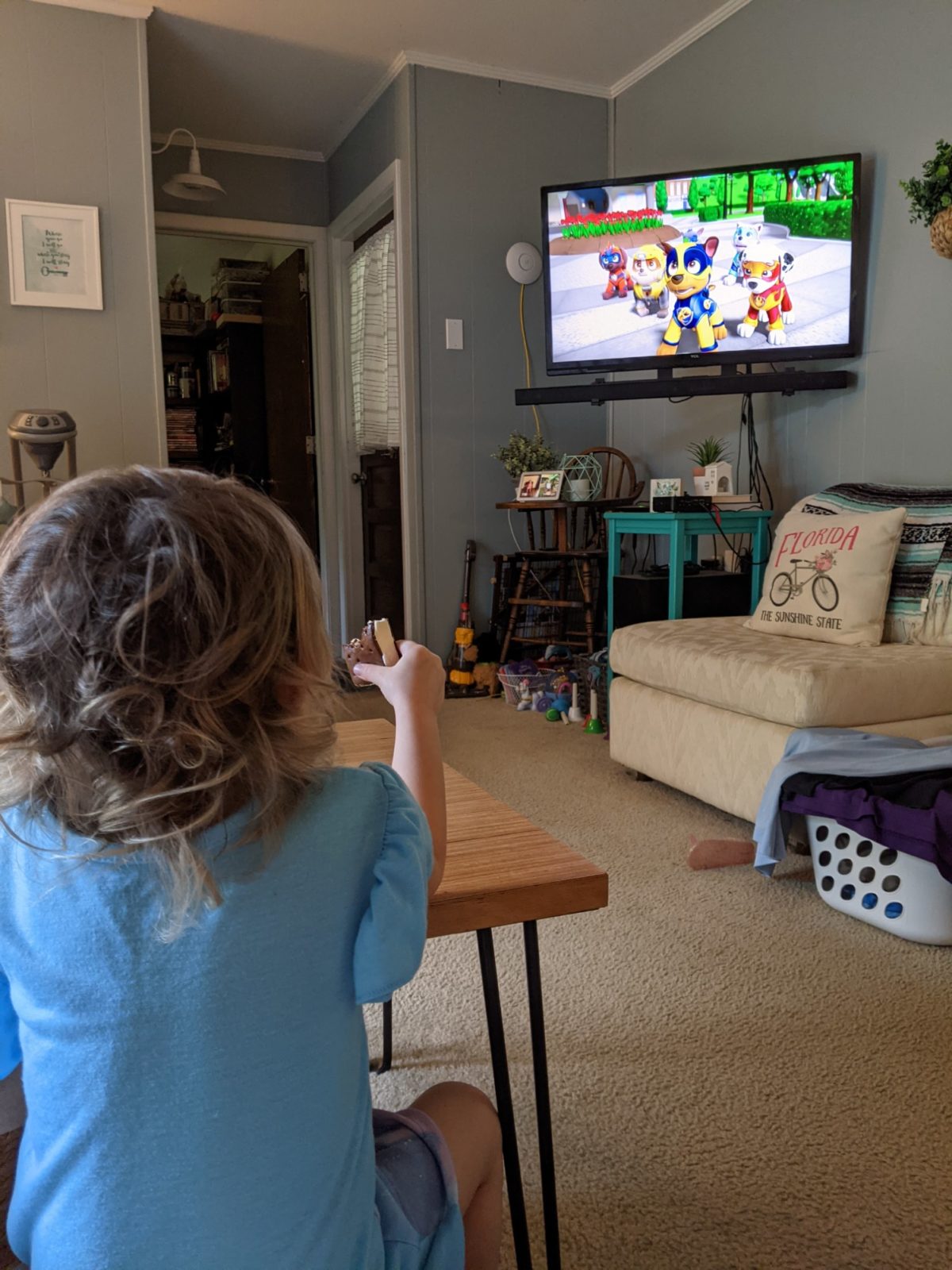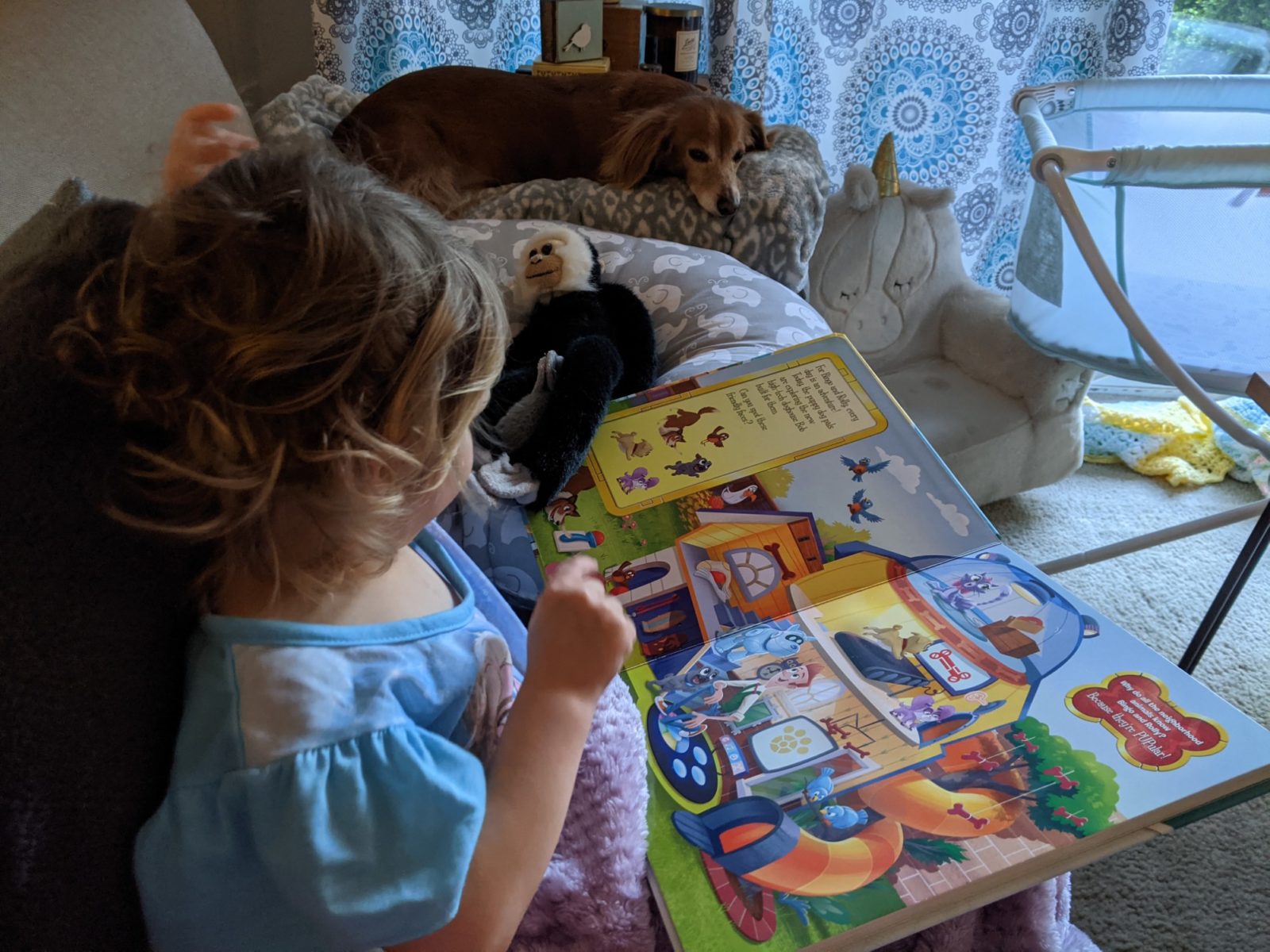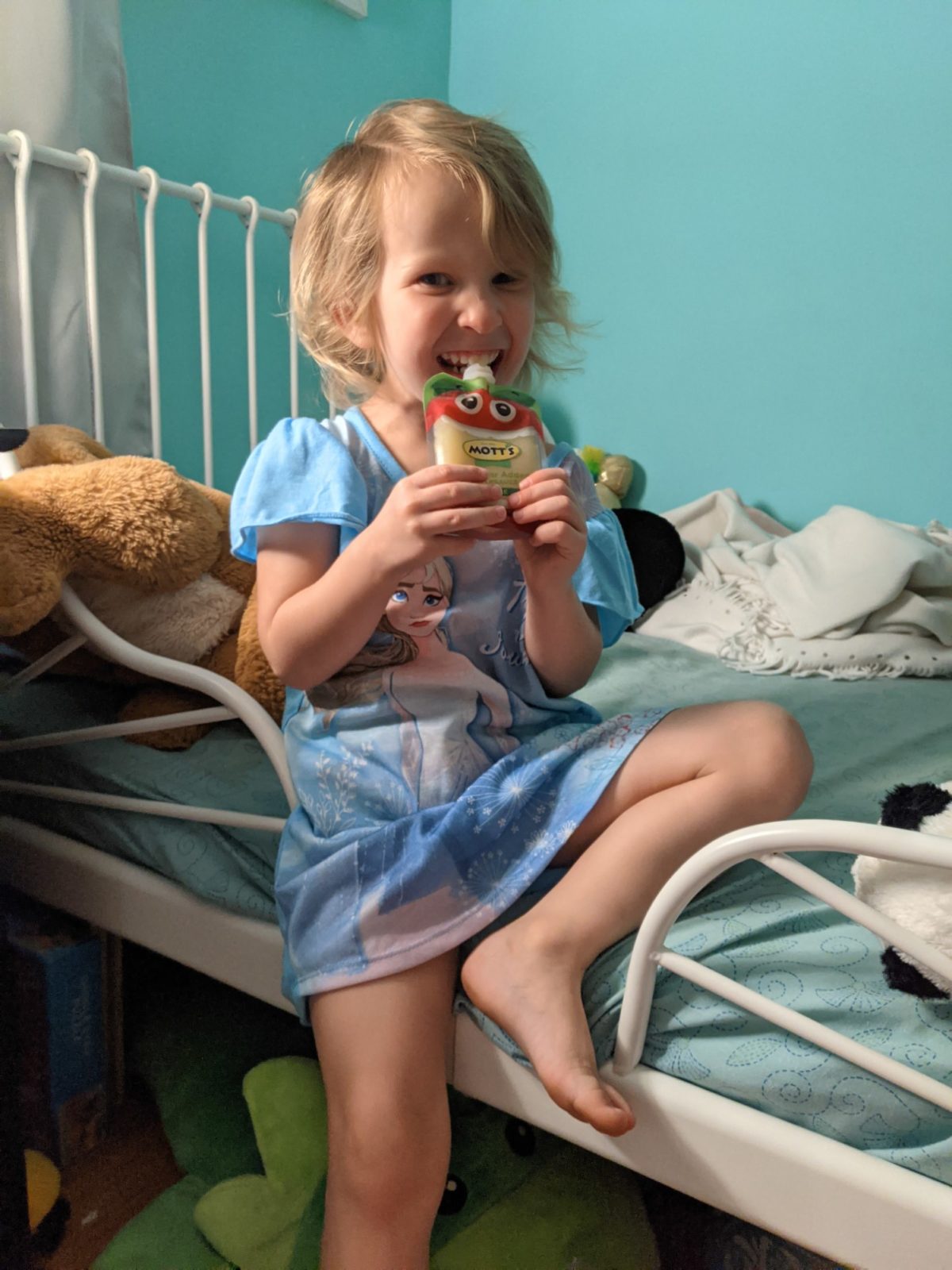 She was really sweet and cuddly and lovey during our little bedtime routine, and then things went downhill… She wanted me to choose which stuffy she held for sleep, but then didn't like the one I chose, and didn't want to choose another one herself. So we went back and forth a few times, and there was no resolution, and tears started, and I just about lost my patience. Luckily, Jeff heard everything from the baby monitor in the living room, and brought the one stuffy that was left in the living room back to her, which made her happy and calmed her down.
Today was a really great day of maternity leave, and it's days like this that make me really wish I could permanently be a stay-at-home mom. Just like last time, I discovered I don't hate chores as much, when they're spread out through the whole day, and in between I still get lots of down time, and lots of baby snuggles and play time. It's much easier to stay on top of keeping things neat and tidy, and keeping up with the laundry and dirty dishes, and I can almost always find time to read and also watch some Netflix 😉
Tomorrow, my Mama and Grandmommie are coming to spend some time with me and Addison, and that will be so nice too! They'll get some special time with the newest granddaughter, and I'll get some special time with them too.
We have about an hour before Addison needs her next bottle, so I'm going to go grab one of those lemon bars for dessert, and watch something on tv with the hubby, before we begin the long night with a newborn!