Jeff and the boys were up and moving early, and Nana came over to pick them up to drive them back to their mom. Of course Emmie and I were up early too, and after they left, we headed to Walmart for our early morning grocery pick-up. After getting all the things puta way, I made our usual egg sandwiches for breakfast. I finally got a hold of the low-carb Sola bread, and it was good! So I got to have a whole sandwich today, and it felt so special!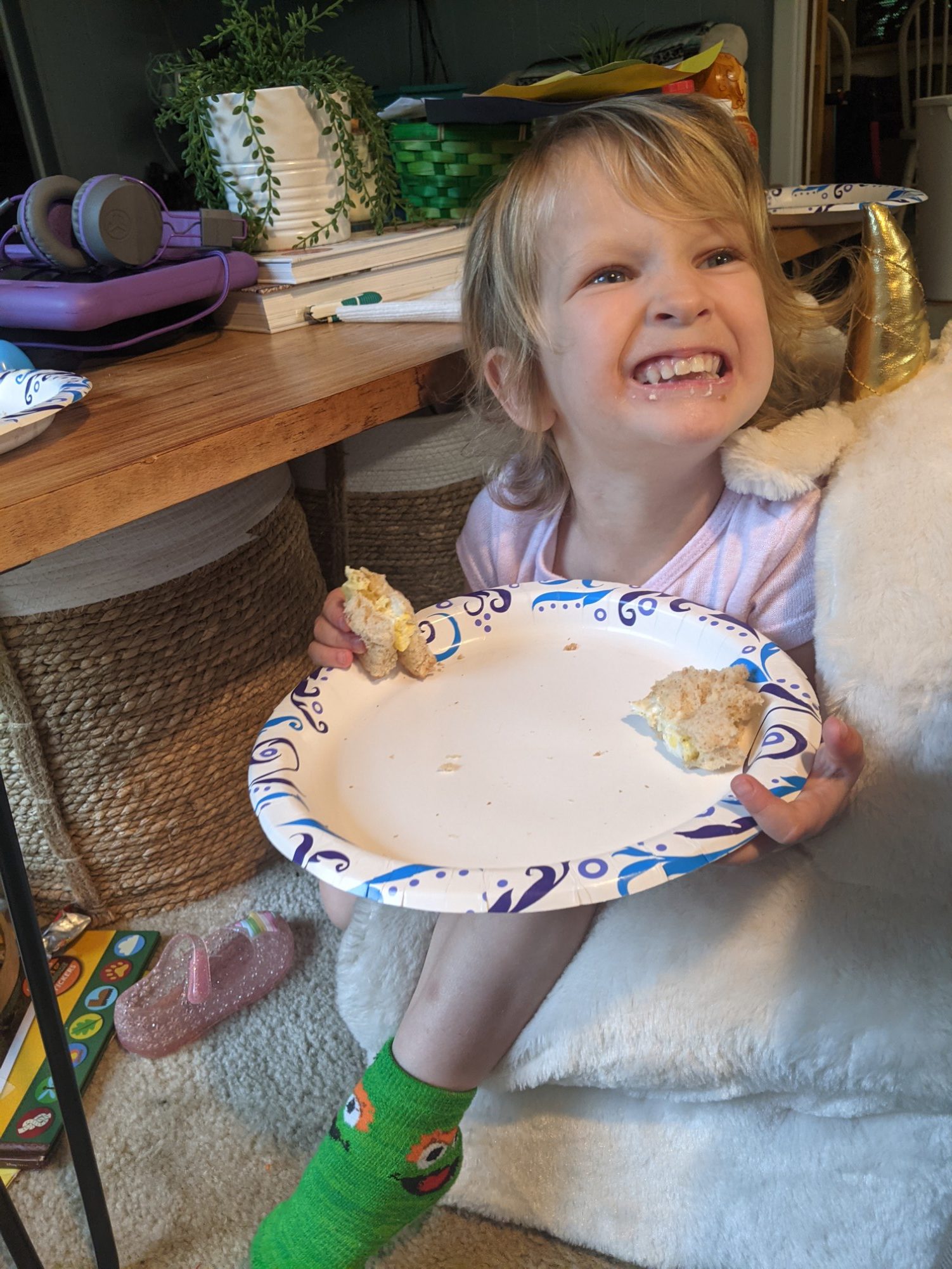 Grammy and Grandmommie came back over again, and in addition to playing with Emmie and helping me clean up SO MUCH stuff around the house, Mama also brought over all the supplies and ingredients to make me some homemade pimento cheese, which is one of my favorite things!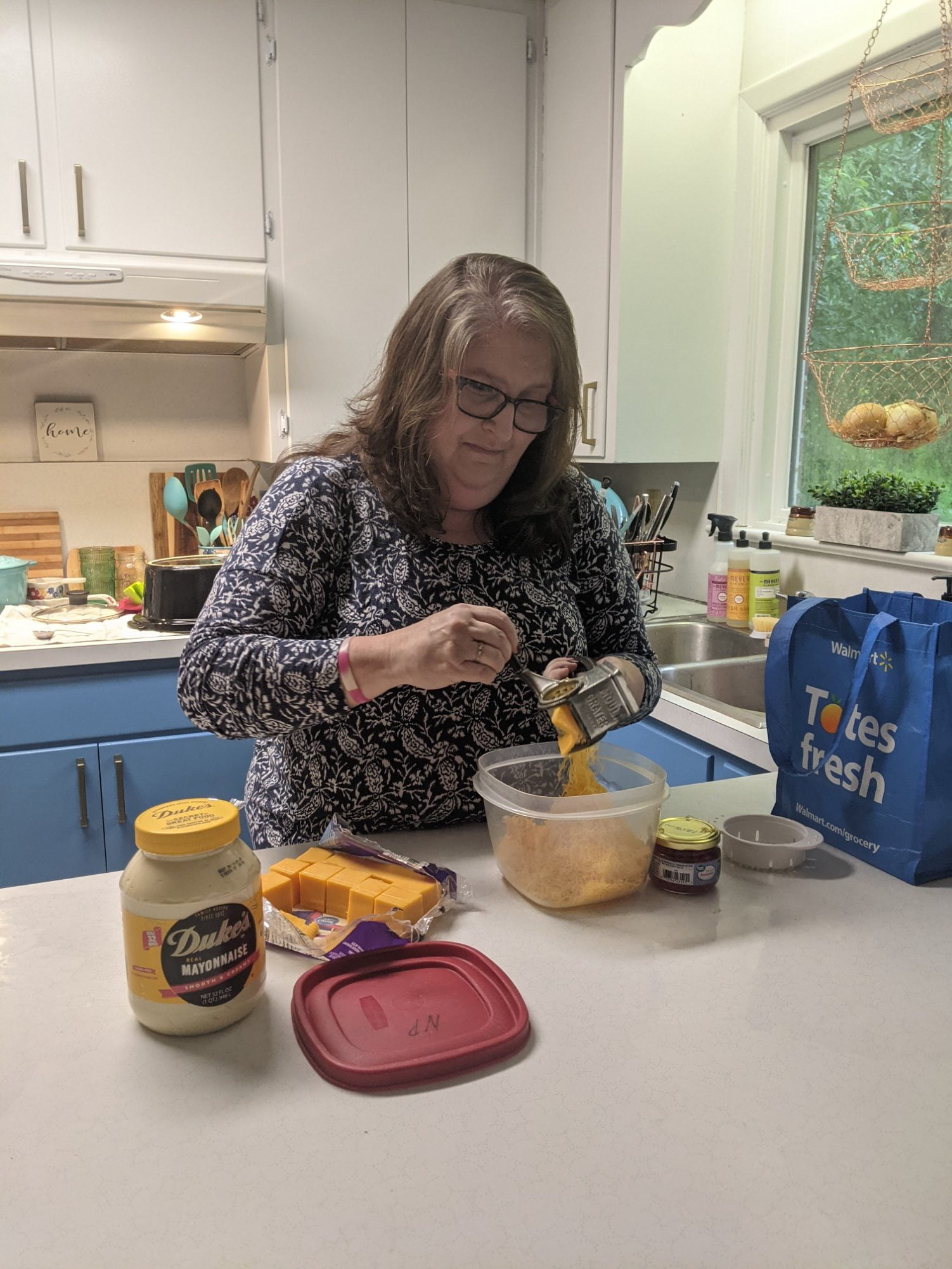 We gave Emmie the special project of shredding a huge pile of junk mail today, and she felt very important and got the hang of it really quickly. She had been playing doctor before this, so she was wearing her mask to keep her patients safe. And then while she was working on her shred project, she was working at the "Austin Hospital" doing paperwork for he patients.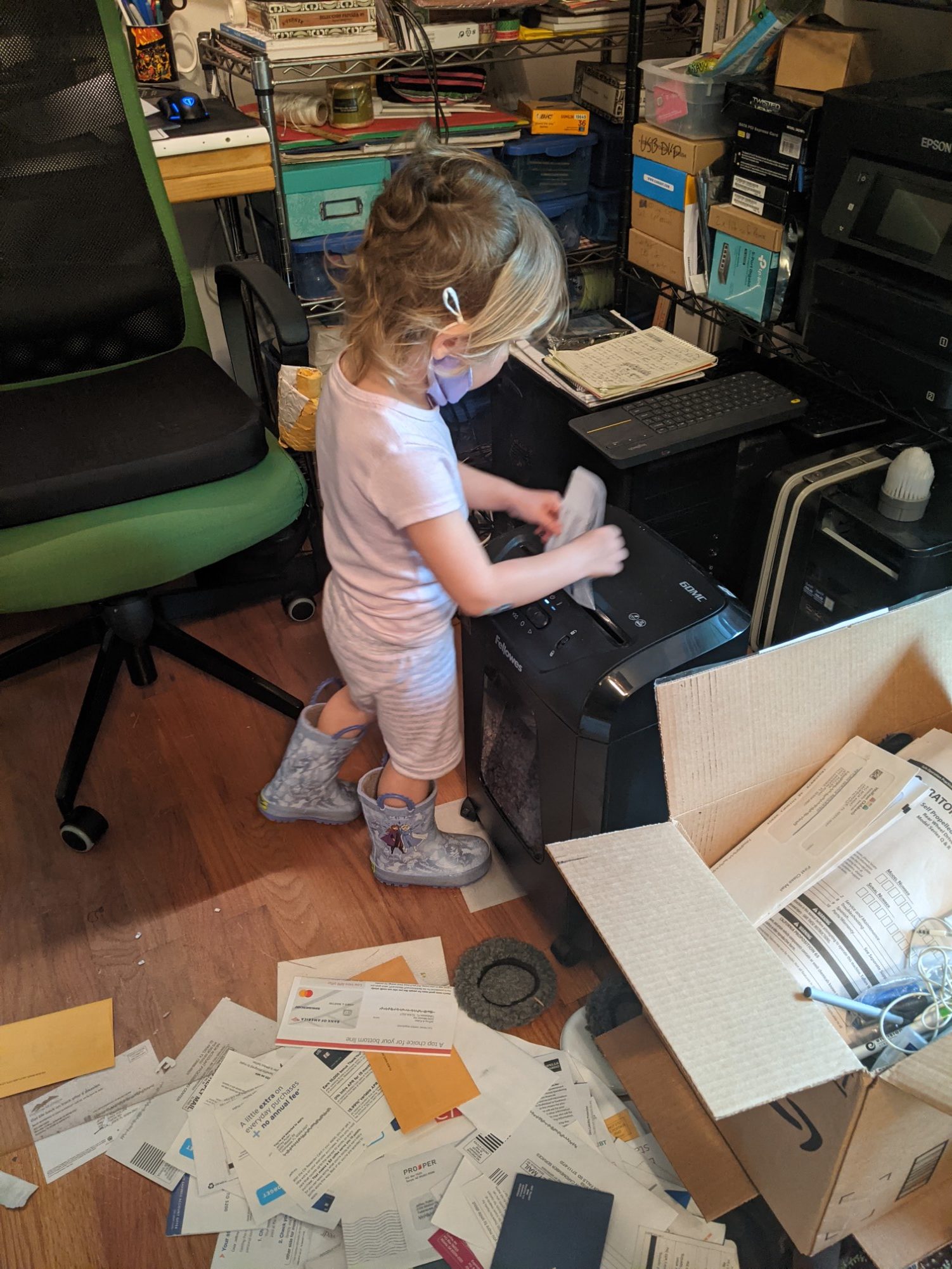 Mom also helped me tackle this table in the kitchen (the top, shelf & below), that had lately become a giant heaping disaster drop-zone, but we got it all cleaned off and tidied up, and it honestly makes the room feel lighter now that it's cleaned off again, for the first time in I don't even know how long!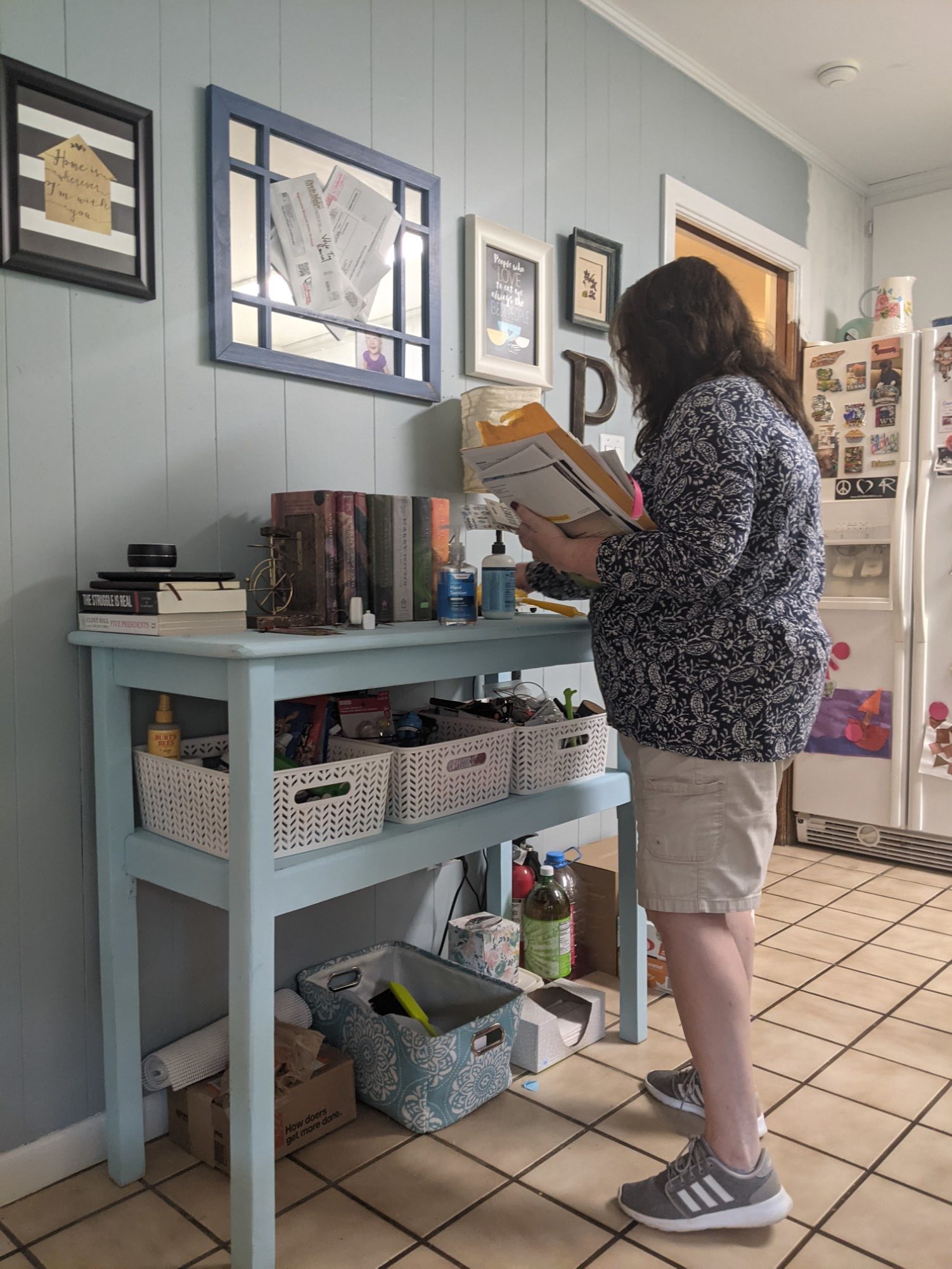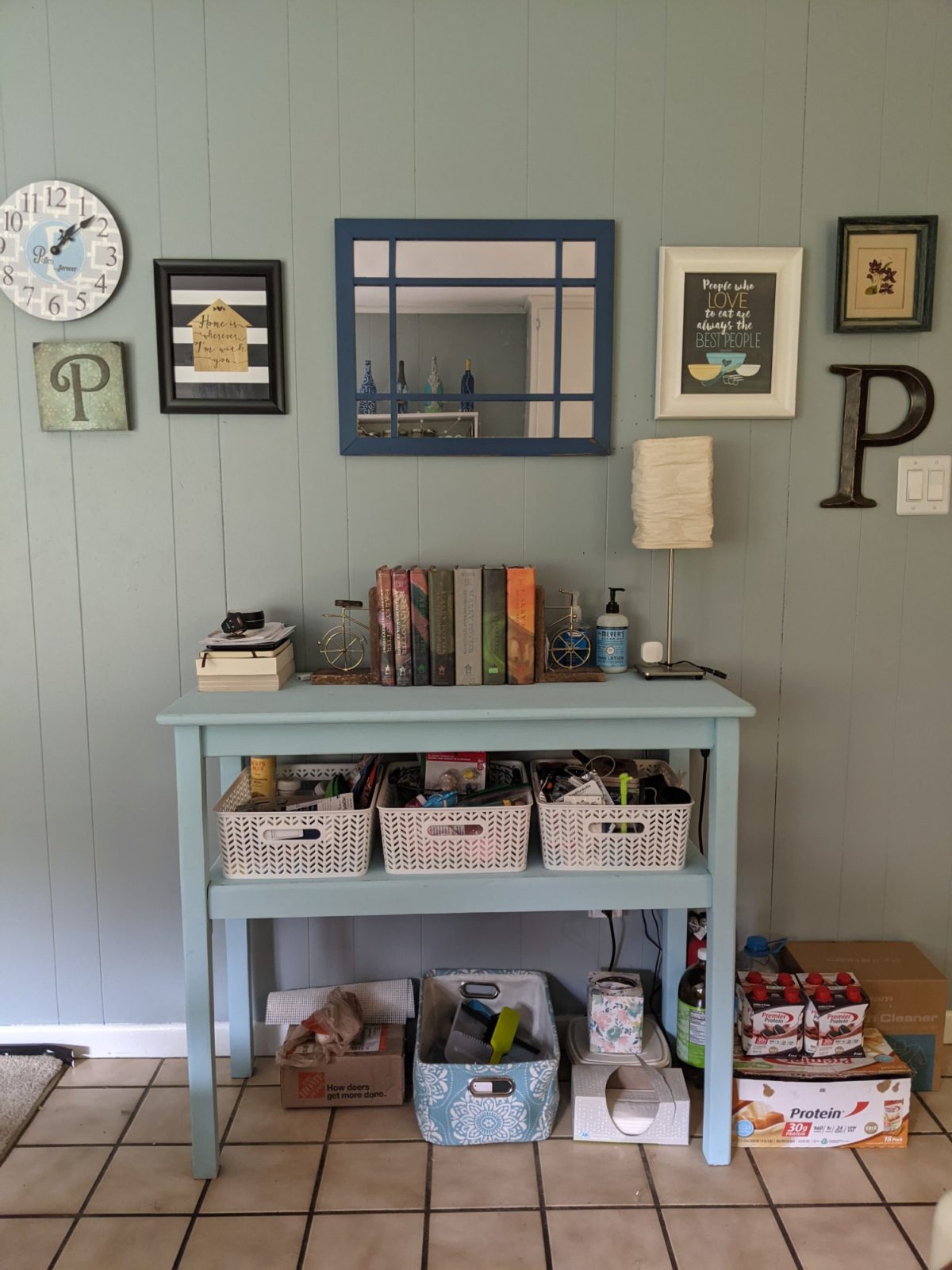 Grammy made us all lunch (pimento cheese for the grown-ups and PB&J for Tater), and we sat around the living room eating and chatting and laughing at this goofball who was stealing my carrots, even after she ate her whole sandwich, a string cheese, and some strawberries.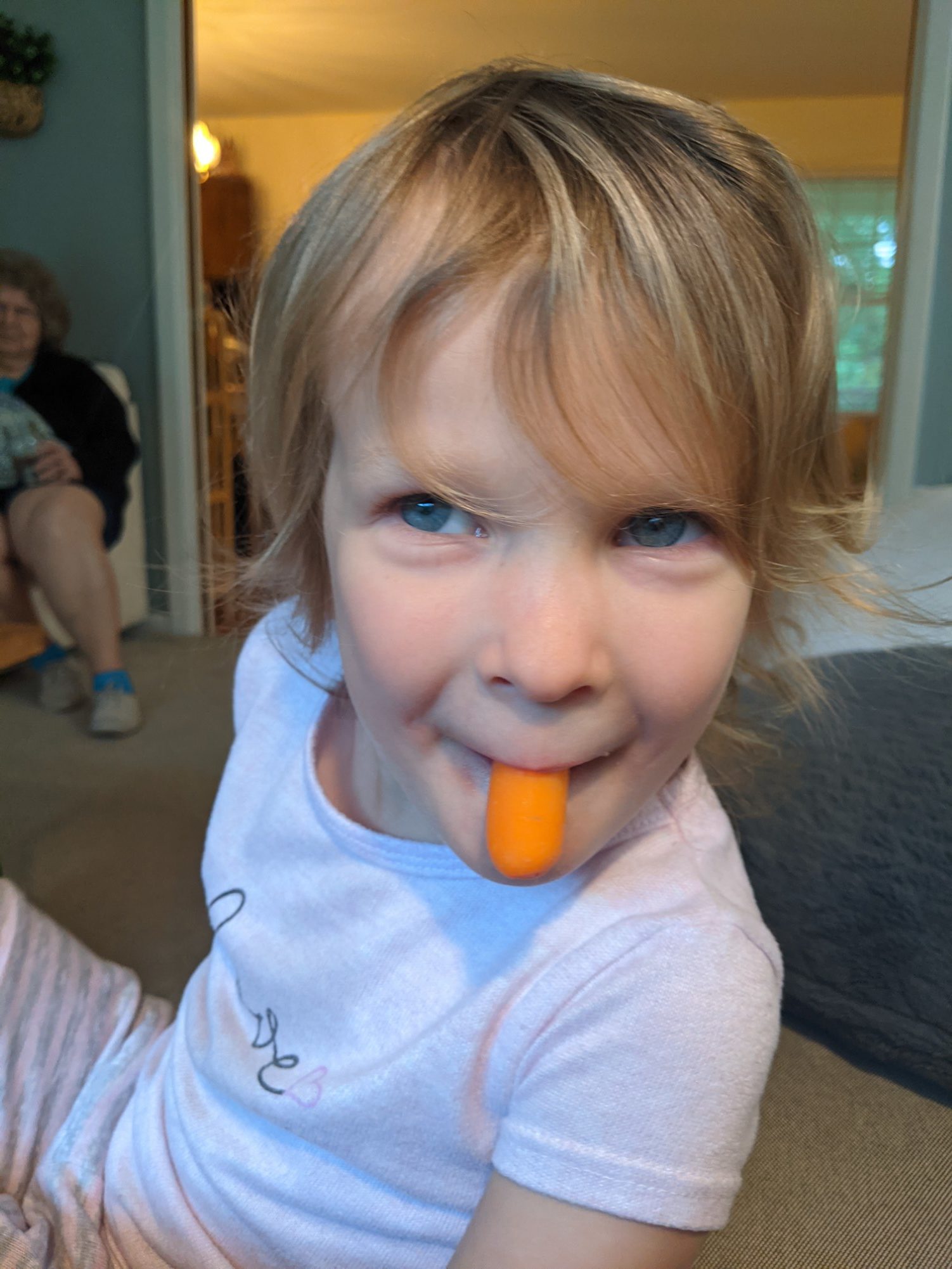 Grandmommie put on some of Emmie's sunglasses 🙂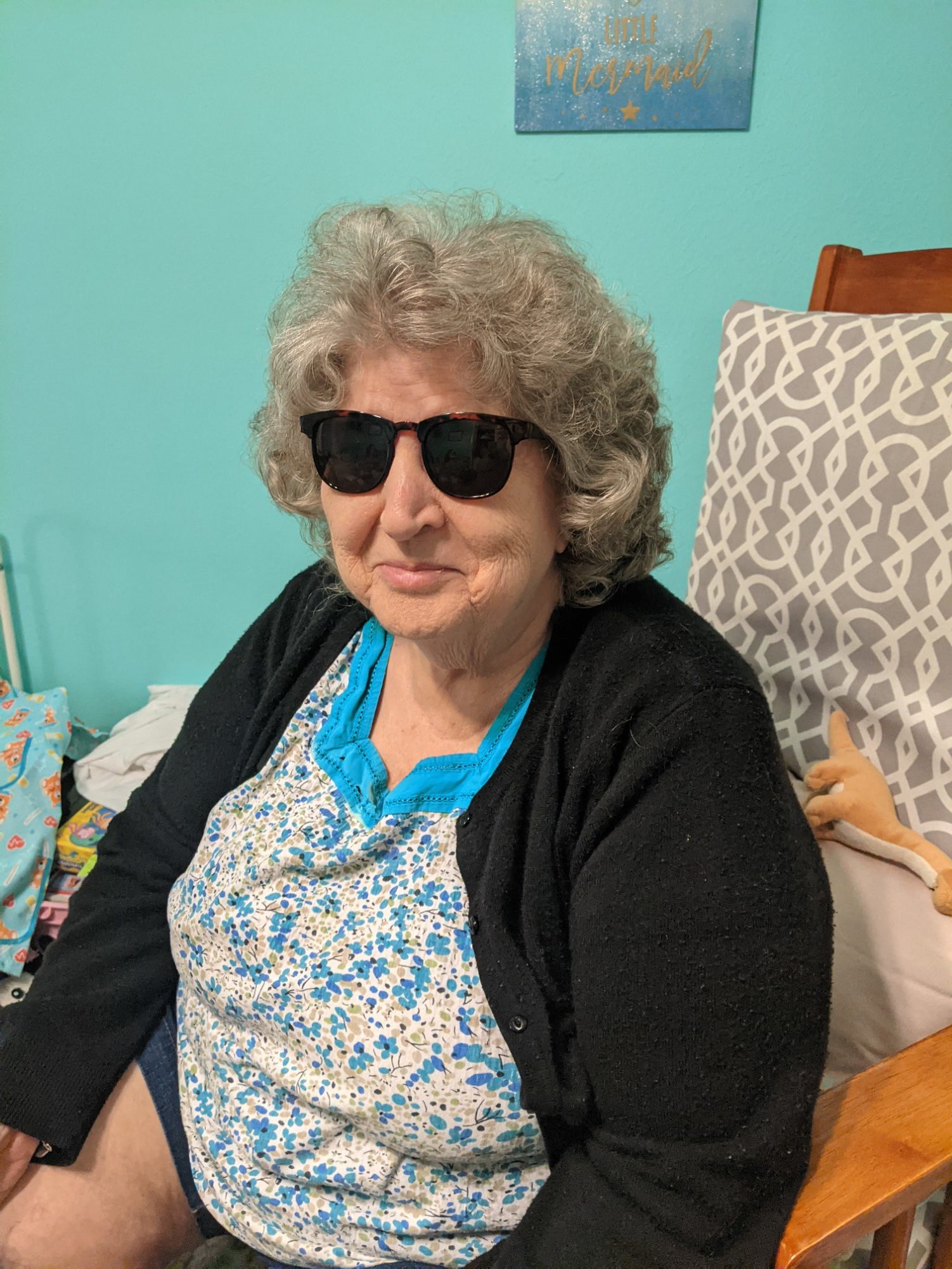 They left after lunch and I got Emmie down for a nap. I hopped in the shower myself (I so rarely take afternoon showers and it actually felt really nice), and then I plopped down on the couch utterly exhausted from hours of cleaning, to just sit in the clean living room and enjoy the quiet stillness of a mostly empty house. (This room was a MESS this morning, and this is like 100x's better.)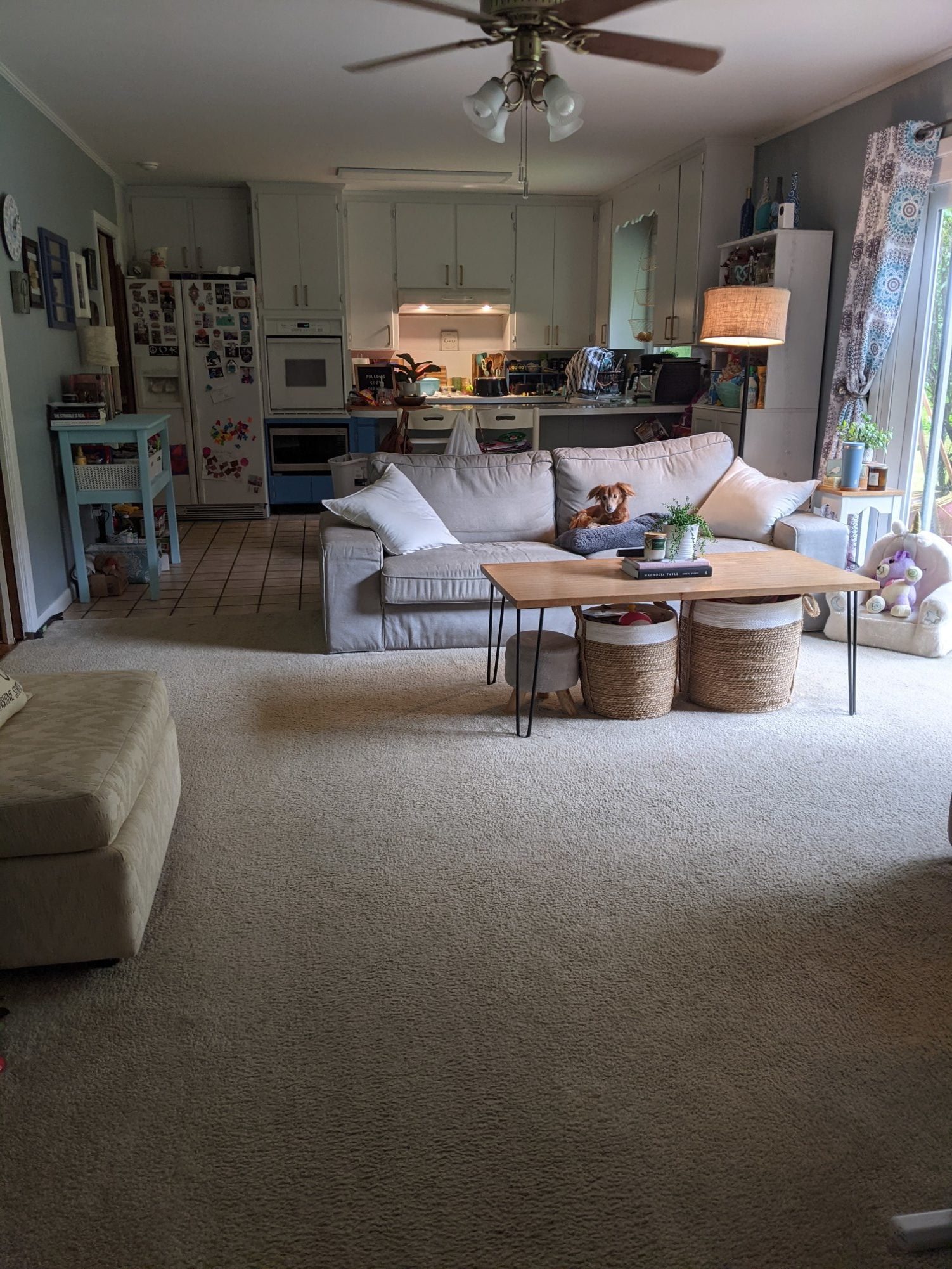 And this little boy stayed snuggled up next to me the whole time.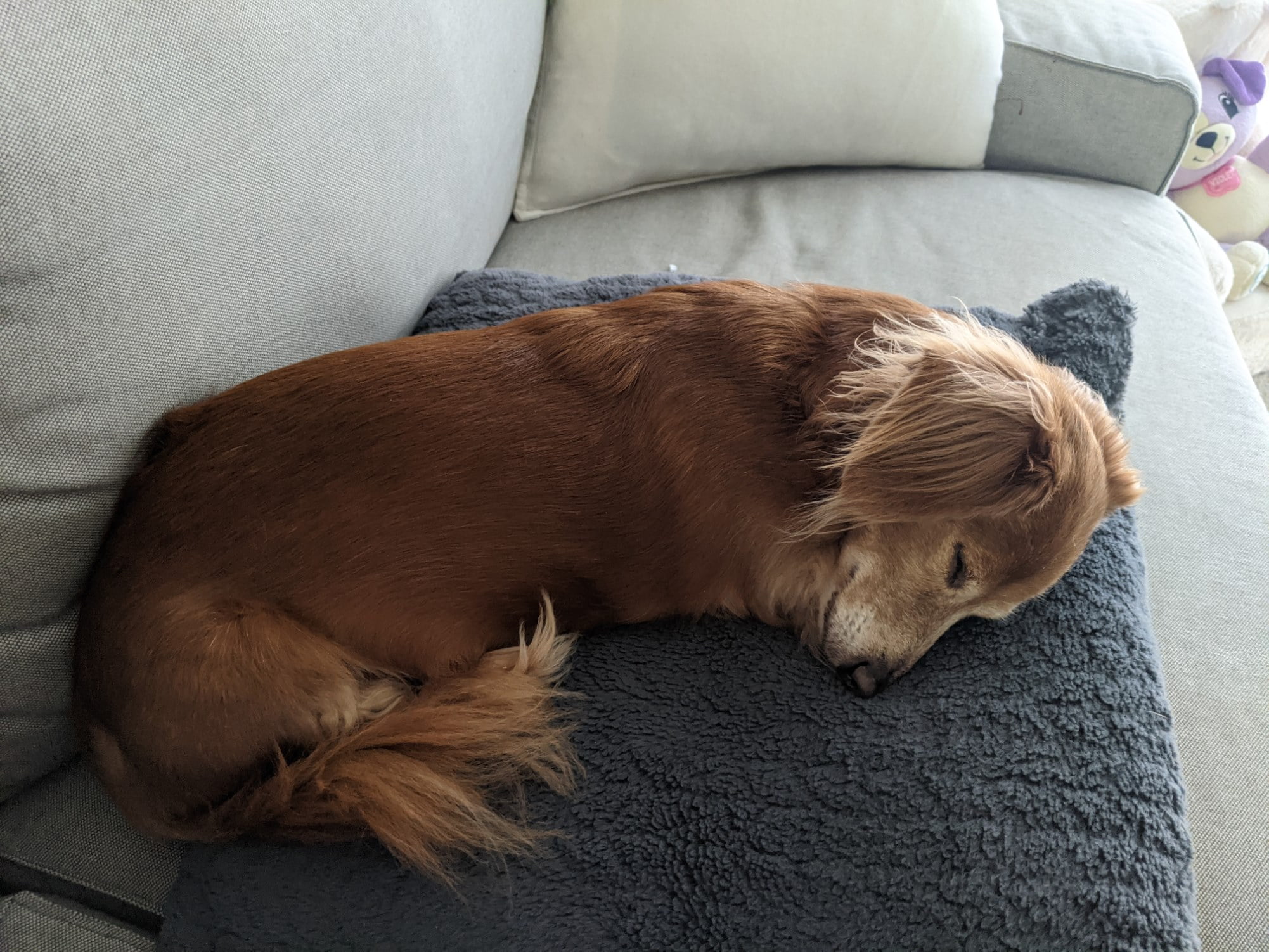 I've been watching "Away" on Netflix (about astronauts on their way to Mars), and it's been really interesting and entertaining.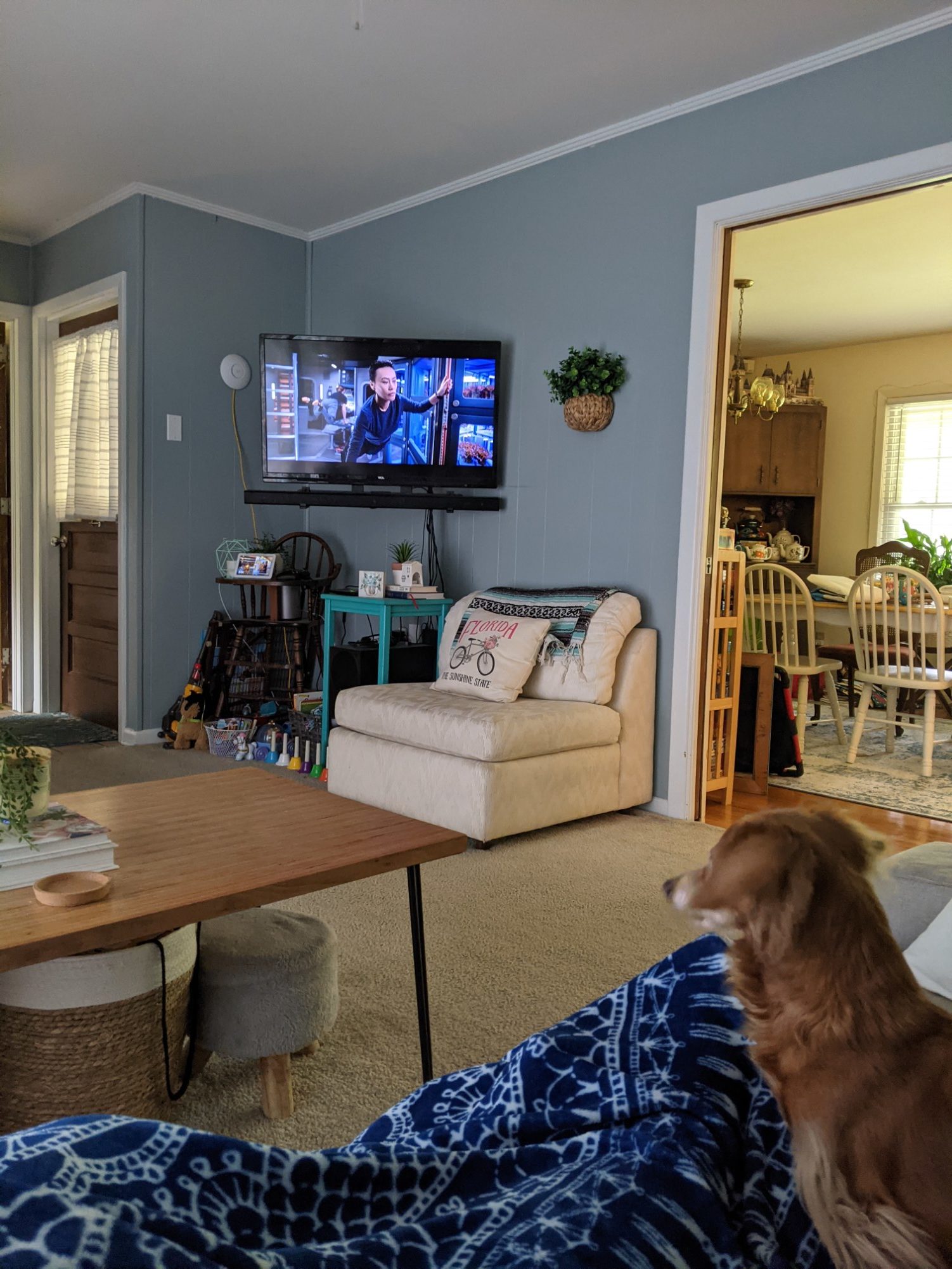 After Emmie woke up from her nap, she came and snuggled me under the blanket on the couch, and I actually drifted off to sleep while she watched some kids' shows on Netflix. Once she was ready to get up and do some stuff, we went back to shredding more junk mail. She found a random paint brush in the front room, so then she wanted to do some projects. Luckily for her, we had some on hand, so we turned on the record player and she painted away on a few projects!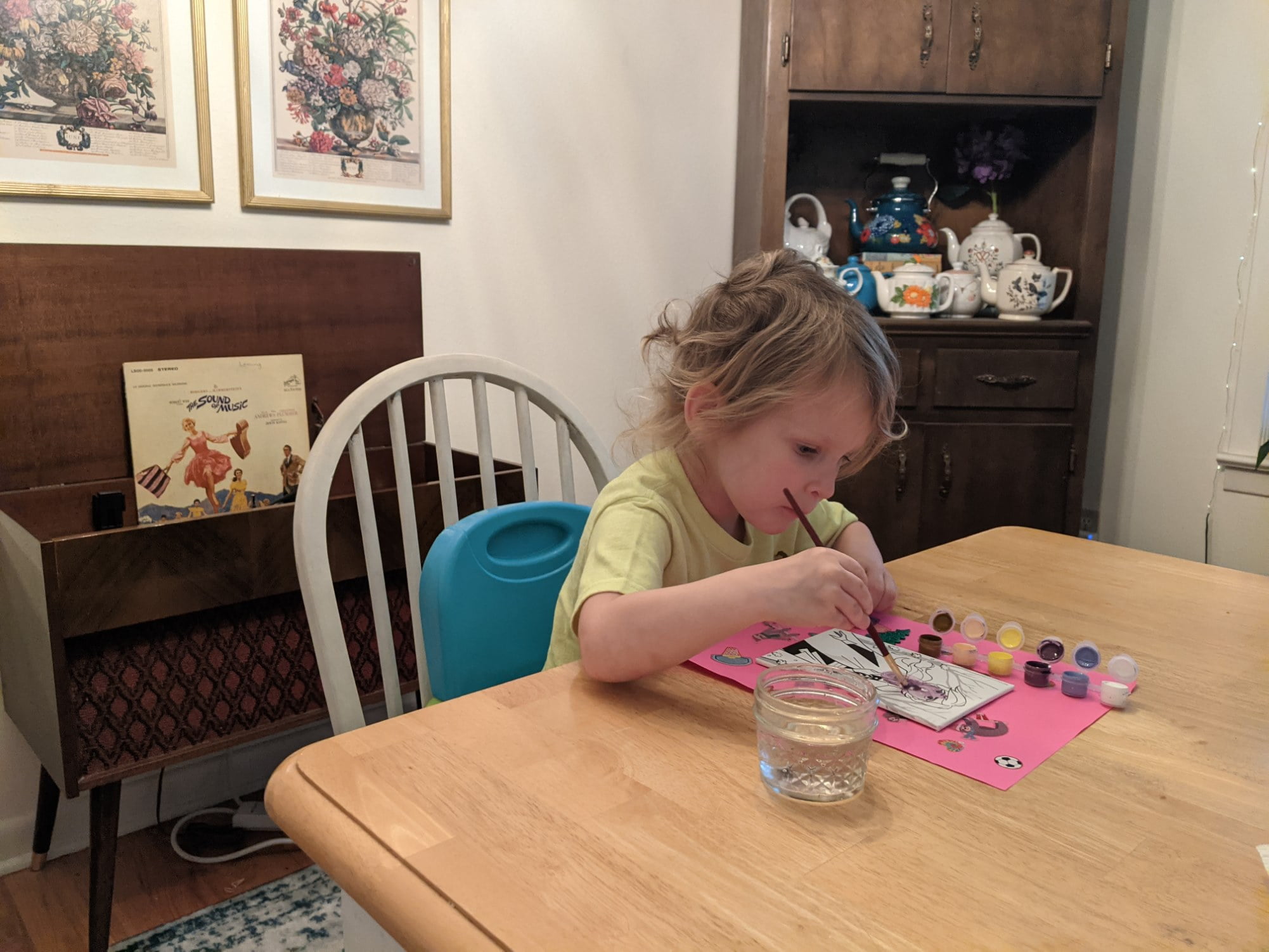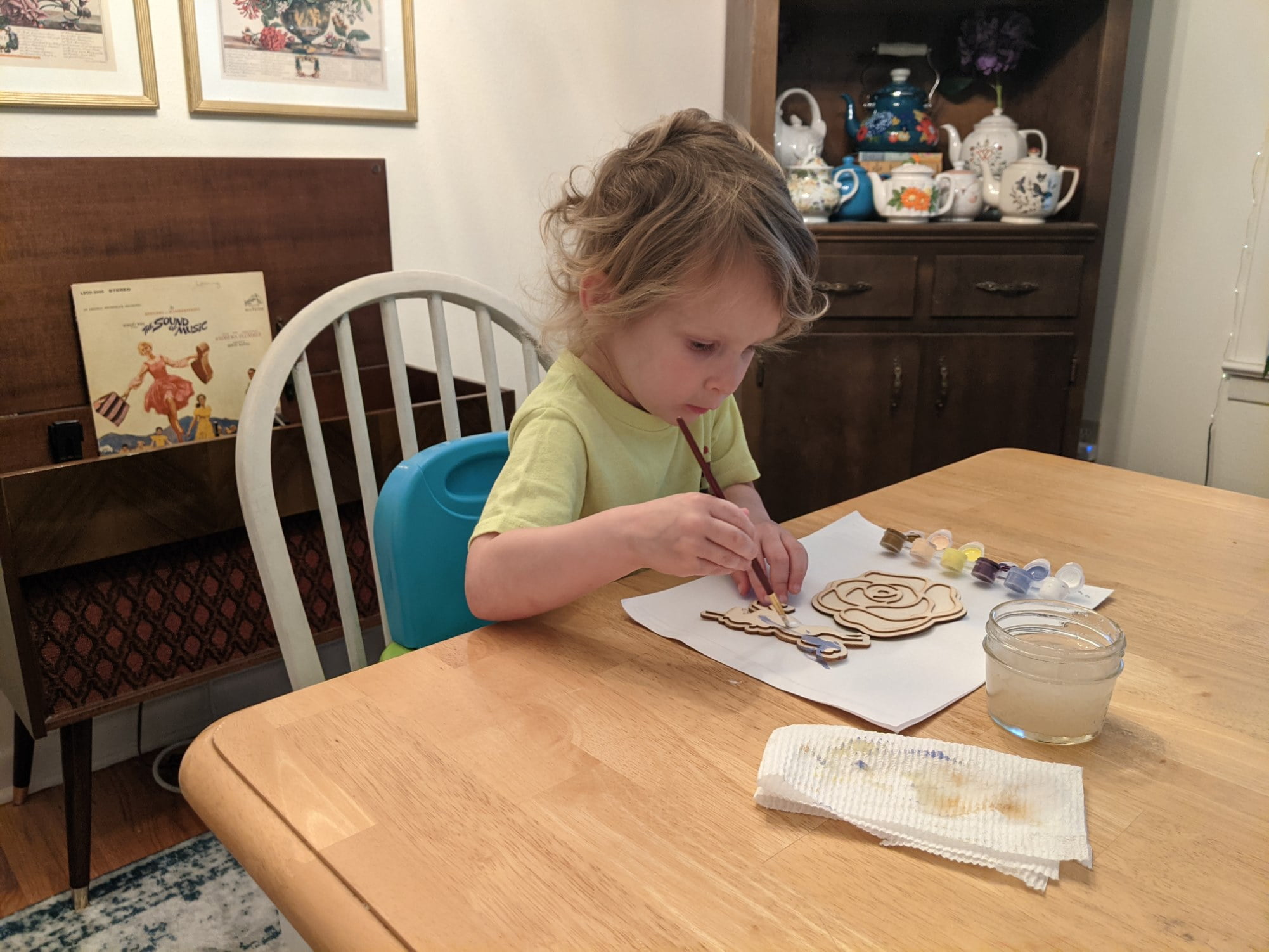 She had been singing along so cute to "Do Re Mi," and then when I tried to video she kinda took a little break, but you can still hear her sing a tiny bit. She actually knew more of the song than I realized she knew, but I guess that's what happens when we listen to it as much as we have been lately!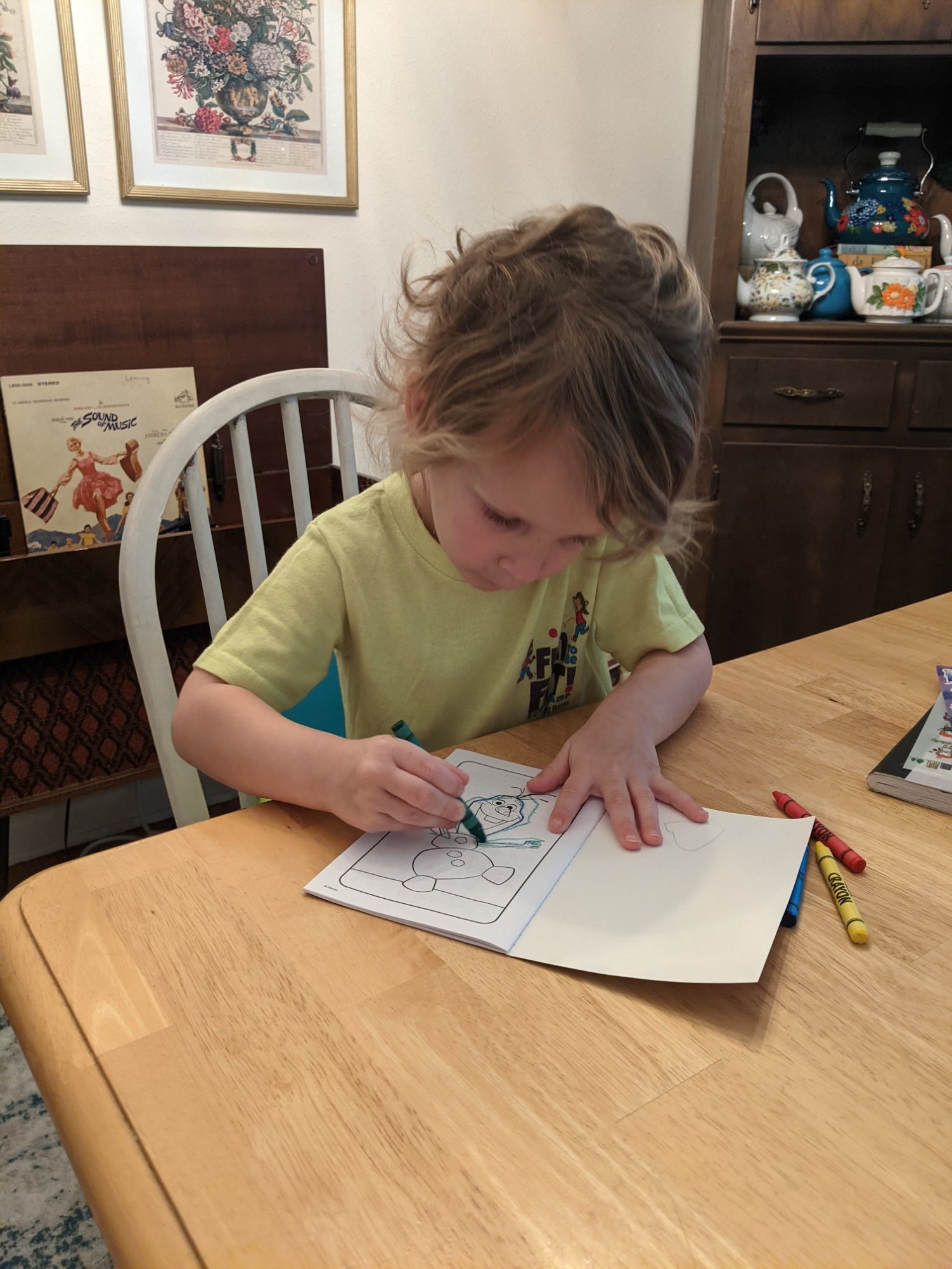 Jeff and Nana weren't going to make it home in time for dinner, so I wanted to order Chick-fil-A delivery. I actually had had a "free delivery reward" but the app kept crashing and it wouldn't go through. So we loaded up and went by the drive-thru to bring back home. This girl was such a goober, but I got her to eat five whole nuggets (I snuck one of mine into her box while she wasn't looking), and half her fries, so then I let her have about half of her ice cream & we saved the rest.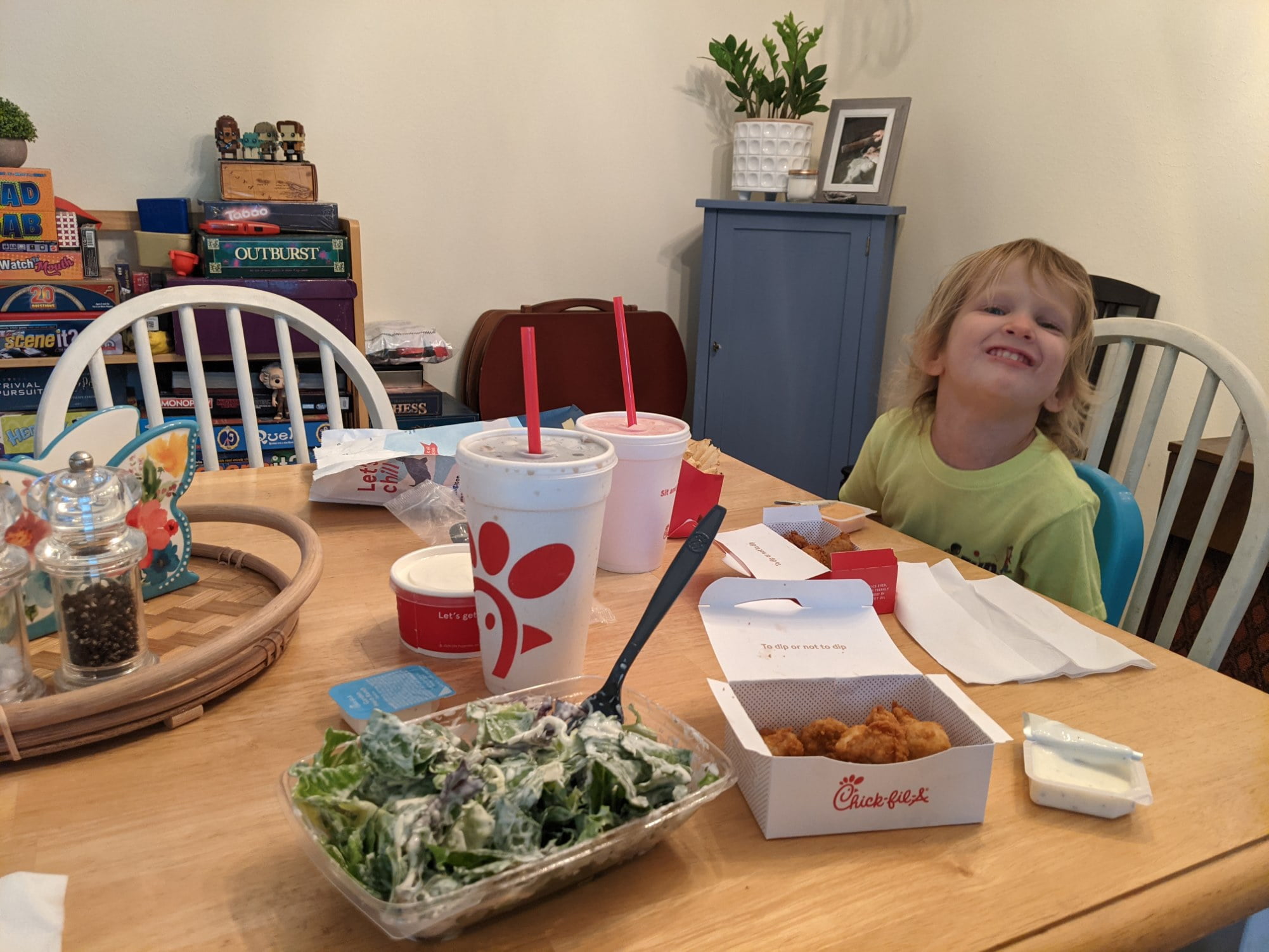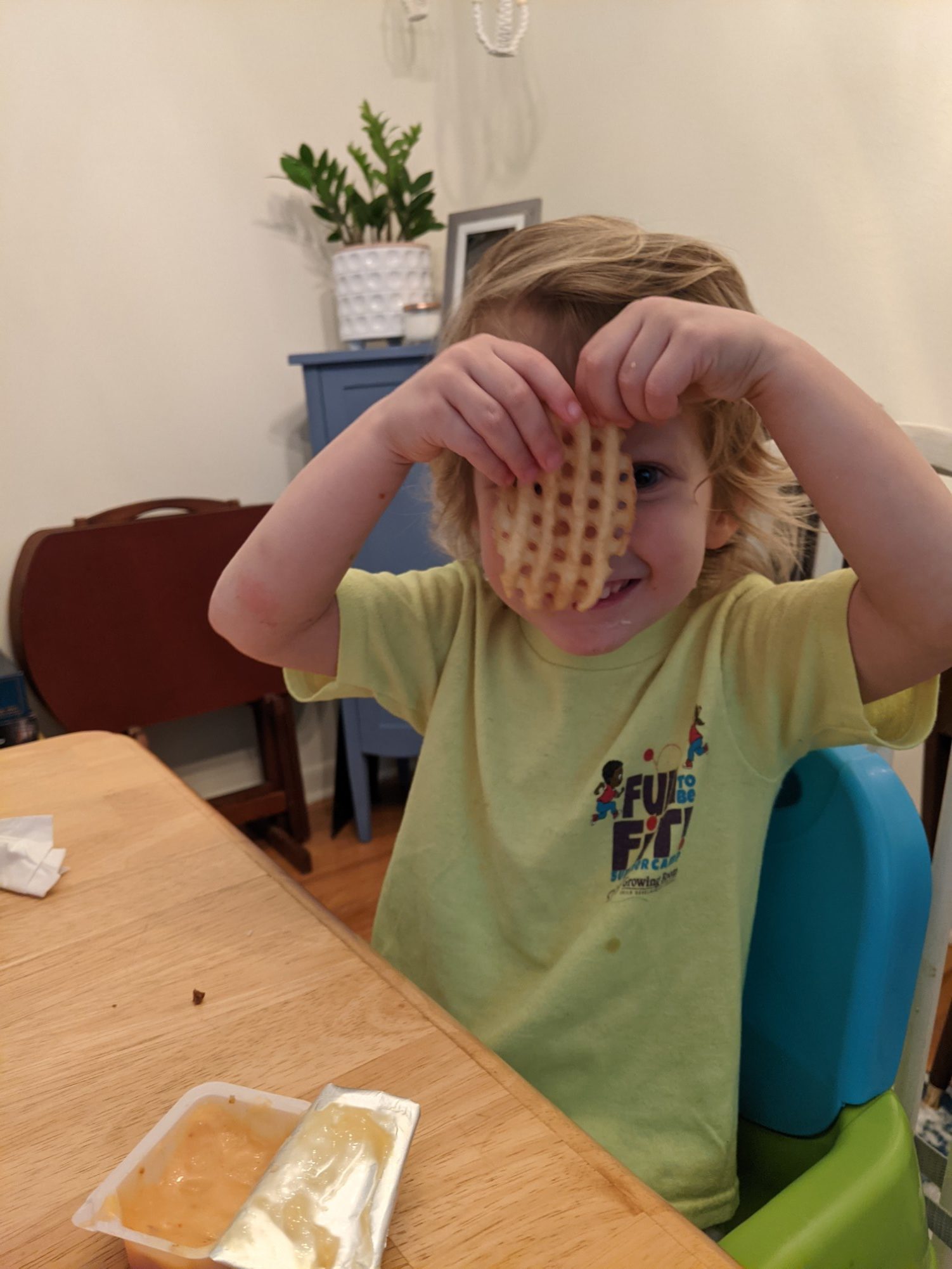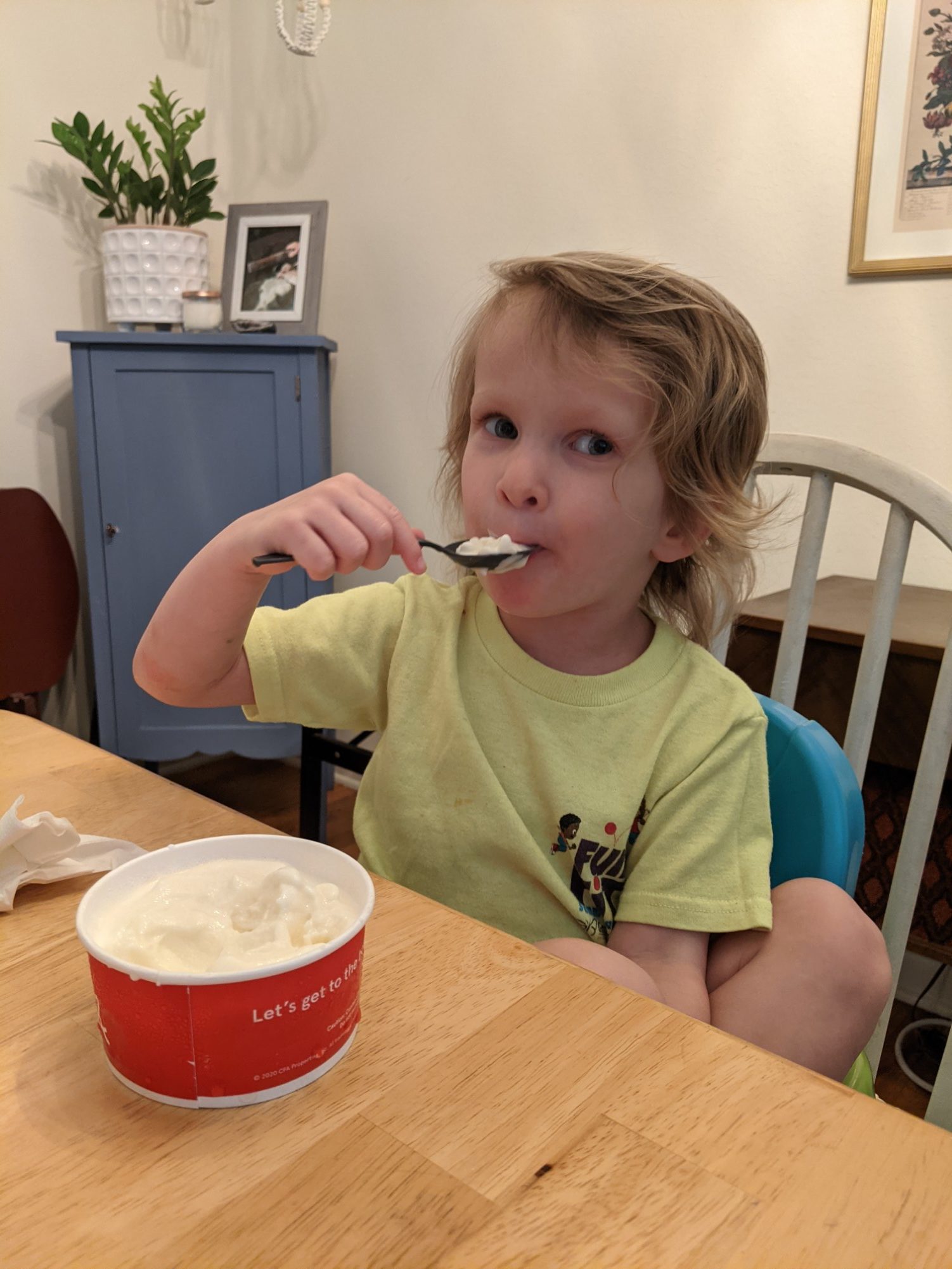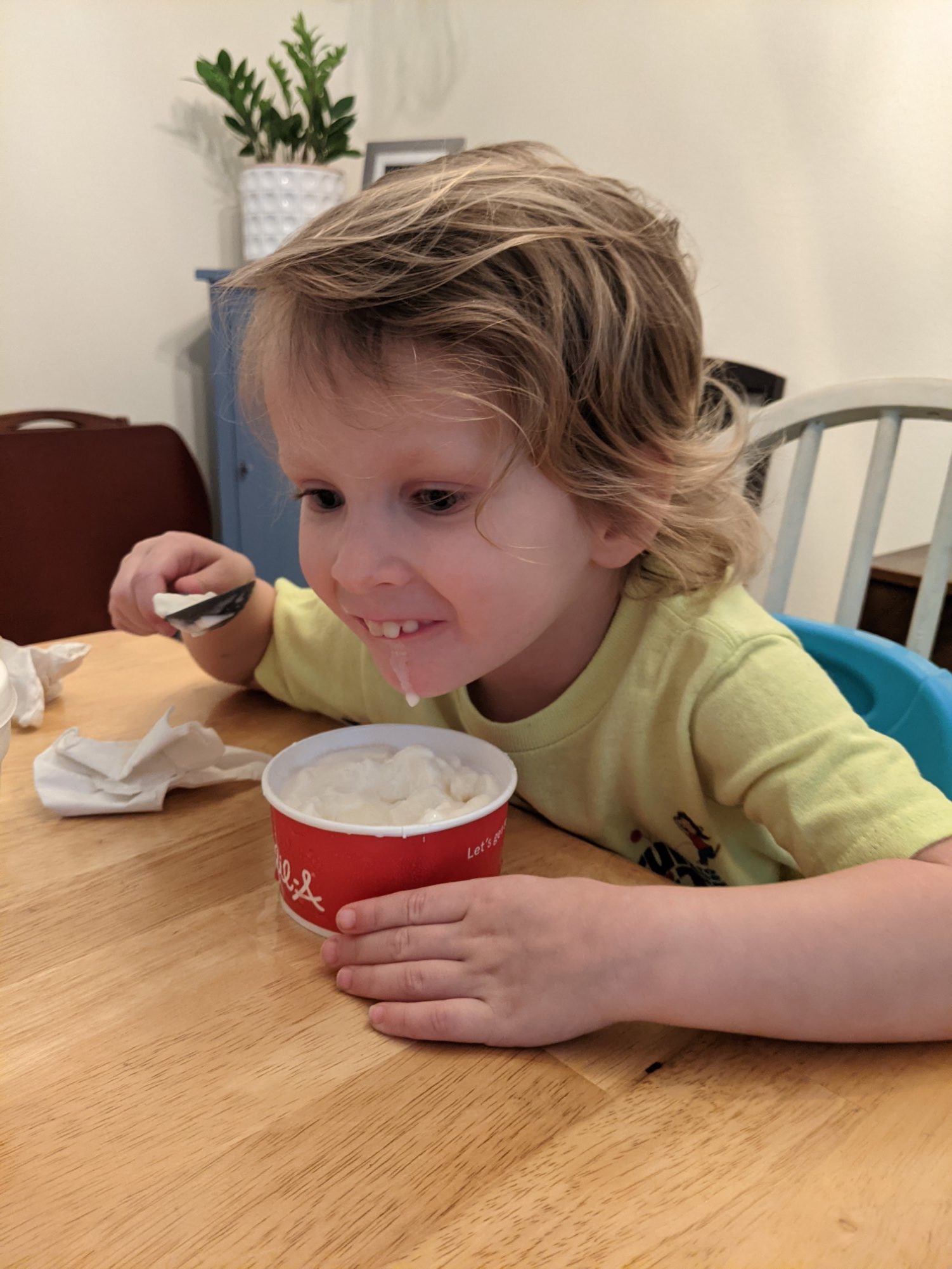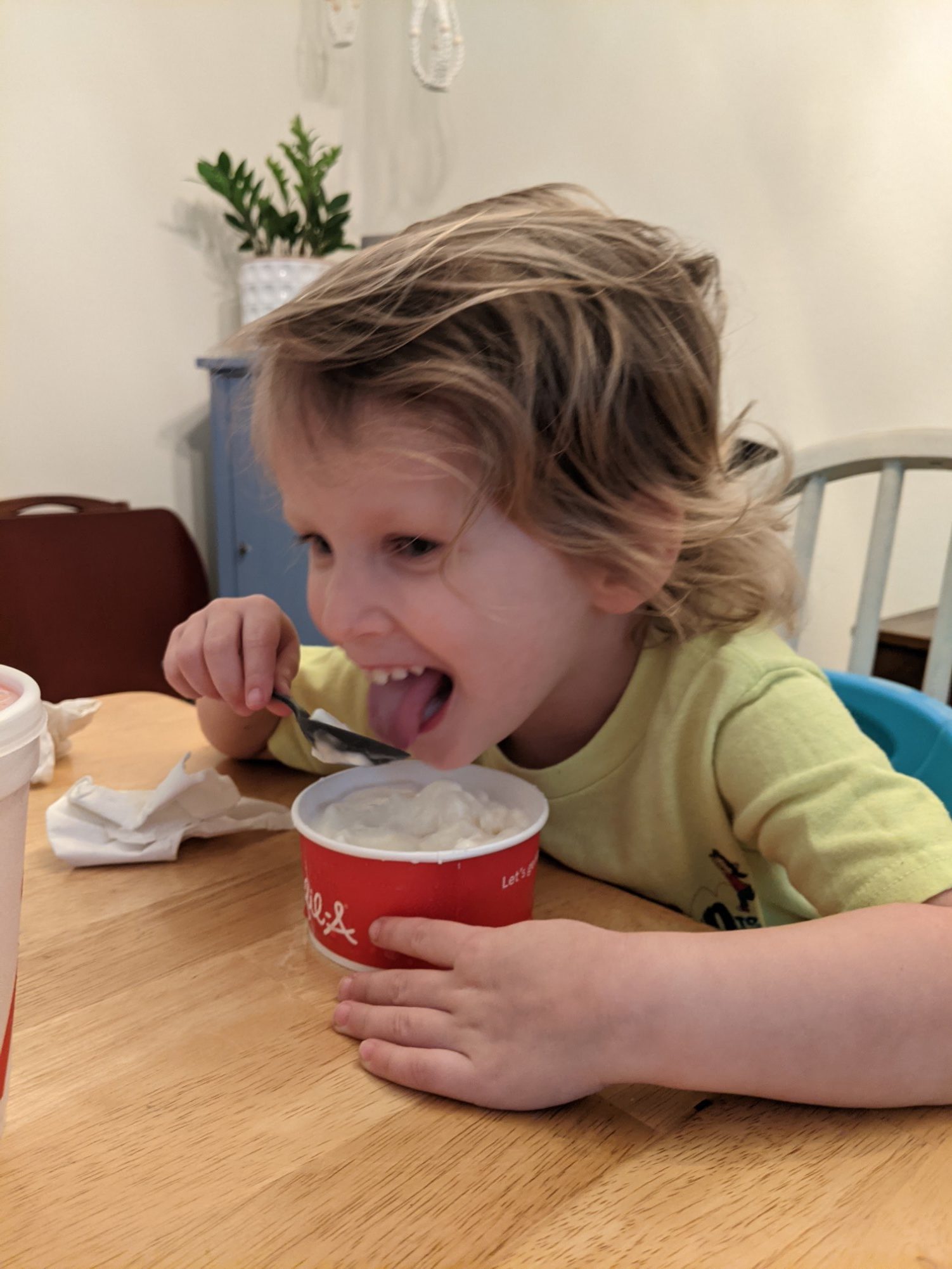 Jeff and Nana got back home shortly after we finished eating, right as I was getting her ready to hop in the bathtub. Emmie decided she wanted Daddy to stay in the bathroom with her, so I went out to put another load of dirty clothes in the washing machine.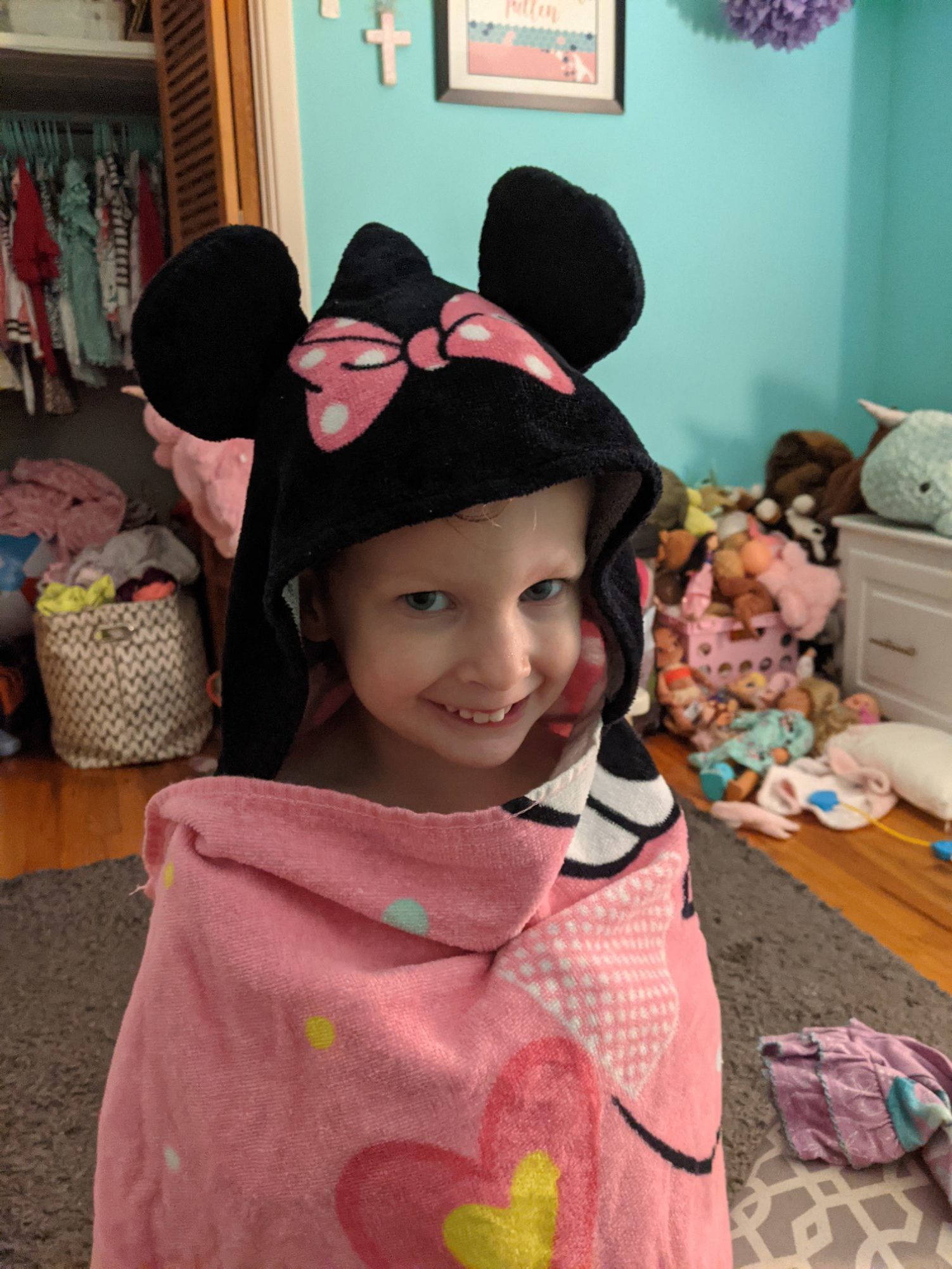 She found these socks in her drawer from when Aunt Meggie let her borrow them to match the triplets for "silly sock day," and wanted to wear them tonight, and wanted me to ask Aunt Meggie if she could keep them. I told her we could ask, and she told me she'd send her a text to ask herself. So Aunt Meggie, did you get a text from your niece about keeping the socks!? 😉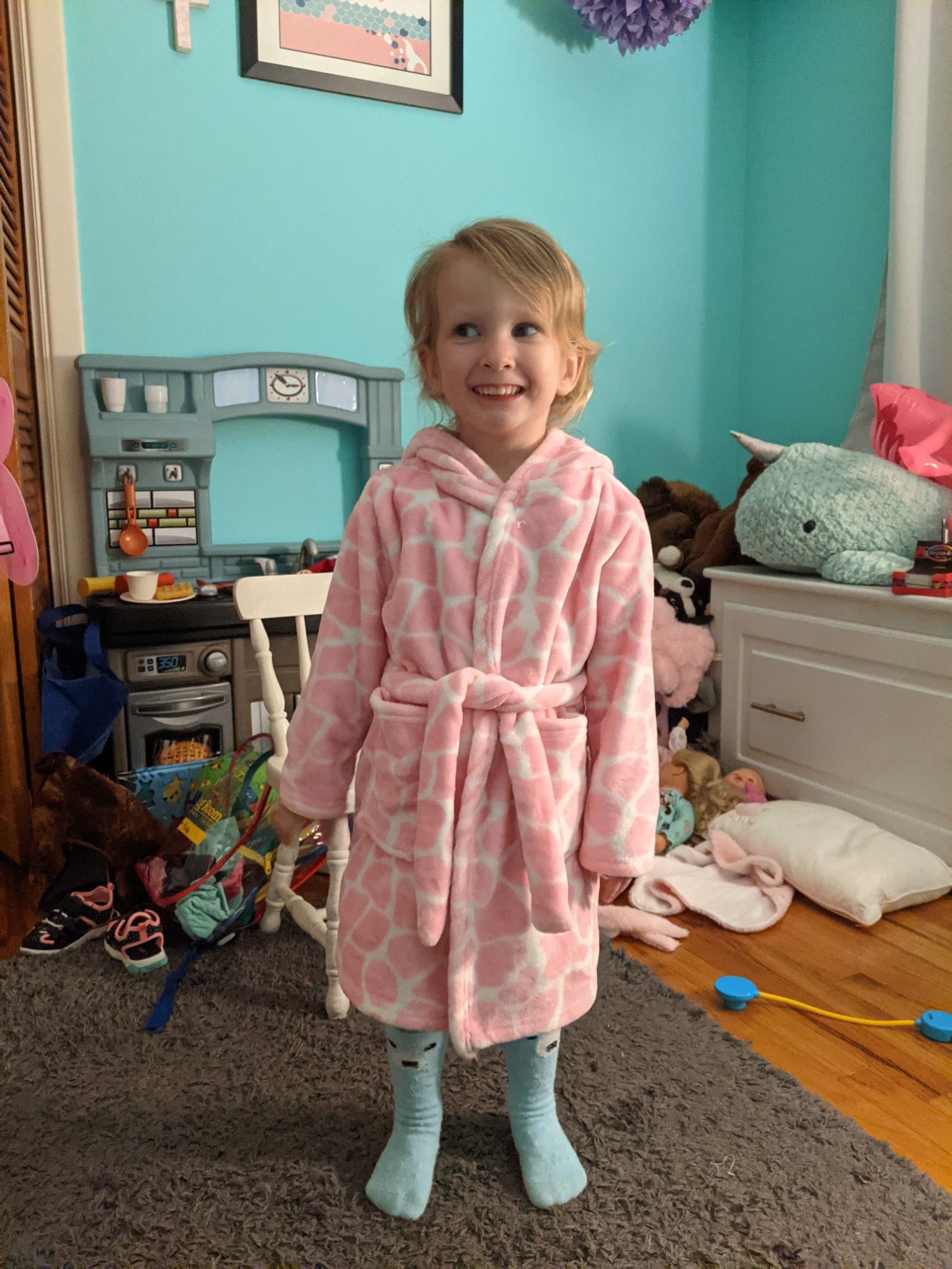 We all played and goofed around a little later than her usual bedtime, so she could get some time with Daddy before going to sleep.  She was a little wound up at that point, and it took a bit to calm her down, but bedtime went okay and she was pretty good. Even after doing not much of anything this afternoon, I'm still completely worn down from the busy morning and all the hard work we did, and being up on my feet for hours. My hips and legs are all sore and I'm definitely tired, so it's a protein shake and off to bed for me.