Well, with Addison & Emerson's eating and waking schedules today, I was up for the day at 5:30 am, and didn't even take a nap today. (I did however drink tons of coffee throughout the day, which was obviously necessary.) I made egg sammies for Emmie and I for breakfast, while all the boys were still asleep.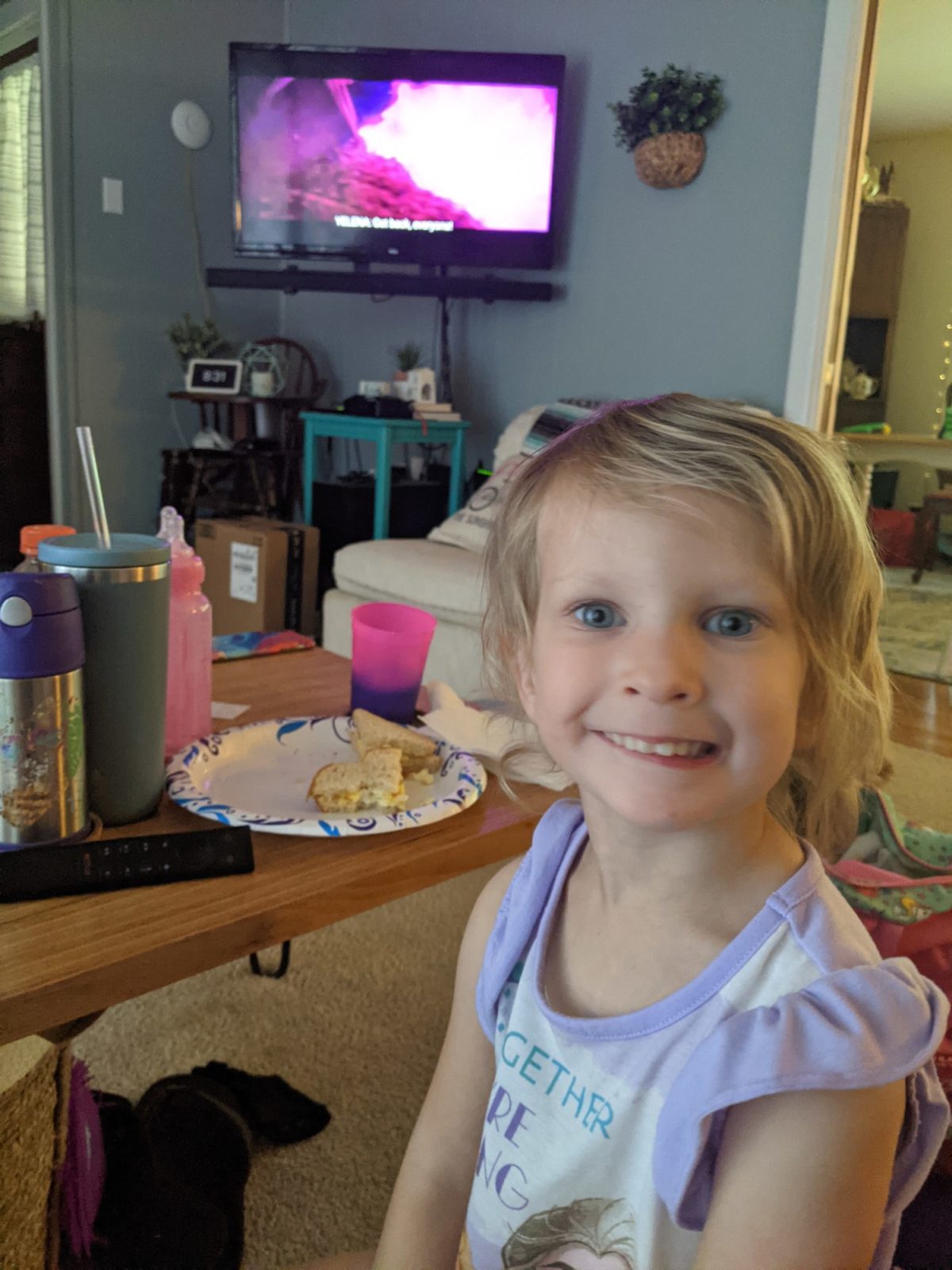 And she was doing these little hand movements, going "This is a diamond, right, Mommy?!"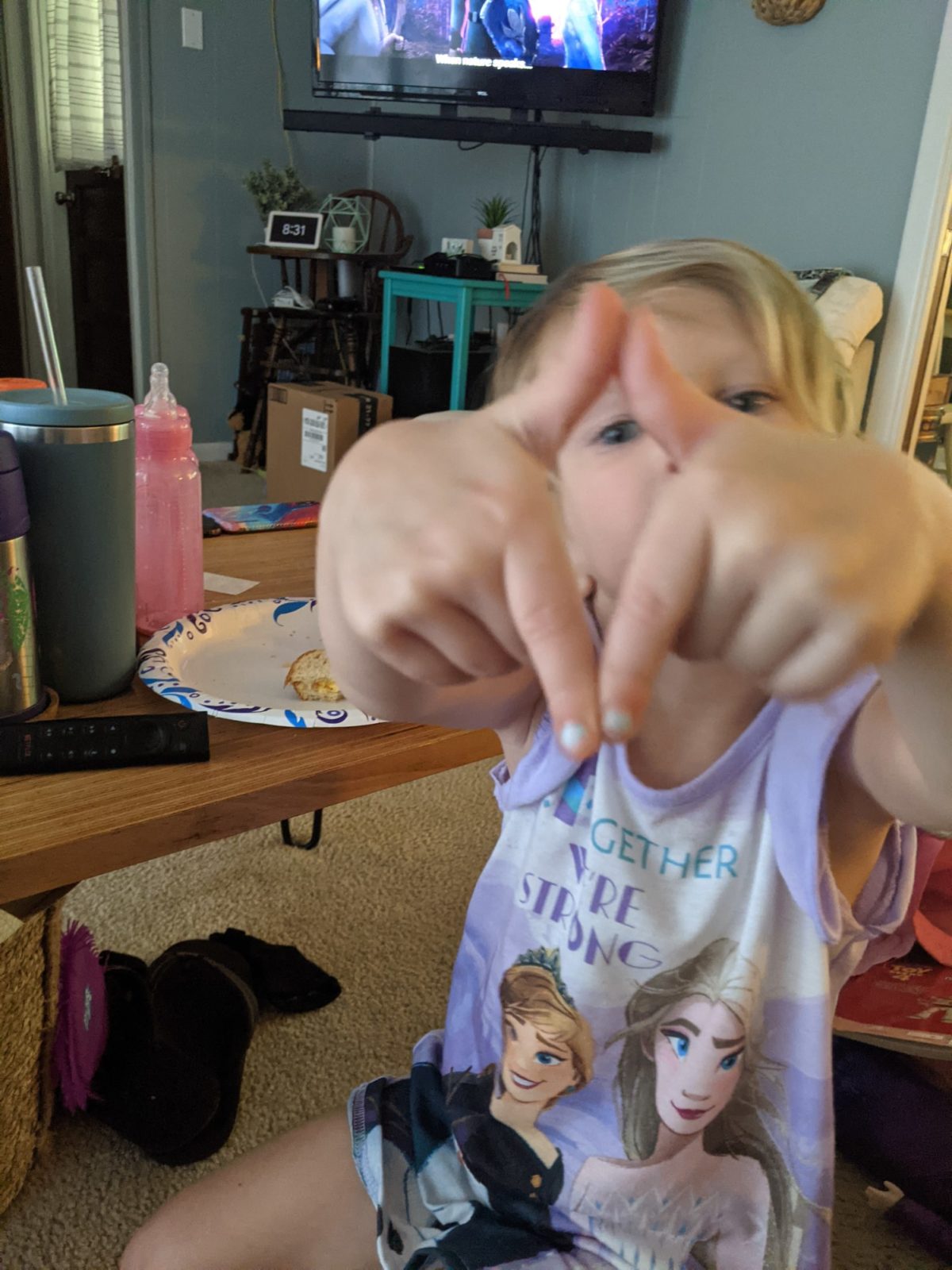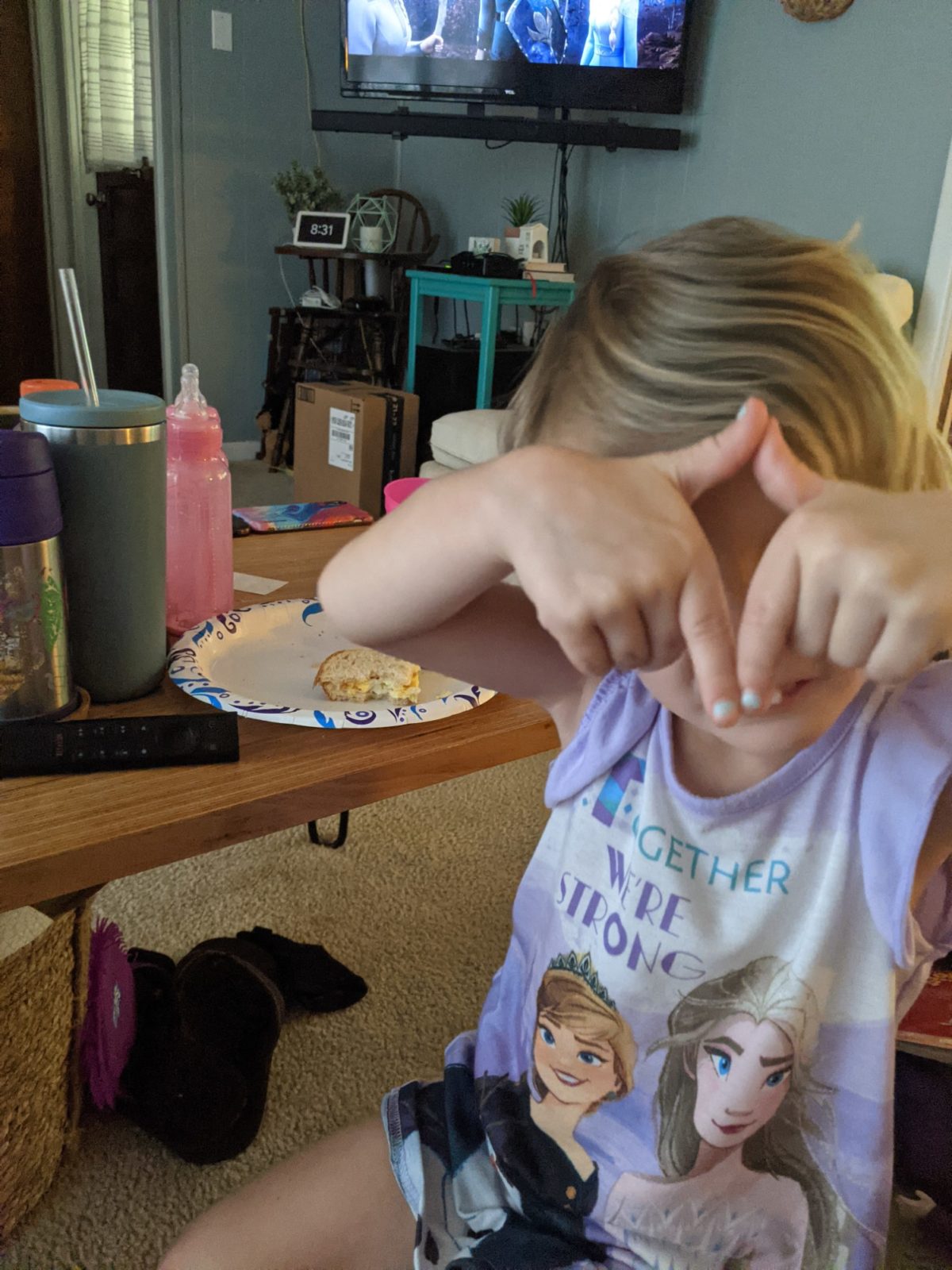 Sister snuggles!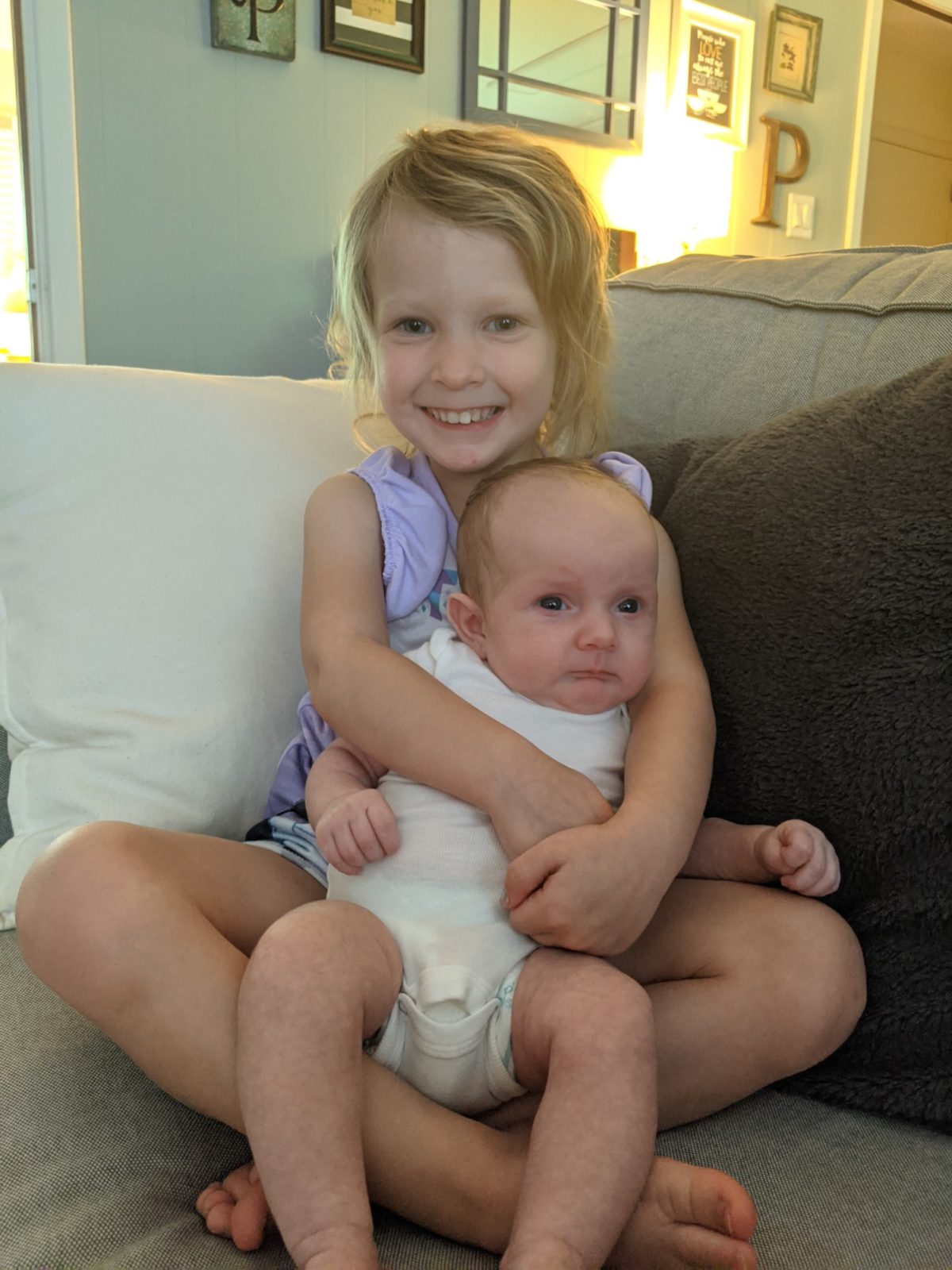 And Addie had her first nap in her crib today! Once everyone was awake and moving around the house, I needed some quiet time, so I rocked her to sleep in her room, and then swaddled her and laid her down in there, and she did great! She ended up taking a really long nap in her room, and I was so proud of her.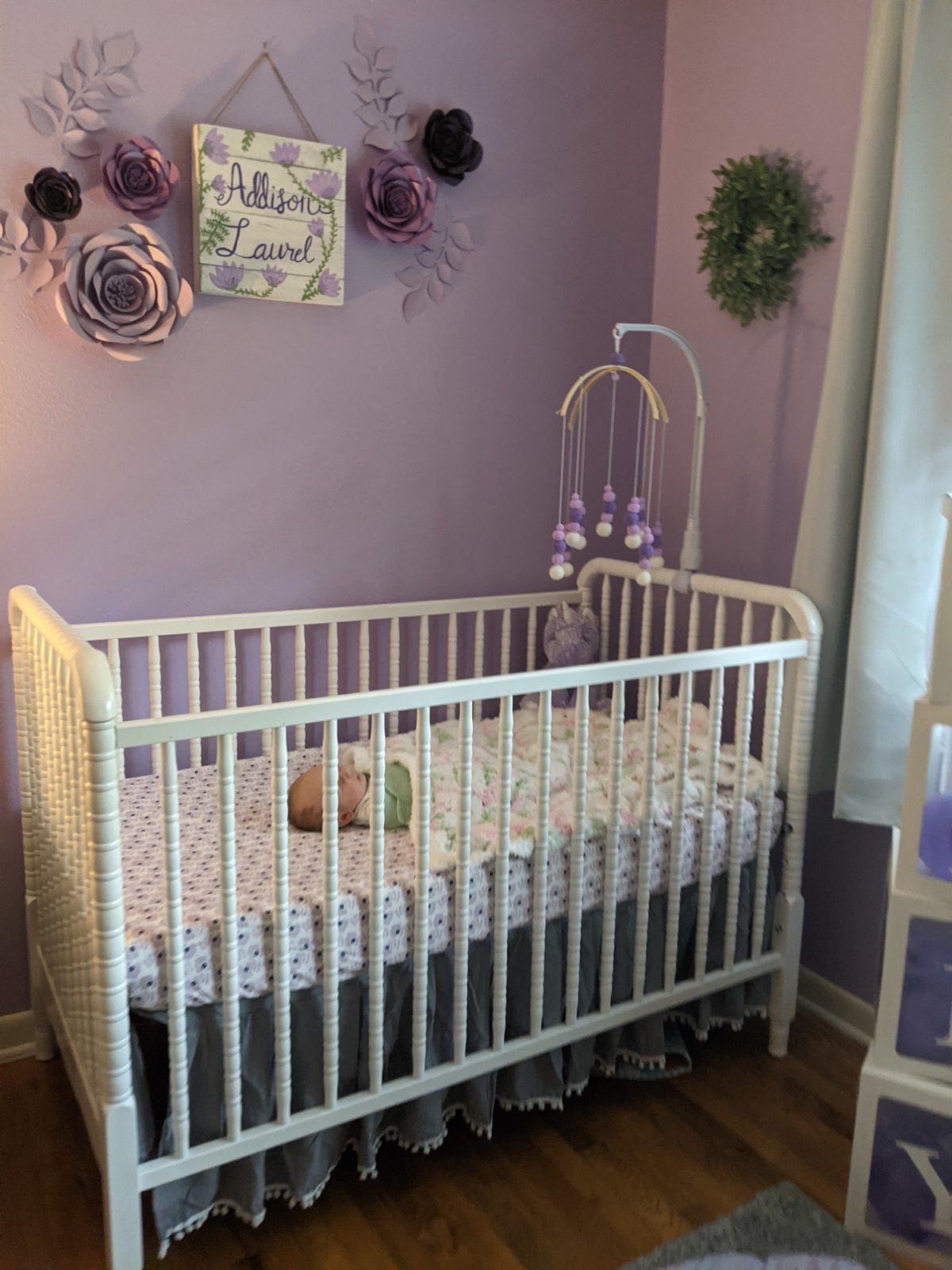 Also, this blanket was made for Addie by one of my sweet coworkers, and is quite possibly the softest blanket I've ever felt… Addie might have to fight me for it 😉 Thank you again, Jeanne!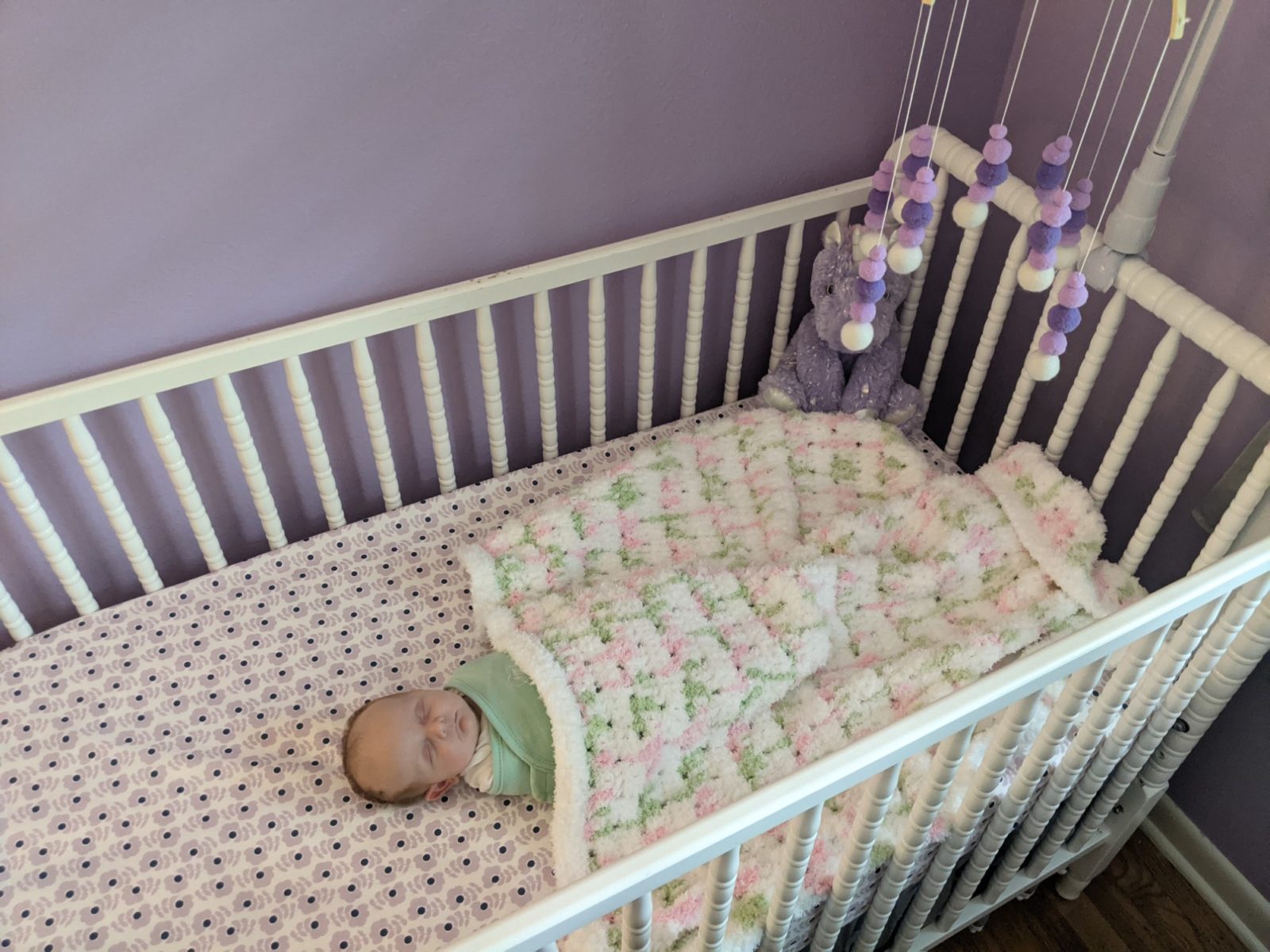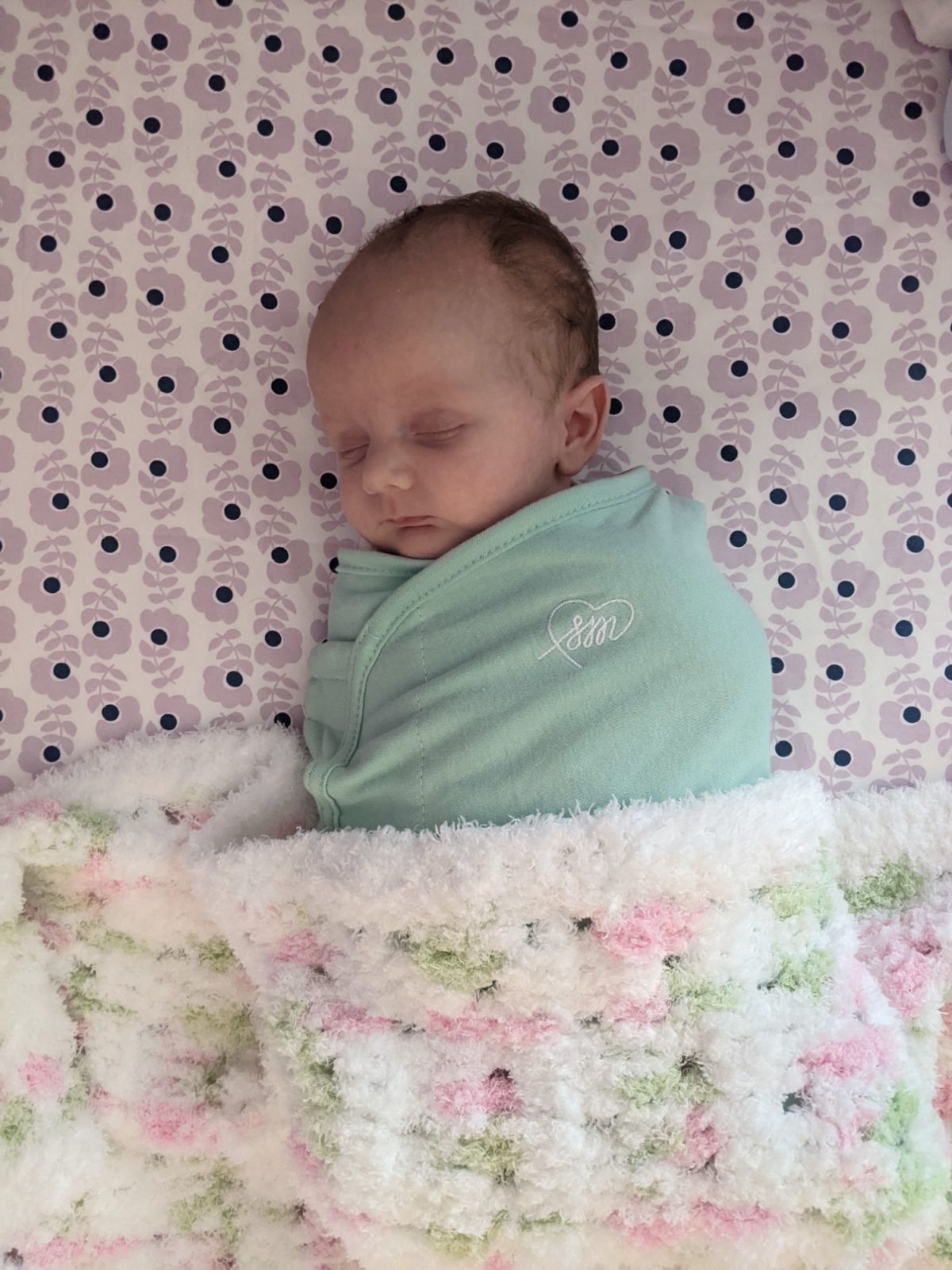 While Addie snoozed away, Emmie and I played some games on her little Kindle, and then we worked on cleaning up her room, because Lord have mercy her room was an actual disaster.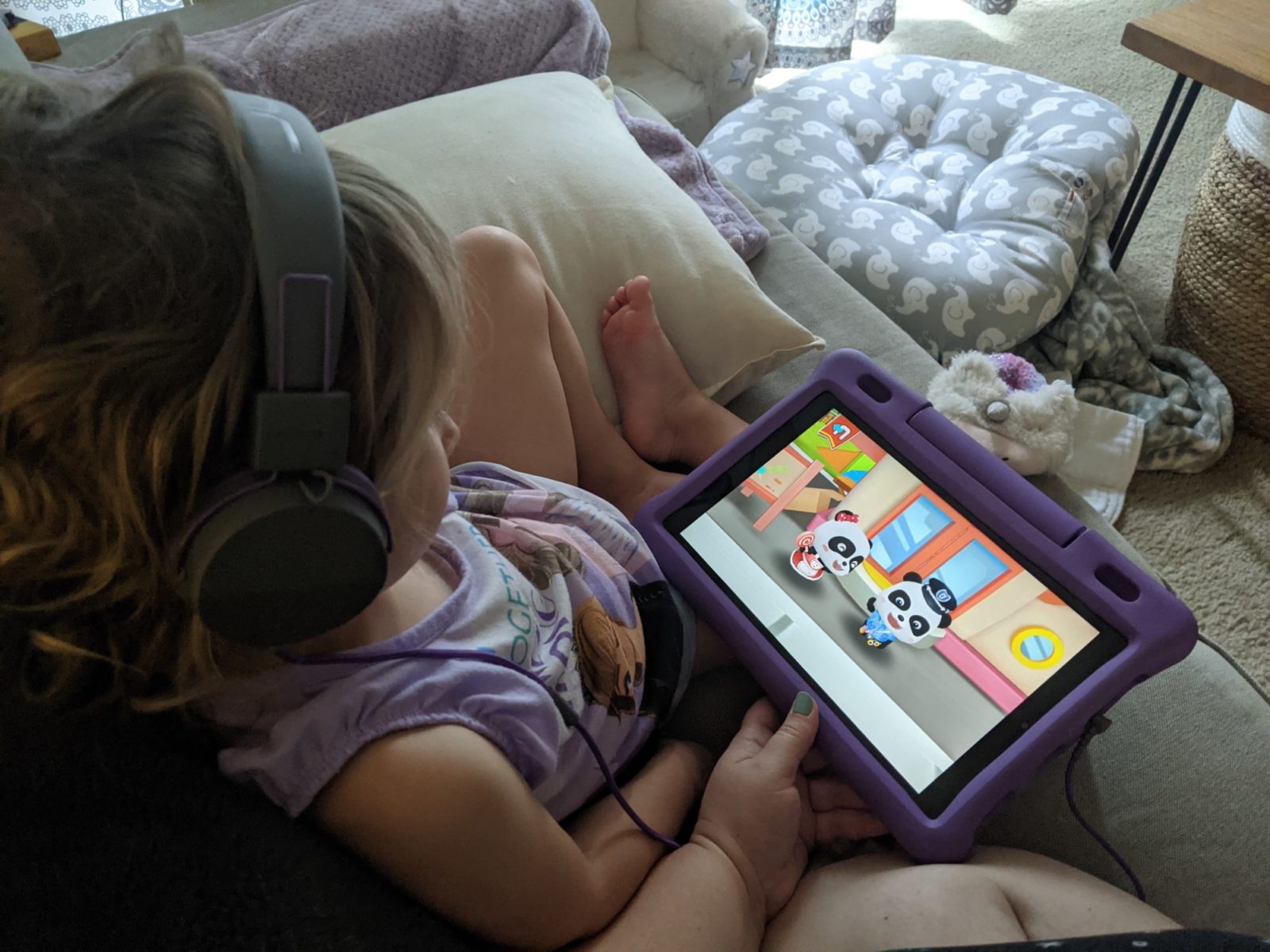 We all ate sandwiches and chips for lunch, fed Addison another bottle, and then tried to get her to nap again after a little bit of playtime. But this bright-eyed girl just wanted to stare up at Mommy, with those big ole blue eyes!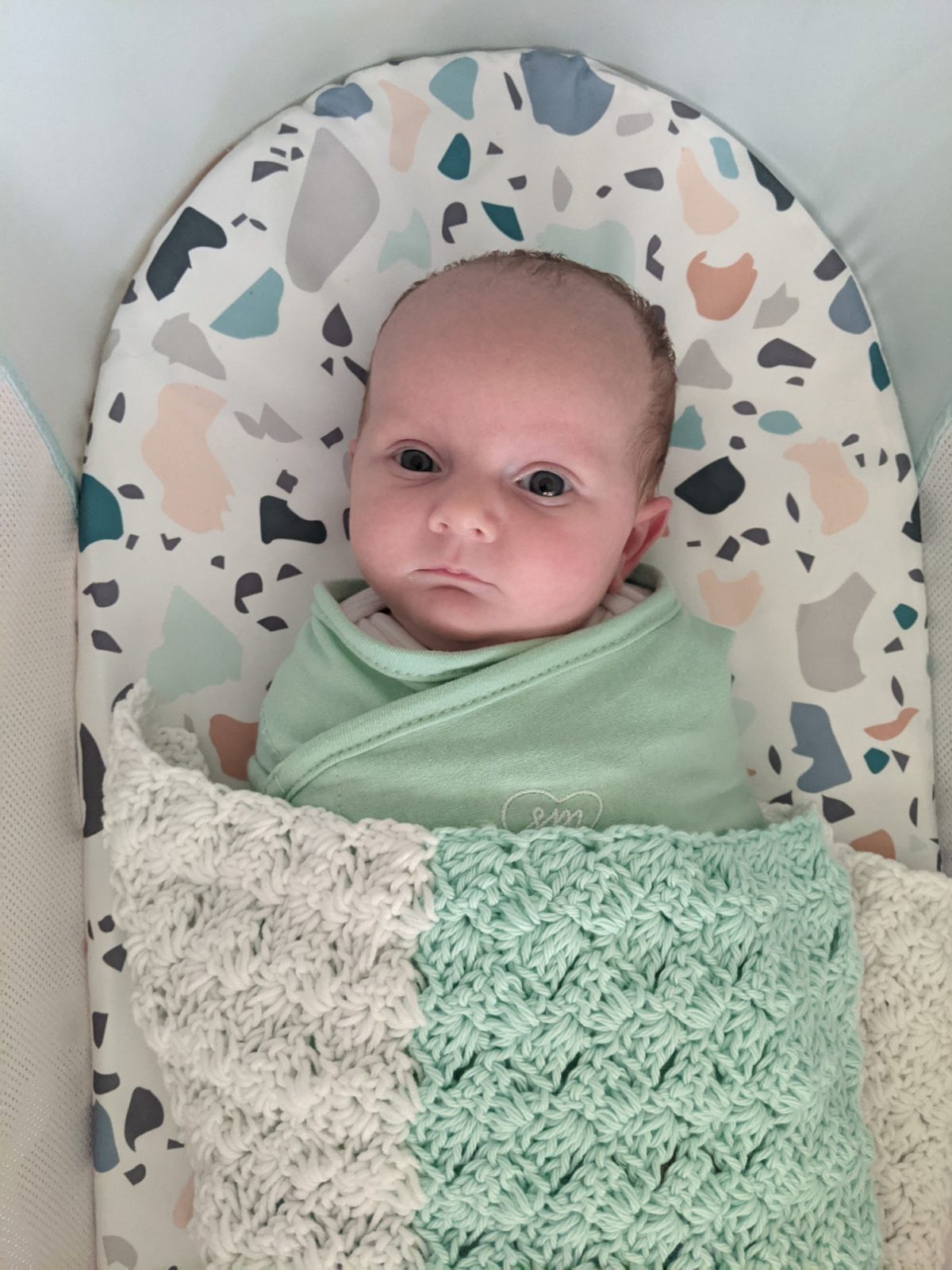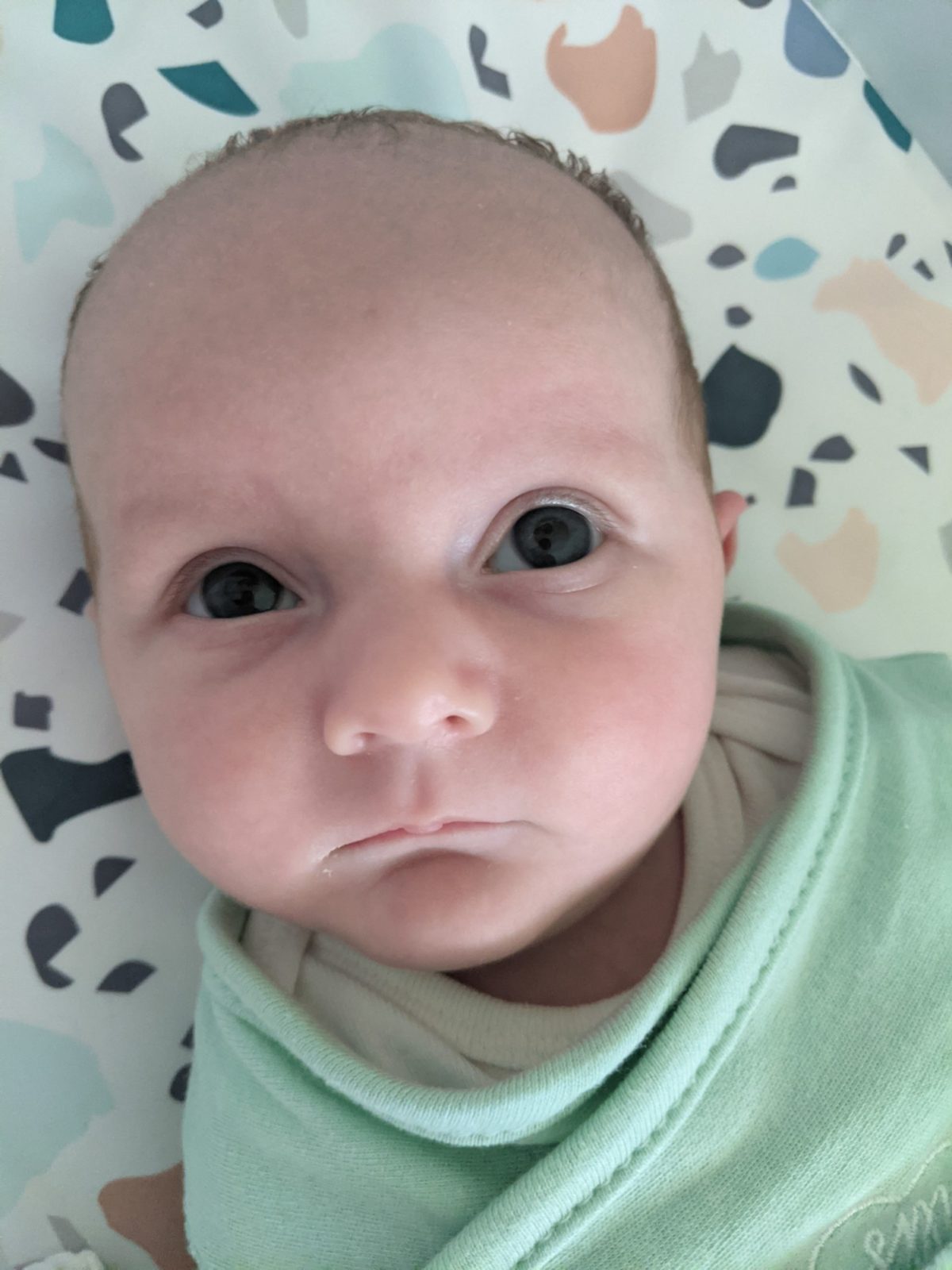 She did finally fall asleep in her bassinet, and Emmie took a nap herself. And while Jeff took the boys to Walmart for a new garden hose (our old one busted a leak and started spewing everywhere), I read for a little bit.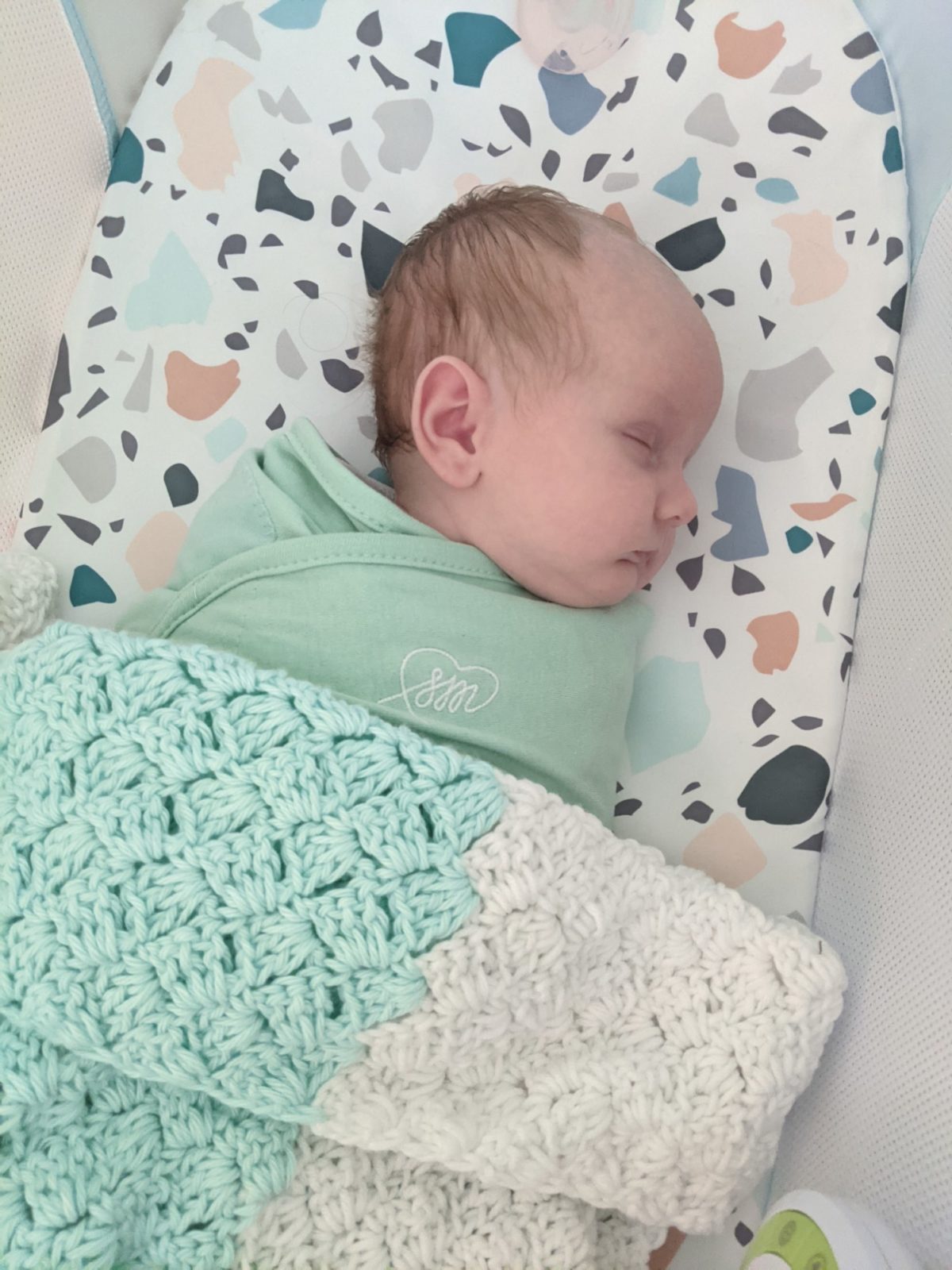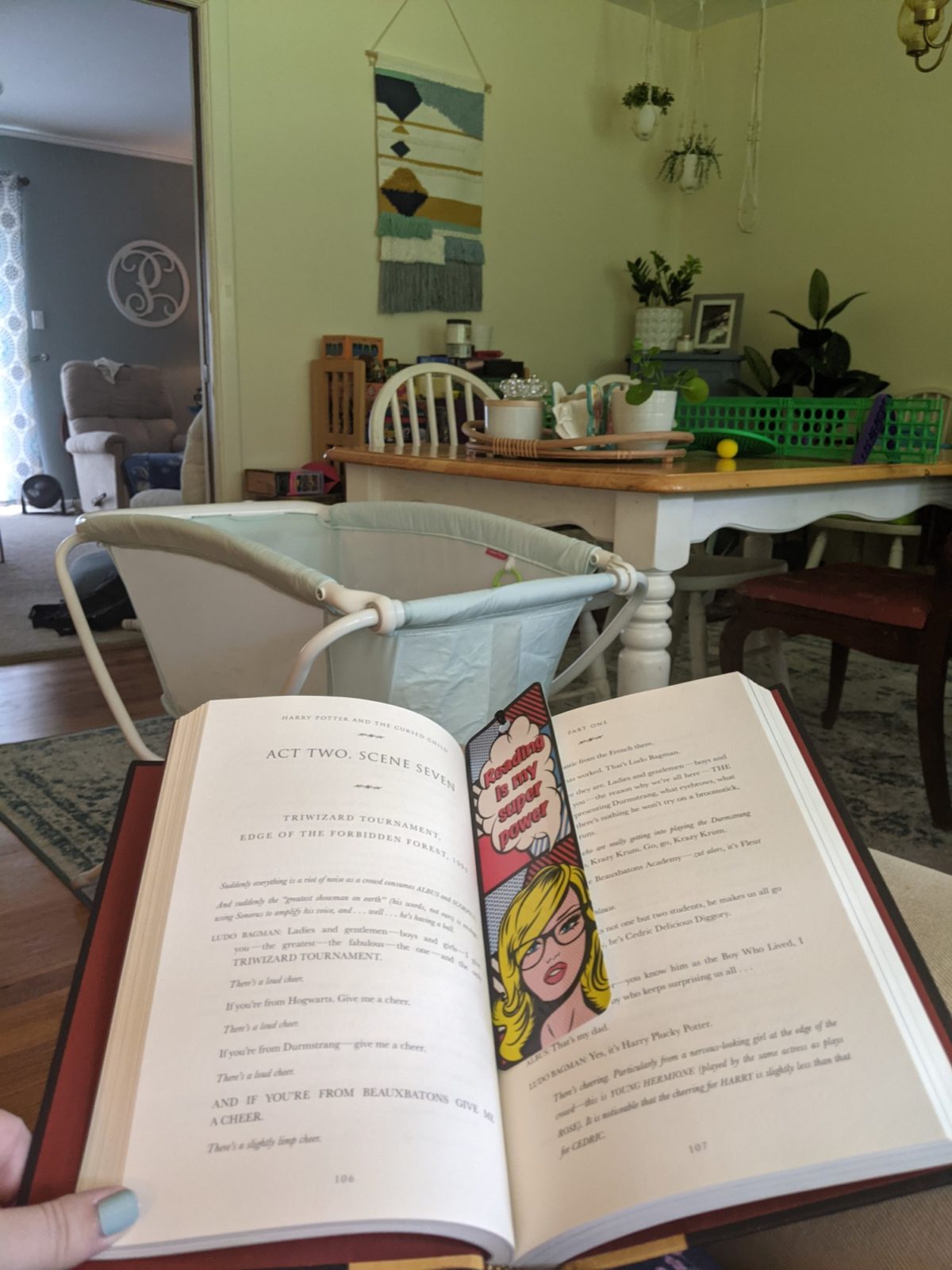 The boys came back, Emmie woke up, and then Addie woke up, and we fed her again. She fell asleep on Mommy, and would you just look at those little emerging arm rolls on this slightly chunky arm!? Emmie never had a roll on her whole body, and I'd love for Addie to get some!
This funny little crocheted mermaid tail was a gift for Emmie when she was born, and we found it again while cleaning today, and Emmie was just dying to put Addie in it when she woke up. I don't know that Addison was too sure about it, but Emerson thought it was the greatest!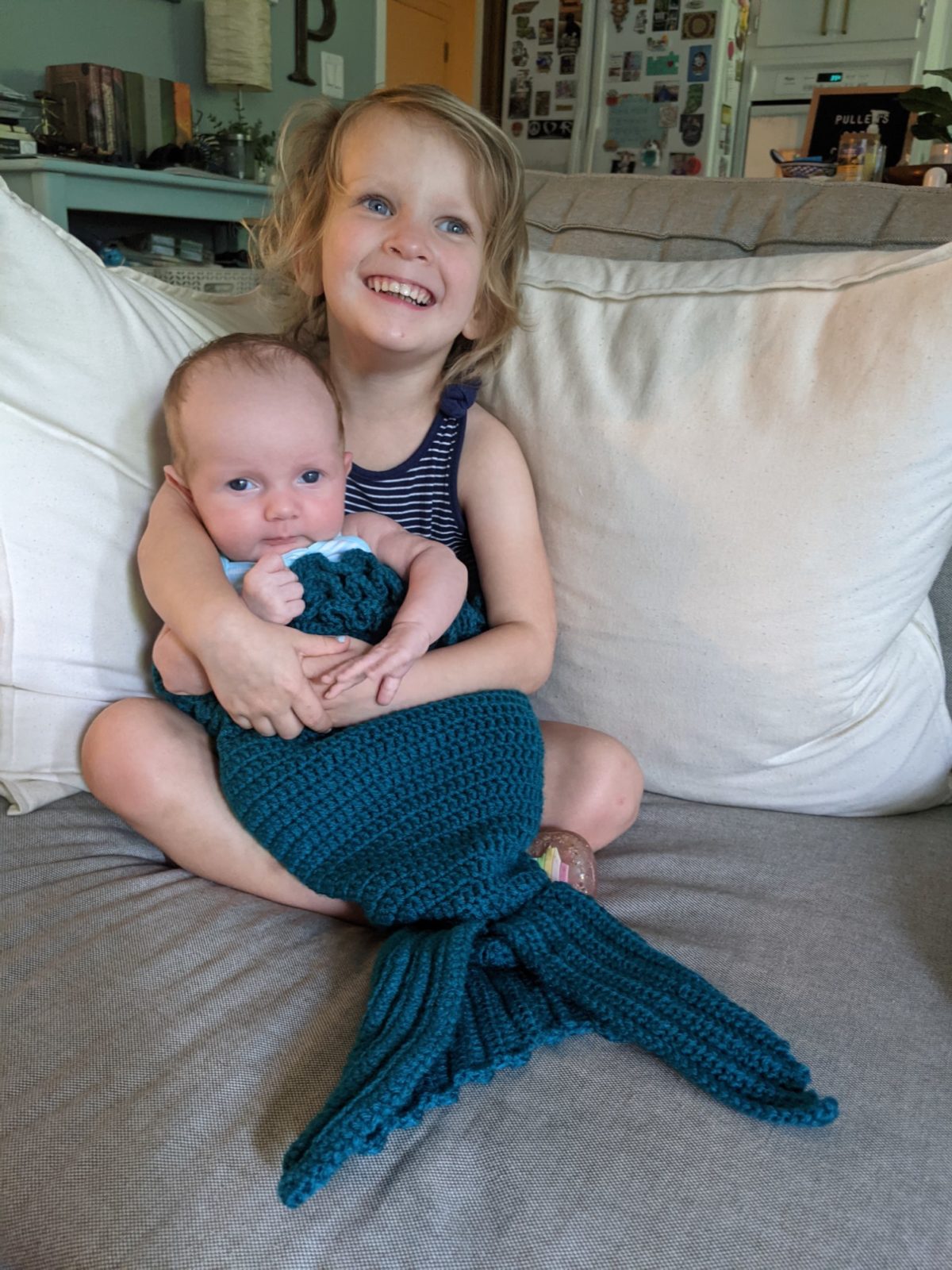 It pretty much took an act of Congress to get all six of us ready and out of the house with all the things we needed for the evening, but we eventually made it over to Nana & PopPop's house for dinner tonight.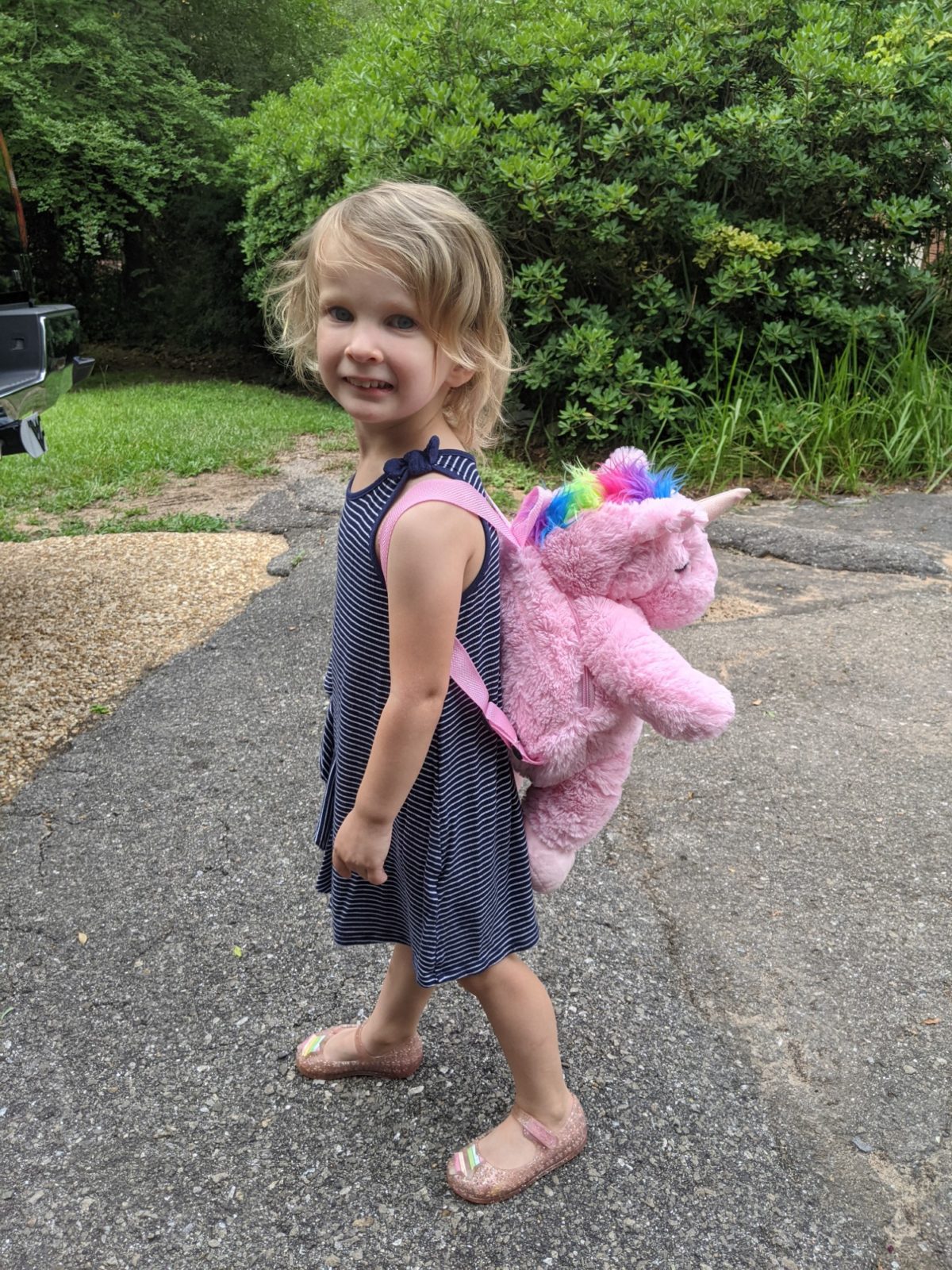 Emmie helping Nana set the table…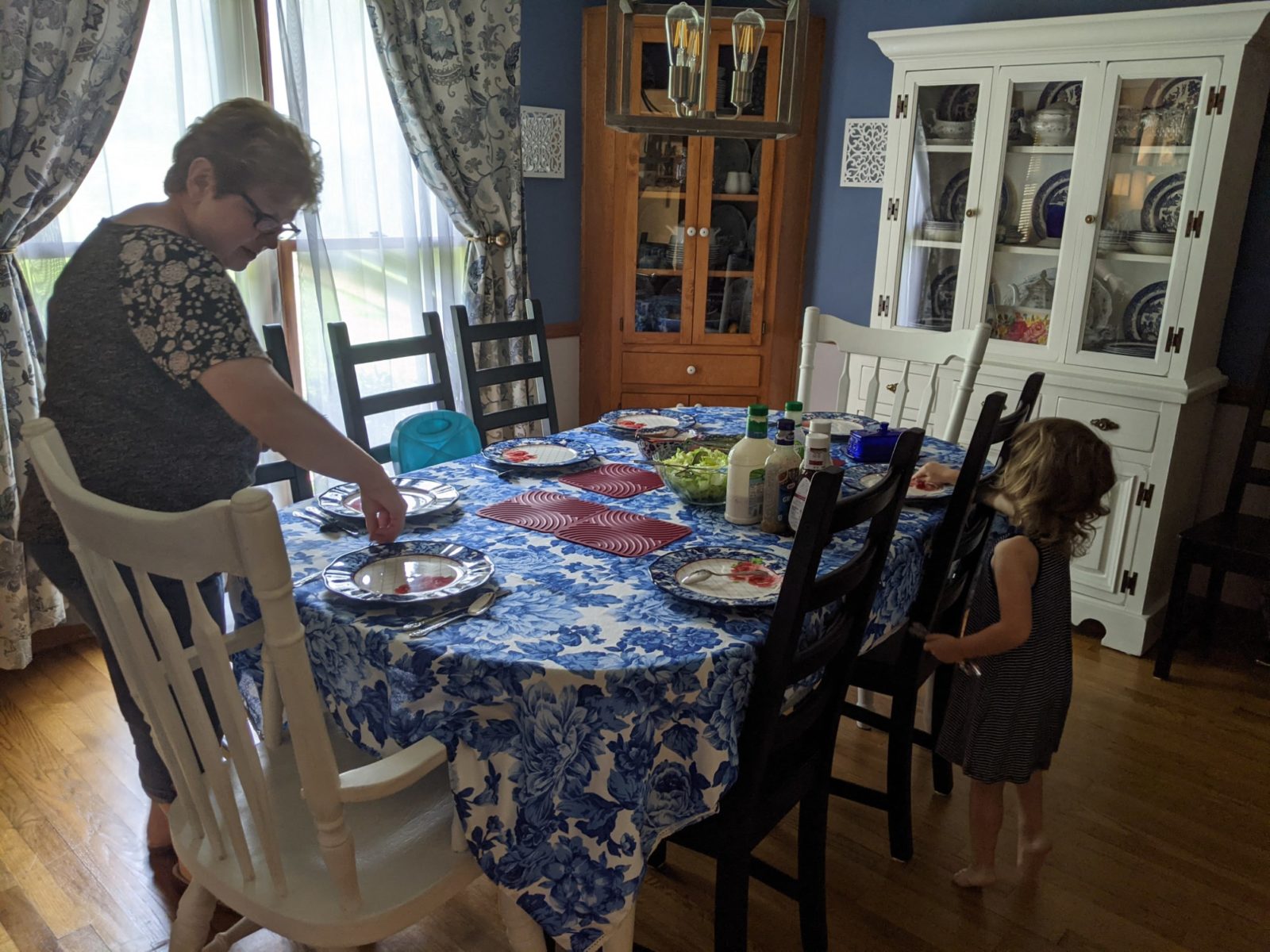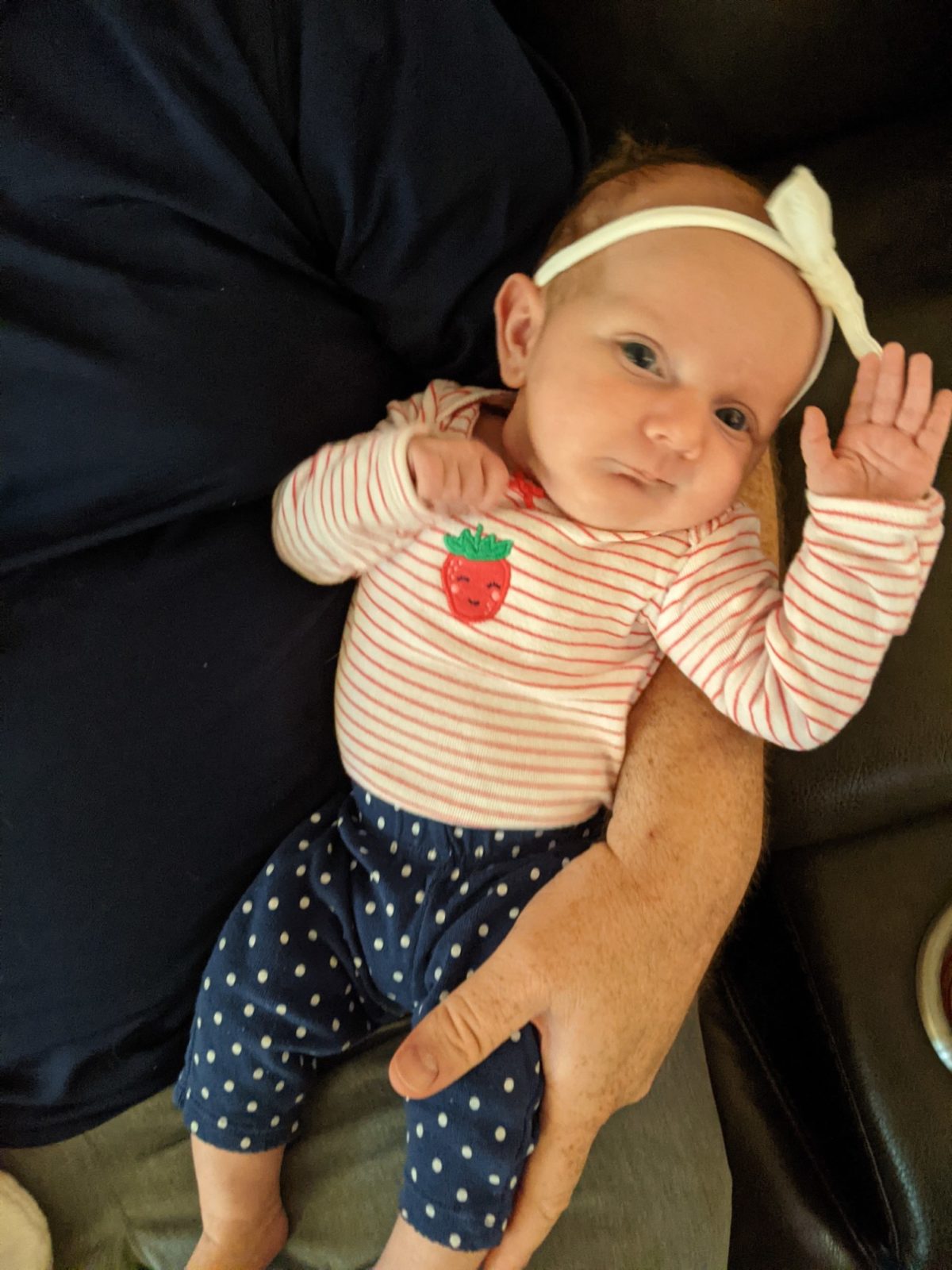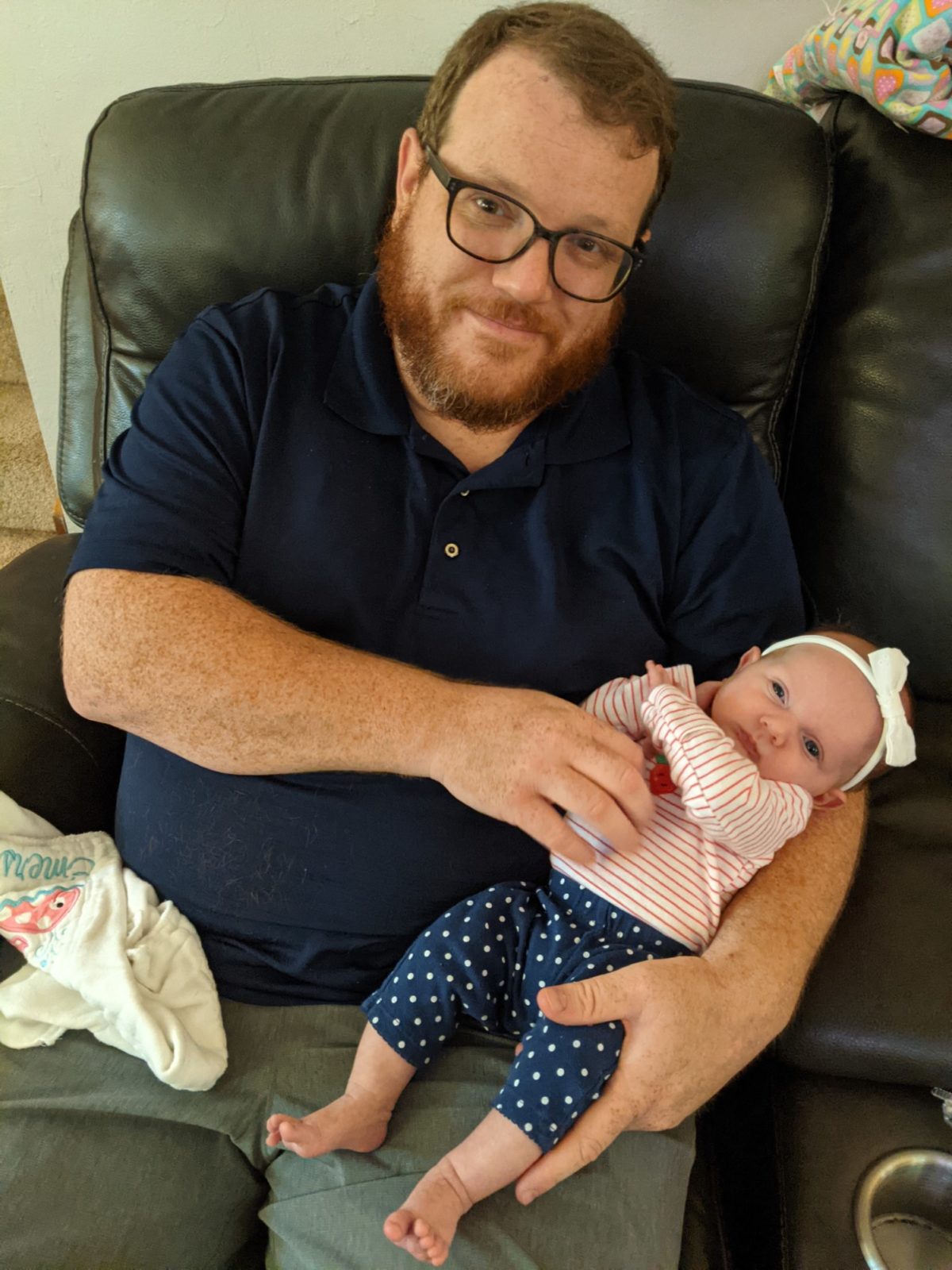 Nana fixed an absolute feast for us, just like usual! Pot roast, carrots, mashed potatoes and gravy, corn on the cob, salad and rolls. Yum!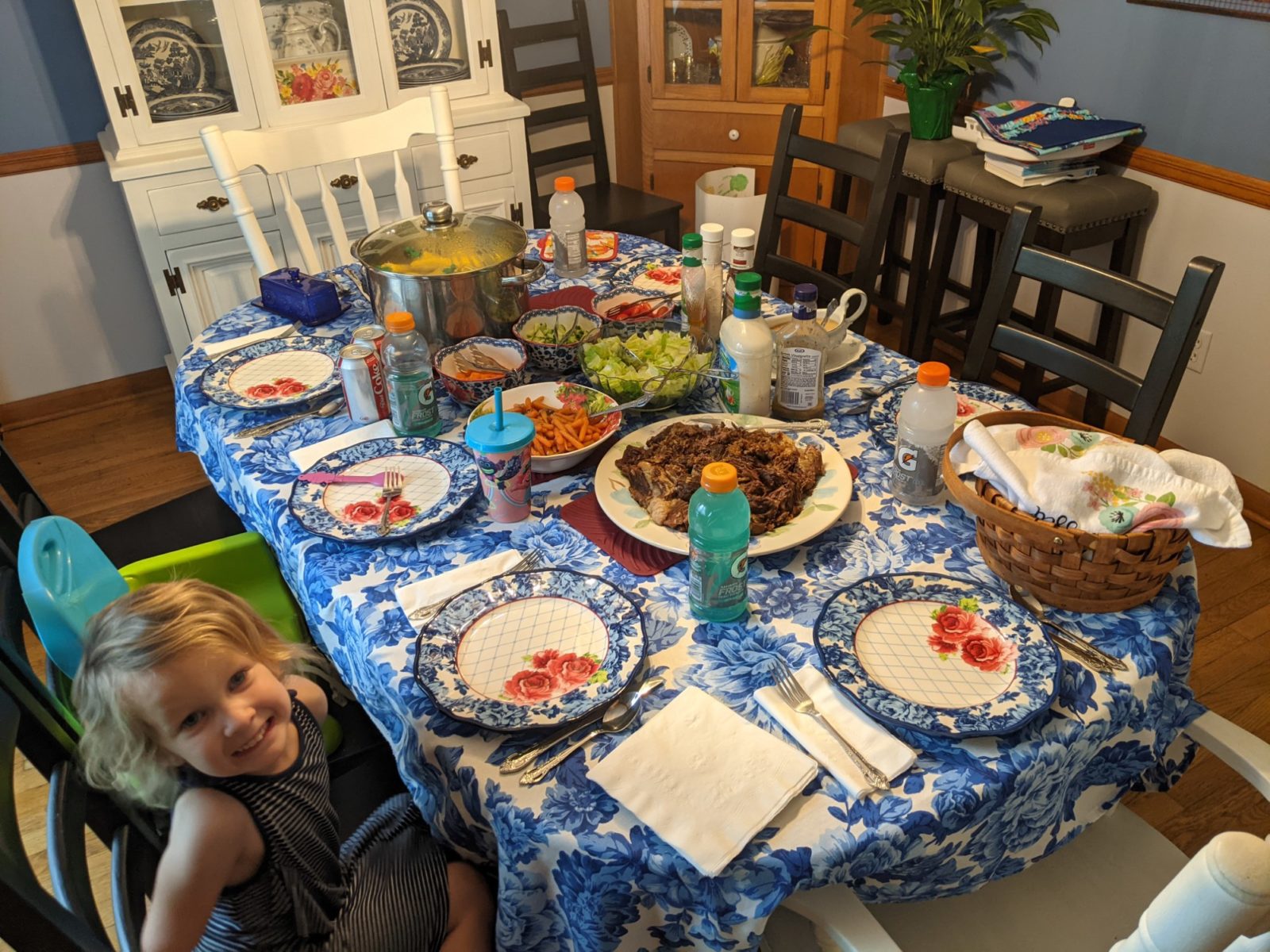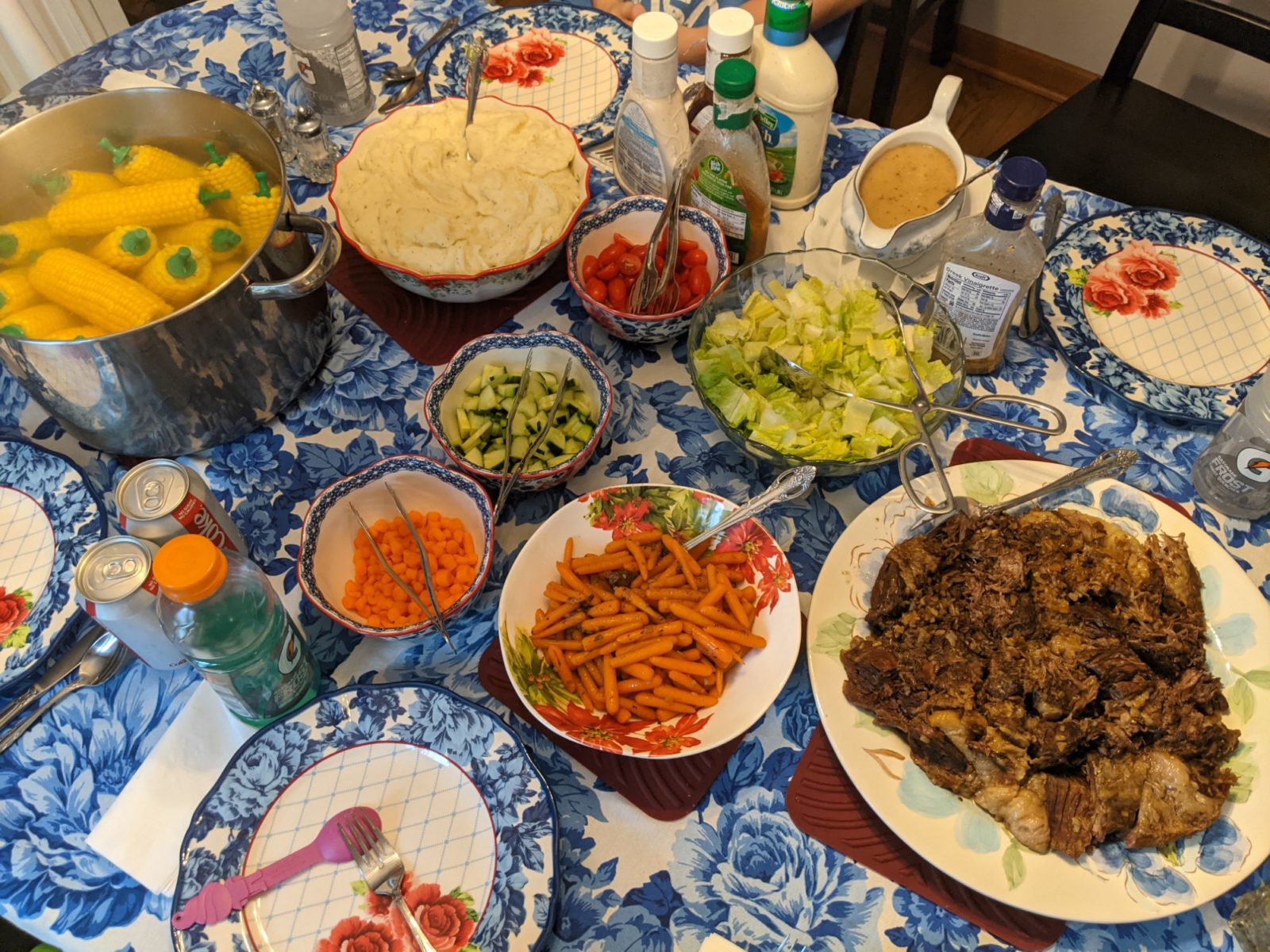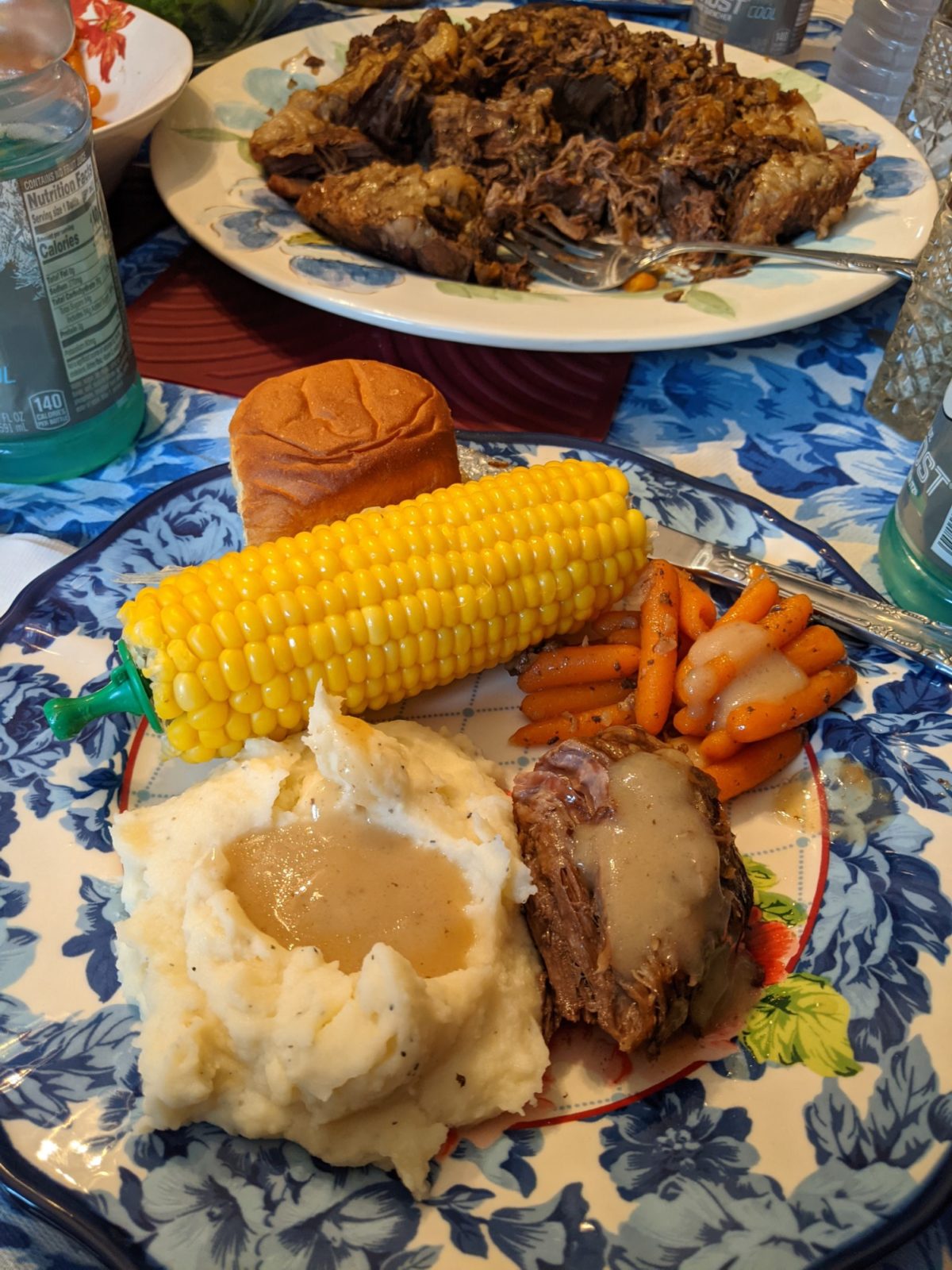 And Emmie also helped Nana load the dishwasher tonight!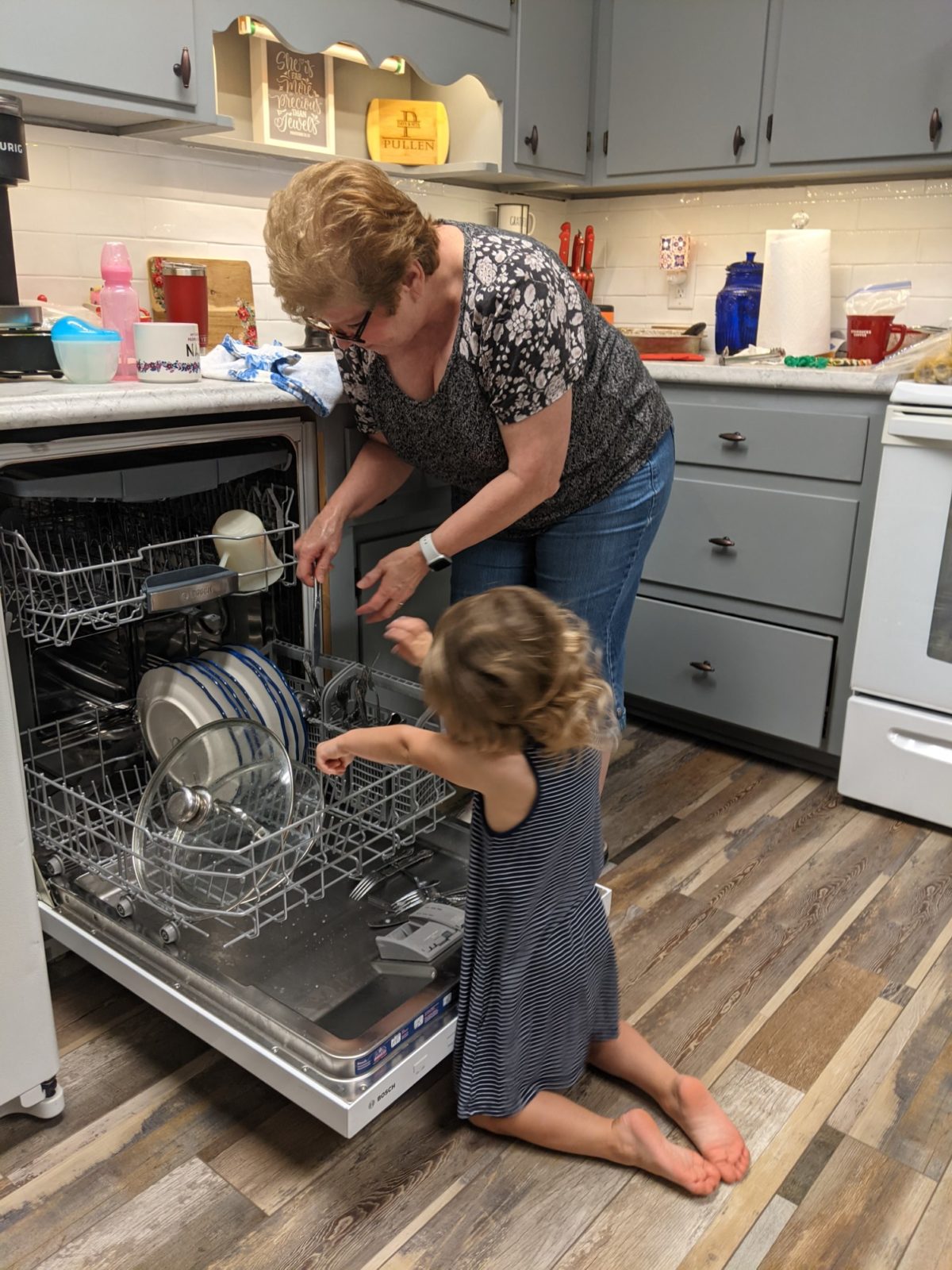 And she was handsomely rewarded with chocolate cake and ice cream 😉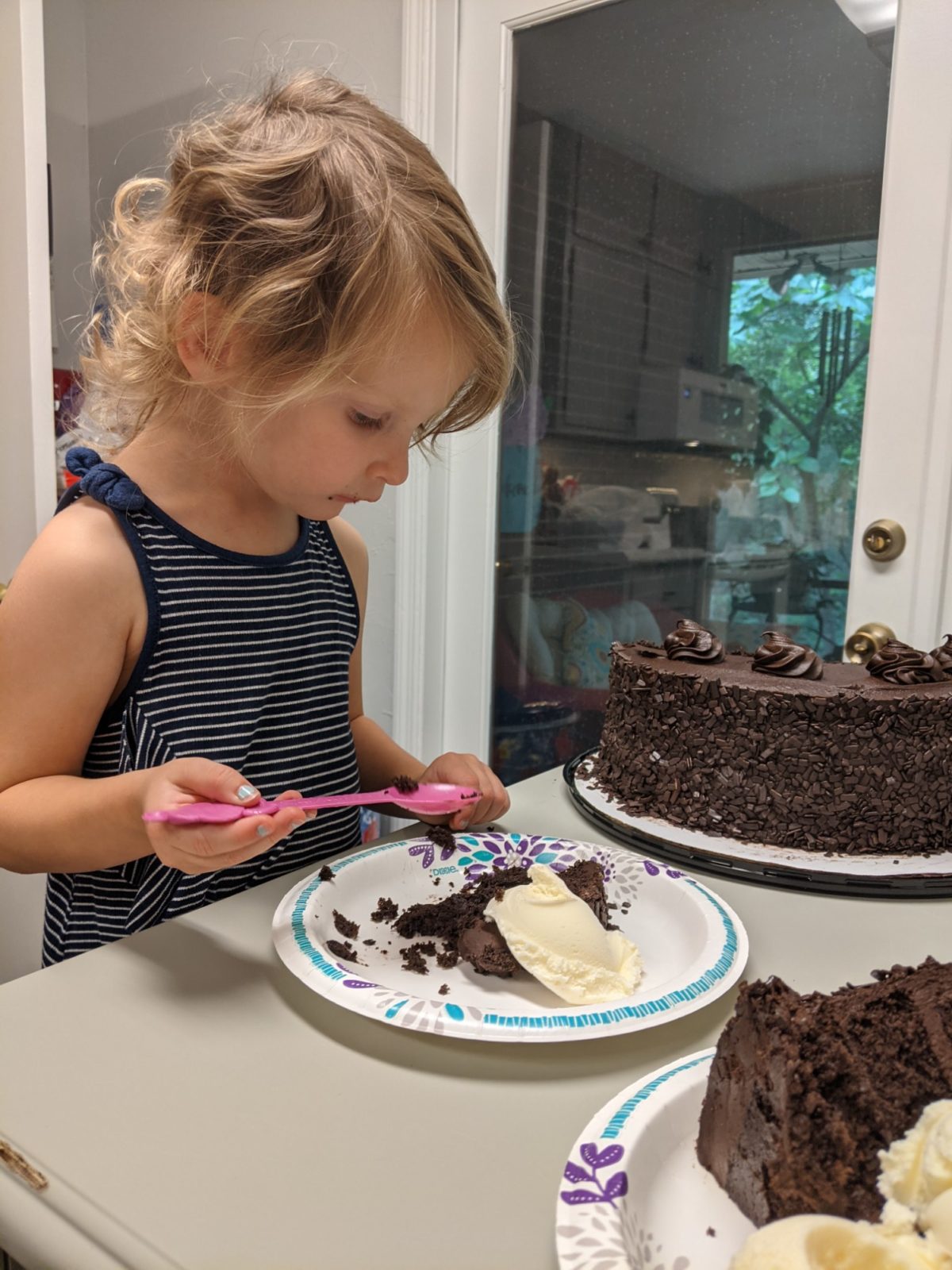 She had a fun bath time and got in her jammies, and we snuggled a bit before heading home.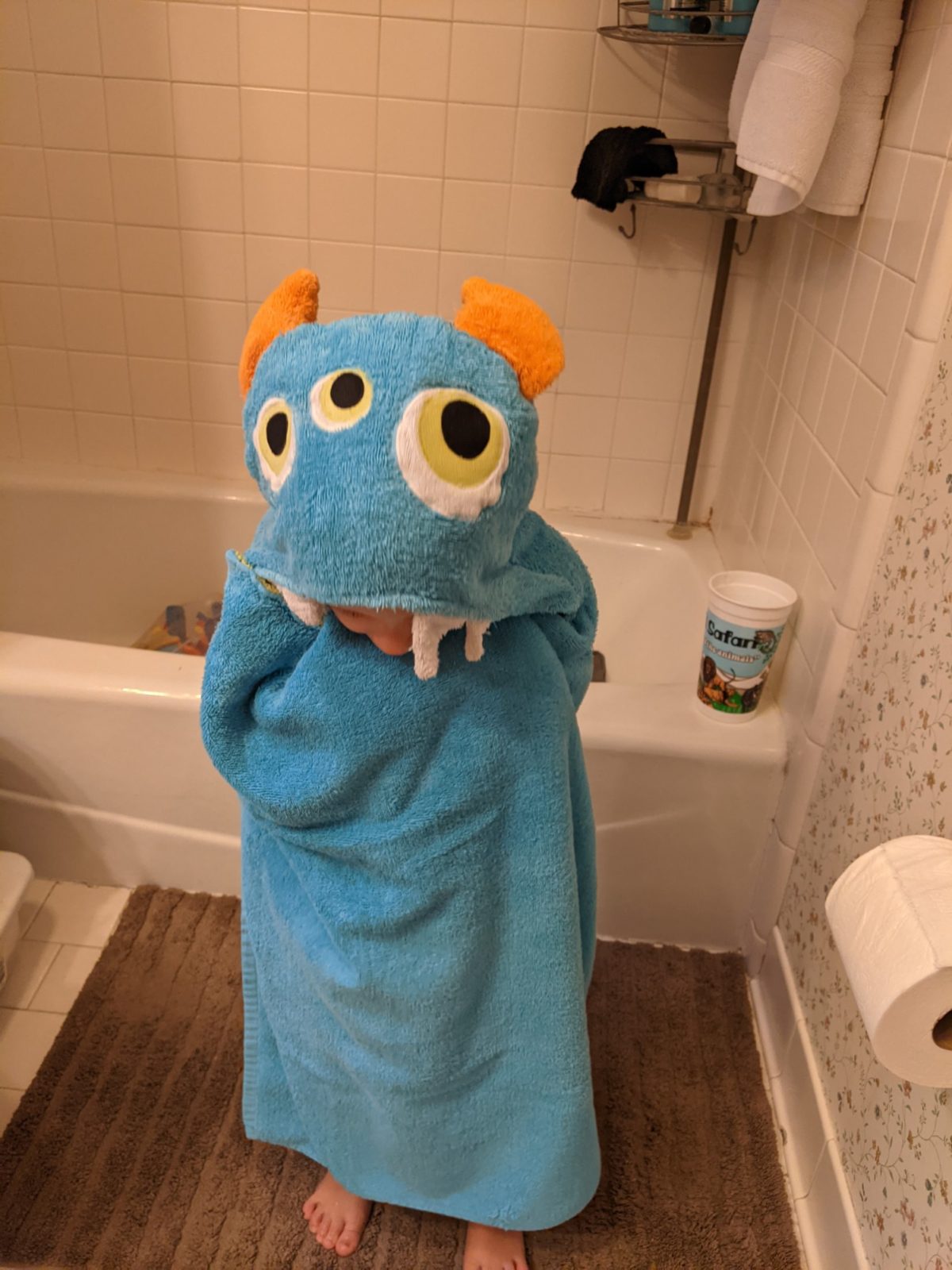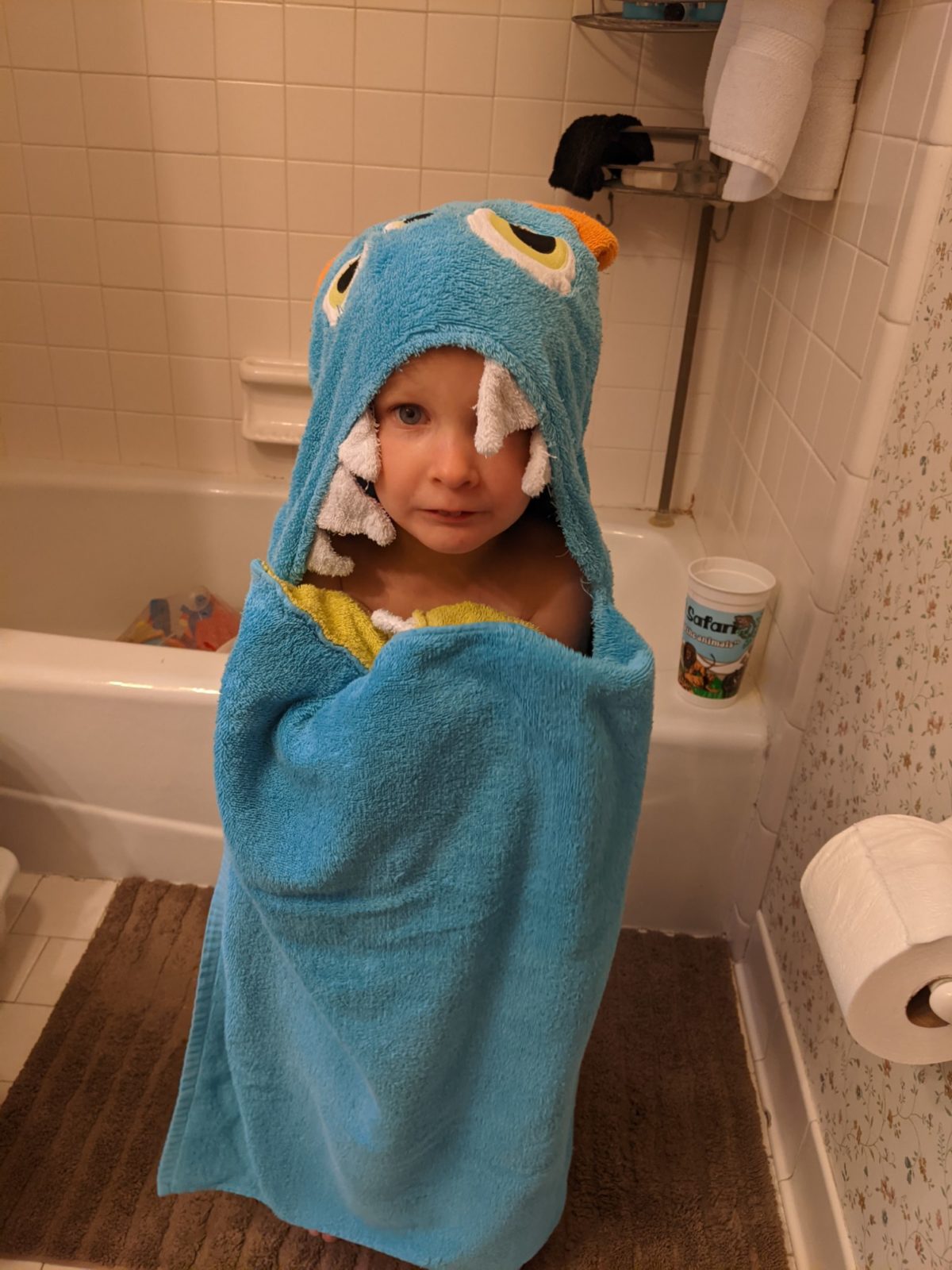 Right as we pulled out of the driveway at Jeff's parents' house, I got a text notification that we were in a tornado watch. I told Jeff as he walked to his car (we have to drive two cars to fit all six of us), and Emmie heard me, and had a million questions on the way home. She said something about the hot lava "kasploding" so then I had to explain the difference between a volcano and a tornado. I showed her a quick tornado video on YouTube at a stoplight, and I think she understood then, but she kept talking about a volcano "kasploding," and I loved the way she said that.
It was past her bedtime once we finally got home, but she did great at bedtime, and was sweet and easy and went down without a fight.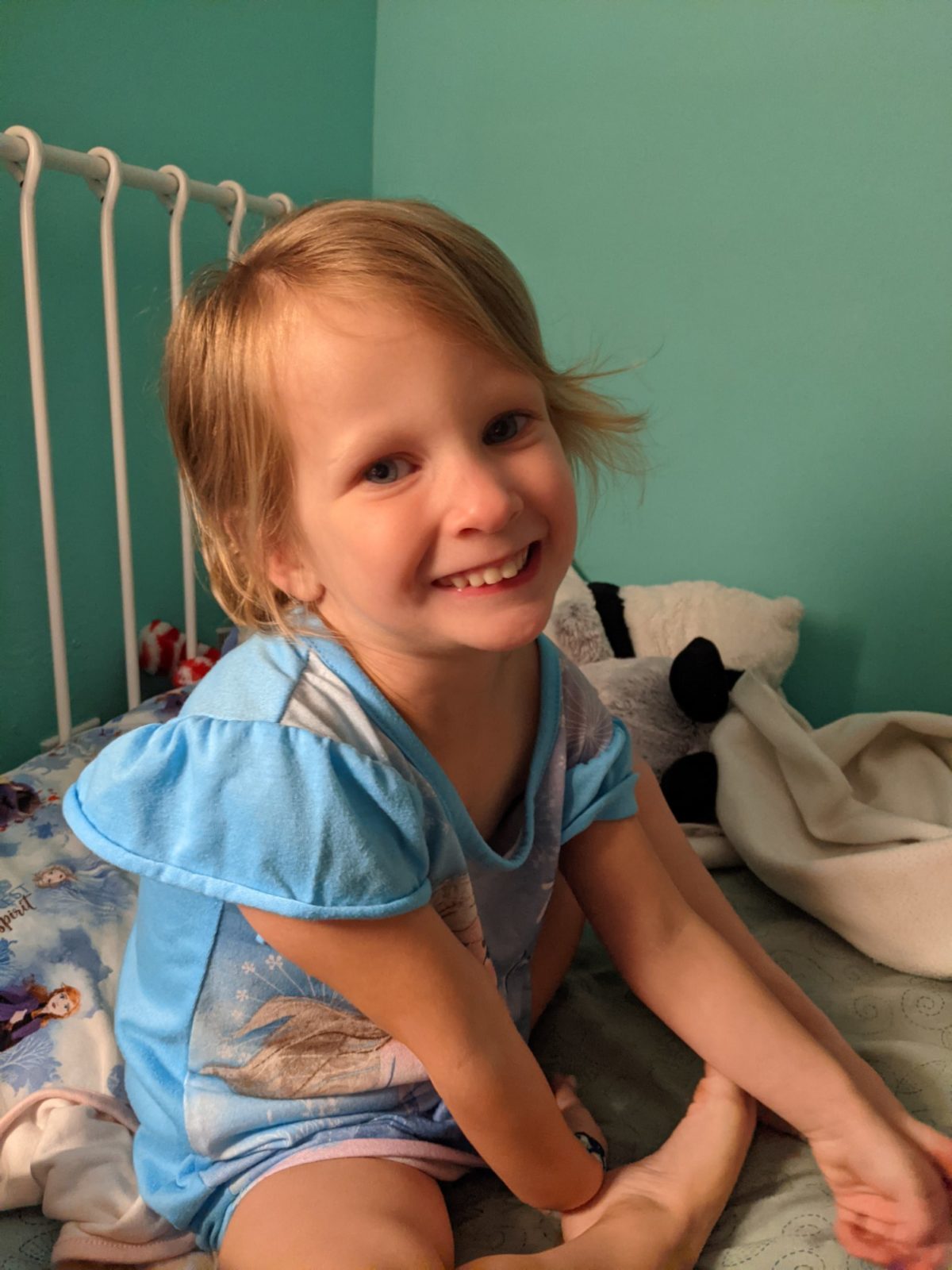 We didn't do a whole lot today, but I was glad for that. Hoping Addie-girl sleeps well tonight, so that I can get some good sleep too!