I love getting the most out of cute dresses, by putting little leggings underneath it like this. And I loved this combo today with her dino dress & sparkly white leggings. So cute! Especially with those little pink tennis shoes too.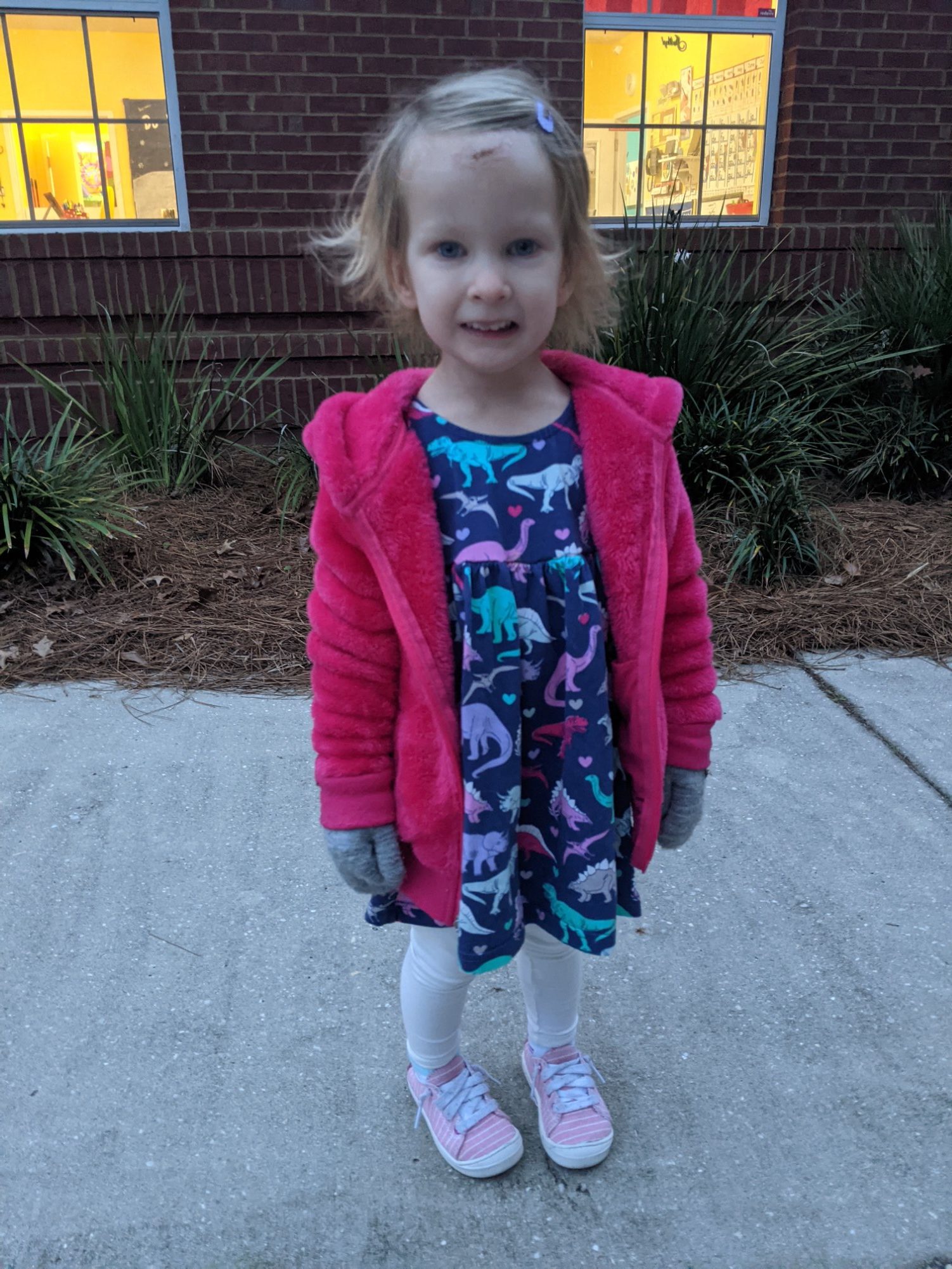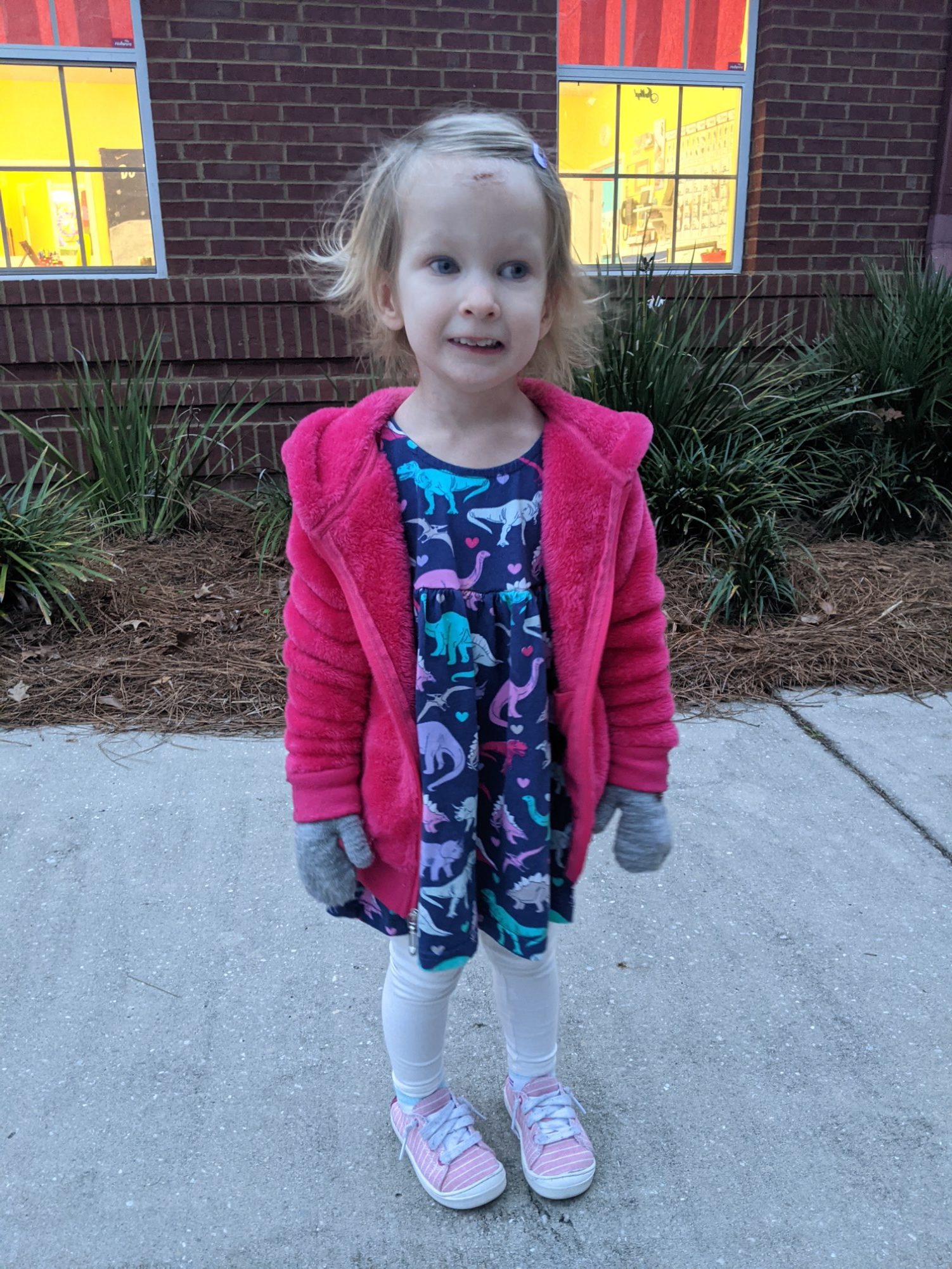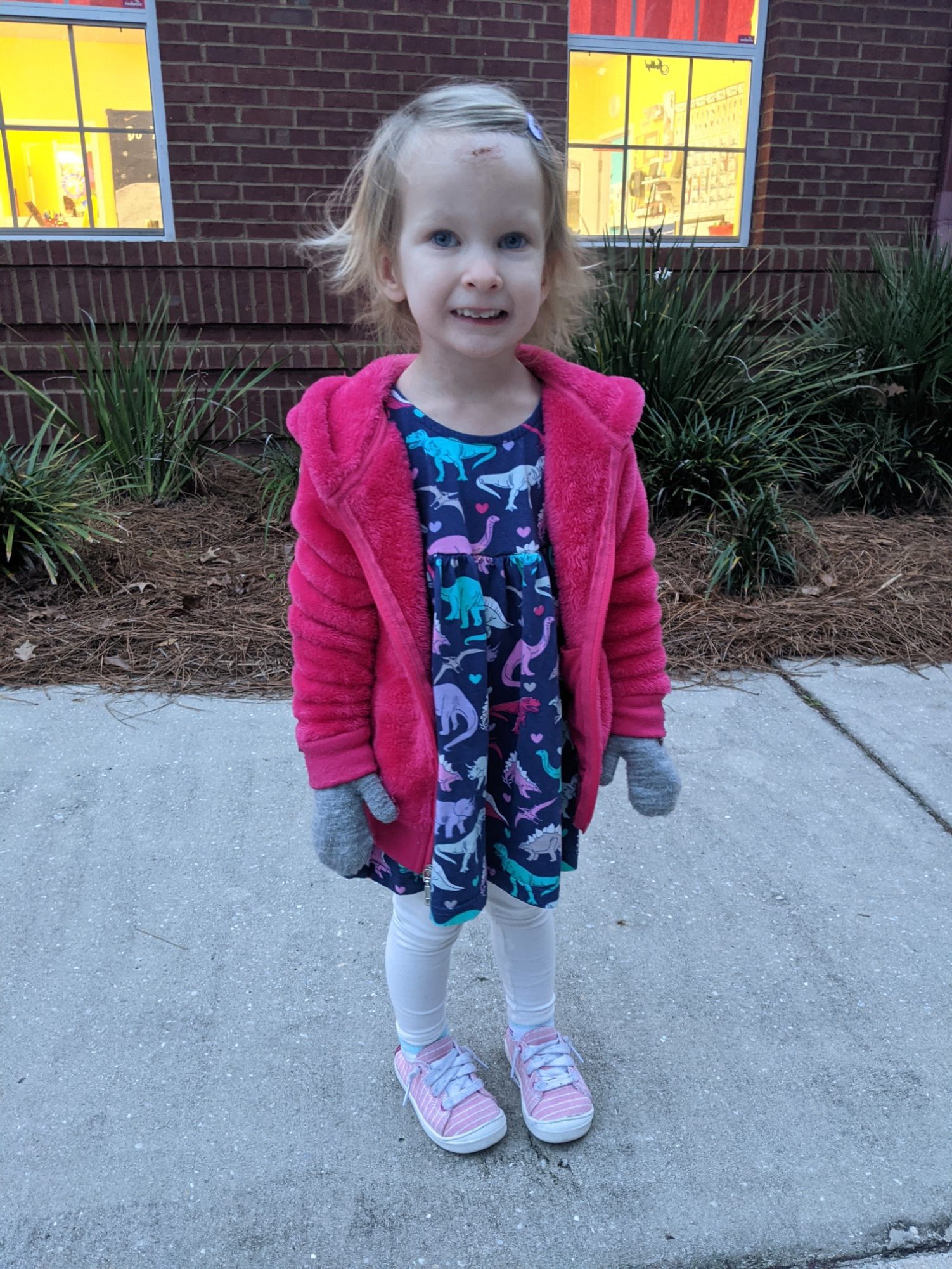 Last nights' leftover pizza and salad really hit the spot today, and I ended up eating not just these two pieces of pizza, but two more pieces after that. It was sooo good, and I was hungry today!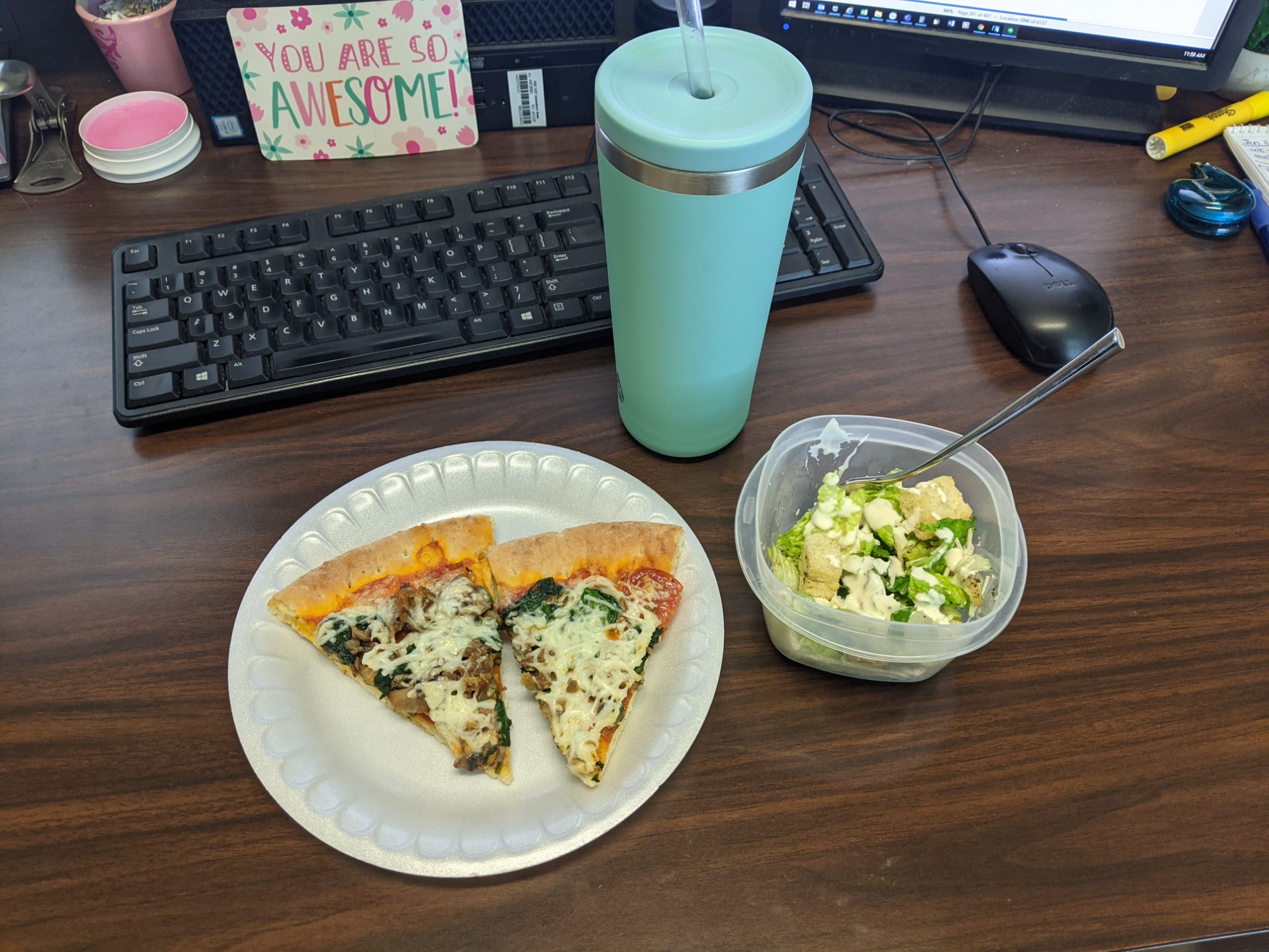 Little Bit may have only taken a short tiny nap today, but other than that, she had a good day, and was so excited to see Mommy at pick-up, as usual!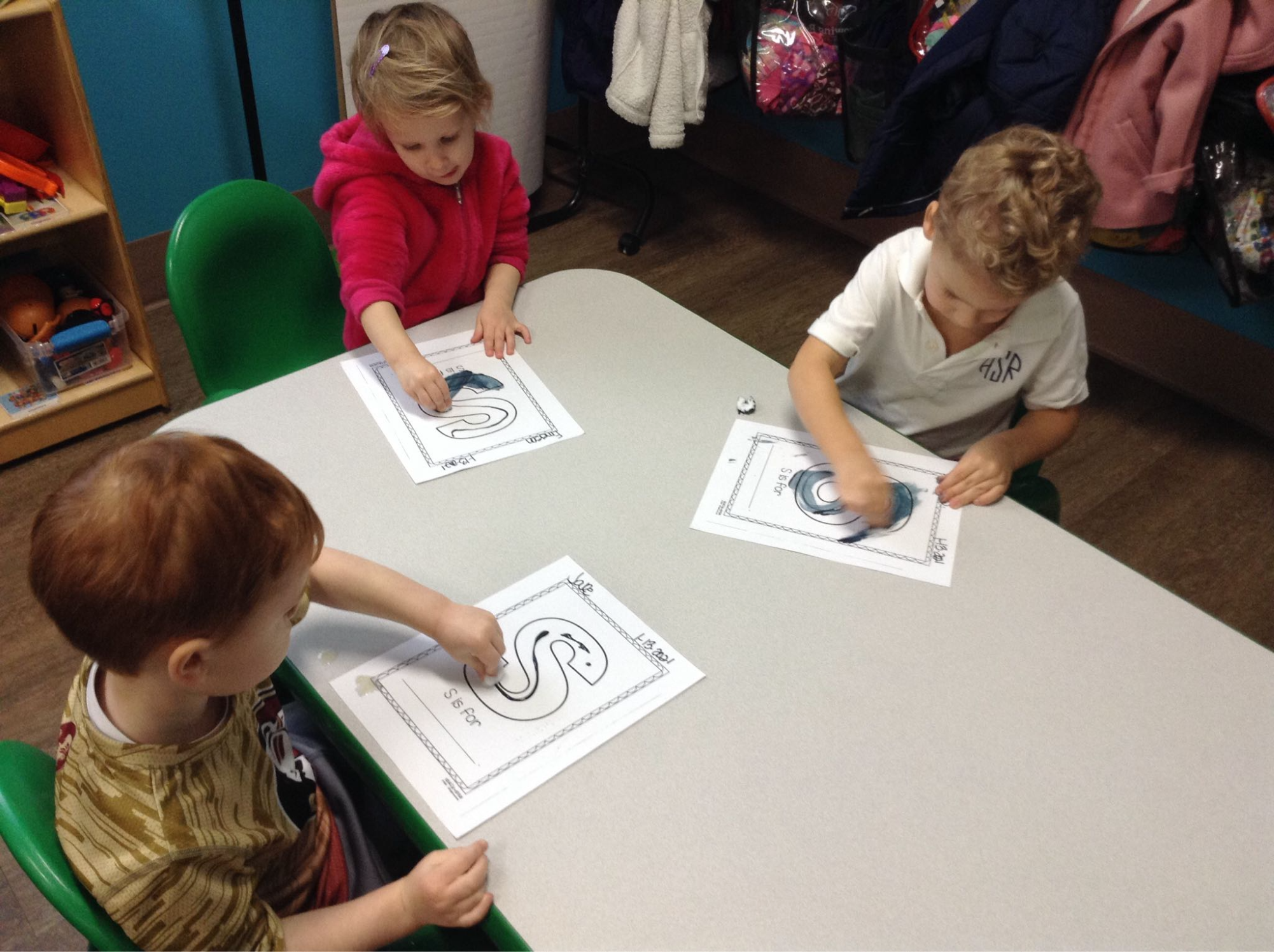 She wanted to try to buckle her own seatbelt today. She did pretty well but couldn't quite get the bottom one in, so I had to help her a little. But she did actually do two of the three clips on her own.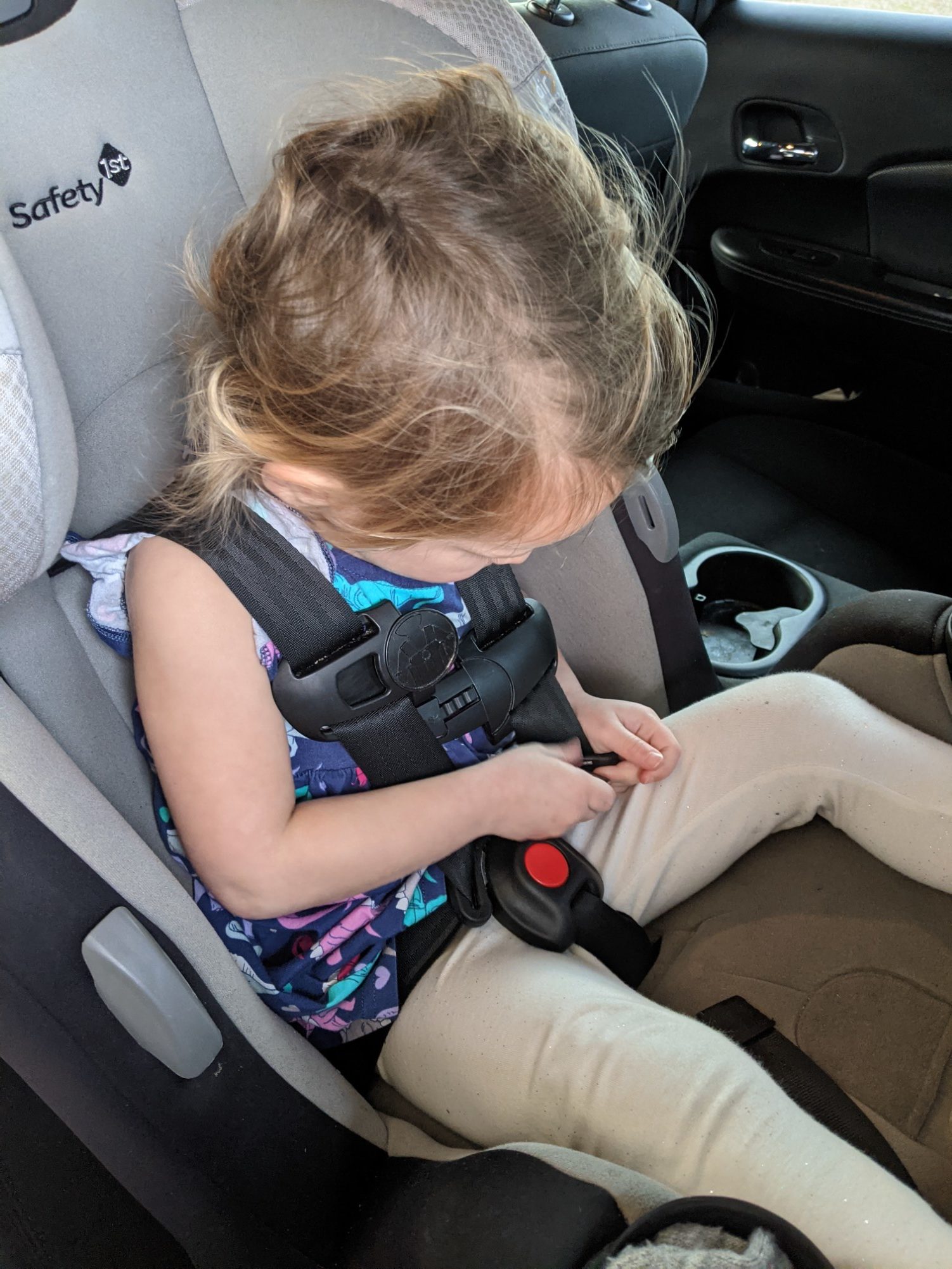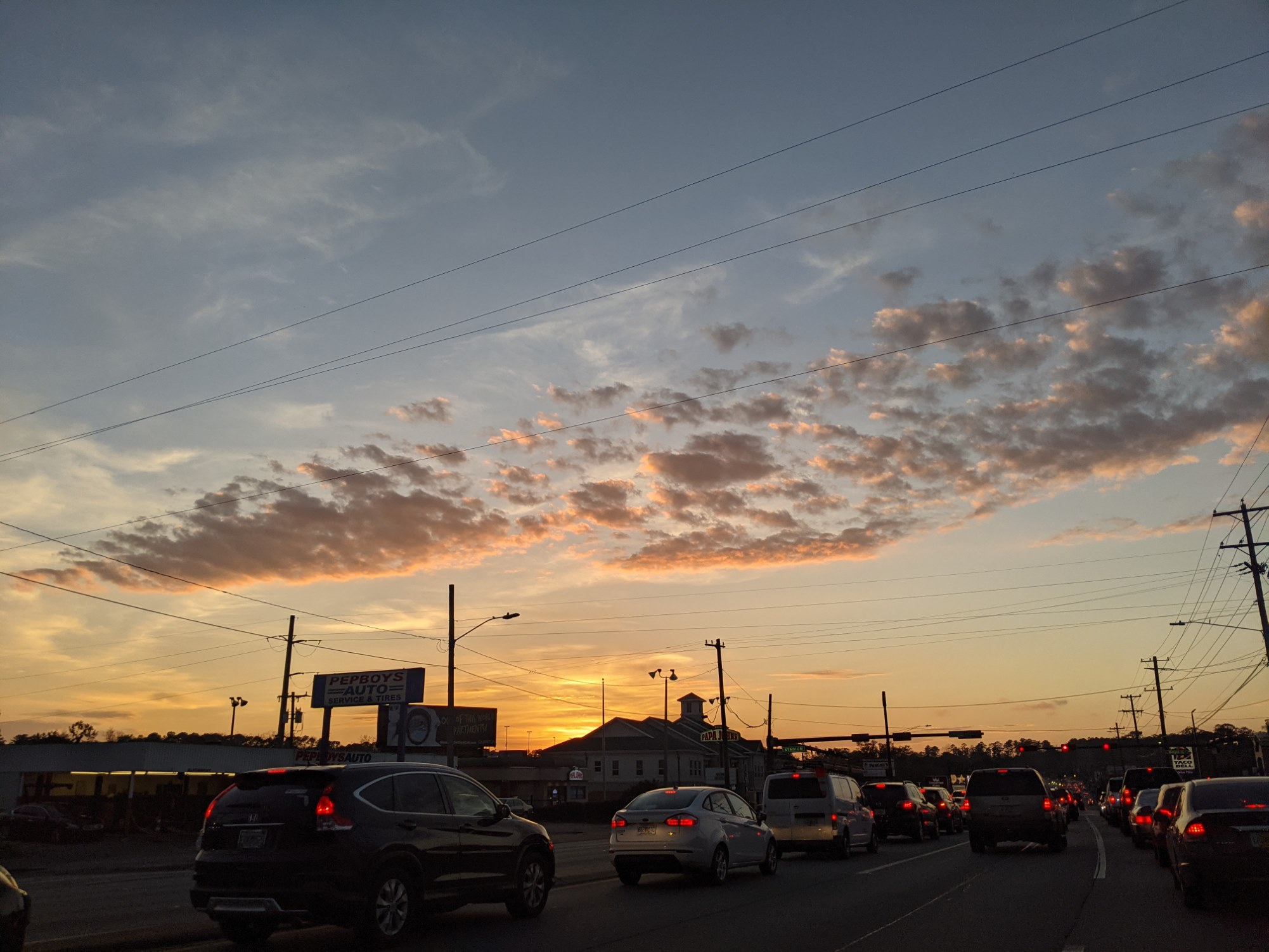 I didn't want to cook tonight, and we wanted to try one of the restaurants on the last Tallahassee Foodies Blitz list, so we got food from Chubby's. Neither of us had been there before, surprisingly, but we both loved it tonight. I was surprised when Jeff ordered a salad, but it came with rice & black beans & sour cream & guac, and it was soo good. I got the "classic" box four four fingers, and made Emmie her own box with some of mine. My box came with one sauce, but they have so many good ones, that I paid 50 cents each to order three additional ones. Emmie ate her whole chicken finger, and I ate two of the three fingers and half the fries, and was stuffed. We saved some leftovers that Jeff will eat tomorrow, but we really loved it all!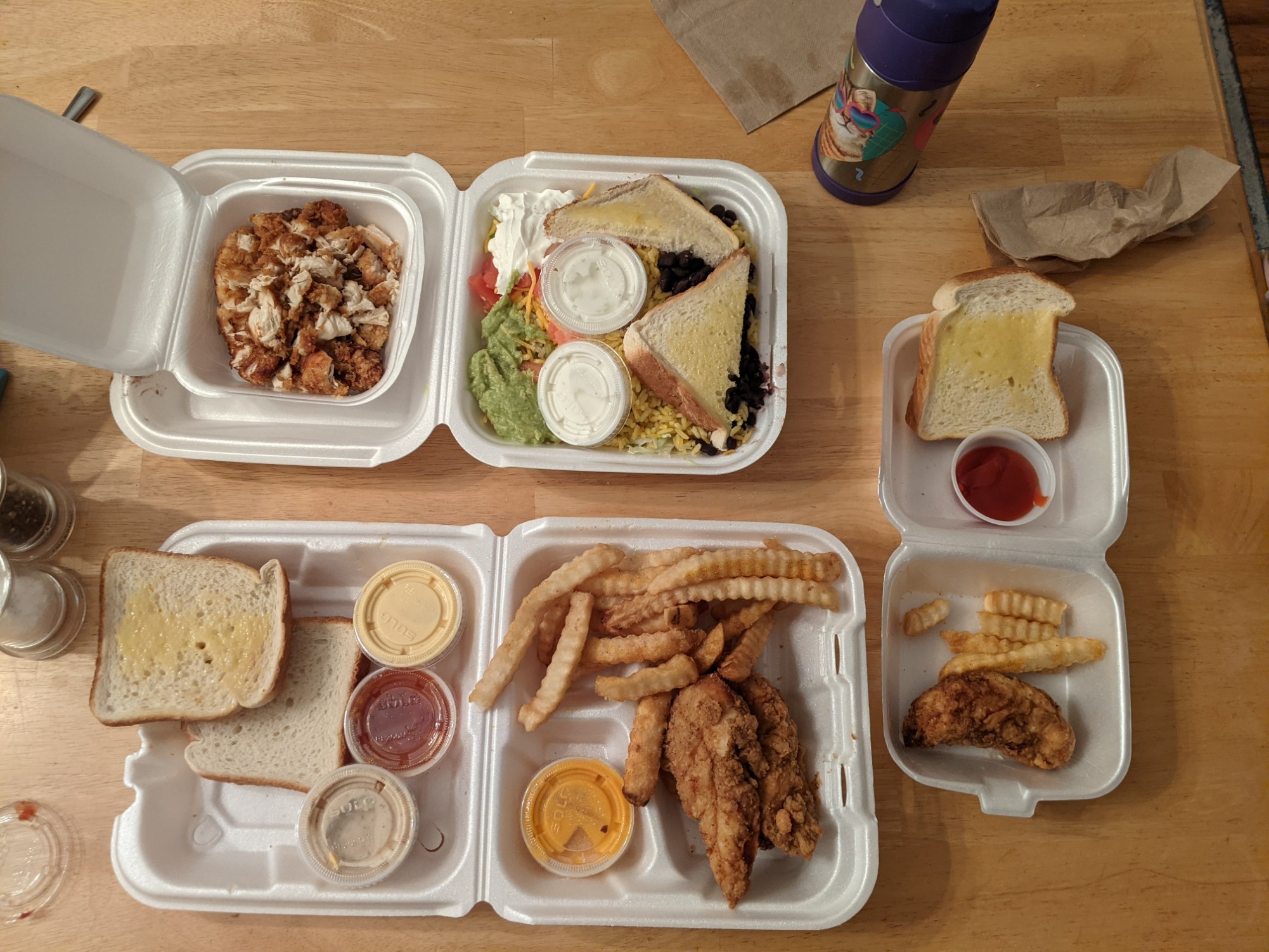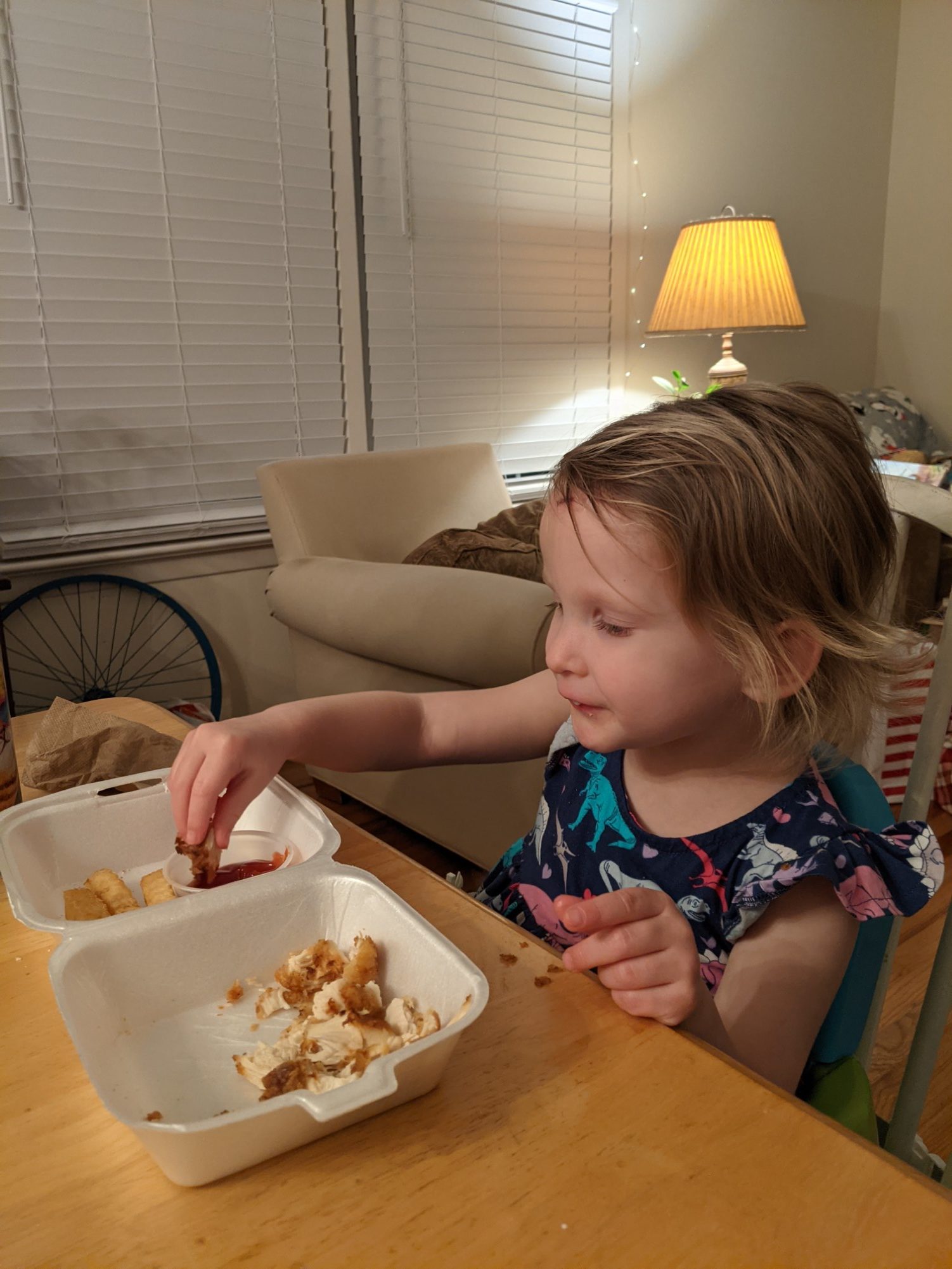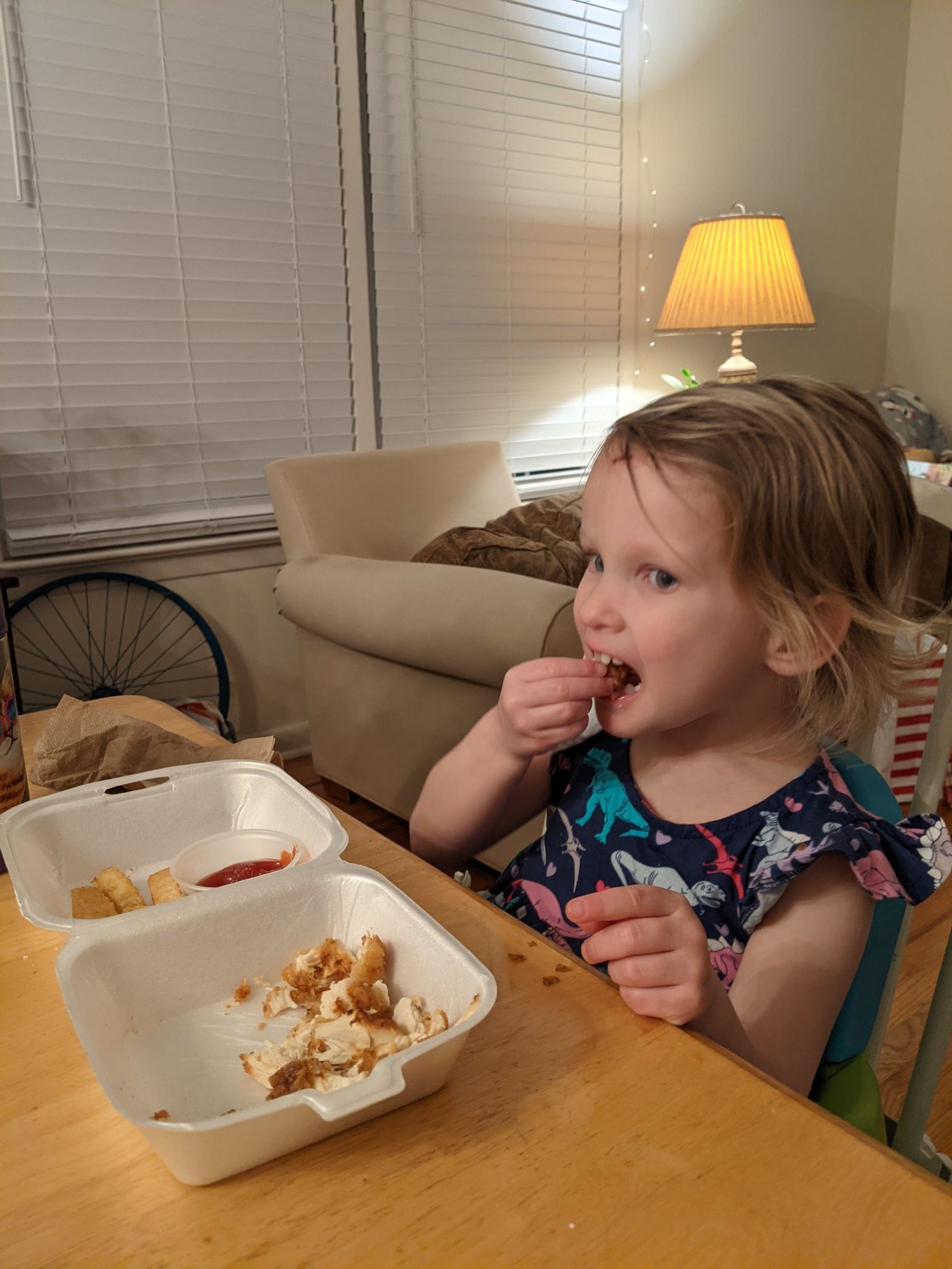 These two were being so silly and doing a million high fives and Jeff was moving his hand in circles with Emmie chasing it around trying to catch it for another one. It was silly and she thought it was the funniest thing.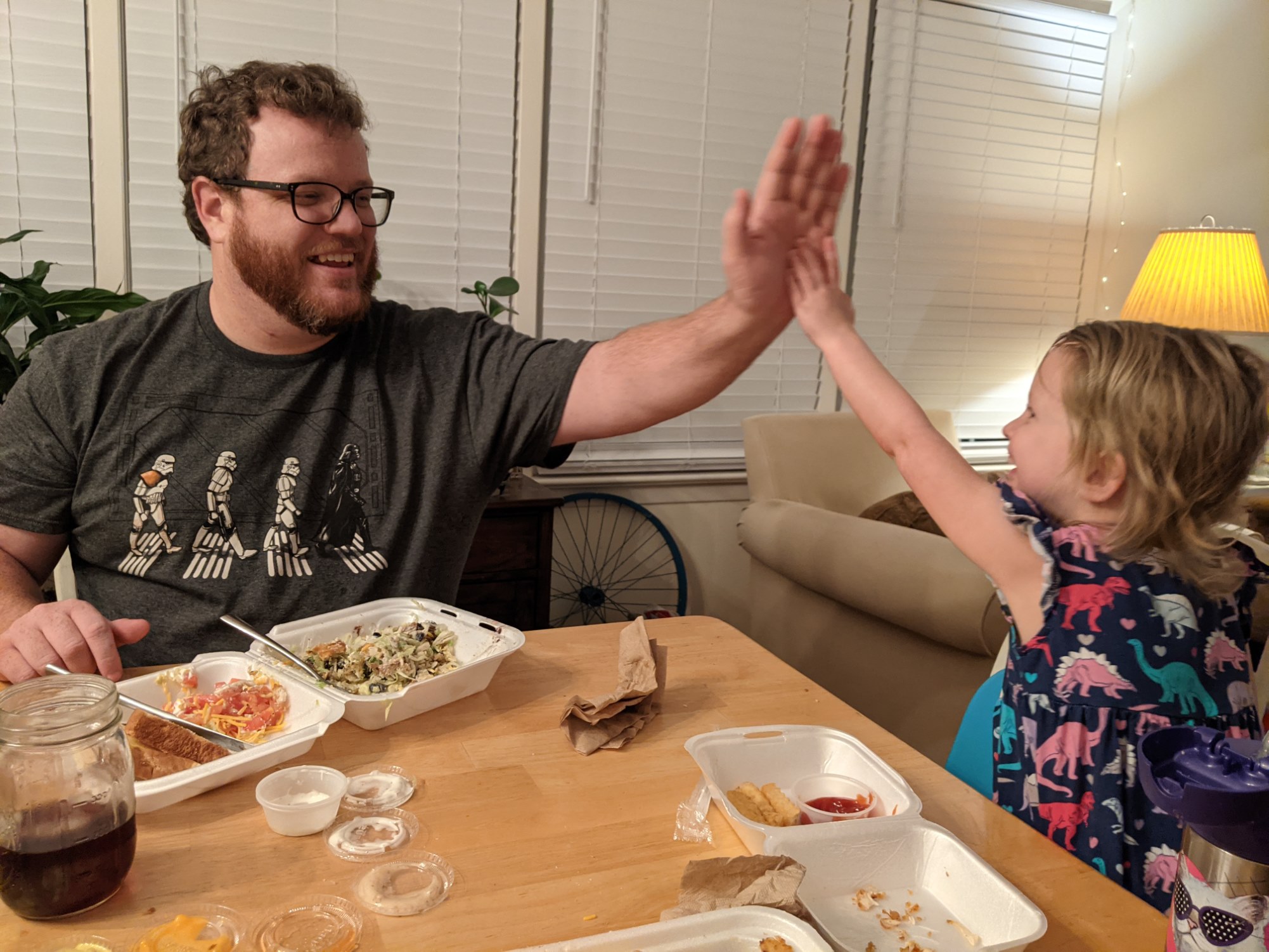 She had a little cotton candy for her after-dinner dessert, that Jeff and the boys had picked out for her a Buccee's a few weeks back, that she's been munching on occasionally since then.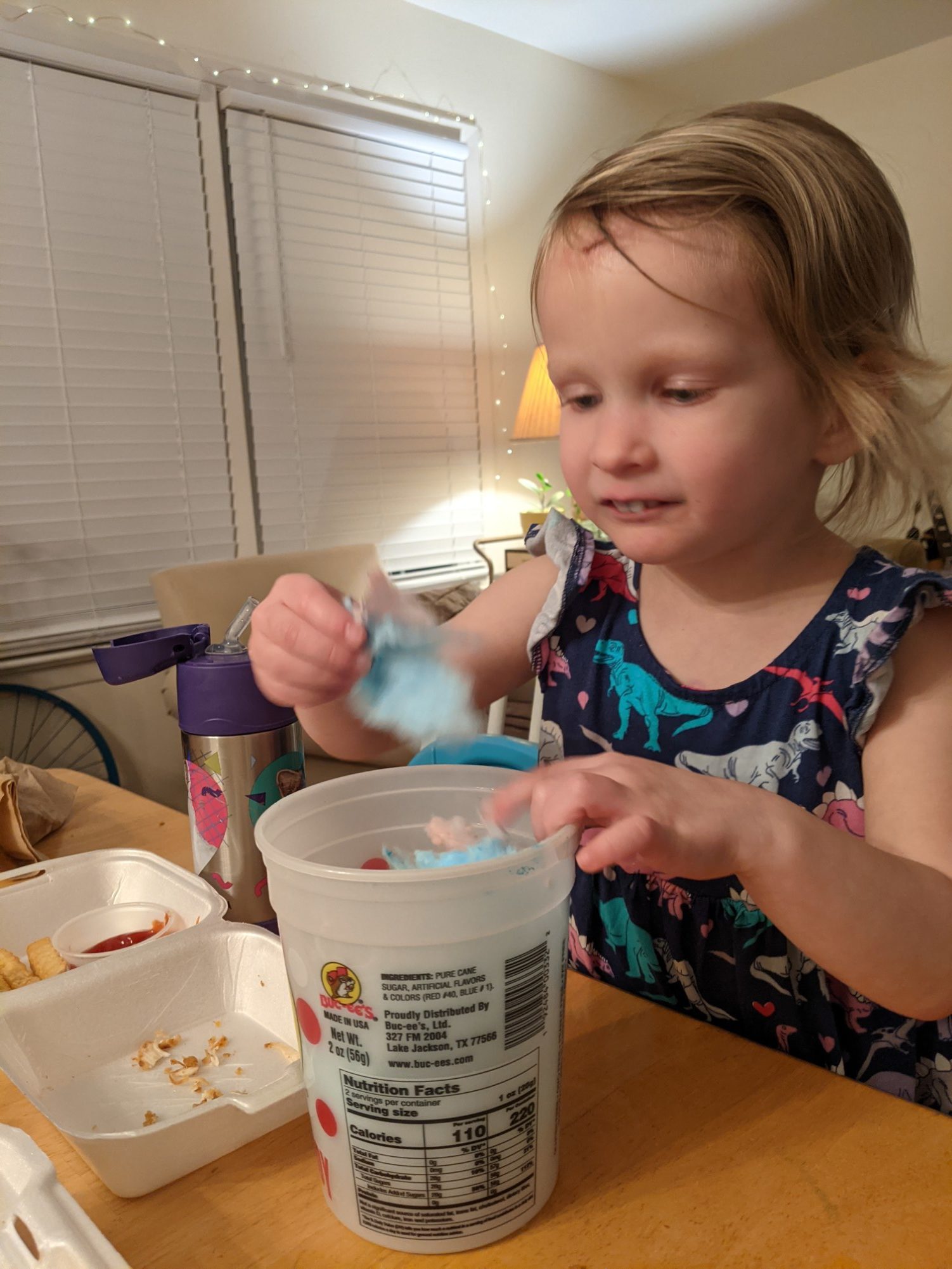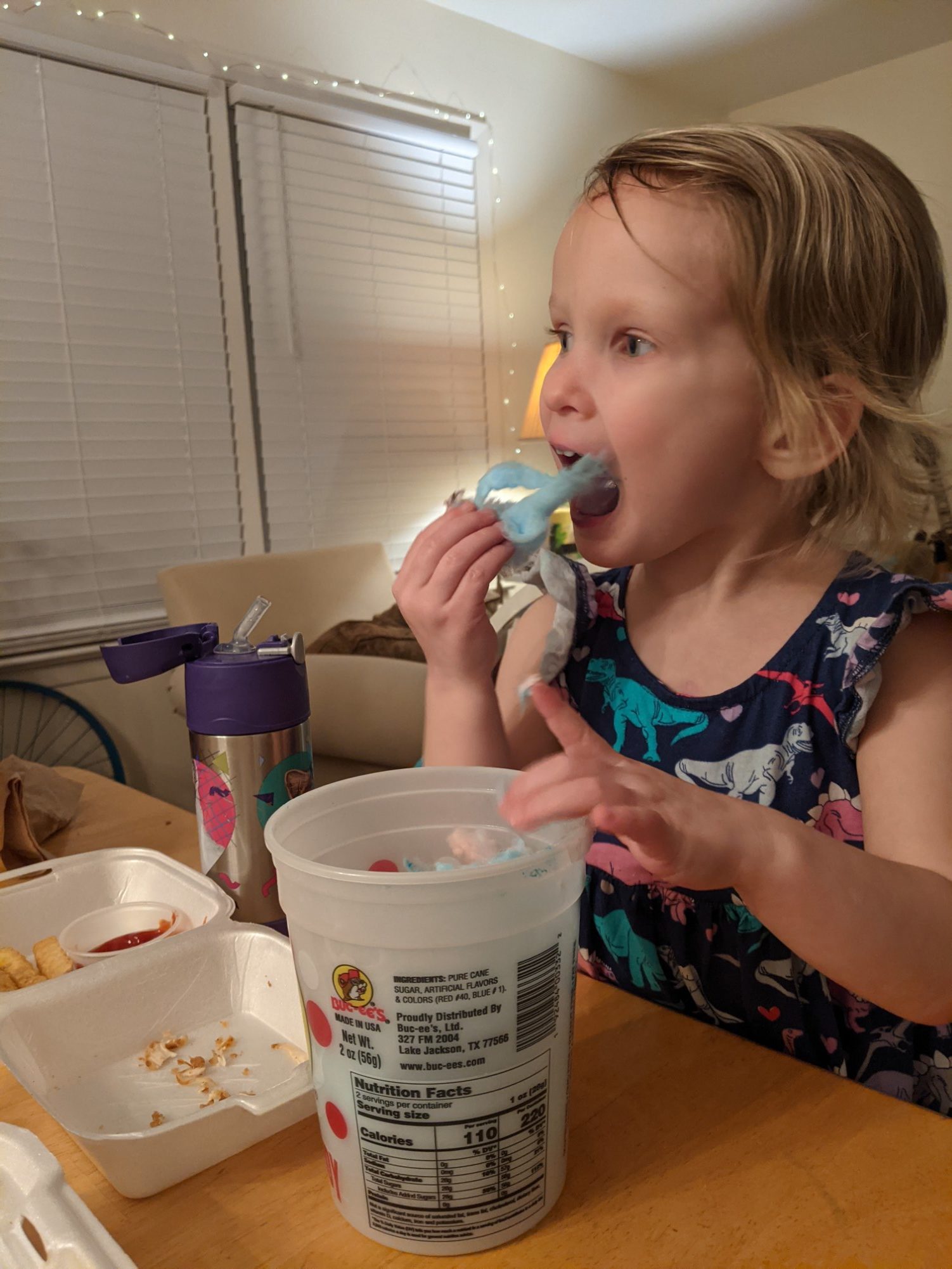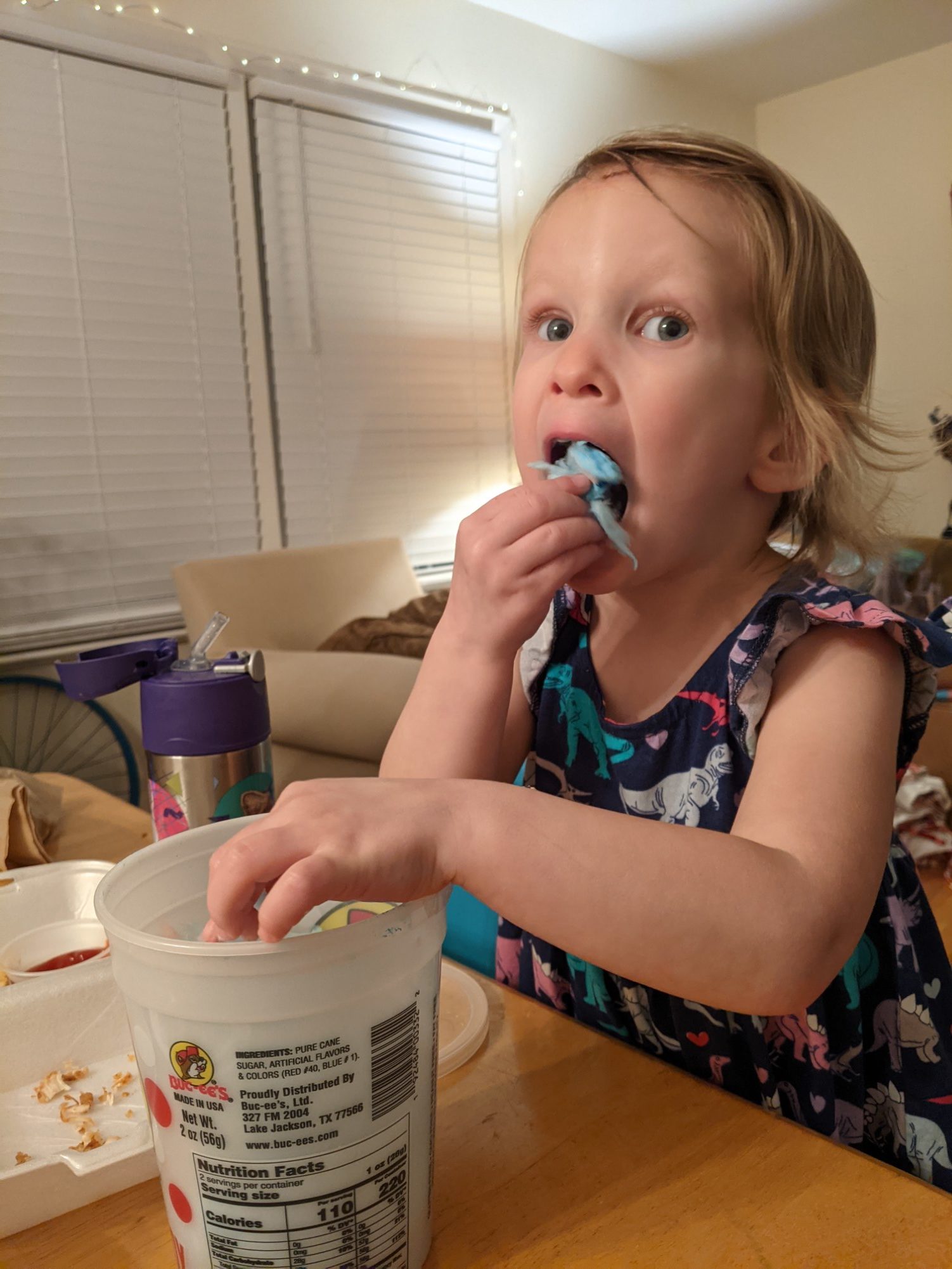 She wanted to play her "guitar" tonight, so she settled down in her rocking chair and made up sweet songs and pretended she was singing to her baby and putting her to sleep. It was super sweet and also funny. So I just grabbed my Kindle and finished up my book while she sang and played.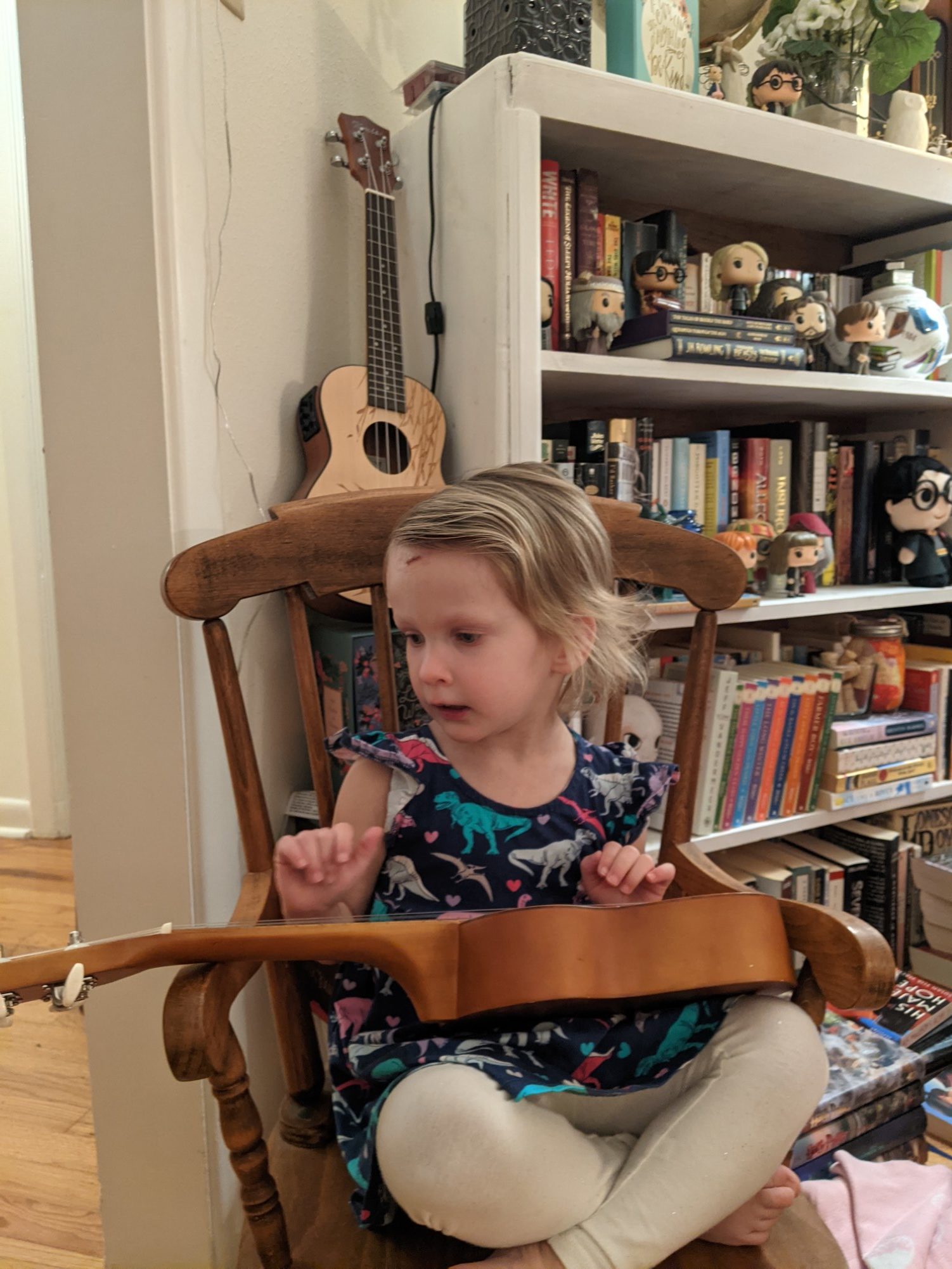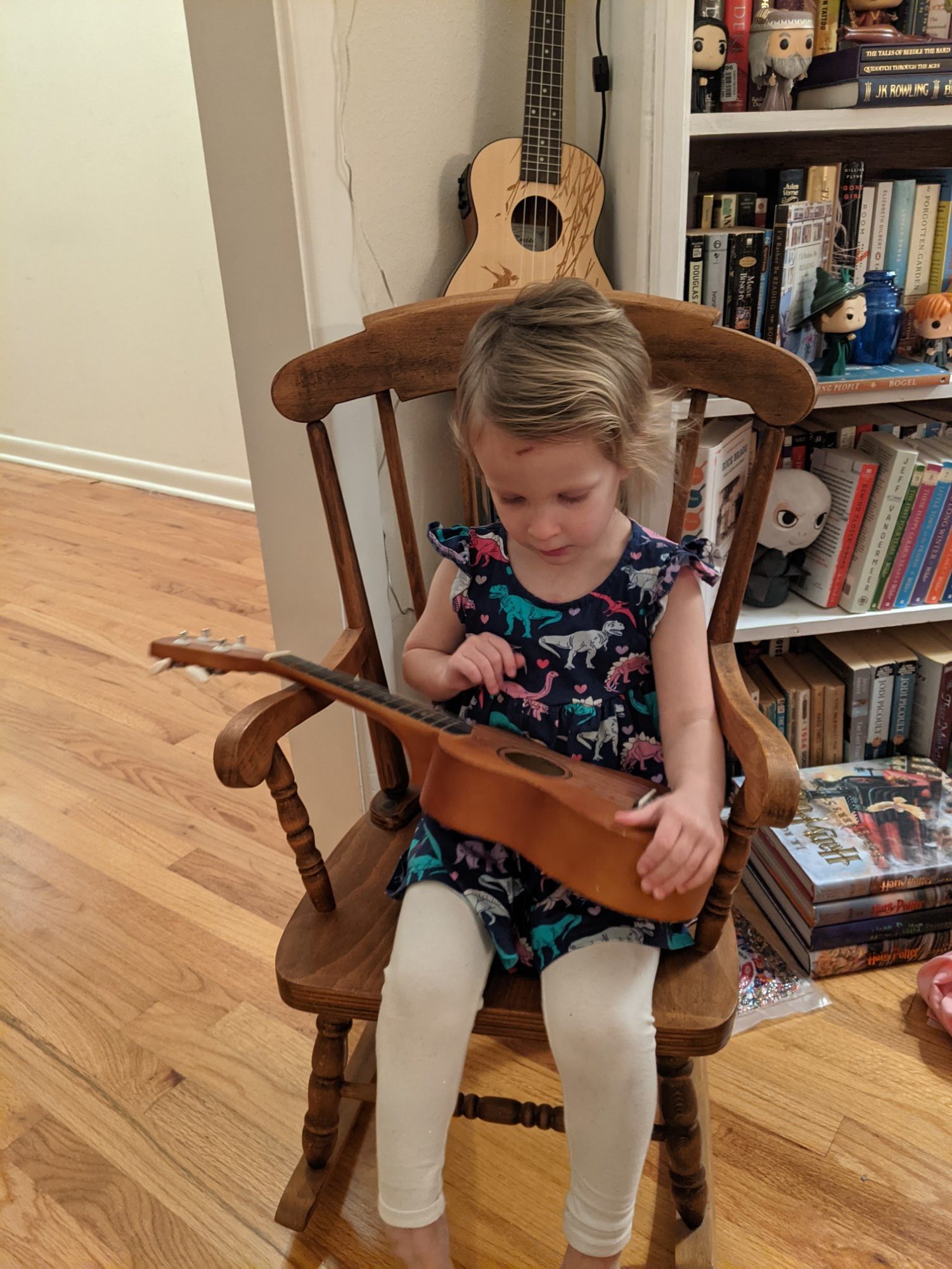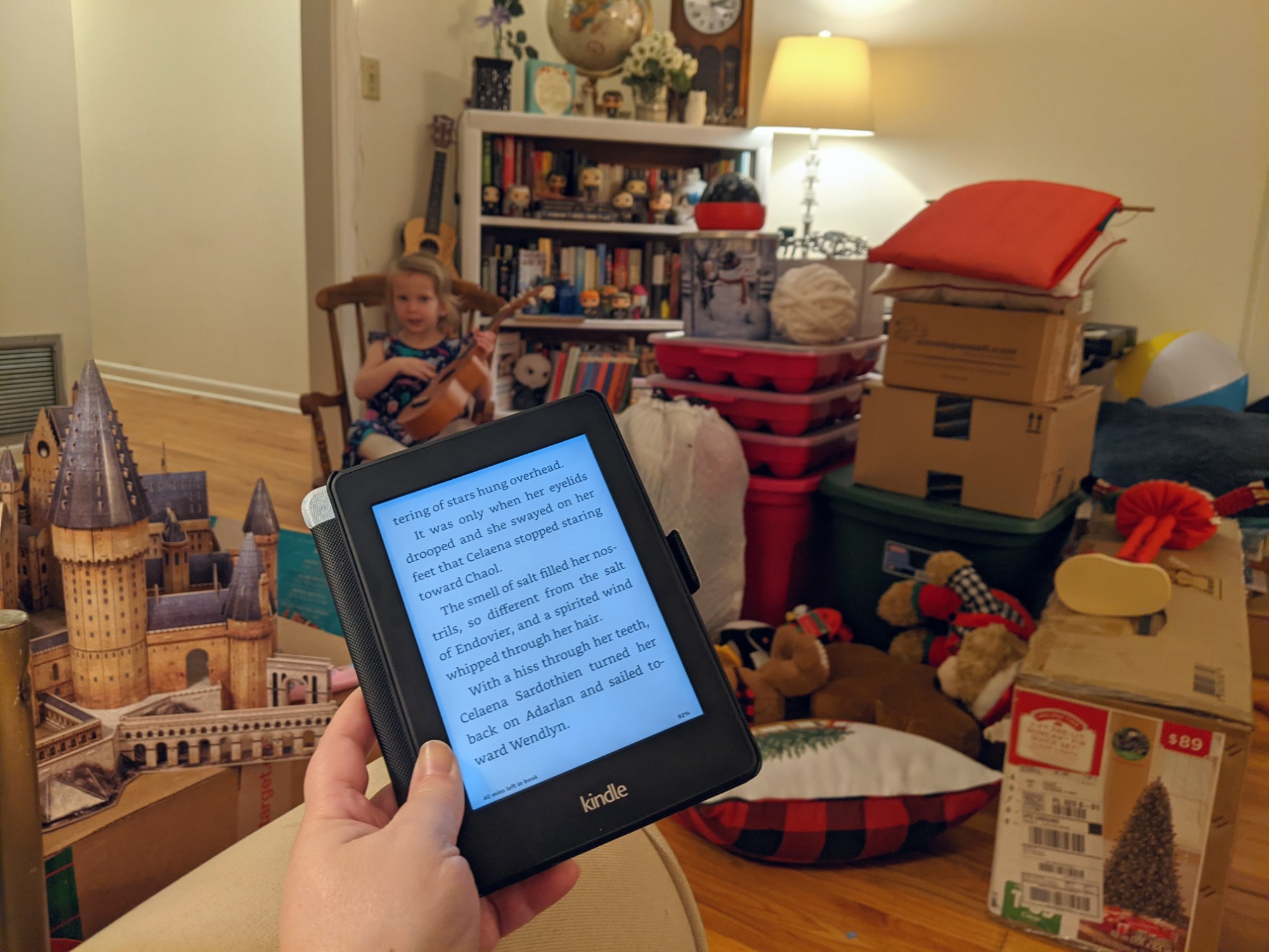 And then we put away all the Christmas stuff! We had packed it up and piled it up nicely a few days ago. But tonight, we finally got it back up in the top of the boys' closet, and I was so proud of us 🙂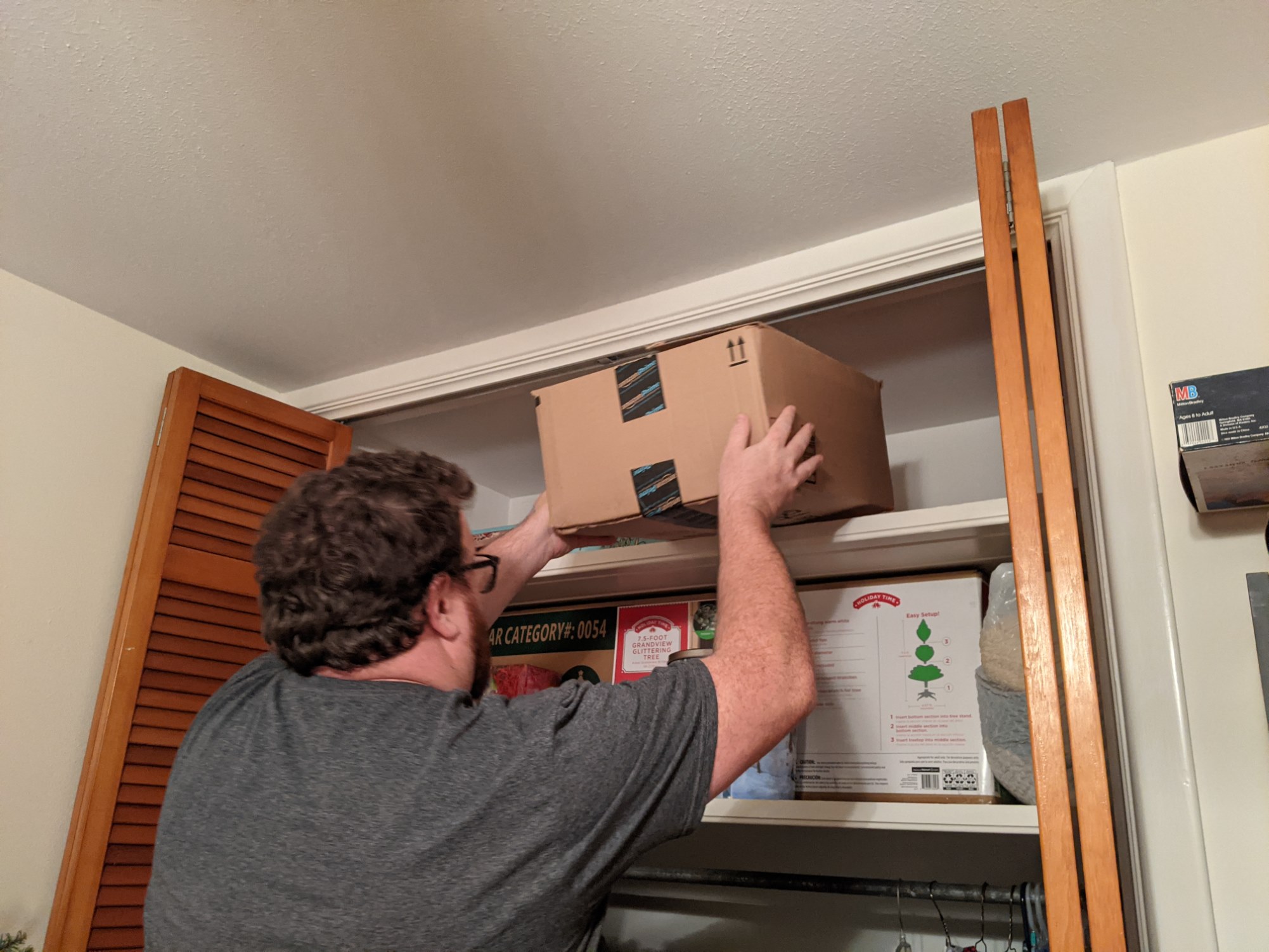 We started on Emmie's bedtime a little earlier tonight due to her short nap, hoping we could get her down without an issue. Things went fine, but I really kinda hated this book we read tonight. It was one of the ones she picked out from school yesterday, and sheesh. Parts of it rhymed, most of it didn't, there were a bunch of sentence fragments, and overall it was just awful. Gonna try to return that one to school quickly 😉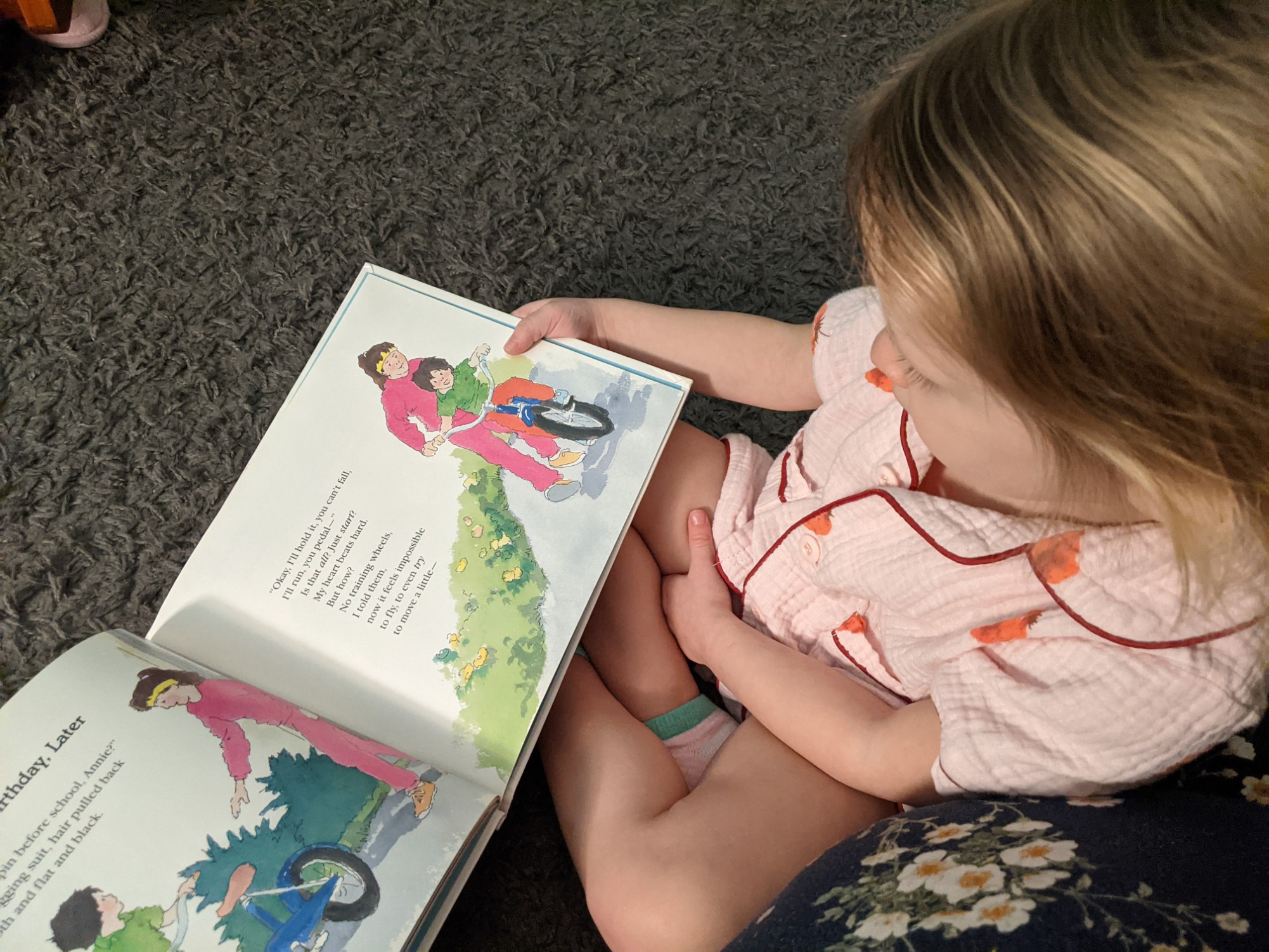 I put one clip in her hair to hold it back for ointment on her boo-boo, and she decided she needed to put in a second one as well, and wanted me to take a picture so she could see it.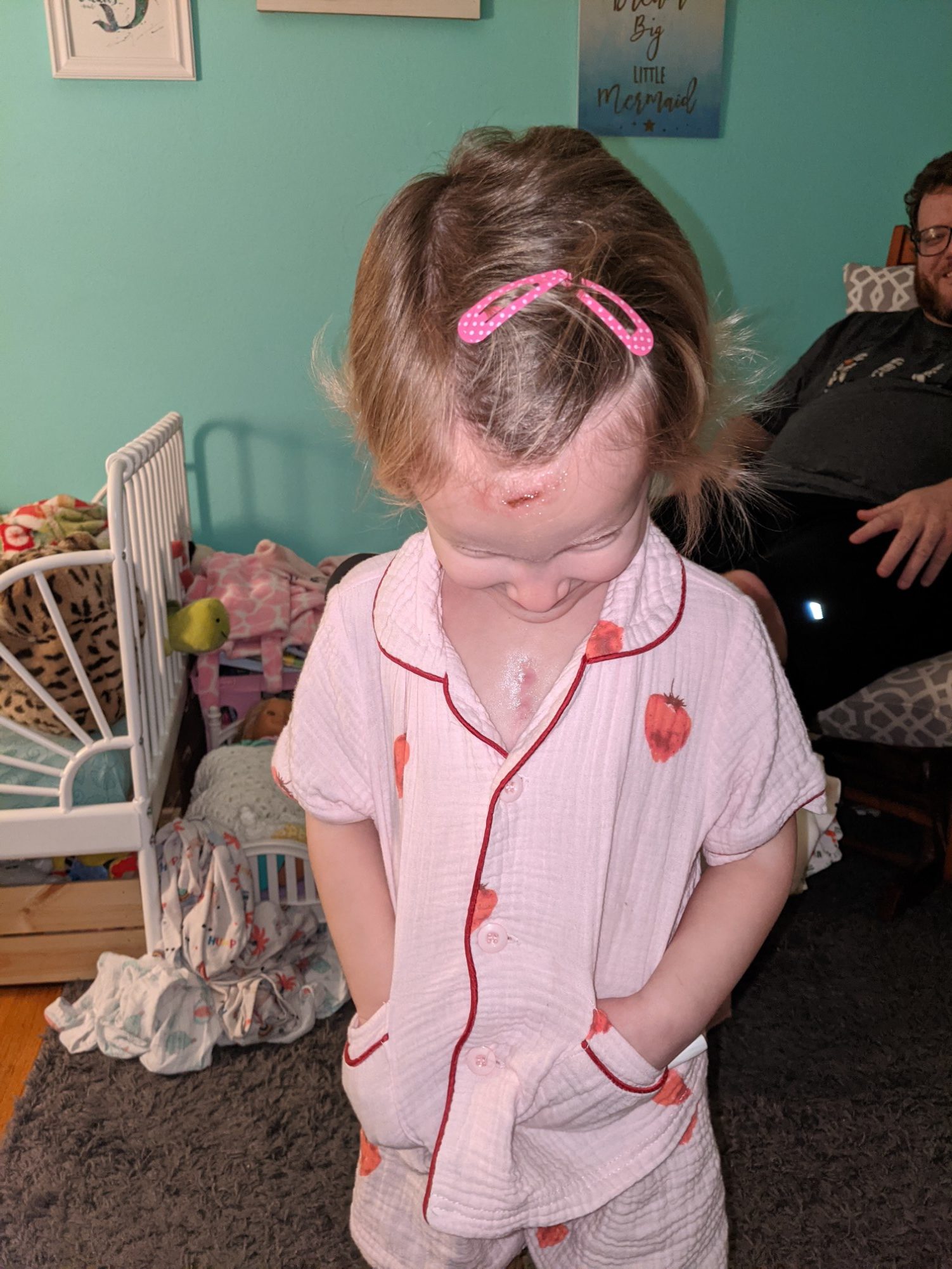 And then she wanted to take a couple of silly-face-photos as well.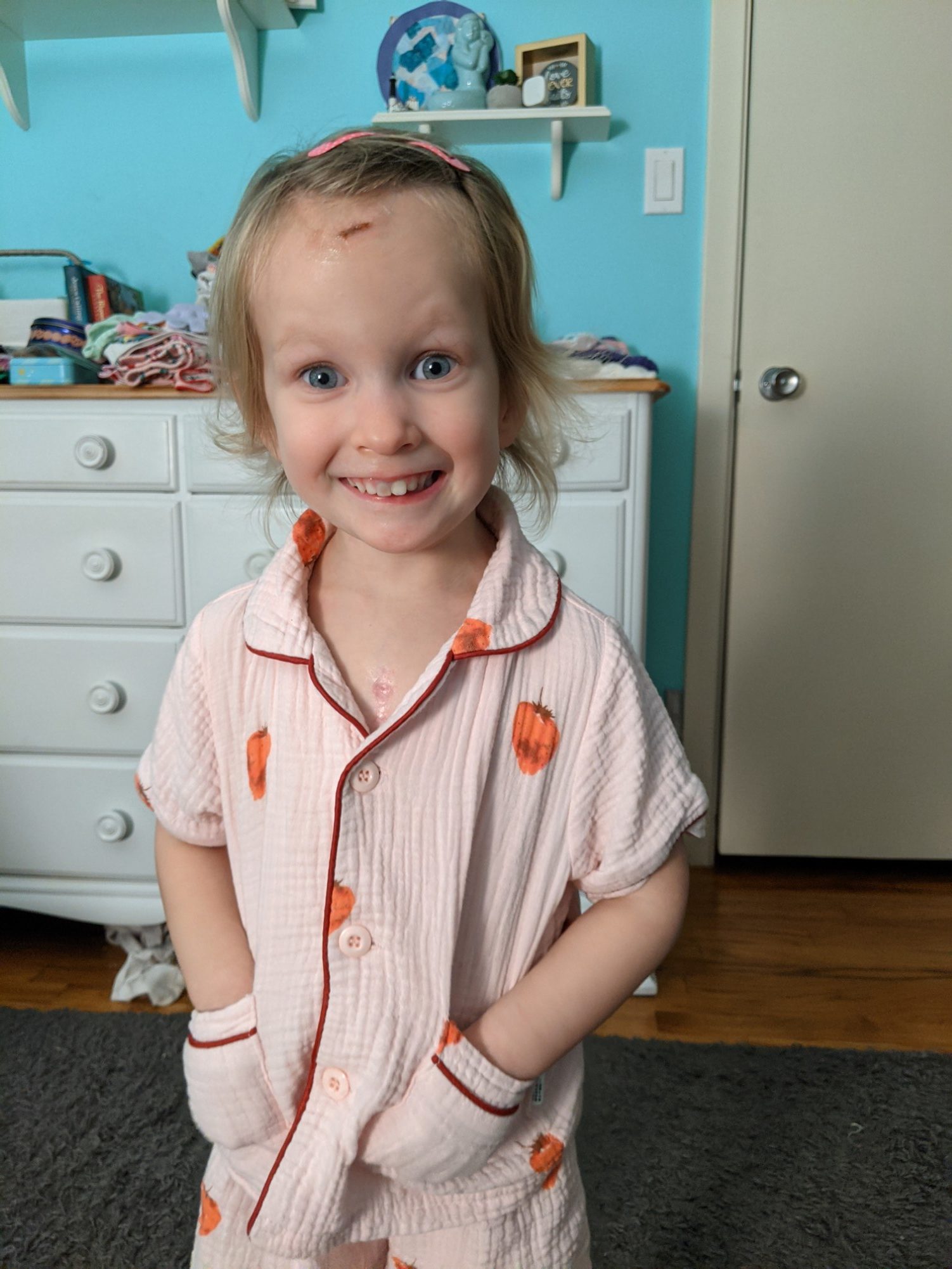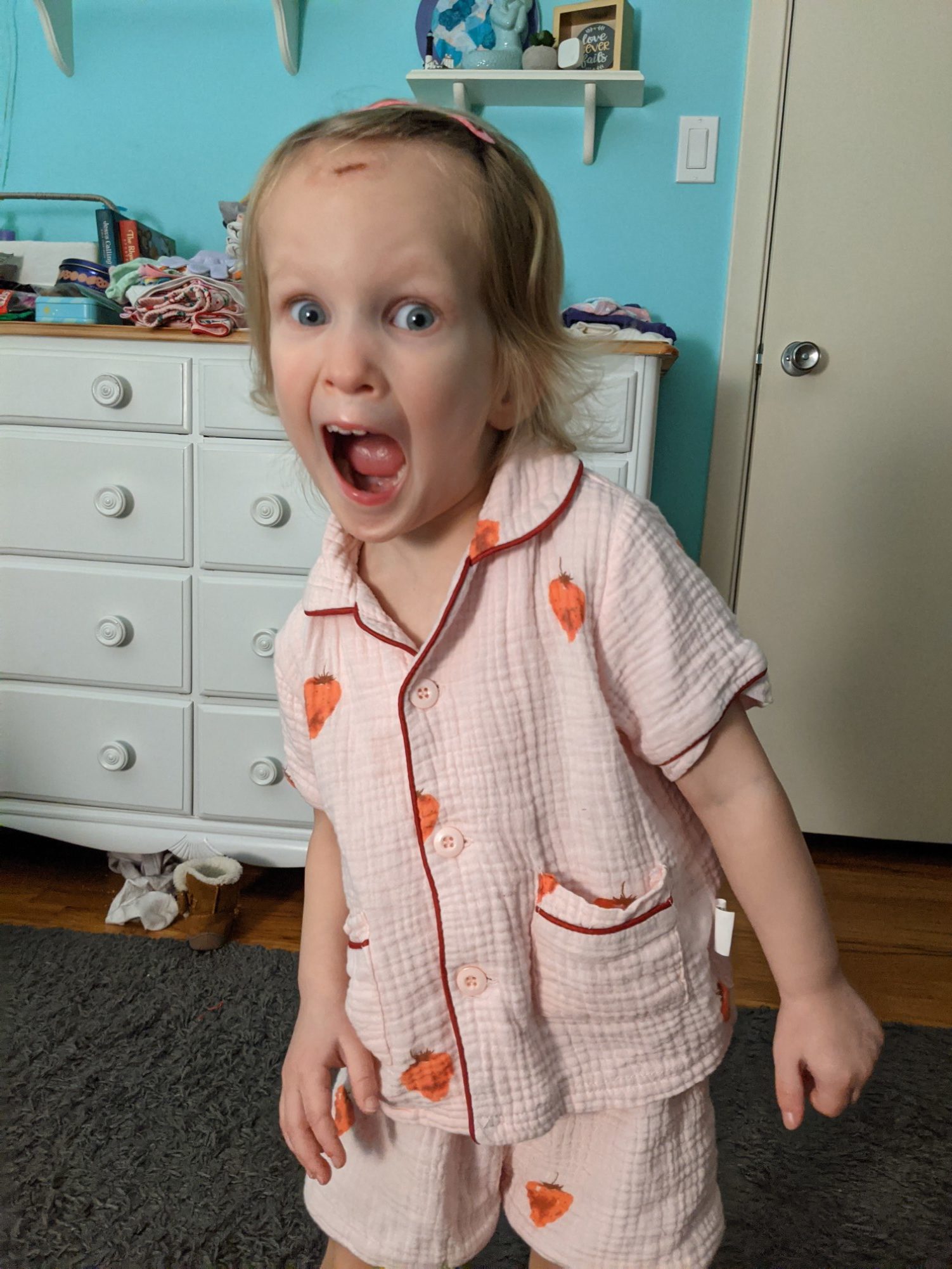 She did pretty good (just a bit of minor whining) and then she was out for the count. I spent 10-15 minutes washing up dishes and then watched the season four finale of Dawson's Creek while writing this post. I'm still stuffed from dinner, so I don't need a snack, but it is time to go sit down to chill out for a while before bedtime.