Felt super cool this morning making Pioneer Woman's recipe for "individual sausage casseroles." Which really just means sausage, egg & cheese muffins, with bell peppers. But they were so easy, and so good, and they were a hit with our Sunday school class. I will definitely make these again sometime, maybe for church or maybe just for us. But be warned, the recipe says it makes 18 muffins, but I clearly had 24! (We have just a few leftover, which will be so yummy warmed up in the toaster oven before work this week.)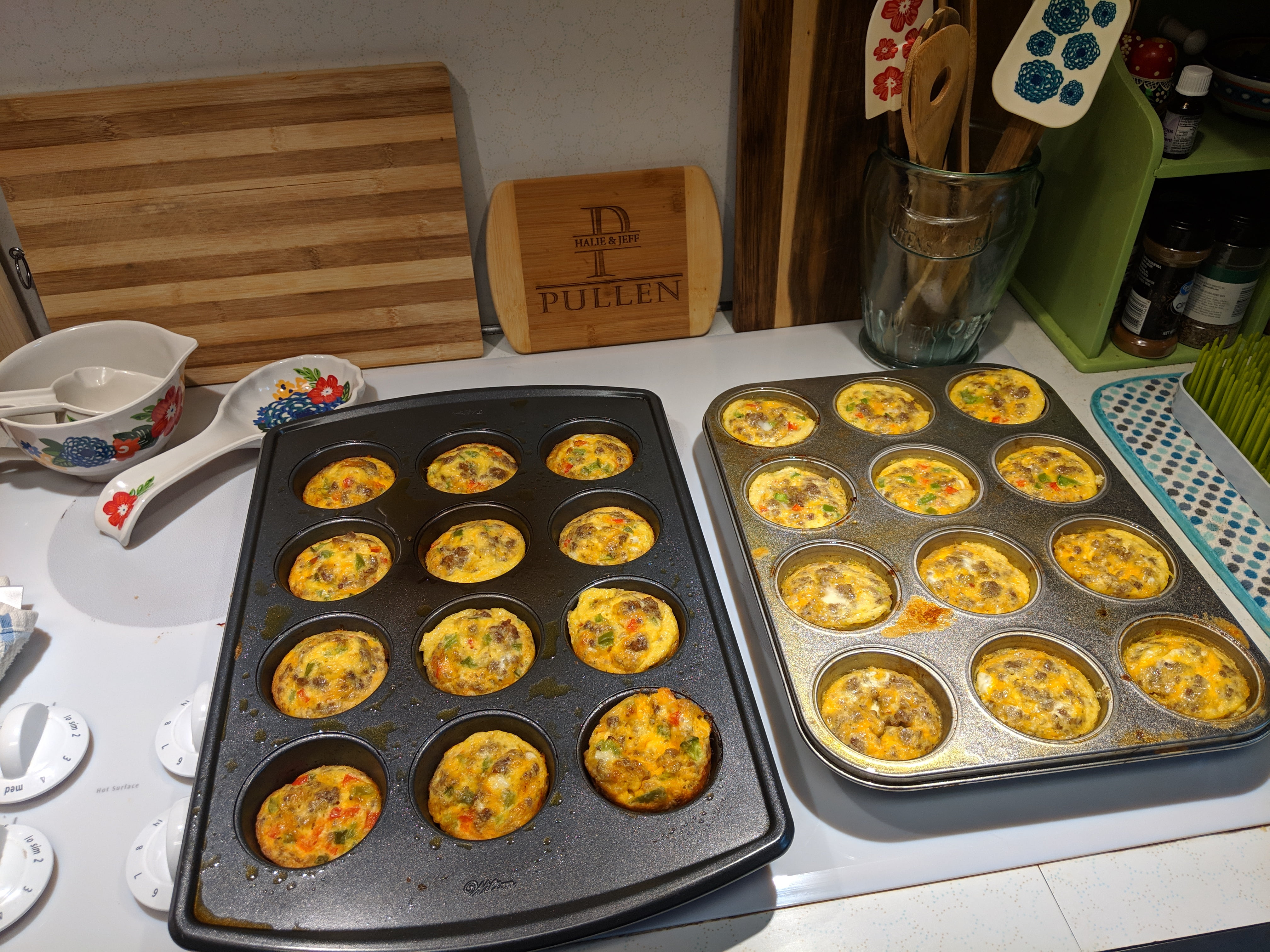 This sweet girl was being so adorable and smiley on the way to church.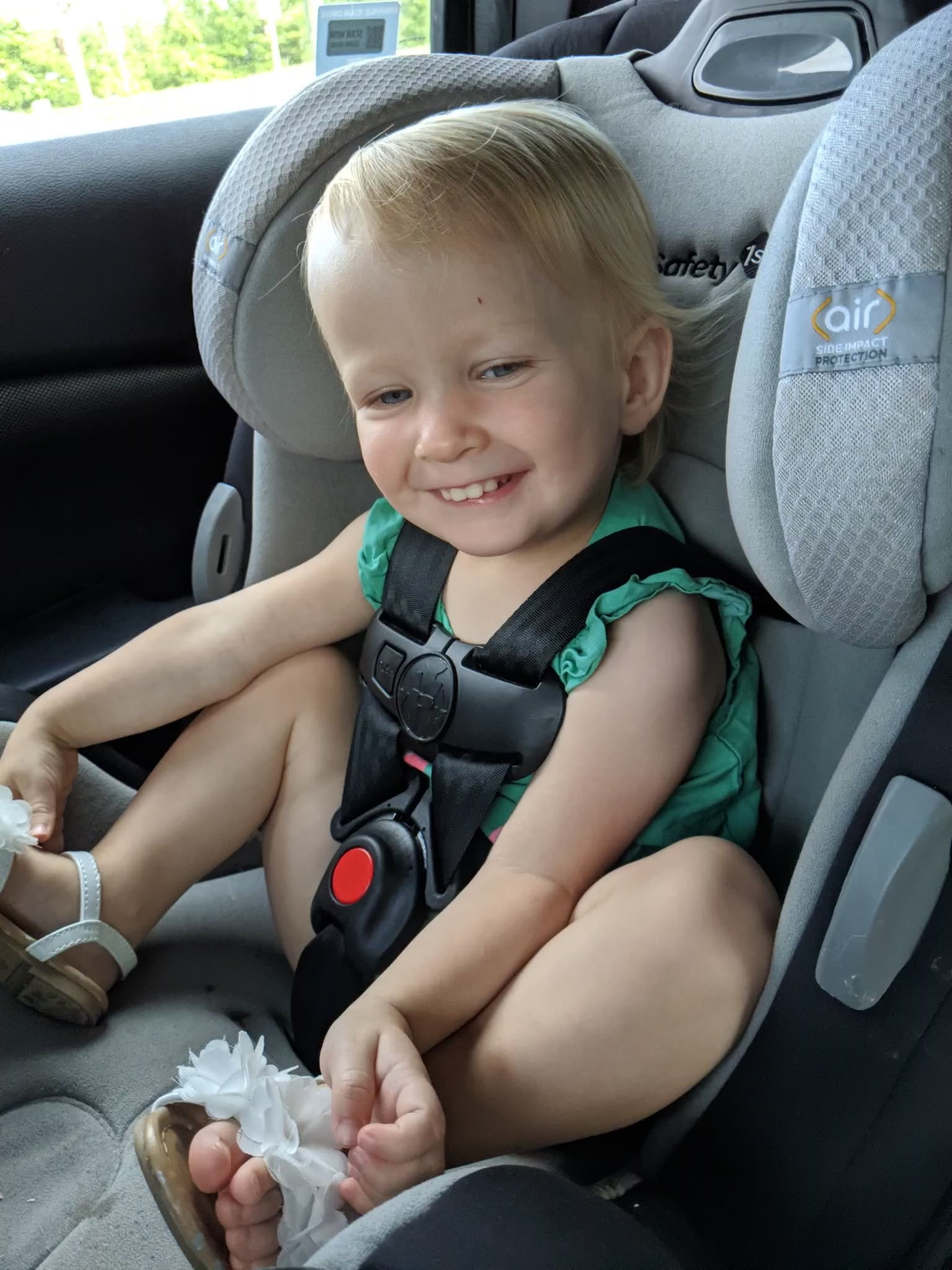 After church, my Aunt Suzanne gave her this adorable stuffed camel that the brought back from Israel, and Emerson immediately fell in love with it! We all went outside after the service for the dedication of the new administration building that was just finished, and Emmie was just hopping her camel around, playing with it, having a blast. (Forgot to take a photo of the new pretty building.) Also, the kids choir sang in the service today, which was adorable, and it made me think about the future when Emmie joins the choir in a few years! It will be so sweet! Oh and one more thing about church today, Coach Bobby Bowden and his wife officially became members this morning, after attending for a while. When he went down front to join, I felt like we should all confirm by our normal "Amen!", followed by "Go Noles!"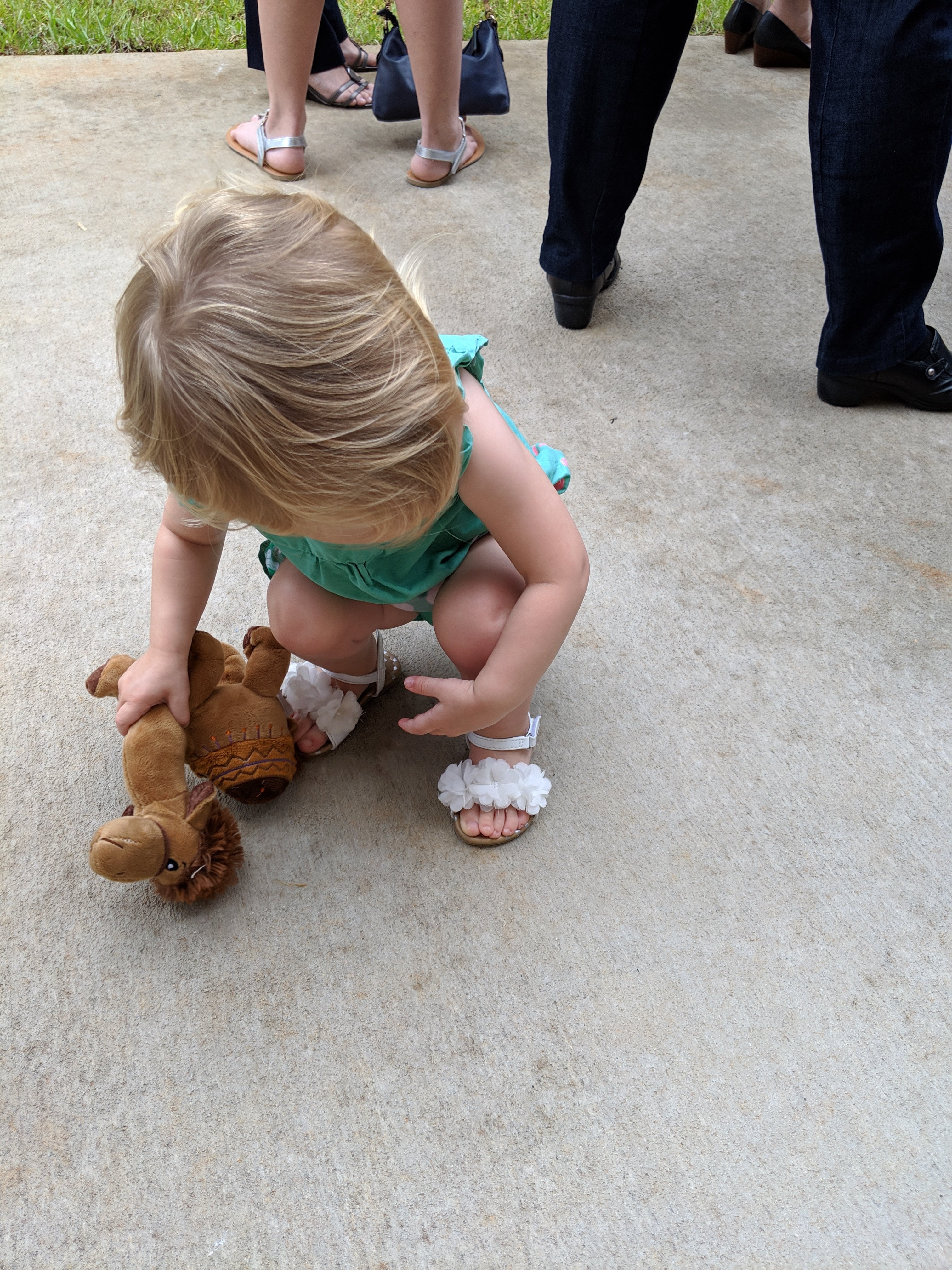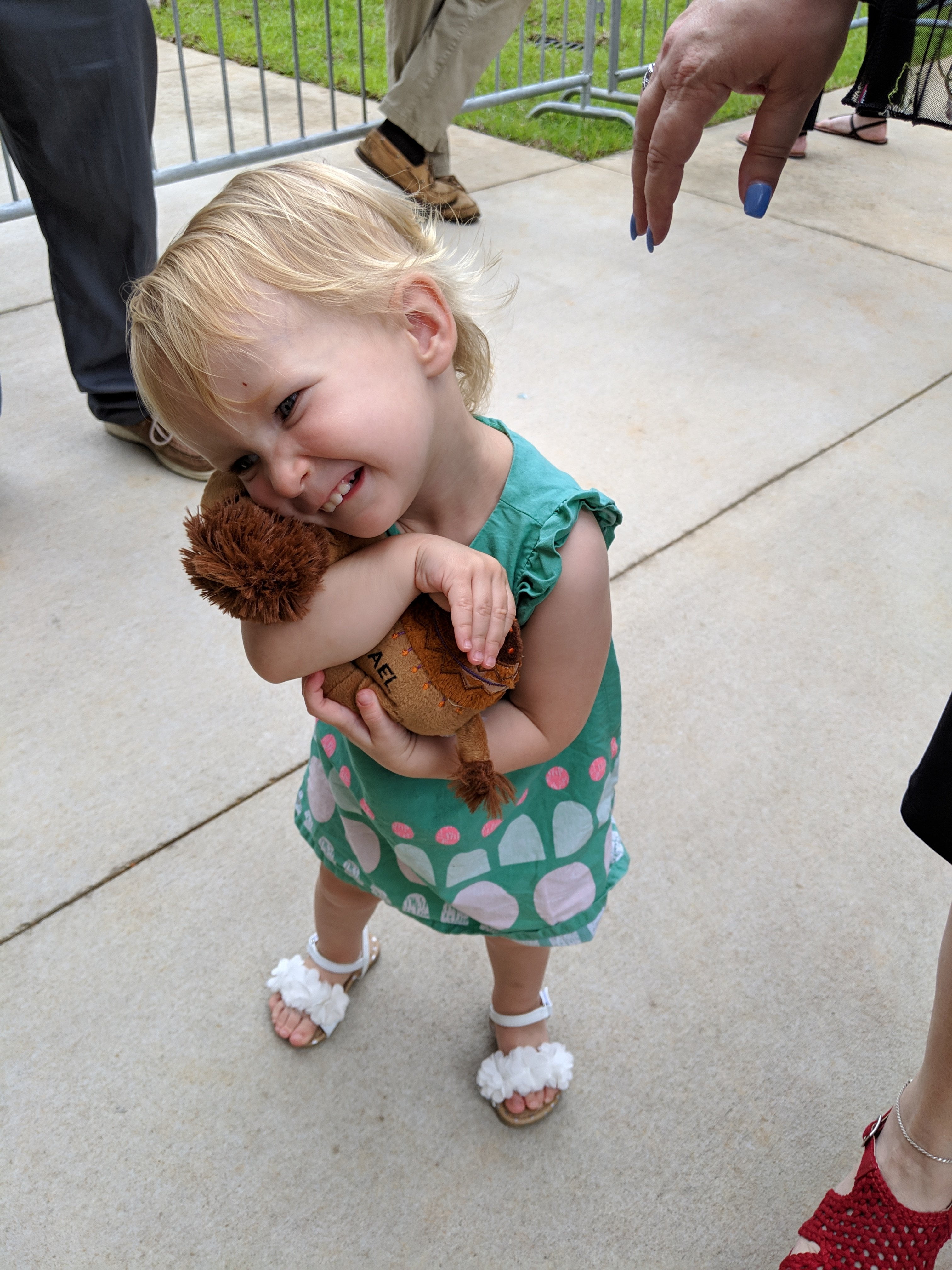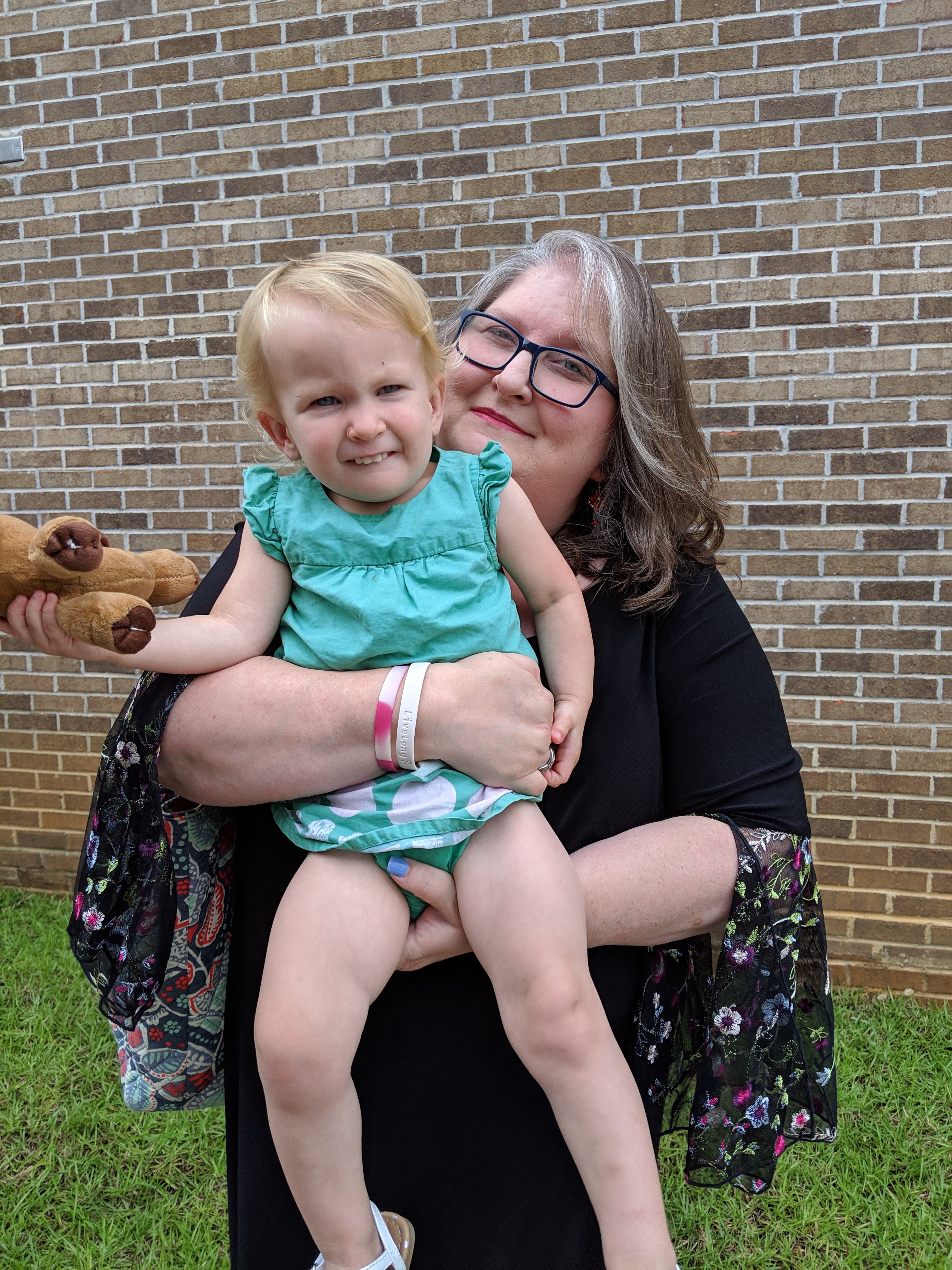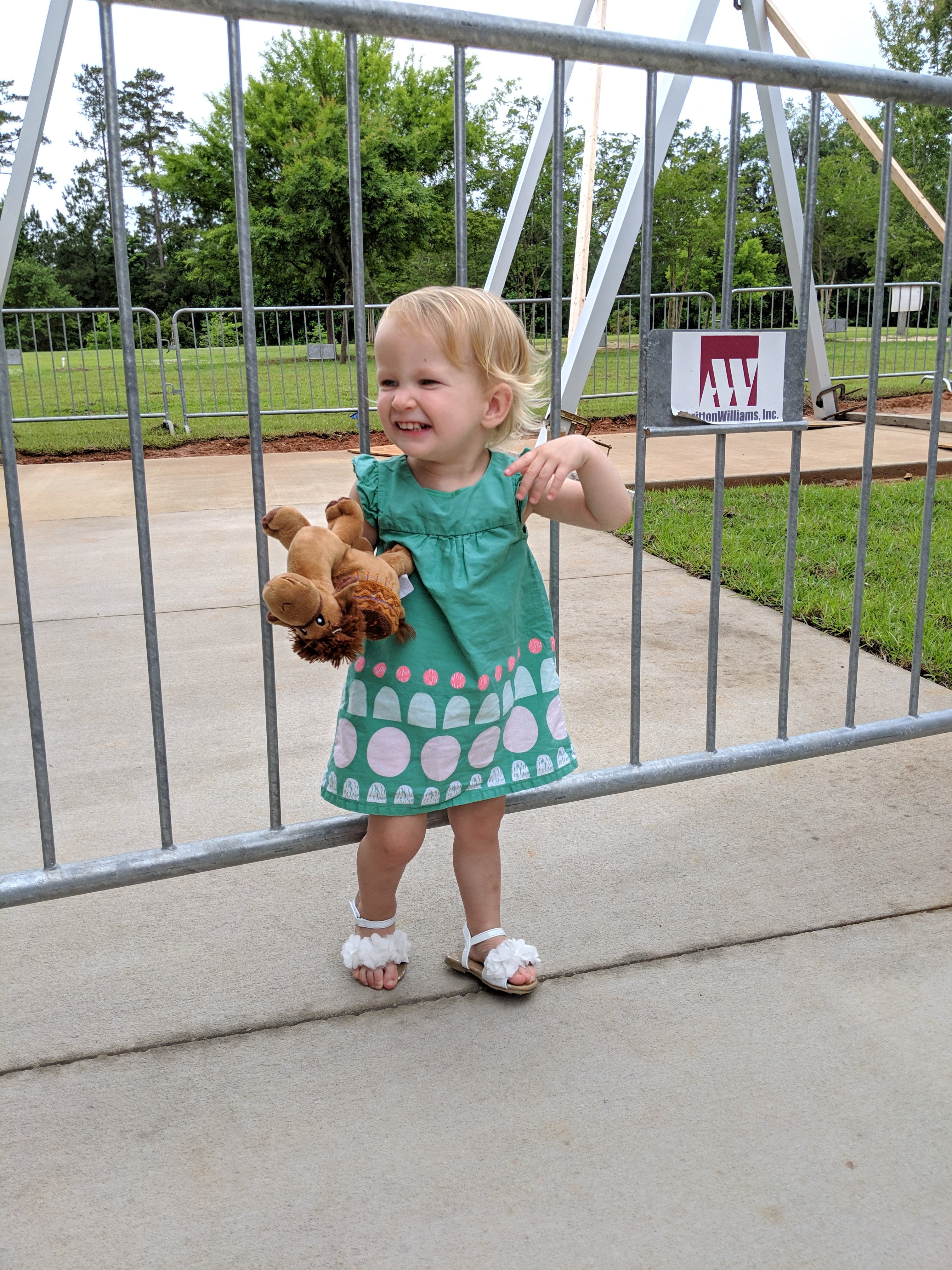 We grabbed a quick lunch on the way home, and then Emmie went right down for her nap. Jeff and I watched a couple videos on YouTube, and then we both drifted off to sleep in the living room. Roughly 15 minutes after I fell asleep though, Miss Priss decided to wake up early from her nap, after about only an hour. So we got her up and played around the house for a bit, then I tidied up and vacuumed (with her on my hip because she's scared of the vacuum), and then headed over to Jeff's parents house.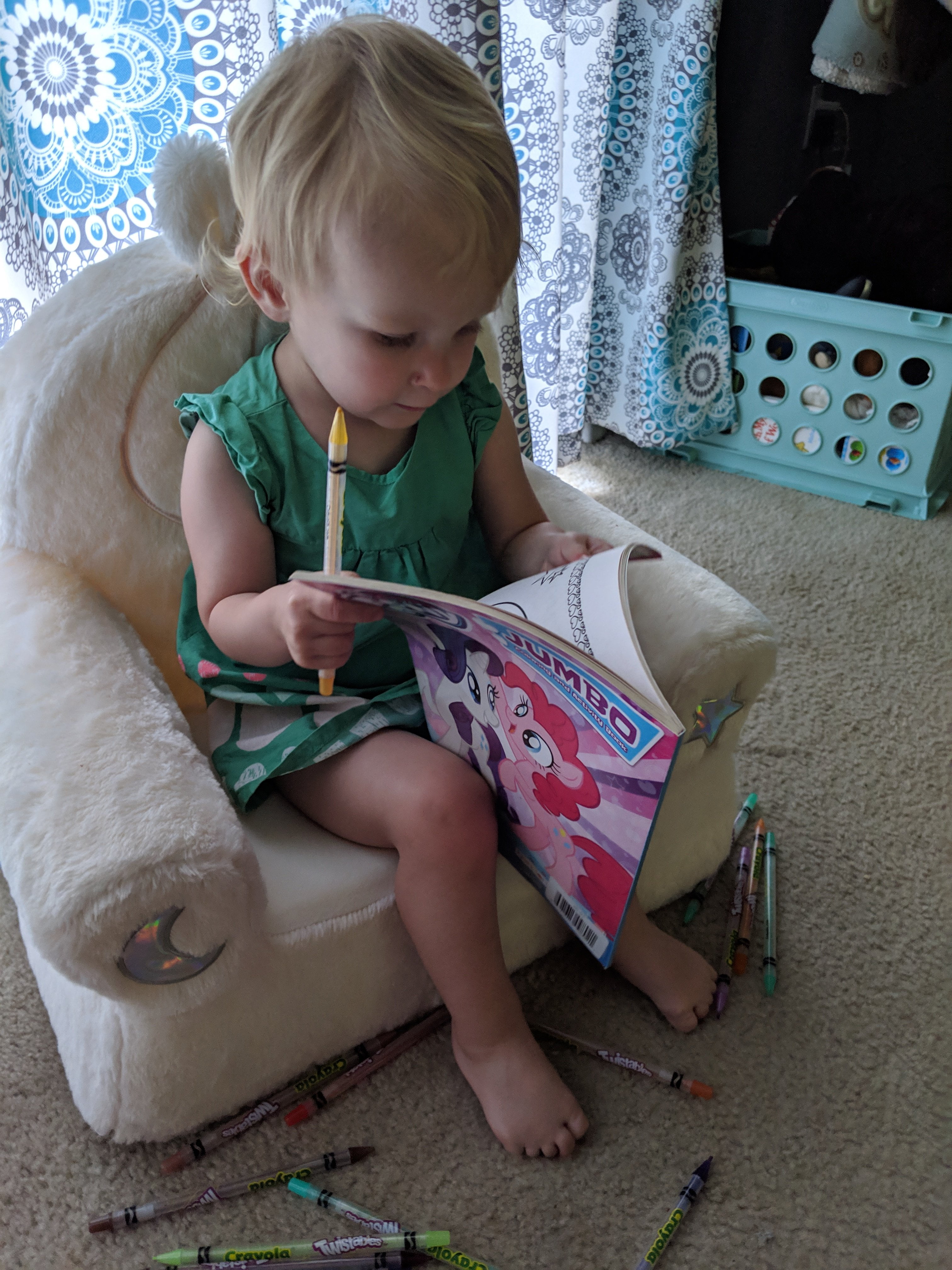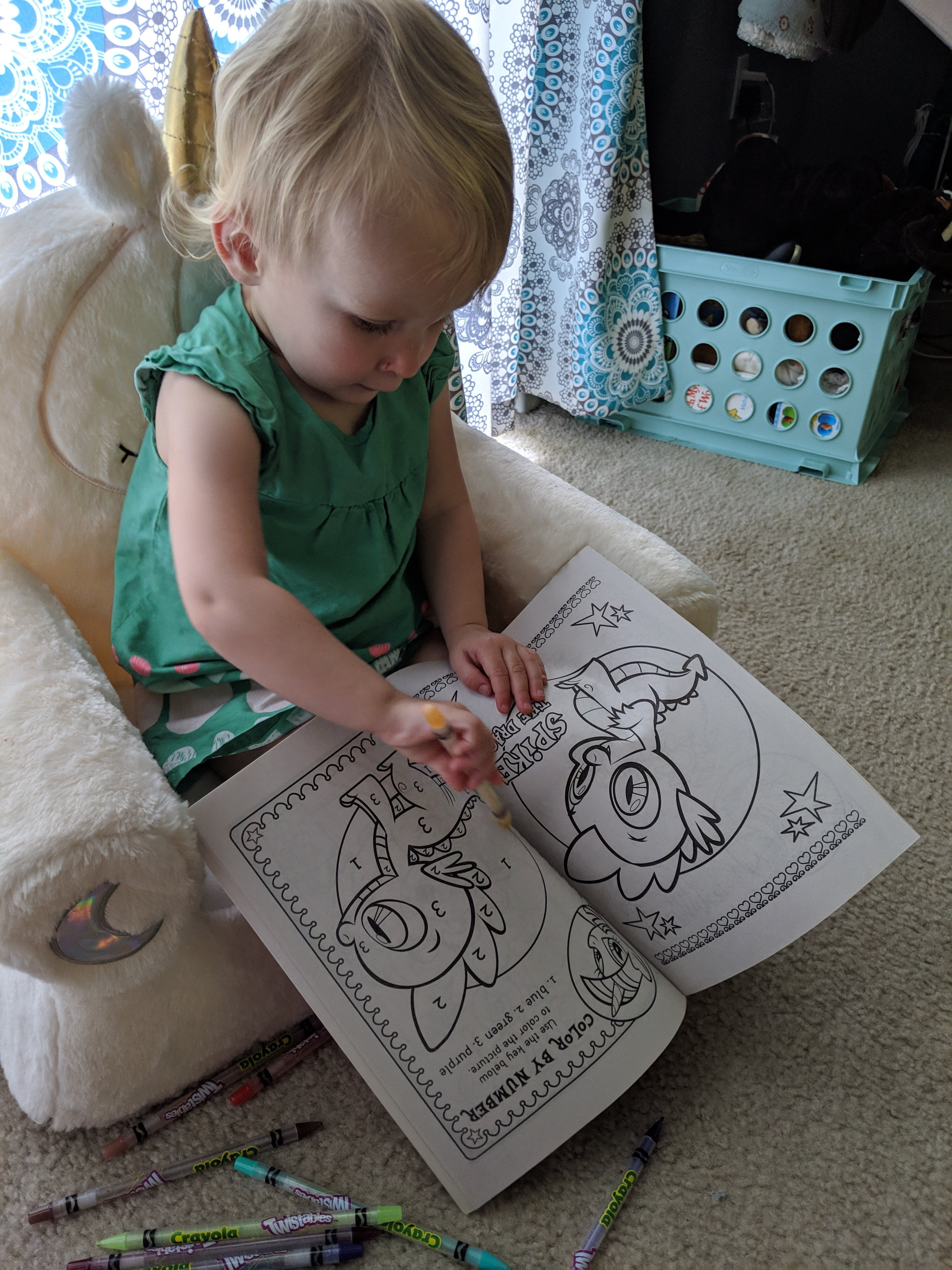 We got to hang out on their back porch, enjoying the mosquito-free "outdoors" and play with some fun toys. She found these binoculars, and she was running back and forth with them up to her face saying, "cheese!" Maybe she thought she was taking a photo?!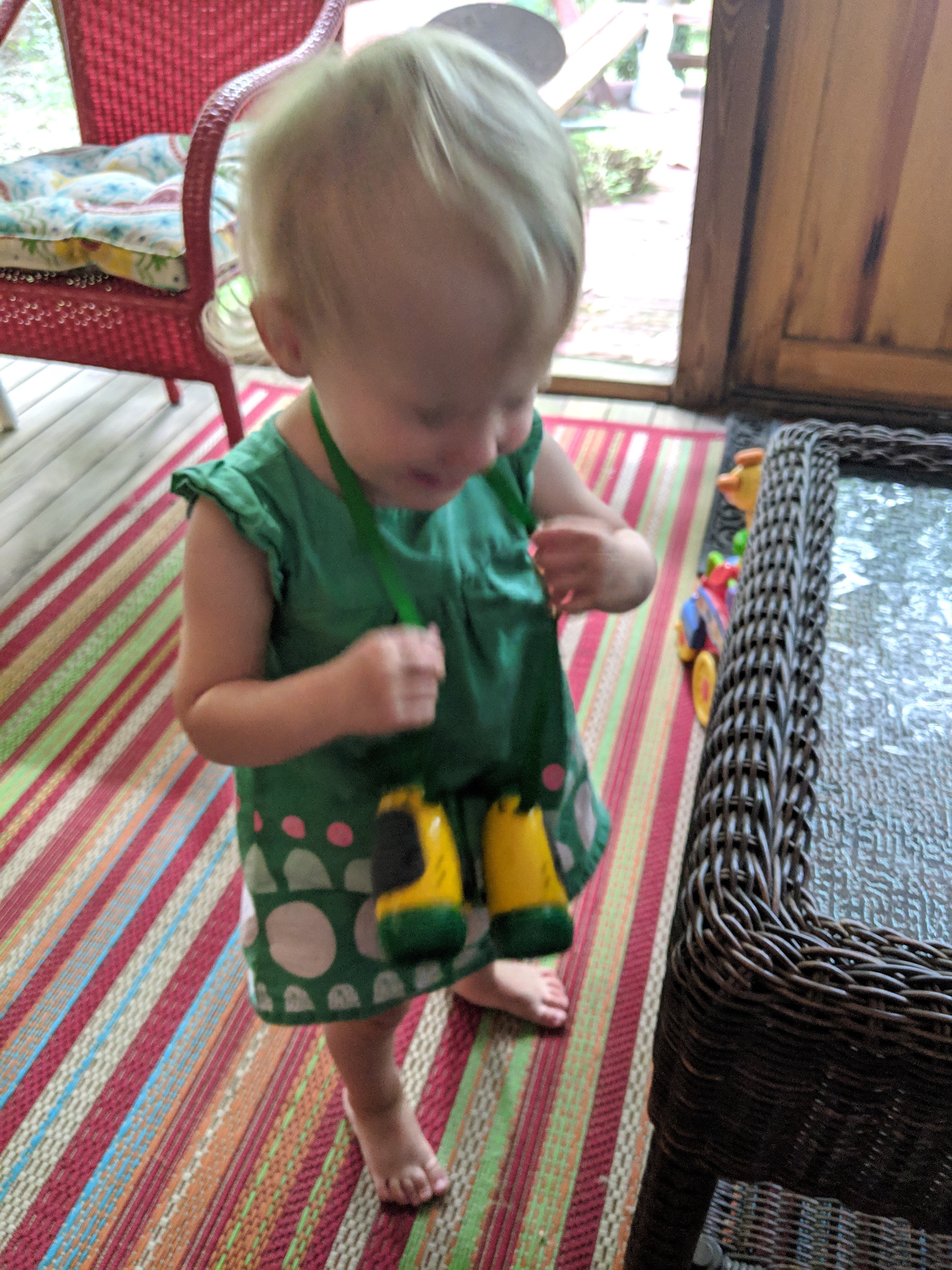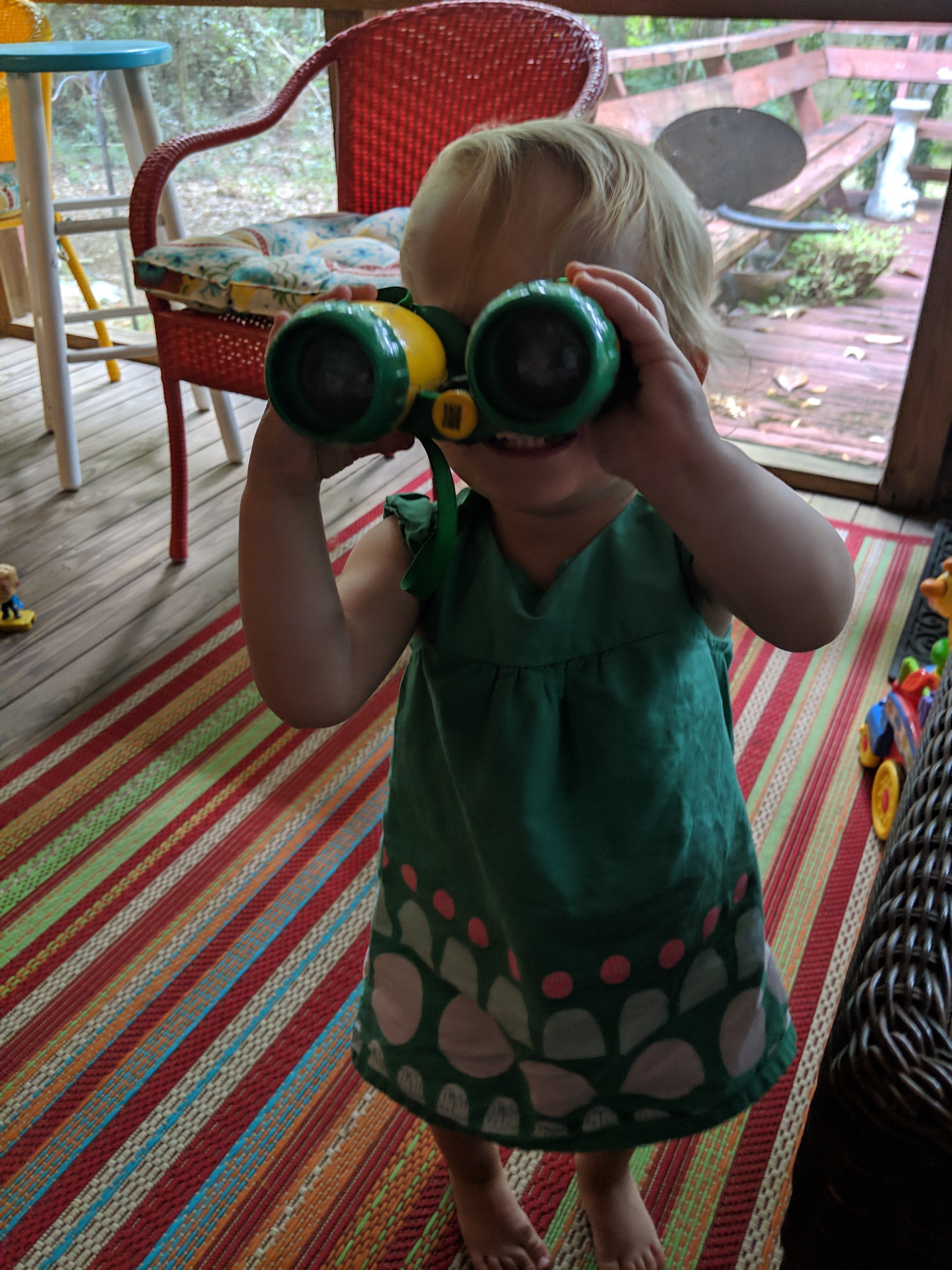 Sometimes you have to just chill and explore at the same time.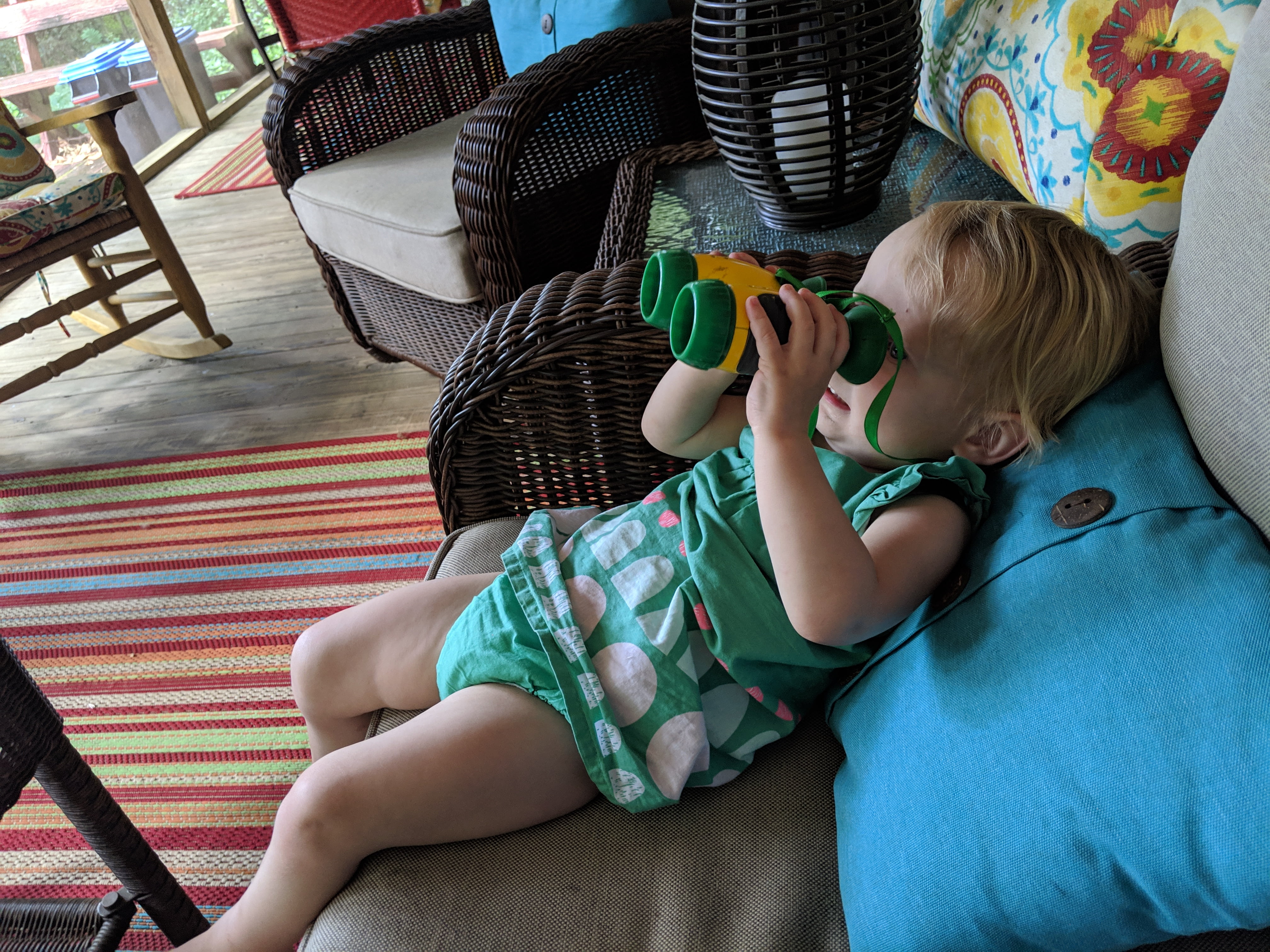 And I love sitting out here just letting her enjoy being outside, while I sit under the fan with my feet kicked up, enjoying the beautiful afternoon sunglight through the trees.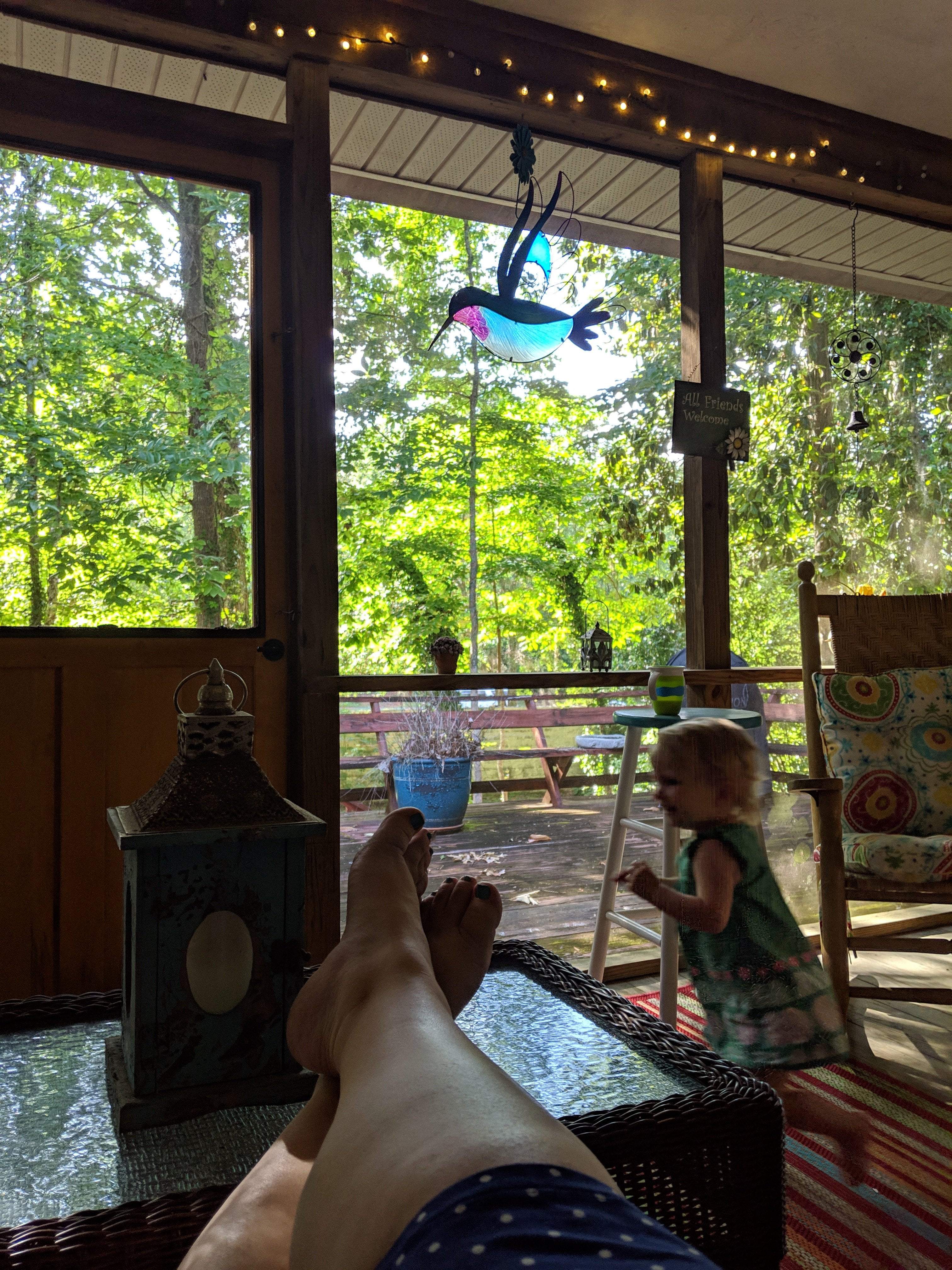 We had a simple dinner of sandwiches (that pita was SO good!), homemade mac & cheese, and fruit.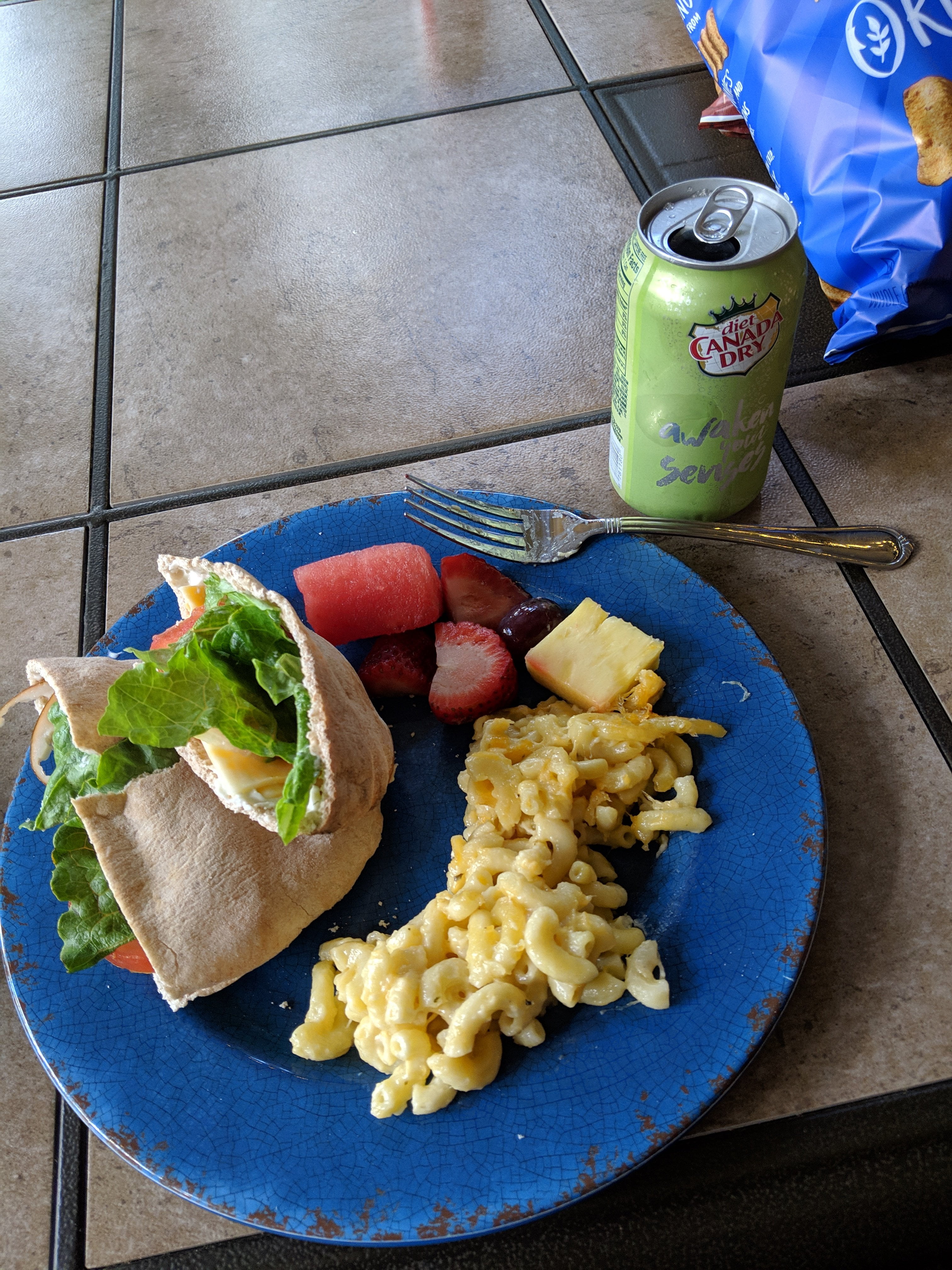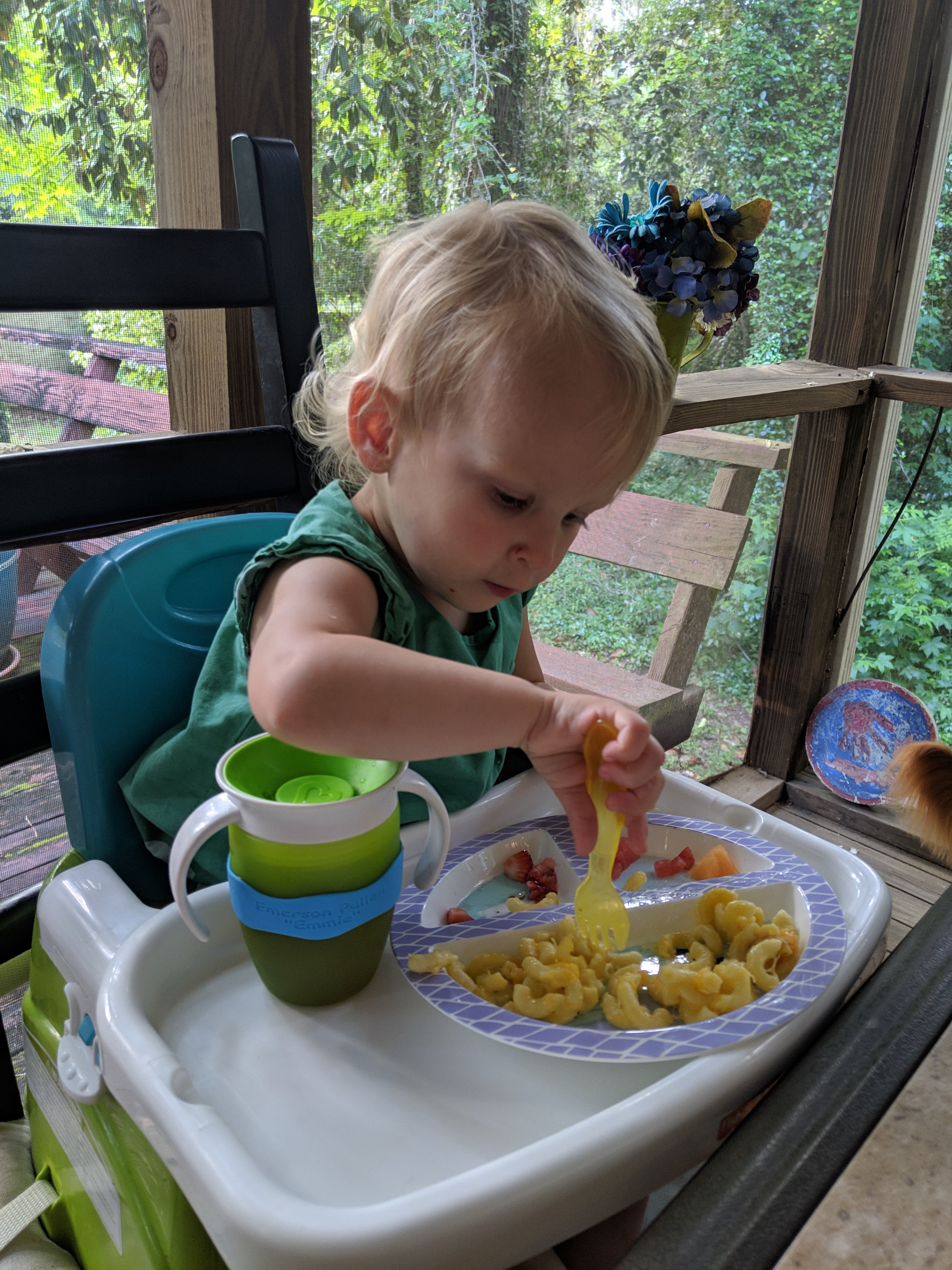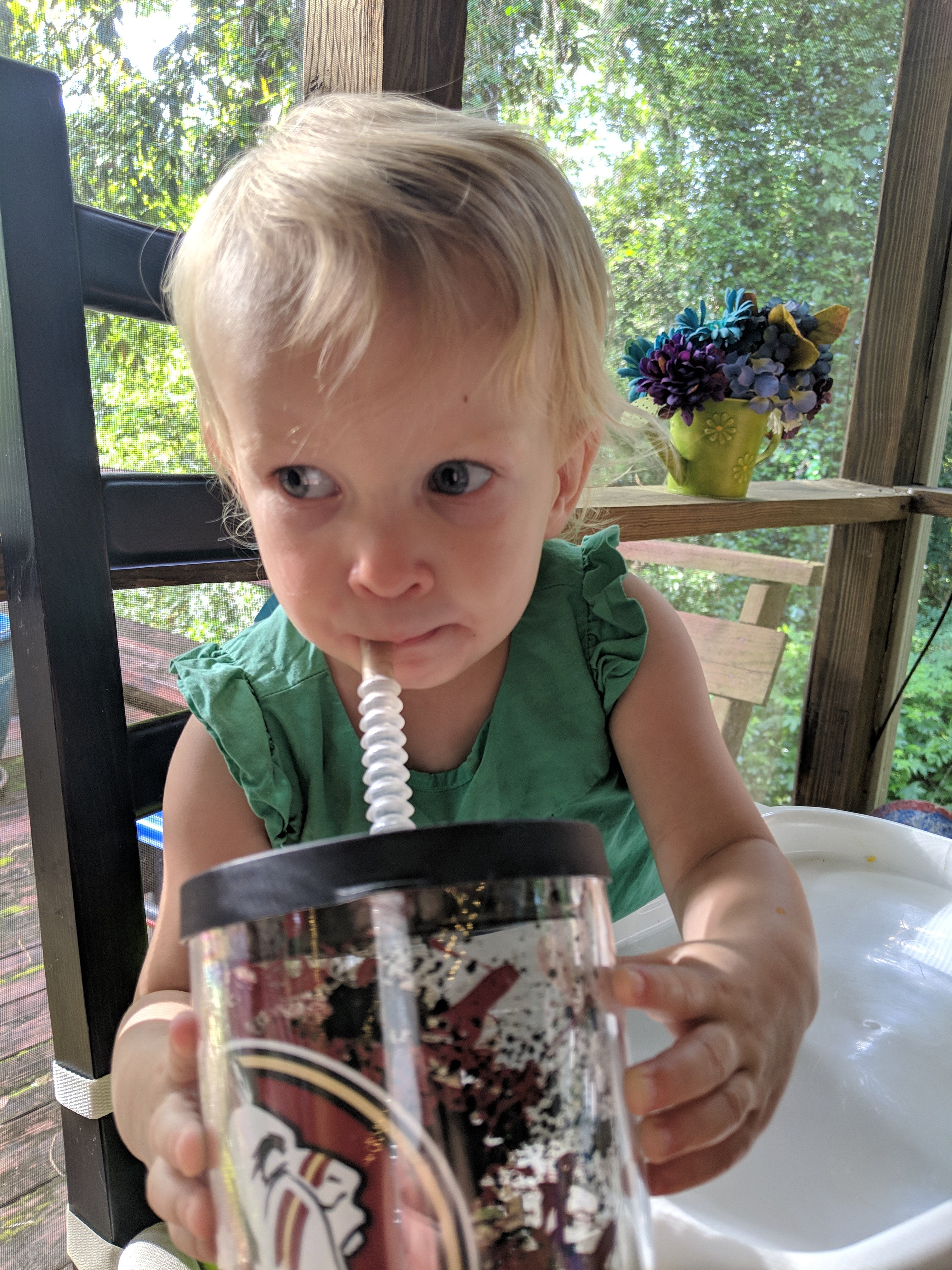 And then we played out front with chalk, and went for a little walk.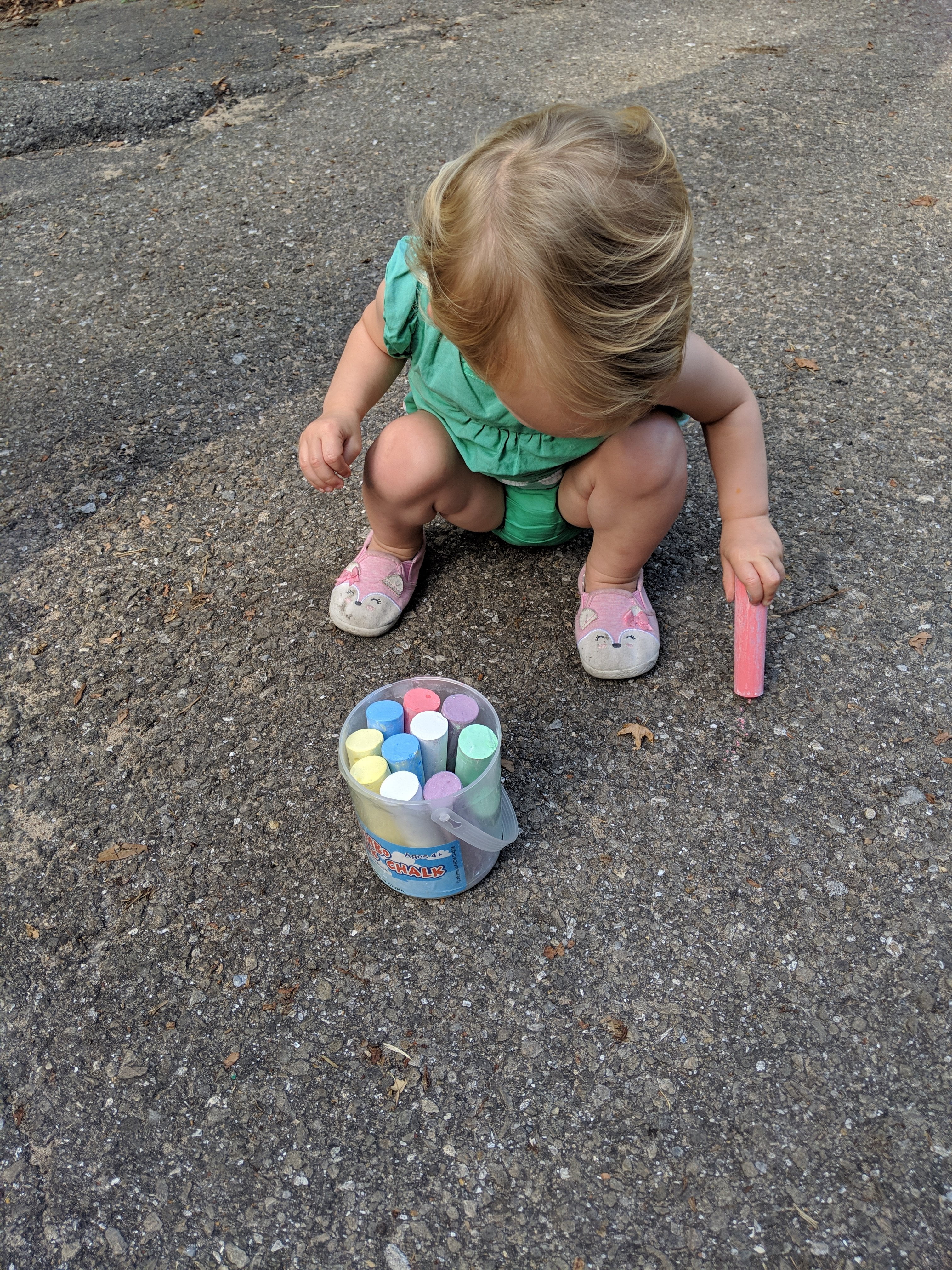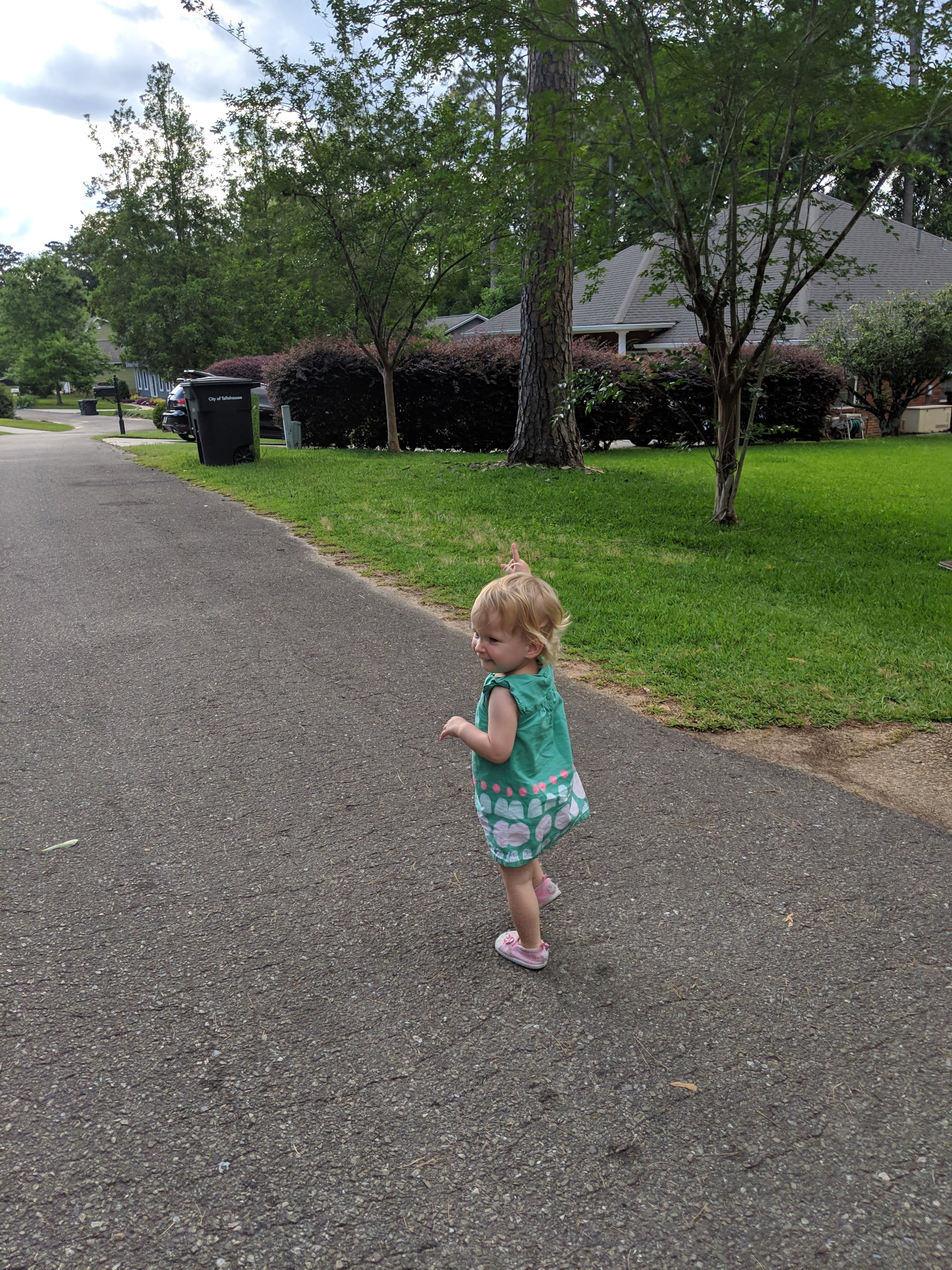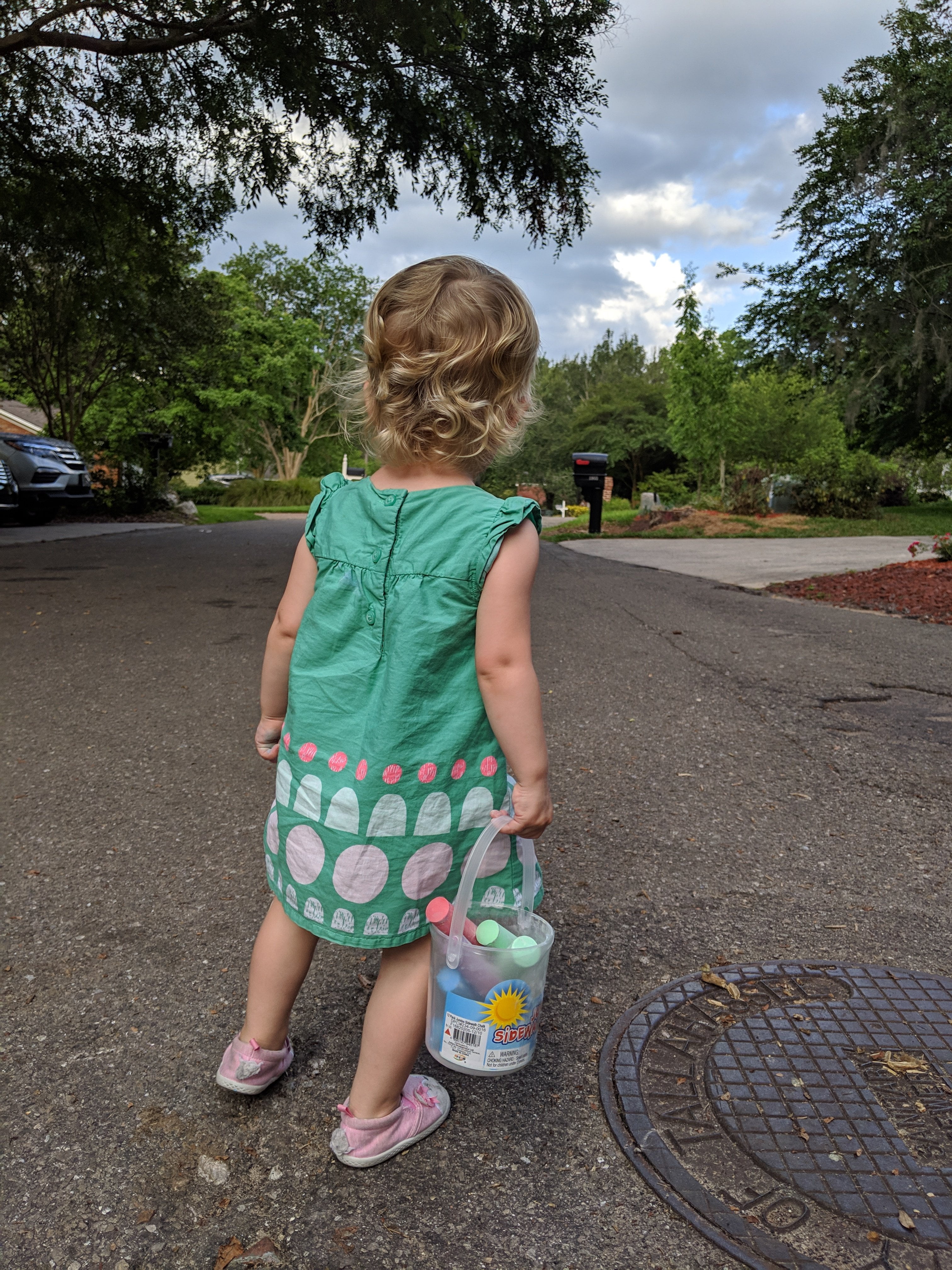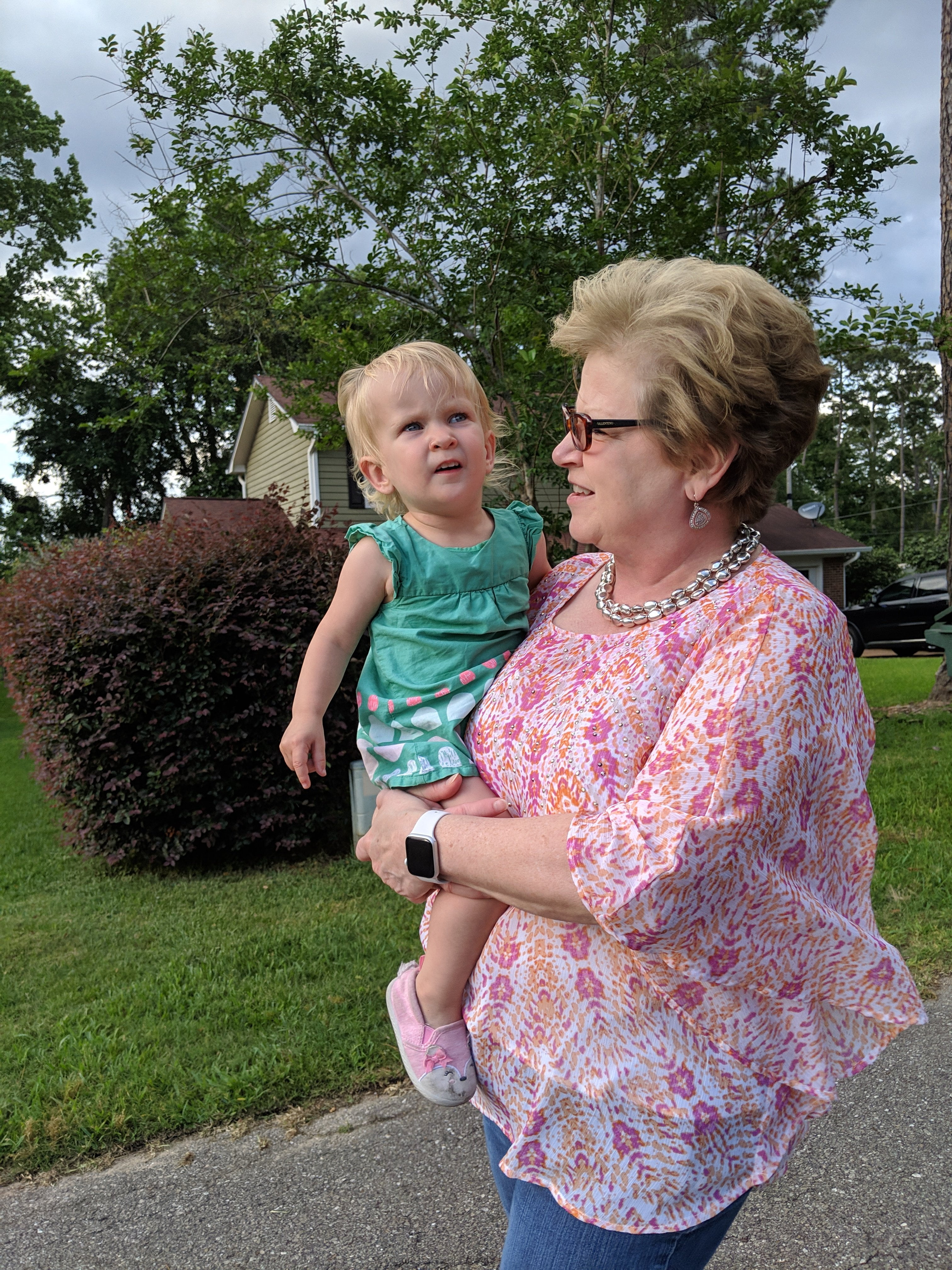 And then since Jeff's birthday is coming up on Tuesday, we had cake & ice cream!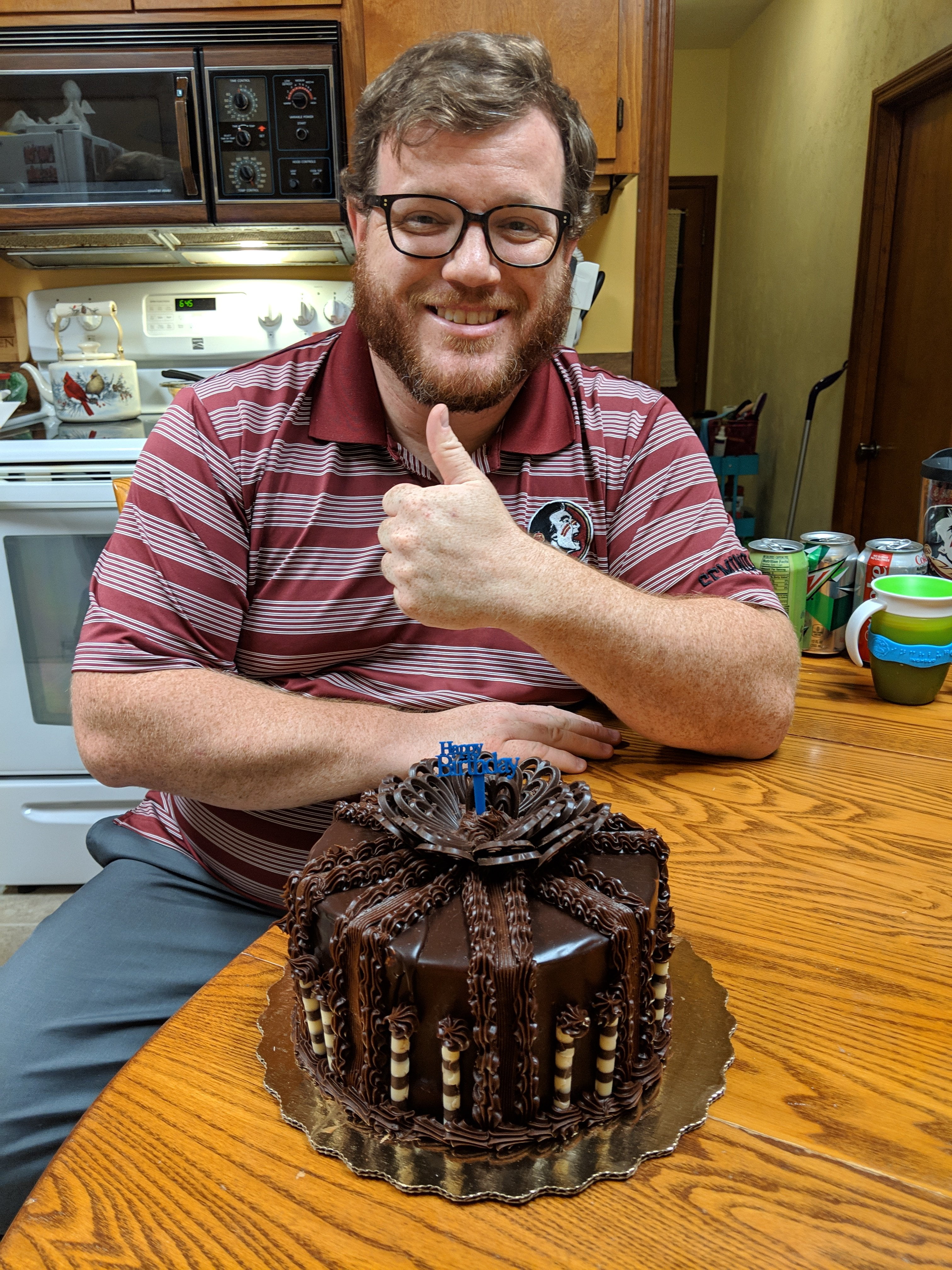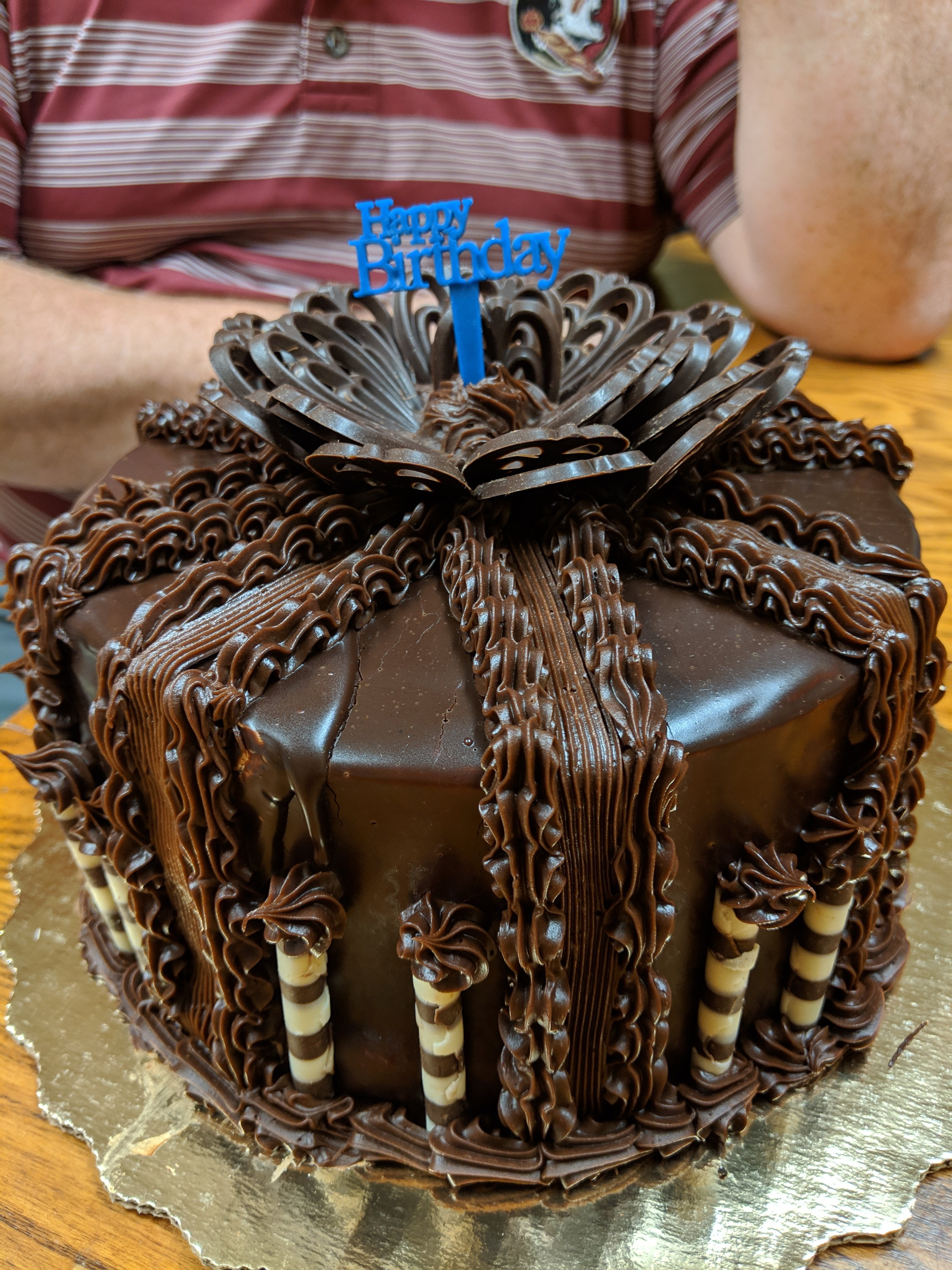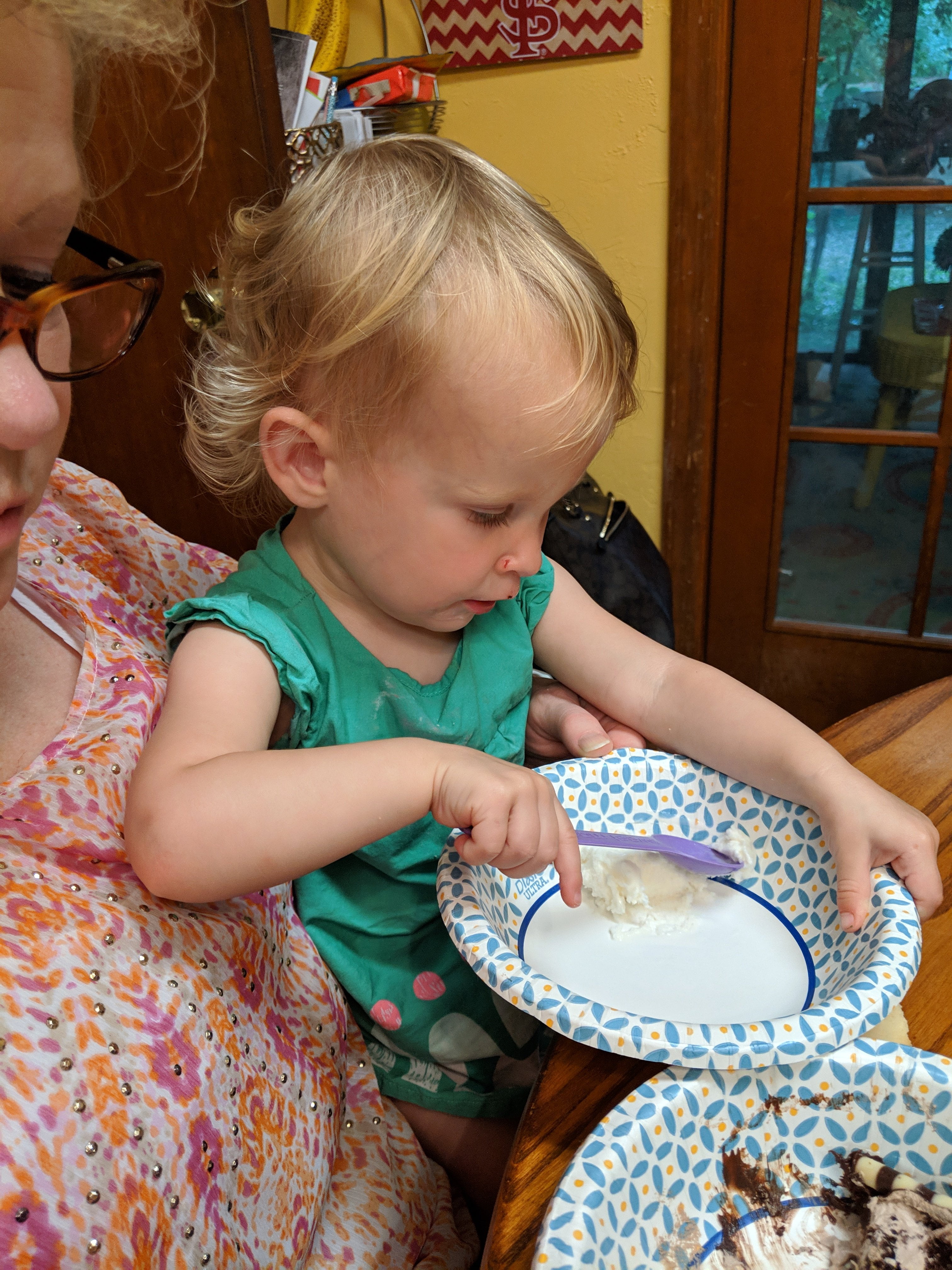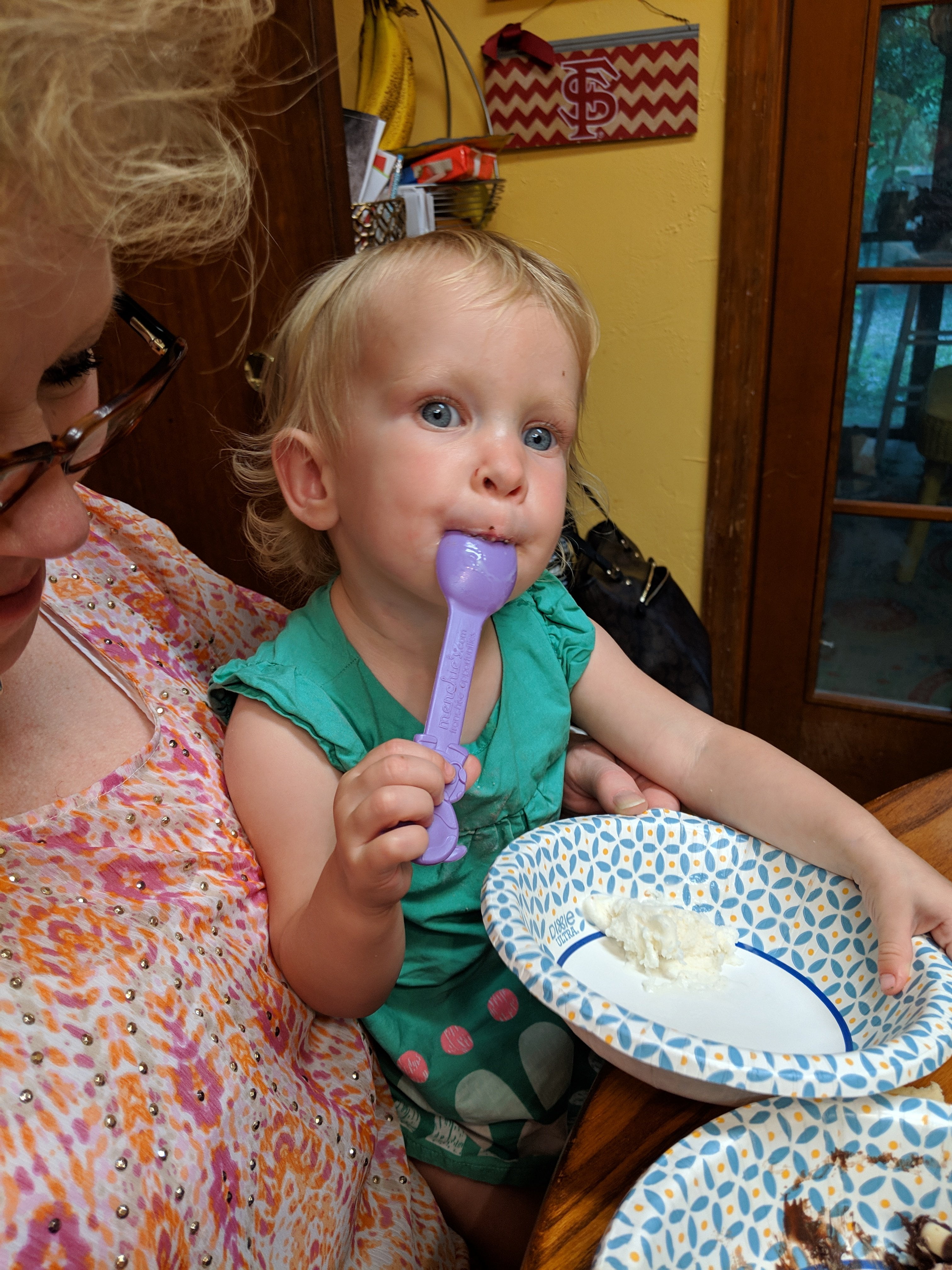 She screamed her way through another bath at Nana's house, but the second we got her out of the tub, she was perfectly fine again. Our friend Lisel suggested trying a swimmy diaper in the tub, so we may give that a go for her next bath on Tuesday night.
When we got in the car to head home, she was looking for another, second pacifier that she had earlier, and she had her legs spread out all crazy. I told her it wasn't very lady like, even if it was kinda funny.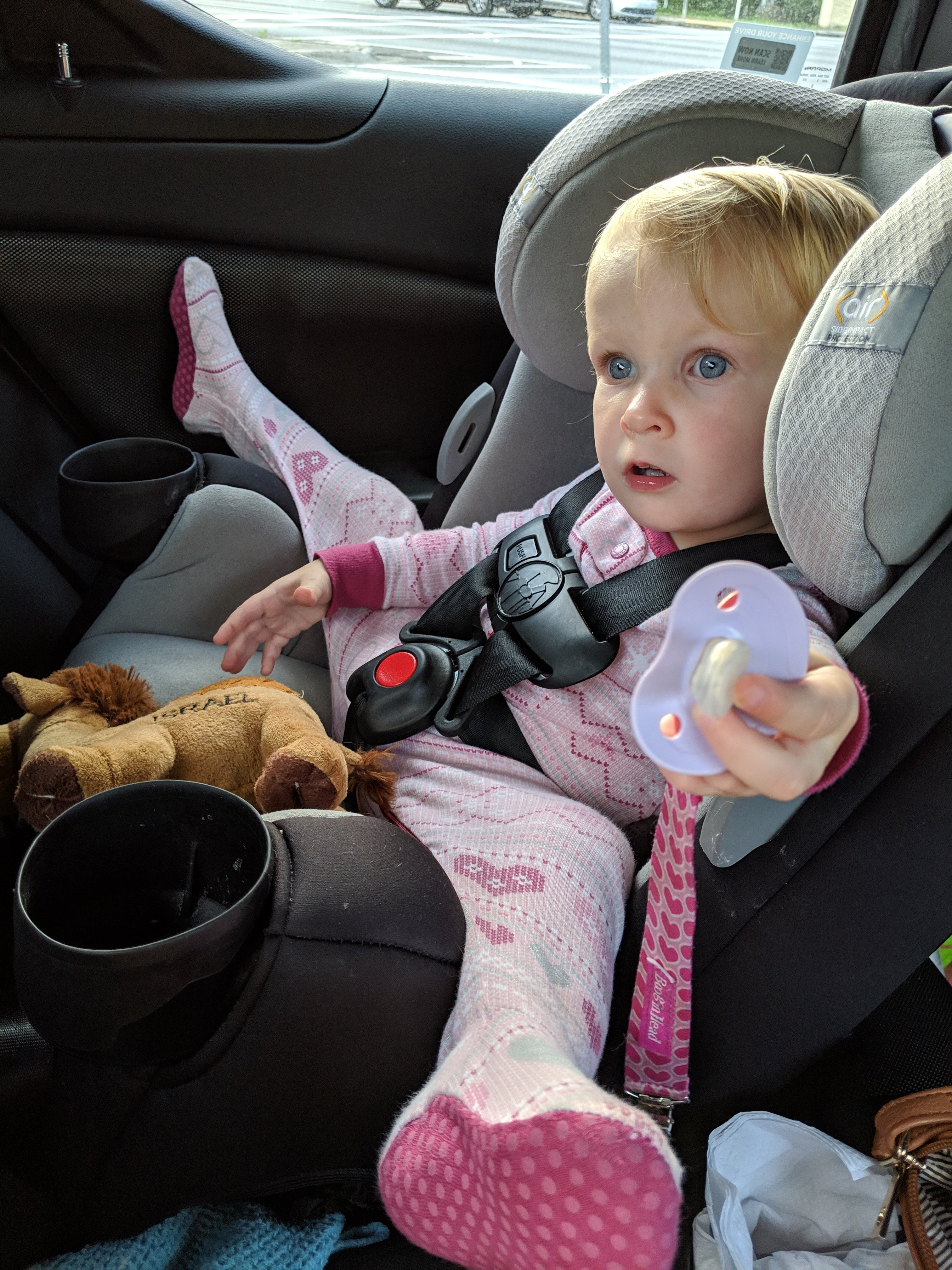 We went straight to her bedroom for books & night-night time, and she held on to her little camel the majority of the day. She also learned to say "camel" and it's really stinking cute.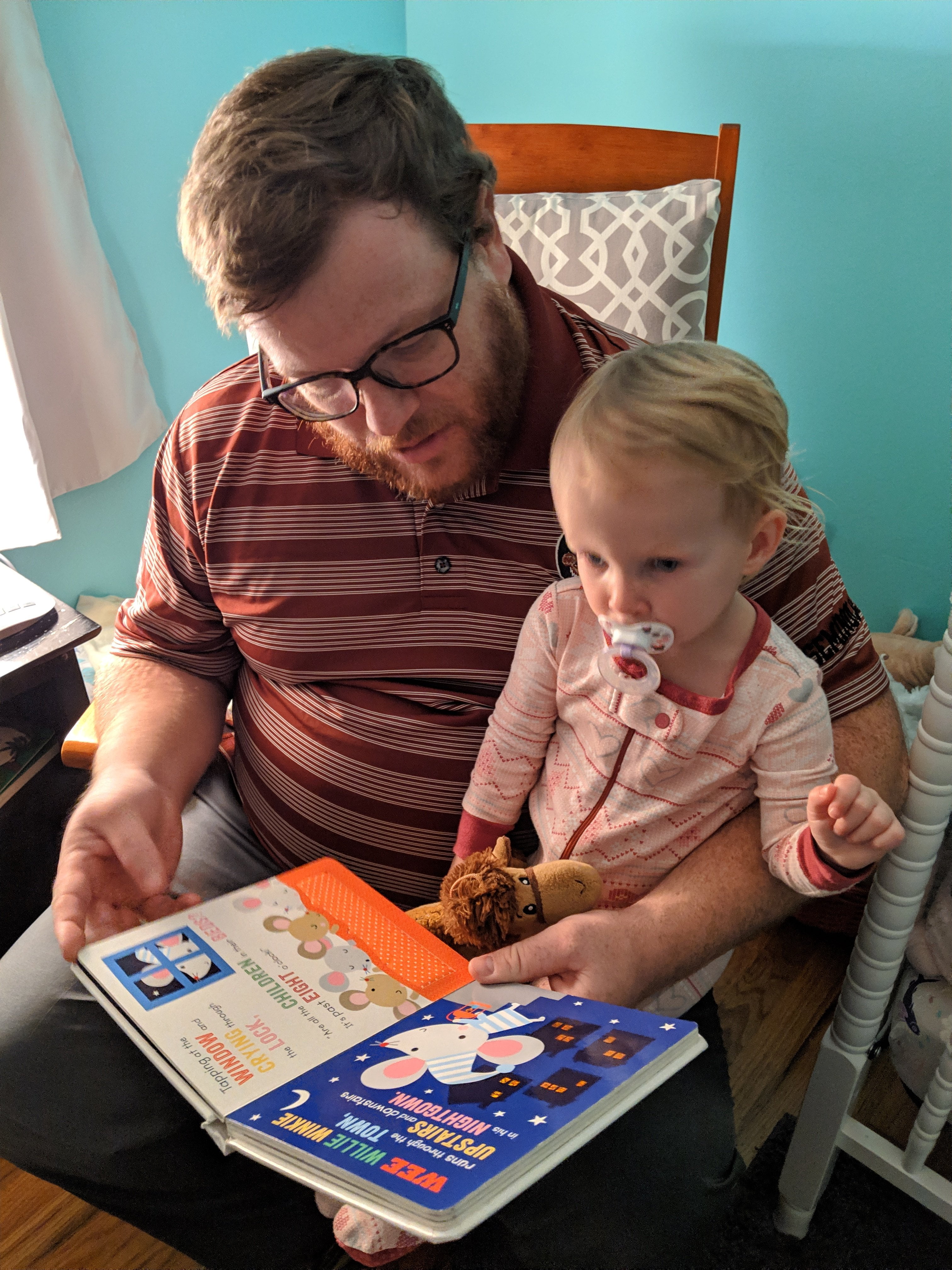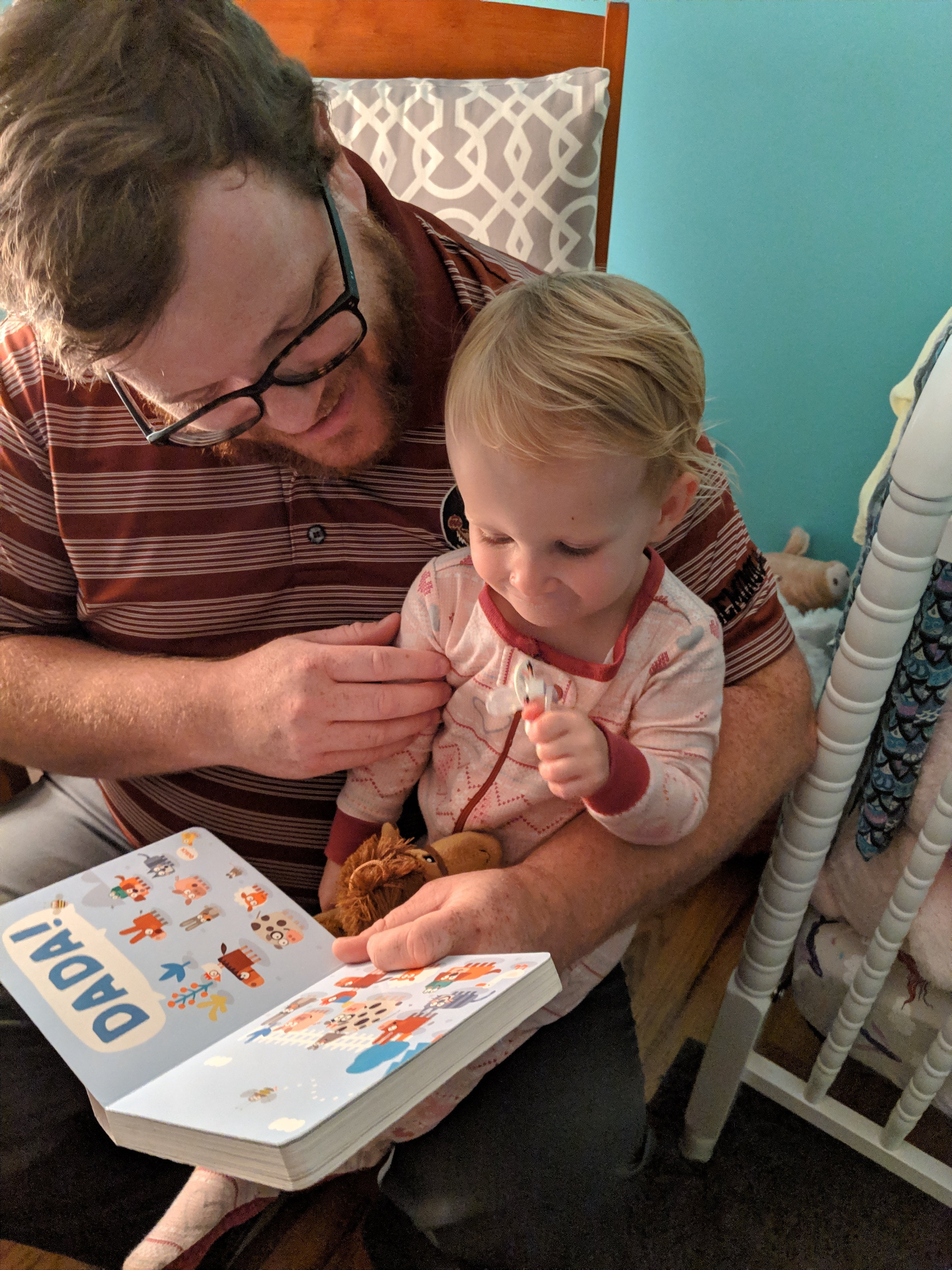 Last night, I thought I might clean out the white hutch I use as a pantry (we don't have a pantry in this house), but I ended up falling asleep on the couch before 9pm. So I did it tonight instead.
Before: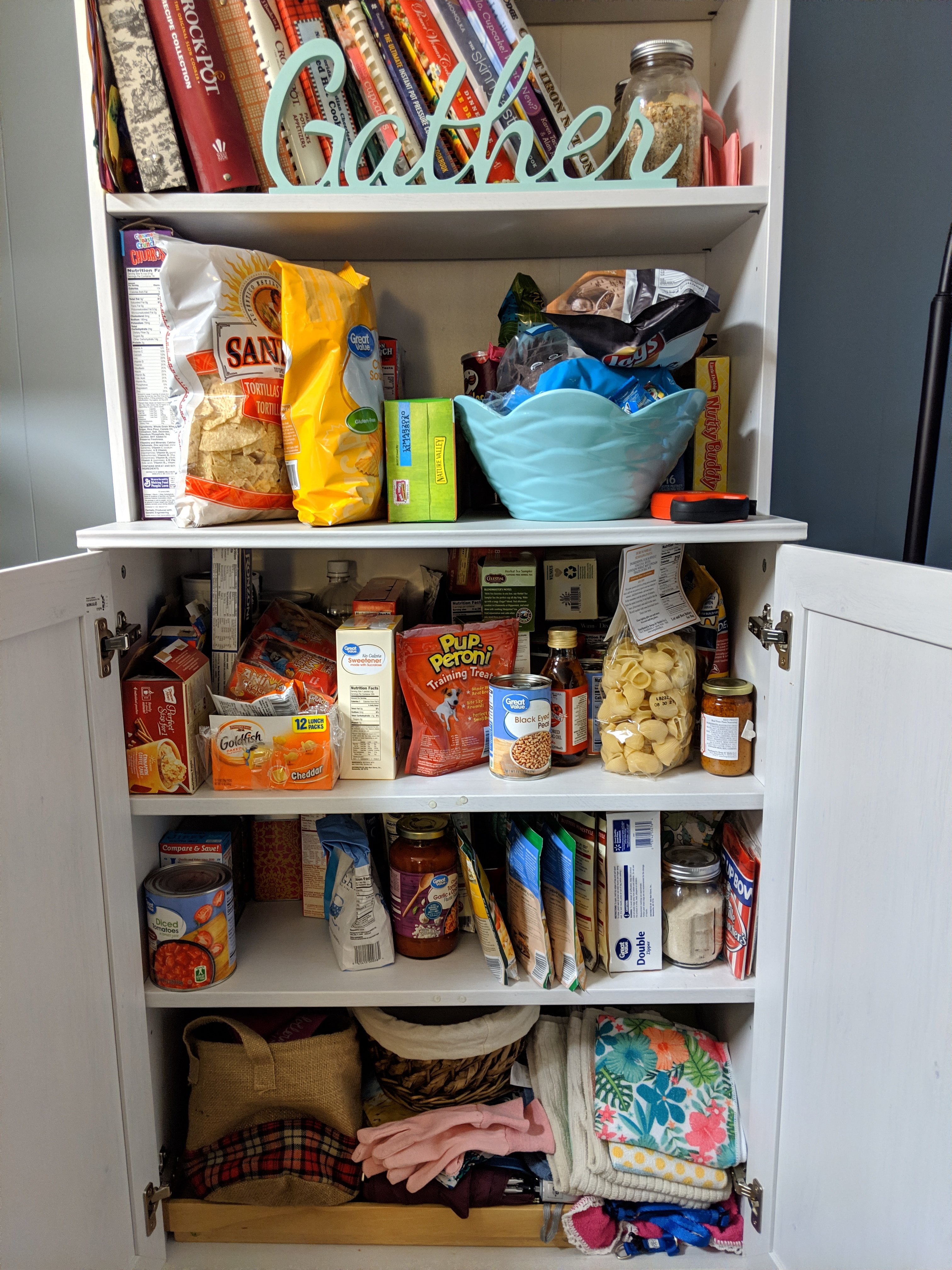 After: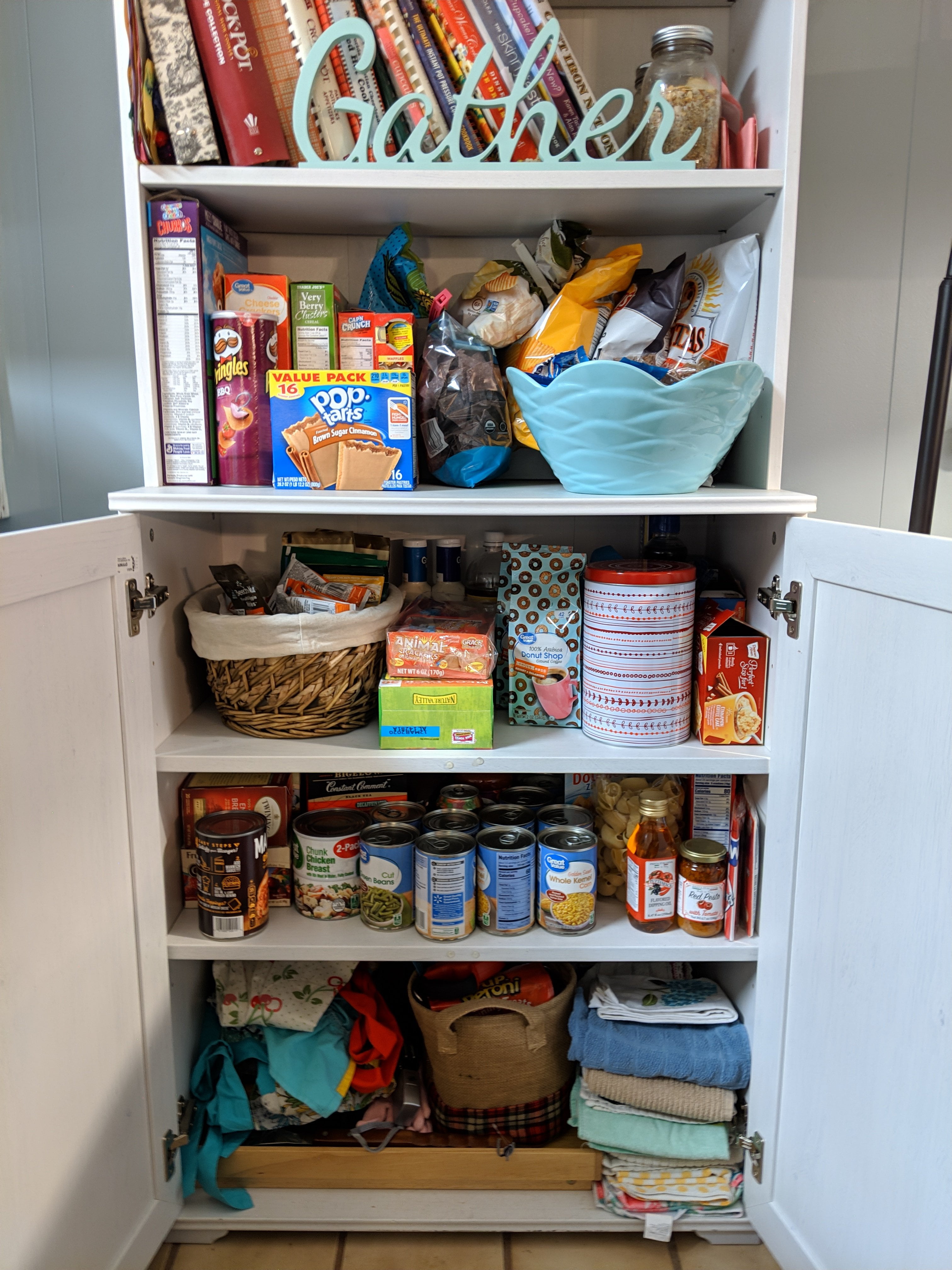 I know it doesn't look all that different, but believe me, it is. Most of that stuff on the second shelf was still sitting on the counter from my grocery pickup yesterday, because I didn't have space for it. And now it all fits! Plus, I did some consolidating and organizing, and moved other things to the places they actually belonged, and it's just better in there now.
I started a new audio book while I worked, but it's still too new to know if I like it or not yet. But it's a book about books, so I'll probably love it.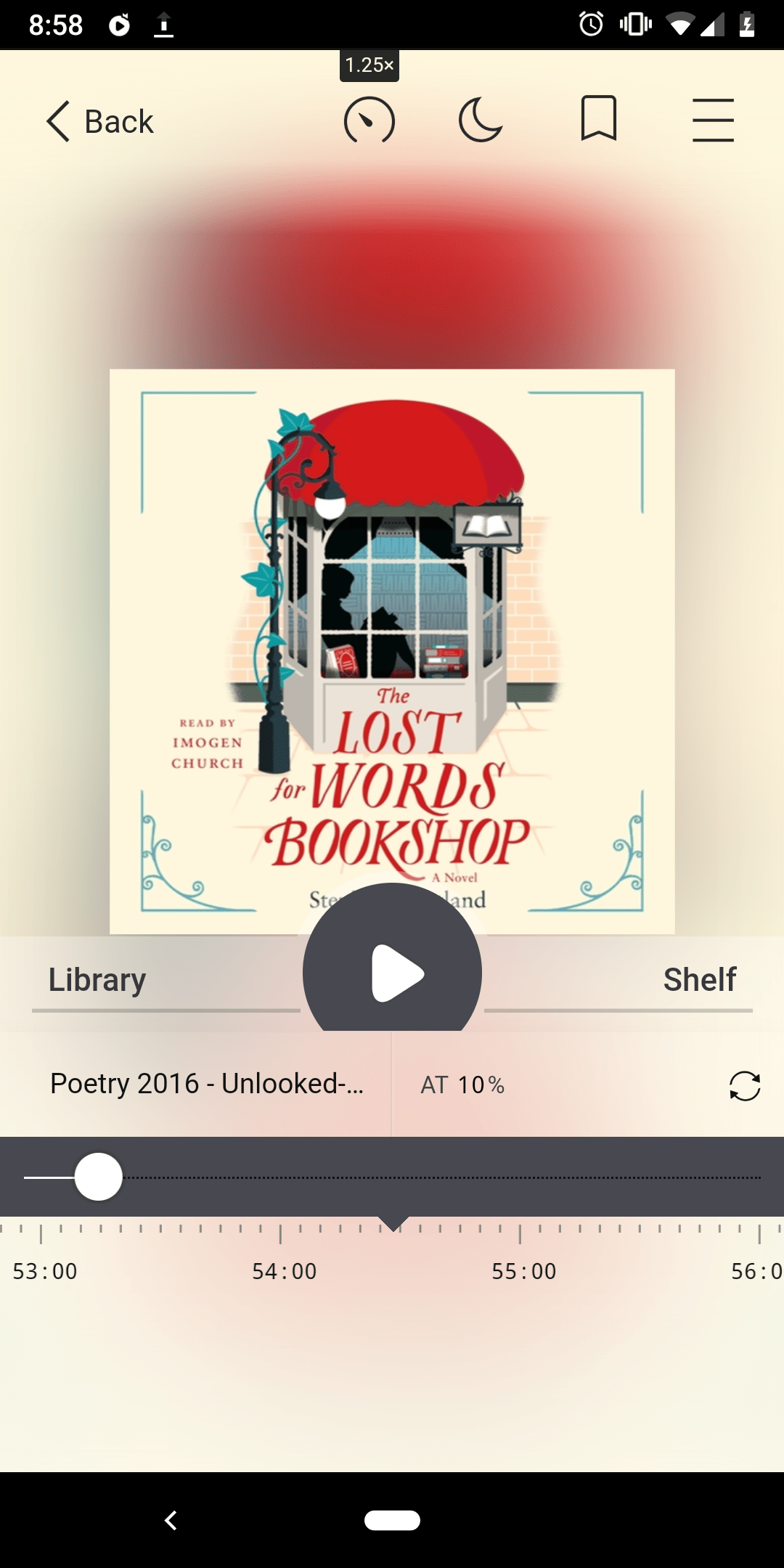 I'm now wearing this random new nightshirt I picked up at Walmart the other day (which is ironic because of the camel Emerson got today), and ready to relax on the couch a little bit before a new week starts!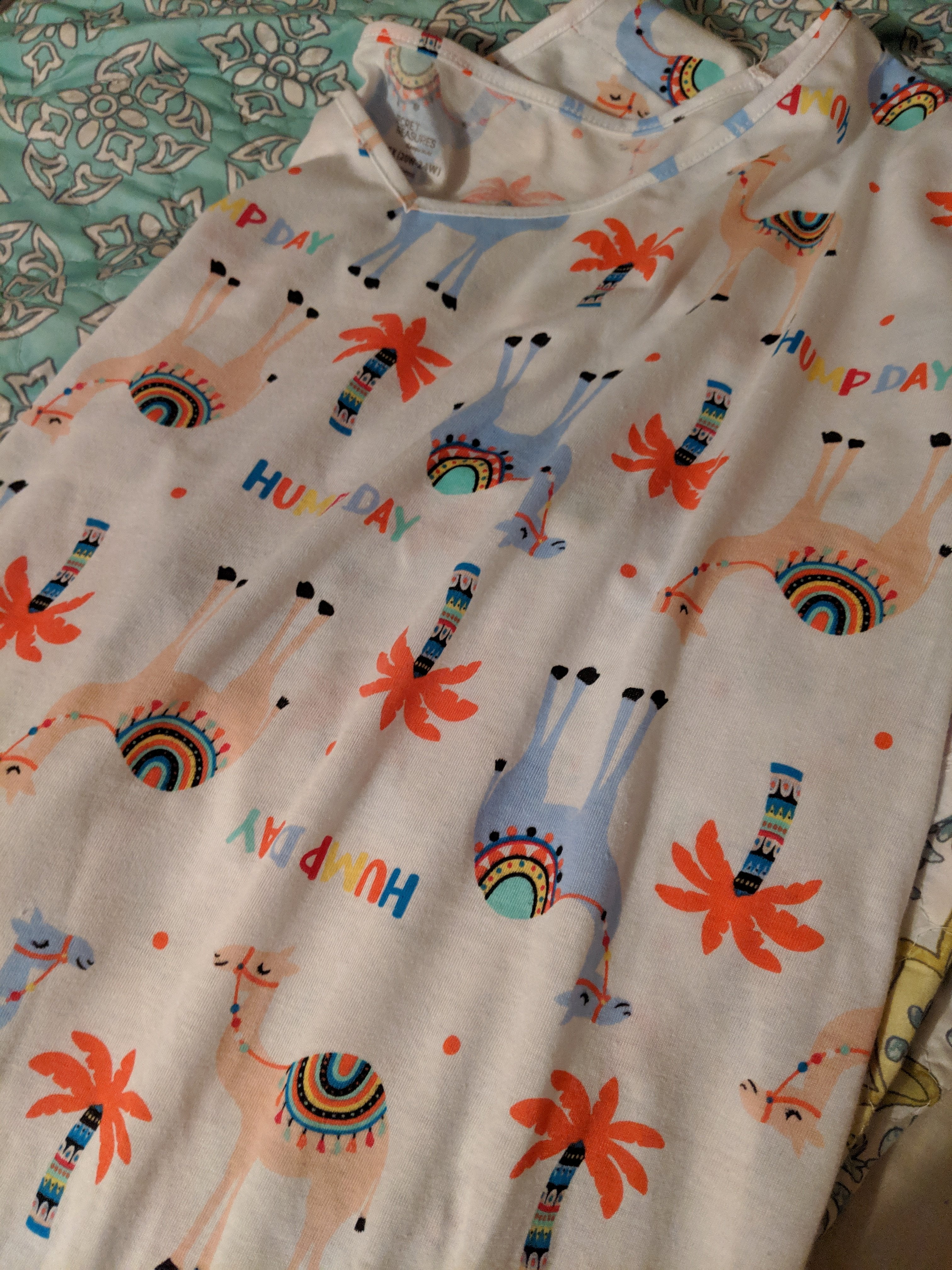 Hope y'all had a good weekend!