This cute baby loves to come brush her teeth at the same time her Mommy does it.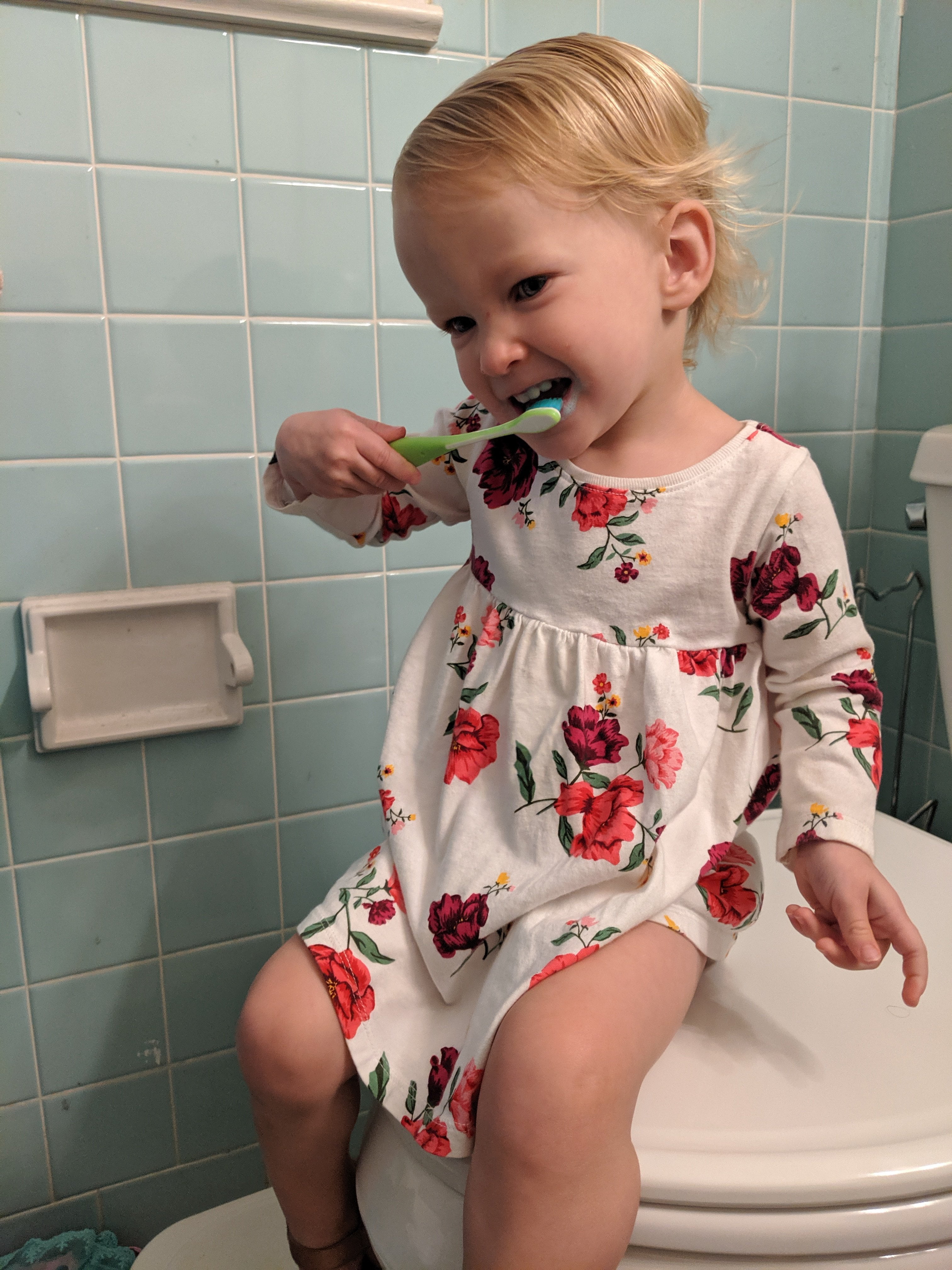 She was super clingy on me today, so Ms. Q had to unravel her from me, and share her mini muffins with Emmie so I could make my escape 😜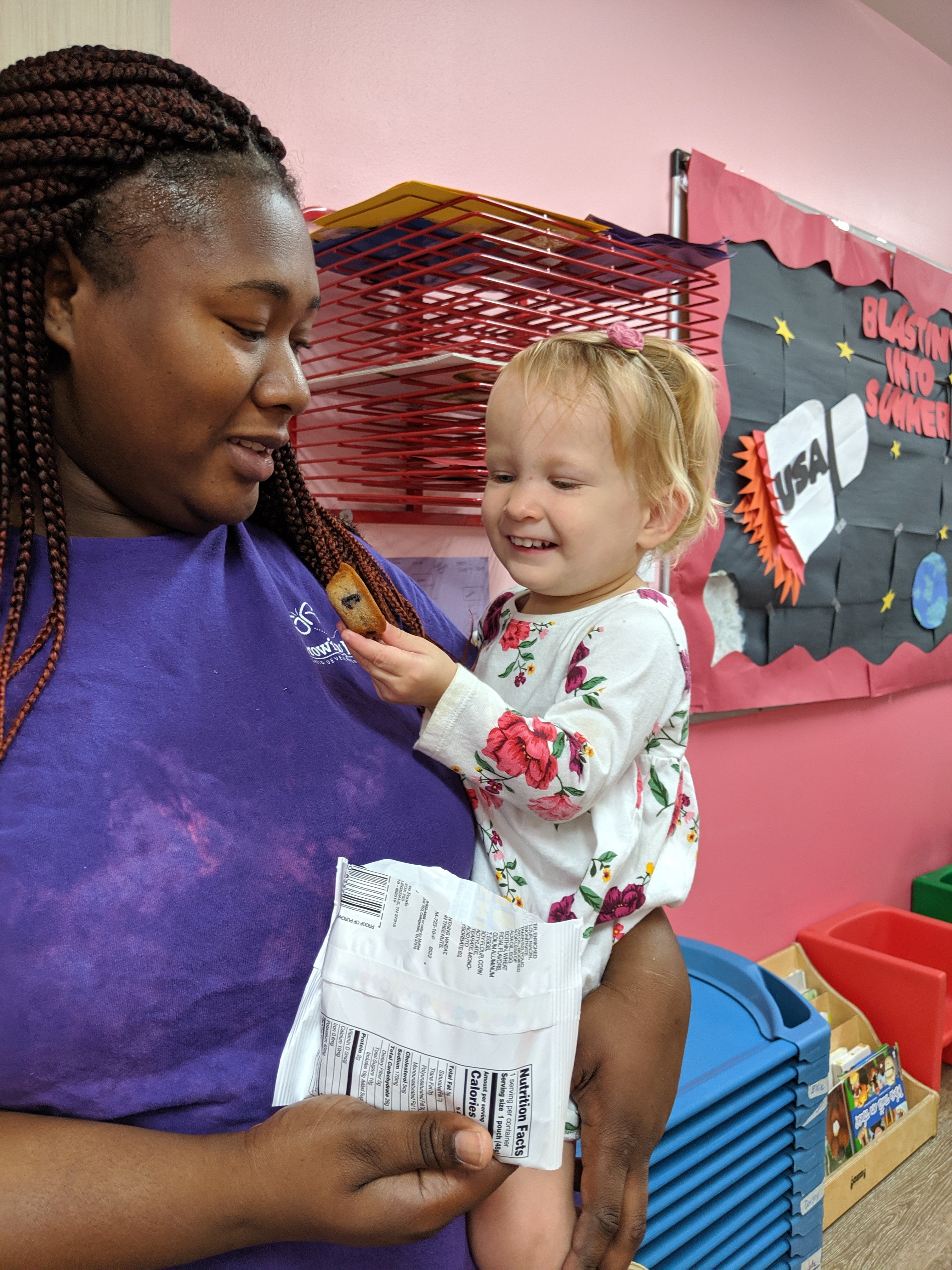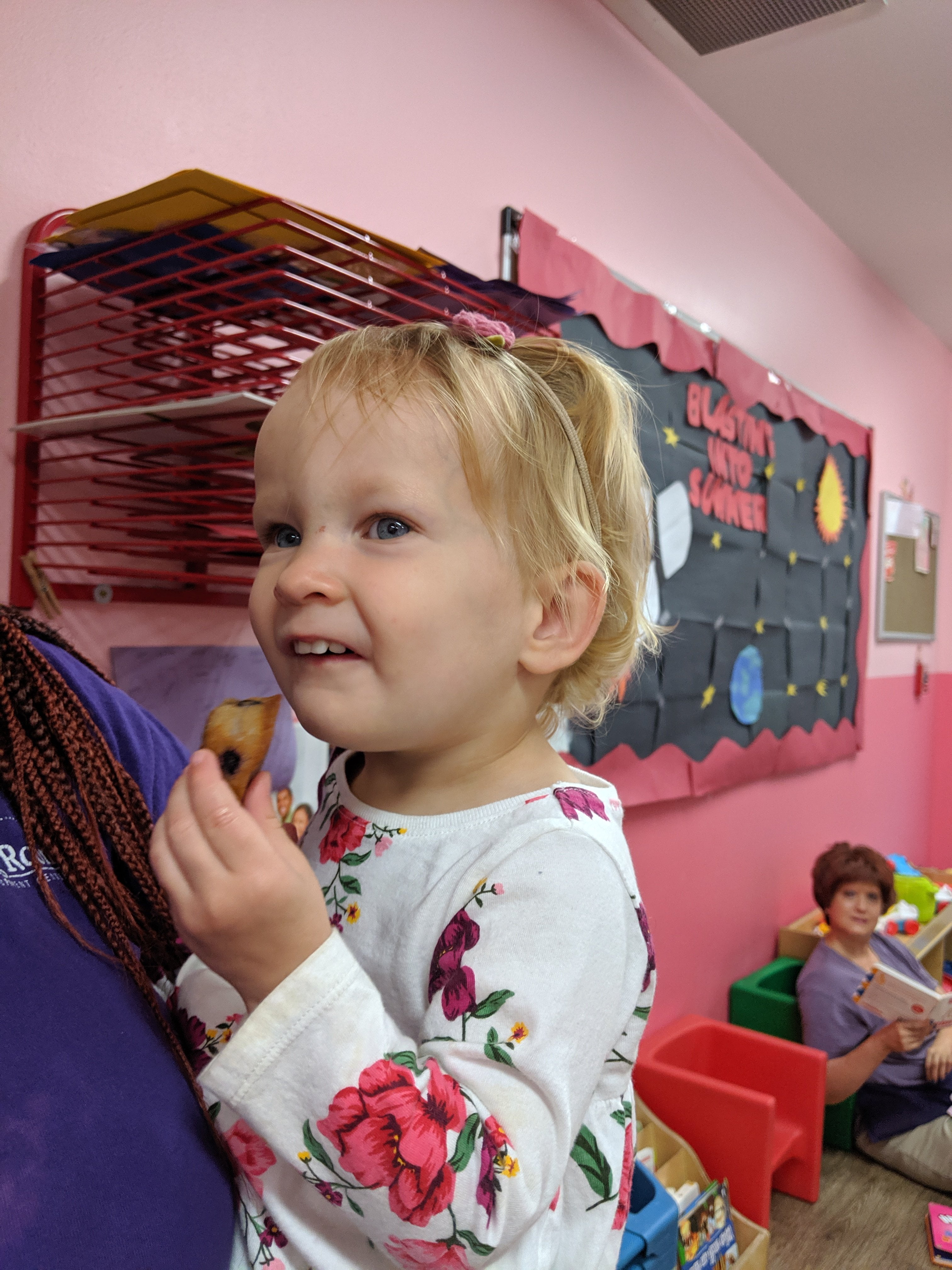 For lunch today, I took all the stuff (including my little cutting board mat) to make avocado toast with fresh sliced tomatoes and EBTB seasoning. And it was sooo good. (Not pictured by definitely eaten – pretzels and an almond butter Snickers I grabbed from CVS last night.) I also finished this book today on my lunch break, and it was good, but not quite as exciting as I was expecting. There are two mysteries woven throughout the book (one from present day and one from 23 years ago), but once both were revealed at the end, they felt a little anticlimactic.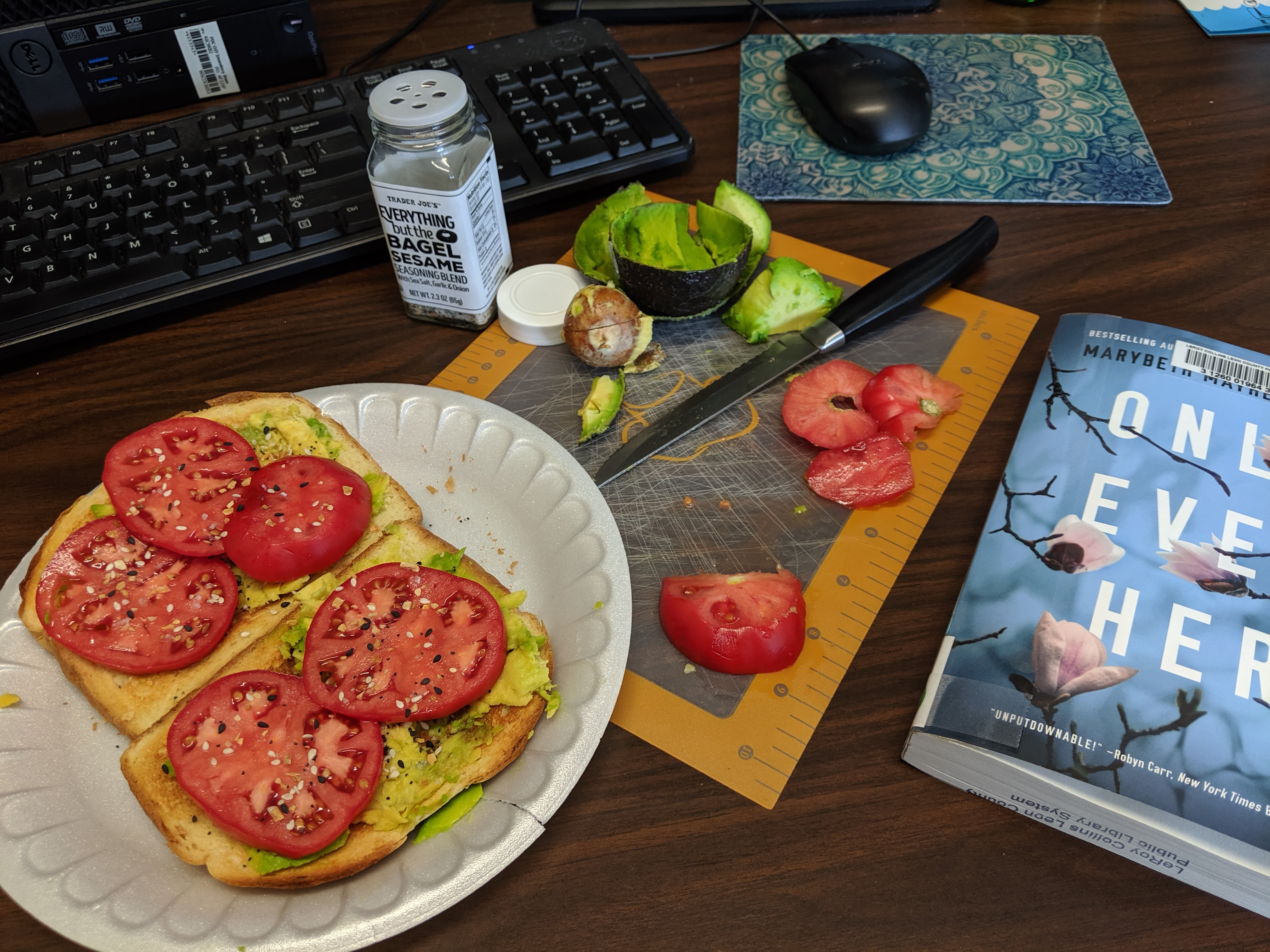 Look at this 18-year-old blonde baby! This Time Hop photo says 10 years ago, but that's because I shared it 3 years ago. So this was actually 13 years ago, back when I graduated high school in 2006. My mama took me on a week long cruise for my graduation gift, and we had so much fun together!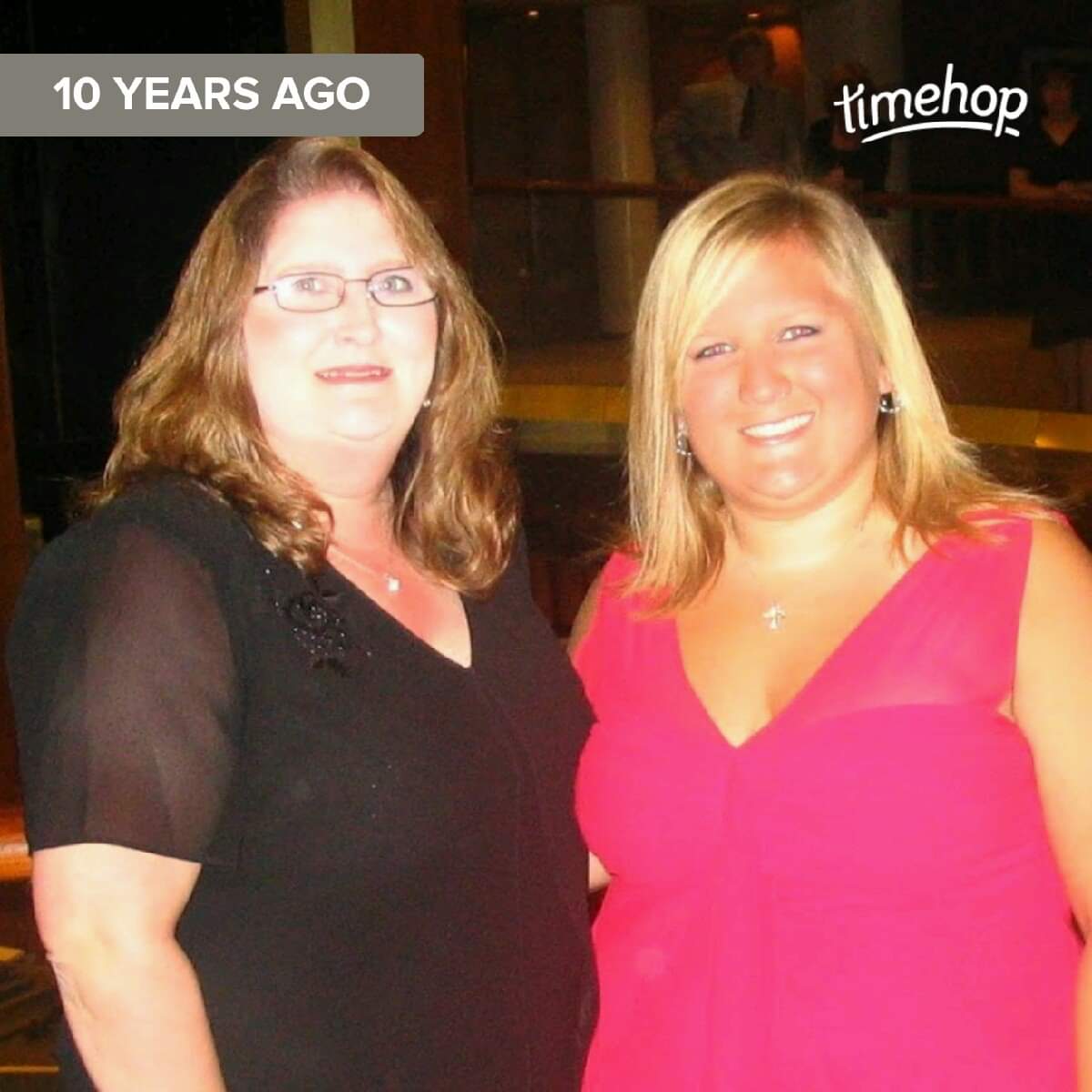 And now for some pictures of today from Emerson's teacher…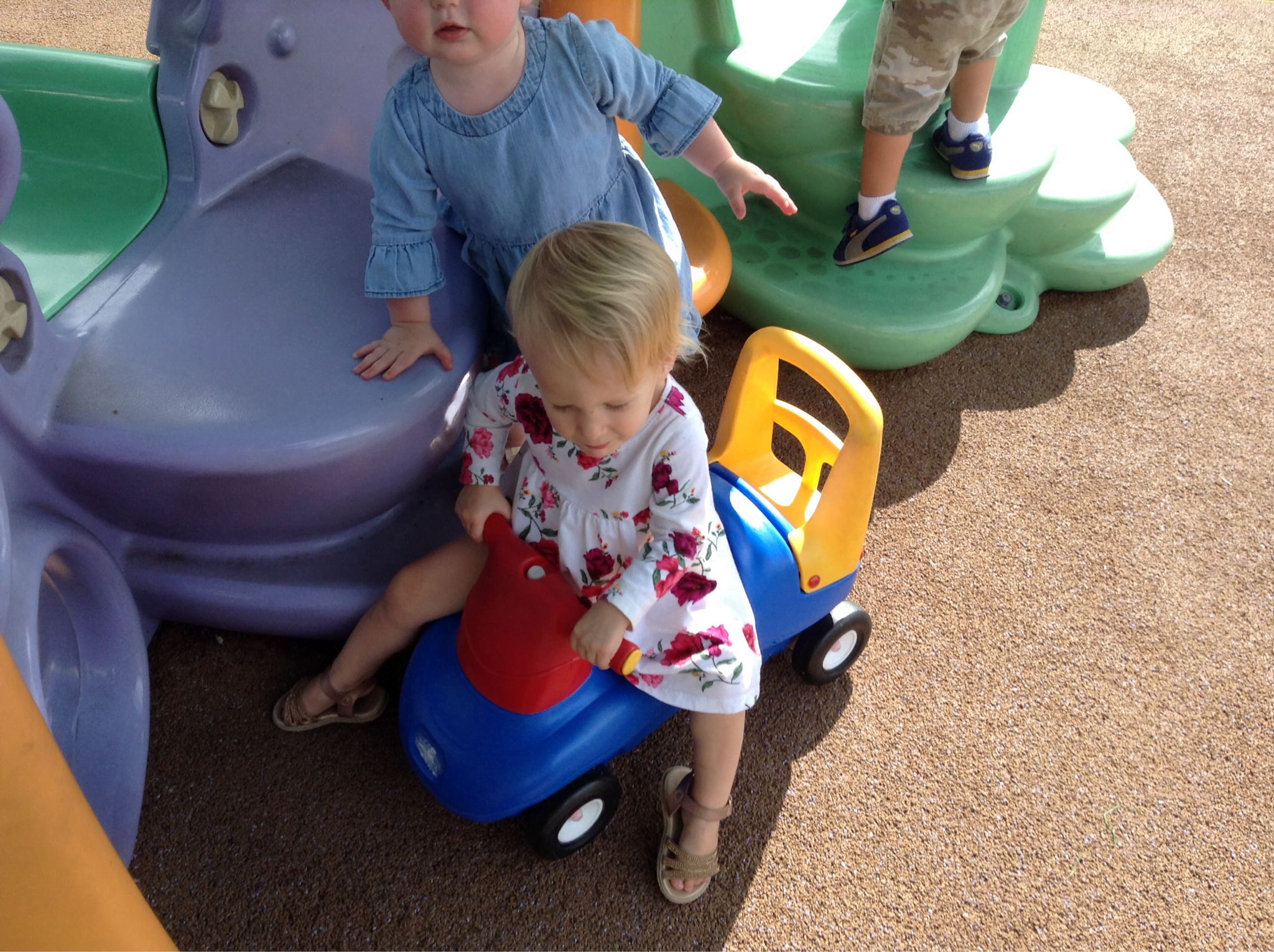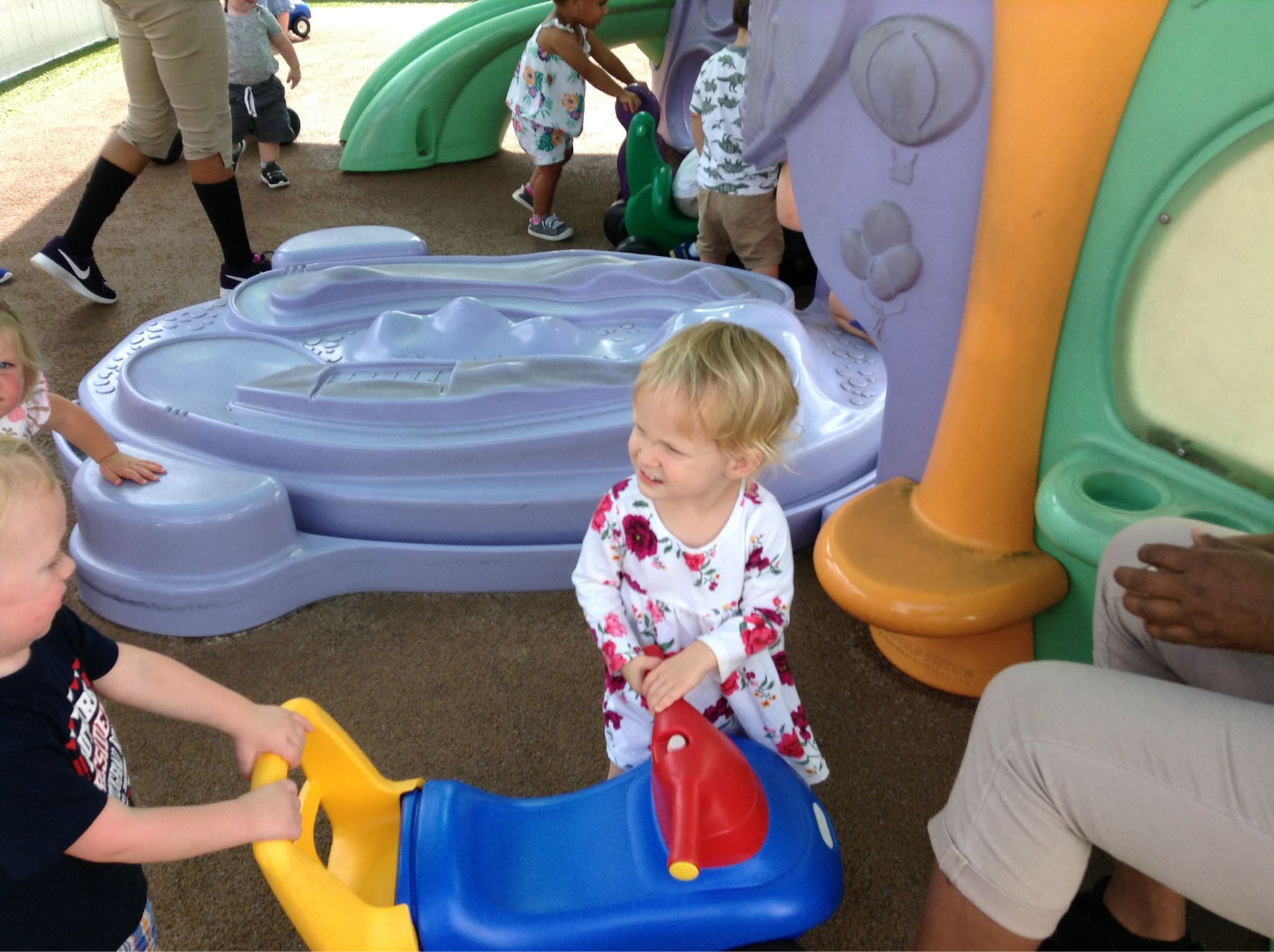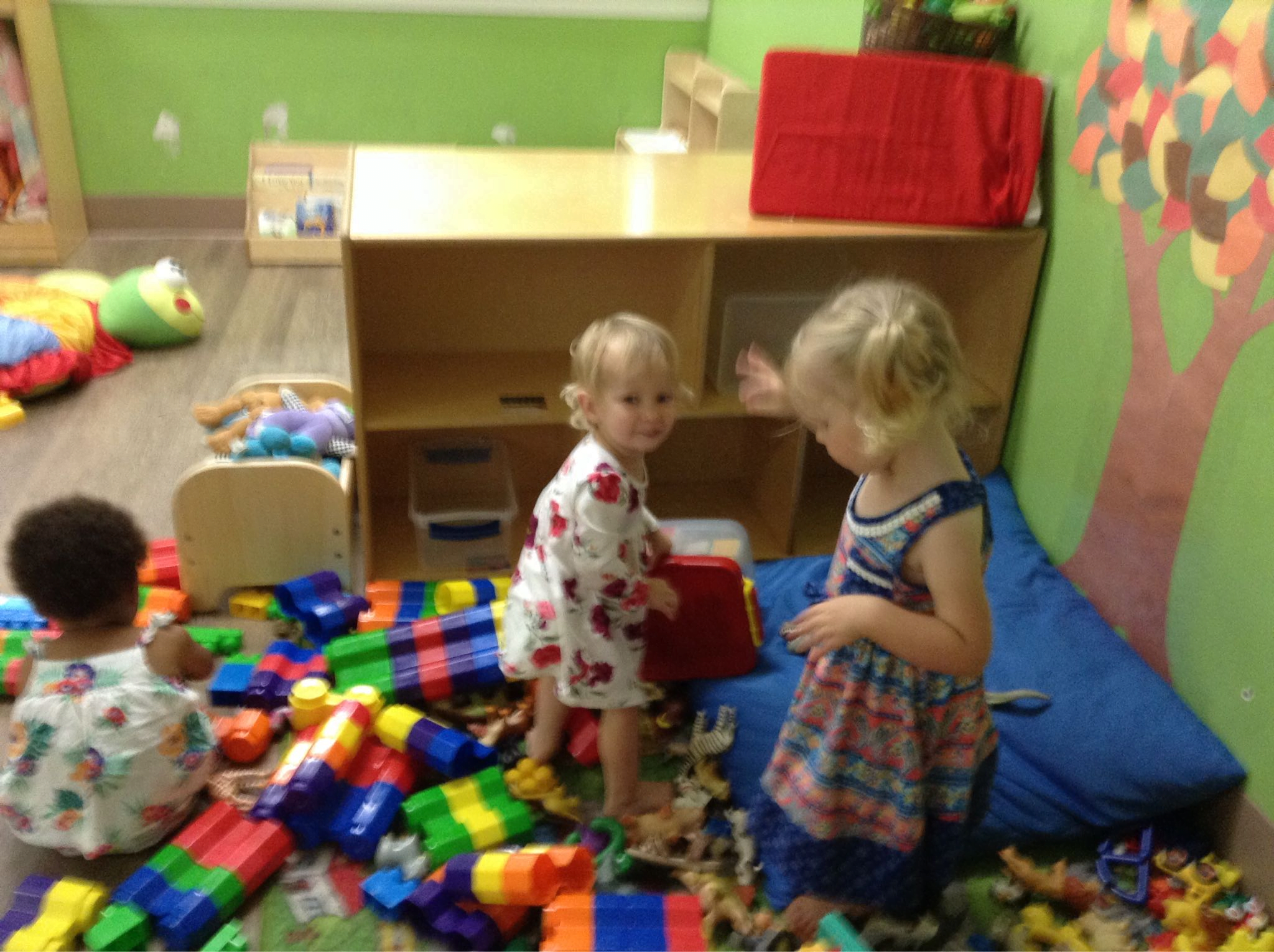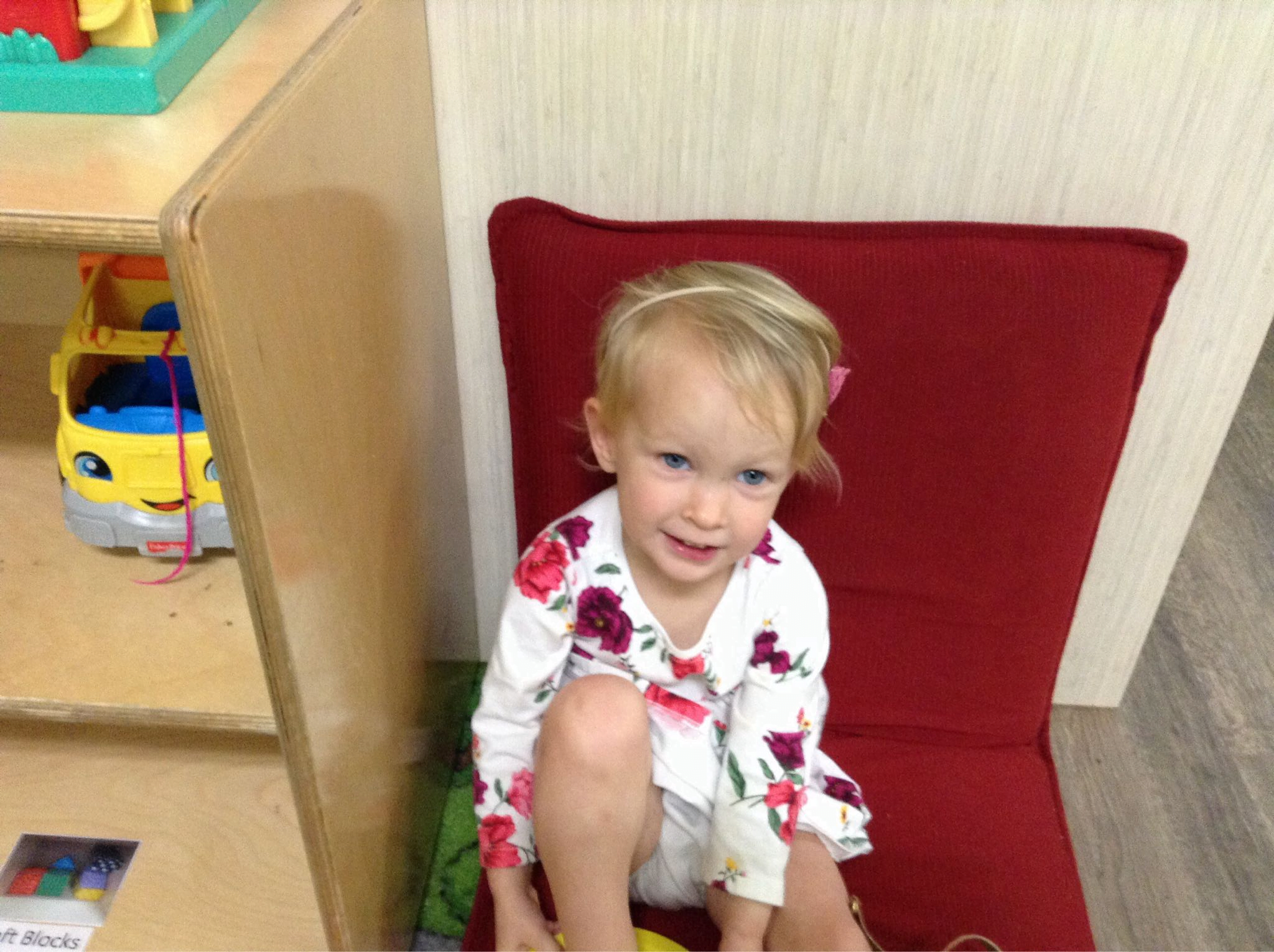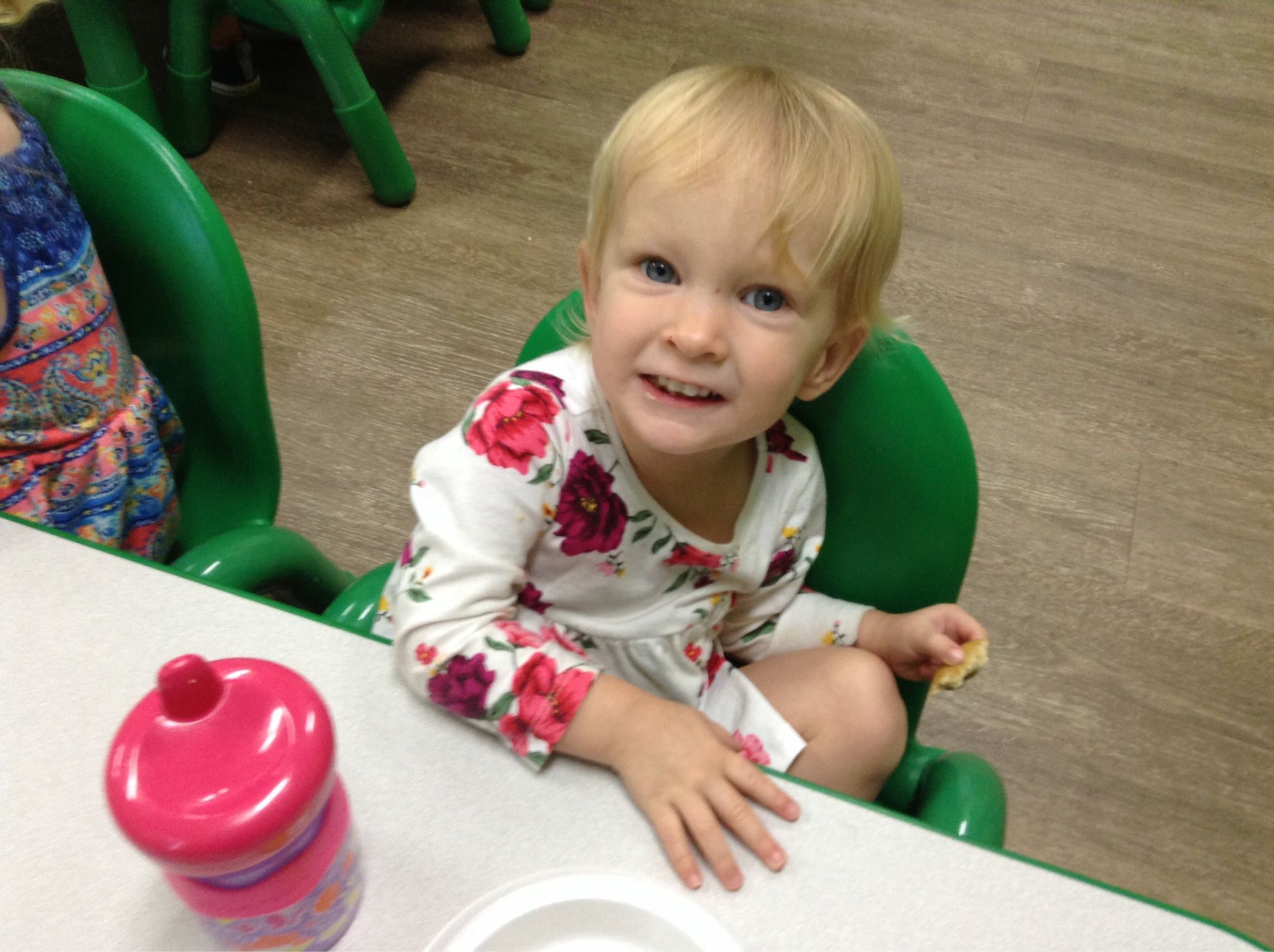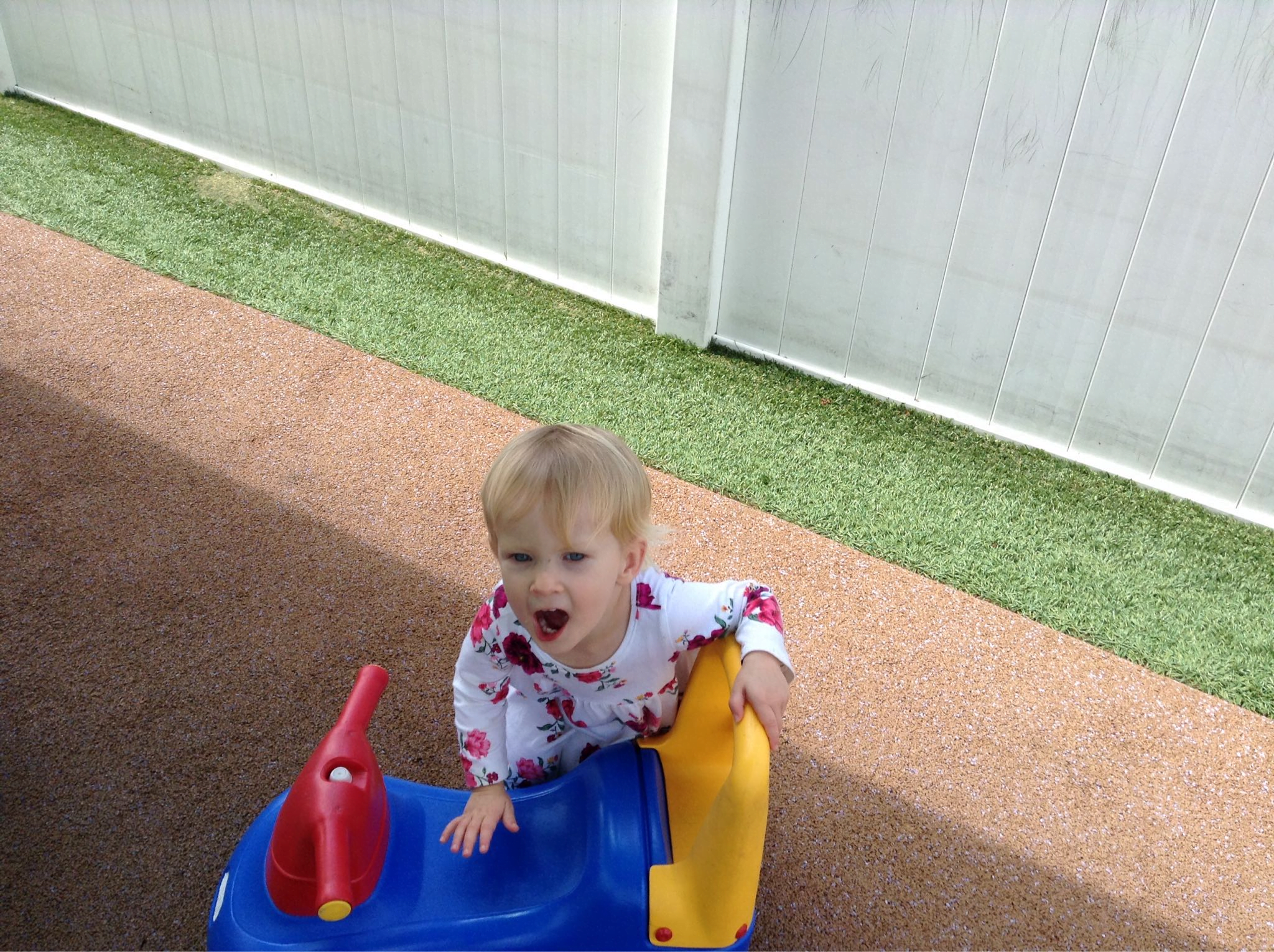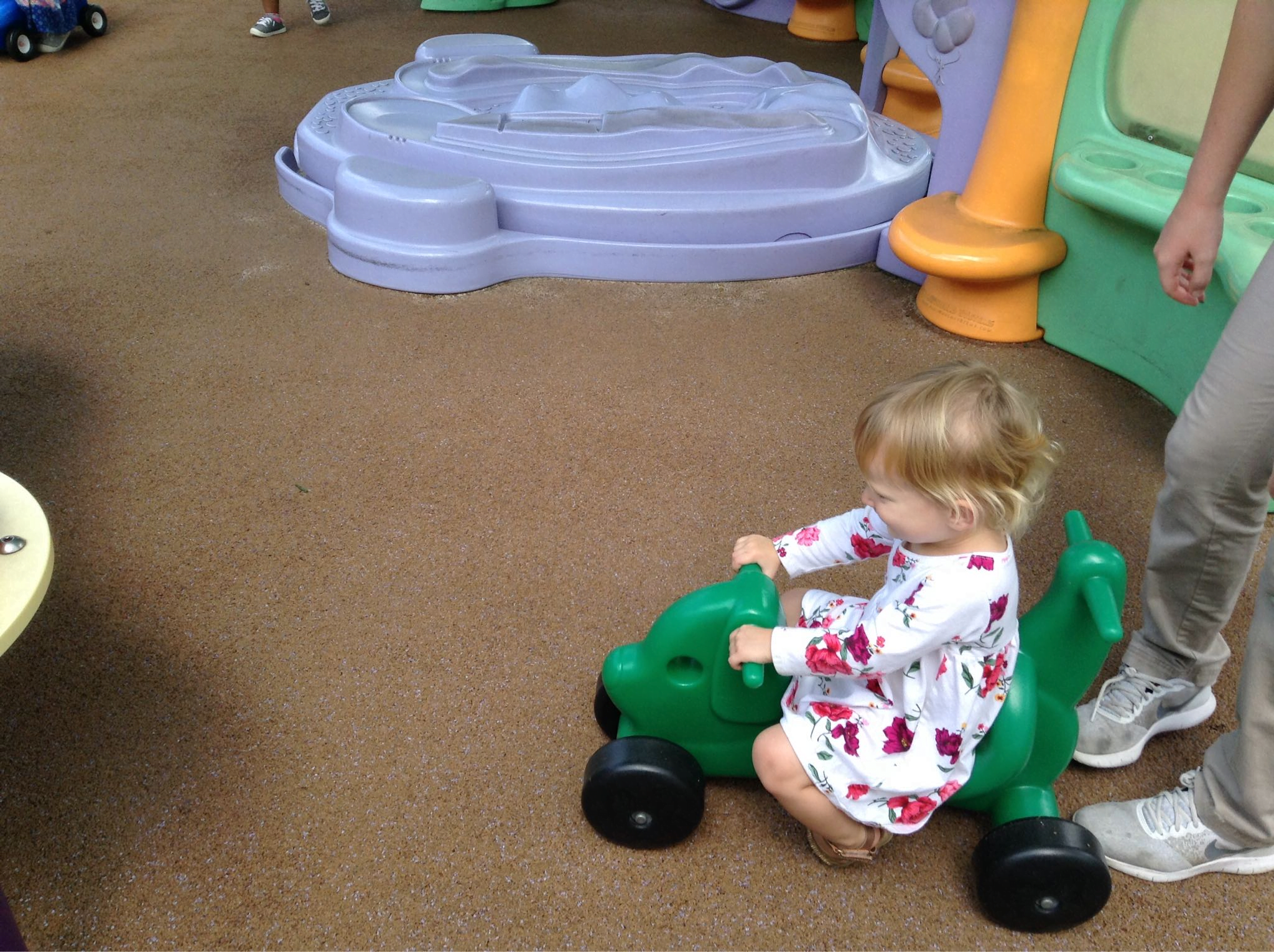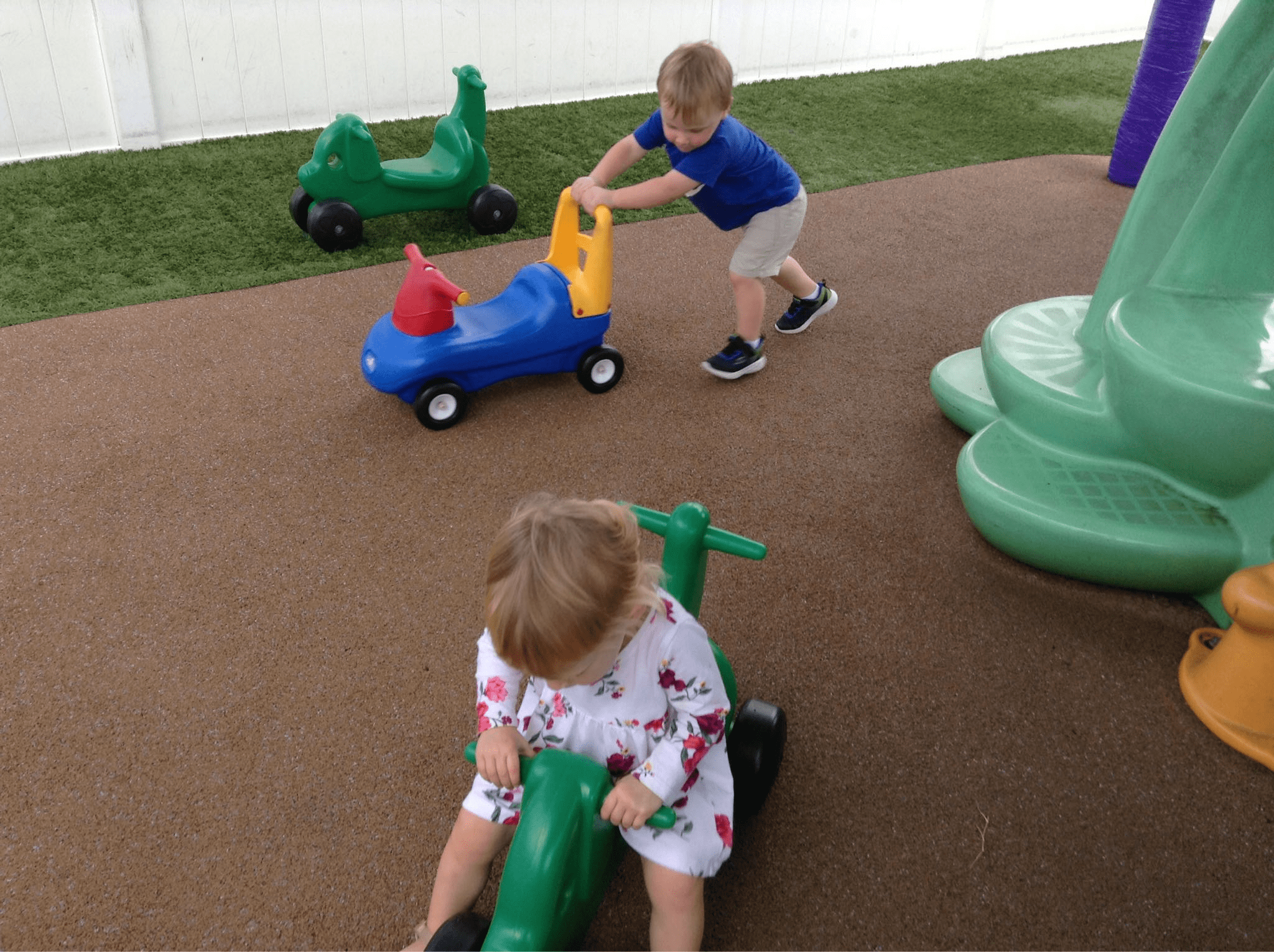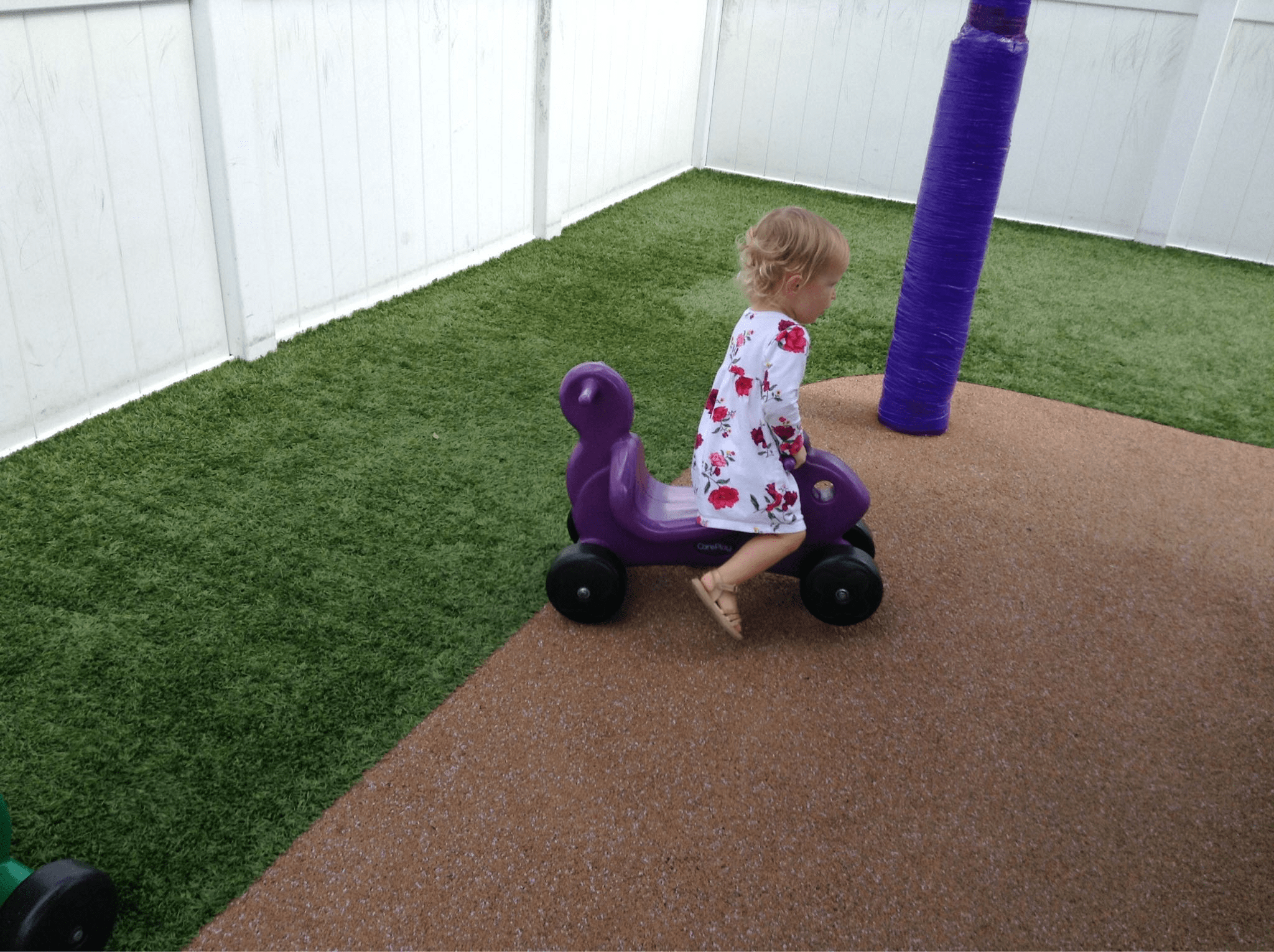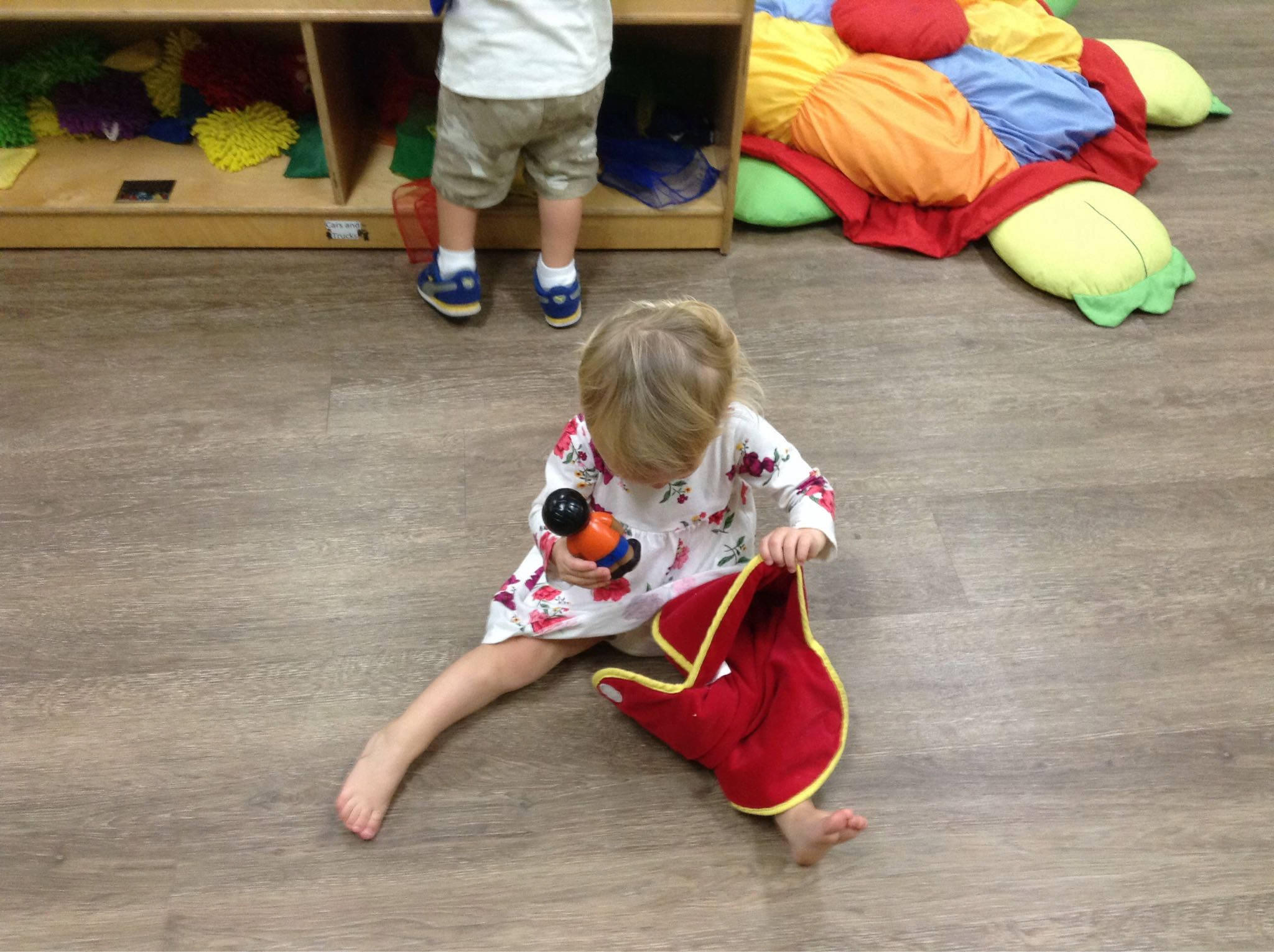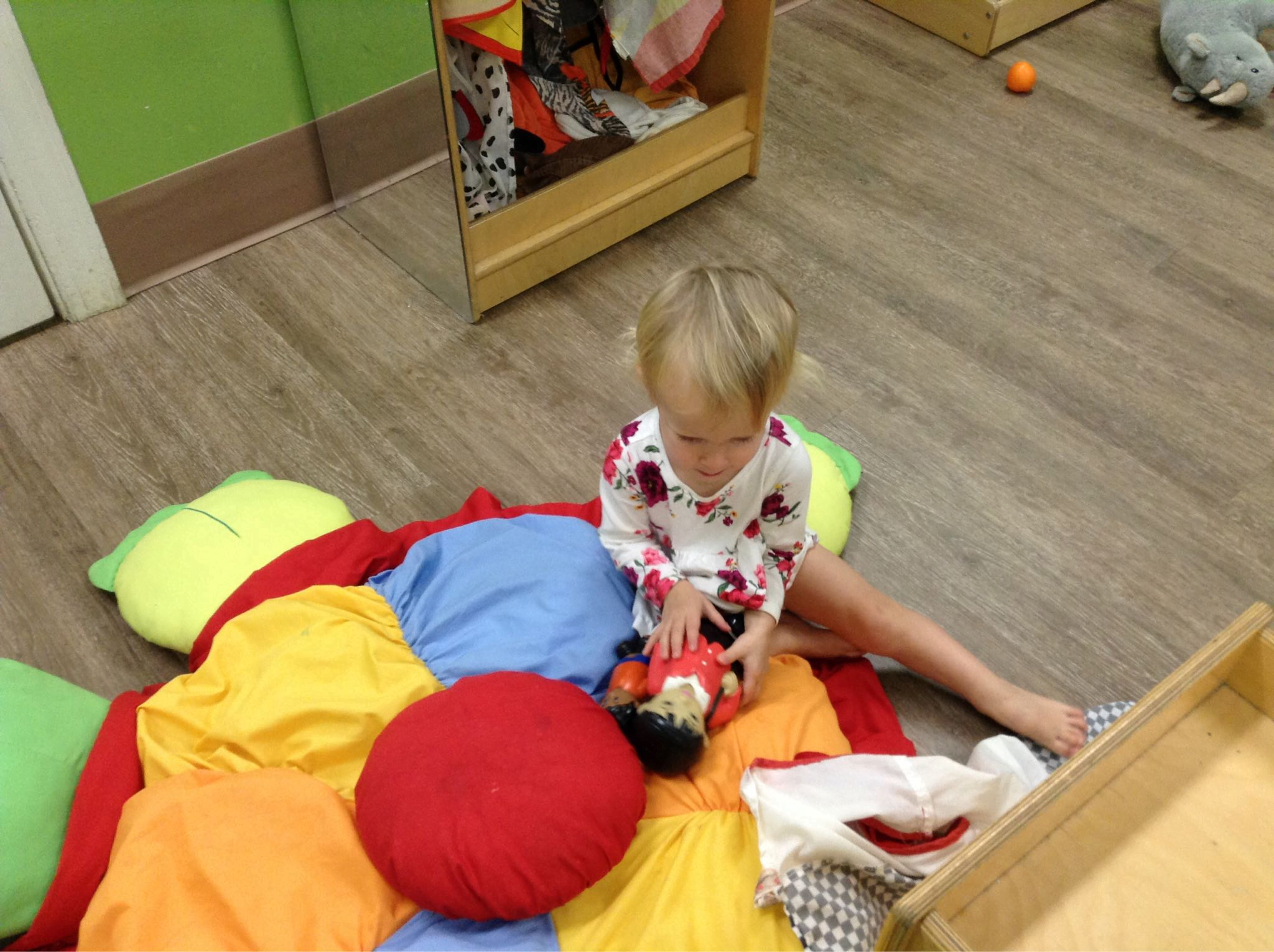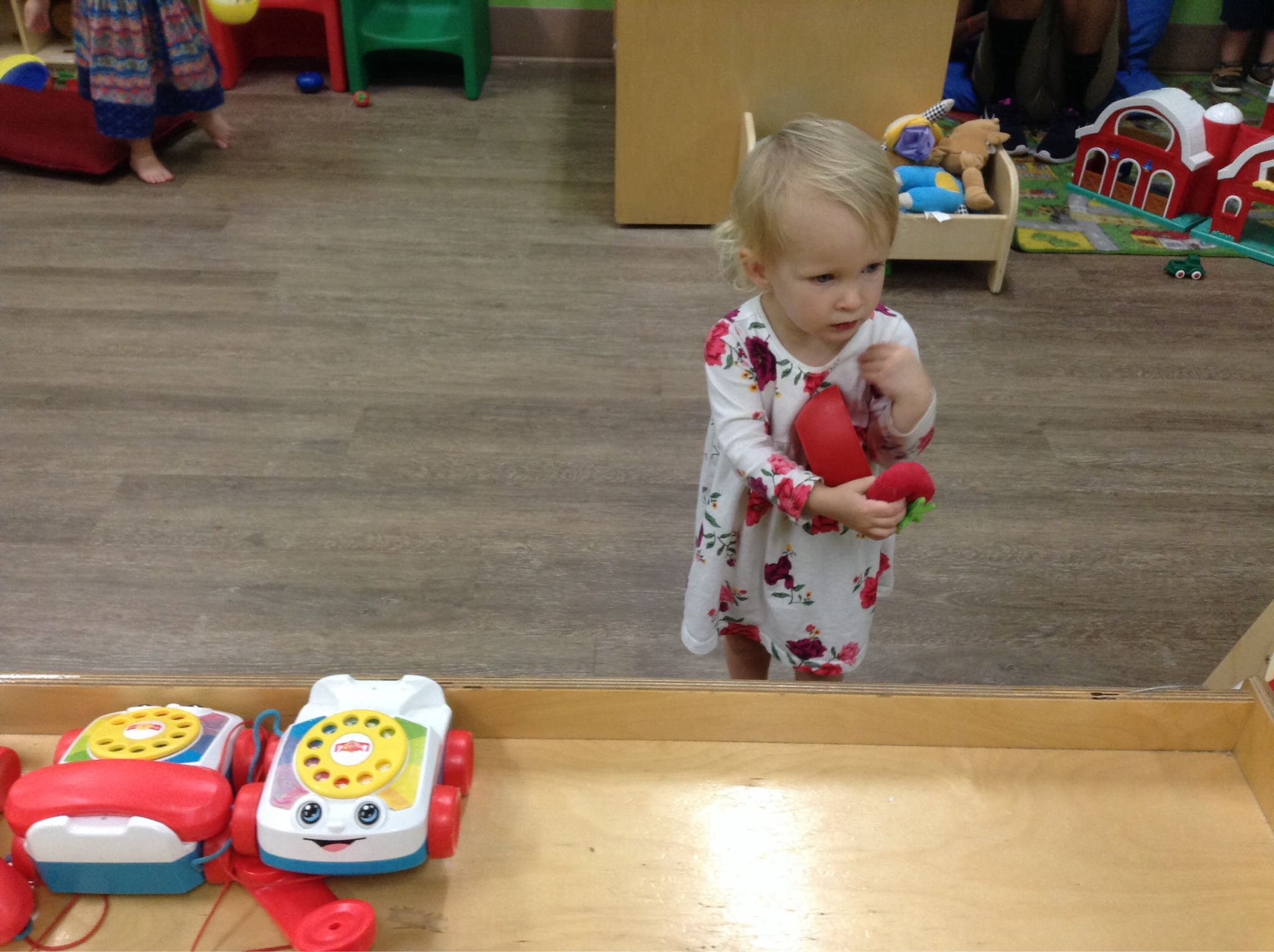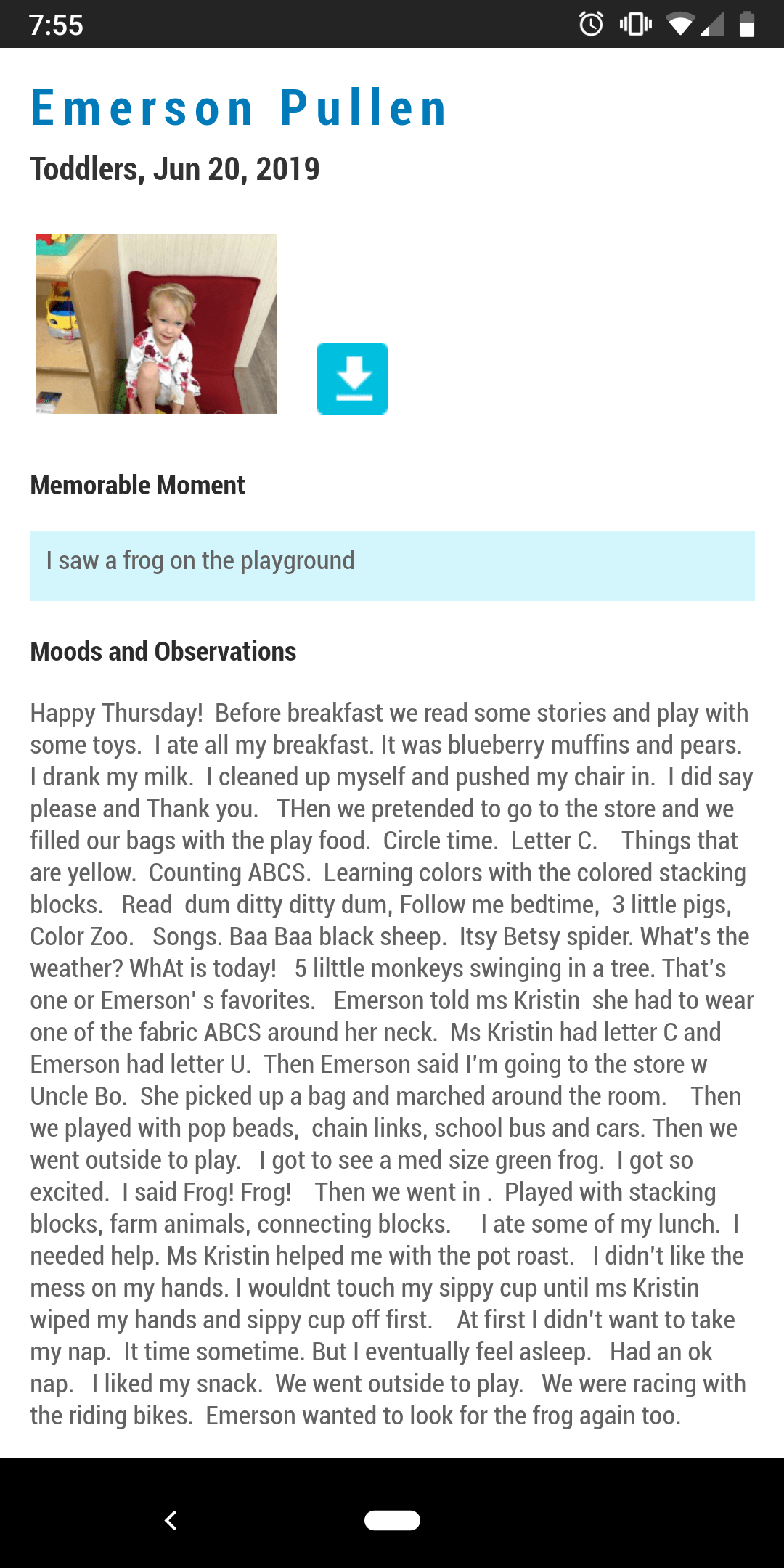 Before I started working on dinner, I did love tiny little bit of tidying up around the house. One thing I did was put away the clothes we got from Old Navy over the weekend, so I spread them out to share first. The pink and the black swimsuits on the far right are both too big for this summer, but they were only $3 each on super clearance, So she can grow into them in the next few years! The little sandals were each $1, the mint shoes were $10, and the dresses were $8 each. The rompers on the far left where $11 for the two-pack. We also got two t-shirts for Jeff, one sweatshirt for me, and one yellow onesie for Ellie. And all 13 things totalled only $70!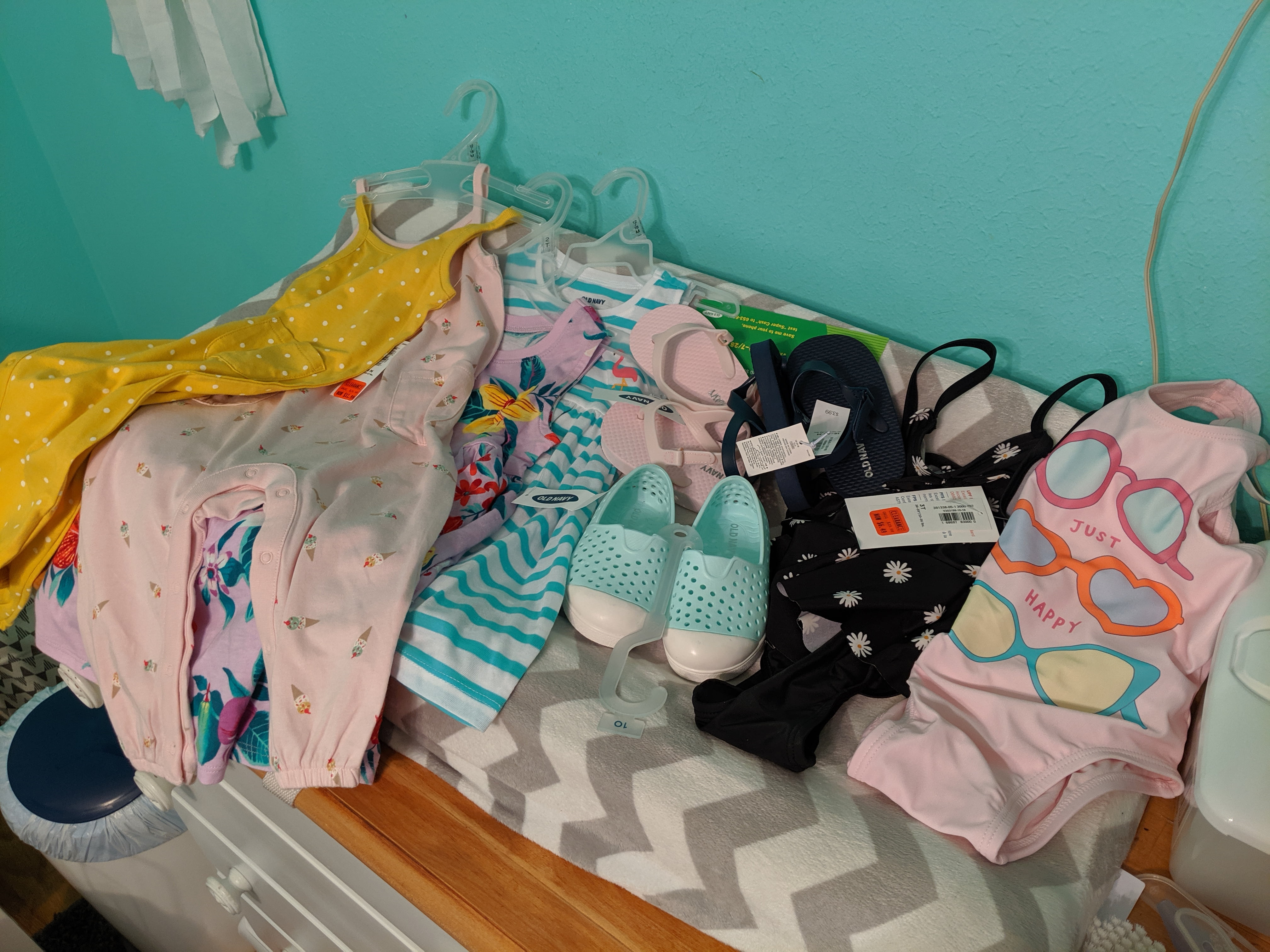 As dinner was cooking, I was multitasking by washing a few dishes really quick. Emerson brought over her little stool, and hopped up next to me. She wanted to help, so I handed her my brush and let her "scrub" my coffee cup. I told her thank you, and that she had been a big helper, and then I washed the cup again myself 🤣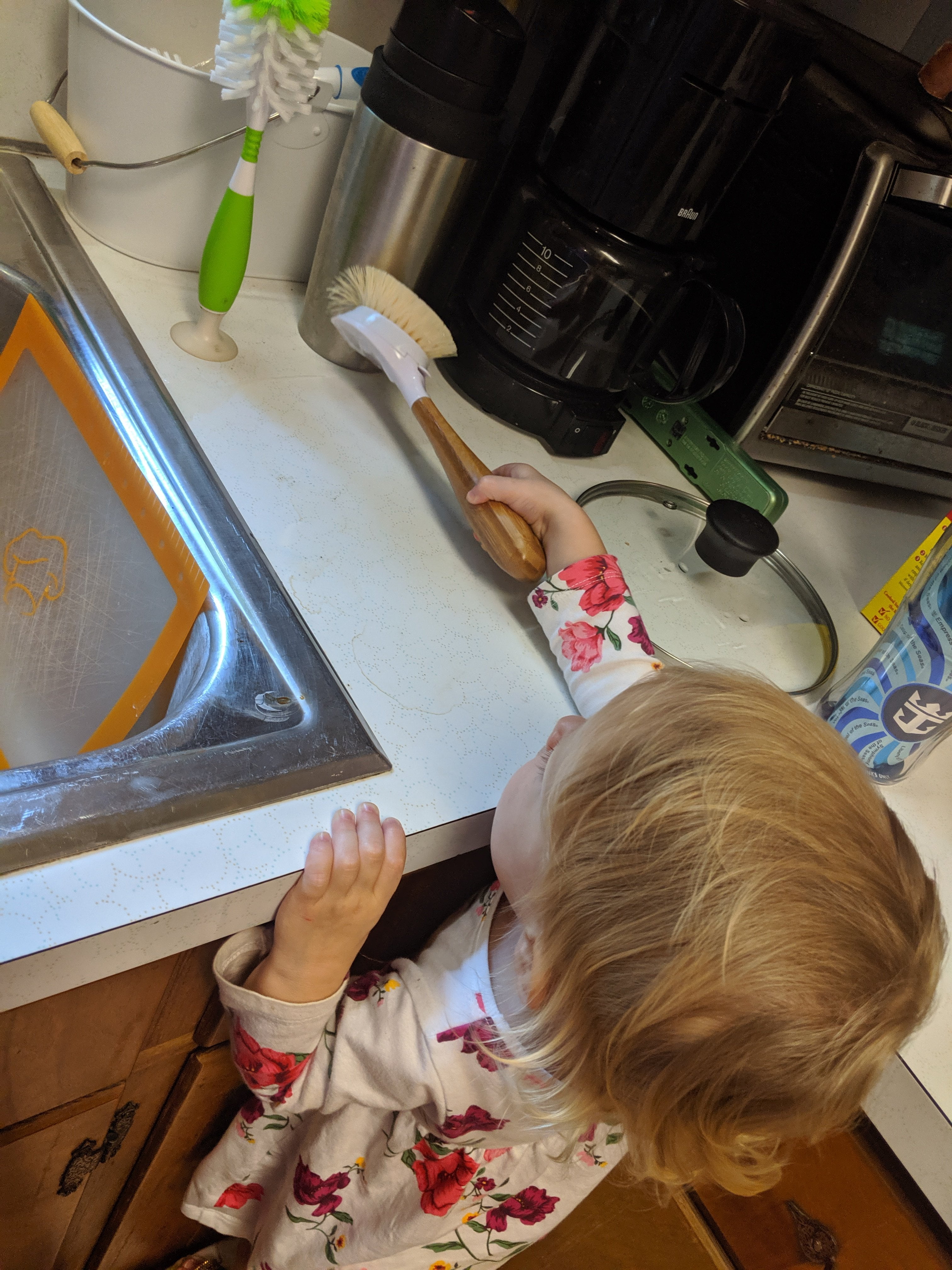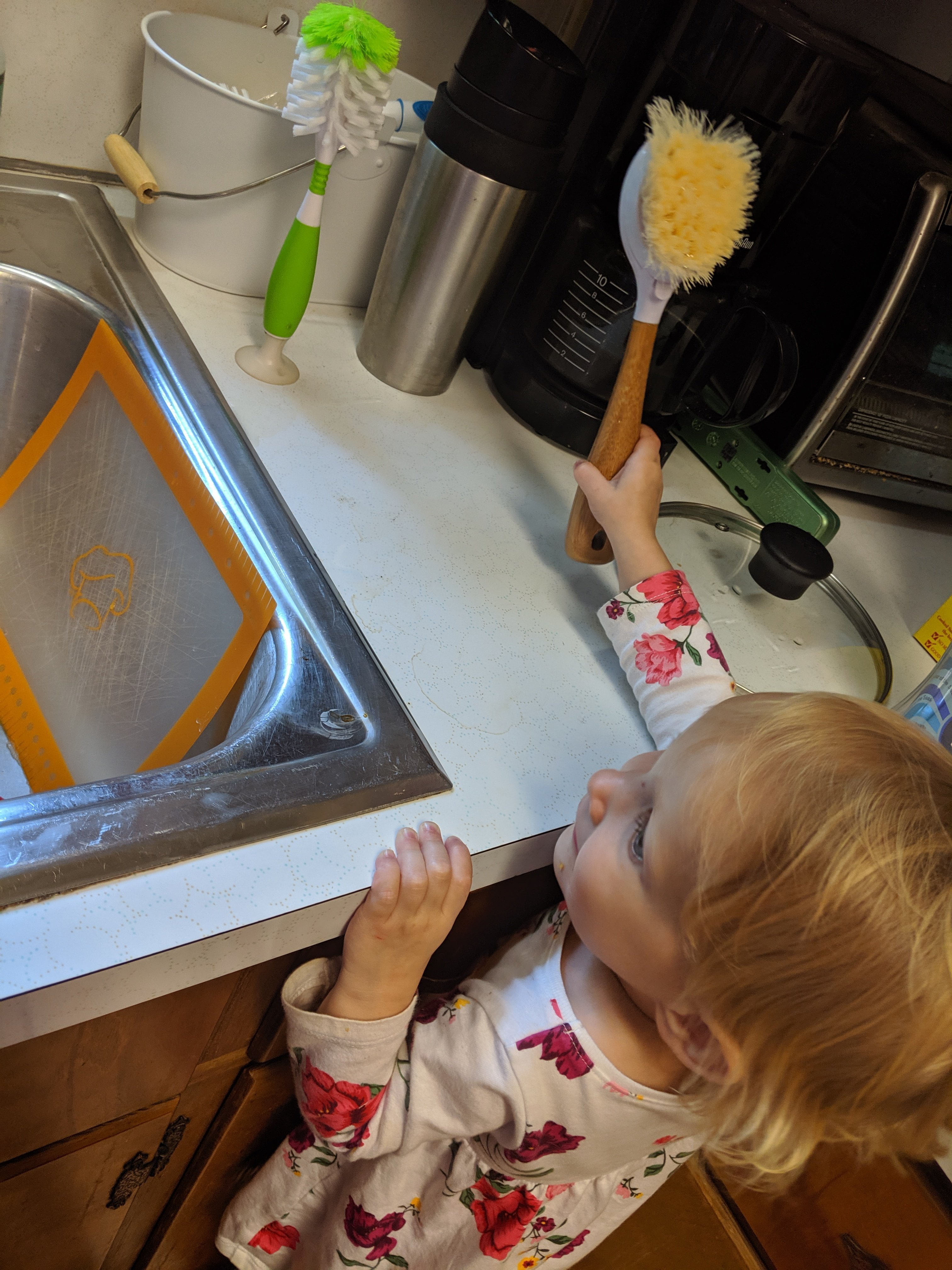 Then she ate a ton of beef tips with gravy & rice for dinner, and was only slightly worried towards the end about how messy her hands were.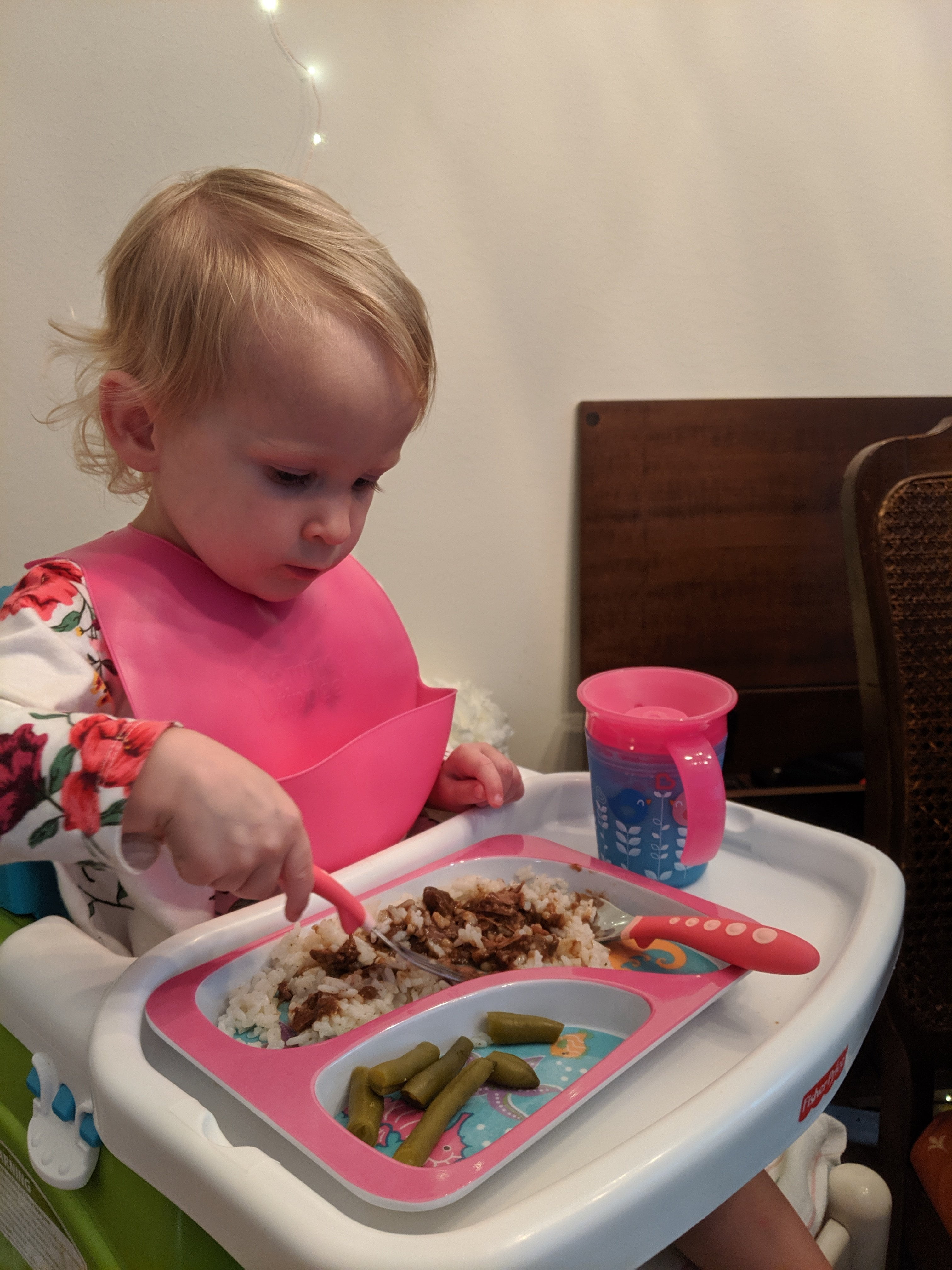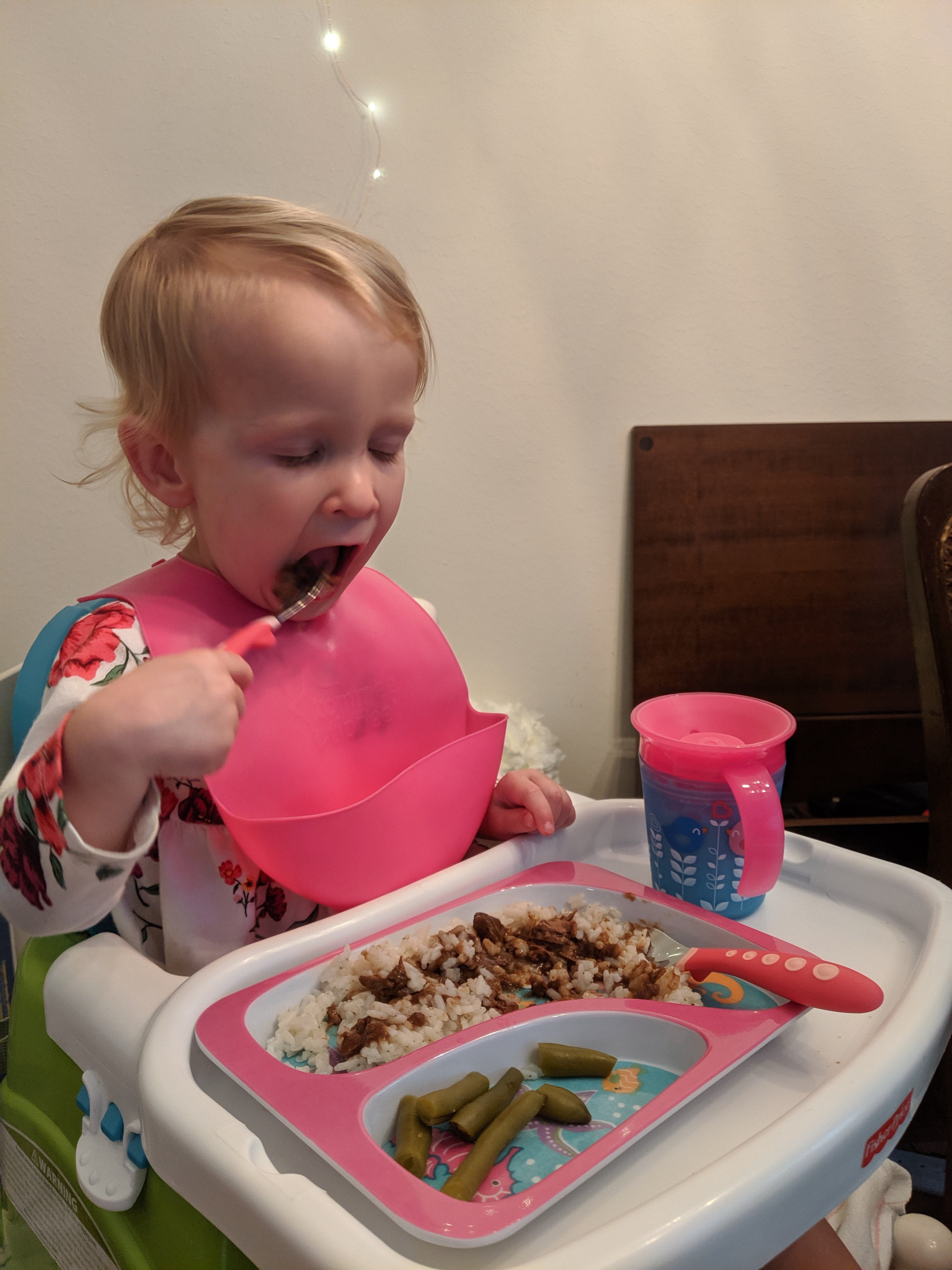 At one point, she wanted water. Then she decided she wanted pink milk instead. But then she wanted both cups on her tray. Also, she was eating the spilled food out of the pocket on her bib, and if that isn't dedication to eat every grain of rice, I don't know what is.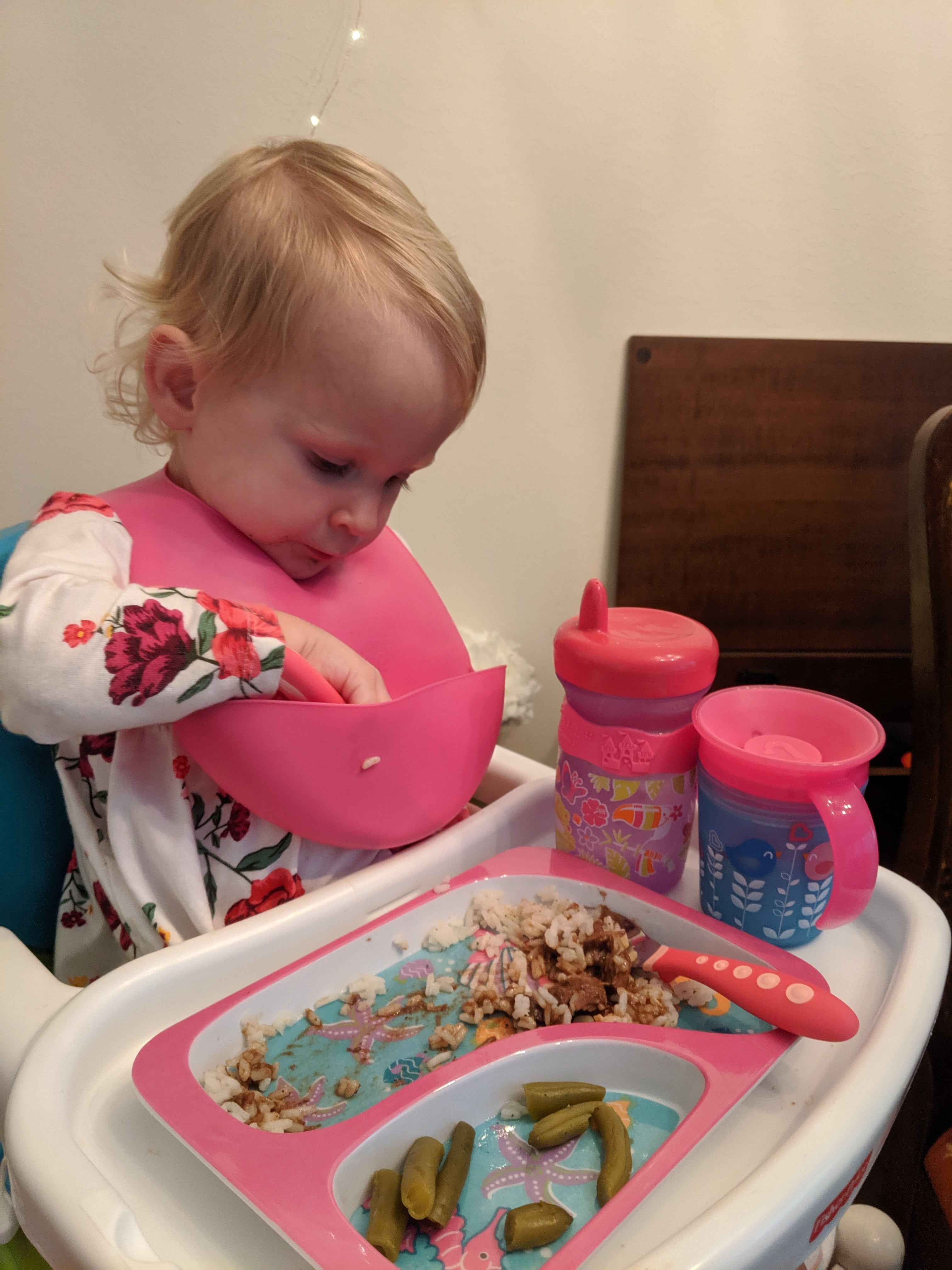 After dinner, she wanted to take this blanket and sit out on the front porch on the blue bench, but it was hot, but I was already in my nightgown, so we convinced her it was a good idea to sit on the blanket on the couch inside instead!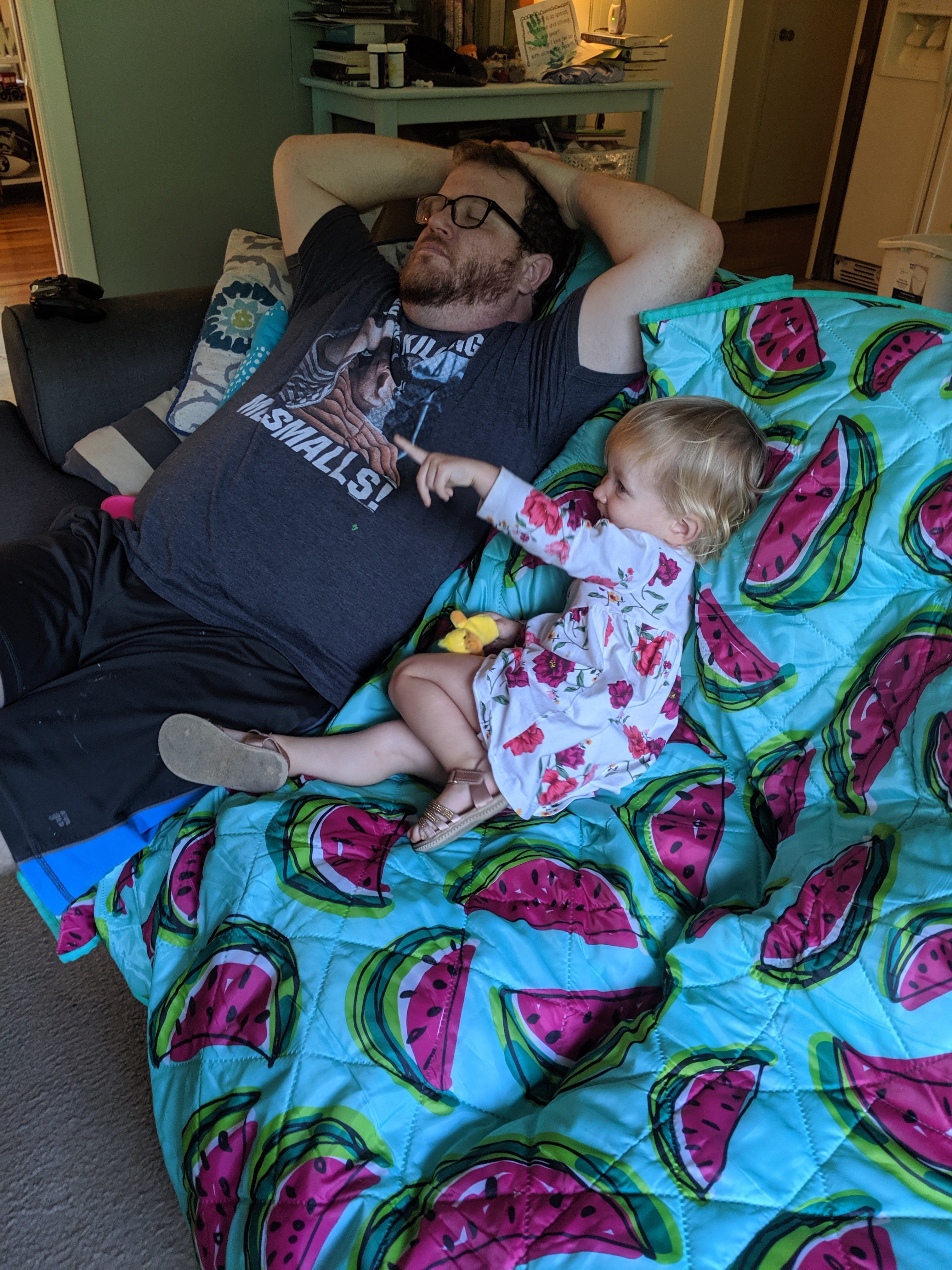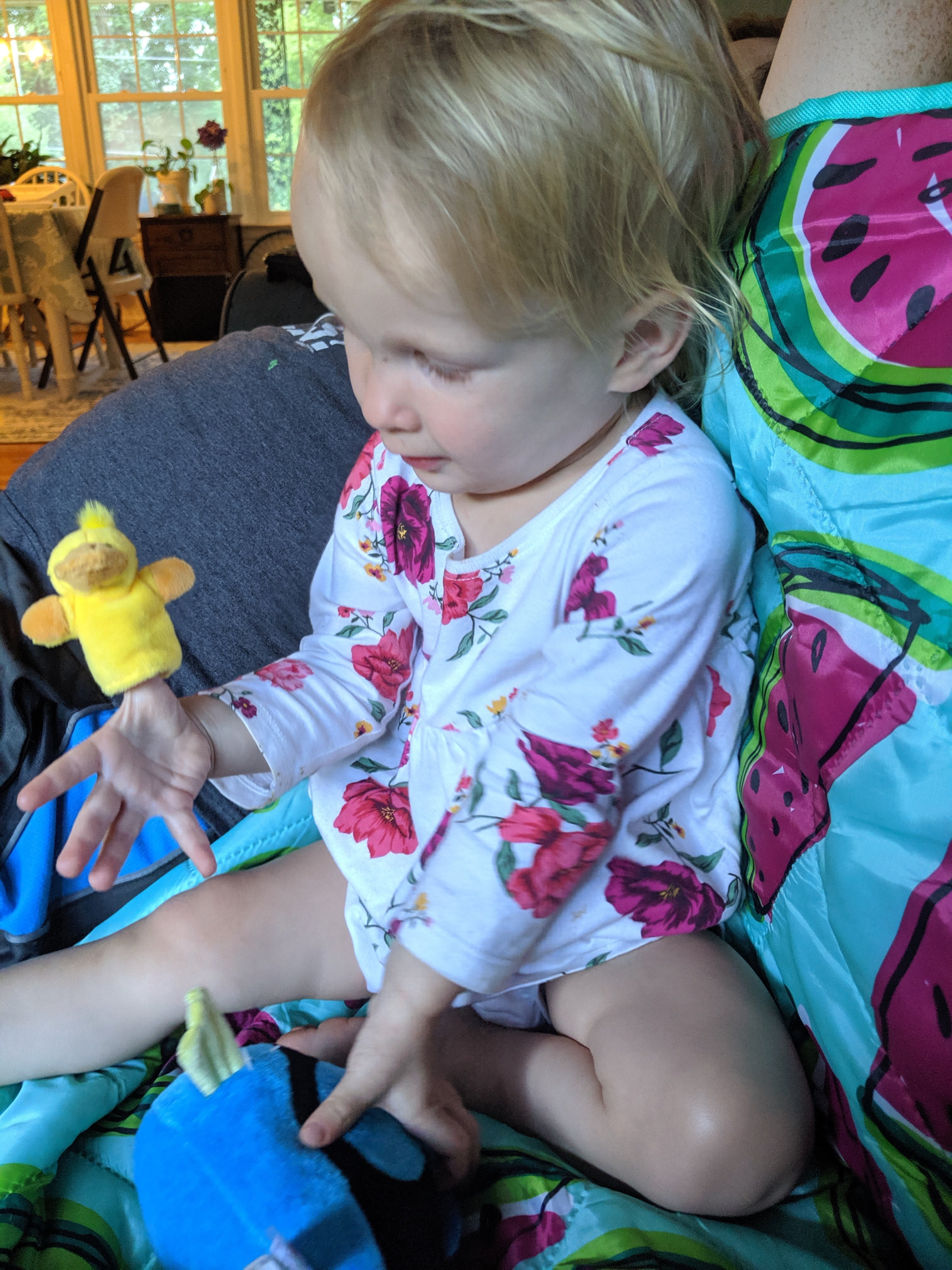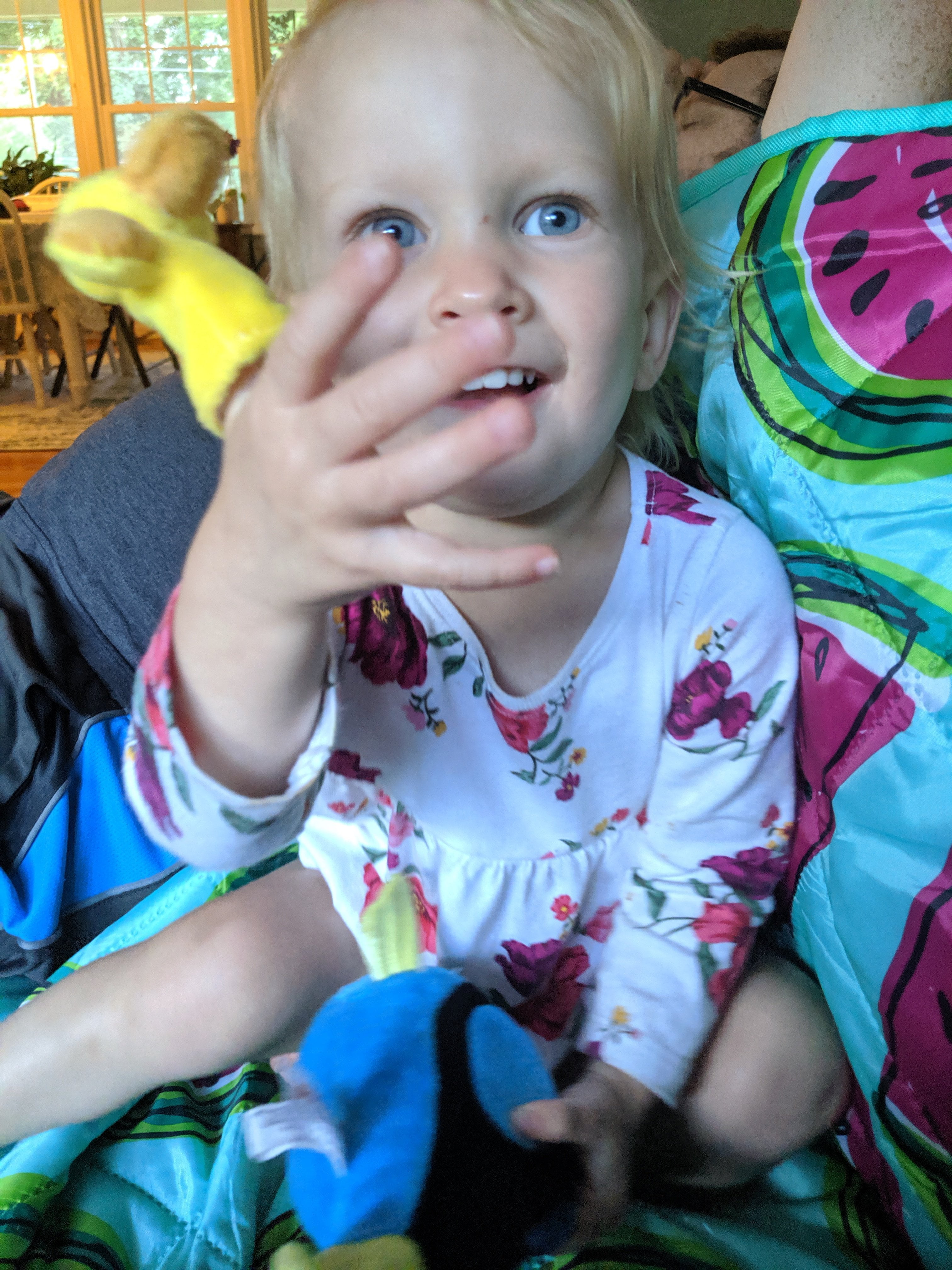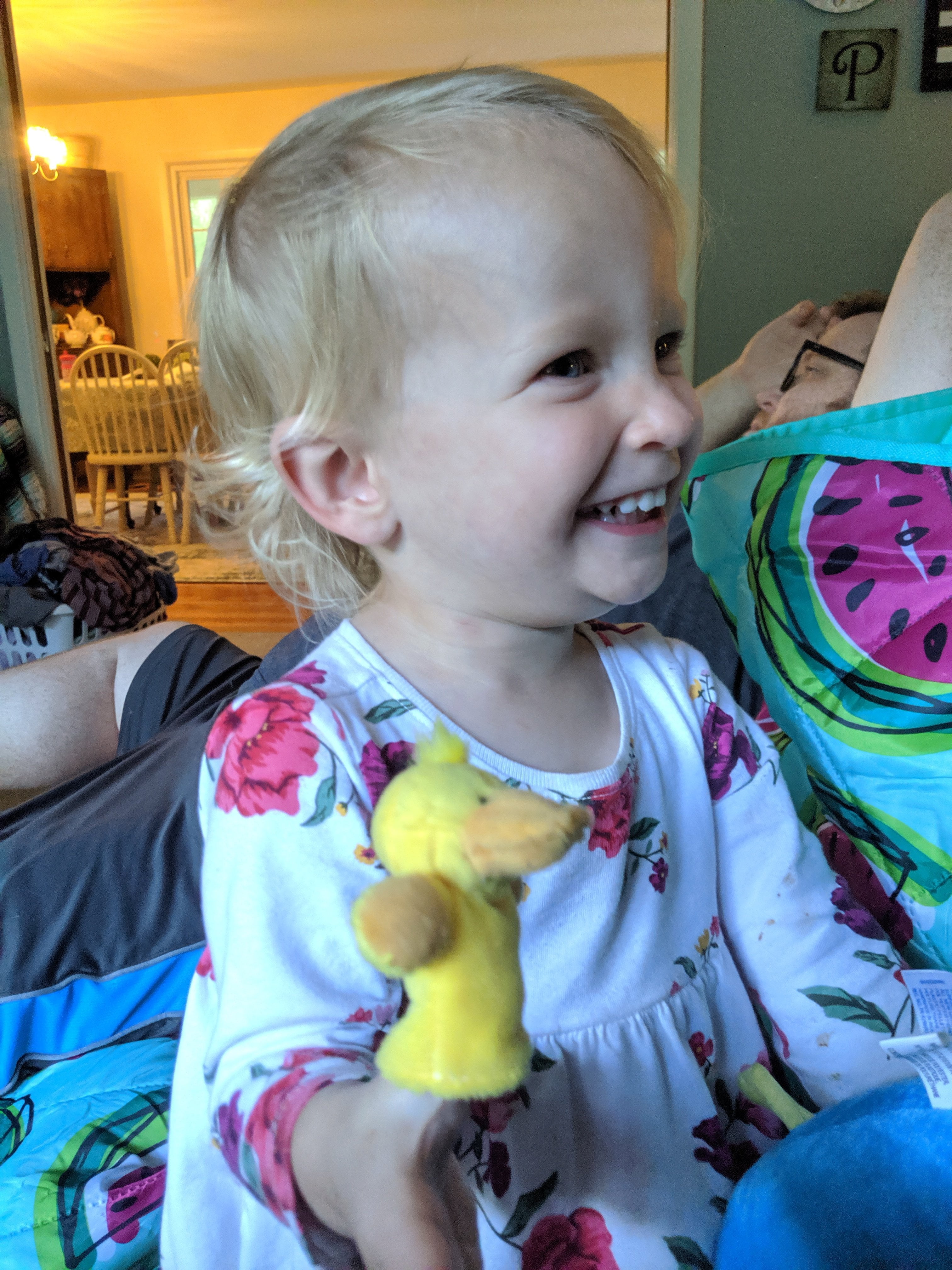 After watching the last 10 minutes of Moana, we watched the little kid video about bath time. Then I told her I had a surprise for her that was special only for bath time. Ms. Q was so sweet and ordered her these bath time crayons as an early birthday present, and we thought it would be good to let her try them out tonight. (Thank you so, so much, Ms. Q!!) She was super excited when I gave them to her, and talked about how they were special and only worked in the bathtub. I asked her if she wanted to go use them, and she said yes and turned around to walk away towards the back of the house!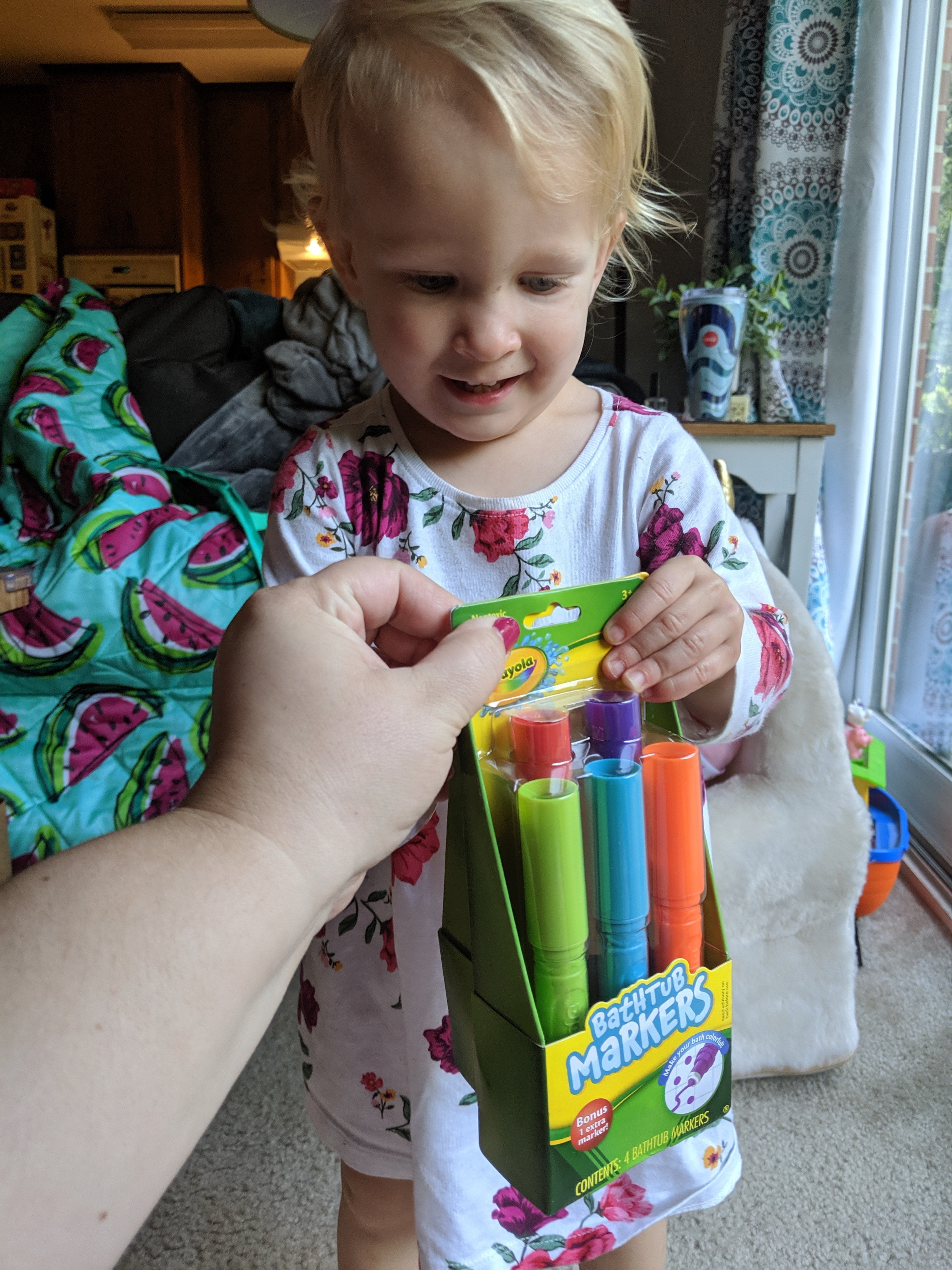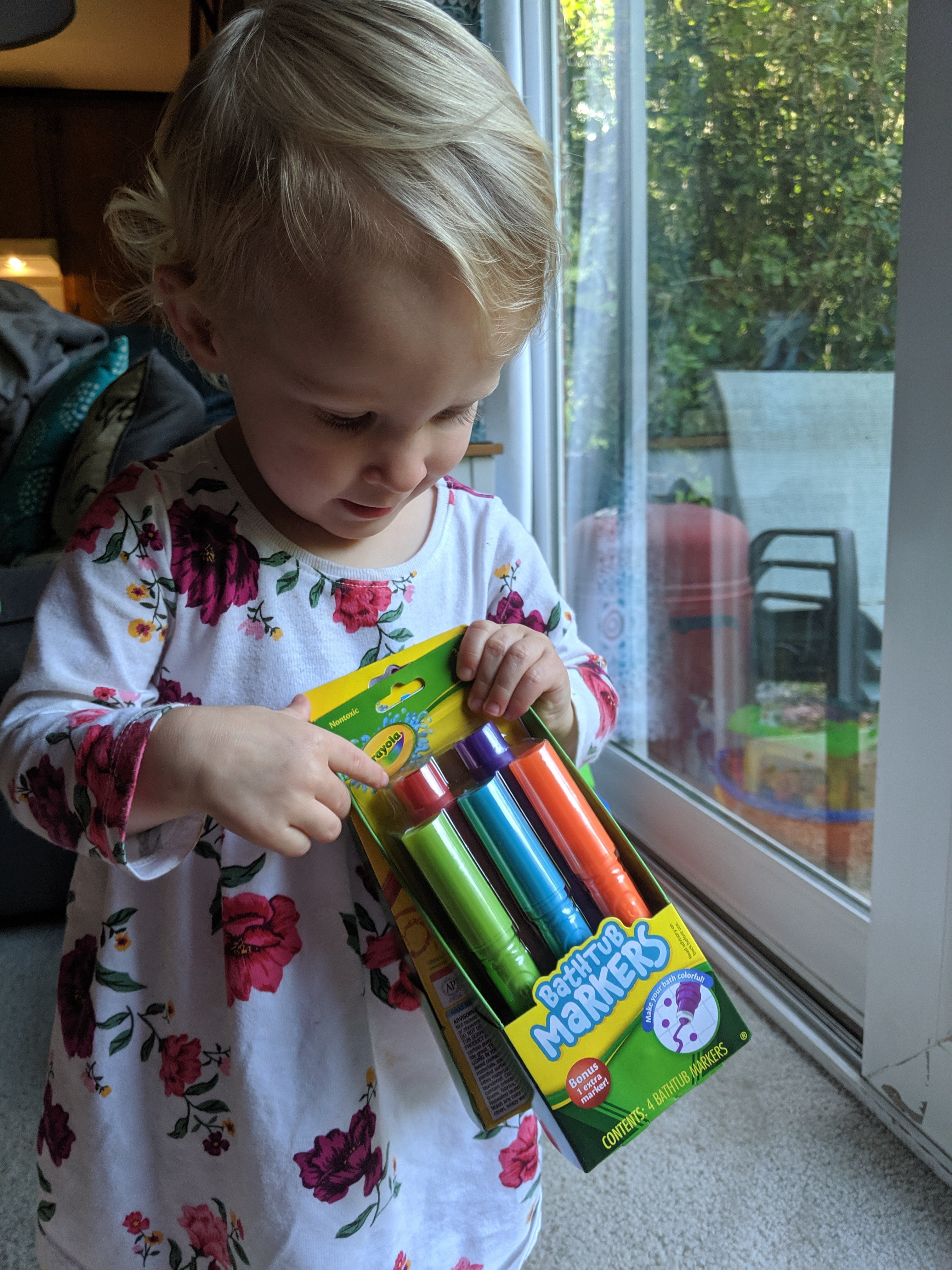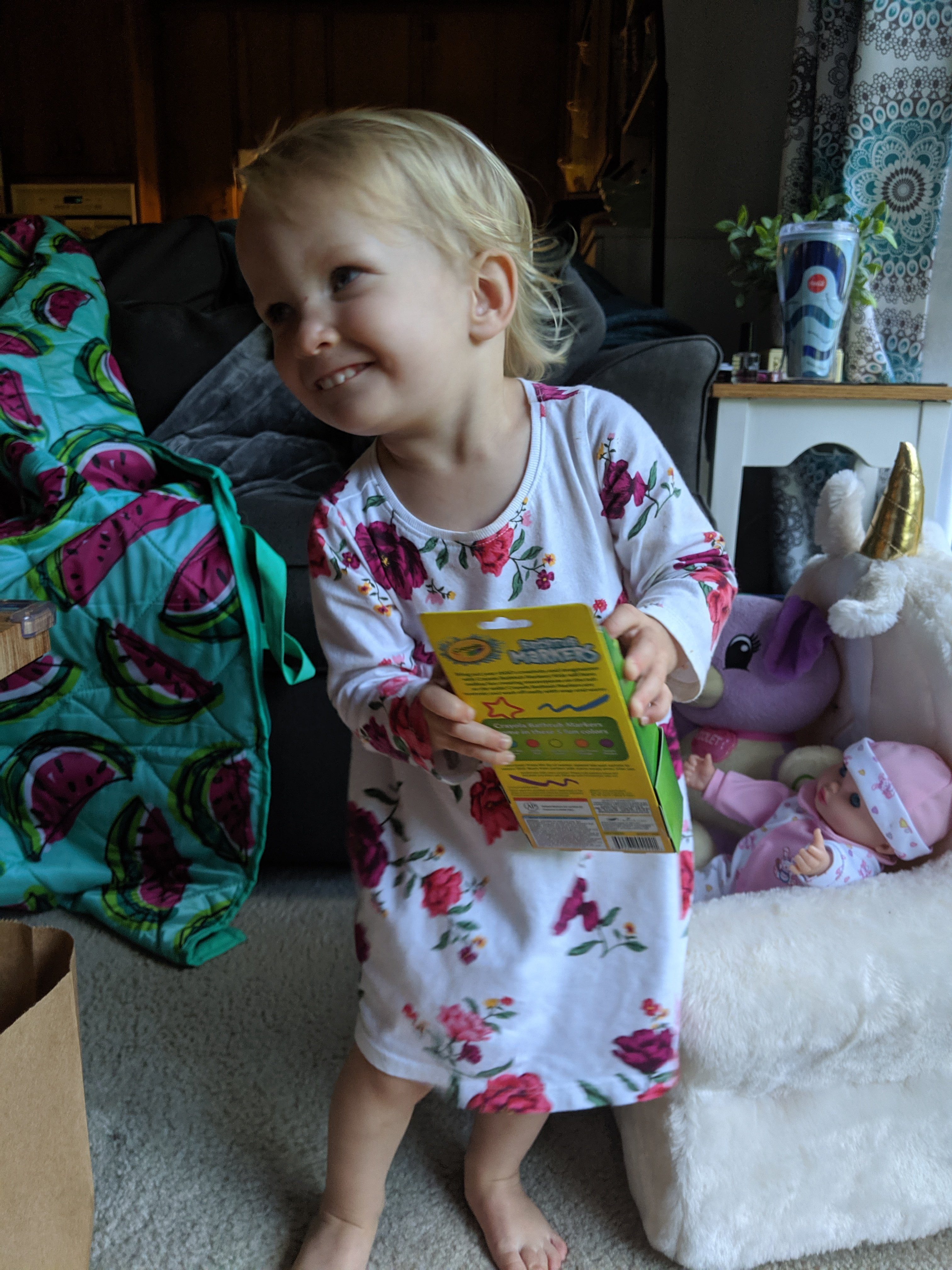 She helped us open the packages, and we tested them on the side. They seem to work really well, and so we put her right in the water and let her get started immediately. And she didn't freak out or scream at all! She stayed in the tub and colored for about 10 or 15 minutes, and was happy as a clam the whole time. She colored all over the back wall, and the ledge in front of me, where I colored with her. (We did find the crayons worked better than the markers though, because she couldn't hold it at quite the right angle.) Then we were talking about how we have to clean up our mess, and I started wiping off the ledge. She wanted to wash cloth though, and so she started wiping off the back wall. And she actually did a really good job! She just kept wiping and wiping (y'all already know how she loves to wipe and clean!), and she got about 95% of it clean all by herself!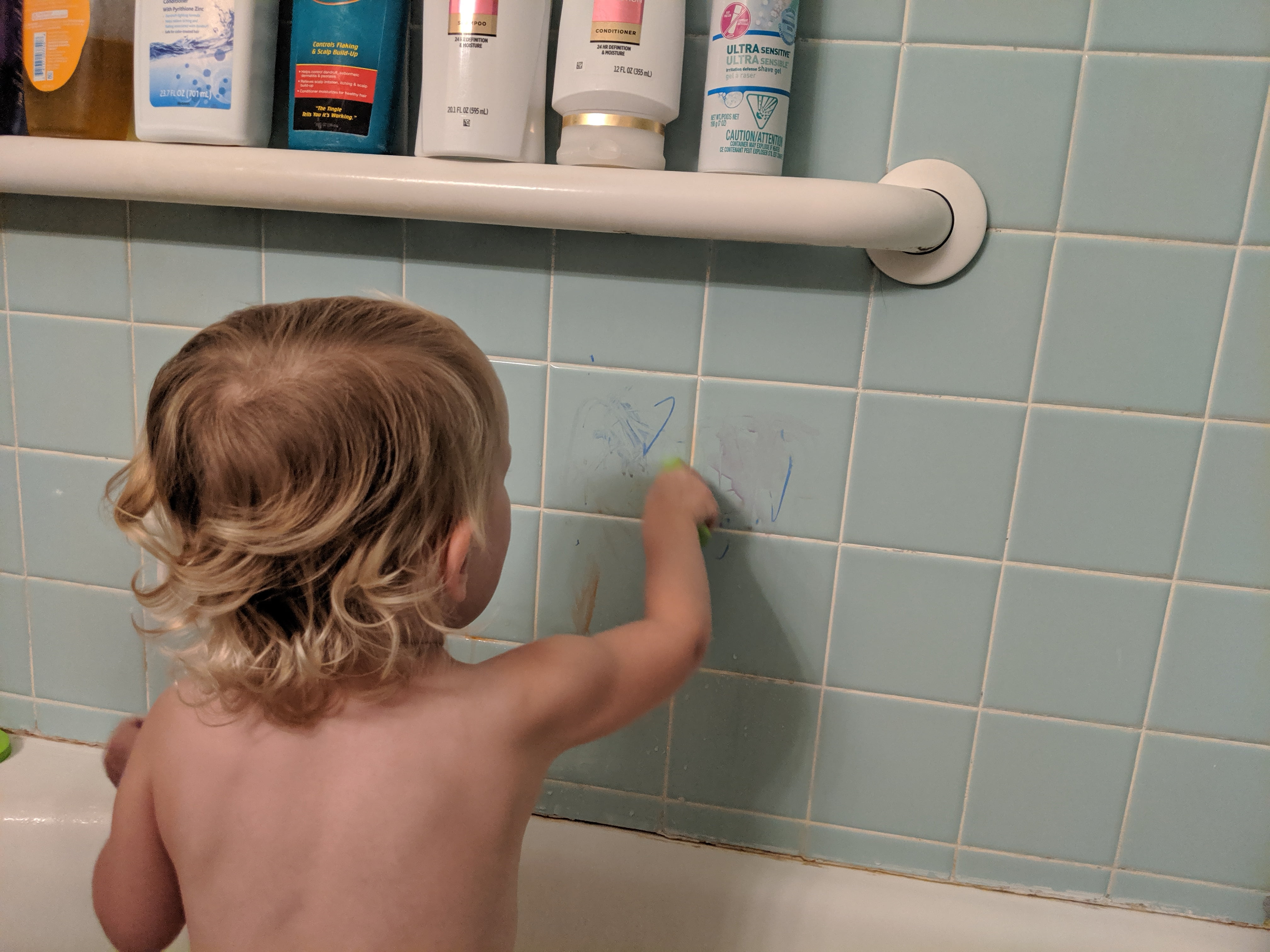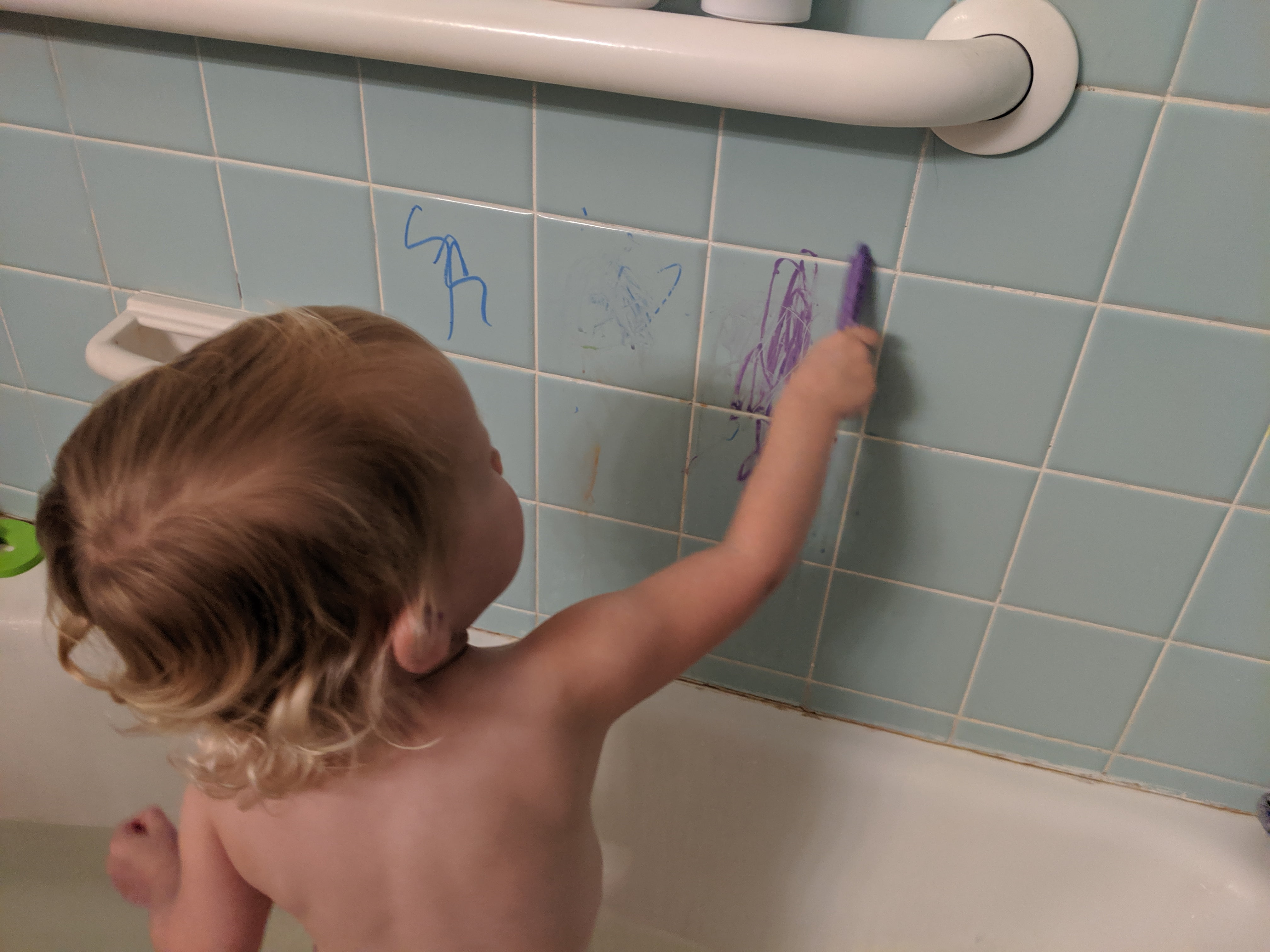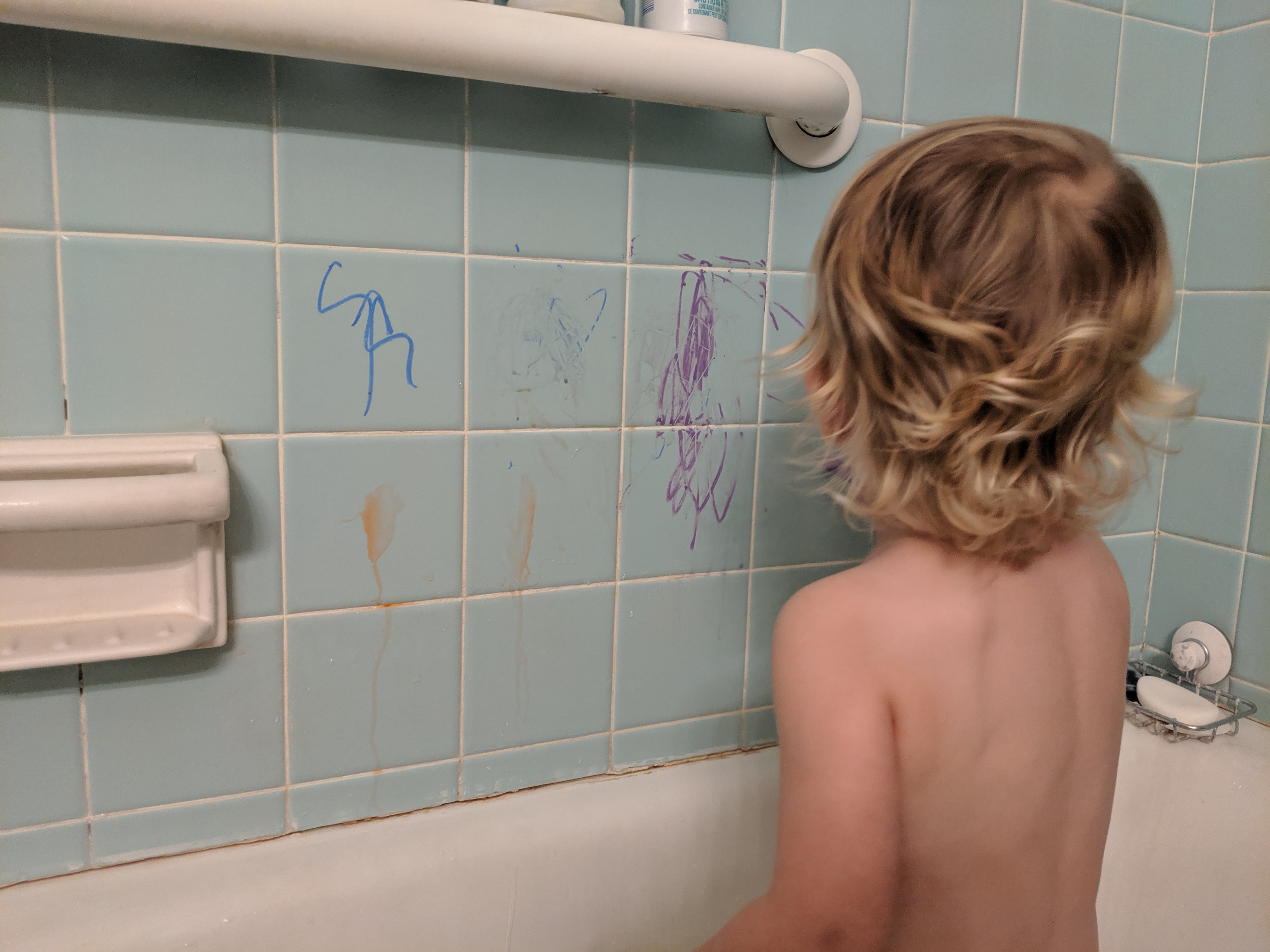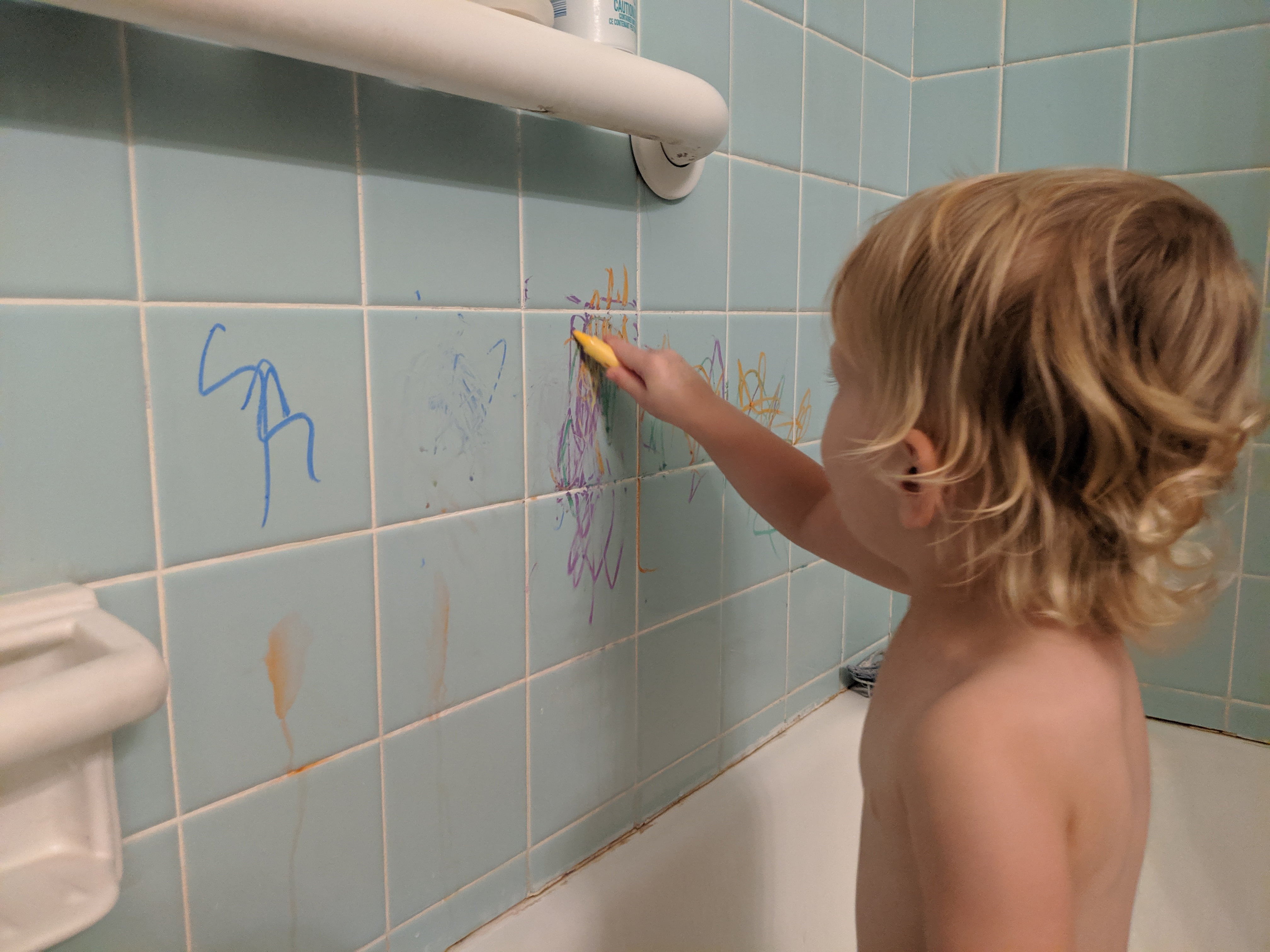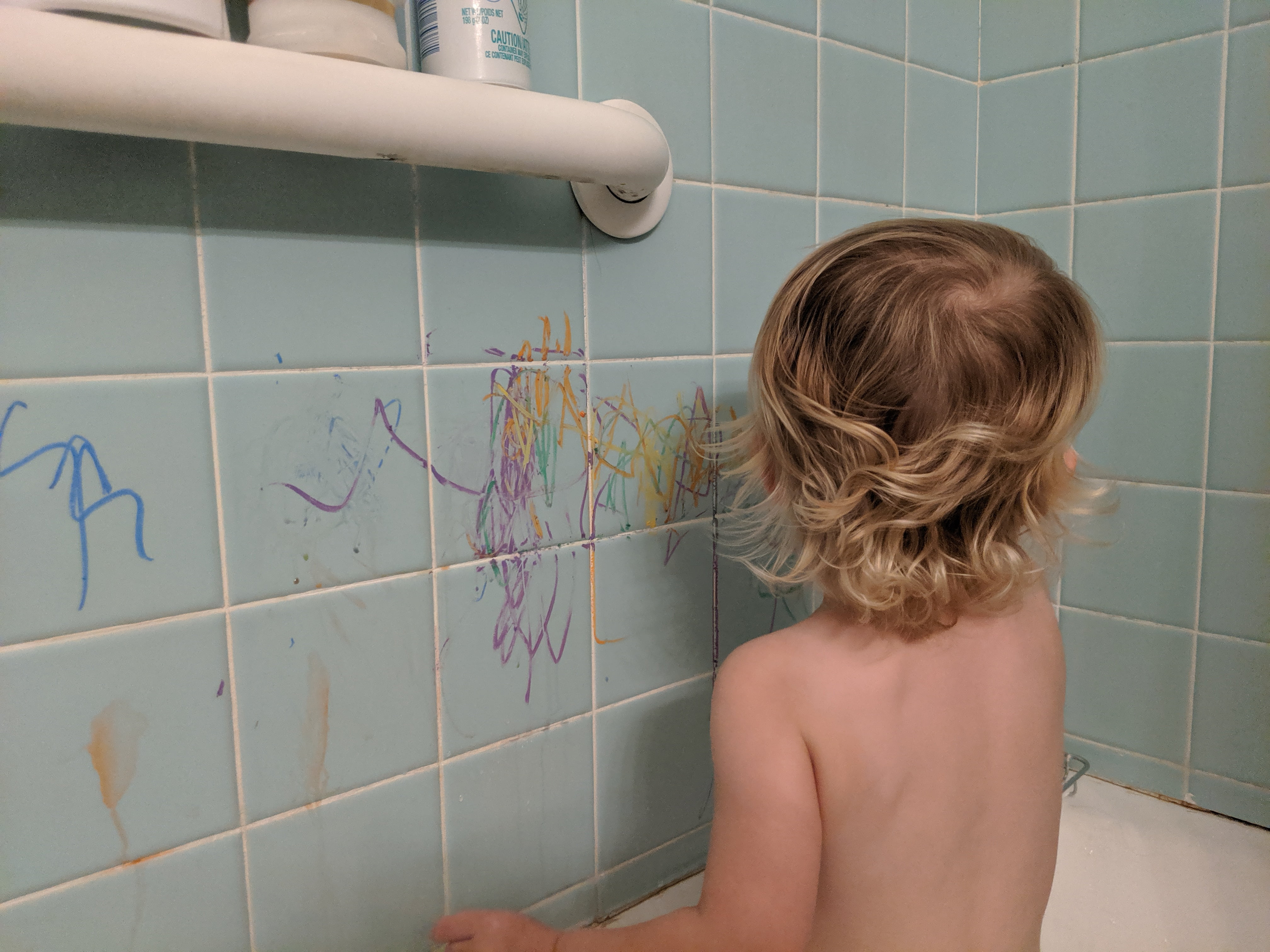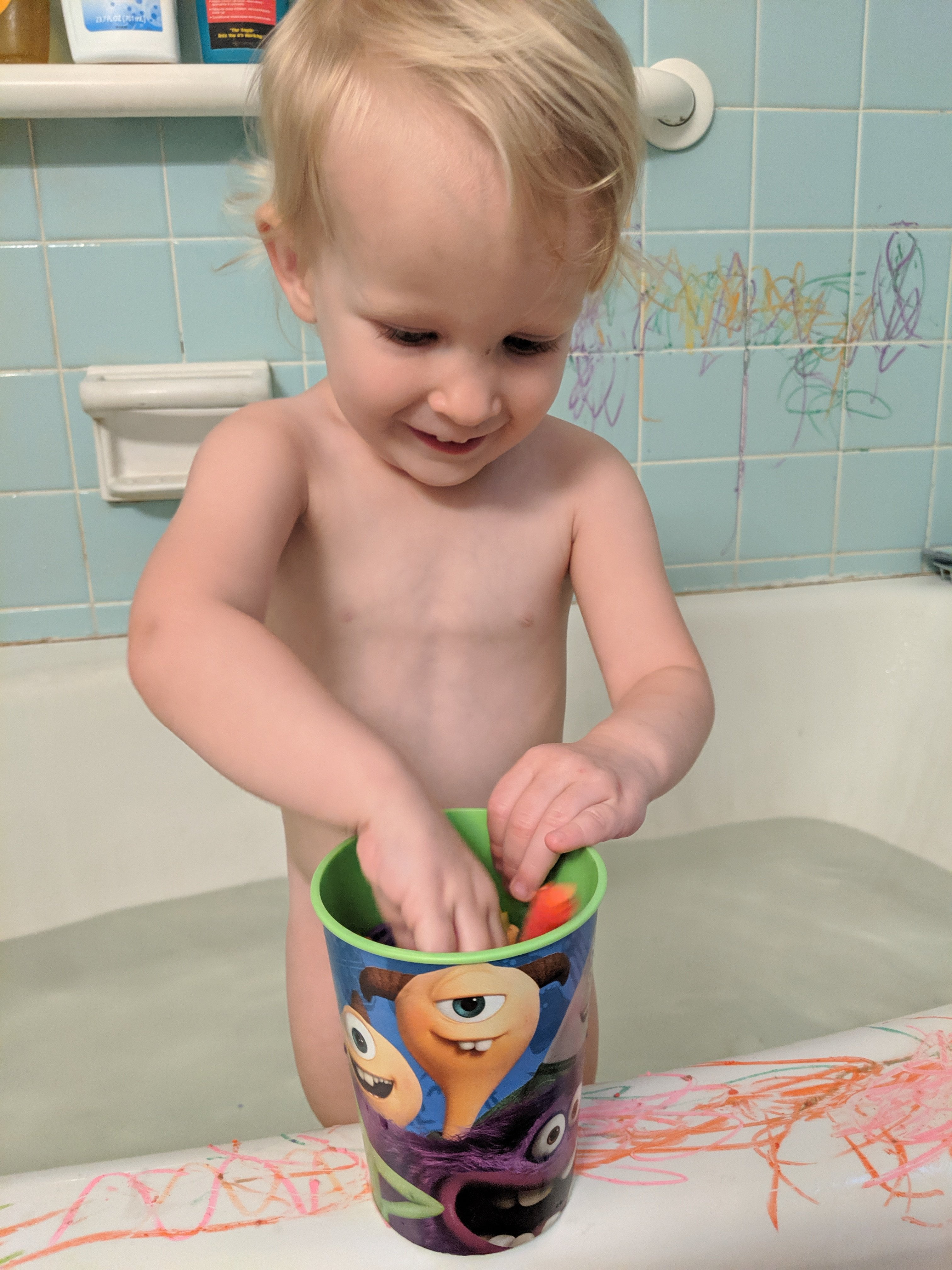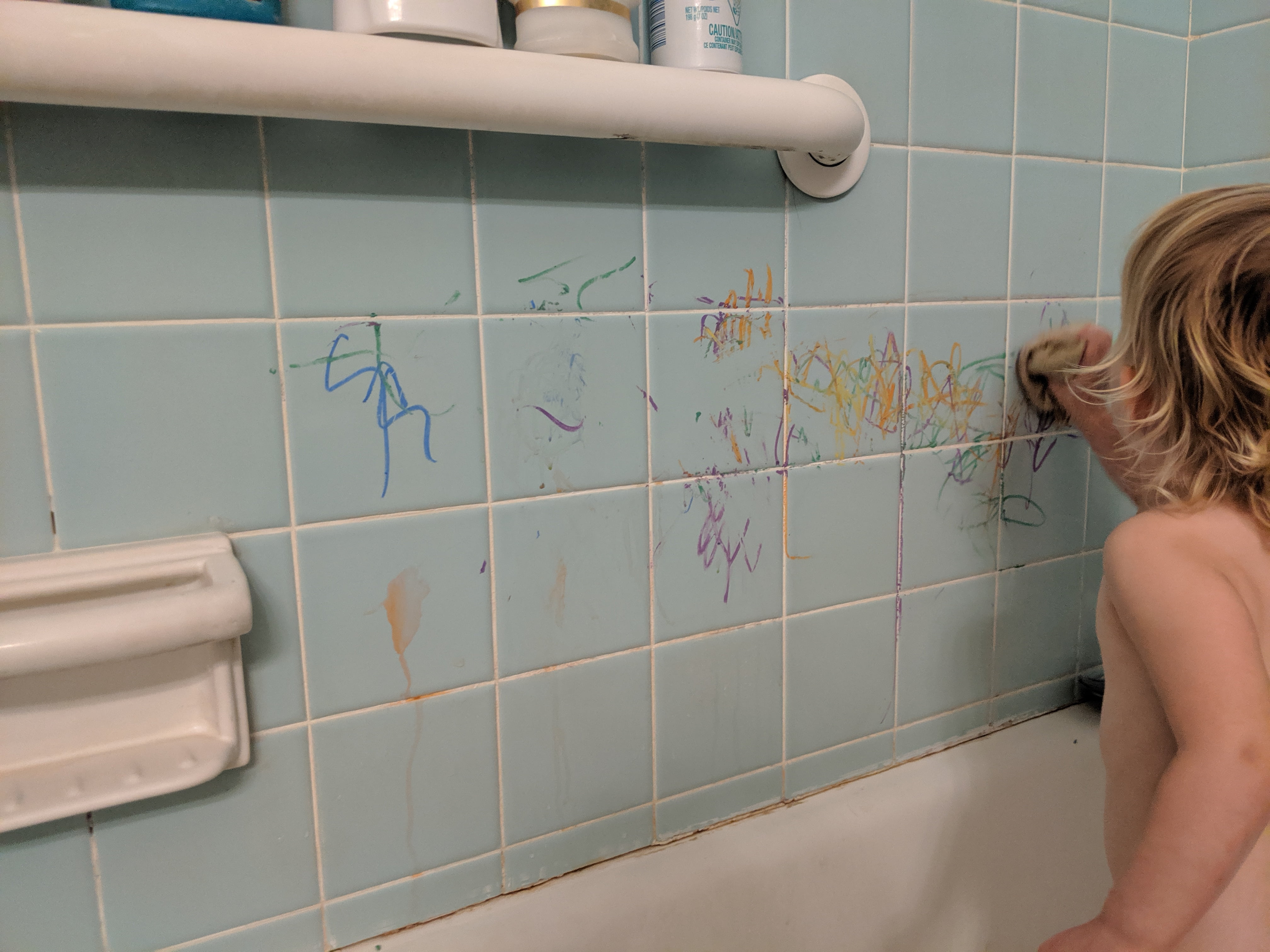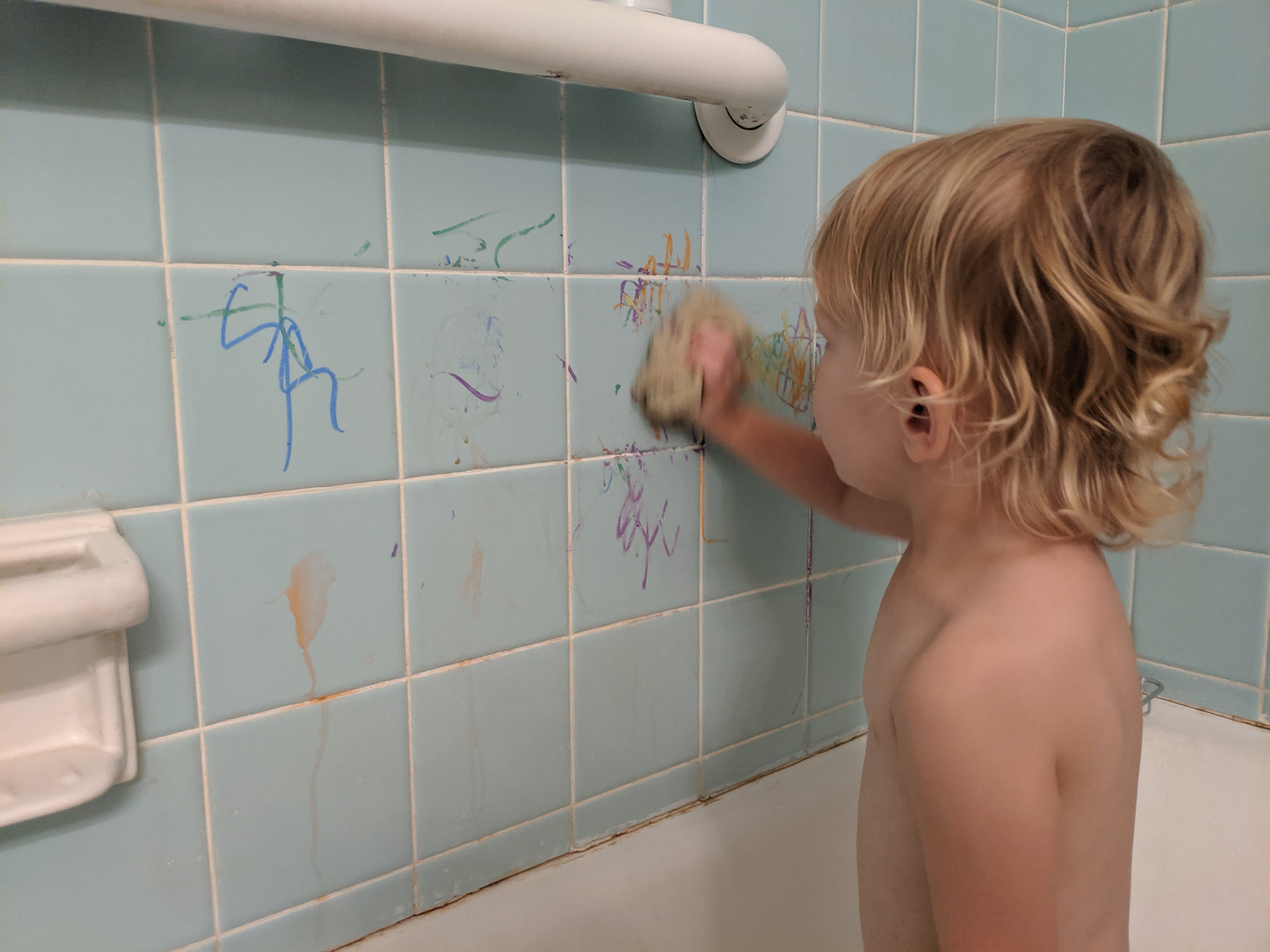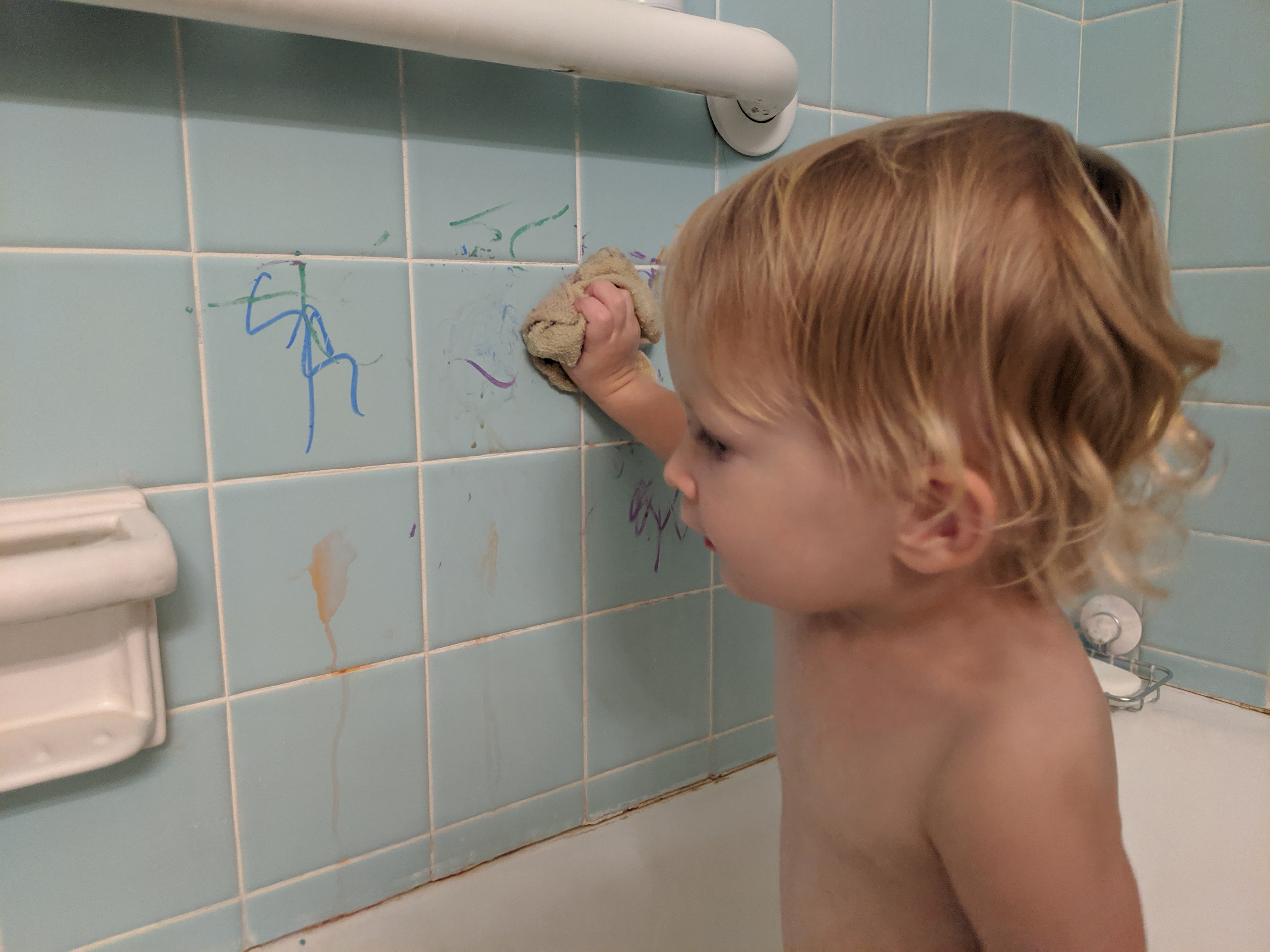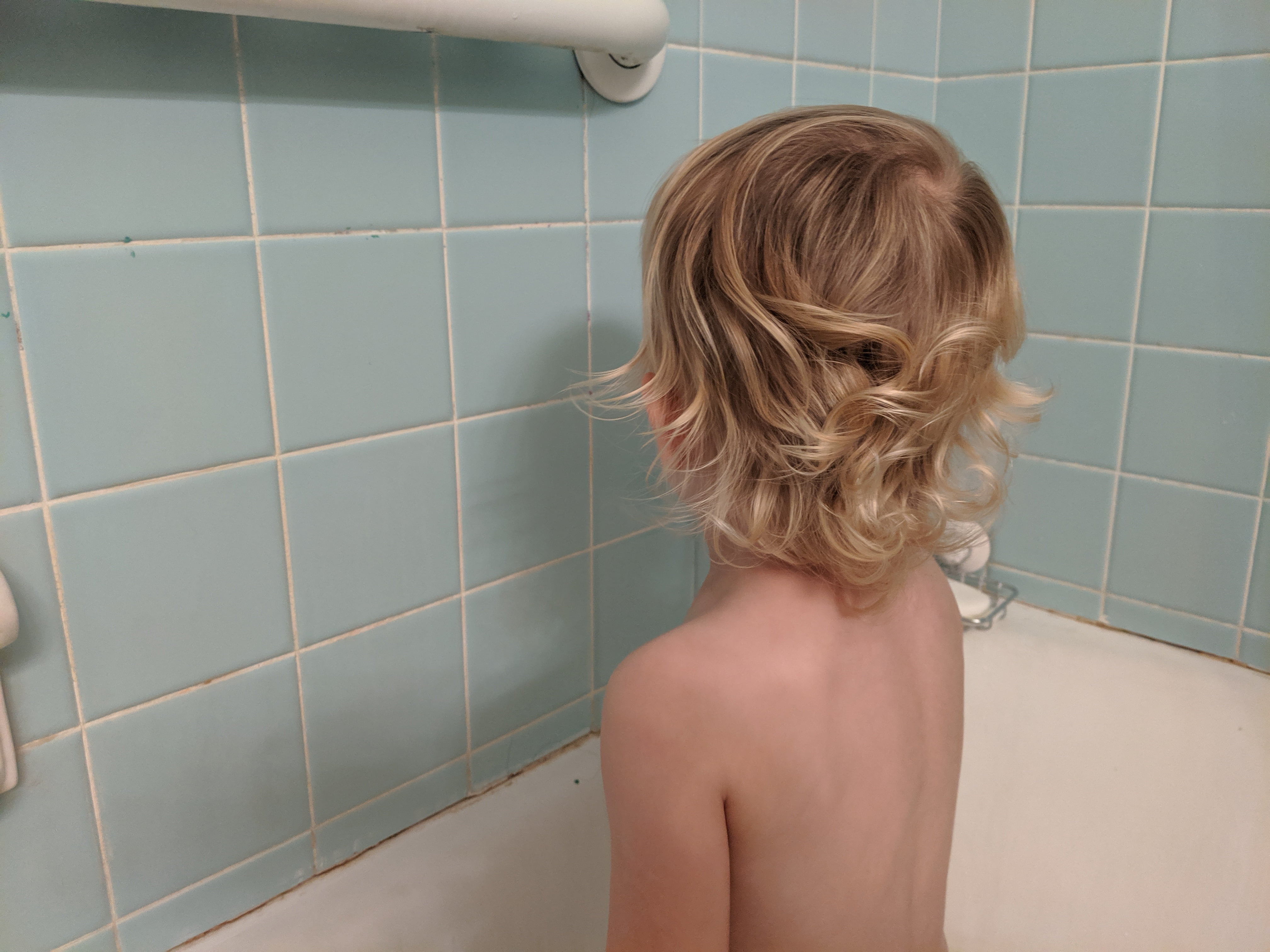 After she finished wiping, I told her we still needed to wash her hair and bathe her body. And she was fine with it! She let me dump the water on her hair, and didn't scream or cry at all! She even did some more wiping before I rinsed her hair again. We're hoping these crayons will really do the trick, and she'll be just as content with the crayons in the tub the next time as well. If so, everyone will be required to give her a pack of bathtub crayons as part of her birthday present next month so we can stock up! Family, take that into consideration, please 😂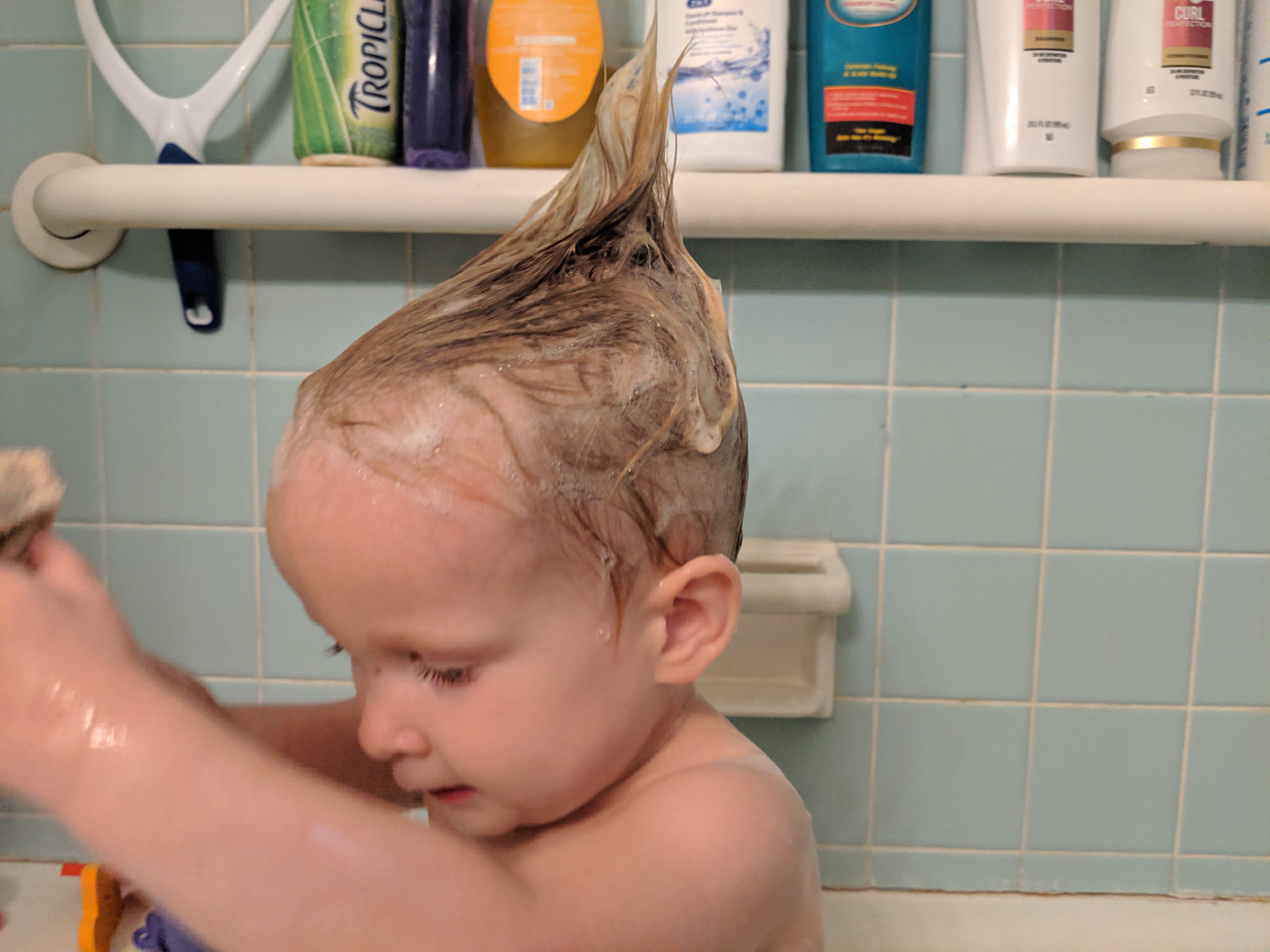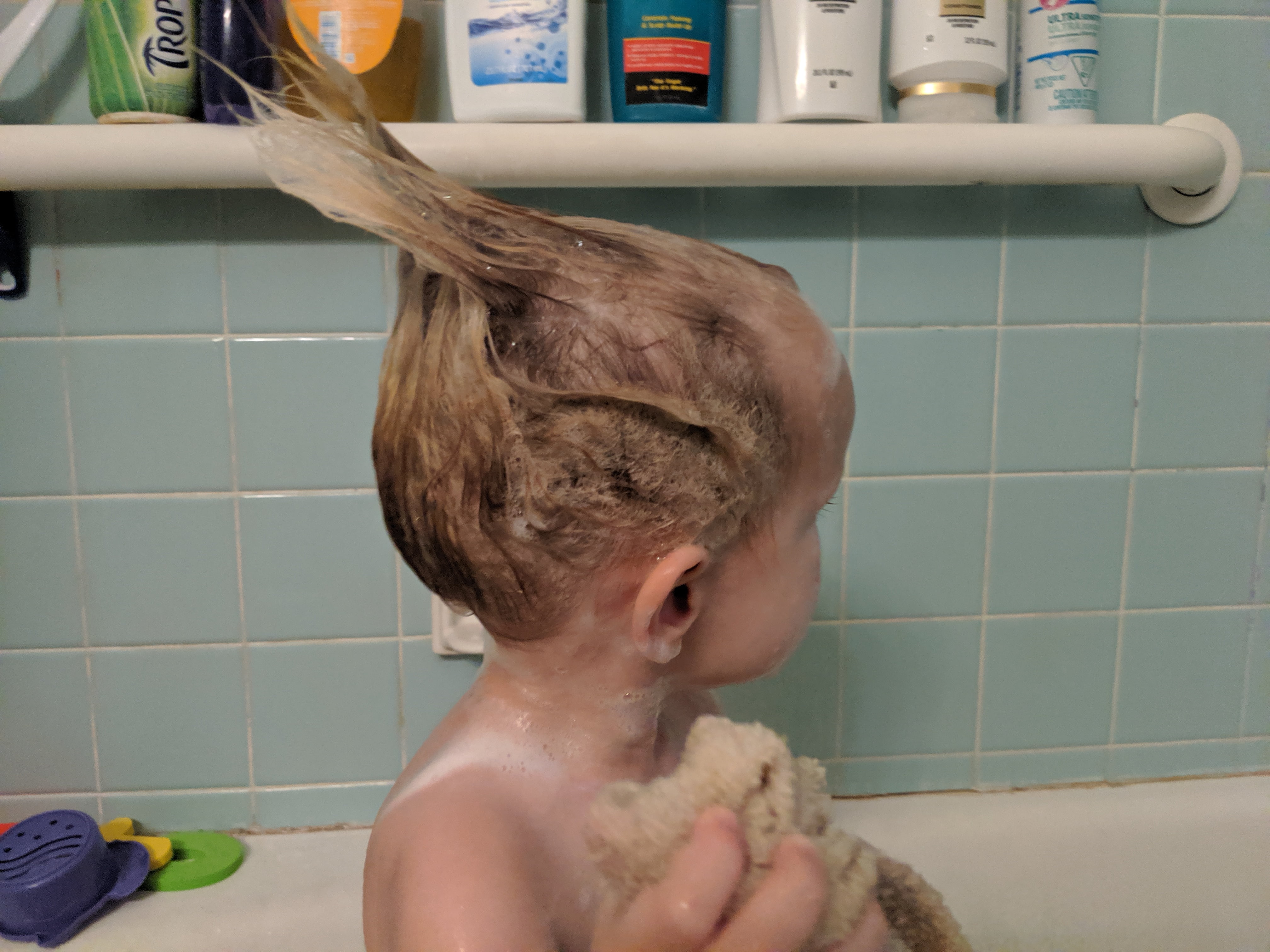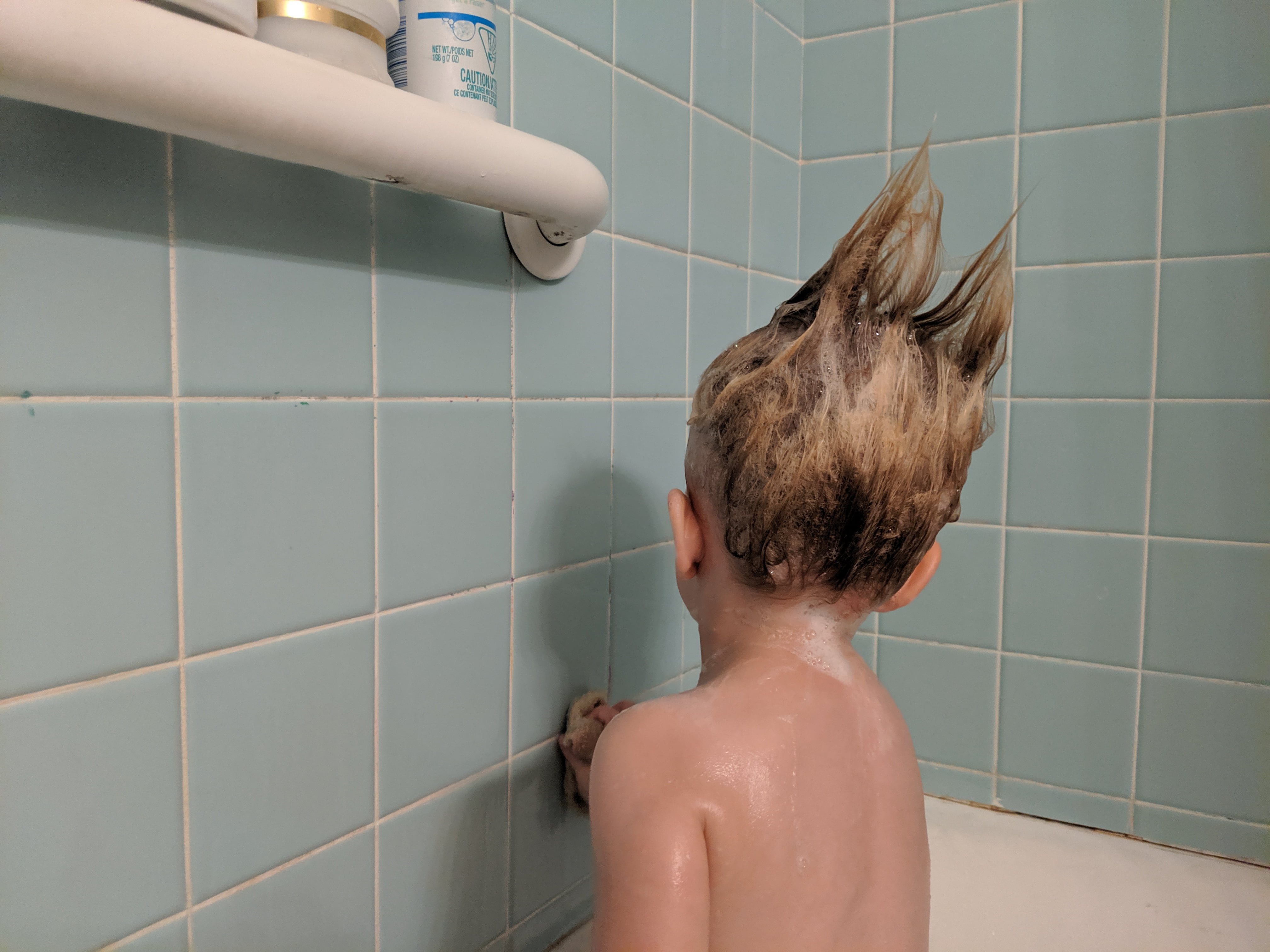 After our first tear-free and peaceful bath time in over 2 months (praise!), we got on clean fresh jammies and slippers, and got ready for bedtime.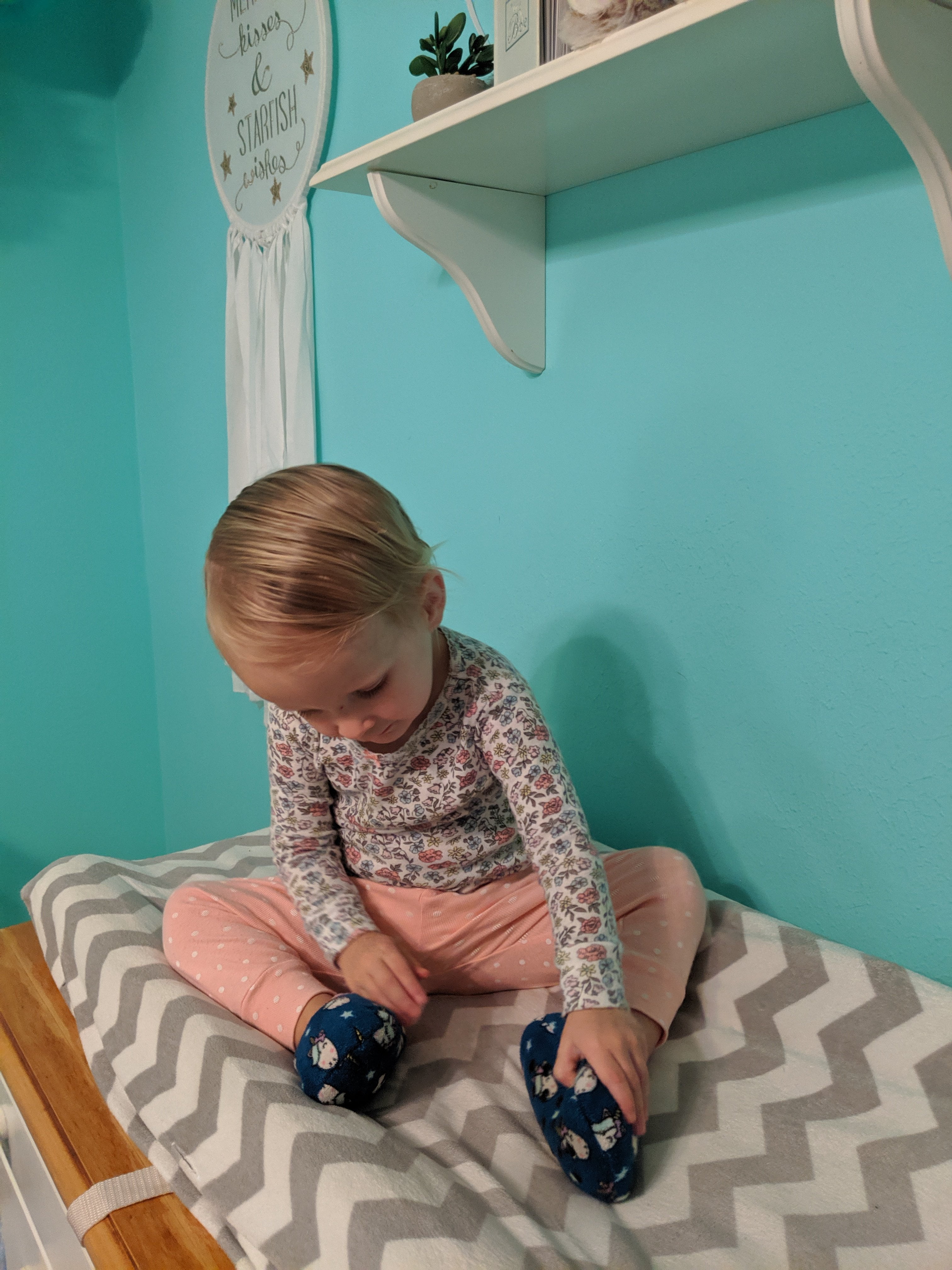 She calm down and got sleepy really quickly tonight, and it was easy to Just lay her right down after we finished reading, and I rocked her for a few minutes. Since I washed some of our dishes before dinner, there are only a few dirty ones tonight, and I think I'm going to just put those off until tomorrow. Sometimes you just got to do that, and give yourself a break!