The color of the week at school this week was orange, so today was "wear orange" day. They put up the signs about it last week, so Emmie and I started talking about it last Friday. I told her I knew Addison didn't have an orange shirt, and I was pretty sure that she didn't either, but that we could look. But then she was like, "Mommy, we have those pink shirts with oranges on them!" She remembered them from when we bought them a month or so ago, but hadn't worn them yet. And of course that was a great idea, and I was so proud of her for coming up with that idea all on her own. It was perfect, and they looked absolutely adorable today!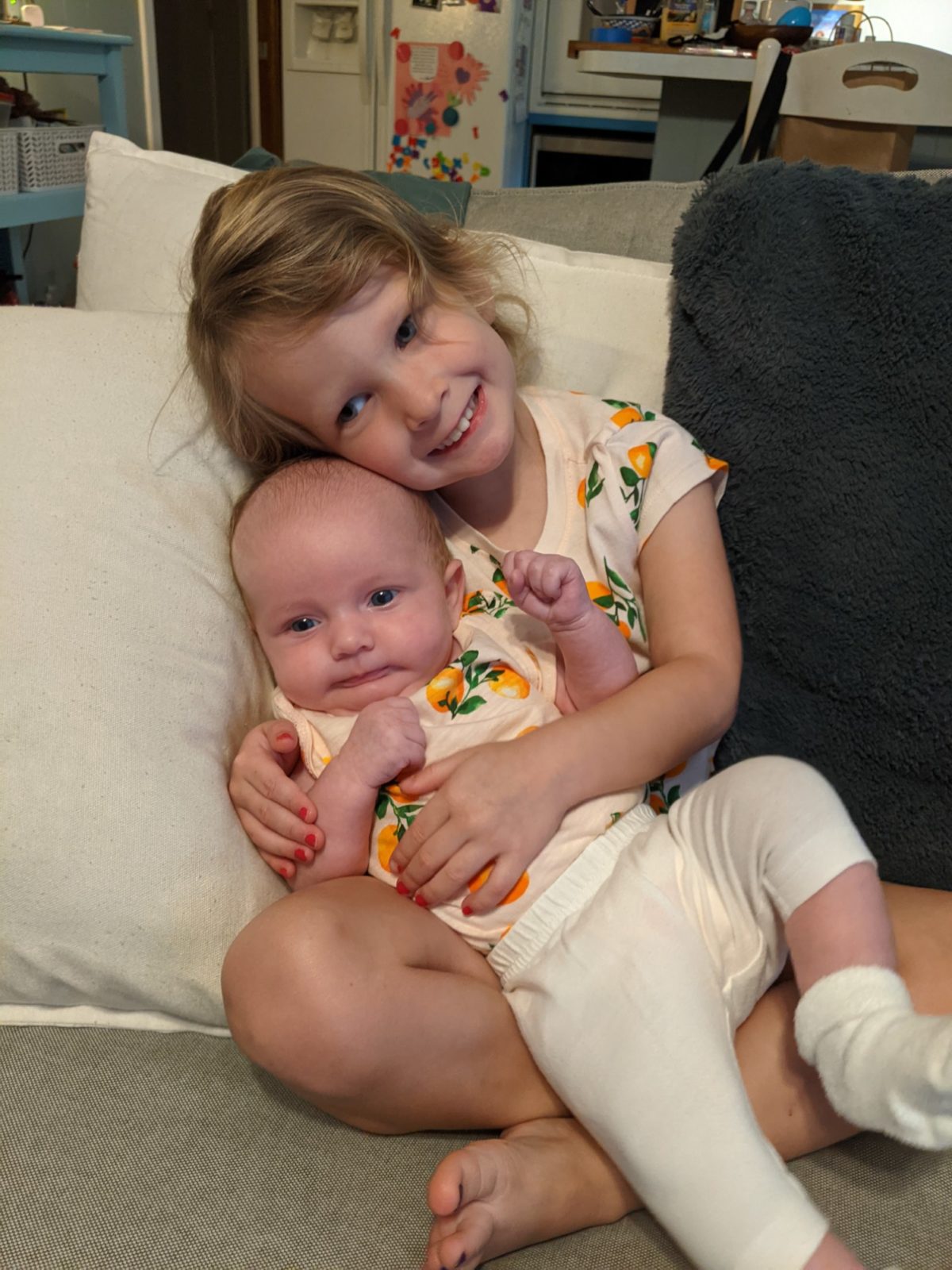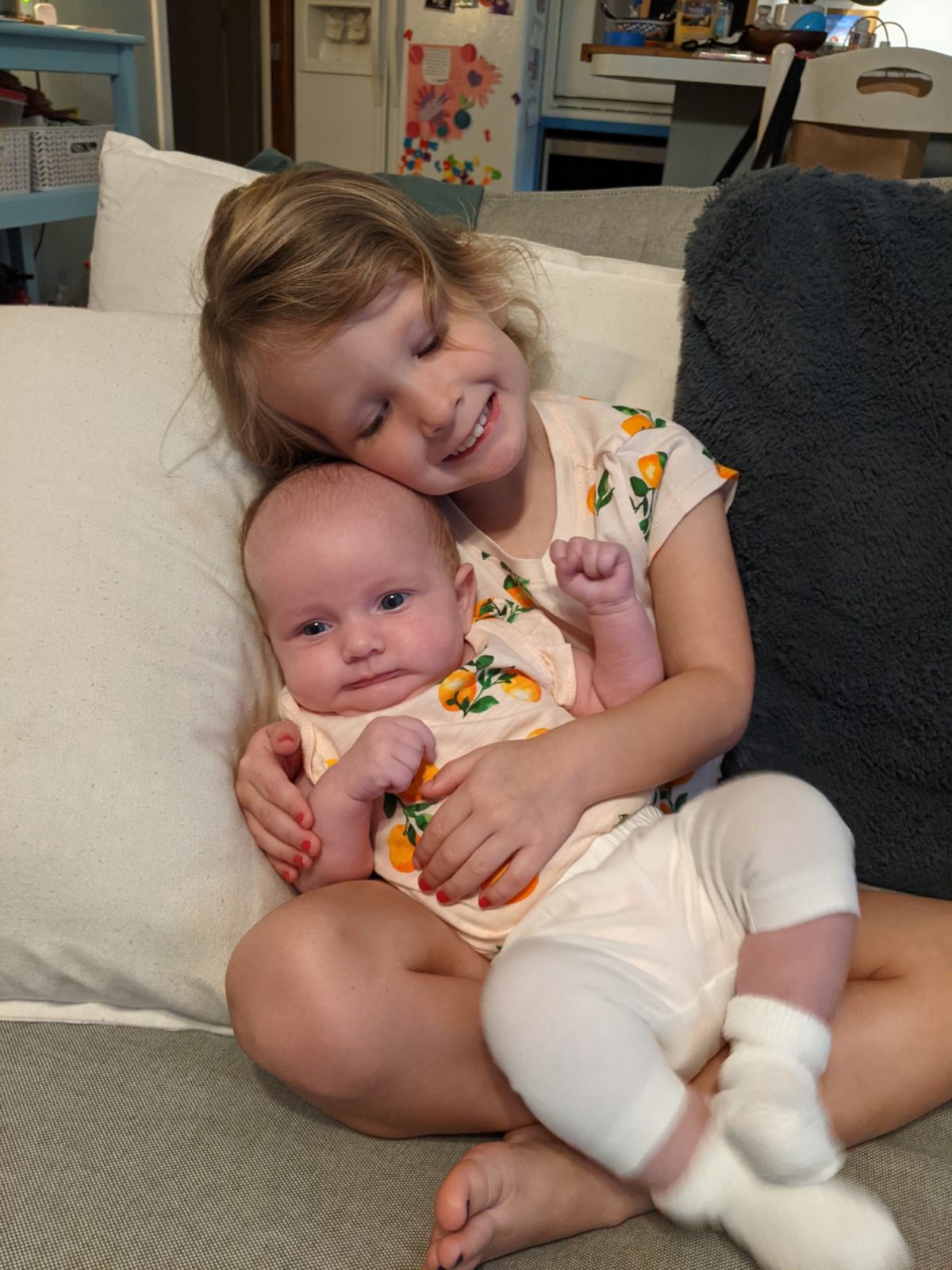 After taking their pictures on the couch, Emmie just sat there holding Addie, watching tv for a few minutes, and it was just so sweet!!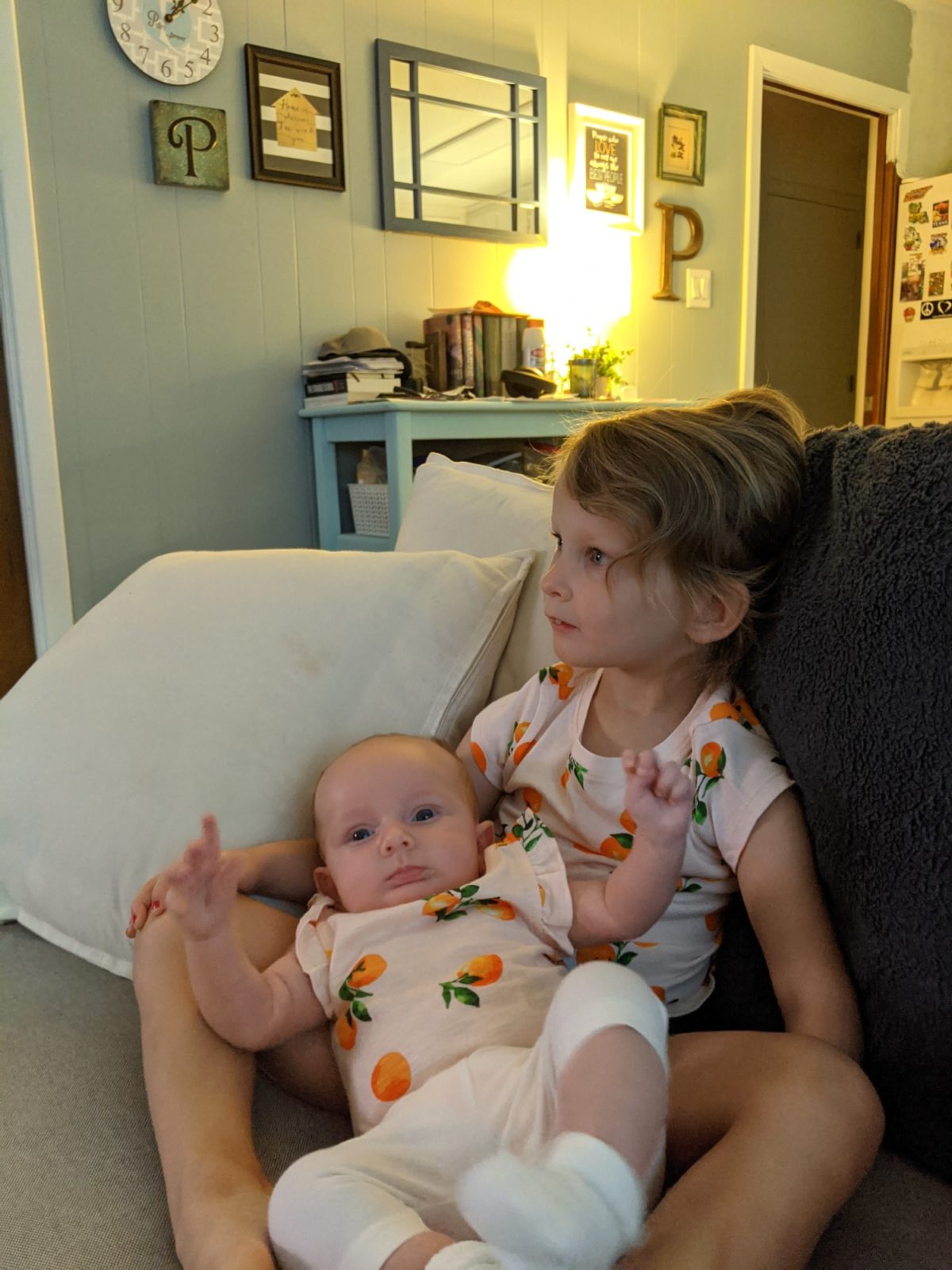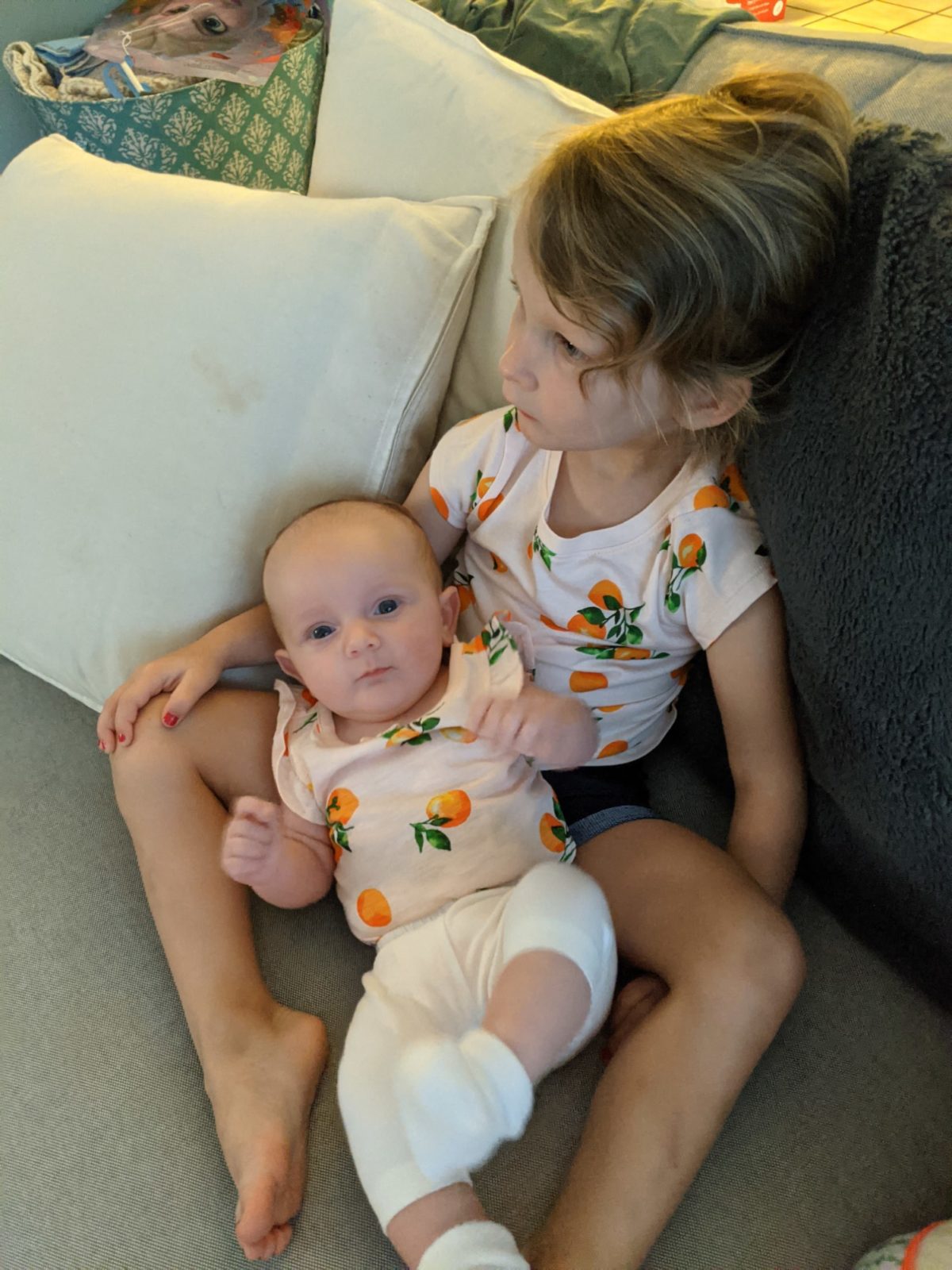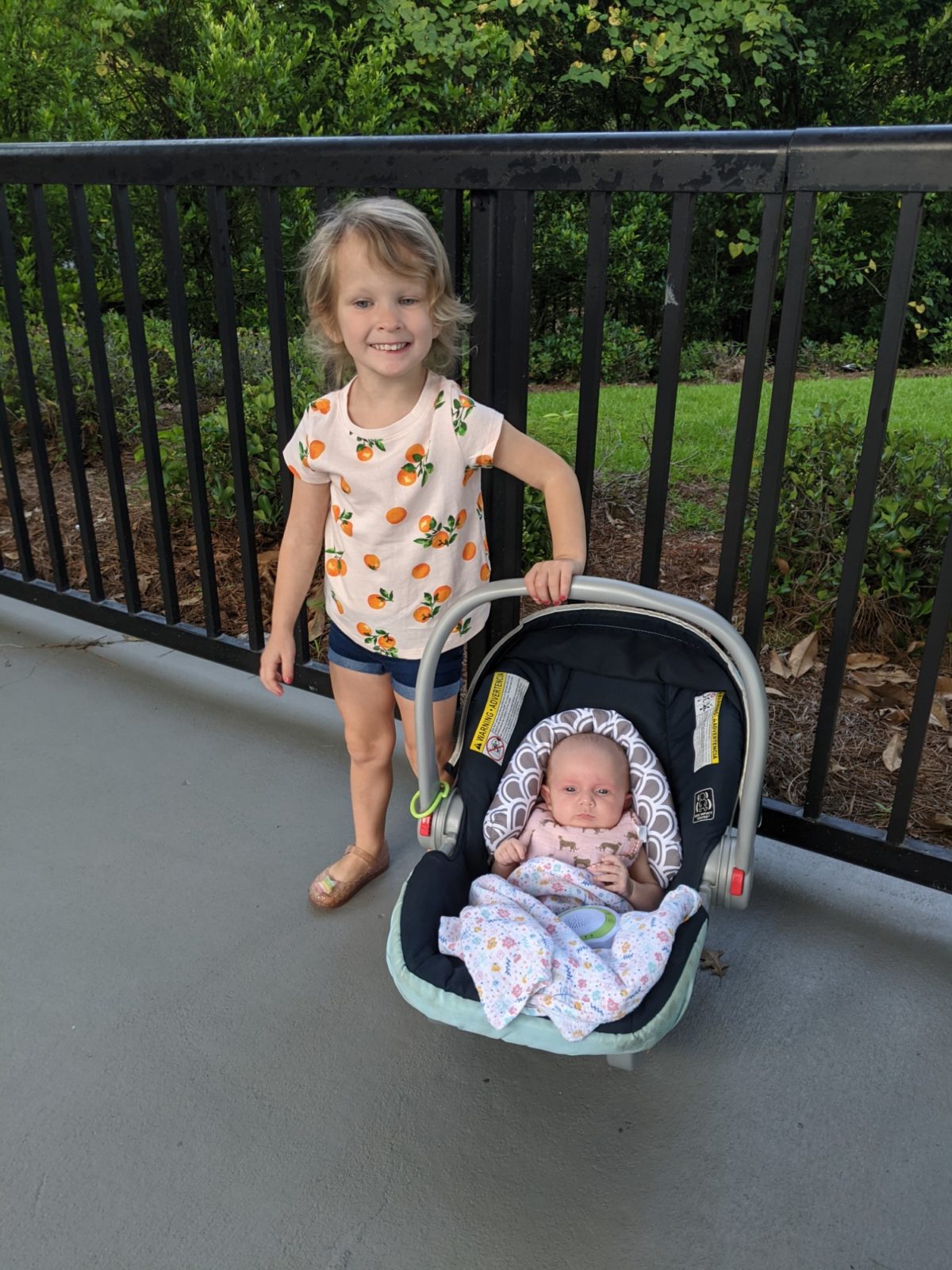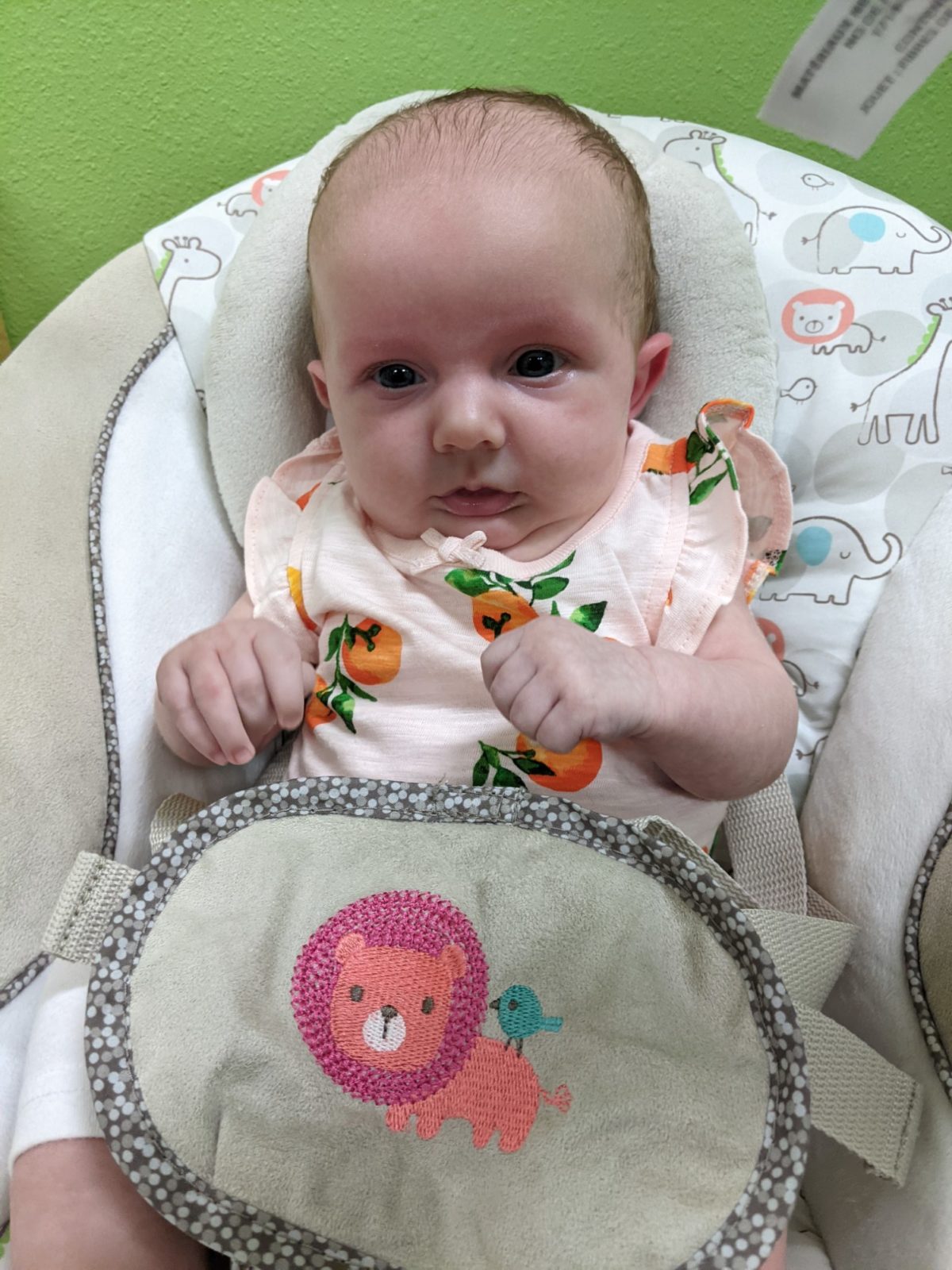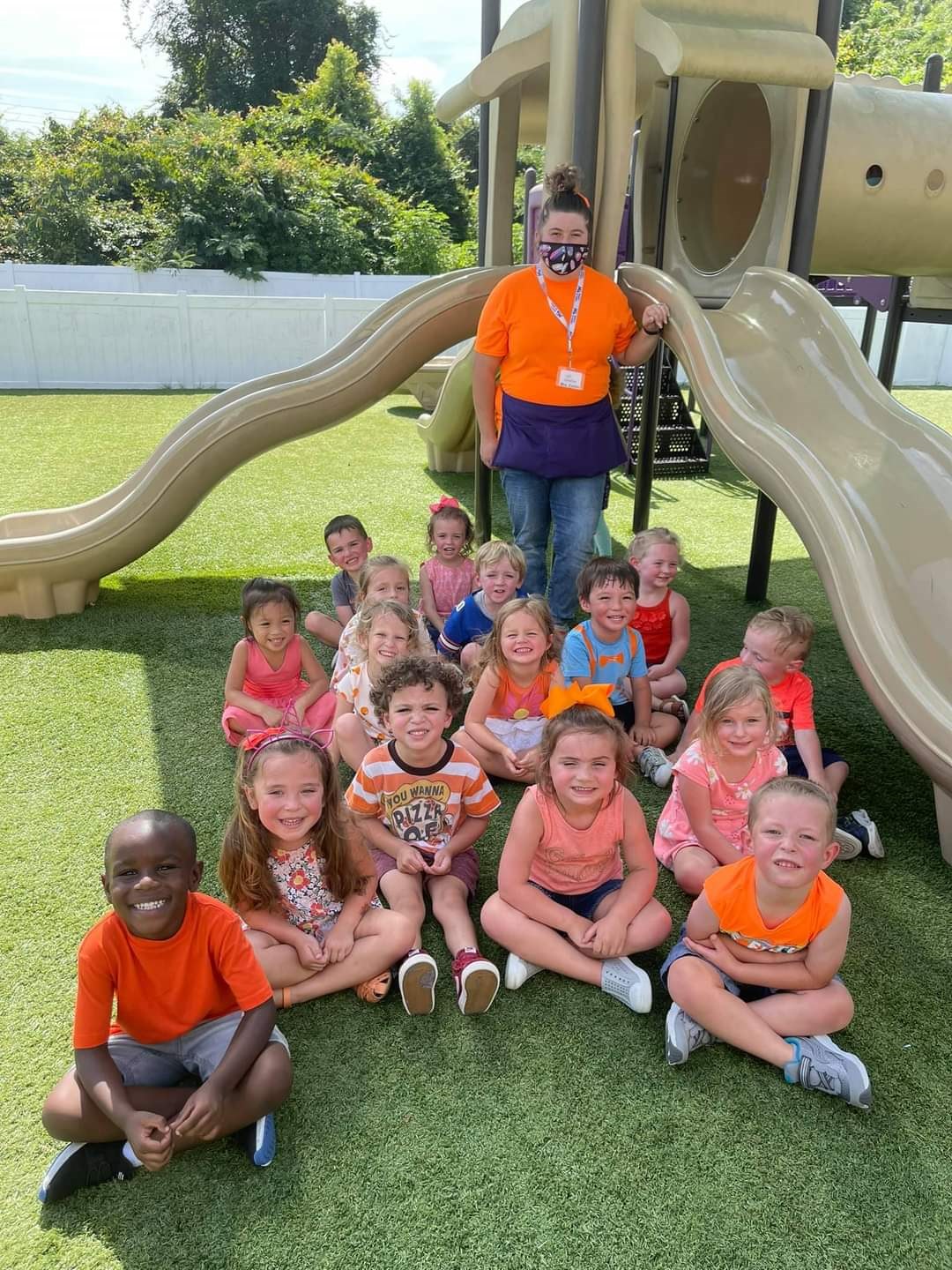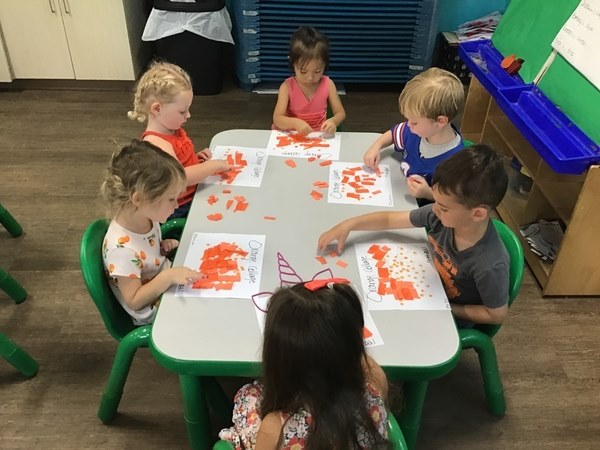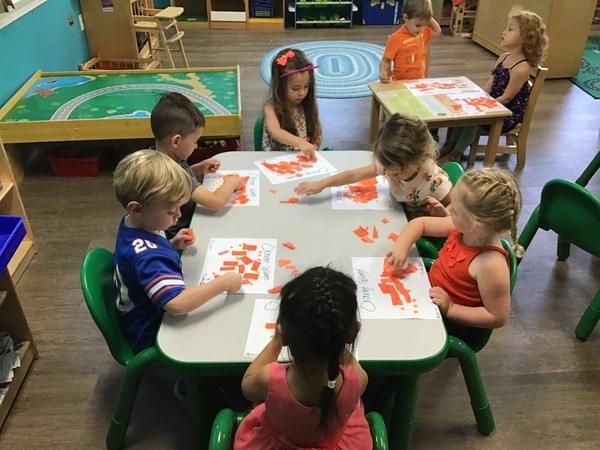 Megan and I went out to lunch together today, at Siam Sushi. I ordered my favorite sushi rolls with the ginger salad (not pictured), and Meg tried something new, some sort of rice noodle dish I can't remember the name of. Well, turned out she didn't like it, like, at all… But they were really nice and took it back and didn't make her pay for it. My sushi on the other hand was perfect and delicious. We tried to go through the Sonic drive-thru to get her something else, but we sat there for 10 minutes and never even ordered, so we just left. I felt so bad she didn't get a good lunch, but we did have a really nice time together and lots of time to chat!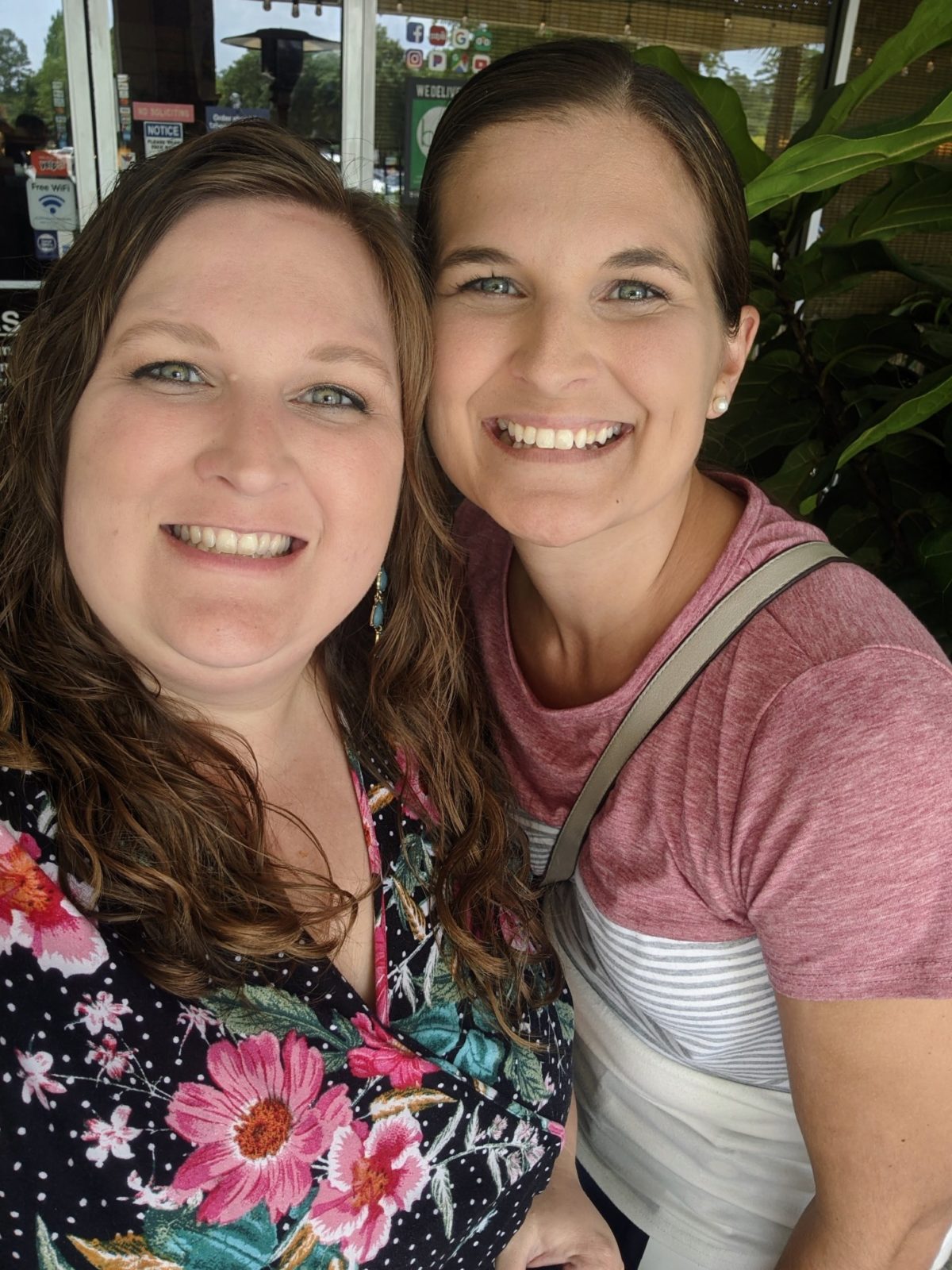 I'm still bringing a Mason jar of "iced" coffee with me to work almost every day, and I'm loving it for my afternoon treat. Coffee-o-clock happens every day around 3pm, which is just in time to wake me up for the evening activities. And I'm still in that phase of newborn motherhood where I can drink almost unlimited caffeine, and still fall asleep at night…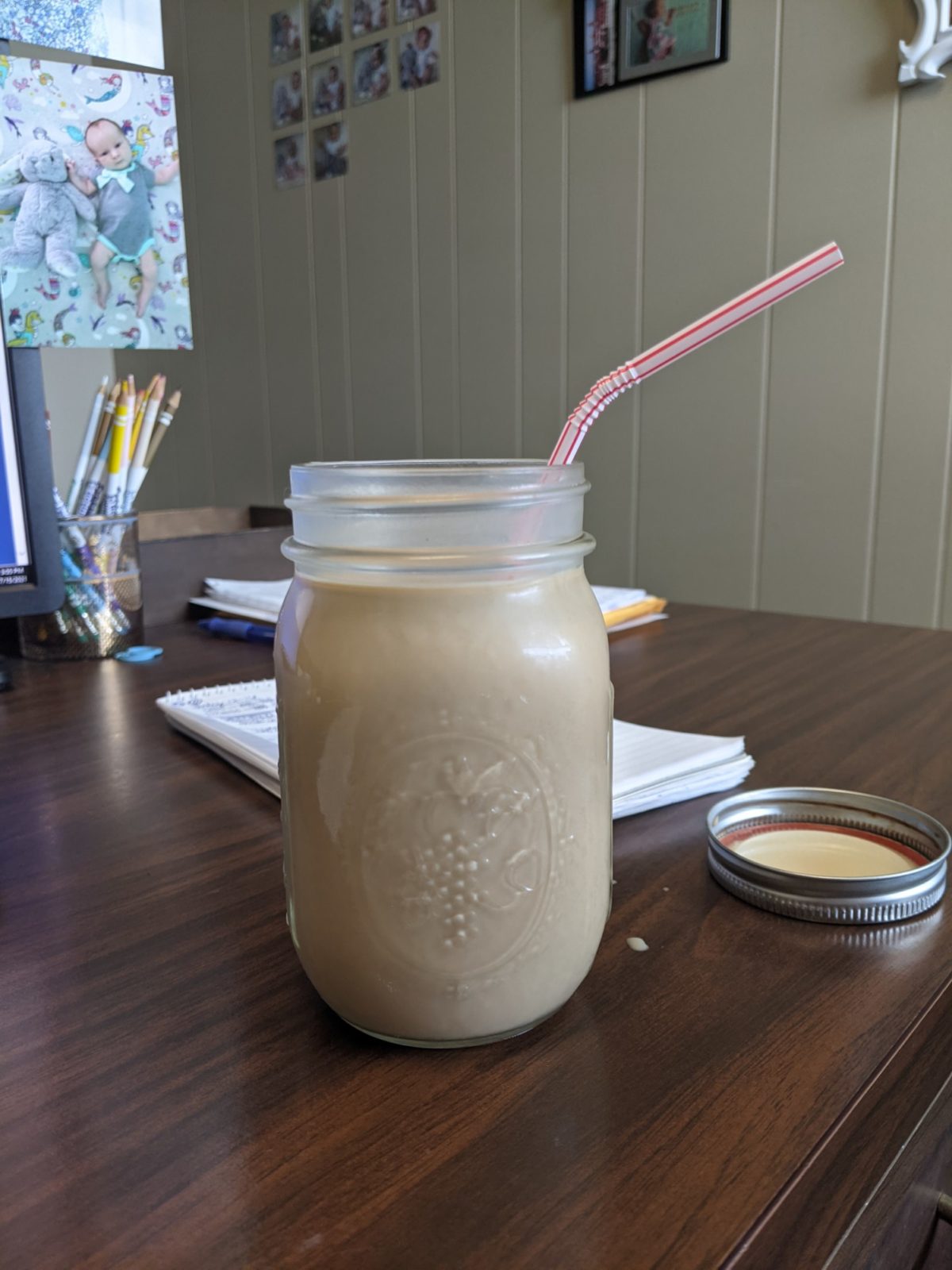 My little helper up on the counter, "helping" at dinner time.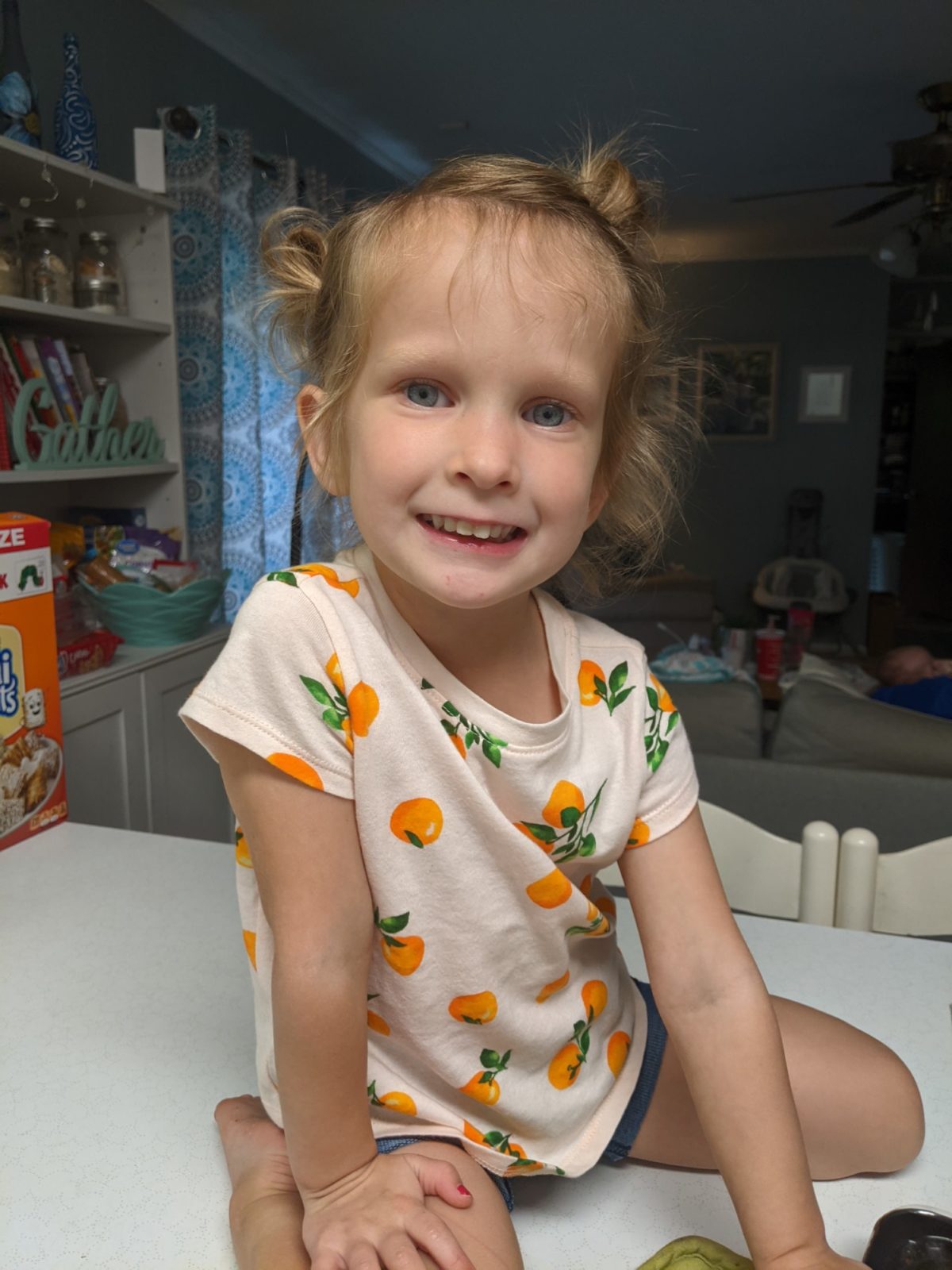 And her birthday present from Ms. Q! She hasn't been her teacher in about two years now, but they still love each other and Q still likes to spoil her a little too much 😉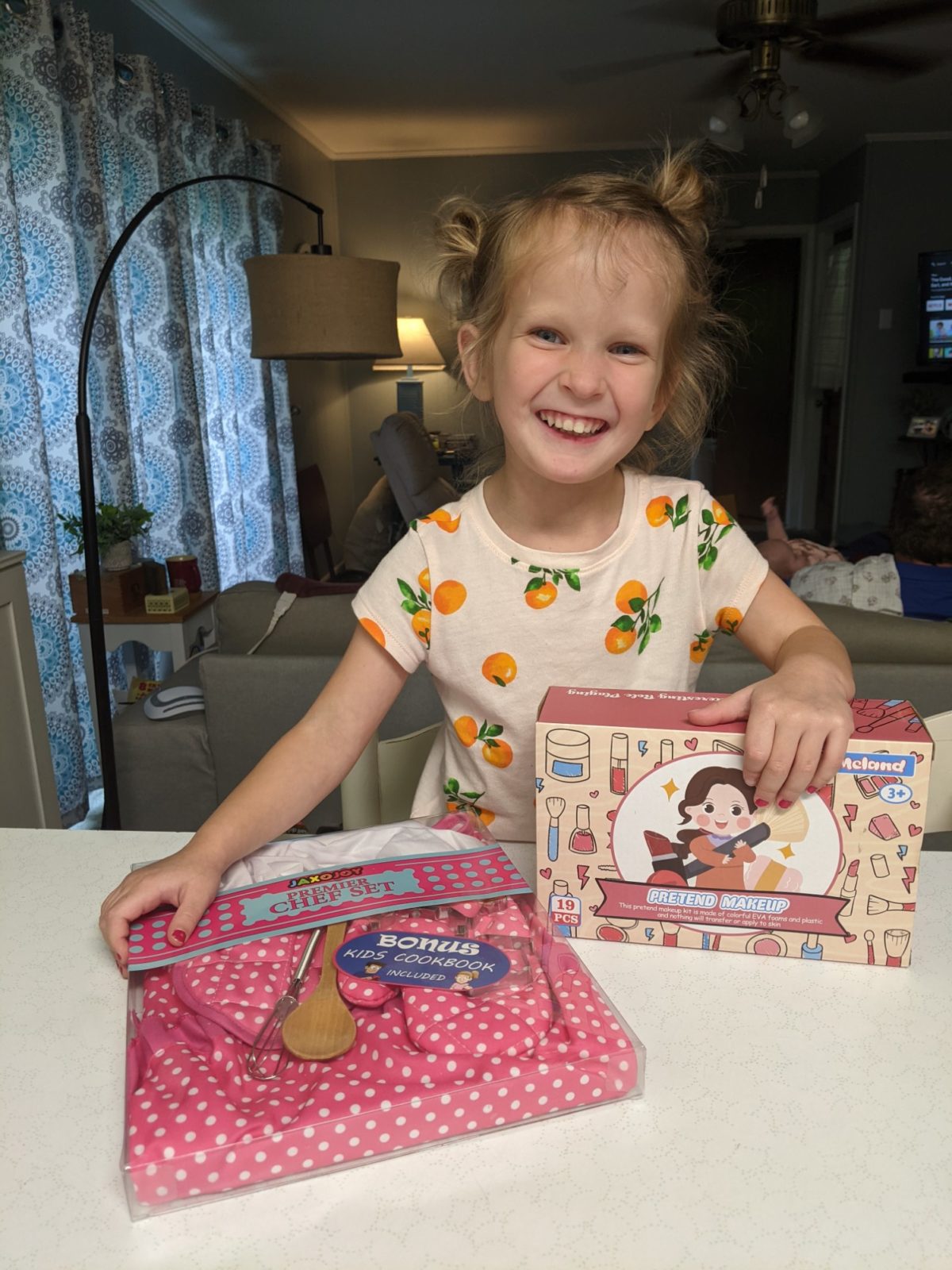 Roast beef, rice and broccoli for dinner, and this tiny girl "did clean plate club" tonight. She was really going to town on that meal, and ate every single bit, including the broccoli stems!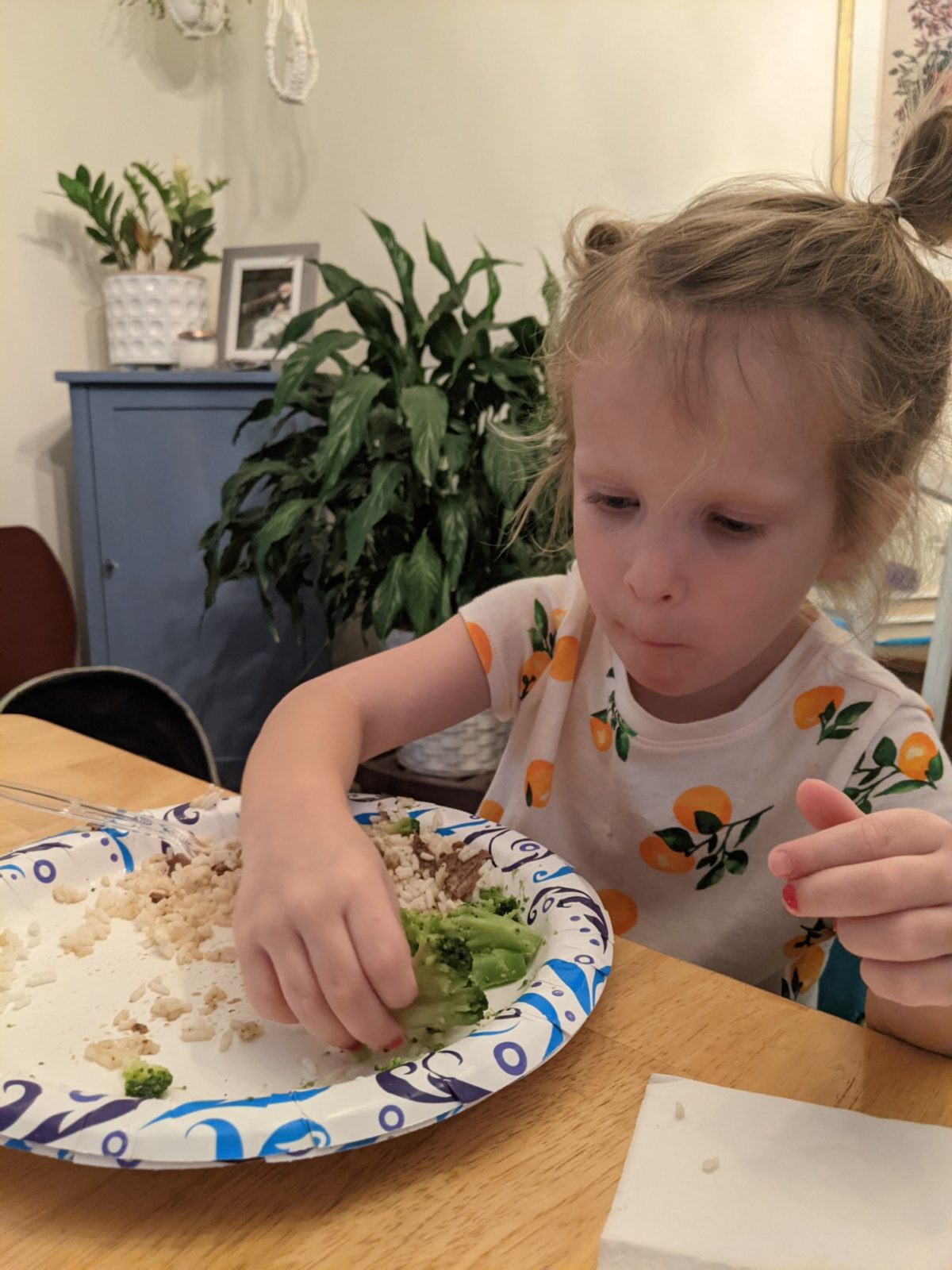 And I caught Addie's smile on camera for the first time tonight! She hasn't given us too many of these yet, but she was super smiley for a few minutes here tonight, just smiling away at Daddy, so Emmie and I ran over to ooh and ahh and coo at her too!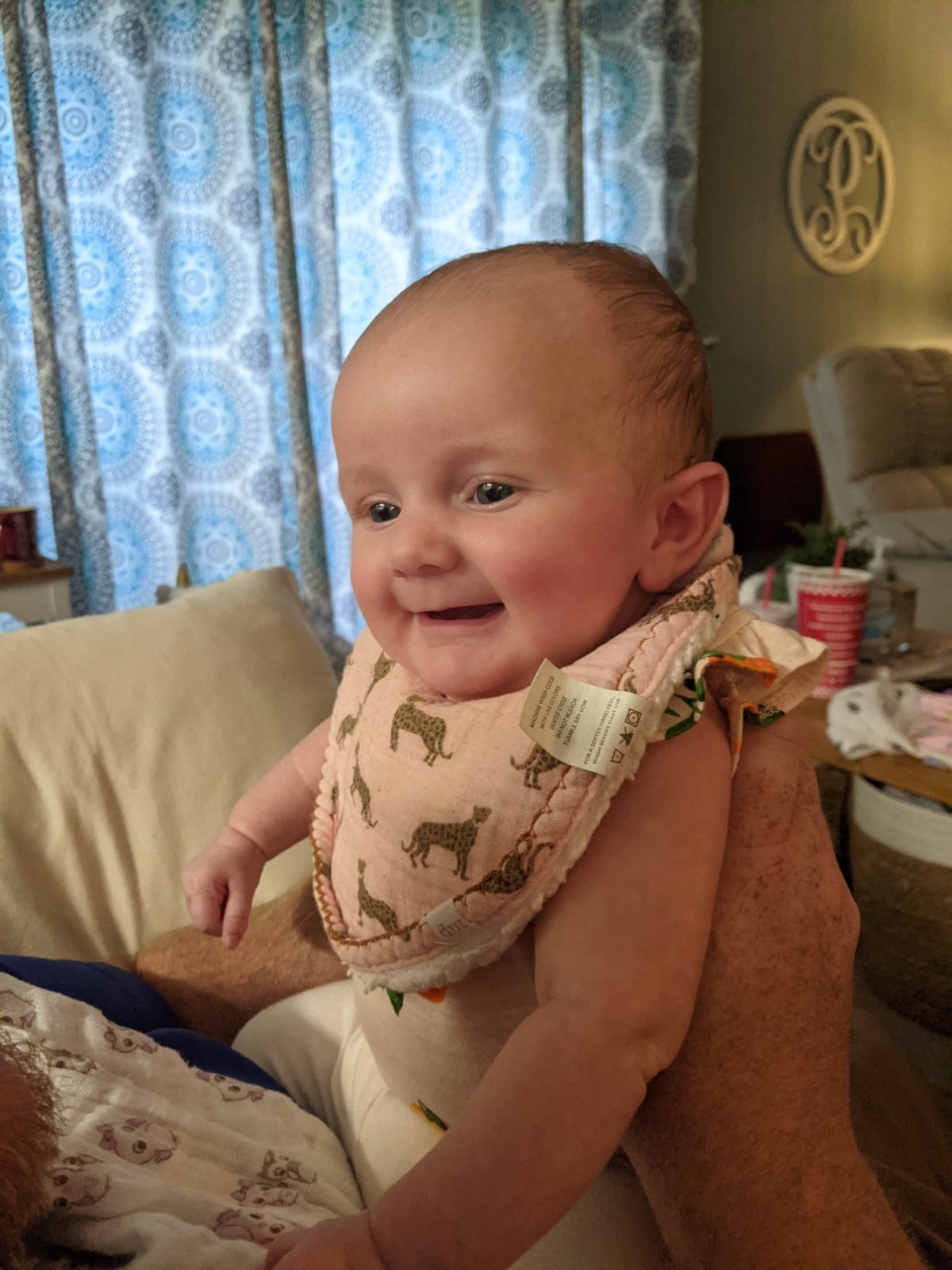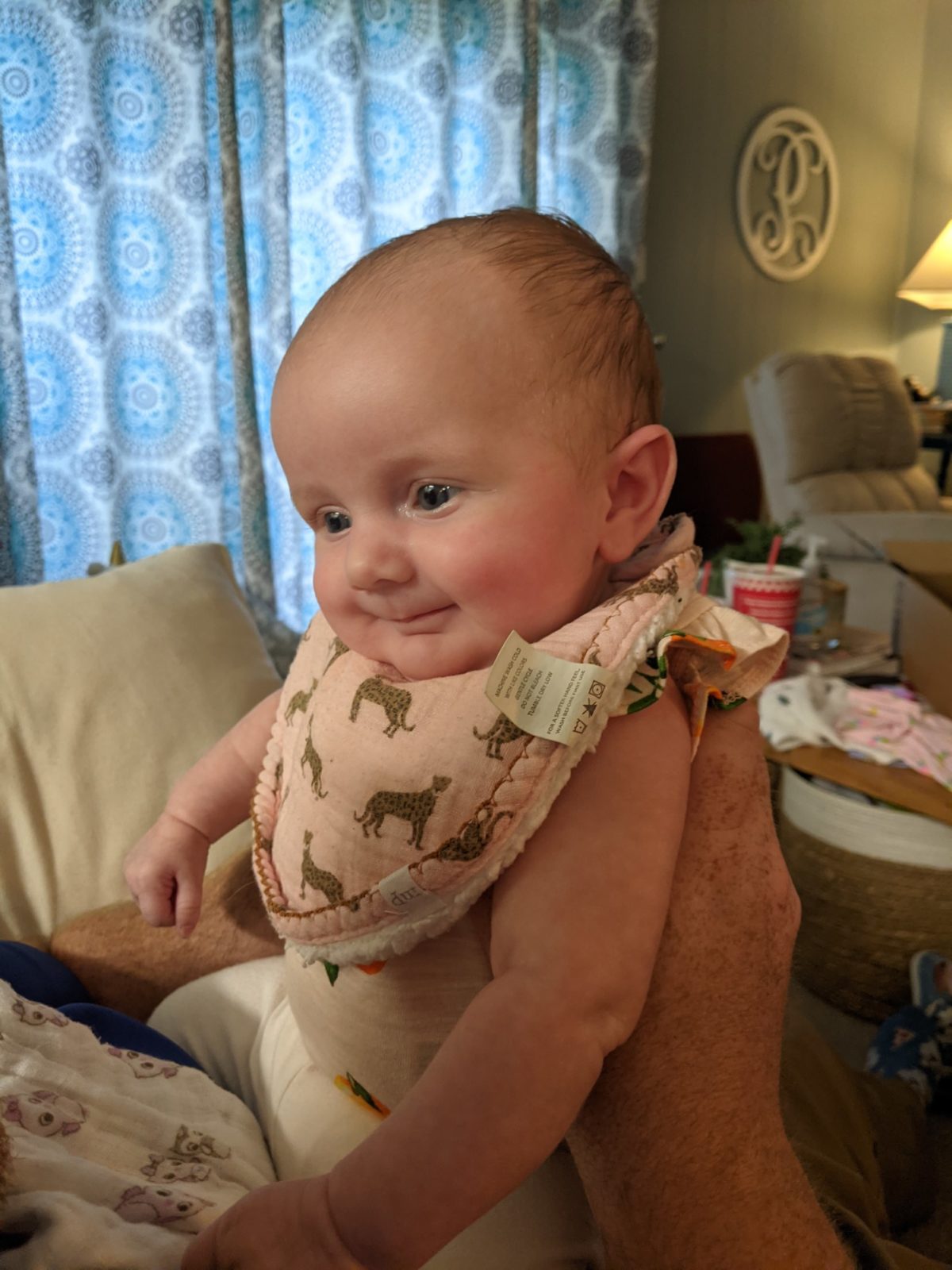 And then Baby Sister had her first bath in the big girl bathtub! Up until now, we'd been doing sponge baths on the counter, just dribbling water over with a wash cloth, or a kitchen sink bath. But we got our little baby bath cradle thing back from Meg today (we loaned it for the trips), so we tried Addison in there for the first time tonight. I wasn't sure how she was going to like it, but y'all, she absolutely LOVED it! She was SO content and chill, and just laid there happy as a clam the whole time! She was even smiling at us some more!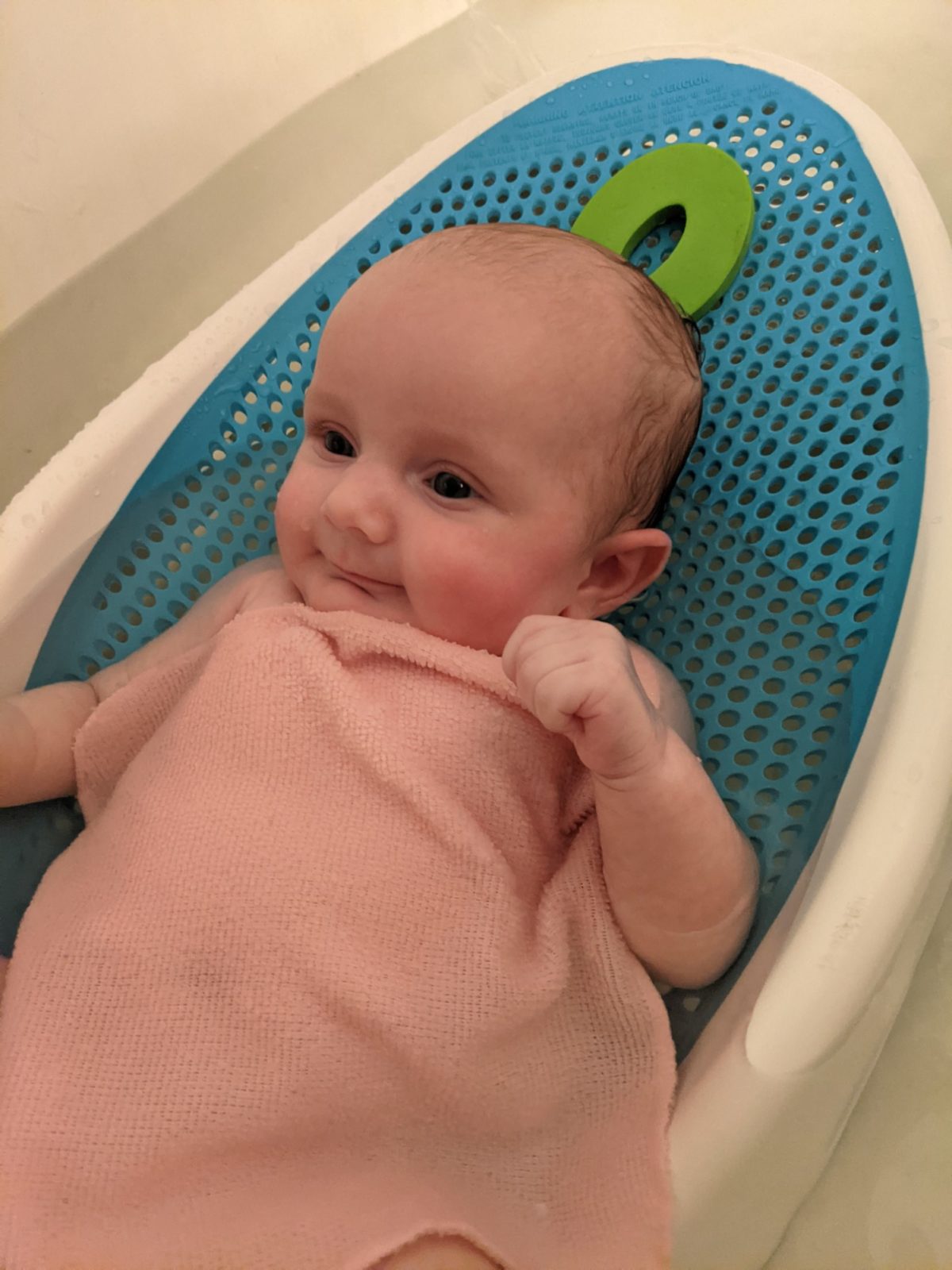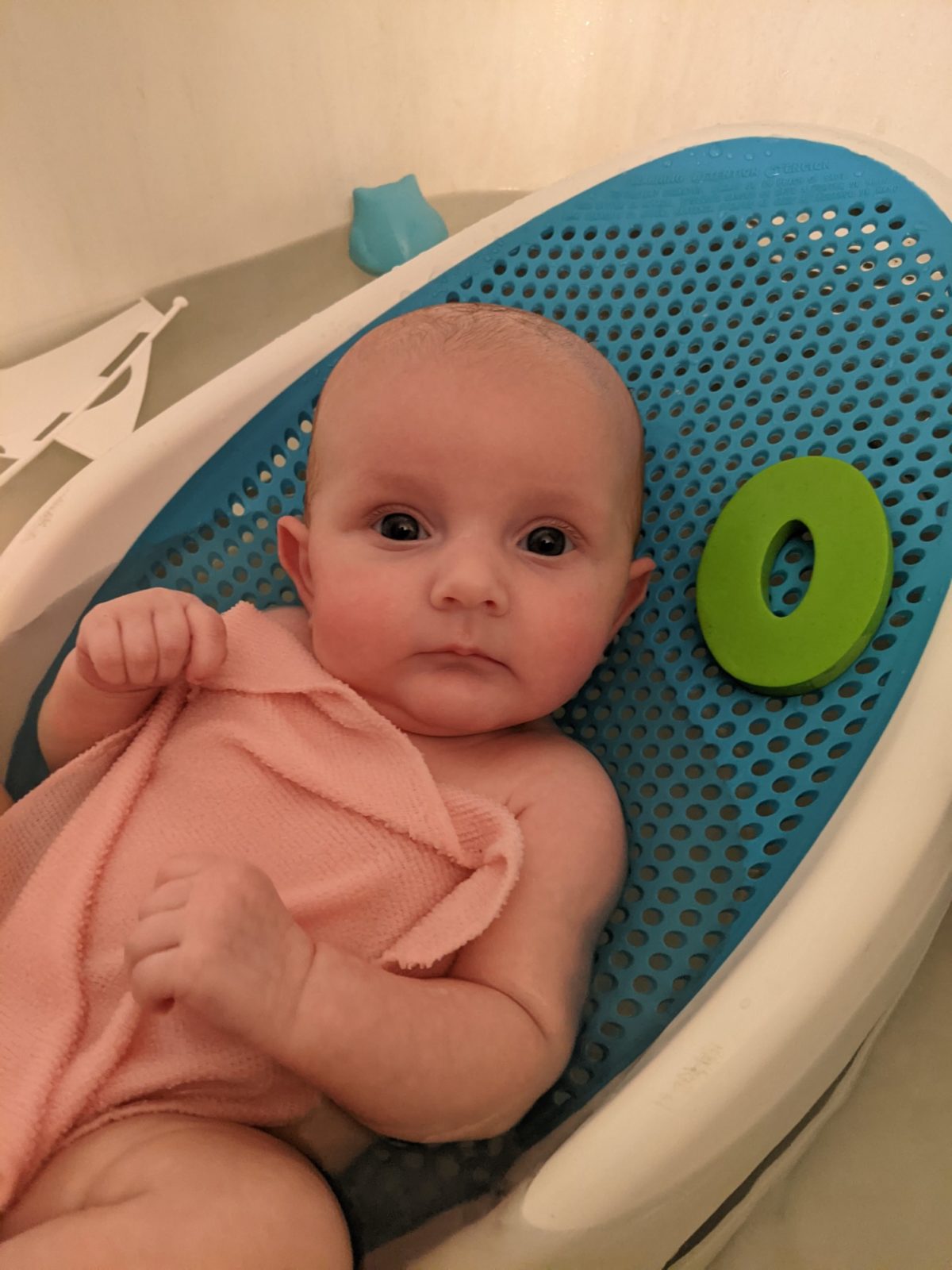 Big Sister got in there with her, and she loved sharing their bath time together. Addie kept staring up at her, and Emmie kept talking to her, and kissing her hands and legs, and trying to give her toys to play with. Their first of many shared baths was a great success!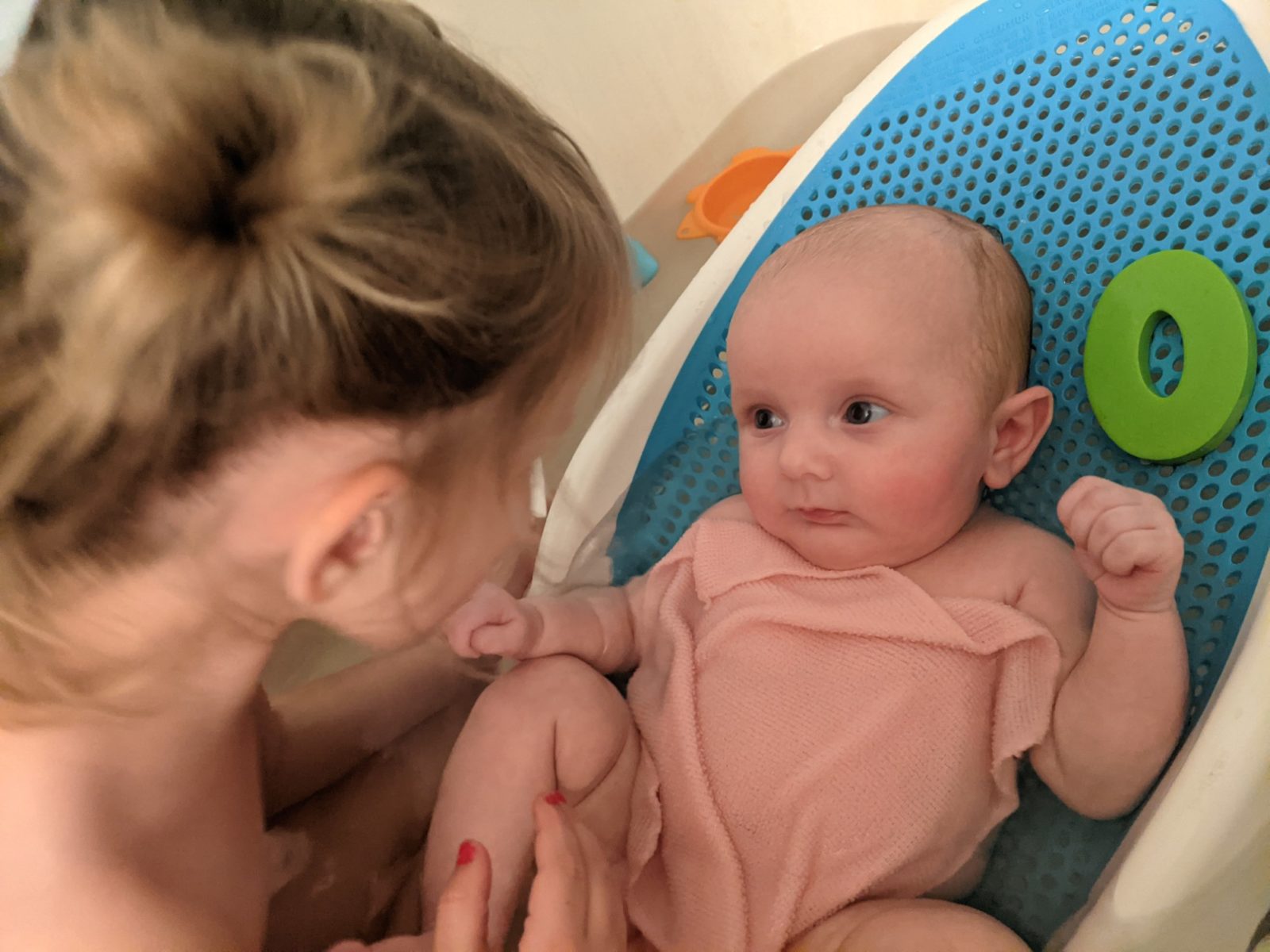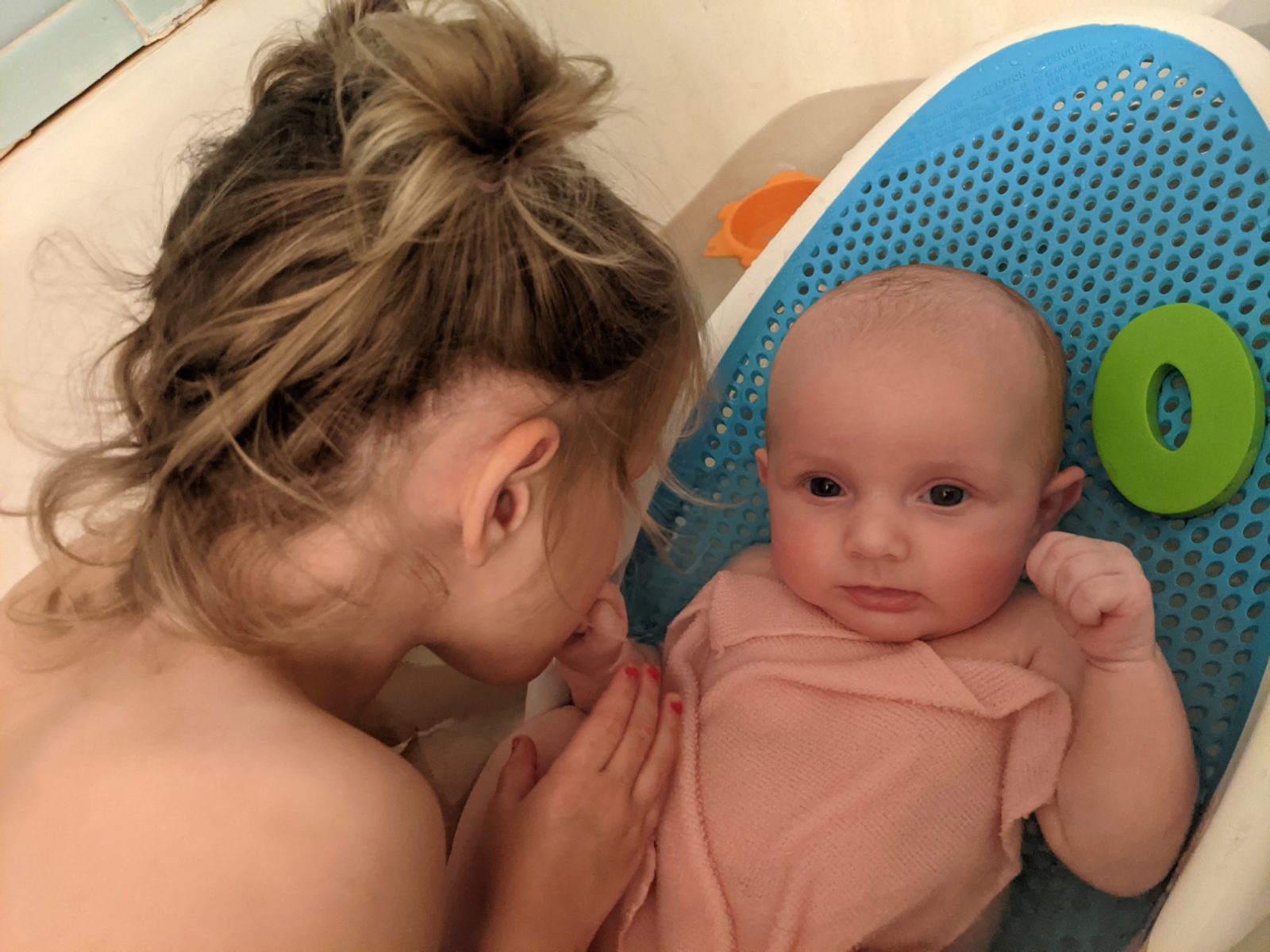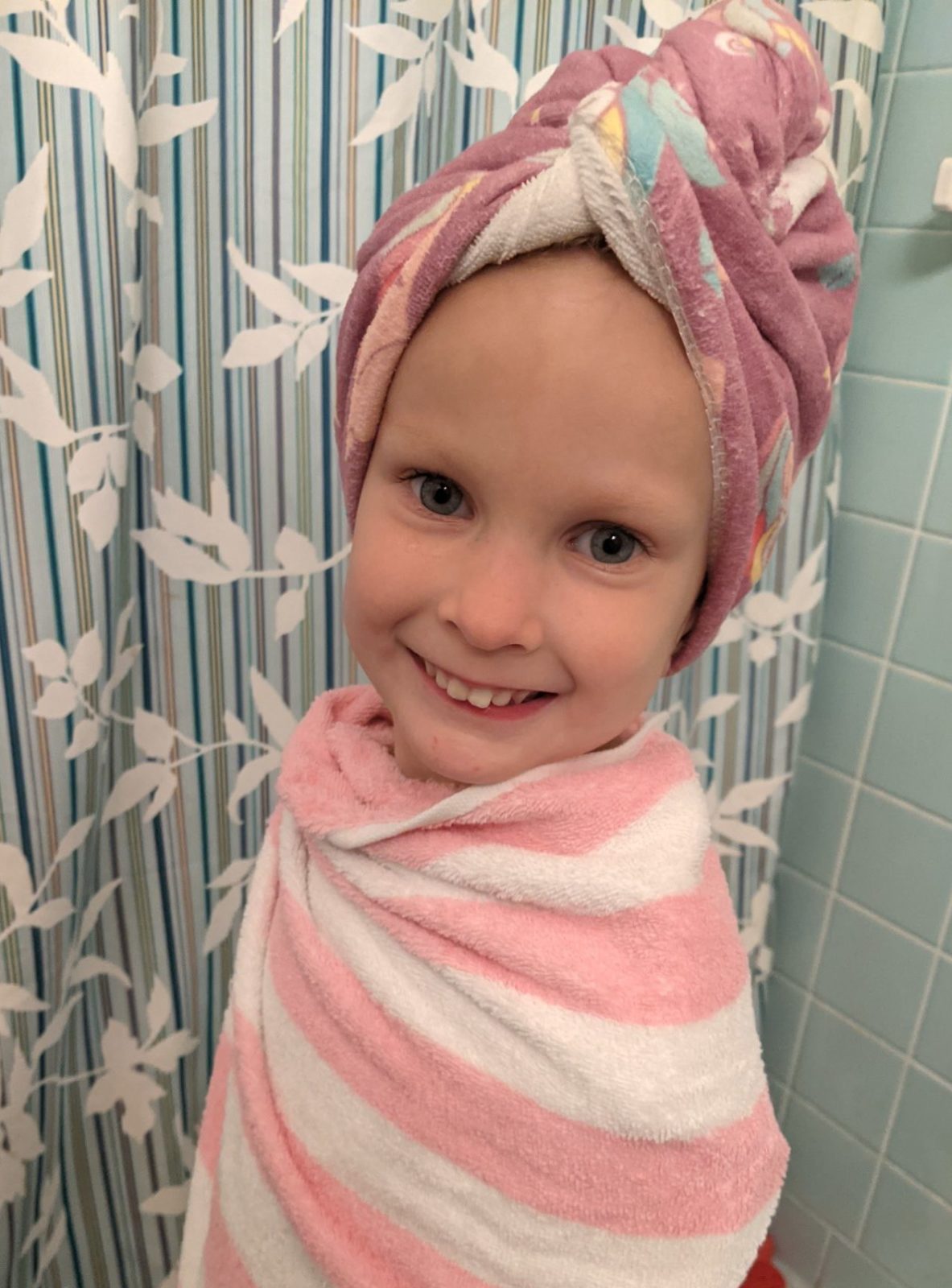 By the time we finished baths and got both girls dried, lotion-ed up, and dressed in jammies, it was bedtime for Emerson, so we just brought Addison to her room with us. We did prayers and a lullaby, and then Emmie wanted to change nightgowns because the sleeves were just making her way too hot. (She's very dramatic about that.)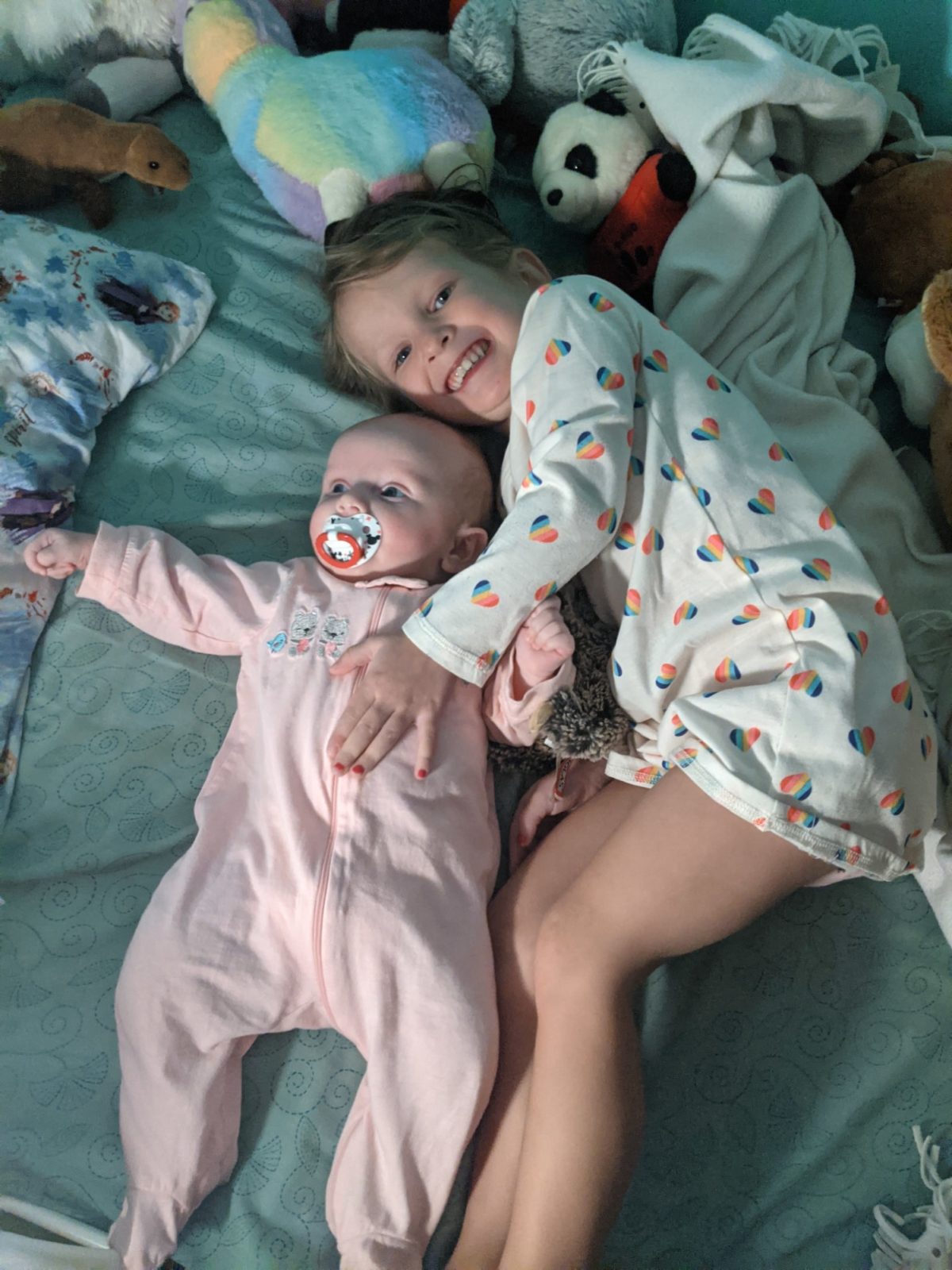 Addie got a little upset during Emmie's bedtime routine, but once I swaddled her and bounced around with her for about five minutes, she was out like a light! She was full, and bathed, and warm, and swaddled, and sleeping like a baby!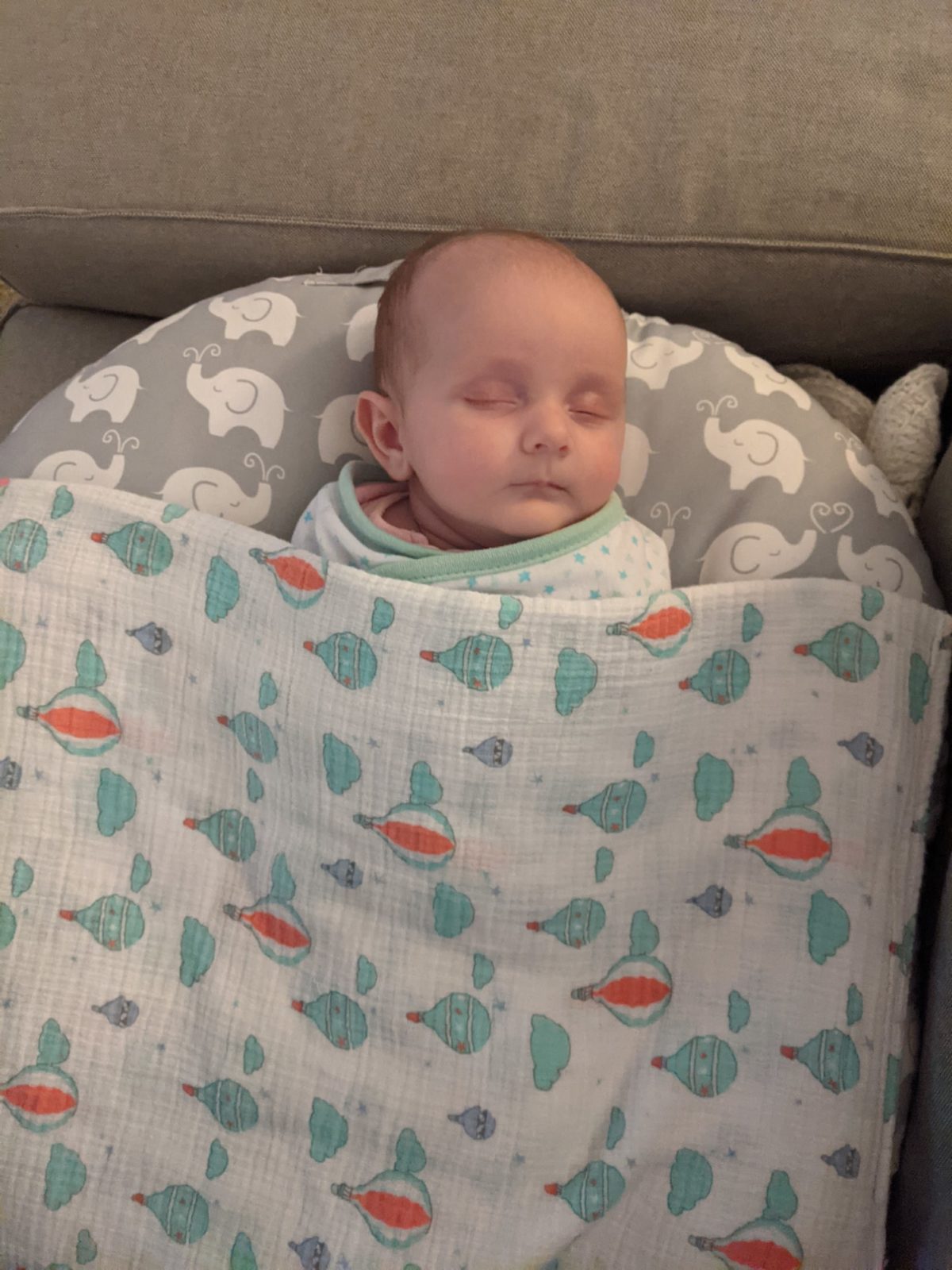 I washed up the dishes and the bottles after getting the girls to sleep, and have been watching an episode of "Virgin River" while blogging. My mom, sister and I decided to try to all watch it this week so we could text back and forth about it, but I got started late… My sister already finished the whole season, and she says the ending is a dramatic cliffhanger. My mom will be finishing up the season tonight, and I got really far behind them both!