So for the first time in months, Emerson didn't wake up at 6:15/6:30. Instead, I didn't get her out of bed until 8am! But I was up at 7am making Amish Breakfast Casserole for our Sunday school class. So I'm gonna need her to sleep in again next Saturday and/or Sunday, to make it up to me! 😄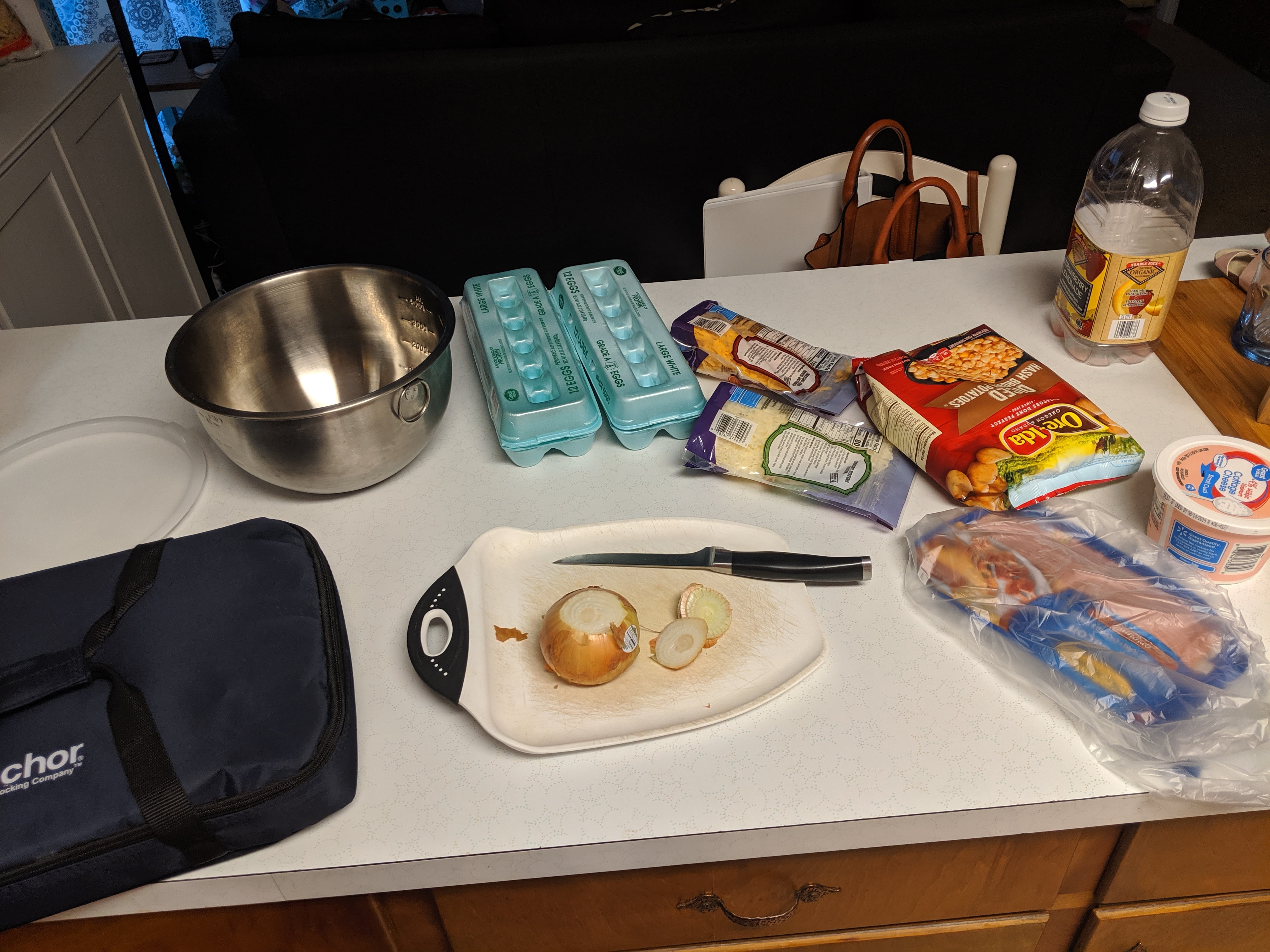 When we got to church, we got to ride in the golf cart again from the back of the parking lot up to the building. Emmie had so much fun, for the 30 second ride!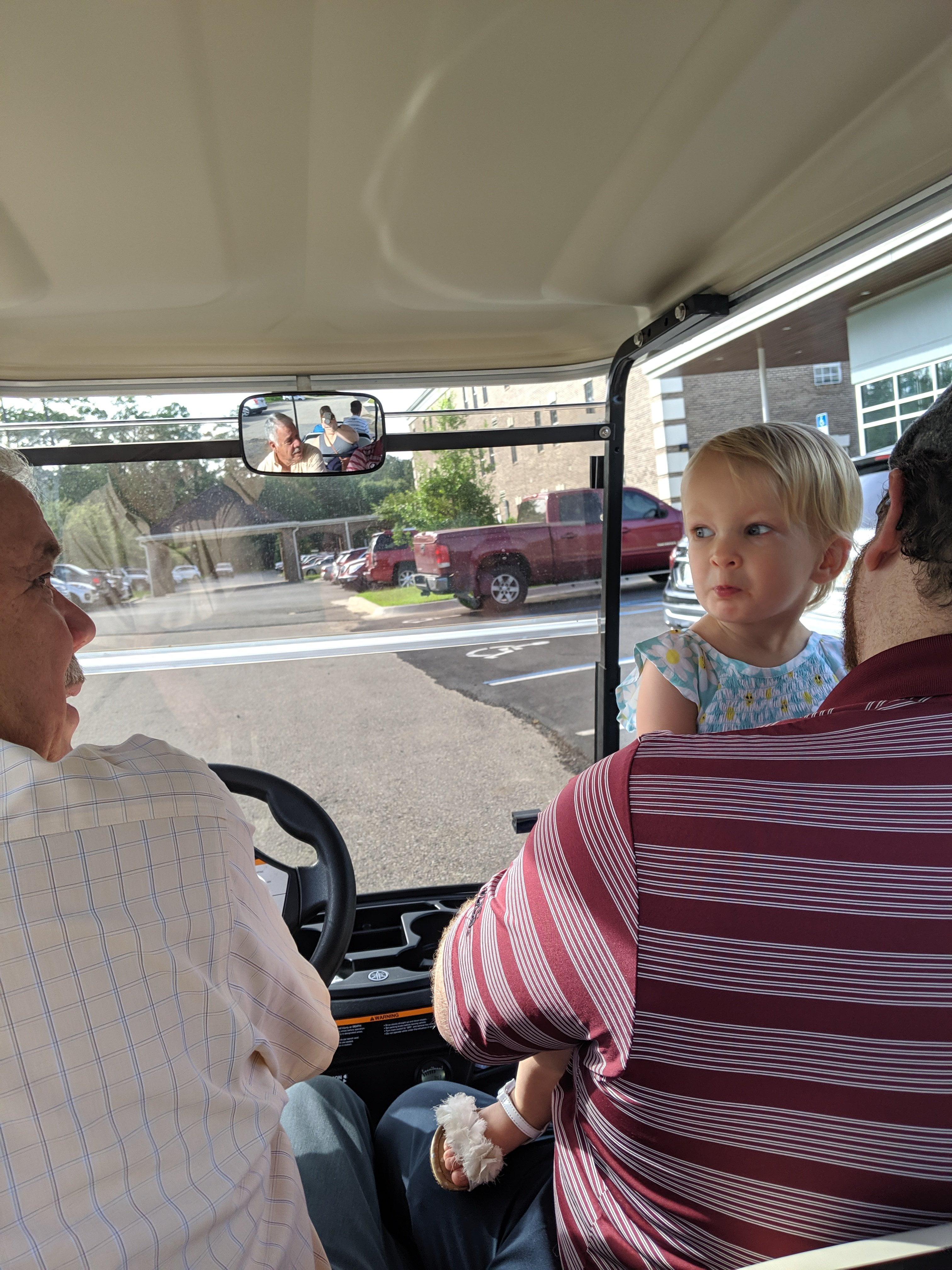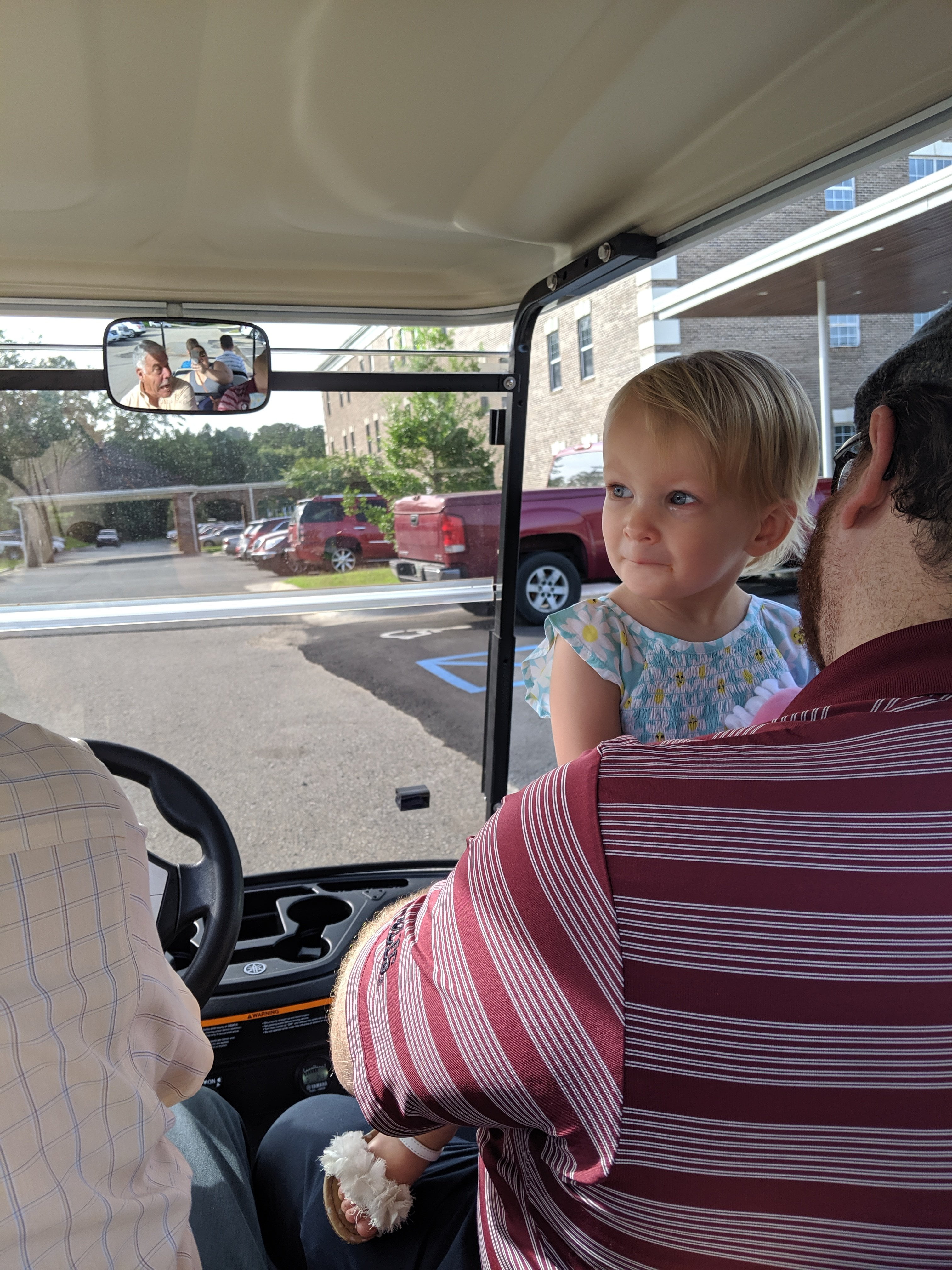 My friend Louis totally caught me snapping this photo in our Sunday school class, and was like, "you gonna out that on Instagram?!" So I said, "close, my blog!" But this bad boy turned out delicious! This is the second or third time I've made it, and it's so good. You can also customize or substitute ingredients really easily, and it comes out just as good. There was only a corner of the dish left after class, and I've already call dibs on that for my breakfast tomorrow.
After church, Jeff took the boys to Fun Station to meet some kids from his parents church, so Emmie and I had lunch with my parents. And Emerson rode to lunch in Grammy's Jeep! Mama told me on the way there she asked Emmie if she wanted fries, and Emmie said, "No! Tots!" We went to Smash Burger, and I got a grilled chicken sandwich, which was decent, but kinda meh. (At dinner tonight, Gabe asked what I ate for lunch, and when I told him, he was like, "chicken at a burger place? No wonder it wasn't that great!" And I guess I'd have to agree with him.) But we had a nice time together, and Emmie loved being with her Grammy & Pepaw!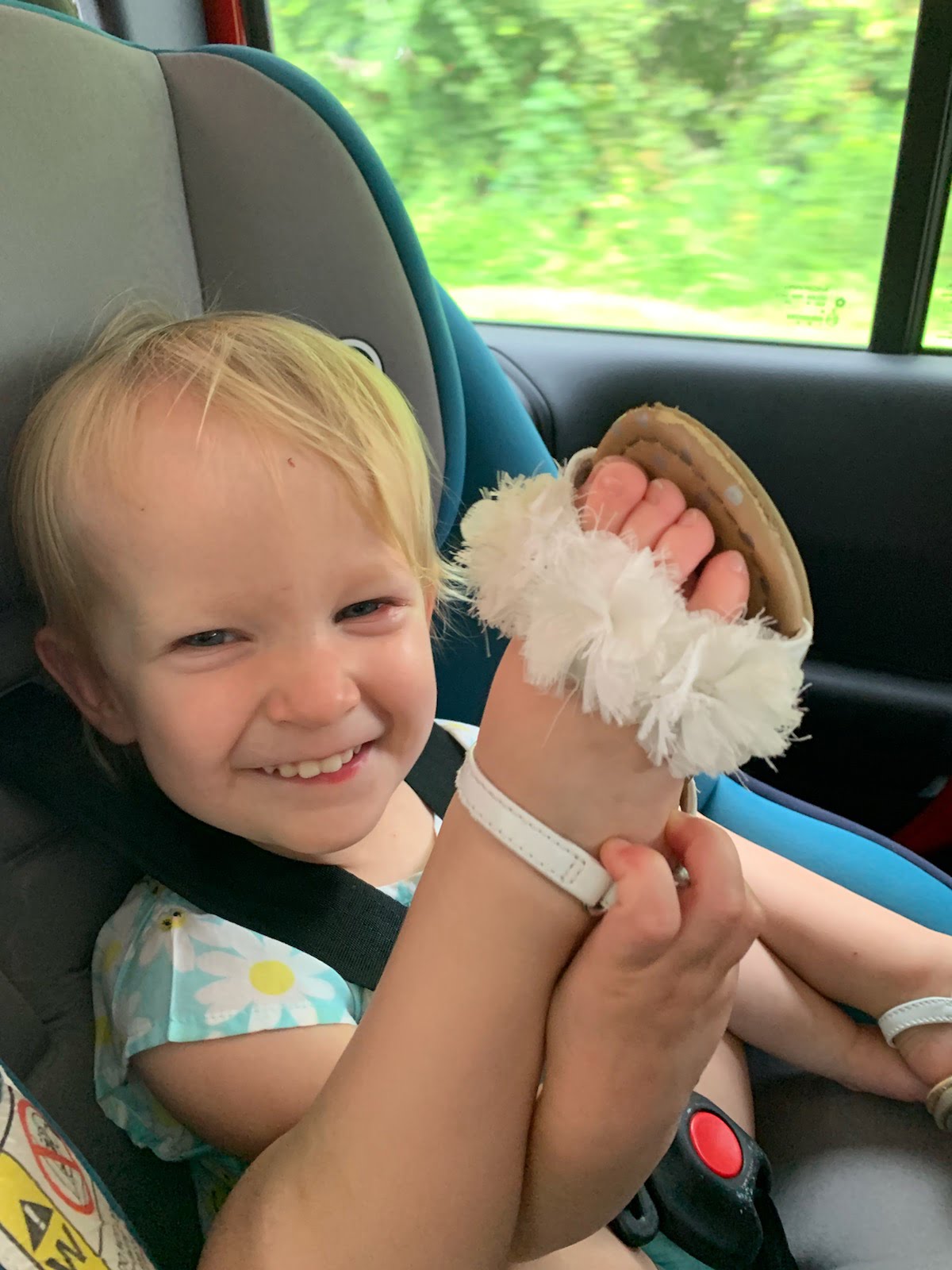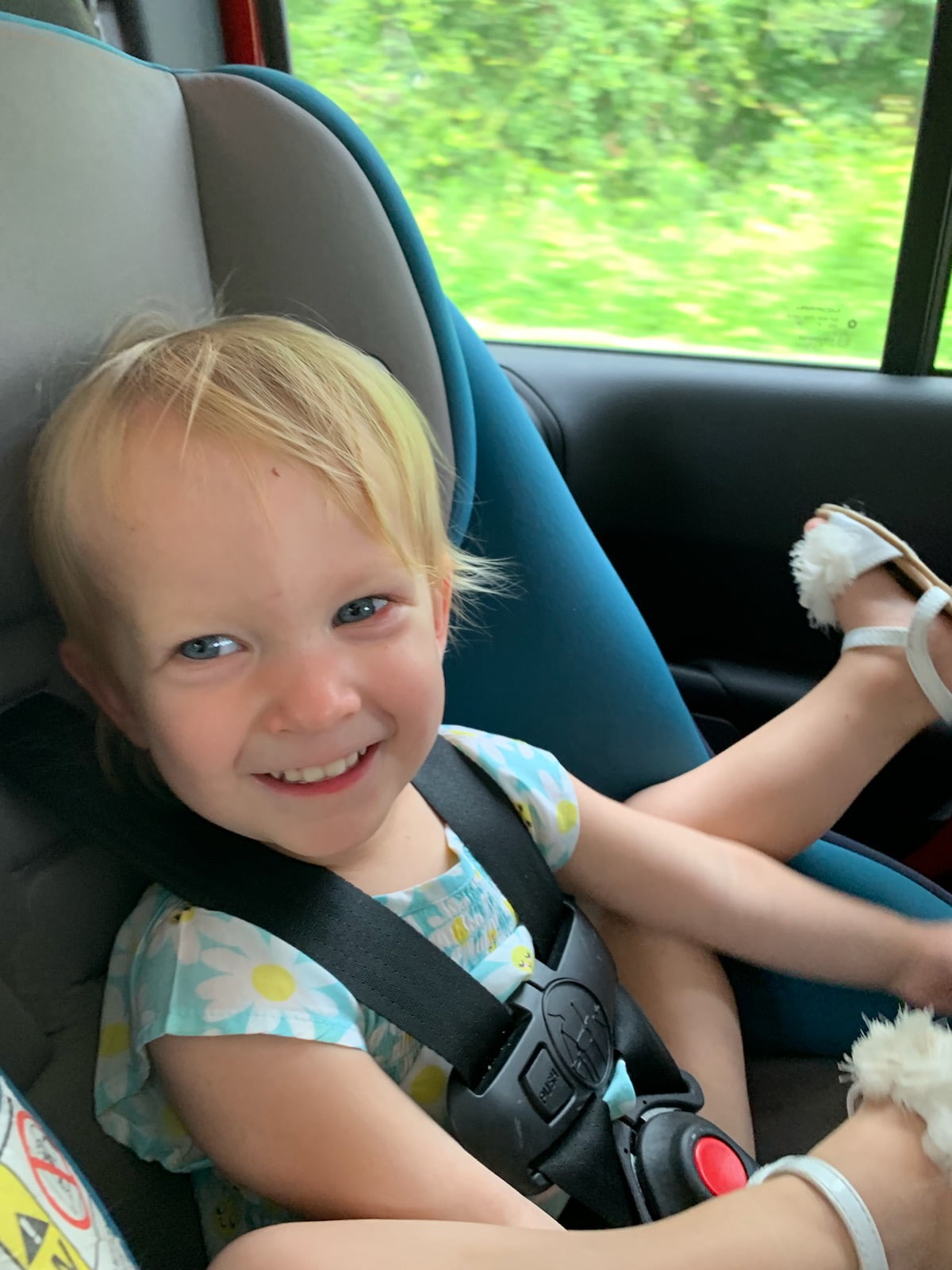 Folding her hands to pray. So so sweet!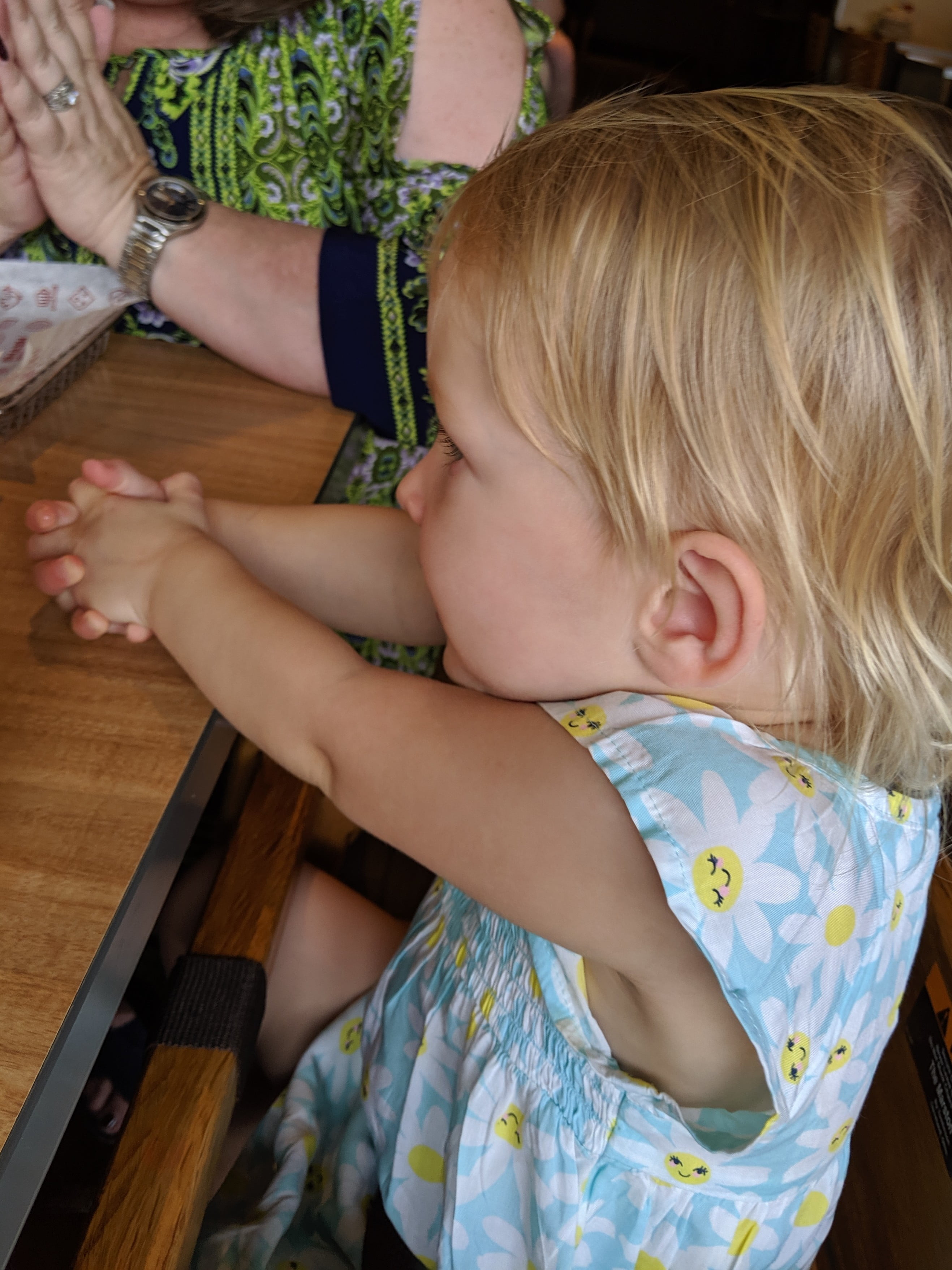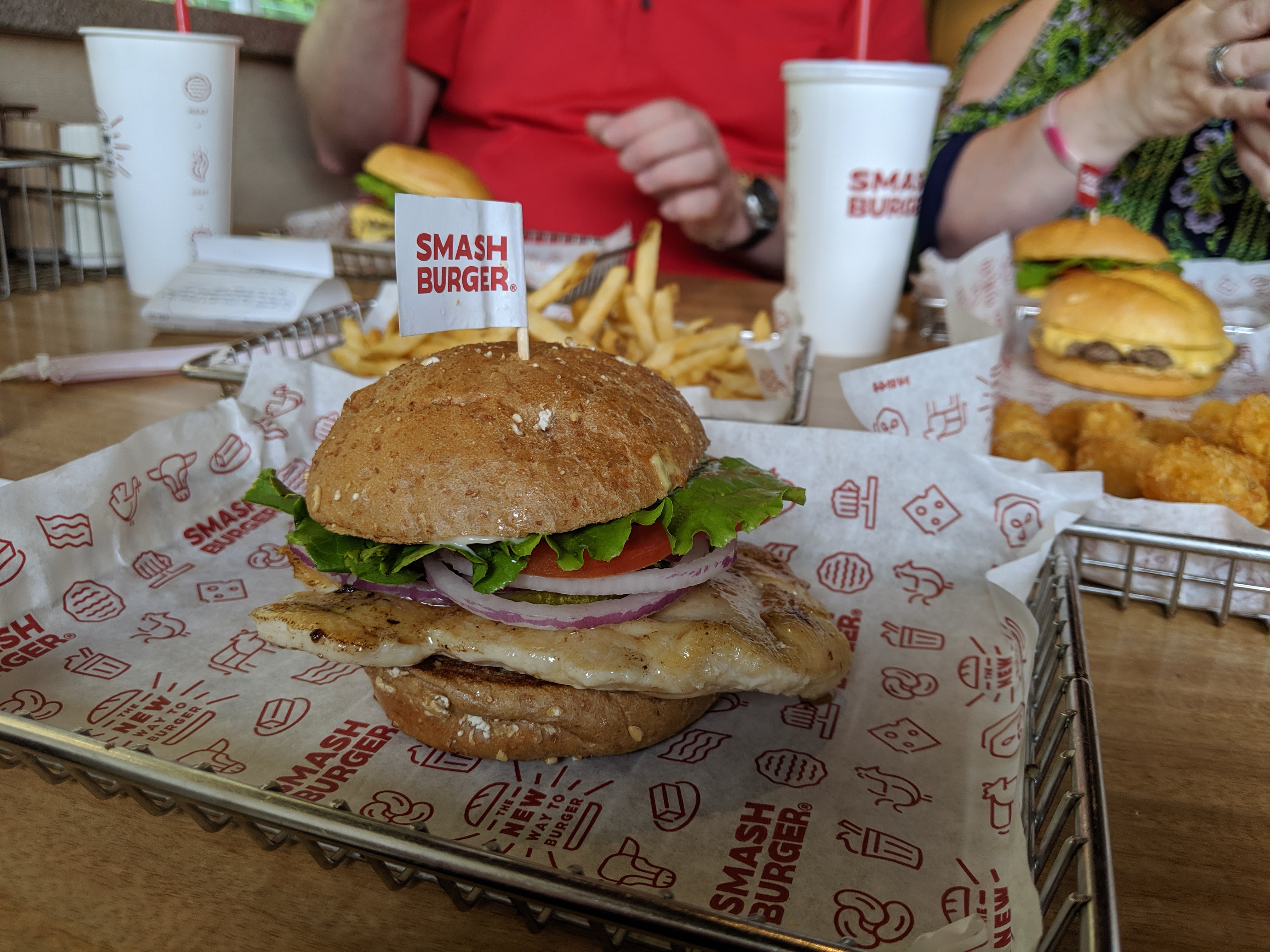 She saw all the onions I took off my sandwich sitting on my tray, and thought she wanted to try one. I told her she didn't, but she insisted. But she quickly realized I was right and gave it back to me!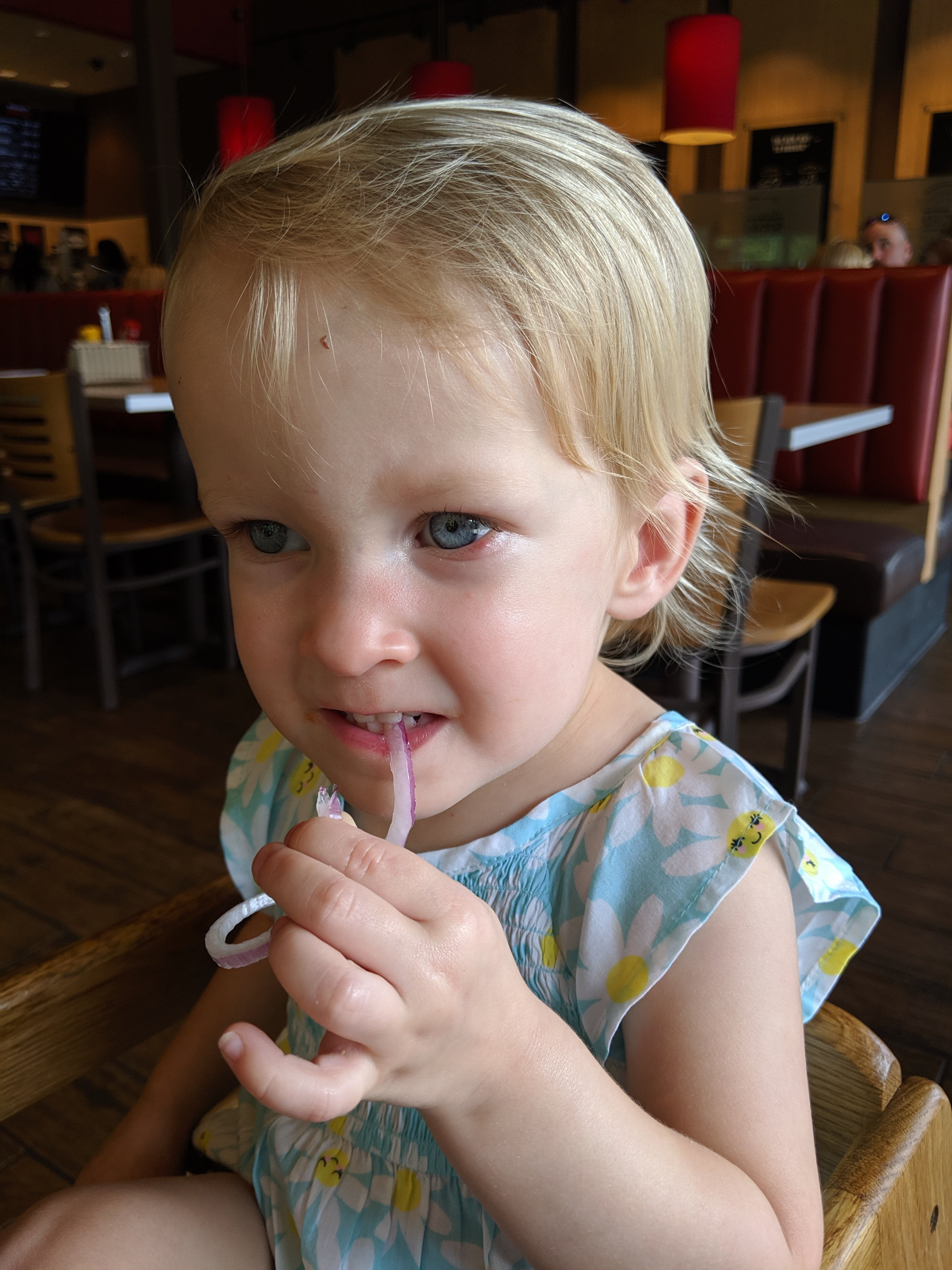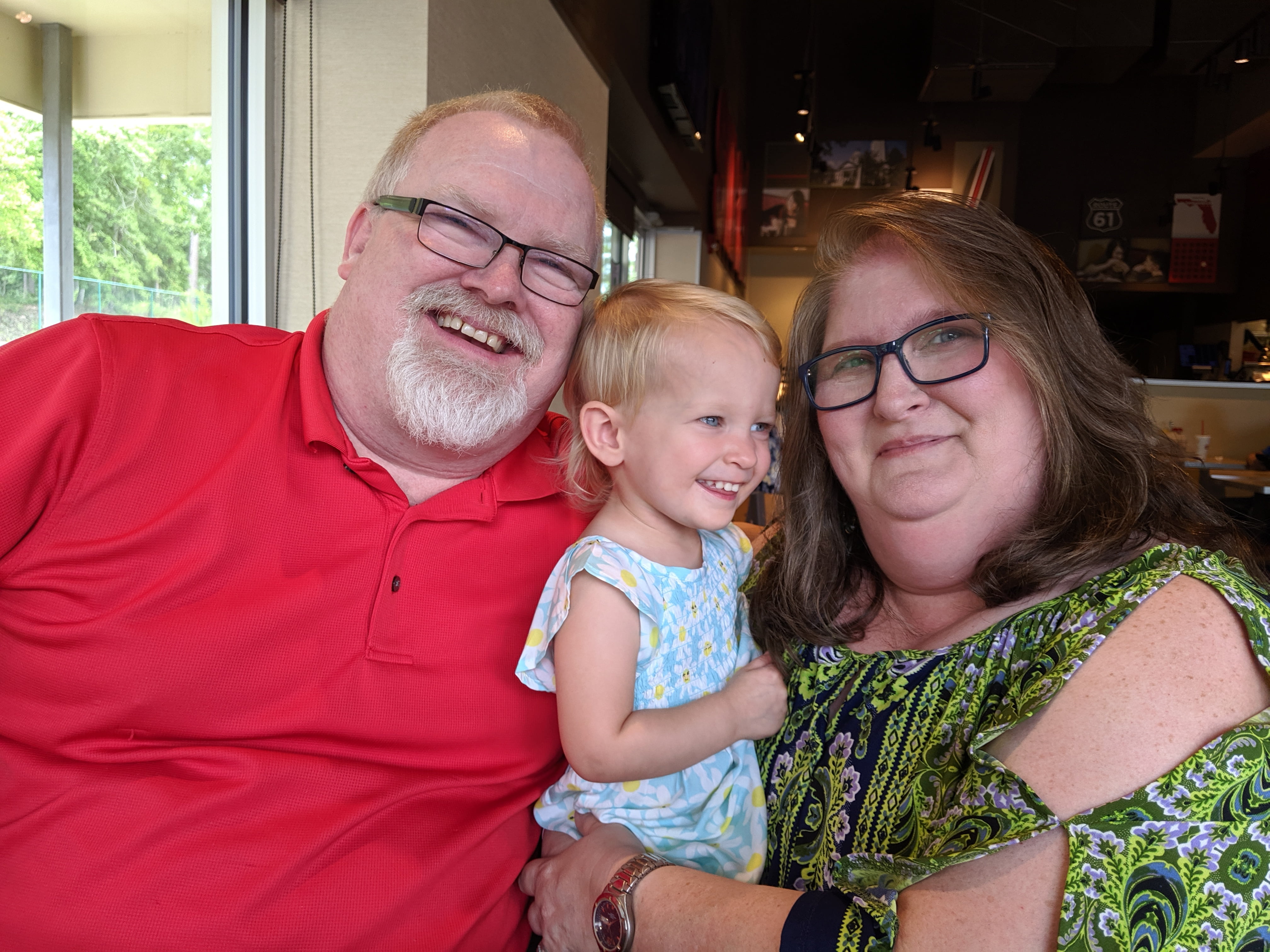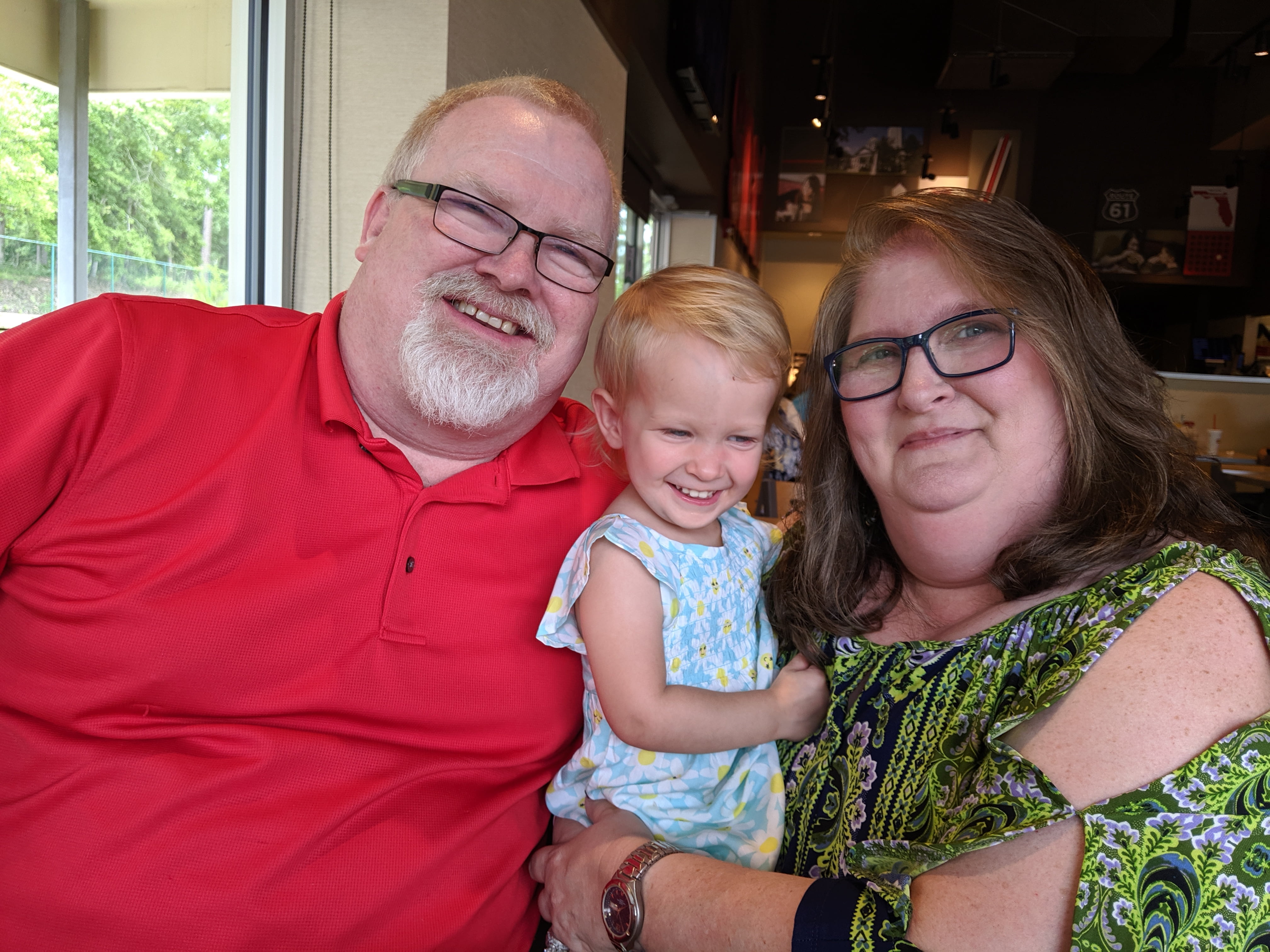 Once we got home, it took about 20 or 30 minutes to get her to the point I could lay her down in her bed for her nap time. Then I laid down to attempt a nap, but only slept for about 30 minutes, at most. Then I decided since she was still sleeping, and I couldn't exactly put all her new stuff in her room, that I would just procrastinate a little longer, by having leftover cake & reading until she woke up.
She slept for about 1.5 hours, and then was ready to play some more! This is a new dress Aunt Suzanne and Uncle Keith gave her for her birthday, and I love it! I actually showed her multiple options this morning when getting her dressed for church, and she chose this one!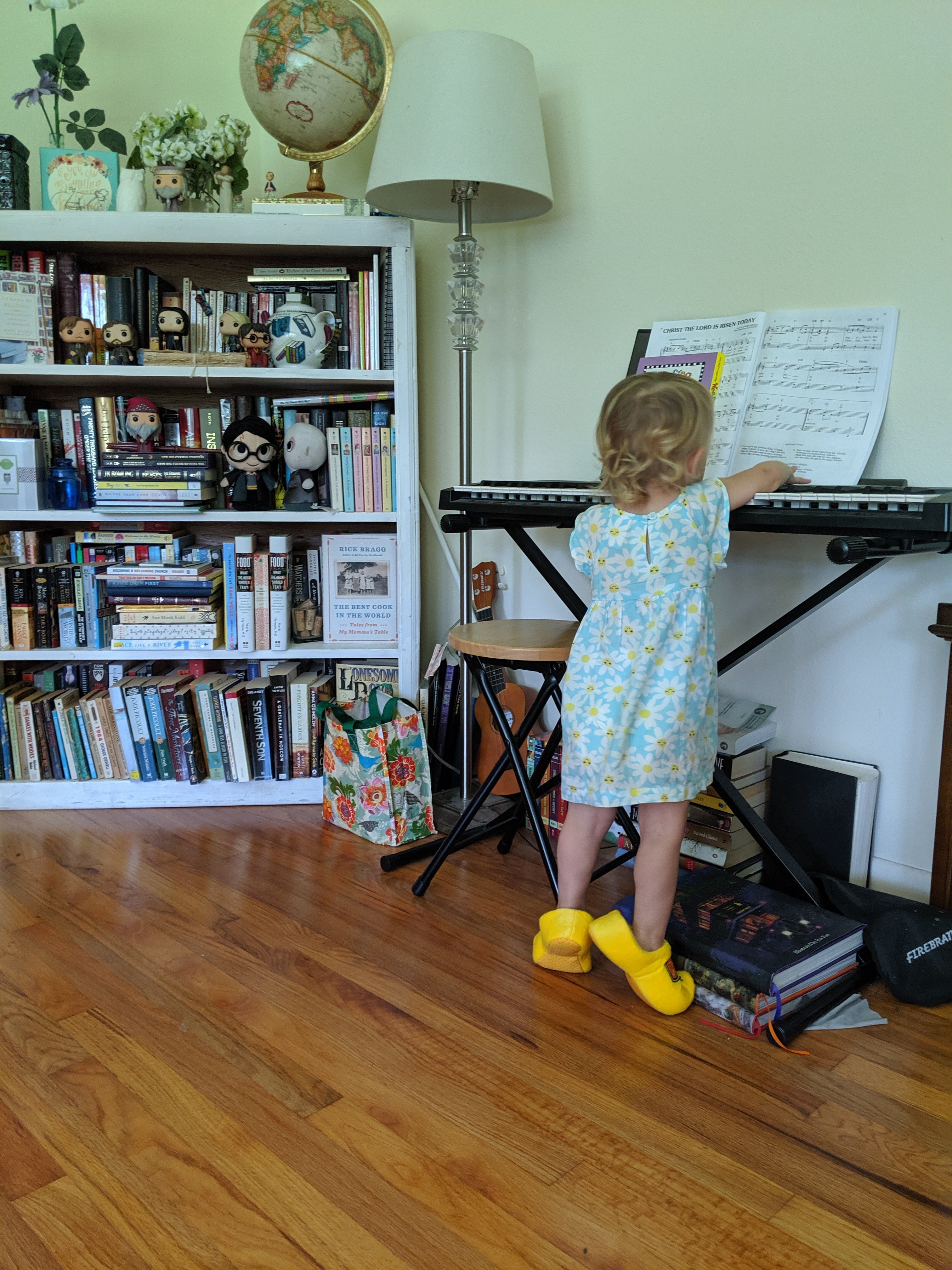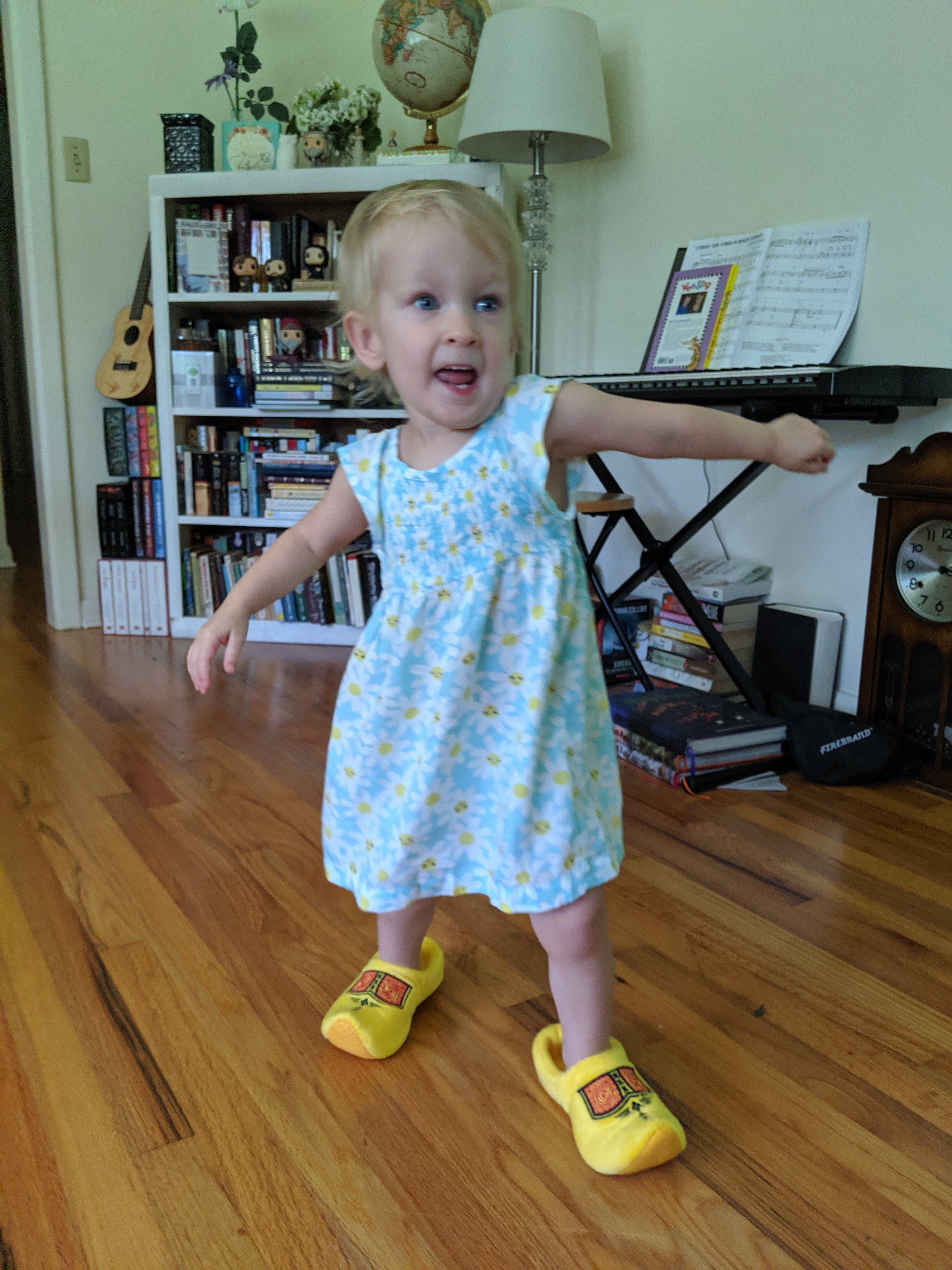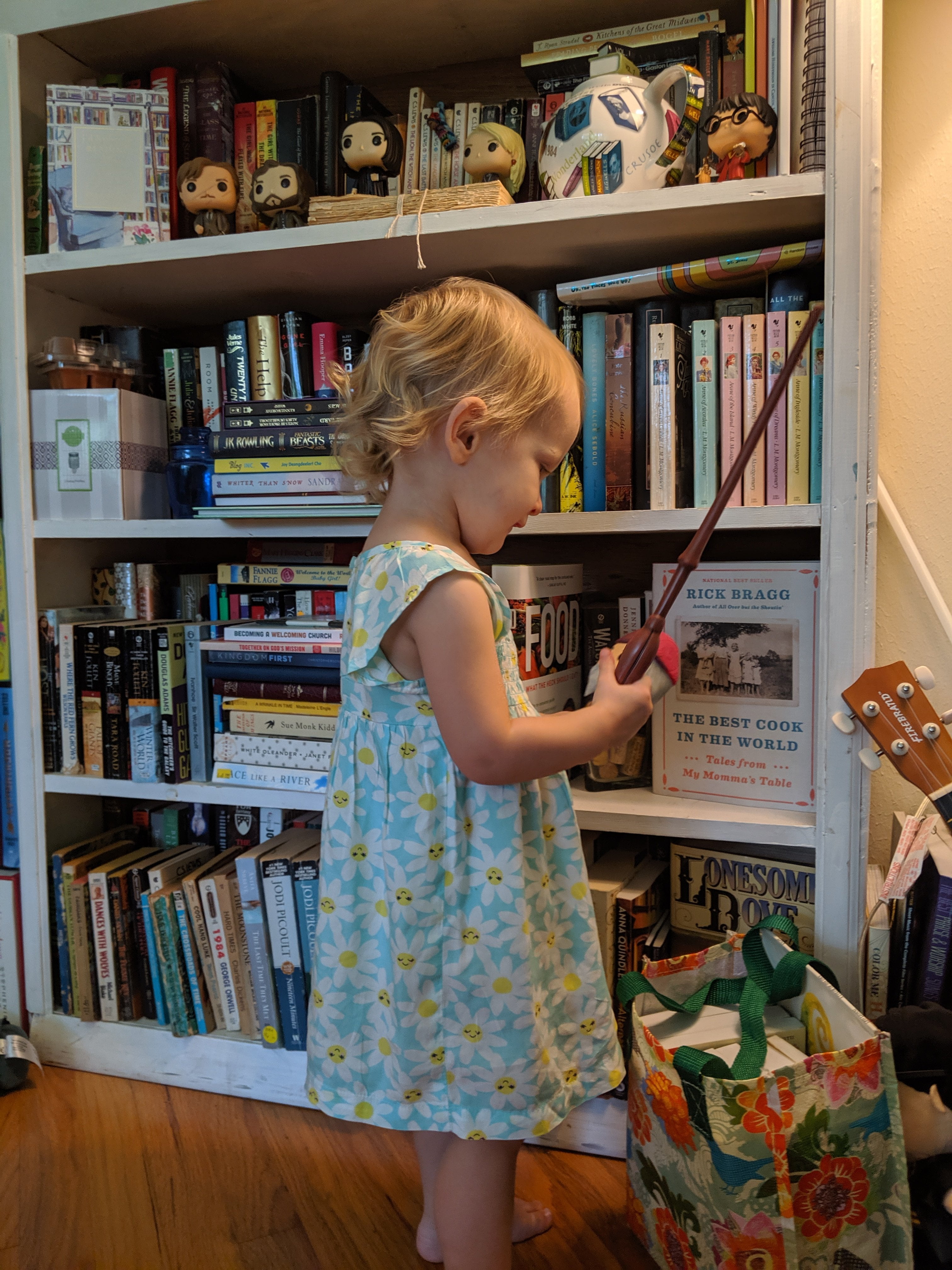 My boss Tammy was getting rid of some of her girls' old things, and asked if we wanted the Little House on the Prairie set, even though it was a little advanced for Emmie. I immediately said YES! and I was so excited to see how nice they are! Emmie enjoyed checking them out today too. Trying to raise her to be a reader like Mommy!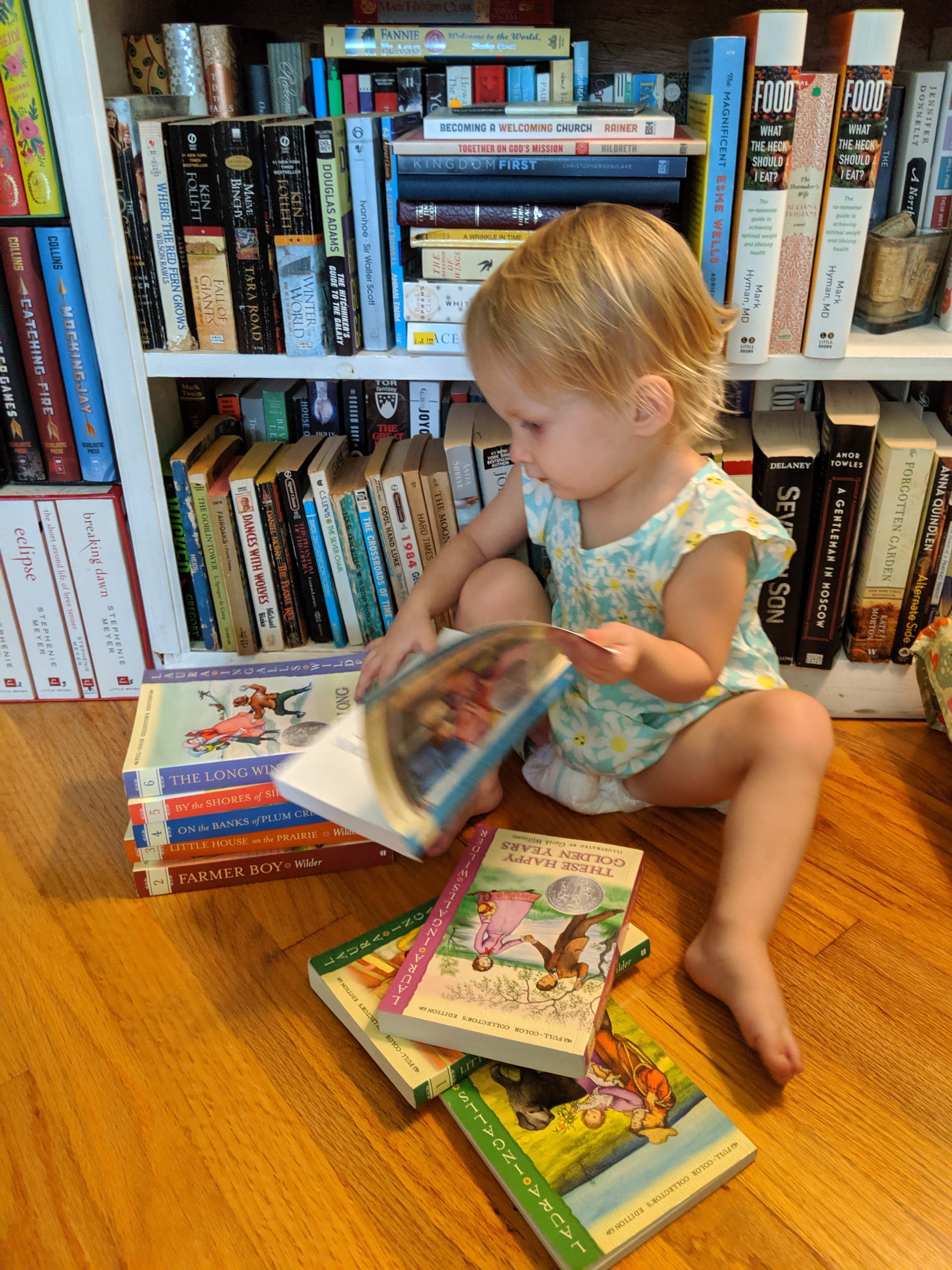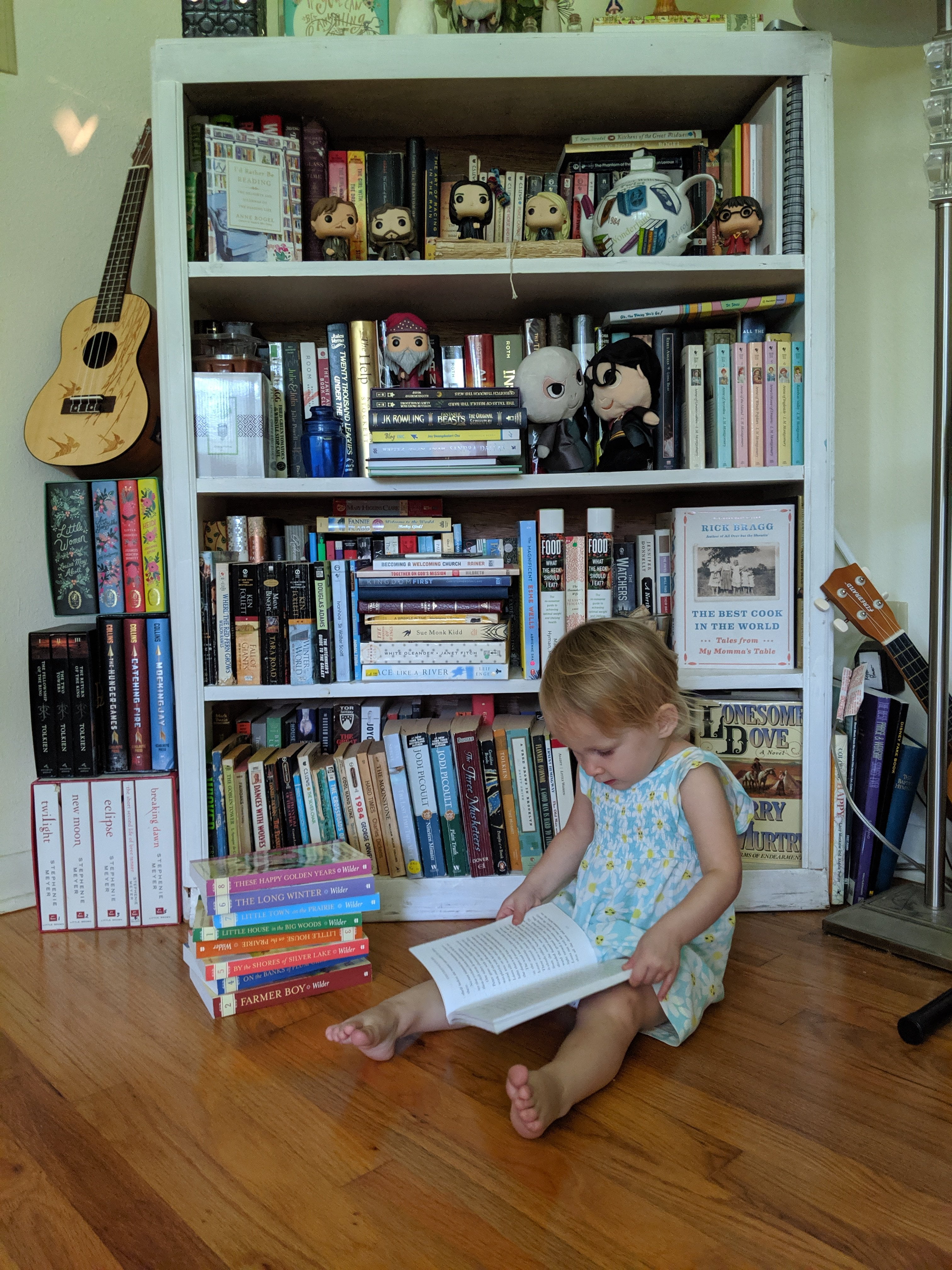 We needed to go back to Publix again for a few things I forgot yesterday, and just because it's usually a good activity to get us out of the house, but staying indoors in the a/c. The boys were going to stay home, but once we got in the car, she started crying for Ryan (he had been holding her for a few minutes while I got dressed again & gathered my stuff), so I ran back inside to ask him to come with us. He sweetly agreed and got his flip-flops, and ran back to the car with me. She was so happy to see him!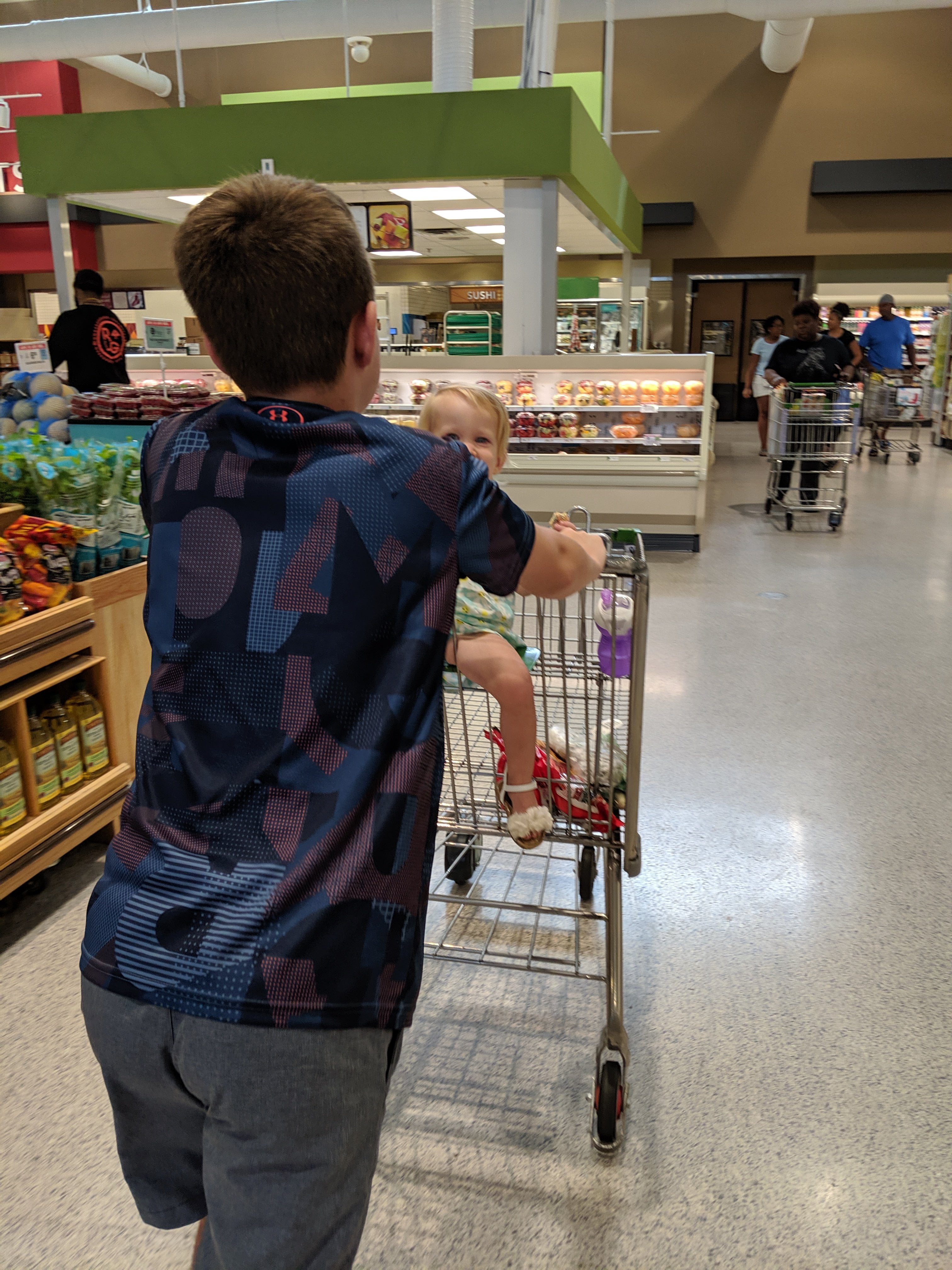 We got the few things we needed, plus a few random things we just happen to find on a clearance rack back by the butter, and were in & out pretty quick. As we got in the car, the most beautiful turquoise Jeep pulled in right next to us. I just loved this color! (It seems a bit more electric blue in the photo, but was actually a little more turquoise in real life.)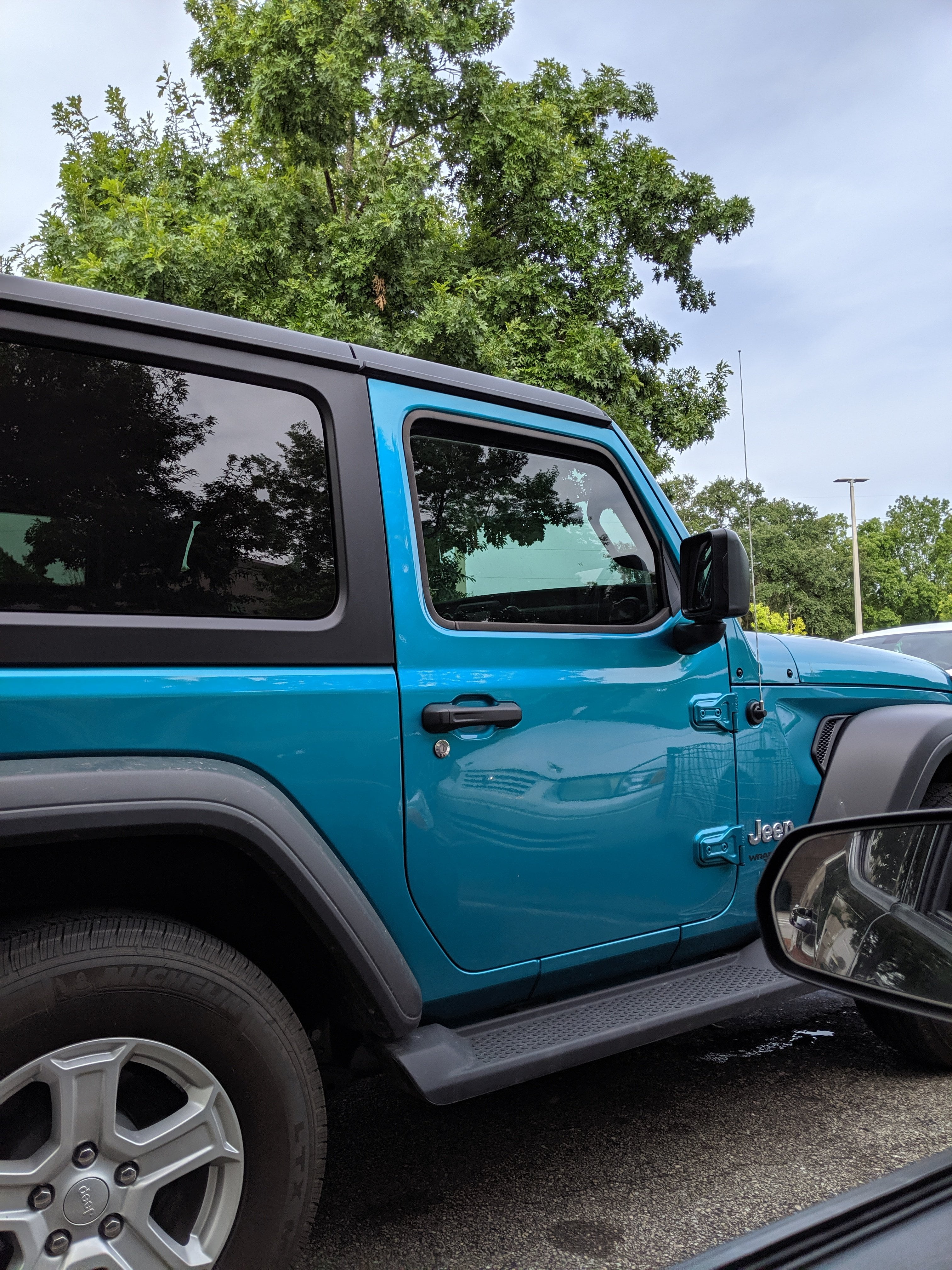 We started putting away and cleaning up more of her birthday presents when we got home. Can you tell the family likes to buy this baby doll some cute clothes?! All this, plus the dress she wore today! I think it's somewhere around 15 new outfits!
While I cooked dinner, Jeff put together the new garden tool cart my parents got her, and she was so cute pushing it around the house, playing with her little flowers and tools!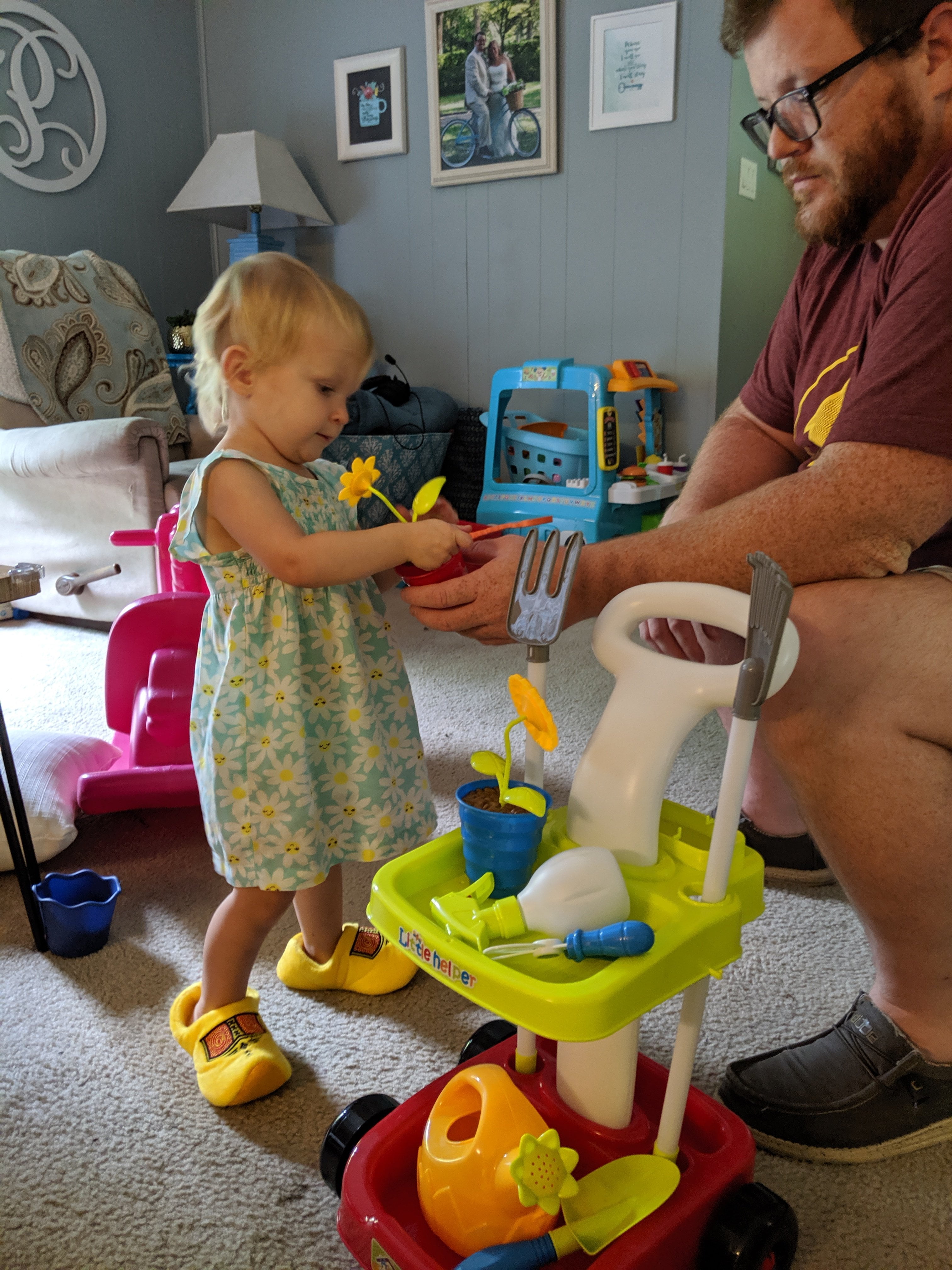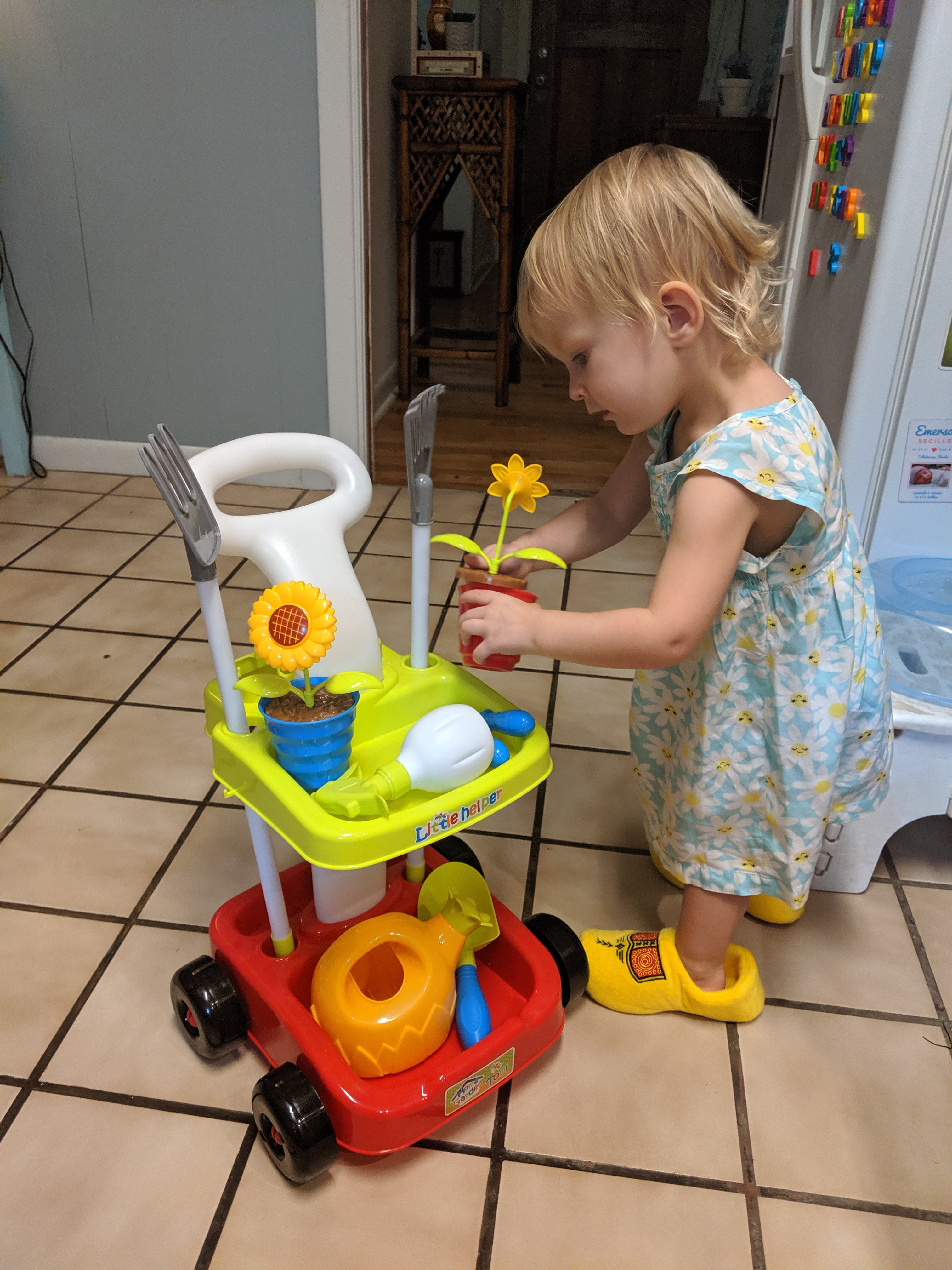 We had super simple grilled cheese sandwich for dinner, and Emerson wore her slippers to the table.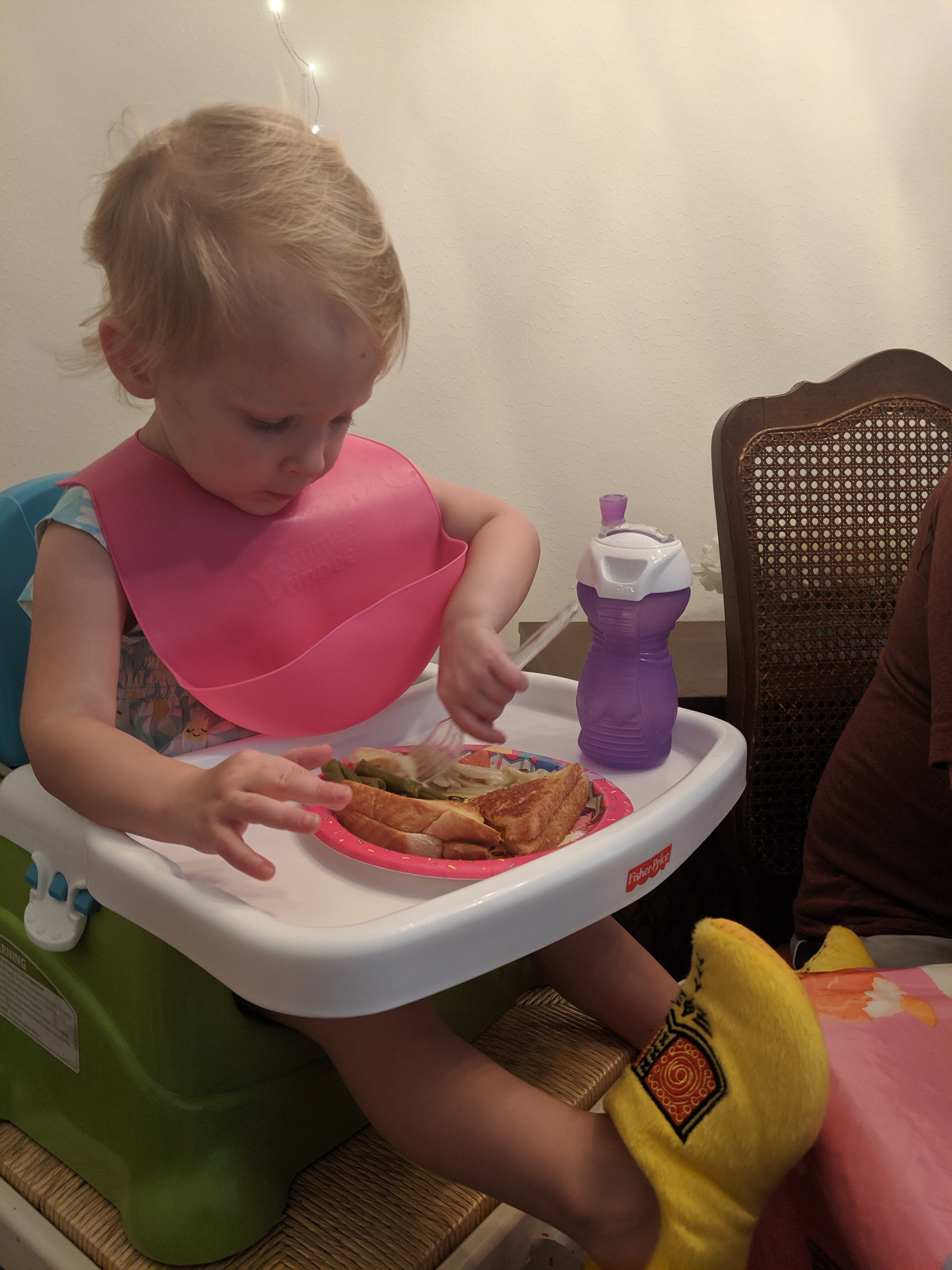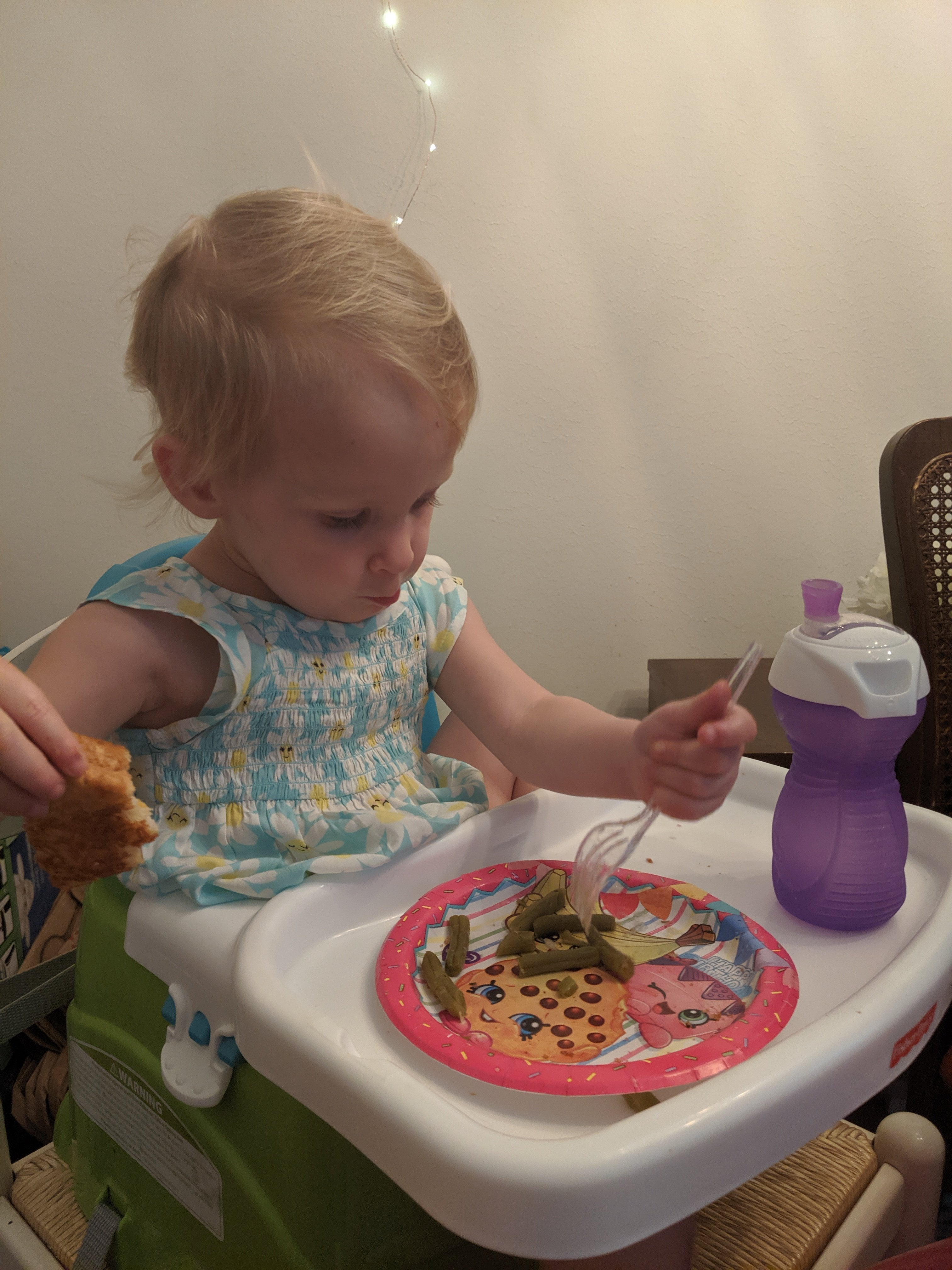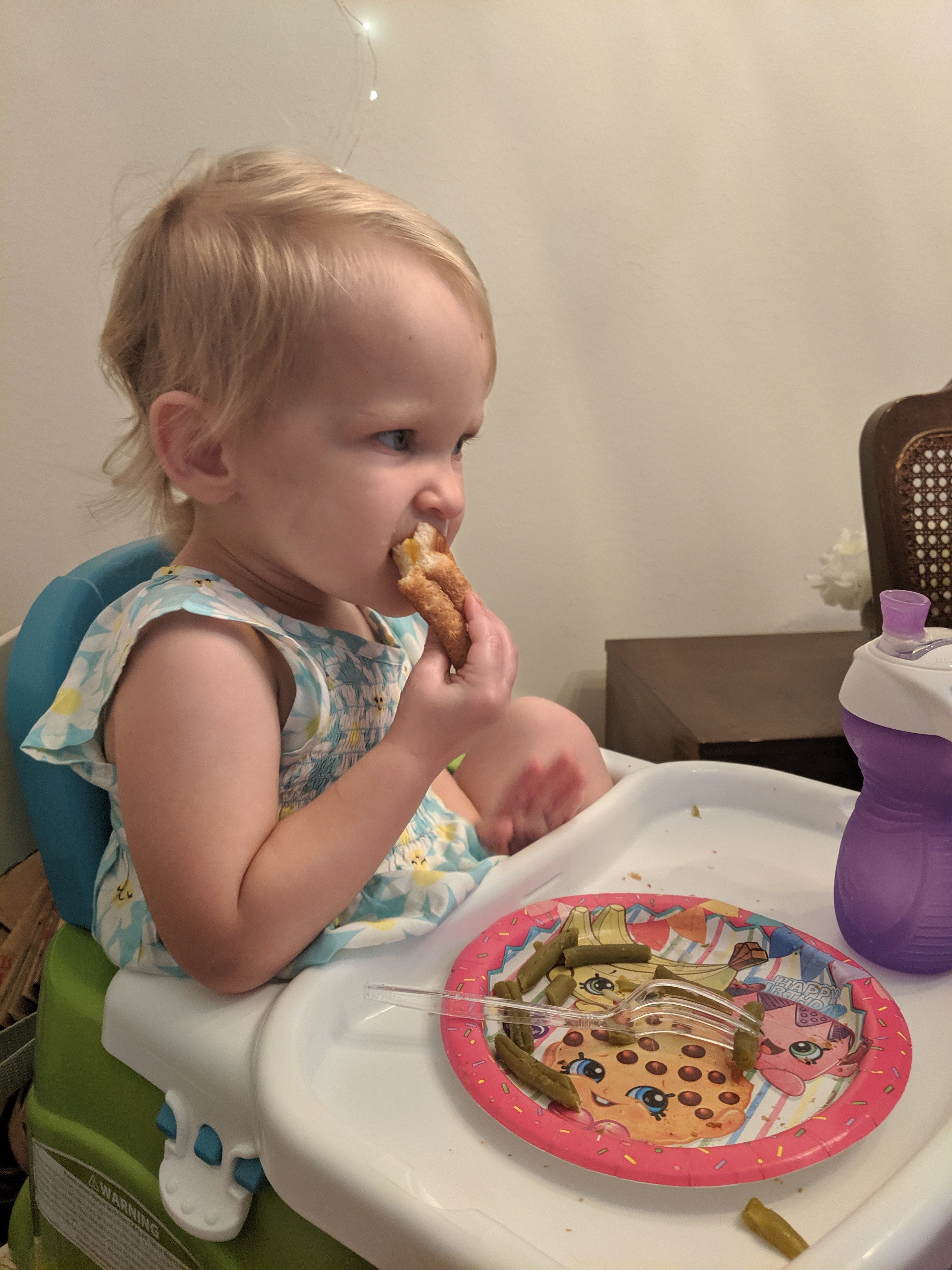 We did a bit more tidying up after eating, and Emmie wore these headphones while Ryan vacuumed. She was being so weird blowing tons of bubbles and making herself slobber like crazy on purpose!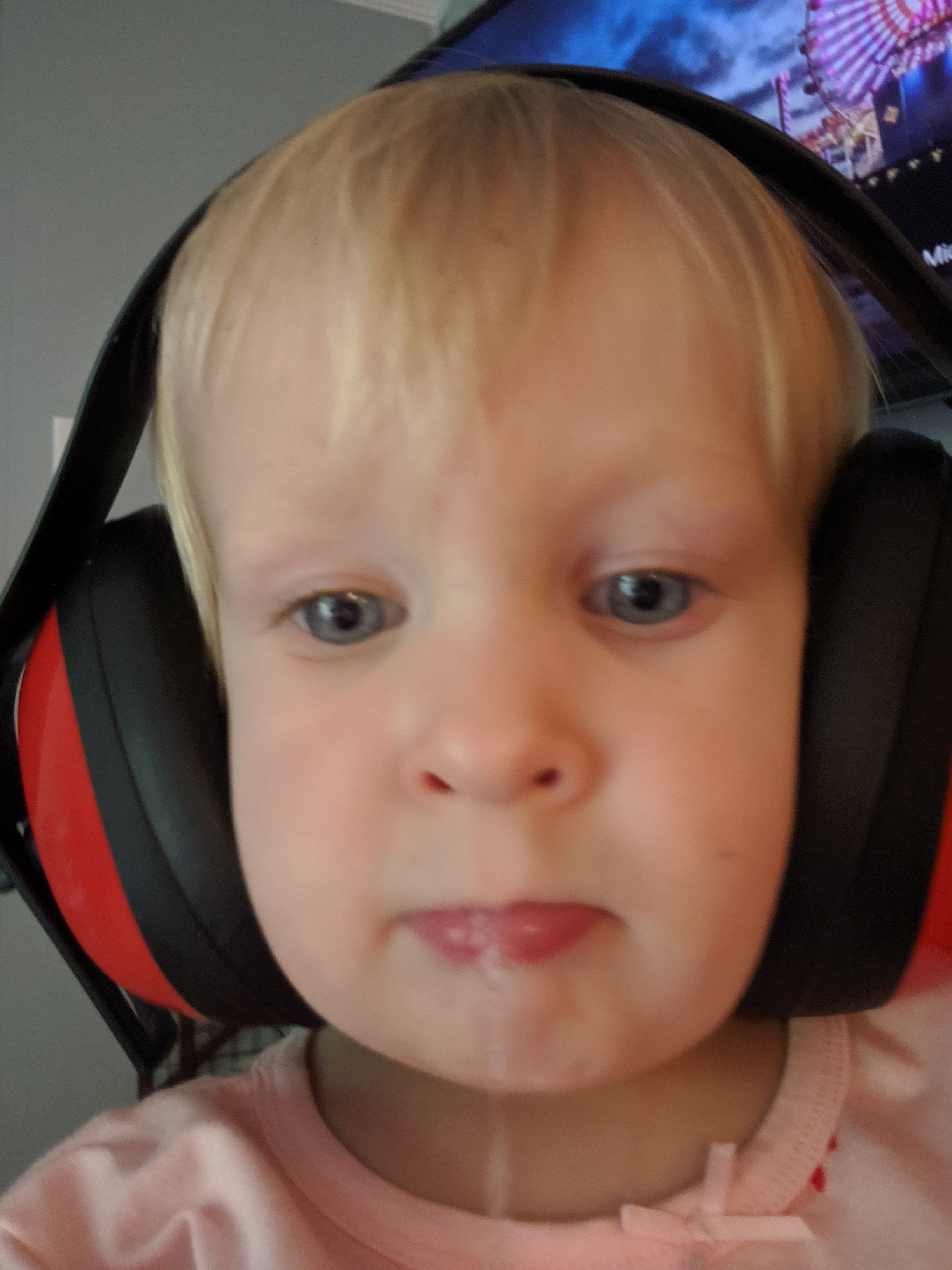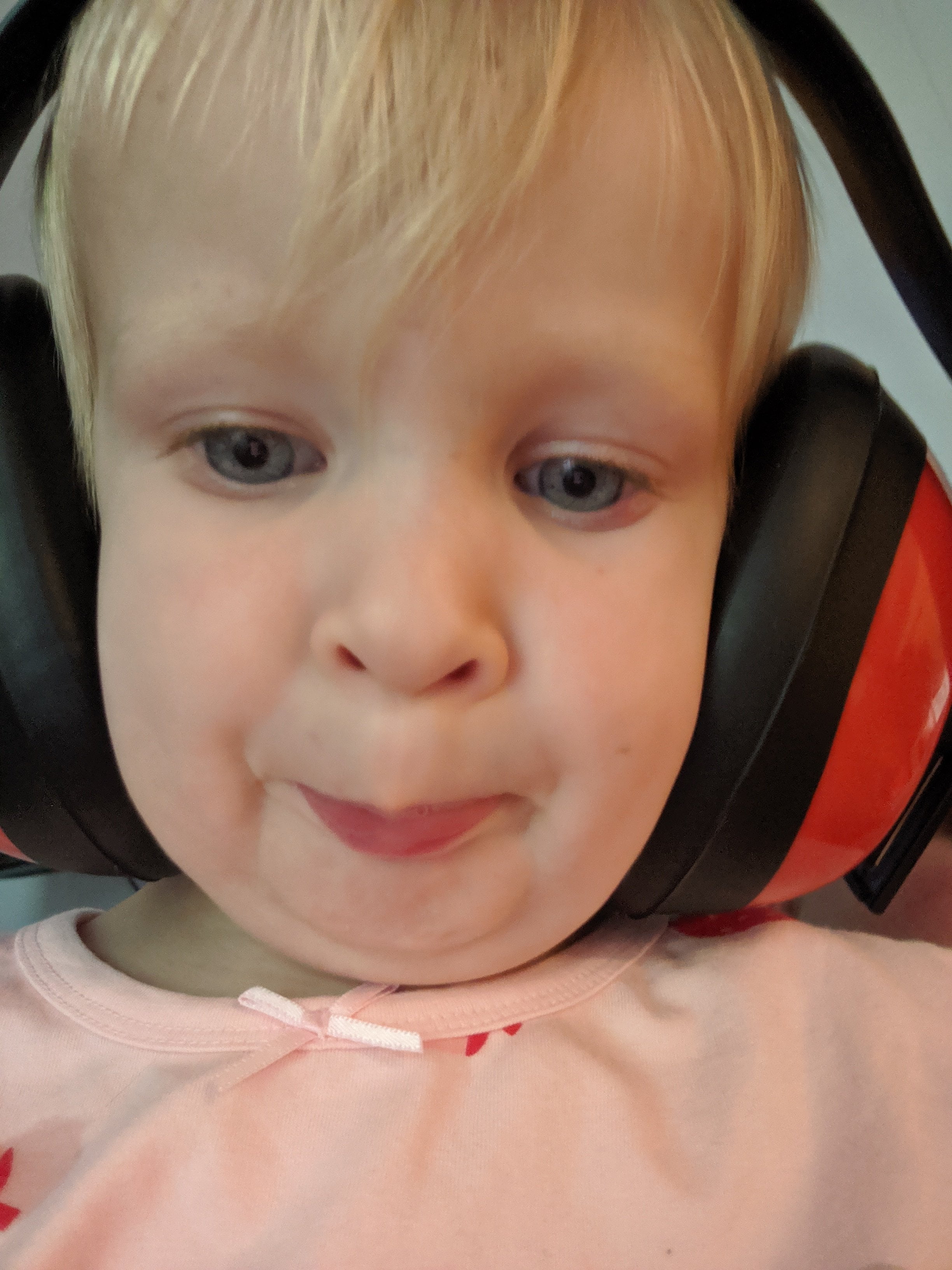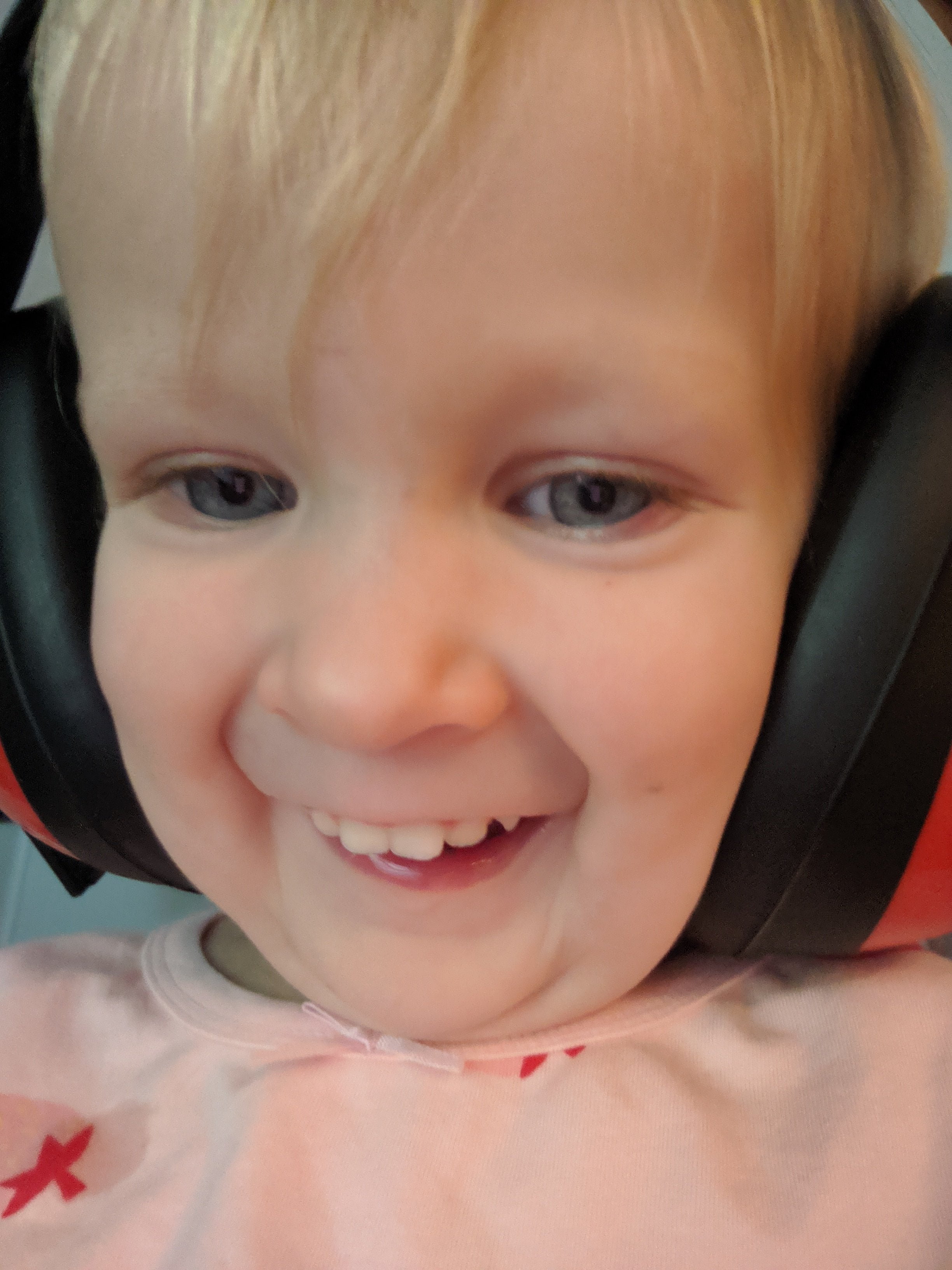 And you guys. Can you even with this baby girl in her bath robe?! Because I can not!!!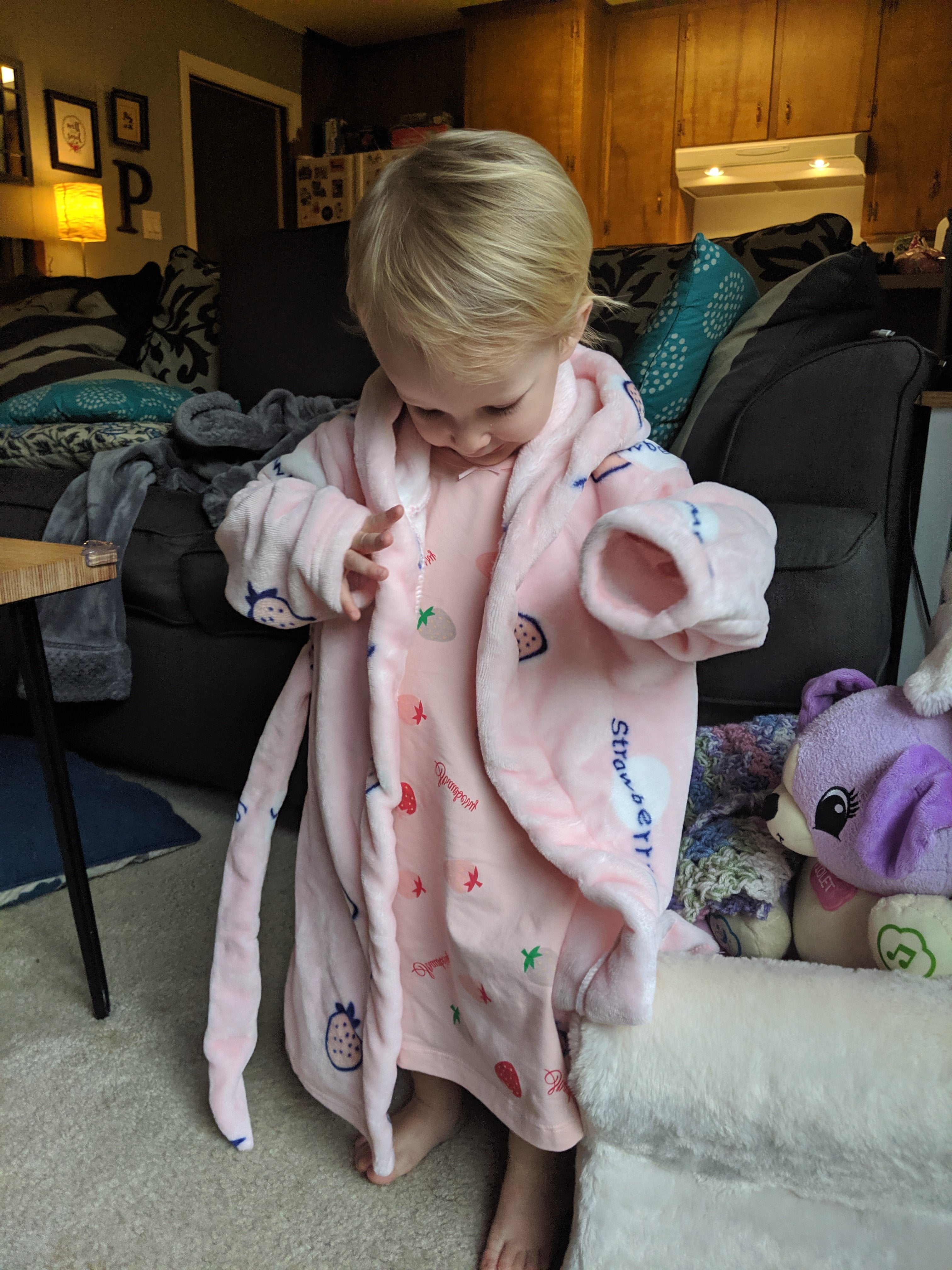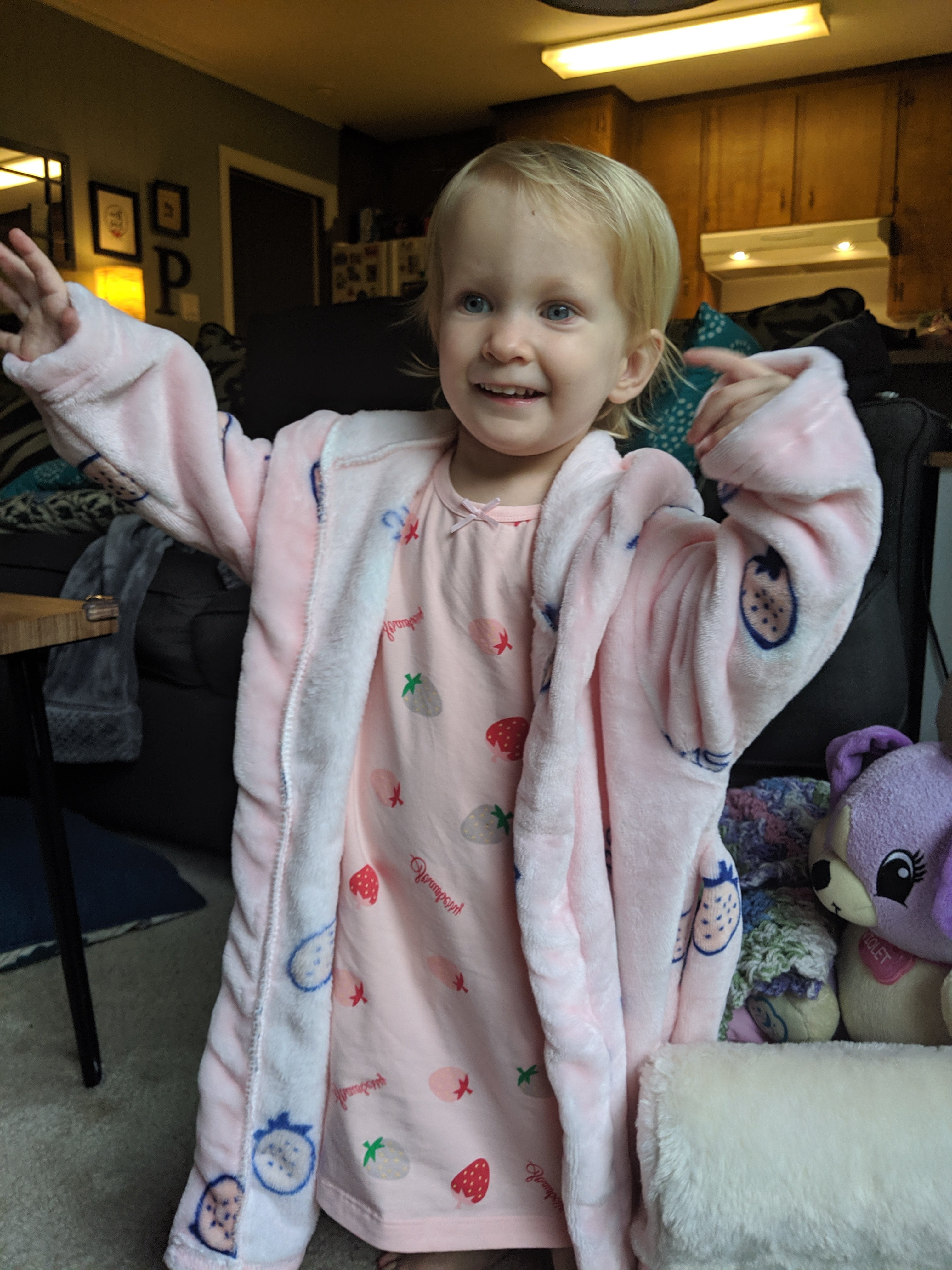 (This is the little puzzle set we got her.)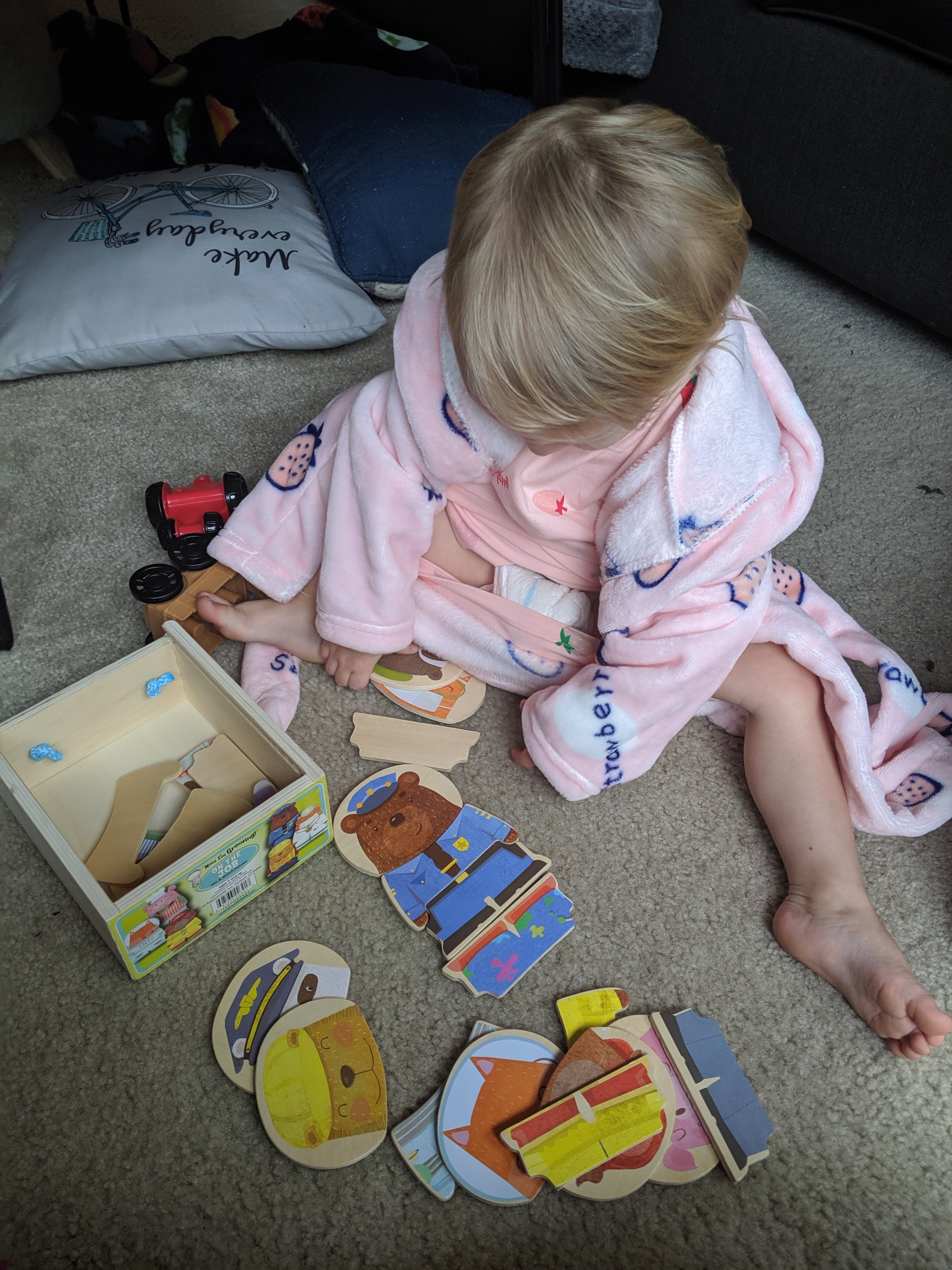 I put on the hood, and tied the strings, and good grief she's so cute! She told me she was cold, and held her cheeks like this, and I almost passed out from how adorable she was! Ryan & Gabe said it looked like she was doing the "Home Alone" pose, and they're right!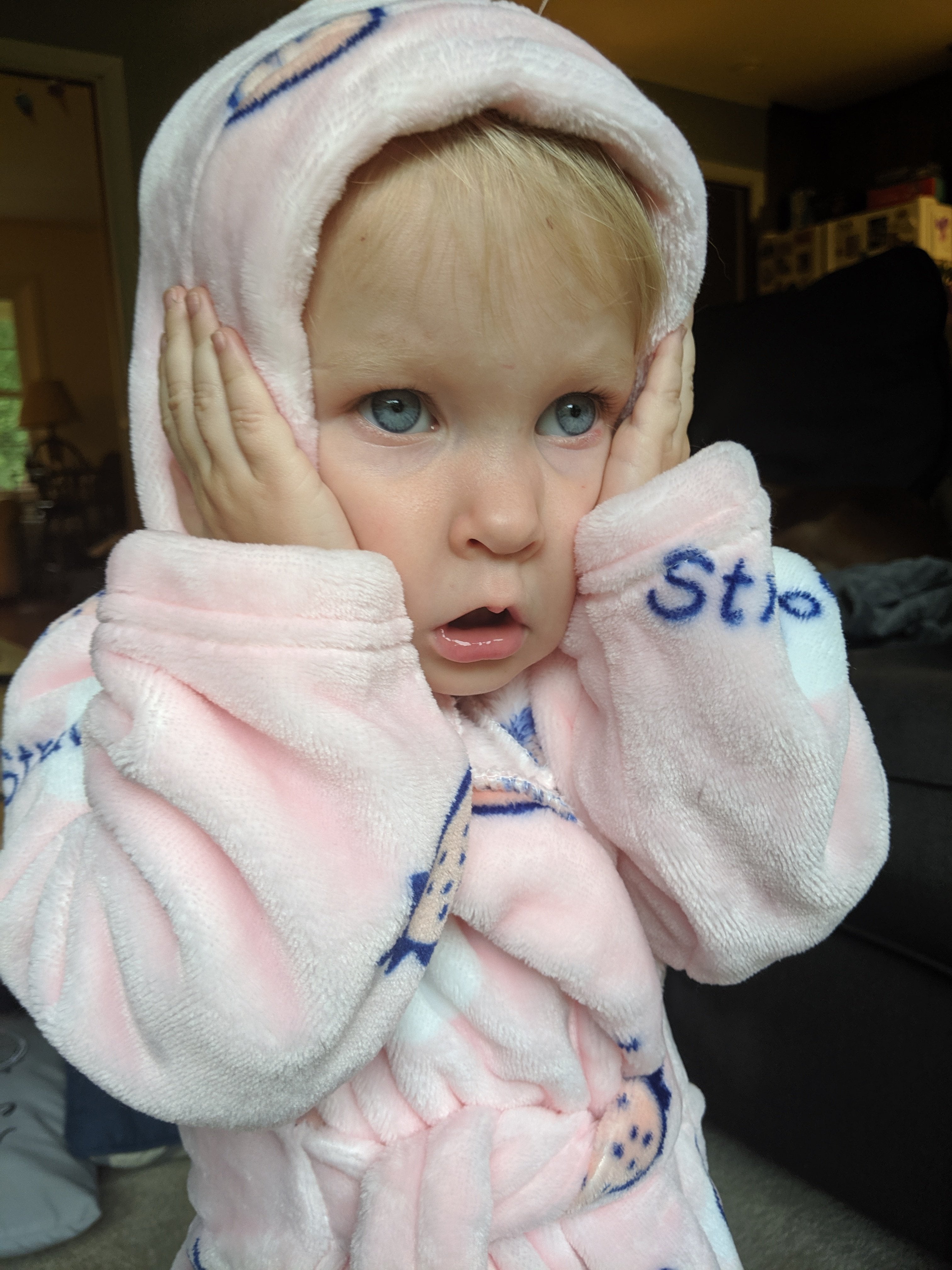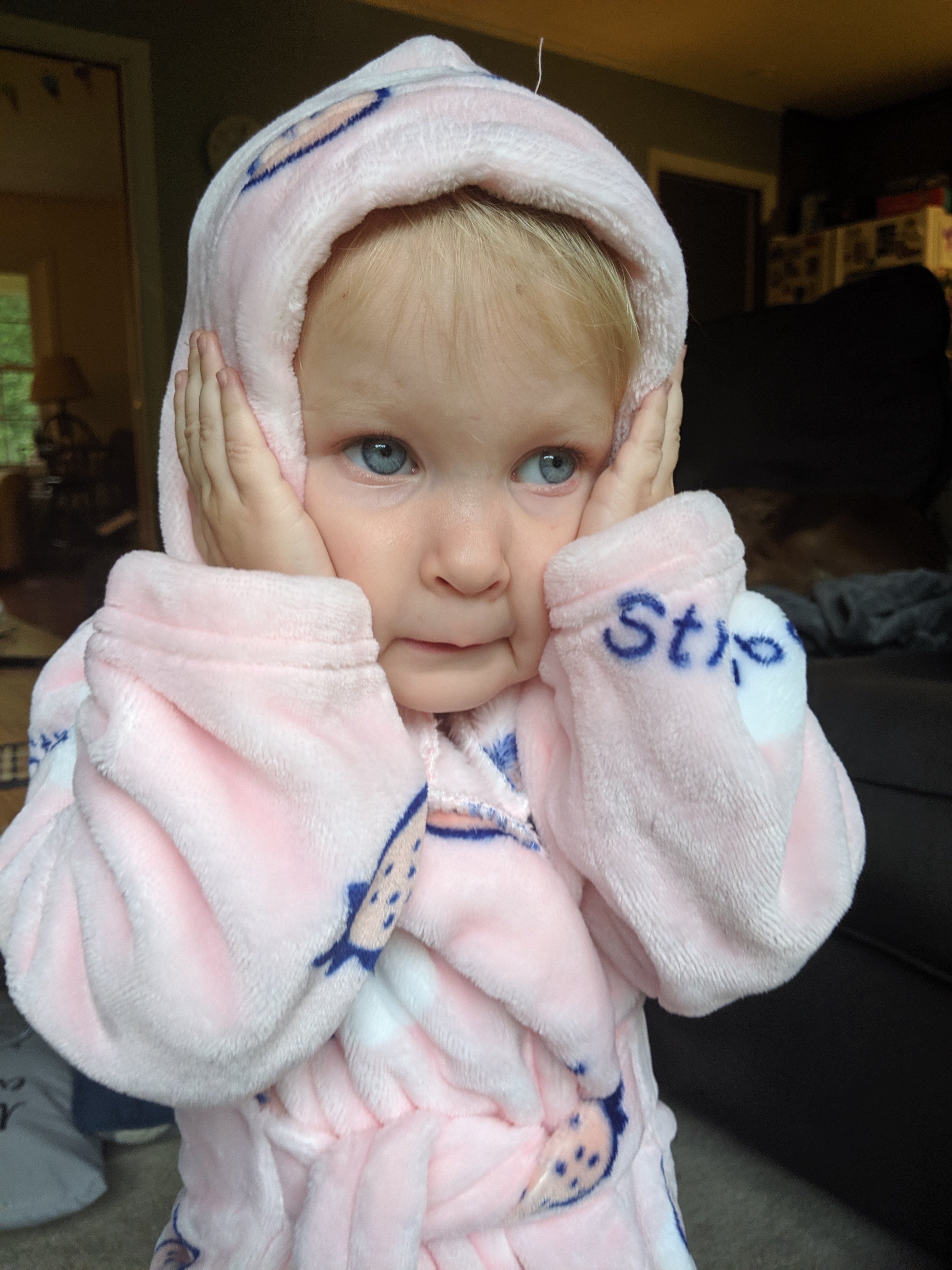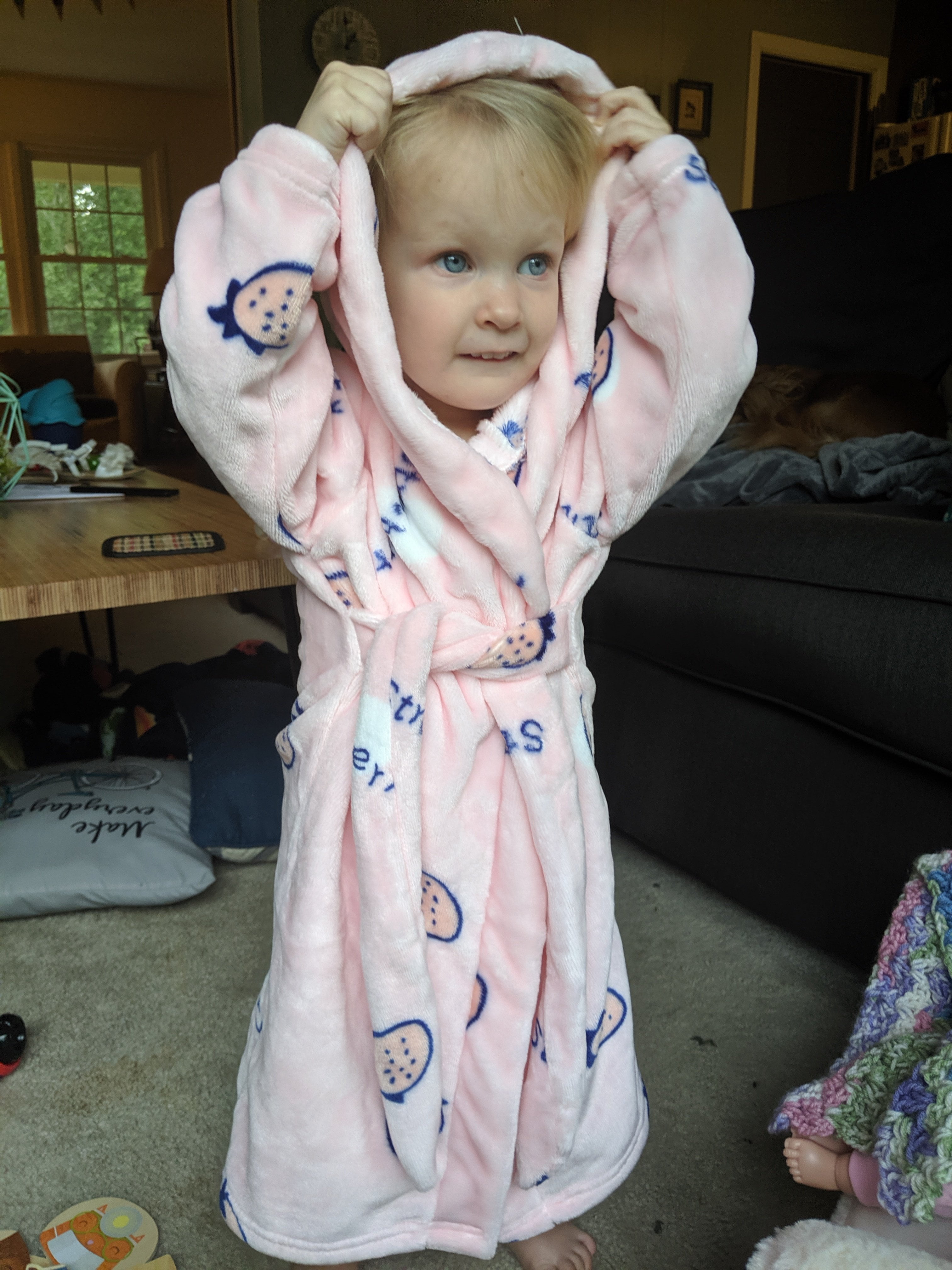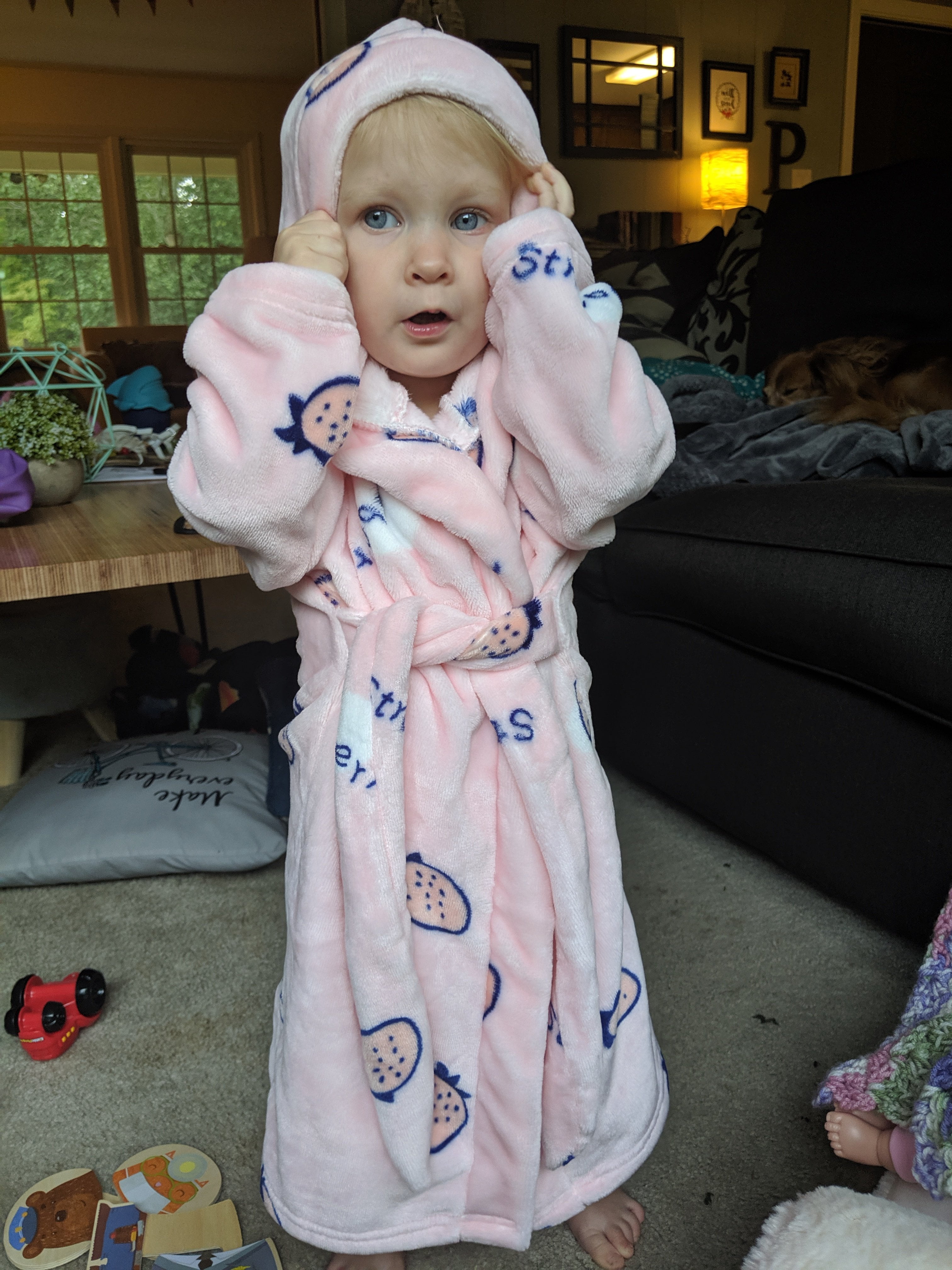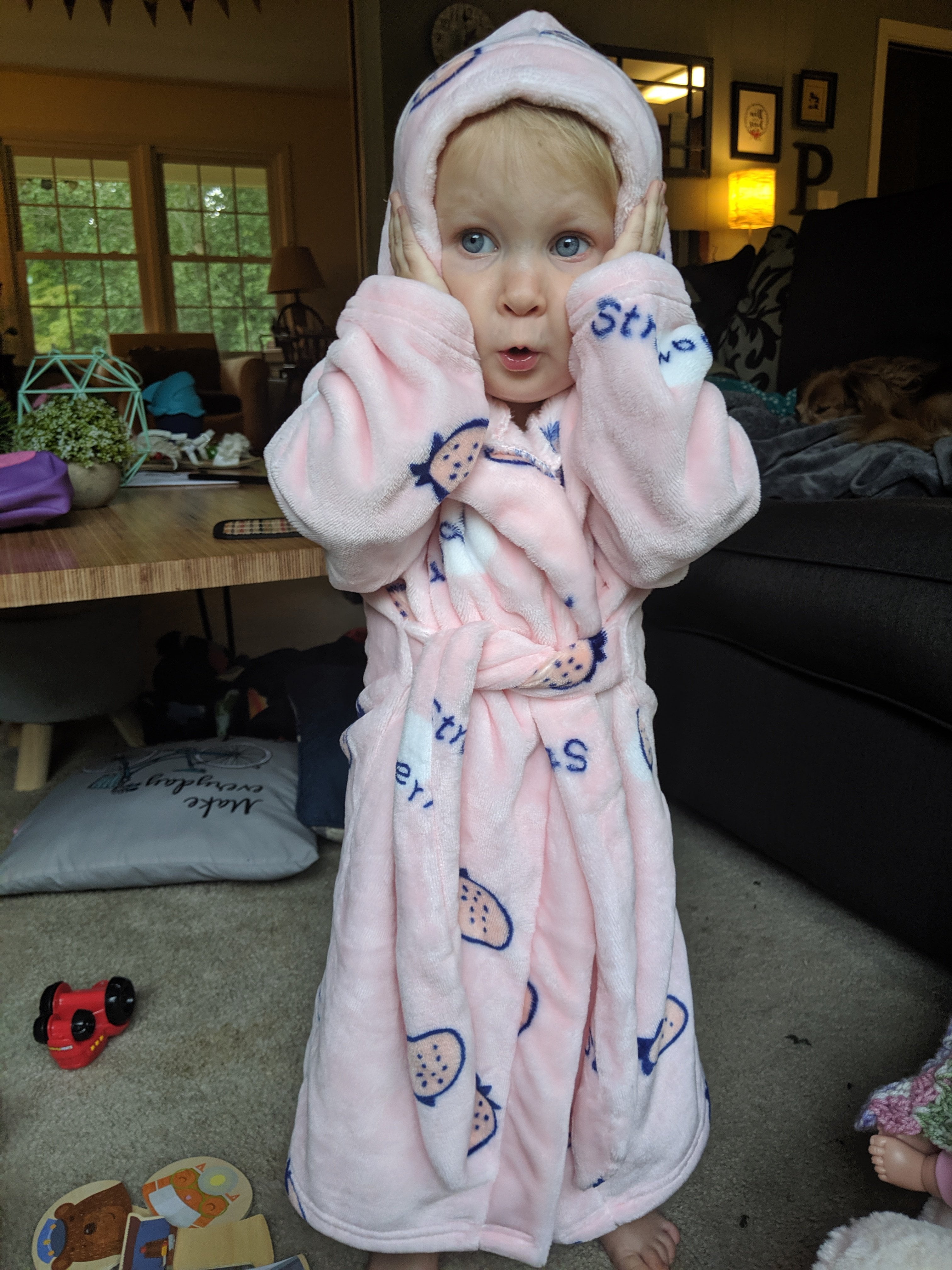 We had a minor meltdown as Jeff and I were putting her to bed, but we were able to calm her down pretty quickly. She wanted me for bedtime tonight, so I held her and sang our four lullabies, and she was so sweet and still and sleepy. She let me lay her down once they finished, and I haven't heard a peep since then, around 30 minutes ago!
Jeff volunteered to wash the dishes while I blogged tonight, because the boys are just dying to finish up season two of "Stranger Things," and want to start as early as possible. I think he's almost done now, which is good timing, so I'm going to light a candle, turn off the lights, and we'll all snuggle up to watch TV together!